Most "Things to Do in Istanbul" guides are total BS. What they do is to list popular places and that's it. We'll go in a different direction. I'll list not only the historical places (some of them still a must and will be included) but give you the best places to eat kebabs, drink Turkish coffee, enjoy a Bosphorus breakfast, and good nightlife locations. 

Let's go!
The Best Things to Do in Istanbul
1) Start with the Sultanahmet Old City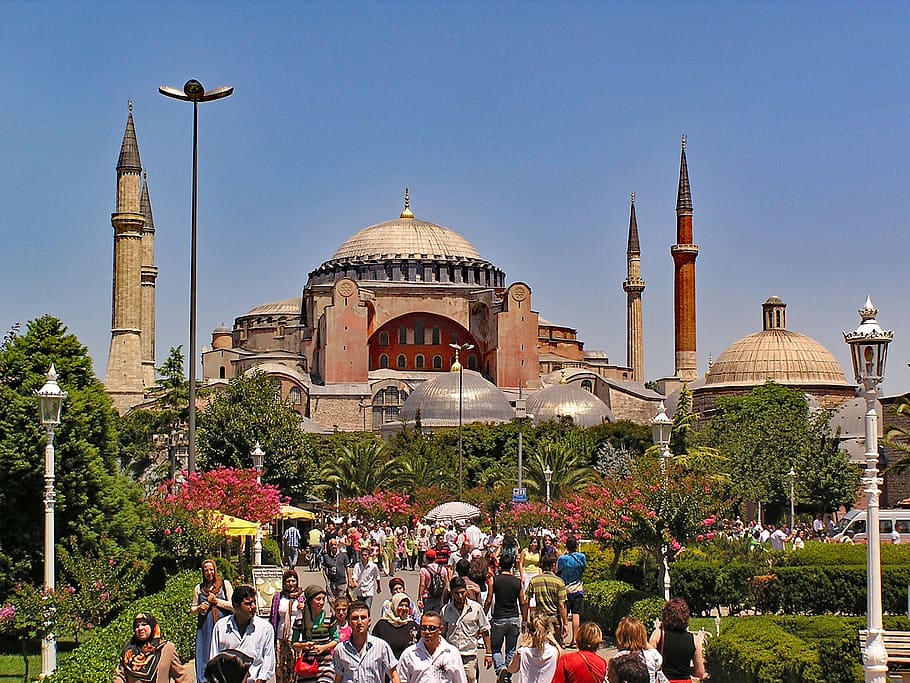 These places are a must to go. So, start with:
Sultanahmet/Old City
This where the most popular places are: Hagia Sophia, Blue Mosque (aka Sultanahmet Mosque, or Sultan Ahmet Mosque), and Basilica Cistern. They are all within walking distance. This is your first destination. This is also a part of the so-called Historical Peninsula.
Hagia Sophia – Eternal Symbol of Istanbul
The most popular landmark in Istanbul was originally a cathedral, then a mosque, and then a museum, now a mosque again renowned for its massive dome and Byzantine architecture. Its grand dome, intricate mosaics, and sweeping arches are a feast for the eyes and provide insights into the cultural and religious shifts that have shaped Istanbul.
Blue Mosque – Historic Spiritual Haven
The Blue Mosque, with its cascading domes and six towering minarets, is a breathtaking sight. The interior, adorned with over 20,000 blue Iznik tiles, emits a tranquil spiritual ambiance, making it a must-visit for its architectural and cultural significance.
Basilica Cistern – Byzantine Underground Wonder
The Basilica Cistern takes you beneath Istanbul's bustling streets to an eerie yet beautiful subterranean world. This expansive ancient cistern, supported by 336 marble columns, offers a unique journey into the city's Byzantine past.
2) Make your way to the second group of historical sites
Then Suleymaniye, Grand Bazaar, and Spice Bazaar are within walking distance of each other.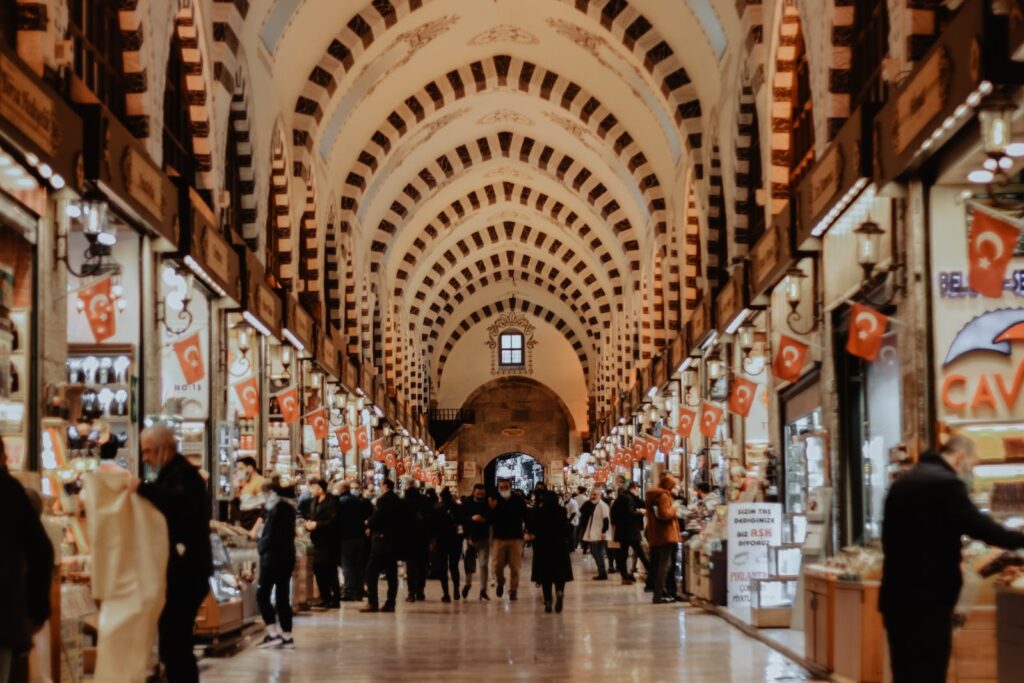 Suleymaniye Mosque – Ottoman Architectural Pinnacle
The Suleymaniye Mosque, an exquisite masterpiece of Ottoman architecture, offers stunning views over the Bosphorus and Golden Horn. Designed by the renowned architect Sinan for Sultan Suleiman the Magnificent, its elegance and harmony between aesthetics and function are awe-inspiring.

Grand Bazaar – Historic Market Extravaganza
The Grand Bazaar is a labyrinth of colors, aromas, and sounds, offering an unforgettable sensory experience. One of the oldest and largest covered markets in the world, it's a treasure trove of unique crafts, jewelry, textiles, and antiques.

Spice Bazaar – Exotic Spice Heaven
An explosion of color and scent, the Spice Bazaar offers an array of spices, dried fruits, nuts, and sweets. This centuries-old marketplace is a food lover's paradise and provides a snapshot of the rich culinary traditions of Turkey.

Topkapi Palace – Historic Royal Retreat
Topkapi Palace offers a fascinating glimpse into the lavish lifestyle of the Ottoman sultans. With its lush courtyards, stunning views of the Bosphorus, and priceless treasures, it's a journey into the opulence and intrigue of the Ottoman court.

Dolmabahce Palace – Neoclassical Ottoman Elegance
Dolmabahce Palace is a dazzling blend of Ottoman and European architectural styles. Its opulent interiors, adorned with gold and crystal, and the stunning views of the Bosphorus from its gardens make it an unmissable stop on any Istanbul visit.

For more historical places and experiences you can explore:

Istanbul Mosques – A guide to the most iconic mosques in Istanbul, reflecting the city's rich Islamic history and diverse architectural styles.

Istanbul Hamams – An introduction to the best hammams (Turkish baths) in Istanbul, offering a glimpse into a centuries-old tradition of relaxation and rejuvenation.

Istanbul Palaces – A curated tour through Istanbul's magnificent palaces, showcasing the opulence and grandeur of Ottoman and Byzantine eras.

Istanbul Churches – A journey through Istanbul's notable churches, reflecting the city's Christian heritage and its unique East-meets-West culture.
3) Explore the New Istanbul to do exciting things
There are cool and sort of hippie locations in Istanbul tourists started to love recently. Tons of new restaurants, cafes, Instagrammable places (if that's a word), and more.

Taksim & Istiklal Avenue – Bustling Cultural Promenade
Taksim/Istiklal Avenue is the heart of Istanbul's social and cultural scene. Lined with shops, cafes, and historical sites leading up to Taksim Square, it offers a unique blend of Istanbul's modern energy and historical charm. Whether you're shopping, dining, or just strolling, there's always something happening on this vibrant avenue.

Galata Tower – Panoramic Medieval Landmark
The Galata Tower is a must-visit for its spectacular panoramic views of Istanbul. This medieval stone tower allows visitors to overlook the city's most iconic landmarks, the Bosphorus, and the Golden Horn from its top-floor balcony. It's a perfect spot to capture the city's skyline.

Kadikoy – Vibrant Asian Side Hub
Kadikoy, a bustling district on Istanbul's Asian side, offers an authentic slice of local life. It's a foodie's paradise with a myriad of dining options, markets, and food stalls. The area's lively nightlife, cultural spots, and charming streets make it a great place to explore beyond the city's more touristy areas.

Balat – Where Hippies Go
Balat is a window into Istanbul's past with its colorful houses, historic churches, and synagogues. This neighborhood is a beautiful representation of the city's multicultural heritage, where Jewish, Christian and Muslim communities have coexisted for centuries. Walking its narrow, winding streets is like stepping back in time.
Karakoy – Trendy Artistic Waterfront
Karakoy is where Istanbul's historic texture meets modern urban life. Known for its trendy cafes, art galleries, and the iconic Galata Bridge, Karakoy is a dynamic neighborhood where you can enjoy the city's contemporary art scene, indulge in delicious food, and experience the lively atmosphere of its waterfront.

Besiktas – Vibrant Market and Cultural District"
Besiktas is a lively district known for its bustling markets, sports passion, cultural institutions, and as a major ferry hub for the Bosphorus. From shopping at local markets to enjoying the cultural scene, and cheering at a football match, Besiktas offers a truly local Istanbul experience.
4) Eat the Best Turkish Food in Istanbul
Turkish food is the reason why most people visit Turkey. Luckily we have done a ton of work to recommend the best Istanbul restaurants.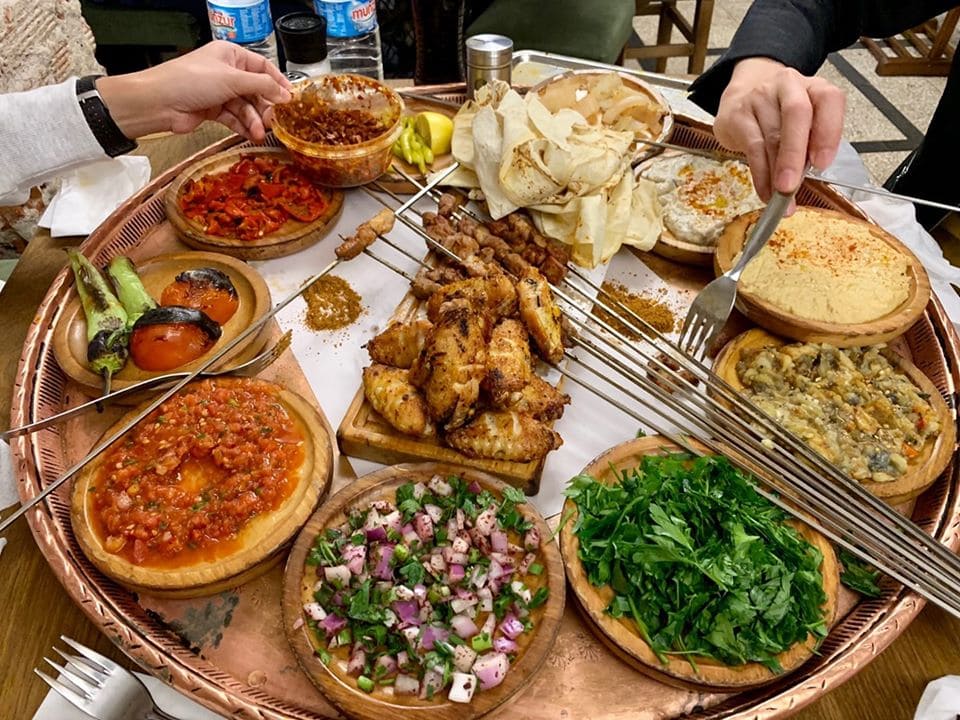 Best Restaurants In Istanbul

A Complete Guide to Istanbul Restaurants – This is the only Istanbul food guide you will need

21 Best Restaurants in Istanbul Today – We handpicked the best 21 for you

What to Eat in Istanbul – A Guide for Turkish Dishes and where you can eat them
Best Restaurants by Location

Here are some of our favorite restaurants by location. You'll get hungry during the day and these can come in handy

Sultanahmet Restaurants – A culinary guide to the best restaurants in Sultanahmet, a district known for its historic sites and diverse array of traditional Turkish cuisine

Taksim Restaurants – A curated list of top dining spots in the bustling district of Taksim, known for its eclectic mix of trendy eateries, traditional diners, and street food.

Besiktas Restaurants – A guide to the best restaurants in Besiktas, a vibrant district renowned for its food scene, ranging from waterfront seafood places to cozy local cafes.

Kadikoy Restaurants – A selection of top-rated restaurants in Kadikoy, a foodie paradise on Istanbul's Asian side, known for its vibrant markets and diverse dining options.
Best Restaurants with Best Views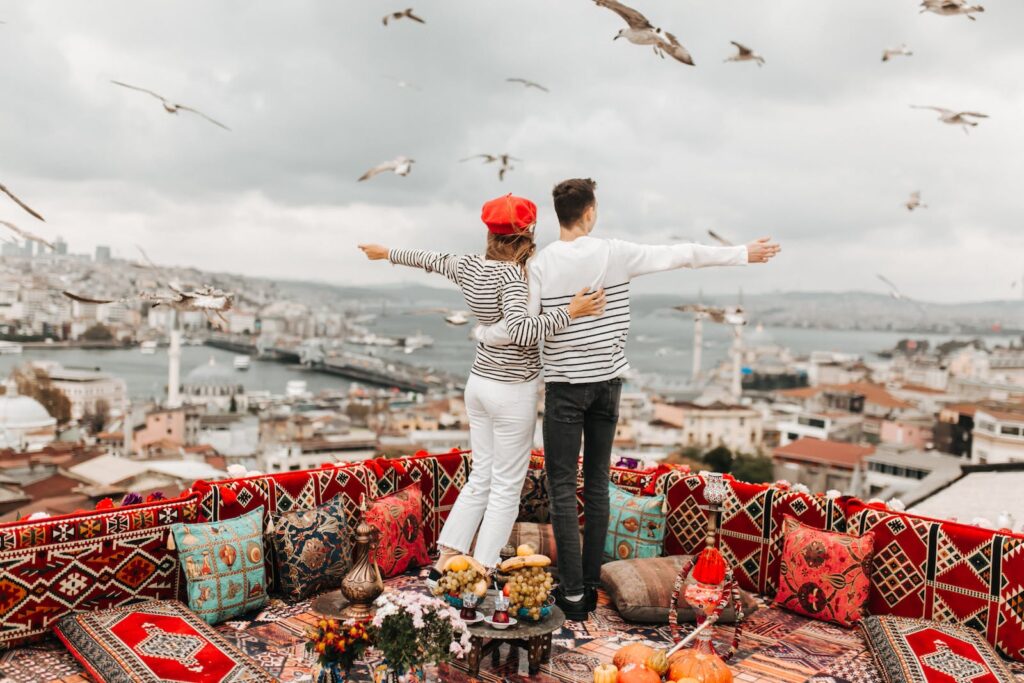 Istanbul is all about views.

Rooftop Restaurants – A guide to the finest rooftop restaurants in Istanbul, where you can enjoy delicious food accompanied by breathtaking cityscape views.

Bosphorus View Breakfast Restaurants – A selection of the best Istanbul eateries offering traditional Turkish breakfasts paired with serene views of the Bosphorus.

Dinner Restaurants with a View – A curated list of Istanbul's most scenic dinner spots, offering a blend of delectable cuisine and mesmerizing views.

5) Do More Exciting Things in Istanbul

Things to Do in Istanbul for Free – A comprehensive guide showcasing the wealth of cost-free activities in Istanbul, including visiting historic sites, exploring markets, and enjoying parks

Things to do in Summer – A detailed itinerary of recommended activities in Istanbul during the summer, encompassing outdoor explorations, cultural events, and local cuisine.

Things to do in Winter – A curated list of activities and destinations in Istanbul perfect for the winter season, highlighting cozy indoor spots, seasonal events, and picturesque snow-covered sights.

Istanbul Shopping Guide – A robust guide to Istanbul's shopping scene, showcasing a range of markets, boutiques, and malls where one can find traditional crafts, spices, clothes, and more.

Day Trips from Istanbul – A selection of interesting and accessible destinations outside Istanbul for a one-day escape, featuring historical sites, natural landscapes, and charming towns.

Prince's Islands – A detailed exploration guide to the Prince's Islands, a tranquil group of islands in the Sea of Marmara known for their beautiful landscapes, historic buildings, and car-free streets.

Miniaturk – A quick guide to Miniaturk, a miniature park in Istanbul that features scale models of Turkey's most important historical sites and monuments.

Bosphorus Cruise – A resource for travelers interested in taking a cruise along the Bosphorus Strait, offering insights into itineraries, sights, and tips for the best experience.
Helpful Istanbul Guides

What is the best time to Visit Istanbul – A guide outlining the optimal times of year to visit Istanbul, considering factors such as weather, tourist crowds, and local events.

What to wear in Istanbul – A comprehensive resource providing advice on attire choices for Istanbul, considering both the city's cultural respectfulness and variable climate.

How to get around in Istanbul – A transportation guide offering information and tips on the most efficient, affordable, and accessible modes of transit within the sprawling city of Istanbul.

Things to know before visiting Istanbul – A pre-travel checklist presenting key insights about Istanbul, from local customs and language basics to visa requirements and safety tips.

Things to avoid in Istanbul – A useful guide that lists potential pitfalls for tourists in Istanbul, such as common scams, tourist traps, and cultural faux pas to avoid for a hassle-free visit.
Frequently Asked Questions
Can you do Istanbul in 3 days?
Yes, you can explore Istanbul's major highlights in 3 days. However, to fully immerse in the city's rich culture and history, you may want more time. In three days, you can cover the Sultanahmet district, Taksim Square, and a Bosphorus cruise.
How many days are enough to visit Istanbul?
A visit of around 5-7 days allows you to experience Istanbul comfortably, exploring historic sites, museums, bazaars, and neighborhoods without feeling rushed. However, the city's depth and diversity can easily fill longer stays.
Can you drink alcohol in Istanbul?
Yes, you can drink alcohol in Istanbul. The city has numerous bars, pubs, and restaurants that serve alcohol. However, public drunkenness is frowned upon, and it's illegal to drink alcohol in public spaces like streets or parks.
Are 4 days in Istanbul too much?
Four days in Istanbul is not too much. It gives you enough time to visit major attractions like the Blue Mosque, Hagia Sophia, Topkapi Palace, and Grand Bazaar, and take a Bosphorus cruise. You'll also have time to explore less touristy neighborhoods and experience local cuisine.
What are the top things to do in Istanbul?
In Istanbul, top things to do include visiting historic sites like the Blue Mosque, Hagia Sophia, and Topkapi Palace, shopping at the Grand Bazaar and Spice Bazaar, strolling along Istiklal Street, and taking a Bosphorus cruise. Tasting traditional Turkish cuisine is also a must-do.
What are the top things to do near Istanbul?
Near Istanbul, you can visit the Princes' Islands for a quiet getaway, explore the historic city of Edirne, discover the battlefields of Gallipoli, or visit the ancient city of Troy. A trip to Bursa City, the birthplace of the Ottoman Empire, is also recommended.
What should I not miss in Istanbul?
In Istanbul, you shouldn't miss the stunning Blue Mosque, the architectural wonder of Hagia Sophia, the royal Topkapi Palace, the bustling Grand Bazaar, and a Bosphorus Strait cruise. Don't forget to try local culinary delights like baklava and Turkish tea.
What are the most popular things to do in Istanbul with kids?
For families with kids, popular activities include visiting Miniaturk (a park with miniature replicas of Turkish monuments), exploring the Istanbul Aquarium, riding the nostalgic tram in Taksim, and enjoying a picnic in Emirgan Park. The Rahmi M. Koç Museum, dedicated to the history of transport, industry, and communications, is also a hit with children.
That's it for now! You have plenty of things to do in Istanbul and beyond now!