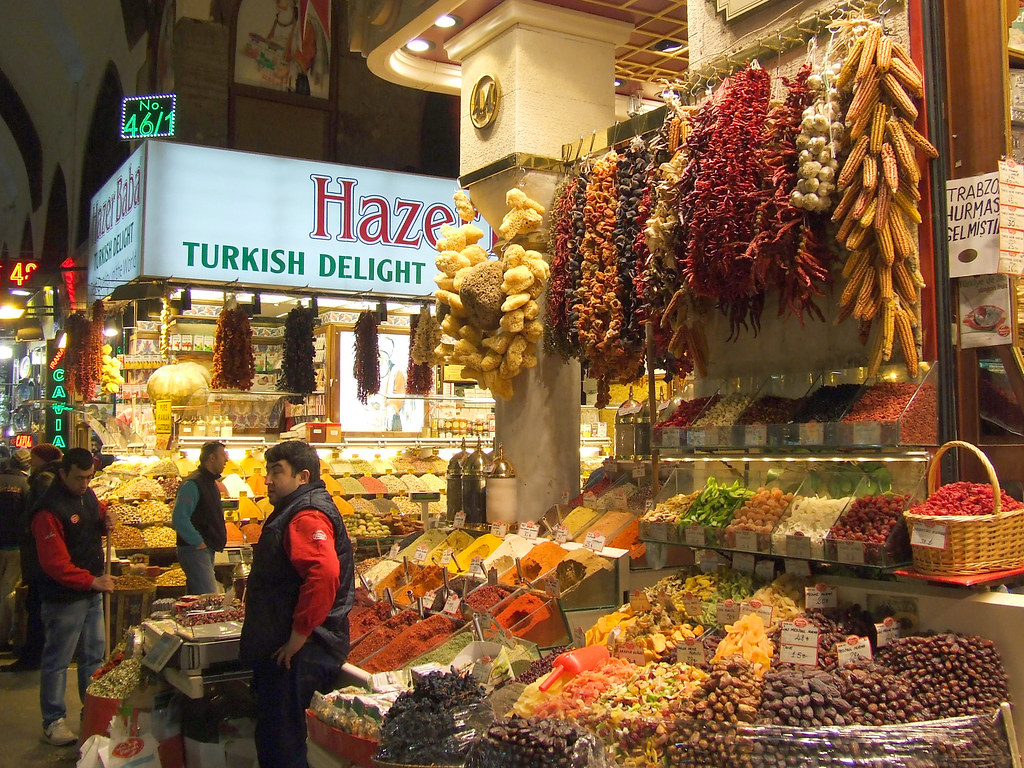 The Spice Bazaar is also called Mısır Çarşısı meaning 'Egyptian Bazaar' by local people since historically the spice was exported from Egypt to the Ottomans. Entering the bazaar, you will find yourself in the mystic world of the East with its amazing Oriental architecture and hundreds of spice aromas, colors and, fragrances that will hit you. Smells of cinnamon, caraway, saffron, mint, thyme, nuts, pistachio, almond, Turkish coffee and lokum, and all kinds of rare herbs create a different atmosphere which you can find nowhere else.
A Brief History of Spice Bazaar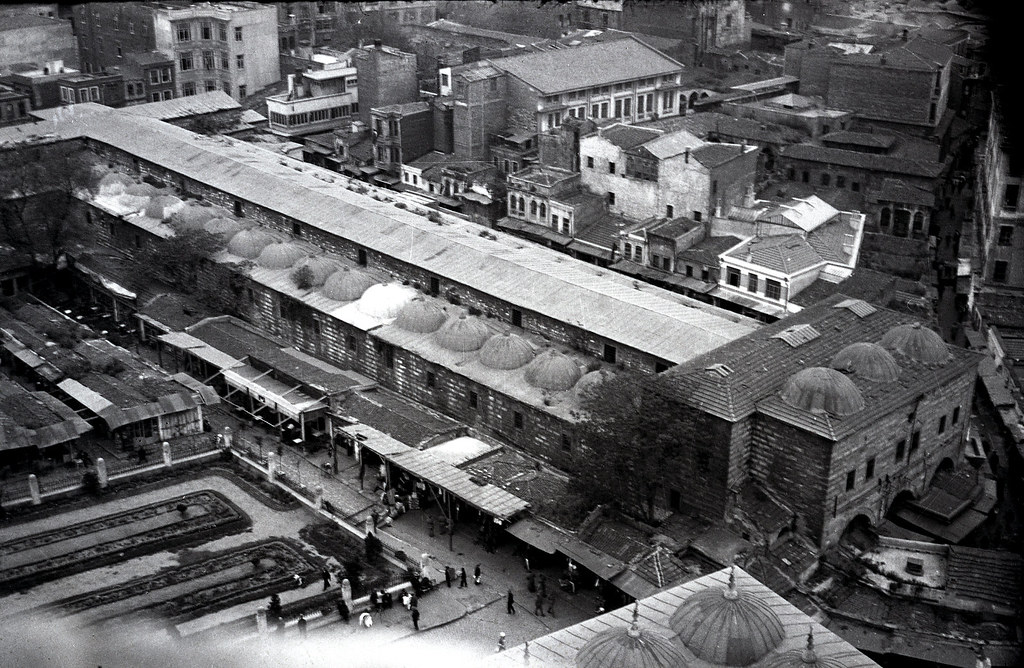 Egyptian Bazaar or Spice Bazaar was built in 1660 as a part of the New Mosque complex by Turhan Sultan. It was one of the best traditions in the Ottomans to build a bazaar near the mosque and establish a foundation, which the income coming from the bazaar to the foundation would be able to cover the expenses and salaries of the Mosque. In this way, whatever happens to the state, the mosque complex would sustain itself for hundreds of years.
Grand Bazaar was previously built to cover the expenses of Hagia Sophia, Arasta Bazaar was built for the foundation of Sultan Ahmet Mosque and another Arasta Bazaar was constructed for the Selimiye Mosque in Edirne. So, this was a tradition and Spice Bazaar emerged as a piece of the Mosque Complex. I have given a piece of short information about the New Mosque below, which you can directly visit after the Spice Bazaar.
The bazaar was built with an L-shape architectural style with 88 vaulted rooms and chambers. The shops all have small domes with an arched entrance. Strolling and shopping in the Spice Bazaar might take an hour or two depending on your preferences. Still, it is not that big as Grand Bazaar.
Famous Shops in and around the Spice Bazaar
Just near the Spice Bazaar, the narrow streets are full of big and small shops selling Turkish delights, coffee, nuts, and spice. Some of them are very famous and are there for hundreds of years. Some shops including the ones inside the Spice Bazaar can sell the very old and low quality of staff. So be careful, from which shop you buy your things.
1.Ali Muhiddin Haci Bekir Sweet Shop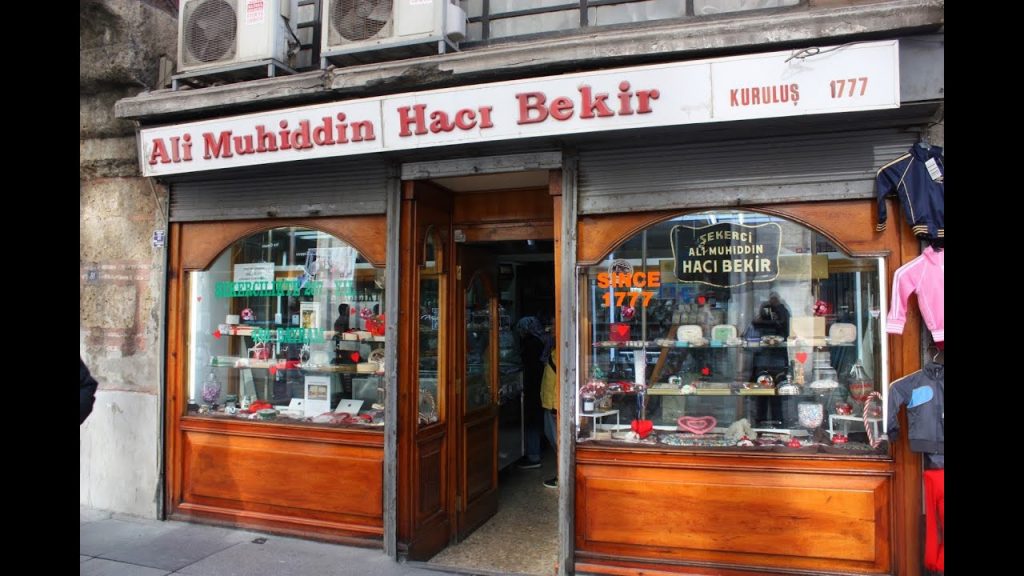 Established in 1777, it is one of the most famous sweet shops in Istanbul usually with long queues in front of it. If you want to buy some Turkish delight for your loved ones, I would recommend  visiting this shop because they have always high quality and fresh sweet. Besides Turkish delight, their 'fındıklı ezmesi' (hazelnut marzipan) is also very delicious.
Address: Hobyar, 1, Zahire Borsası Sk., 34112
2.Kurukahveci Mehmet Efendi's Coffee Shop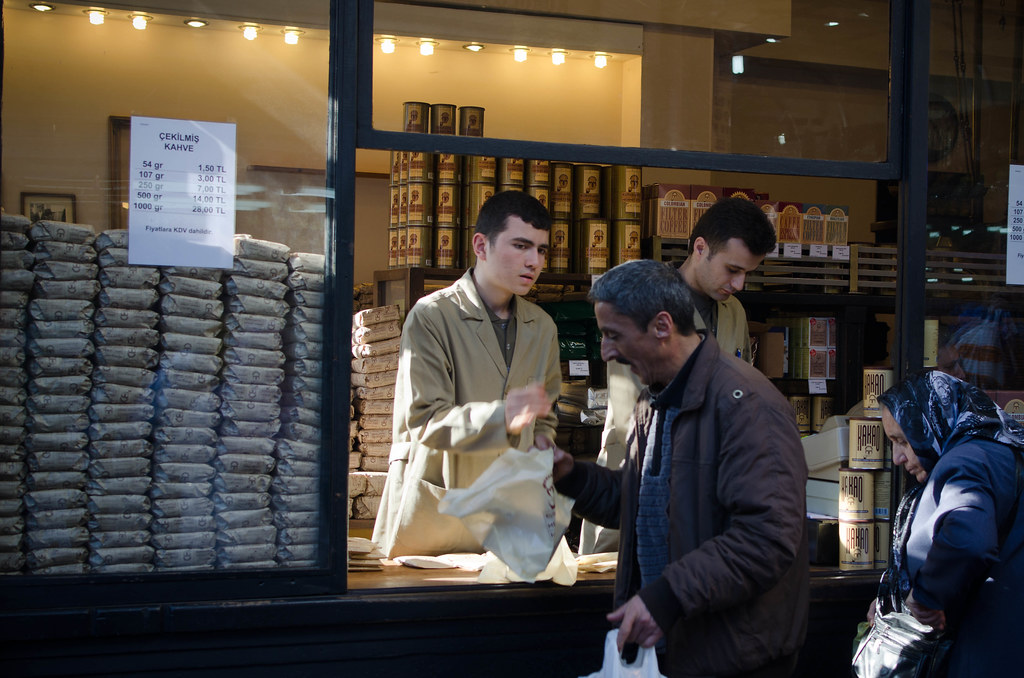 It started in 1872, it is located on the west side of Spice Bazaar in a beautiful historic Art Deco building. There is always a queue in front of it for its delightful and aromatic coffee beans. They freshly grind your coffee and safely package for your travel. You can also buy Sahlep powder which is a white sweet drunk usually used in winter.
Address: Tahmis Street, N: 66
3. Papatya Shop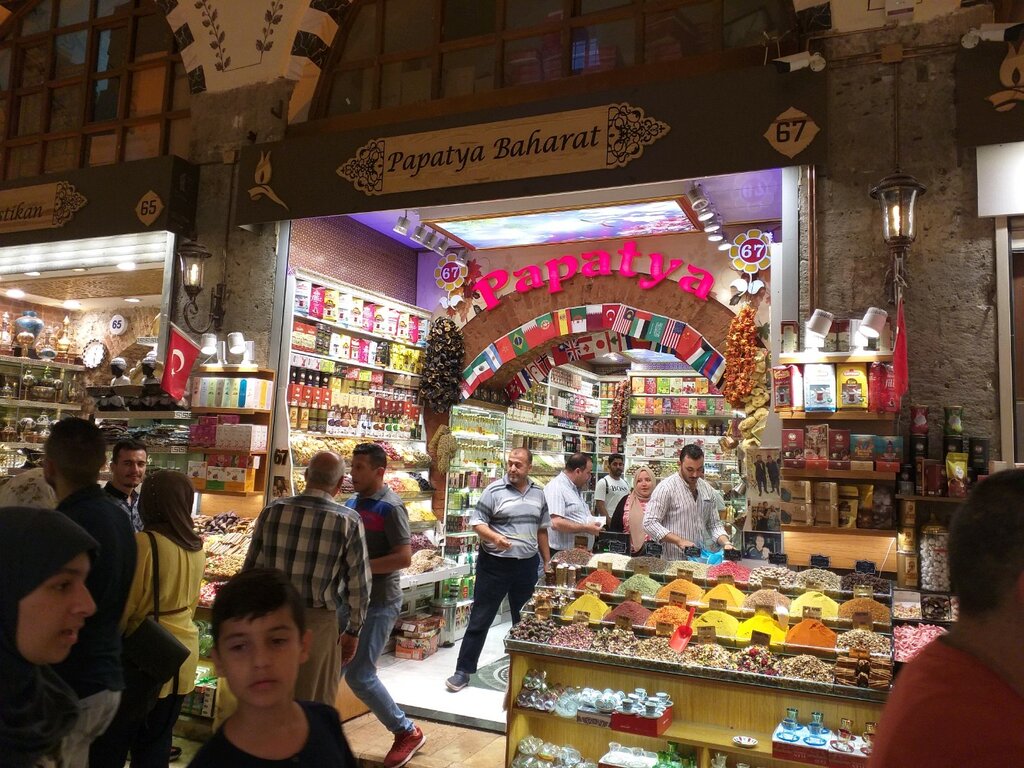 Founded in 1981, they sell all kinds of spice in their shop but especially their pul biber (chilly flakes) and isot (extra-hot chili flakes) and kimyon is famous.

Address: Mısır Çarşısı No:67
4. Anatolia Silver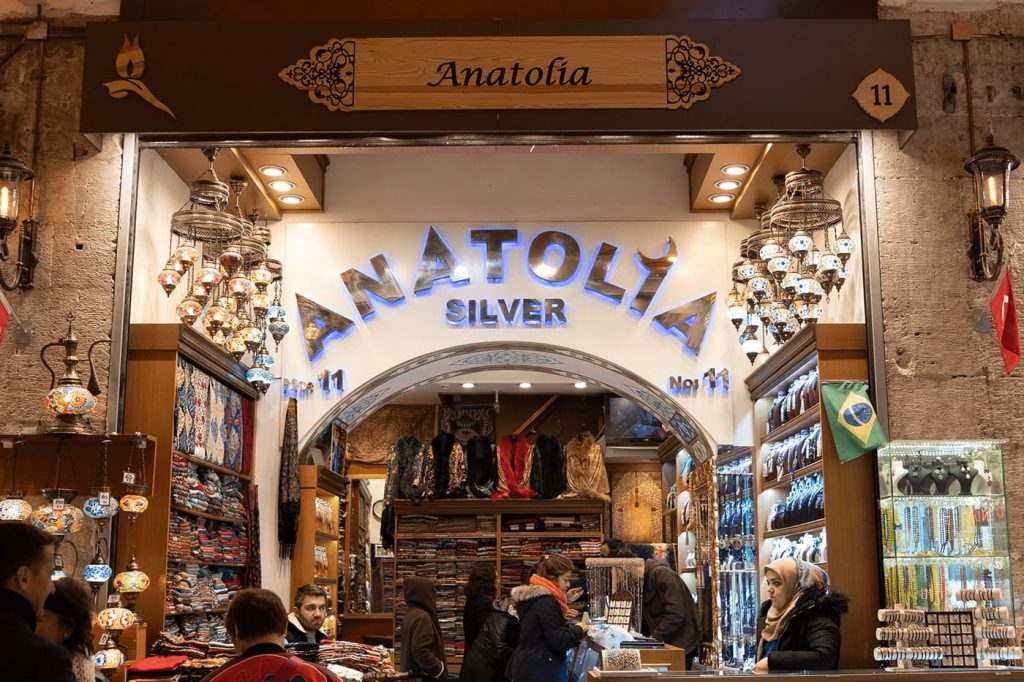 In this shop, you can buy varieties of gifts ranging from silver goods to oriental scarfs. They have high quality. But do not forget to bargain the price before purchasing.

Address: Mısır Çarşısı, No: 11
5. Huma Handicraft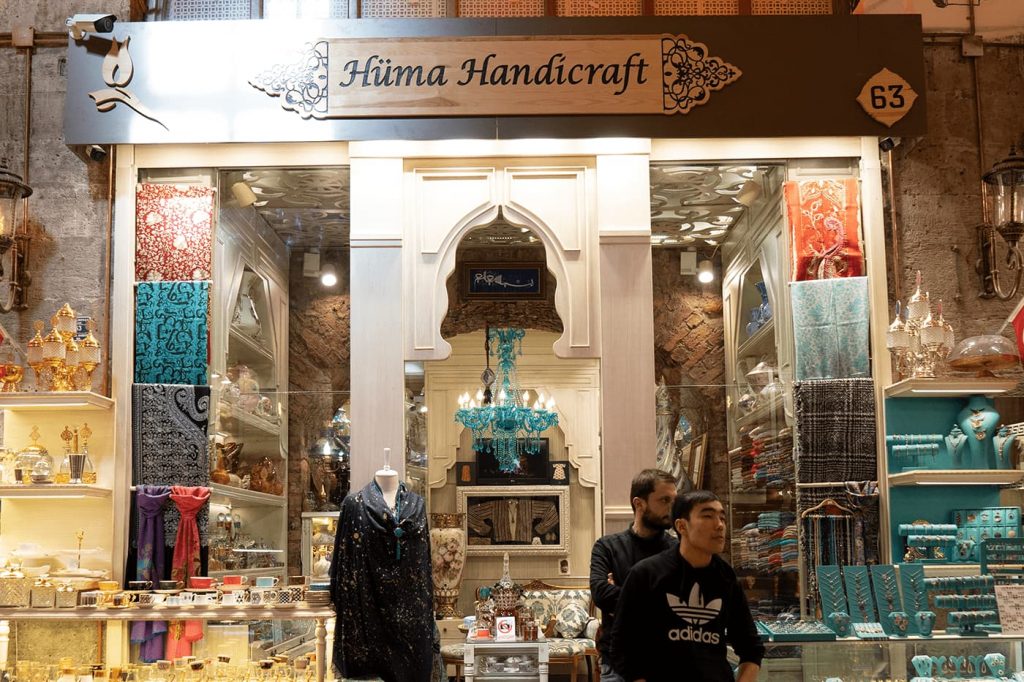 Huma Handicraft is also a nice and luxury gift shop. I would recommend to look at the gentle coffee cups and buy at least one for yourself.
Address: Mısır Çarşısı, No: 63
6. Ozer Antiques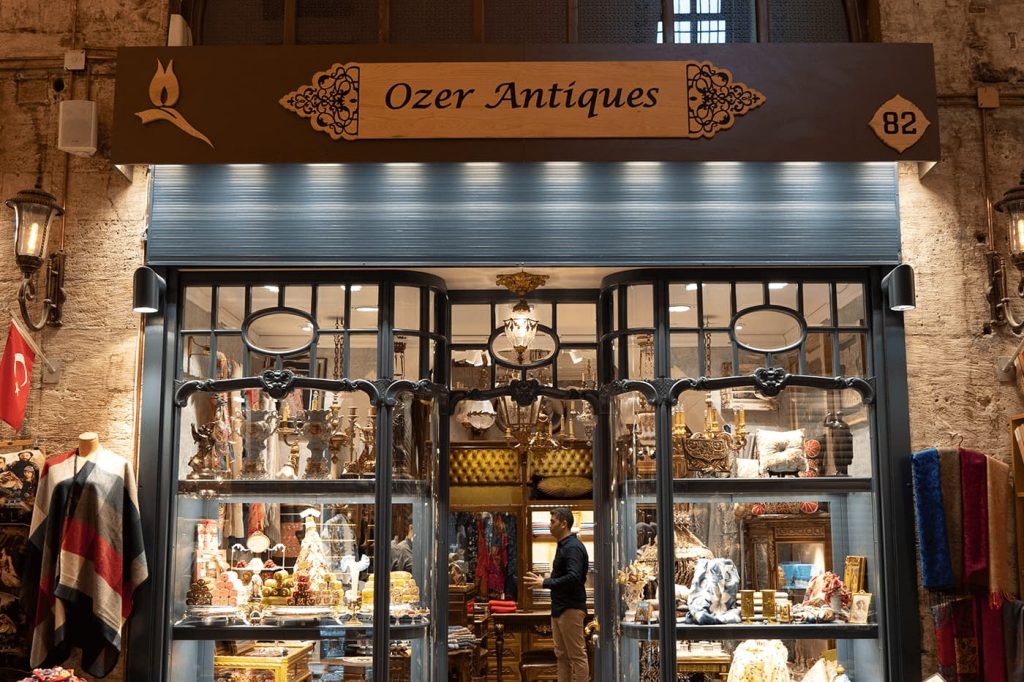 If you are interested in antiques, then this shop is just for you. The shop is full of antique style luxury goods, from candles to sweets.
What to buy from Spice Bazaar?
As I mentioned above you can find all kinds of spice, Turkish delight, coffee, food, and souvenirs and gift shops. But of course, you cannot buy everything because not all of them are of high quality. Here are some recommendations on what to buy.
Try to buy freshly prepared Nar ekşisi (viscous pomegranate syrup) in small bottles which you can also take to your country. Local people use it with many foods such as topping for salads or with steak and fish.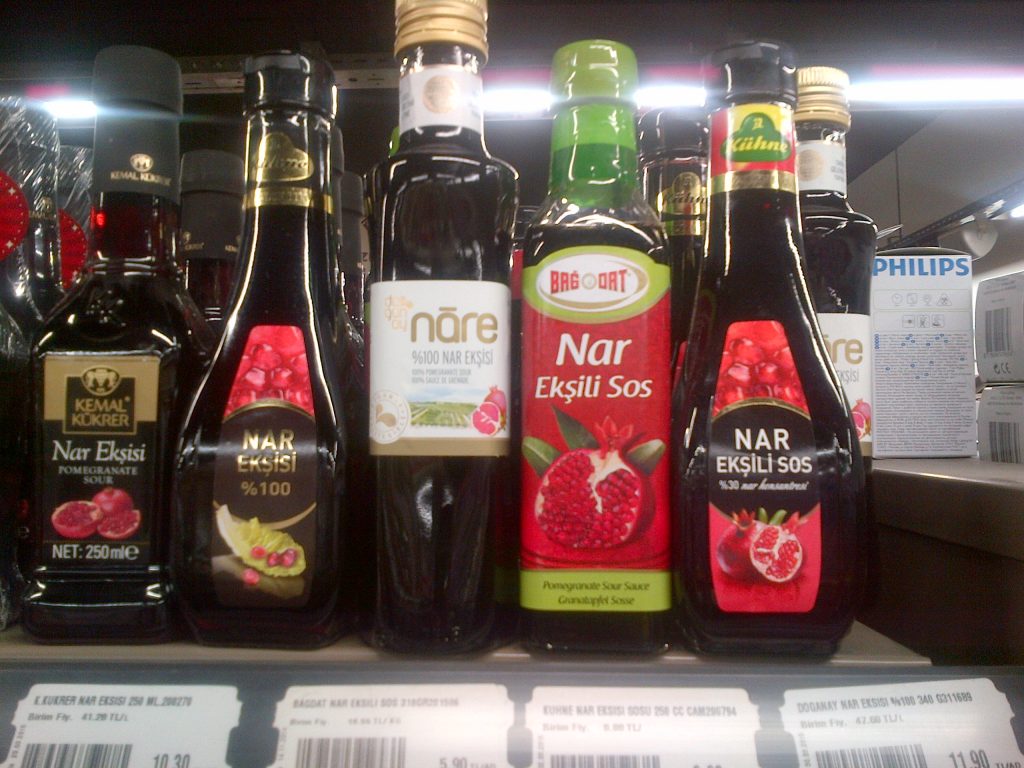 Pekmez – is a very sweet syrup prepared from grape or mulberry. Although it is very sweet, it is too healthy food. You can taste it as a topping on your yogurt for breakfast. I usually mix a spoonful of pekmez into my hot milk and drink which is good for cough and sore throat.
Dried fruits – they are very delicious and high quality. You can taste apricots, mulberry, and figs.
Nuts – pistachios are the most expensive ones among the nuts, but they are also the most delicious. You can taste a lot of sweets prepared with pistachios such as Turkish baklava with pistachios. Turkish people call it 'Antep fıstığı'. Almonds and hazelnuts are also delicious coming from the Black Sea region.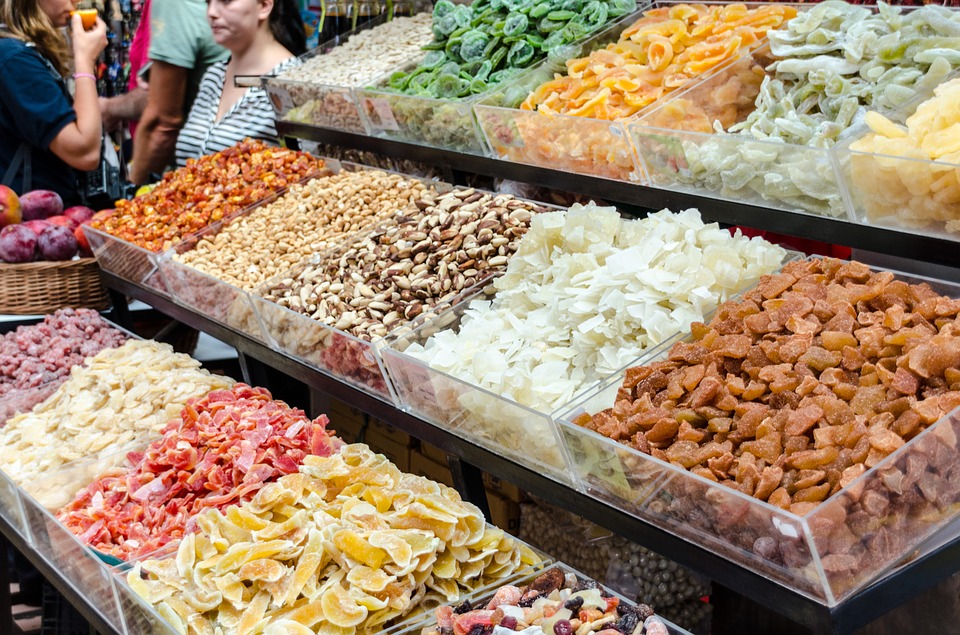 Cezve – a traditional Turkish coffee pot in which you can properly make your Turkish coffee. I mentioned above to buy your coffee from Kurukahveci Mehmet Efendi's shop that is of high quality.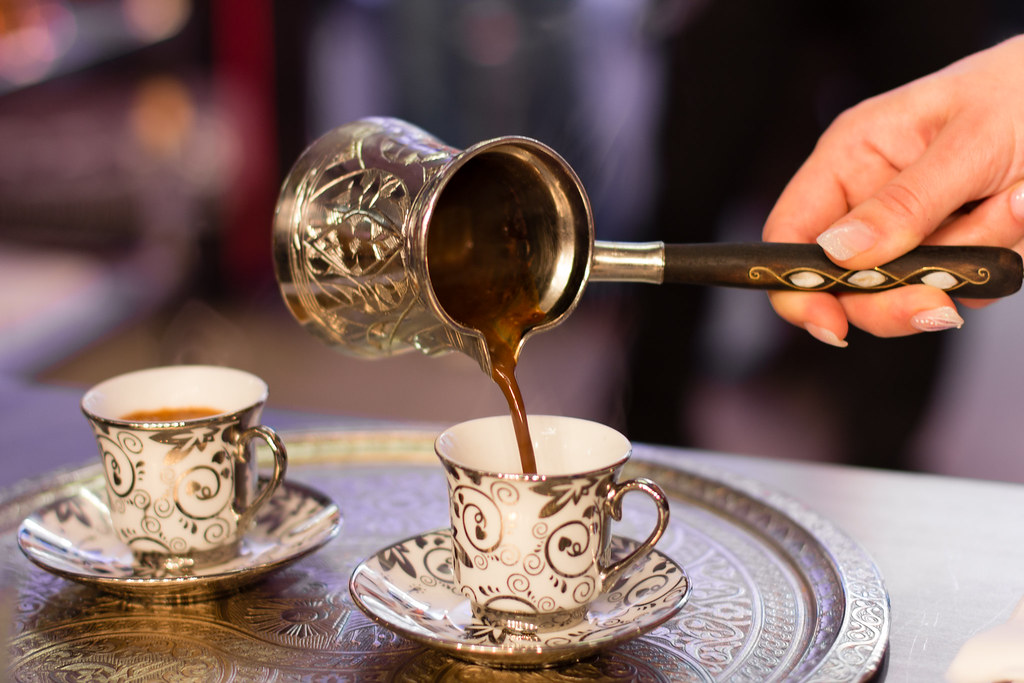 Herbal teas – there are tens of types of herbal teas that I buy them according to their different characters. Camomile tea – has a relaxing character and I usually drink a cup of chamomile tea before sleeping. You will have a smooth and quality of sleep. Sage tea – is very famous all around Turkey with its healthy contributions to the brain and skin. It is full of antioxidants.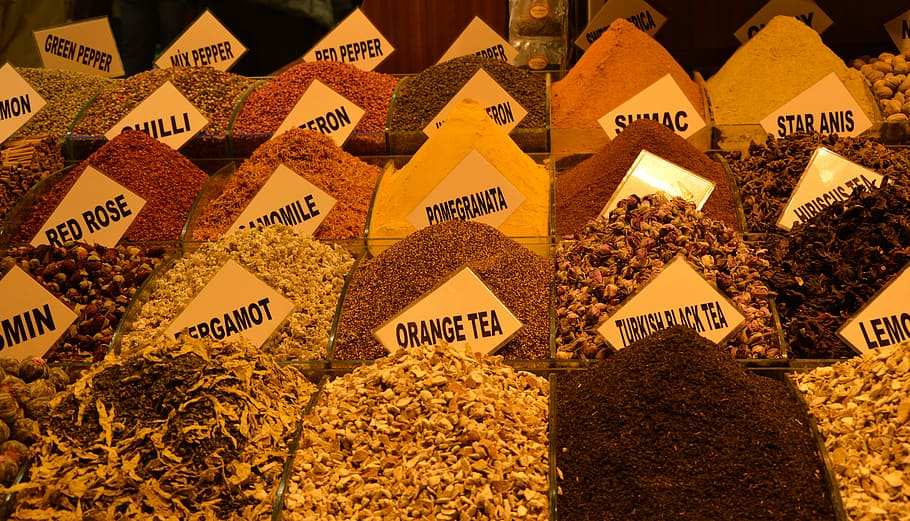 Last but not least – Lokum – Turkish delight with its many types should be tasted. You can also buy fresh ones to take to the home country. I love mostly lokum with rose petals.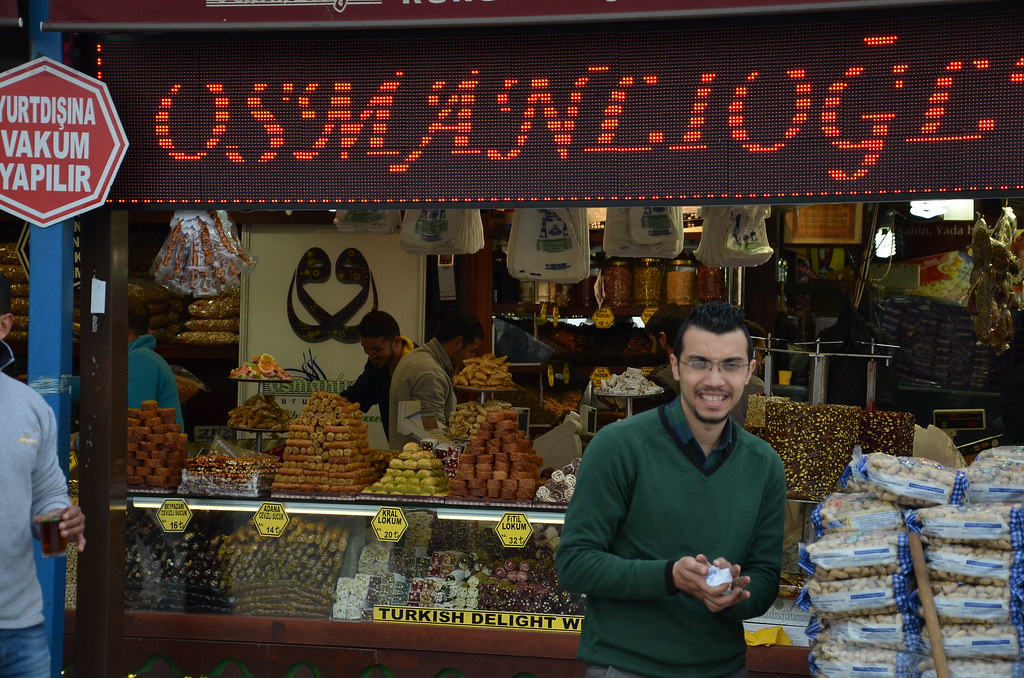 What are the Opening-Closing Times?
It is open from 8 am to 7.30 pm every day.
Do You Need to Book in Advance to Visit Spice Bazaar?
Like a Grand Bazaar and all the other markets in Turkey, you do not need to book in advance.
What's the Best Way to See Spice Bazaar?
The best way and entrance to visit Spice Bazaar are from Eminonu, next to Yeni Mosque.
What Hotels are Near Spice Bazaar?
There are lots of hotels and hostels in and around Eminonu and Spice Bazaar. I have chosen the ones which are most central, clean, safe and budget-friendly.
1. Second Home Suites (Hostel)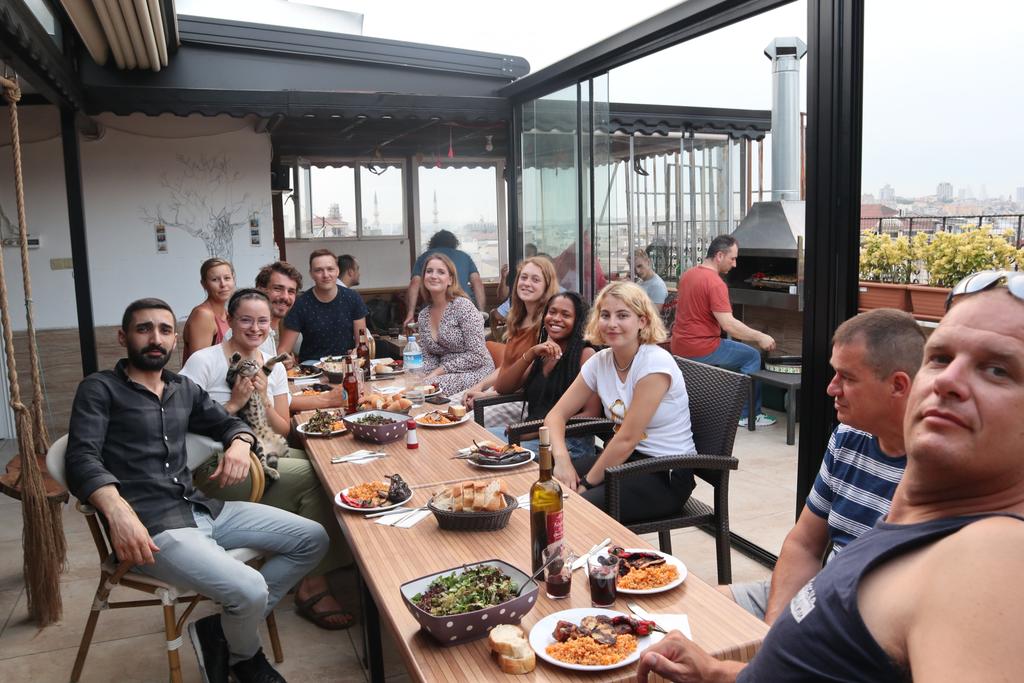 Being in the center of Eminonu with its budget-friendly prices, this hostel is preferred by many who want to be in the center of the city and to be near to Bosporus, ferries, all kinds of transports, and historical places.

Address: Hoca Paşa, Ebussuud Cd. No:19
2. Venue Istanbul Hotel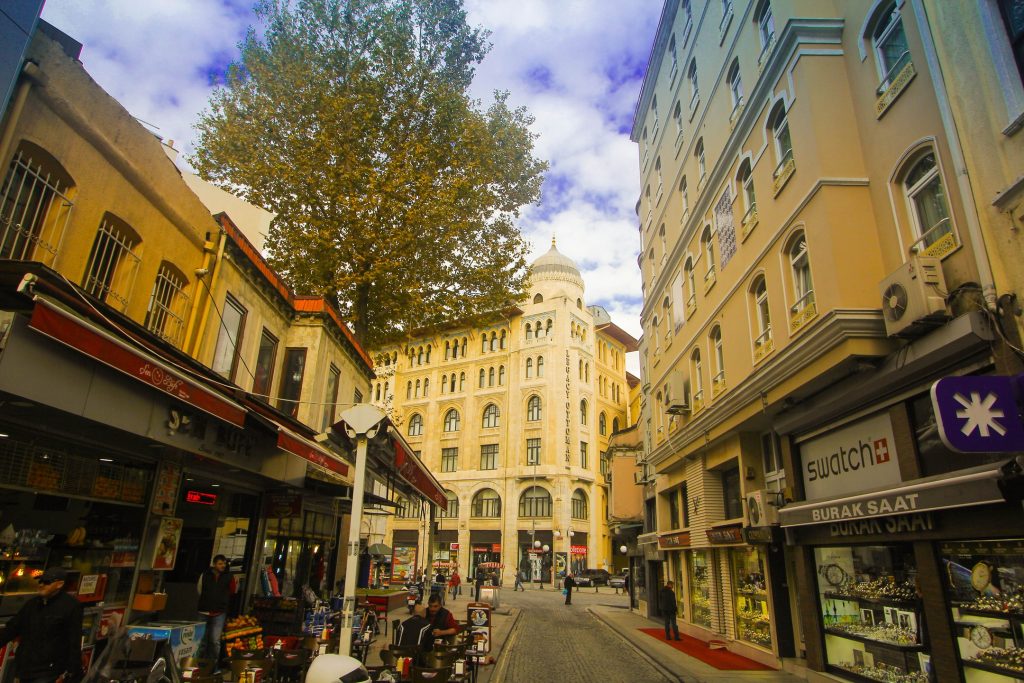 It is famous for its wonderful location, professional and helpful staff, and clean rooms. You can start your day with a traditional Turkish breakfast and wander around Eminonu until evening without getting hungry.

Address: Hobyar Mahallesi, Mimar Vedat Sokak, Ozhan Apt. No:16
3. Hotel Terrace Istanbul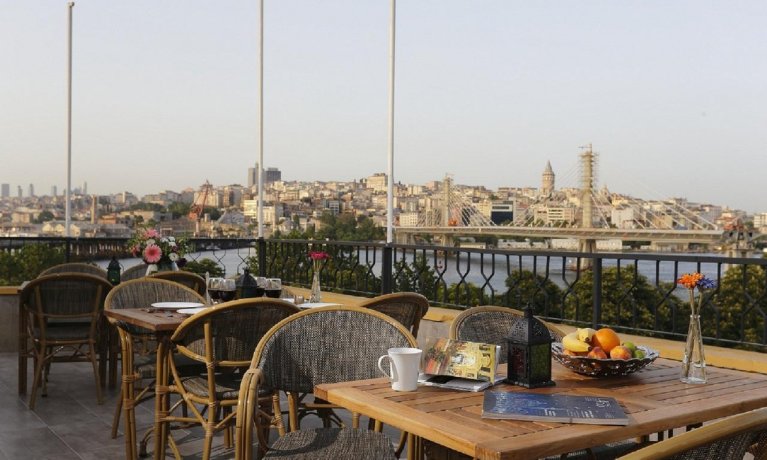 The hotel is located in a historic building with an amazing city and sea view. It is within walking distance to many of the main tourist attractions. Breakfast is above average.

Address: Yavuz Sinan, Tahsildar Sk. No:10
Things to Do Near Spice Bazaar
Spice Bazaar is located in Eminonu zone which is always too crowded with local people and tourists because of its location between Asia and Europe sides of Istanbul. There are all kinds of transports which make it easy to reach, so you can find all types of people. Naturally, many restaurants, cafes, shops, and tourist attractions are all around the place. I have enlisted the best cafes and restaurants in the surroundings and some main historical places that you can visit before or after your visit to Spice Bazaar.
What restaurants are near Spice Bazaar?
There are a lot of restaurants near Eminonu, but the most famous food to eat is fish. Fish restaurants range from luxury to fast food or casual food. Depending on your time and budget, you can prefer to eat your fish and bread (balık ekmek) on the fish boats on the coast which costs 10-15 TL (2-3$), or you can visit fish restaurants under Galata Bridge. In the evenings, with live music, those restaurants are more recommended.
1. Galata Balık Restaurant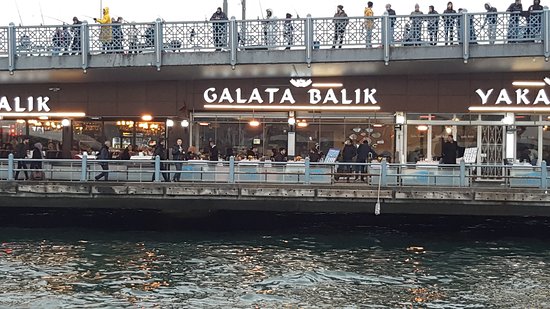 With its fresh fish and sea view, it is one of the most preferred restaurants in Galata Bridge. The staff is professional and helpful, the restaurant is clean and has a niche interior design. Be conscious of prices. There is usually a menu outside the restaurant, you can check the prices before entering. It is open until 01.00 a.m.

Address: Galata Köprüsü EB 7
2. Yaka Balık Restaurant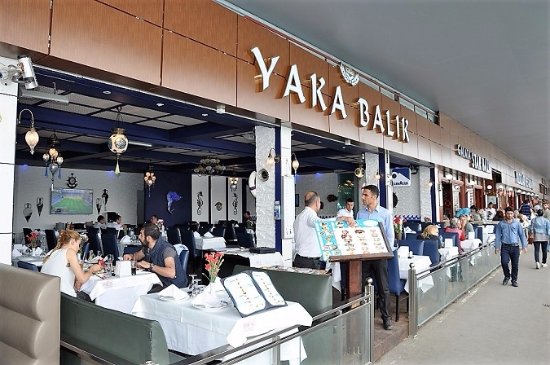 This restaurant is also located under Galata Bridge with an amazing Istanbul view and daily fresh fish and seafood. I would recommend tasting their appetizers before fish.

Address: Yeni Galata Köprüsü Altı Eminönü Boğaz Tarafı No: 6
3. Istanbul Balık Restaurant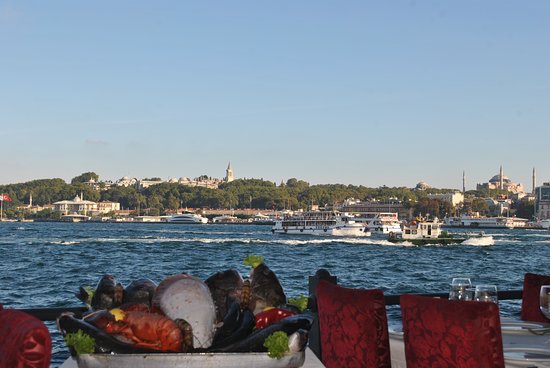 This restaurant enjoys not only sea view but also a nice city view including Hagia Sophia and Sultan Ahmet Mosque. They serve fresh fish and seafood. Appetizers are also delicious, but they can pricy. Check the prices from the menu before ordering your food.

Address: Yeni Galata Köprüsü Altı Karaköy Boğaz Tarafı No: 15
4. Pandeli's Restaurant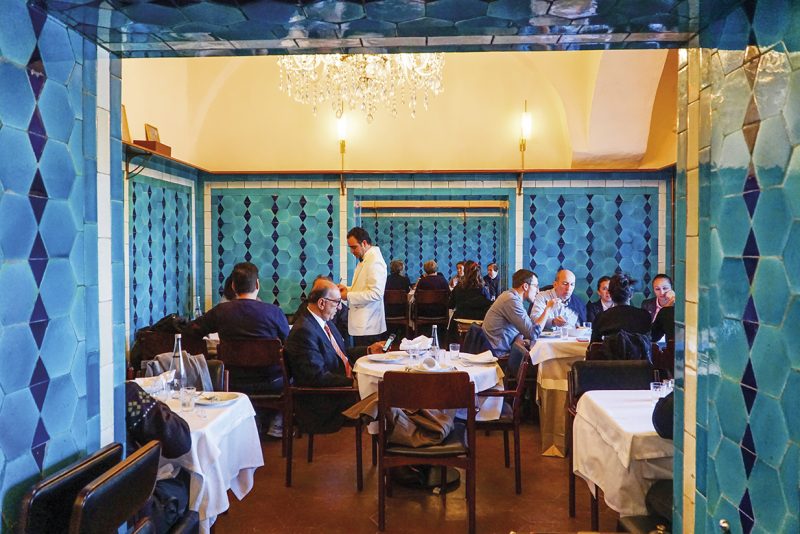 At the entrance of the left side Spice Bazaar, there is a very famous restaurant Pandeli's or Mısır Lokantası which serves both Turkish and Western dishes. It has been opened by a Greek of Turkish descent in 1901. Decorated with blue tiles, it is told that the restaurant was also a favorite place of Ataturk. Today it is considered to be one of the symbols of Istanbul and classics of Eminonu. Prices are reasonable.

Address: Mısır Çarşısı No: 1
Cafes near Spice Bazaar
If you need just a nice and cozy terrace café to enjoy your food and coffee, there are lots of them near Spice Bazaar.
1.Kubbe-i Aşk Cafe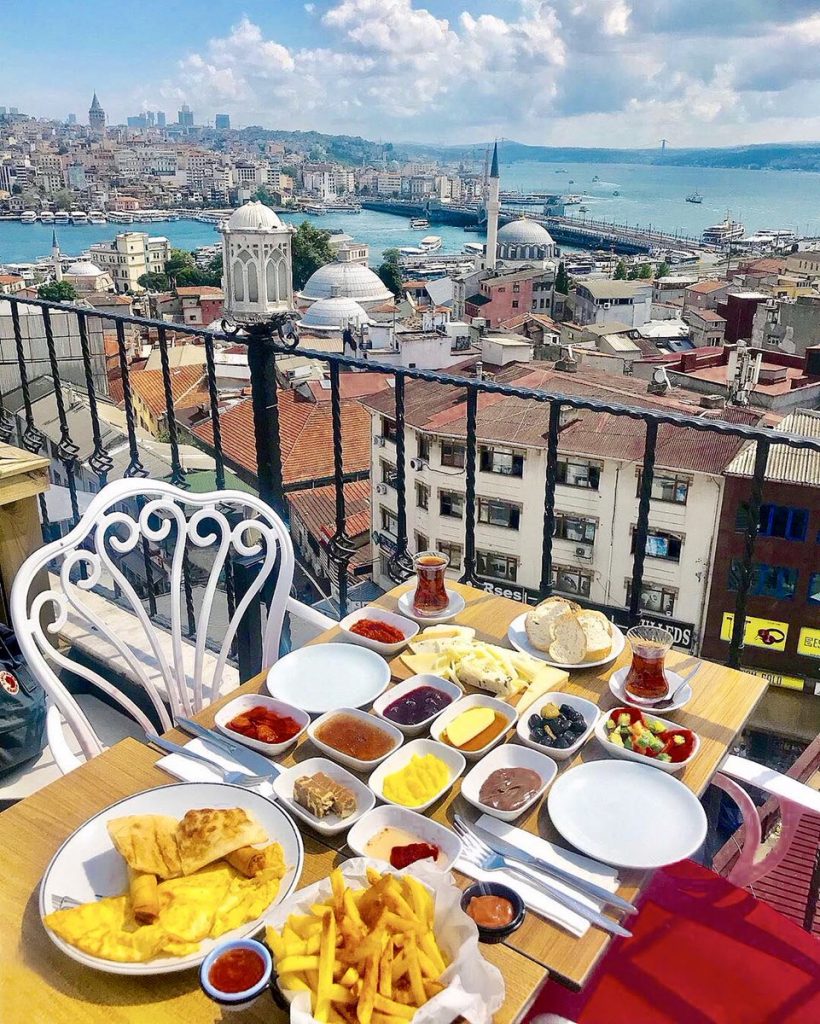 In this street, you will see lots of cafes with terraces serving different kinds of food and drinks. But the best view and food is in Kubbe-i Aşk. I usually go there to have a Turkish breakfast in the Bosphorus view. You can also opt for your Turkish breakfast, here in the morning, and after a full breakfast you can head to Spice Bazaar and other tourist attractions around. Breakfast for two people costs around 70TL (12$). İf you visit there just for a cup of coffee, I recommend to taste 'Viana Coffee' which is around 15TL (3$).

Address: Süleymaniye, Fetva Ykş. No:3
2. Doksanlar Café (90s Café)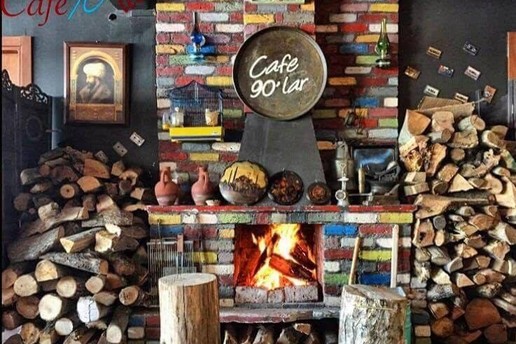 This café is also in the same area, maybe 50 meters from Kubbei Aşk Cafe. I love interior design most. As it seems from its name, the cafe decoration and design reflect the 1990s. As I was born in the heart of the USSR in 1990, this cafe became my favorite spot in Istanbul at first sight with its old music cassettes, film posters, journal covers, tape recorders, and video cassettes –all from the 1990s. İt feels so nostalgic to be in the cafe. I usually drink a cup of coffee on the third floor with a nice Bosphorus view. You can also take your kids, they have a playroom for children on the second floor.

Address: Demirtaş, Nazır İzzet Efendi Sk. No: 32
What attractions are Near Spice Bazaar?
As Spice Bazaar is located in the center of Eminonu between Halic and Sirkeci, there are a lot of places to see. First, you can enjoy the Bosporus view walking on the coast of Eminonu and feel the soul of the hurrying crowd here and there. Maybe taste roasted chestnuts, simit (a Turkish bagel) or corn. Then you can start exploring the area.
1.New Mosque (Yeni Camii)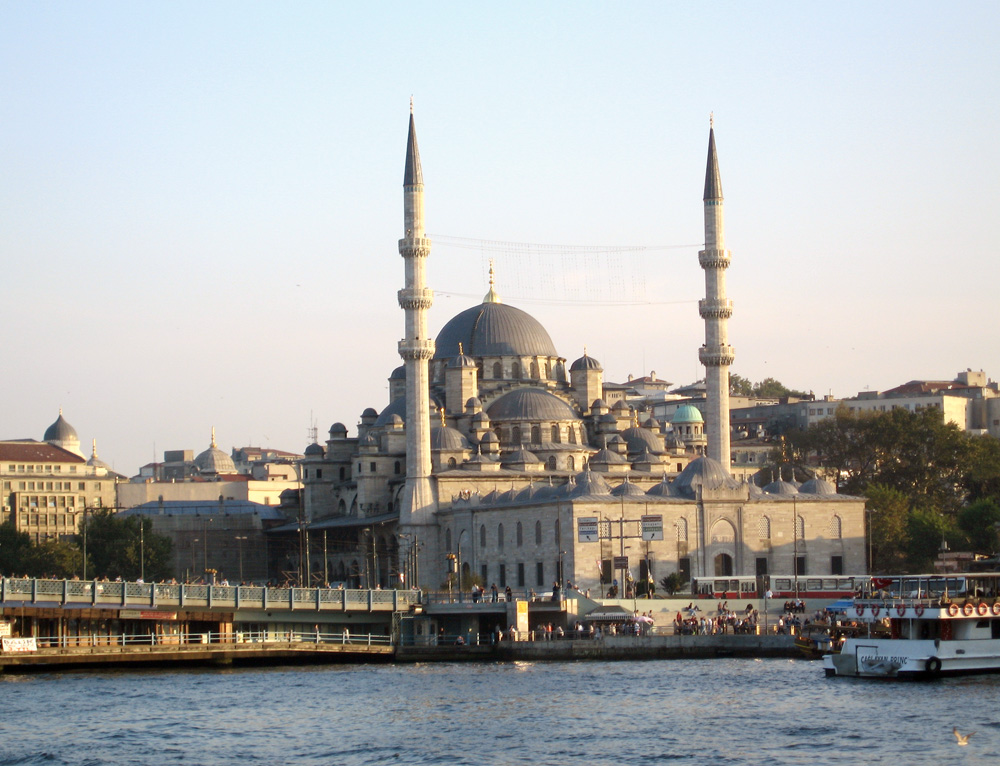 New Mosque is side by side with Spice Bazaar. It was started to be built in 1597 by Safiye Sultan mother of Sultan Mehmet III in the place of an old church and synagogue. The surrounding of the mosque was Jews quarters, which Safiye Sultan believed that the area should be Islamized. So she decides to build her new mosque in Eminonu and buying properties of Jews, she gives them new places in Haskoy to build their houses.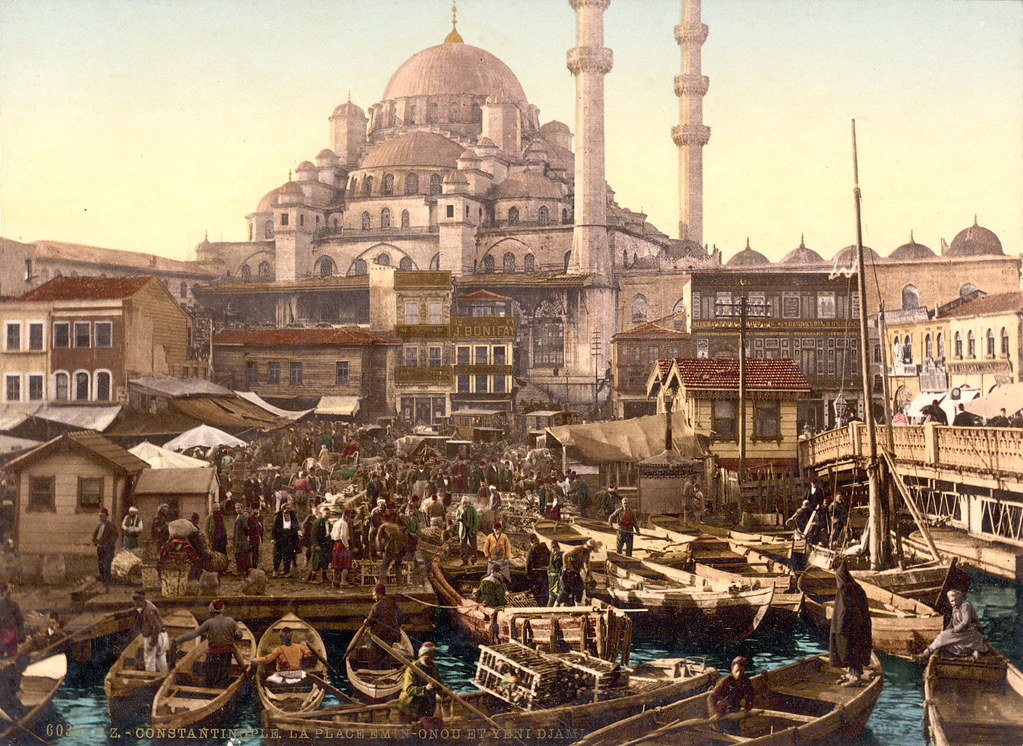 Up today, Haskoy is one of the largest settlements of the Jews in Istanbul. However, before completing the mosque, Safiye Sultan dies and the construction stops until 1660. In a big fire of 1660, all Istanbul residents suffered a lot. The fire burnt hundreds of houses and also damaged incomplete mosque. Turhan Sultan, mother of Sultan Mehmet IV during her visit to the people injured and suffered in the fire, sees the incomplete mosque and decides to finish it.
So, after 60 years, the construction starts again and in 1663, the mosque was inaugurated with prays. Tombs of Turhan Sultan, Sultan Mehmet IV and five other sultans with many princesses are here. Recently, it has been renovated.
2. Museum of Railway Station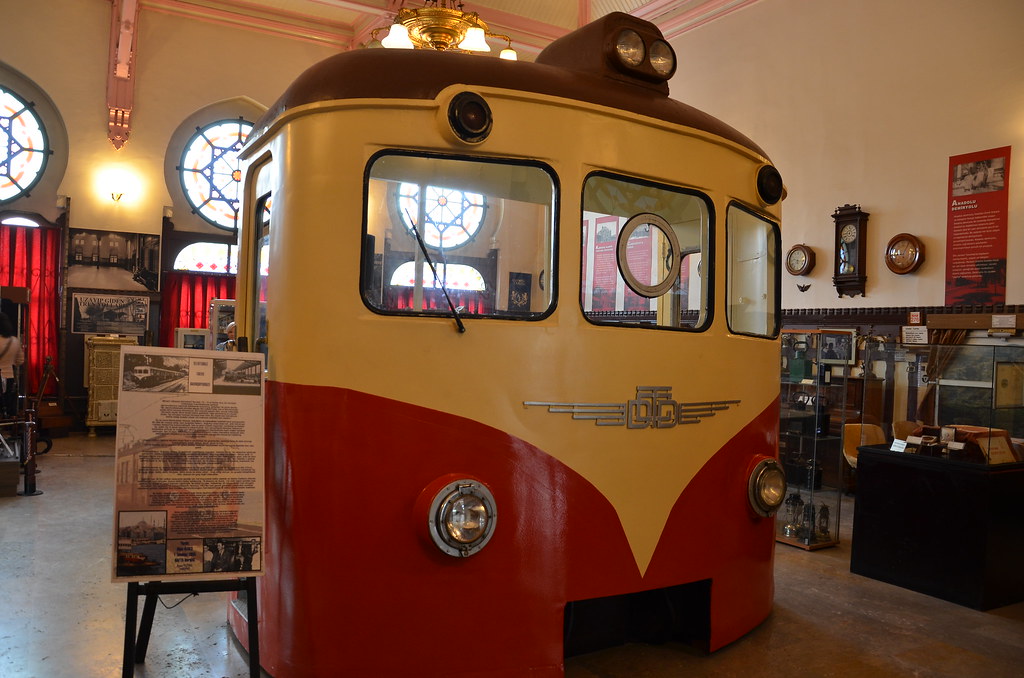 Building Sirkeci Station and railroad to Istanbul was an enormous historical even in the Ottomans during the period of Sultan Abdulhemit in 1888-1890. It was called Orient Express and was connecting Istanbul city to the European Railroad and Paris and Vienna cities. The architect of the station was a German A. Jasmund who was a main architect in the Ottoman Court.
The architect believed that Istanbul is the door from the East to the West, so the architectural style of the building should have reflected it. It did. When it was finished, it became one of the most outstanding buildings of Istanbul with a Parisian-style dome, minaret-like turrets, and Moghul-influenced windows. The project was building a 2000 km railroad from Istanbul to the East, and 337 km of this project was inside Turkey.
Unfortunately, when the railroad was built, a lot of coastal invaluable Byzantium and Ottoman palaces were knocked down. Since 2005, the building has been converted to a Train Station Museum and you can find more than 300 pieces of nostalgic trains, materials, equipment, and photos of the historic train station.
You can visit the museum every day from 9.00 to 17.00 except Mondays and Sundays. The entrance is free of charge.  
Address: Hoca Paşa, Gar, next to Sirkeci Metro Station
3. Eminonu Pier and Galata Bridge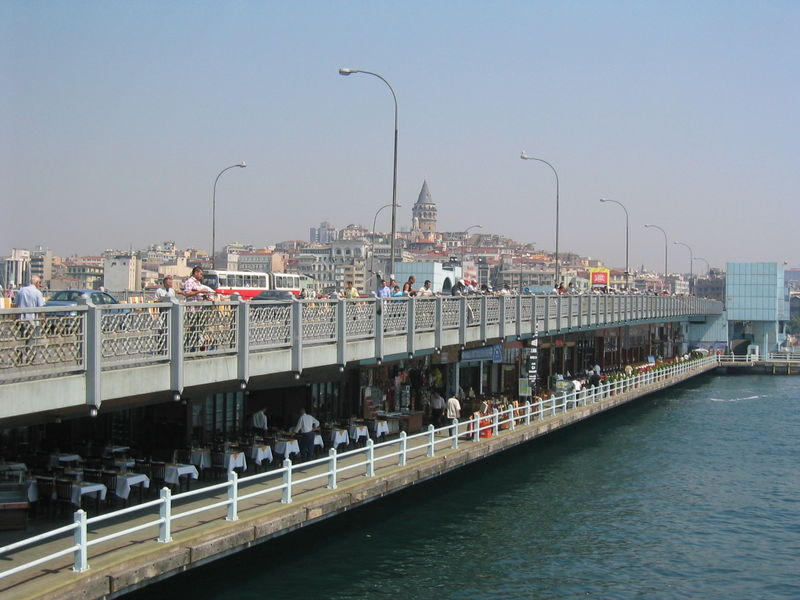 Before or after strolling in the Spice Bazaar, you can head to Eminonu Pier and from there you will see a famous Galata Bridge with lots of fish-men on it. Under the bridge, there are tens of fish restaurants that I attempted to enlist the best ones.
If you are hungry, you can sit in one of them, if you are not you can either go straight towards Halic metro or cross the bridge to historical Galata city. From the top of the Halic Bridge, there is a nice view to take photos. If you want to cross the Galata bridge, you are already in Galata and can go to see Galata Tower.
When should I Visit Spice Bazaar?
Naturally, at the weekends, the Bazaar can be very crowded. You can visit in the early mornings until the noon prayer time during the weekdays, which I believe will be less crowded.
Is it Expensive to Visit Spice Bazaar?
The entrance is free, you can just visit the Bazaar, explore inside and take your photos free of charge. But if you want to buy some spice, they can be more expensive than ordinary spice shops, because of the thousands of tourists flow every day. Still, they are not that much expensive. You can buy some cinnamon, caraway, saffron, mint, thyme and can find all kinds of rare herbs.
How to Get to the Spice Bazaar?
Tramline
You can use Bagcilar-Kabatas T1 tramline to go to Spice Bazaar. Eminonu Stop is just in front of the bazaar. Getting off at Eminonu stop, you will walk about 100-200 meters.
Metro line
If you do not have access to the tram line where you are, then you can also use the metro Marmaray line. From the Asian or Europe side, you can get on Marmaray, and get out in Sirkeci Metro Station. From Sirkeci metro, you might walk around 1 km.
Bus
There are a lot of buses coming to Eminonu from Asian and European parts of the city. You can take a bus, as well. Depending on your location, you can check the bus numbers from the website:
Ferry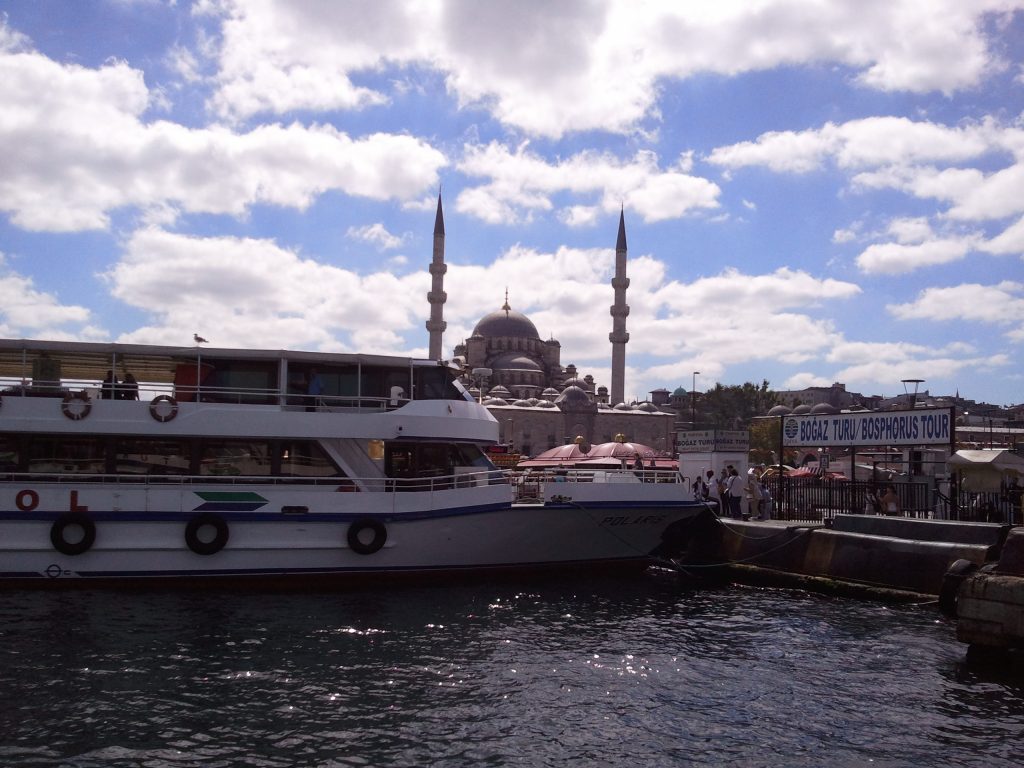 If you are in Uskudar, Kadikoy, Ortakoy or in the islands, you can take ferries heading to Eminonu. From the ferry, you will walk around 400-500 meters.
For all transports, buses, metro, tram, and ferry, you use a single Istanbul Card which eases your mobility in the city.
Walking
I love walking and wondering around the city since it allows to explore and to know the city better. So, my fifth recommendation to go to the Spice Bazaar is walking. I usually walk down to Eminonu from Suleymaniye Mosque, Vezneciler, Vefa, Halic or Şişhane. To understand the city map, you can first go to Vezneciler metro, walk to Suleymaniye Mosque, spend some time there and then visiting Mimar Sinan's tomb and museum, you can walk down to Eminonu which is in 10 minutes walking distance. You will see the Spice Bazaar just on your right.
Will I Need a Guide at Spice Bazaar?
Although Spice Bazaar is one of the best touristic attractions of Istanbul Eminonu zone, it is a small market with just 88 shops. You do not need a tour guide to walk inside. But reading a guide before going, knowing the best shops to buy spices, sweets, gifts, and souvenirs will be helpful. Because not all of the shops serve the best quality. Above I tried to list the most famous shops to buy things and the best quality staff.
All in all, Spice Bazaar is one of the most beautiful sample of Oriental Ottoman style market with its architecture, domes, all kinds of spices and medicinal and relaxing herbs, souvenirs, gift shops and antique shops. It is a favorite attractions of tourists since they can find everything in one place. Spending a couple of hours in the bazaar will never regret you.