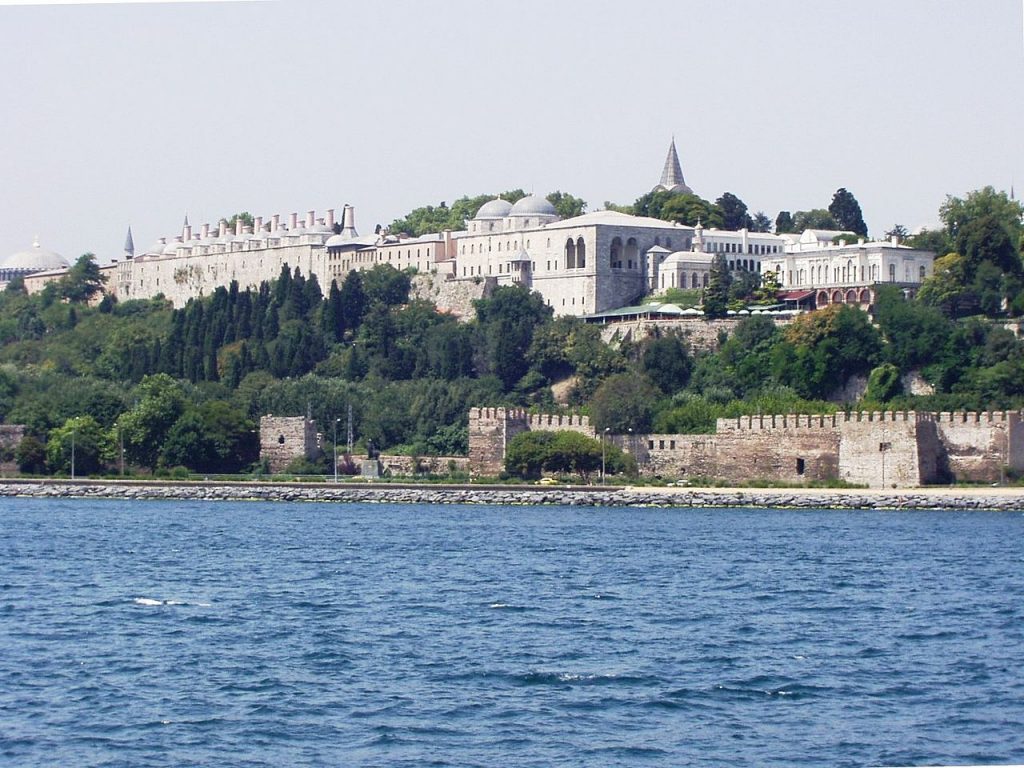 Topkapi Palace is the most unique and organic imperial palace in the world which has spread over 700.000 square meters. It is located in the first hill out of legendary seven hills of Istanbul. This area was once occupied by antique Byzantium acropolis.
The palace has not been built with a pre-prepared design or plan as European palaces but has grown bigger and bigger with newly added buildings in about 400 hundred years. Starting with Fatih Sultan Mehmet II in 1453 to Sultan Abdulmecit I in 1839, every new-coming sultan added new buildings into the palace courtyards. So, it turned into a big palace complex. In accordance with Islamic tradition, Topkapi Palace can be compared with Alhambra Palace in Granada and Moghul Palace in India.
A small city inside a city
I like to call Topkapi Palace "a small city inside a city" since more than 6000 people were living inside, and governing the palace with its luxuries and intrigues demanded huge management skills like a small state or a city. Topkapi Palace has witnessed the throning and reign of 25 sultans in total. With its remarkable architecture, fantastic decorations, a marvelous museum with priceless historical artworks, palace archive, fabulous harem, kitchen, ammunition, exquisite gardens, schools, mosques, soldiers' dorms and library and many other units are worth to see as a complex.
Thus, Topkapi Palace should not be understood as a private palace of the sultans and their families, but it was a big complex producing and protecting its own civil servants, soldiers, judges, artists, poets, artisans and servants under one roof.
Starting from the garden, you enter the world of the classic age of the Ottomans, their daily life, political and economic power and from one room to another room you jump over the years and centuries. It is one of the best historical delicate tastes that for a long time its flavor will linger in your mouth.
A brief history of Topkapi Palace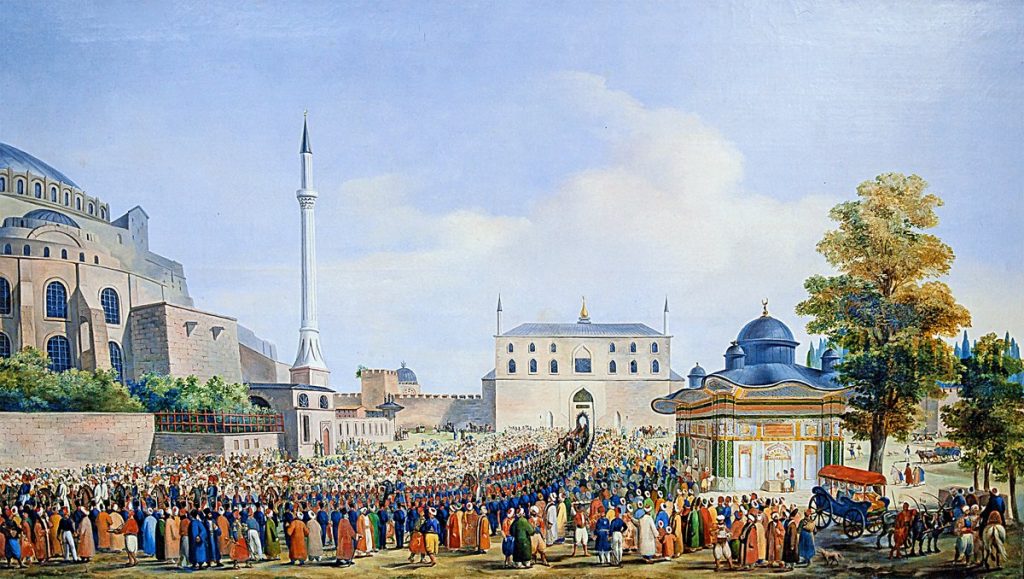 Ottoman Empire is one of the long-lived medieval empires which has reigned almost 600 years in three continents, Europe, Asia, and Africa. With conquer of Istanbul, the empire starts to expand more and becomes a large empire. When Fatih Sultan Mehmet II enters the city, the imperial palace of the Byzantines was in a devastating situation because of the crusaders. In 1204, during the crusaders' pillage of Constantinople, the Great Palace of the Byzantium turns into a ruined and dilapidated place because of the plunders. So, it could not be a new palace of the Ottoman Empire.
Old Palace and New Palace
Fatih orders to build a new palace in Beyazit, in the place of the main building of Istanbul University today. His initial plan was to build his palace in the center of the city as "Forbidden City" in Beijing, China. The main idea here is to build the palace in a small square in the center and the city around the palace in a bigger square. The city develops and lives around the palace in such cities.
However, due to the geographical location of Istanbul, it was almost impossible to build a city like that. Consequently, after a short time of the building New Palace in Beyazit, Fatih orders the construction of Tiled Kiosk (Çinili Köşk) in Topkapi Palace, in 1475. There could be several reasons why he chose this place. First, the view was so breath-taking that Byzantines would believe people living on the other coast were blind. Secondly, instead of the central location, security was much better because of the surrounding sea.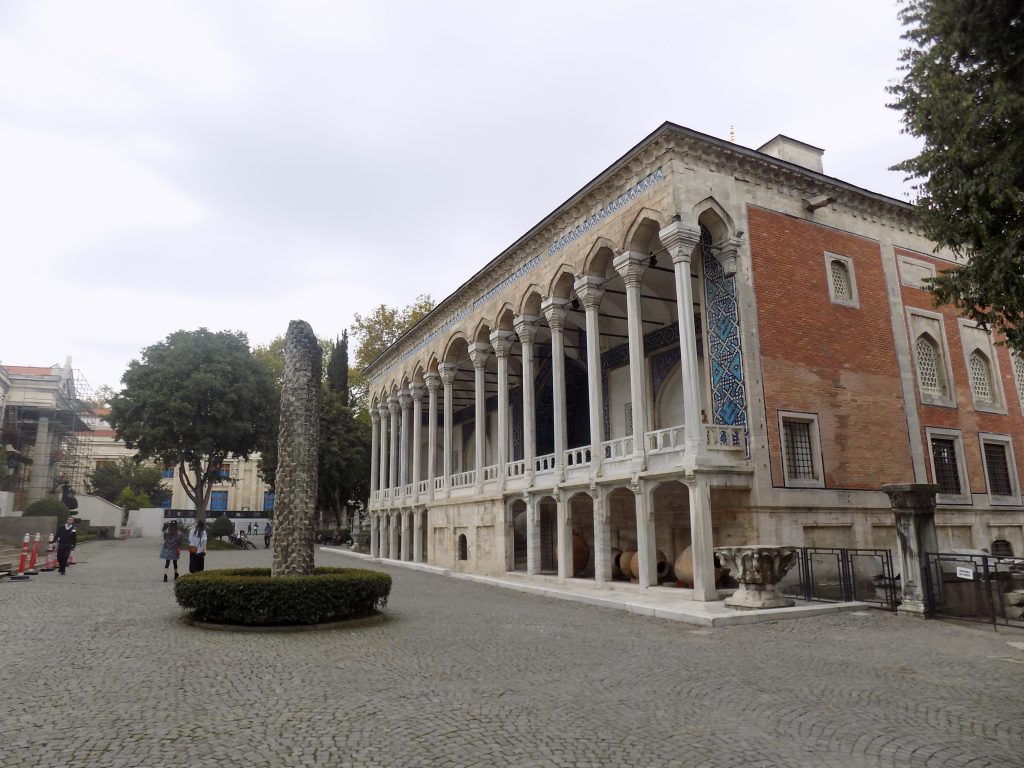 When the Sultan moves to his new palace, the one in Beyazit was soon called "Old Palace" (Saray-ı Atik) and usually, the harem (women and children) of dead sultans would be sent to live in the Old Palace until the end of their lives. The Old Palace was there until 1826. Unfortunately, it was knocked down to build Istanbul University. Today there are not even small remains or remnants of this palace. What an unhappy ending!
Topkapi Palace was called "New Palace" (Saray-ı Cedid) after moving here from Old Palace. It was in Sultan Murad I's reign (1730-1754) that New Palace started to be called as Topkapi Palace, almost after 300 years of its construction.
Witness 400 years!
In the above, I mentioned that Topkapi Palace is a unique and organic place. The reason why I am calling it such is that the construction of the palace never finished for 400 years. It always grew. During the strongest periods of the Ottomans, the palace expanded rapidly, during the stalemate periods of the Empire, the palace still grew but at a slower pace. In any way, it continuously expanded and got bigger.
The palace continued to be the imperial center of the Ottomans until Sultan Abdulmecit (1839-1861) constructed Dolmabahce Palace in 1855 and moved there. After this date, only some of the officials were living in the Topkapi Palace and imperial family would visit the holy relics of Prophet Muhammed from time to time.
The idea of converting the palace into a museum starts with Sultan Abdulmecit when he orders to show the treasure of Topkapi Palace to an English ambassador. Later it becomes a tradition to show ancient artworks and treasure to foreign guests and ambassadors. As a public museum, it was opened in 1924 with Ataturk's order in the Republican Era.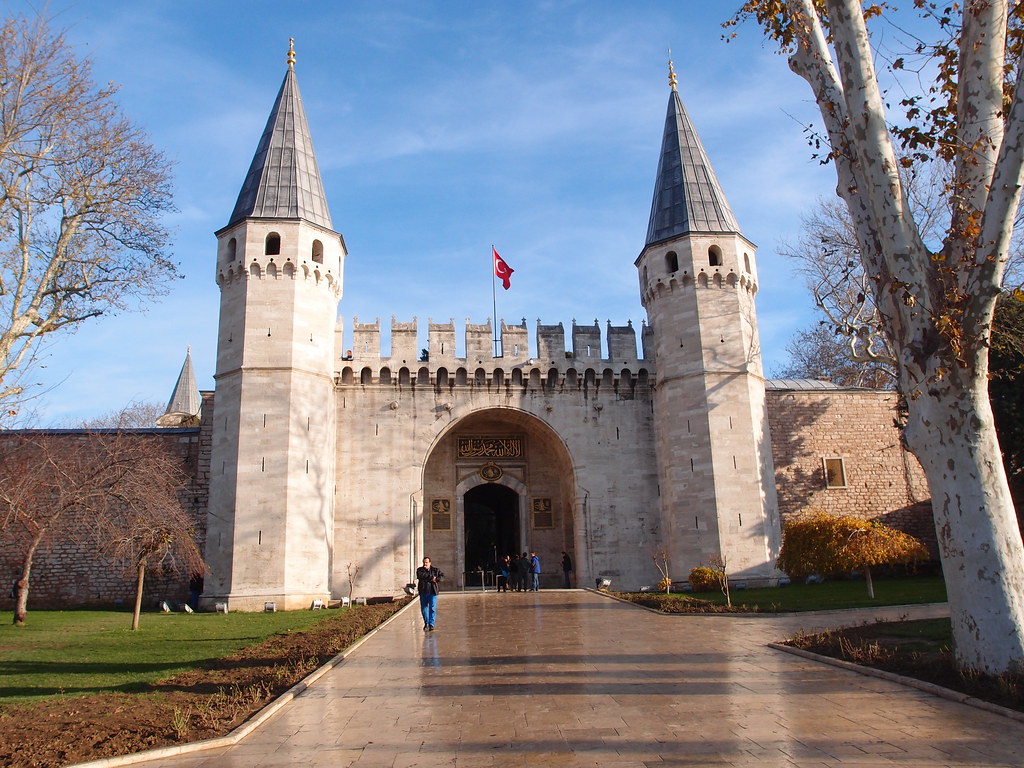 Alongside with the newly added pavilions, some buildings disappeared because of fires or earthquakes. The biggest fires were in 1574, 1665 and 1856 that devastated large areas of the palace. But new ones were added up from time to time. It is not like a multistoried big palace but consists of small pavilions and kiosks in a huge garden with delicate architectural features and Chinese tiles, miniatures and exquisite interior decorations. Every building is worth to spend some time inside and analyze separately.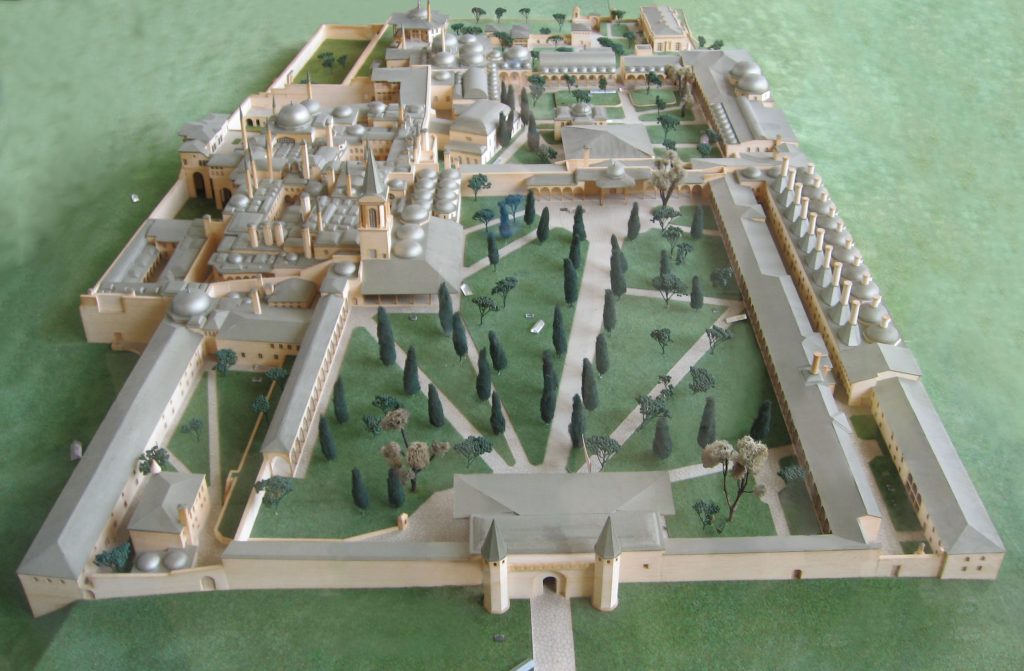 How to Understand Topkapi Palace?
So I would recommend reading and learning some information about the palace before visiting, otherwise, you will end up entering from this building to another one without understanding much what is what and will get lost.
If you truly wish to enter the world of the Ottomans, you can do pre-readings, watch some documentaries or get a pamphlet or leaflet about the palace, so that you will not get lost and confused. Even a short visit will take several hours, and you might need many visits if you want to know the palace thoroughly.
From first sight, the palace gives the impression of disorder. A lot of pavilions, buildings, and kiosks spread over a large area here and there. I have tried to classify and organize the bulk of information in four main headings according to four courtyards of Topkapi Palace, so you will not miss anything and will have brief information about every building inside all courtyards.
I have also attempted to draw a concise logical map and plan of the palace through the article and give the points why and what you should not miss Topkapi Palace during your stay in Istanbul.
Here we go!
Fountain of Sultan Ahmet III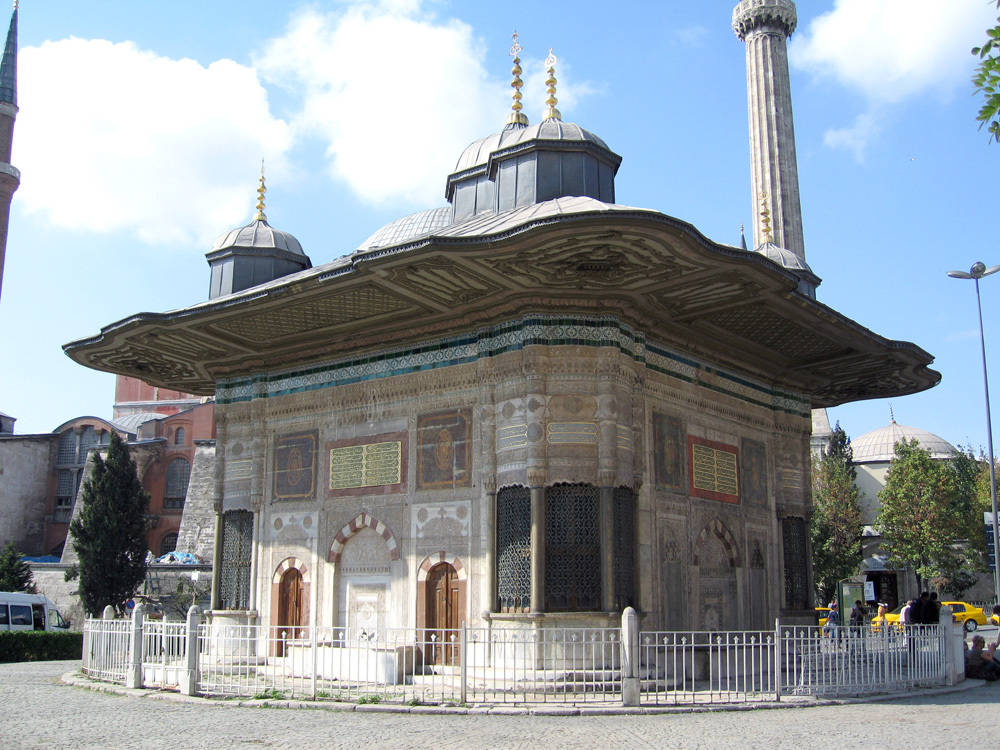 Before passing through Imperial Gate, I would like to draw your attention to the fountain of Sultan Ahmet III which is in front of Topkapi Palace. According to the manuscript written on it, it has been built in 1728-29.  It is an exquisite artwork of the Tulip Era with its 5 small domes. The large eaves are to protect the fountain from environmental factors, but it gives a different air to the fountain and protects from the Sun with its shadow in the summer.
There is calligraphy written with Ta'lik art on the fountain saying 'drink the water with besmele (prayer) and pray for Sultan Ahmet'. The fountain is also important with its mixture of Ottoman and Western artwork features. So, at that period, the Western art style was penetrating to the Eastern style, and on the wall decorations of the fountain, we see both. It is far from having oriental simplicity, but vice versa has covered with wall decorations from the top to the down without leaving even a small gap.  
Building such water fountains were especially considered good deeds for Muslims, because we should remember that until the early 20th century, water was not delivered to every house of Istanbul. People would get their daily water needs from such fountains and carry to their houses. That is why building such fountains for public use was a great favor and service to city dwellers.
You can find tens of such historical fountains around Istanbul. Thus, after having a close look at the fountain of Sultan Ahmet III, let's enter the first courtyard from Bab-ı Humayun
1. The First Court (Alay Meydanı)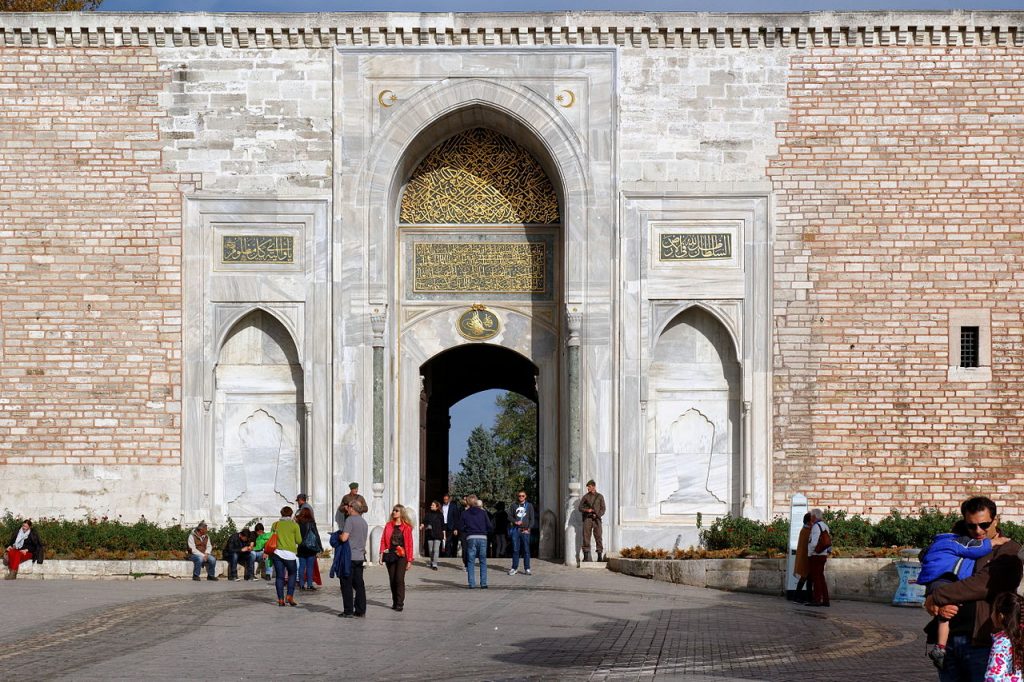 Tourists usually use the main entrance "Imperial Gate" (Bab-ı Humayun) to enter the first court. Imperial Gate has been built in 1478 during the reign of Fatih Mehmet II.
The first court of the palace was open to everybody and was a service area of the palace. Only in the first court, you can spend a day or half a day depending on your speed, because there is a lot to see in this large court.
1.1. Gulhane Park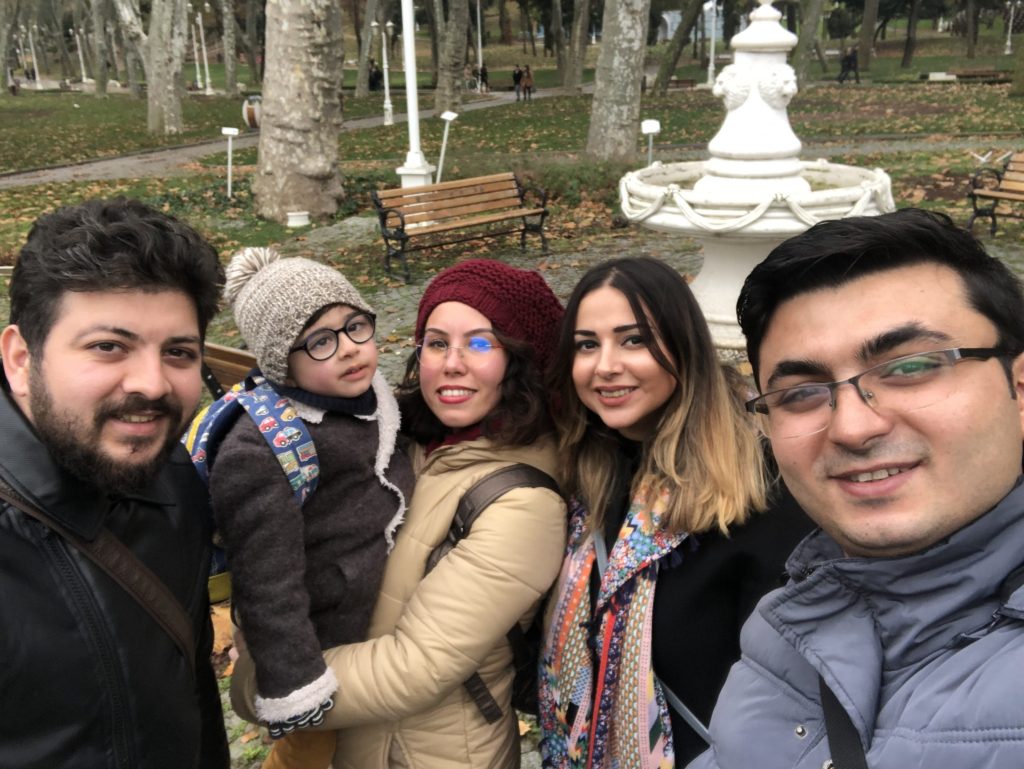 Gulhane Park is inside the first courtyard and ordinary people could enter the park. It is full of beautiful trees, fountains, and flowers that I assume the best time to visit is autumn when the ground is covered with yellow and orange leaves. The name of 'Gulhane' (the house of flowers) comes from the great number of flowers planted here.
It is strongly recommended walking and spending some time in the Gulhane Park separate from Topkapi Palace because there are too many things to see and visit inside the park. You can spend a half-day here, pick a book and read on the grass and enjoy your time. Every year in April, "Tulip Festive" is organized here and the park is decorated with beautiful colors of tulips. It is worth to see, as well.
There is a Byzantium Cistern almost 1600 years old inside the park, but it is not open to the public, yet.
1.2. Museum of Islamic Science, Art and Technology
Museum of Islamic Science, Art and Technology is a must-see in Gulhane Park. The Museum has been opened in the building of the imperial stable house and a famous scholar Prof. Fuat Sezgin has prepared the design of the Museum. It has opened in 2008 and Fuat Sezgin's tomb is just in front of the museum. You can visit the museum with your Museum Pass Card, if you do not have a card, the ticket price is 14 TL ($3) to access the museum.
1.3. Hagia Eirene Church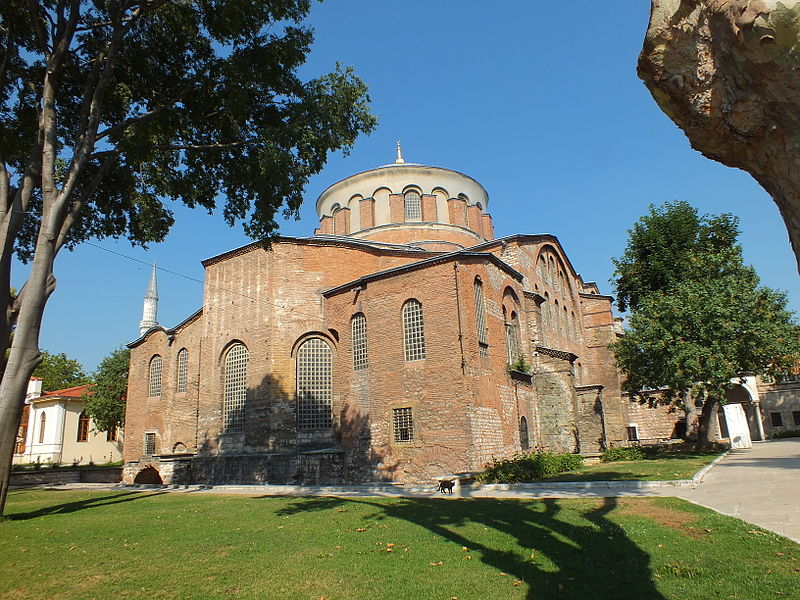 Inside the First Court, Hagia Eirene Church is another must-see. It has the same age as Constantinople. It is the oldest survived Byzantium church dating back to the 4th century. When Emperor Constantin builds his new imperial city, the church was one of the first things to build. It was called the "Great Church" at that time. In 532, rebels of Nika Revolt burn down the second Hagia Sophia and Great Church.
Emperor Justinianus rebuilds both of them and calls Great Church 'Hagia Eirene' meaning 'Holy Peace'. In Turkish, it is called 'Aya Irini' today. The church has never been converted into a mosque. When Fatih Mehmet builds his Topkapi Palace, Hagia Eirene stays in the first court of the palace and it was used as an ammunition house by soldiers until the Republican era of Turkey.
When the Republic of Turkey was declared, first it was converted into a Military Museum, but later on this museum was transferred to the School of Military (Harbiye) in Taksim and today Hagia Eirene is used as a concert hall with its unique acoustic features. If you have time, you can get a ticket for one of those classic concerts and enjoy the music in 1600 years old church.
Museum Pass Card is not valid in the Church. You have to pay an extra 36TL ($6) to see Hagia Eirene Church.
1.4. Archeology Museum, Museum of Ancient Orient and Museum of Turkish Ceramics (Tiles Kiosk Museum)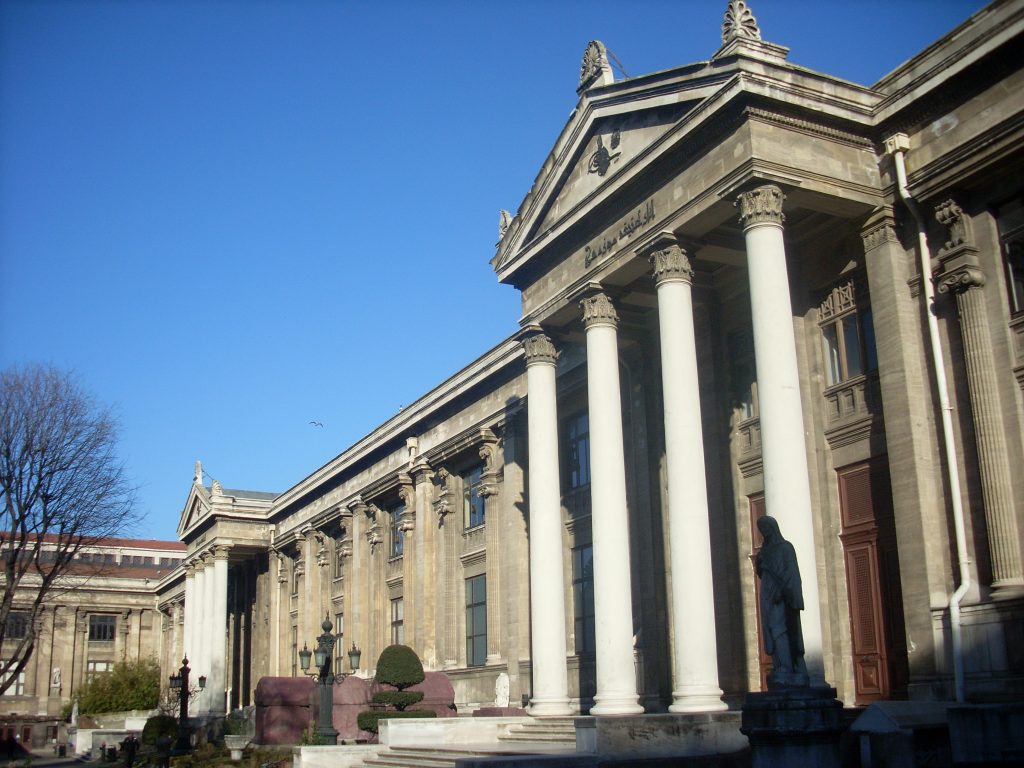 Tremendous Archeology Museum is also inside the First Court adjacent Museum of Ancient Orient and Museum of Turkish Ceramics (Tiles Kiosk Museum). Archeology Museum is one of the richest of its kind in the world. You can see thousands of artifacts of many civilizations starting from ancient Egypt to the recent civilizations.
The museum has been made by initiatives of the first museologist Osman Hamdi Bey. It is known that there are some Byzantium Cisterns near Archeology Museum but there are not any archeological attempts to open them yet. You can see a small building on the cisterns. The ticket for all three museums costs 36 TL ($6), but if you have Museum Pass Card you can use it to have free access.
1.5 A Tiled Kiosk
A Tiled Kiosk which Fatih Mehmet II constructed as the first pavilion in Topkapi Palace is situated in the first court just in front of the Archeology Museum. When you buy a ticket for the Museum or pass with your Museum Card, you will also have access to Tiled Kiosk. It got its name from exquisite blue and green Chinese tiles and according to its internal decoration, today it has been converted into the Museum of Chinese Tiles. You can see many samples of stunning imperial Chinese tiles exhibiting in the kiosk.
2. The Second Court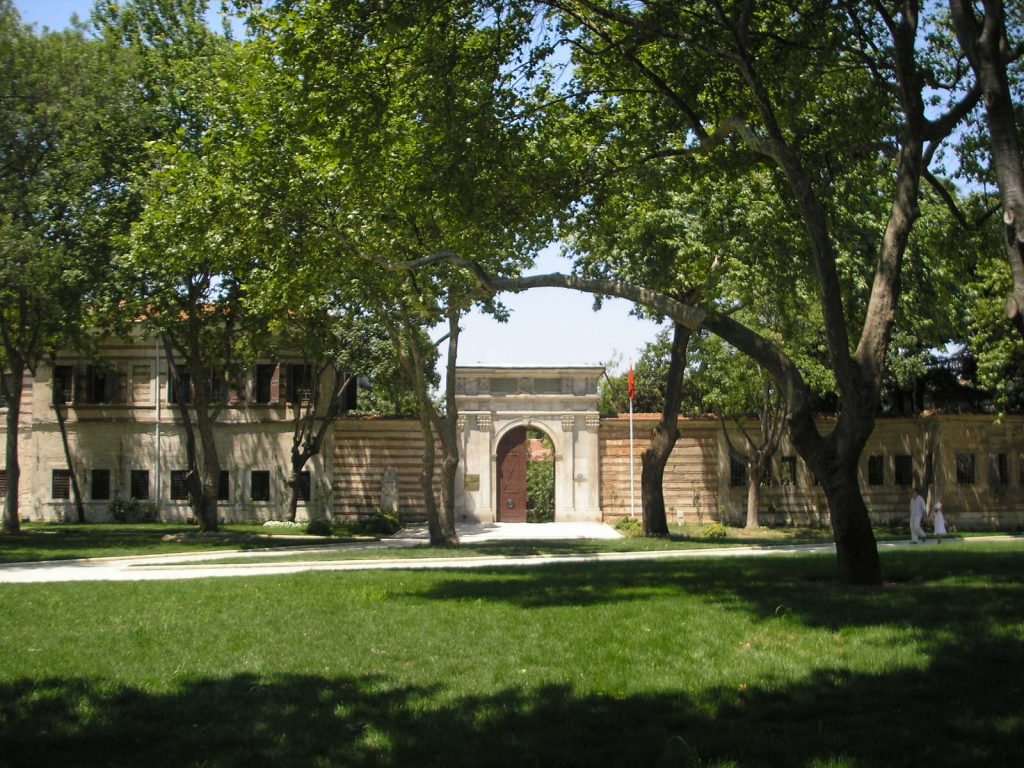 The gate of the second court is called "Bab-üs Selam" which means 'The Gate of Salutations'. It is the place where the ticket offices are located. This gate was built in 1524, and judges pavilions (Divan) were located in the second gate usually known as Middle Gate (Ortapaki).
The reason why judges were here is that the court would believe that justice should be implemented at the door of the Sultan. So punished and guilty people were beheaded at this gate and their heads would be hung on the doors to exhibit to the public.
2.1. Divan
Divan would be usually full of petitioners and would be open to the public four days a week. There is a metal chamber inside Divan, where Sultan could observe the proceedings. Therefore, there was always a respectful silence in case of a potential presence of the sultan.
Nobody even the veziri azams would not know if the sultan is there or not. They would always behave as he was there. Divan Tower is visible from many places in Istanbul and has become one of the symbols of Topkapi Palace.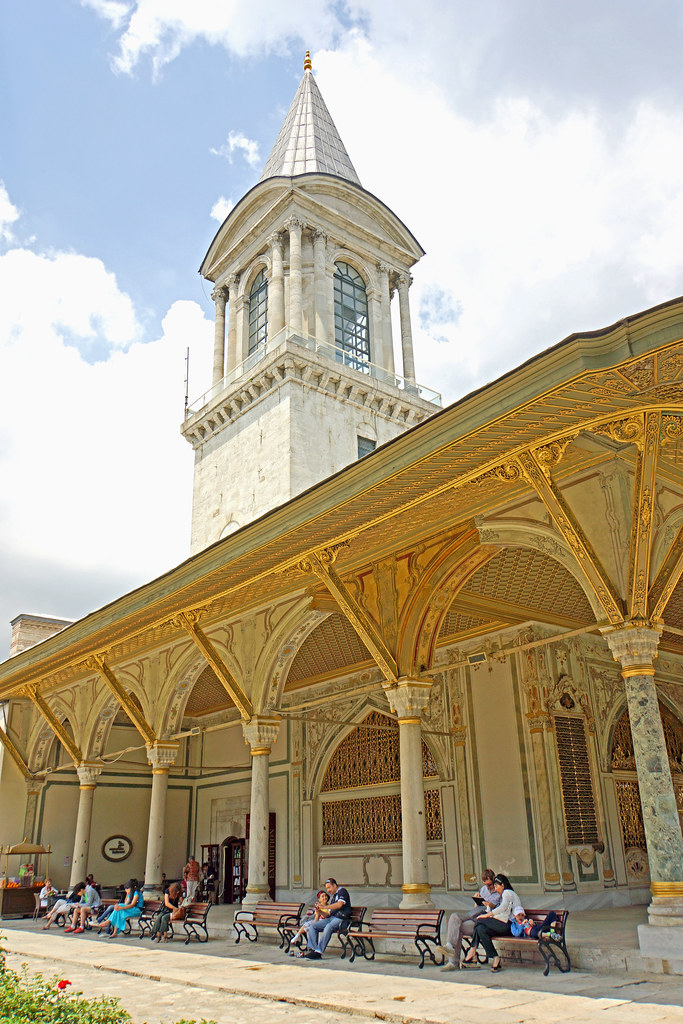 On ordinary days, up to 5000 janissaries (soldiers) would guard the Palace, but on extraordinary and special days or ceremonies, 1000 janissaries would be ready in the courts of the palace in their official costumes.
2.2. Imperial Kitchens
The second court of the palace is full of cypress, plane trees, rose bushes and lawns and on the right side, there are palace kitchens that dominate the view of Sarayburnu (best from Kennedy Avenue) with their marvelous rows of chimneys.
There are ten kitchens here which had 1500 staff, fed thousands of people every day, and today they are used as galleries to exhibit huge kitchen tools, Chinese porcelains and imperial collections of crystal and silver.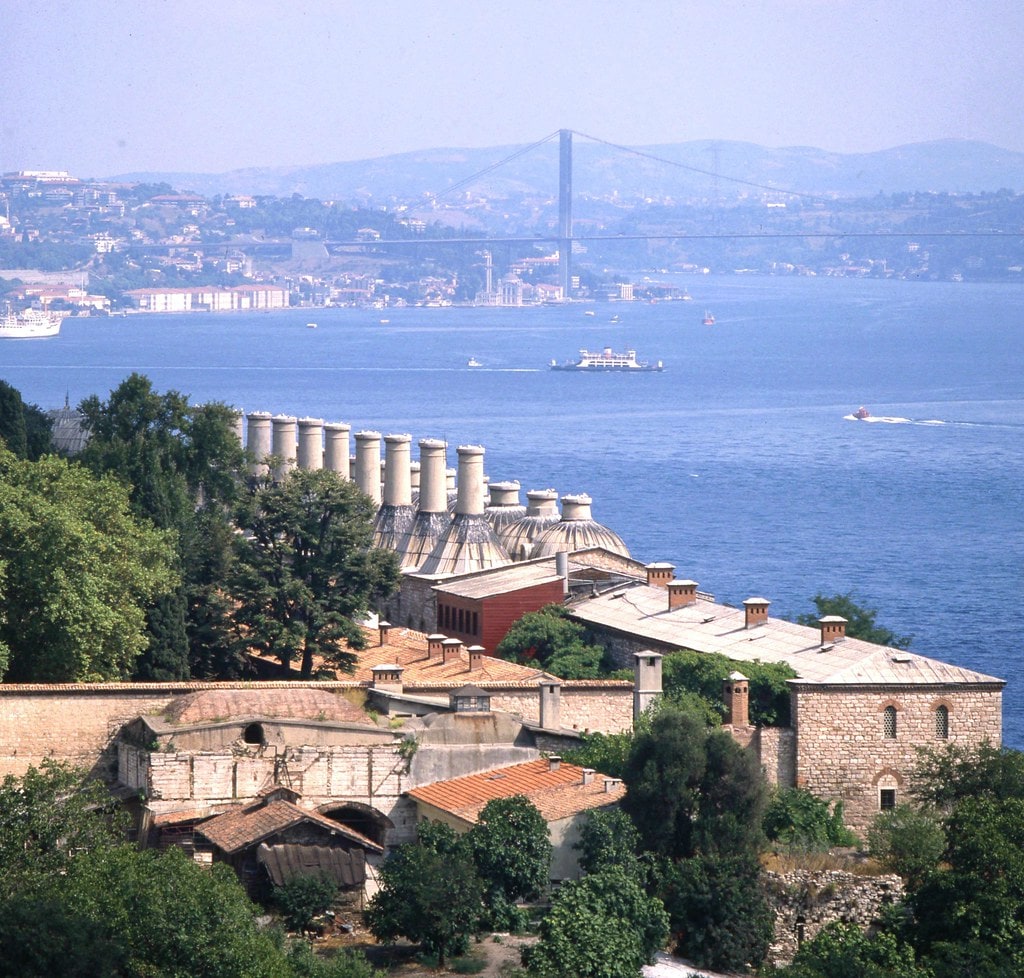 Throne Room (Arz Odası) is the room where the sultan would meet his ministers and veziri-azams and foreign ambassadors. It is the opposite of the imperial kitchens. The second court was also the scene of pageantry (geçit alayı) during the official state ceremonies.
2.3. Harem
Harem is located in the second court on the left side. Harem was a secluded place as a closed world for the wives, concubines, children of the sultans and their servants. Servants were usually black eunuchs brought from Sudan and Ethiopia. They were usually numbered 200. It was one of the most protected and secret places of the Palace that no one else could enter here or leave here easily. To have access to Harem, tourists should pay extra money 42 TL ($7).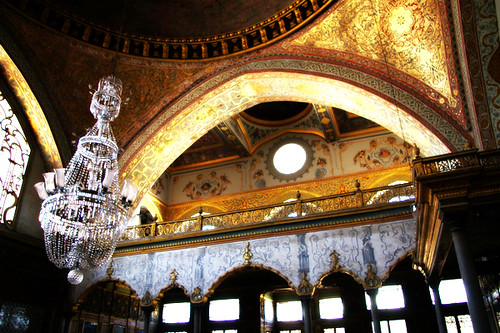 Within the Harem, there is a separate courtyard of the Concubines. At any time, about 300 concubines lived in this site of the palace.
Wives Apartments are where the sultan's wives would live. Under Islamic law, any Muslim man can have up to four wives. But besides them, sultans had favorite concubines and the hierarchy between them would be measured according to this.
Salon of the Valide Sultan was used my mother of the Sultan who was considered to be the most powerful woman in the palace.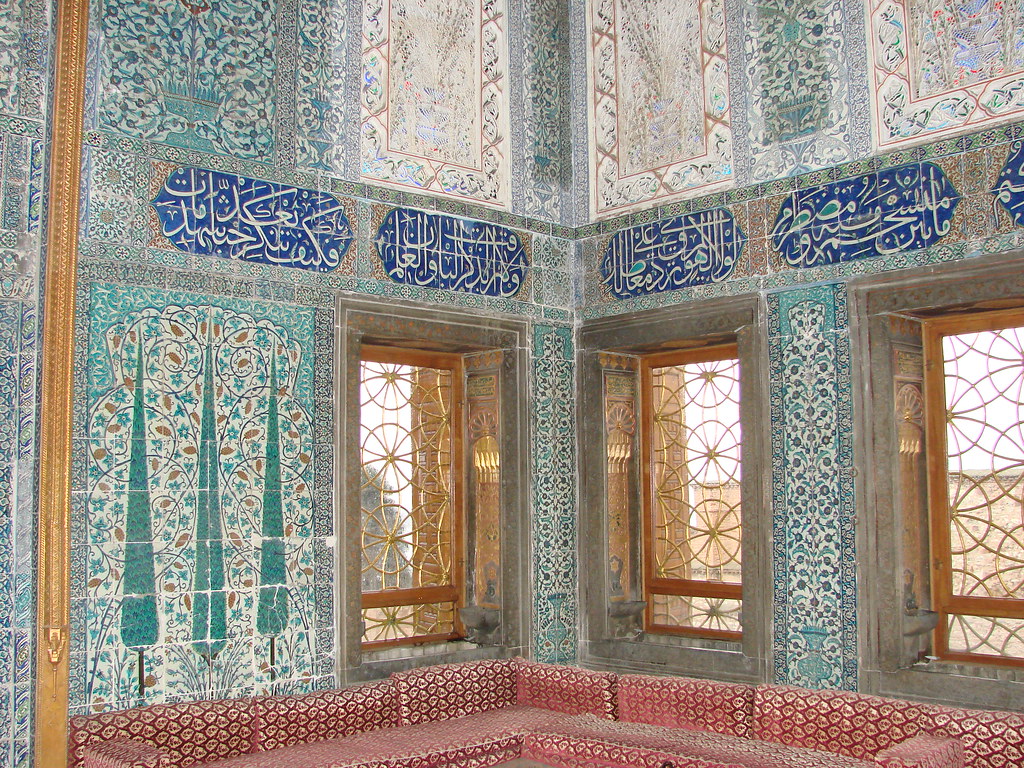 Sultan's Apartment was usually the resting place where Sultan would spend his off-duty time.
Imperial Baths are also located in the Harem part, where you can see the best decorations of white marble.
Favorites Apartments were private flats of those concubines who had borne sultan's children. After having a child, the slave girls would also get their freedom. When the sultan dies, if the child is a girl, the concubine with the child would be sent to Old Palace (Saray-i Atik), if the child is boy, they would stay in the palace.
3. The Third Court (Enderun Meydanı)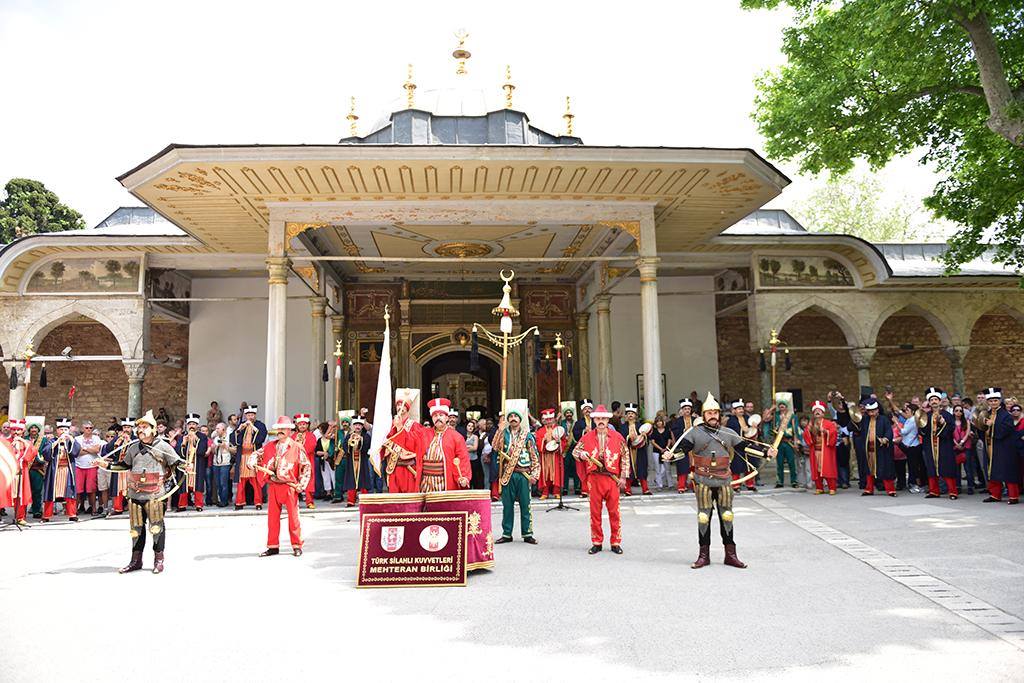 The gate opening to the third courtyard of the palace is called "Bab-üs Saade" which means 'The Gate of Felicity'. As you enter from the gate, the 'Throne Room' is right in front of you. It was the place where sultans would wear their thrones. The courts after Bab-üs Saade were private places of the sultans.
3.1. Enderun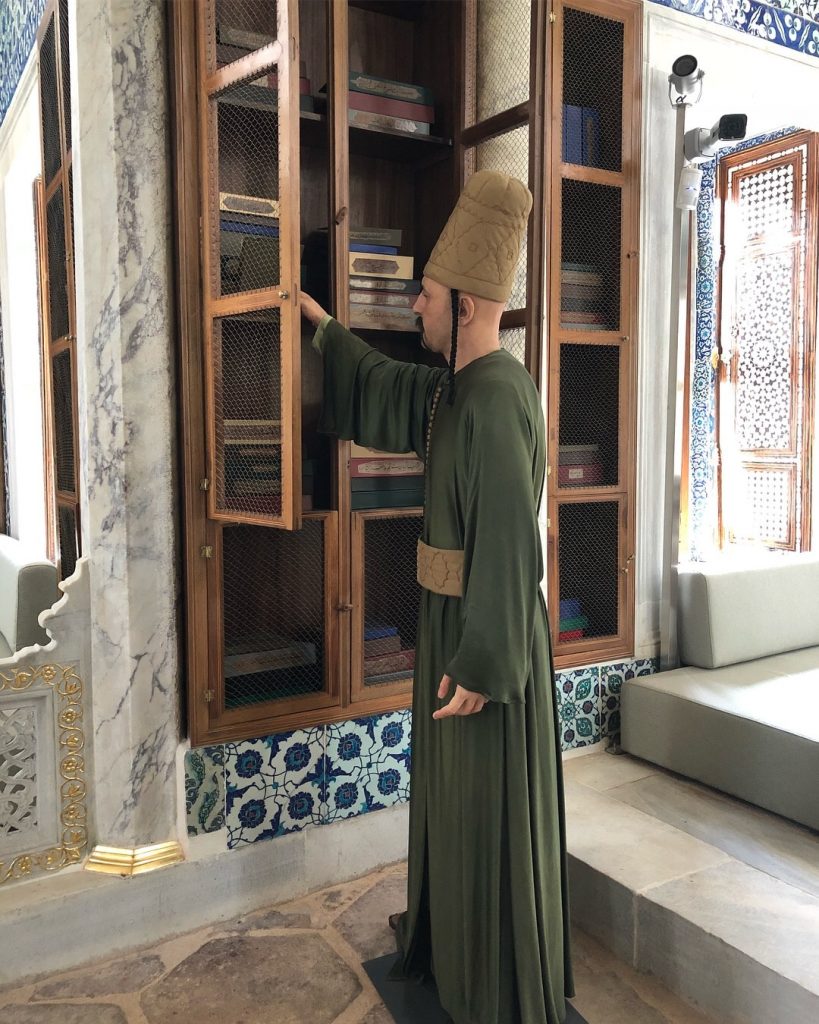 The most important institution Palace Schools (Enderun), the beating heart of the Empire is located in the third courtyard. Here, only civil servants were educated by most well-known scholars of the empire. The students educated here were usually Christian boys taken from Christian families when they were 6-12 years old and would live in the palace and get education here.
When they finished their education, according to their learning level, the weaker students would be sent to military school to become a soldier (yeniçeri ocağı) and the smartest students would be kept in Palace to become bureaucrats and civil servants. Many of those students could become ministers and veizir-i azams or send to other cities and provinces as rulers and governors.
3.2. Hall of Expeditionary Force (Seferli Koğuşu)
Imperial Wardrobe is exhibited in the Hall of Expeditionary Force (Seferli Koğuşu) is in the third court which functions as a costume museum with a collection of 3000 embroidery imperial robes and costumes. Behind the hall, there is a bath (hamam) of Sultan Selim II, who fell there when he was drunk and died later because of his injuries.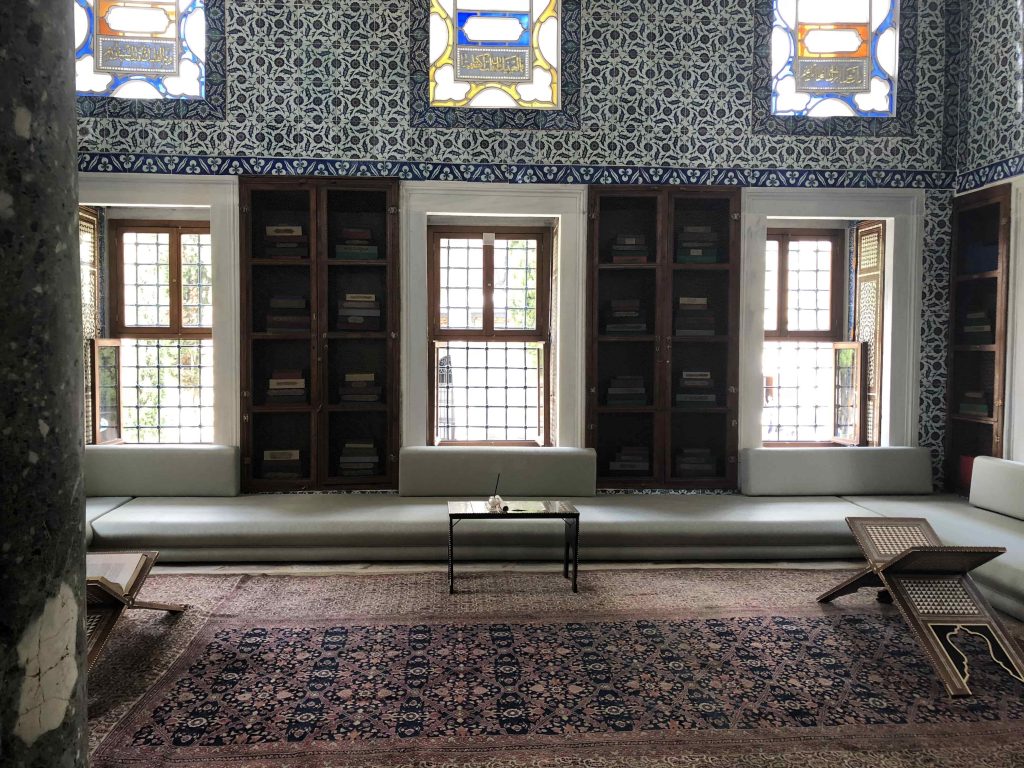 Exhibition of Imperial costumes, jewelry, a very valuable collection of miniatures is here in the galleries. For your information, medieval miniatures are numbered about 10.000, kept in Topkapi archives today and open to art historians and Ottoman historians for future researches.  
3.3. Library
Sultan Ahmet III's library (1703-1730) is in the third court and worth to see. When I was there, I just wondered why no one needed a library before Sultan Ahmet III almost in 250 years.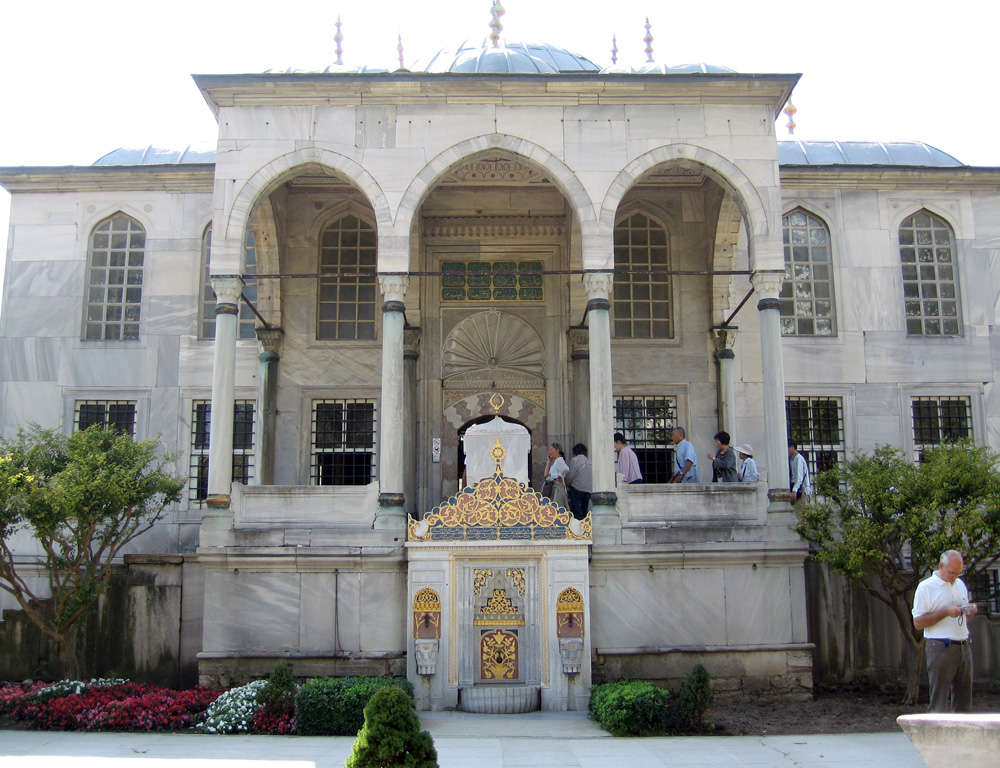 3.4. Imperial Treasury (Hazine koğuşu)
If you want to see the world-wide famous jewel-encrusted dagger and 86-carat Spoonmaker's Diamond, you should definitely not miss Imperial Treasury (Hazine koğuşu). It is located on the right side of the third court. The famous dagger where usually has a crowd in front of it was a gift to Nadir Shah of the Safavids from Sultan Mahmut I, but when it was on the way, the news of the shah's death reaches and the dagger is brought back to the palace. İt is decorated with three big emeralds.
For your information, Spoonmaker's Diamond is the fifth largest diamond in the world.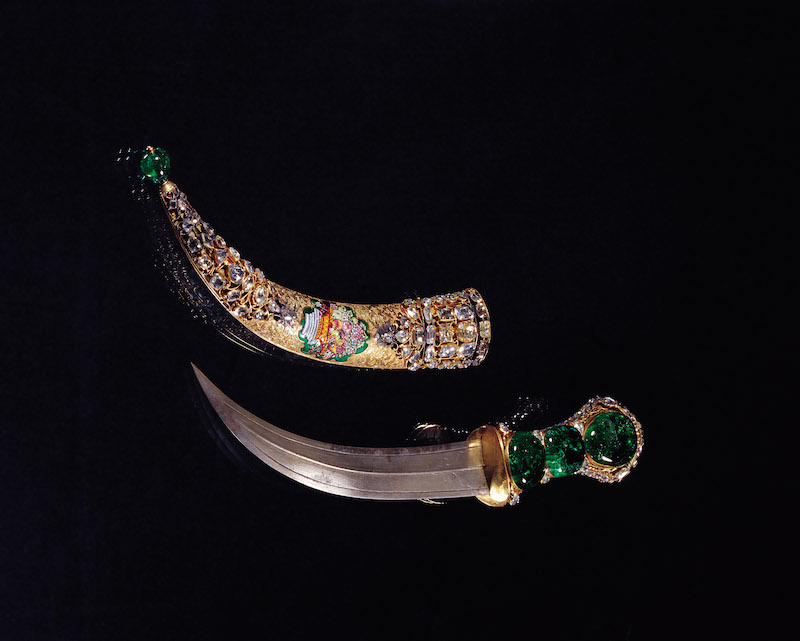 3.5. Pavilion of the Holy Mantle (Has Oda Koğuşu)
The third court also holds one of the most important buildings which is the Pavilion of the Holy Mantle (Has Oda Koğuşu) that preserves the relics of Prophet Muhammed. When the Ottoman Empire assumed the Caliphate of Islam, the holy relics were brought to Istanbul and preserved here by Yavuz Sultan Selim upon his conquest of Egypt in 1517.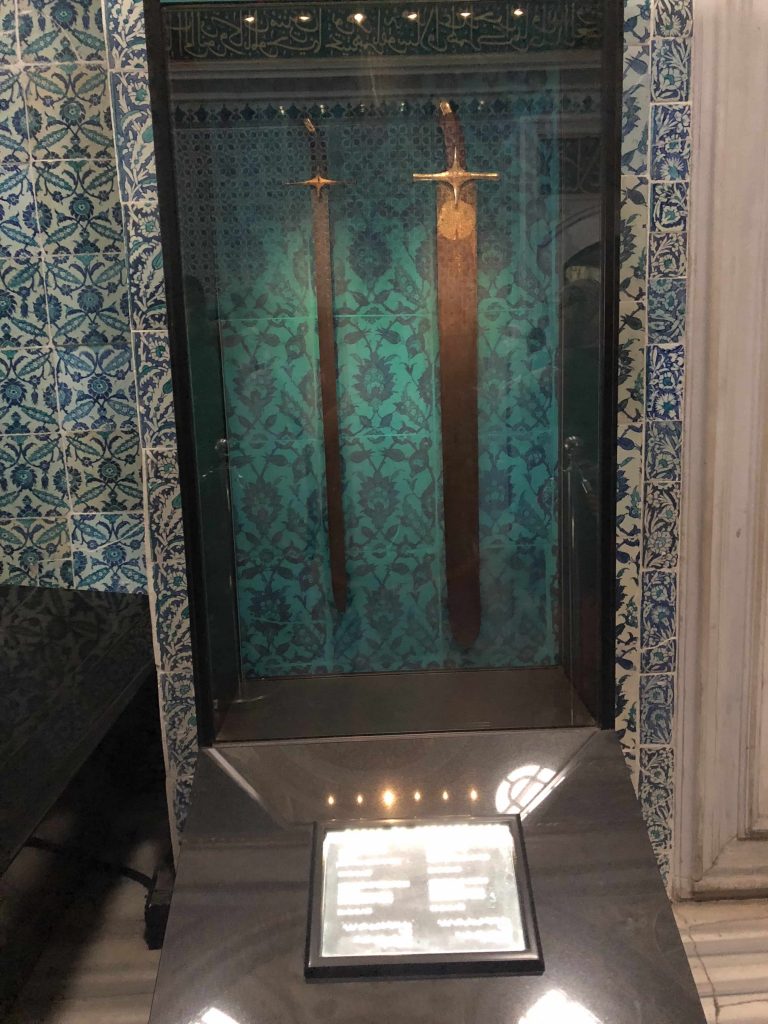 You can visit and see them every day, except Tuesdays. Relics include hairs from Prophet Muhammed's beard, one of his teeth, his footprint, and two of his swords, and the most important relic is a black-camel hair cloak. There are usually long queues in front of the Pavilion of the Holy Mantle. The relics could be seen only by sultans and his family and in 1962, they were opened to the public.
4. The Fourth Court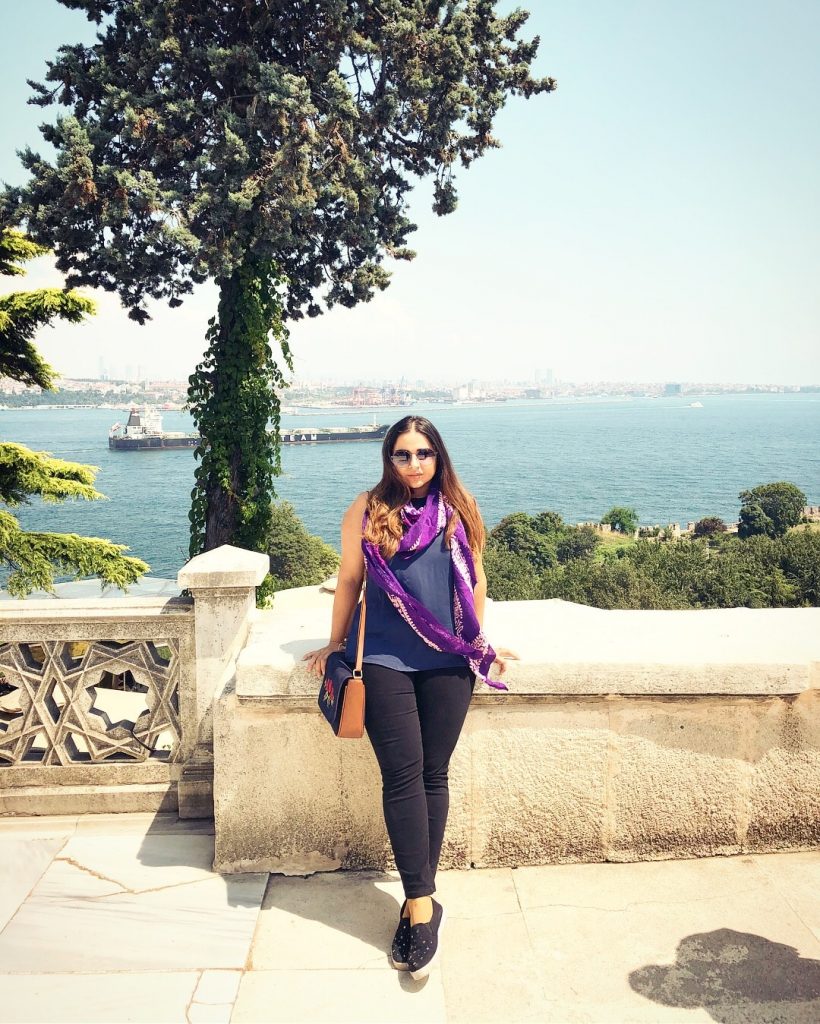 It is the innermost and last court of the palace and the least accessible place by outsiders. Only a limited number of people could enter here. The Fourth Court has one of the most beautiful Istanbul views from Galata to Fatih and sultans has built their most amazing pavilions around gardens and fountains when they succeeded in wars.
4.1. Imperial Sofa
Imperial Sofa known as 'Sofa-ı Humayun' was a resting place for sultans. The most beautiful of it is Bagdat Pavilion 'Bağdat köşkü'. Sultan Murat IV built it to celebrate his conquest of Baghdad in 1638.
4.2. Pavilion of Circumcision
The Pavilion of Circumcision where princes would be circumcized dates back to the reign of Sultan Ibrahim the Mad.
4.3. Pavilion of Revan
The Pavilion of Revan was built by Sultan Mehmet IV to celebrate the conquer of Erivan in the Caucasus.
4.4. Pavilion of Mecidiye
The Mecidiye Pavilion has the best view and terrace of the Topkapi Palace which today has been converted into Konyali Restaurant where you can have one of the most beautiful terrace view of Istanbul.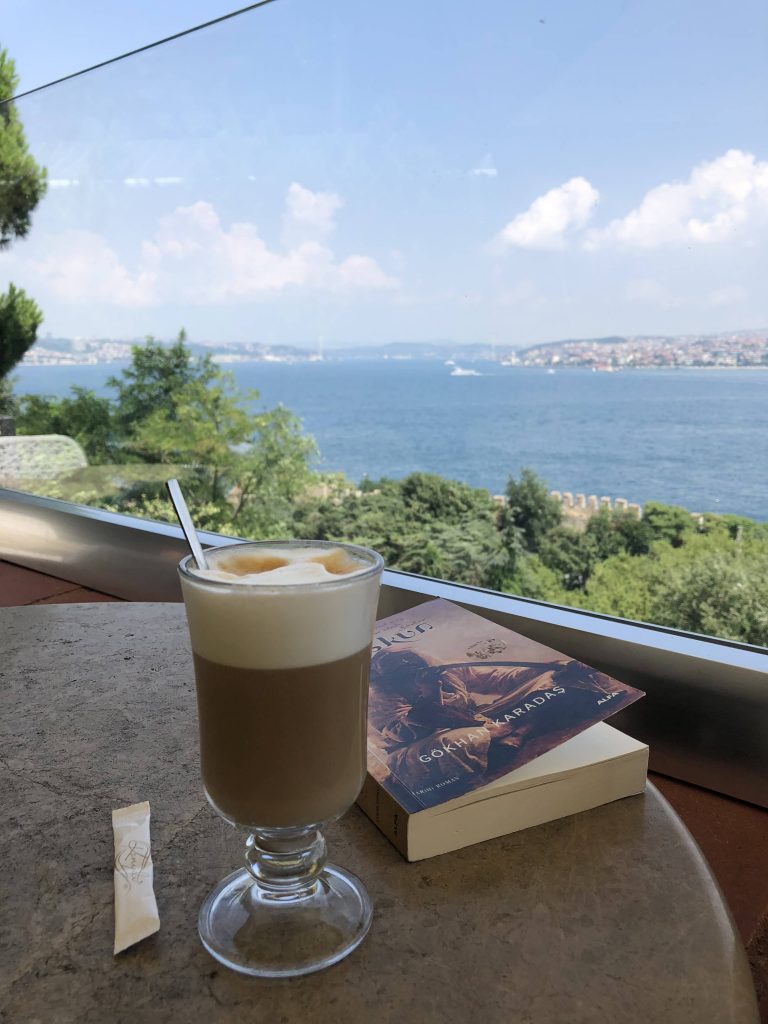 Need to know before your visit
What are the opening and closing hours of Topkapi Palace?
Apr–Oct: 9am–7pm,
Nov–Mar: 9am–5pm
What are the ticket prices for Topkapi Palace?
Museum ticket prices have almost doubled in recent years in Turkey. On one site, you have to pay separately for Topkapi Palace, Harem, Hagia Eirene, Archeology Museum, Museum of Science, Art and Technology and so on.
Topkapi Palace – 72 TL
Harem – 42 TL
Hagia Eirene – 36 TL
Archeology Museum – 36 TL
Museum of Science, Art, and Technology – 14 TL
Total: 200 TL
I strongly recommend getting a Museum Pass Card that you can have free access about to 300 museums in all of the cities of Turkey. From above, only Harem and Hagia Eirene are not included in Museum Card, so you have to pay for them.
Cafes and Restaurants
In the first court, there is a restaurant "Karakol" but the most beautiful one is in the fourth court "Konyali" which has one of the most beautiful Istanbul panoramic views. They serve delicious Ottoman court cuisine but be conscious about the prices.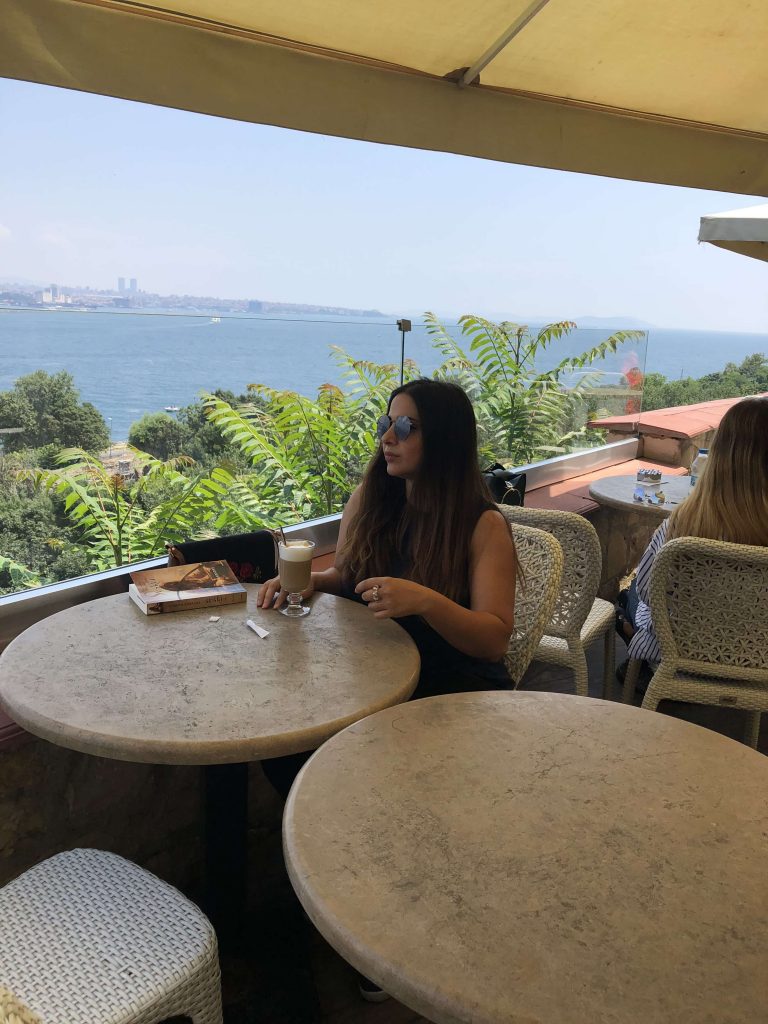 Inside the Gulhane Park, there is a cozy and budget-friendly "Kandil" café where you can have refreshments and have lunch or dinner.
How to get there?
To get to Topkapi Palace you can use the tram, blue line T1 Kabatash-Bagcilar. There are two stops that you can choose to get off. First is Sultan Ahmet stop, where you can go to the main entrance of the palace. Second, if you want to start from Gulhane Park which can be a good idea, you can get off at Gulhane stop.
Alternatively, you can walk from near distances such as Sirkeci, Eminönü, Çemberlitaş, Beyazıt, Kapalı Çarşı or Aksaray if you are around there. As it is located in the heart of Istanbul, while you are there you can visit Hagia Sophia, Sultan Ahmet Mosque, Hippodrome, Byzantium Cistern (Yerebatan Sarnici) and some of the museums.
Photo allowance
Fortunately, there is not any restriction to take a photo. You can take photos as many as you want without using a flash.
In a nutshell, Topkapi Palace is one of the most important symbols of the "Age of Empires" of World History and is the World Heritage of UNESCO since 1985. You can feel the historical air and world order from the 15th to 19th century how empires stood up, lived, governed and died away.
I strongly recommend visiting Dolmabahce Palace after Topkapi to see how the empire changed and struggled to keep up with the dynamic changes of the Western World. Overall, Topkapi Palace gives a brilliant idea about the Ottoman Empire even if you do not know much about it.