When I was in the process of moving to Istanbul, every single one of my relatives, friends, and acquaintances who had ever traveled to Istanbul/Turkey gave me a list of things to do and places to visit. Each one of those lists topped visiting the Grand Bazaar.
The 550-year-old bazaar is easily the most popular tourist destination in Istanbul. It is the perfect place to get your friends and family back home the best souvenirs from Turkey. There is a variety of options to choose from. One can argue there is a little too much variety that makes it difficult to resist the urge to get almost everything.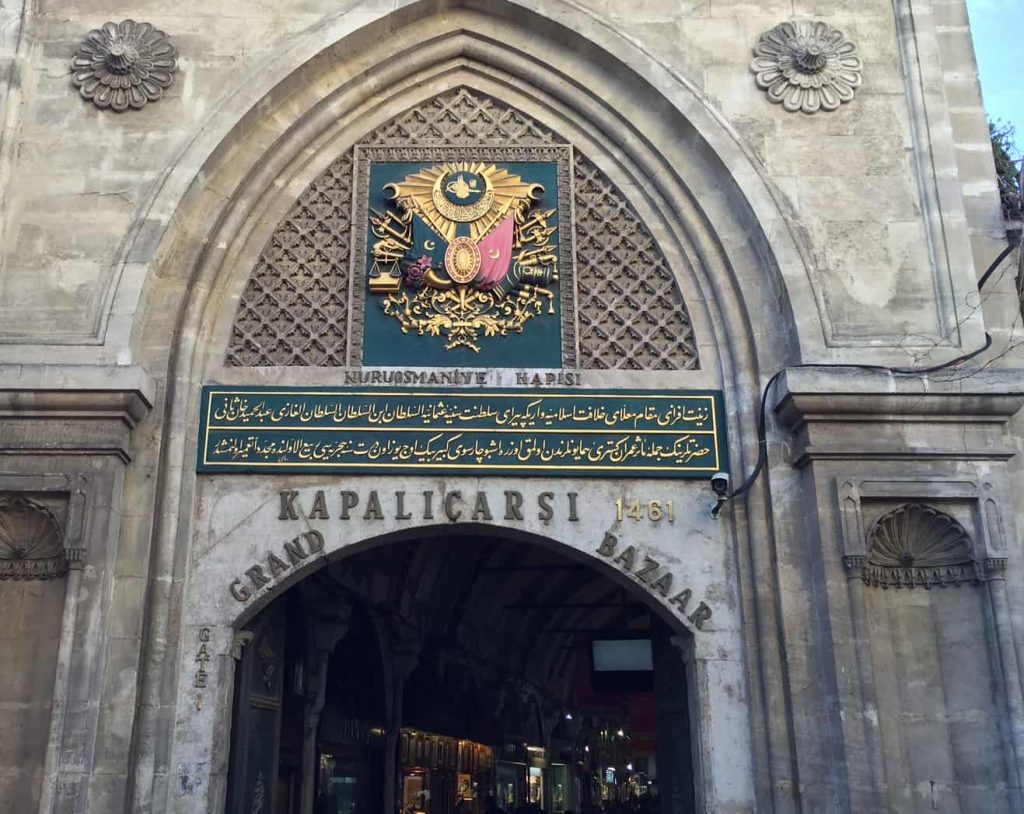 The daily estimate of the number of visitors who go to the Grand Bazaar is between 300,000 to 400,000, while in 2014 it was listed as the MOST visited tourist attraction in the world, revealing it had welcomed almost 91,250,000 annual visitors.
The Grand Bazaar is the world's biggest covered market consisting of 11 gates, 61 covered streets, and around 4000 shops inside. Some of these shops are now family heirlooms, run generation after generation. It is also regarded as the world's first shopping mall.
The Grand Bazaar opens at 9 AM every day and closes by 7 PM, besides Sunday. You will have plenty of time to look around, eat and bargain at the bazaar. It is best to go early in the morning so that you can explore without having to worry about closing time. And if you get exhausted after a long day of shopping, you're in luck because Cemberlitas Hamam is just a few feet away.
Historical Background of the Grand Bazaar
The bazaar's construction started shortly after the conquest of Constantinople in 1455. It was ordered by Sultan Mehmed II as an initiative to boost the economy and encourage trading. It wasn't until the start of the 1600s that the bazaar started to take its shape, similar to what we see now.
The magnitude of the Ottoman Empire at the time made the bazaar an influential market from the very start. The Ottomans saw the Grand Bazaar not just as a market place but as an important project that would boost the economy as well as attract recognition in the international market.
Soon after the business-boosting initiative started to take shape, more shops started to open. This resulted in an expansion of the bazaar as the existing structure had started to get too crowded. There would be more shopkeepers opening shops in the grand business complex as well as new local and international visitors every day.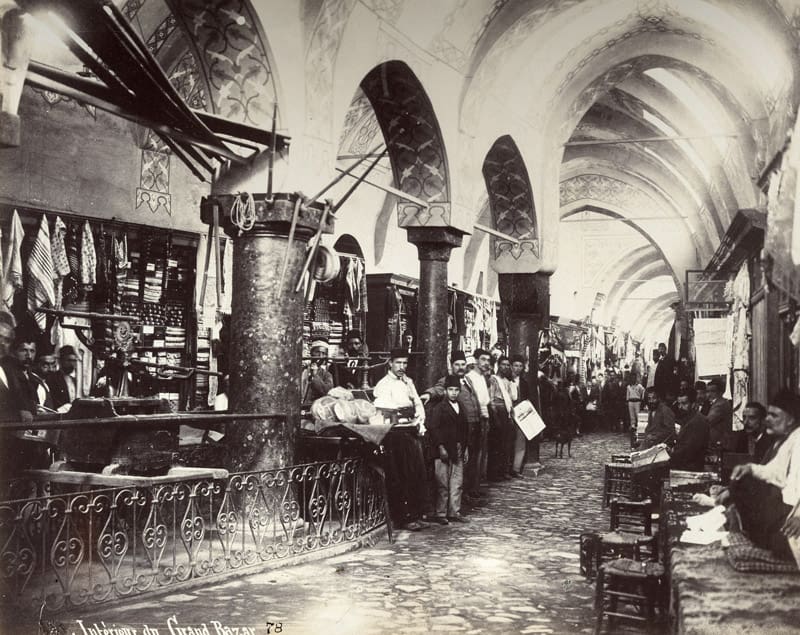 The expansion also allowed for there to be more variety and range of products. Apart from textiles, luxury items and leather goods were also sold. By the 17th Century, the bazaar took the form it is in now. It is said that in order to prevent fires and damage from natural disasters the market was covered with vaults.
However, the Grand Bazaar went through a few phases of reconstruction following several fires and earthquakes. The final restoration of the grand market took place in 1980. Many stores that still stand today are being operated by the 5th or 6th generation vendors, especially in the case of carpets and ceramics.
Getting to the Grand Bazaar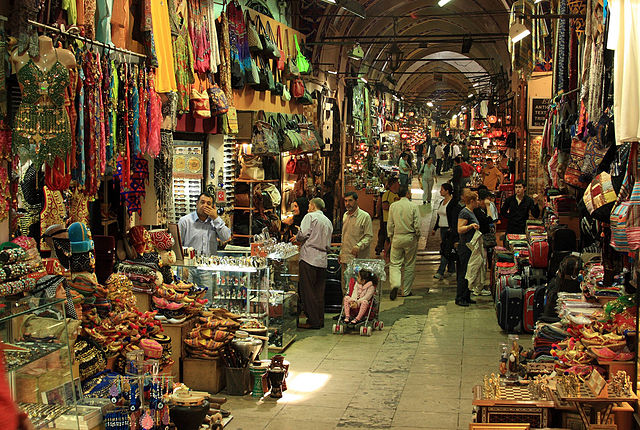 The grand bazaar is located in the Fatih district of Istanbul. It is stretched between Byazit Camii and Nuruosmaniye Camii.
One of the best things about Istanbul is the variety of public transport options available that will be available to you. There are many ways to get to the Grand Bazaar. If you are keen on using public transport in Istanbul, it is best you get an Istanbulkart from the airport. It costs 10TL which is merely $2 and 1.5 Euros. With the Istanbulkart, one side of your transit will cost you 2.60TL.
From Taksim
From Taksim, you will have three options available to you. You can either take the Funicular line Taksim-Kabatas from the Taksim Metro station (Taksim Maidan). From Kabatas you will be able to get on the Tram line (T1) straight to Beyazit. It takes 18-20 minutes to get to the Grand Bazaar this way.
You can also go straight from the Taksim Metro to Vezneciler Metro followed by a short walk of about 10 minutes around the beautiful neighborhood. The metro ride itself is only 8 minutes.
You can also use a taxi to get to the bazaar. From Taksim, depending on the traffic it can take up to 10 to 20 minutes. Taxis have their own fare calculating system, so if you have an Istanbulkart, it will not work in this case. The base fare for taxis starts at 5TL and the total ride is expected you to cost between 15TL to 30TL depending on traffic.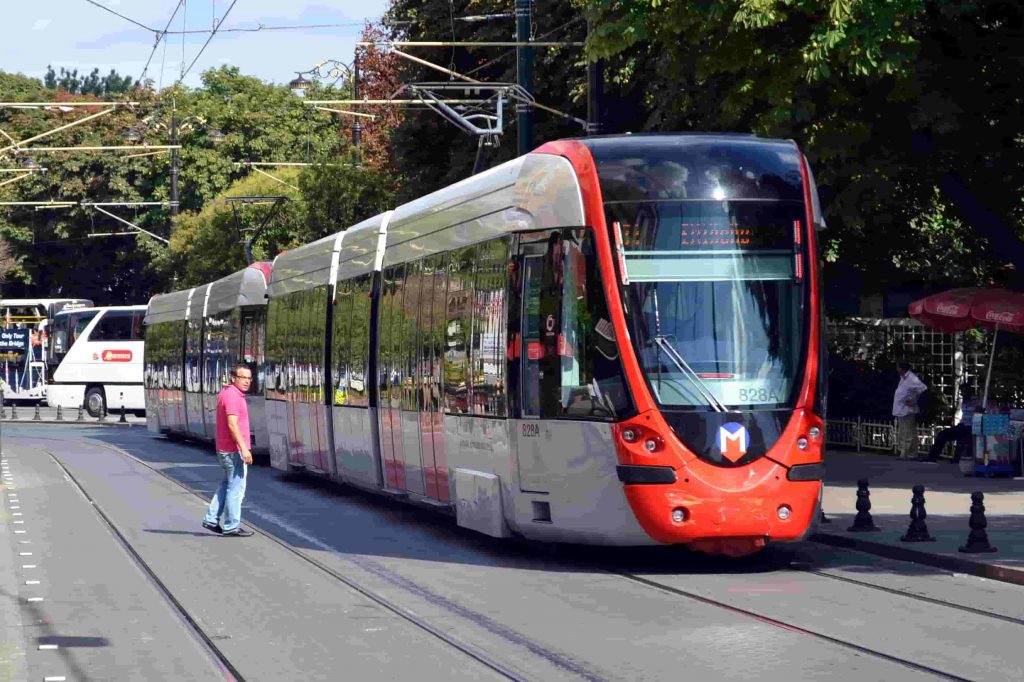 From Sultanahmet
Sultanahmet is much closer to the Grand Bazaar. You can take the Tram line (T1) from Sultanahmet and get off at the Beyazit stop right outside the Bazaar. It will take you only 2 minutes.
You can also take a taxi which will take 8-12 minutes to get there, taking traffic into consideration. The trip will cost you a rough estimate of around 10-15TL.
If the weather is nice, you can also walk from Sultanahmet to the Grand Bazaar. It is roughly 1km distance and takes between 13-15 minutes to get there on foot.
From Uskudar/Kadikoy
If you are commuting from the Asian side of Istanbul, it is a long journey but I would say it is a more exciting one because you get to take the ferry! If you get sea-sick, as I do, don't worry because it is a short trip. The ferry ride from Uskudar is shorter compared to the one from Kadikoy which is farther away.
From the Asian side, it takes 15-30 minutes (Uskudar and Kadikoy respectively) to each the Eminonou terminal on the European side. If you have an Istanbulkart, you can use it at the terminal, the fare is the same as other modes of transport – 2.60TL. If you don't have an Istanbulkark, don't worry you can also get a ticket at the ferry terminal which costs just 4TL.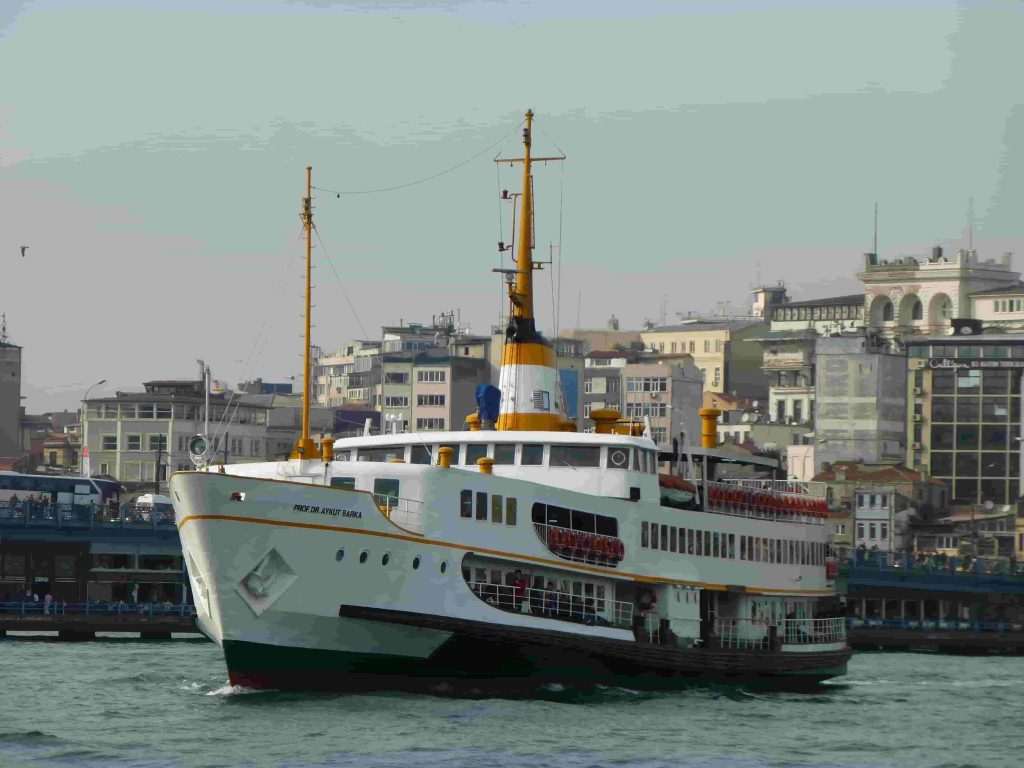 After you have successfully reached the Eminonou terminal, you will have a short walk of about 5 minutes to the Eminonou tram line (T1) Bagcilar. You will then get off at the Beyazit stop. The tram ride takes 10 minutes, but you will be dropped a minute away from the Bazaar which is great.
You can also find a taxi cab to take you from the Asian side to the European side, though it will be a long and costly ride. From Uskudar it will take 20-30 minutes depending on the traffic and will cost you between 30-50TL per side.
From Kadikoy, it will take 25-40 minutes, depending on the traffic and whether or not it is a weekend. It will cost you between 35-60TL per side to get to the Grand Bazaar from Kadikoy.
What to eat in/near the Grand Bazaar?
The bazaar is already popular for all the wonderful shops for textiles, ceramics, carpets, and kilims and the list goes on and on. However, when you enter the Kapalicarsi district, there are many exciting restaurants and cafes for you to choose from. To make things easier, I have put together a list of recommendations that I believe are a must-try in the area.
Similar to the variety of goods and products in the Bazaar, there are many types of Turkish cuisine from Doners, Kebabs, Kofte, Pide to sweets like Turkish delights, Baklava, Firin Sutlac (rice pudding) and even traditional Turkish ice cream.
Havuzlu Restaurant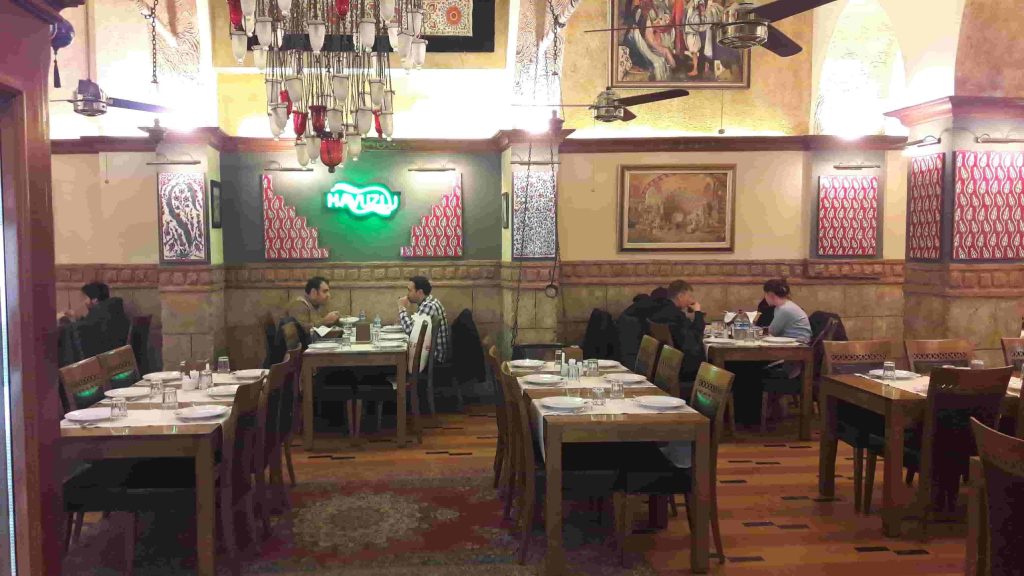 Havuzlu is probably the most popular place to eat inside the grand bazaar. It is a beautiful restaurant with seating options available both inside as well as outside with the mini fountain.
The interior of the restaurant will remind you of classical Ottoman structures and that is what makes it even more special. The food served is traditional Ottoman cuisine. There is a variety of meat options to choose from but they also have vegetarian options on their menu as well.
I can not recommend their Iskender Kebap (34TL) enough. The meat is cooked to perfection and the kebaps come out extremely juicy. It is a must-try! The Tavuk sis (30TL) is another favorite of mine if you prefer chicken, you will enjoy the tender grilled pieces of chicken very much.
Apart from the main course, Havuzlu also has a generous amount of desserts on its menu. It is hard to pick a favorite but you should definitely try the Sekerpare there. They are priced at 10TL. They are moist cookies made from semolina with a hit of lemon syrup, which is an unusual combination but it tastes, unlike anything I have had in the best way.
The restaurant opens at 12 PM and closes at 5 PM.
Aynen Durum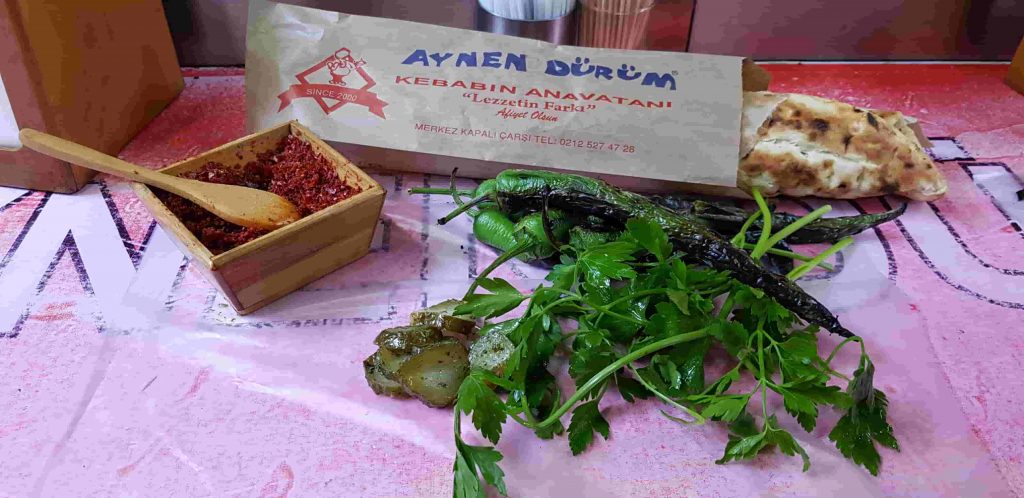 Aynen Durum is a true hidden gem in the streets of the Grand Bazaar. It is hands down the best street food I have had so far and would want anyone who is in the area to try it at least once and see for themselves.
It is a small shop on the corner of the street so it is easy to miss at first. The food is full of flavor and the meat is cooked to perfection. There are many durum options available in chicken, lamb and even liver, and you should honestly try all of them.
The whole menu is quite inexpensive and the salad they give you along with your durum tastes, unlike anything I have had before. The Adana durum will cost you 17 TL and if you get an Ayran to go along with your durum, it will be a total of 20TL, which is a great price to pay.
The restaurant operates between 11:30 AM to 6 PM.
Donerci Sahin Usta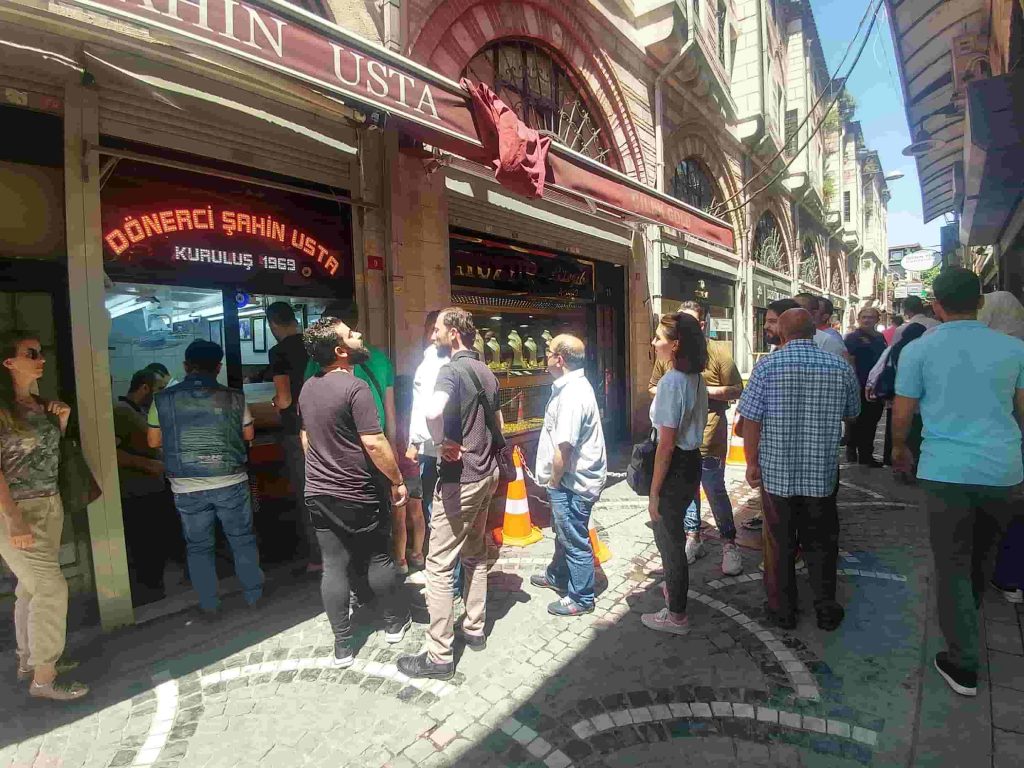 Donerci Sahin Usta may not look as fancy as some of the other eateries but when you see how long the line outside the window of the restaurant, you'll be amazed. The food is extremely clean and hygienic as well.
Although the line is long and time-consuming, it might even look like a waste of time but I assure you it is well worth the wait. Pide doner is one of the best things I have eaten in Istanbul so far. It will cost you 28 TL for one, pair that with an Ayran (salted yogurt drink) and you have an amazing meal.
It is located in Beyazit, just a few minutes away from the Grand Bazaar. You can go there between 11 AM to 5 PM.
Sark Kahvesi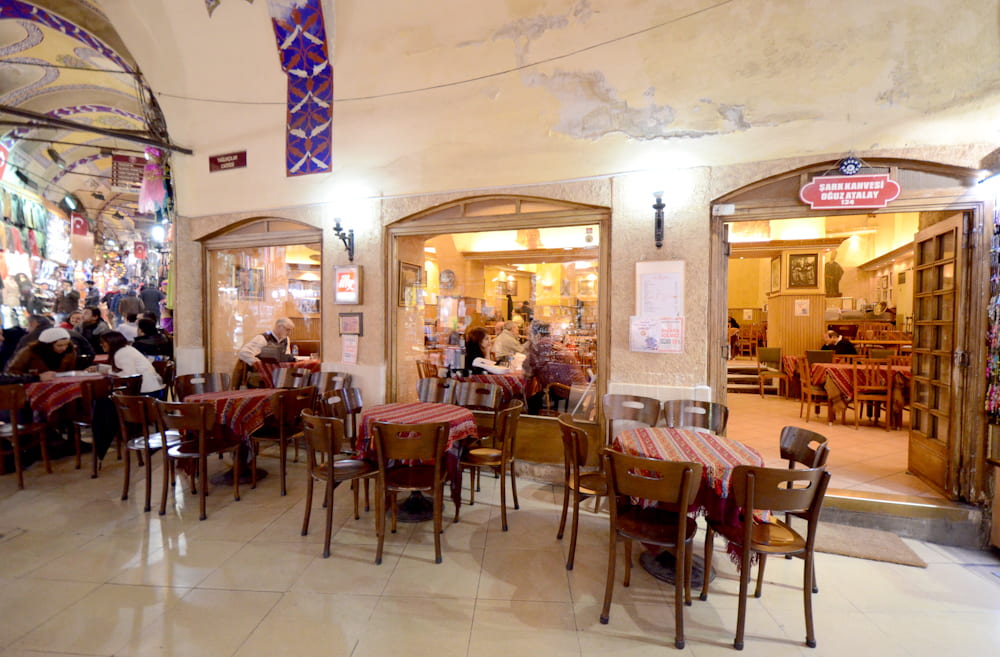 If you are in the mood for an evening snack or a light meal with some great coffee, Sark Kahvesi is the place for you. It is a cute little cafe inside the grand bazaar where you can sit, enjoy a cup of coffee and some cake as you take a break from your shopping spree.
The ambiance of the cafe itself is very interesting. It is an old rustic place with many interesting details reminiscent of Ottoman architecture. While you are busy admiring the interior, your order will be ready just in time.
Sark Kahvesi has a refined assortment of great coffee (hot and cold), fresh juices, lemonade, hot chocolate, salep as well as snacks like toasts and sandwiches. Their dessert menu includes cookies, muffins, cheesecakes, souffles, and ice creams.
Here, I can't really make recommendations as to what you should get because who doesn't love a good cafe with mouthwatering desserts. But if I had to pick personal favorites, I would go for their carrot cake (18TL) or the walnut brownie (18TL) with Iced white chocolate (17TL) to drink.
The cafe opens at 8:30 AM and closes at 7:30 PM.
Gaziantep Burc Ocakbasi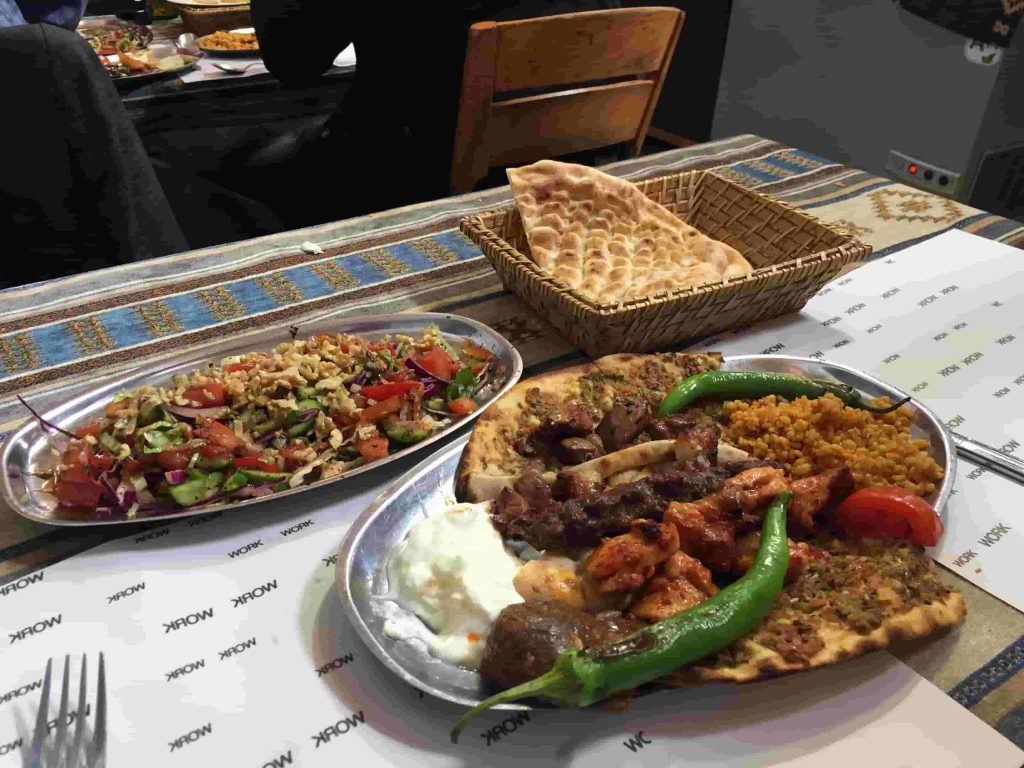 Another cute little eatery you will find inside the Grand Bazaar is the Gaziantep Burc Ocakbasi. It is a grill and kebap house with chicken, lamb, and meat options.
The Lamb meat served with the delicious flatbread is to die for at Gaziantep and it will cost you just 35TL. If you are in a rush and don't want to sit down for a meal, there are also chicken and meat durums you can get to-go. The Adana, Urfa, and Tavuk durum each cost 25TL and are extremely flavorful with the extra added salad and pomegranate seeds that add an interesting texture as well as a zesty flavorful punch.
You can go eat at Gaziantep Burc Ocakbasi between 8 AM to 6 PM inside the Grand Bazaar.
Kahve Dunyasi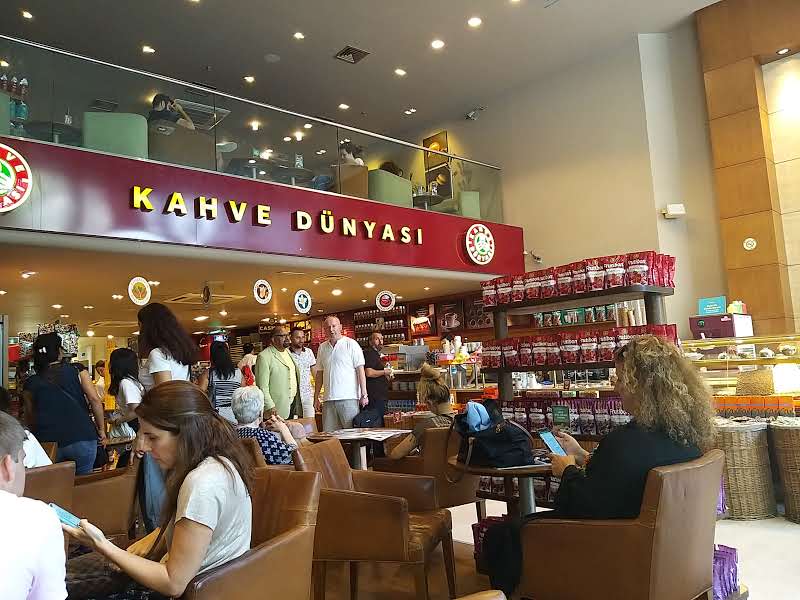 I see Kahve Dunyasi as Turkey's own Starbucks. Or dare I say, I have become more fond of the coffee from Kahve Dunyasi than Starbucks. If you have been around Istanbul, you have probably seen quite a few of its shops. Luckily, there is one right at the start of the Grand Bazaar.
Kahve Dunyasi has an incredible assortment of chocolates, desserts, and coffee of course. They always serve you with a chocolate spoon you can use to stir your chocolate and it just melts in your mouth. Everything is extremely delicious and super affordable.
Some of the best macaroons I have had have been that cost 4TL/macaroon. They also have healthy options like granola, porridge, and muesli for 11TL.
There is also an assortment of Turkish delight and chocolates that make perfect gifts you can take back home with you.
It opens at 10 AM and stays open till 10 PM.
Kofteci Mustafa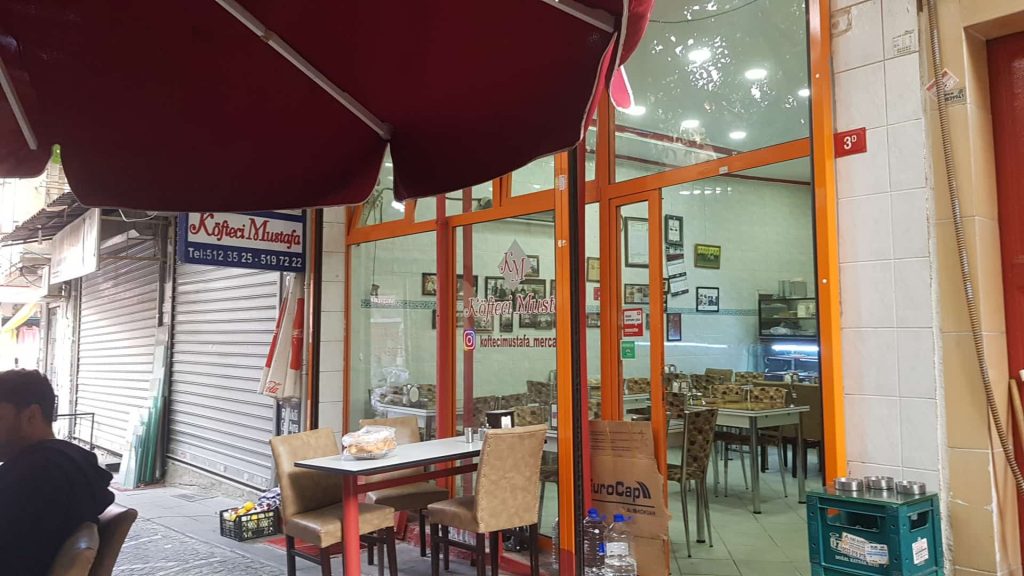 There's something about how meat is cooked in Turkey which is very unlike any other. I don't think I have had this quality of well-cooked, tender juicy meat at such low prices.
Kofteci Mustafa is one of those examples. It is located just 3 minutes outside the Grand Bazaar, so if you want to have some of the best lamb skewers, this is where you are going to find them. It is a cute little restaurant that you will always find crowded by locals.
The staff is extremely kind and accommodating and will make sure you are comfortable and taken care of with the little English they know.
If you are going to Kofteci Mustafa, you have to order the lamb skewers (35TL) and the meatballs with cheese (24TL). You should also try the Sultac (8TL) which is a traditional Turkish sticky rice pudding.
You can go to the restaurant between 11 AM to 5:30 PM.
Kilisi Kebapci Ali Usta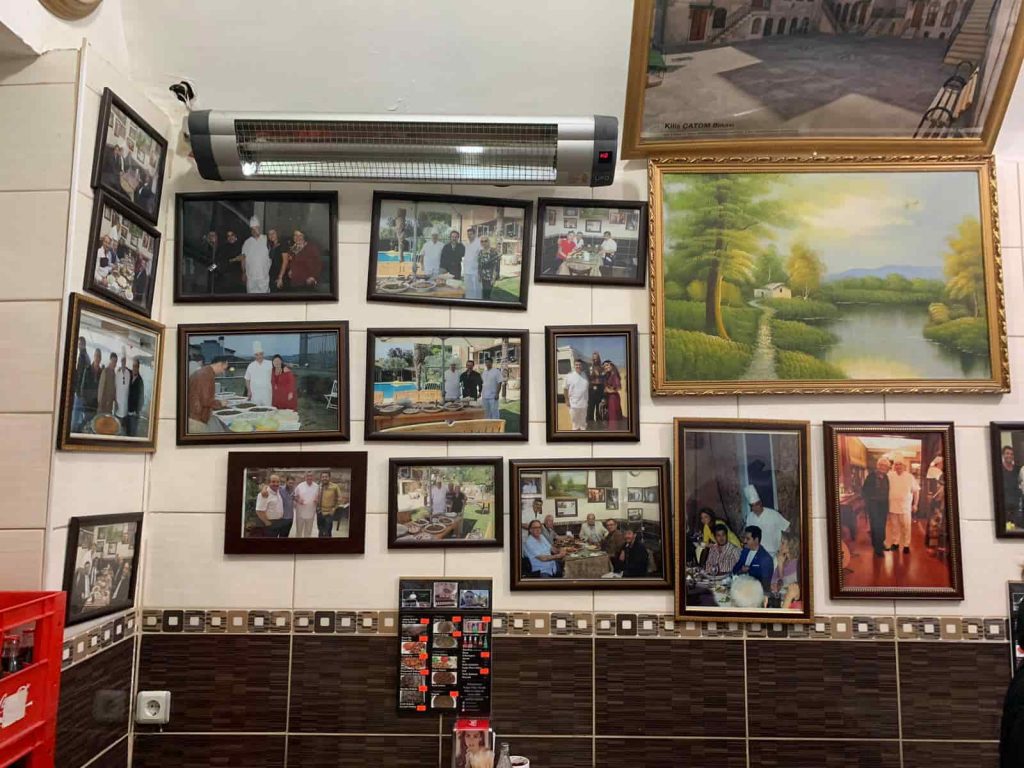 Another hidden gem of the market is Kilisi Kebapci Ali Usta. It is a traditional kebap house inside the Grand Bazaar. It has a very homey feeling when you go inside, sort of like a family kitchen. The small shop has walls full of photo frames of its archives.
There is a decent variety of types of kebaps compared to other small restaurants in the Bazaar. You can also order Tomato and Eggplant kebaps, which I haven't had but they cost 27TL.
Even though they have the regular Adana, Lamb, and chicken which are amazing, at Kilis Kebapci you should definitely have their Ezmeli Kebap. This is something I had never heard of or been told about so I didn't really know what to expect. I was blown away by the texture and mix of flavors of spice and tomatoes. You will be paying 35TL for the Ezmeli Kebap when you are there.
After you are done eating, you should also treat yourself to kunefe from here. It will cost you 15TL and would be the perfect end to your already wonderful daytime meal.
You can go to Kilisi Kebapci Ali Usta anytime between 9 AM to 6 PM.
What to buy from the Grand Bazaar?
There is a stunning variety of gold and silver jewelry, beautiful traditional Turkish carpets and kilims, scarves, leather goods, precious stone jewelry, ceramics and many customizable options that will add a personalized touch to the gifts you will give. The experience goes beyond handicrafts and gifts, you will also find some really wonderful eateries inside the bazaar (outside as well). The grand bazaar is the epitome of everything Turkish and luckily, it is all under one roof.
The Grand Bazaar is just a unique experience in general, especially for foreigners. There is so much to see and so much more to buy. It is almost a sensory overload of all the beautiful colors that make the bazaar grand.
I have put together a list that should help you navigate through the bazaar with reference to the purchases you will potentially make. The variety of things can be a little overwhelming and you will be compelled to look at everything and chat with every store owner, as you should. They are extremely friendly and helpful and love talking to tourists.
Carpets and Kilims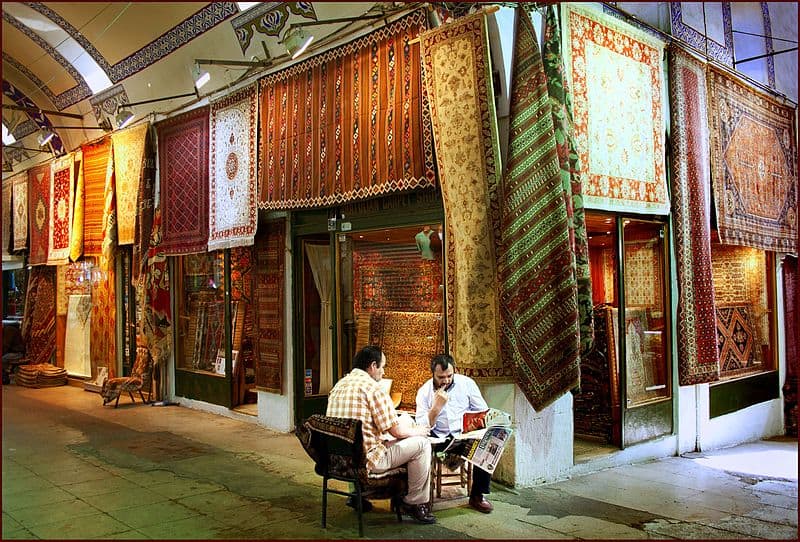 Turkish carpets are one of the most sought out commodities outside of Turkey, locally as well. But for the exotic and intricate patterns of these carpets, they are considered to be a valuable foreign item to add to your household.
Since the Bazaar was first constructed, there have always been carpet weavers and carpet sellers who have conducted business here. Which is why you are bound to come across 4th and 5th generation carpet salesmen. They love to chat with tourists and anyone who seems keen on knowing about their line of work. They are also some of the nicest people you will meet at the bazaar, making sure you don't leave without at least having a cup of tea or coffee with them.
In Zincirli Han you will find, who I consider being, the most beloved man in the bazaar. The current owner of the family business of Sisko Osman. Osman is extremely passionate about what he does and that is why you should go to his shop.
He has an incredible variety of rugs and kilims that are mostly handwoven from rural areas of Turkey. He also acquires antique carpets and kilims from all over Turkey and brings them to his shop. Sisko Osman has also prepared silk carpets and kilims for the palaces of Istanbul as well! You can also feel like Turkish royalty if you get a carpet from Osman's shop.
Osman is a very educated man and quite the intellectual. Not only will he win you over with his expert knowledge of the carpets that he collects and sells, but he is an impressive well-read, knowledgable man who can talk to you about anything.
Textiles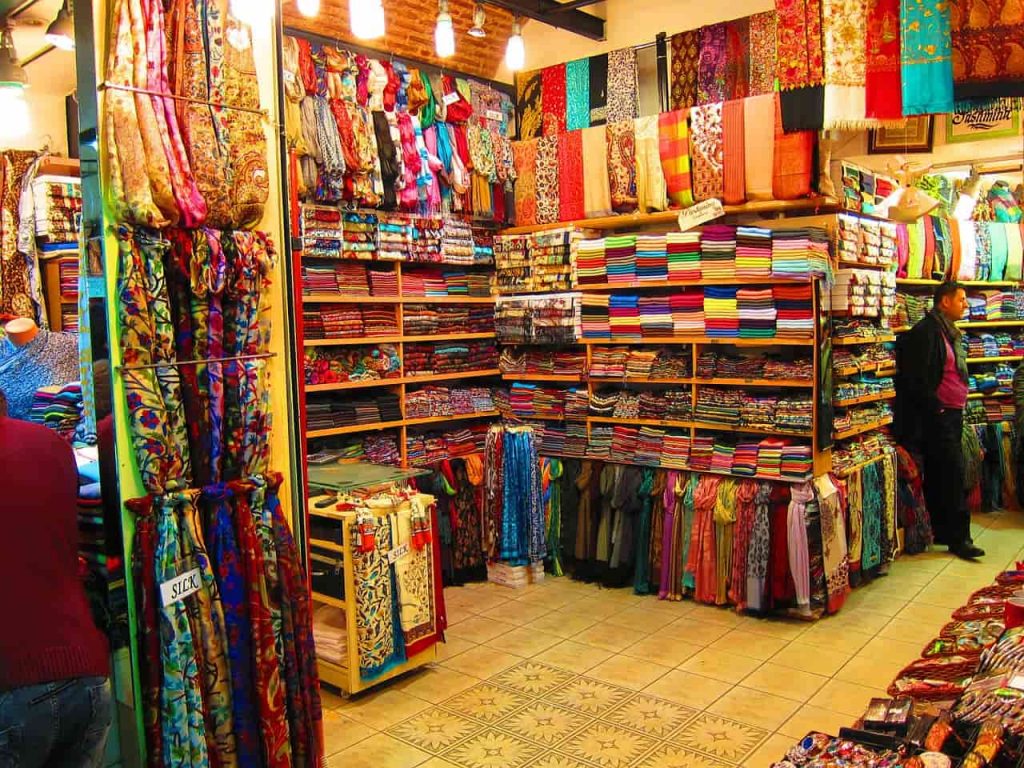 Like carpets, textiles in Turkey are some of the finest in the world. The traditional Ottoman handwoven designs are still prevalent in shawls and scarves you will find here. Not only will you find handwoven textiles, but there is an extraordinary selection of hand-embroidered cushion covers, as well as hand-painted and block printed scarves.
One of these shops is of Egin Tekstil. You know a shop is worth visiting when it has a huge local clientele apart from the tourist traffic. Egin Tekstil is exactly that. There is a wide range of products and materials both traditional and contemporary. It is also known that some of the textiles for some renowned Hollywood films like The Hobbit, Troy, as well as The Pirates of The Carribean had been commissioned to this store.
Another not-to-be-missed store is Abdulla Natural Products. What makes it unline any other is that the products are all-natural with no artificial or synthetic substances used to make the fabrics. So you know what you are purchasing is a quality product. There is a variety of towels, blankets, shawls, and bathrobes that are made from some of the softest material I have ever felt.
If you want to get giftable products for your friends and family back home, you will find some great things in the market. There are many stores that have a colorful variety of handmade stockings, scarves, pillowcases, and gloves all with an ethnic traditional touch.
Leather Goods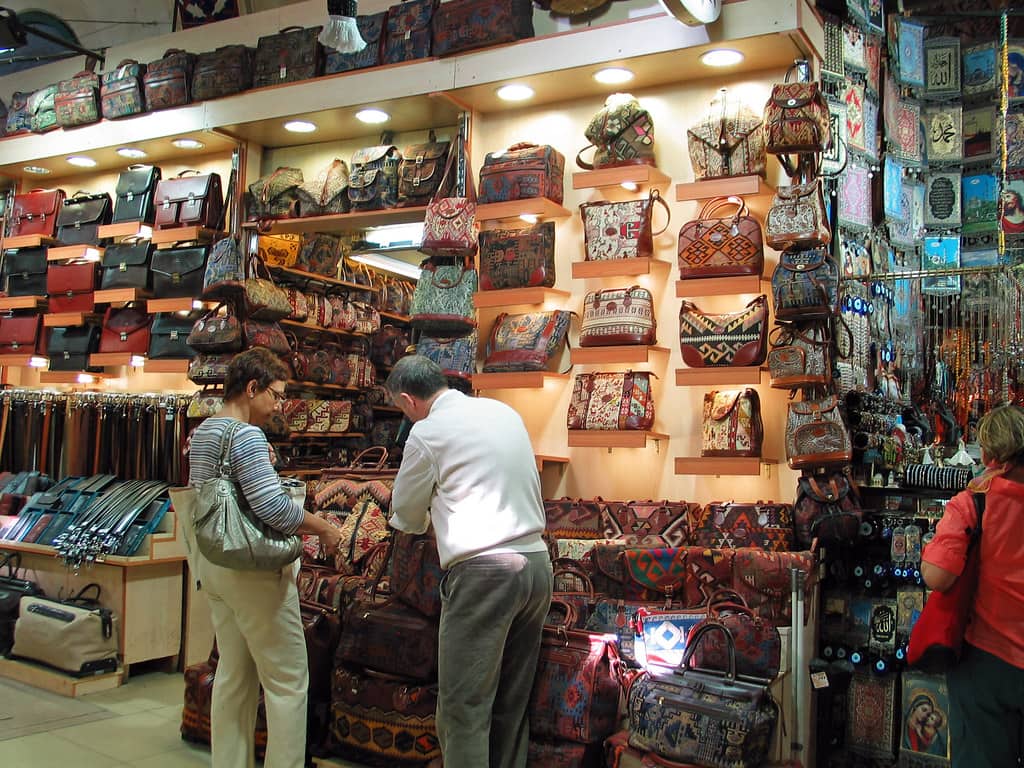 Turkish leather is one of the finest in the world, it is also one of the oldest and possibly the pioneers of the leather industry. In the Grand Bazaar, you will find an overwhelming variety of leather belts, shoes, purses, bags, hats, and coats. You are bound to see a few 4th and 5th generation leather stores in the market.
Prens Leather store has been in the business for a few decades now. The boutique has an incredible collection of goatskin and lambskin coats. Everything about the store is truly an experience. First of all, the store itself is beautiful. The quality of their jackets is excellent and they are so soft and comfortable. If that wasn't enough, the staff is extremely hospitable and cooperative. They are very accommodating with alterations and exchanges. I can not recommend Prens Leather enough.
Marco Shain is a more contemporary and fashionable leather store in the Grand Bazaar. It is not as sophisticated as Prens Leather, but you can find some spunky and colorful jackets. They also have a variety of snakeskin jackets, if that is something that interests you, you should give Marco Shain a visit!
However, you should watch out for some shopkeepers when you are looking to buy leather goods. They quote prices based on the customer and how much they think you can pay for their products, so they sometimes quote extremely high prices that are not justified.
Ceramics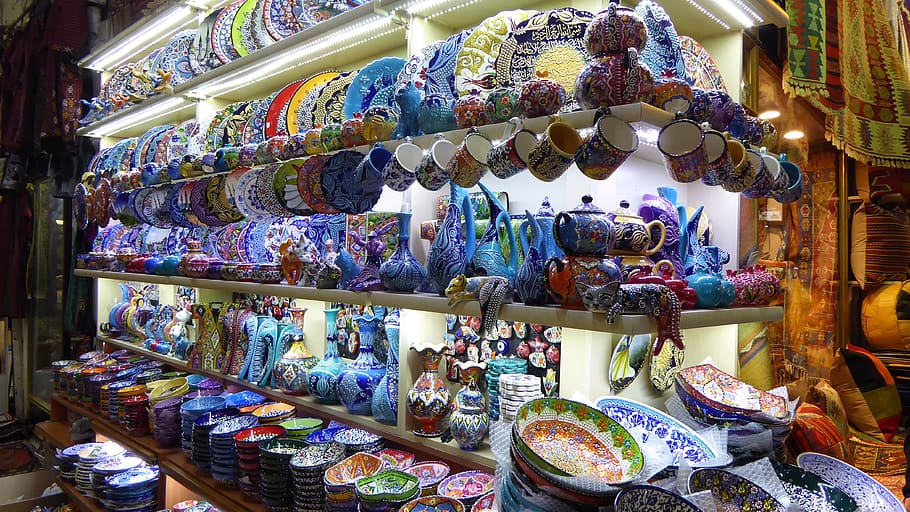 Ottoman art is still carried out in essence in Turkish textiles, carpets, and ceramics. Strolling through the Grand Bazaar you will come across many shops that have a beautiful display of vibrant plates, mugs, trays, jugs as well as times. These are all painted with a very minimal and dainty design.
These ceramic items will remind you of the tiles in the Ottoman mosques and palaces because these are inspired by the Iznik design of the era. Iznik tiles are very significant in the classical Ottoman architecture and luckily, you too can feel like Turkish royalty when you purchase these items.
Iznik Art in a store in Grand Bazaar where you can find replicas of the great Ottoman style pottery. The owner of the store, Ismail Yigit is a fanatic when it comes to the Iznik style. He studied the original style and researched on the tiles of the historical mosques and monuments thoroughly before he started to exhibit his own work. You should definitely visit the shop when you go to the Grand Bazaar and get something for your house to add a little Ottoman touch.
There are also many vendors who have dainty and small plates, jewelry trays, and coffee cups that are perfect souvenirs and your friends are guaranteed to love them!
Antiques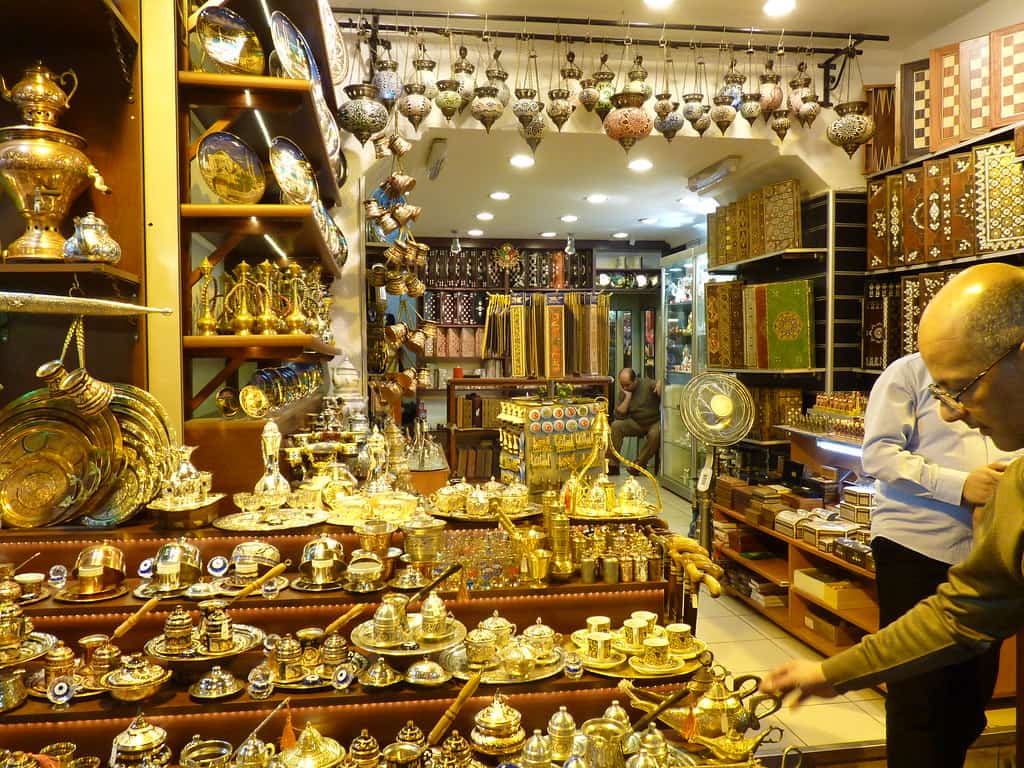 In Istanbul, you can find many antique stores around popular spots in the city. Since Grand Bazaar is THE spot for tourists, the antique stores here is a level above and beyond. They are a few in particular that I would recommend you go to because they are carefully curated. Everything in the stores is checked and verified so you know what you are getting is authentic.
Sofa Antiques is the most famous one among the antique stores and all for good reason. It is located just outside the gate of the Grand Bazaar and might even be the first store that you enter. You will be amazed by how well-done and well-maintained everything in the shop is. Not only are there Ottoman-era scriptures, maps, paintings, and hand-writings, but you can also find Greek and Russian antiques as well.
Inside the Bazaar, there are another (of many) antique stores is Ziya Aykac. It is very different from Sofa Antiques with a collection of recovered and preserved fabrics, crockery as well as decoration pieces. You will see beautiful candle stands, silverware, Ottoman plates, crystal lamps, and so much more. It is all extremely impressive how they have managed to keep the store and the items with such care.
Even if you do not want to buy something from these stores, you should still visit them. It will be a guaranteed mini trip back in time that you will thoroughly enjoy and be completely mesmerized.
Jewelry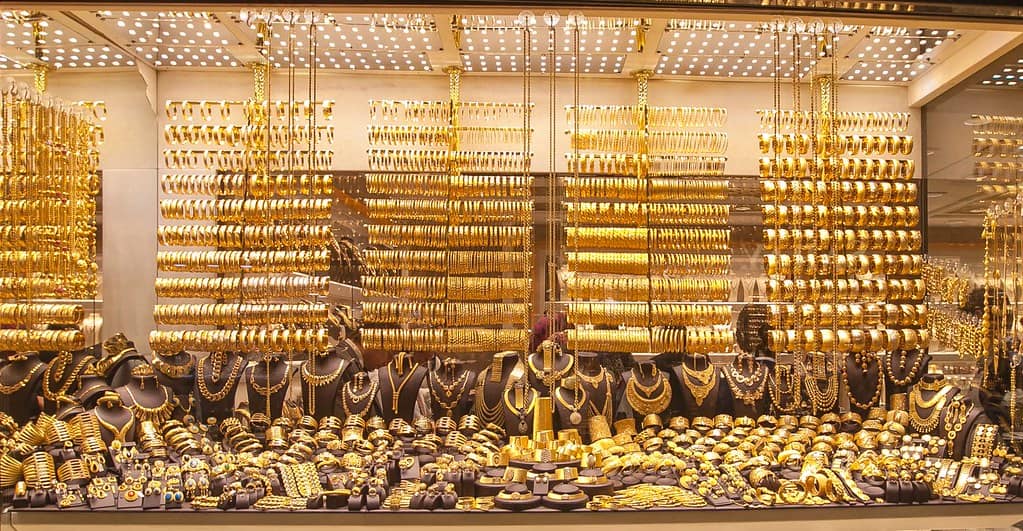 In the bazaar, you will find a lot of jewelry shops, ranging from gold, silver, stone, and even artificial jewelry. You should take your time to really spend quality time at these stores and take in the craftsmanship that goes into this art.
I would urge you to check Sevan Bicakci's showroom at the bazaar especially. It is some of the most beautiful artisan jewelry that is so immensely theatrical and grand. Especially the rings that have tiny little sculptures inside their stones.
You can see the essence of imperialism in some of the pieces as they take their inspiration from the Ottoman empire and the art of the era. It is grand and magnificent and even if you don't intend to purchase anything, you can always look and admire the artisanal skills that take to create such wonderful pieces.
You can also find rare craft and vintage pieces of jewelry as well in the market as well as collectibles and rare gems but you will have to have a good eye to be able to identify these hidden treasures.
Apart from gold and silver, you can also find artificial jewelry that is perfect for gift giving. Bracelets and earrings make for inexpensive souvenirs and are quite nice.
While there are so many beautiful pieces and shops for you to go to, you must beware of foul-play. It is rare but sometimes shopkeepers misrepresent prices and/or quality of their product in an attempt to fool the customer. If you feel uneasy, it is completely okay to walk away.
Make sure to bargain!
Getting value for money is more of an art than a science in my opinion. Unlike any big marketplace in the world, bargaining in the Grand Bazaar is actually a norm, so feel free to unleash your inner artist. Sometimes shopkeepers set higher prices and it is completely all right to go back-and-forth and demand a price that fits your range. Now, I'm not claiming to be an expert or anything, but I have had my fair share of success.
You should start by roaming around the market thoroughly. Visit all the shops and look for items that interest you. By doing this you will become familiarized with the market and will have an idea of the variety each shop has. There are many shops selling the same items so you will be able to use the market competition to your advantage. Never start your shopping right as you enter.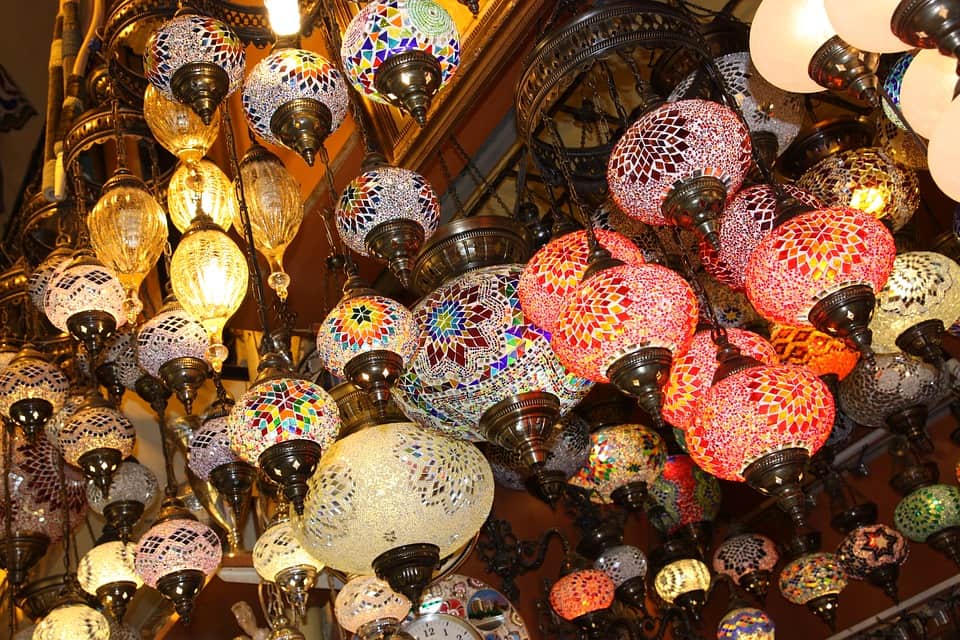 Once you inquire about the price, you should always respond with a much lower price (than you are willing to pay). This will go back-and-forth until either of you give up.
If you are unsuccessful in getting your desired price, don't worry there are plenty of options. Don't hesitate to walk away from the shop without buying anything and don't give in to the pressure from the shopkeeper. You have all the freedom to go to another store.
Another great hack for getting a good price is shopping in a large quantity for a single store. If you buy in bulk, the chances of getting your desired rate will be higher.
And finally, don't get too caught up in the bargaining process that you forget to have a good time while you are there. If you get overwhelmed, remember that you can always rest and grab a bite to eat, drink some coffee or tea and resume your shopping after you have relaxed.
How to stay on a budget?
I can guarantee you staying on a budget is one of the biggest challenges you will face when you are there. However, it is doable. The best thing to do is allot a budget before you go and either mentally or on a paper list down things you want to buy.
As long as you know what you have to get and stick to your list, you will be fine. A trick that I use when I'm traveling abroad is that I always calculate prices in my home currency to keep myself on track to ensure I don't overspend.
Having a calculator and summing up your purchases is also a good idea that will keep reminding you of your spending. You should also consider the allotted luggage weight.
Bargaining will also help you to stay on a budget or if you are lucky, you might end up saving money (that you can always spend on food later).