After converting Hagia Sophia Mosque into a museum in 1935 in the early years of the republic, Blue Mosque became the main mosque of Turkey with its 5 million annual visitors.
Locating in the 'heart of Istanbul', it is impossible to walk away from this massive architecture without being impressed. It stands majestically in the south of Hippodrome with its monumental dome above semi-domes above domes.
Blue Mosque with its 6 minarets possesses one of the most beautiful skyline views of Istanbul, especially when looking at it from the ferries in the sunrise and sunset. Its silhouette from the far has become the symbol of Istanbul in millions of postcards.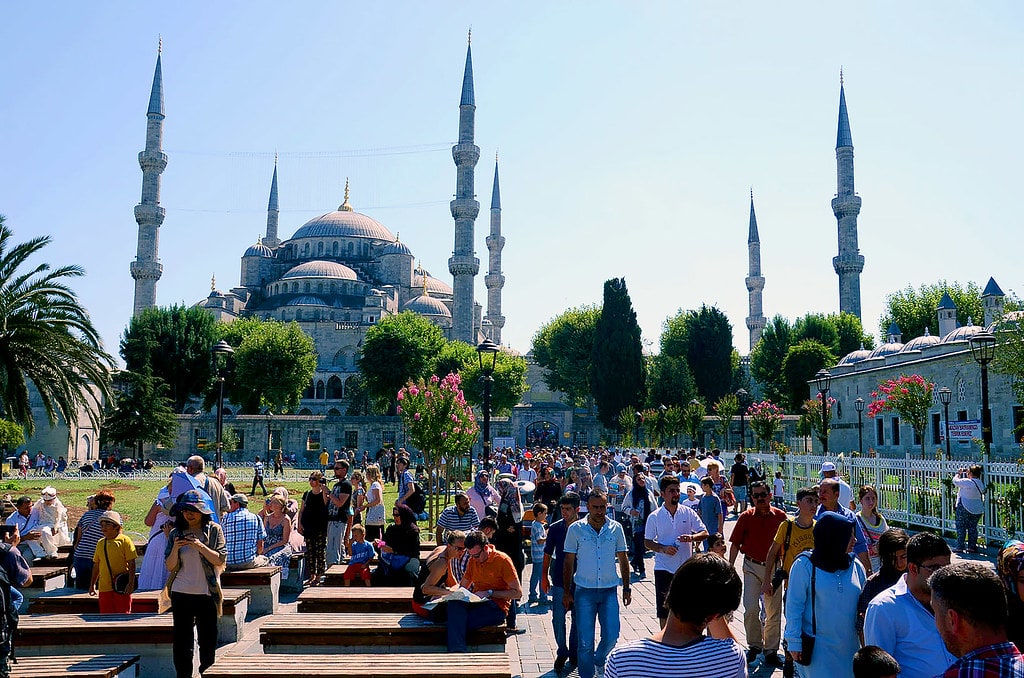 About 70.000-75.000 Muslims can practice their worship at the same time in Blue Mosque.
It is open both to Muslim practitioners and the tourists, so you will see a lot of people practicing their prayer inside the mosque. Please keep silence and respect those worshippers without disturbing them too much, while walking around and taking your photos.
A brief history of Blue Mosque (Sultan Ahmet Mosque)
The mosque was built in less than 7 years, between 1609-1616. Sultan Ahmet I was only 19 years old when he initiated this superb imperial mosque. Sultan had his royal pavilion in the northeast corner of the complex, where he would watch the construction process and after the inauguration, he would rest there before his prayers. He had access to the sultan's loge directly from his pavilion, where he could perform his worship.
Today, the royal pavilion is housing the Museum of Carpet where you can visit and see the fantastic historical carpets. They cover all ages of the Ottoman Empire, brought from all over Turkey and some of them are the ones used to cover Sultans' tents during the military campaigns.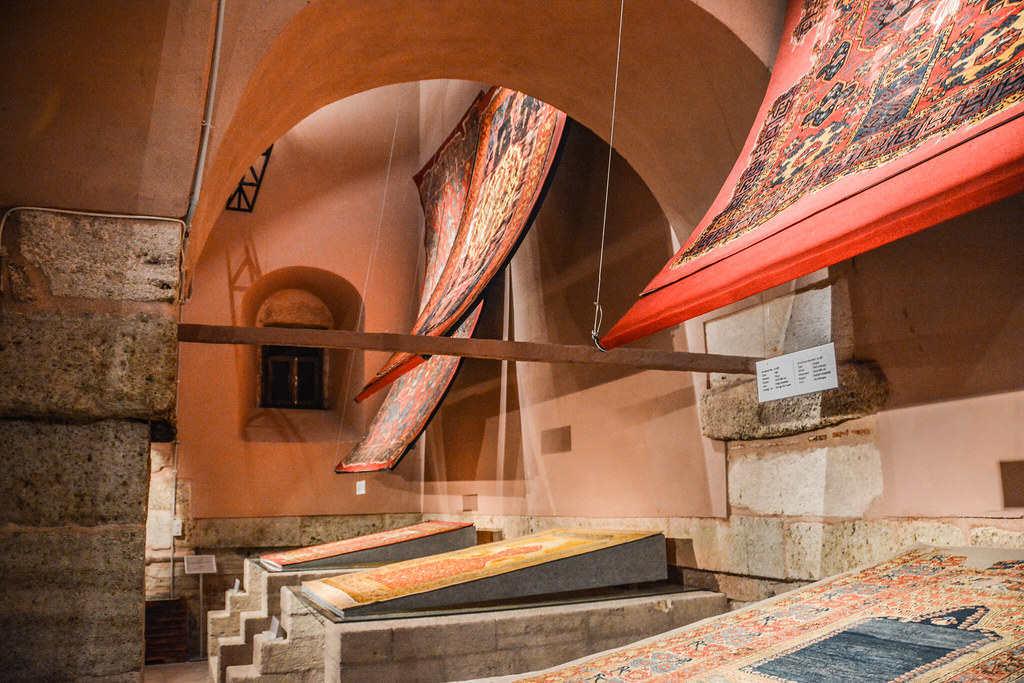 Sultan Ahmet I was so eager to finish the mosque on time that he worked with his laborers once a week. When the diggings started for the foundation of the mosque, he also dug with his pickaxe that today is exhibited in Topkapi Palace Museum. Evliya Çelebi in his travelogue writes how the sultan would carry the stones in his lap after digging the foundation of the mosque.
Unfortunately, Sultan Ahmet could not enjoy his masterpiece a long time, since he died from typhus after a year of the inauguration of the mosque, in 1617, when he was only 28 years old.
Novelties of Sultan Ahmet I
The flow of the history of the Ottoman Empire changed with the novelties of Sultan Ahmet I. He eliminated the long-rooted tradition of fratricide (killing brothers) when he came to power and it changed the political and social order of the empire after this date. Before him, princes would be sent to different provinces of the empire as rulers and they would learn how to rule the state and would acquire the management skills. When the sultans died, the prince who would take the throne would kill his brothers to prevent a potential riot and rivalry.
Sultan Ahmet I did something different. Instead of killing princes, he kept them in prison or cage under strict control.  The direct impact of the 'cage institution' appeared in a short time. As the first consequence, unskilled, pale, mad and psychologically affected and traumatic princes started to be successor sultans. As they would never leave the palace, they would not know how to rule the empire.
Secondly, as there were plenty of princes who would potentially become the sultan, killing them to change with the other one started to happen for the first time in this period. Sultan Ahmet's son Young Osman who was tortured and killed by his soldiers was the first victim of this policy. His tomb is next to his father in Sultan Ahmet turbe. His successor Sultan Mustafa I was also assassinated to be replaced by Sultan Ibrahim.  The new sultan was soon called as Deli Ibrahim (Mad Ibrahim) as he spent 22 years in the cage and was severely affected.
Thus, starting from the 1600s, the Ottoman Empire faced defeats one by one. That was the end of the golden age of the Empire.
In his short reign, Sultan Ahmet was spending too much time in his harem with his concubines that caused objections among ulema (religious scholars). It is said, Sultan Ahmet orders to build such a massive mosque to show his piety and service to Islam.
20 Things To Know Before Visiting
So, after surveying in the brief history of Sultan Ahmet I and Blue Mosque, I tried to collect the most interesting and important facts and information that I believe you should be aware before visiting.
1. Blue Mosque and Hagia Sophia are two symbols of two different civilizations in the same place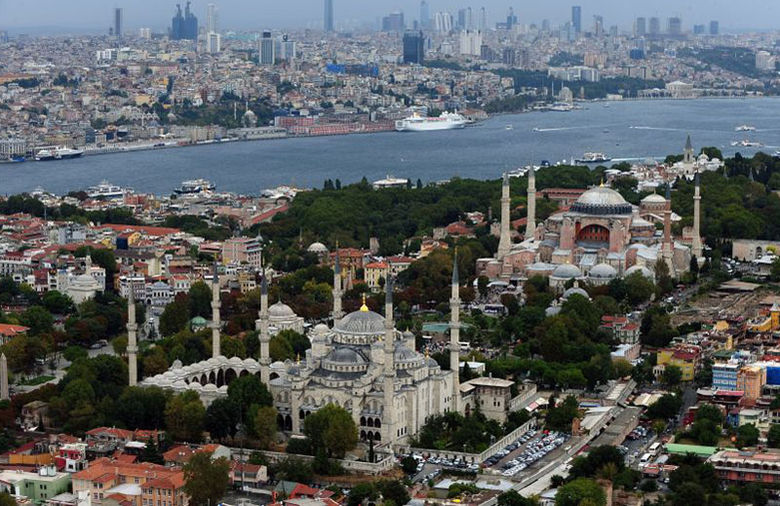 While Hagia Sophia symbolizes the Byzantine Empire, Blue Mosque standing just in front of Hagia Sophia symbolizes the civilization of the Ottoman Empire. They are like two pearls of two different great empires looking at each other face to face. As long as they are standing there with their ultimate proud, they will jointly represent the Byzantine and the Ottomans and will tie both cultures to each other. 
2.Blue Mosque with its blue color Iznik tiles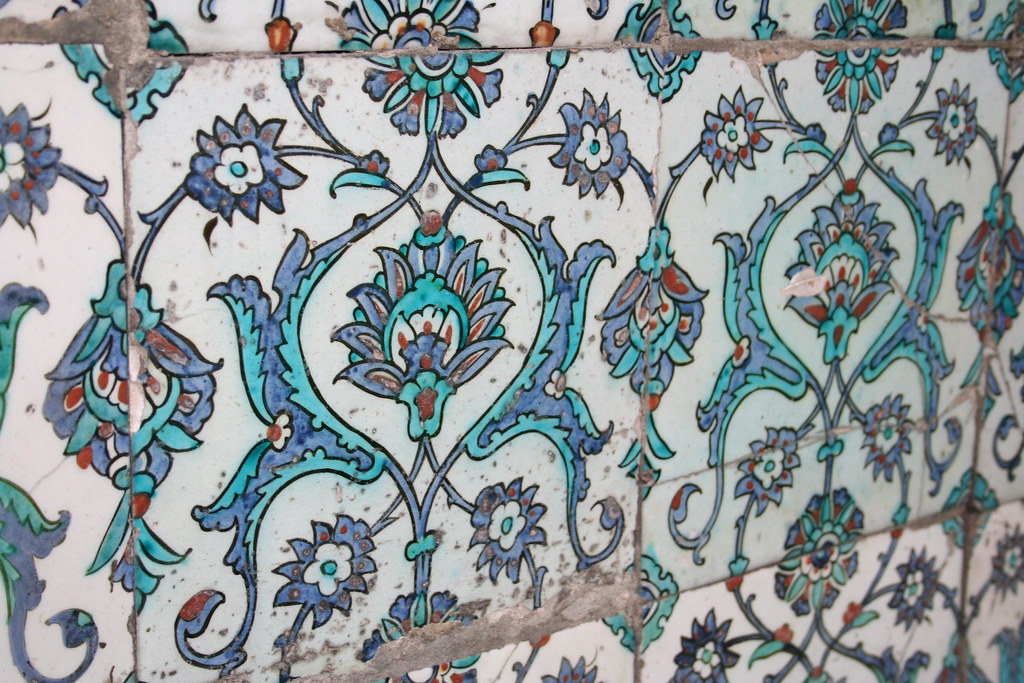 20.000 blue and green Iznik tiles were used in the decoration of the mosque. Therefore, Blue Mosque has been called as such by Europeans because of the blue color Iznik tiles inside it. However, local people call it Sultan Ahmet Camii (Mosque). Traditionally, Ottoman Iznik tiles are rich with patterns of tulips, carnations, roses, lilies, and some trees.
Making these tiles put hard pressure on Iznik tile makers at that time, and the Sultan prohibited others to order Iznik tiles until the mosque was ready. From such intolerable pressure on Iznik potteries, they never recovered fully. Did you know that one broken Iznik tile can be sold around 20.000$-600.000$ in an auction.
3. Blue Mosque was the only mosque with 6 minarets for about 400 years in the world
At that time, only the Mekka mosque could have 6 minarets. When it was built, the mosque faced public rage and reaction. People saw this as disrespect to Mekka. Upon this objection, Sultan Ahmet I ordered to add one more minaret to the Mekka mosque, so it would have seven minarets. Sedefkar Mehmet Aga, the architect of Blue Mosque and student of Architect Sinan adds the seventh minaret to the Mekka mosque within two years.
Thus, Blue Mosque remained as the only sample of 6 minarets mosque in the world, until the Sabanci Central Mosque in Adana and Hazreti Mikdat Mosque in Mersin were constructed with 6 minarets in 1998.
The minarets have three şerefe (balconies) on four of them, and two şerefe on the other two minarets with great carved ornaments.
4. The legend of 'altı' or 'altın' minaret
According to a famous legend, Sultan Ahmet I orders his architect to build the minaret from gold which in Turkish means 'altın', however as the architect knows that it will cost a lot and a great drain on the state budget, he pretends that he has heard 'altı' which means six. So the architect Sedefkar Mehmet Aga builds those famous six minarets.
5. The myth of the number 14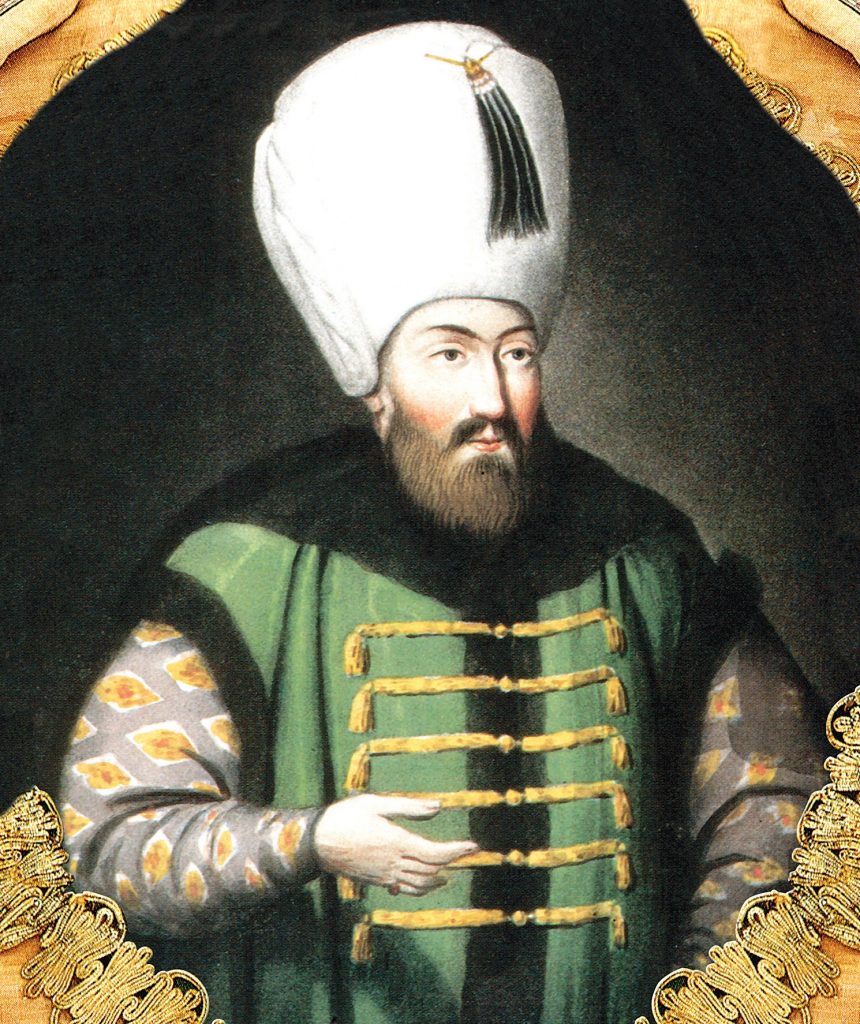 Interestingly, Sultan Ahmet I became a sultan when he was 14 years old as the 14th sultan of the Ottoman Empire, and died after 14 years while he was only 28 years old.
6. Rivalry with Hagia Sophia
Sultan Ahmet I was eager to rival Hagia Sophia and construct a higher and bigger mosque than that. It was the reason why he ordered to build Blue Mosque right in front of Hagia Sophia with a big square between them. However, it could not reach and surpass Hagia Sophia in terms of its dome size and height. Hagia Sophia's dome is 31.612 m and 55 m height from the base, while Blue Mosque's dome could reach only 23.5 m and 43 m in height. It symbolized the end of the Golden Age of Ottoman architecture.
7. "Oh my lord, it is a service of your slave. Please, accept it"
Sultan Ahmet I was so eager and enthusiast to build a rival and superior imperial mosque right in front of Hagia Sophia that he even worked in the construction with his workers. He had a sultanic pavilion in front of the construction, where he would sit and watch the process. When the diggings for the foundation of the Mosque started, Sultan Ahmet dug as well and said "Oh my lord, it is a service of your slave. Please accept it".
8. 100 years of boycott
In the royal history of the Ottoman dynasty, sultans would initiate the construction of such huge mosques with the income of war booty after the successful military campaigns. It was not tradition to build the mosques from the state budget. In other words, to deserve to build a charity mosque, new sultans had to prove themselves as a brave warrior in the battles.
However, Sultan Ahmet did not launch any kind of such a military campaign and without proving himself as a new sultan, he ordered to build this mosque from the state budget. It caused public rage and people refused to go to the mosque and perform their worship there. It continued for almost 100 years.
9. There are 260 windows inside the Blue Mosque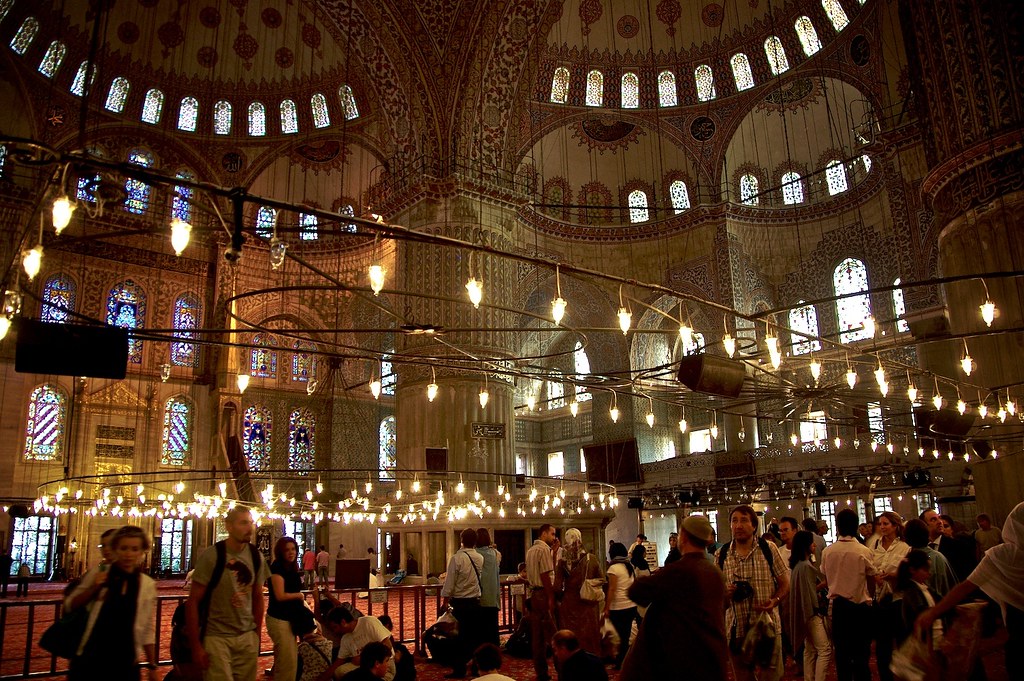 As the windows are plenty, during the daylight, when the Sun rays hit those blue and turquoise colors of tiles, the party of the colors reveals one of the most unique and mystical air for the visitors. Originally, those windows were colorful and they were gifts from Venetian seigneur to Sultan Ahmet I, but today, unfortunately, they have been replaced by normal glasses that do not have any artistic value.
10. Courtyard of the mosque is as fantastic as the interior of the mosque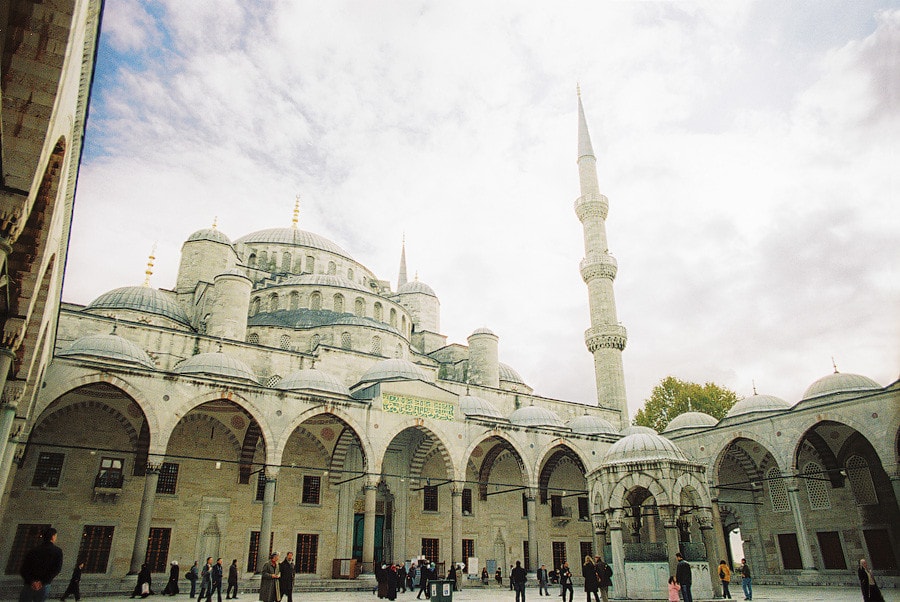 The huge courtyard of the mosque with 30 small domes supported with 26 columns have been decorated with white marbles from the island of Marmara. Ablution fountains are also under these domes, but today they are not used. When walking under these domes, do not forget to pay attention to the art of Muqarnas on the columns, one of the most amazing Islamic art. In the middle of the courtyard, there is a fountain with 6 columns, but this one has an only decorative role today.  
11. Sultan Ahmet and his family have been buried in his mausoleum
Do not forget to visit Sultan Ahmet tomb in the northwest part of Blue Mosque, where he with his wife Kosem Sultan and three sons Murat IV and Young Osman II, Prince Bayezit and some other royal members of the family have been buried here. Prince Bayezid's tomb who was killed by his elder brother Sultan Murat IV is side by side inside the mausoleum. The inside of the mausoleum has been decorated with Iznik tiles of the 17th century like the mosque and worth to see.
12. The traces of Blue Mosque Complex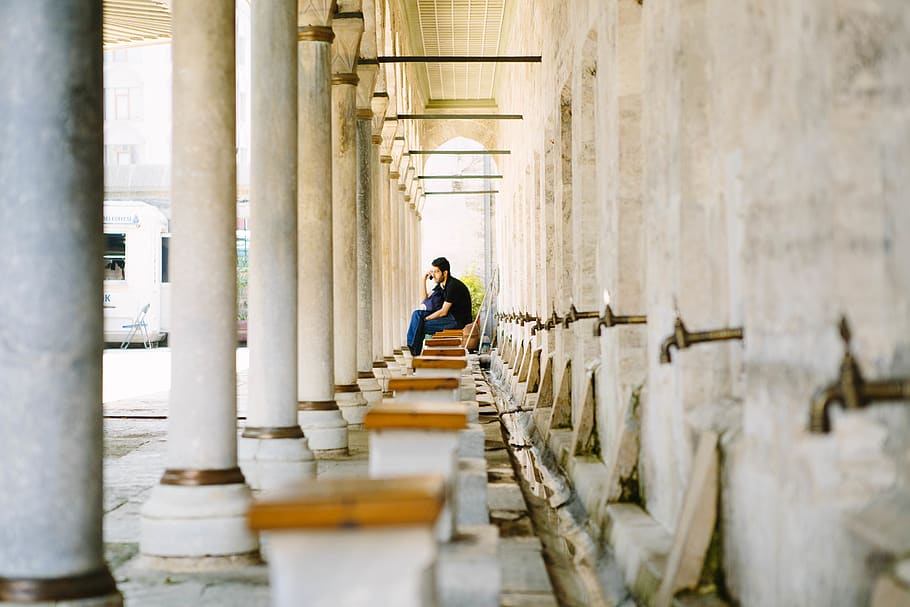 Historically, there was a primary school, madrasa, hospital, kervansaray, residence, kitchen, market, and fountain around the mosque as a typical complex like other Ottoman mosque-complexes. However, some of them have been destroyed by time and today you can see only Sultan Ahmet tomb, madrasa with its 24 cells and market (Arasta bazaar). Hospital and kervansaray were destroyed in the 19th century.  
13. Arasta bazaar belonged to Sultan Ahmet Foundation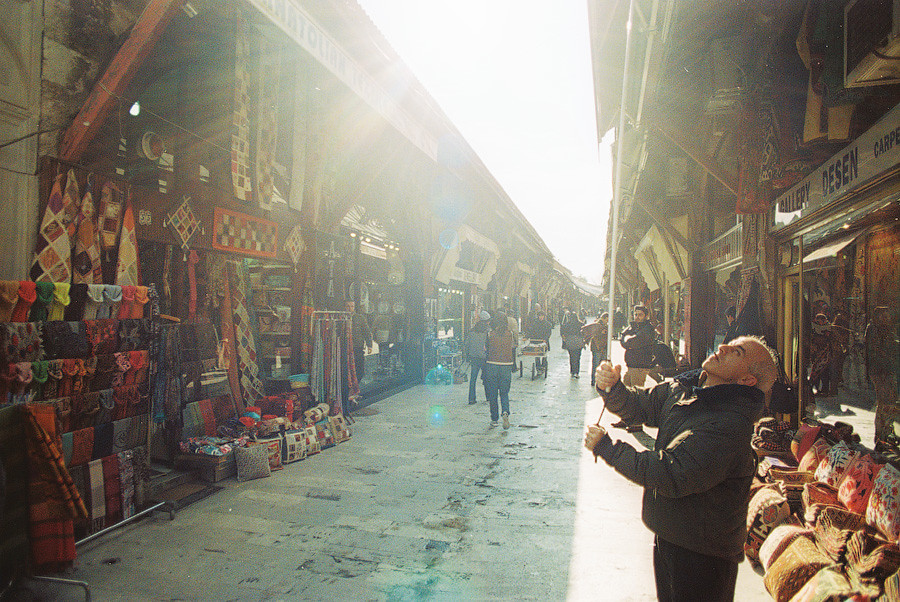 Traditionally, when such big mosques were built, sultans would order to build a bazaar or some shops around the mosque that could cover the expenses of the mosque. Such bazaars would belong to that mosque's foundation and salaries of the imam, muezzin and cleaning assistants, and small renovation expenses would be covered from there. Arasta Bazaar also originally was built for the upkeep of Blue Mosque. So do not forget to visit the Arasta bazaar just on the left of the Blue Mosque.
You can use the big left door to enter the bazaar. Arasta originally meant the market of the same kind products. This bazaar's other name was 'Sipahis Bazaar' which was selling goods for the sipahi warriors. However, today in total about 70 shops, you can find different kinds of goods from souvenirs, jewelery, authentic leather goods, bags, purses, handicrafts, traditional clothes to luxury carpets. There are some niche cafes where you can enjoy traditional Turkish coffee.
14. The Sultans bowed to cross under the symbolic chain to enter the mosque
When you enter the courtyard of the mosque, you will see in the main entrance, there is a big and long chain on the ceiling. Today it has been shortened and exists just as a historical symbol, but before it was lower and Sultans would use the main entrance. When they came on their horses, they would bow in front of the mosque as respect.
15. The critique of elephant foot pillars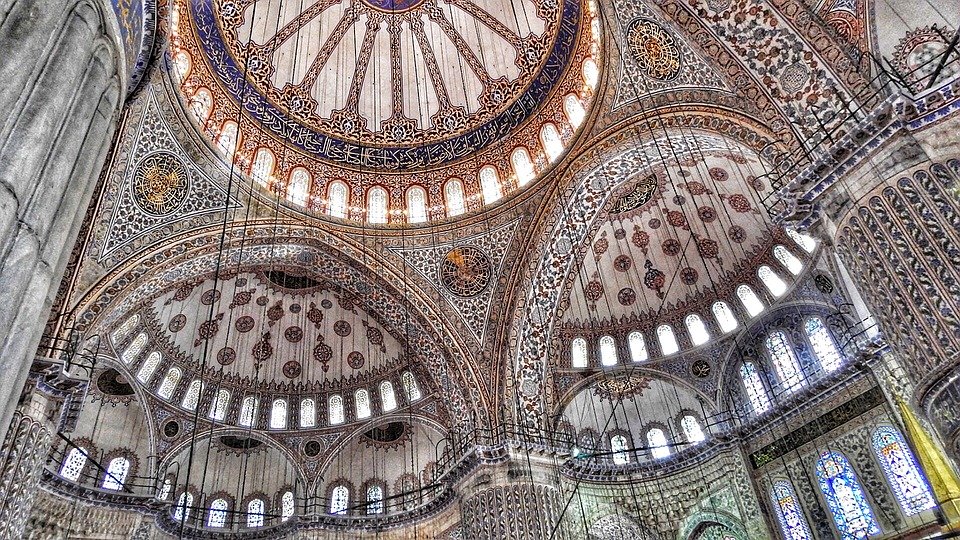 The huge main dome with 23.5 in diameters and 53 m height is supported with four large columns of 5 meters that people call them elephant feet. When you enter the mosque, these pillars give you a sense of large space however architectural historians find them as cumbersome and clumsy in comparison with the masterpieces of Architect Sinan. You can find such elephant foot pillars in some other mosques such as Suleymaniye Mosque and Selimiye Mosque in Edirne. In Suleymaniye Mosque they are quadrilateral shapes, but in Blue Mosque they are round.
16. Evliya Çelebi writes about Blue Mosque in his travelogue
Chelebi a famous Ottoman traveler and writer informs us that at holy nights, six minarets were lit up with 12.000 lamps, so from far away, they look like cypresses on fire.
17. Blue Mosque and Arasta Bazaar have been constructed on the Great Palace of the Byzantine Emperors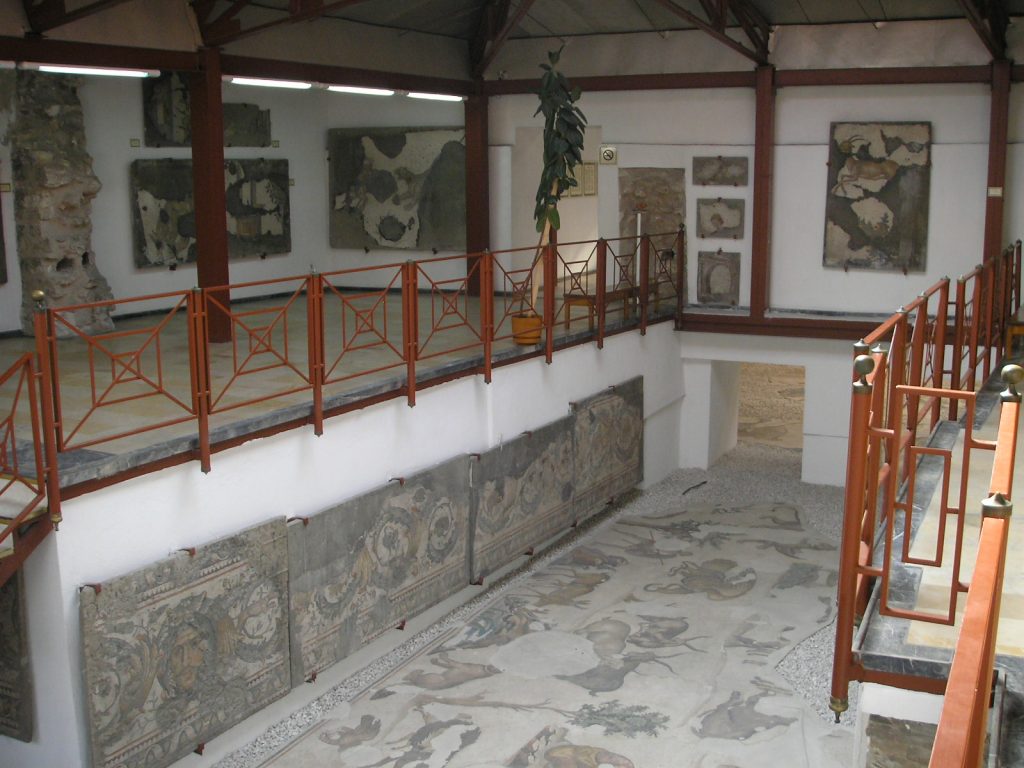 After having a walk in the Arasta Bazaar, you can walk into the Mosaics Museum just in a few meters, where the entrance hall with great mosaics of the Byzantium Empire has been revealed and has been converted into a museum. It costs only 10 TL ($2) unless you have a Museum Pass Card.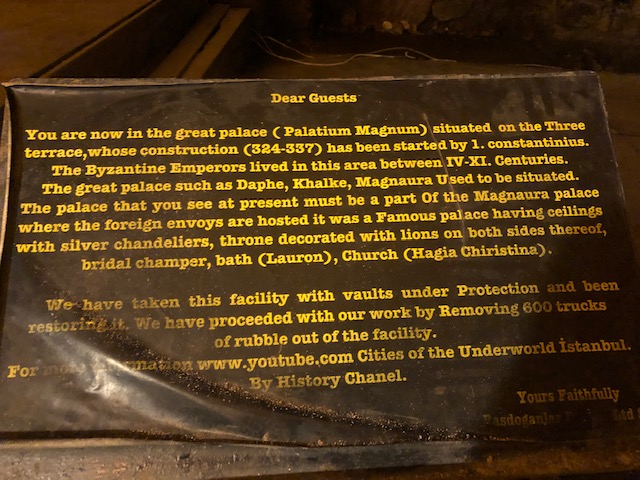 18. The traces of Magnaura Palace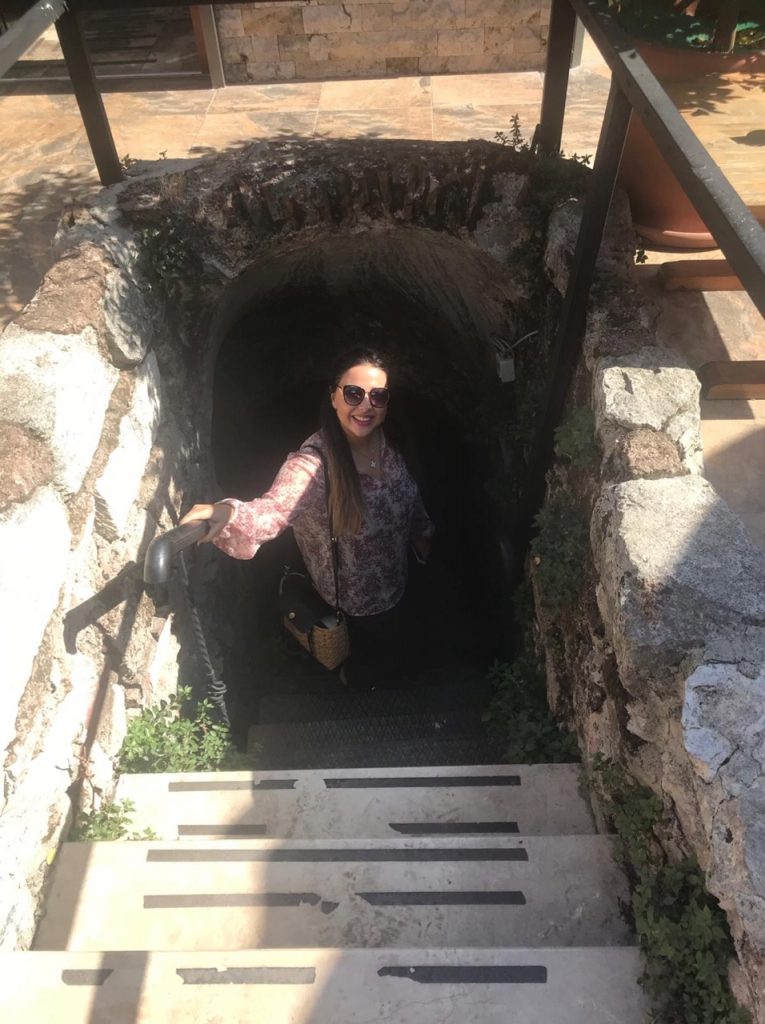 If you are interested in to trace the remnants of the Great Palace, I would recommend seeing the archeological site of Magnaura Palace where 3-4 rooms have been revealed and cleaned. It is open to tourists. The entrance is from Palatium Cafe. If you want to donate to the archeological digging of Magnaura Palace, then sit in the Cafe and order your tea or coffee there, hence the income of the Cafe is going to this research.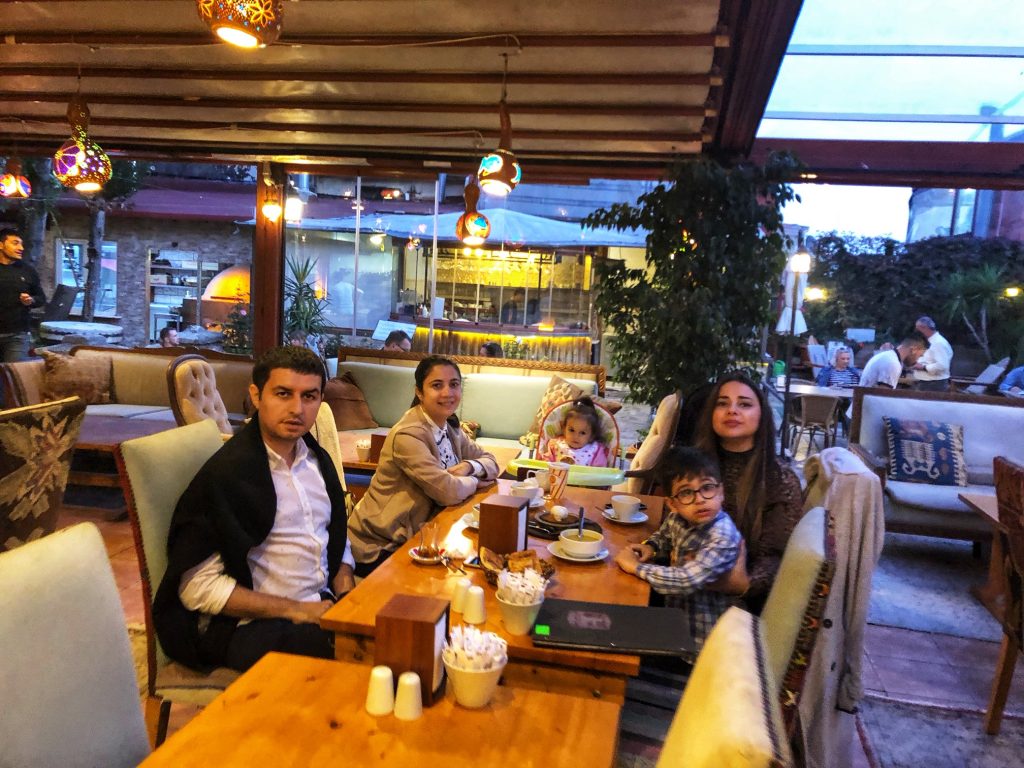 19. Blue Mosque has become an official protocol mosque
Pope Fransisco visited a mosque for the first time, in 2017 during his visit to Istanbul. It was Blue Mosque. Other European and American presidents have also visited Blue Mosque. Bill Clinton, the USA president visited the mosque two times and said that it would be a great mistake to return from Istanbul without visiting Blue Mosque. In his second visit, Clinton introduced the mosque to his men and gave information.
20. "Istanbul Historical Zones" of UNESCO List
Blue Mosque has been included in UNESCO's list in 1985 as a World Heritage alongside other important historical buildings such as Hagia Sophia, Hagia Eirene, Basilica Cistern, and Hippodrome.
Need to know before your visit
Entrance
The main entrance is only for practicing Muslims (worshippers). If you are going to pray, you can use this door. Otherwise, as a tourist, you can use the entrance on the right.
What are the opening and closing hours of Blue Mosque?
Blue Mosque is open from 9 am to 7 pm daily. The mosque is closed to visitors during prayer times. Only worshippers can enter the mosque. Remember that Fridays are holy for the Muslims, and it is the most crowded day in the mosque with hundreds of worshippers. Friday prayers take much longer than the other days, so you might end up waiting more. Keep in mind this factor when visiting, if you want to feel the spiritual atmosphere with Muslims, then it is a good idea just to observe. Otherwise, avoid visiting on Friday.
Blue Mosque prayer times
There are five prayer times, so the mosque is closed to tourists five times a day. Prayer times change according to the seasons. You can check them from the website before your visit.
http://www.namazvakti.com/Main.php?WSLanguage=EN
How much does it cost to visit Blue Mosque?
Visiting Blue Mosque is free of charge, but the charity box is outside the exit door. You can donate for the upkeep of the Mosque.
Dress code for Blue Mosque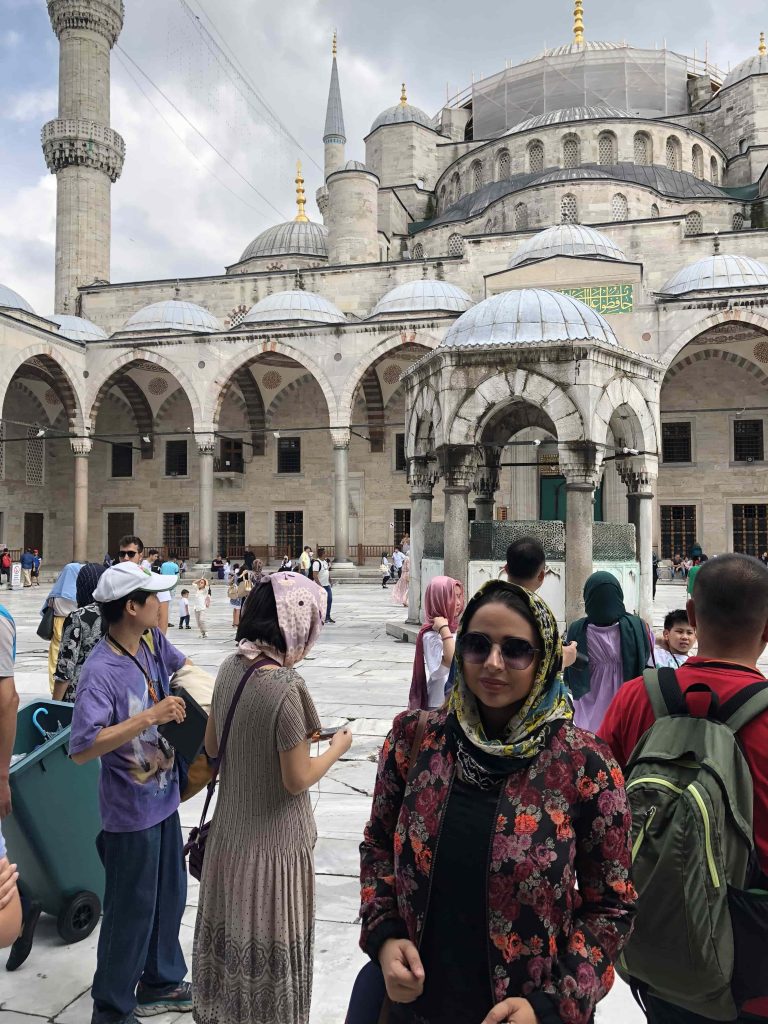 Covering limbs for men and women and covering heads for women are required to enter the mosque. Do not worry if your outlook is not suitable to enter. In the courtyard of the mosque, you can ask for scarfs and long dresses covering all parts of the body. They are free of charge.
Taking photos
Taking a photo is allowed inside and outside the mosque. But please do not use flash, as they affect the historical decorations and tiles and distract the worshippers.
Take off your shoes
The mosque is covered with carpets for the worshippers to kneel and put their foreheads on the carpet. So mosque floors must be kept clean. When you get inside, you have to take off your shoes and put them in a plastic bag which is provided in the baskets outside.
How long does it take to visit Blue Mosque?
Try to avoid visiting in the peak times, otherwise, you might wait in the queue for more than 30 minutes. The best time to visit is in the morning before noon praying hours. Once you get inside, you can stay as long as you want and enjoy the decorations, patterns and motifs, and take your time for photographs.
How to get there?
From the Istanbul Airport, the distance is about 42 km/ 21 miles to Blue Mosque. You can take a taxi, or use public transport. If you take a tram, you get off at Sultan Ahmet stop. It is just 3-4 minutes' walk from this stop. As it is very central, you can walk from many places such as Beyazıt, Grand Bazaar, Sirkeci, Eminonu, Çemberlitaş or Aksaray to enjoy lots of cafes, restaurants and touristic shops.
To sum up, even if you have just a day to walk around Istanbul, I would recommend visiting this site without hesitating. The pearls of Istanbul, such as Blue Mosque, Hagia Sophia, Hippodrome, Topkapi Palace, Divanyolu, Basilica Cistern, Gulhane Park, Museum of Archeology and some other museums with many other touristic attractions are in just one place in a walking distance from one another.