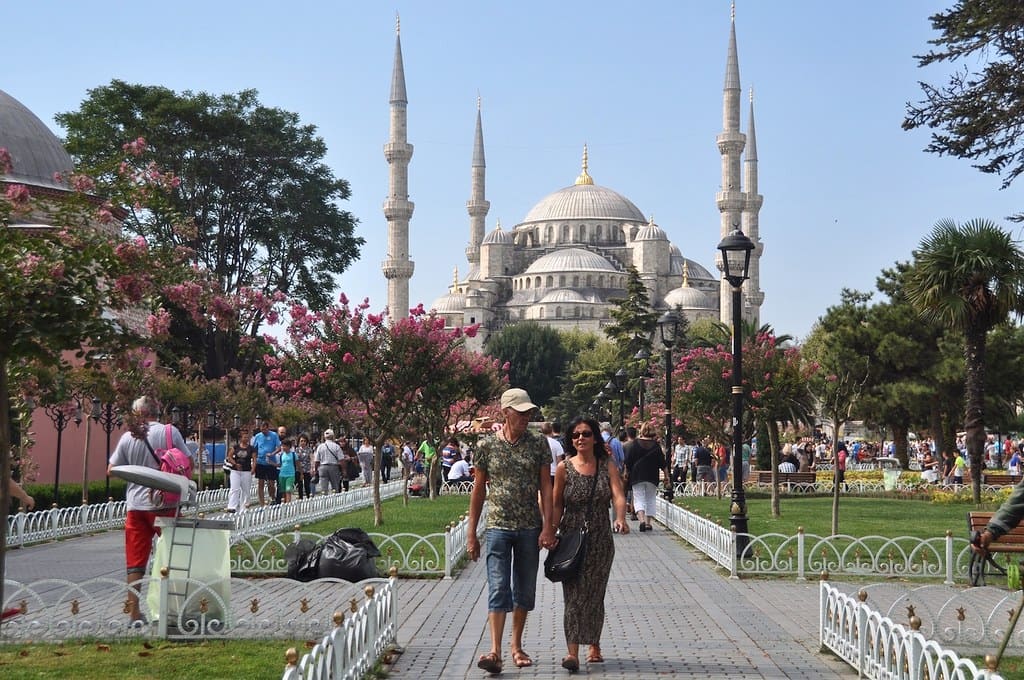 To answer the question above, in terms of what to pack for your trip to Istanbul, I would say the most important thing to consider is the weather. While there are no restrictions or cultural implications to consider when picking your Istanbul wardrobe, it is essential to check the weather forecast for the days of your trip to help you pack.
What to Wear/How to Dress in Istanbul
In Istanbul, you will experience all four seasons in full swing, and that is the beauty of it. We experience chilly winters, beautiful spring, hot summers, and a picturesque autumn. So depending on which month you are planning to fly out, you will have to keep seasonal temperatures in mind.
While you will not find any strictness regarding what you can and can not wear, you do have to be careful about the footwear you pack. Especially since most tourist places like museums and palaces are huge and would require a lot of walking, as well as the Grand Bazaar and Taksim-Istiklal avenue. So pack carefully.
I have tried answering a few FAQs that I hope prove useful for you and help you figure out what to pack for your trip to Istanbul.
Recommended Post:
→ Things to Do in Istanbul – The Only Istanbul Guide You'll Ever Need
What should tourists wear in Istanbul?
In Istanbul, you will find a great amount of freedom if you are going to compare it to its neighboring counties. It is like any European city you can imagine and that is why as a tourist you will not find any restrictions regarding what to wear,
The only thing that you should keep in mind when packing for your trip is the weather in Istanbul, as Istanbul experiences all four seasons, it is quite exciting to see them all.
Another thing that would factor in what you wear is the places you are going to. If you are planning to go on a Bosphorus cruise, you will be dressing appropriately in smart casual, you can wear flip flops and open-toed sandals if you like as well.
If you are going to the many palaces and museums in Istanbul, you are going to dress casually in proper, comfortable shoes as there will be a lot of walking involved in your guided tour.
You should also dress appropriately if you are going to the mosques, which I do cover in detail in the sections below. But to preface, a long sleeve and pants for men and a long sleeve and pants or a skirt that covers your legs for women would save you the time spent in the cover-ups kiosks at the mosques. Women also need to cover their heads.
Istanbul, in my opinion, experiences great weather, which is why I think it is such an ideal place for tourists from all over the world to come and enjoy. I've come up with a little guide to help you with what to pack and what to expect in each season, for whenever you come. So it is easier for you to know what to bring, packing just the right amount of things.
Summer Months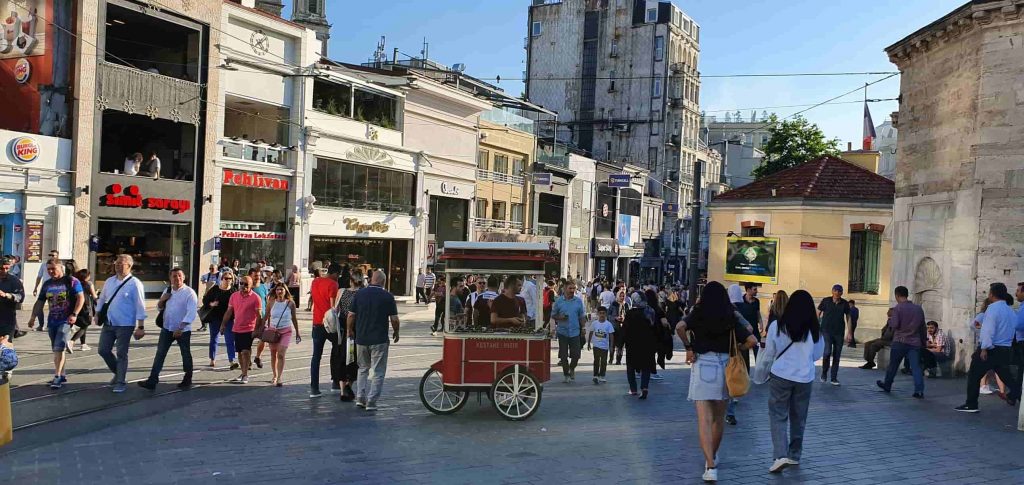 If you are planning a trip during the months of May-September, you will experience a warm and sunny summer. It can get quite hot so you will see even the local men dressed in smart casual summer clothes like short-sleeved shirts and shorts or cotton pants. Women wear casual dresses, shorts, and t-shirts during the hot weather.
You should pack appropriately for the summers as the temperature can go quite high. Men can wear polos and crewnecks, short-sleeved shirts and shorts to go along. Do pack a pair of pants with you so you don't have to wear a skirt if you go to the Blue Mosque or any other mosques.
Women can wear casual shirts, t-shirts in the summer as well. Sundresses, shorts, and leggings become a staple for Istanbul women during the heat. However, as with the men, the rules for women to enter mosques are a bit more strict.
Even though I go in detail below, it's best to pack a long-sleeved shirt and a pair of pants or a long skirt so you don't have to stand in line waiting for the mosque administration to give you cover-ups.
While you can wear flip-flops and sandals, I would recommend you wear sneakers for walking outdoors especially. Istanbul is very unpredictable when it comes to rain, so its best to have shoes that cover up and do not slip.
Hats and caps will be your best friends during peak summers in Istanbul because it can get extremely sunny. So to avoid getting a tan, apart from slathering yourself in sunscreen, a baseball cap or a sun hat is a must for your summer trip.
Winter Months
In the winters, November-March, you will experience severe cold temperatures, that are often combined with heavy rain or occasional snowfall. Though they aren't your typical freezing temperatures, Istanbul, since its surrounded by water makes the winters a little harsh.
You will have to bring layers of clothing with you to Istanbul. I personally don't think you need to pack thermal layers, but if you have not experienced such low temperatures, it is best that you do so you don't fall sick or experience extreme cold resulting in you being unable to enjoy your vacation.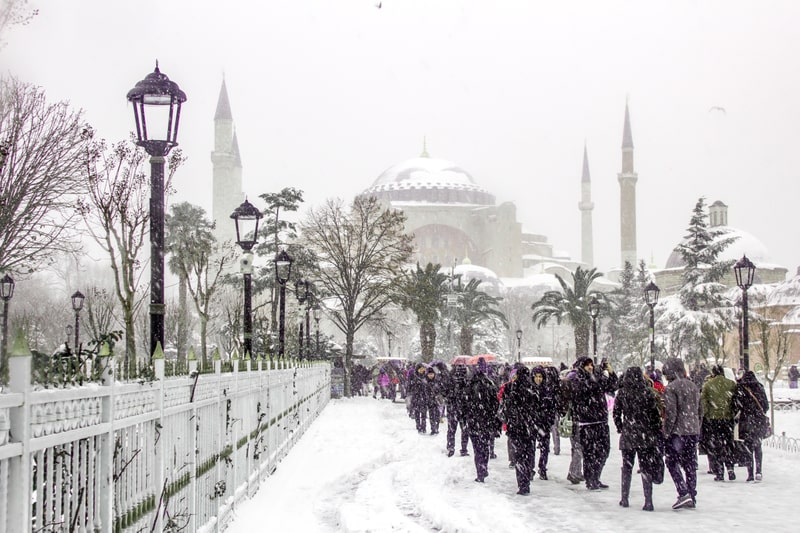 For your winter Istanbul trip, you should have warm pants, sweatpants, jeans. Warm sweaters, mufflers, shawls, and scarves to keep you warm and protected against the harsh temperatures. Woolen long coats and jackets are essential keeps for your trip. You will be experiencing a lot of and frequent winter rain in Istanbul, so it is best to pack weather-resistant jackets.
If you are coming from a country that does not experience such winters, don't worry. You can always buy great winter jackets from Istanbul that come in all price ranges. So you wouldn't have to worry about not being able to get much use out of it after you go back.
You will need long boots, but make sure they are broken in properly. While you will have to face cold weather, you will still have to walk a lot in Istanbul. Sneakers and joggers are a bad idea in Istanbul winters, I can personally validate that for you. It is constantly rainy and slippery and the water can get inside your shoes which can be painful.
Autumn and Spring
The transition months are some of the most beautiful times to visit Istanbul in my opinion. It is usually slightly chilly but that's about it. The weather is perfect and the scenery is magnificent. You wouldn't need to pack a lot of winter clothes if you plan your trip in the autumn, just a few cardigans, sweatshirts, and jackets would suffice.
In the spring, you would be fine if you pack with you semi-casual clothes like dresses, skirts, trousers, with kimonos or cardigans for women and pants, shirts, and cardigans or pullovers for men.
What should you avoid wearing in Istanbul?
While there are no restrictions in Istanbul regarding what you can and can not wear, there are a few general guidelines that apply. Which is the case with anywhere you go in the world, it is important to keep their culture in mind. While Istanbul is very relaxed and extremely accommodating of tourists, you need to be careful of a few things.
Make sure you don't wear anything that might be culturally or religiously insensitive to avoid offending anyone. Religious or political symbolism on your clothes can be hurtful or aggressive by the locals.
I would also recommend you to avoid wearing a lot of flashy gold and silver jewelry in places like the Grand Bazaar, Blue Mosque areas, and Taksim-Istiklal to avoid becoming a target of petty theft.
I would say you should avoid wearing shoes that aren't well broken into and might get uncomfortable to walk in after some time. Women, avoid wearing high heels if you are planning to walk, especially in Istiklal, as the streets are uneven and made of bricks, you will be very uneasy and unbalanced while walking.
Other than that, you do not have to worry about anything. While you might think that Turkey is an Islamic country and there are restrictions, as there are in its Arabic neighbors, you will be pleasantly surprised.
Do you have to cover up in Istanbul?
While there are no restrictions regarding what to wear in Istanbul, you will have to cover up when you visit the mosques in Istanbul. Like any religious place around the world, there is a strict dress code that has to be followed as a sign of respect for the religion.
Women are required to cover their heads (and arms if you are wearing short sleeves) with a headscarf and a skirt to cover your legs if they aren't covered all the way. Men would have to cover their legs as well if you are wearing knee-length shorts.
Other than religious places, you do not have to worry about having to cover up in Istanbul. There is a lot of freedom of choice and expression in Istanbul which is one of the best things about the city. So you will not be required to cover up anywhere else, so you don't have to be conscious if you're wearing clothes that might be considered revealing in certain countries.
What should women wear In Istanbul?
As I have already discussed in much detail already above, you should not expect any restrictions on what you can and can not wear. The only thing you should consider is the weather and if you have any events to attend that have a certain dress code. Other than that, you will experience the wonderful freedom of choice and expression.
Women, you do not have to worry about the length of your clothes or covering their heads until you are in a mosque. As mosques, as I have mentioned above, will not permit you to enter if you are not properly covered up.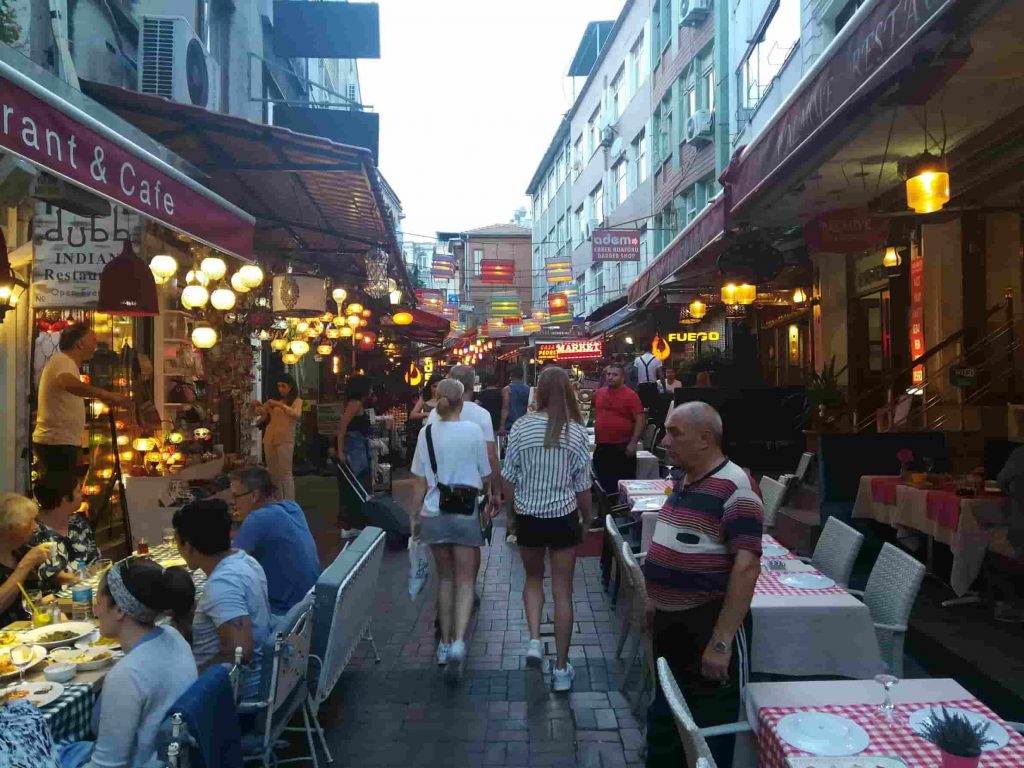 The only tip I feel like I can give you is dress comfortably. If you are taking a trip to any of the tourist spots in Istanbul, they can get quite tiring. From lengthy waiting lines to detailed guided tours, you will get tired. Wear comfortable shoes and soft comfortable clothes that do not start to irritate after a while.
Avoid carrying a big purse with all your belongings, instead, opt for a small crossbody or a fanny pack in which you can only keep essentials. Not only would a big purse become a burden to handle but you might become a target of pickpocketing, especially in the bazaars.
A few absolute essentials for Istanbul
I feel since I have discussed in much detail about what you can wear above, I need to mention a few non-clothing items as well that will be helpful. First and foremost, always carry an umbrella with you in Istanbul. It can rain whenever.
The weather is extremely unpredictable so it is best to be cautious. Have the weather alert on for Istanbul before you arrive. This will help you pack and be well prepared.
This isn't exactly an essential, but more of a nice little tip that I give people who come here. Don't pack excessively for Istanbul. There are a lot of nice local brands that make quality clothes, you can shop there. Compared to European brands, they are much cheaper and the quality is in accordance with the weather. So you will get to add more things to your wardrobe and have more shopping space in your luggage.
I hope I have answered any questions that you had regarding what to wear, what to wear where and what to pack. I hope this has proven useful and I've been able to give you essential insight regarding one of the most important travel questions.