Istanbul is a great city that houses simultaneously many cultures like Middle Eastern, Greek, and Anatolian. This shows how densely it holds assorted cultural elements in its unique existence. It would be non-sense if this highly rich cultural atmosphere didn't affect variety of cuisines prepared and served in this special city. Istanbul gives you incredible opportunities to taste multitude of flavors and dishes at once.
In Istanbul, you can taste delicious Greek and Turkish mezes (side dishes) at one place while you can experience excellent elements of Middle Eastern cuisine such as falafel and hummus.
In this article, I prepared for you a list of 10 best restaurants in Taksim/Istiklal where cosmopolitism and authenticity of the city can be felt in most delicious and enjoyable manners. Selecting the 10 best restaurants that I listed below, heterogeneity and popularity of the restaurants are especially considered. I hope you enjoy a great gastronomic tour during your Taksim adventure with these recommendations.
1 – Eleos: A White Tavern in Beyoğlu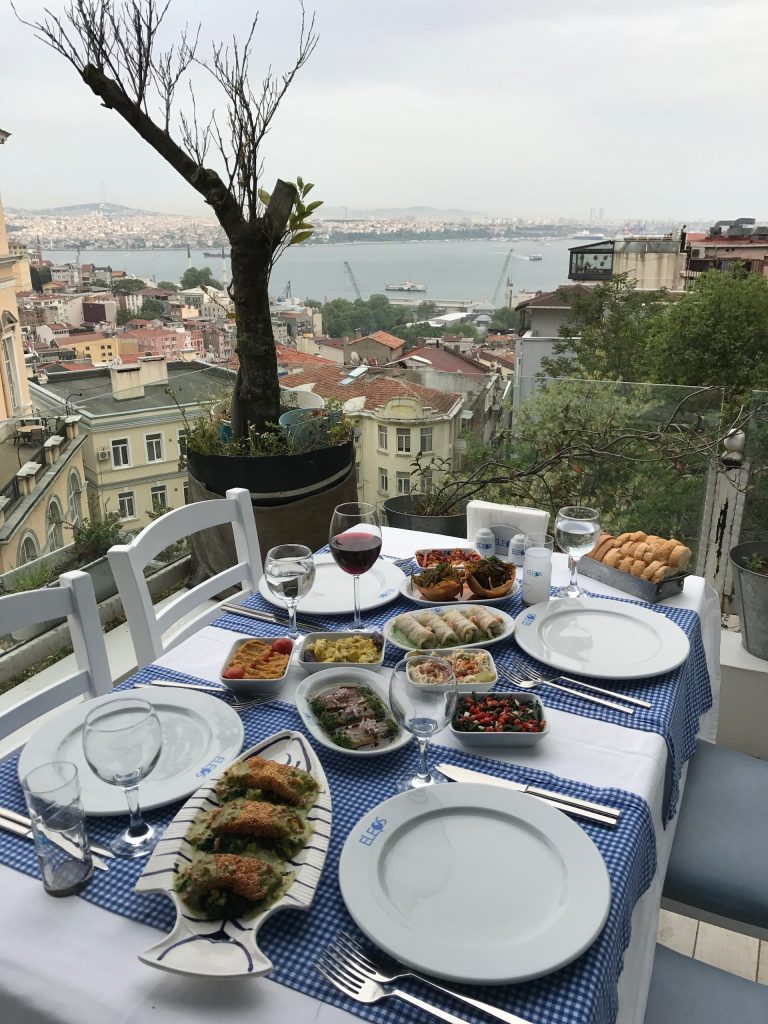 Eleos, being one the most traditional and iconic Greek taverns in Taksim, is the best place where you can have best mezes and starters in the neighbourhood such as grilled calamar while enjoying spectacular Istanbul view. Menu of Eleos comprises basically of an excellent combination of seafood and vegetable dishes in that you can find assorted side dishes such as artichoke and stonecrop mezes, along with fried mussel, surimi dishes, grilled seabass and bluefish.
As for the prices, range of current meze prices is between $3 and $4 while price of entrée starters is around $6-$7. Since fishes are served seasonally and their prices change accordingly, prices of fish dishes should be asked during your visit.
Regardless of what you look for in a restaurant, be it taste, authenticity and historical elements, Eleos is a great choice to make for an unforgettable dinner.
Address: Istiklal Cd. No:231 Hıdivyal Palas Kat 2 Beyoğlu / İstanbul No: Tel: +90 212 244 90 90 – 91.
2 – IZAKA Restaurant: A Restaurant with Panoramic View in Istanbul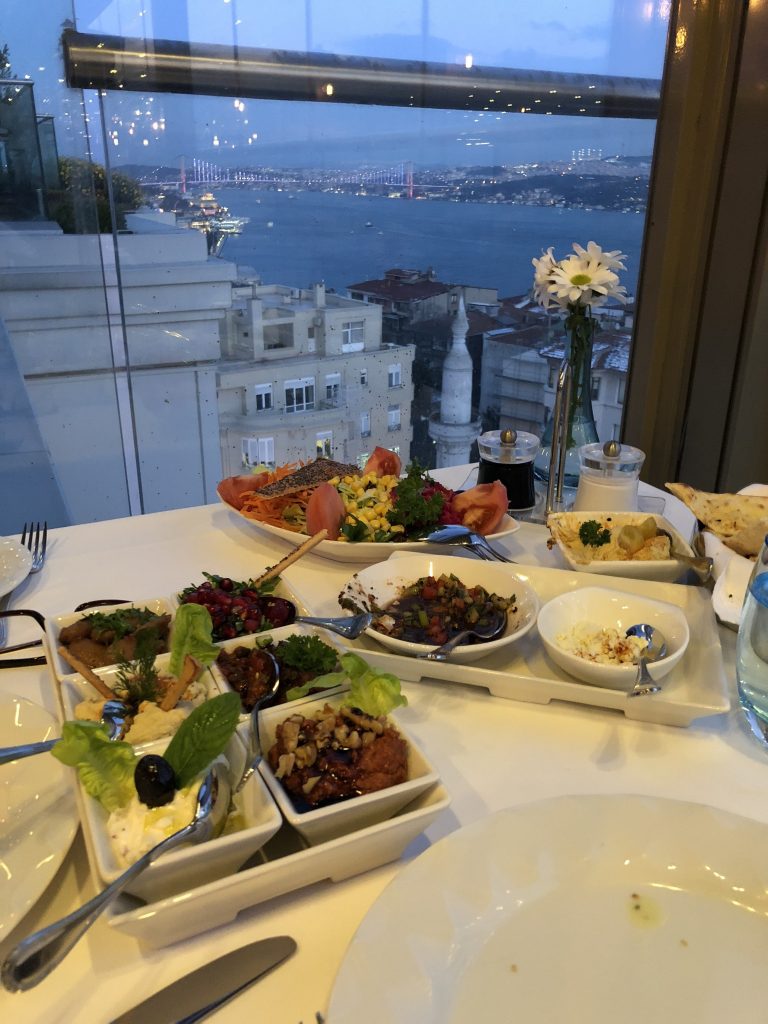 If you are into world cuisines and want to taste them at once in a luxurious place with spectacular Istanbul view, IZAKA is your place in Taksim.
Their menu includes dishes from renowned cuisines like Turkish, Italian, and Japan. As hot appetizers, they serve quite innovative and delicious options such "balık içli köfte" (cracked wheat stuffed with fish). In addition to innovative appetizers, traditional appetizers like dry eggplant stuffed with rice and meat is included in menu. Minestrone soup served with ricotta ravioli, and Temaki Sushi, on the other hand, are just a few international dishes served in the restaurant. 
As of alcoholic beverages, IZAKA offers splendid choices as well. Aged gourmet wines such as "Chateau Margaoux 1995" is one of the finest examples explaining the quality in the restaurant. Moreover, IZAKA is a perfect for tasting high quality Turkish wines like "Doluca-Alçıtepe" if you wish to go on a gastronomic Turkish wine tour while enjoying Istanbul's view.
As of prices, range of hot appetizer prices around 4 and 8 dollar while soups are around $4-$5. For cold appetizers like Caesar salad and IZAKA meze plate, prices range from $6 to $9 . There is no information regarding prices of fish plates for seasonality. For main dishes, kebab prices are around $7-$8 while international dishes such as pasta and risotto cost around 6 dollar on average. Lastly, sushi prices are in the range between $4 and $6 for four parts. 
So, if you would like to have a magnificent gastronomic adventure in Taksim in a restaurant with rich and diverse menu, you're highly recommended to visit IZAKA.
Address: Gümüşsuyu Mah. İnönü Cad. No:8, Taksim/Istanbul No: +90 (212) 7083838.
3 – Fiore Italian Restaurant: A place for Classical Italian Food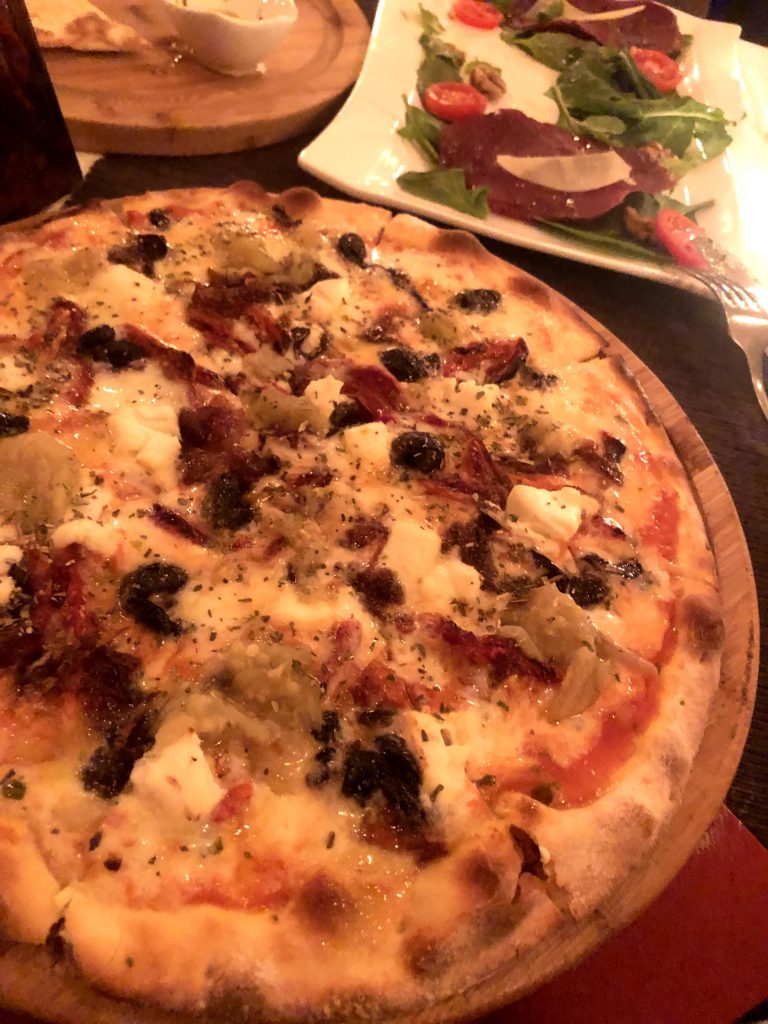 Istanbul hosts many tasteful examples of foreign cuisine restaurants. Among these restaurants are Italian restaurants standing out the most. Fiore Italian restaurant is undoubtedly the most famous one among these successful Italian restaurants in Taksim.
Being a traditional Italian restaurant, Fiore offers all classical elements of Italian cuisine and prepares every one of them in traditional manners. Starters or "antipasti" in Fiore restaurant are unique Italian starters such as "Caprese di Bufala" (Home-made buffalo mozzarella, sliced tomato with pesto sauce). Being a part of Mediterranean cuisine, Italian cuisine is brimmed with salad types as well and Fiore restaurant presents a great variety of salad options. "Insalata di Filetto" (salad with roasted tenderloin steak, parmesan and rocket) and "Insalata di Rucola" (Salad with cherry tomato, walnut, parmesan, and balsamic vinegar) are two famous examples. As to main dishes in Italian, Fiore restaurant has delicious seafood dishes like poached seabass.
Italian restaurants are naturally well-known for their high quality pizzas and Fiore restaurant is one of the rarest places in Taksim where you can have Italian level excellent pizzas. Their pizza types such as typical "Margherita" and "Di Mare" pizzas cooked in special ovens Fiore is a great option for lovers of true Italian cuisine.
Prices in the restaurant ranges from $3 to $5 for starters while prices for salads are around $4-$5. On the other hand, prices are around $10 on average for main dishes and $6-$7 for pizzas.
So, if you would like to have a genuine Italian restaurant experience in Taksim, you're recommended to go to Fiore Restaurant. The address and phone number of the restaurant is below.
Address: Gümüşsuyu, 9, Miralay Şefikbey Sok., 34437 Beyoğlu/Istanbul. No: +90 (212) 243 9899.
4 – Hayvore: Local Tastes for Black Sea Cuisine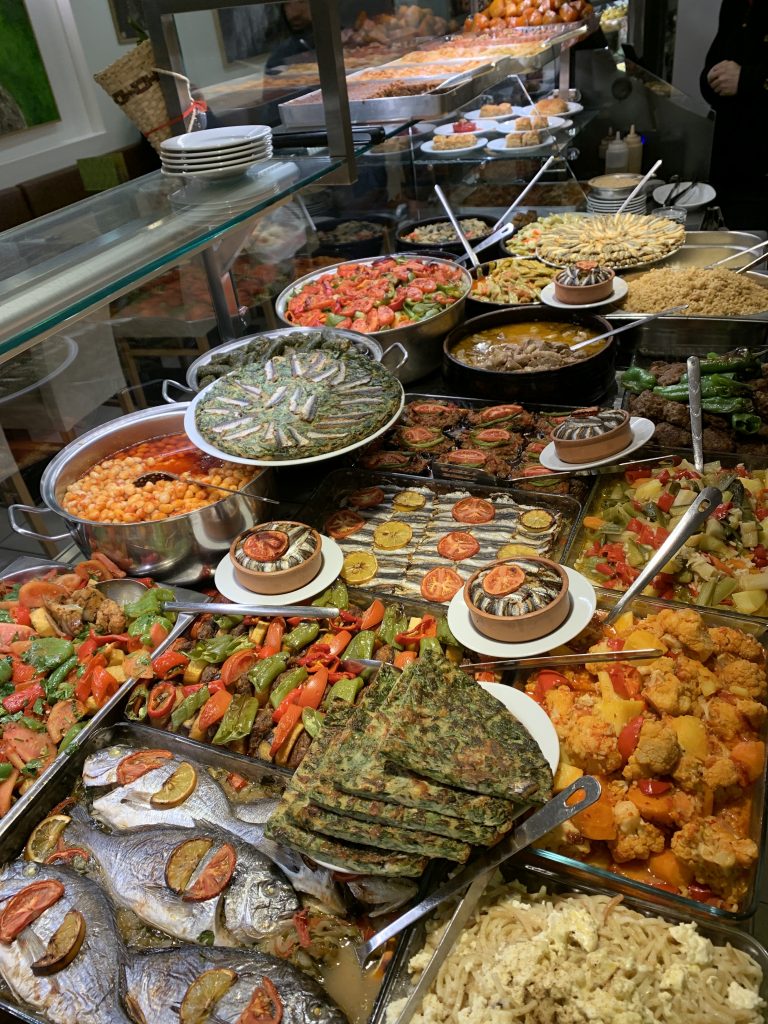 If you're into local food and if you would like to dive into treasures of traditional Turkish cuisine, Hayvore is an excellent restaurant for you. Hayvore serves exclusively Black sea cuisine and its entire crew are from Black Sea region. Therefore, you do not have to go to Black sea region to taste genuine local tastes, Hayvore is already equipped with local employee inherently familiar with Black sea cuisine.
Black sea cuisine is light and balanced thinking of the elements that make it up. From seafood to meat and vegetable dishes, you can find different tastes and flavours in one place.
As to what they serve in Hayvore, all kinds local foods of Black sea are served. Fried anchovy, meatballs, rice with anchovy, special Rize roast (beef stew), are examples of Black sea cuisine and they are merely a some of the dishes served by experts in Hayvore restaurant.
Prices for starters kale and lentil soups are around $2 while prices for main dishes like Akçaabat meatball, fried anchovy, muhlama (melted cheese over roasted corn bed) varies from $2-$3.
From high-quality dishes that they offer in their restaurant, it is easy to grasp that you can have an excellent Black sea cuisine experience here.
For gastronomic and economical reasons, you're highly recommended to visit Hayvore during your Taksim adventure. The address is below.
Address: İstiklal Cad. Turnacıbaşı Sok.No:4 Beyoğlu-İstanbul No: +90 212 245 75 01.
5 – Meze by Lemon Tree: A traditional Turkish Tavern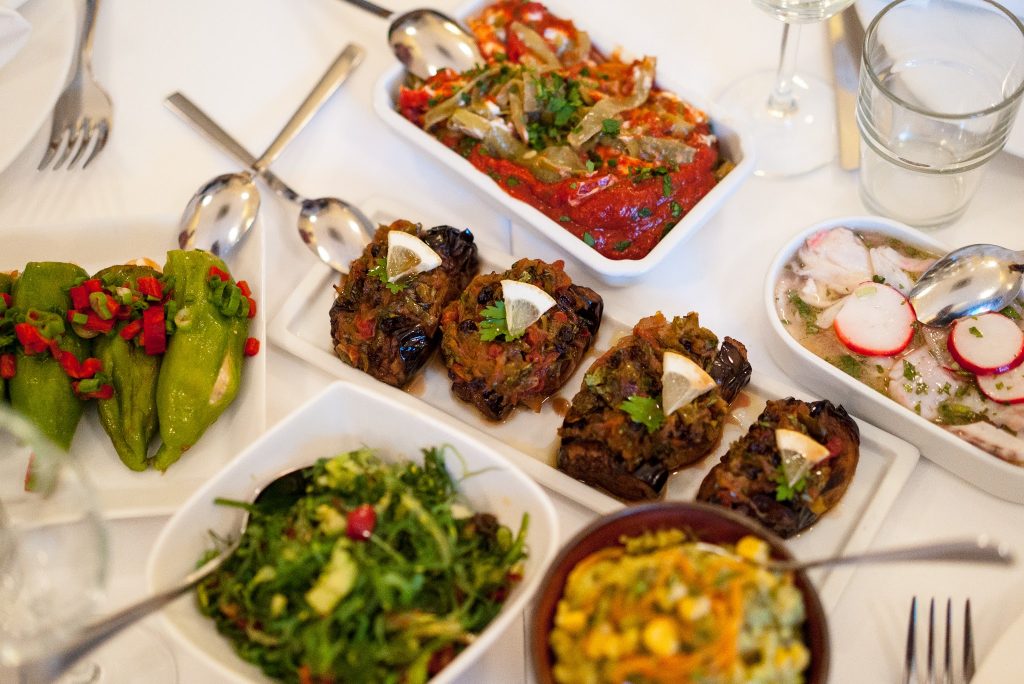 Taksim is famous for its Turkish style taverns as well. They are authentic places where you can enjoy unique tunes of classical Turkish music while having delicious mezes and raki. Meze by Lemon tree among many other taverns is a perfect example for Turkish style taverns and reflect all historical elements of taverns.
As a classical Turkish tavern, Meze by Lemon tree serves tasty mezes or cold appetizers. Dried tzatziki and leaf beet stuff with bulgur salad are special mezes of the restaurant. As hot appetizers, seafood such as fried angler fish, shrimp stew, and fried calamari are served in the restaurant. As main dishes, restaurant offers both meat and fish dishes. So, you pamper yourself many times with diverse meals served in Meze by Lemon tree restaurant.
As to the prices, you have an option to choose a fix menu including six types of meze, two types of cold appetizer, and dessert for around $30 and this fixed menu is arranged for two people. Another fixed menu arranged by the restaurant costs around $40 and includes five types of meze, one type of hot appetizer, and one type of main dish along with dessert.
So, if you want to have an authentic dinner with classical Turkish mezes and tasteful seafood in Taksim, Meze by Lemon tree might be a good restaurant choice for you. The address is below.
Address: Asmalımescit Mah. Meşrutiyet Cad. No 83/B, Beyoğlu, İstanbul No: +90 (212) 2528302.
6 – Tomtom Kebab: Best Kebab Restaurant in Istanbul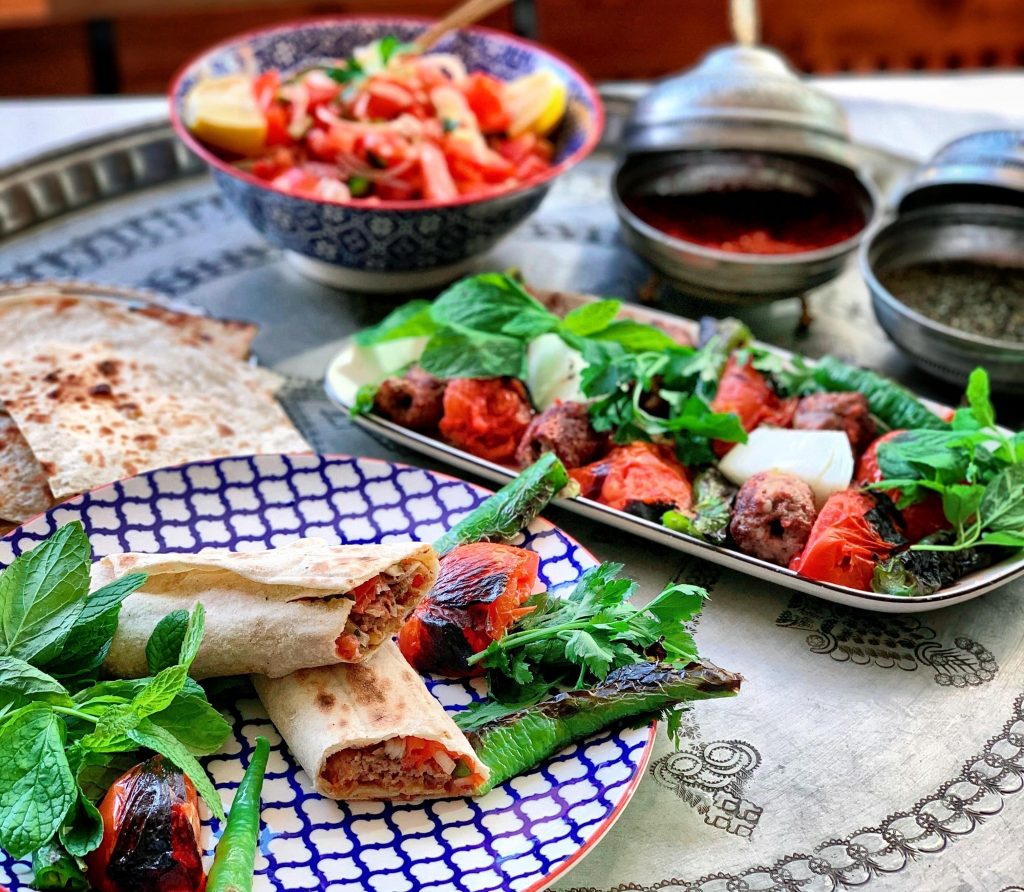 If you are someone looking for a dinner which is combination of both Mediterrenaen and Middle Eastern cuisines, kebab restaurants are great places for you. This is because they offer you both excellent grills and vegetable based side dishes. Besides, if you also happen to be in Taksim, you should try Tomtom kebab because it's selected as the best kebab restaurant in Taksim by reviewers of TripAdvisor website.
Being a great kebab restaurant, Tomtom kebab is excelled at serving freshly prepared cold appetizers for its guests. Among the loads of positive reviews for Tomtom, admiration for cold appetizers (especially hummus) outstand the most. Their shish kebabs are highly admired as well. Besides, its coziness and hospitable attitudes of the owners feels like you are having your dinner or lunch with people you already know.
As to prices at Tomtom, prices are quite moderate compared to unbelievably delicious meals served in here. For all kind of mezes, prices are the same while kebab prices are between $4 and $6 approximately.
Therefore, if you long for a cosy and warm restaurant where you can have delicious kebabs and mezes, Tomtom kebab is an excellent choice if you're in Taksim. The address of Tomtom is below.
Address: Firuzağa Mah., Yeniçarşı Cad., No: 39/A, Beyoğlu, İstanbul No: +90 (532) 7959624.
7 – Nicole: A boutique Gastronomy Restaurant
Taksim hosts multitude of fine dining restaurants where international dishes are served. Nicole restaurant is probably the "finest" restaurant among them. Though it is not officially classified as a restaurant with Michelin star, visitors state that Nicole has a Michelin star restaurant level. The restaurant is listed among the best 1000 restaurants around the world and as the best restaurant in Turkey.
As to meals served in Nicole, we can say that the restaurant acts picky. Nicole has two fixed menus in that similar meals are served. On the fixed menu named Nicole, we see butter trio (frog legs, duck terrine, tarhana soup) as starters. For hot appetizers, the restaurant serves acorn with caviar and red beet, shrimp served with mussels and pumpkin, fennel with walnut and grapefruit. For main dishes, seabass with blessed thistle and raisins are served. As the second option, lamb is served along with smoky yoghurt. Nicole menu costs around $60. On the second fixed menu named "Kutlama" (celebration), you can have both lamb and seabass as main dish, besides they serve confit egg with cauliflower and duck pastrami. Kutlama menu costs around $80.
So, if you're in a mood to pamper yourself with excellent service and a fine dining experience, Nicole is excellent. It offers you to enjoy a Michelin star restaurant pleasure. The address of the restaurant is below.
Address: Boğazkesen Cad. Tomtom Kaptan Sok. No:18 Beyoğlu / İstanbul +90 (212) 292 44 67.
8 – Neolokal: A Fine Dining Restaurant with Traditional Elements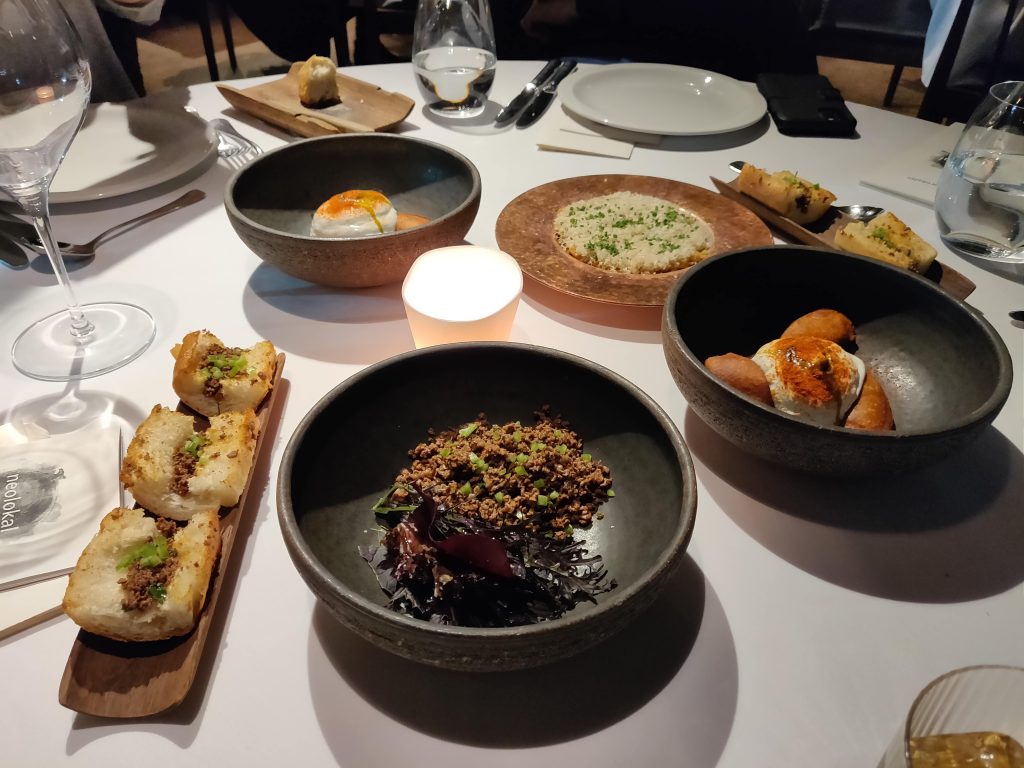 Neolokal is another fine dining restaurant in Taksim and just like Nicole restaurant, Neolokal is listed as one of the best 1000 restaurants in the world. Their specialties comprise essentially of traditional Turkish cuisine. As their motto, restaurant manager believes they cannot form a healthy future without their traditions.
Looking at content of their super rich menu, we can see the traditionality in every single element. As cold appetizers, kale with stuffed einkorn wheat, topik (made of chickpeas, caramelized onion, tahini, and cumin), "Su böreği" (steamed pastry) with shrimp are served. For main dishes, lamb saddle and poached black bass are among popular meals in Neolokal restaurant.
As to prices at Neolokal, starters cost around $7-8 while main dishes cost $15 on average.
Neolokal offers you to taste local tastes at a fine dining restaurant with remarkable Istanbul view. So, if you are into fancy places and local tastes, Neolokal is a must-visit restaurant for you. The address of the restaurant is below.
Address: Salt Galata, Arap Cami Mah. Bankalar Cad., No 11, Beyoğlu, İstanbul No: +90 (212) 2440016.
9 – Mikla Restaurant: Forward Thinking but Deeply Rooted and Above all Delicious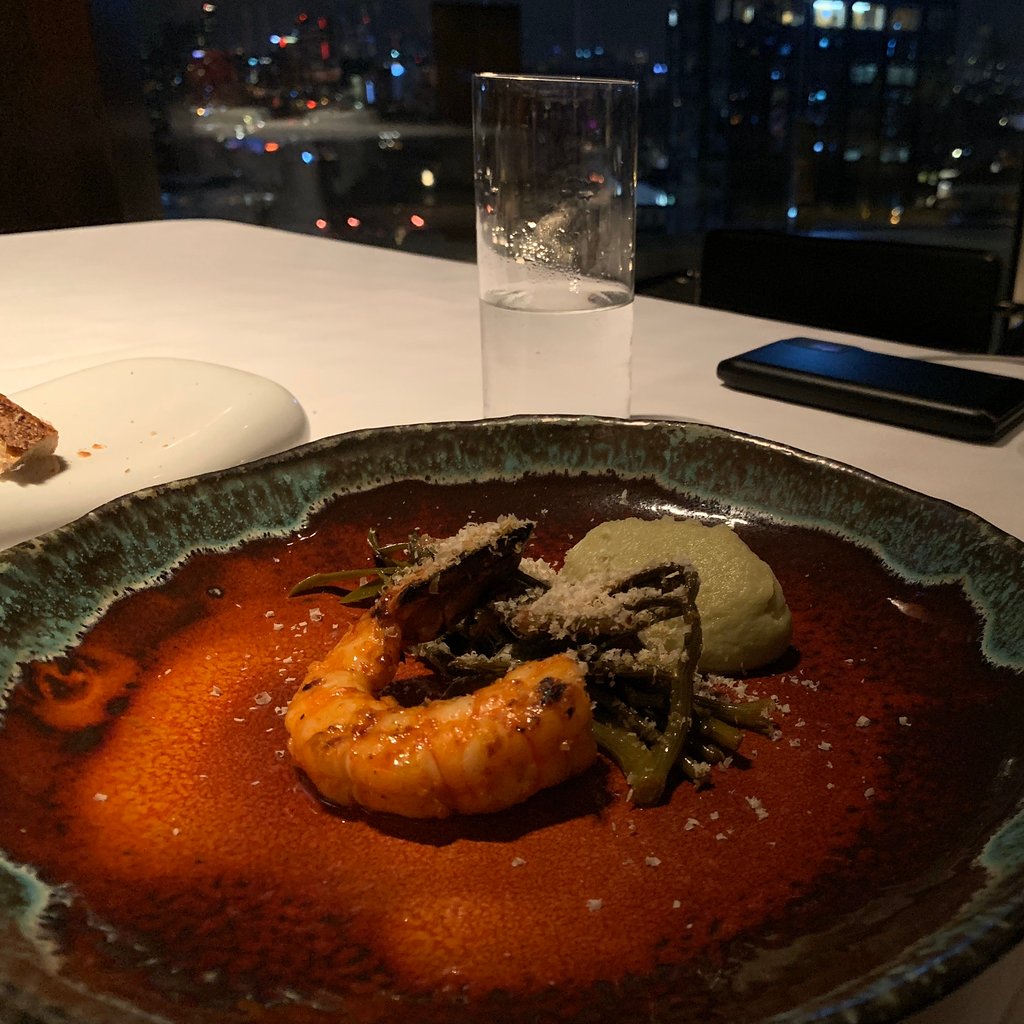 Basic goal of the restaurant managers is to create a contemporary restaurant reflecting all elements of Istanbul. With its excellent foods, spectacular Istanbul view, modern presentations, Mikla is awarded as the best restaurant in Istanbul. Mikla is listed among the world's best 50 Restaurants since 2005.
Glancing at inspiring menu of Mikla, traditional foods such as grilled lamb served with smoked eggplant and Kars gruyere cheese, along with Iskenderun shrimp served with bean mousse and stonecrop outstand in main dishes section. In Mikla, Turkish cuisine are enriched with small but remarkable touches in Mikla restaurant. As to cold appetizers, seasoned dried meat and lamb meat are spectacular as well.
As of prices at Mikla, one course of cold appetizer and one course of main dishes cost around $40 while you can add desserts such as sorbet or rice pudding as the third course for your a la cart menu.
So, if you're in Taksim and feel hungry for a great gastronomic pleasure, Mikla restaurant would be the best choice to make among many others. The address of the restaurant is below.
Address: The Marmara Pera, Meşrutiyet Cd. No:15, 34430 Beyoğlu/İstanbul No: +90 (212) 293 56 56.
10 – Atelier Real Food: From Nature to table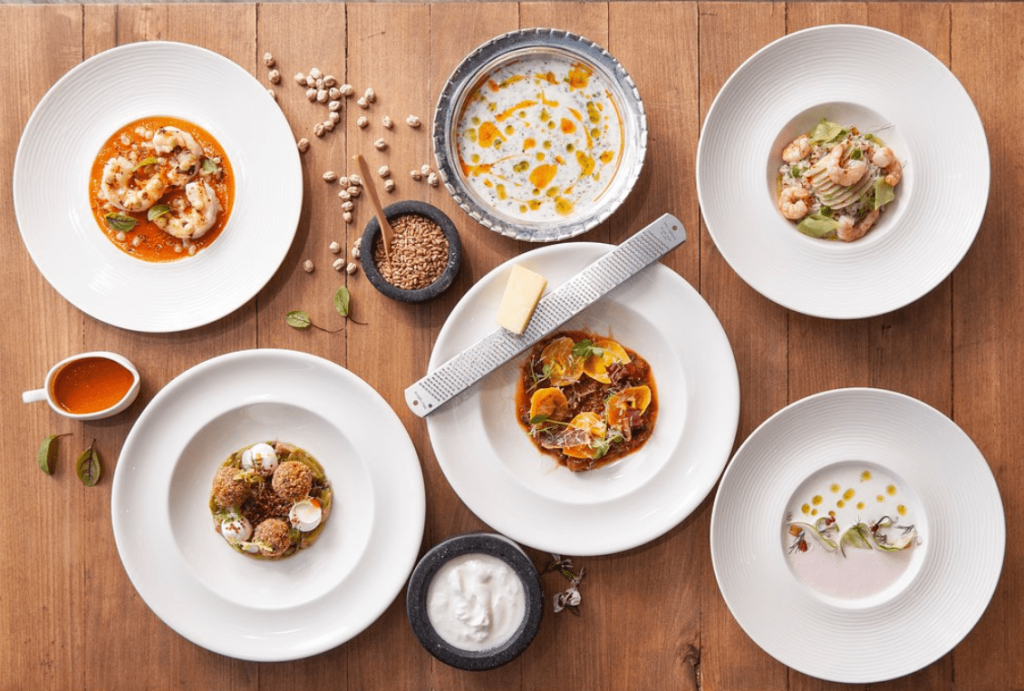 Atelier Real Food is another fine dining restaurant located in Taksim. Their motto is "back to who and what we are", therefore seasonality and locality are two critical elements for the restaurant. Atelier real food's menu proves this belief. Starters like Antakya style mild hummus, tuna fish from Çanakkale are all delicious examples of how the restaurant holds on to its motto. For main dishes such as pastas and meat dishes, we see once again traces of locality and boutique mentality of the restaurant. Pasta doughs are home-made in the restaurant and all meat dishes have local traces in themselves.
As of prices, starters cost around $7-8 while costs of pasta dishes vary from $10 to $15 . On the other hand, prices of meat dishes are around $15-$25 in general.
If you're into healthy, natural, and tasty food, Atelier Real food has a load of options to offer you. The address is below.
Address: The Ritz-Carlton İstanbul, Harbiye Mah. İstanbul No: +90 (212) 334 44 44.