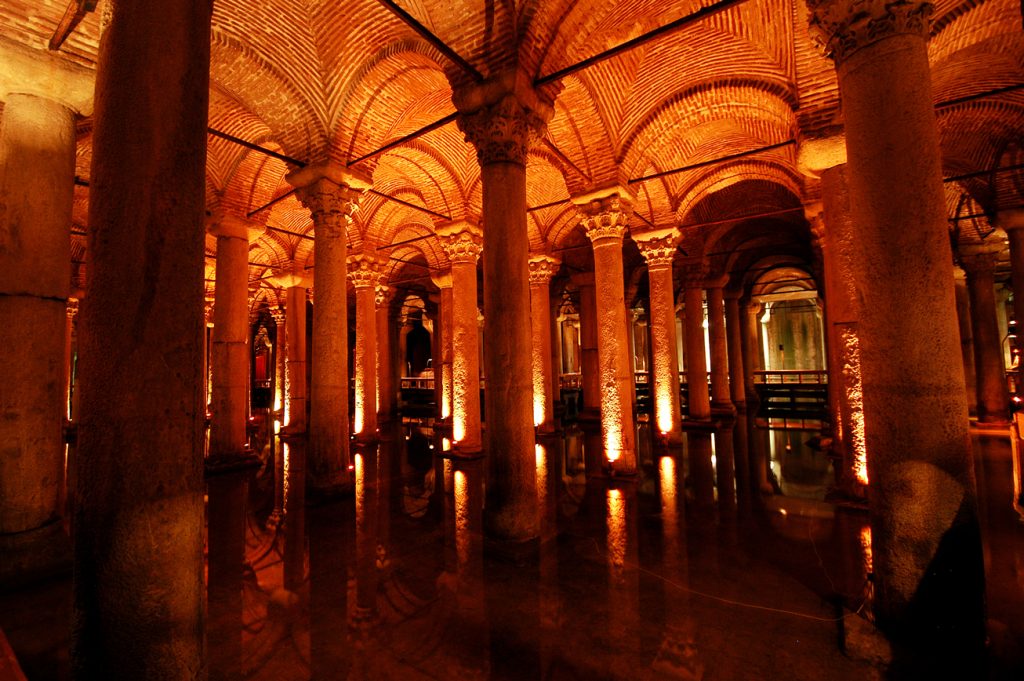 Basilica Cistern also known as "Sunken Cistern" is one of the main tourist attractions in Istanbul. Every year, around 2.2 million tourists visit the Cistern and there is usually a long queue in front of it.
As there are a lot of Roman columns in the Cistern, it looks like an underground palace at first sight, that is why Turkish people call it "Yerebatan Sarayi" which means 'Underground Palace' or "Sunk-into-the-ground Palace". Basilica Cistern got its name from the historical Stoa Basilica one of the two big public squares of Constantinople and the Cistern was located underneath it. But today it has disappeared.
How Old Is The Basilica Cistern?
Basilica Cistern is the contemporary of Constantinople city which was built around 324-330 B.C. When Emperor Constantin decided to build a new imperial city Constantinople on the legendary 7 hills as it was in Rome, he first built his Great Palace, Hagia Sophia Church, Great Church (Hagia Eirene), Hippodrome, City Forum and Basilica Cistern on the First Hill. But he could not finish this enormous project.
Some historians accept the cistern's date to be 6th century when Emperor Justinianus (527-565) completes and enlarges the Basilica Cistern after the Nika Revolt in 532. Anyway, the cistern is about 1500-1700 years old which is one of the oldest historical heritage of Byzantium alongside Hagia Sophia and Hagia Eirene.
What Was The Basilica Cistern Used For?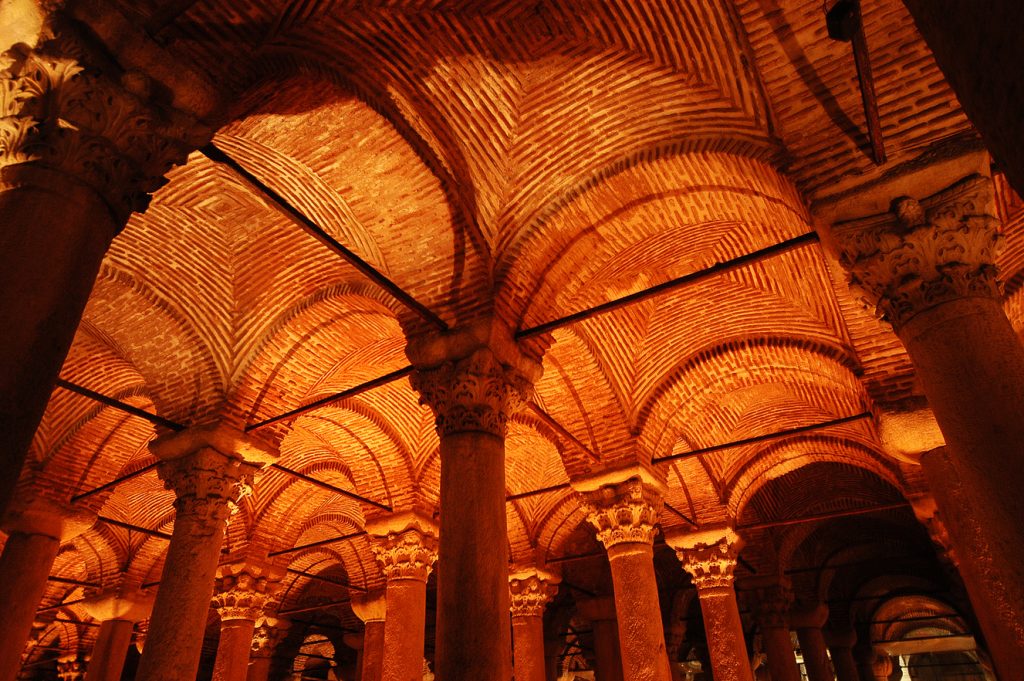 When the emperors Constantin and Justinianus built up their legendary city Constantinople, it became one of the most beautiful and mythical cities of the East and the West. However, there was a problem in the city. It was a water problem which remained unsolved until several cisterns were built up.
Inside Istanbul, there were not drinkable water sources, so it had to be brought outside with water pipelines. As Procopius informs, especially in the summertime, the city was suffered from a lack of water.
To bring and to store water for the population of Constantinople for a few months, they needed to build huge underground water – storage tanks. Basilica Cistern is the biggest one and several other underground cisterns such as Philoxenus Cistern (Bin Bir Direk Sarnıcı), The Goodwill Cistern (Şerefiye Sarnıcı) and the Cistern beneath Nakkash Oriental Rugs Shop were all built as water-storage tanks to solve the water problem of Constantinople and also to provide city residents with enough water in days of sieges.
Basilica Cistern also supplied the Great Palace with water. Water pipelines were coming from outside of Constantinople such as Belgrade Forest, but unfortunately those pipelines have disappeared today. The traces of those pipelines cannot be found except very few remnants.
Basilica Cistern – During The Ottomans' Era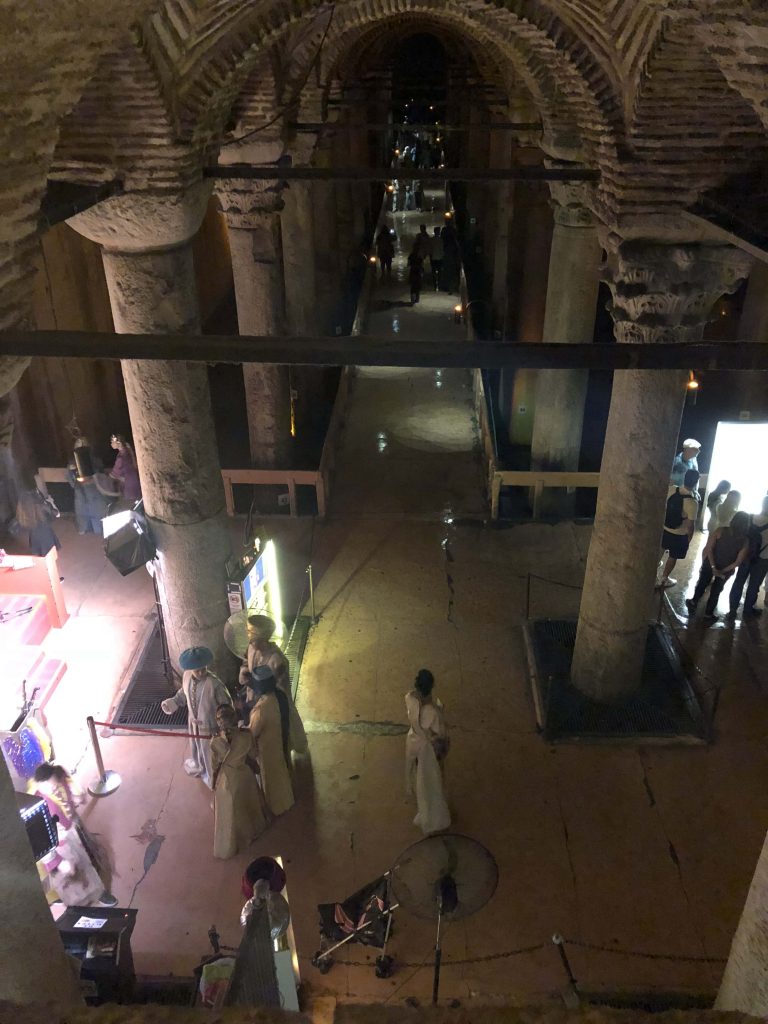 According to Islamic sharia law, drinking water from a running or flowing source is halal (allowed), while still water is haram (not allowed). Therefore, when Istanbul is conquered by Fatih Sultan Mehmet II in 1453, religious scholars decided that the water in the cisterns is not drinkable according to Islam.
For a while, the Cistern was only used to water the garden of Topkapi Palace. But most probably, after Istanbul was provided with running water according to Islamic sharia law, they locked all the cisterns and they were left to their fates to wear out naturally. For hundreds of years, they remained unused, and eventually, as the pipelines were not used or renovated, they disappeared by time. We even do not know when exactly they disappeared.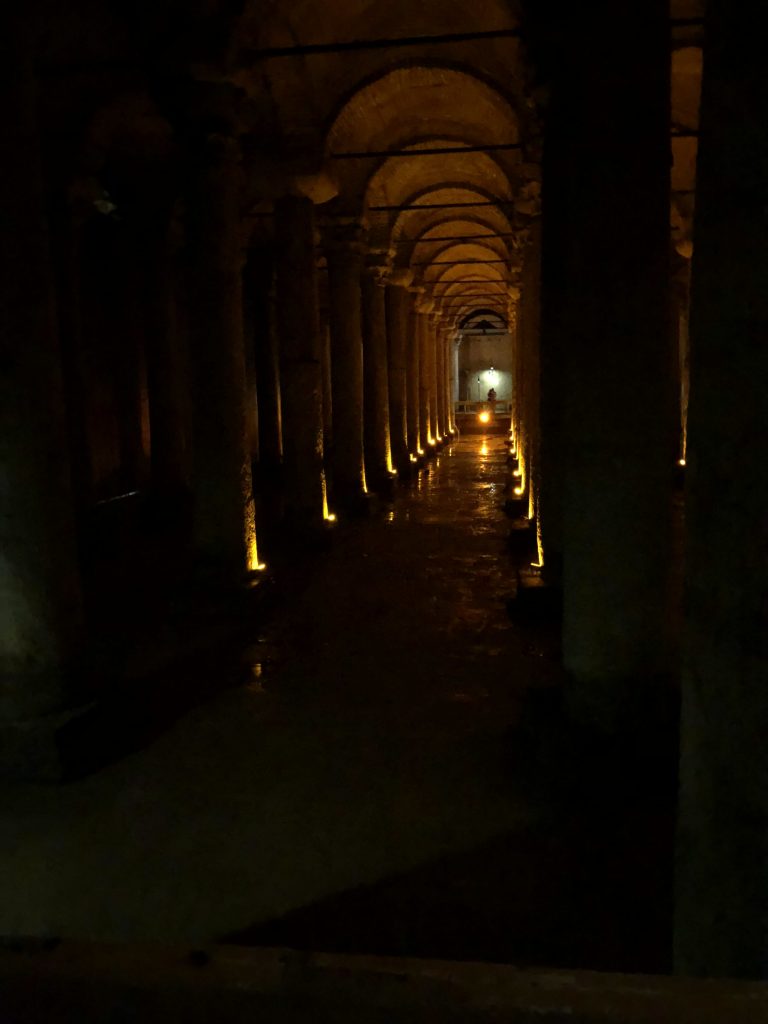 A Frenchman Petrus Gyllius who came to Istanbul to explore Byzantium heritage in 1544-60 was writing in his travelogue about the Cistern. He found out the Cistern when residents took him to see the water wells that some people fell in while they were trying to build their houses on the Cistern.
He says he was surprised to see fresh fish in the water and some people put their boats in and were fishing and selling in the market. People living in the houses built on it would have a well dug into the Cistern and they would take water with buckets. He also surprised many Europeans with his adventure describing how he found a boat and with a flame torch he sailed in the Cistern, took measures of it and counted the columns.
I think if P. Gyllius writes there was water and fresh fish inside the Cistern in the 16th century, it means the water pipelines were still in function at that time and the water was still filling the cistern, although it was not used anymore for a long time. 
For the first time, in 1723 the Cistern was renovated by Architect Mehmet Aga from Kayseri during Sultan Ahmet III's period and the second time, Sultan Abdulhamit II (1876-1909) orders to renovate the Cistern. So, in the Ottomans' era, the Cistern has been renovated two times but was never opened to the public.
Basilica Cistern – During The Republic Of Turkey Era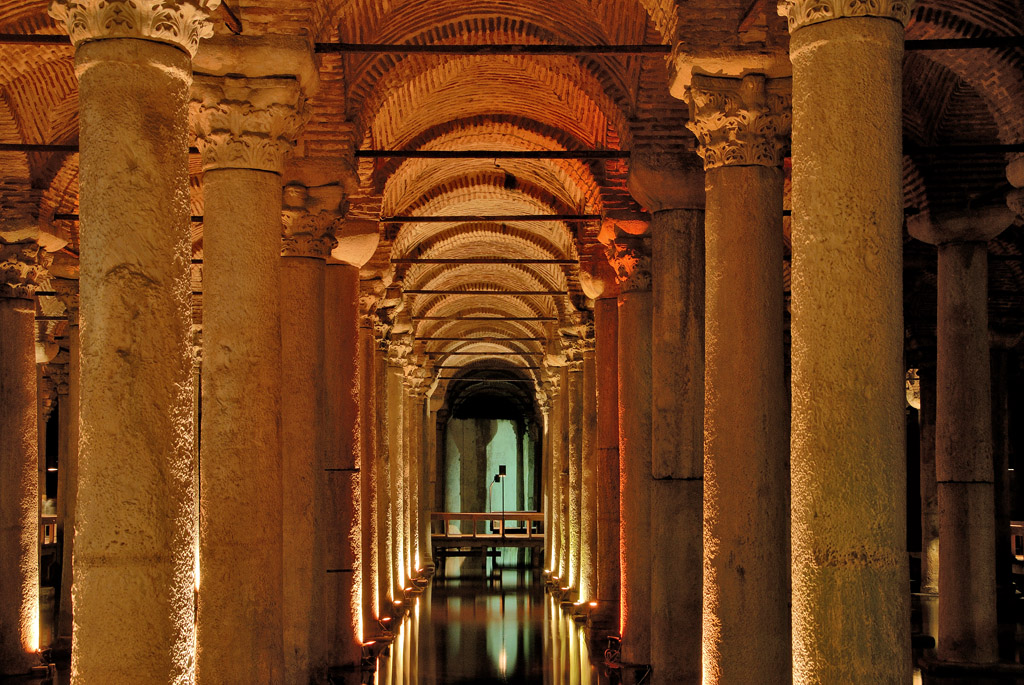 Basilica Cistern alongside other cisterns in the city remained unused until 1987 when tourism sector blew up and penetrated Turkish economy. It was then people understood the touristic and historical value of the Cistern. When they started to clean the Cistern, 50 thousand tons of mud, clay and water were removed and before the raised pathways were constructed, early tourists were sailing in rowboats which I think must be an amazing experience.
But today you can walk on the pathways and have a better opportunity to explore everywhere. After cleaning up and renovation, 8 columns were in danger to fall so they were fortified with concrete to make the structure much stronger and very carefully placed spotlights illume inside making the interior atmosphere more mystic. There is always a piped music inside that turn out to be so atmospheric and enigmatic that you do not want to leave or move, just stand and listen to music with its exquisite view. It is worth to see.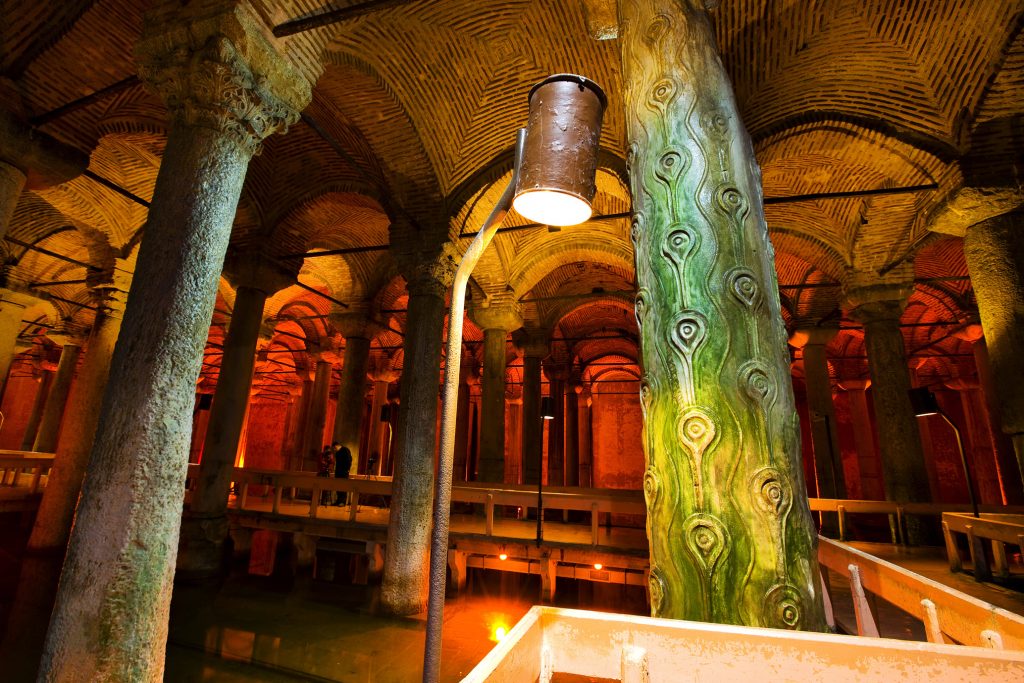 After the 1987 renovation, in 1994 the Cistern was again cleaned up deeply and renovated and got today's view. Today it is an integral part of the city and many formal presidents, prime ministers and high officials such as Bill Clinton, Wim Kok and Lamberto Dini and many famous guests visit Basilica Cistern during their stay in Istanbul.
Besides being a Museum, today it is also used as a concert hall or exhibition gallery and a lot of film scenes have been cast here. The Cistern has also been inspiration to some authors and novels such as Dan Brown's "Inferno" and its film based on it.
Architectural Features of Basilica Cistern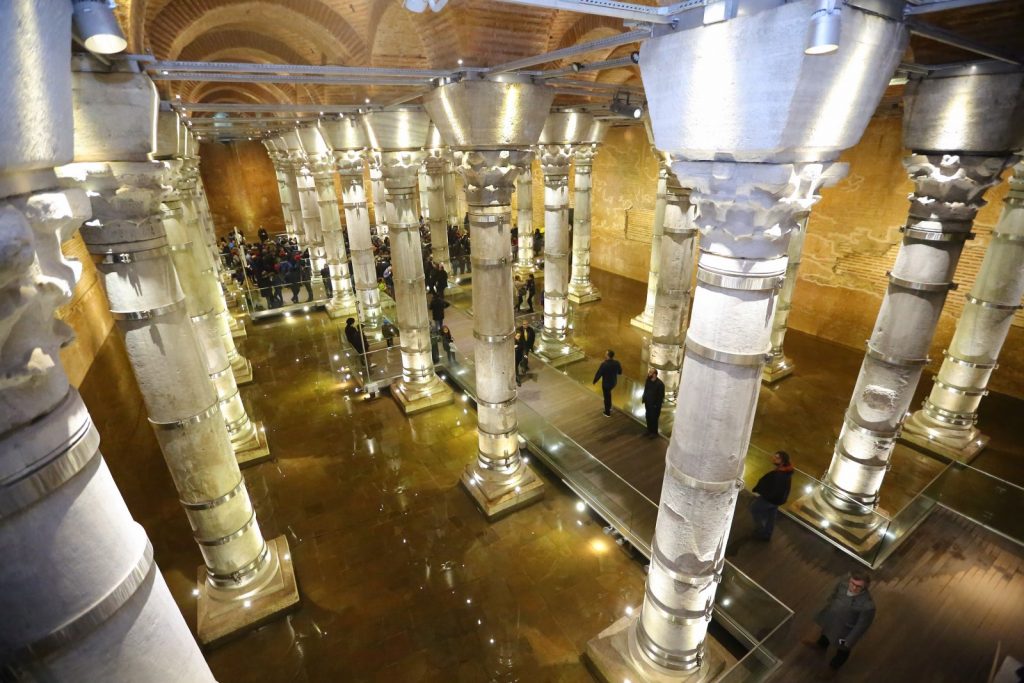 It is not in vain why local people call it 'underground palace' because it really looks like a palace with its 336 columns, every 9 meters in height to support small domes over them. When you stand at the beginning or the ending part of the cistern and look at the view, the columns seem endless. The length is 140 meters long and the width is 70 meters. Distance between every column is 4.80 meters and 12 rows consisting of 28 columns each.
The columns are not the same, all have different styles and it proves that architects might use recycled columns brought from antique cities as they did in the construction of Hagia Sophia. You can understand the variety in styles from the head decorations and colors of the marble columns.
The Cistern covers 9800 sq. meter area and could hold 100.000 tons of water which could supply the imperial palace and city dwellers for months.
As it is underground and there is too much evaporation from the water inside, the columns are always sweaty and you will see drops dripping from the columns. To be honest, standing inside too long might not be a good idea especially for asthmatic people. I usually have difficulty to breathe enough after a few minutes, as it is too humid inside.
Medusa Heads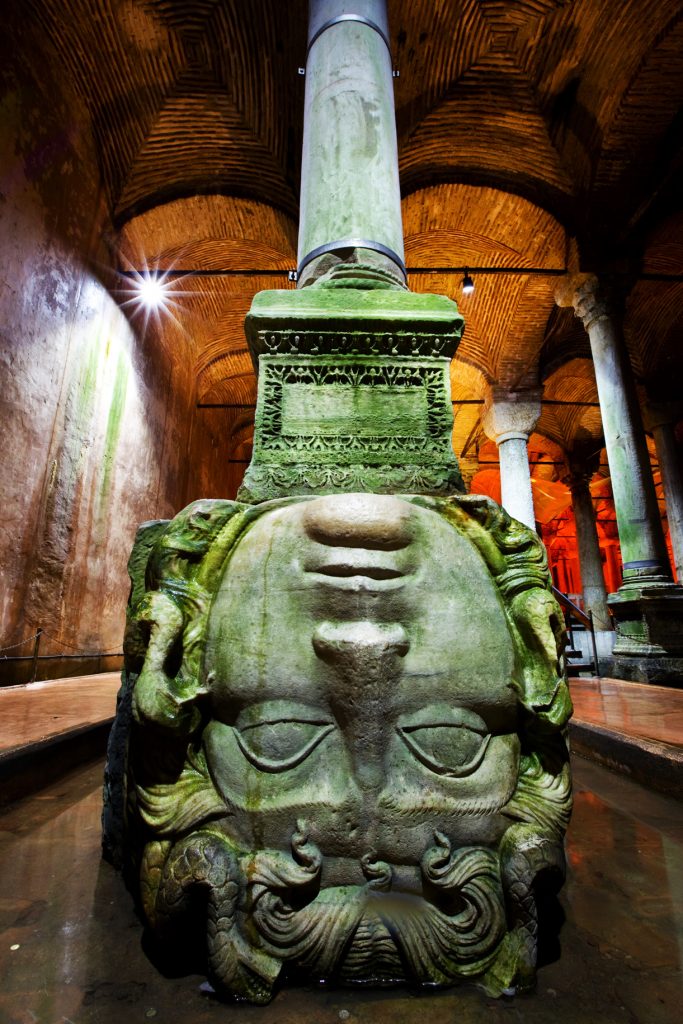 During the restoration in 1987, when the water in the Cistern was drained, two Medusa heads appeared with their fantastic art on them and amazed everybody. Most probably, two columns with upside-down Medusa heads are relics from older buildings, but it is not known where from they have been brought here.
Medusa heads are accepted to be masterpieces of Roman architecture and draw a lot of attention from tourists. You can find a similar Medusa head in the Archeology Museum, which is not far from the Cistern.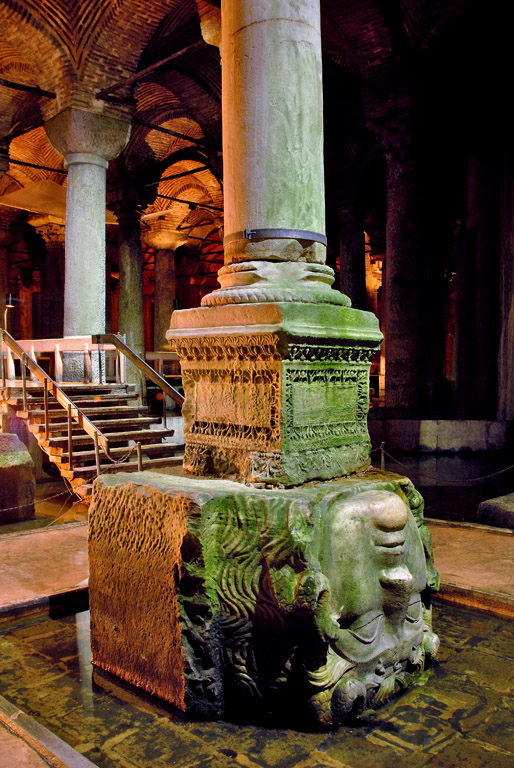 There are some myths about Medusa heads. According to one of the Greek mythologies, Medusa is one of the three Gorgonas that are female sister monsters in the underground world and Medusa has the power of gorgonizing the people who dare to look at her. It was believed that Gorgone sculptures were protecting big architectural sites such as the Basilica Cistern.
The second myth about Medusa is that Medusa was a beautiful girl with her black eyes and long hair and loved Perseus, son of Zeus. But Athena was also in love with Perseus, and because of jealousy, Athena converts Medusa's hair into snakes and whoever looks at her is gorgonized. Afterward, Perseus cuts her head and beats his enemies by using her power. 
How To Get To Basilica Cistern?
By Tram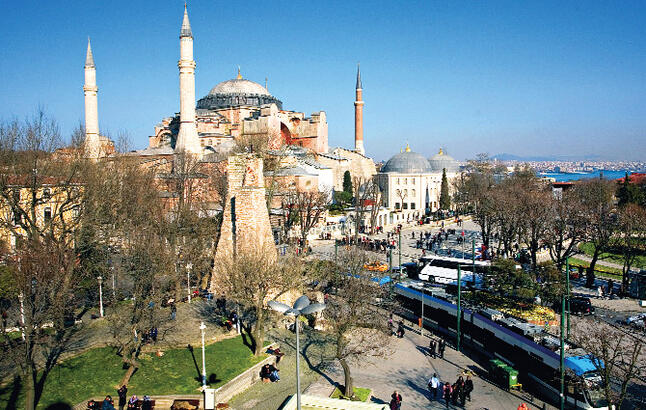 By Taxi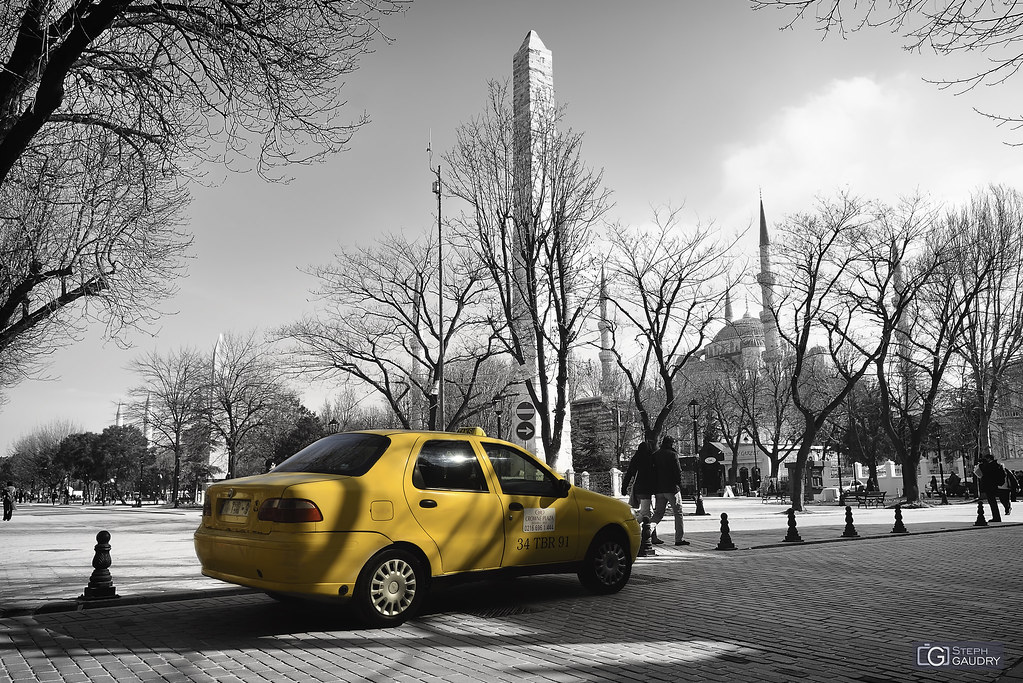 You can also take a taxi to go to the Sultanahmet area, but make sure the driver does not take you from a long way.
Istanbul hop on-hop off buses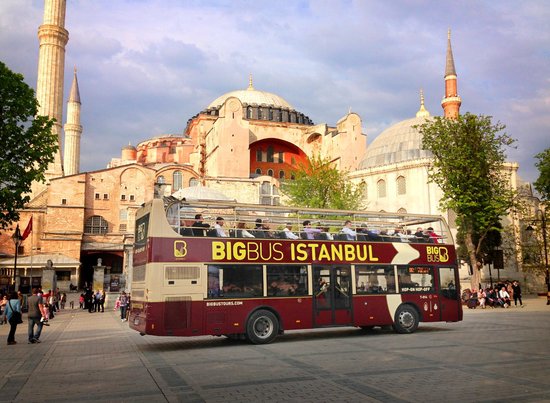 You can take hop on-hop off tourist buses around Sultanahmet Square, which stops near Basilica Cistern. The bus tours in 28 main attractions and the ticket price are about 50$.
What Are The Opening-Closing Hours For Basilica Cistern?
The Museum is open every day of the week from 9.00 to 17.30.
Unfortunately, you cannot pre-book online from the website. It is not available. But you can book a guided tour online.
What Is The Best Way To See Basilica Cistern?
I usually like reading a guide, strolling and exploring the place all alone by myself and taking photos and I think this is the best way to see, to know and to understand a new historical site. But pre-readings are important, otherwise, you will not understand much.
Quite on the contrary, some people do not like reading much and exploring, or walking alone. For such people, there are hundreds of private guided tours to the Basilica Cistern and Sultanahmet area ranging from 10$ to 100-150$.
You can always pre-book such a tour on the internet or you can always find available guides in front of the Cistern or Hagia Sophia. One advantage of it is you do not wait in the line. As the guides have a separate entrance, you can enter without waiting in the line.
What Are The Ticket Prices For Basilica Cistern?
Ticket prices for students are 5 TL (1$), 10 TL (2$) for locals and 20 TL (3.5$) for tourists.
Museum Pass Card is not valid in Basilica Cistern.
Where To Eat Near Basilica Cistern?
After a tour in the underworld of Istanbul in Basilica Cistern, Goodwill and 1001 Column Cisterns, I think the best restaurant according to the day's context is "Sarnic" Restaurant.
1.Sarnic Restoran (Cistern Restaurant)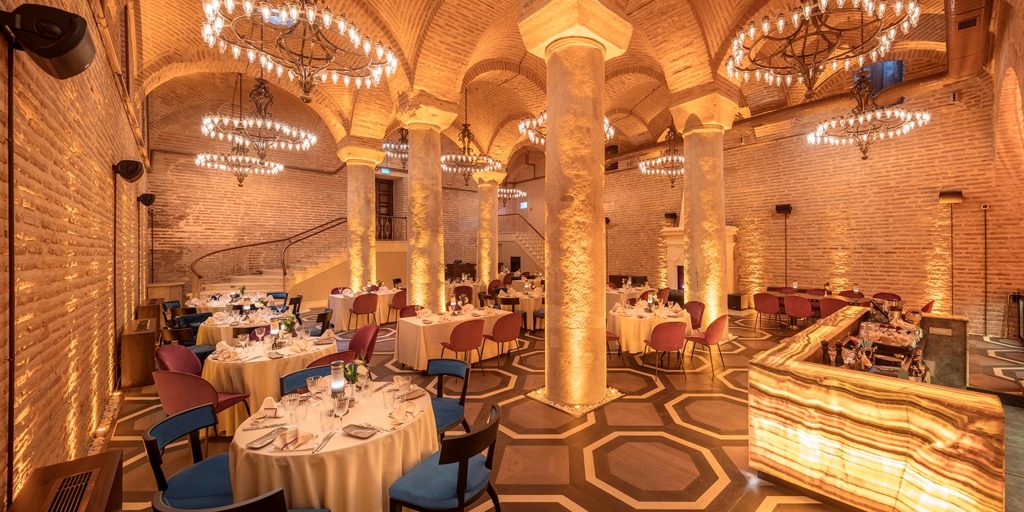 The restaurant has been opened in a 1500 years old relatively smaller cistern. They serve traditional Anatolian food at reasonable prices. Dining in this restaurant is a unique experience. They have live music after 19.00 and many guests choose this restaurant for their special days. It is located in 300 meters walking distance from Basilica Cistern.

Address: Cankurtaran, Soğuk Çeşme Sk. No:26
2. Tarihi Sultanahmet Koftecisi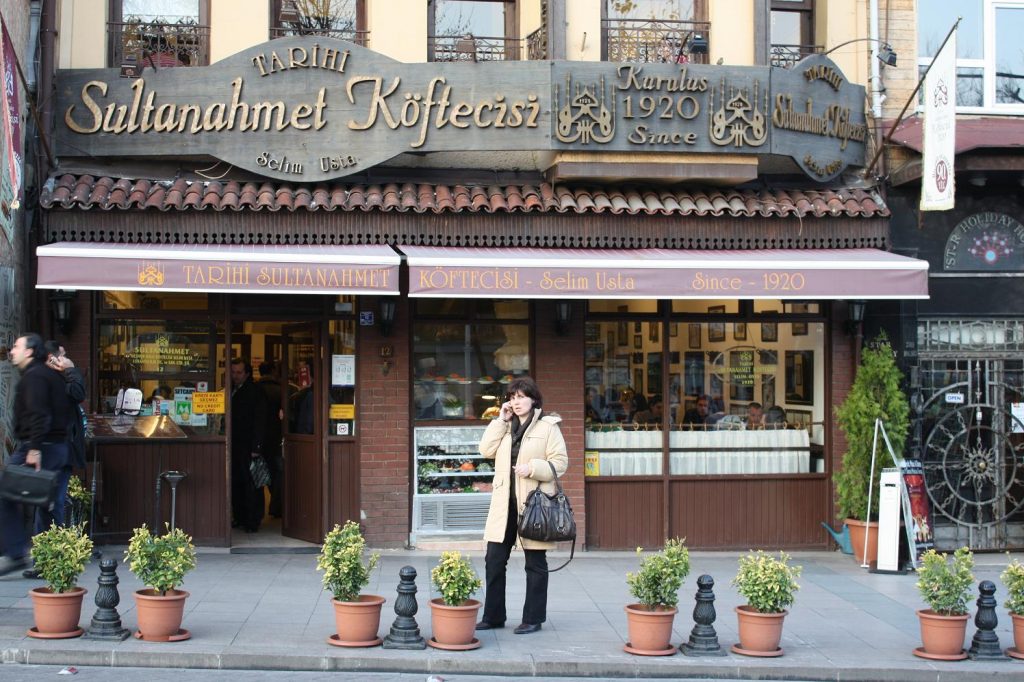 This restaurant is famous for its delicious Turkish style meatballs since 1920. Inside the restaurant, you will see a lot of photos of the well-known people from presidents to singers, actors, and football players. It is located at Sultanahmet stop on Divan Yolu, when you get out of the tram you will see it in front of you.

Address: Alemdar, Divan Yolu Cd. No:12
Kybele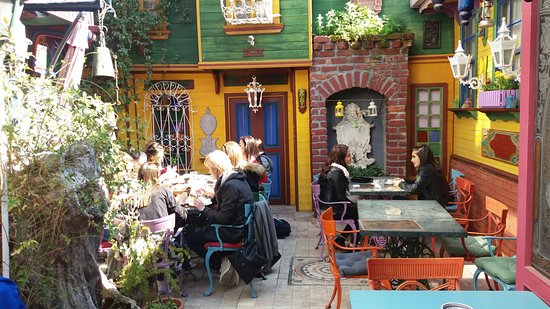 With its nostalgic and retro ambiance and decoration, the restaurant should be visited by every nation and culture. Meals are delicious. You can take exquisite photos inside. It is located just in Yerebatan street, very close to the Basilica Cistern. It is open until midnight, so you can visit for a drink and relax in the late evening.

Address: Alemdar, Yerebatan Cd. No:23
What Hotels Are Near Basilica Cistern?
1.Ottoman Hotel Imperial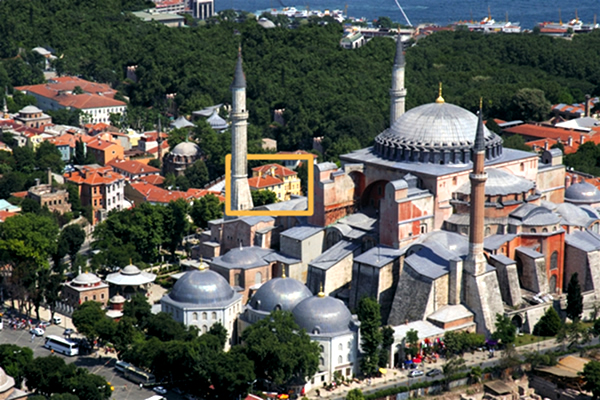 Locating just in the heart of the Sultanahmet area behind the Hagia Sophia Museum, all major tourist attractions including Basilica Cistern are within just walking distance. It is a small hotel with 4 stars and wonderful decoration and preferred by most for its location.

Address: Cankurtaran, Sultanahmet, Caferiye Sk. No:6/1
2. Sirkeci Mansion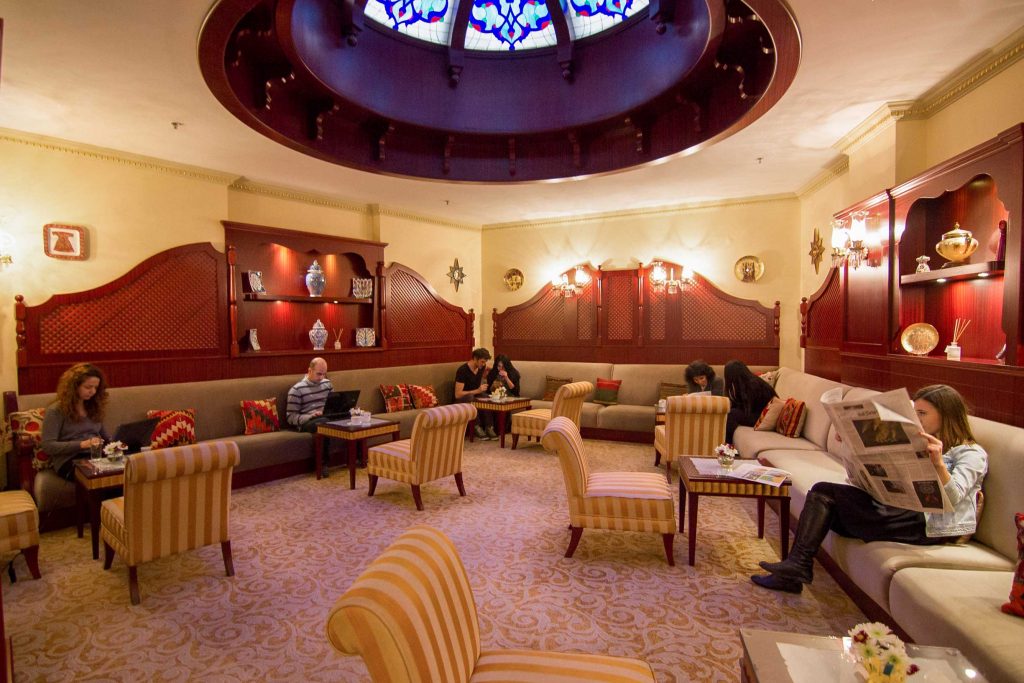 It is located near Gulhane Park, a very crowded touristic zone with lots of cafes, restaurants and souvenir shops. Basilica Cistern is in walking distance. The staff is very professional, and the most important the manager provides free city tours which you can benefit from. Breakfast is good.

Address: Hoca Paşa, Taya Hatun Sk no:5
3. Idylle Hotel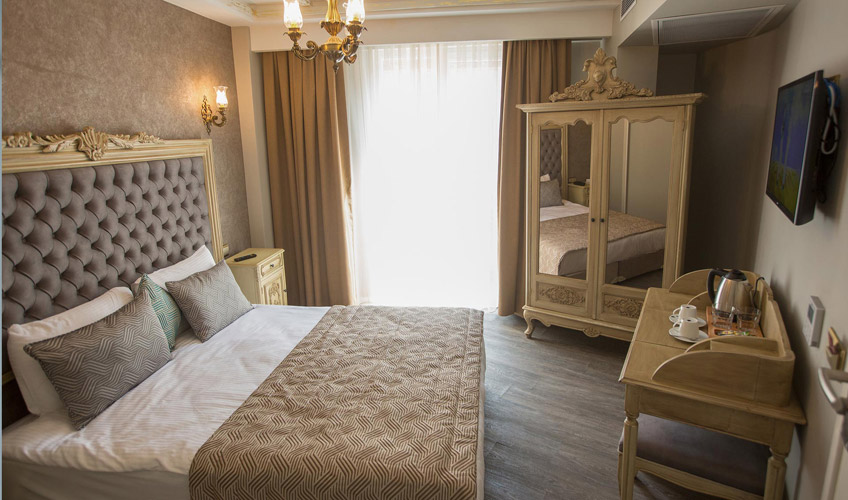 With its Topkapi Palace Gardens and Bosphorus view from its terrace and excellent breakfast makes it an ideal hotel during your stay. The manager and the staff are very kind and make the guests feel comfortable. You can walk to Basilica Cistern from the hotel.

Address: Hocapaşa mah. Ebussuud Cad No:2 Gülhane, Sultanahmet
Where To Go Next From Basilica Cistern?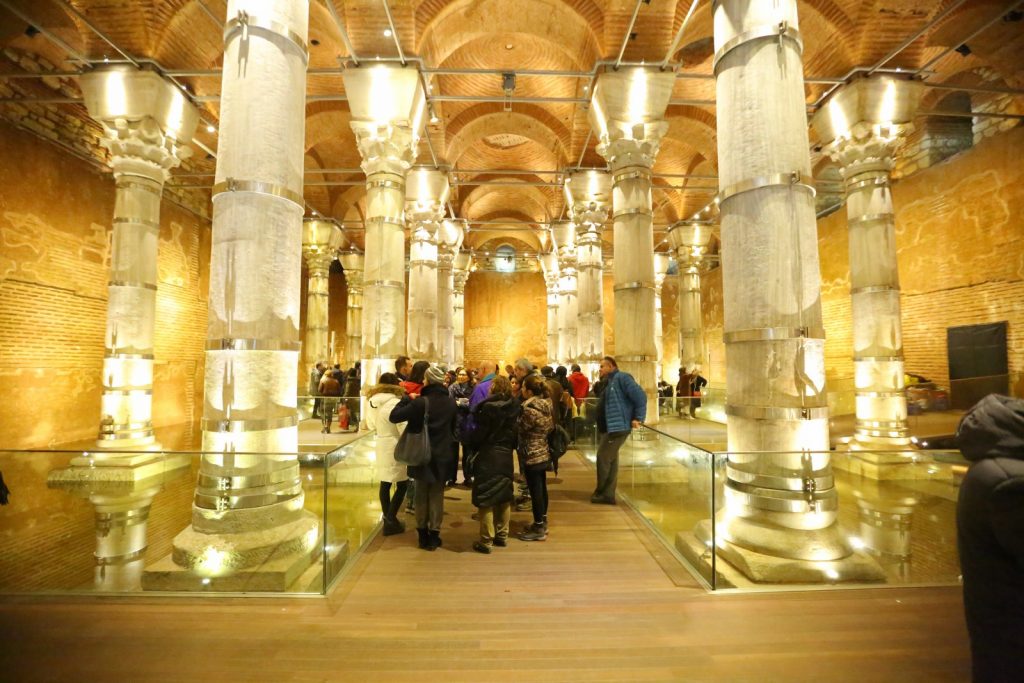 Basilica Cistern is located on the First Hill of Istanbul, in the imperial hearts of both Byzantium and the Ottoman Empire which means you can visit tens of places that are side by side to each other in the same zone. But I strongly recommend exploring the underworld of Istanbul, once you have visited Basilica Cistern. You can even spend one whole day just for the cisterns of Istanbul. They are very close to each other in walking distance.
As you started from the biggest one, there are several other cisterns which have been cleaned up very recently and now open to the public. The most striking feature is that all these three cisterns are connected to each other from underground. Basilica Cistern and Goodwill Cistern are connected to Philoxenus Cistern which is an amazing discovery. You should definitely see them, as well. They are smaller than Basilica Cistern but at least they are also as breathtaking as it.
1.Philoxenus Cistern – Binbirdirek Sarnıcı (1001 Columns)
Binbirdirek Sarnıcı (1001 Columns) or Philoxenus Cistern is the second-largest Cistern after Yerebatan (Basilica). It has also been built in Emperor Constantin's period in the 4th century by his senator Philoxenus who came to the city with Constantin. His palace was probably upon the cistern. Local people called it 1001 (Binbirdirek) Columns Cistern as a typical Turkish and Arabic way of exaggeration the numbers and there are only 226 columns in 16 rows on 14 which means it is smaller than the Basilica Cistern.
Here the columns were also reused as it was in the Basilica Cistern. During the centuries, this cistern was also logged with silt and mud and during the cleaning up, thousands of tons of silt were removed. Unfortunately, nowadays, it functions for wedding and circumcision ceremonies, so very frequently they are closed to the public. To have access is a matter of chance. I could have access only once out of my three visits at different times.
2. Goodwill Cistern (Şerefiye Sarnıcı)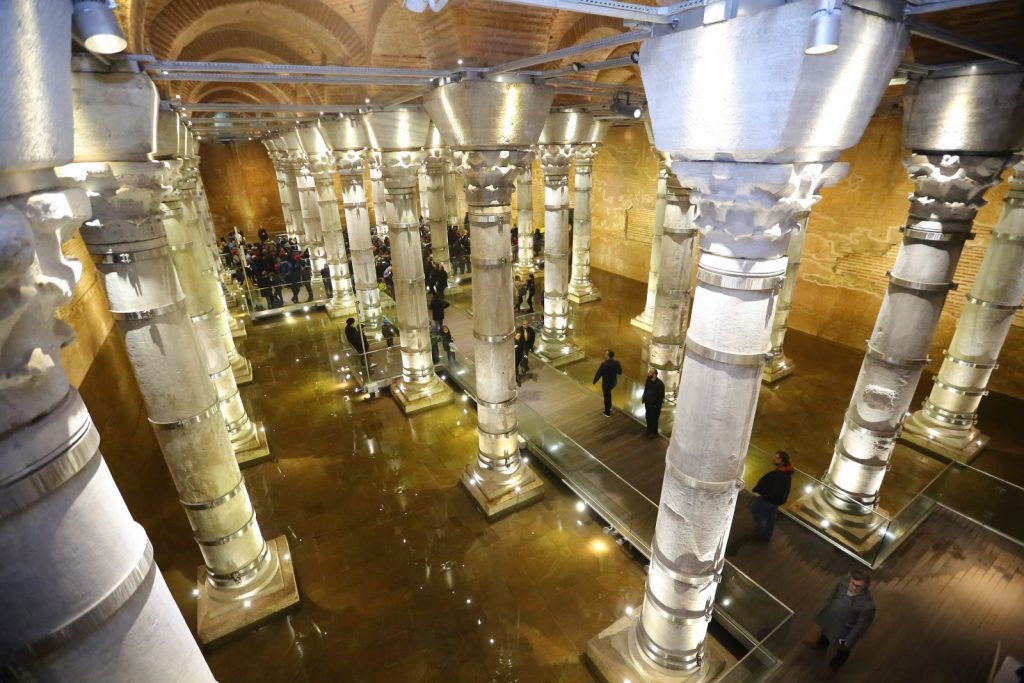 The Goodwill Cistern was built up by Emperor Theodosius II to store water brought from Bozdogan Arch. It is almost 1600 years old and smaller than Basilica Cistern and 1001 Columns Cistern. Its size is 45 m x 25 m and there are 32 marble columns. It was called Theodosius Cistern but since the 19th century, people called it Goodwill Cistern.
The main entrance is from Pyer Loti Street, a street back Divan Yolu. Until 2010, there was a municipality building of Eminonu on the Cistern and it was closed and full of silt and mud. In 2010, new restoration work started with the demolition of the municipality building and cleaning up began which lasted 8 years. In 2018, Goodwill Cistern was opened to the public. The entrance is free and you can always find art exhibitions inside. During my last time visit, there was an exhibition of marble sculptures which was amazing.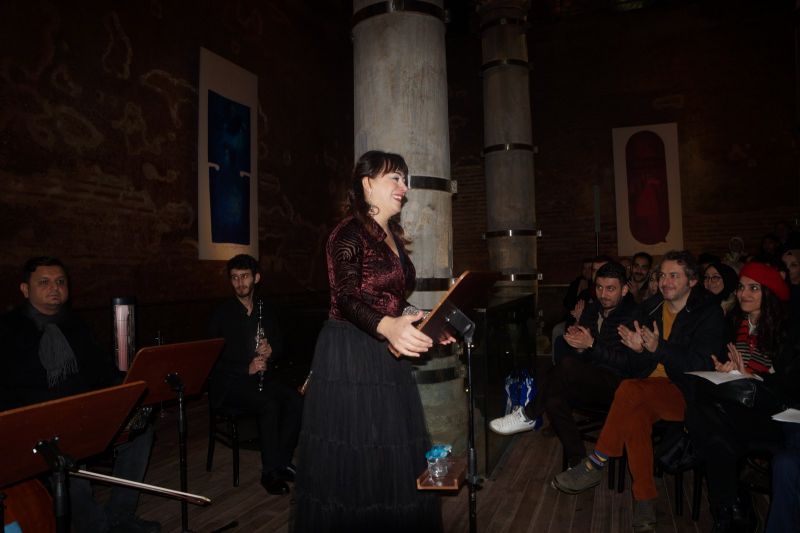 If you are around Sultanahmet Square, Topkapi Palace or Sultan Ahmet Mosque, it is just on the opposite of the tramway in 5 minutes' walking distance. It is located very close to the Sultanahmet stop on the line of Bağcılar- Kabataş. From Sirkeci and Eminonu, you can either take a tram or walk up for about 12 minutes. From Grand Bazaar, Beyazit, Çemberlitaş, Aksaray, and Gulhane Park, you can walk about 15-20 minutes to enjoy the main tourist attractions along the way towards Basilica Cistern, or you can take the tram and ride 3-4 stops. As it is a traffic-free zone, there is not any bus going there.
It is open every day from 9.00 to 18.00. There are exquisite concerts with amazing acoustic features of the cistern. It will be a striking memory and experience once in a lifetime. If you are going to stay a long time, I would recommend checking their website to follow the concerts. They usually publish the agenda of every month on their website.

https://www.serefiyesarnici.istanbul/tr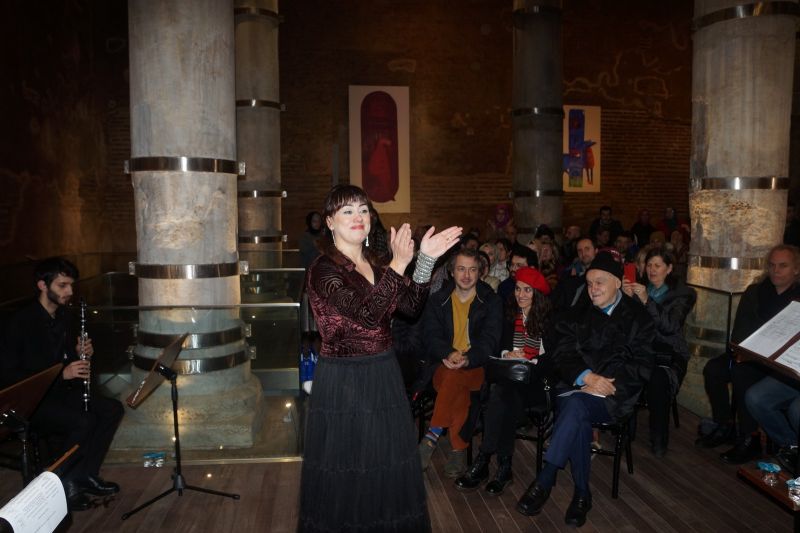 3. Nakkaş Oriental Carpet Store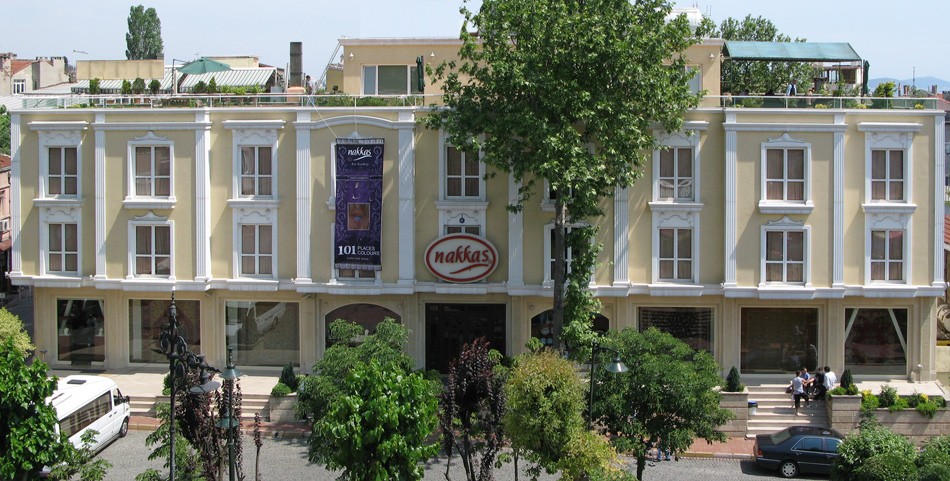 If you do not do pre-reading or is informed by somebody else, you will never know there is a cistern just under an ordinary carpet shop. When our Istanbul guide took us there for the first time some years ago, I was just shocked and amazed. Yes, Istanbul is full of such surprises and secret places. This carpet store is just located on the left side of Hippodrome, behind Sultan Ahmet Mosque. There is a Bukhara Restaurant with a nice view and in front of it, you will see this carpet store.
Very recently, the cistern has been found, cleaned up and it is open to the public for free. You can just get permission from store owners, go downstairs and see the cistern. It is the smallest of all the above-mentioned cisterns but I love it so much because of its surprise effect on people. Here as well, you will feel too much evaporation and humidity, so it is better not to stay too much inside and not to take babies and children down.
Overall, I would advise spending a whole day (if you have) to explore the underworld of Istanbul walking from one cistern to another which are all close to one another. I have numbered 4 cisterns above and one cistern restaurant where you can finish your day.