Besiktas, as one of the oldest districts of İstanbul, has always been charming for the visitors. It is not only full of history and culture but also the center of business, finance, and art. 
There are places in Istanbul you may experience history and there are places to see modern life. However, Beşiktaş combines both. As it is a port town for years, it is one of the most popular places in Istanbul and is a great opportunity to experience Istanbul life.
Just like different people come and go, Besiktas restaurants provide several different cuisines and ambiances. It's this diversity makes Besiktas very unique. 
So, if you're in Besiktas, where famous Ottoman navy commander Barbaros Hayreddin Pasha moored the ships, Sultans spent time in their summer palaces and Stambouliotes have lived throughout the centuries, you will probably want to spend more time. 
Moreover, there are more than traveling around in Besiktas: top restaurants in the city. The most successful chefs of the city are proving their abilities to make delicious food.
Here are the best restaurants in Besiktas.
1- Fashion and Delicious Dishes United: Vogue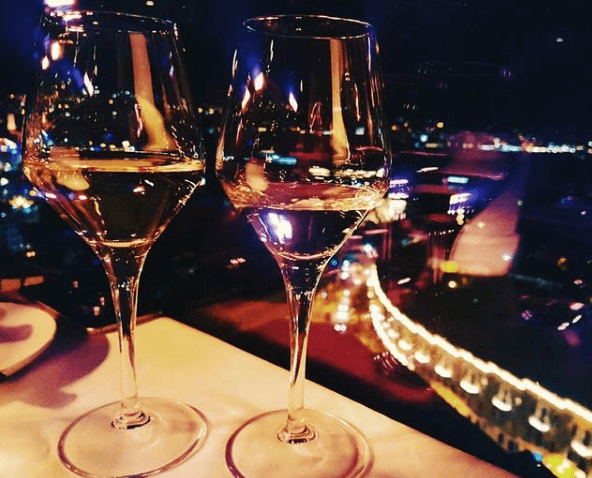 Vogue provides the best of fashion, design, view, and European Cuisine and sushi. Vogue is also a perfect restaurant for ketogenic dieting. 
Whether you go for lunch or dinner, Vogue serves the modern tastes in a modernly designed, stylish atmosphere. And you can always feel the fashion around you. However, this is not all Vogue offers.
The breathtaking landscape of Istanbul is also a part of Vogue. While enjoying a delicious meal, the view accompanies you.
Online reservation is possible. 
Address: Visnezade, Akaretler Spor Cad. No:92 D: A BLOK, 34357 Besiktas/Istanbul
2- International Flavors in a Brilliant Ambiance: IST Too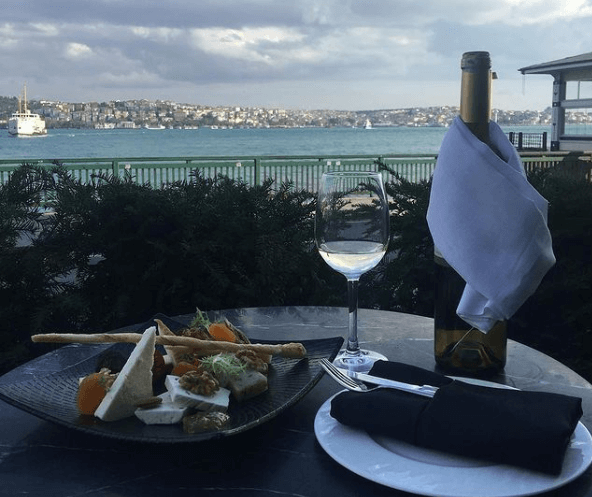 Bridging different cuisines is always a difficult task for chefs. However, Ist Too is successfully bridging Turkish Cuisine to Asian Cuisine. So may choose Turkish dishes such as kebab or pide, or Asian dishes such as sushi.
However, what highlights Ist Too is not only delicious food or its interior design but also the location and its view.
Ist Too faces the historical Besiktas Pier. While having dinner, you may watch outside like an author movie; vapurs come, people walk, the sun goes down, vapurs go, people walk and lights of the Bosphorus Bridge are shining…
Ist Too also offers a wine menu, so if you're a wine lover being there is definitely a good opportunity to enjoy a glass of wine while feeling the wind of the Bosphorus. 
Online reservation is available in Ist Too.
Address: Sinanpaşa Mah, Hayrettin İskelesi Sok, No.1, Beşiktaş, İstanbul
3- The Secret Garden in a Corporate Land: Sans Restaurant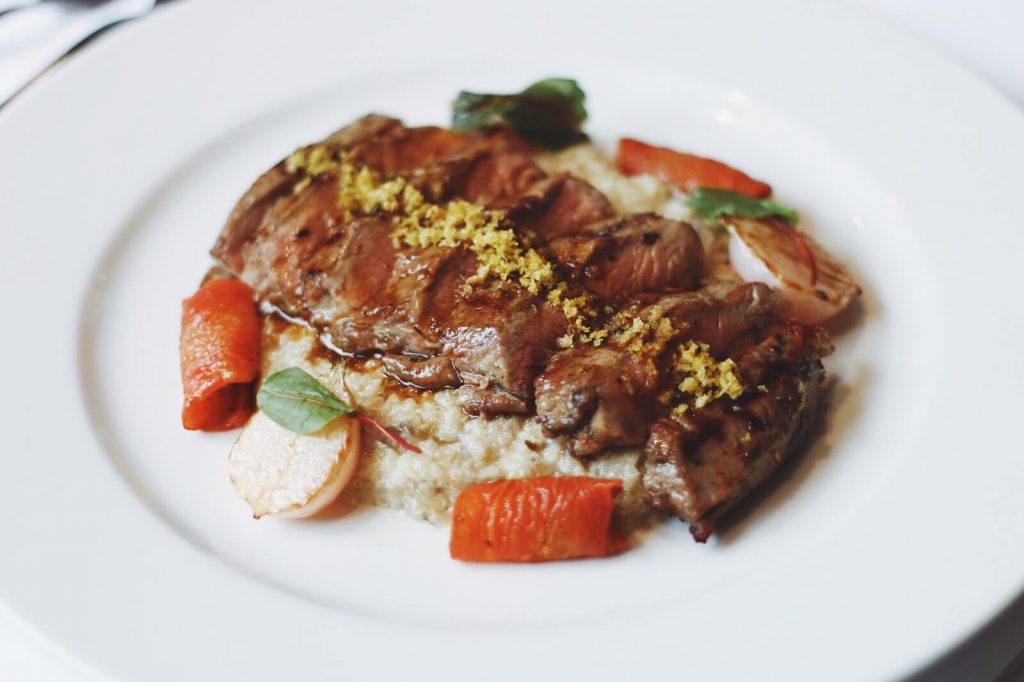 If you are into Mediterranean and Turkish cuisines, Sans Restaurant is one of the best restaurants in Beşiktaş. 
It is located in the Levent, residential, and corporate area of Besiktas. However, what makes Sans Restaurant unique is the isolated, natural, and minimalist garden. 
Sans Restaurant focuses on the menu and the taste of the dishes; therefore, the interior design is quite simple. If you're planning to have a chill-out dinner with friends or coworkers, Sans is just right for you to eat delicious Turkish food and drink a glass of wine.
Address: Haci Adil Cad. Palmiye Sokak No:1 Levent İSTANBUL
4- Entertainment and View Gathered: 29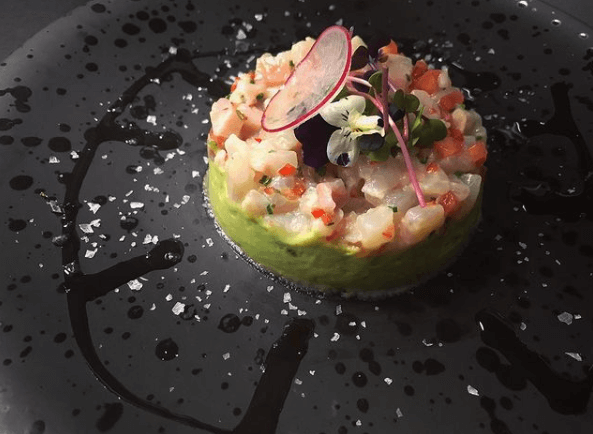 If you'd literally like to enjoy the Besiktas view, 29 is waiting for you. 29 is on a terrace, thus it offers a panoramic view. 
Combining the Turkish tastes with World cuisine, 29 offers not only an unforgettable dinner but also entertainment. 29 does not offer fine dining, but chefs do their best the serve delicious dishes to make guests contented. 
If you think that a good dinner is not enough but also music, dance and talented DJ's are must; then 29 is completely suitable for you. Enjoying the evening while drinking famous cocktails of 29, you may also watch the epic landscape of the Bosphorus. 
Reservation through e-mail is available. 
Address: A. Adnan Saygun Caddesi, Ulus Parki Ici No:71/1, Ulus, 34340 Istanbul
5- Switzerland in Istanbul: Chalet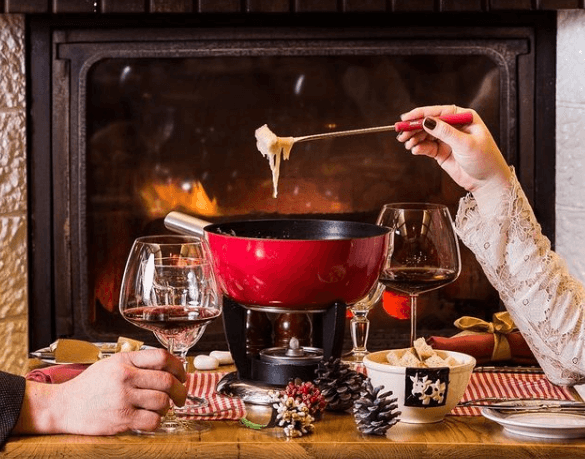 If you visited Istanbul on a cold winter day, you should definitely go to Chalet. 
Chalet serves dishes from Swiss Cuisine in a traditional Switzerland-style designed winter garden. The dishes are extremely delicious, the atmosphere is warm and friendly, the service is professional. 
Furthermore, if you're into wine and liquor, Chalet serves the best of them. Chalet promises a parallel universe, a secret and isolated corner from the crowd, and the noise of the cosmopolite. 
Chalet is an ideal restaurant particularly for special days and romantic dinners. If the idea of enjoying your evening while eating delicious European dishes beside a fireplace attracts you, I strongly advise Chalet.
Address: Visnezade Mah. Acisu Sok. No. 19 Macka, Besiktas Istanbul
6- French Atmosphere in the Middle of Besiktas: Parlé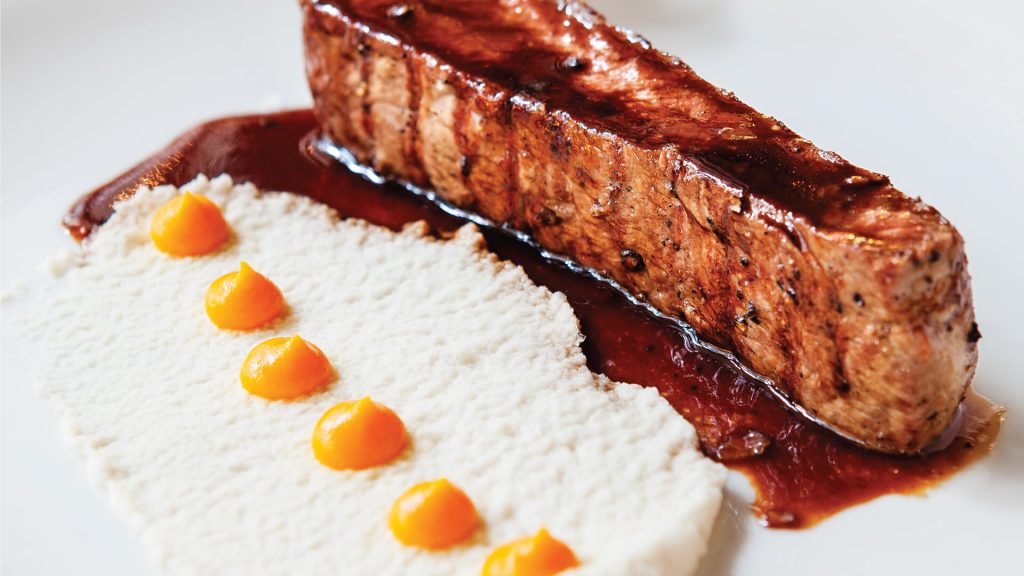 Parlé means "spoken" in French. Parlé Istanbul is a great restaurant for the ones who would like to spend some time with friends in a French-like atmosphere while eating French and European food. 
Parlé is a good choice for pasta, seafood, or meat enthusiasts. The brilliant and well-designed interior design also fascinates the guest visually. 
Istanbul has been reflecting French influence for a really long time, yet, Parlé is a modernly concretized representation of this influence. Moreover, if you are seriously into dessert and coffee, keep in mind that Parlé serves the best espresso.
Also keep in mind that Parlé is located in a huge complex including a shopping mall, cinema, and concert hall. So, you may also attend different activities that attract you. 
Online reservation is available for Parle.
Address: Levazım Mahallesi Zorlu Center, Koru Sokağı No:2, 34340 Beşiktaş
7- From Nature to the Table: Atelier Real Food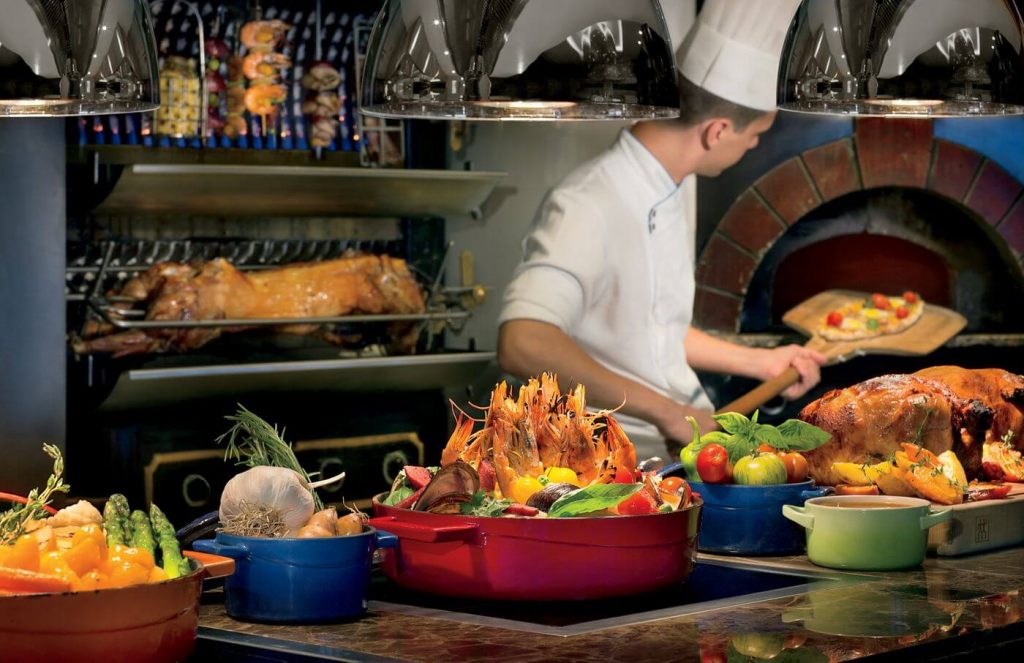 If you are a gastronomy enthusiast, very keen to try new tastes, and care about the ingredients, Atelier Real Food is your perfect restaurant match! 
There is huge respect for nature in Atelier Real Food. Tomatoes and foliage are raised in the special garden. The delicious food is prepared with local products. 
If you one of the early birds, the professionally prepared traditional Turkish breakfast is waiting for you. For lunch and dinner, a picked wine menu and delights from the Turkish kitchen and world cuisine is offered. The menu is designed according to the seasonal conditions. 
Atelier Real Food also offers a magnificent panorama of the Bosphorus. While the cozy atmosphere of the restaurant draws all the emphasis on view, you may try the delicious dishes.
Online reservation is available. 
Address: Harbiye Mah Askerocagi Cad, Besiktas Istanbul TR, Suzer Plaza No:6 
8- Delicious Food and City Culture Intertwined: Mangerie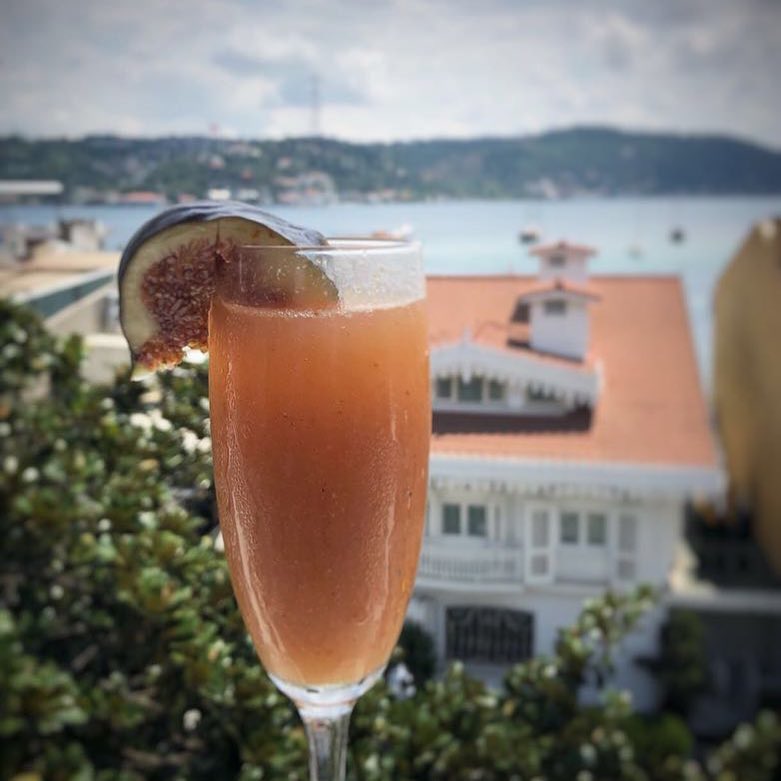 If you'd like to have an exceptional breakfast while watching the Bosphorus from behind the cute historical Istanbul houses, you should go to Mangerie. 
Mangerie not only serves breakfast but the delicious world cuisine dishes too. The affluent menu Mangerie provides includes a wide range of various wines, beers, and beverages as drinks and desserts as well. 
In a friendly, home-like ambiance, Mangerie gives you the opportunity to have a great time on your own or with your loved ones and to take a moment for yourself not by isolating yourself from the city but embracing it. 
Address: Cevdet Pasa Caddesi no:69 Kat:3, Bebek, İstanbul, Türkiye
9- Delicious Seafood Beside the Bosphorus: Akintiburnu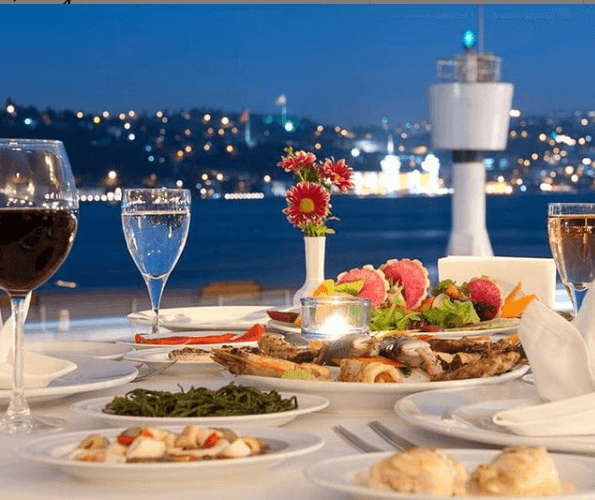 If you are a seafood lover, Istanbul is the best city you could ever visit! This lovely city has sheltered the best fishers and seafood recipes for hundreds of years. Gratefully, you have the opportunity to enjoy your seafood-based dinner beside the sea. 
Akintiburnu surely offers traditionally prepared seafood and mezes while relishing the unique panorama of Bosphorus and the city lights. This is maybe the most Stambouliote version of having dinner ever!
I advise you to drink raki with fish. If you don't like raki, there are also wine and beer on the menu. 
Online reservation is available for Akintiburnu. 
Address: Bebek Caddesi No: 115 Akıntıburnu, Arnavutkoy, Besiktas
10- Seafood and Desserts: Arnavutkoy Balikcisi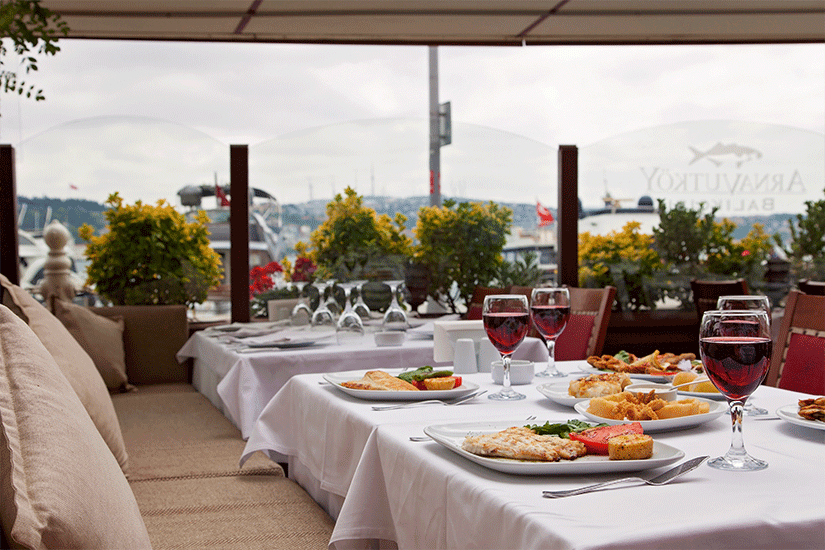 Arnavutkoy Balikcisi is also a seafood restaurant that serves traditionally cooked seafood. 
The view is unique. The restaurant basically faces the Bosphorus Bridge. You can breathe the fresh Bosphorus air while having dinner and watching the silent view of Istanbul. 
What gives the recognition of uniqueness to Arnavutköy Balikcisi is the delicious desserts. Semolina dessert, fried ice cream, and chestnut dessert are the most popular desserts served and you might not be able to find elsewhere. 
Address: Arnavutkoy Mahallesi Arnavutkoy Yolu No:4 34345 Besiktas İstanbul
11- Gluten-free Tastes for Healthy Diets: Gabfoods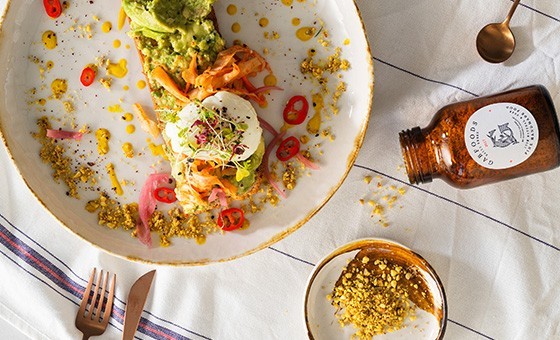 Gabfoods is the first gluten-free and refined sugar-free restaurant in Turkey. So, if you're eating gluten-free or into healthy nutrition, you should definitely give Gabfoods a try. 
Breakfast, lunch, and dinner; all served in Gabfoods. The dishes are surely delicious. The view and the cozy atmosphere, on the other hand, are completely fascinating -especially on rainy days-. 
If you want to take a walk in Arnavutkoy Seaside, -and I strongly advise you to do so-, and in the end, when you deserve a nice meal, Gabfood is going to be waiting for you to enjoy the seaside from a warm, cozy, friendly place. 
Address: Kurucesme, Arnavutkoy, Kurucesme Caddesi. No:2, 34345 Besiktas
12- Cozy and Modern Version of Meyhane: Beşiktaşta Bir Meyhane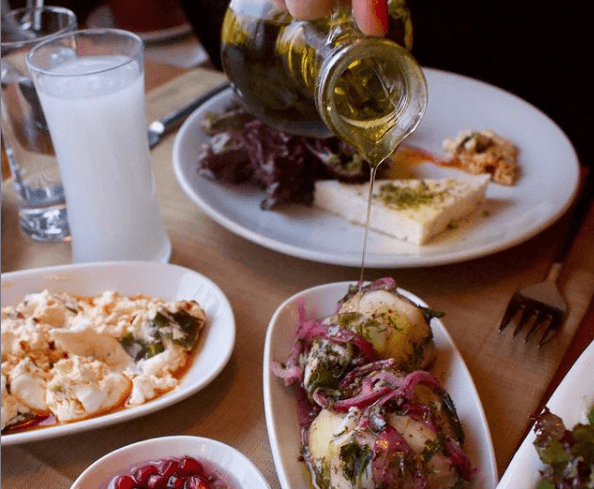 Meyhane is a traditional Turkish restaurant to drink raki and eat mezes and grills. However, Besiktasta Bir Meyhane is a modernized version of classical meyhanes. 
Besiktasta Bir Meyhane offers a cozy ambiance for you to enjoy your friendly conversations, to look at the view from time to time, and listen to the 90s music. 
The grills and mezes are really tasteful. And keep in mind that, Besiktasta Bir Meyhane serves the traditional Istanbul tastes and provide an opportunity to drink raki. 
If you are vegetarian, finding the main course might not be possible in meyhanes, but mezes will surely be enough for dinner. 
Address: Cihannuma, Akmaz Cesme Sokak. No:9, 34353 Besiktas İstanbul
13- Mediterranean Food for the Soul: Banyan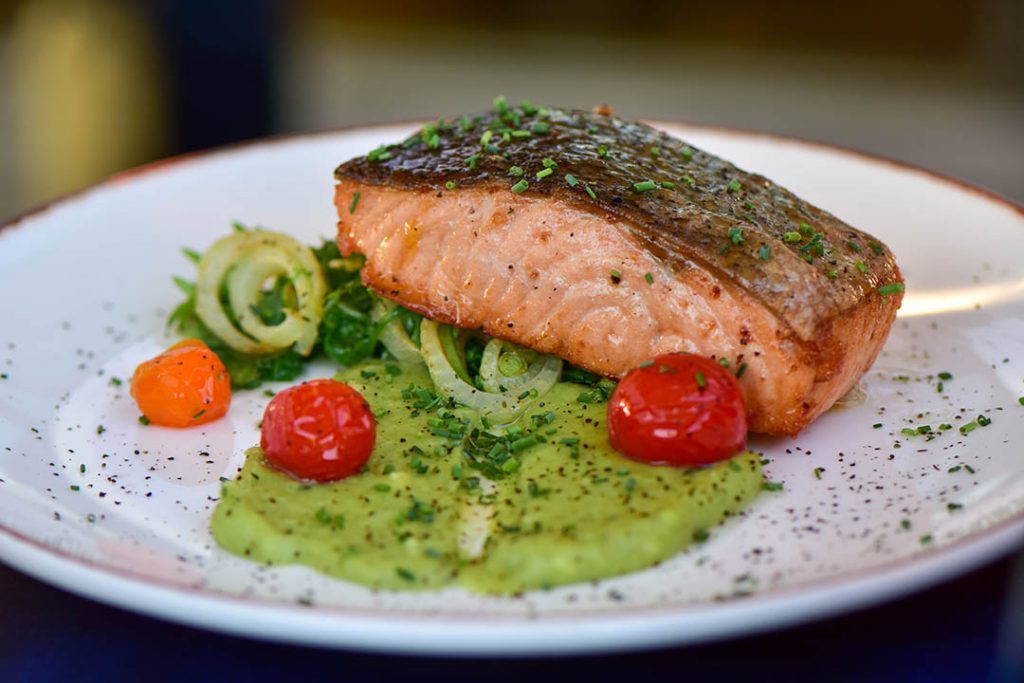 If you are vegan or vegetarian, or very into the modernized Mediterranean kitchen, Banyan gives you the opportunity to watch the beautiful Ortakoy Mosque, the Bosphorus, and the Camlica Hill while having dinner. 
Not only the city lights and Fresh Bosphorus air accompany your dinner but also the wine menu including dozens of different wines. 
The cozy and luminous design of the restaurant orientates your attention to the view and the food. By the way, not only Mediterranean foods are served but also there is sushi on the menu. 
Banyan claims it appeals to your soul by the food. And that is what they are successful to make you feel good with delicious food. 
Online reservation is available in Banyan.
Address: Muallim Naci Cad. Salhane Sokak, No:3, Besiktas, Istanbul
14- Aegean and Mediterranean Flavors: Kalamata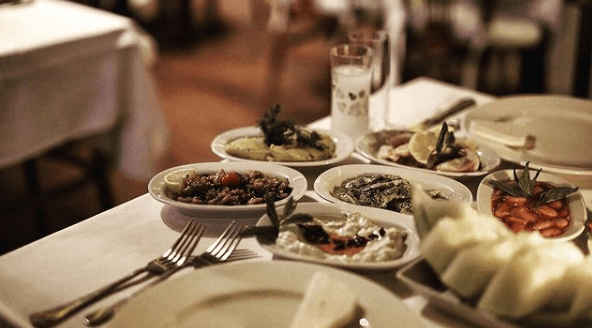 "Kalamata" is a kind of Aegean olive. The restaurant's name is Kalamata because Aegean cuisine is based on the extensive use of olive oil. What makes all mezes extremely delicious is mostly the quality of olive oil. Being aware of that, Kalamata serves the best mezes in the city. 
The main course is based on healthy cooking methods of Mediterranean cuisine as well. Grilled meat and seafood are prepared by professional chefs. Keep in mind that the menu is changed and modified according to the season for using fresh vegetables all the time. 
What Kalamata further offers is that live music! Classical Turkish and Greek music professionals take the stage every evening to accompany your dinner.
While having dinner and spending time with your loved ones, seeing the Bosphorus Bridge from a very close angle also reminds you of being in Istanbul during the evening. 
Address: Akaretler, Suleyman Seba Cad. No:42 Besiktas Istanbul