Confused about what to eat in Istanbul? We got you covered. We have created a list of the 10 best Turkish dishes to try and recommended 2-3 restaurants for each. Enjoy!
Table of Contents
Recommended: 21 Best Restaurants in Istanbul
1- Çorba (Soup)
Turkish soup is surprisingly popular, so do not be shocked to find some places serving it for breakfast. Popular choices are lentil or "Domates" (tomato) soup, but if you are adventurous with your culinary preferences and nonvegetarian try tripe, sheep brain, or tongue soup. For more simple and bland options you can try the "İncelten", "Ezogelin" and "Bulgur" soups.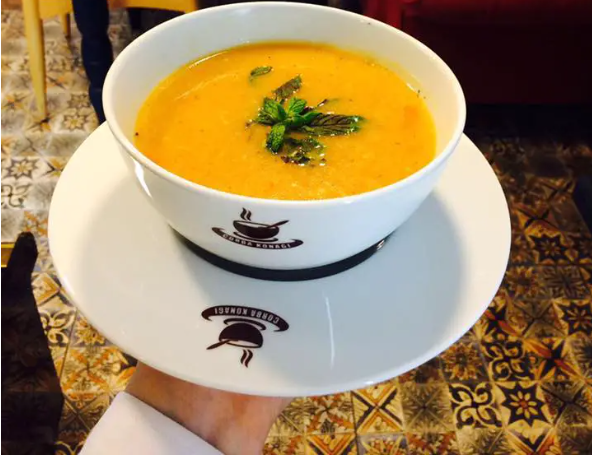 It's the comfort food you can have any time of the day and almost all the traditional and local restaurants and dinings serve them all day long, however, these are some the most high-quality places you can try these hot soups.
Karaköy Çorba Evi
It opened in 2014 and is located in one of the historic districts of Istanbul. The restaurant specializes in creating the most delicious and soft soups in a warm atmosphere. It offers twenty-one kinds of soup daily as well as innovative soups which vary according to the season.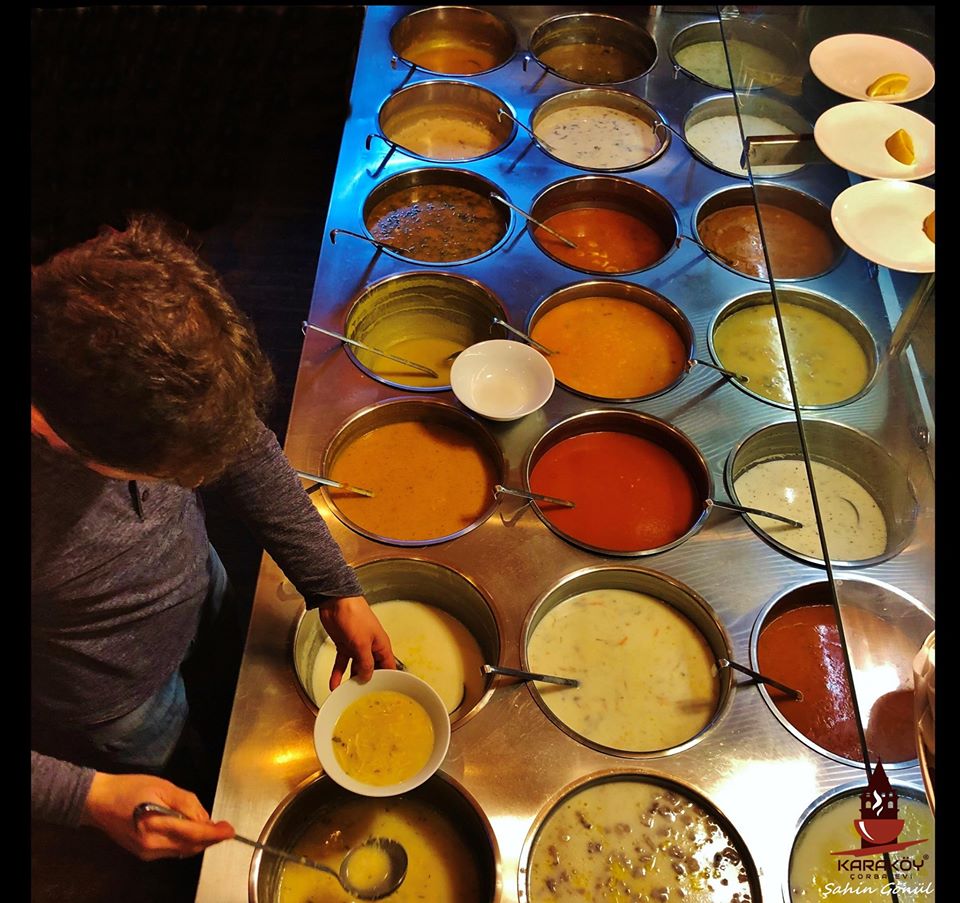 Address: Kemankeş Karamustafa Paşa, Mumhane Cd. No:35, 34425 Beyoğlu/İstanbul
Şölen Çorba Kadıköy
It's one of the top quality services in the area without giving up the concept. It's constantly renewed and developing, and maintains its position in the business by creating new healthy soups with new organic products.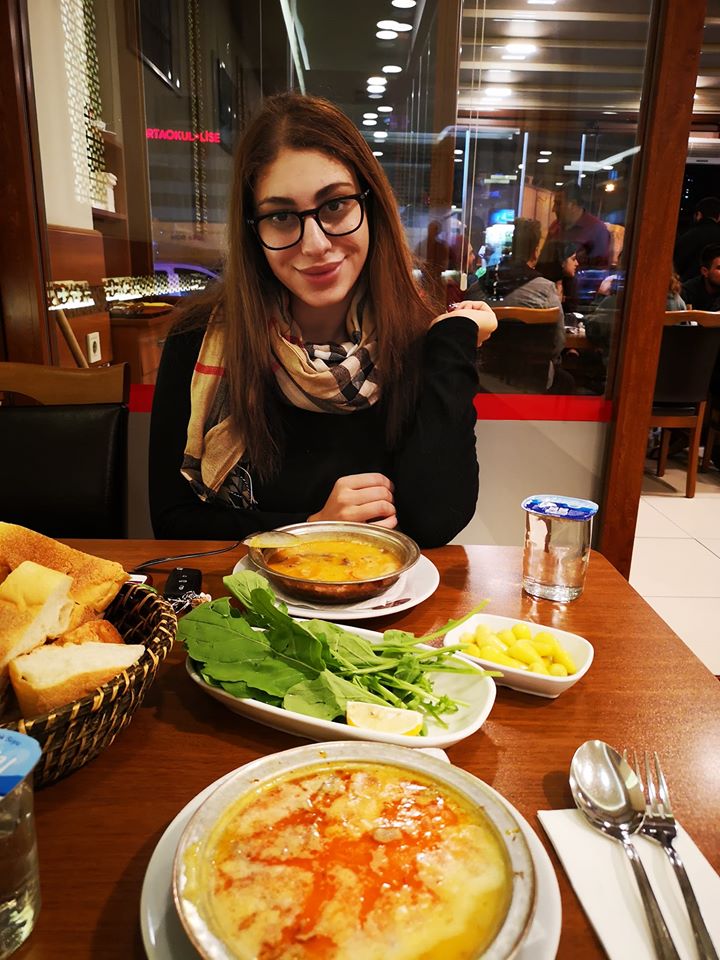 The place has been operating in the food section and franchising since 1992 and now offers about twelve delicious starters such as "Beyren", "Damar Tuzlama Çorbası", "Yayla Çorbası", "Tavuk Suyu Çorbası", "Şölen Tuzlama" and "İşkembe".
Address: Fenerbahçe, Bağdat Cd. No:50, 34726 Kadıköy/Istanbul
Çorba Konağı
The "Soup Mansion" is a new establishment in a hospitable environment located in a laid-back neighborhood. It serves 24 different kinds of soups 24 hours a day, seven days a week. Try the"İspir Kurufasülye", a spicy bitter bean soup that will make a great pair with the buttered rice.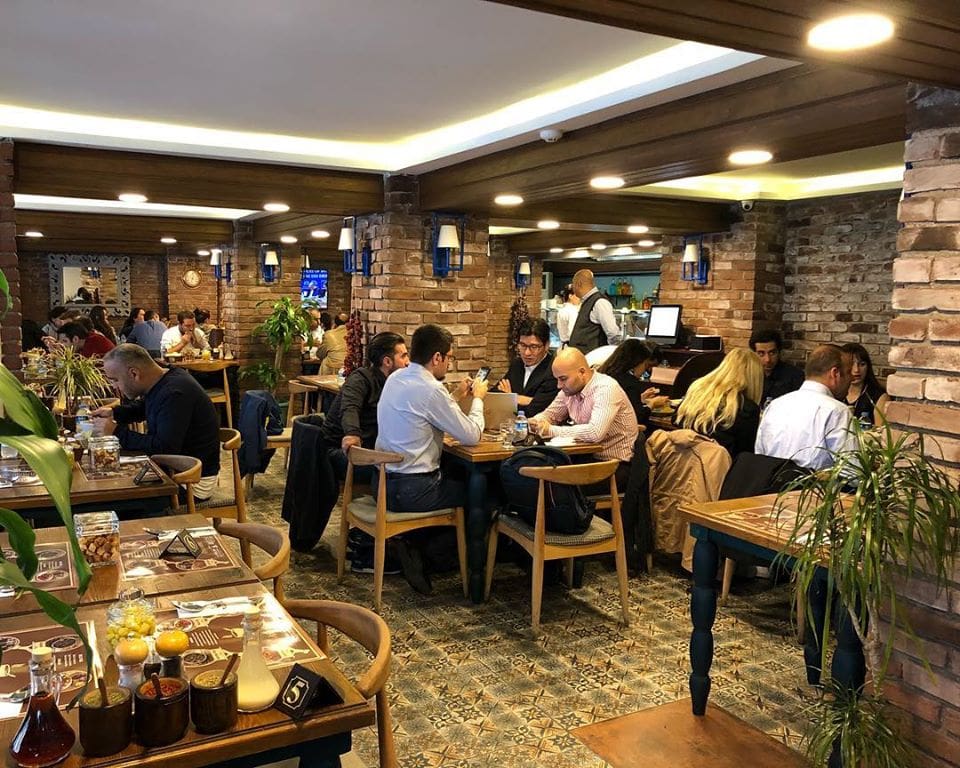 Address: Maltepe, Fazıl Paşa Cd 10/3, 34010 Zeytinburnu/Istanbul
2- Manti (Turkish Pasta)
Manti is a type of popular dumpling in most Turkish cuisines, imagine meat-stuffed miniature portions of ravioli, that's "Manti". Boiled or fried beef/lamb dumplings accompanied by a various range of spices topped with a creamy yogurt sauce, it is the Turkish version of this Italian dish.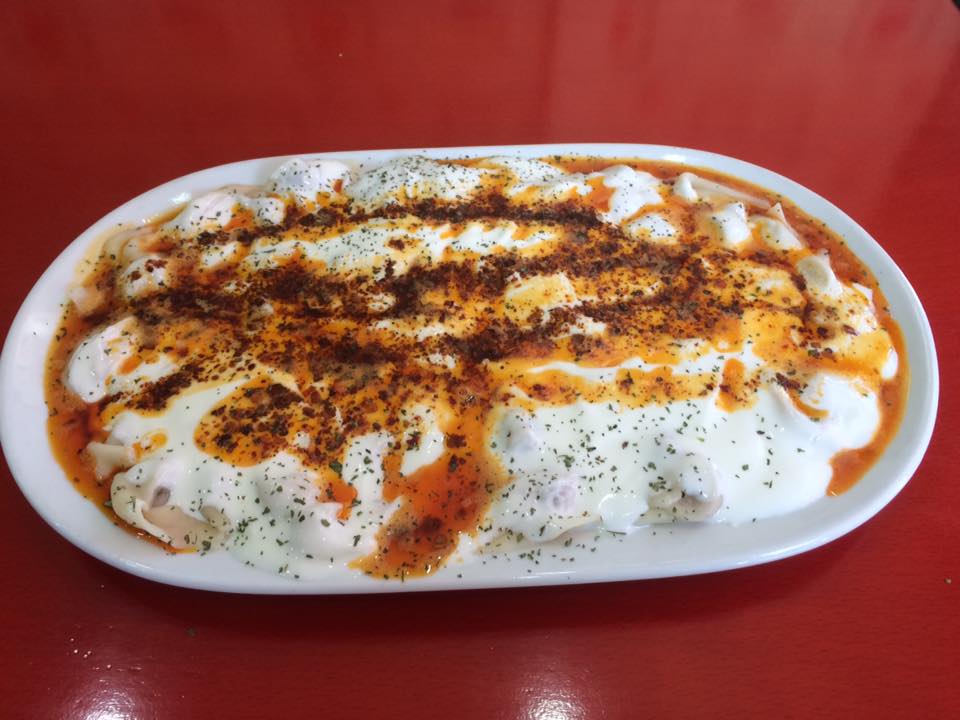 It takes a lot of time and effort to make this flavorful home-made healthy dish and it's totally worth it. It's served in most of the traditional and local restaurants and here are some of the finest places to try them out.
Mantı Dünyası Kadıköy
A casual family place with a huge seating area available indoors and outdoors. It serves special walnut "Manti" that you must try and fall in love with immediately. Some of the exciting dishes you can try are "Gürcü Mantısı", "Patatesli" the potato "Manti", "Pilimen Manti", "Kayseri Manti" made of heavy cream.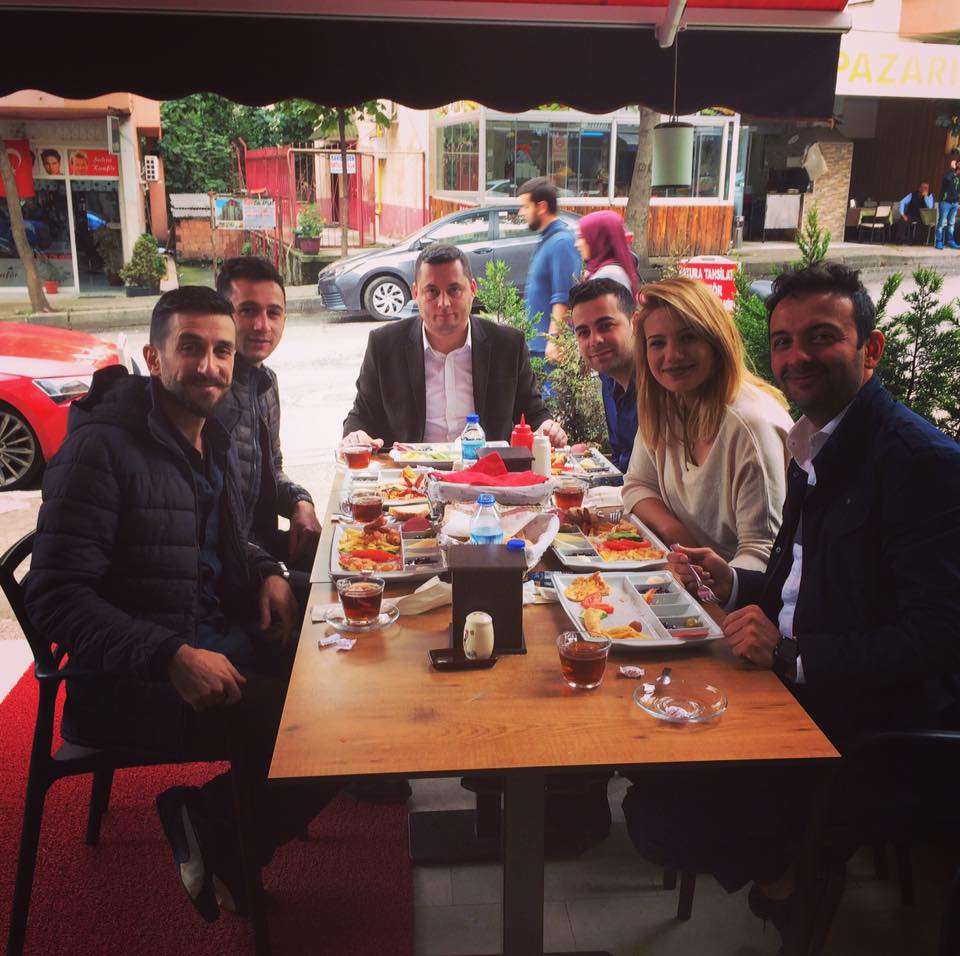 If you want to be bold with your experience, you could try the Turkmenistan recipe called "Türkmen Buhar Mantısı" or the "Gürcü Mantısı" dish or just the normal "Buhar".
Address: Osmanağa, nüfus müdürlüğü sokagi, Nakil Sk. no:8/A, 34714 Kadıköy/Istanbul
Ortaköy Mantı Evi
Ortaköy Manti House, which has been going strong as a family heritage since 1997, and has become a significant foodie destination to travelers with its unique taste and quality service. It's a friendly and warm atmosphere with welcoming staff who are happy to accommodate you.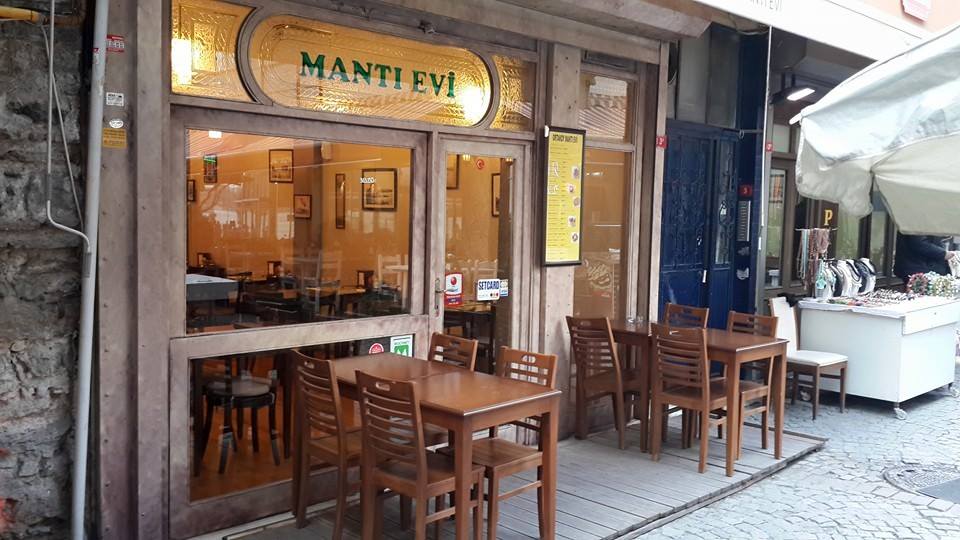 Try the "Kızarmış Mantı" which is fried Manti, or the original "Ev Mantısı" the home-made portion. It also serves other Turkish foods such as "Paçanga Börek", "Taze Fasulye" fresh beans stew, and "Çiğ Börek" fried ground beef in pastry parcel.
Address: Mecidiye, Değirmen Sk. 3/A, 34347 Beşiktaş/Istanbul
Bodrum Mantı & Cafe
It's a huge space and franchise restaurant with a vast menu and a big seating area available. Stylish interior design and friendly staff with high quality and fast service, what else can we ask for?!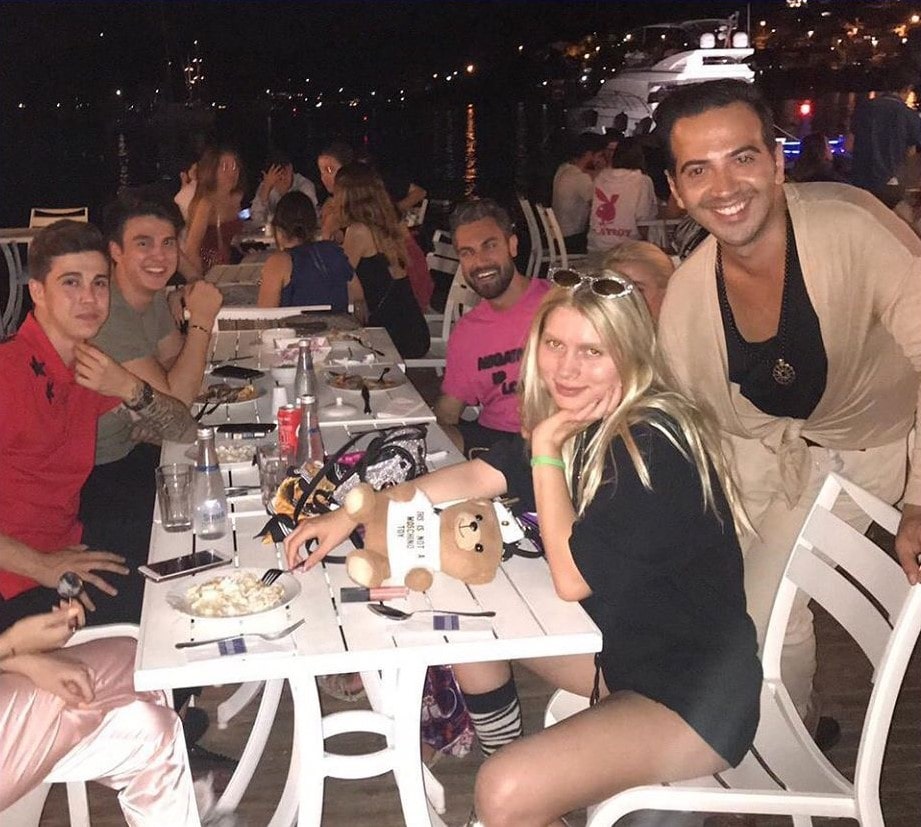 The menu offers 10 different kinds of Manti such as "Peynirli Mantı" cheese, "Karışık Mantı", as well as traditional and European main dishes like "Çökertme Kebabı", "Piliç Külleme" and breakfast options.
Address: Ünalan, Ayazma Cd. NO: 78/1, 34700 Üsküdar/Istanbul
3- Köfte (Meatballs)
The Turkish version of meatballs, "köfte" is a number of balls or patties made of lightly cooked ground beef or lamb. It is often made in wraps with salad and some pita bread. You can even have a Turkish vegetarian dishes made with chickpeas and local vegetables."Kofte" is an important part of every Turkish cuisine. So, you can find it in every street deli and local food shop.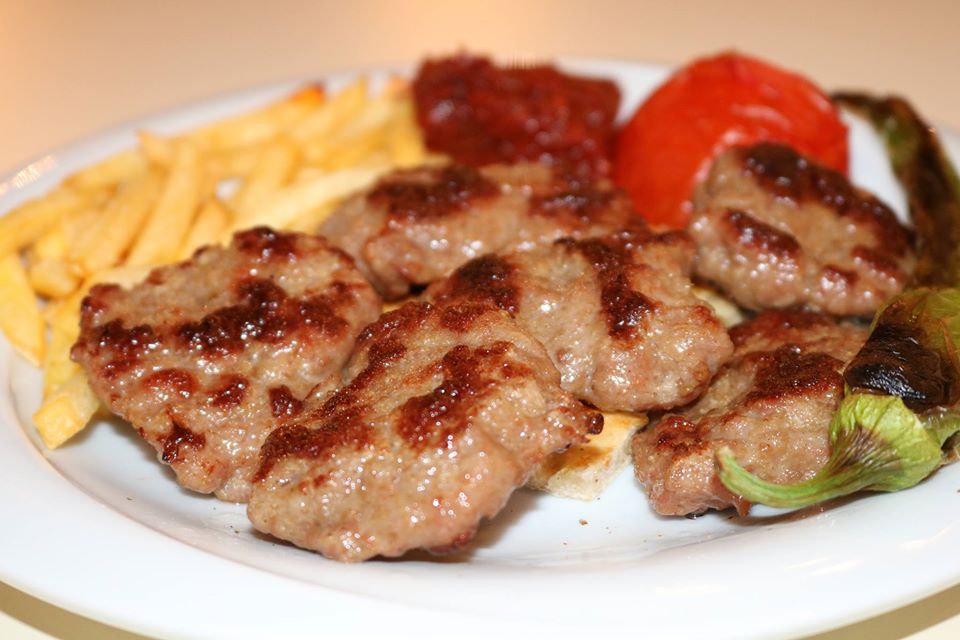 There are many types of kofte and their taste will vary depending on the region that recipe initiates from, like "Çiğ kofte" which is a surprising appetizer made of raw meatballs from the southeast of Turkey. Here are some of the best places to have authentic "Kofte".
Köfteci Ramiz
It all started as a tiny shop with fruit boxes as chairs in 1928, and now a national food brand that's becoming a well known worldwide attraction. Today, products are sold in all restaurants across Turkey, fresh daily meat and local vegetables are used in every single dish.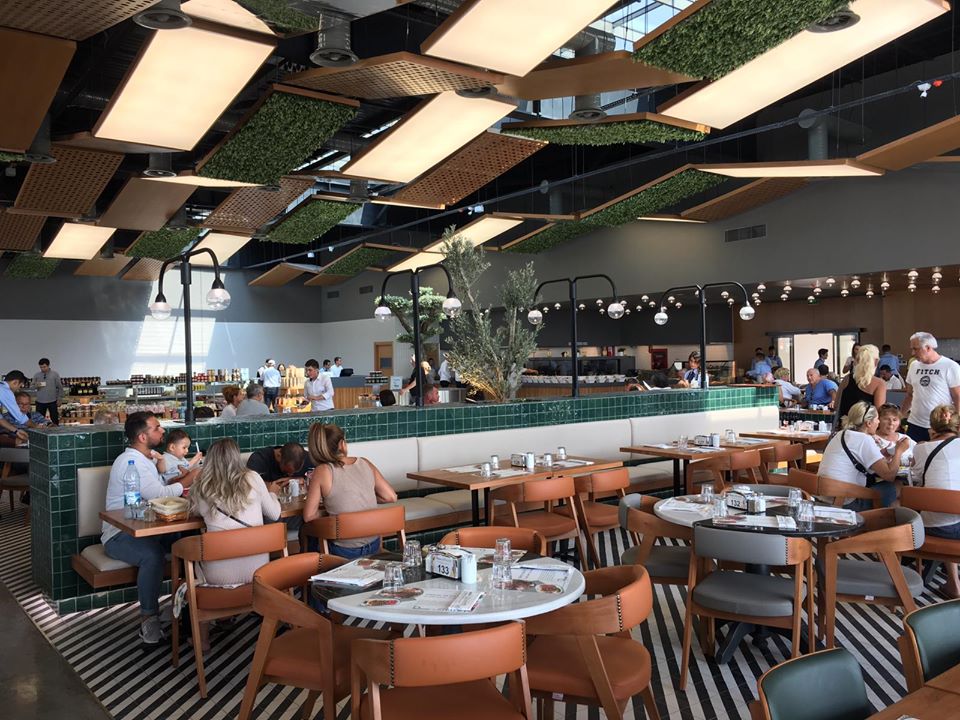 The menu offers more than 14 different types of "kofte" as dish and sandwiches such as "Ramiz Kofte", "Yoğurtlu Ramiz Köfte" yogurt dipped meat, "Karışık Köfte" cheese dipped meat, "Balkan Kofte", and the "Ekmek Arasi Ramiz Kofte" a Turkish meatball sandwich.
Address: Tomtom, İstiklal Cd. 215/B, 34433 Beyoğlu/Istanbul
Bizim Köfte
It's a traditional and authentic establishment founded in 1967, and to this day its palate offers creative and fresh flavors of fine local products. You can spend a pleasant time with your loved ones in an airy spacious and enjoy the real Turkish dining experience.
Some of the must-try main dishes are "Parmak Kofte", "Acili Kofte" spicy meatballs, "Karışık Köfte", and "Kaşarlı Köfte" cheese dipped meatballs or "Ekmek Arasi Kofte" sandwich. the restaurant also serves "Tavuk Bonfile" chicken pieces and plenty more main, appetizers and desserts.
Address" Ali Kuşçu, Ali Kuşçu Mahallesi Macar Kardeşler Caddesi, Hulusi Noyan Sk. No:7/A, 34083 Fatih/Istanbul
Filizler Köftecisi
Filizler is a dynamic and elegant restaurant that has succeeded with more than twenty-five years of experience in "Balkan Kofte" all over Turkey and branches on the Asian and European side of Istanbul. The menu offers grilled chicken, soups, salads, and dessert options.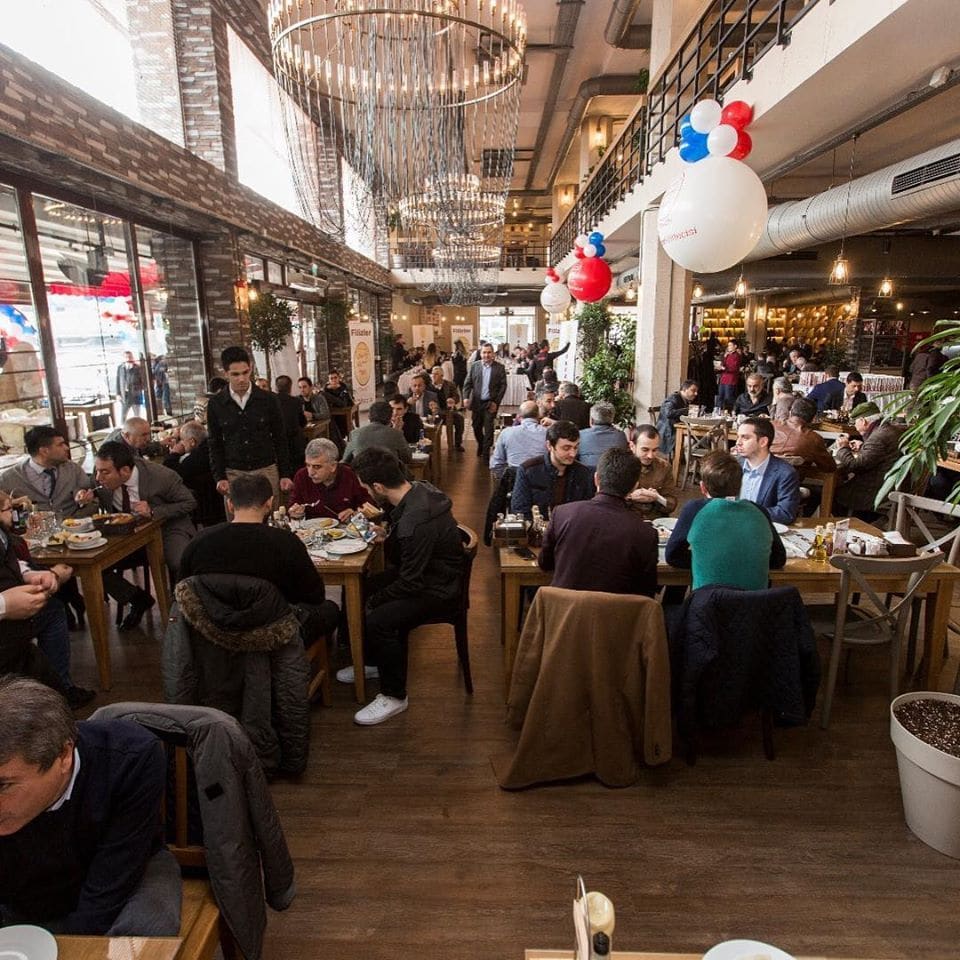 In addition to its traditionally famous "Kofte" options in its menu, it gives
a great choice with its grilled meats, steak meat products and selected specialties from international cuisine. Some of the popular "Kofte" options are on the menu plus non-alcoholic beverages.
Address: Aziz Mahmut Hüdayi, Üsküdar Harem Sahil Yolu No:61, 34672 Üsküdar/Istanbul
Sultanahmet Halkin Koftecisi
It's a very simple and quaint place that serves only two types of meat; Kebab and grilled meat plus very basic soup and rice, yet is always packed and people wait in lines to be able to get a table there. The staff speaks little English but the service is fast.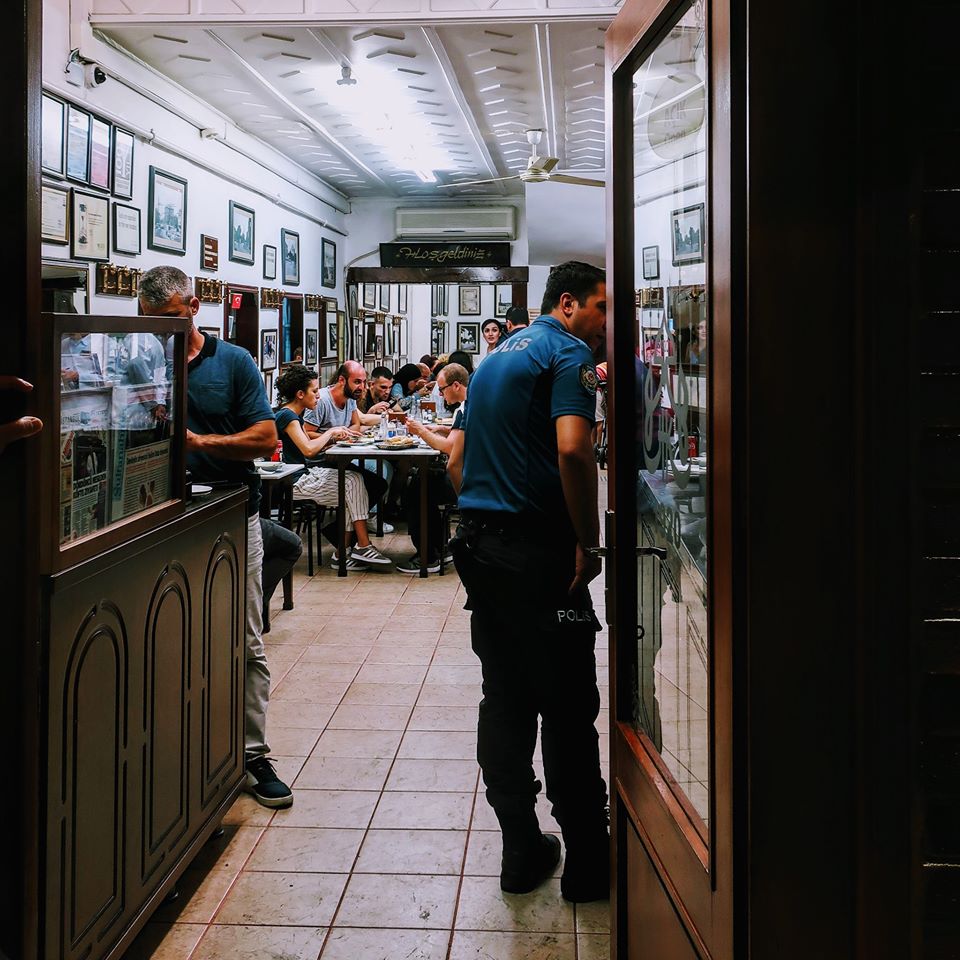 Do not expect an intimate, fancy atmosphere because this place is just about great food and certainly delivers on that promise. It gets so crowded that sometimes you have to share your table with others and it's really common because the tasty memorable "Kofte" is totally worth the hustle.
Address: Alemdar, Divan Yolu Cd. No:26, Fatih/Istanbul
4- Lahmacun/Pide (Turkish Pizza)
Lahmacun is a circular, thin piece of dough baked in natural ovens, topped with minced meat, minced vegetables, and herbs including onions, tomatoes and parsley, and spices such as cayenne pepper, paprika, cumin, and cinnamon. It is basically a Turkish pizza with more flavors and creative toppings by your choice.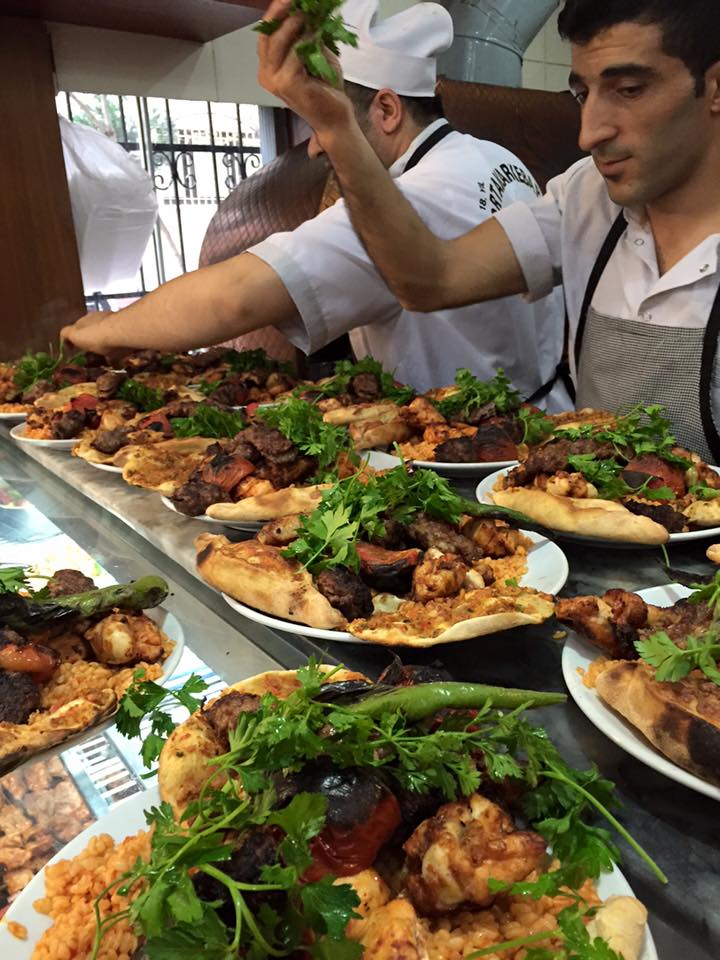 It's a light and healthy everyday meal in Istanbul due to the fair price and fast preparation time. There are franchises and local restaurants all over Istanbul with a focus on only variant recipes of "Lahmacun". Here are a couple of the best places to try this dish.
Ortaklar Kebap Lahmacun
An authentic and huge restaurant that is very popular among the locals, with lots of seatings available and a competitive reasonable price. It is a bit packed inside, but that makes a special vibrant ambiance. There are several floors and a terrace provided with heaters.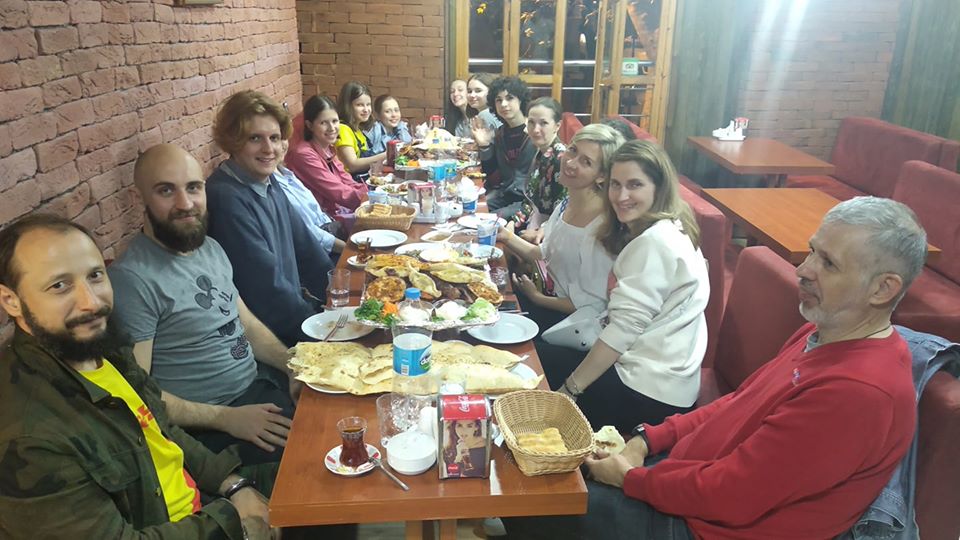 "Hummus", "Adana kebab" and "Lahmacun" with plenty of individual toppings, seasonings, and herbs are some of the most served dishes at this place. The service is really fast and it's located in the city center of the historic "Sultanahmet" and the sight attractions.
Address: Binbirdirek, Peykhane Cd. No:27, Fatih/Istanbul
Halil Lahmacun
If you are visiting "kadiköy" then you need to visit this place. They only offer two types of food which are "Lahmacun" and "Kaşarlı Pide" cheese pide. Both are very tasty and delicious. The place has two floors and lots of seatings although is always crowded.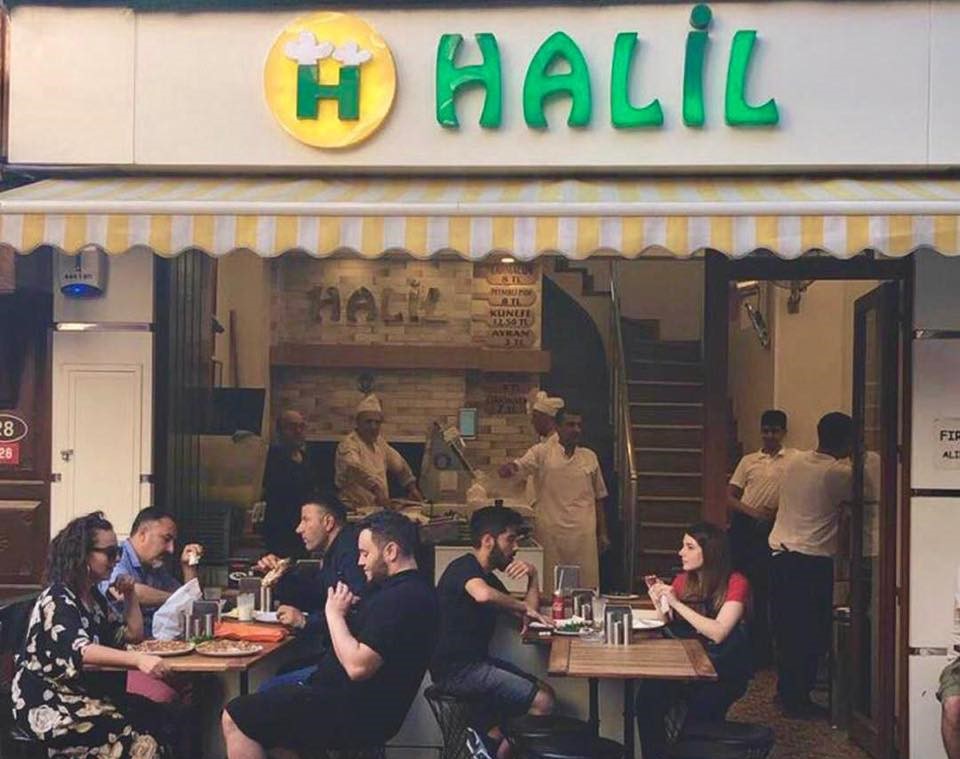 Address: Caferağa, Güneşli Bahçe Sk. No:26, Kadıköy/Istanbul
Borsam Taşfırın Bahariye
Borsam Taşfırın was founded in 1968 and since then consists of serving and creating a vast selection of "Pide" and "Lahmacun" with innovative toppings from meat to vegan and vegetarian such as eggplant, parsley, and spinach. They use their own exclusive meat distribute and a special black pepper from "Urfa" which is the unique signature of these three branches.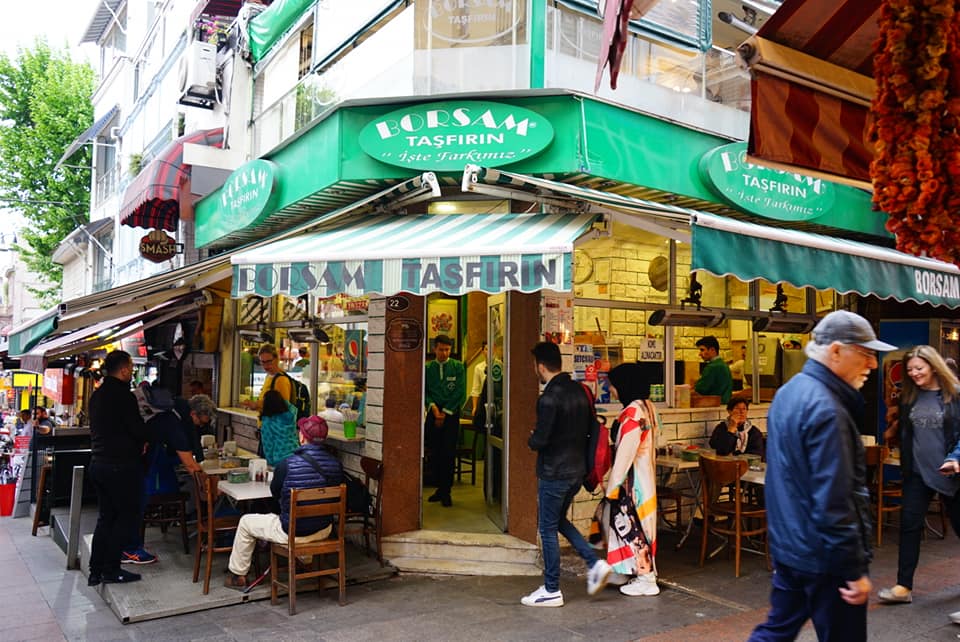 Address: Osmanağa, Serasker Cd. No:78, 34714 Kadıköy/Istanbul
Saray Pide Ve Lahmacun
This sophisticated huge restaurant is highly recommended for its "Lahmacun" choices, even though it offers a small menu but the food is very high quality and well known among the locals as well as travelers. It's a very convenient location near "Taksim" square plus fast service and reasonable prices compared to the area.
Address: Bülbül, Turan Cd. No:48, Beyoğlu/Istanbul
5- Menemen/Omelet
This is a traditional Turkish omelet dish made of eggs, tomato, green peppers, and spices such as ground black and red pepper cooked in olive oil or sunflower oil. White cheese and charcuterie products such as "sucuk" Turkish sausage or "pastırma" may also be added to the mix while cooking.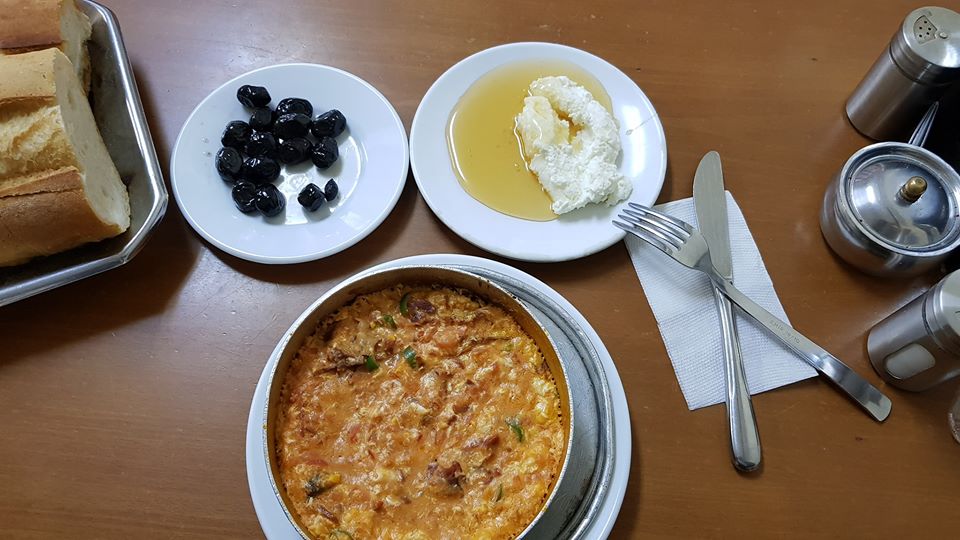 It's always served hot and fresh with some vegetables and bread and mostly consumed as breakfast and mid-day meals since it's very energizing and full nutrition. You would find it in plenty of cafes and traditional restaurants in Istanbul.
Lades Menemen
A huge and genuine Turkish place serving traditional breakfast dishes since 1969. They serve portions of food big enough to share and consists of very delicious "Menemen" dishes that are served until late in the afternoon. It's a very up and coming restaurant attracting travelers from all over the world.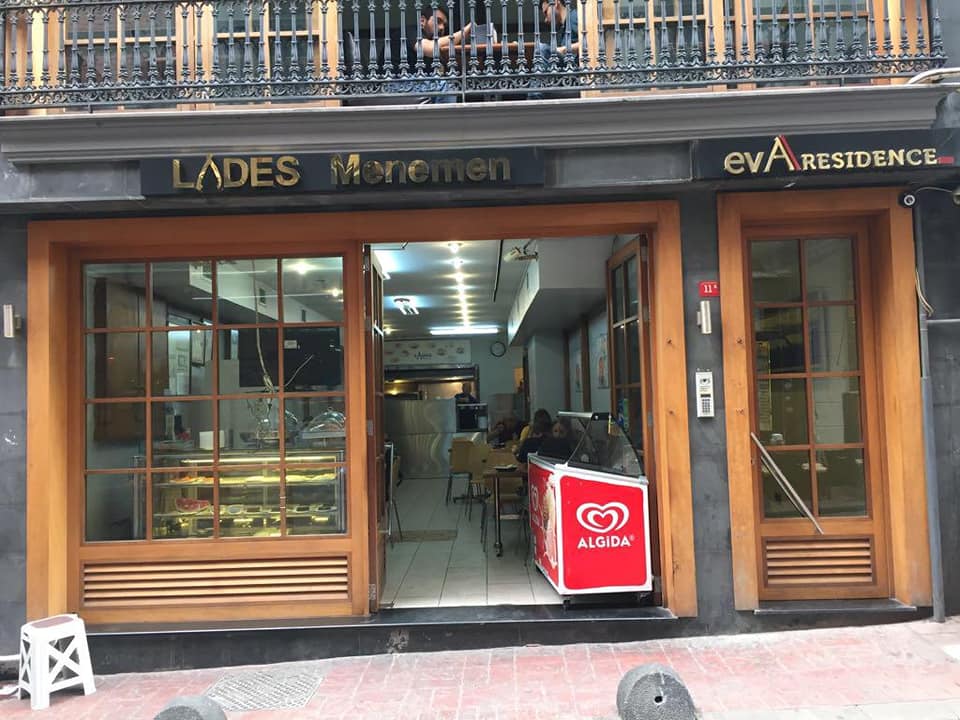 Try the honey and heavy Turkish cream with black tea and fresh bread, "Acem Pilavı", "Rosto" beef and mashed potato for lunch meals, and "Supreme Kahvalti" breakfast.
Address: Katip Mustafa Çelebi, Mahallesi, Sadri Alışık Sk. 11/12 Beyoğlu/Istanbul
Çakır Menemen & Kahvaltı Salonu
A classic Turkish place dedicated to all breakfast dishes with varieties of cheese, yogurt, pastry jam, fruits, vegetables, and the famous "Sade Menemen". It's located in a touristy neighborhood in "Sultanahmet" so it's usually packed and prices could be higher than elsewhere.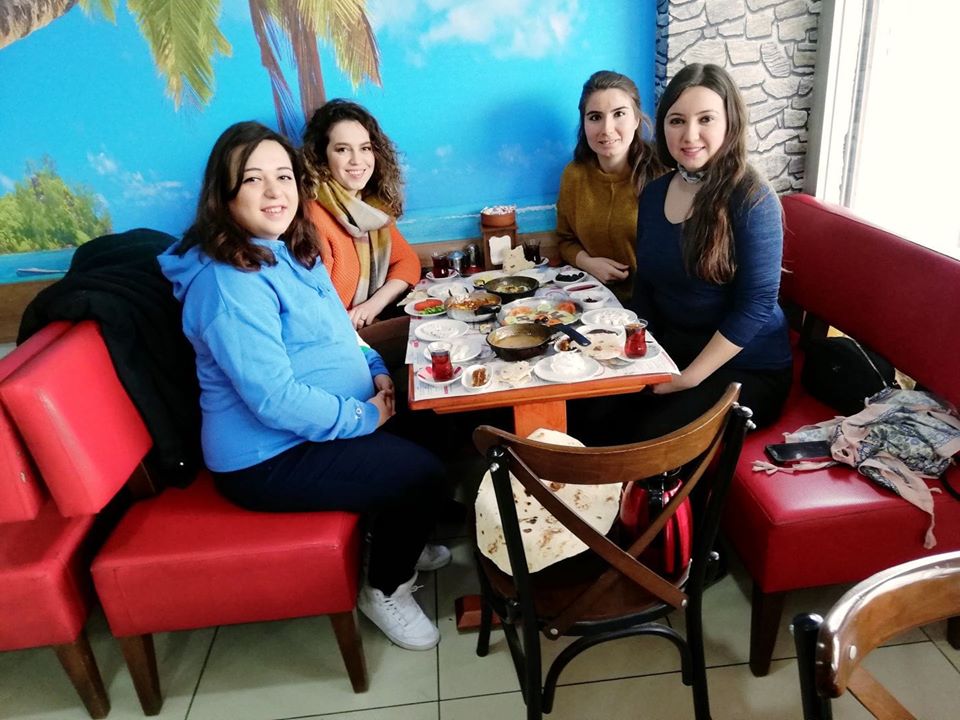 Address: Nişanca, Havuzlu Mescit Sk. No:8, 34130 Fatih/Istanbul
Meşhur Menemenci Cemal Polat
It's a cozy, cute place with minimal interior design and a friendly atmosphere. It's a perfect place to grab some fast and healthy breakfast and brunch at very decent prices. It's a small menu with wide options of "Menemen". You can choose different combinations to be added to your dish.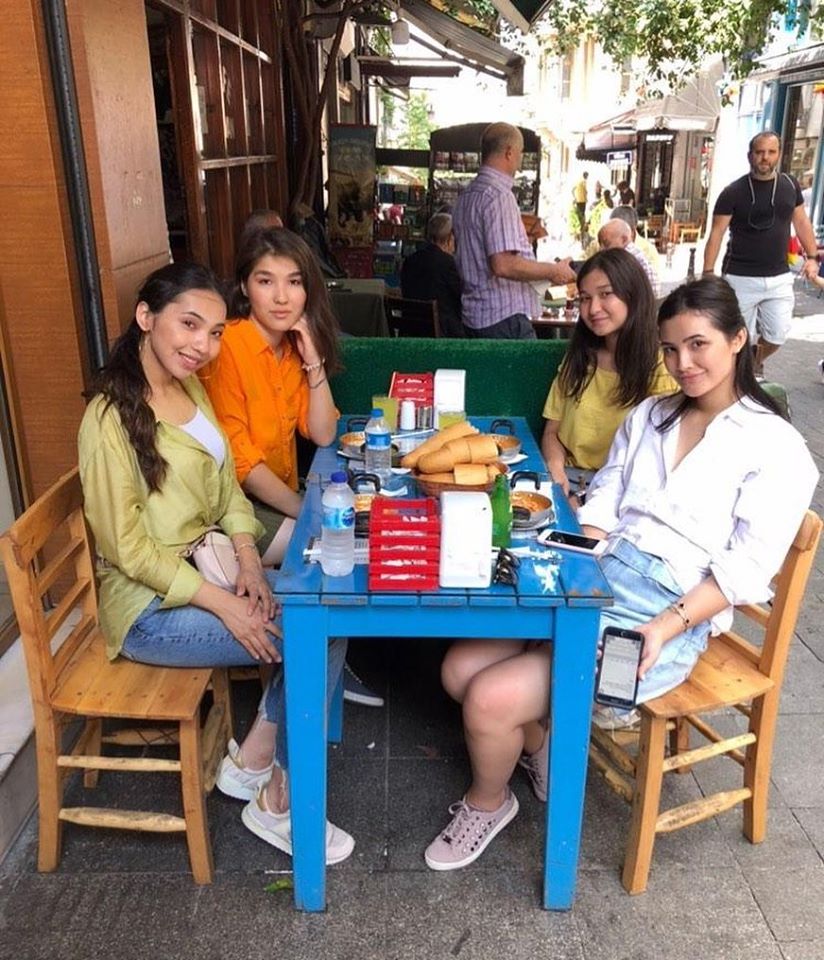 Address: Osmanağa, Pavlonya Sk. No:16, 34714 Kadıköy/Istanbul
Küff Yeldeğirmeni
Amazing laid back cafe in Kadikoy with amazing design and engaging outdoor seatings. Staff is very friendly and hospitable and even though is a small place menu is vast with lots of fresh cheese, pastries, hot beverages and of course the different types of "Menemen.
Address: Rasimpaşa, Karakolhane Cd. No:54, Kadıköy/Istanbul
6- Döner/dürüm (Sandwich)
Doner kebab is a type of kebab, made of red meat and chicken, grilled on an upright rotisserie. Seasoned meat assembled in the shape of a pyramid is turned slowly on the rotisserie, next to a vertical cooking heating element. As the surface cooks faster while it turns, the cooks slice it off and get it ready to serve.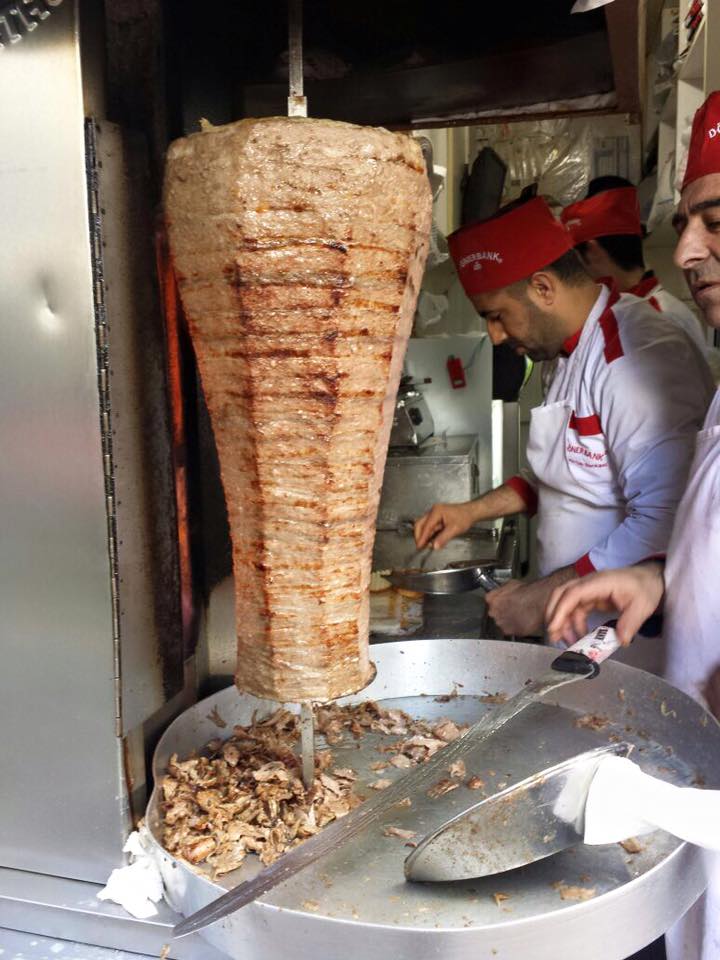 This meal is served as sandwiches with lettuce, tomatoes, sometimes french fries, or designed with vegetables and siders as a dish with slices of the kebab meat or chicken. It's a really famous food so it's pretty easy to find in almost every region at high quality and fair prices."dürüm" is when they wrap the meat in very thin and light eastern bread.
Bilice Kebap
A graceful mighty place near "Taksim" square with a charming authentic decoration that invites you in for a great Turkish feast. The huge menu offers all kinds of traditional and Medetrerian meals and "Mezze" snacks and every combo of skewers possible.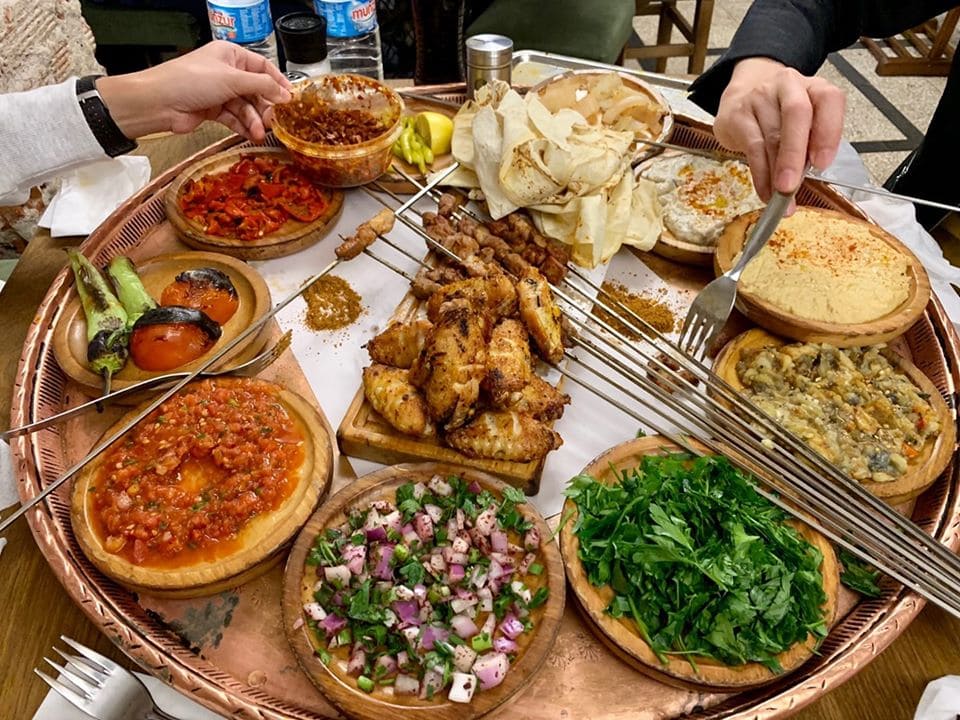 For the main courses, you could try the "Bilice Satır Kebap" lamb meat kebab, "Patlıcanlı kebap" grilled eggplant and meat kebab, plus some vegetarian options such as "Hummus", and "Patlıcanl salatası" eggplant salad.
Address: Asmalı Mescit, Asmalı Mescit Cd. No:8, 34430 Beyoğlu/Istanbul
Etibol Kasap Döner
It's a casual small place very favored by the locals because of its fast service and fair prices comparing to the rest of the "Karaköy" neighborhood. Its main focus is on all types of "Döner" portions.
Some of the options you could try are "Porsiyon Döner" which is served as a dish with tomato slices and french fries on the side, "Dürüm Döner" same ingredients wrapped in thin small bread, "Tombik Döner" with a big thick burger bread sandwich and the "Baget Ekmek Döner" sandwich.
Address: Kemankeş Karamustafa Paşa, Ağaç Tulumba Sk. 13/C, Karaköy – Beyoğlu/Istanbul
Döner Bank
It is a tiny little place with plenty of seats available on the street. The quality of the doner is amazing, they use fresh daily meat, the so-called entrecôte. I suggest you order your "Döner" like a sandwich and try the bread as well. but remember to only try the "Döner" as it is their specialty. You can have "Ayran" a cold beverage made of yogurt, water, and salt to drink. The price is reasonable.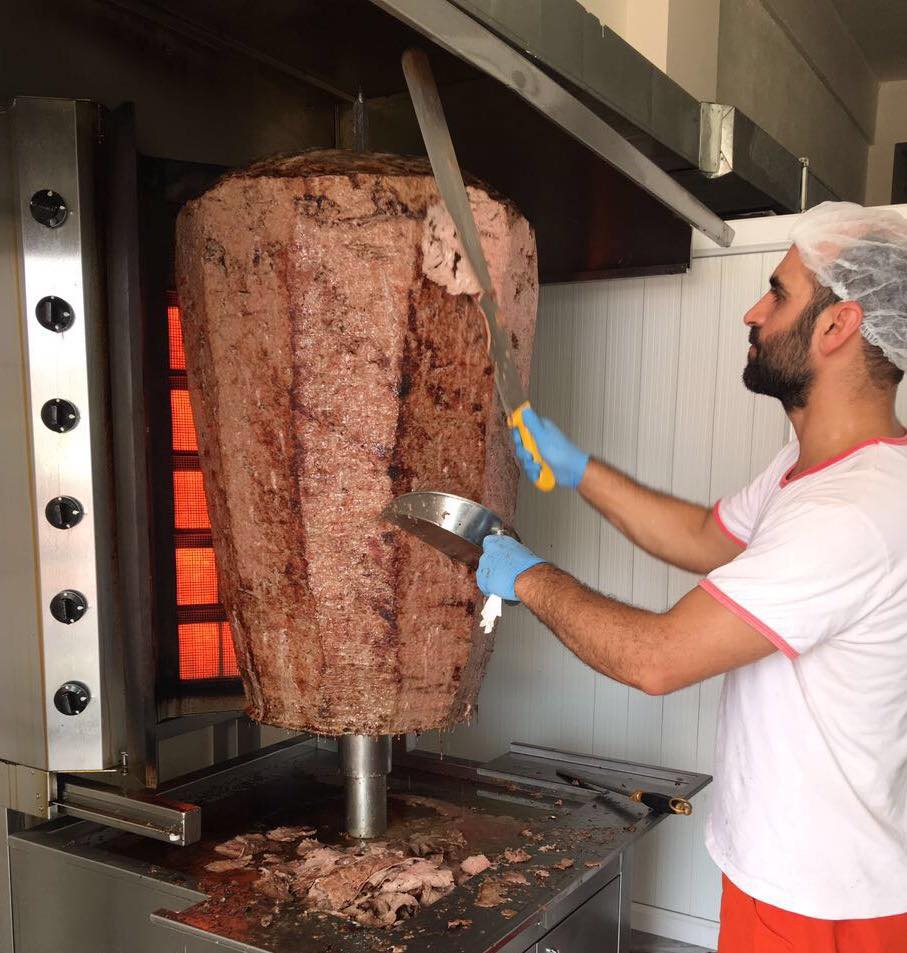 Address: Mollafenari, Hüseyin Ağa Cami Sk. No:1, 34126 Fatih/Istanbul
Frango Döner
A stylish and energetic place in the heart of "Kadıköy" with a cozy backyard and colorful interior design. It offers an extensive menu of creative sandwiches together with sauces from different regions of the world in a unique way. Thanks to the different sauce selections, you can create doner wraps based on your own taste.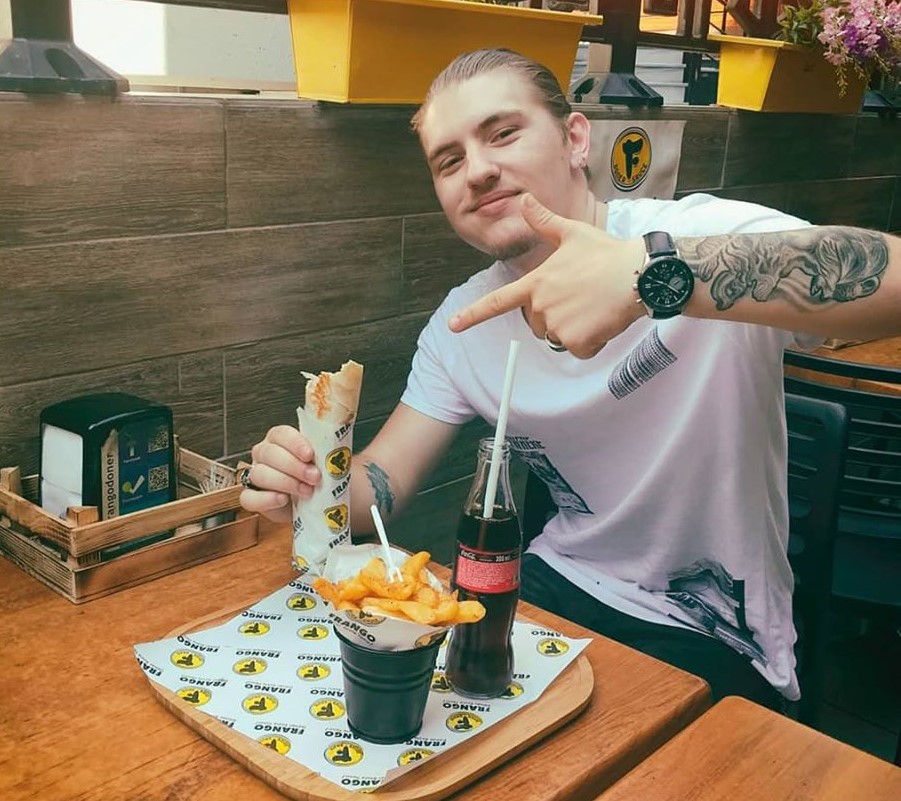 There are plenty of choices for you such as "Frango Barbeque", "Frango Antaktya", "Frango Garlic", "Frango Tahini", "Frango Köri" Curry powder and "Frango Kokteyl" and "Dürüm" sandwiches all by your choice of sauce.
Address: Osmanağa, Osmanağa Mah Halitağa Caddesi &, Vahap Bey Sk. 29/B, Kadıköy/Istanbul
7- Kumpir (Baked potato)
Another popular street food from Istanbul. Made of jacket potato with a crisp outer skin and soft, fluffy inside, it is available with a variety of toppings to choose among– cheese, sausage, pickles, and Russian salad plus fillings and condiments such as butter, cheese, sour cream, gravy or even ground meat.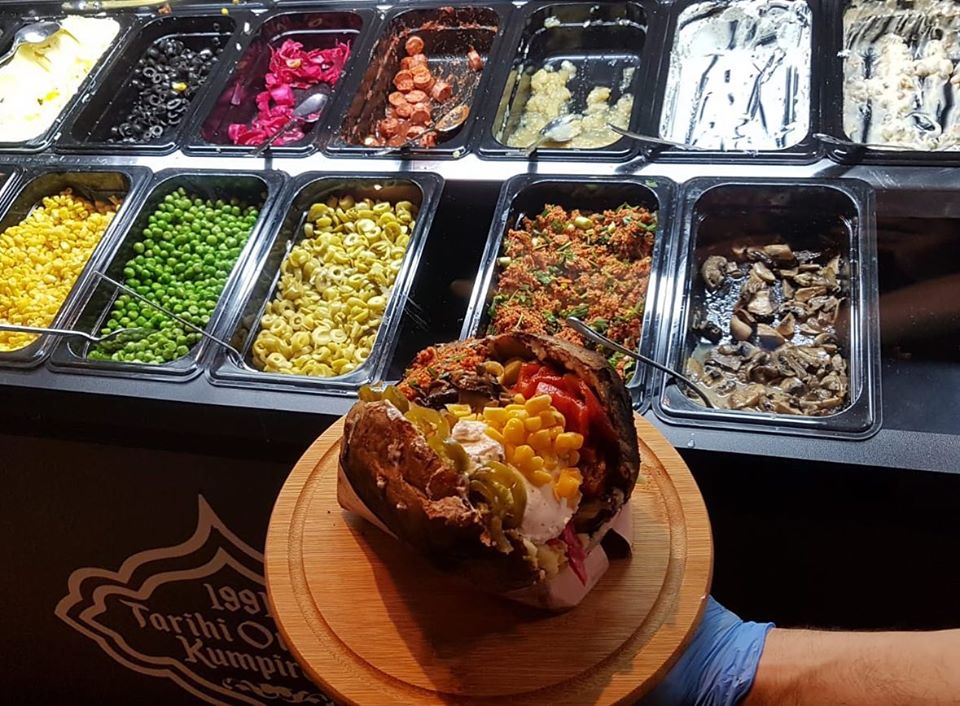 You're then presented with an endless amount of options to put on top of your "Kumpir", including yogurt, ketchup, sweet corn, sausage slices, couscous, grated carrot, olives, and Italian salads. These are just to name a few, So many carb-loaded goodies.
Tarihi Istanbul Kumpir & Waffle
An original authentic street food shop near "Taksim" square that serves all traditional and creative toppings and fillings displayed on shelves and you can choose based on your preferences. Kumpir & Waffle is a fast and casual restaurant chain that offers modern and exquisite breezy cuisines at reasonable prices.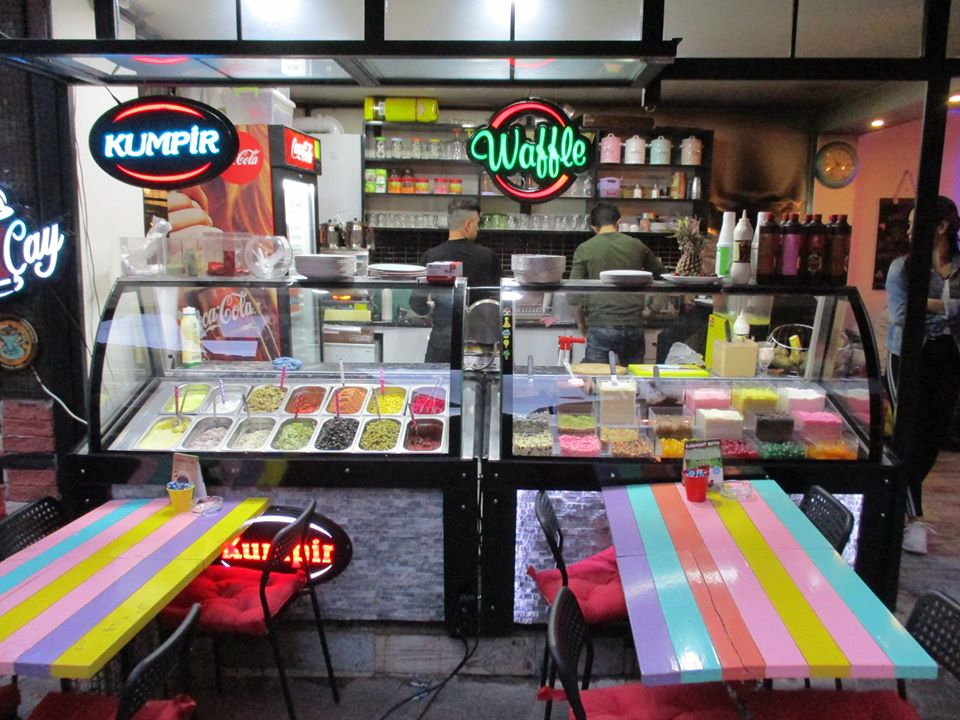 The kitchen at the historic Istanbul Kumpir & Waffle covers a transparent area that prioritizes hygiene and health where you can see how the magic happens.
Address: Kuloğlu, İstiklal Cd. No:139, 34435 Beyoğlu/Istanbul
Patatos
Somewhat crowded and defiantly a regional taste experience. The staff is friendly and hardworking and will give you tips and suggestions on your choices if you ask for it. They also offer other types of fast food and Turkish cuisines but try to avoid ordering anything except the "Kumpir".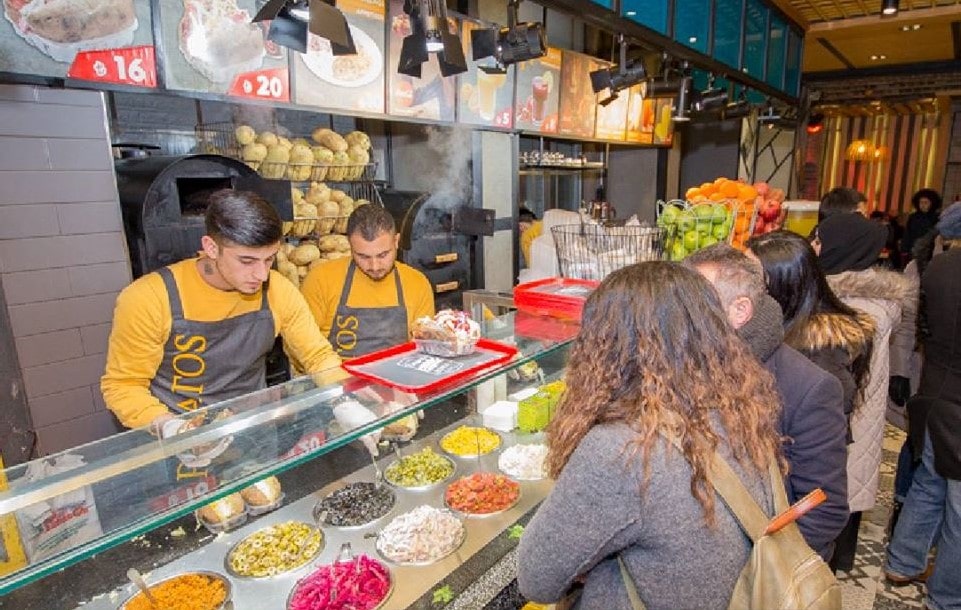 Address: Tomtom, Istiklal Cd., 34433 Beyoğlu/Istanbul
Tarihi Ortakoy Kumpircisi
It's a small and relaxed local shop, in a soothing street around the "Kadıköy" neighborhood. You can spend hours seating on the outdoor tables and enjoy the rich menu options of "Kumpir", plus decent prices.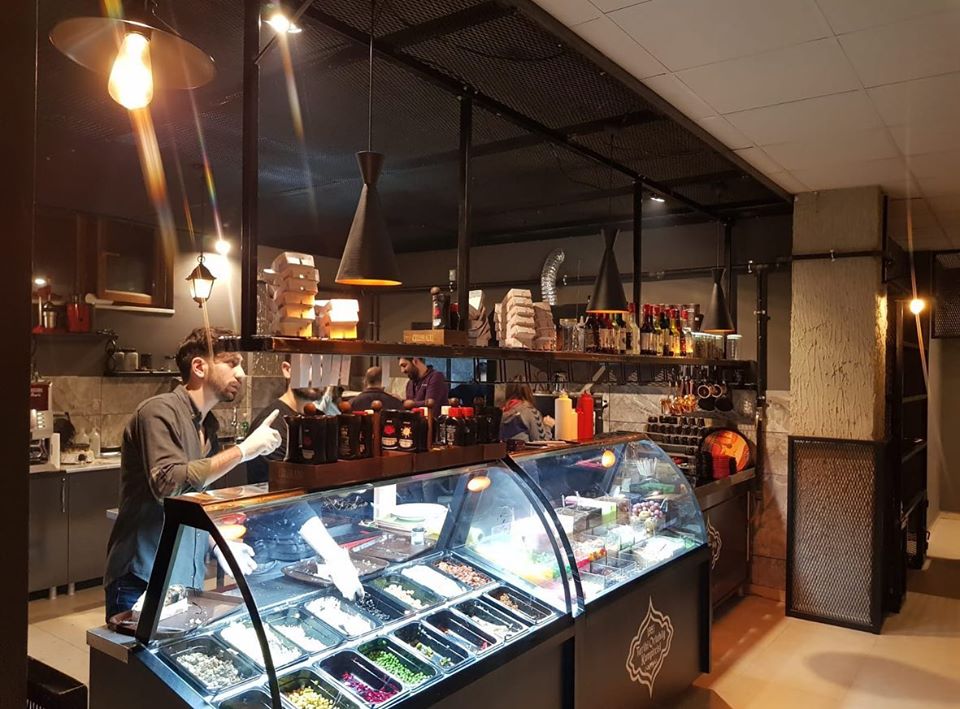 Address: Caferağa, Dr. İhsan Ünlüer Sk. no.12, 34710 Kadıköy/Istanbul
Kumpir & Waffle
An adorable genuine branch of the Tarihi Istanbul corporates located near the seashore with a view of "Topkapi" palace and "Sultanahmet" mosque. It offers all the original flavors plus some creative alternatives with acceptable prices.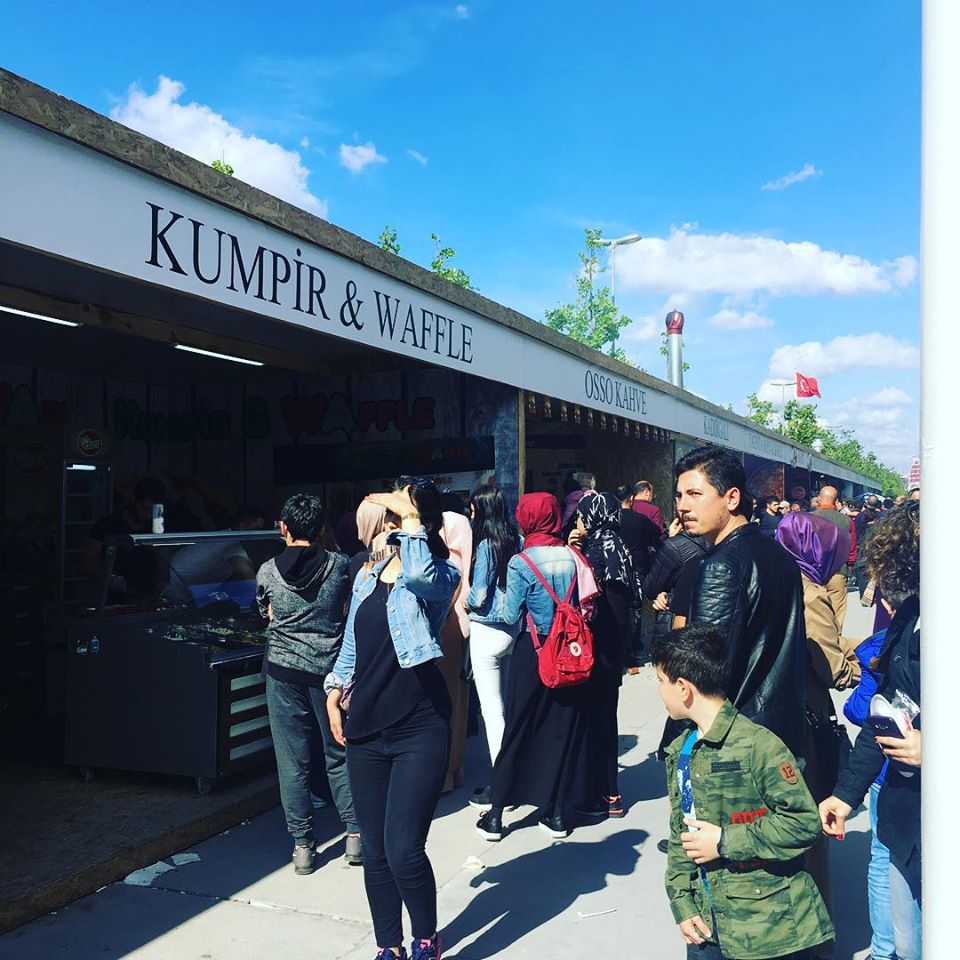 Address: Cibali, Hisaraltı Cd. No:9, 34083 Fatih/Istanbul
8- Iskender Kebap
Iskender kebap is one of the most well-known dishes in northwestern Turkey. It takes its name from its inventor, Iskender Efendi, who lived in "Bursa" in the late 19th century Ottoman Empire.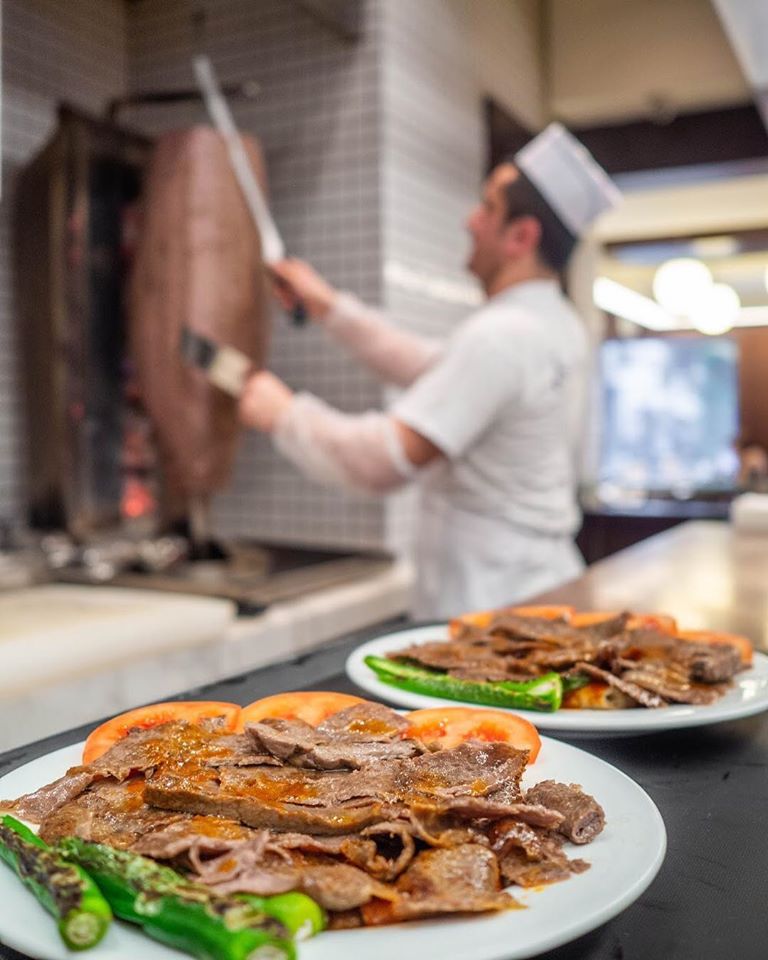 A playful creation on the traditional "Döner kebab", this dish consists of thinly sliced grilled lamb served with a warm spicy flavorful tomato sauce over pieces of traditional bread "Pita". Topped off with generous additions of yogurt and butter.
Kebapçı Iskender
This unique doner kebab flavor, which was introduced to the Turkish cuisine by Iskender about 150 years ago, has been running by family members since then and presenting the original taste of the Iskender brand. It only serves traditional Turkish dishes and the staff is happy to give suggestions and help you choose.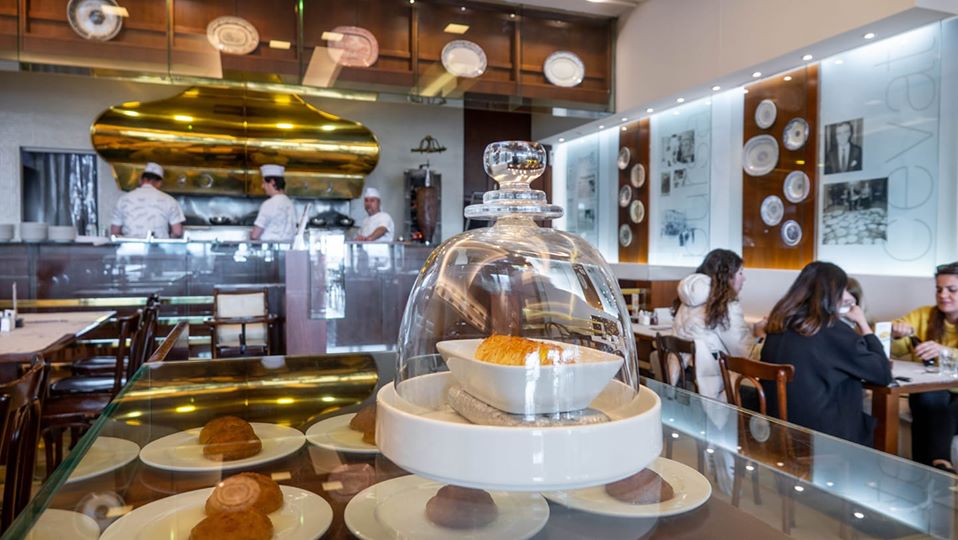 Address: Caferağa, Albay Faik Sözdener Cd. No:3, 34710 Kadıköy/Istanbul
Iskender Kuruluş
Founded in 1867 the shop is kept as a dignified example for all of the stores with the tasteful wooden exterior comfort pyramids, which are a part of Bursa architecture of the 19th-century Ottoman period, and the daisy motifs that were popular at that time, from marble tables to the pink edges papers used as napkins.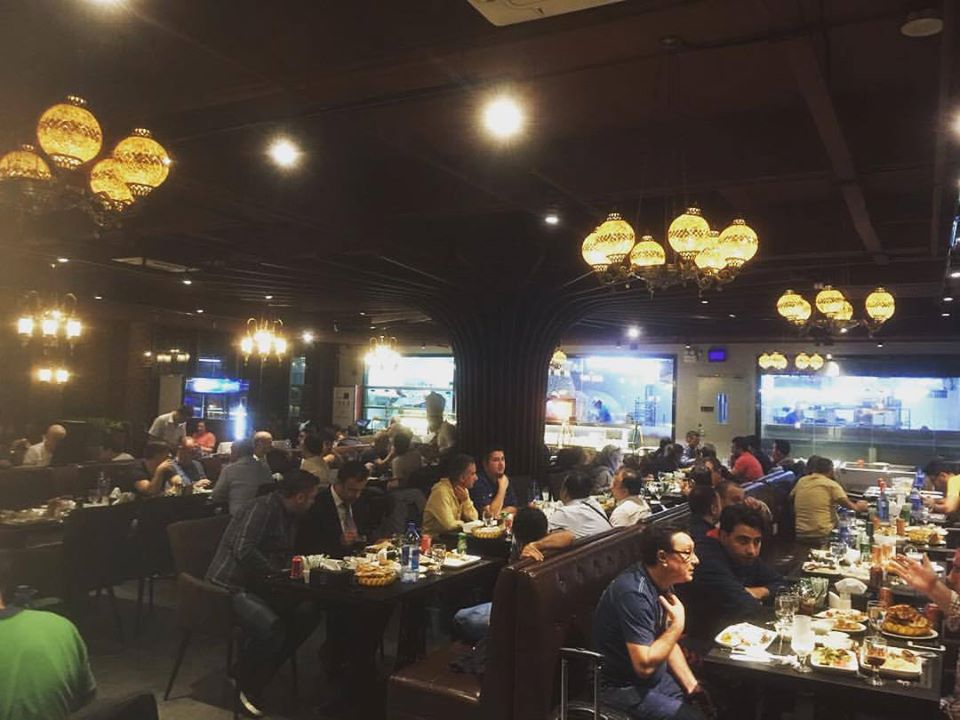 A few of the best main dishes to try are "Iskender Doner Kebab" or "Iskender Chicken Tenderloin" white meat prefers or "Iskender Vegetable Kebab" vegetarian course.
Address: Sinanpaşa, Akaretler, Süleyman Seba Cd. No:10, 34357 Beşiktaş/Istanbul
Laleli Iskender Kebap Salonu
It's located in the center of the historic "Sultanahmet" and only 2 minutes away from the city center. It's a huge folky yet graceful restaurant and serves some excellent quality red meat dishes plus, desserts and sider snacks "Mezze".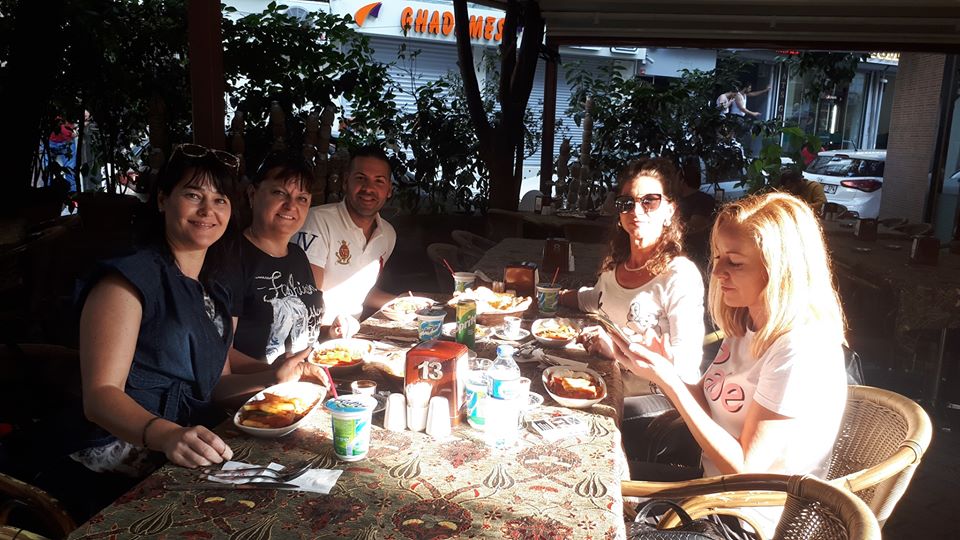 Most of the time it's packed with travelers and visitors and a multilingual expansive menu will help you pick the best meal. You can try the "Adana Kebap", "Beyti Kebap", "Fistikli Kebap" pistachio mixed, or the original "Iskender Kebap".
Address: Kemal Paşa, Gençtürk Cd. 70 A, 34134 Fatih/Istanbul
9- Simit (Turkish Pretzel)
Another very popular street food, "Simit" stands somewhere between a pretzel and a bagel. One of the most affordable munches you'll find on the streets, this circular bread is typically encrusted with sesame seeds and can be eaten plain or with preserves and spreads such as jam, cream cheese or, for an extra special treat, chocolate cream.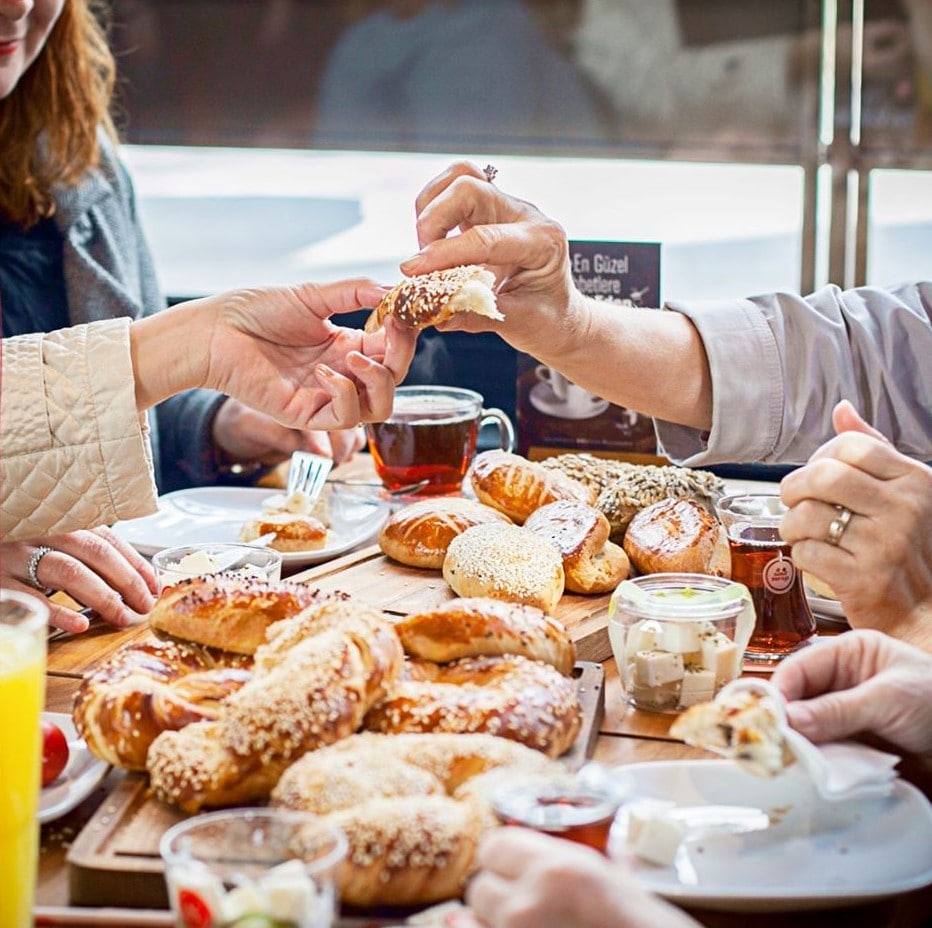 Simit's proportions, crunch, chewiness, and other characteristics vary slightly by region it originates from. It's served on food carts and local or franchise bakeries and pastry shops.
Simit Sarayı Kadıköy
From delicious pastry, donates, bagels, and cookies to burgers, wraps, and sandwiches; new flavors are often added to the rich products ranging from pizza, pasta, salads to main courses. Simit Sarayı offers its menu with innovative recipes without sacrificing traditional taste and quality.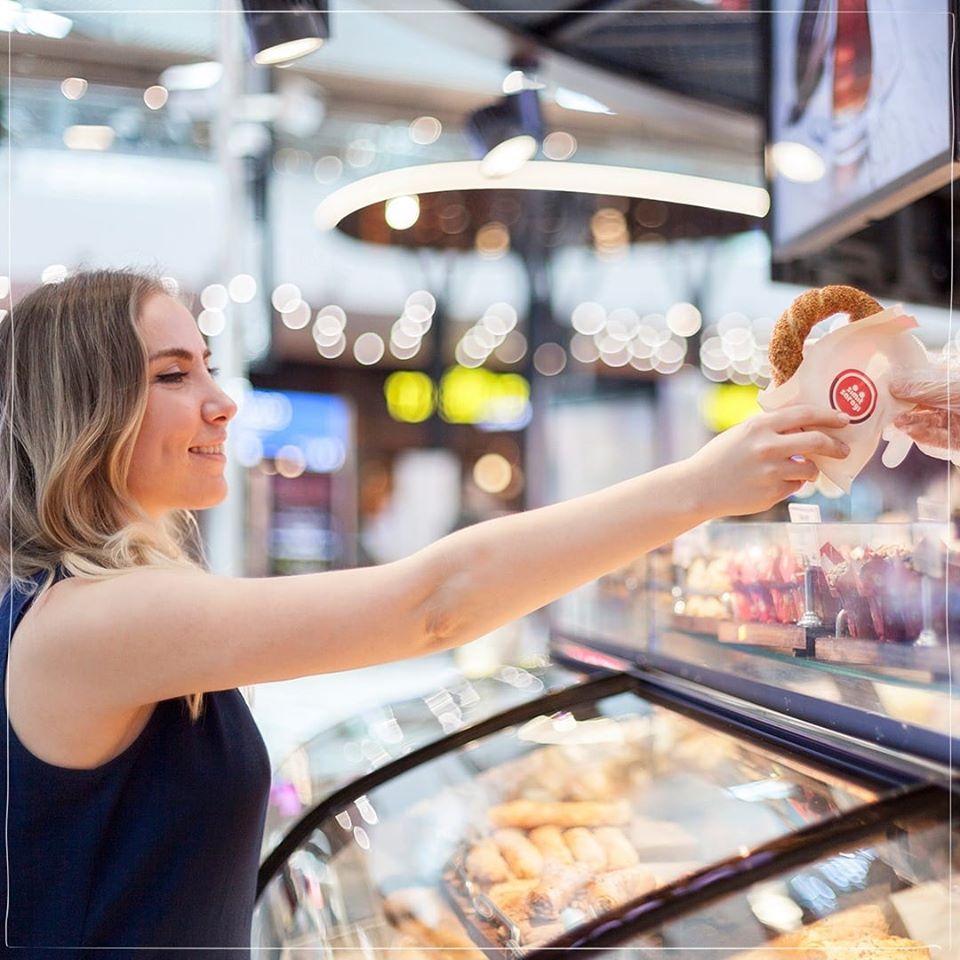 Simit Sarayı, which is very beloved by its regular and travelers from all over the world offers popular classic flavors as well as packaged products such as tea, coffee, chocolate, Turkish delight, and jam. It successfully represents the Turkish food culture with its local delicacies such as "Tahini", "Molasses", and "Noodle chips".
Address: Rasimpaşa, Rıhtım Cd. 58/A, 34716 Kadıköy/Istanbul
Simit Sarayı Istiklal
One of the most visited branches of the Simit Sarayi chain stores located in Istiklal street with a comfy terrace and a view of the nostalgic "Tramway" of Istanbul. A huge space with lots of seatings available indoor and outdoors.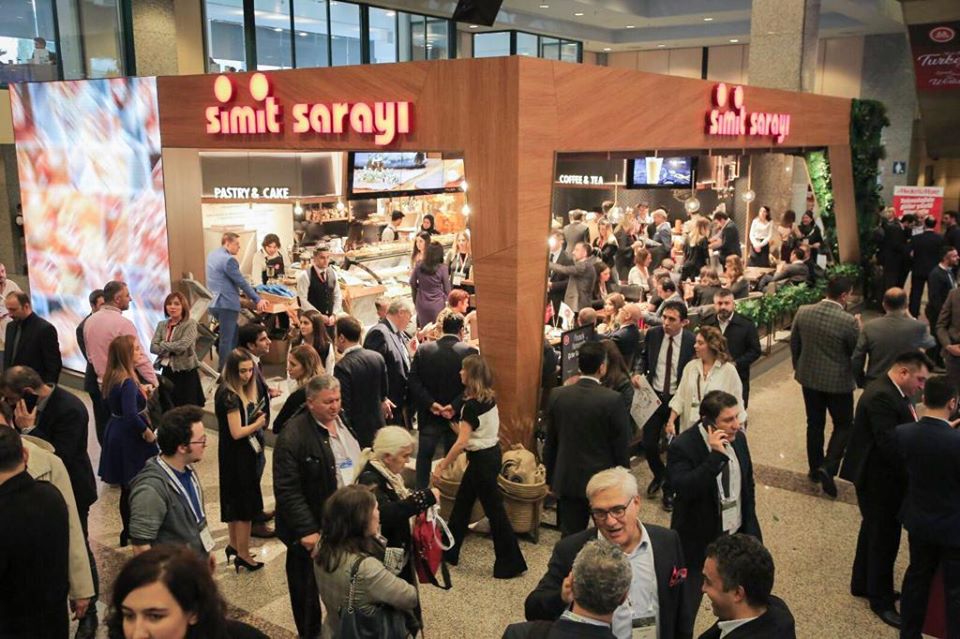 The menu varies for plenty of choices such as breakfast trays, hot beverages, "Chia Simit", "Simit Arasi Kaşar" cut in half Simit filled with cheese, "Dopdolu Simit", "Sade Açma", "Zeytinli Açma", "Çikolatalı Simit" and plenty more options of pastries and sweets.
Address: Katip Mustafa Çelebi, İstiklal Cd. 104/3, 34000 Beyoğlu/Istanbul
10- Künefe (Dessert)
This delightful dessert is made of melted Goda cheese, bread crumbs, and pistachio nuts with thin noodle-like pastry, or alternatively fine semolina dough, soaked in sweet, sugar-based syrup, and typically layered with cheese, or with other ingredients such as clotted cream or nuts, depending on the region.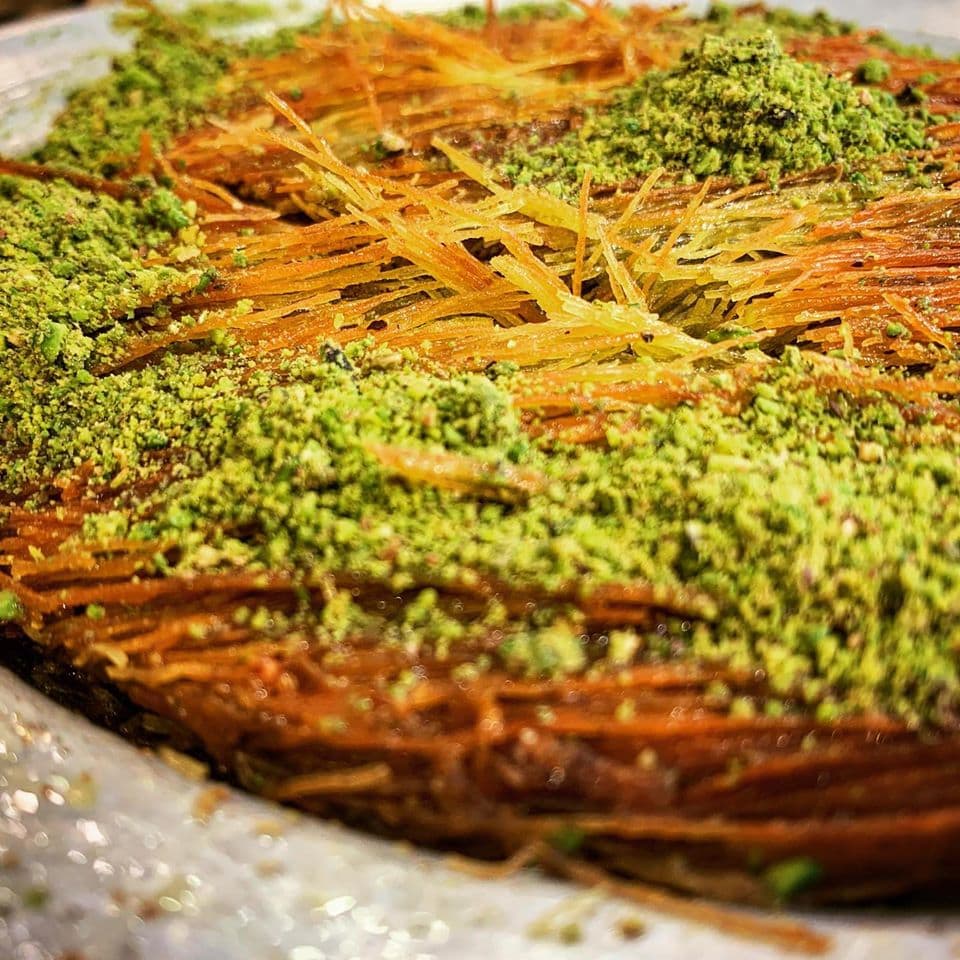 It's so delicious and sweet that you won't be able to stop yourself from having a full serving dish. I suggest you order not one even two black tea with your dessert which makes an excellent combination.
Keyfeder Künefe Katmer
A bright and lively place filled with sweets and rich traditional desserts. As soon as you enter the heavenly smell will mesmerize you and friendly staff will welcome you inside. You can choose the dessert from the shelves based on your interests then order hot or cold drinks depending on your choice.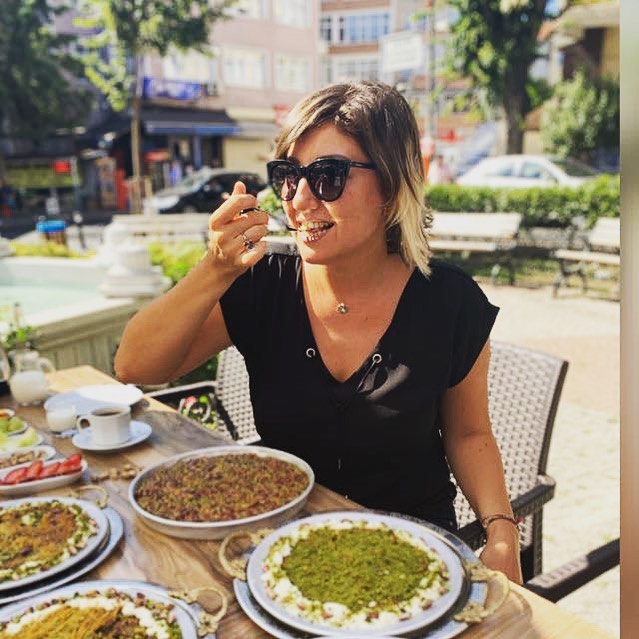 Some of the most favorite ones are "Peynirli Künefe" with extra cheese, "Katmer", "Burma Kadayif", "Hasir Kadayif", and "Fistikzade" pistachio filled dish.
Address: Katip Mustafa Çelebi, 12, Çukurlu Çeşme Sk., 34433 Beyoğlu/Istanbul
Gündoğdu Börek ve Künefe
A small and amusing shop located at Kadikoy seaside next to one of the busiest streets in the neighborhood. The menu is not that big and offers a few "Künefe" and "Börek" choices which are this place's main focus and specialty. Try the "kıymalı Börek" made with ground meat, "Peynirli Börek" made with cheese, or the original normal "Künefe".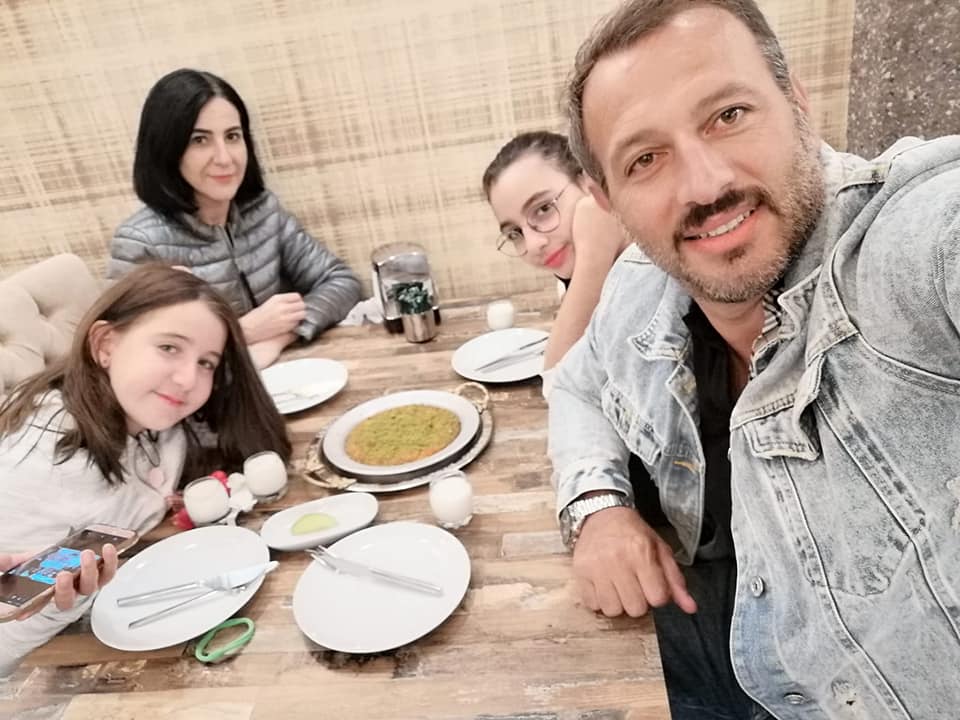 Address: Osmanağa, Rıhtım Cd. No:14, 34714 Kadıköy/Istanbul
Asier Kunefe Sultanahmet
With more than forty years of experience, this is one the most crowded spot in the historic "Sultanahmet", some of the must-try dishes are "Kabak tatlısı" a pumpkin dessert with sugared sprinkled and walnuts on it, "Toz Fıstık" grated pistachio, "Gurme Künefe" and " Çikolatalı Sufle" the chocolate souffle.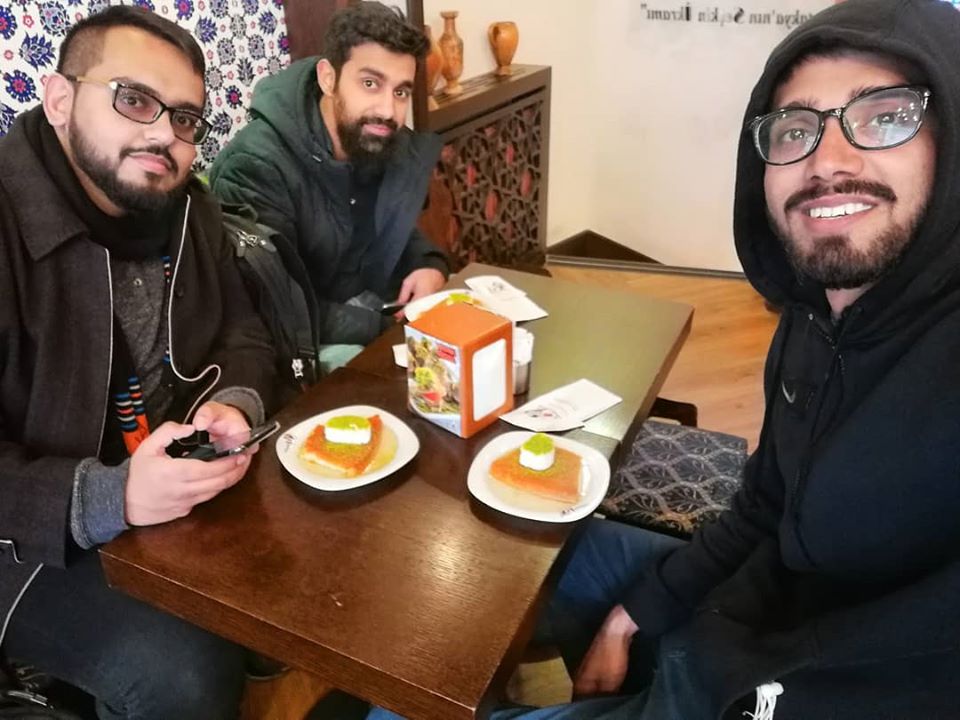 Address: Alemdar, Divan Yolu Cd. No:64, 34110 Fatih/Istanbul
11- Börek (Pastry)
Always flaky and delicious, this Turkish pastry is filled with minced meat, spinach, potatoes, vegetables, and cheese. It is served as rolled, puffs, or layered like a lasagna. It is a famous dish found in the regions of Balkans, Levant, and Mediterranean.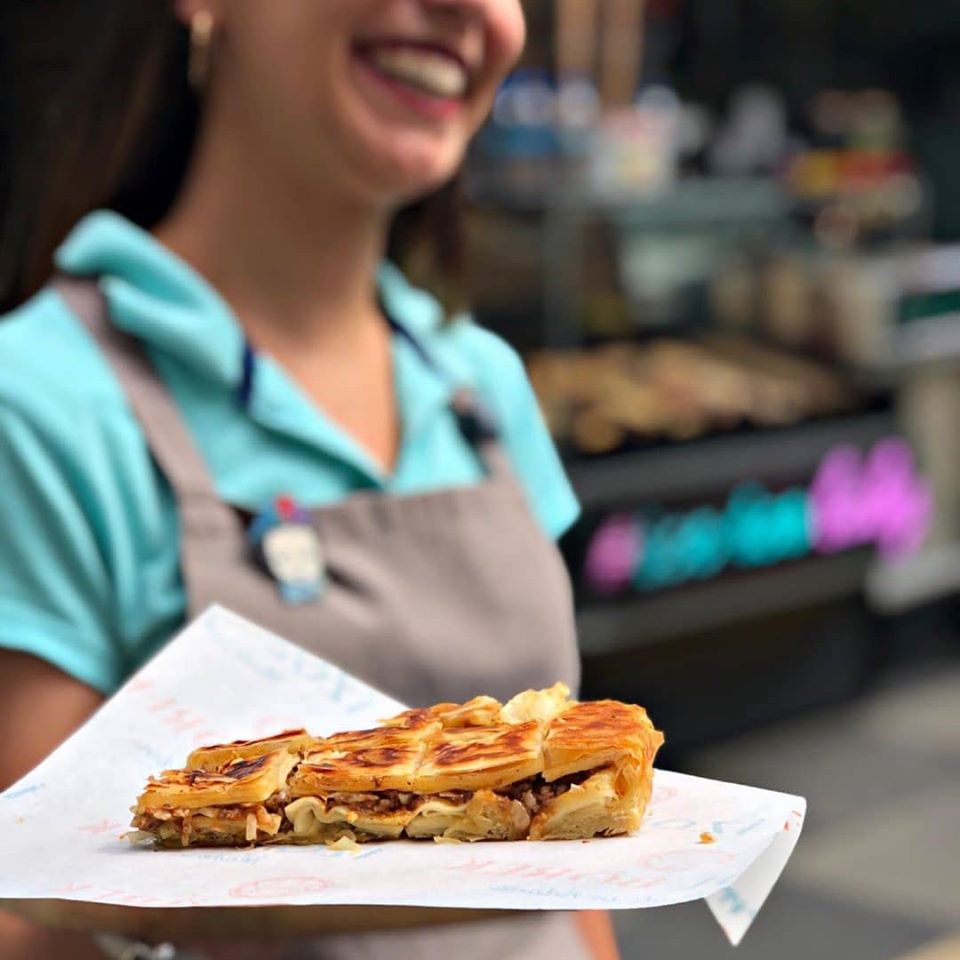 This exciting pastry can either be created as a whole in a pan or individual different shapes. The sesame seeds sprinkled on the top adds a nutty flavor to the dish. The dish dates back to the Classical Era and has the most significant elements of Turkish cuisine.
Izol Börek Kadıköy
The welcoming and warm atmosphere provided by the best and most exotic desserts and friendly, helpful staff. It's located in the hip and modern "Kadıköy" where you can sit outside and enjoy the crowd walking by. They make pies and cakes inspired by different cultures for those who want to try new tastes.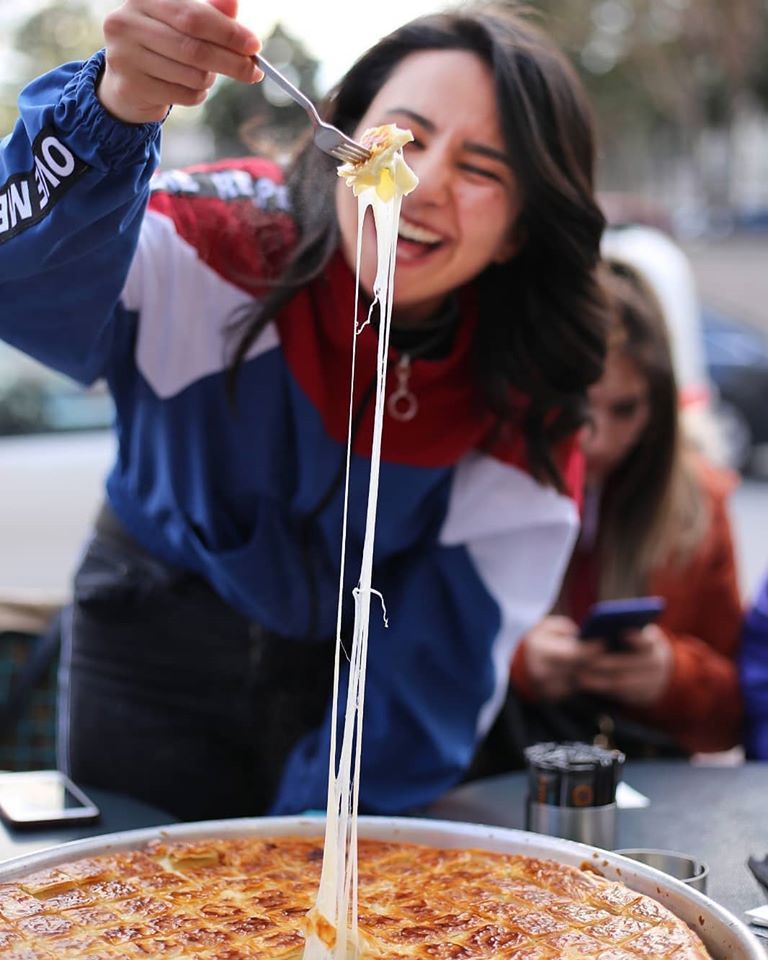 Address: Hasanpaşa, 34722 Kadıköy/Istanbul
Taksim Sütiş
Old school and classy. Professional staff, elegant design and most importantly, significant desserts in this Ottoman-era scene are only a few reasons you should visit this place. It offers fast service and a bit higher prices than average places but it is totally worth it.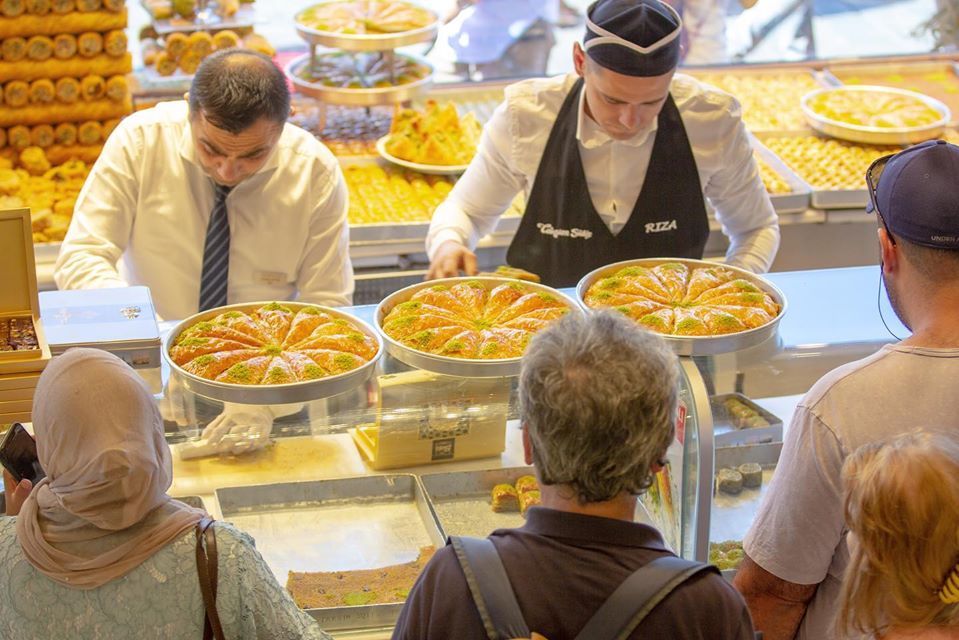 Address: Katip Mustafa Çelebi, İstiklal Cd. No:7, Beyoğlu/İstanbul
12- Gözleme/Wraps
Perhaps one of the easiest, and healthiest foods to find in Turkey, "Gözleme" is the perfect snack to eat on the go. Similar to a crepe, this savory Turkish flatbread is made from hand-rolled dough and is filled with various toppings, such as cheese, meat, vegetables or potatoes.
It's then wrapped and cooked over a griddle. Try one of the cheese and spinach combinations which is unforgettable, fresh, hot and tasty. Here are some of the best places to visit for "Gözleme".
Yiğit Sofram Gözleme ve Kahvaltı
A loveable and Pettit spot located near the "Taksim" square accompanied by hospitable staff and cheerful environment. It offers breakfast dishes and different types of "Gözleme". Try the "Ispinak Gözleme", "Kaşarlı Gözleme" cheese mixture and "Patatesli Gözleme" potato crepe.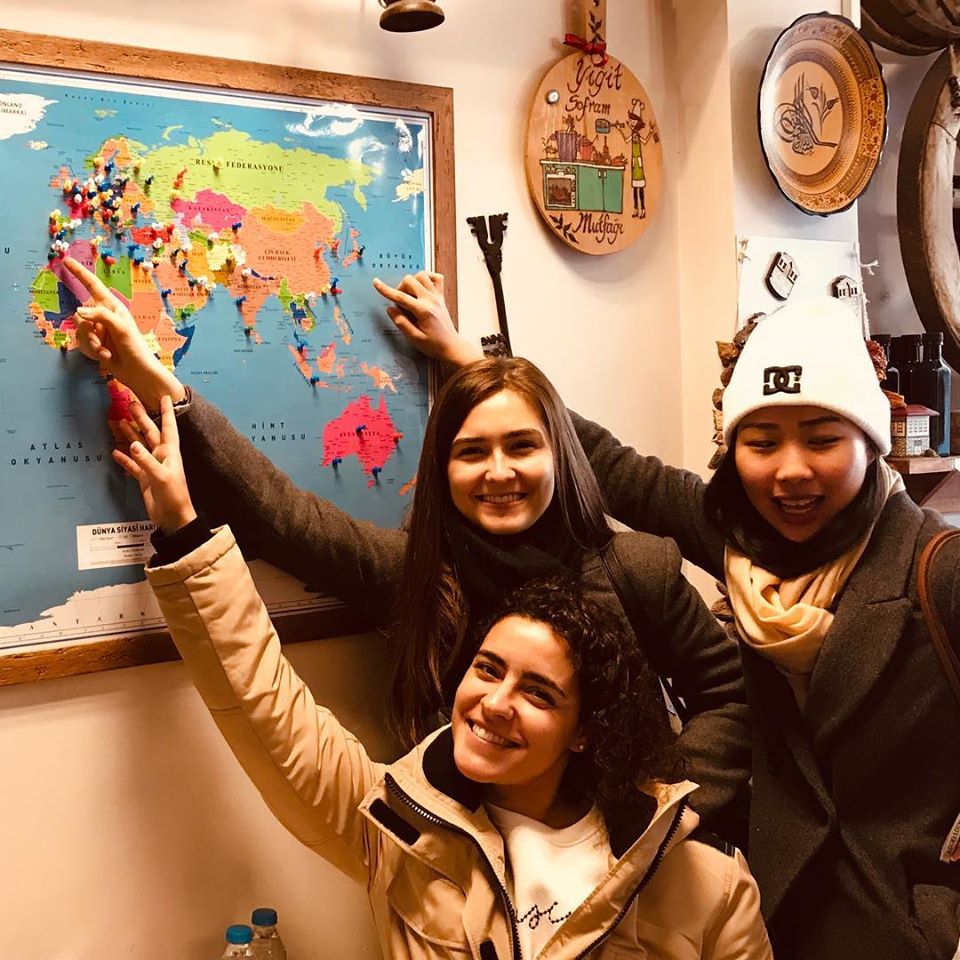 Address: Kuloğlu, Turnacıbaşı Cd. 44 B, 34433 Beyoğlu/Istanbul
Mantı Ve Gözleme Evi Organik Cafe
A simple, laid-back and family-run cafe located in a dynamic neighborhood. The menu is mostly "Gözleme" options made of fresh, organic, and high-quality products. They also serve freshly made juice based on the seasons. Definitely try the "Kaşarlı Ispinak Gözleme" made of spinach and yellow cheese.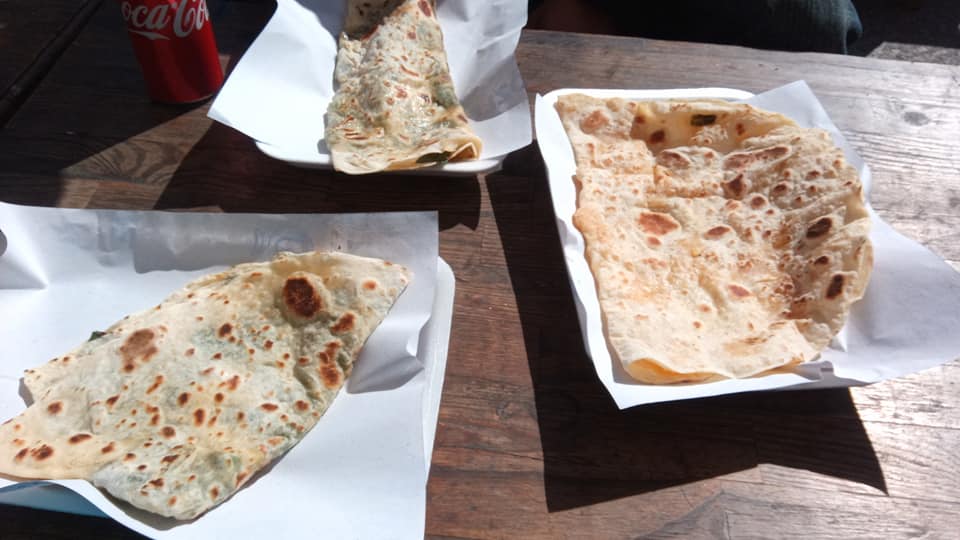 Address: Osmanağa, Yoğurtçu Şükrü Sk. No:32, 34714 Kadıköy/Istanbul
In conclusion, you can't visit Istanbul and not indulge in traditional Turkish flavors. You may leave the country with a few extra pounds and no regrets. Life is too short to eat boring food and Turkey creates some of the most amazing cuisines in the world. There are lots of Turkish food lovers from all over the world you might meet and join them to explore the city together. Have Fun! 🙂