Every city has a unique history and a distinct emotional aura attached to it, blazed by significant monuments, diversified traditions and cultures, flamboyant craftsmanship, authentic cuisines, etс. The magnificent city of Istanbul has always been a center of attraction for people from all around the world due to its strategic location and wonderful heritage since time immemorial.
Istanbul has got almost all its fame and glory from its historical peninsula also known as Suriçi (walled-city), established as a residential area and commemorated itself as a Capital for Egyptians, Romans, Byzantines, and Ottomans. The historical Istanbul peninsula, which is the epitome of tourist attractions, is encompassed by the old city walls on one side and the Bosphorus channel, the Marmara Sea, and the Golden Horn on the other. This old city has been ruled by over 120 Emperors and Sultans, who left behind numerous monuments, historical buildings, and archeological ruins that clearly depict the cultural, artistic, and social achievements of their respective periods.
While walking through the neighborhoods of the Istanbul peninsula, watching a plethora of Byzantine ruins and Ottoman artifacts, you will literally feel the aroma of history as if you are traveling back in a time machine. It is actually the diversified history of this peninsula, together with its unique integrations of architectural icons, that makes Istanbul great. Commentated as the epicenter of trade, tourism, art, and politics for more than 2000 years, the historical Istanbul peninsula has a prestigious universal glory, witnessing millions of visitors daily.
Neighborhoods of the Historic Peninsula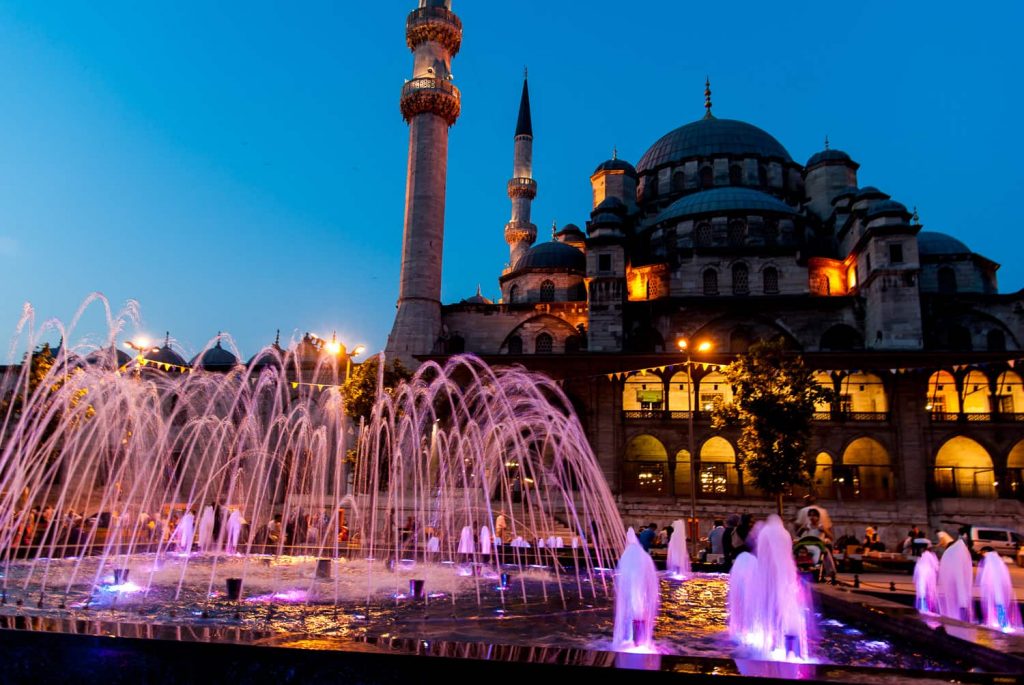 At present, the Istanbul peninsula is appertained to the borders of Fatih district, and its most remarkable neighborhoods include Aksaray, Beyazıt, Eminönü, Fener, Haseki, Karagümrük, Kocamustafapaşa, Kumkapı, Mahmutpaşa, Sirkeci, Sultanahmet, Şehremini, Tahtakale, Vefa, and others.
The historical Istanbul peninsula has been impaneled as a world heritage site in 1985 and is regarded as the heart of the modern megacity. Let us take a deep dive and explore the must-visit sightseeing places, archeological icons, historical cafes, and restaurants in these amazing neighborhoods, which together make Istanbul so beautiful.
1 – Sultanahmet – One of the Most Famous Neighborhoods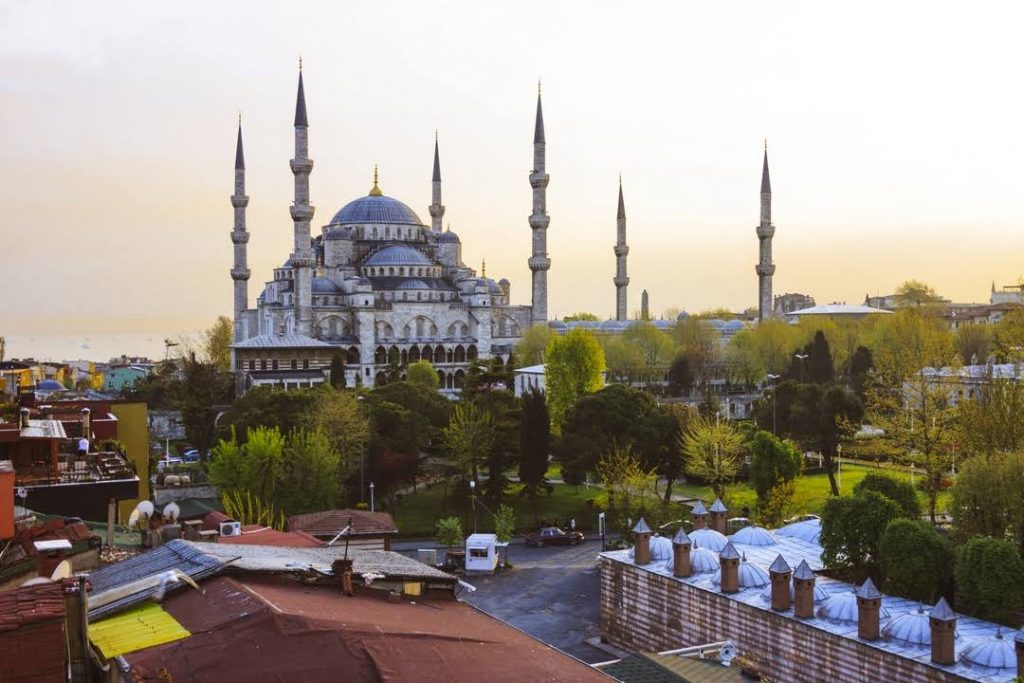 To start with, Sultanahmet is one of the most famous neighborhoods located in the heart of the historical peninsula, where you will find more tourists than locals. With its architectural icons, lively streets, cultural richness, authentic shopping centers, and restaurants, Sultanahmet is undoubtedly a history-hungry traveler's dream.
If you have never been to Sultanahmet, drop it into your bucket list, and explore the cultural and architectural legacy of the Byzantian and Ottoman eras. To find out more about what to do in Sultanahmet, you can check our article.
The most noteworthy places that come to mind, while mentioning Sultanahmet are Topkapı Palace, the Hagia Sophia Grand Mosque, Blue Mosque, Hippodrome, Istanbul Archeology Museum, Turkish and Islamic Art Museum, and Basilica Cistern. All these places are very close to Sultanahmet Square, and you can visit them on foot.
The first thing you will notice there is the pre-historic Hippodrome built by Romans and functioned as a meeting spot for social and sports activities like horse racing, music, dance, and acrobatics. On its one side lies the magnificent Blue Mosque, and on the other flamboyant Hagia Sophia Mosque. 
Sultanahmet Mosque, a grand structure with five domes, six minarets, decorated with superior hand-painted blue tiles, is undoubtedly one of the prominent architectural structures of the world, attracting millions of tourists every year. Its complex encompasses a madrasah, Sultan Ahmet's tomb, an infirmary, and a pavilion.    
The Hagia Sophia Grand Mosque, considered the masterpiece of history and architecture, presently is functioning as the Grand Mosque of Istanbul. With its splendid domes, monolithic marble columns, matchless mosaics, imperial and marble gates, it is regarded as the eighth wonder of the world. Hagia Sofia, together with its neighbor Topkapı Palace, is one of the most visiting places in the world.
I advise you to definitely visit these symbols of Istanbul, especially since the entrance to them is free. These two mosques are must-see sights of Istanbul and the first things that your friends will ask you about.
Done visiting these historical buildings and want someplace to rest and crave your hunger? Do not worry, the neighborhood offers several traditional authentic restaurants, trendy bars and cafes. I advise you to visit Tarihi Sultanahmet Köftecisi Selim Usta, Divella Bistro Restaurant, Last Ottoman Cafe & Restaurant, Novas Hagiasophia, Ottoman Terrace Fish and Meat, and so many others featuring both traditional and international cuisines.
2 – Karagümrük, Kocamustafapaşa, Mahmutpaşa: Ottoman Architecture and the Atmosphere of Authentic Istanbul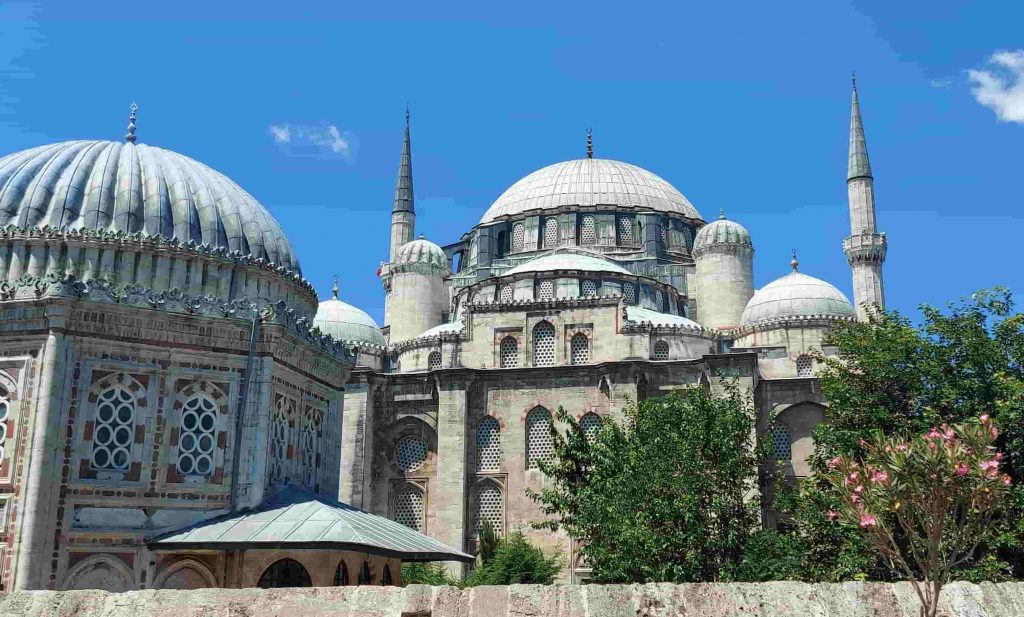 While being near, you can also check several neighborhoods of the historical peninsula of Istanbul, like Karagümrük, Kocamustafapaşa, Mahmutpaşa, where you can just walk to see the architecture of the Ottoman period and enjoy the atmosphere of authentic Istanbul. There you can visit many mosques and historic buildings.
For example, Kocamustafapaşa hosts the Cerrahpaşa Faculty of Medicine and one of the oldest hospitals in Istanbul, which witnessed the Ottoman and Byzantine periods.
The Karagümrük neighborhood is considered the first place which Fatih Sultan Mehmet entered when taking Constantinople. This was a kind of customs house during the Ottoman Empire and is known for its madrasah. Besides, you can visit the Mihrimah Sultan Mosque, built for the daughter of Suleiman the Magnificent Mihramah by the architect Sinan, and it is regarded as a striking symbol of the medieval architecture of the capital.
The Mahmutpaşa is not very popular with tourists, but you should look there in search of the rarest fabrics and yarns. There are also many small workshops and shops for art owners. This area was built by Mahmut Pasha, the vizier of Fatih Sultan Mehmet, and was a public religious complex considered to be the oldest in Istanbul.
3 – Haseki, Şehremini – Enjoy Islamic Art and Architecture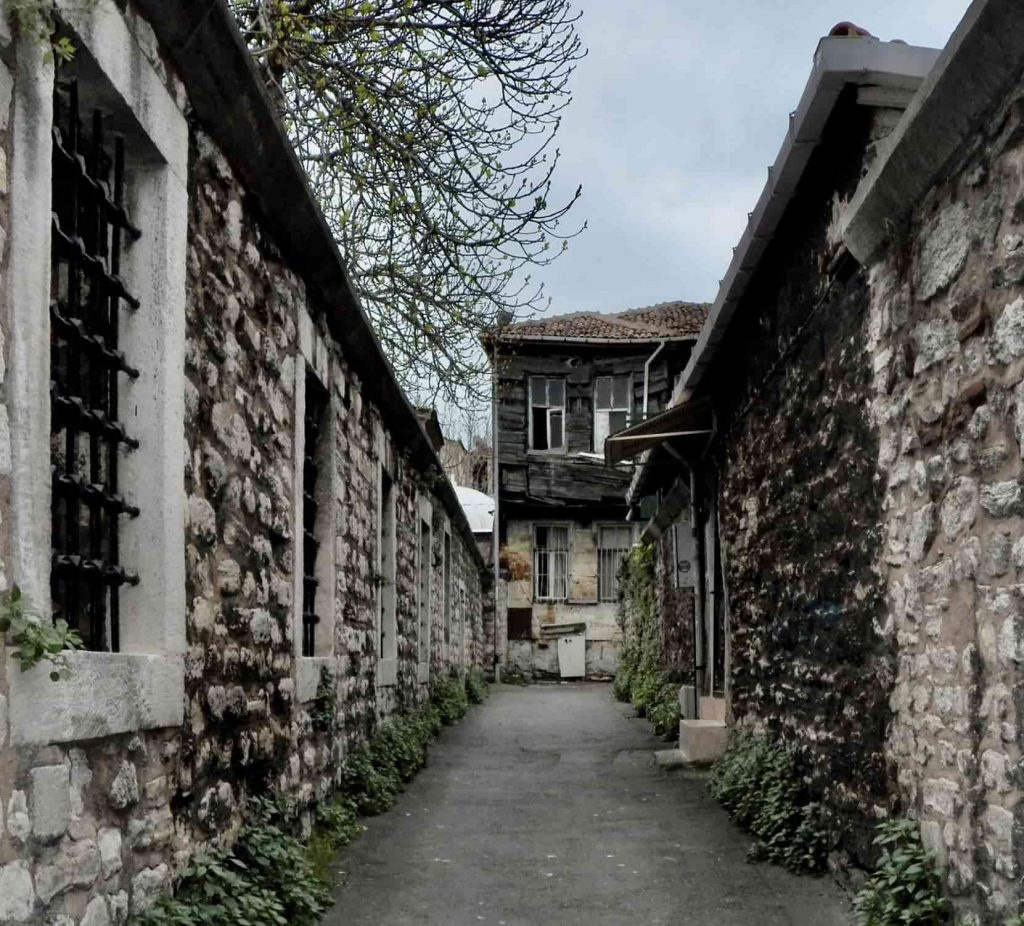 Haseki is one of the old neighborhoods of Fatih named after the well-known Hürrem Sultan, the wife of Suleiman I. You can check the architecture of Haseki Hospital, Haseki Sultan Mosque, and Haseki Complex, which were built by the order of Hürrem Sultan. Located in between Fındıkzade and Aksaray neighborhoods, you can easily reach there through Millet Street and start your trip with Haseki Complex. After, you can visit nearby prominent historical sites, like Haseki Sultan Mosque, the Forum of Arcadius, Cerrahpaşa Mosque, the Fortress of Seven Towers (Yedikule), and Hekimoğlu Ali Pasha Mosque.
Haseki Complex, which was built by the great Mimar Sinan, has really an interesting story to tell. It is said that Hürrem Sultan was sold out in Haseki, which was formerly called Avrat Pazarı (women market). Later, she built this complex in the memory of her sufferings.
Located nearby, Şehremini, or also known as Çapa-Şehremini, is a kind of separate historical peninsula, which is famous for many mosques and, in particular, for the works of the great architect Sinan. This neighborhood can also be reached via Millet Street and stretches from the Topkapı walls to Suriçi. I think that this area will be interesting for people who understand Islamic art and architecture because there you can find ancient Ottoman and Arabic calligraphy as a decoration of buildings.
If you suddenly want to go shopping, then Asitane Historia shopping mall will help you save time. There are also many traditional cafes, restaurants, and tea gardens in this neighborhood.
4 – Beyazıt for Well-known Sights of Istanbul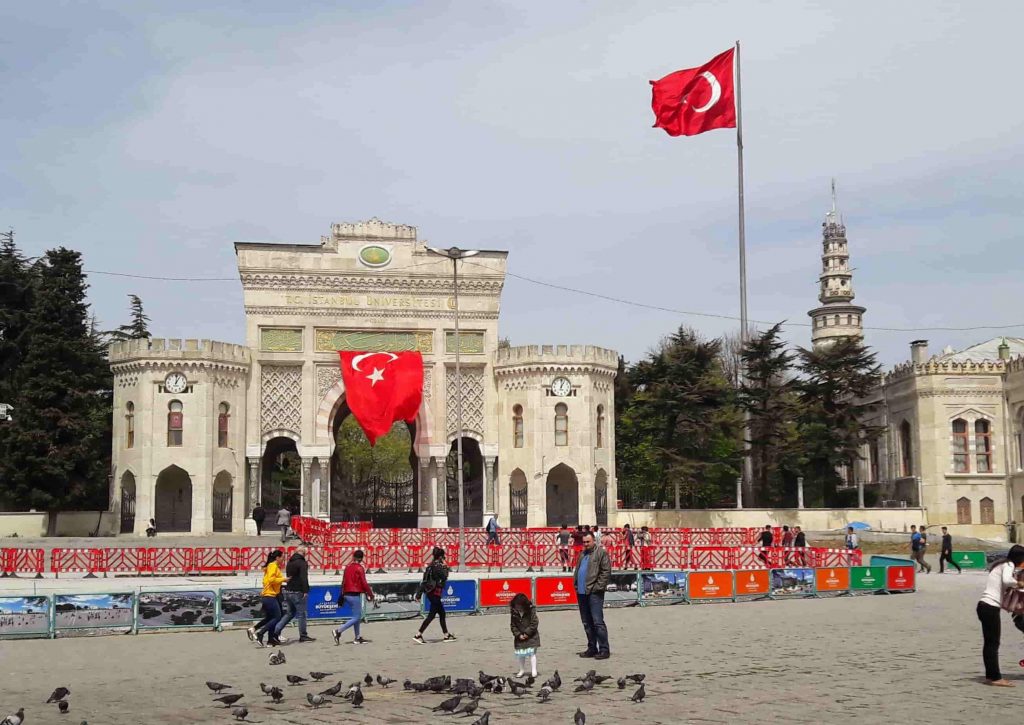 The next neighborhood of the historic peninsula of Istanbul is called Beyazıt, and it is quite popular among many tourists. It appears reasonable since the neighborhood includes several well-known sights of Istanbul, such as Beyazıt Square, Beyazıt Mosque, Beyazıt Tower, Gates of Istanbul University, as well as the main destination of travelers, the Grand Bazaar.
You can find one of the most famous entrances to the Grand Bazaar – the Sedefçiler Gate, and I should say that Grand Bazaar is considered one of the largest covered markets in the world. In the stores of Grand Bazaar, you can find everything your heart desires, from traditional souvenirs to ancient products and antiques.
While doing shopping, you can also have a snack there, since under the roofs of the bazaars many small old cafes cook and serve local cuisine. There are also tiny eateries where you can eat a traditional dish or a kind of street food – pilav üstü tavuk (chicken on rice).
When buying something, try to bargain with sellers: they are very hospitable and can treat you with a cup of Turkish tea. It is good to walk deeper into the labyrinths of the Grand Bazaar in a search of a better price, but I advise you to stay alert, as local sellers are virtuosos of trade.
If you see the entrance to the Grand Bazaar, then you are most likely to be at the Beyazıt Square, which also houses the main Gates of Istanbul University and the Beyazıt Mosque. I advise you to pay attention to the Beyazıt Mosque, as it is considered the second mosque built after the capture of Constantinople by the Ottomans. Opposite, there is a huge and impressive Gates of Istanbul University – the leading institution of higher education in Istanbul and Turkey and the oldest university in the country.
If suddenly you are not satisfied with the pilav üstü tavuk, I advise you to visit Antakya Restaurant, which is located a five-minute walk from Beyazıt mosque. The quality of service and prices there will pleasantly surprise you, and you will get a truly Turkish experience.
5 – Aksaray Famous for Its Wholesale Shopping Stores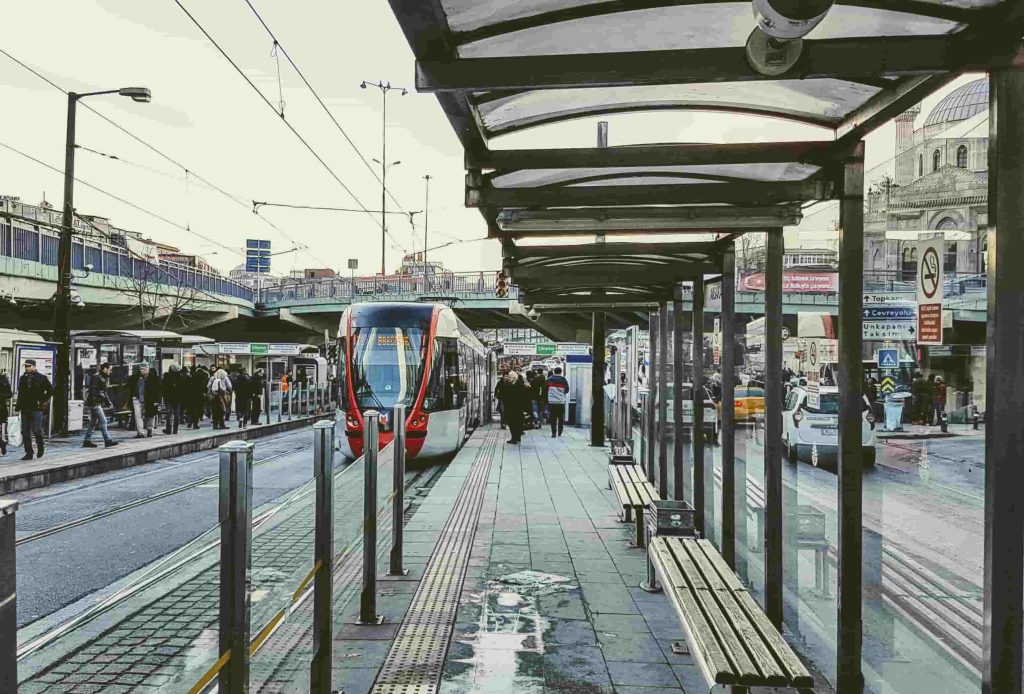 Named after the migrants from the Aksaray city of the Central Anatolian region, this splendid neighborhood is very famous for its wholesale shopping stores, open cheap markets, and hotels. The main Aksaray square was famous for a bronze oven with a bull's head brought from Bergama city and used to punish people.
Aksaray and its adjacent Laleli are mostly crowded with tourists from all over the world who look always amused by the entertainment venues available there. If you want your hard cash to be exchanged, this is the right place you are heading to, as you can find many currency exchange shops there.
The remarkable places to visit there are the Historical Sofular Hamamı bath, Stone Tavern (Büyük Taş Han), Aksaray Underground Bazaar, Laleli Mosque, Bodrum Mosque, Valide Sultan Mosque, and Horhor Antique Bazaar. Moreover, the place has the most authentic restaurants in Istanbul, bars, and cafes, where you can satisfy your cravings with traditional, as well as transcontinental cuisines.
6 – Eminönü and Sirkeci – Trade Centers of Istanbul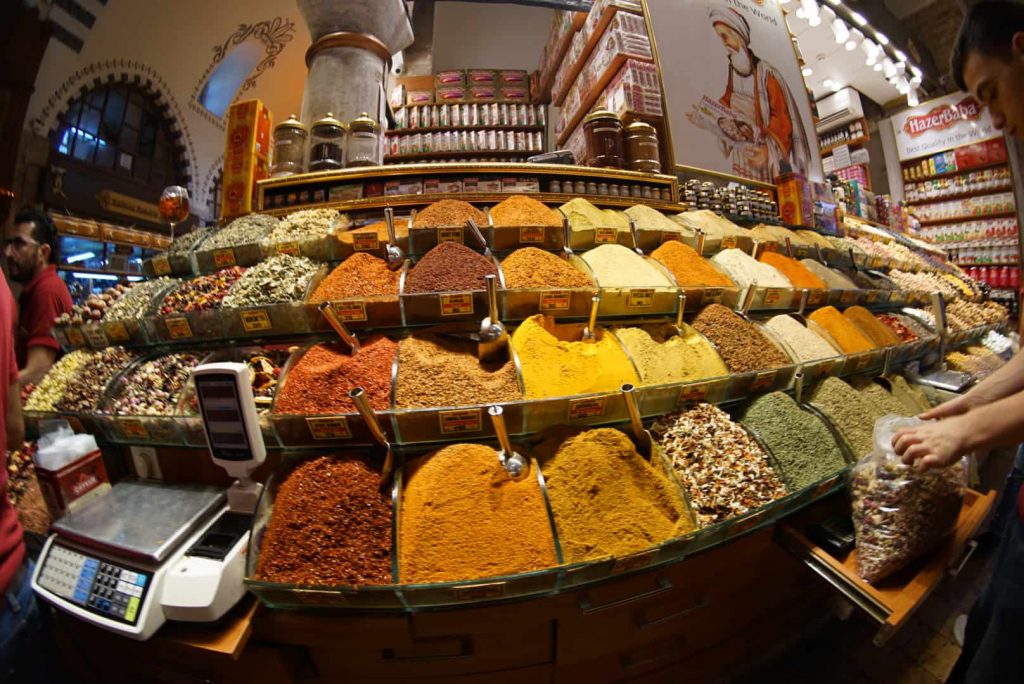 Formerly one of the prominent districts of Istanbul, Eminönü is located along the shores of Golden Horn, exactly where it connects with the southern entrance of the Bosphorus. Eminönü, together with its adjacent neighborhood Sirkeci, is regarded as the trade centers of Istanbul, since Byzantine and Ottoman times.
Regarded as the heart of the historical Istanbul peninsula, these two neighborhoods are split into vibrant and distinctive areas, where you can have plenty of things to do, like walking by the shore, exploring the historical sites and traditional markets, watching attractive ferries, stopping by authentic restaurants and cafes, etc. The most prominent ones include New Mosque, Egyptian Spice Bazaar (Mısır Çarşısı), the oriental-gothic style Sirkeci Railway Station, the bustling Eminönü Square, and the Galata Bridge.
The Spice Bazaar is one of the most famous old markets in the world, where in addition to colorful spices, you can find the best quality dried fruits, olives, jewelry, carpets, ceramics, Turkish delights (lokum), local clothes, and so on. I advise you roaming through the market and just smelling the aroma of millions of its spices, as it definitely will revitalize your body entirely. You can also check a complete guide to Spice Bazaar.
There is also Gülhane Park, one of the largest parks of the historical peninsula, located just beneath the famous Topkapı Palace. The park is perfectly embellished with a wide variety of flowers, trees, and bushes, offering you the best experience of relaxation and peace from the buzzing city. Gülhane Park is an amazing place to spend valuable time with your friends and family.
Spanning the Golden Horn and connecting Eminönü with Karaköy, the Galata Bridge can be seen always crowded with fishermen and tourists walking over and enjoying the panoramic views of the historical peninsula. Underneath the bridge, you can find an array of restaurants and cafes.
Struggling where to eat in Eminönü and Sirkeci? Do not worry, I will unveil some of the authentic eateries in this area, where you can taste entirely distinctive foods with crumbling texture, prepared in unique styles. The list includes Meşhur Filibe Köftecisi, Şehzade Çağ Kebap, Namlı Rumeli Köftecisi, Kral Kokoreç, Baldır Sirkeci, Orient Express Restaurant, etc.
7 – Tahtakale – the Cave of Aladdin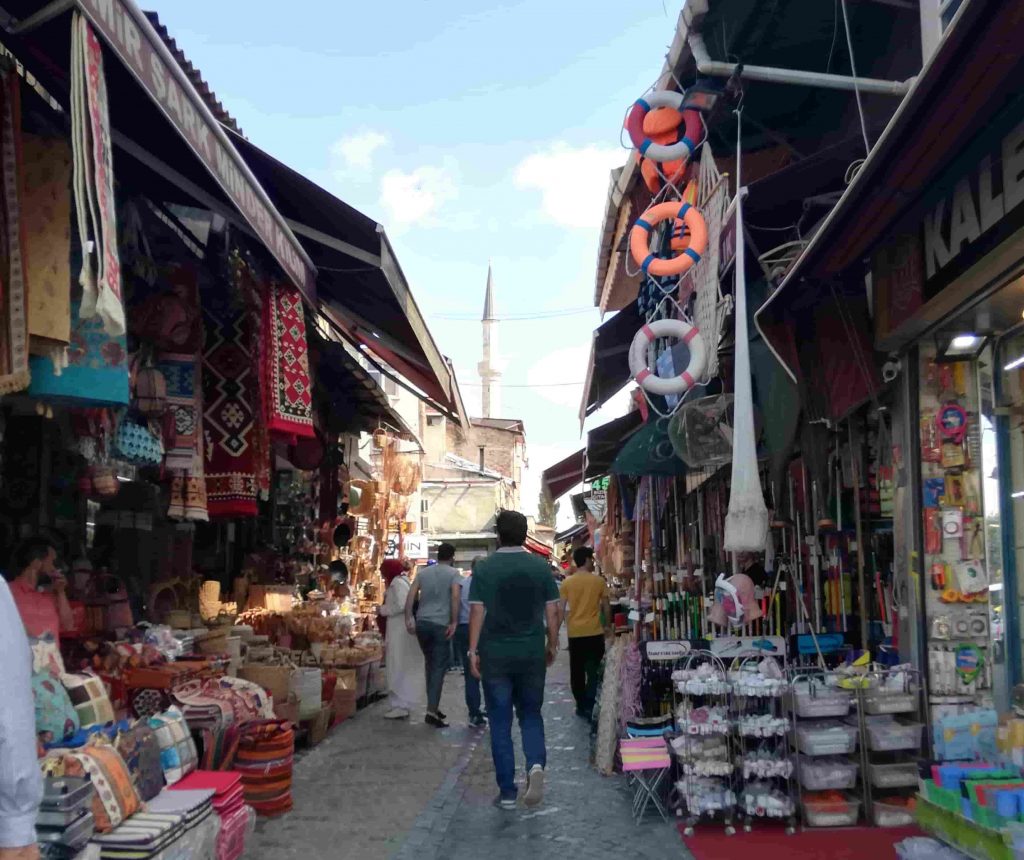 There, near to the Spice Bazaar, you can walk to the Tahtakale neighborhood, which is also a part of the historical peninsula of Istanbul. Someone calls Tahtakale the cave of Aladdin in which the treasures of ancient times are hidden. Indeed, in this antique area, you can find and buy anything at the lowest prices in Istanbul. This area will appeal to lovers of antiques, collectors, designers, and everyone, who does not mind taking a walk through the narrow medieval streets of Takhtakale and even getting a little lost.
This is a unique and vibrant area full of small and large shops for all tastes. Here, I advise, in between searches for antiques, to relax in local cafes with a cup of Turkish coffee, with the aroma of which this neighborhood is saturated.
8 – Vefa for Atmospheric Photo Sessions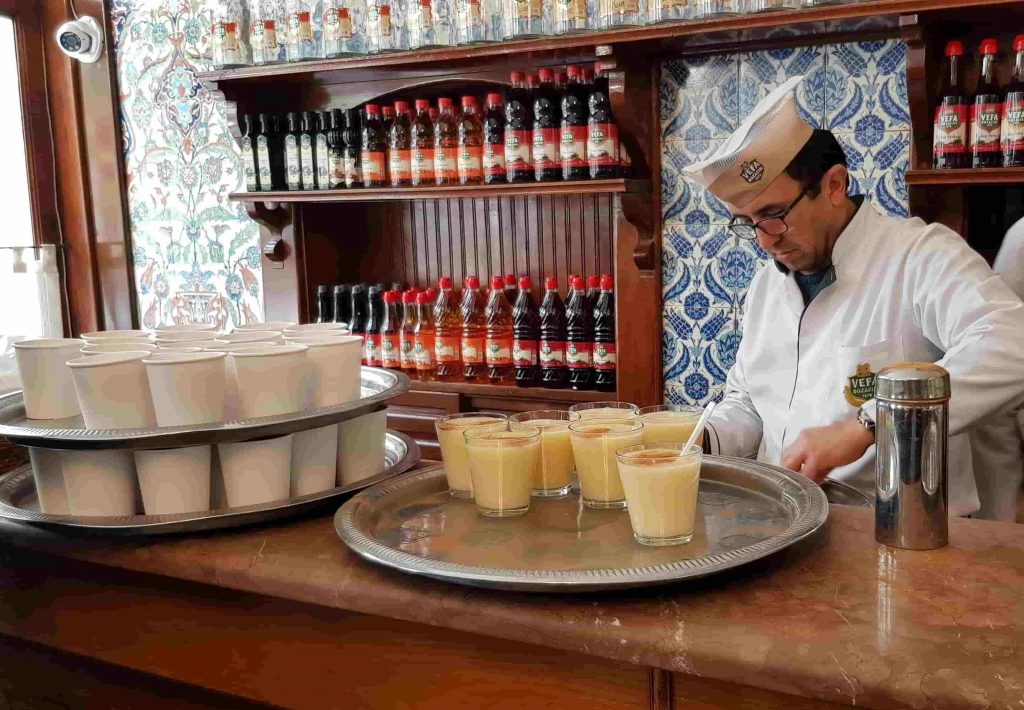 If you prefer exploring trails not popular among tourists, then the Vefa neighborhood is a good place to see. Vefa stretches from the walls of the ruined Aqueduct of Valens to the coast of the Golden Horn. There, you can find two large and significant mosques of Istanbul – Süleymaniye Mosque and Şehzade Mosque.
Walking at Vefa, you seem to find yourself in a parallel Istanbul, where the clock has stopped. The area looks a little neglected and unkempt, but it attracts people liking atmospheric photo sessions even more. The houses there once bright and colorful look quite faded nowadays.
For the residents of Istanbul, Vefa is more associated with the traditional drink boza, which is appreciated in the cold season because of its warming and strengthening effect. Boza is a fermentation product of millet, wheat, or corn and has a specific slightly kefir taste. To try this drink, Vefa is ideal as there is the historic Vefa Bızacısı, which has been preparing boza since ancient times according to the same recipe.
When in Vefa, be sure to visit the Süleymaniye complex, where the first largest ancient mosque of Istanbul is located. This mosque is the creation of the great architect Sinan, built by the order of Suleiman the Magnificent; on the territory of the complex, he is buried next to his beloved wife Hurrem Sultan.
The second mosque in Vefa Şehzade Mosque was built in honor of the deceased son of Sultan Suleiman the Magnificent, Şehzade Mehmed. Being the creation of the great architect Sinan, it is also worth seeing.
9 – Kumkapı Offers You Fresh Fish and Entertainment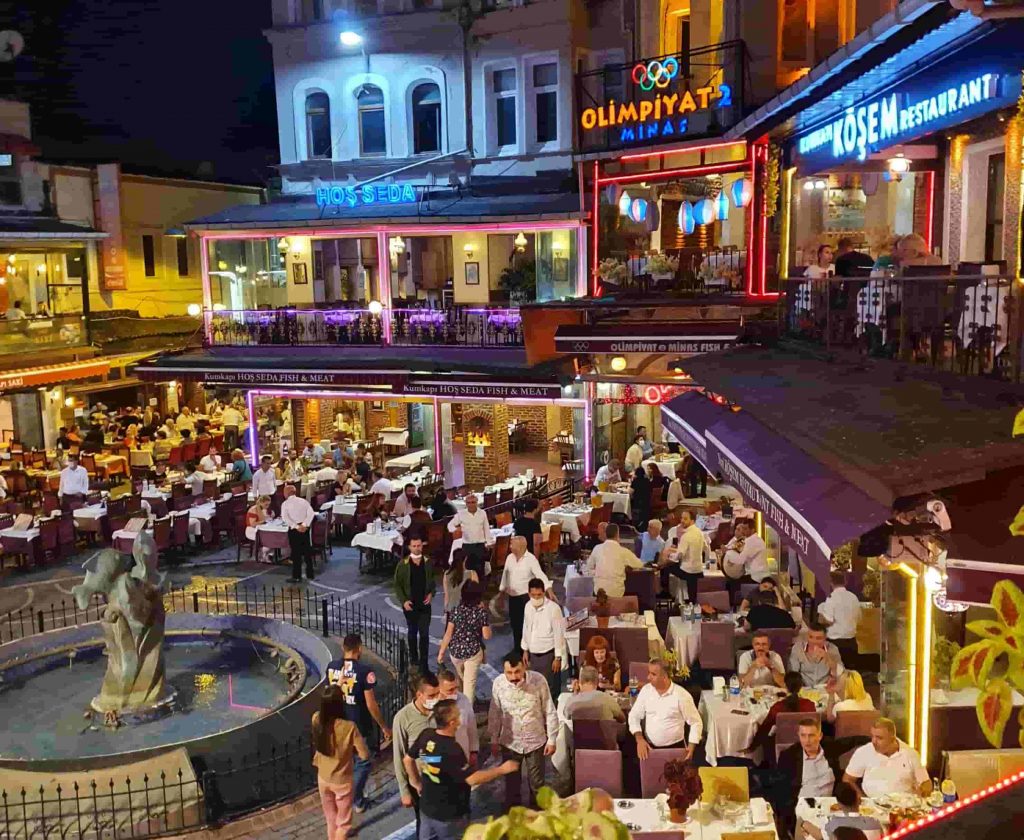 When locals talk about Kumkapı neighborhood, fish restaurants, and meyhane with traditional music and chants come to mind.
So, what to visit in Kumkapı? First, of course, as I mentioned before, the restaurants serving the most delicious seafood in Istanbul. I advise you to visit Kumkapi Historical Restaurant, Kumkapi Tiryakii, Fener Restaurant Kumkapı, Kumkapi Meydan Balik Restaurant; in general, you can walk along the promenade and choose a restaurant you like on the spot since all of them will have the freshest fish for sure.
Secondly, you can visit Kumkapı for entertainment – to listen to live Turkish music and feel the local flavor. Alternatively, you can drop by the local fish market if you want to eat more on a budget and in a plain ambiance, as a fish of your choice can be even cooked there. Again, Kumkapı is not as well known among tourists as, for example, Karaköy with its many fish restaurants, but it is definitely worth a visit.
10 – Picturesque and Vibrant Neighborhoods Balat and Fener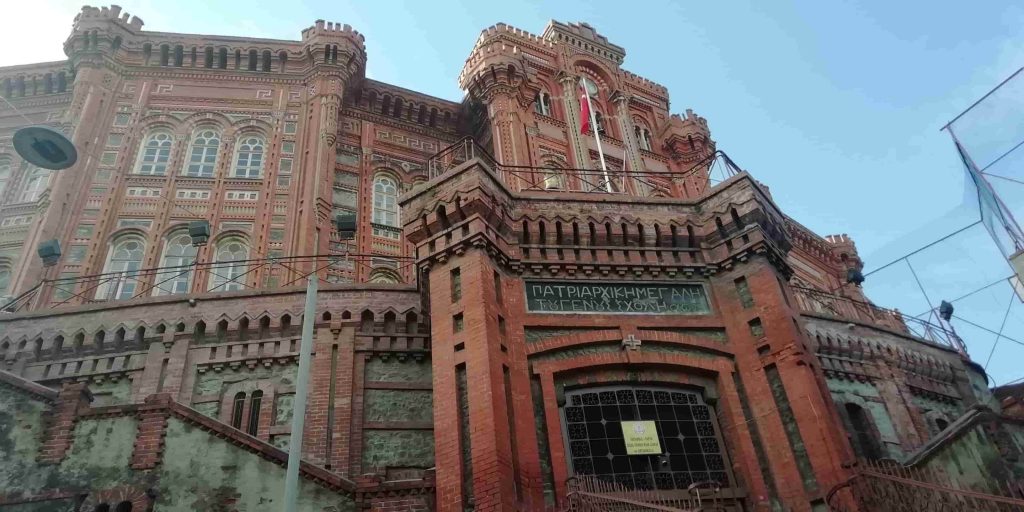 Other equally picturesque and vibrant neighborhoods are the two close to each other Balat and Fener, which are also considered the part of the historical peninsula of Istanbul. These quarters are made up of a labyrinth of steep streets that run down to the Golden Horn. If you want to see the real Istanbul with its narrow streets and breathe in its unique atmosphere by catching pieces of the disappearing past, then I advise you to visit these neighborhoods.
During the times of the Ottoman Empire, there lived the Orthodox population of the city who, upon the capture of Constantinople, voluntarily surrendered to the Ottomans, which made it possible to preserve many of its attractions. You can find several Orthodox churches there, and I advise you to check out the impressive Cathedral Church of St. George, made of iron Bulgarian St. Stephen Church, the oldest Greek Orthodox school in Istanbul – Özel Fener Rum Lisesi, Church of Saint Mary of the Mongols also known as a 'Bloody Church', and many vivid houses that give a special color to the quarters.
If you happen to be there, be sure to find the main street – Vodina Cd., along which are located cozy cafes and restaurants, local designer shops, and bakeries, where you can relax, eat, and gain strength to continue your journey.
I hope, while exploring the historical peninsula of Istanbul, you will come across this article, and it will be useful to you. Enjoy your adventure.