Welcome onboard, my dear travelers! For those of you considering a trip to legendary Istanbul but not sure about when to visit it, you are in good hands now. Lucky for you, as your dutiful guide, it befalls me to reveal the best time to visit this gorgeous city.
But before start listing, let me just throw it here that this city is beautiful any time of the year. That is to say, whenever you decide to visit the city, you won't be disappointed at what you find here.
However, some specific periods of time just happen to be more favorable than the others at the same time for particular reasons such as crowdedness of the city as well as special days and occasions.
Rest assured, no matter when you make it to be here, you will see a remarkable side of the city. But I will enlighten you in that you might have some distinct preferences or somethings might appeal to you more than the others.
With that being said, let me introduce you to a couple of tips for you. Ready? Let's go!
1 – During Wintertime
As you might be already aware Turkey, generally speaking, has a mild Mediterranean climate and all of the 4 seasons are experienced in the country which makes it especially a hot spot during summertime.
For that same reason, visiting it, especially visiting Istanbul situated in the northwest of the country, isn't something to be scared of during wintertime either. The temperature, most of the time, is bearable compared to many other places in the world.
In fact, the lowest temperature in the city is experienced in January with an average temperature between 5-10 °C.
The advantage of visiting Istanbul during the winter period, on the other hand, is that you get to avoid summer's crowd. Not only the city itself is already very populous (currently 15.5 million) it also receives millions of tourists each year.
Indeed, Istanbul is one of the most visited cities in the whole world. In 2019, it received 13.4 million visitors, becoming the 8 most visited city in the world.
Of course, most of its guests deem summer as the more appropriate time to travel which is evidently not false as you will see the perks of it further on the list.
However, you can get a bit overwhelmed due to the flocks of people all rushing to the same places.
Especially the queue in front of the museums, the crowd inside the shops, and plus very humid, suffocating summer weather, might not be too convenient for some of you. I totally get that!
The winter is also favorable since the city has a shopping mall culture if the weather gets too cold. People of Istanbul love to spend their weekends in shopping malls, dining and shopping almost like a ritual of self-care. 
As a matter of fact, the city has 125 shopping malls in total, each one being better than the other. 
If you enjoy shopping abroad, Istanbul is a gem for you with its big, exquisite shopping malls that are also entertainment centers with playgrounds and performance halls. 
During wintertime, you can also enjoy visiting museums and historical sites since they tend to be relatively less populated, giving you room to wander freely and thus making the trip all the more enjoyable.  
If you wish to know a specific time during the winter season, I would say you either choose the end of December near to the new year (New Year is generally celebrated and the festive spirit can be observed in most parts of Istanbul) or after the middle of February when the school opens again as the break ends. 
The former is a good option if you like to check out how The New Year is celebrated here, and the latter is convenient for the tranquility of the city as the large student population leaves from the scene. 
2 – During Springtime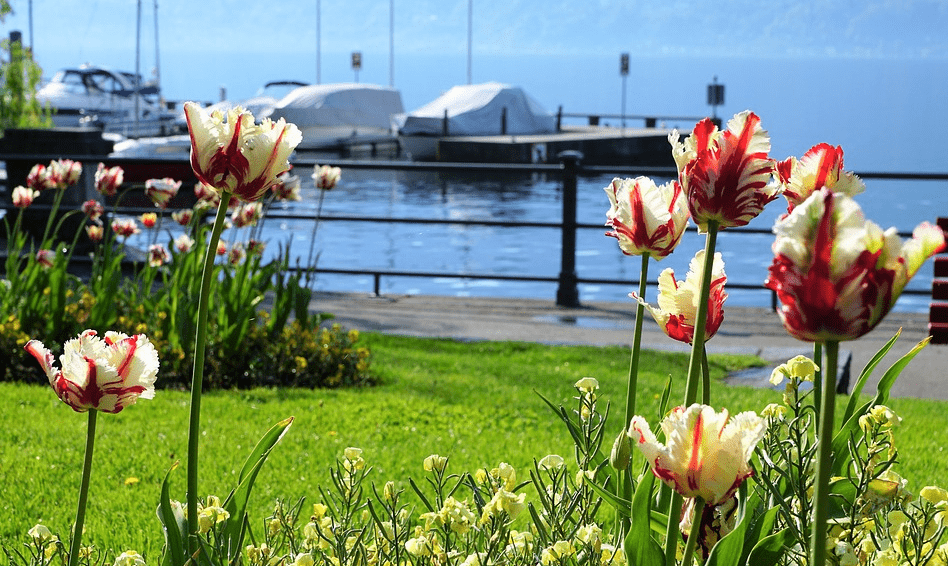 Spring is, without a doubt, one of the best times to visit Istanbul for various reasons. First and foremost, the weather cooperates with you to tour the city without neither getting cold nor getting overwhelmed by the sun and the people.
During this time, the city starts to receive more and more visitors, yet it is still vacant enough to breathe freely in it. There exist some special dates to be marked in springtime, namely in April and May. 
In April you can witness 2 beautiful events. First is the National Sovereignty and Children's Day on April 23rd. It is a national holiday dedicated by the great Turkish leader Ataturk to children (the country's future) commemorating the foundation of the Grand National Assembly of Turkey.
During that day, every school and its students come up with different shows such as folklore and poetry recitations to celebrate this day.
For those of you who are passionate about the culture of the country, this could be a remarkable opportunity for you.
Secondly, April is the month of the annual Istanbul Tulip Festival which is absolutely a gorgeous sight to behold in different parts of the city.
It goes without saying, tulips are an important part of Turkish culture dating all the way back to the Seljuks.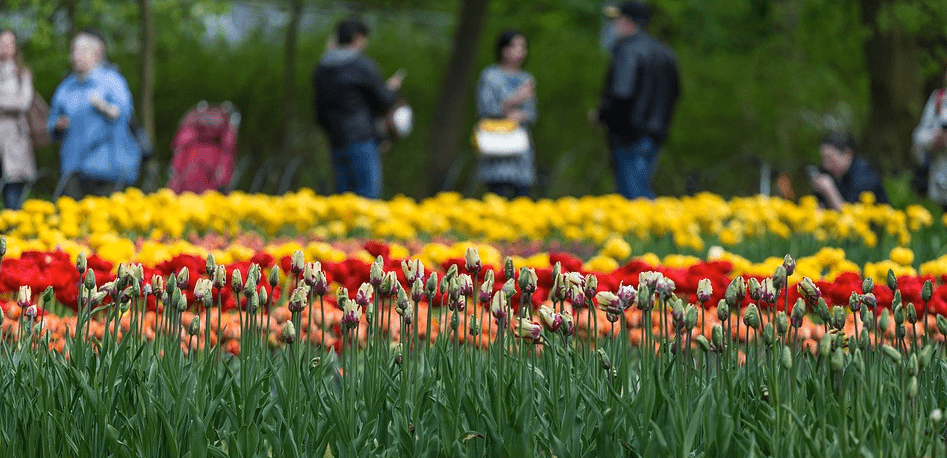 But more importantly, tulips are associated with the high Ottoman era. As a matter of fact, the most advanced stage in the history of Ottomans is referred to as "The Tulip Period" by historians. Throughout history, this flower has become a symbol of elegance and high civilization.
Every year, big gardens, national parks, and even roadsides are adorned with different colored beautiful tulips by the Istanbul municipality to recall and celebrate the city's rich historical ties. It really is a big deal, you guys. 
If you are interested and wish you check it out, I recommend you either pay a visit to Gülhane Park (Topkapı Palace's giant garden in Sultanahmet) or Emirgan Park (which is one of the largest parks in the whole city). 
Needless to say, the former is a better choice as it is easier to reach and is located in the historical site where you are more than likely to visit anyway. But the latter is the number 1 place during the tulip festival.
As for May, we have yet again 2 interesting occasions you might want to witness. First is Hıdırellez which is a day celebrated for the meeting of two prophets, Hızır and Ilyas, on Earth. 
It is in essence though, the celebration of the arrival of spring, in other words, it is like a seasonal holiday.
I'm sure this sounds familiar to you as many Pagan and Christian cultures have something similar. This festival starts on the night of May 5th and ends on May 6th.
It is believed whatever you wish that day comes through later in the year. So you are advised to write down your wishes on paper and carry it in your purse throughout the year. 
This resembles common spring festivals in the city as well. One of the major features of this day is that people like to sing and dance and jump over bonfires.
Generally, this festival occurs in neighborhoods with the collaboration of the residents.
If you are lucky, you might get a chance to witness it, it is not that exclusive, no worries! 
And last but not least, May 19th is the Commemoration of Atatürk, Youth and Sports Day which is crowned with different student activities and gymnastics festivals across the whole country.
Not only do these national holidays give insights into Turkish culture but also, they have the advantage of free transportation since transportation tends to be free on national and religious holidays. Keep that in mind as well, will ya?
P.S. During spring times Istanbul hosts all kinds of spring festivals initiated by universities, private organizations, and municipalities. You might check them out if you are feeling festive as well! 
3 – During Ramadan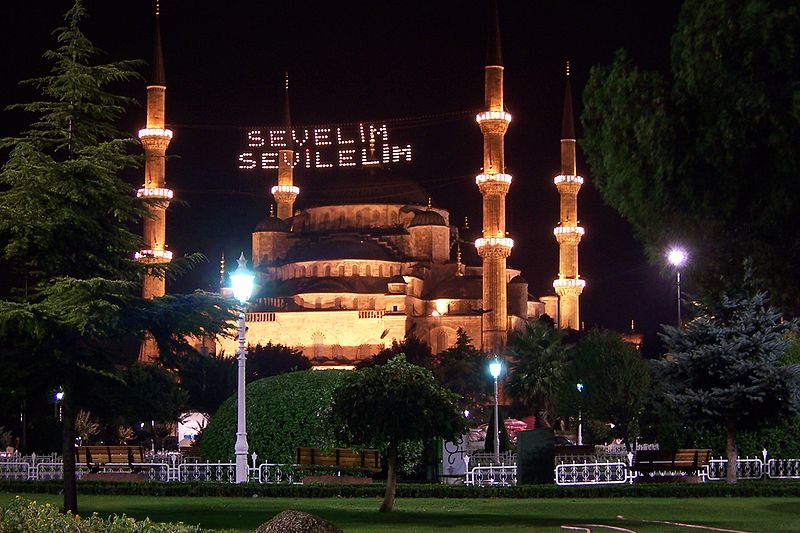 This one is a bit tricky as its date changes every year according to the Islamic calendar. So, after reading this if you are interested, you have to check the date for it.
Ramadan as implied is a religious occasion and a holiday celebrated in Turkey. Initially, it is a 30-day fasting process to understand the less privileged, ultimately a time for reflection, solidarity, community, and prayer. The sentiment behind this is quite remarkable, to be honest.
During this time, the supper becomes all the more important. After long and challenging fasting experience people tend to appreciate more of their food by setting up large tables, inviting people in.
Even if you don't fast but you are still curious about the dinners you can easily find a seat in public dinners either organized by municipalities or people of the city. It would be quite an experience for you, I think!
The organizations happening in Sultanahmet, and some renowned parks and corners in the city are particularly delightful, to say the least. You can check out Facebook events to find one nearby. It is that easy!
You can either choose a time during the 30-day fasting period to witness something you are not accustomed to or you can choose to visit the city during the Ramadan Feast which occurs when the fasting ends.
The Ramadan Feast, on the other hand, usually lasts for 3 days yet sometimes it lasts for up to 9 days with weekends and official government permission which means that the people who live in Istanbul are to travel to their hometowns to visit and be with their families during the holiday.
What I'm getting at is that the longer the Ramadan Feast is the more vacant Istanbul becomes which is of course something to look for if you are to tour the city! During this time, the city is truly yours indeed.
If you choose to visit the city during Ramadan, I recommend you try Ramadan pita ( a type of soft bread special to this time of the year, especially appealing when freshly baked) and güllaç shown in the image above (a traditional dessert made out of milk, pomegranate, pistachio, walnuts, and a special type of crust).
Warning: Do not use the same logic for Eid, you might get terribly culture shocked.
The streets are not as delightful nor as festive as the Ramadan Feast during this time even though this religious holiday is longer and thus Istanbul potentially becomes more deserted. I recommend you search for the date of Eid so that you could avoid it. 
4 – During Summertime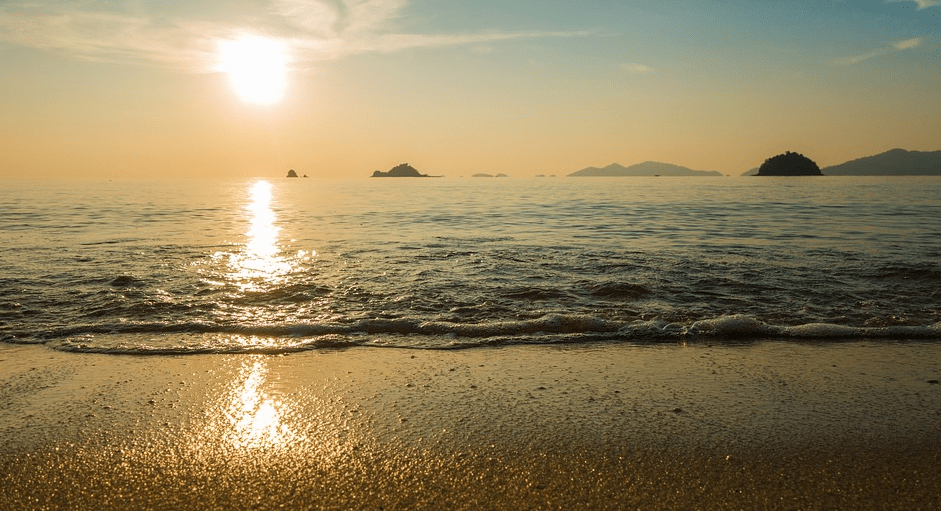 Almost everyone's favorite time for traveling is of course summertime. As the school is on break and the weather is nice, naturally, the annual holiday leaves are to be used.
Visiting Istanbul during summertime is no exception for your convenience of course. The city is livelier around this time. I might warn you though if you are to visit the city in the summer, prefer either June or July as in August whether is just too unbearable to leave the house.
The perks of traveling during the summer are countless. However, the most decisive factor remains the Prince's Islands. The Prince's Islands consists of 9 Islands, 5 of them being bigger and thus more popular getaway destinations.
Here you can have a taste of the rich and diverse history of Istanbul city. You can stroll along the streets adorned with mansions, ride a bicycle on the gorgeous shoreline, get in touch with the locals, visit some historical and religious entities, all the while disconnecting from the hectic city life.
Plus, you can go for a swim if you like as well! But you have to choose your beach wisely as the Marmara Sea is not the most ideal sea when it comes to swimming. The islands really do promise a full Istanbul experience.
Not only the Prince's Islands are the hot spot for the tourists but locals also like it there. A must-see I say for everyone visiting Istanbul!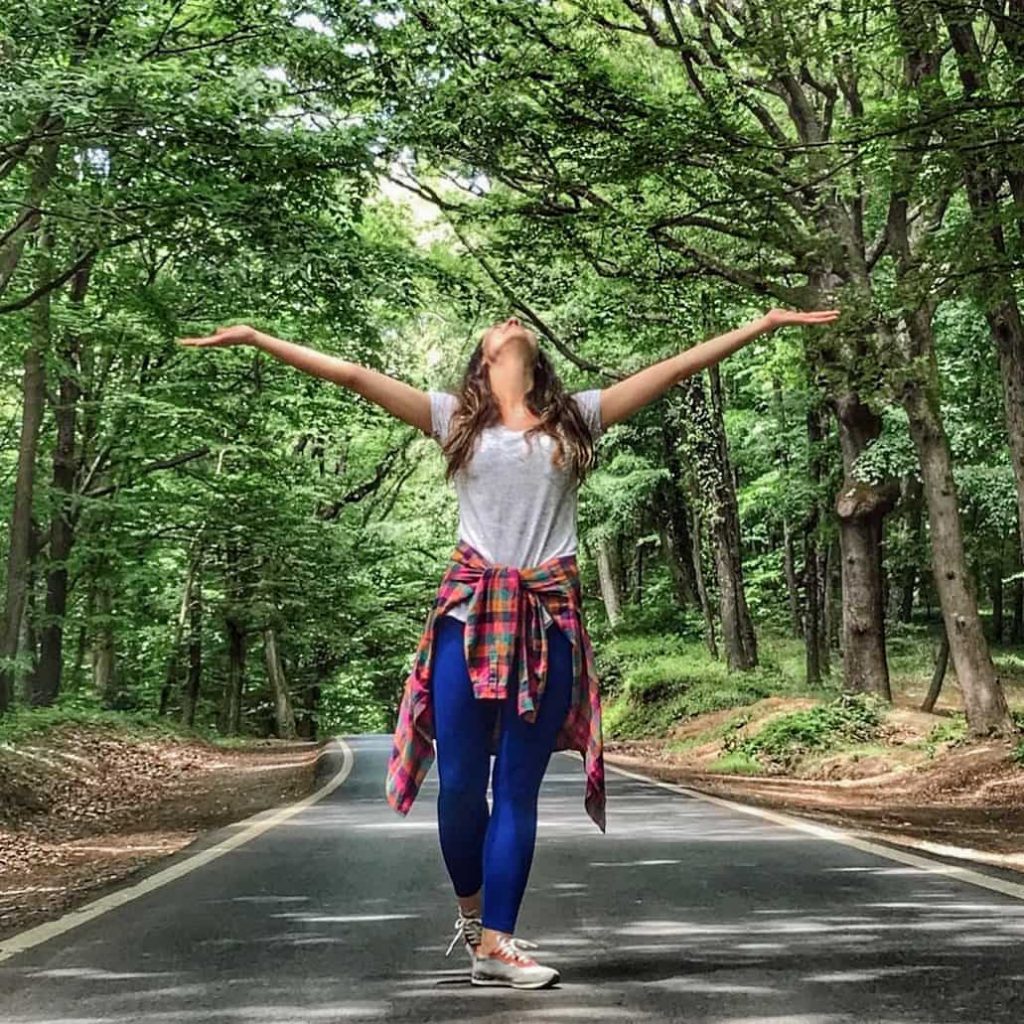 Summertime is also ideal for visiting parks, having a picnic there if possible. Istanbul has a good deal of options for you in terms of parks where you can spend a quality day. I especially recommend a walk on the Belgrad Forest, it is quite refreshing!
Not to mention, bazaars are important parts of city culture. You can visit antique bazaars, organic bazaars, high-end flea markets, all very delightful to check.
My recommendation is that you should certainly check out Feriköy Flea Market if you are into vintage stuff.
I also recommend you take a Bosporus tour in the evening. The city looks all the more beautiful with a slight breeze on your face.
Also, between you and me, parties on the Bosporus are quite the adventure! If you have a chance, give it a go, believe me, you won't be disappointed.
Last but not least, summertime is marked by open-air concerts. If you make a plan thoroughly not only you can get a chance to participate in a summer festival (there are a good few options on that) but also you can go to a concert of Turkish or international musicians. 
Even though, I've mentioned earlier that summer is overwhelming due to both crowd of people and high temperature, it is still convenient as the sun sets late and you can explore the city until your feet can't hold on anymore. Just skip August, it is never a good idea!
Also, you can visit the Things to Summer in Istanbul to learn more about spending summer in Istanbul.
5 – During Fall Time
Last but not least, this is my absolute favorite time of the year guys and Istanbul is definitely at its finest when the leaves turn yellow, red, and brown. 
Here, fall is actually experienced as post-summer due to global warming. Until the very end of November, the weather is nice enough to spend the night on the streets, of course, I'm figuratively speaking here!
Fall time is especially special in that during this time the city gets even artsier. Biennials, film festivals, expositions are especially popular in October. As a matter of fact, if you are to visit during fall time, choose October I say.
Not only the month is marked by various important days such as Independence Day (Istanbul) on October 6th and Republic Day on October 29th, but also the weather turns from hot to extremely favorable during this time. You have quite a lot of advantages, to say the least. 
Atatürk Arboretum shown in the image above (a national museum park) is especially delightful in the fall. It is truly a gem for changing your mental state, a cure so to speak for depression. Plus, if you have a photo in there, you will get tons of questions, that's for sure!
If you are interested, open-air theaters and book fairs are particularly popular during this time of the year. Book fairs are especially interesting, and you are to find a wide range of inexpensive books in different languages.
If you like to walk around the city, sip on some Turkish tea, dream and wander away, this is your season to explore this beautiful city!
Before we depart, let me say briefly that do not worry about the perfect time. The city is enchanting all the time.
Just be warned though, during spring and fall, and sometimes even during summer (cursed be the global warming) you might get bombarded with rain. So, throw an umbrella in your suitcase, will ya? The rain gets brutal so quickly here you can't imagine!