Getting around in Istanbul, the captivating city straddling Europe and Asia, can be an exciting part of your travel experience. The city boasts a vast and efficient public transportation system, a variety of taxi services, and diverse options for adventurous travelers. This article will guide you through your journey around Istanbul, exploring the best methods to maneuver in this bustling city.
Embrace the Public Transportation
The convenience and efficiency of Istanbul's public transportation cannot be underestimated. The Metro system is by far the fastest and most cost-effective way to navigate the city. The network comprises trams, funiculars, ferries, and buses.
For the Metro and trams, Istanbulkart, a rechargeable smart ticket, is all you need. It's available at ticket machines and kiosks at every station. The card's fare system is distance-based, making it an economical choice for long-distance travel.
Don't miss the chance to take a ferry ride across the Bosphorus. It's not only a means of transportation but also a spectacular way to take in the sights of this magical city.
Hail a Taxi or Book a Cab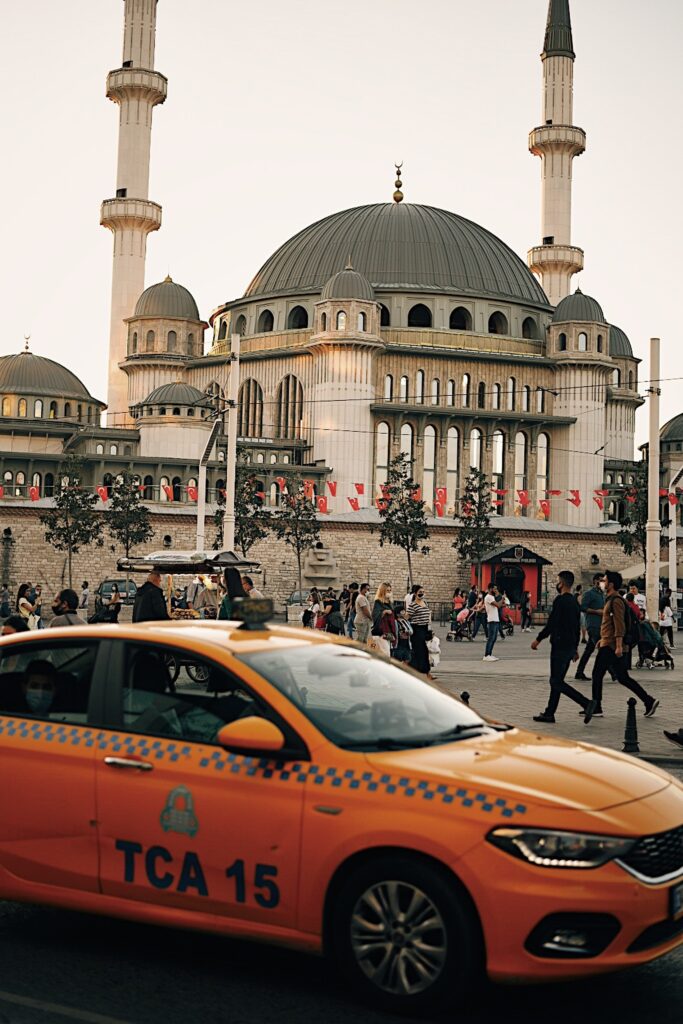 Taxis in Istanbul are abundant and can be a convenient way to get around, especially for short distances. However, compared to public transportation, taxis are not the cheapest option. It's essential to note that Istanbul taxis run on meters, so ensure the driver turns it on to avoid overcharges.
While Uber is not available in Istanbul, there are several local ride-hailing apps such as Bitaksi and iTaksi that function similarly. These apps provide a safe, convenient way to book a ride, with the fare, route, and driver's details displayed upfront.
Rent a Car or Cycle Through the City
Car rentals are available in Istanbul, but considering the city's infamous traffic and challenging parking, this option is recommended only for experienced drivers.
For short distance travels, Istanbul offers bike-sharing system known as ISBIKE. Cycling can be an adventurous and eco-friendly way to explore this vibrant city.
Wander on Foot
Istanbul is a city of steep hills, winding lanes, and astounding views. Some of its most charming neighborhoods, like Sultanahmet and Galata, are best explored on foot.
FAQs
What is the cheapest way to get around Istanbul? Among all the options, public transportation stands out as the cheapest way to get around Istanbul. An Istanbulkart can be used for travels on buses, trams, metro lines, and even ferries.
Is there Uber in Istanbul?
No, Uber is not available in Istanbul. However, local ride-hailing apps such as BiTaksi and iTaksi offer similar services.
Is transportation easy in Istanbul?
Yes, transportation in Istanbul is pretty straightforward. The public transportation system is efficient and extensive. Maps and signs are usually in both Turkish and English, making it easy for tourists to navigate.
Is taxi cheap in Istanbul?
Compared to public transportation, taxis in Istanbul aren't the cheapest mode of transport. However, for shorter distances or if you prefer comfort over cost, taxis provide a convenient solution.
To sum up, whether you're hopping onto a tram, cruising across the Bosphorus, or hailing a cab, getting around in Istanbul is part of the city's unique charm. By choosing the right mode of transport, you can make your sightseeing journey as enthralling as the destination itself.