Turkey is a huge country. If you want to see the whole country, you need months and even years!
There are so many places such as castles, archaeological remains, palaces, churches, mosques, and modern buildings to visit from the east to the west, from Kars to Edirne. There are archaeological sites of Byzantine times and many buildings inherited from the Seljukian and Ottoman periods. 
For example, it takes 8 hours by bus and 3 hours by plane from Istanbul to Cappadocia. It is almost the same for Pamukkale Travertines. However, if you're in Istanbul, there is an opportunity to see 135 models of Turkey's and Ottoman's unmovable cultural heritage.
Probably you are familiar with the miniature park concept. Madurodam, France Miniature, Window of the World…
They are all famous miniature parks all around the world in which proportioned models either from their homeland constructions or world are exhibited. Well, let me surprise you, there is one in Turkey too: Miniaturk!
Istanbul is, so to speak, the heart of Turkish history and culture. It is also a mosaic of cultures. It has always been so important for every settler population in Anatolia throughout the world. So, it is not a coincidence that Turkish people established a miniature park in this city.
Miniaturk is simply a huge park of small models. Miniaturk has been established in 2003 by the Istanbul Cosmopolitan Municipality. It has been designed as a "showcase of Turkey!" 
The motto is "A small model for a Great Country." There are lots of reasons to visit Miniaturk. Let's get started.
1- Miniaturk Provide an Extensive Park Area for Model Building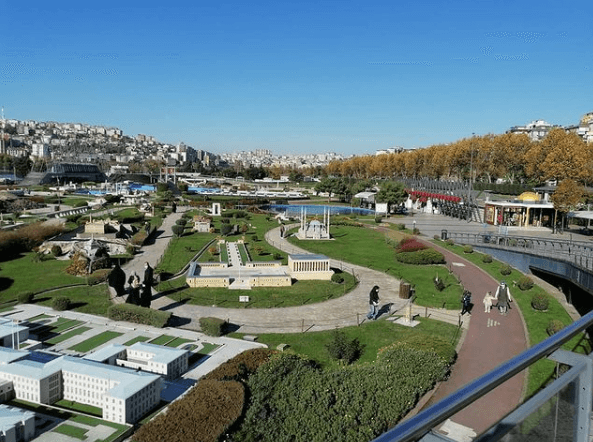 There are 135 models all of them are perfectly proportioned 1/25 of the original size. It is really huge, it takes up 60.000 square meters. 15.000 m2 is the exhibition area of the model buildings whereas 40.000 is open area and parks. 
There are three categories in Miniaturk. Works of Istanbul, works of Anatolia and works from overseas. There are 62 models from Istanbul, 60 from Anatolia, and 13 from the Ottoman lands outside modern Turkey's territory. 
In short, going to Miniaturk is a perfect opportunity to see the most popular cultural and architectural heritage.
While walking around the park, you may listen to the information about the exhibited models' original buildings in 9 different languages; English, French, German, Russian, Arabic, Persian, Japanese, and Spanish through The Miniaturk Mobile Application. 
Keep in mind that, not only the small-sized models possess historical and cultural significance but also the land the Miniaturk Park is located on. Miniaturk is by the Golden Horn which has witnessed the beginnings and collapses of the emperorships throughout history. 
Technically speaking, the models are the works of professional model builders and artists. They are meticulously built and paid attention not to skip any little detail. 
2- Doesn't Matter Who You Are: It is a Fun Activity For Everyone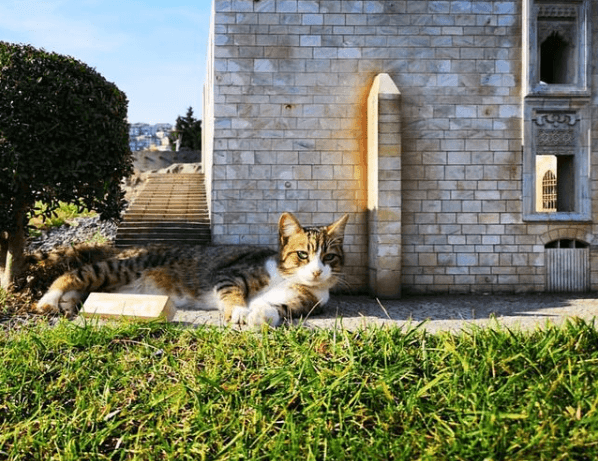 There are several reasons to go to Miniaturk depending on what you expect. One thing is clear that whether you are a single traveler or visiting Istanbul with your family, you definitely will enjoy spending time in Miniaturk.
If you are looking for a family activity, children love Miniaturk as it provides accessible and simple information and exhibition of the historical monuments and buildings in a few hours. Children really love seeing not-that-big buildings in which every detail is easily noticed. 
If this is your first time in Istanbul, probably you have a long places-to-go list. Well, here's the trick: you may start your trip from Miniaturk. In this way, you may examine especially which places you want to go to. Miniaturk not only will help you reduce the list but also begin your next travel plan.
If you have visited Istanbul before and don't want to enter into the crowd again but also want to refresh your memories, spending a few hours in nature by the Golden Horn would be ideal for you. 
Or, if you are not a museum passionate who is not into history and culture but wants to spend your time enjoy the city, you may visit Miniaturk to see every "touristic" thing you should see in Turkey.
In a few hours, you will be able to identify significant places and have a piece of serious knowledge about them! And then, you'll decide how you spend your time in 21st century Istanbul like a Stambouliote.
So, whoever you are, going to Miniaturk is always a good activity to do. Personally, I seriously loved seeing the historical buildings that I love as models as it gave me the opportunity to look at them in detail and appreciate the architects. 
3- There Are Sixty-Two Istanbul Models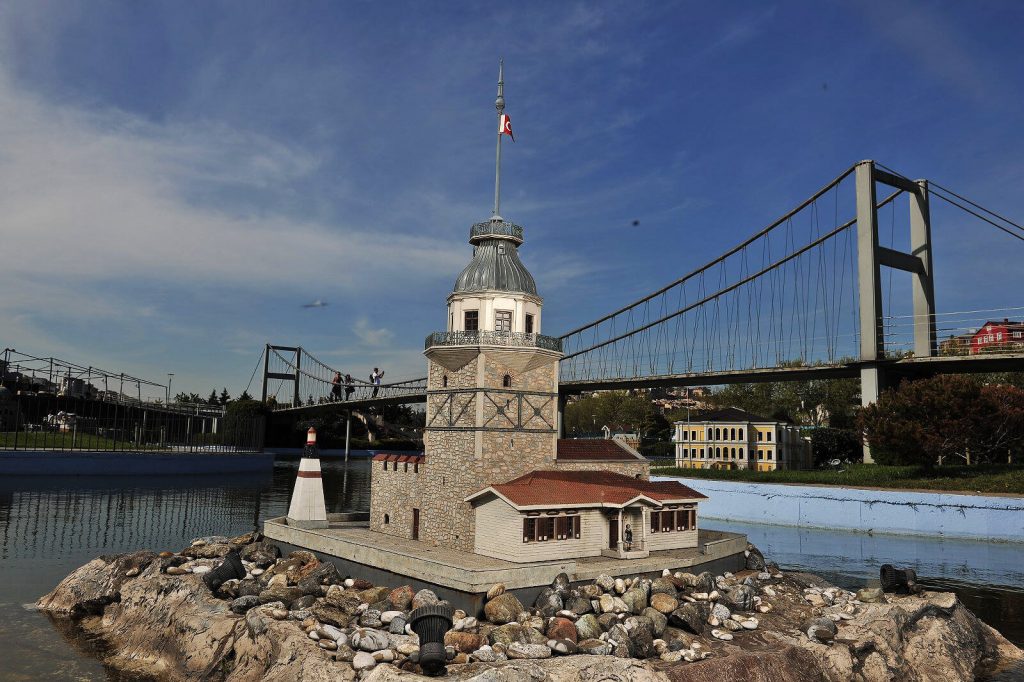 Istanbul has always been difficult to explore as there are numerous things to see, too many different places to visit and so many options to experience! Miniaturk exhibits most of them. 
62 Istanbul models include both the miniatures of very famous places such as Topkapi Palace, Bosphorus Bridge, and Sultanahmet Mosque and less known historical buildings such as Sadullah Pasha Mansion and The Pertevniyal High School. 
Here are some of the models that are exhibited in Miniaturk Park. Bastarda 1657 is an Ottoman galley, The Haseki Hurrem Bath is a Turkish bath built by Mimar Sinan in 1556, The Beylerbeyi Palace is a summer palace built by the late-Ottoman period. 
Also, you may look at the most known places in detail such as Hagia Sophia, The Hagia Eirene, Suleymaniye Mosque, The Maiden's Tower, Yerebatan Cistern, Rumelian Fortress, Dolmabahce Palace Haydarpasa Train Station, and St. Antoine's Church.
You may also see historical seaside mansions (yalis), standing stones (obelisks), historical fountains, and other constructions that are unique to Istanbul culture.
By the way, the July 15 Martyrs Bridge (Bosphorus Bridge) is for you to walk on. Don't miss the chance of walking on the model Bosphorus Bridge which connects model continents!
4- There are 60 Models from Anatolia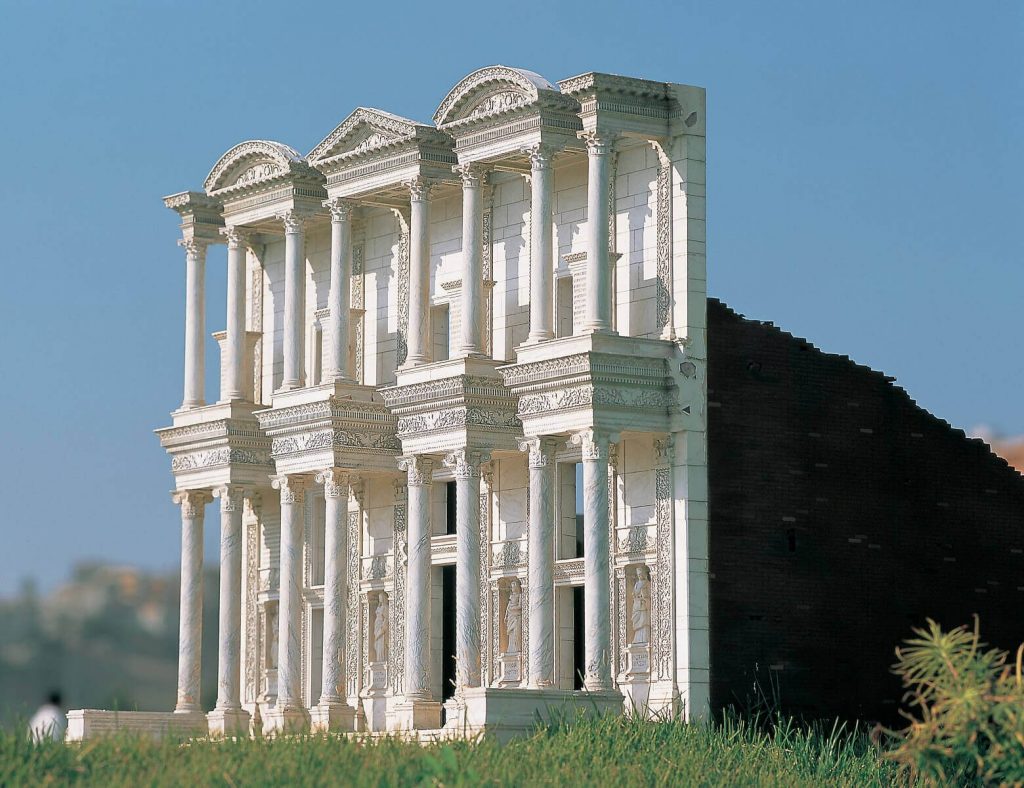 If you want to visit the rest of Turkey but have not found the opportunity to do so yet, seeing mini models of Anatolia is just ideal for you. 
Other than well-known ancient city archaeological remains such as Ephesus Celsus Library, The Altar of Zeus, The Temple of Artemis, there are also Christian cultural heritages such as The Virgin Mary Church and Trabzon Sumela Monastery.
However, the bigger portion of the Anatolia models is Islamic buildings such as Haci Bektas-I Veli Complex, Bursa Grand Mosque, The Haci Bayram Mosque, and Ishak Pasha Palace.
You may also see the greatest mosque of Architect Sinan: The Selimiye Mosque. 
Moreover, the natural beauties of Turkey are also shown such as the Nemrut Mountain, the Urgup fairy chimneys, and Pamukkale Travertines.
The important neighborhoods also found themselves a place in Miniaturk Park. The Safranbolu Houses which are on UNESCO's World Cultural Heritage list and Mardin Stone Houses which reflect the unique architectural pattern of South-Eastern Turkey.  
5- There are 13 Models from Outside Territories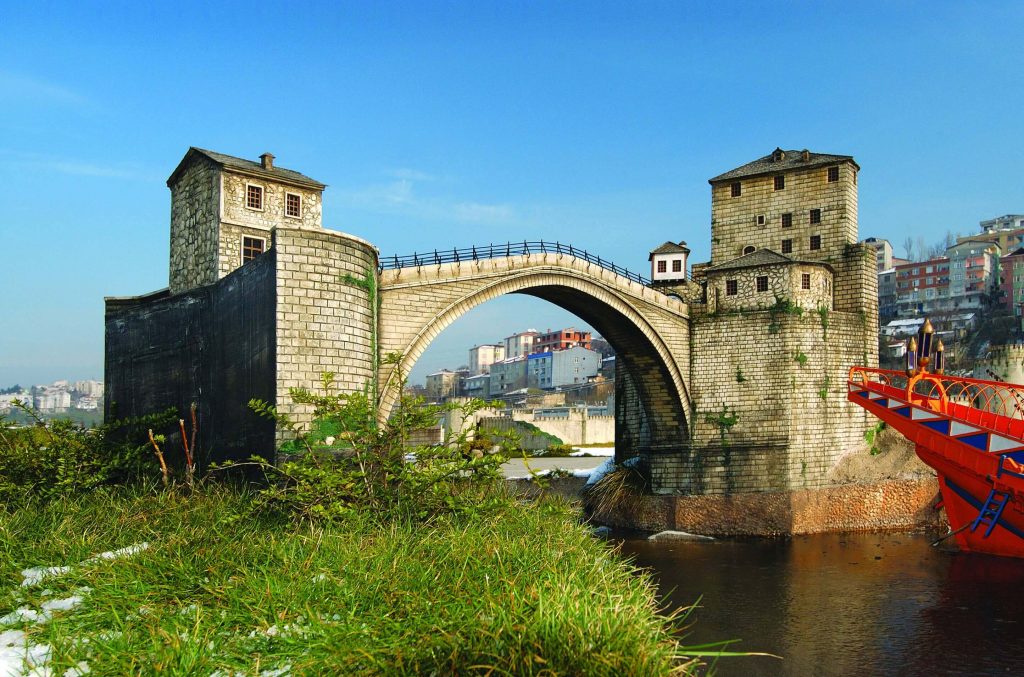 Ottoman Empire had extended its territory to include Balkans and Africa. You may see buildings that had been built in the Ottoman period, which are located outside of Turkish boundaries now but reflects Anatolian and Turkish cultures' characteristics.  
Ataturk's house in Tsalloniki; Mostar Bridge which was built by Mimar Sinan in Bosnia and Herzegovina, and The Ecyad Castel in Mecca, The Al-Masjid Al Aqsa, Sultan Murad Tomb in Kosovo, Walls of Jerusalem and Damascus Gate are the models that are exhibited in this category.
Visiting Miniaturk is a great opportunity to see Ottoman influence on the architecture and different nations' cultures. 
6- Park Includes Other Things to Entertain You As Well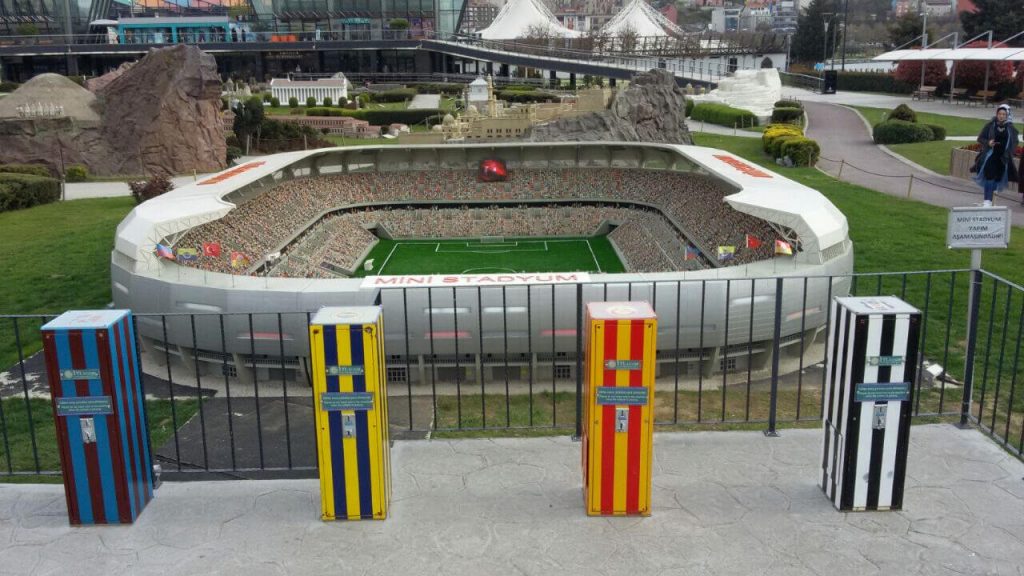 There are restaurants & cafeterias for the ones who would like to spend more time in the area or get tired after a long walk around the Miniaturk.
The cafeteria and the restaurant are managed by the Istanbul Cosmopolitan Municipality. After spending a few hours walking, you may sit there and drink a glass of black tea. The prices are extremely cheap in Municipality-owned cafeterias. 
The restaurant serves breakfast, lunch, and dinner. There are three different restaurants in the Park, they all serve the same menu so you may go the closer one. 
There are also booths that you can buy chocolate, corn, ice cream, water, juice, and french fries.
There is also a gift shop where you can buy things for your loved ones, an exhibition hall, an outdoor show area, a labyrinth area you may lose your sense of direction, a ferryboat, and a mini-stadium with the biggest four teams (Besiktas, Fenerbahce, Galatasaray, and Trabzonspor).
There is also a chess hall and a simulation helicopter tour.
Especially kids love experiencing the Flyride Simulation Helicopter Tour. The effects of the simulation are realistic effects such as wind, rain, and snow. There are two options for the simulation tour, İstanbul, and Turkey.
7- Visiting Miniaturk is Quite Easy and Affordable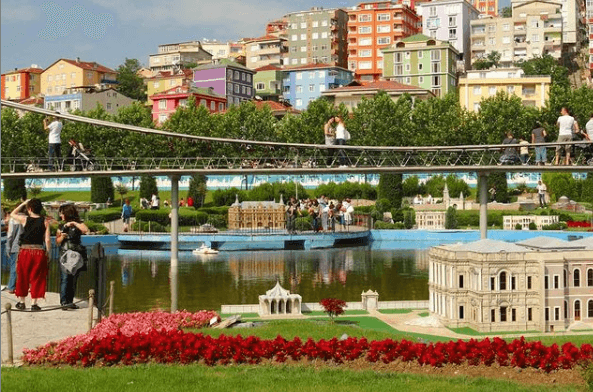 The museum is open every day. It is open between 10 am to 6 pm on weekdays and 11 am to 6 pm on weekends. 
So, how to get there? It is quite easy actually as it is located in Beyoglu. If you are planning to go there by car, there is a parking area for 300 cars.
If you desire to go there by public transportation you may take busses from Eminonu, Mecidiyekoy, Taksim, and Topkapi. 
However, there is one way for Istanbul lovers! There are ferries depart from Eminonu and take a tour in Golden Horn.
There are two types of Golden Horn ferries, some of them stop at the Piers and some do not. You may take a ferry that stops at Miniaturk Pier. However, you should ask and confirm before taking the ferry.
There is an entrance fee, but it is quite affordable. By 2020, it is 20 liras ($2,5) per person. Keep in mind that you have to pay only via Turkish lira. Museum Card is not accepted. 
Address: Ornektepe Mahallesi, Imrahor Caddesi, No.7 Sutluce 34445 Beyoglu – Istanbul
Of course, if this is your first time in Istanbul first you should go to the Historical Peninsula and see the popular buildings and worship places there. However, if you'd like to take a different look at the history and architectural culture as well as natural beauties, and get to know Turkey more, I strongly recommend you visiting Miniaturk.