Welcome Bosphorus lovers! You surely have heard about this legendary strait, haven't you? You must've at least heard about the story of Io who crosses the Bohorus in her wanderings after she is transformed into a cow by Zeus to wander forever.
Well, what about combining this place that is subject to myths with another famous Turkish tradition? Any guesses here? Why, of course, I am talking about the Turkish Breakfast!
If you are as excited as I am, let's get on with the show, shall we? Here are my top 11 restaurants to enjoy Turkish breakfast with a magnificent view over the Bosphorus.
1 – A Quite Corner in Hisarüstü – Oba Sultan Café Restaurant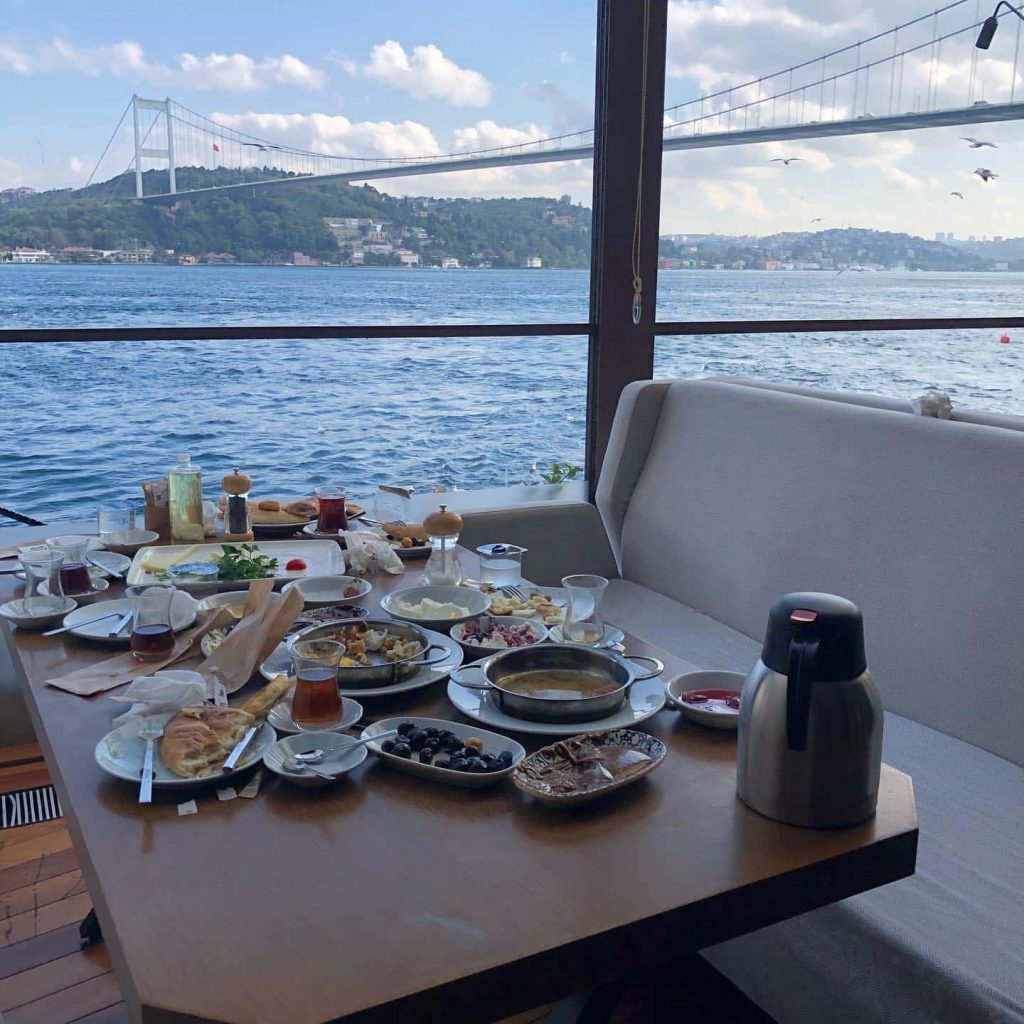 Dear foodies, let me introduce you to the best concept ever invented: The open buffet. Can you imagine something better than unlimited food? I think not.
Oba Sultan Café Restaurant happens to be one of the best places for an open buffet breakfast. Located in Balta Limanı, further on the Bebek coastline, this restaurant is right next to the BosphorusBridge, offering you one of the best views in the whole city.
I recommend you finish your delightful breakfast with a cup of Turkish coffee, benefiting further from this unequaled view. You have indoor and outdoor dining area options as well.
If the weather cooperates though there is nothing better than some fresh Bosphorus air!
The price for breakfast alone per person is $13. It starts at 7.30 a.m. and ends at 2.30 p.m. If you miss it, no worries though. You can have a great brunch there as well!
P.S. After eating like there is no tomorrow, you will surely profit from a good walk. Oba happens to be on the perfect route for that kind of a stroll, just saying.
Address: Rumeli Hisarı, Balta Limanı Hisar Cd. No:54, 34470 Sarıyer/İstanbul
2 – The Author's Choice – Lokma Restaurant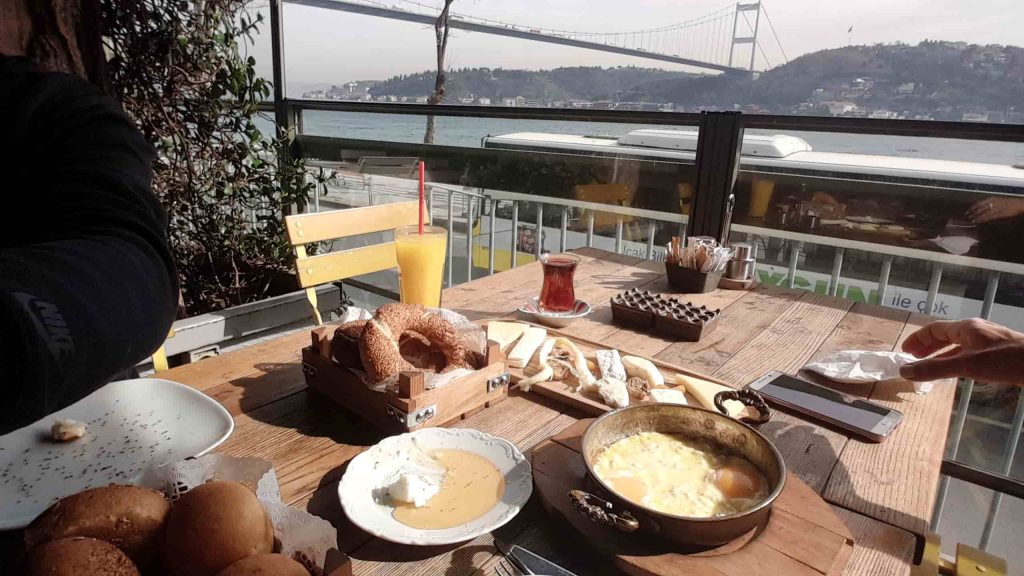 Close to our first option, Lokma Restaurant is definitely one of the most preferred breakfast places in Istanbul. It is my favorite, that's for sure!
The place has an elegant style but its terrace overseeing the Bosphorus is definitely one-of-a-kind. It is so delightful to dine there while gazing at the sea, pedestrians walking on the shore, and passing cars.
The breakfast concept of Lokma differs from Oba in that they provide a mixed breakfast. That is to say, you get to choose every food yourself.
Naturally, the price increases with each thing you choose on the menu, yet, rest assured the taste will compensate for the price.
The average price for 2 is $25. As mentioned, the check depends on what you choose though.
I strongly recommend you try their "börek" which is a Turkish baked pastry filled with various ingredients. You have a couple of options for börek among which I recommend paçanga böreği (filled with pastrami, cheese, and bell peppers). 
The location is perfect, the ambiance is refreshing, the view is awesome, the staff is so friendly. Honestly, I've heard absolutely zero bad comments, everyone likes it there. What is holding you back? Go already!
Address: Rumeli Hisarı, Mahallesi, Yahya Kemal Cd. No:12, 34470 Sarıyer/İstanbul
3 – The Local's Choice – Kuleli Yakamoz Restaurant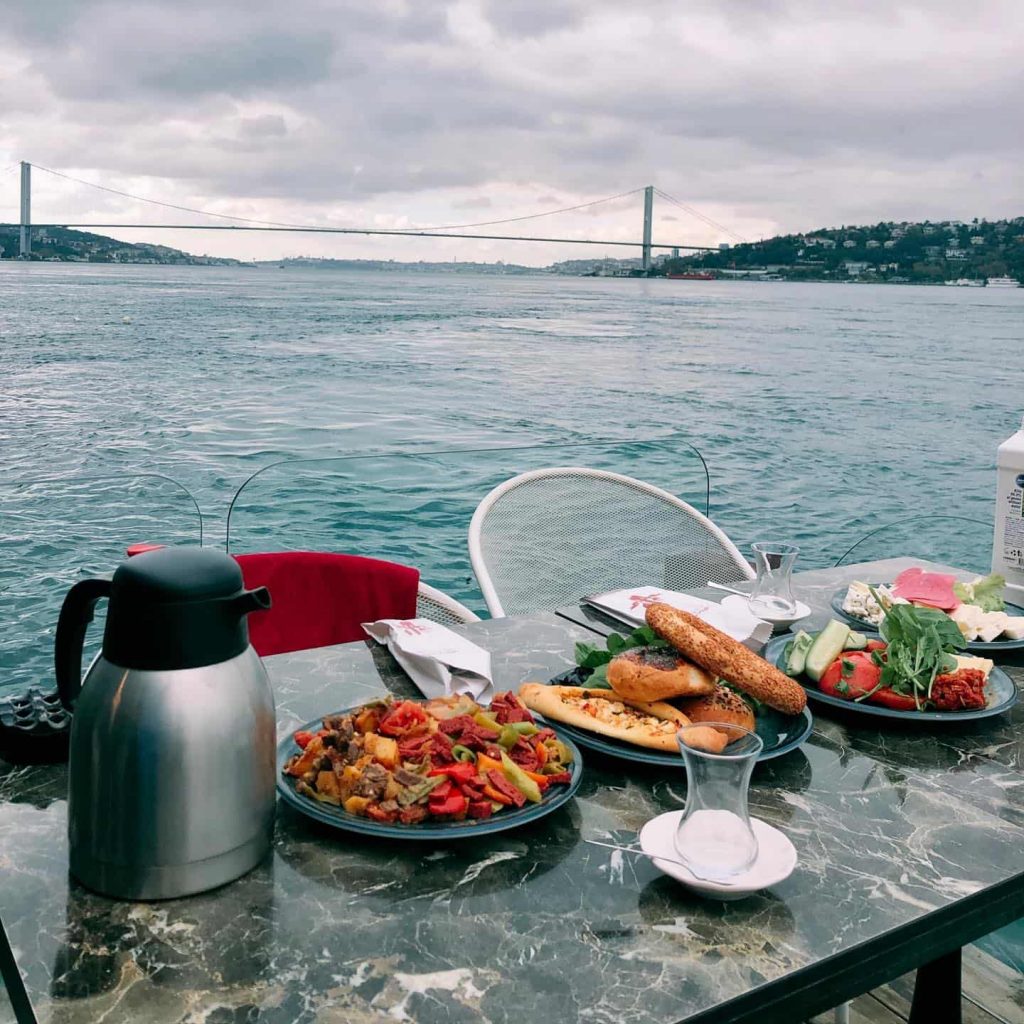 Kuleli Yakamoz Restaurant is probably one of the first places that comes into mind under the category of breakfast with the Bosphorus view. I don't think I can do justice to it by words, yet I will try for you.
The place is located in Çengelköy, a district on the Anatolian side. It is right next to the famous Kuleli Military School, on a secluded spot which is a bonus of course.
With its open buffet breakfast with various vegan options, lovely terrace, and splendid scenery this is the ultimate place for the full experience. You can choose the mixed breakfast option as well. 
The staff is extremely kind and helpful, the service is quick, and the overall ambiance is just so fresh! If the weather is not nice enough you can still have your breakfast while gazing at this beautiful scenery in the spacious indoor dining area.
The average price for 2 is $20. It's worth a shot, I say.
Address: Çengelköy Mh, Kuleli Cd. No:69, 34684 Üsküdar/İstanbul
4 – An "Expensive" Taste – Divan Brasserie Bebek
This is for those of you who like their breakfast a bit extra. Divan Brasserie is the place for a real quality breakfast. I must warn you though – Divan has quite a few branches all over Turkey. If you are looking for a good view, it is, without a doubt, Divan Brasserie Bebek I am talking about here.
Not only the view is amazing there, right next to the sea, but their delicacies are also known across the country.  
Honestly, you don't have a lot of options to choose between compared to the aforementioned restaurants since there is no concept of an open buffet, but I guarantee that whatever you choose, you will be more than satisfied in the end.
Divan Kahvaltısı – their deal breakfast for 2 – for instance is quite rich and efficient anyway. There is no way you leave with a half-filled stomach. If you wish to choose something simpler you can always go with their pancakes, they are truly delicious!
This place is actually a go-to café rather than a breakfast place, yet the view is so amazing that it has become a frequent destination for breakfasts and brunches.
Locals especially prefer Divan Brasserie for its good location, hospitable personnel, pleasant atmosphere, and delicious food. No hesitations, this place is a winner!
The average price for 2 is roughly $ 40 yet this price includes alcoholic beverages. The price for an average breakfast will naturally cost a lot lesser than this.
Address: Bebek, Cevdet Paşa Cd. No: 28/A, 34342 Beşiktaş/İstanbul
5 – Breakfast Next to the Pier – House Café Ortaköy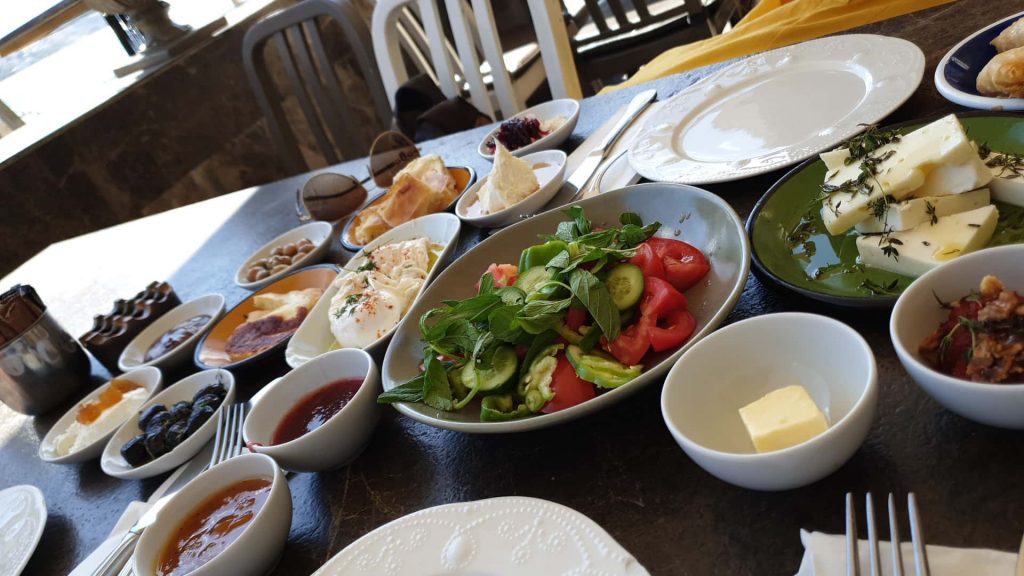 Yet another favorite of the locals, House Café Ortaköy is surely a busy spot, especially on Sundays. Like Divan Brasserie, House Café also has several branches yet the one in Ortaköy is particularly famous for its excellent scenery.
This place is really huge! It gives services with 2 spacious terraces and an elegant restaurant names Fescizade Lounge with a capacity of 450. 
DJ performances in this place are also very well-known which makes it a popular destination for special organizations.
For breakfast, you don't have an open buffet option, rather you have to make your own plate. I recommend you try their menemen (a traditional tomato and egg-based breakfast food). 
If you don't wish to go traditional, The House Benedict would be an excellent choice for you.
Generally speaking, it is one of the best spots in terms of proximity to the sea and the Bosphorus view. If you are lucky enough to get the perfect table, the sea will be just underneath your feet while its sound will calm your nerves.
Gorgeous site, gorgeous view and good people of the café. One of the best deals on the list indeed!
I should add though, reservation here is particularly important as it is always packed, and you can make a reservation on weekend only between 9 a.m. and 10 a.m. 
The average price for 2, on the other hand, is $30 .
Address: Maltepe, Yıldız, Salhane Sk. No:1, 34349 Beşiktaş/İstanbul
6 – The Magic Express! – Le Vapeur Magique
Le Vapeur Magique, as the title already indicates, promises you a magical experience. Care to learn how?
Well, imagine you are on a boat in the middle of the Bosphorus cruising for 2 hours, all the while sharing this marvelous atmosphere with seagulls and all. It is one-of-a-kind, isn't it?
Not to mention, this boat is actually a renovated historical city line boat. As for breakfast, you have an unlimited mixed Antakya (a gastronomic region in Turkey) breakfast! Believe me, you will love it.
The average price for 2 is $35. Since it involves a Bosphorus tour, it is certainly a good bargain!
Departure time for his "Bosphorus Tour with Breakfast" is 11.30 a.m. on Tuesdays, Wednesdays, Thursdays, and Fridays; 10 a.m. and 1 p.m. on Saturdays and Sundays.
The departure and arrival port of the boat is Sarayburnu Port in Fatih district on the European side of the city. 
Not only do you get to taste delicious Turkish breakfast, but you also get to enjoy the Bosphorus tour. Two birds with one stone kind of deal we are talking about here guys!
The place has gotten so many good reviews since its opening due to its personnel with smiling faces, overall rejuvenating ambiance, tasty food, and most importantly the beauty of the Bosphorus !
Plus, you will have 3D Selfie Areas to crown this fascinating experience!
Address: Hoca Paşa, Kennedy Cd., 34110 Fatih/İstanbul
7 – Bebek's Classic – Mangerie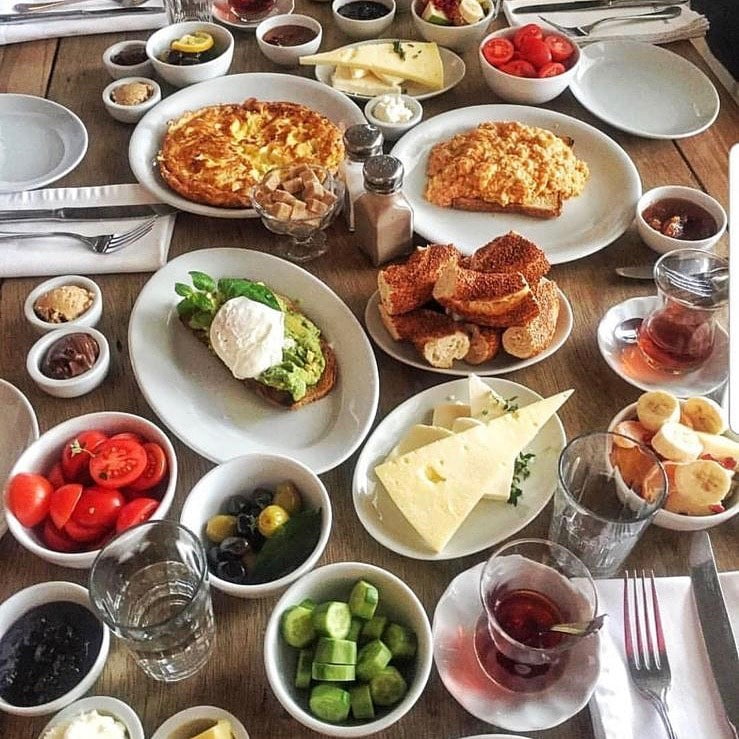 The last Bebek option in our list, Mangerie is certainly a good choice for quality time as it is far from the crowd. The overall ambiance is quite peaceful and soothing. Plus, the beautiful view of the Bosphorus of course!
As for breakfast, unfortunately, you don't have an open buffet option, yet don't get disappointment they make the best egg benedict in town! My recommendation for you is Proscuitto…so tasty!
You can also order Mangerie Kahvaltı plate which has all the basics from tomato, olive to cheese, and butter.
You can benefit from the outdoor dining area, the terrace with a breathtaking view, or you can choose to dine inside if the weather is not warm enough. Although I highly recommend crisp Bosphorus air, it is quite refreshing!
Their coffee is of good quality as well. If you like a cup of coffee at breakfast, skip Turkish tea.
The average price for 2 is merely $35.
Also, if you have sweet tooth and you feel like ordering dessert after, their brownie is truly a treasure! 
This is a solid place for everyone, so if you don't want to wait for hours in queue make your reservation first, will ya?
Address: Bebek, Cevdet Paşa Cd. No:69, 34342 Beşiktaş/İstanbul
8 – A Lavish Breakfast – Villa Bosphorus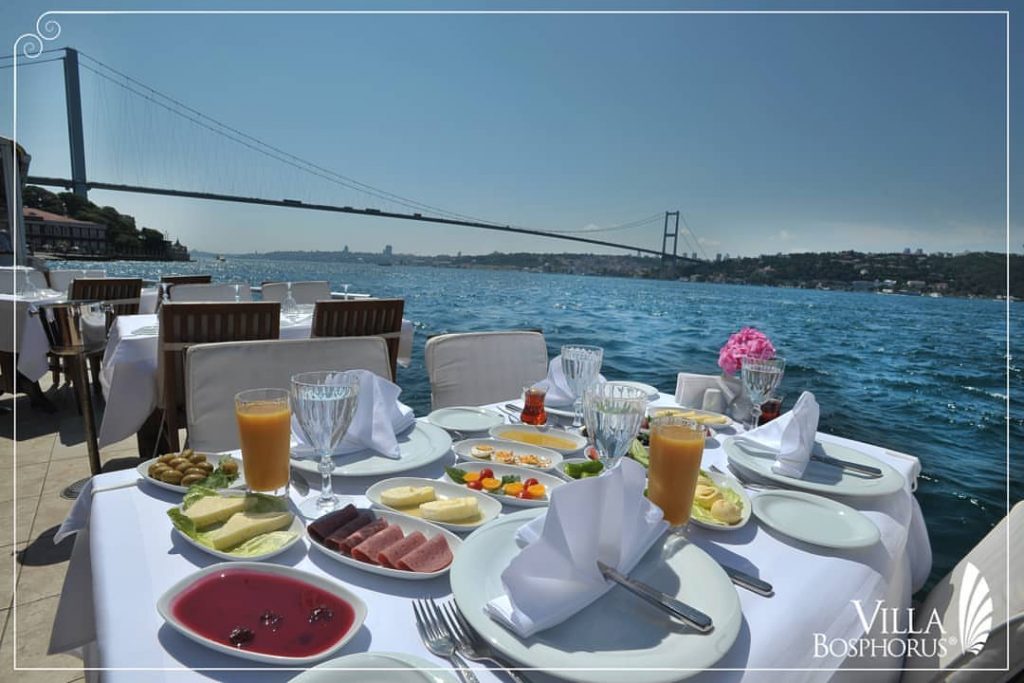 A very famous seafood restaurant, Villa Bosphorus is yet another popular spot for a remarkable breakfast experience thanks to its location at the feet of the Bosphorus Bridge.
The whole place is nothing short of luxurious, the sitting arrangement is perfect for benefiting from this unique view and the food is extremely delicious!
The place has VIP Lounge, Fireplace Room, Meeting Room for business dinners, a winter garden with a capacity for 300, and a delightful terrace for summer nights with a capacity for 400. 
There are not many options for breakfast, yet you will definitely leave with a full and happy stomach, that's for sure! Their mixed breakfast is said to be of good quality with larger than average portions. 
The average price for 2 is $ 40, not so much for a chic place like this, to be honest. Fast service, hospitable staff, terrific scenery, tasty food, and certainly a good choice!
The regulars of the place, on the other hand, are generally families which means that it is always crowded. If you prefer quieter places, unfortunately then this place is not for you.
I must add though, don't be confused by the location as the place is referred to both as Villa Bosphorus Çengelköy and Villa Bosphorus Beylerbeyi. There are not 2 separate branches, both names indicate the same place!
Address: Beylerbeyi, Beylerbeyi İskele Cd. 18 A D:18 A, 34676 Üsküdar/İstanbul
9 – The New Address – Gardens of Garbo
A new value to the Anatolian side of the city, Gardens of Garbo has become already a popular stop of the city.
Fresh, modern, and joyous, you don't realize how time passes in this place. It is located in Moda coastline in Kadıköy – a widely-visited area by the locals. You get to see the other side of the sea all the while sitting in a beautiful garden as the name of the place indicates.
Even though the place is mostly known for its lunch and dinner options from international cuisine (their pizzas are really good by the way), their breakfast options are quite delightful as well. 
You can create your own breakfast by choosing sliced cucumber and tomato plate, honey and cream, butter, Nutella, pişi (a fried salty dough), olive, french fries, and egg, etc. 
Their cheese options are quite diverse as well. I recommend you try Otlu Krem Peynir (Herb Cream Cheese).
The average price for 2 is $20. This is the average price for a full course including alcohol – quite cheap indeed! 
If you happen to pass Kadıköy, you should definitely check this one out.
Address: Caferağa, Moda Cd. No:192-3, 34710 Kadıköy/İstanbul
10 – Cheap & Chic – Boon Café & Restaurant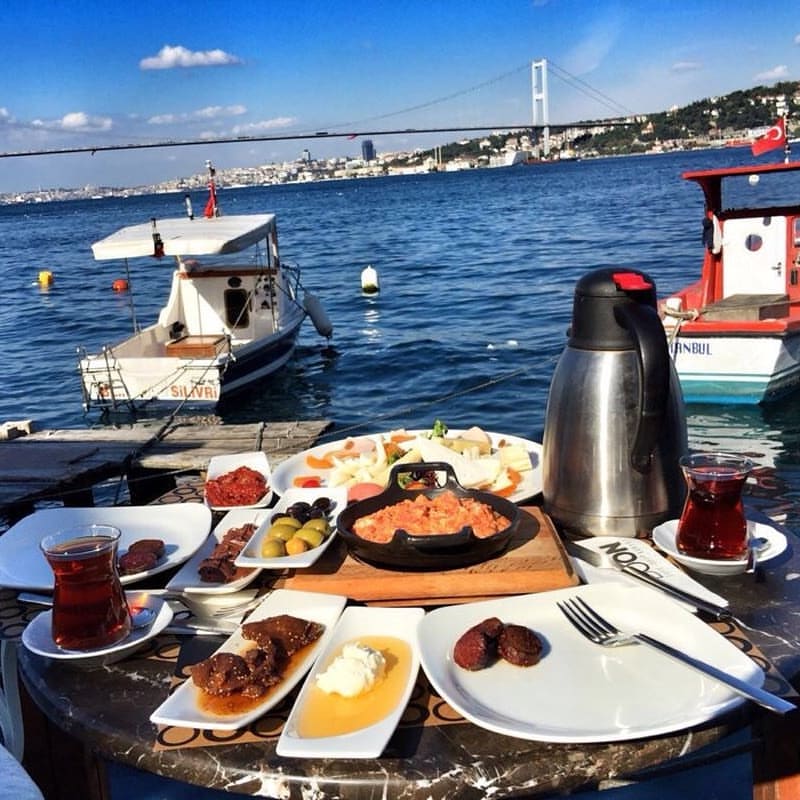 Situated in a secluded spot in Çengelköy (on the Anatolian side), Boon Café & Restaurant is the perfect choice for a budget-friendly yet fine breakfast with a sea view.
The place offers only 2 options for breakfast yet each of them is more efficient than the other. You can either order a mixed breakfast for 2 including 20 ingredients in total or you can get a breakfast plate with 13 ingredients. In any case, you will be full.
The perk of these 2 options is that they offer you unlimited tea, you get a re-fill any second you wish!
Breakfast service, on the other hand, is between 8.30 a.m. and 12 p.m. on weekdays, 8.30 a.m. and 2 p.m. on Saturdays, and 8.30 a.m. and 3 p.m. on Sundays. 
The average price for 2 is merely $ 10.
The place has the perfect location and the perfect interior design. Portions are large, and the staff is kind. It is especially pleasant to sit on the terrace looking over to the Bosphorus on warm summer nights. 
Overall, it deserves a chance even just for the view. Plus, Çengelköy is a nice and quiet neighborhood to stroll in compared to the European side's chaotic streets.
Address: Çengelköy, Kara Sk. 1A D:B, 34680 Üsküdar/İstanbul
11 – The Last Breakfastbender – Sardunya Karaköy
Last but not least, I wanted to include this seafood paradise that happens to be one of the best locations for breakfast as well. Located in Karaköy, a lovely district on the European side, to say the least, Sardunya Karaköy is a nice place to gaze at the Bosphorus.
The place takes its name from pelargonium flowers which are used heavily on the decoration as well that complements the whole mansion concept. Serene and peaceful, it is one of the best places for a Sunday breakfast.
It is a mixed breakfast deal and you have quite a few options to create your breakfast. Their home-made jams made out of seasonal fruits are particularly famous as well as their cinnamon granola and fresh fruit juices.
The average price for 1 is $15, a bit pricy compared to our other options yet it's certainly worth the price.
Breakfast service is between 10 a.m. and 2 p.m. only on Sundays. The total capacity of the place, on the other hand, is restricted to 300 people.
On another note, people especially say that the sunsets there are quite remarkable!
Address: Ömer Avni, Meclis-i Mebusan Cd. No:22, 34427 Beyoğlu/İstanbul
Before we part our ways for the last time, wherever you choose do not forget to make a reservation first, especially if you are to go on a week-end!