İstanbul has seven hills. That's why people call it 7-hill-İstanbul. But one of them hosts an architectural masterpiece for more than 460 years; Süleymaniye Mosque. 
If you're planning a trip to İstanbul, probably Süleymaniye Mosque is on your must-visit-places list. This is not surprising nor coincidence, of course, considering that Süleymaniye Mosque is the most popular mosque in İstanbul. I think it definitely deserves this fame.  
When you walk to the Sultanahmet Square or on the ferry going to Eminönü to visit the Historical Peninsula, you will probably recognize a mosque, standing still almightily. Yes, that is the Süleymaniye Mosque. 
Note that Süleymaniye Mosque is a part of Süleymaniye Külliyesi. Külliye is an Islamic-Ottoman social complex where different social services gathered together like education, hospital, library, kervansarays -Ottoman-style hostels-, etc.
Millions of visitors go to Süleymaniye Mosque every year and they take a step outside of the külliye with a fascinated state of mind. How, though? What makes this mosque that much special and ravishing? What is the history behind these hundreds of years old walls, what do they hide from first sight? 
It is an architectural masterpiece, a glorious artwork of Architect Sinan, and one of the most precious Islamic architecture marks; Süleymaniye Mosque and the külliye.
Let's start with getting to know the architect, and then the history and then the other details you should know. Don't worry I'll tell you how to get there at the end. 
1-Know the Architect: The Great Architect Sinan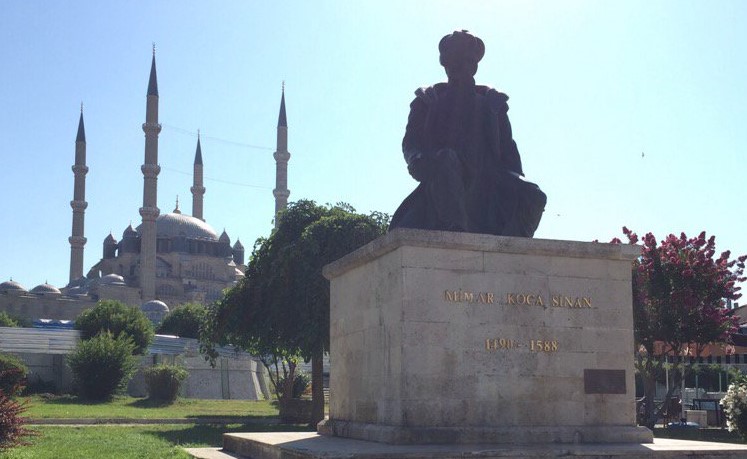 If you're interested in architecture, Architect Sinan is a familiar name to you. If you're not, don't worry. This is the opportunity to get to know him. 
Mimar Sinan was born in Anatolia in est. 1490. He moved to İstanbul when he was in his 20s. He got employed in the Military organization serving for Selim the Grim, (Selim I.) The only profession he had was not being an architect, but he also worked as a shipbuilder. He was kind of an engineer at that time.
He built numerous bridges, mosques, and külliyes all over the Ottoman Empire. 
In 1520, the Sultan has changed, the throne was replaced by Suleyman the Magnificent. Sinan directly began to serve him. 
In 1538, when he became the Chief Architect of the Ottoman Empire. Süleymaniye Mosque is the most recognized and maybe the most spectacular building of him in İstanbul. The construction started in 1550 and finished in 1557. However, some of the parts of Süleymaniye Külliyesi were under construction until 1559. 
Architect Sinan told that Süleymaniye Mosque was his "journeyman" work. Indeed, when he completed Selimiye Mosque in Edirne, ex capital-city of Ottoman, at the age of 86, he claimed it was his master's work. 
Well, to be honest, I think seeing Süleymaniye Mosque as a journeyman work is nothing but being humble. So, let's learn a little bit more about this magnificent complex, including the mosque.
I know I have used the word "history" too much! But, this is the pure symbol of 600 years of an Empire. In Ottoman times, mosques were not built only to pray but for several reasons. Let's see them.
2-It is a Symbol of Power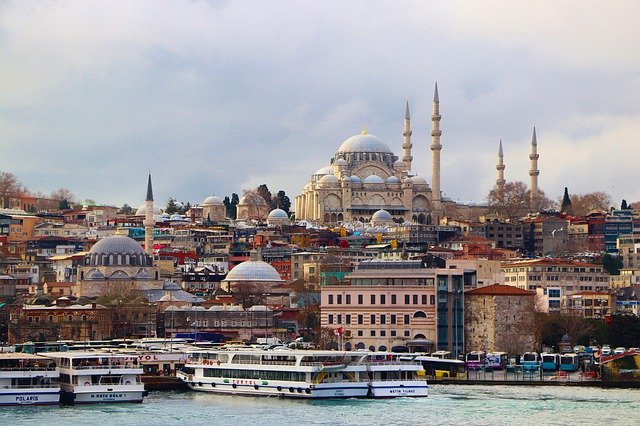 After the conquest of İstanbul, it became the capital city and the center of the Ottoman Empire's political and economic life. Ottoman architecture limits itself to be humble and modest, yet there was a need for a remarkable complex and a mosque for the growing and expanding Empire's center. 
Suleyman the Magnificent (or Suleiman I) wanted to build a mosque. The Chief Architect or Great Sinan (yes, people began to call him Great) was called to duty to build the greatest mosque of his career.
I have already mentioned above that Süleymaniye Külliyesi's construction started in 1550 with a groundbreaking ceremony with the participation of the Sultan. According to historical resources, Architect Sinan and 3500 workers have worked so hard to complete the mosque on time. 
3-Construction Cost at Least 3200 Kilograms of Gold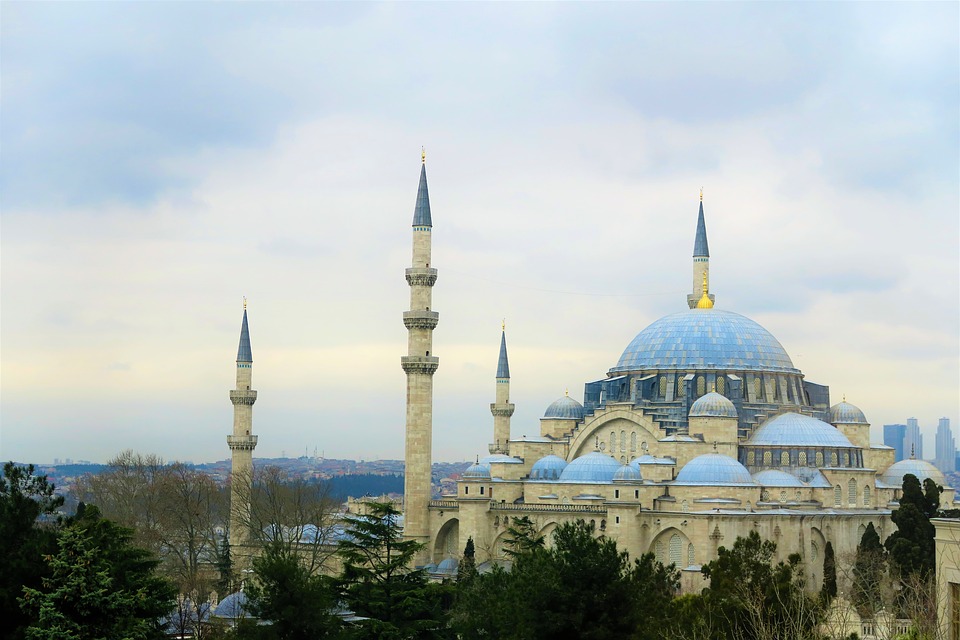 So, here is the question everyone wants to ask: how much it cost? The answer is mind-blowing; 896 thousand gold coins and 82 thousand silver coins, which means 3200 kilograms of gold in total. 
All the materials used in the construction were brought from different regions of the Empire. For example, white marbles were from Marmara Island, green marbles from Arabia, iron from Bulgaria, etc. By doing this, Sinan's and Sultan's aim was to prove how enormous the Ottoman land had been and use high-quality materials for sure.  
4-It Took 7 Years to Complete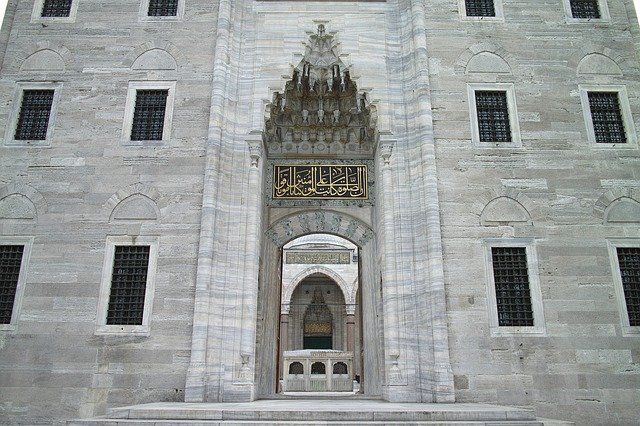 On October 15, 1557, the opening ceremony took place. In his memoirs, Architect Sinan wrote that he had asked Sultan to open the mosque, but Sultan had said "it's better for you to open this building that you've turned into a house of God." So, Sinan said: "for the name of Allah who opens the doors", and officially established.
Süleymaniye Mosques was not just a mosque or külliye. The architect and Sultan aimed at building a city; a monumental, glamourized complex to demonstrate the dignity of the Empire. Clearly, he succeeded!
Between 2007 and 2013, Turkish professionals restored the Mosque. 
For almost 470 years, Süleymaniye Mosque has been watching silently and embracing the Stambouliotes, İstanbul lovers, and prayers every day.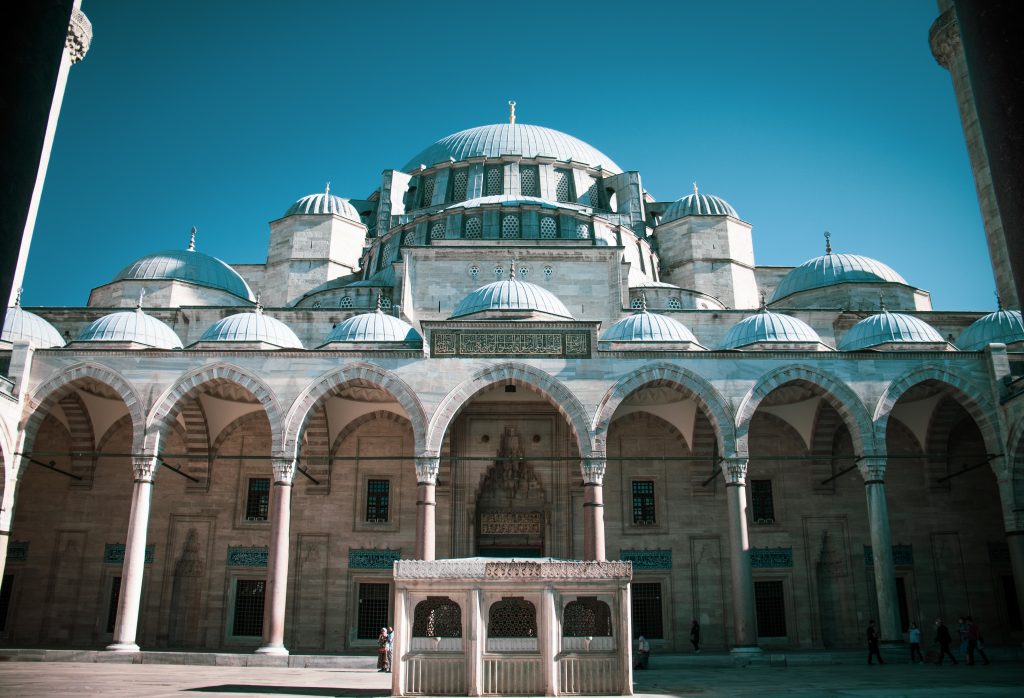 When we are talking about İstanbul, not only the history itself but the architectural culture also reveals the historical details. Especially this grand mosque! It brings so many details about Ottoman culture.
If you believe that people had their own personal pieces of knowledge at every age, you will be fascinated just like me when you read the architectural design of the külliye and mosque. 
Not only the enormous appearance of the Süleymaniye mosque that makes it literally glorious but also the architectural knowledge inside. Today it stands still, welcomes the visitors, and exhibits the history. But how could it be so enduring?
5-Four Minarets Were Constructed For Four Sultans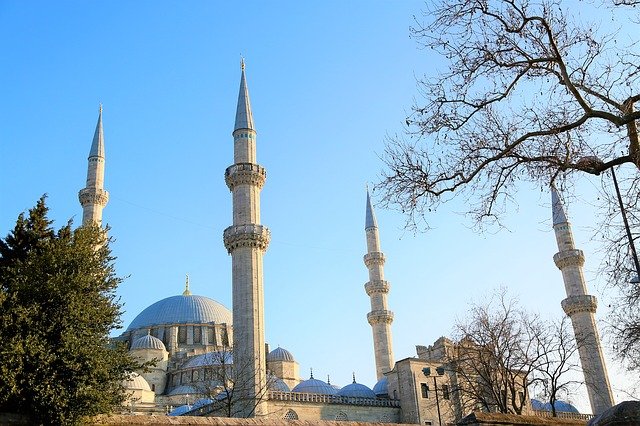 The külliye is not just construction but secretly houses a treasury of symbols. 
When you look at the mosque, probably you'll see four minarets, a huge dome, and numerous smaller domes. Four minarets symbolize the fact that Suleyman the Magnificent is the fourth Sultan after the conquest of İstanbul. Also, ten minaret balconies symbolize that also he is the 10th sultan of the Ottoman. 
Note that, two of the minarets are taller than others. Taller minarets have 3 balconies whereas shorter ones have 2 for each. 
6-Seriously, There Are Pieces of Jewelry in Jewellery Minaret!
According to rumor, the construction stopped for a while. The Persian Shah learned that and sent a few jewelry to complete the külliye. Sultan got angry and Architect Sinan put those pieces of jewelry to the soil mixture of a minaret, which is currently called Cevahir Minaresi (Minaret of Jewelry)
The entrance of the külliye is provided by 11 different gates. The rectangular courtyard surrounded with lower but domed arcades orientates visitors to the entrance of the mosque. Honestly, the moment you stepped into the courtyard, you will lose your sense of time and desire to get inside of the mosque. 
7-Mission Impossible: The Dome is Supported by Four Pillars for Four Caliphates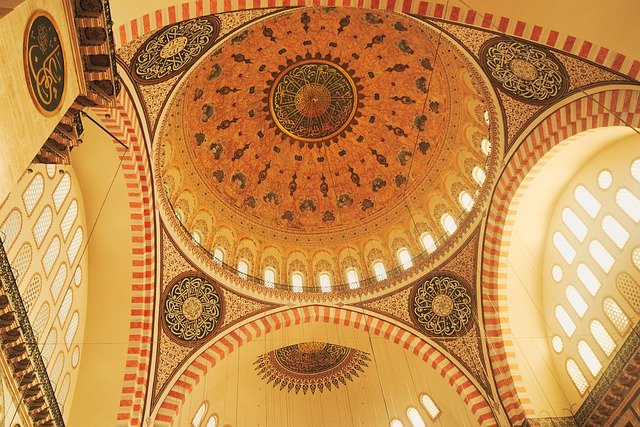 Let's take a virtual walk in the prayer hall. The main dome is in the center, which its diameter is 27,4 meters and a height is 50 meters. Note that it was built with specially produced bricks. It is supported by 4 enormous pillars which symbolizing the 4 caliphates; Ebubekir, Omar, Osman, and Ali. Also, the stones used in the construction were bound to each other by iron and supported by lead.
There are 32 windows around the pedestal which provide natural light. In total there are 138 windows, though. Mosque was also lightened by 275 oil lamps, which may cause soot inside. So, Architect Sinan designed a system with hallows that enable clean air coming inside whereas soot is directed out. 
8-It's Not only a Mosque But a Small City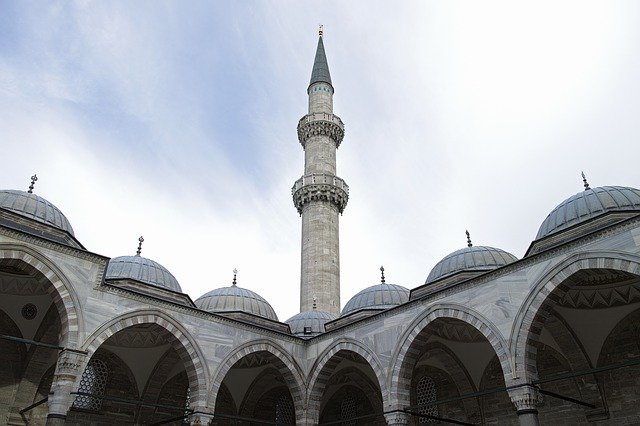 Let's go back to the courtyard. Madrasa is an Islamic-Ottoman education institution. Let me repeat once again, Süleymaniye Külliyesi was not designed only as a gathering for religious activities but also as a center of education and commerce. 
There are seven madrasas in the Süleymaniye Külliyesi. They are taking place under the peripheral arcades of the Mosque, under the small domes. Today, they are used as Süleymaniye Library. 
The mausolea are located behind the qibla in the prayer hall, which harbors the resting places of Sultan Suleiman and Hürrem Sultan, i.e. his wife.
Other buildings taking place in the complex are a hospital (şifahane), a soup kitchen (darüzziyafe), an inn, a bathhouse, the resting place of Architect Sinan, and several shops. I told you, they were not simply building a Mosque or külliye, a living area for the center of the Empire.
9-The View Worths Spending Some Time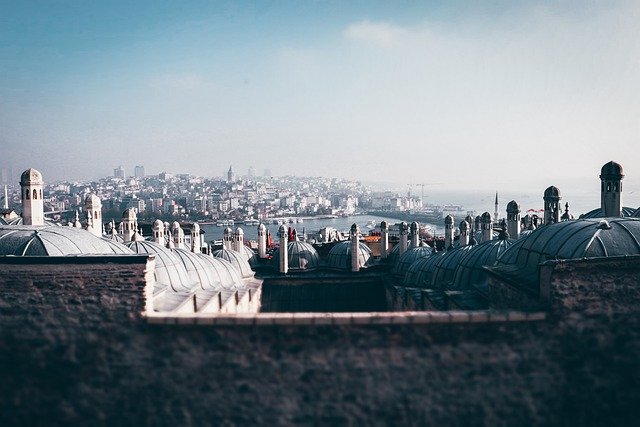 As the Külliye is built upon a hill, it brings about an opportunity to see the magnificent view of the city. You may see Topkapı Palace, Golden Horn, Marmara Sea, and the Bosphorus from the Külliye. 
I advise you to enjoy this panorama and acknowledge that it was the best place to build this külliye on. 
10-The Mosque Is Open to Worship for More Than Four Hundred Years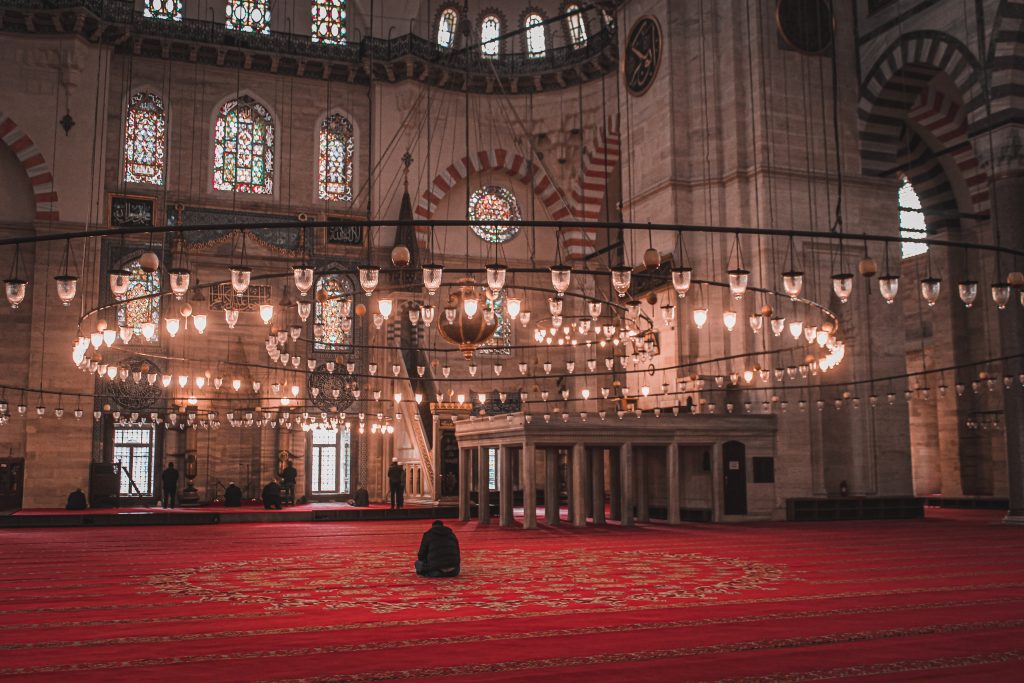 Muslims pray 5 times a day. One friend told me that students after spending the night studying in the Beyazıt Library, some İstanbul University go to Süleymaniye Mosque for the morning prayer. 
In fact, the visitors are not allowed to walk inside the mosque during the prayer hours. However, if you really want to see how prayers and the atmosphere of the mosque are completing each other, you may ask someone to help you show how they pray.
They will surely be kind.  Also, listening to azan five times a day may sound different but don't forget that every muezzin recites the azan in his own way. 
So far, you have learned the history and the physical characteristics of the Külliye and the Mosque. However, neither the history nor the genius architect makes visitors fascinated when they step in. It is the ambiance and the interior design which makes you feel in a different world, different time, and a different state of mind. 
Surely, the descriptions are never enough. However, knowing what they represent will make the experience so much better. 
11-Stained Glasses and Tiles Worth to See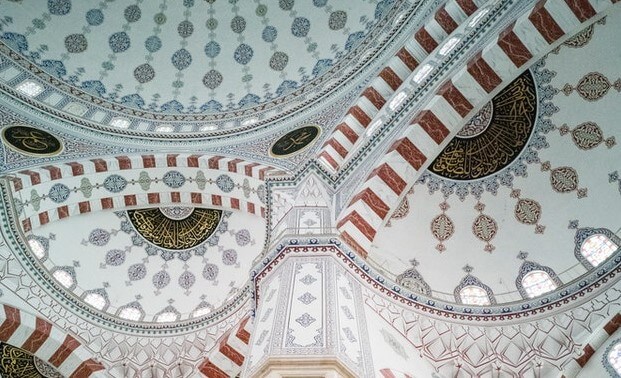 The windows on the mihrab wall are comprised of stained glass. They are made by Drunk İbrahim. (In Ottoman Empire as people do not have last names they are identified by their monikers) 
Surely, Blue Mosque is popular for Turkish ceramic tiles, a traditional art form, but this does not mean that Süleymaniye Mosque has also remarkable and unique tiles. They worth seeing. 
Moreover, we know that Architect Sinan had a personal interest and love for the owls. The owl ornaments take place in most of his works, including Süleymaniye Mosque. If you look up, at the circumferences of the dome, you will see an owl watching you from there. 
Birds have always been important in Turkish culture. Therefore, Ottoman architects always put small houses for the birds and little hollows to make sure that they access water.
Architect Sinan, for sure, kept this tradition and places little bird palaces all over the külliye. If you look carefully, definitely you'll find one. 
12-The Acoustic Is Miraculous
Obviously, it's not a miracle, but a marvelous design of Architect Sinan! There is a well-known rumor about acoustic. One day, Sultan walks into the mosque and sees Sinan smoking hookah. He gets angry and asks Sinan what he was doing. Sinan says that he was examining the expansion of the bubbling sound around the hall. This is how the acoustic had been tested. 
Why, though? Why Sinan was so obsessed with the acoustic? So basically, the acoustic was designed to enable sound to propagate equally inside the mosque. You can hear the muezzin, who recites the azan, at the same volume, and sound quality regardless of your standing point.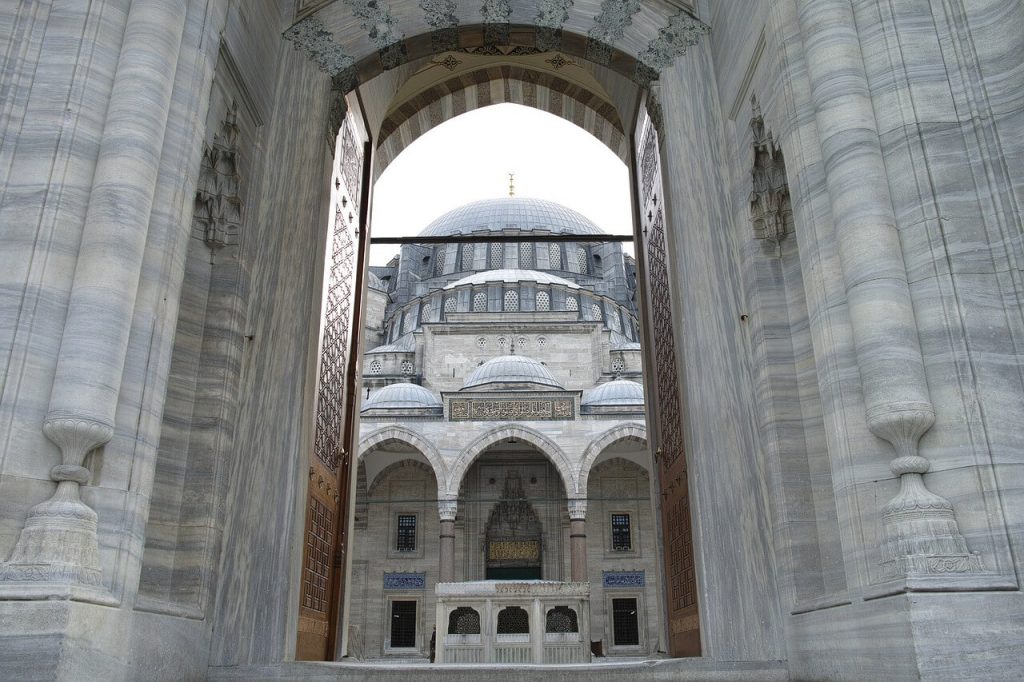 I listed some answers to frequently asked questions here, the things you may wonder.
13-So, How to Get There?
Süleymaniye Mosque is at the heart of İstanbul, in Historical Peninsula. It is really close to the Grand Bazaar. So, I can say that it is one of the easiest locations in İstanbul. 
Süleymaniye Mosque is in the Fatih district. Not surprisingly, in a neighborhood called Süleymaniye. 
If you're coming from Taksim or Şişli, you may take the M2 subway line (Yenikapı-Hacıosman). If you're in Üsküdar you can take Marmaray and walk to the Mosque from Yenikapı station. Kabataş-Bağcılar T1 Tramway line is also a good option if you're close to Kabataş or Karaköy; you should get off at the Laleli-Üniversite Station. 
If you prefer the bus, it's better to use public transportation apps or https://nasilgiderim.iett.gov.tr/en/ to plan your trip. On this website, which is in English, you may plan your route easily. It's the municipality's service, so don't hesitate to use it. 
14-You don't have to buy a ticket
Since it's a mosque, it's open to visiting every day between 9 am to 6 pm. However, you may donate as a charity if you'd like to. 
15-What to wear? 
I suggest women take a scarf with them and everyone to cover their limps. But in summer, it might be challenging and uncomfortable wearing pants. Don't worry, at the entrance, if you ask for them they'll give you loose dresses to be able to get inside. 
Some Final Words
I strongly advise you to leave your thoughts and concerns outside the courtyard, enter in, and see every little detail inside the mosque. Hear the sounds, experience the acoustic. Then, walk around the külliye, try to imagine how Ottoman people would seem. Finally, enjoy the unique view, try to watch it as former Stambouliotes did.