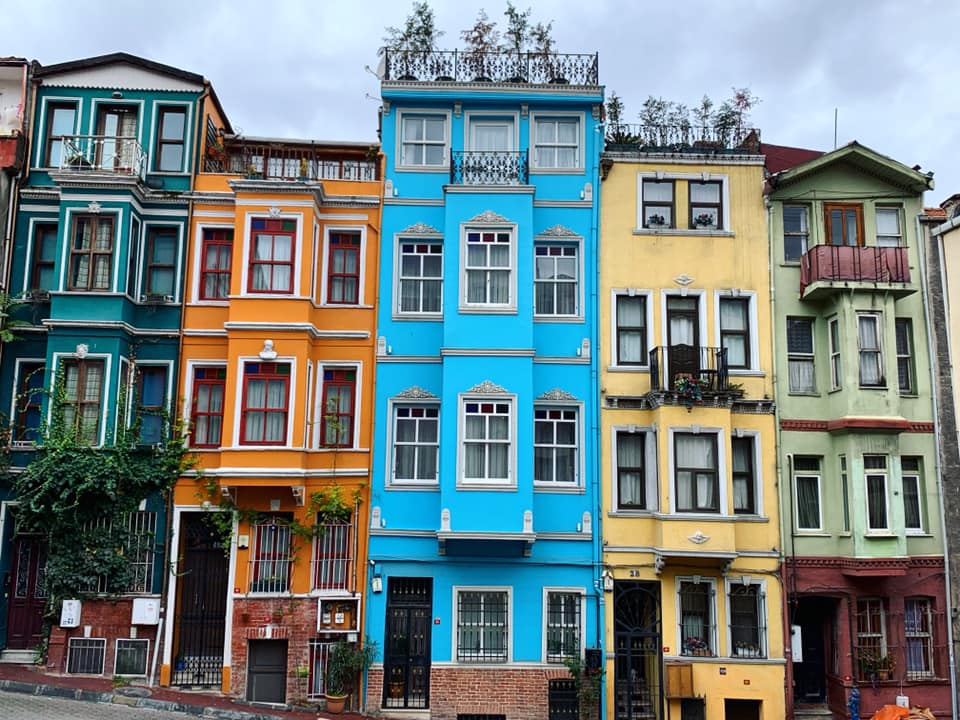 Balat is a pragmatic district of narrow streets and colorful houses located near the "Bosphorus" sea and "Golden Horn" a Horn-shaped estuary, the main bay over the shore. It was once known as the Jewish quarter of the city so you can still see the synagogues around the place combined with more diverse groups.
It's where bohemian cafes and avant-garde galleries take place next to archaic local shops meanwhile it's a cosmopolitan neighborhood attested by the Greek, Armenian and Jewish communities living there for hundreds of years.
It's one of the most photographed places in Istanbul with rainbow colors stairs and pastel-colored houses from more than 200 years ago so do not hesitate to get your picture game on because every wall is a unique background.
How to Get to Balat
So you might be staying in other locations while visiting and in this part, I'll give you some tips and routs from some of the more popular starting points and the airports if you are directly going to "Balat"
From Istanbul Airport
The new airport is located in the north of Istanbul and although it is still in the city it could be a little far away and confusing for first-timers so just follow these instructions and there is nothing to worry about.
Havabüs/Havataş
The first and fastest way is the airport shuttle, as soon as you leave the main building, there are big white buses waiting for passengers and the drivers usually yell out the name of their destination. They will check in your baggage then you can get on the bus.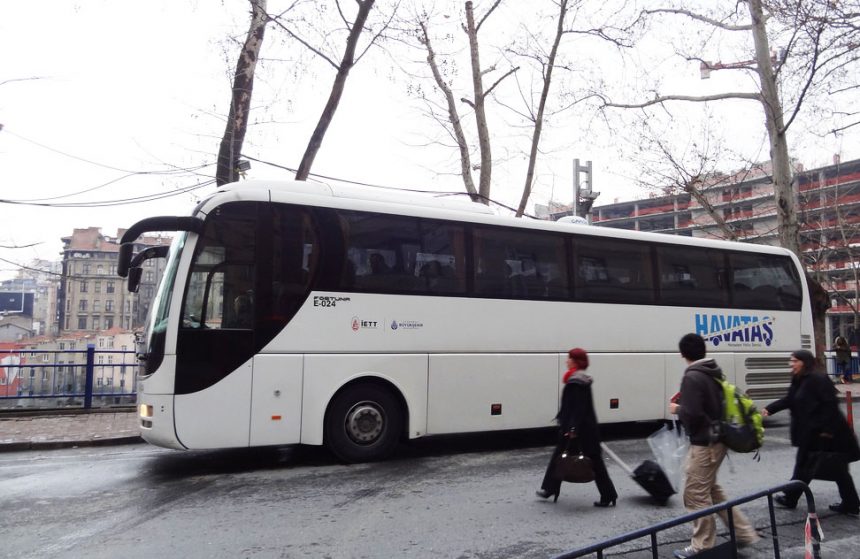 Remember you can pay in cash when the driver collects them before they hit the road and if you do not speak any Turkish and you want to ask for the right shuttle just ask "Balat Havabuslar Nerede" which means "Where are the Balat shuttles" from a driver or airport crew so they could guide you properly. Price 19-20 TL ($ 3-4)
Note: The only acceptable currency is Turkish Lira "TL" "₺" for most of the places so remember to exchange some at the airport before you head out to the city.
Bus
After leaving the airport premises, walk for 5 minutes to the "İstanbul Havalimanı" bus station then take the "IST-19" towards "Taksim" after about an hour or so get off at "Nurtepe Viyadük", walk about 3 minutes to "Tepe" bus station and take the "399B" towards "Eminönü" then after 36 stops get off at "Fener" and from there it's only a 6-minute walking to "Balat". Price: 15-16 TL ($ 2-3)
Note: For most of the public transits such as bus, subway, ferry, and Ect you have to use an electronic card called "Istanbul Kart" which is multi-user and rechargeable so to get one just go to the closest subway station (Metro) and you will see the offices down there and recharge them just by using the machines located in every station. Price: 19-20 TL ($ 3-4)
From Sabiha Gökçen Airport
Havabüs/Havataş
It's the same way as the Istanbul airport shuttle but this airport is older and located in a busy part of town so if you missed the shuttles for any reason, just leave the airport building or ask for information from the crew, there are always options to get you to your target place.
Taxi
As you would imagine this the fastest and most expensive way but if it's not the rush hour and you are in a hurry taxis are the way to go, just tell the drivers your destination to make sure they know the way and ask for approximate prices before you get on the road, more importantly, pay only in Turkish currency cash.
From Taksim Square
Bus & Subway
Go to the "Taksim" subway station, use your "Istanbul Kart" to get in then take the green line called "M2" towards "Yenikapı" and get off after two stops at "Haliç" and walk to the bus station, from there take the "48E" towards "Göktürk" and after 3 stops get off at "Fener" only 5 minutes walking to "Balat". Price: 15-19 TL ($2-3)
From Kadıköy
Ferry & Bus
Go to the "Kadıköy Turyol" pier, there is a ferry leaving every half an hour so take next "Eminönü-Karaköy" line and after a 20-minute ride get off at "Eminönü (Turyol)" then walk a minute to the bus station and take the "44B" towards "Hamidiye Mahallesi", after 4 stops get off at "Fener" and you know the rest from there. Price: 15-19 TL ($2-3)
What to Eat & Drink
The most colorful neighborhood in Istanbul is all about hip decorative cafes and their lovely detailed designs that they boldly took outside on the sidewalks and walls. All this hard work has paid off since this is the number one target for hippies, artists, and photographers from all over the world who want to capture these individual moments only in "Balat".
In this part, we will learn about some of the coolest places to hang out and enjoy authentic or European beverages, innovative and gorgeous dishes and meet new people.
Breakfast & Brunch
Join the lively morning crowd in the peaceful streets of "Balat" for a festive breakfast that happens every day especially on the weekends meanwhile you can see the locals, travelers, and expats sitting outside the cafes treating themselves in the best fashion ever.
Forno Fırın
A homey, warm bakery with bright colors and wooden big dining tables indoors and an open kitchen area where you can see the magic happens. All the products are fresh and everyday meat comes from a relative butcher, fresh vegetables from the neighbor's grocery store.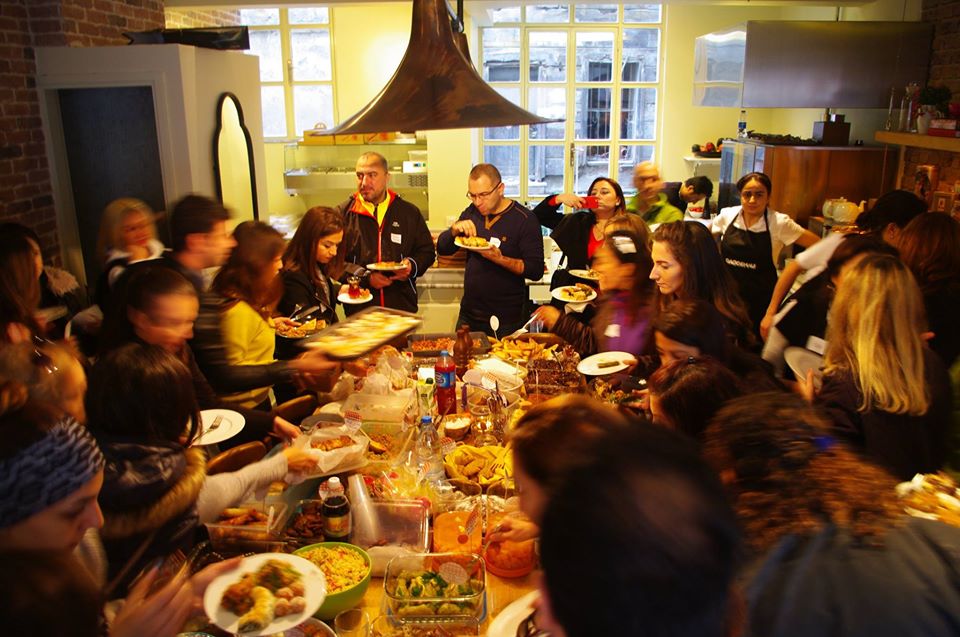 On the weekends, it's a big celebration of breakfast buffet with fresh out of the oven bread and bagels, salads, organic jams, hot drinks of your choice and much more delightful options on the table, in addition, friendly professional staff.
Address: Balat, Vodina Caddesi, Fener Kireçhane Sk. No:13/A, 34087 Fatih/İstanbul
Balatkapı Cafe & Restaurant
It's a small yet cozy place, in other words, a third wave hipster cafe that is very admired among the young liberal community of Istanbul. With dark and rich colors on the walls and tables, combined minimal interior design that really makes the place stand out in "Balat".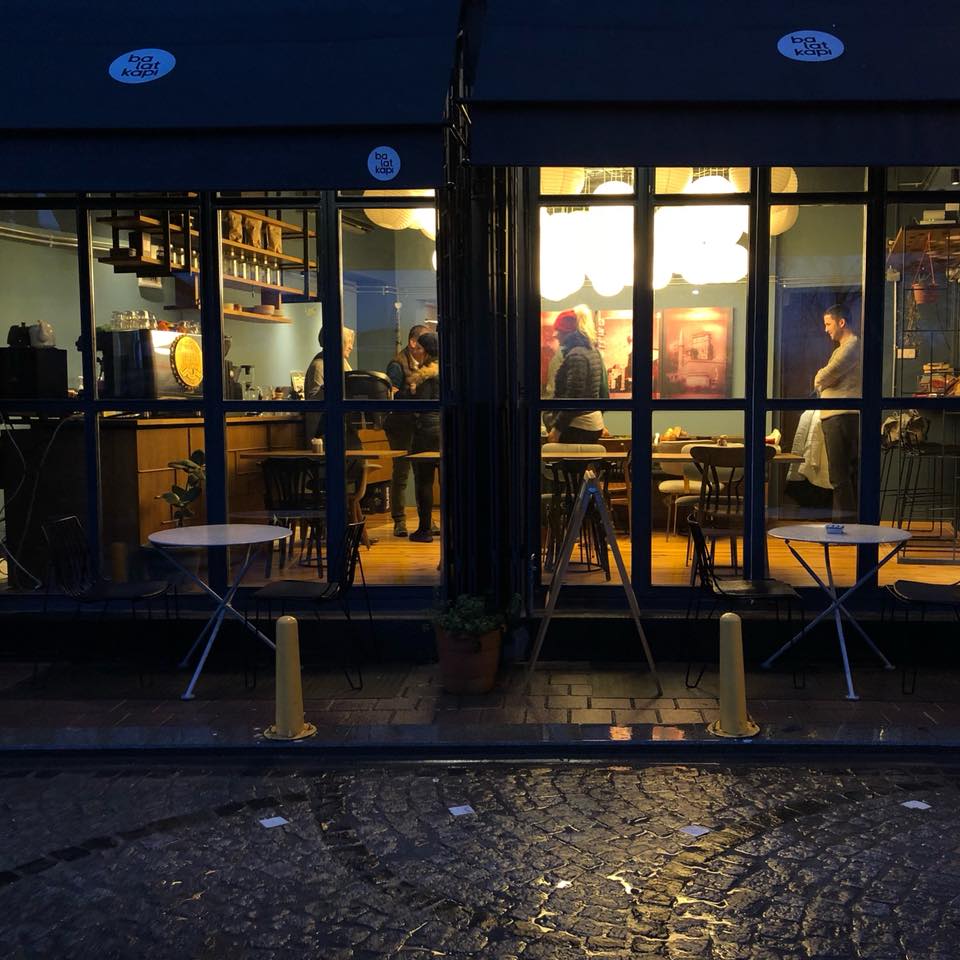 Serves freshly roasted coffee in addition to traditional authentic breakfast dishes with quality out of proportion, some of the dishes you can share with a friend. Enjoy the soothing music, relax or hang out with groups and engage in small conversations with the outgoing owners.
Address: Balat, Yıldırım Cd. 61/A, 34087 Fatih/İstanbul
Cooklife Balat
With airy spacious, beaming walls and natural bright colors, The Cooklife Balat is a lifestyle as well as a charming spot to gather people together. The dishes look so beautiful with detailed designed and cute personal touches that you wouldn't want to change the displayed by eating it!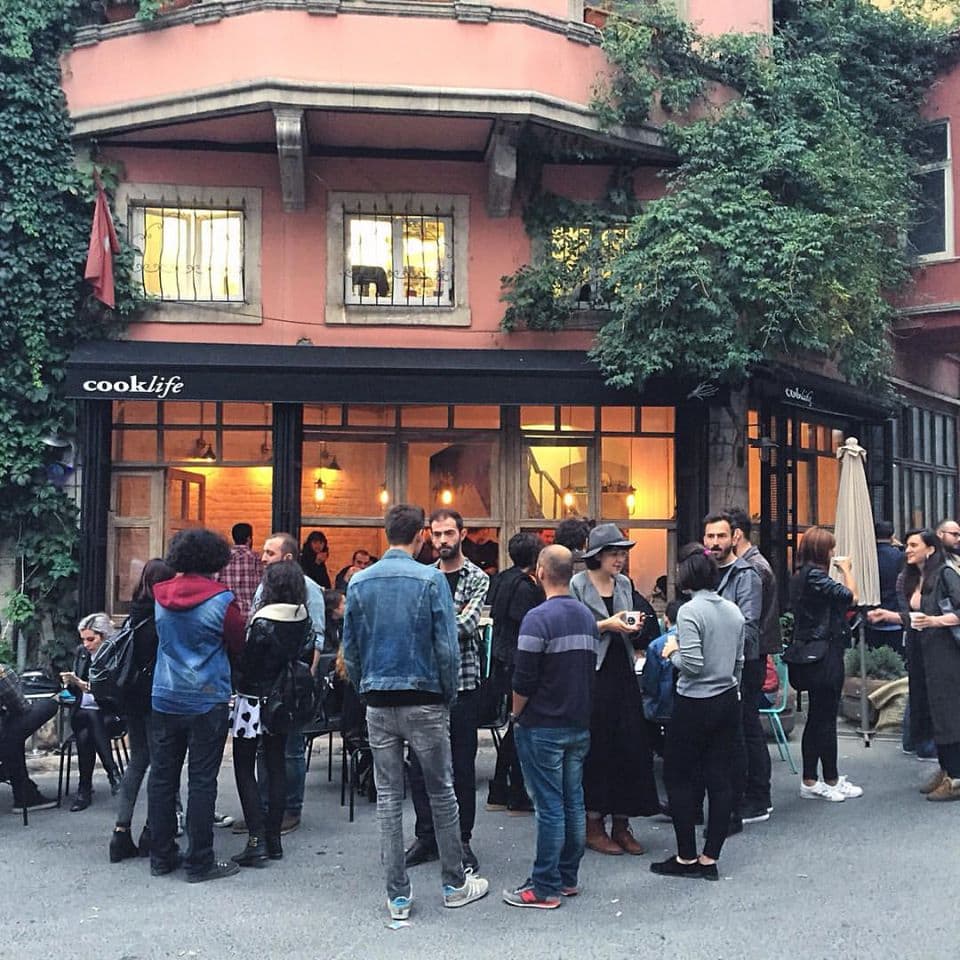 It offers traditional Turkish breakfast foods like "Menemen" plus plenty of European dishes such as pancakes and Halal meat. Enjoy the dreamy vibe and don't forget to try the fresh coffee beverages.
Address: Balat, Akçin Sk. D:No: 3/B, 34087 Fatih/İstanbul
Cafe Naftalin K
Once you get there you feel like you're home, it's so friendly and comfy that you'd forget that's a cafe. Ablaze windows and color-pops all over the place meanwhile handmade arts and antique decoration with fluffy cats lying among them.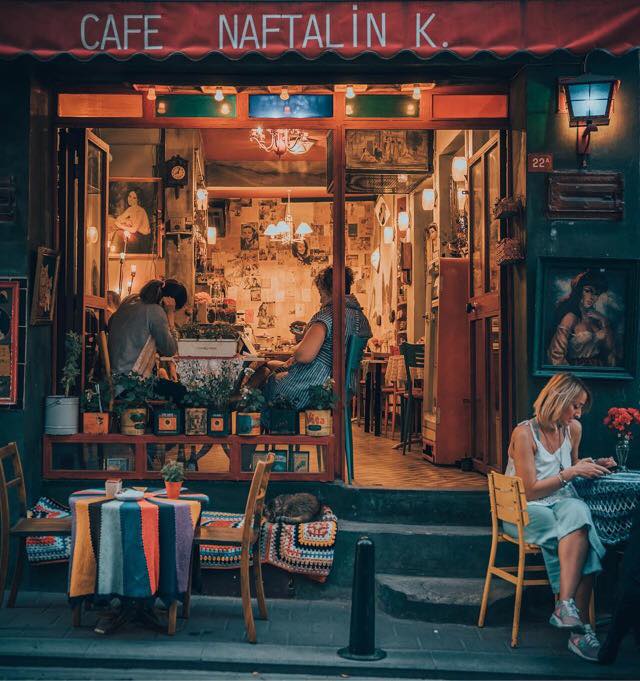 The menu is vegan and vegetarian-only so it offers some simple popular vegan dishes plus some homemade innovative options but in Naftalin is not just about food as it is about spending quality time and meet new hipster people.
Address: Balat, Yıldırım Cd. No:27/A, 34087 Fatih/İstanbul
Coffee Break
Now it's time for the New Age cafes with cinematic designs in heart of "Balat", from tiny dark deep roasteries to elegantly simplistic spaces with sharp colors that bring out the best in the neighborhood. Cafes are the best way to meet the hipster crowd and explore the place with some new friends who are fluent in both English and Turkish in addition to helpful information.
Cumbalı Kahve
A chic and cheerful place located right across a Synagogues and center of the dynamic everyday life so you can just get a table outside and soak in all the ancient historic spirit of "Balat".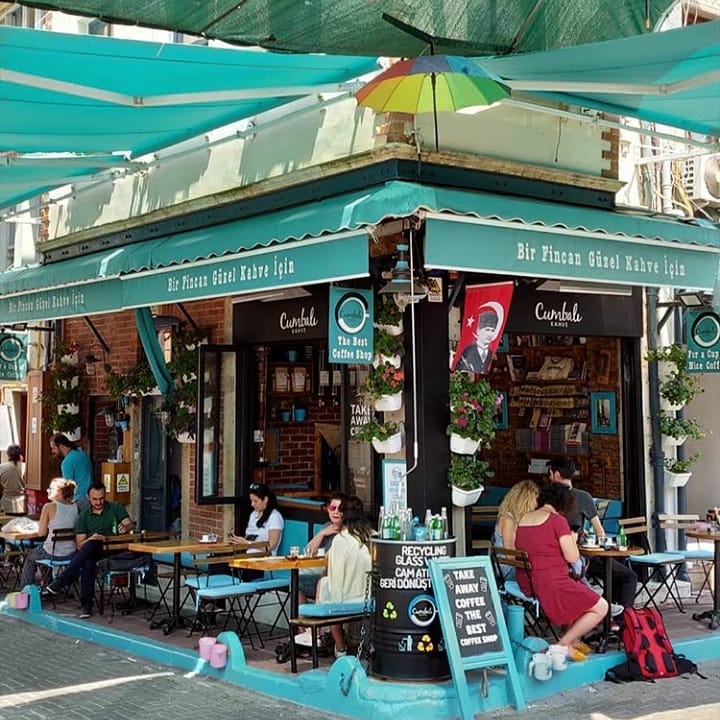 Serves a vast coffee menu with fresh grounds from Yemen and roasted with their own recipe which is what makes them the unique group that they are. Deep blue and brown colors tastefully applied on every little spot gives the place a warm and relaxing atmosphere.
Address: Ayvansaray, Kürkçü Çeşmesi Sk. No:12, 34087 Balat/Fatih/Fatih/İstanbul
Velvet Cafe
The genuine Oriental Art Nouveau era design will take you back to the 19th century. Vividly and warm colors on the wooden doors and windows give the ultimate nostalgic atmosphere, in addition, you get to choose your own authentic Turkish coffee.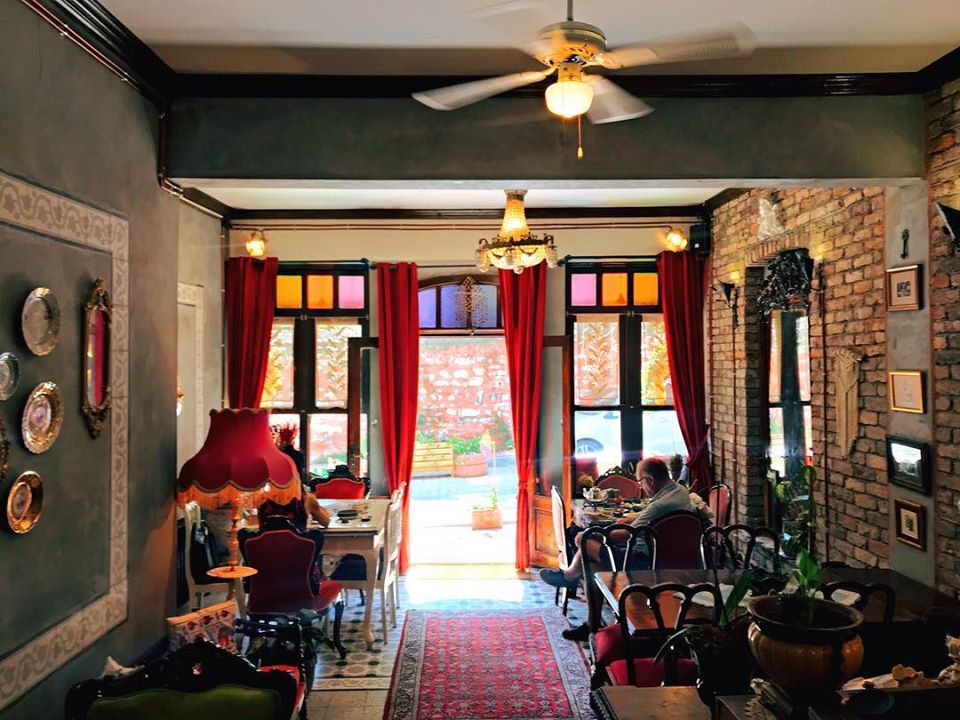 Address: Balat Mah, Çimen Sk. No:8, 34087 Fatih/İstanbul
Incir Ağacı Coffee
Go back in time to the1970s in Istanbul with symbolic alchemical design and the classic blue and white color combination that brightens up the radiance of the place. Offers all original Turkish coffee and hot beverages moreover very helpful and friendly staff will welcome you in at the door.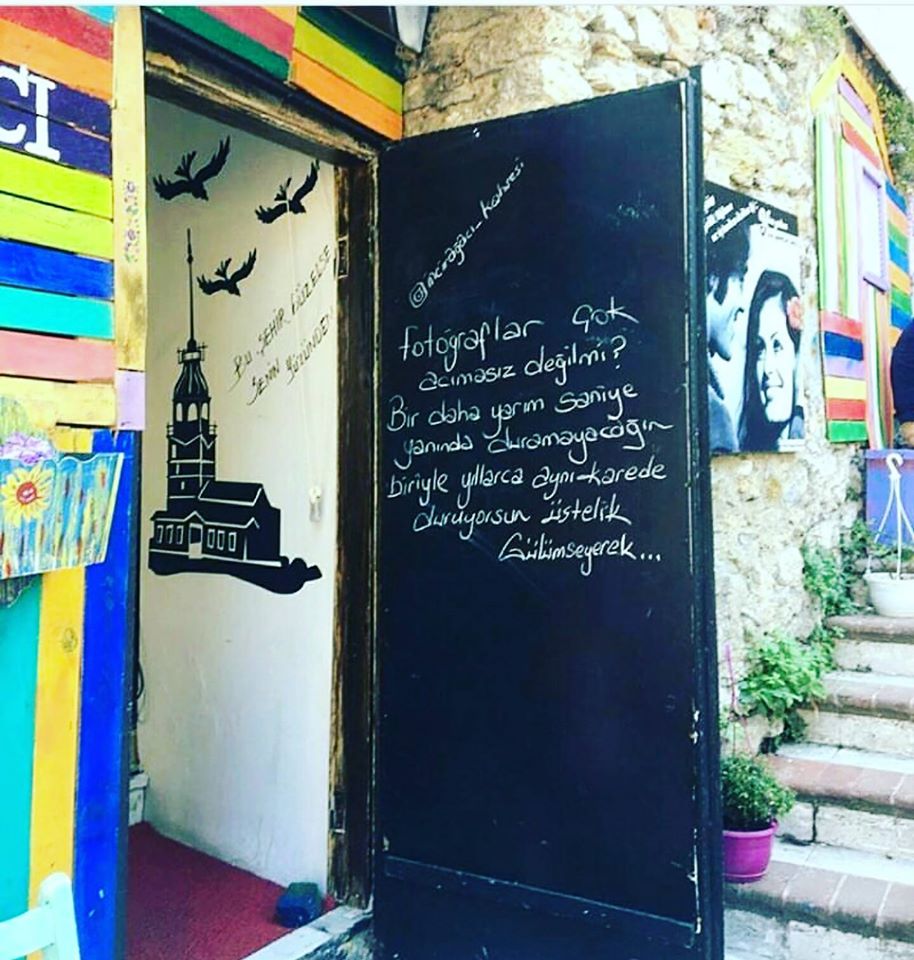 Address: Balat, Merdivenli Mektep Sk. No:1, 34087 Fatih/İstanbul
Vanilla Cafe
The ultimate stopping place for travelers is an adorable cute space and even though is not big it's very trendy yet simple and friendly. It's exactly how you would imagine a local bohemian and natural cafe would be.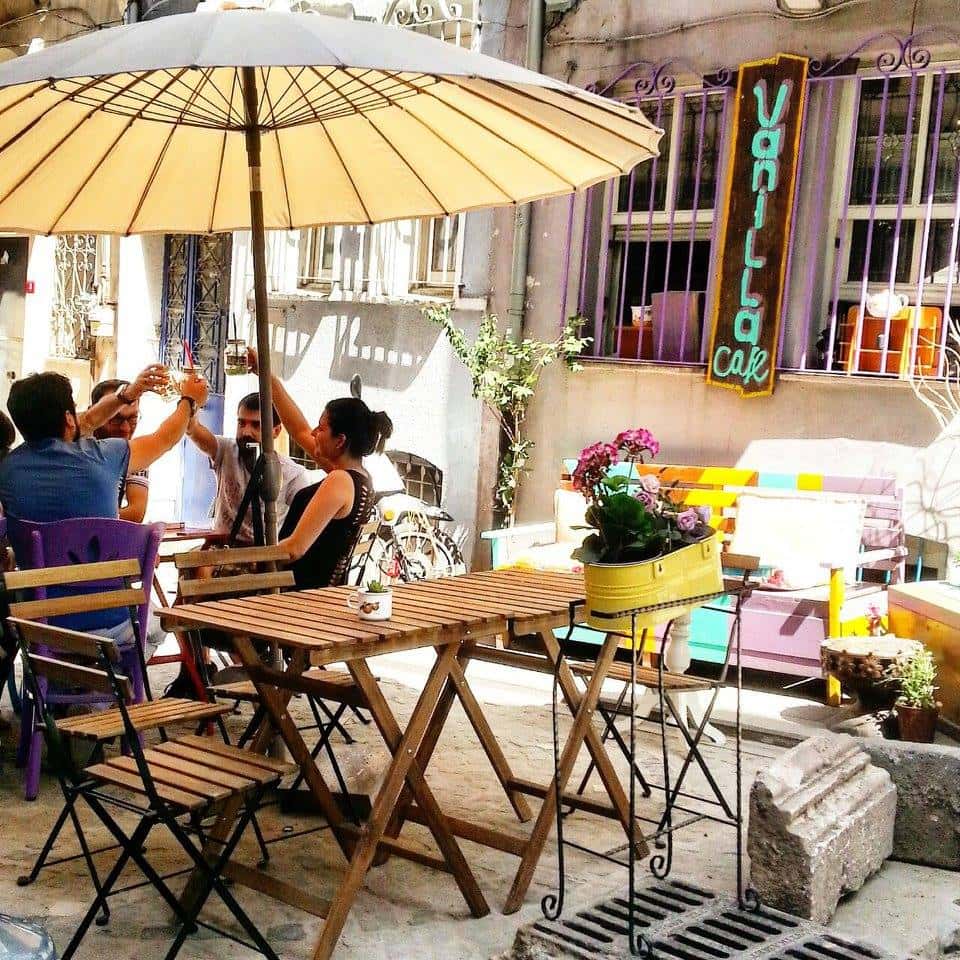 The sweet handwritten menu offers not only the best brands of coffee but fresh salads and homemade snacks above all very hospitable staff who is fluent in English.
Address: Balat, Vadina cad. 6/A, 34087 Fatih/İstanbul
Karakoy Kahvesi
A huge back yard filled with a large number of tables and seatings and shades. It serves breakfast as well as a Turkish coffee collection of the best quality. It's a great refreshing place to spend your afternoon and meet some big groups of locals.

Address: Balat, Mürselpaşa Cd., 34087 Fatih/İstanbul
Maison Start
It's a quaint little cafe and it's delicately designed with vintage and characteristic chinas and crystals. The very friendly owner will welcome you at the front door and she is helpful with the menu. It serves hot fresh beverages as well as old-school breakfast and snack menu.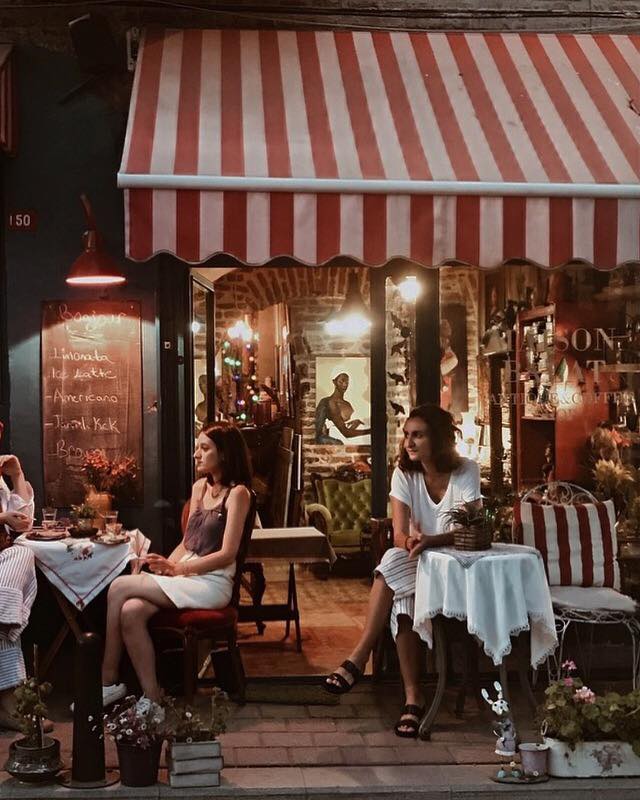 Address: Balat, Vodina Cd. No:50, 34087 Fatih/İstanbul
Restaurants
Barba Vasilis
A perfect combination of the best cuisines from the ethnicities living in this area with a Greek design and old-school settings. It offers Greek and Turkish options as well as Medeterien dishes and seafood from the local shores such as Octopus and calamaries.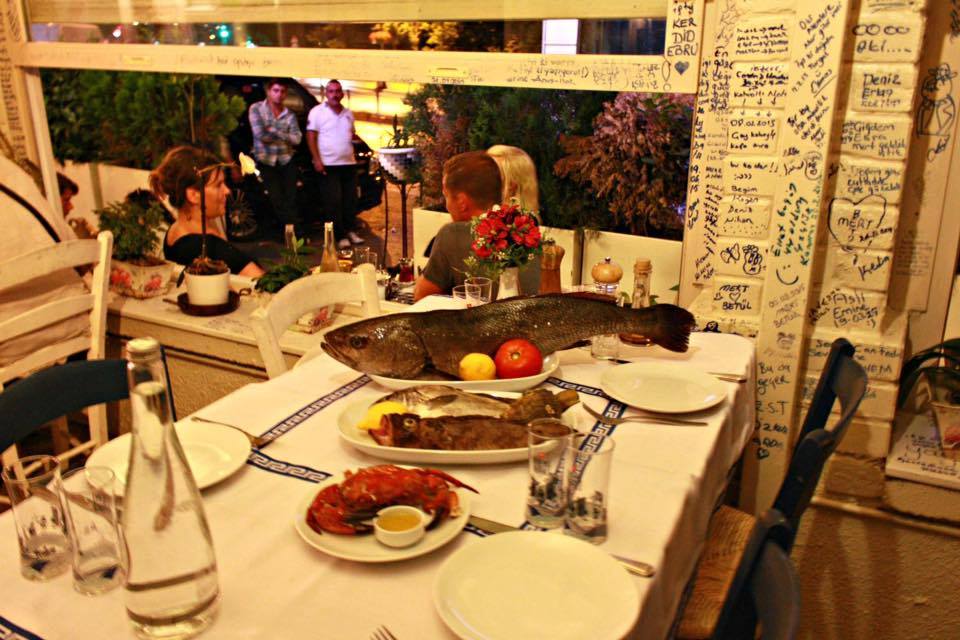 It comes with a "Meyhane" a traditional Turkish bar with its own special snacks that you have never even heard of displayed on a very big tray. You can order the wine menu "Şarap menu" and the snacks tray "Mezze" comes with your order.
Address: Yavuz Sultan Selim, Abdülezelpaşa Cd. no:97, 34083 Fatih/İstanbul
Chinchillas
With an exceptional view over the "Golden Horn" from an intimate terrace that is heated during the winter, this place offers a wide variety of Turkish and European cuisines, Mexican and Italian dishes, a perfect choice for both lunch and dinner.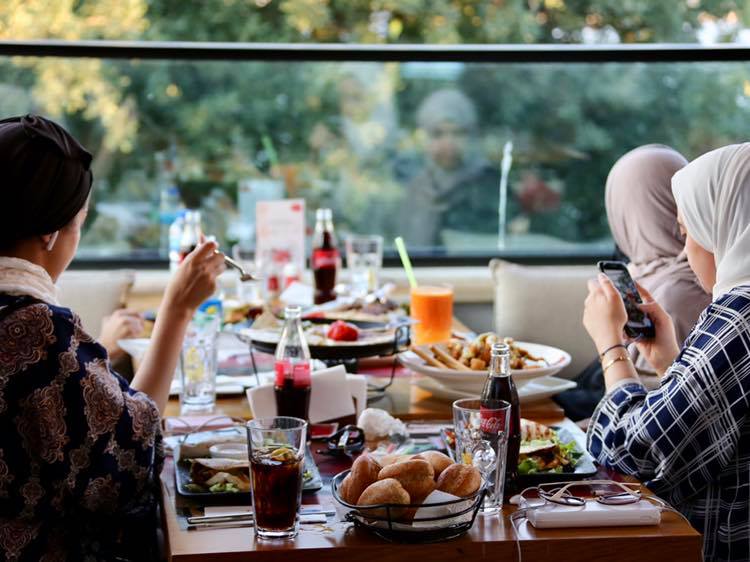 A classy and comfortable setting inside and a couple of tables on the terrace, inside are big tables great for families and big groups enjoying a late afternoon together.
Address: Balat, Balat Mahallesi, Yavuz Sultan Selim Mahallesi, Abdülezelpaşa Cd. No:31, 34083, 34083 Fatih
Balat Sahil Restaurant
An original antiquated Turkish restaurant located next to the shore of "Bosphorus" with an amazing view over the "Golden Horn". Offers flavorful appetizers you only find in Istanbul as well as seafood main courses.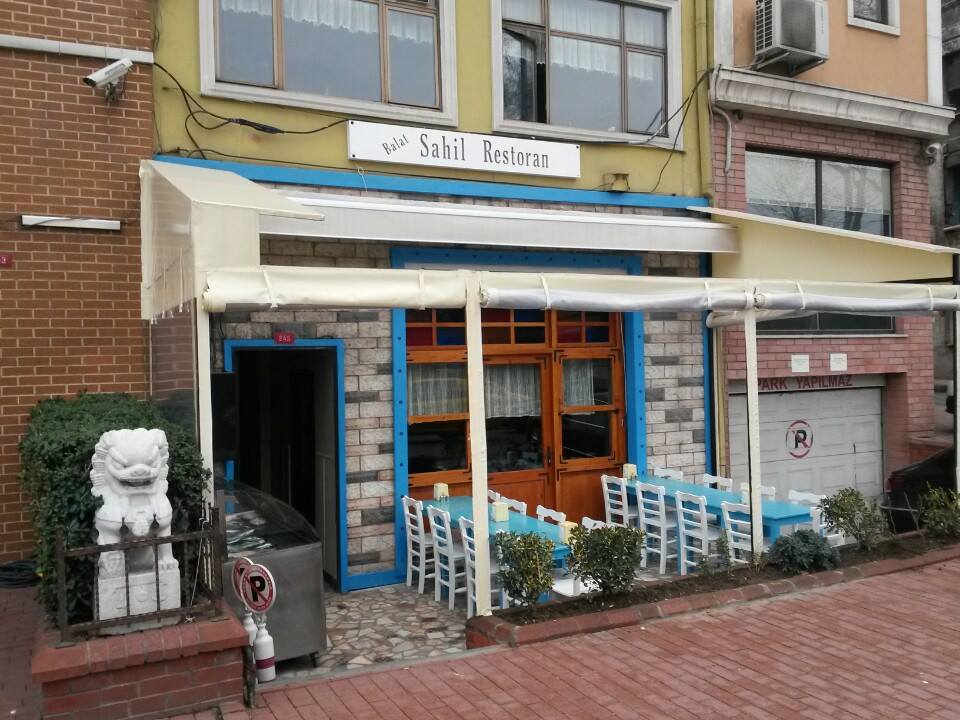 Don't forget to try the tray of "Mezze" such as Topiks, Istiridyie Mushrooms, Fava and onions, or some main dishes like steamed fish or the legendary Turbot with the yellow sauce.
Address: Balat, Mürselpaşa Cd. No:245, 34087 Fatih/İstanbul
Agora Meyhanesi
A legitimate Turkish drinking spot with an overview of the "Golden Horn" and an elegantly bold decoration. You can catch live traditional music performances every weekend while enjoying the Turkish main dishes or some "Mezze" in the buzzing and vigorous vibe.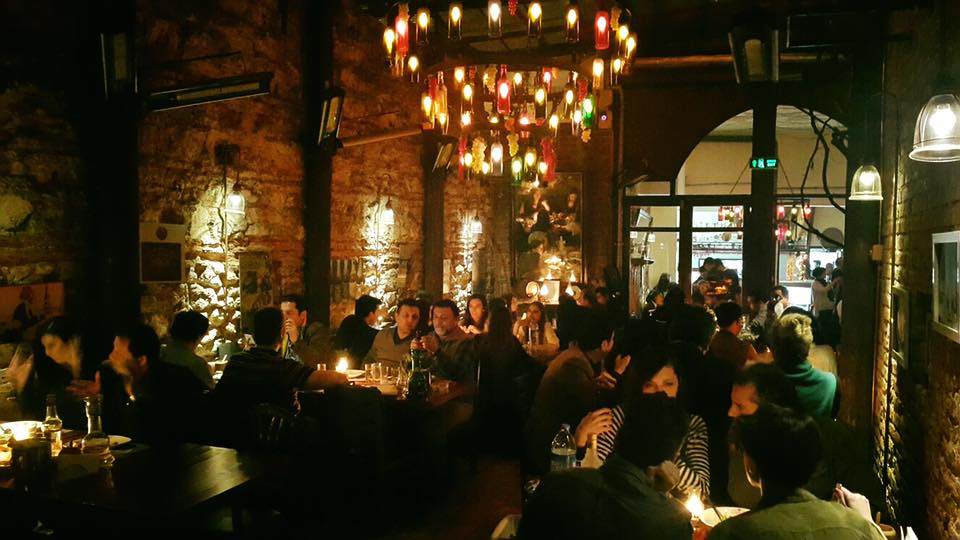 Address: Balat, Vodina Cd. No:128, 34087 Fatih/İstanbul
What to Do & See
Sightseeing
As I mentioned before about the exceptional street scenery, just wandering through the neighborhood is a treat for your eyes and soul, but there are hidden gems all over this place if you want to take this adventure to the next level and live it like local, here are some ideas!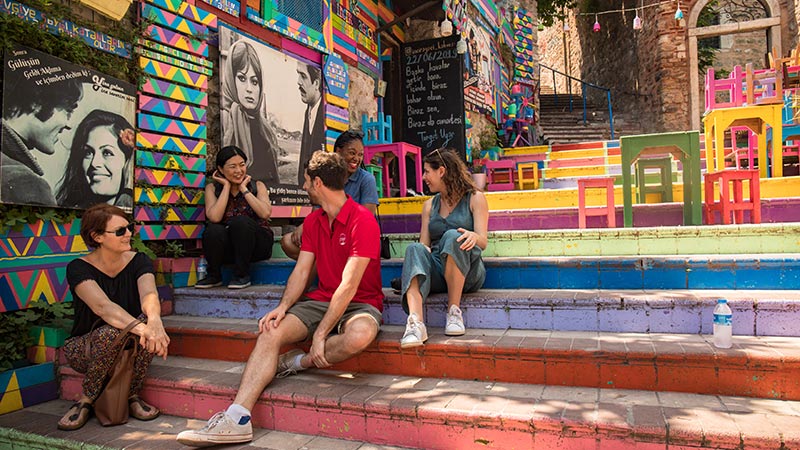 The Red Castle
Or as the locals call it "kirmizi kale" due to its red brick and the castle-like structure was built in the 1880s. It's a Phanar Greek Orthodox College, located upon the hills of "Balat" and one of the last surviving of its own kind, therefore, it attracts large crowds such as photographers, history enthusiasts, and keen locals.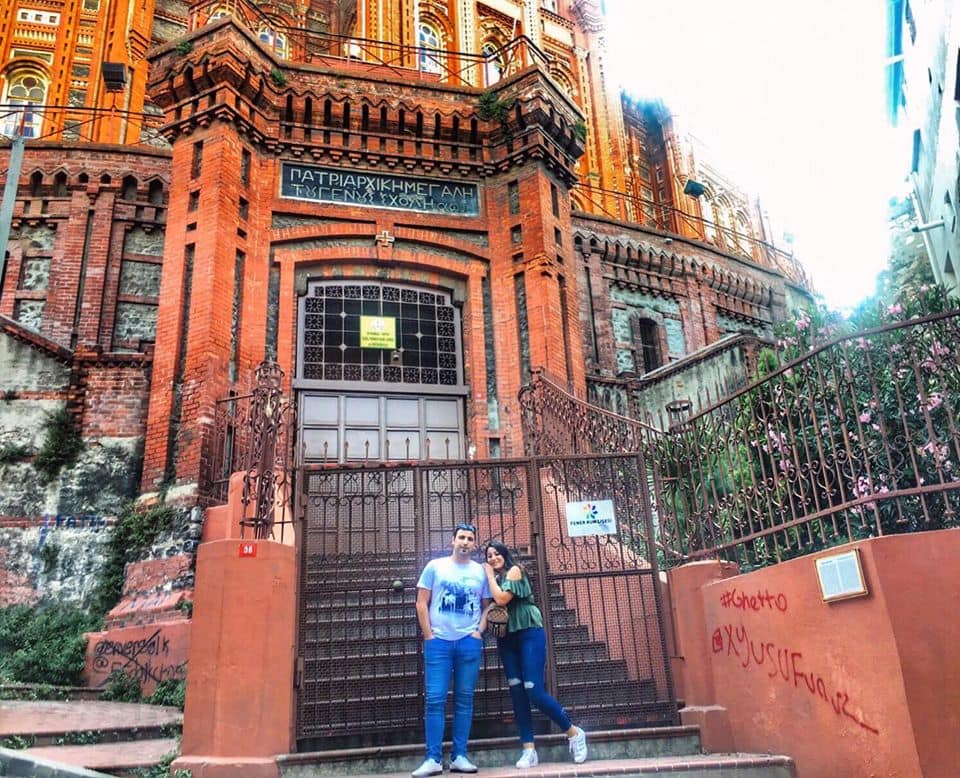 The resemblance of the Greek architect "Konstantinos Dimadis" known for his Greek castle designs is no coincidence and although it requires a little bit of walking, it's definitely worth it when you catch your breath among easy-going residents just chilling at their front doors with their neighbors and children playing on the streets.
Visiting hours: Every day between 10:00-21:00 and on the weekends from 09:30 to 22:00, the school is closed on Mondays.
Address: Balat, Sancaktar Ykş. No:36, 34087 Fatih/İstanbul
Shop at Vodina Street
The heart of the neighborhood, here you will discover a large number of antique shops and vintage decoration. The street is packed with tiny art workshops, boutique cafes and local shop keepers and old family-run bakeries with more than sixty years of history so the smell of fresh hot bread just mesmerizes you as you walk in.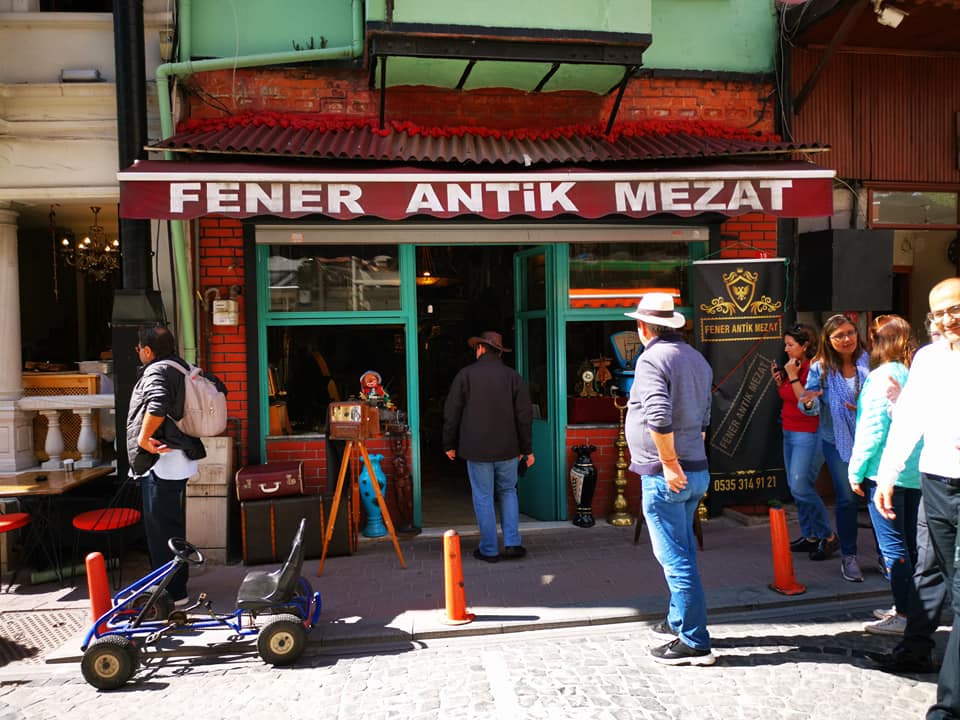 Then at the sunset, you can join the crowd gathering together at "Fener Antik Mezat" where every one auction for vintage items and buy some small souvenirs or just enjoy the rush.
Address: Balat, 34087 Fatih/İstanbul
Saint Stefan-Bulgarian Orthodox Church
This is not just a typical touristy place, on the description says "the most interesting structure" and it could not be truer. The entire interior is made of metal with bright and heavy gold colors. A combination of both Catholic and Orthodox ancient cultures and it's not a big complex just a small cozy building in a still and quiet street.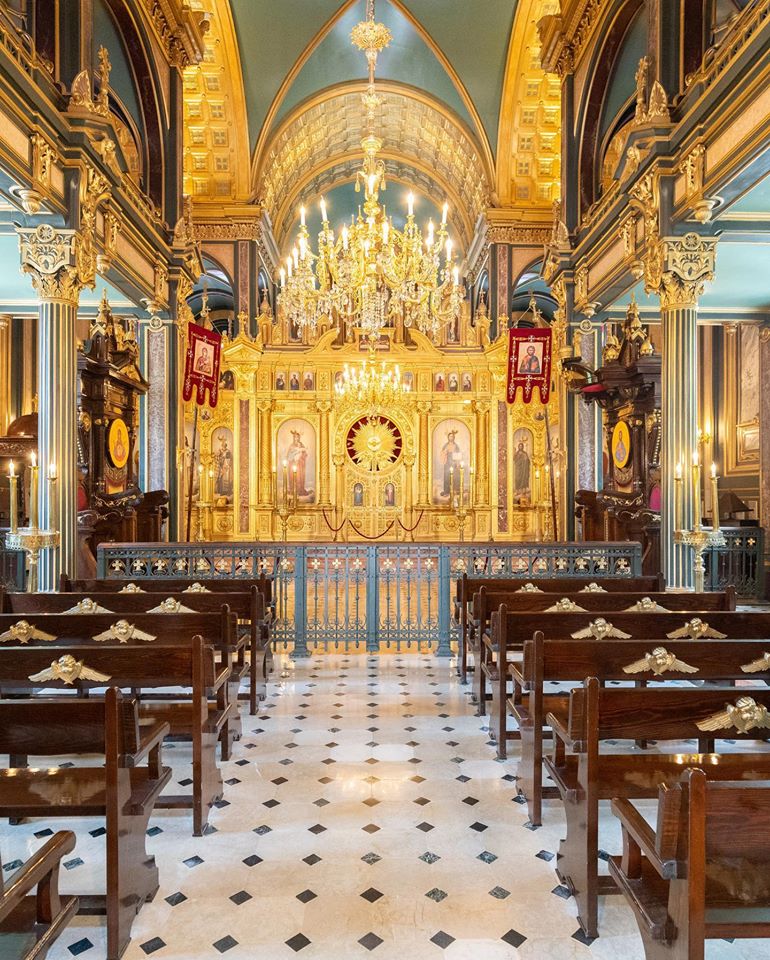 Address: Balat, Mürselpaşa Cd. No:10, 34087 Fatih/İstanbul
Ahrida Synagogue
A very exclusive and sacred synagogue for which you need clearance to get in, therefore it's not a usual touristy sight and to be able to get in makes you feel kind of special. More importantly, is located among eye-catching wooden houses of the neighborhood.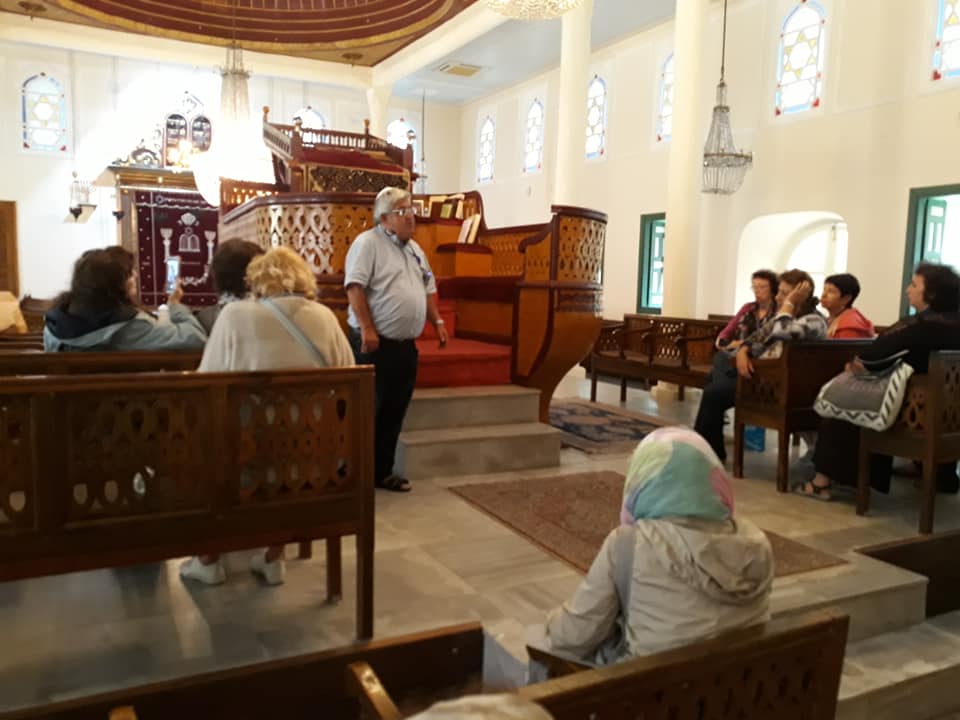 Address: Ayvansaray, Kürkçü Çeşmesi Sk. No:9, 34087 Fatih/İstanbul
1200° Glass Workshop (1200 Derece Cam Atolyesi)
A vibrant and glowing space with creative minimal designs meanwhile simple and artistic. It offers adult glass workshops in friendly informative groups since 2015 as well as a cafe where you can hang out and watch the artist's work, drink a cup of fresh coffee and socialize.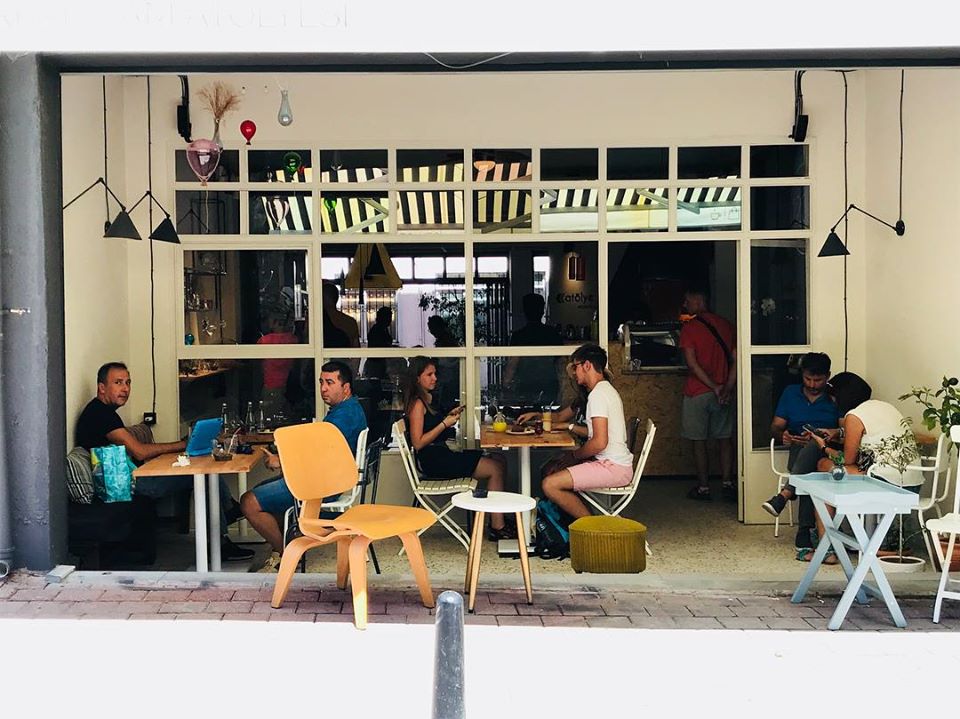 Address: Balat, Vodina Cd. No:60, 34087 Fatih/İstanbul
Chora Museum
A medieval Byzantine Greek church preserved as a museum in the "Edirnekapı" neighborhood, that's known for its well-preserved mosaics and frescoes. It presents magnificent pieces of paintings from the last period of the East Roman era.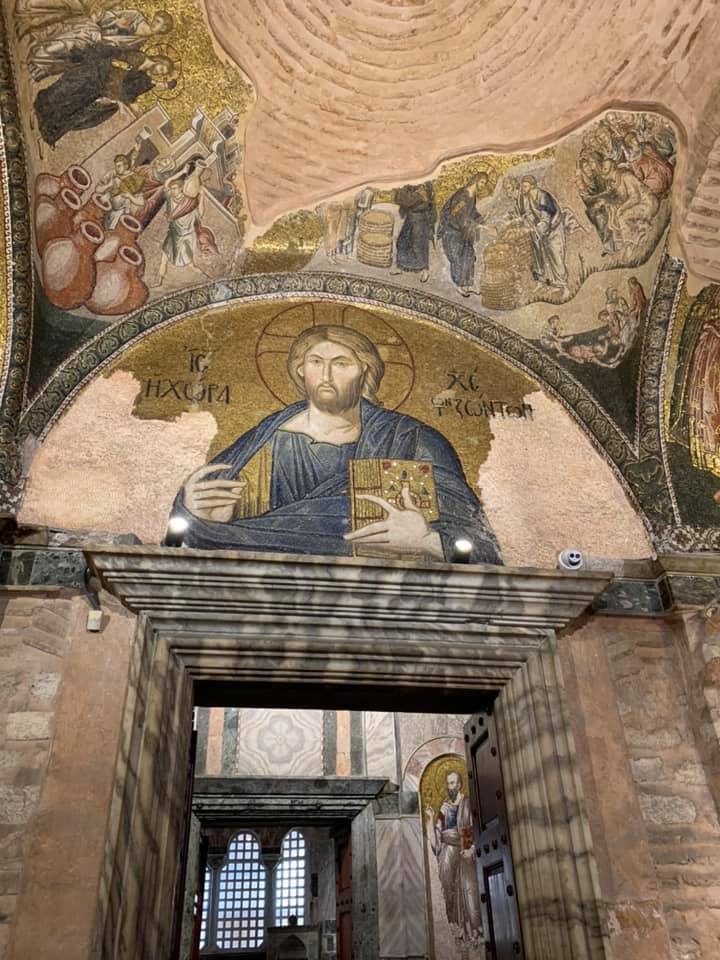 Check out the notable 14th-century mosaic and frescoes, telling a story about the life of "Jesus" and in the inner narthex a collection about the life of the Virgin Mary's.
Visiting Information: Summer period (April 1st-October 31st) 09:00-19:00 Winter period (October31st-April 1st) 09:00-17:00. Entrance fee: 54 TL ($ 9-10)
Rainbow Stairs
The title says it all, buckle up and get your phones and camera batteries full then get ready to boost up your social media game on with plenty of flashy rainbow colors on never-ending stairs. There are friendly stray cats all over the place some of them even love being petted!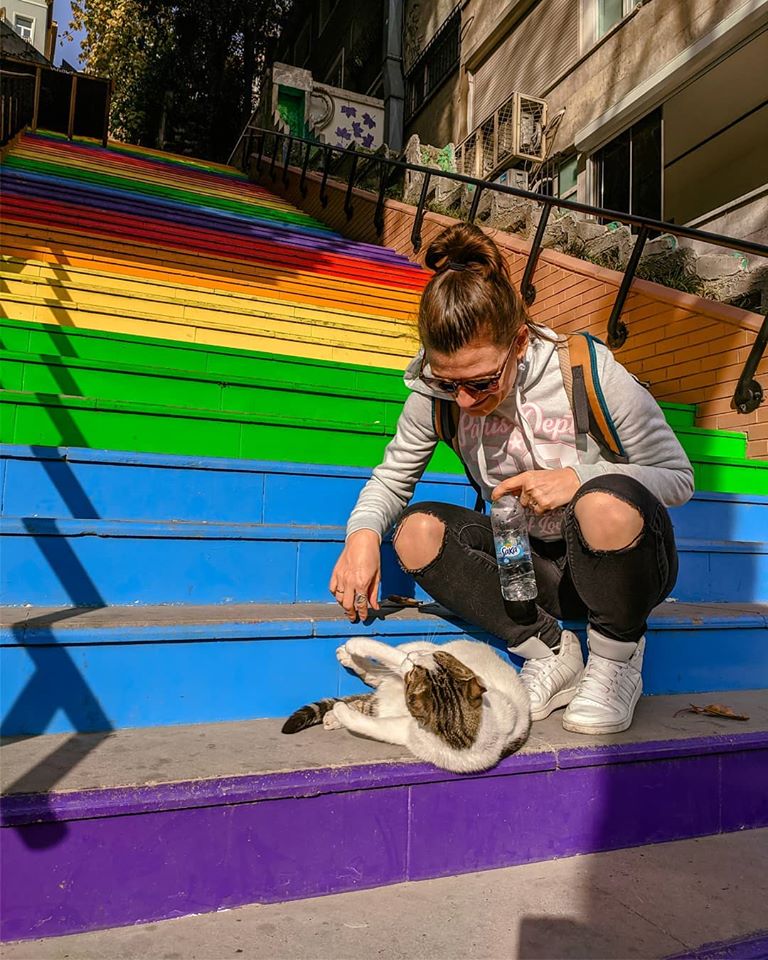 Address: Pürtelaş Hasan Efendi, Salı Pazarı Ykş. No:2, 34427 Beyoğlu/İstanbul
Balat Nightlife
When the sun goes down "Balat" starts shining. Flashy and multicolors lights glow up the whole neighborhood, however "Balat" is no different from its daytime quiet and peaceful atmosphere, so you can not expect a crazy wild lifestyle from this elegantly cosmopolitan district.
You can go for long walks on the shore and savor the infinity view over the sea, or pick one of the plenty of cafes or restaurants and join the small crowds who run away from the fierce loud Istanbul to this iconic tranquil area.
Where to Stay
Although this funky district is very popular and attracts thousands of tourists every year, yet is not prepared for hospitalities such as usual hostels and hotels you would find in all famous neighborhoods in Istanbul and that is no accident since the residents are families and heritages who built that place to be calm and restful.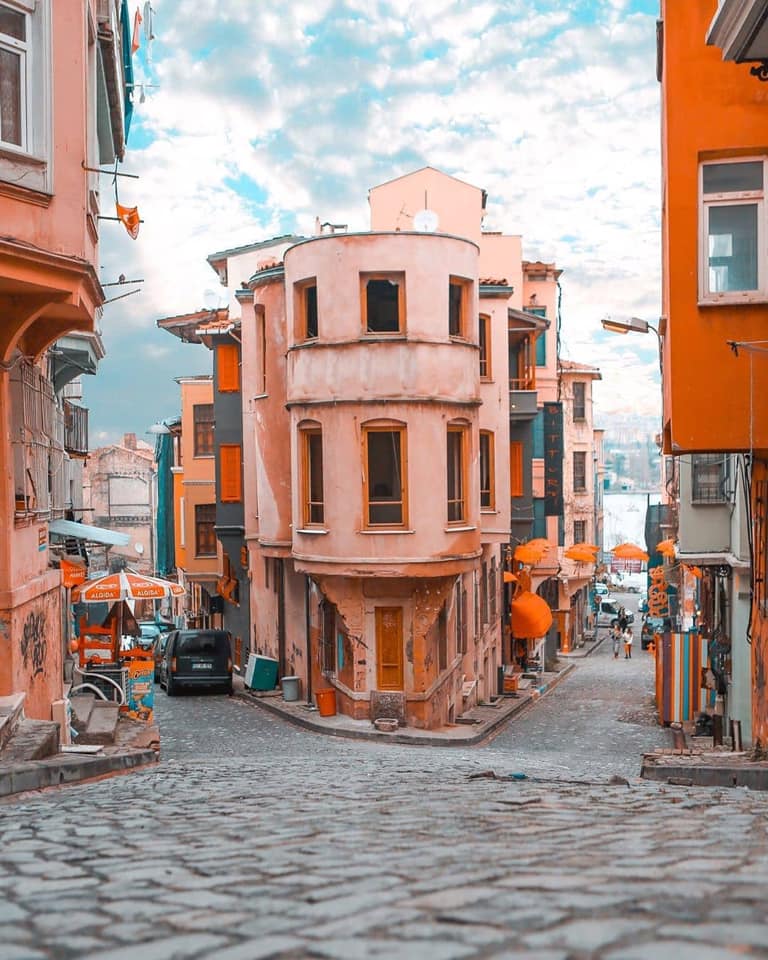 There are plenty of other regions in the city offering a large number of choices for you to stay. From bohemian cozy hostels to voguish 5-star suites and in the next part I'm going to suggest some of the coolest stops in the town.
Where to Next
To Taksim square
Bus
From "Vodina" street walk for a minute to "Fener" bus station, then take the "55T" towards "Taksim" and after 7 stops get off at "Taksim Tünel" and you're 2 minutes away from the "Taksim Square". Price: 6-7 TL ($ 1-2)
To Karaköy/Eminönü
Bus
Go to the "Fener" bus station and from there take the "399C" towards "Eminönü" and after 4 stops get off at "Eminönü Kantarcılar" station after that there is about 10-minute walking to the centre of "Eminönü". Price: 6-7 TL ($1-2)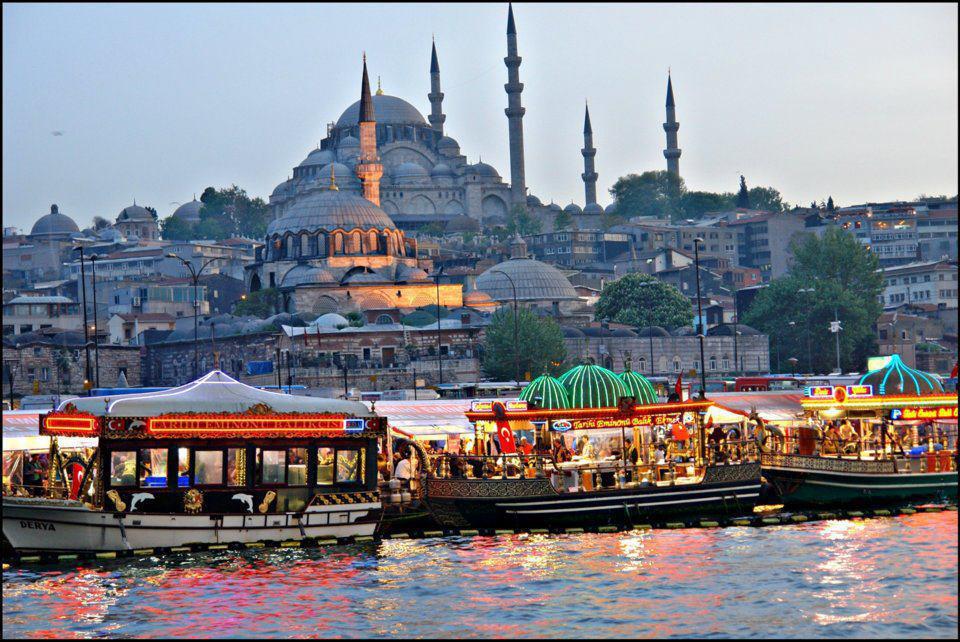 To Sultanahmet
Bus & Tramway
Go to the "Fener" bus station then take the "99A" towards "Eminönü" and after 5 stops get off at "Karaköy" then walk for 3 minutes to "Karaköy İstasyonu" tramway station and take "T1" towards "Bağcılar", after 4 stops get off at "Sultanahmet".
"Balat" is a lifestyle as much as a worldly neighborhood so just give it all, talk to the locals, ask for tips and history of the place, try the local products and home-made sweets, go to the town bazaar to support the communities who improve the region. Have fun! 🙂