Istanbul is a beautiful city in each and every season. In spring, you see blossoming trees everywhere, and the light wind caresses you softly. In summer, you see the shining sun every day and cooling sea air. 
In fall, well, you feel the unexpected raindrops on your face while walking on a sunny day. But in winter, it becomes a fabulous city. Istanbul is definitely worth to visit in winter. 
If you're lucky, you see Istanbul under the snow, all white. Whether you're outside or inside the home, whenever the snowflakes falling, you immediately feel the security of the silence. I always miss the feeling of looking up and seeing the snowflakes while walking in Istiklal Street. 
It gets cold, it gets windy, rainy, and sometimes snowy. Especially if you're at the seaside, you should definitely wrap up. And never forget to drink herbal tea all the time, that's how we protect ourselves from the cold.
Istanbul might get really cold in the winter, but still, not that much. It's a Mediterranean city, so I'm sure it will not be colder than you think if you're coming from northern countries. Wearing appropriate coats will save you from getting cold. 
The temperature in December, January, and February changes between -1 to 9 °C. However, although winter-lovers will not face any difficulty in adapting the colds; the rainy, windy, and snowy days may require some consideration of what to wear. I told you, wrap up and bring your favorite moisturizer with you.
Yet, cold has never been an obstacle for Stambouliotes to have fun and enjoy the city. If you're in this glamorous city, even on the coldest days of winter you'll enjoy the offerings and the activities in it. I'm sure you'll find yours, your methods by your own exploration. Yet, I listed the most common winter activities of Stambouliotes.
There are daily life activities on the list some Istanbul residents do all the time, and there are restaurants and café suggestions. Moreover, there are hotel suggestions for escaping from the noise and traffic of the city and enjoying the natural beauties. 
Istanbul becomes a treasure that waiting for an explorer in winters. So, now, you are the explorer!
Join me and let's get started.
1-Walking in Istiklal Street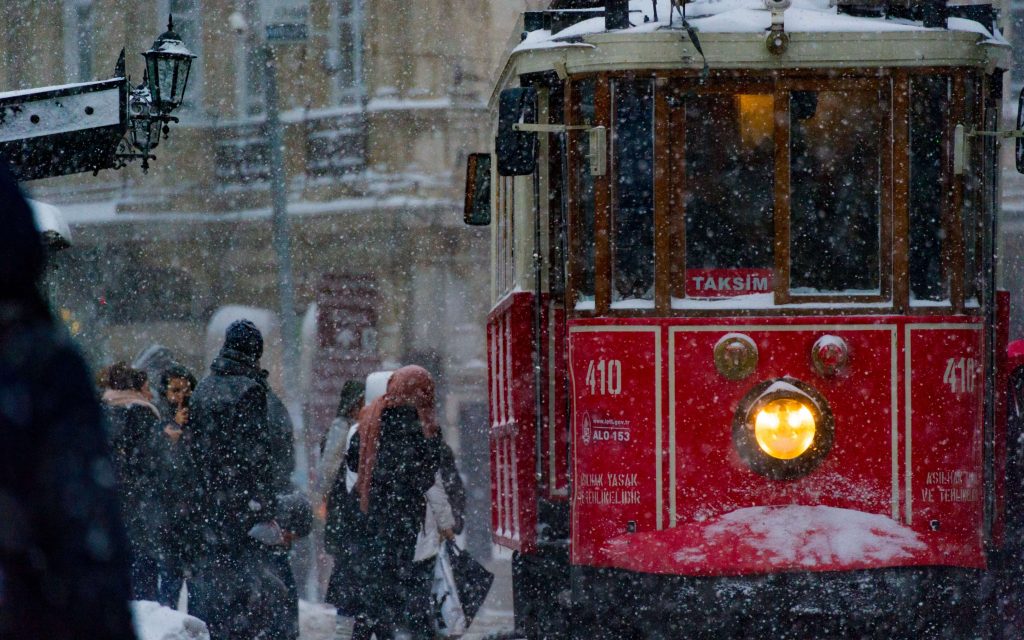 This is my favorite activity in winter. Istiklal Street had been shaped and designed in the mid-1800s, in the late-Ottoman time. It has been the center of intellectual production, art, culture, and diplomacy for a really long time. 
The architectural pattern of the street is very breathtaking. It is 1.4 kilometers long (almost 0.9 miles) and one of the best walking routes of the city, especially on rainy evenings. 
Grab an umbrella, wear your headphones, and listen to Marc Aryan's songs. Marc Aryan is a French singer who lived in Istanbul and fell in love with the city in the 1960s. So, he learned Turkish and sang his songs in Turkish as well.
The shiny cobblestones after the rain, the city lights, so many people minding their own business, night clubs, bars, restaurants, shops, theaters, cinemas, exhibition halls… Those are going to fascinate you, without a doubt. And, loving Istanbul starts with the love of Istiklal Street. 
In the middle of the street, near Galatasaray High School, there is Ara Café. Decorated with famous photojournalist Ara Güler's photographs. You may have lunch, dinner, or a coffee break there. 
2-Drinking Salep in Kuzguncuk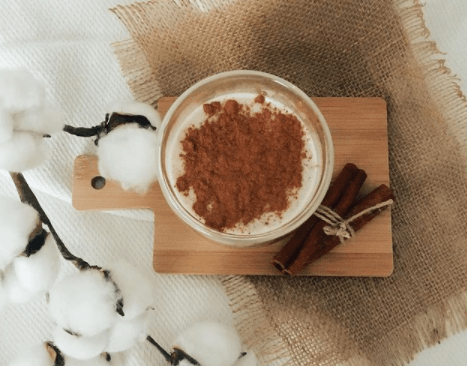 Kuzguncuk is one of the oldest neighborhoods in Istanbul. With the nostalgic Istanbul houses and the traditional neighborhood culture, it will make you feel like you're in a timeless Istanbul universe. 
Salep, on the other hand, is a hot drink we really love. It is made from the tubers of the orchid and added hot milk. It tastes really nice. Adding some cinnamon powder makes it taste better.  
We really love drinking hot salep on cold days, after hours of working, spending time outside, feeling the wind all around us, and even freezing sometimes. It helps us to chill out and feel warm, get a little bit sleepy sometimes. 
Here's where you can drink the best salep; in Zahir. In a historic traditional Istanbul house building of Kuzguncuk, Zahir serves not only salep but also dishes from Ottoman Palace Cuisine. 
So, after taking a short walk in Kuzguncuk and eating an Acıbadem cookie, enjoying your salep is one of the best activities that you do in winter.   
3-Drinking Tea and Listening to Vapur Musicians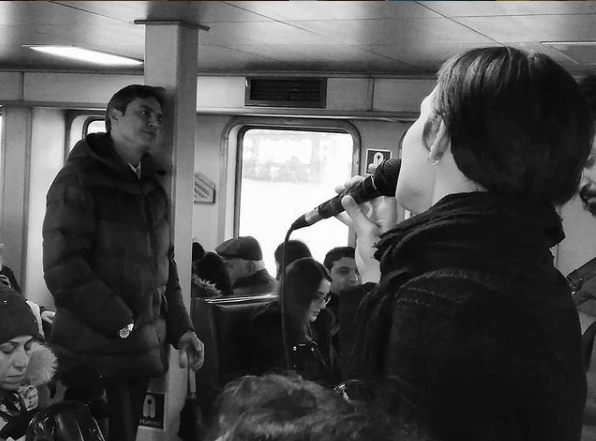 Vapurs, i.e. the Istanbul ferries moving around the Bosphorus, are not just public transportation vehicles. They are a part of Istanbul's culture. 
In summers, you directly find a seat outdoor and breathe the Bosphorus' clean air, but in winter, vapurs get much warmer places to be and socialize. As indoor halls are always warm and comfortable, they even feel like home. 
Many people meet in vapur, chit chat for a while and then they never see each other until they end up meeting in the vapur again. This is a part of Istanbul's culture; friends in vapur and strangers outside.
Almost in every turnaround, different musicians and bands perform their music to the passengers. If you liked their music, you may support them when the vapur comes aboard. 
Also, in vapurs, some canteens and vendors sell tea and orange juice. You may buy a glass of tea for a few liras and watch the sea while listening to music. 
4-Hot Wine at Kadikoy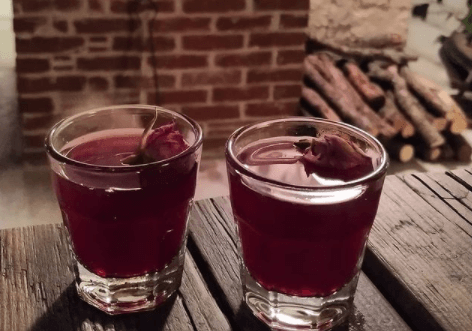 Another winter activity in Istanbul is that drinking hot wine in Kadikoy bars and wine houses. 
Turkey is a country with a strong wine tradition and worldwide known vineyards. The local wines coming from Aegean and Anatolian cities are mixed with fruits and spices to warm you up while spending time in your favorite bar in Kadikoy. 
There are so many bars for sure. And they all close to each other, so switching between the bars is never a problem especially in winter. And every bar and wine house have their own hot wine recipe, so if one is never enough, you should try the others. 
Kadikoy is a very nice district as well, to walk around the streets, sometimes sit on the stairs of an apartment, and watch a street… I'm sure you'll like it. 
After taking a walk in Kadikoy, you may sit in Lal Winehouse and enjoy your hot wine while warming up and chill out in the cozy atmosphere of Lal. 
5-Eating Roasted Chestnut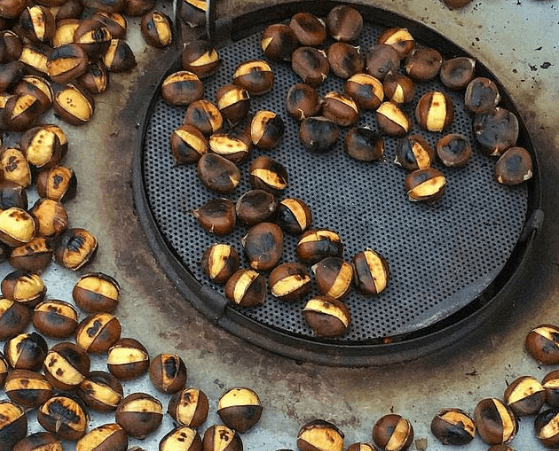 Another winter food we love is chestnut! When it starts to get cold, and people wear their coats, also chestnut sellers appear around the city. They sell roasted chestnuts in small paper bags of 50 and 100 grams. 
If you'd like to eat chestnut in a café, you may prefer Café Gizli Bahçe in Balat. They roast the chestnut on the stove -the traditional way; and note that the most tasteful chestnuts are made this way-. 
Roasted chestnuts will not only warm you up but also, they are so good for your health. They help you cope with stress and supply B1, B2, and E vitamins.
Furthermore, roasted chestnuts are completely vegan.
6-Drinking Freshly Brewed Coffee in 3rd Wave Coffee Shops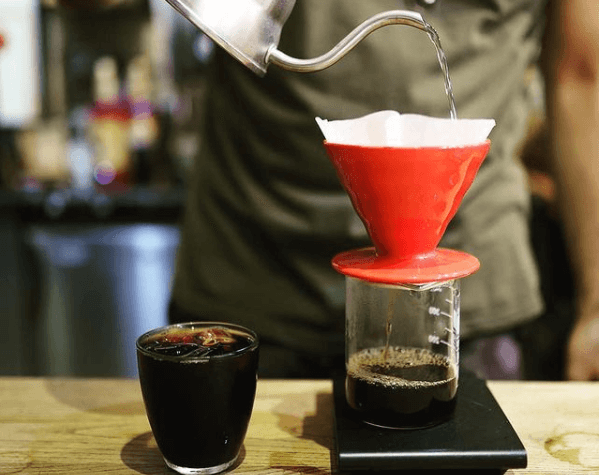 Well, winter is cold and tiring. But a cup of coffee always helps. 
Coffee is always been important for the Turkish people. Currently, there are two different coffee cultures. The first one is the traditional coffee, the Turkish one. You may find it everywhere and I strongly advise you to try it. 
The second coffee culture is shaped in urban spaces. All around the city, whether you're in Kadikoy, Taksim, Galata, Besiktas, Karakoy, or Uskudar you can find a third wave coffee shop that brews coffee with special techniques. 
Especially in winter mornings and afternoons, sitting in a third wave coffee shop, drinking coffee, and sharing time with friends is one of our favorite activities. 
Every coffee shop has its own character, design, and a talented barista for sure! You may go to Fahriye Café in Kadikoy, Brew Lab in Galata, Juppo Artisan Coffee in Karakoy. 
If you want to try Turkish coffee, though; the best place is Şark Kahvesi in Grand Bazaar.
7- Following the Fashion and Going to Shopping Malls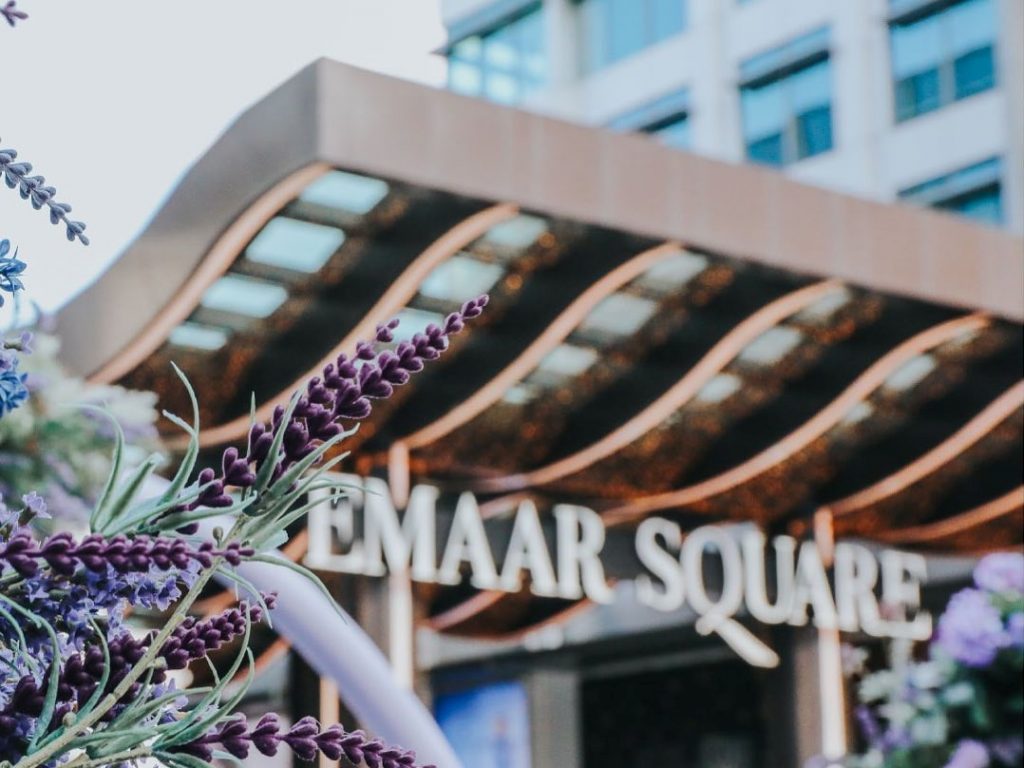 Istanbul is a city of fashion and style. Every year Istanbul hosts international events such as Shopping Festival and Fashion Week. If you are a shopaholic, well, this option is for you! 
Nişantaşı is the heart of fashion. The most recognized fashion designers of Turkey have their showrooms in Nişantaşı, Galata, and Beyoglu. So, with a short walk, you may lose yourself in the fashion-designing heaven.  
If you are not that into haute couture or fashion in general, there are numerous shopping malls that you can go and buy what you need. 
Whatever your dressing style is, you will find a boutique or magazine and the perfect fitting outfits in those shopping malls.
Moreover, shopping malls in Istanbul are not designed just for shopping but also for spending time with your loved ones. There are cinemas, cafes, restaurants, or even concert halls in malls. So, you may enter a mall and have a great time inside! 
Nişantaşı City's, Emaar Square Mall, İstinye Park, Kanyon, Akmerkez, and Trump Mall are the best malls in the city that harbor the most popular international brands' magazines as well as Turkish ones. 
8-Drinking Boza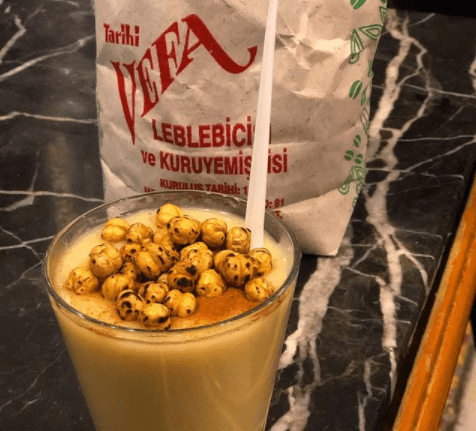 Boza is a fermented beverage by maize and wheat. It contains just a little alcohol (1%). It tastes slightly sweet and probably makes you addicted not because of alcohol but the taste! 
In cold evenings, while you're Netflix and chilling you hear a sound coming from a street: "BOZA!" That sound belongs to the boza seller. 
It is not a hot drink like salep, but it has a warming effect either. This is because it is very rich in carbs and vitamins. Even Ottoman soldiers drank boza in freezing Istanbul nights to warm up. Also, as boza brings about breastmilk increasing effect, it is strongly suggested to mothers. 
Well, just like salep, boza is also added some cinnamon powder at the top. But also, leblebi (roasted chickpea) is eaten with boza. As boza is a pudding-like beverage, you can either put leblebis to the top and eat with a spoon or eat them separately.  
The most famous boza seller is the Vefa neighborhood in Fatih. Vefa Bozası is so famous that it is the most popular boza brand in the whole country. 
Vefa Bozacısı was established in 1876 so, you will be served the best boza in the city if you go there. You may also enjoy the historical, vintage atmosphere of the almost 150 years old boza shop. 
9- Eating Fresh Seafood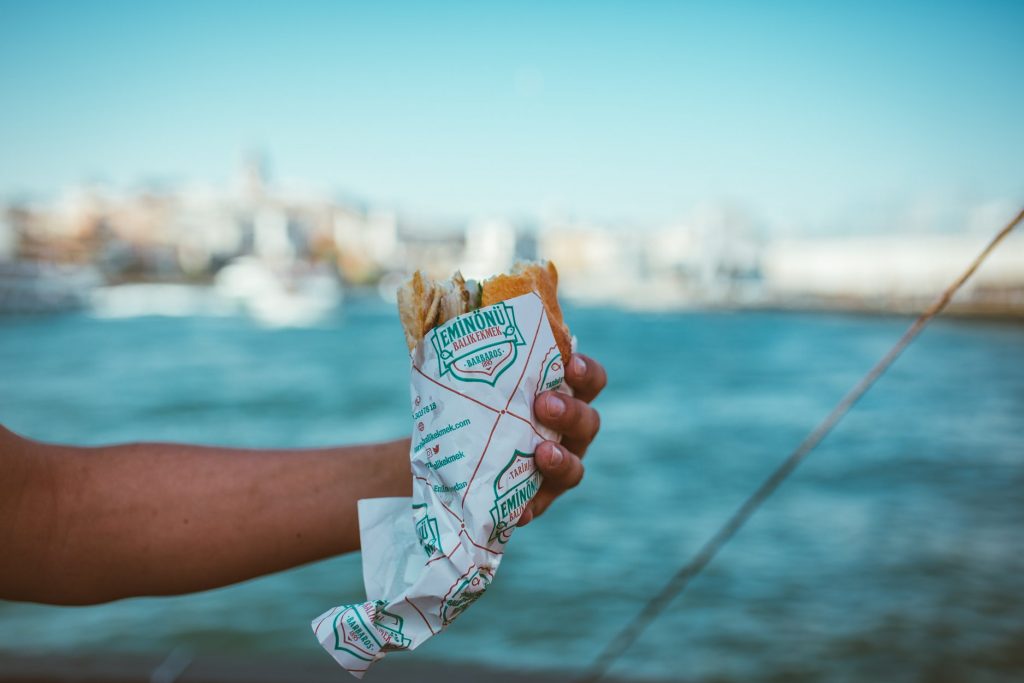 Istanbul is the city of seafood! The moment fishing ban is removed, fishers sail to bring fresh fishes to Stambouliotes. During winter mackerel, bonito and anchovy are the most fished species. 
There are lots of seafood restaurants and fried fish sandwich sellers all around the city. 
In Eminonu, for example, there are boat-restaurants selling fish sandwiches. But also, there are many small seafood restaurants in Eminonu, Karakoy, Kadikoy, Uskudar, and Bostanci. Most of them do not change the traditional way the seafood is made and simply fry fish, and serve them with salad. 
You may go to Akın Balık in Karakoy to eat delicious seafood and mezes. I also suggest Kadikoy Balıkçısı in Kadikoy. 
10- Visiting Museums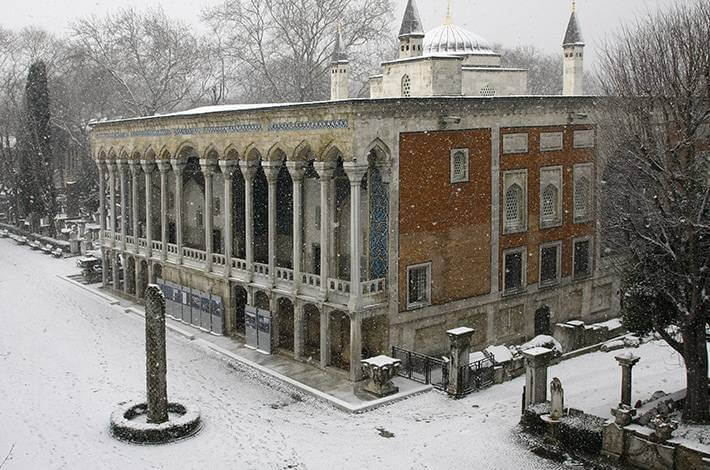 This is my favorite activity in winter because there are lots of museums and exhibition halls around the city! 
You may prefer archaeological and historical museums such as Istanbul Archaeology Museum where you can see archaeological remains from all around Turkey and Istanbul, Istanbul Museum of the History of Science and Technology in Islam which is focused on the Islamic scientific heritage, Topkapı Palace Museum that had been the center of Ottoman Empire for years, Great Palace Mosaic Museum, Istanbul Naval Museum, and Palace Collections Museum.
Also, the mosques in the historical peninsula (Süleymaniye Mosque, Hagia Sophia Mosque, Sultanahmet Mosque, and Khora Mosque) are open to visitors and prayers every day. 
If you are more interested in recent history, personal collections or pre and modern art, then you should definitely go to Pera Museum whose main collection focuses on Istanbul's history, culture, and art history, Istanbul Photography Museum, Rahmi Koç Museum, Sakıp Sabancı Museum, Yapı Kredi Museum and Istanbul Museum of Modern Art. 
Well, if you are a contemporary art enthusiast like me, you should check and visit the current exhibitions in Arter, Pilevneli Art Gallery, Salt, Istanbul Modern, Gallery Zilbermann, and many other galleries located in Karakoy and Beyoglu. 
Many museums whether public or private, have their own cafes so that after a long visit you may sit and chill out while drinking your coffee. 
11- Walking around Grand Bazaar and The Spice Bazaar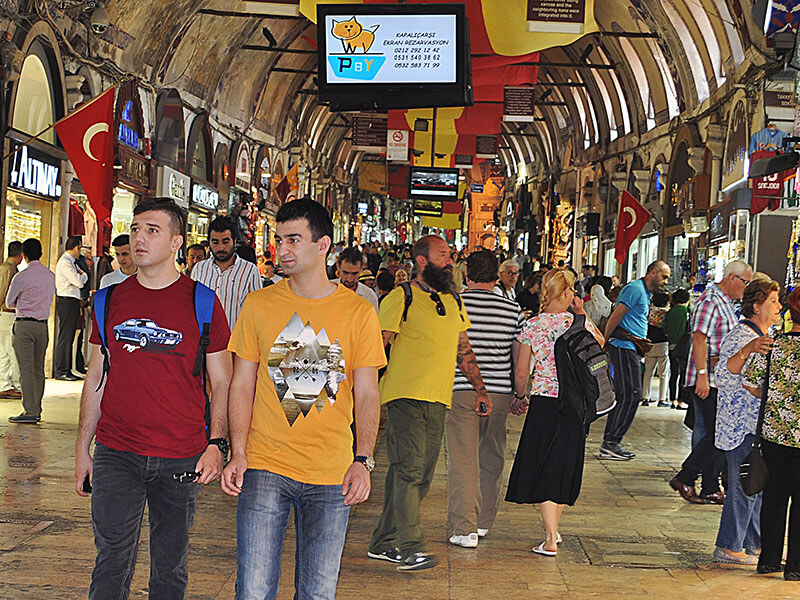 I already suggested top shopping malls, yet those historical bazaars are going to fascinate you with their hundreds of years of history. For example, Grand Bazaar is one of the oldest shopping malls in the entire world!
There are more than 4000 shops in Grand Bazaar. You may find shops of most talented jewelry masters, carpet shops, herbalists, antique shops, traditional handicraft shops, fabric shops, and so on. 
The Grand Bazaar is so big that not only the lights and architectural details of the Bazaar will impress you but also the number of shops! Furthermore, it is so huge, and there are so many people that it may make you feel like you are in a labyrinth, a labyrinth of history, and glowing objects!  
In Spice Bazaar (Mısır Çarşısı) there are 106 shops, 86 of them are spice sellers. The moment you step into the Bazaar, the gorgeous ambiance, and the smell will warm you up. 
These bazaars are timeless places! The shops sell more or less the exact same products they were selling hundreds of years ago. The architecture, the way tradespeople behave is mostly the same as in the past. This is the reason those bazaars are the most visited places in Istanbul; they take you to another universe, a timeless orientalist mall.
12- Going to Agva for a Calm and Silent Weekend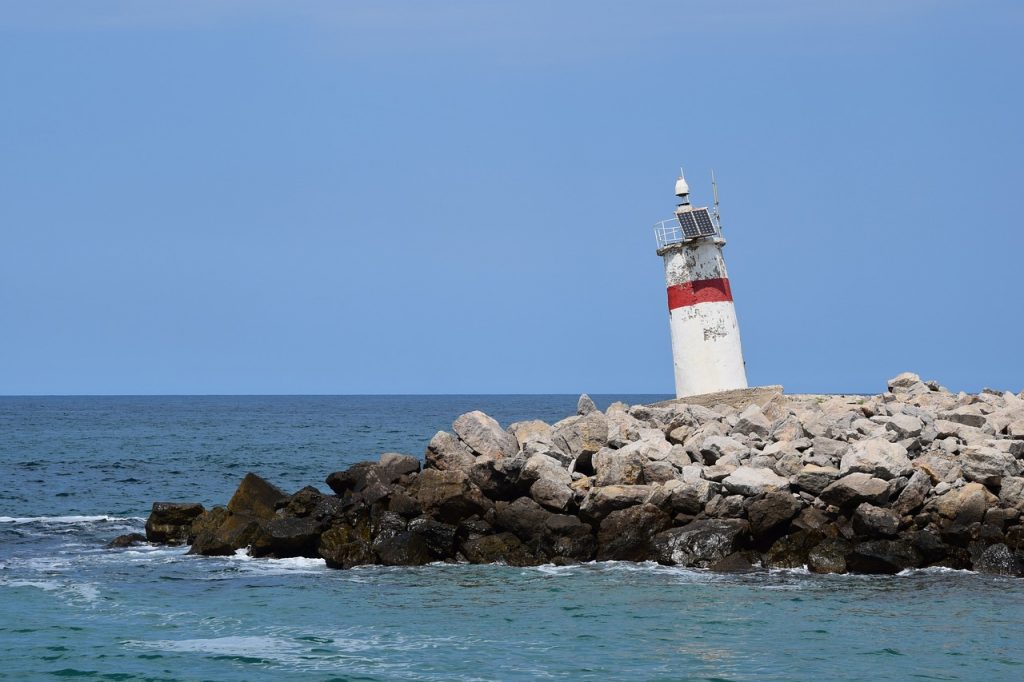 When Stamnbouliotes get bored with the crowd and the noise of the city, they always have the opportunity to go to calmer and less crowded districts. 
It takes 1 to 3 hours of drive from the central districts, depending on which side you are on. However, the result is always satisfying and worth taking a drive. 
Agva is located on the northern coast of Istanbul on the Black Sea. The forests and the untouched nature of Agva not only help you to get rid of stress but also let you spend some time in the natural environment.
Especially in winter, the snow covers all around Agva, and when you wake up, you see nothing but a snowy view of the rivers and forests.  
Agva Ekoland Hotel and Agva My Way Hotel are two suggestions for you that unite the respect for nature and comfort. Those complexes offer luxury without losing their touch with the natural atmosphere of Agva. I advise you to book a room for at least 3 or 4 weeks before your stay. 
If you're looking for a short vacation with children, a romantic weekend, or just want to spend some time on your own, in any case, Agva will make you feel better, and enjoy the unknown places of the city in the cold, snowy winter days. 
13- Experiencing Tunnel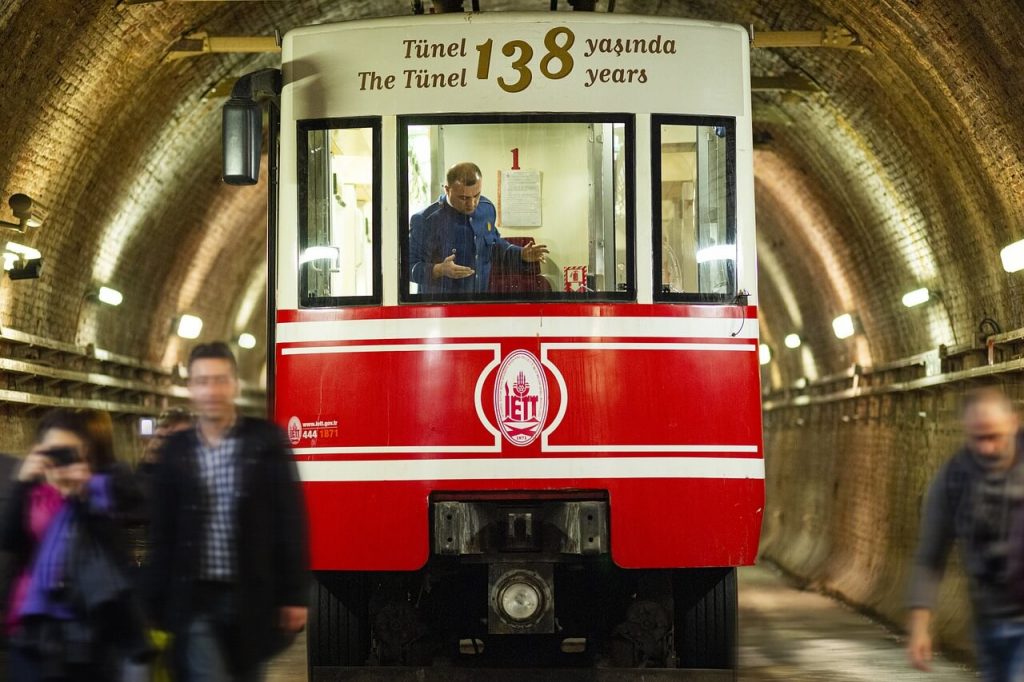 This activity is definitely for nostalgia lovers and romantics. Karakoy Tunnel Subway is the second oldest subway in the world. It connects Karakoy to Istiklal Street. Its construction started in 1871 and was completed in 1874. Since then, it keeps transporting Stambouliotes without stop. There are only two stations and one long slope!
Inside the station, there is a museum-like collection hall that shows the history of the Tunnel. So, while waiting for the subway to come you may also look at them.
It takes about 5 minutes, but whether after stepping out, you may sit in one of the bars or cafes in Istiklal Street or Karakoy depending on your destination. 
14- Enjoying the Prince's Islands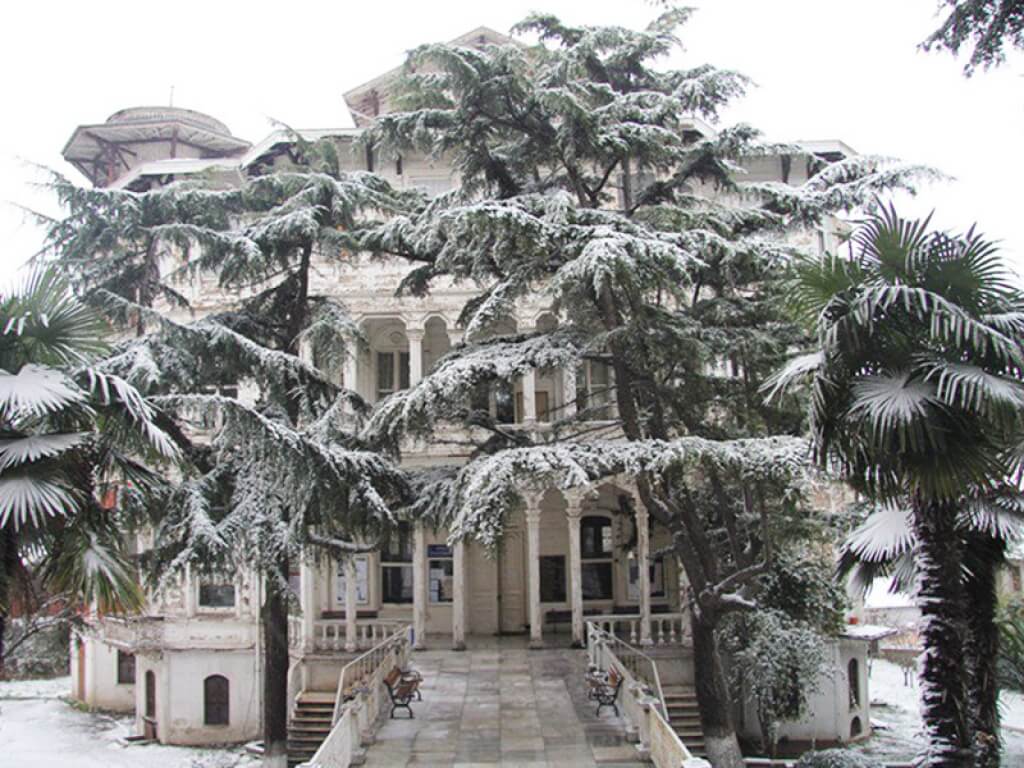 Maybe because they are so different from than central districts of Istanbul, or due to their nature, Prince's Islands are very popular between both tourists and Istanbul residents in spring and summer.
However, in winter, they become the calmest place in Istanbul. So, you can walk around freely, see the beautiful ancient Istanbul houses, cute buildings, visit small museums without waiting in line, visit Orthodox churches, and go to restaurants without booking.
Princes' Islands offer the most untouched, untainted corners of the city with the architectural pattern, nature and daily life. Probably this is because we love them. 
If you want to spend a night or two in this isolated atmosphere of Princes' Islands, there are very nice hotels like the Tiara Hotel or Anastasia Meziki Hotel.
Please note that private cars are not allowed in Princes' Islands. You can only go there by ferries moving from Eminonu, Kadikoy, and Bostanci and Kartal. 
15- Going to Sahafs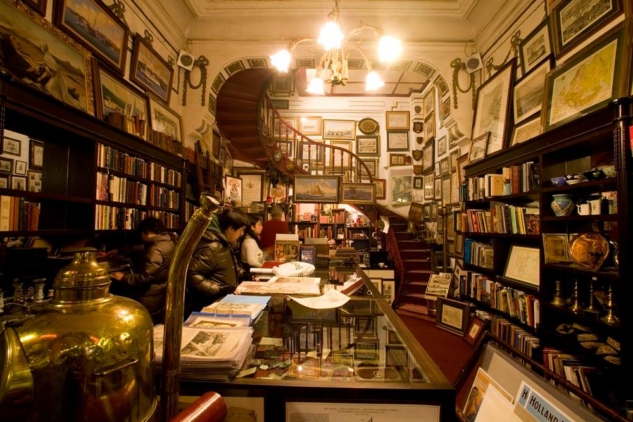 Sahaf is something you are familiar with. They are basically second-hand booksellers. But in Istanbul sahafs, you may find very first publications of your favorite books as well as many Ottoman, English, Arabic, and French literature books of the late 1800s and early 1900s, posters, old pictures, notebooks, magazines, and even some antiques! 
Istanbul is a city with history, so do books! Most of the sahaf owners are really cultivated and they are aware of what they are selling, and surely respect them. 
Sahafs not only a crucial part of Istanbul's culture but also the Turkish cinema's. One of the most-watched movies in Turkey, which is Alone (Issız Adam, 2008) starts in a sahaf at Beyoglu. The first movie of Semih Kaplanoğlu's Yusuf Tragedy, Egg (Yumurta, 2007), also focuses on a sahaf owner's life. 
If you want to spend some time in a sahaf and buy books, you may go to Denizler Kitabevi and Gezegen Sahaf in Beyoglu, and Librairie de Pera in Beyoglu.