Coco Chanel once famously said: "Best things in life are free. The second best are very expensive." She was so right. Depending on the rotation, traveling abroad may be very costly, yet there remain quite a few free options that come with the cities themselves.
Luckily for those of you who are planning a trip to Istanbul, I am here to share with you the ultimate to-go list while keeping your money in your pocket. Let's begin, shall we?
Let me ask you first though – what is the best way to enjoy a city, you reckon? The answer is *drum rolls* of course walking around. Sounds boring? Well, French people actually came up with a very cool name for you decades ago: Flaneur.
Book definition is he/she is someone who walks around the city without an aim. My definition, on the other hand, is he/she is someone who walks around the city to observe its culture, people, and its authentic identity.
This whole article is based on a roleplay in which you are a flaneur and I – behind the pages – am taking you to a true Istanbul stroll. Ready? Choo choo, get in y'all!
How about starting with a walk by the sea? You will dig it!
Surely the Bosporus is one of the most iconic symbols of Istanbul city and I assume most of you are familiar with it and naturally charmed. Well, if that's not the case, I assure you after a walk on the shoreline against this unequaled scenery you will be bewitched indeed.
Safe to say, following the coast of Istanbul, is always a good idea. Moreover, there are various options or routes you can take to enjoy this city surrounded by the sea, but to make it shorter and easier you will be introduced to my 3 personal favorites: Bebek, Caddebostan, and Haliç.
1. Walk in Bebek, before the Bosphorus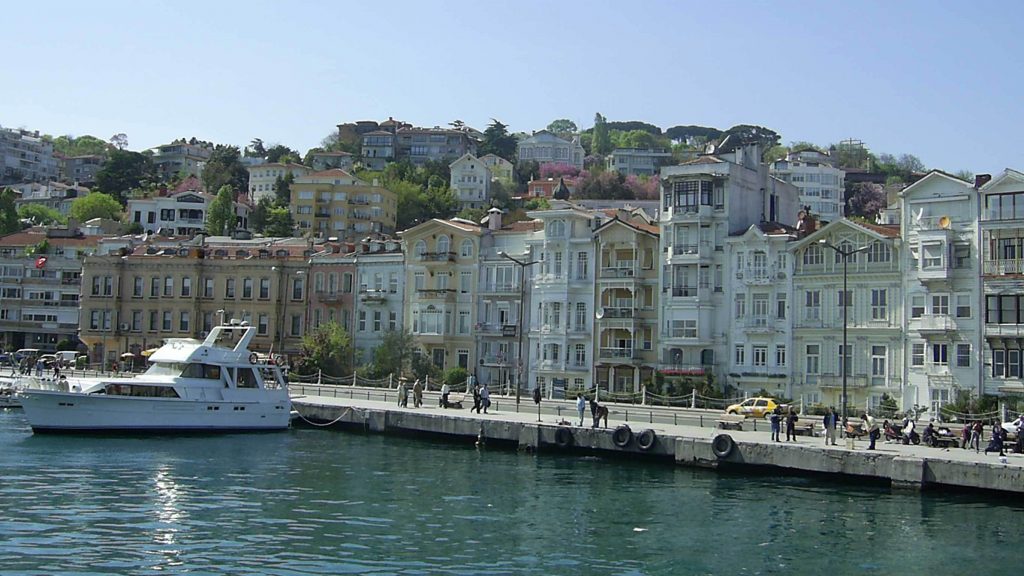 Let's begin with pretty much everyone's favorite. Bebek is a neighborhood that worth more than millions of dollars. No exaggeration here, this is a solid fact, guys. With its famous mansions and yachts visible alongside the Bosporus, it is one of the richest districts in Turkey.
Its aura is a very vibrant one as well. No matter what time of the day it is, you are likely to see people who go for a run or who walk their dogs out. Not to mention, it is a busy point, being on the route of many other widely preferred places.
There is always this buzzing sound of cars, animated people, music coming from the nearby shops. It definitely promises you a walk filled with the essence of urban life.
What makes walking here especially pleasant is both the walking path designed perfectly for a "quality walk" and really the combination of the whole place with artisan coffee-shops, fancy restaurants, nightclubs, and boutiques all at once.
Once you are on the go, you cannot help but admire everything in your vicinity as they appear very luxurious and appealing at the same time. Plus, the view guys! Special tip: Rainy days are especially beautiful in Bebek.
How to go? If you are on the Anatolian side, take the boat to Beşiktaş and from there you will have various bus options. If you are on the European side, I personally think that the best way to get there is also through Beşiktaş. Depending on your location, you can reach Beşiktaş via just one bus or via Metrobus (Zincirlikuyu station), and then you will need to transfer to a bus.
2. Watch sunset in Caddebostan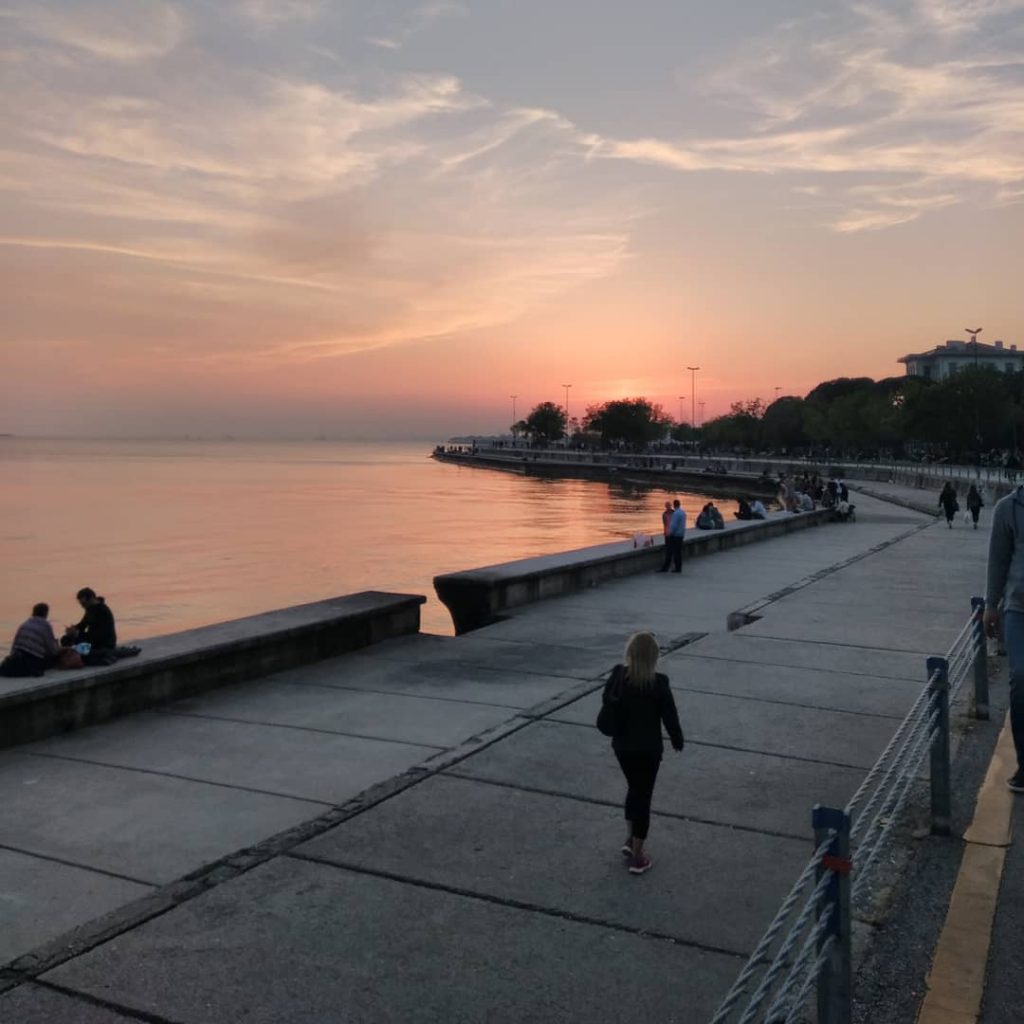 Caddebostan, on the other hand, is definitely the twin sister of Bebek except for their locations. While Bebek is on the European side of the city, Caddebostan is situated on the other side of the coast, on the Anatolian side.
This is a place to have quality time with yourself or your friends as it is far from the maddening crowd. The best thing about this place is its long coast for a perfect walk and its spacious walking path. 
This is also a good location for a picnic if you are interested in that kind of activity. In fact, you are likely to see people with portable furniture bought from Decathlon, lying on the grass, chill as a cucumber, reading, chatting with friends, listening to music, or even calmly gazing at the infinite blue.
Caddebostan promises to slow down the time a little while bringing peace and solace to your exhausted mind. No wonder why people living close by gather there after work.
How to go? If you are already on the Anatolian side, that's easy. Either take a bus in the direction of Kadıköy or use Marmaray and get off at Erenköy station. From there you can either walk (to be honest it takes a bit longer) or transfer to another bus or a minibus. If you are on the European side, the best way is to use a boat to cross to Kadıköy either from Beşiktaş, Eminönü or Karaköy and then transfer to a bus.
3. Admire the City's Diversity in Haliç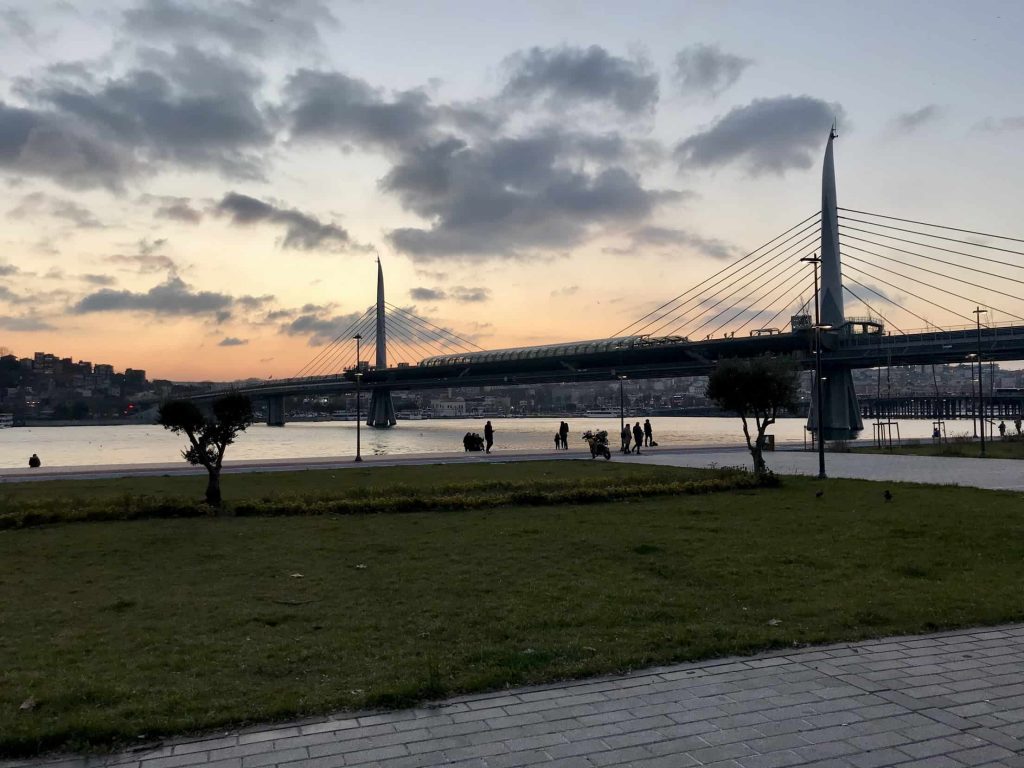 Last but not least, Here you see Haliç also known as the Golden Horn. There is no specific time or condition to enjoy Haliç. It is always as beautiful. What is remarkable about this place is that it is neither far from the crowd nor is it where the elite resides.
Instead, Haliç is located right in the middle of the city (in the European side), and its culture, becoming the sum of Istanbul. In that sense, it promises you a full Istanbul experience.
Indeed, while walking along the coast, you can observe various historical sites or artifacts in İstanbul. For example, the famous Galata Tower will be right in front of you.
You can also see a lot of fishermen, or perhaps if you are lucky enough, you get a free trial. You will also see the sporty people running for the fun of it, but this is less the case with Haliç. You walk there to purely enjoy the diversity of this beautiful city.
Special tip: Just go there, this is a "you should see it with your own eyes" kind of a deal.
How to go? Very simple. Find the nearest metro station and take the M2 Yenikapı-Haciosman metro, get off at Haliç station. Another special tip: The Haliç metro has been constructed recently and it has a unique design above the sea which makes walking there very pleasing as well. So, do not rush to leave the metro station, enjoy the view! 
Tired, yet? Well, aren't you lucky today? I know the best spots to chill for a while!
Yes, as implied this section is based on you feeling exhausted and wanting to have a calming day at a park, enjoying the weather, and needless to say, it is the perfect opportunity to observe city people.
4. Rest in Maçka Park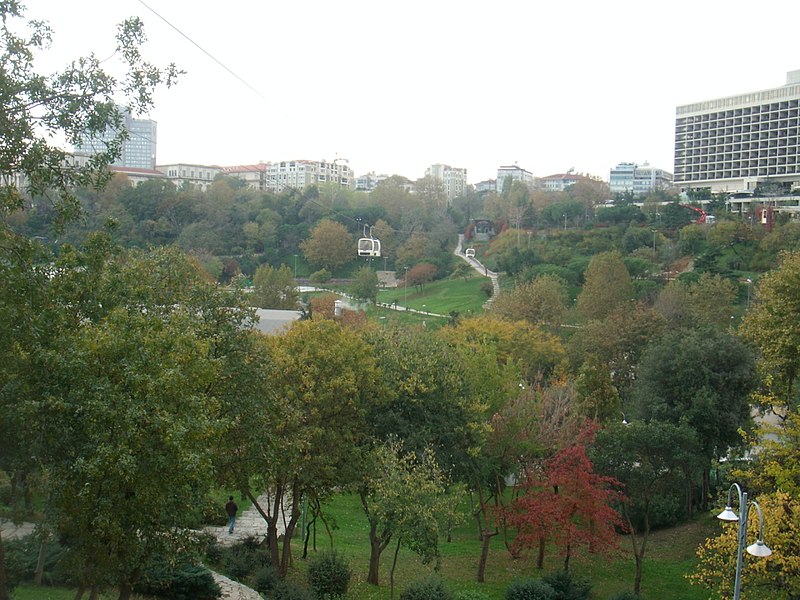 My first recommendation for you is Maçka Park. This park is the go-to place for the city's youth as it is a very central place. Its perks include easy transportation, good location, and a bonus of sky tram experience if you like (this is not free yet inexpensive).
The park is situated between two popular districts in Istanbul, namely Nişantaşı and Beşiktaş (on the European side). If you get bored in the park, you can always cross to either of these districts to admire more of the city.
Plus, you have quite a lot of options for places where you can buy food and beverages before settling in the park. There are various coffee-shops nearby including Starbucks and Caffe Nero and a Macro Center (a very famous gourmet supermarket which has many branches across the country) as well.
It is the perfect place for relaxing while remaining inside the city and civilization.
How to go? Bus options are available yet the simplest way is again taking the M2 Yenikapı-Haciosman metro and getting off at Osmanbey station. 10-15 minutes walk and then you are at the gate!
5. Enjoy the Sultans' Place in Gülhane Park
History geeks, all ears here please! Our next station, Gülhane Park, is where you can breathe the past, the glorious Ottoman era. It is situated at the historical site of the city, in the Sultanahmet district.
This park was actually the outer garden of the sultans that lived in the Topkapı Palace. Not only the park is literally gigantic it also contains several special buildings within itself.
These include Topkapı Palace, The Procession Kiosk (shown in the image above), and the Istanbul Museum of the History of Science and Technology in Islam.
Landscaping in the park is also very famous. In the Ottoman era, it used to host a very well-kept grove and a garden of roses. Ottoman tradition of gardening still continues and Gülhane Park is still adorned with different kinds of flowers, tulip being the most important one as it symbolizes the Ottoman Dynasty.
If you like to have a relaxed in the city without disconnecting from its history and culture, this is your place! Special tip: It is especially beautiful in the tulip season!
How to go? Easiest way for both sides are using Marmaray. Get off at Sirkeci station. Transfer to the Kabataş-Bağcılar tram line that is right across to the train station and get off at Gülhane station. 
6. Disconnect for a While in Atatürk Arboretum
Atatürk Arboretum (named on behalf of the 100th anniversary of Atatürk's death) is the ultimate go-to place for nature lovers. It is essentially a botanical garden of hundreds of species.
The place is operated by Istanbul University (the first university in Turkey) and serves the faculty of Forestry and its students. It is situated at the edge of the city, distant from the center, and thus a perfect place for a rural escapade. It covers a vast area of 730 acres, promising a marvelous trekking experience.
You can find there a picnic area called Kirazlı Dam (Kirazlıbent in Turkish). But, since this park is actually a museum, there are some restrictions to protect it from some irreversible damage. There are also 3 artificial lakes where you can take the most aesthetically pleasing photos that would make your friends blind with jealousy.
To enter this place, you have to actually pay a fee. Even though the title of this article is about the free things, I really wanted to include Atatürk Arboretum in that this place is really magical and a must-see.
The price is really a minimum anyway. Plus, their website allows a virtual tour. So, that's another option. I also must warn those of you who really consider going there, even though it is not that hard to reach it still is pretty far away. Keep that in mind as well.
How to go? The easiest way is to use the M2 Yenikapı-Haciosman metro line. Get off at Hacıosman station and transfer to 42HM Hacıosman Metro-Bahçeköy bus.
Enough of sitting, let's get artsy now!
Isn't familiarizing ourselves with the art and culture of the country we are visiting our ultimate goal anyway? I think we all can agree on that.
Fortunately, Istanbul provides quite a few free exhibitions and museums for the artsy people. Here are 2 places (both are situated in Taksim) that have it all:
7. Take a Look at Modern Art in Salt Beyoğlu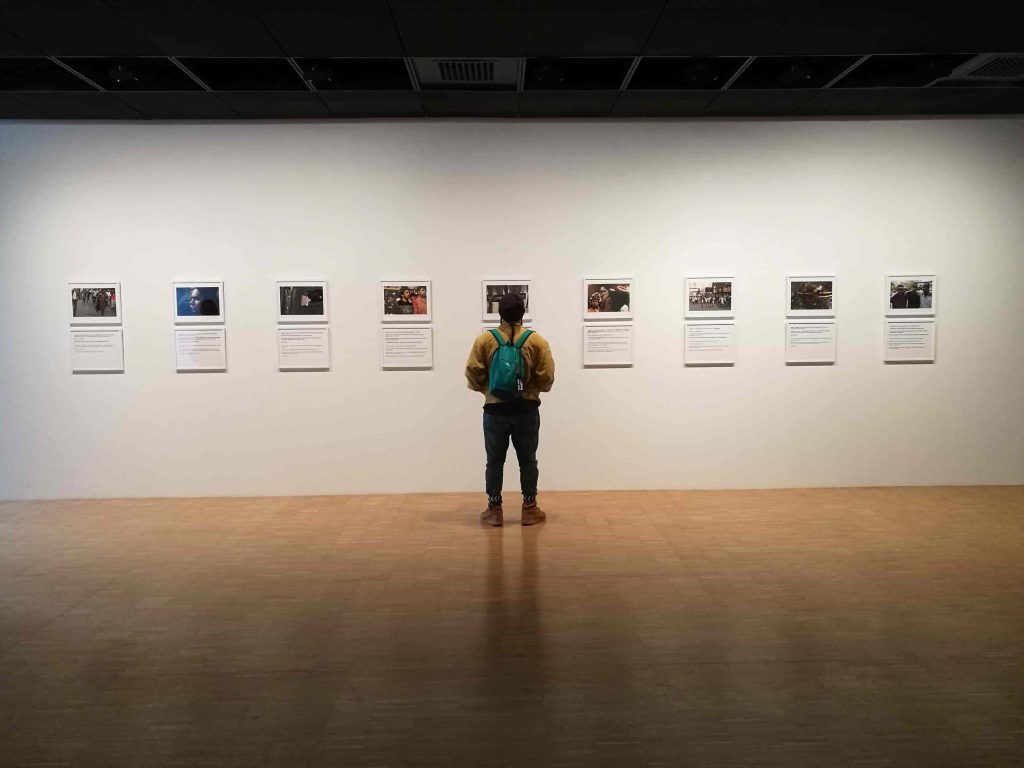 This is a modern art museum and the expositions change periodically. You can find the information over the expositions both online and in front of the building.
The museum is actually a historical apartment in Taksim Square, one of the most popular districts in Istanbul if not the most. Turning it into a museum took years yet the end-product turned really great. It is co-funded by the Creative Europe Programme of the European Union and is currently conducting international projects.
Salt Beyoğlu contains within itself a bookshop named Robinson Crusoe Bookstore (very famous and has several branches), a winter garden at the top floor (with a magnificent view and plus a perfect spot for the perfect photo), a space for studying and remote working for its visitors and a kitchen/dining area.  If you are into modern art, be assured that you won't be disappointed.
8. Get Lost in Beautiful Photography in Institut Français de Turquie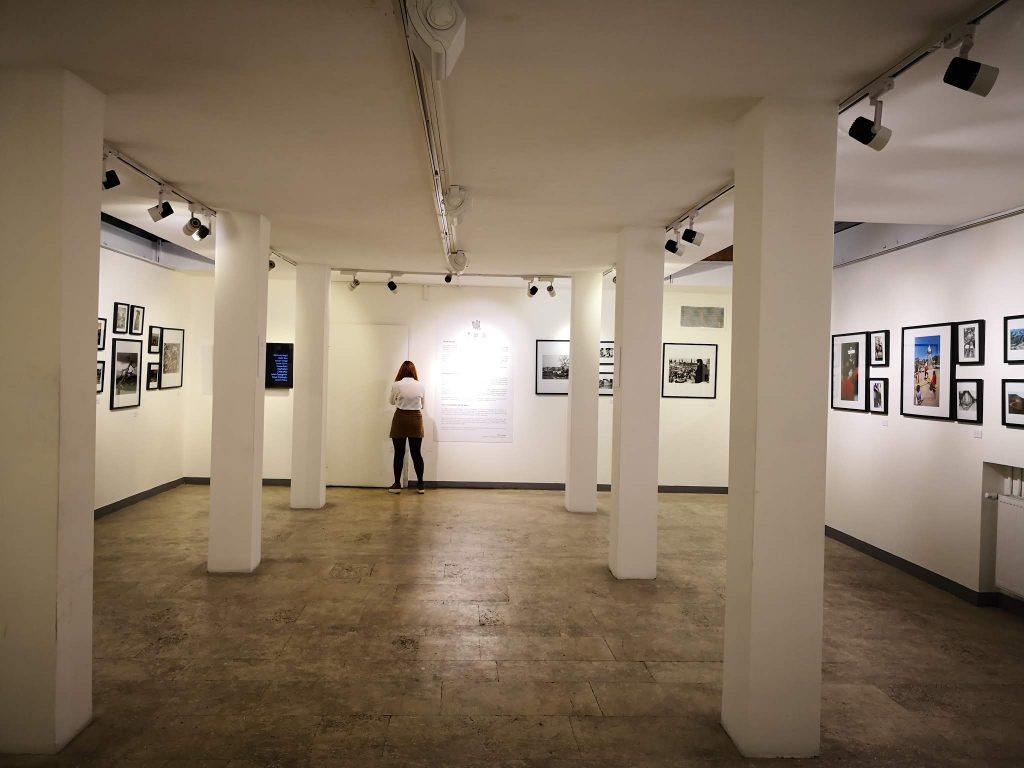 As much as French Consulate in Istanbul provides one of the best French courses in the country, various free cultural events are organized for the benefit of the public.
The most prominent ones are French cinema nights and timely art expositions. Situated in the basement of the building, the expositions generally share with us photos belonging to different artists from different parts of the world.
Even though the exposition takes place in a small room, the works of art are nothing short of extraordinary. Each one of them holds the genius from which they have sprang. Sometimes the photos on the wall are accompanied by different modern art objects.
Plus, the restaurant on the floor above has one of the best views of the famous Taksim street while sipping on your coffee. Highly recommended!
How to go? Easy peasy lemon squeezy! Taksim square people, you cannot miss it for the life of it. Take the M2 Yenikapı-Haciosman metro and get off at Taksim station. Voila!
But while you are there, make it our last to-go spot, shall we?
9. Taksim: Have your Final Flaneur Moment, Roam Every Street!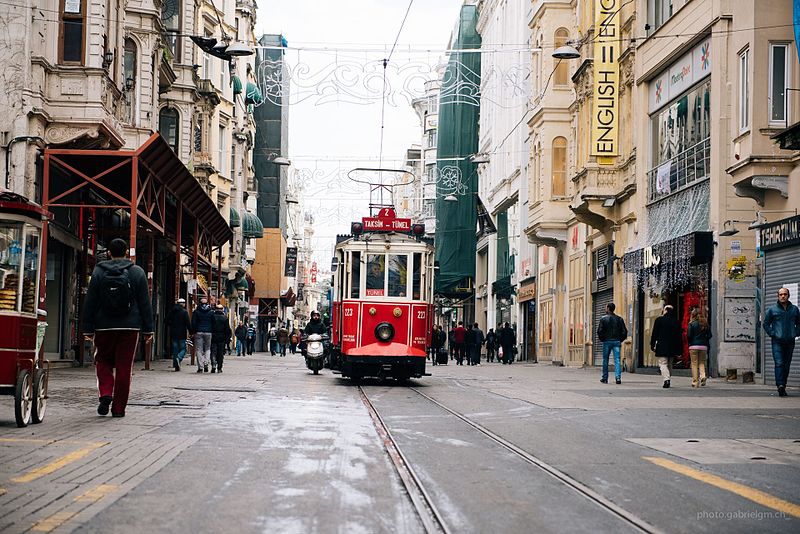 I don't think that is ever the case, but well if you have come to Istanbul and returned without visiting Taksim Square, that does not count at all. You MUST see it.
You still remember our little roleplay here right? Well, if Baudelaire as the most famous flaneur walked around the Pont Neuf, Turkish flaneurs of the 19th century strolled in this area.
In fact, one of the most appreciated novels of Turkish Literature, Aylak Adam (literally means flaneur in Turkish) features Taksim as the dwelling place of its flaneur protagonist. So, why can't you act like one as well?
Referred by many as the heart of Istanbul, Istiklal Street is indeed one of the most visited places. The architecture itself is one of kind, borrowing from both Italian design and Parisian style all the while staying Turkish and national enough.
It has a "je-ne-sais-quoi" type of atmosphere with its monumental buildings, exquisite art centers, excellent restaurants, and coffee-shops and the list can go on forever. Plus, there is this nostalgic tramway (shown in the image above) everyone adores and competes to get into.
The most popular options include the Church of St. Anthony of Padua, Church of St. Mary Draperis, The Tunnel, arcades such as Syria arcade, and Atlas arcade.
If you search online, you may find free walking tours as well. You can also easily cross to other renowned yet quieter districts like Cihangir and Karaköy. 
Last but not least, it goes without saying that Taksim is especially beautiful at night. Rumor has it, it is the ultimate wild night place with its bars and night clubs. Any nocturnal animal here? 
Warning: This place is packed with any sort of people. So be aware!
Closing remarks and I shall depart from thee: Enjoying Istanbul requires absolutely no money. Even if you are not satisfied with what I have offered you, you can always search for other popular districts in Istanbul. It is really about the parks, squares, and alleys more than it is about the best boutiques or shops in Istanbul. Even Coco Chanel knew that.