A prominent Turkish poet, Cemal Süreya, once said, "I don't know what you think of eating, but breakfast must have something to do with happiness."
Every breakfast-lover agrees with Mr. Süreya, because breakfast can be an absolutely delicious meal, especially in Istanbul.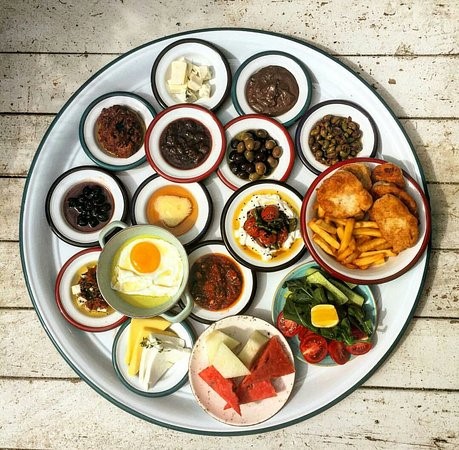 Each restaurant is unique when it comes to style. Some of them are good for affordable breakfasts, while others are great for the view. When you've had your first experience with a Turkish breakfast, you'll certainly recognize that no matter the food, it's the social aspect of the meal that's really important.
In today's world, people disconnect with others, even if they're sitting across from you. A Turkish breakfast is the best way to make a connection with people, even in today's fast-paced world, thanks to its strong tradition.
Here are some of the most beautiful places for breakfast in Istanbul. You should most definitely make time to visit them, one by one. Don't forget that if you start the day well, the rest of it will go well!
Namlı Gurme–Breakfast in the Historic Peninsula of Karaköy
This branch is located in Istanbul's historic peninsula of Karaköy, but there are also locations in Nişantaşı, Ataköy, and Göktürk. Still, I strongly recommend that you have breakfast in Karaköy.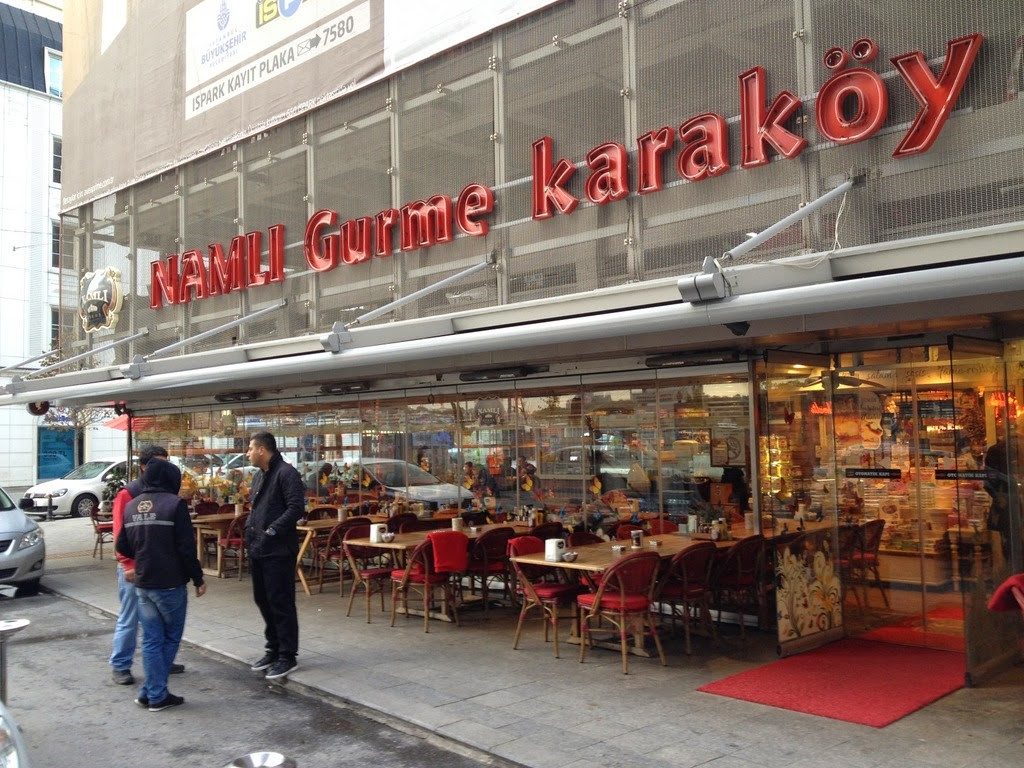 Namlı-Karaköy is right behind the famous Karaköy Pier on Rıhtım Street. You can easily identify the place by the crowd in front of it. If you mind the wait, you should get there early, especially on weekend mornings.
When you see the picture (above), you'll understand the reason for the crowd. First of all, Namlı Gurme offers you an unbelievable amount of delicious breakfast choices. In fact, it was awarded the best place for breakfast and the best place for shopping in 2009 and 2015.
You'll always find something unique for breakfast or brunch from their fresh and delicious options.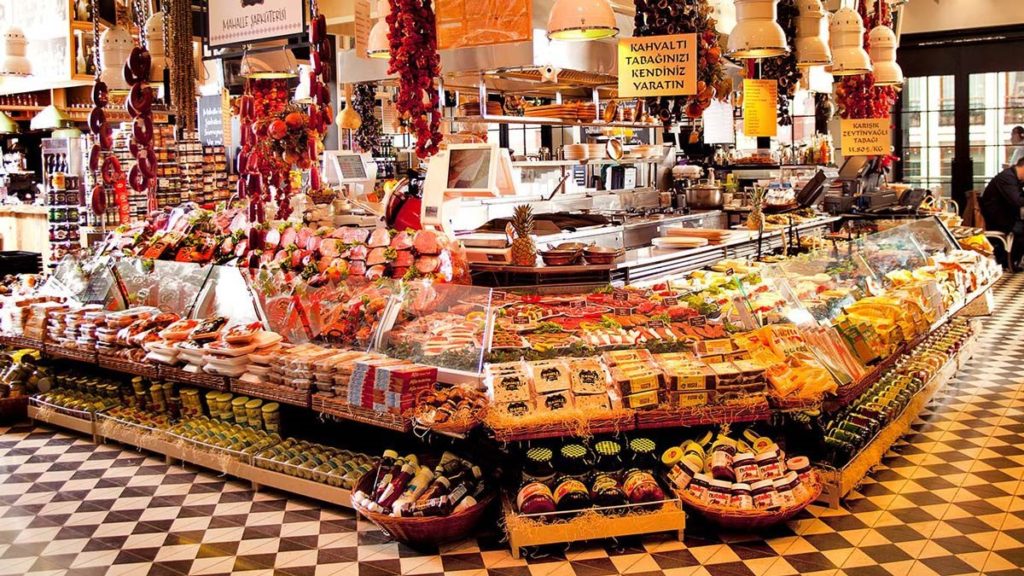 Namlı Gurme allows you to prepare your breakfast plate yourself, and in so doing, price your own meal!  Here, you can choose what you want to eat and how much of it you'd like. Furthermore, you have the option to take a package of their delicious gourmet products to your sweet home.
Everyone knows that Namlı Gourmet isn't just the breakfast venue, but a gourmet restaurant! They also cater to special nutrition preferences, like vegan or vegetarian.
Namlı unquestionably plays to its roots with a full breakfast spread of Turkish classics. You must definitely try the roasted omelet and olive oil dishes before you leave.
Tarihi Çınaraltı Aile Çay Bahçesi–an Affordable Breakfast by the Bosphorus
This is a tea garden located under a beautiful tree (Çınar) on the Çengelköy Coast. There was a rather small indoor space with a small number of tables about two decades ago, but it's grown since then. Wherever you sit–be it outside by the plants or inside under the lights–you're sure to enjoy this hidden treasure.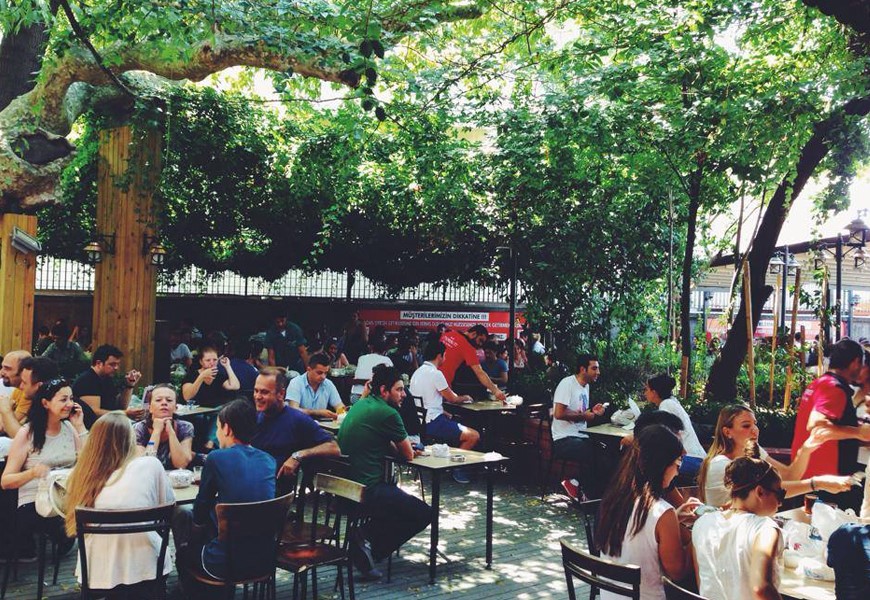 After Çınaraltı was used as a filming location for Süper Baba (Super Dad), which was a popular Turkish serial in the 1990s, the number of customers hit the roof and renovations began. The tea garden has only continued to grow since then.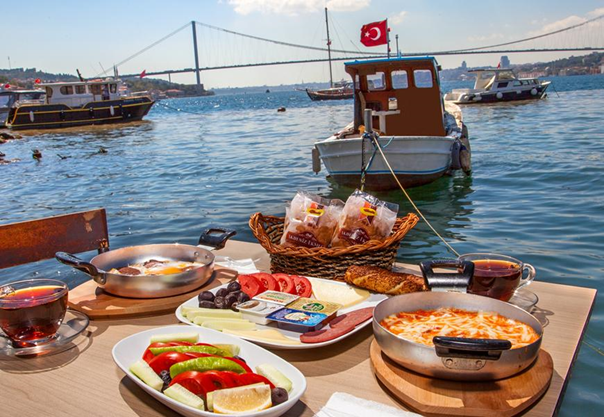 When I think about affordable places for breakfast in the Bosphorus, I think of Çınaraltı and its magnificent view of the Bosphorus.
People expect places around the Bosphorus to be more expensive than elsewhere. The garden and inside of the place are cozy and warm because Çınaraltı gives you the chance to take a journey through İstanbul's history. It's open 24/7, so you can enjoy its amazing view and food whenever you'd like.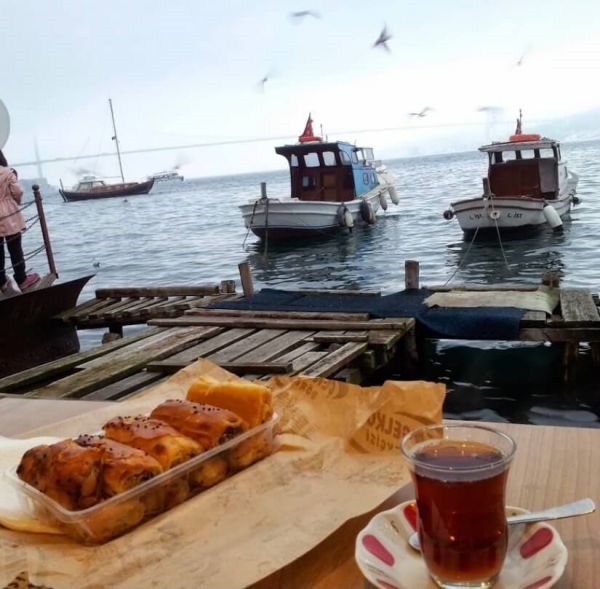 The most popular aspect of the Çınaraltı tea garden is that everyone is allowed to bring their food outside to make people feel at home, but you have to order beverages.  Another alternative, I strongly recommend is the Çengelköy Böreği (pie with cheese, meat, walnut, spinach, and potato) from the famous Çengelköy Bakery.  I must admit that walnut cheese pie is my favorite with fresh Turkish tea while enjoying the view of the Bosphorus.
As of 2019, a slice of walnut cheese pie with extra olive oil is about 8.5T, su böreği (pasta with cheese and parsley filling), and pie with meat and spinach is about 7TL.  After you order your delicious börek, hurry up to find a table with a view of the Bosphorus.
You can also order your breakfast as takeout from Çınaraltı Tea Garden and enjoy Turkish cuisine wherever you choose.  As of 2019, the breakfast plate is 20TL, a cheese plate is 6TL, the olive plate is 6TL, sausage and eggs are 8TL, menemen is 8TL, mixed toast is 9TL, a small tea is 3TL, a large tea is 4.5TL, and Turkish coffee is 6L.
Most people tend to order the cheese and olive plates together with menemen or fried eggs and Turkish sausage. No matter what you order, the best accompaniment is, of course, Turkish tea!
When you finish your breakfast, don't forget to have a Turkish coffee!
Sütiş Emirgan–The Best Breakfast by the Sea
Here's another excellent breakfast restaurant! This one is situated along the Emirgan, Bosphorus, and İstanbul coastline. Now, imagine that you're having breakfast at a place with a wonderful sea view and a tasty menu. All of this makes Emirgan Sütiş a preferred breakfast place.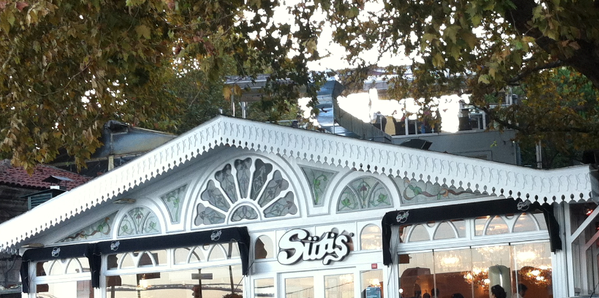 Though Emirgan Sütiş is a lovely place for breakfast, it's a bit expensive; however, it's absolutely charming!  It should also be stated that the service is friendly and polite here, so I recommend that you make a reservation before your visit.
Emirgan Sütiş offers a lot of choices for breakfast, and the food is delicious. They really care about the quality here, so they bake their own breads, and make their own yogurt and cream. Not only do they know the manufacturers, but they're also a part of the preparation of making the cheese and other items.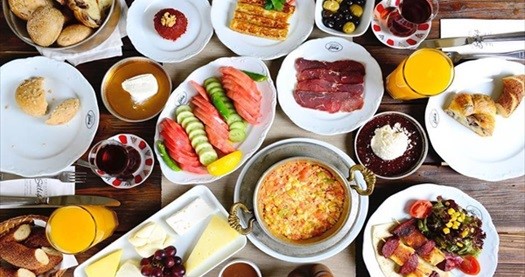 Because you might get lost among all the breakfast options, I recommend ordering scrambled eggs with tomatoes and red pepper, honey and cream, the cheese plate, a bread basket, artisanal sausage, and tea.
Breakfast at Emirgan Sütiş is a feast, so get ready to eat a lot. Once you try it, you'll be seriously obsessed with Turkish breakfast!
Beşiktaş Breakfast Street
Beşiktaş is an old and historic district on İstanbul's European side. When you get there, you'll enjoy the view of the Bosphorus on Beşiktaş's 8 km coast. Then, you can take a walk to Breakfast Street, located in the student district of Beşiktaş, called Kahvaltıcılar Sokağı in Turkish.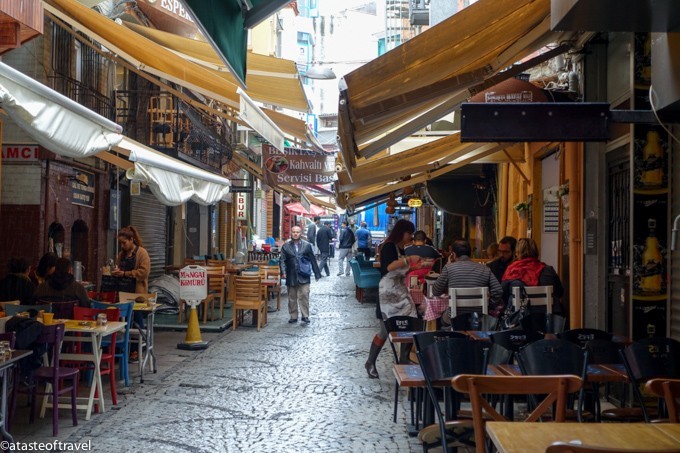 If you're looking for a satisfying but affordable breakfast, you'll find it on the street, which is host to a number of small breakfast restaurants. Even though all of the places are small, they are cozy and warm. They're generally open early in the morning, around 7:00 a.m. and close around 3:00 p.m., but some of them open until 8:00 p.m.
If you want to have breakfast on a Sunday on this street, you'll find long customer line-ups in front of each place. To find a quiet place, go to the street and check out the places one by one.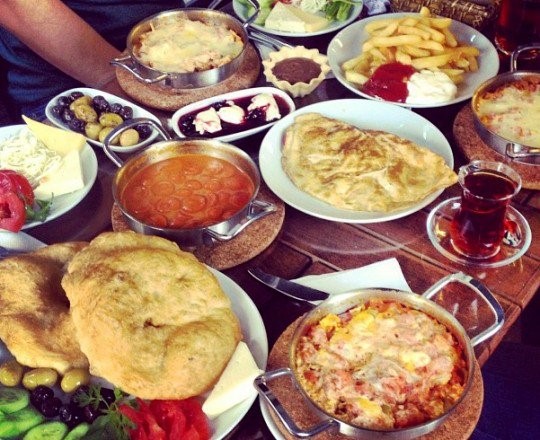 All of the breakfast places on the narrow street have pişi (a traditional breakfast food made from flour and oil) on their menus, which is one of the main differences from other restaurants. You can taste many types of pişi there, such as plain with chocolate, cheese, or sausage.
Whichever cafe you choose, I'm sure you'll enjoy it. For breakfast at restaurant you'll pay around 25TL per person with pişi. Breakfast items like cheese, olives, butter, honey, sausages, and eggs are included; however, the food portions are relatively small. Even so, this is an awesome place for breakfast!
Van Kahvaltı Evi–Cafe, Turkish, Middle Eastern
Moda Van Kahvaltı Evi is one of the most authentic breakfast places in Cihangir.  Its meals are in the Van breakfast tradition, featuring regional specialties from Van, a city in the east of Turkey, and it's particularly known for its breakfasts.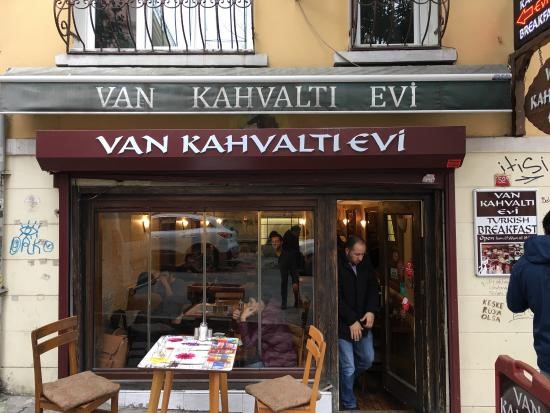 The first question you'll probably ask yourself here is where to begin. This breakfast isn't just one dish but a spread of bite-sized, Van delicacies.
After one bite, you'll wonder how you've ever lived without it. Everything is included in the breakfast, which is fresh and inexpensive.  The restaurant has the happiest staff, and their service is better than at a high-standard restaurant.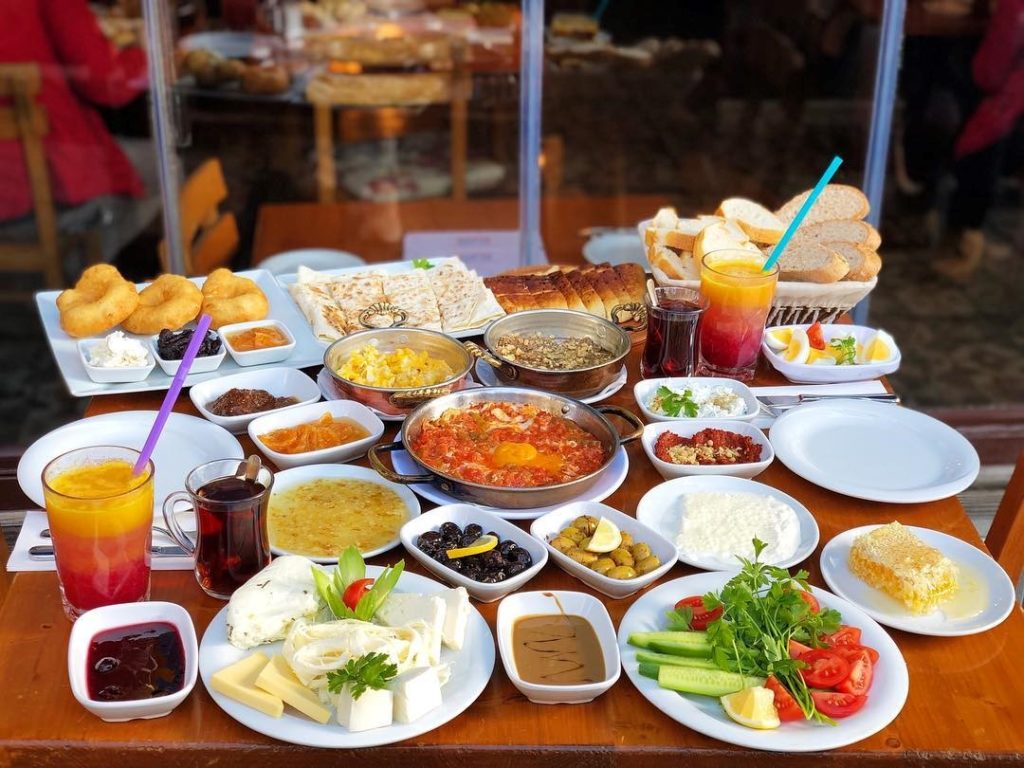 The place offers a set menu on which you'll get a little bit of everything, which is a mix of fresh, organic foods. If you like local delicacies, try some of the rich cheese varieties, such as the famous otlu peynir (herb cheese, special from Van), Kars Gruyere cheese, knitted cheese, and old and new kashar cheese.
You won't regret going there!
Zapata Moda Restaurant and Bakery
Zapata is in Moda, Kadıköy, but you'll need to find the Şevki Bey Sokak before arriving at this lovely place. It's not very big, but it has the cutest balcony.
As soon as you see the place, you'll feel its simple minimalist. Zapata Moda is absolutely one of the most-loved of the new-generation cafes.  It also has amazing breakfast dishes which you can enjoy to calm music.
 It has many breakfast options, and all of them taste extraordinary, thanks to Hakan Özfırıncı, who graduated from the professional cooking department at the Culinary Arts Academy.
If you're looking for creative and different cuisine in a simply-designed place, Zapata Moda will definitely meet your expectations.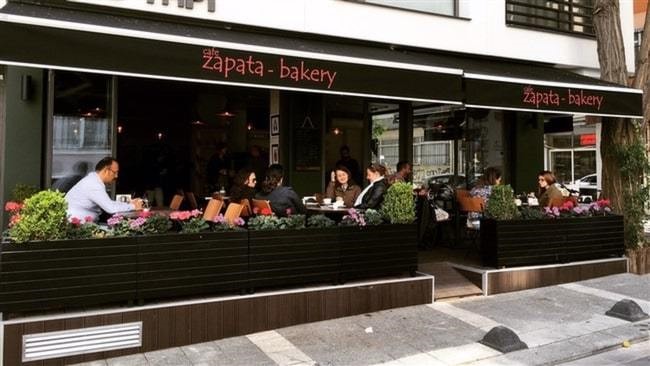 Zapata Moda serves an excellent breakfast with ezine kashar, knitted, Haloumi cheese; poppy flakes, Mediterranean greens, Antalya crushed green olives, pişi with parmesan, muhammara (a dish of crushed walnuts, stale bread, tahini, olive oil, garlic, and lemon juice), and dried tomatoes including unlimited Turkish tea costs only 26TL per person.
On this rich menu, my favorite part is their version of Spanish omelet (with bacon, cheddar, and avocado) for 13TL, or a classic option, muhlama (special omelet from the Black Sea Region) for 15TL.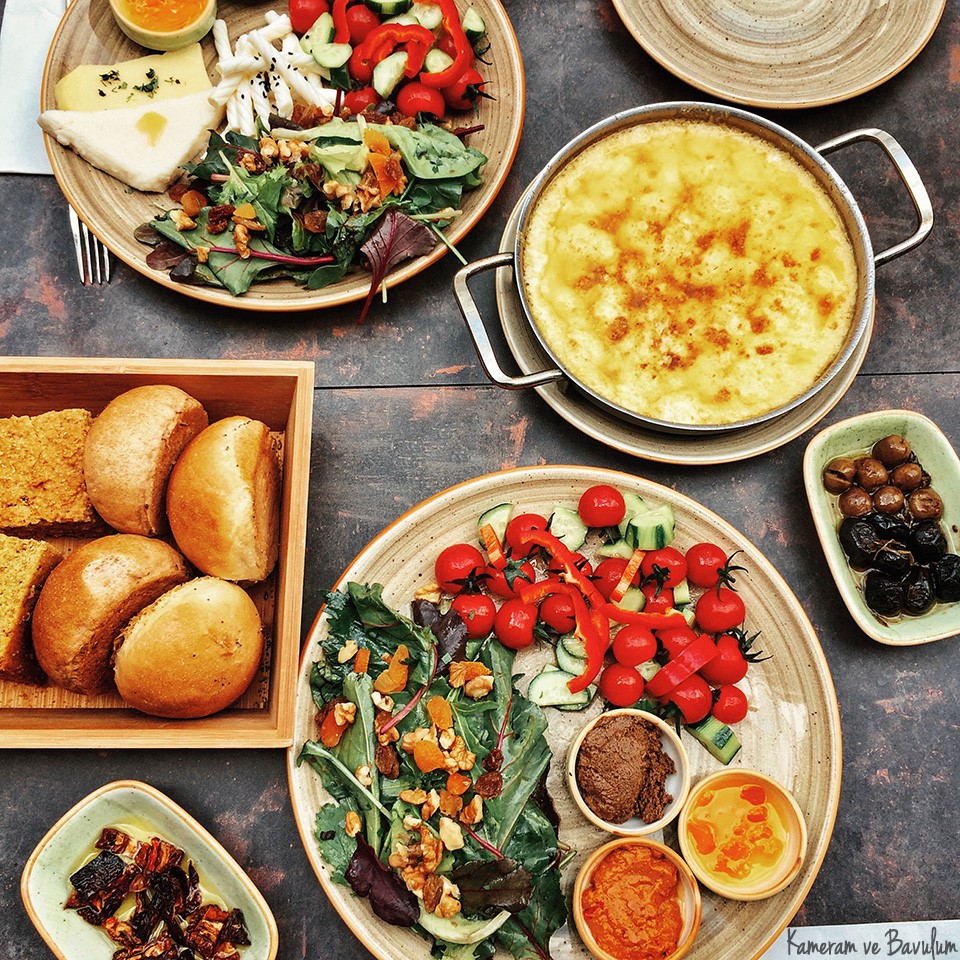 These special omelets are excellent and affordable.  When you see the menu, you will, no doubt, want to taste everything on it. When ordering a mixed breakfast, don't forget to also order one of the special omelets.  Bon appetit!
Mangerie–Bebek Bosphorus
Having breakfast here is a MUST! Mangerie was awarded the best place for breakfast in İstanbul. It's open 24/7, so they serve an all-day, delicious, set breakfast menu. You can also order a variety of other foods. It's located in Bebek, one of the fanciest places in İstanbul, and the place is frequented by Turkish celebrities. As expected, it's a bit overpriced, but it's certainly worth it.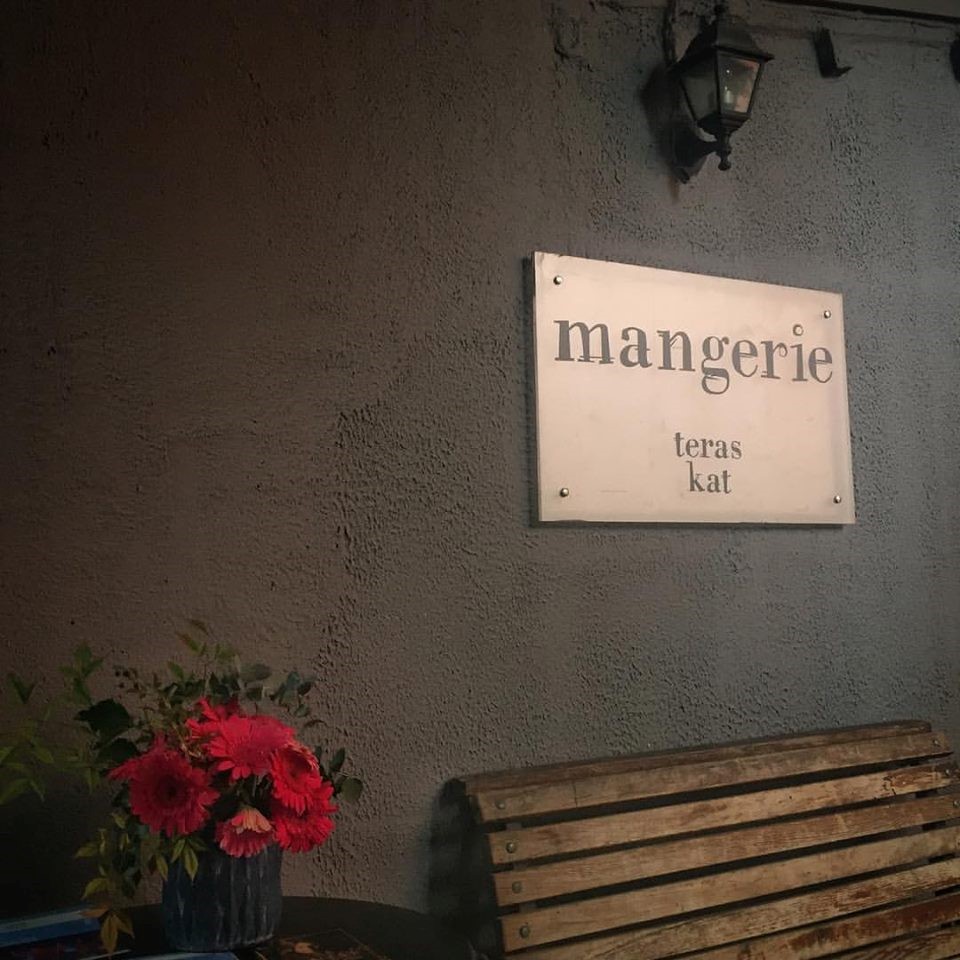 Mangerie is not only an amazing spot, but you can also enjoy breakfast with a view here. You can sit outside even in the winter, thanks to the heaters on the balcony. You'll feel at home from the moment you enter. With its unique terrace, this place will not disappoint.
Everything's special at Mangerie–the cheese, bread, and jams are very fresh. The other delicacies on the menu include my favorites: pear-mascarpone toast and focaccia toast. The breakfast menu at Mangerie only gets richer, with its delicious pancakes, nut butters, and fruit salads.
In addition to the unimaginable view, the food is tasty, and the portions are big. You'll find a lot of local specialties on the menu, but it's also a good place to eat a good brunch while drinking detox juices and teas of all kinds.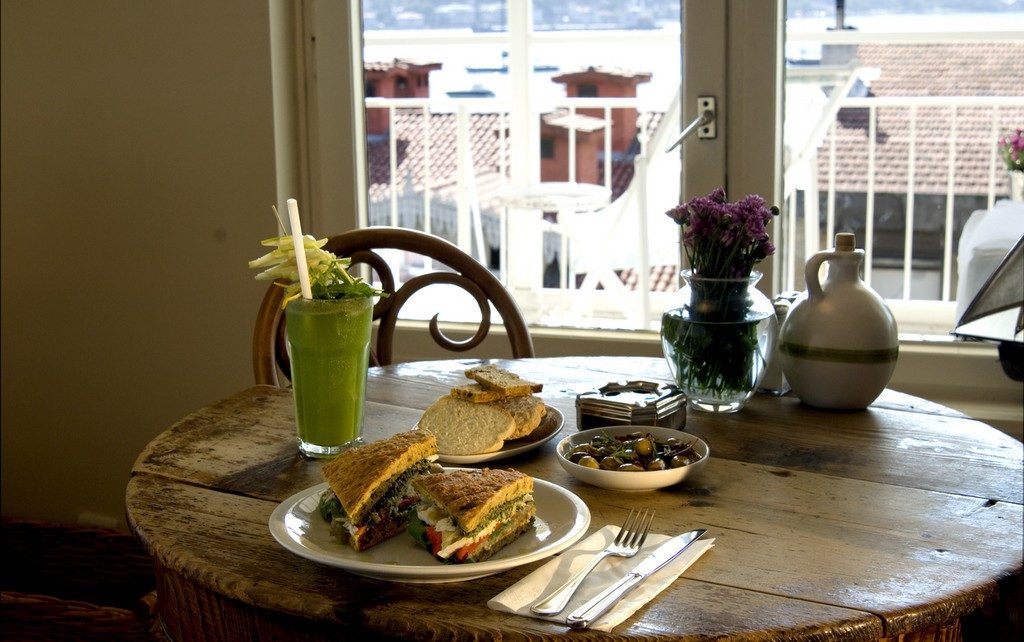 Tourists tend to like Turkish breakfast because it helps them understand the local cuisine.
A Turkish breakfast welcomes you with its warm, fresh tea, followed by cheeses, olives, sauces, breads, honey, cucumbers, and different omelets from various regions. It's a pity that our modern lifestyles don't always allow for a full kahvalti every morning, but Sunday kahvalti is an important ritual in modern Turkish culture. Bebek is a great place to experience this ritual. To enjoy breakfast par excellence, Bebek awaits!