İstanbul is a magnificent city to visit and to live in. The culture, history, social activities, and daily life; there is always entertainment and pleasure in this city. Indeed, it is also a center of gastronomy.
Turkish cuisine is famous for appetizers, kebab, and desserts. But, İstanbul cuisine offers much more than that. Well, also, this city is literally a bridge connecting the Orient and the Occident! The best chefs from different cuisines perform their art of food all over the city. 
16 million residents live in İstanbul, who knows how many restaurants there are! However, if you'd like to experience gastronomy in the city, you should know which restaurants worth it. 
İstanbul is sheltering successful chefs, a sophisticated cuisine, and brilliant restaurants. Some of them have the perfect menus, some have the most talented chefs, some have fascinating views, unique atmospheres, traditional dishes… But on this list, there are the ones that combined all! 
Whether you are curious about new flavors or loyal to world cuisine, you will not regret it. Turkish cuisine is not only based on grills but also vegetables, so there are also vegan/vegetarian options in almost every restaurant.
If you consider going to one of the listed restaurants, make sure to make a reservation if it is required. If you're hungry enough, let's get started. 
1- Best Ottoman Kitchen Dishes in Deraliye Restaurant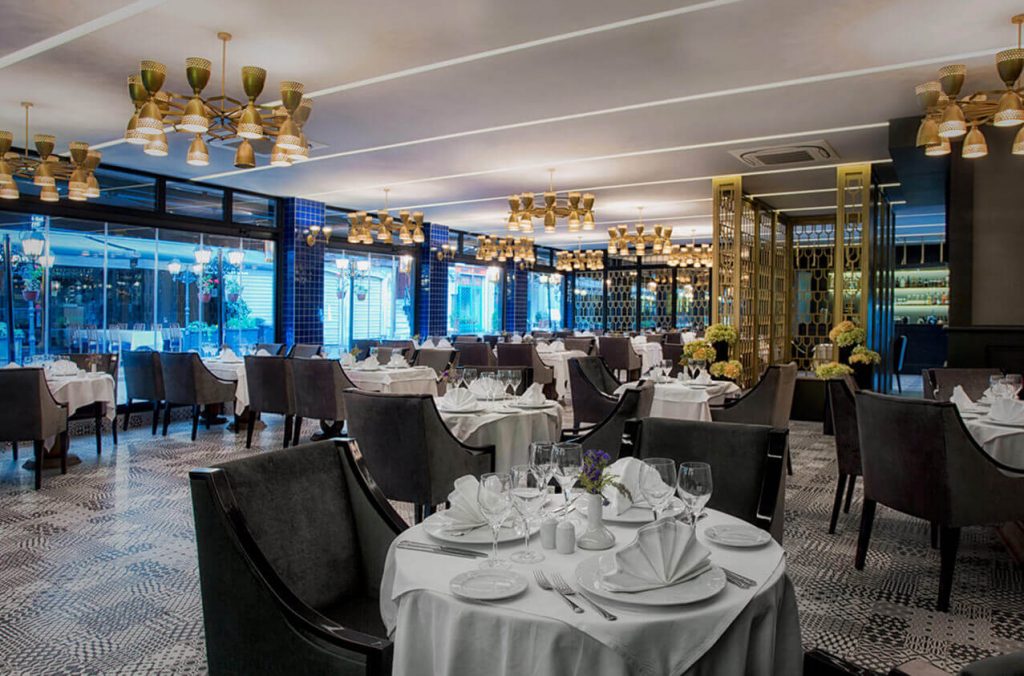 İstanbul has such an impressive historical site that visiting the museums, mosques and all other historical ruins may make you desire to enter into the deeps of the culture more. After seeing the marvelous architecture and design of the Ottoman site, you may directly wonder how would be the Ottoman cuisine? 
If you're into Ottoman cuisine, -which is surely delicious-, Deraliye Restaurant is just right for you. It is at the heart of the city, a few steps from the Topkapı Palace.
Deraliye Restaurant has an extensive menu, including kebab, grills, seafood, and vegetarian options. Most of them cooked in the Ottoman way! Also, there is a degustation menu option for gastronomy enthusiasts! 
There is also a wine menu, so you may enjoy a glass of wine while relieving the tiredness of the day.
Address: Alemdar Ticarethane Sokak &, Divan Yolu Cd. No:10, 34122
2- The Elegant Atmosphere and Fine Dining: Nicole Restaurant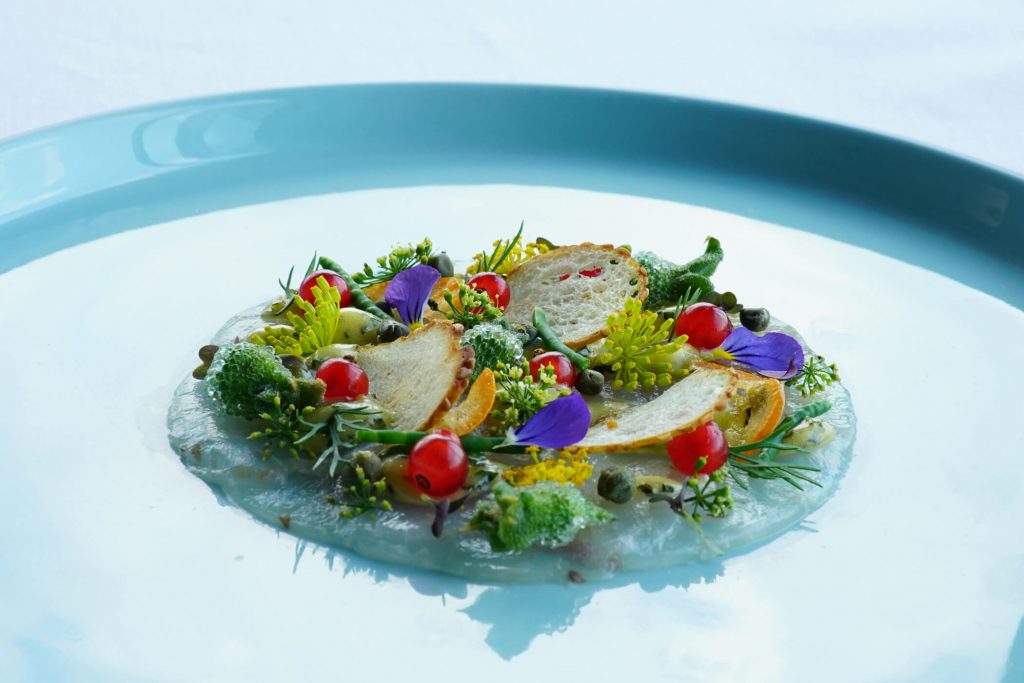 If you'd like to have a chilling dinner after a long day with your loved ones -or just by yourself-, Nicole Restaurant welcomes you!
Nicole Restaurant offers you three things; a seafood-based menu designed with respect to seasonal and local characteristics, a magnificent view of the Marmara Sea, and a joy of spending some time in a historic building. It is located in Beyoğlu, so after a walk on İstiklal Street, you may have a calmer dinner at Nicole.
You will have the chance to drink special wines exported from Europe. Keep in mind that it is only open for dinner and open from Monday to Saturday. Also, smoking is not allowed in the restaurant. 
Address: Tomtom, Tomtom Kaptan Sk. No:18, 34433 Beyoğlu/İstanbul
3- Unforgettable Meyhane Experience in Asmalı Cavit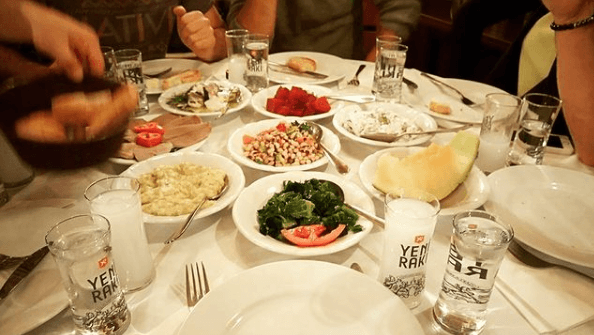 Asmalı Cavit offers a different dining experience than what you are familiar with. It is a very Turkish style restaurant, i.e. meyhane. 
Asmalı Cavit is very popular with mezes -appetizers with olive oil- but the main dish options are also strongly suggested by well-known food critics. In this restaurant, you may give a try to special meatballs, grills, and seafood.
Meyhanes are, so to speak, raki based restaurants. Every food on the table is planned to be in harmony with Turkish alcohol, raki. So, if you are into raki or want to give it a chance, Asmalı Cavit is the ideal restaurant. 
By the way, beware of overdrinking and drink responsibly if you try raki for the first time as it has a high percentage of alcohol. 
It is located in Beyoğlu. It's closed on Sundays. 
Address: Asmalı Mescit, Mahallesi, Asmalı Mescit Cd. 16/D, 34430 Beyoğlu/İstanbul
4- Fashion, Design and Delicious Food All Gathered in Modernity: Vogue Restaurant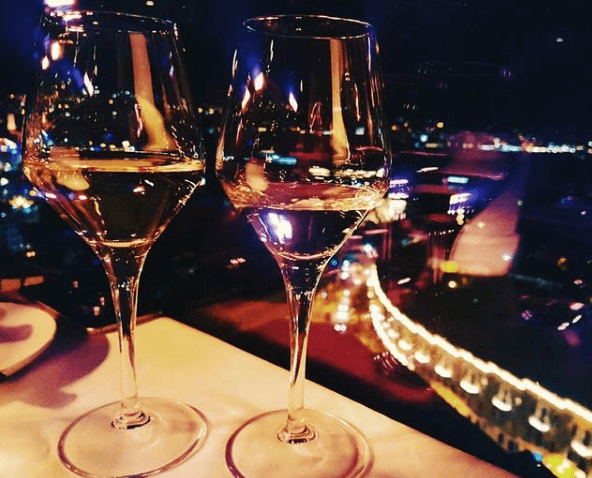 The modern ambiance, fashion, delicious dishes, and the historical landscape of İstanbul; those are what Vogue Restaurant offers you. In a chilling ambiance, you may focus on the food while time is elapsing around you. 
The chef's purpose is to mix fashion and cooking so that to create a modern, stylish, and unique menu. For both lunch and dinner, Vogue serves dishes of modern European cuisine and sushi. The menu includes ketogenic main course options as well. 
The view, on the other hand, is a unique Bosphorus panorama which is seen from both the indoor and outdoor. This makes the restaurant very luminous and spacious. 
Vogue is located in Beşiktaş and is open every day with the online reservation option.
Adress: Vişnezade, Akaretler Spor Cad. No:92 D: A Blok, 34357 Beşiktaş/İstanbul
5- The Respect for Traditional Local Cuisine in Neolokal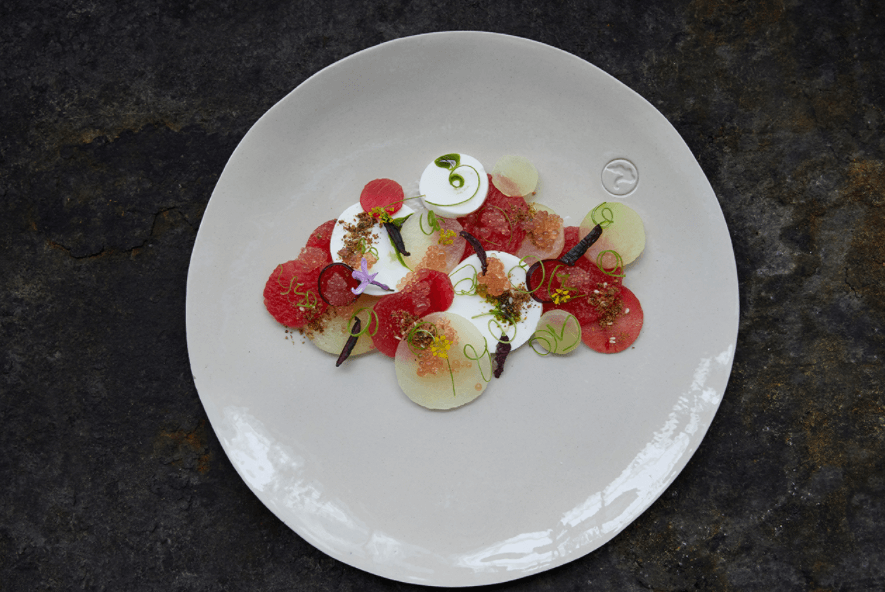 Neolokal is a unique restaurant, seriously! Neolokal's chef aims at honoring the traditional foods, putting them in harmony with the present, and conveying to the future. Whether you're a gastronomy enthusiast, or just wondering how modernized Turkish tastes are like, you should definitely go to Neolokal!
Neolokal shows a great deal of respect to Mother Earth. It takes on the task of being a bridge between the past and the future without injuring the environment. So, sustainability is highly considered. 
Moreover, in Karaköy's Bankalar Street, where reflects the late-Ottoman architecture, Neolokal offers you the view of the Historical Peninsula; the brilliant silhouette of the 3 thousand years old city. You can observe how things changed throughout the years while eating. 
Neolokal is open from Tuesday to Sunday. Also, you may make an online reservation. 
Adress: Azapkapı, Bankalar Cd. No:11, 34421 Beyoğlu/İstanbul
6- Turkish Flavors in Historical Cistern: Sarnıç Restaurant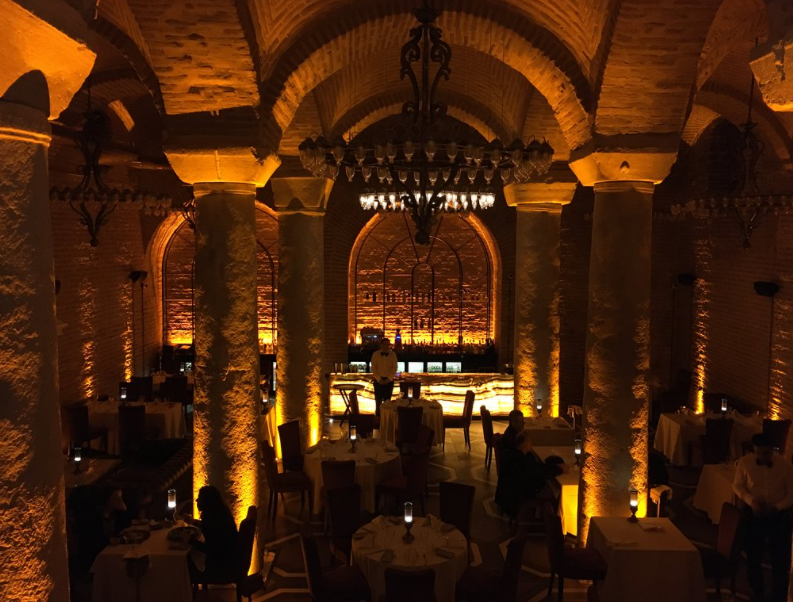 Sarnıç Restaurant, as one of the most popular restaurants in İstanbul, serves dishes of traditional Anatolian cuisine with lots of herbs and mixes.
Being both modern and traditional, this is what Sarnıç Restaurant is really good at! The menu includes Ottoman and traditional Turkish flavors with modern touches. 
Let's talk about the ambiance a little. Sarnıç means "cistern" in Turkish. Here's the fact, the restaurant is really in a 1500 years old cistern. So, Sarnıç Restaurant provides a literally unique experience. I mean, watching the panoramic landscape is always cool, but being in a cistern, that is completely interesting.
Adress: Soğukçeşme Sokağı No: 26 Sultanahmet Fatih/Istanbul
7- Feeling the Bosphorus in Lacivert Restaurant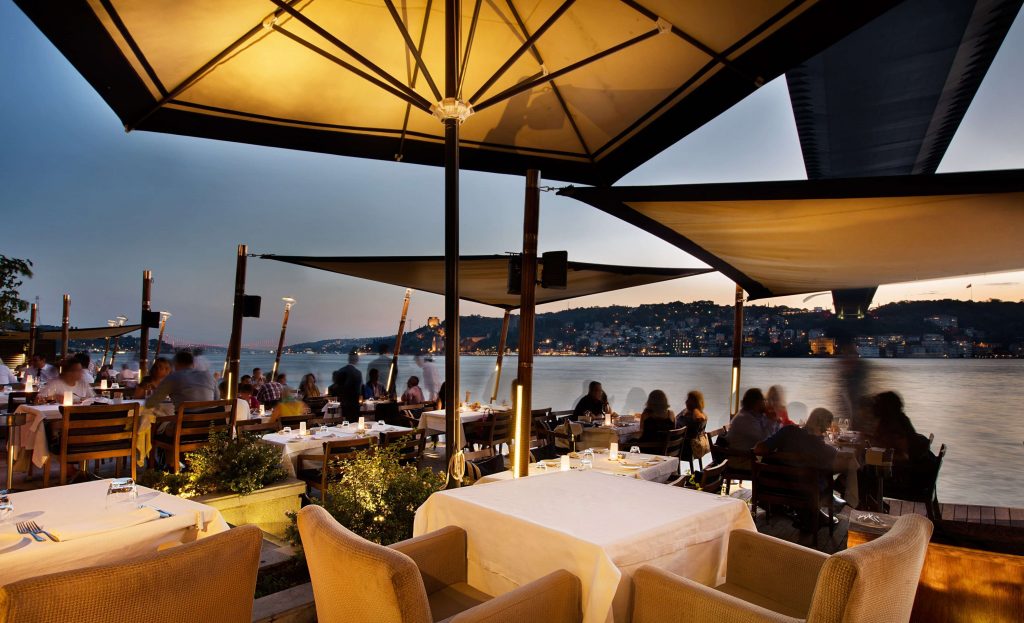 Until now, the restaurants listed all either offer a fascinating view of the Bosphorus or a unique atmosphere. Lacivert Restaurant, on the other hand, offers the Bosphorus itself! Literally, it is right beside the sea and directly under the bridge. 
Lacivert serves breakfast, lunch, and dinner. So, you can go and enjoy it anytime you wish.
The breakfast is served in the traditional Turkish style. The menu includes dishes from world cuisine and seafood. So, if you're picky about food, Lacivert is the most preferable option for you. 
Although the restaurant is located in Beykoz, boats are moving from Rumelian Castle Pier and takes you to the Restaurant in 4 minutes. 
Address: Anadolu Hisarı, Körfez Cd. 57/A, 34410 Beykoz/İstanbul
8- Best Seafood by the Sea in Villa Bosphorus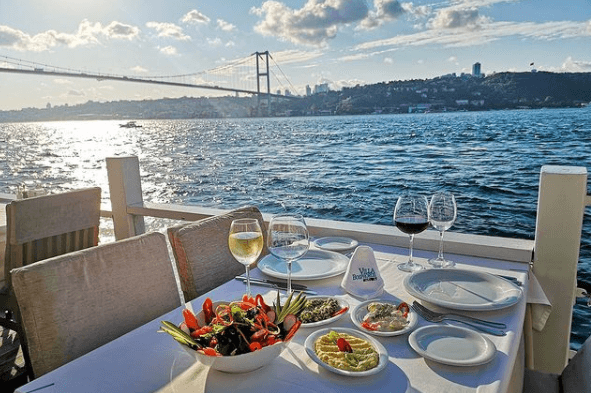 İstanbul is a city of seafood that is the exact cuisine Villa Bosphorus has been specialized in its menu. Just like Lacivet, Villa Bosphorus is by the sea as well. 
In Villa Bosphorus, the view enables you to see two bridges, breathe the fresh Bosphorus air and enjoy dinner. Not surprisingly, it is one of the most popular and suggested fish restaurants in the city due to the quality of service and tasteful seafood.
Note that, the menu is strictly based on seafood, so vegans and vegetarians may not find the main course. You can make an online reservation from the website. It is open every day. 
Adress: Beylerbeyi, Beylerbeyi İskele Cd. 18 A D:18 A, 34676 Üsküdar/İstanbul
9- 75 Years of Experience in Kitchen: Beyti Restaurant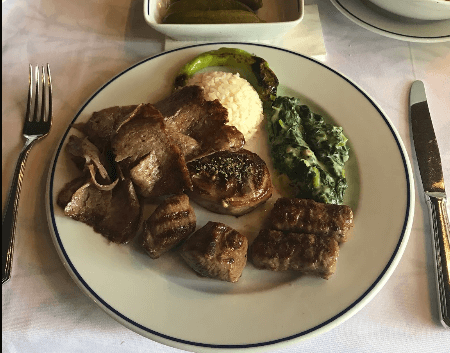 If you're into grills and steak, you should definitely go to Beyti Restaurant. 
In 1945, Beyti Güler has established his very first restaurant and had a group of regular guests in a really short time. That was because of his special dish, Beyti! Today, it is a well-known dish all over the country, but the homeland of it is this restaurant. 
Beyti Restaurant is a family business and serving to kebab and steak lovers for almost 40 years. It was designed to spend time with family and friends in a warm atmosphere.
The restaurant's interior design was intended to reflect Ottoman-Turkish traditions. The grills and kebabs are cooked in a coal fire.
Beyti Restaurant is located in Florya. You can make a reservation through e-mails. 
Adress: Şenlikköy, Orman Sk. No:8, 34153 Bakırköy/İstanbul
10- Best Galata Tower View in Firuzende Restaurant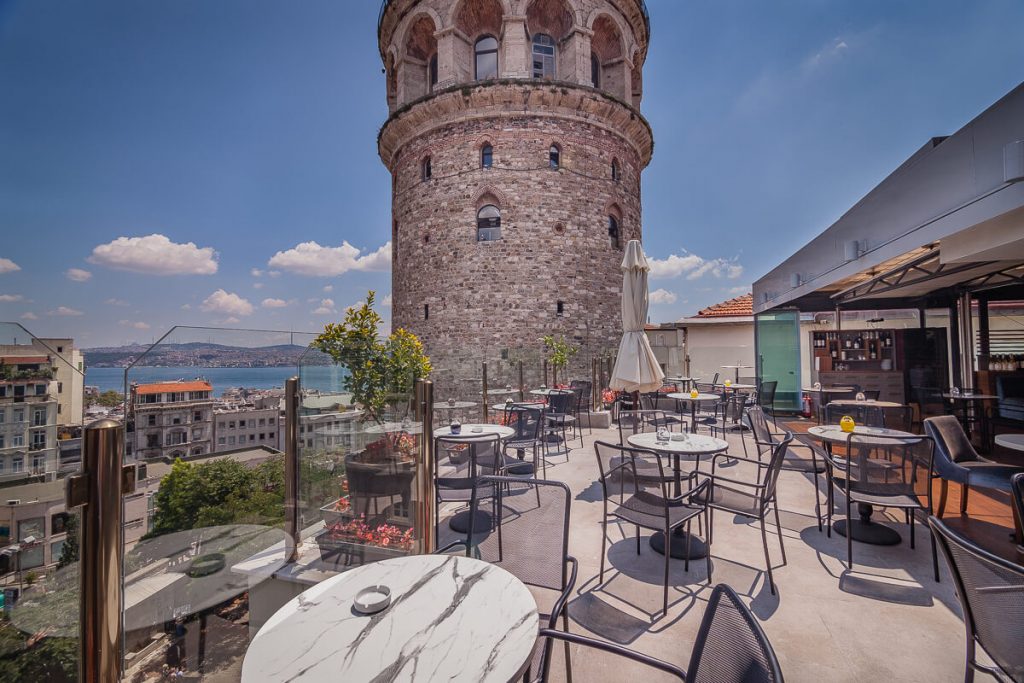 Galata Tower is one of the most iconic landmarks in İstanbul. What about having a delightful meal while watching the Tower on the right and the Bosphorus panorama on the left? Firuzende Restaurant bridges this panoramic experience with delicious foods on a roof!
The menu is planned to appeal to everyone's taste, many different dishes are from world cuisine. Also, both lunch and dinner are served. So, you can go anytime and enjoy the roof.
The view is so good that, whether you go for lunch or dinner, whether you watch the adventures of every day in the sunlight or the city lights in the night, Firuzende welcomes you. 
The restaurant is located right beside the Galata Tower, in Anemon Galata Hotel. Online reservation is also available. 
Adress: Anemon Galata Otel, Bereketzade Mahallesi, Büyükhendek Caddesi, Kuledibi, Beyoğlu / Istanbul
11- Experience of the Modern Meyhane in Aheste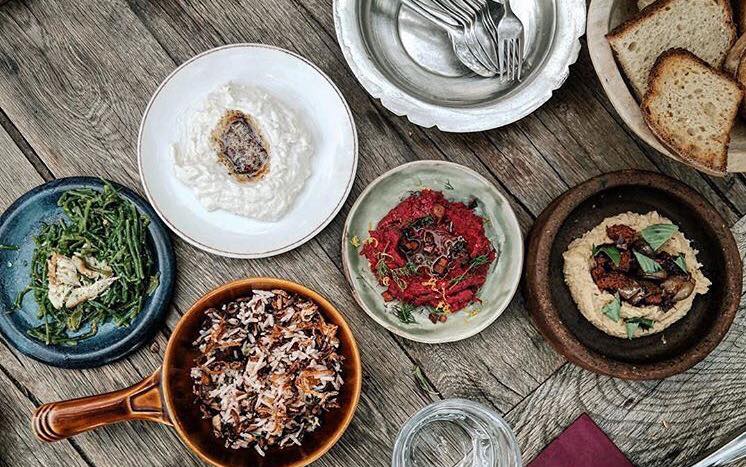 You're familiar with meyhane now. To be honest, Aheste Restaurant is a little different than others because it is a modern meyhane with a cozy atmosphere in a historic building. 
In the mornings, Aheste serves breakfast. For lunch and dinner, it is a non-typical meyhane. There is a strong emphasis on mezes and traditional Turkish dishes with modern touches on the menu. 
Mezes are influenced by Armenian, Greek, and Turkish cuisines. 
Not only raki is served but also Turkish wines. If you're not sure which wine to choose, the menu includes brief information to help you. Moreover, there are cocktails on the menu. 
Aheste Restaurant is located in Asmalı Mescit, Beyoğlu. You can make online reservation. 
Adress: Asmalı Mescit, Meşrutiyet Cd. No:107, 34430 Beyoğlu/İstanbul
12- Only İstanbul Tastes: İstanbul Cuisine in Jash Kınalıada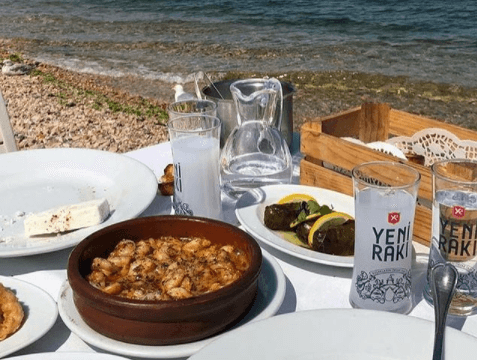 With all its three thousand years of history, İstanbul has its own culture, therefore, cuisine. Jash is exactly focused on this; İstanbul's cuisine. The atmosphere, the Prince Island's perspective to İstanbul coasts accompanies the delicious foods. By the way, the restaurant is literally by the sea. 
Jash means "food" in Armenian. Istanbul has been a mosaic of cultures for a hundred years, so does its cuisine. 
The menu covers various mezes, seafood, and special dishes attributed to meyhane cuisine. What differs Jash Kınalıada from others is that the menu only covers İstanbul foods. 
Jash Kınalıada is located in one of the Prince Islands, Kınalıada. Private cars are not allowed in The Prince Islands, so you have to take the ferry. You can make a pre-reservation online.
Adress: Kınalıada, Alsancak Cd., 34977 Adalar/İstanbul
13- The Most Turkish Way of Dining Out: Fine Dine Istanbul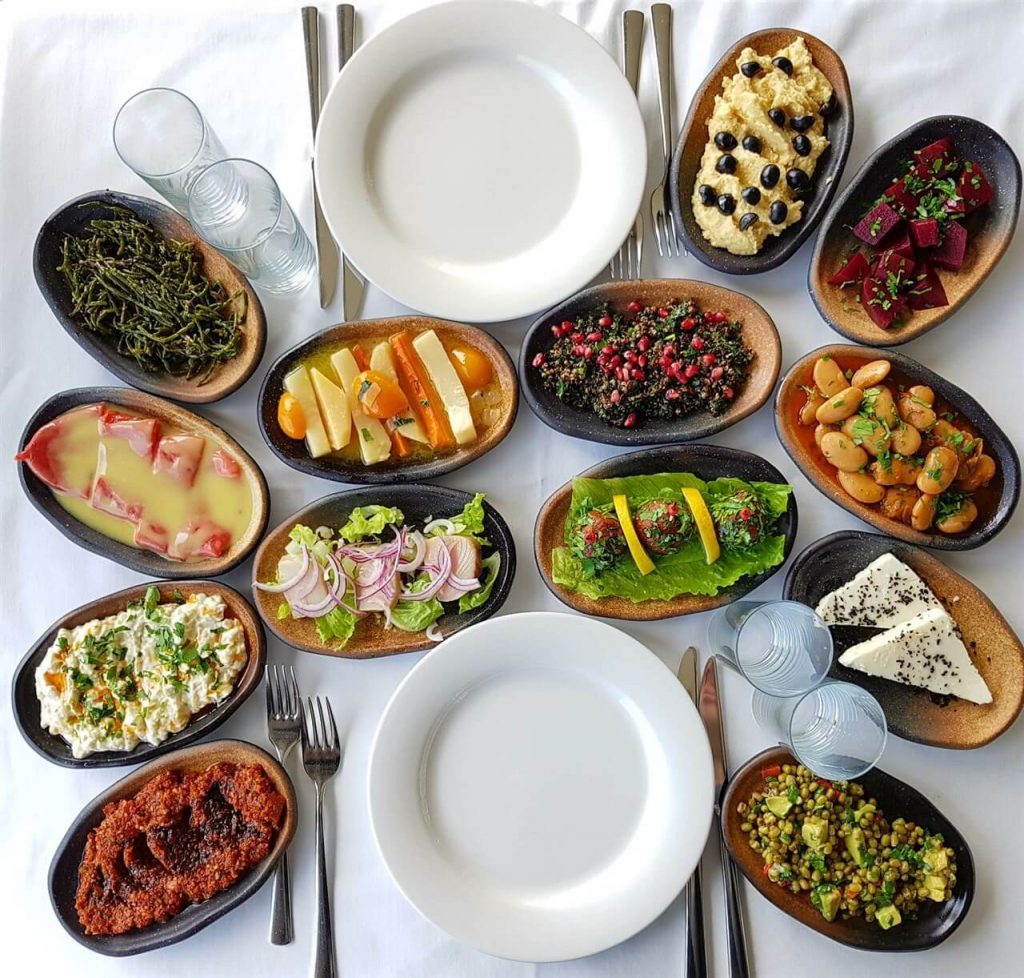 If you'd like to try Turkish food while watching the breathtaking view of the Bosphorus, Fine Dine İstanbul is waiting for you. 
Fine Dine serves nothing but the classical Turkish dishes such as most common mezes, puff pastries as appetizers and grills and kebabs as the main course. There is nothing surprising about the menu as it does not need to. Fine Dine chef does not attempt to change traditional food as they already are at their finest level, but the focus is to make them the most delicious.  
You may also try delicious traditional desserts in Fine Dining. It is in Sultanahmet, so you may consider enjoying your evening while having dinner and listening to live music at Fine Dine after a long day of traveling around the Historical Peninsula.
Address: Dr. Imran Oktem Cad. No:1 34440 Sultanahmet / ISTANBUL
14- A mixture of Cuisine, Entertainment, Vibe, and Ambiance: 360 İstanbul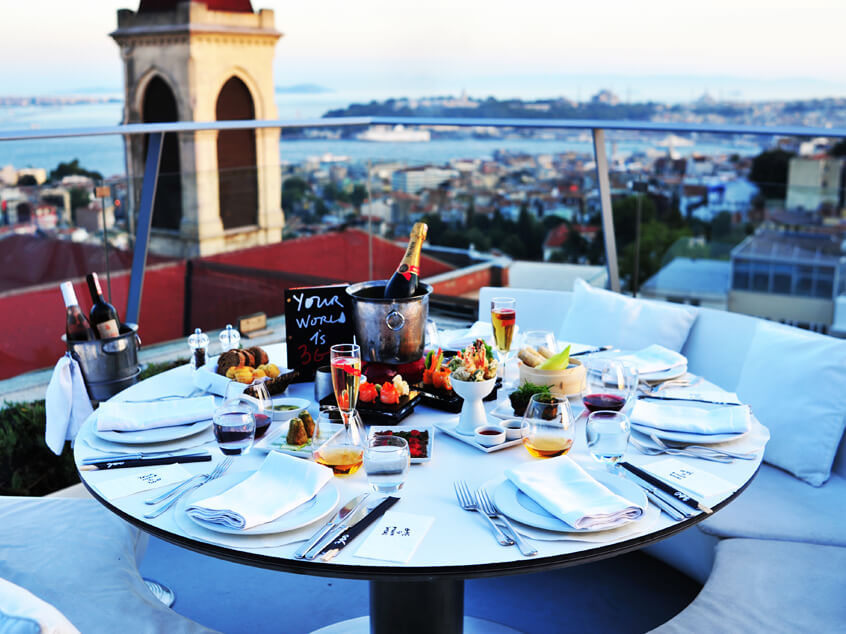 If you're not interested in chilling out and having a calmer dinner but prefer dynamism, creativity, and more activity, you should go to 360 İstanbul.
The kitchen is very open to creativity. Chefs of 360 İstanbul show their ability to transform traditional into contemporary. Moreover, there are many vegan options on the menu.
Although there is a specific focus on the local wines, you may order international wines as well. 
Note that 360 İstanbul offers a marvelous İstanbul landscape. So, basically, you may enjoy the vibrant entertainment program while having your dinner beside the city lights. 
Address: Istiklal Street Misir Apt. No: 163 / 8 Beyoglu ISTANBUL 
15- A Warm and Sincere Atmosphere for Family and Business Meetings: Garden 1897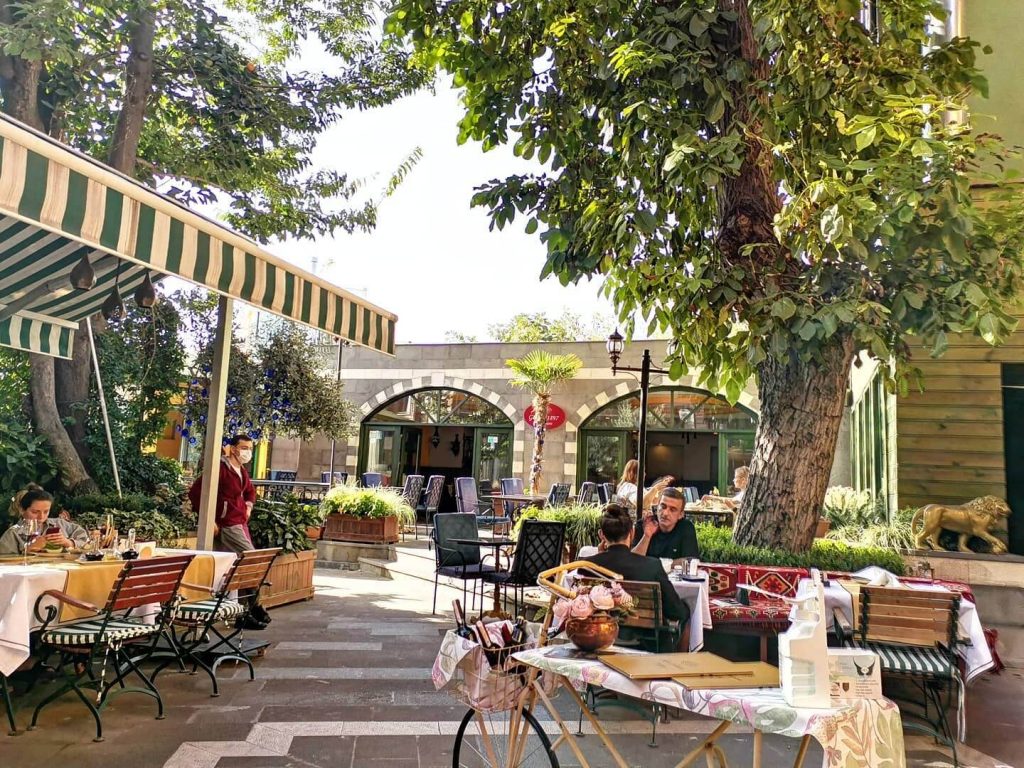 If you're willing to enjoy your meal in a warm, home-like environment, Garden 1987 is just what you're looking for. In a shady small garden, you may enjoy the kindest and warmest service of traditional Turkish food and Mediterranean cuisine. For winter, there is an indoor hall as well.
Garden 1897 is a humble, small restaurant at the center of İstanbul, Sultanahmet. You may go there, have lunch or dinner, before or after your Sultanahmet trip. The buildings surrounding the garden reflect the late-Ottoman ambiance while enjoying your meal. It is like a little secret garden to escape from the crowd.
Having regular customers is not an easy task for a restaurant in İstanbul. This is exactly what Garden 1987 achieves. So, it definitely deserves a chance. 
Address: Küçük Ayasofya Mah. Şehit Mehmet Paşa Sokak No: 5 Sultanahmet/Fatih-Istanbul
16- Sustainable Methods and a Bridge Between Turkish and Portuguese Dishes: Octo Karaköy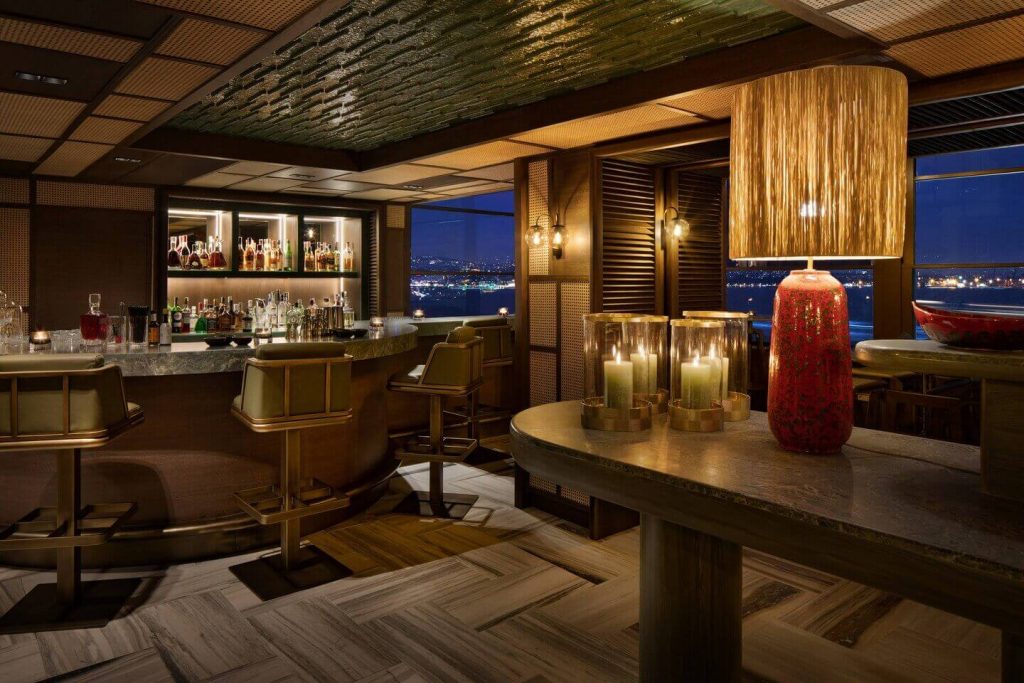 If you are interested in Mediterranean Cuisine, especially the seafood, Octo would be a perfect choice. The Portuguese Chef Jorge Lavos Costa integrates his own family recipes into a professional kitchen and serves them to the customers.
Moreover, Octo considers sustainability in the kitchen. As a consequence, everything you will eat in this restaurant is going to be a part of a well-thought process of respecting nature. Octo bridges the East and the West with full respect to the earth and zero waste. 
Octo takes place on a historic building's roof and offers an unrestricted landscape of İstanbul. It is open every day.
Address: Kemankes Kara Mustafa Pasa Mahallesi, Kemankes Caddesi, No 49, Beyoğlu /İstanbul
17- For Italian Food Lovers: Osteria Salvatore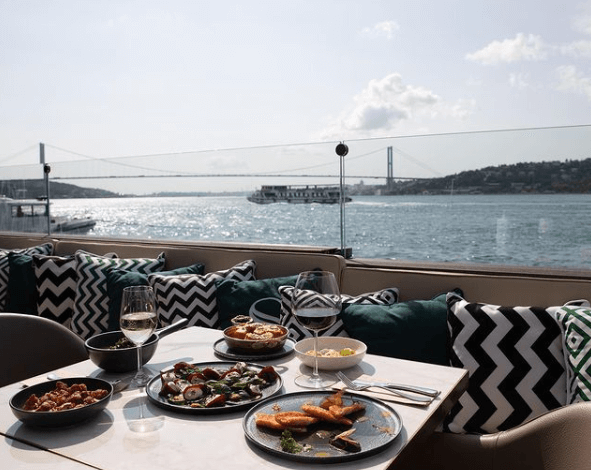 For the ones who are in love with Mediterranean cuisine like me, especially Italian, Osteria Salvatore offers you the best Italian food in İstanbul. 
The high-quality service standards and an interior design directly in harmony with the Bosphorus view got together with the delicious Italian cuisine, and there occurred Osteria Salvatore. Also, the restaurant is taking place in a 200 years old historical building, which doubles the impressiveness of the interior design. 
Whether you prefer seafood or handmade pasta, whatever you order in this restaurant will make you contented 100% for sure. 
It is located in Üsküdar, the Asian side. So, it offers an extensive landscape including the silhouette. 
Adress: Çengelköy, Kuleli Cd. No:45/1, 34680 Üsküdar/İstanbul
18- One of the Best: Agora Meyhanesi 1890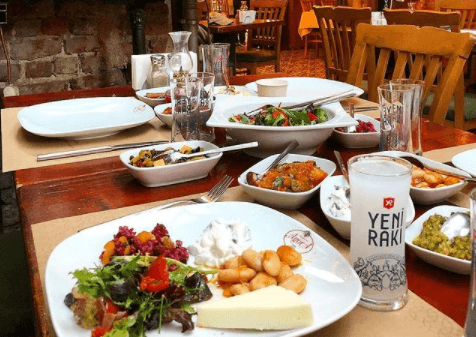 Just like every restaurant has its own aurora and culture, so every meyhane. As it is written in its name, Agora Meyhanesi is serving Stambouliotes since 1890.
Agora Meyhanesi is in the Balgat neighborhood, one of the oldest settlements of İstanbul. The meyhane, therefore, has witnessed many social and cultural changes throughout more than 100 years, but it never changed itself. More than 280 movies were filmed in this meyhane.
It reflects the mosaic culture of İstanbul; the living of different regional communities altogether and in peace. Agora means the "square where all streets are orientated to" in the ancient Greek language. The meyhane takes place between two historic walls that were built in 450 AC.
The menu includes mezes and grills, and drinks for sure. However, what makes Agora different than others that the meze names on the menu are mostly in colloquial language. I can say that it strictly reflects the İstanbul culture. 
You may make online reservation.  
Adress: Balat, Mürselpaşa Cd. No:185, 34087 Fatih/İstanbul
19- Modern Touches to Asian Cuisine: Isokyo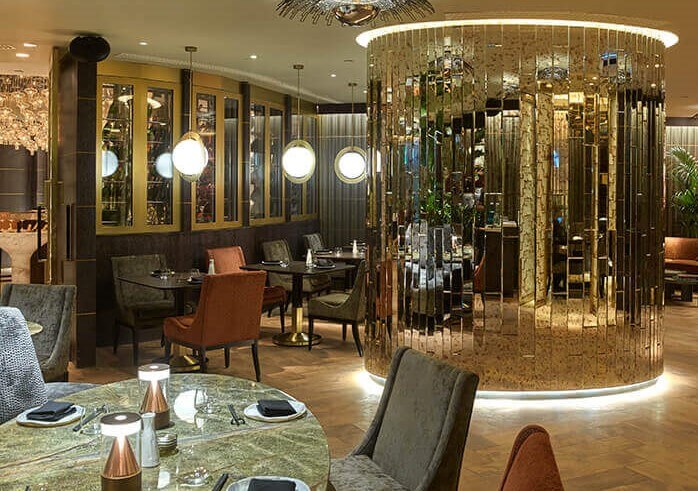 Just like Turkey is a bridge between East and West, Isokyo builds a gastronomical bridge between European cuisine and Asian cuisine. If you're into Thai, Chinese and Japanese foods a lot, but also open to creativity and modern touches, Isokyo is nothing but the ideal restaurant for you. 
Isokyo mainly serves contemporary pan-Asian dishes. The names are all familiar, but the cooking style and ingredients are modified. 
Isokyo considers the vegans and vegetarians not symbolically but for real. There are more than a few options on the menu particularly designed for vegans. 
The ambiance is quite modern yet fancy and sparkling. Moreover, the outstanding DJs perform chill-out and ethnic house to accompany the guests with their music. 
Adress: Koru Sokak, Zorlu Center, Raffles Istanbul, 1.kat, Beşiktaş / Istanbul
20- A Nomad Cuisine: Alaf Restaurant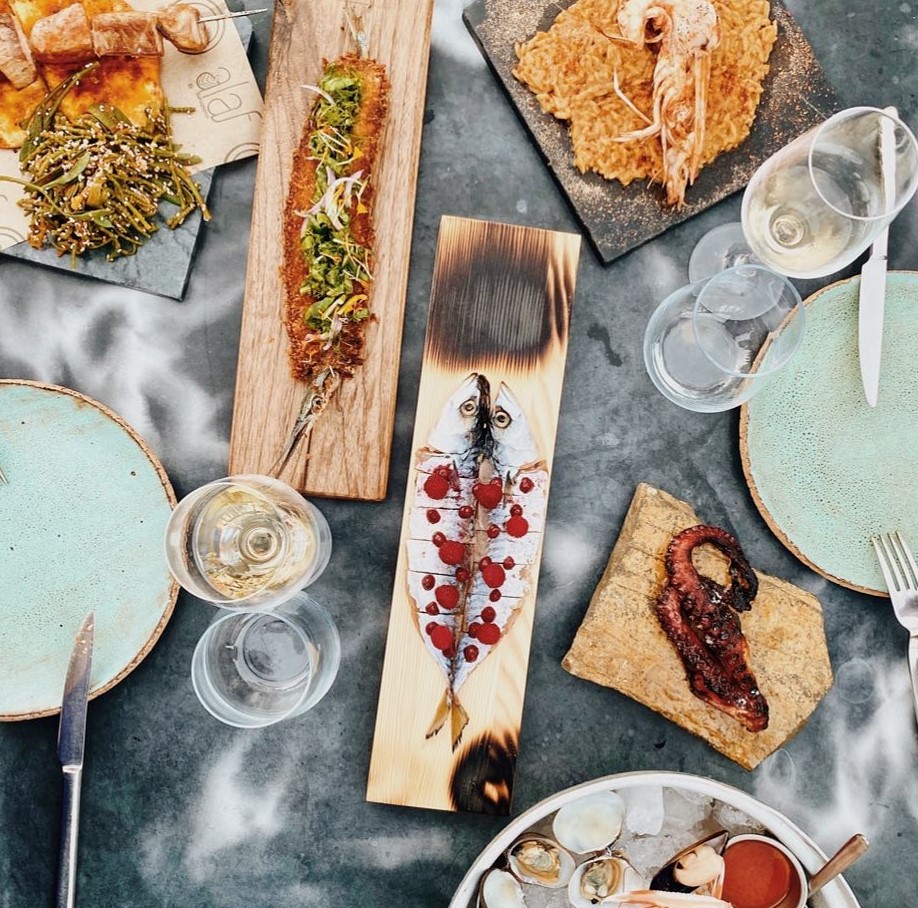 Alaf means "burning amber fire" in Kurdish. Leaf Restaurant, thus, gathering Kurdish, Armenian, and Yezidi cuisines together and serves them with respect to history and culture behind.
Alaf aims at creating a social space where people spend time sharing, eating together with the dishes that were cooked in wood ovens, pit, and stoves. The dishes are prepared exactly in traditional methods, this is how Alaf shows respect to Orient's nomad culture. 
There are Assyrian wines and homemade craft beers as drinks on the menu. I strongly advise you to taste Assyrian wines as they are also a significant part of the Turkish and Stambouliote culture.  
Address: Kuruçeşme Mahallesi, Kuruçeşme Caddesi, No 19, Arnavutköy / İSTANBUL
21- One of the World's 50 Best Restaurants: Mikla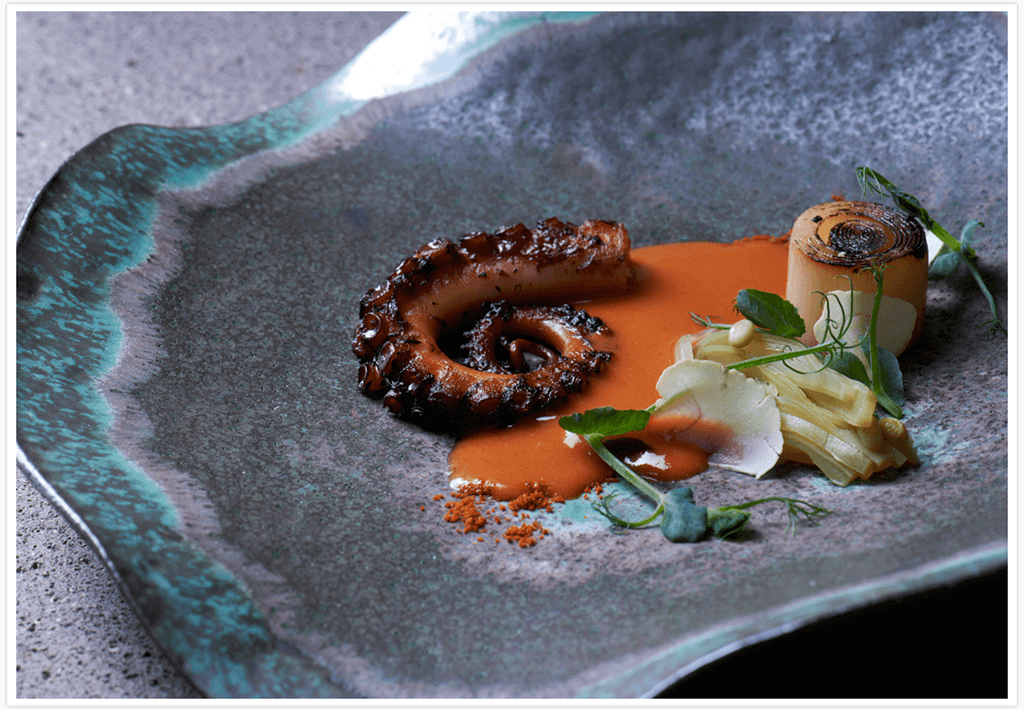 Mikla has been established to create a new Anatolian cuisine, which is based on İstanbul culture and urban trends. It aimed at being mostly humble in order to be contemporary.
The chef Mehmet Gürs has specialized not only in Turkish cuisine but also in Scandinavian. This combination made Mikla's menu unique. He succeeded in creating a new perspective in the kitchen by using traditional methods.
The restaurant, therefore, has been named as one of the World's Best 50 Restaurants by The New York Times. 
Mikla also offers a beautiful view of the Bosphorus to the guests. The online reservation is available. 
Adress: The Marmara Pera, Meşrutiyet Caddesi, No:15 Beyoğlu / İstanbul