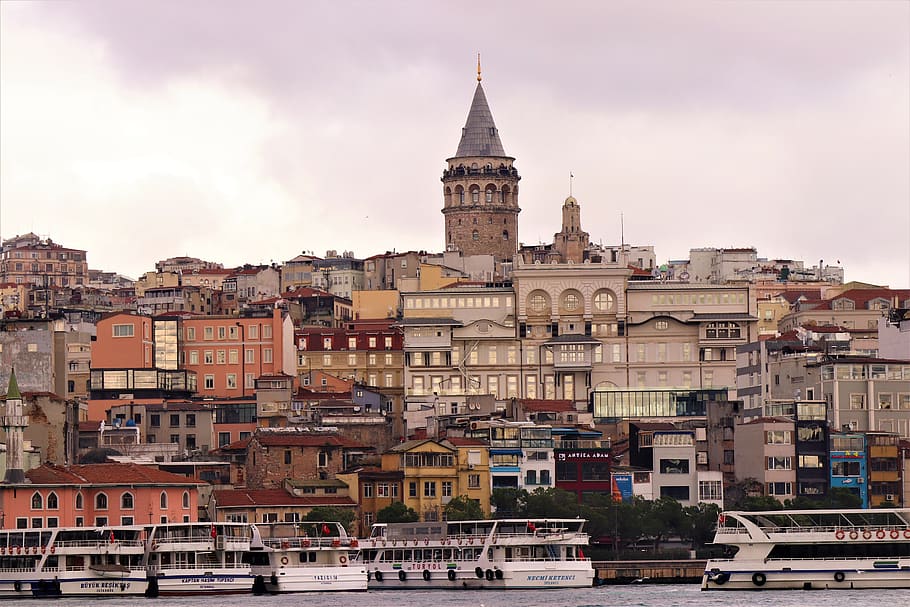 Galata Tower is called "The Eye of Istanbul" as it sees most parts of the city with its balcony on the top. Locating at the end of Istiklal Avenue which is the most visited and crowded shopping streets of Istanbul, Galata Tower is a must-see historical heritage of Turkey. Every day, hundreds of tourists visit the tower causing very long queues in front of it.
A Brief History of Galata Tower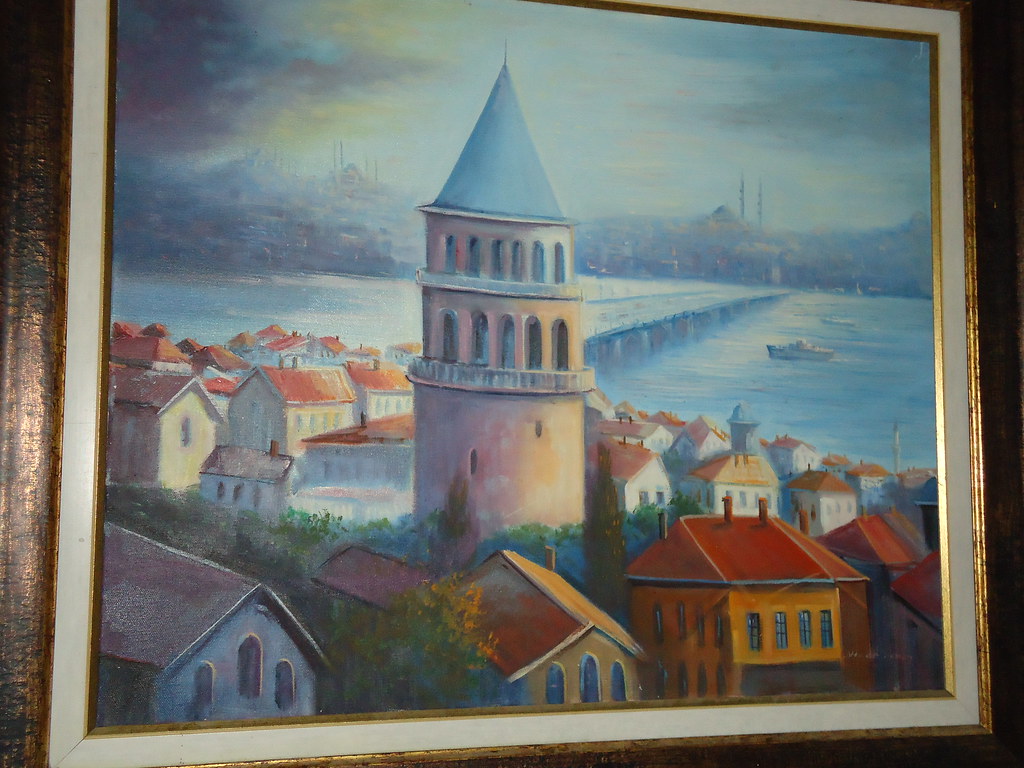 Galata Tower is 69 meter high and was built in 1348 by the Genoese in Galata city-state. So it is almost 650 years old tower. At that time, Galata was a different city with its city walls which some remnants of the wall can be seen today near Galata Bridge.
The tower was built as a part of that city walls fortifications to keep an eye on the whole city. Galata Tower was originally known as Christea Turris meaning 'Tower of Christ'. Galata peninsula was given as a gift to the Genoese for helping the Byzantium Empire to recapture Istanbul from the Crusaders in the 13th century. Later on, the Genoese became the biggest trade partner of the Byzantium people until the Ottomans conquered both Contstantinople and Galata.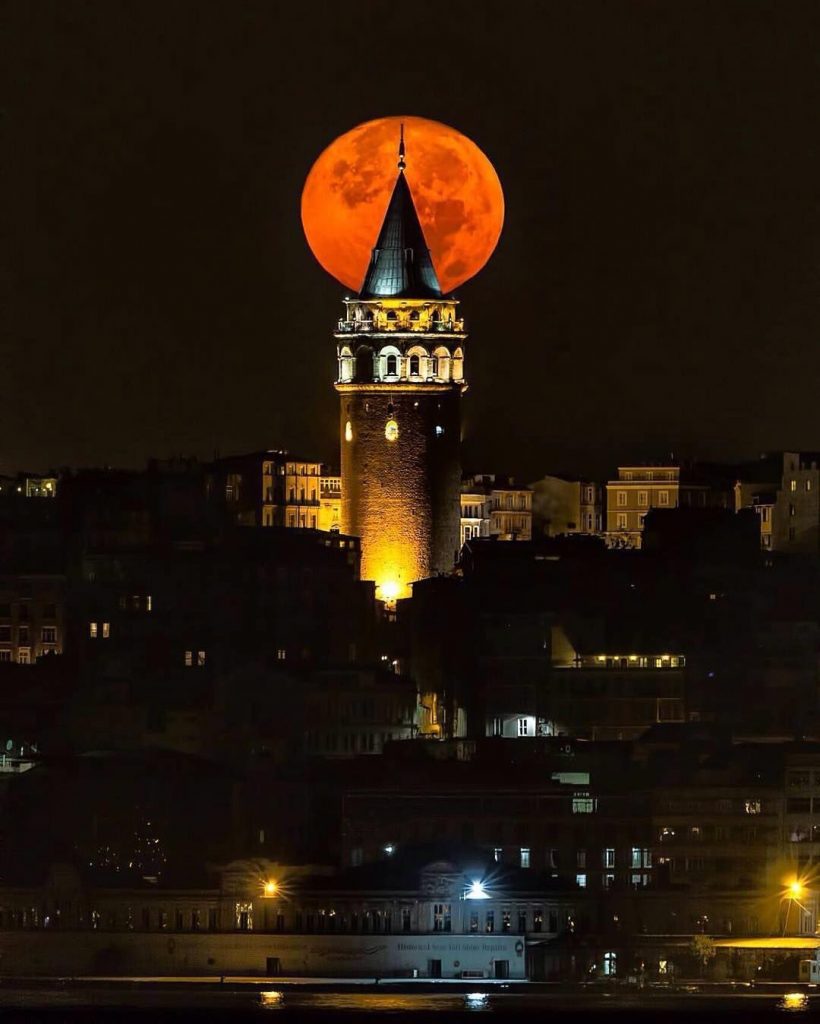 Overall, this area has been settled for 2000 years. It is said Emperor Justinianus of the Byzantium Empire built a tower in the place of Galata Tower in the 500s. Later on, when the Galata Tower was built, the older one was knocked down.
When Sultan Fatih Mehmet II conquered Istanbul, terrified people of Galata saw what happened to Istanbul and wanted to save the city from destruction. Therefore, they handed over the city keys to the Ottomans and today Galata is a part of Istanbul, but until the early 20th century, this part of the city was still densely populated with the Christians and the Jews.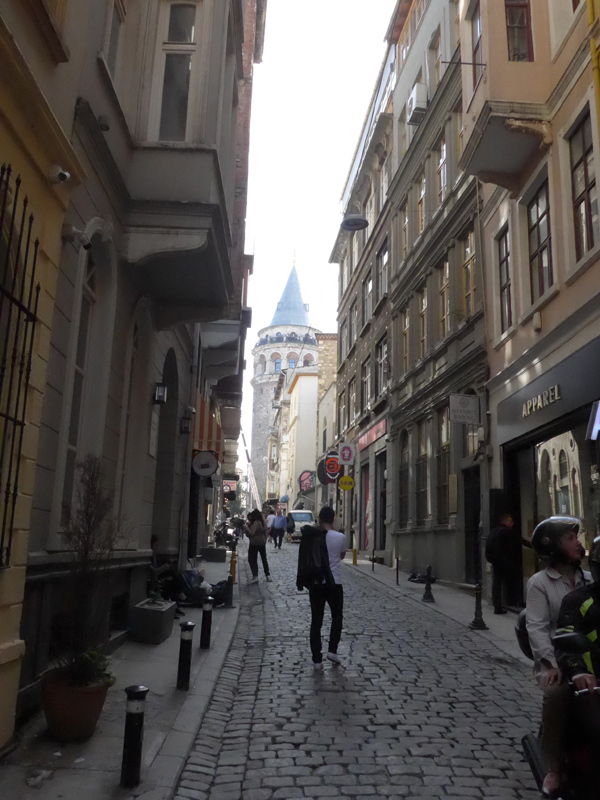 You can see a lot of churches and synagogues everywhere. Especially, the Beyoglu area was popular as the nightlife of the Istanbul elite. Even Evliya Celebi in the 17th century was desciribing Beyoglu as the taverns of Istanbul.
In the late period of the Ottoman Empire, many foreign embassies, commercial banks, European companies, and shops, all opened in this part of the city, so trade center shifted from the Grand Bazaar to Istiklal, Beyoglu. Gradually, this area symbolized the modernity of the West and became the center of the European part of Istanbul.
Galata Tower has seen many earthquakes through centuries and has been renovated several times.
What does Galata mean?
The world Galata comes either from "Galaktos" in Greek which means milk or "Calata" in Italian which means the stairway. Galatas meant milkmen as this area was a grazing place for shepherds during the Byzantium Empire.
What was the Galata Tower used for?
Romans, Venetians, Genevans and Ottoman Turks have used the tower for different purposes. Until the conquer of Istanbul by Fatih Sultan Mehmet, there was a big cross on top of the tower, after 1453 it has been taken down.
During the period of Sultan Suleyman (1520-1566), the tower became a prison. In the late 1500s, an observatory was established to observe the stars. In 1700, it was used as a fire tower but ironically, the tower itself burnt down by the fire.
In the early Republic Era, the tower was renovated for the last time and today it is a museum.  
The Story of Hezarfen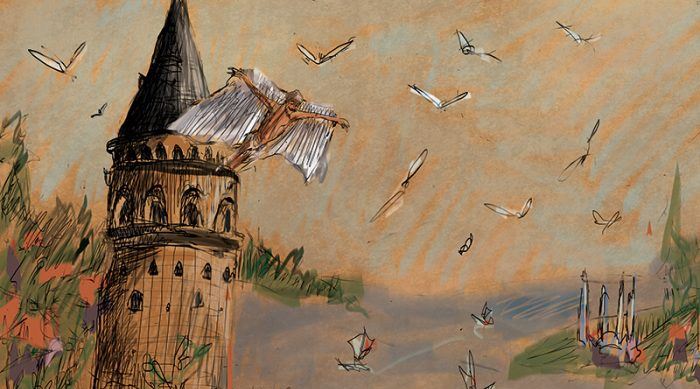 A story of Hezarfen is very famous all around Turkey and is a favorite story of children. Hezarfen means "the person who knows everything" and in the past, very knowledgable people would be called with this title. Ahmet Çelebi was one of them who was eager to learn to fly. He lived in the 17th century in the period of Sultan Murat IV.
Hezarfen made a lot of calculations and observed birds flying techniques for many years and made his wings to fly from the Galata Tower. The legends say he wore his wings, flew from the Tower and crossed the Bosporus and landed in Uskudar, but of course these are legends.
What to do in Galata Tower?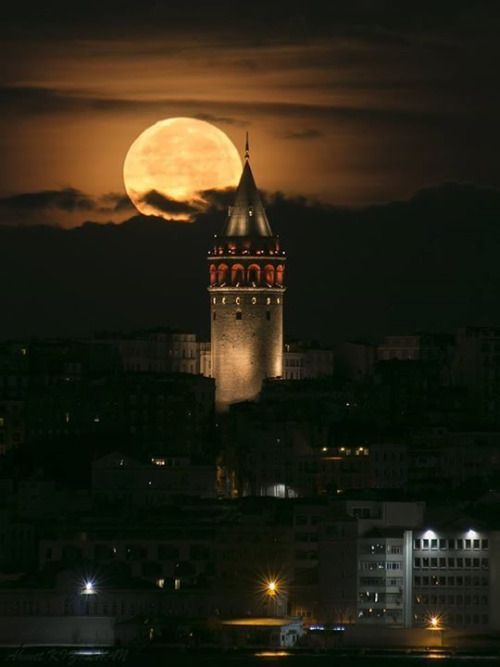 Today there are 11 floors and an elevator inside. I recommend going up with an elevator and coming down on foot to have a better taste of the tower. There is a viewing balcony on the top with a fabulous city view and Bosporus, a night club and a restaurant.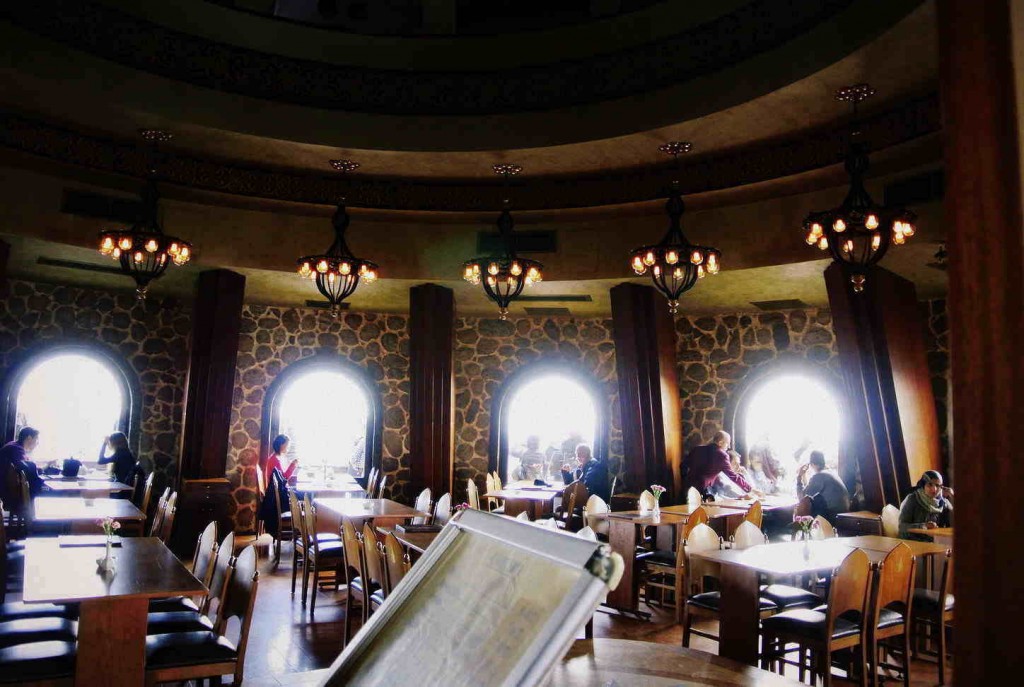 You can have your dinner with Turkish folk dance and belly dance shows in the evenings. You need to make a reservation before going and do not forget to ask the exact time of the folk dance show, so you will not miss it.
See the Bell of Galata Tower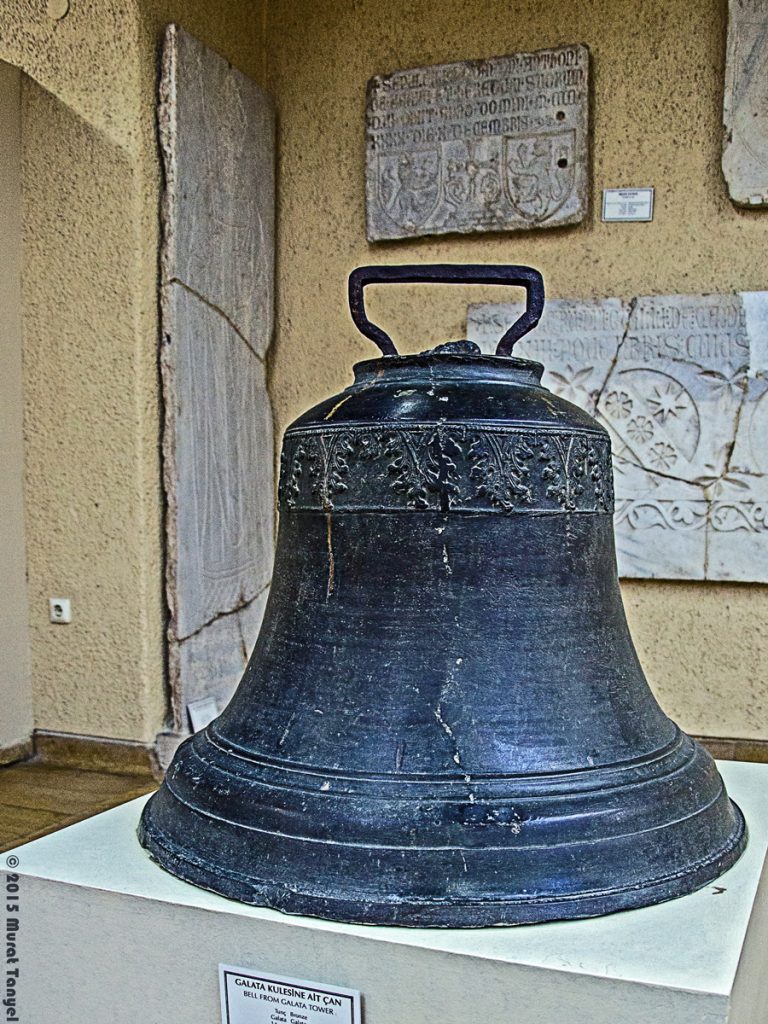 The original Bell of Galata Tower from the 14th century is in Archeological Museum.
In the Museum, the exhibit "Istanbul Through the Ages" exhibits maps, plans and the original bell of Galata Tower which dates back to the 14th century. You can follow the traces of the tower up to the 14th century in this museum.
Feel the historical "Pera" site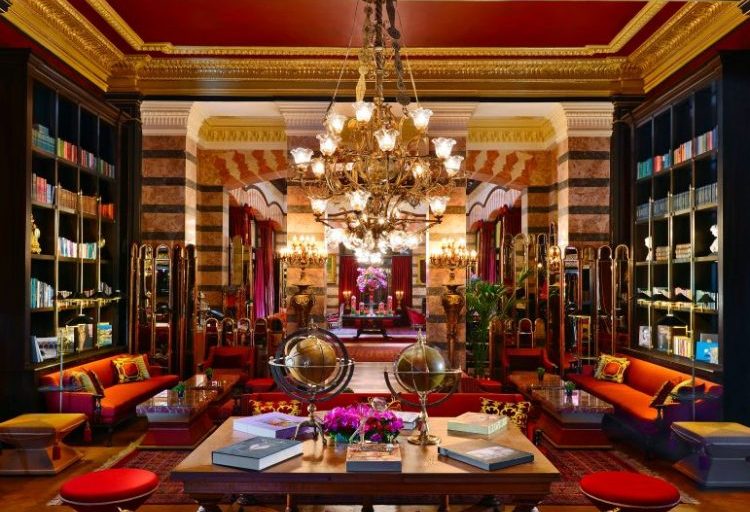 The area that Galata Tower is located was historically called "Pera", which simply meant "the other side". There are a lot of tourist attractions to visit in this site. You can start from Taksim Square or Gezi Park, walking through Istiklal Avenue and reach Galata Tower.
How much is the ticket price?
The ticket price is 35TL (7$) and there is usually a long queue in front of it.  Museum Pass Card is not valid here.
Do you need to book in advance to visit Galata Tower?
There is not an online system to book in advance. But if you want a guided tour, you can choose one of those tours, reserve online and visit the Tower without waiting in the queue.
What's the best way to see Galata Tower?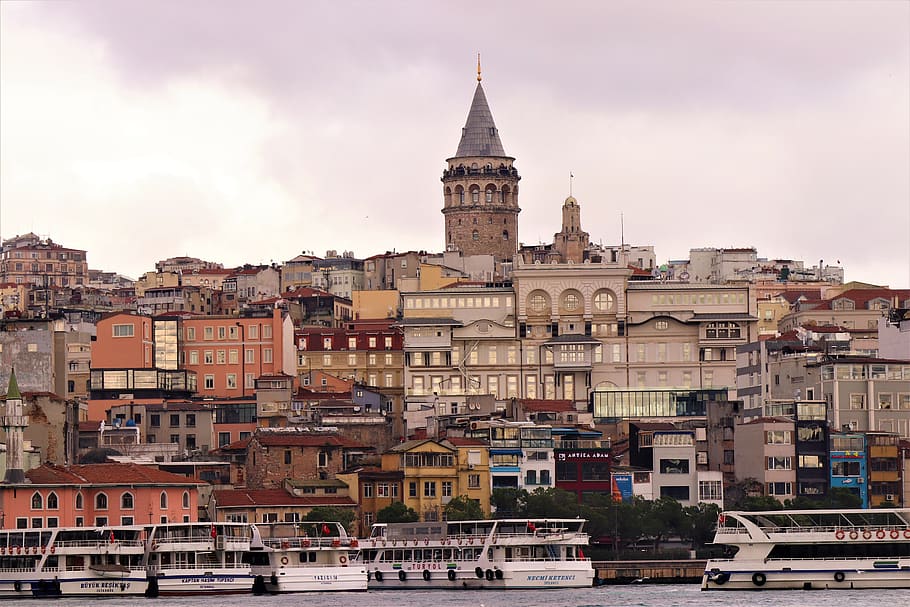 The best way to see Galata Tower that rises in the skies of Istanbul is from the Bosporus and Galata Bridge. You can enjoy the view of the Tower from municipal ferries or Bosporus tour tourist ferries. Standing in Eminonu and walking on the Galata Bridge, you will also have a nice view.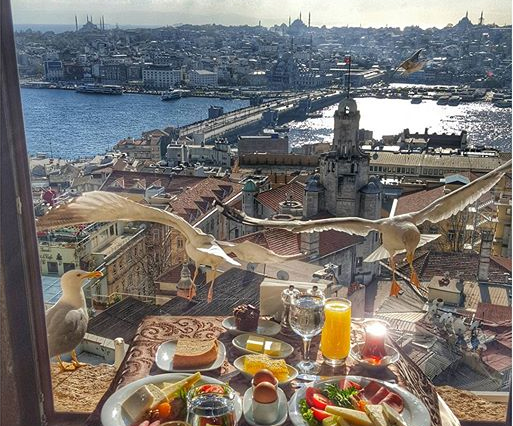 If you are seeking for a high terrace view of the Tower, I would recommend going terrace cafes in Eminonu, such as Hüsnü Ala Cafe, Kubbe-i Aşk Cafe, or Doksanlar Café. There is also a nice Galata Tower view from the terraces of those cafes.
How to get to Galata Tower?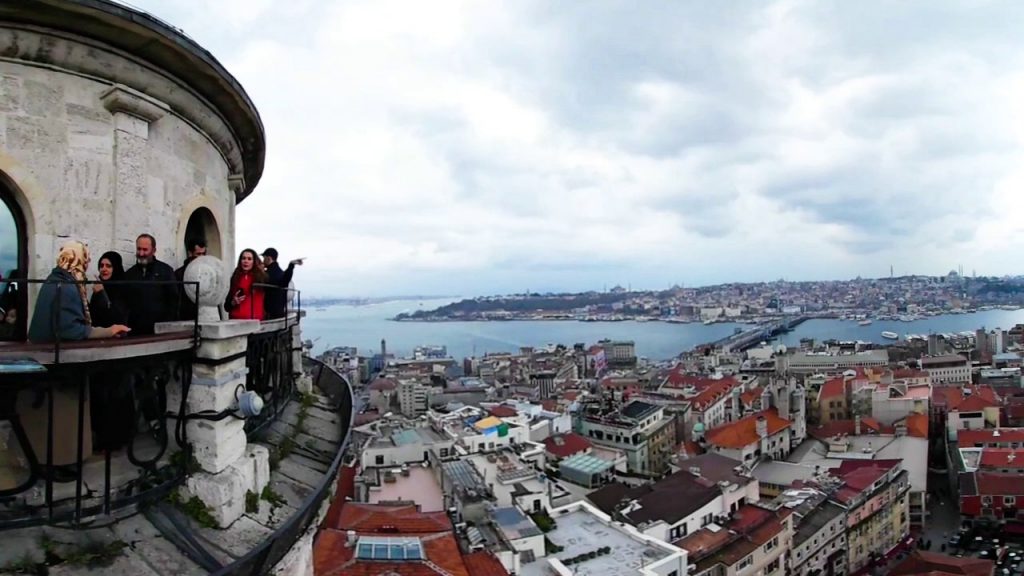 By Metro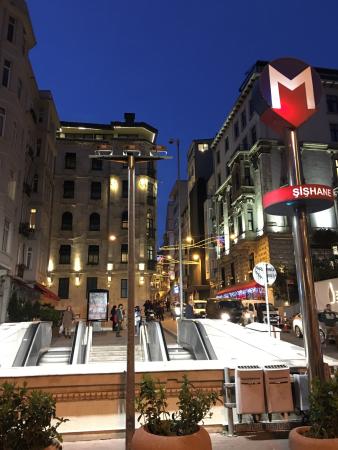 The easiest way to reach Galata Tower is by metro. It is located near Şişhane metro station. İf you want to see Istiklal Avenue and the tower in one day, I would recommend starting from Galata Tower. First, visit it in the morning when there is a short queue, and then start your shopping and museum visits on Istiklal Avenue. But you can also do vice versa, starting from Taksim Square, walking through Istiklal and reaching the tower.
By bus
There are a lot of buses coming from all around the city to Şişhane bus station. Getting out at this stop, you will walk about 5 minutes to the tower.
By historical tram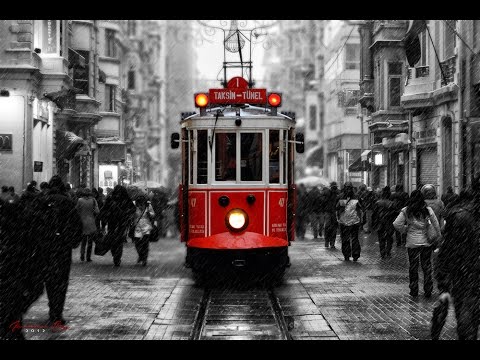 The historical and nostalgic red tram departs from Taksim Square to Şişhane metro station. If you are tired to walk along Istiklal Avenue, or you have already seen around, you can opt for the tram. Your Istanbul transportation card is valid in the tram.
By walking
You can walk to the tower from Eminonu, crossing Galata Bridge and arriving Şişhane area or from Taksim Square or Gezi Park, you can also walk along the street.
What hotels are near the Galata Tower?
1.Duo Galata Hotel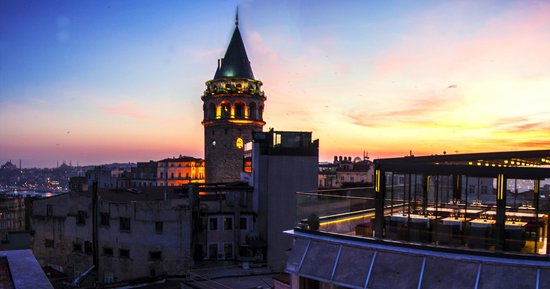 This hotel has a view of the Galata Tower. Although it is located in a crowded street, at nights there is not much noise outside. The staff is friendly and the hotel is clean. Şişhane metro station is within the walking distance. You can also enjoy a rooftop view of the city in the evenings.  
Address: Şahkulu, Galip Dede Cd. No: 83, 34421 Beyoğlu/İstanbul
2. Anemon Galata Hotel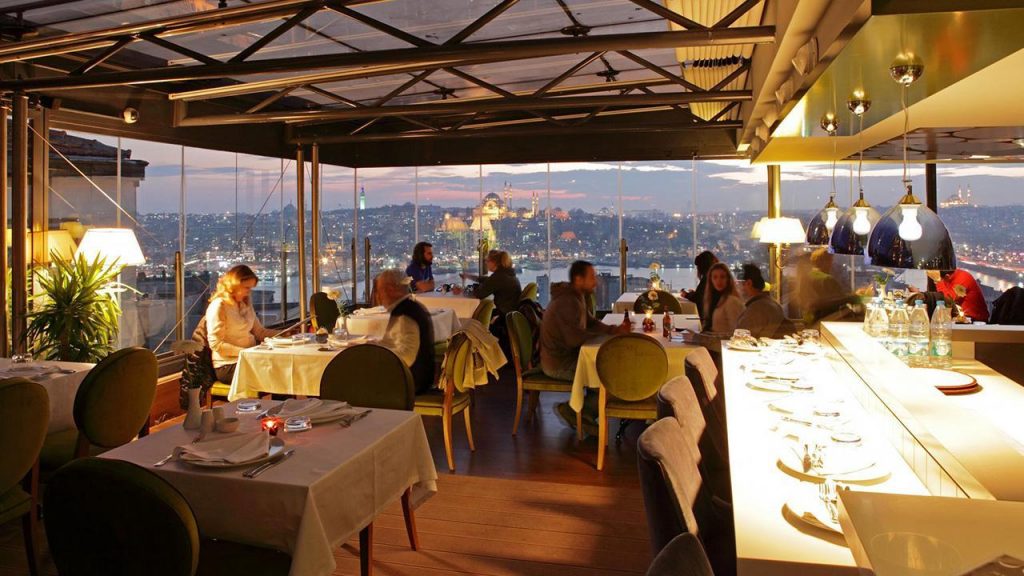 The location of the hotel is great. The rooftop restaurant is the most favorite place of the guests. Breakfast is average. The rooms are clean and the staff is helpful and kind.
Addres: Bereketzade, Büyük Hendek Cd., 34421 Beyoğlu/İstanbul
3. Walton Hotels Galata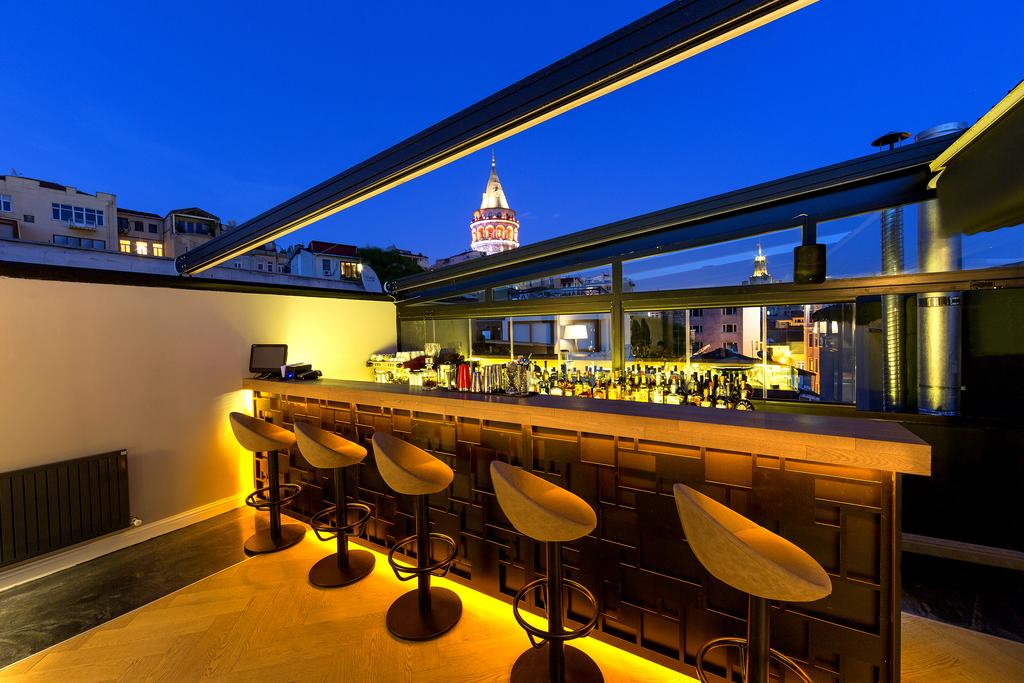 It is a boutique hotel, very near to Galata Tower, shops, and cafes. The service is amazing and the rooms are spacious and functional. There is a rooftop restaurant where you will have your breakfast in a marvelous city view. If you are looking for a cozy place to feel like home, then you can opt for this spot.
Address: Bereketzade, Bankalar Caddesi, Şair Eşref Paşa Sokak No:4, 34420 Galata/Beyoğlu/İstanbul
What restaurants and cafes are near Galata Tower?
1. Lavazza Coffee Shop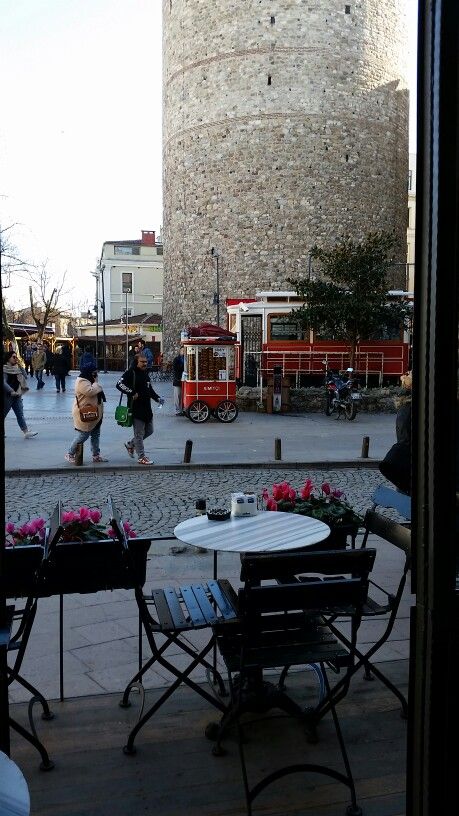 After a long walking from Taksim Square to Galata Tower, you will definitely need coffee. Lavazza is the best one with an amazing Galata Tower view. Its balcony and windows see Galata Tower, and its coffee quality is perfect.
2. Viyana Kahvesi (Viena Coffee)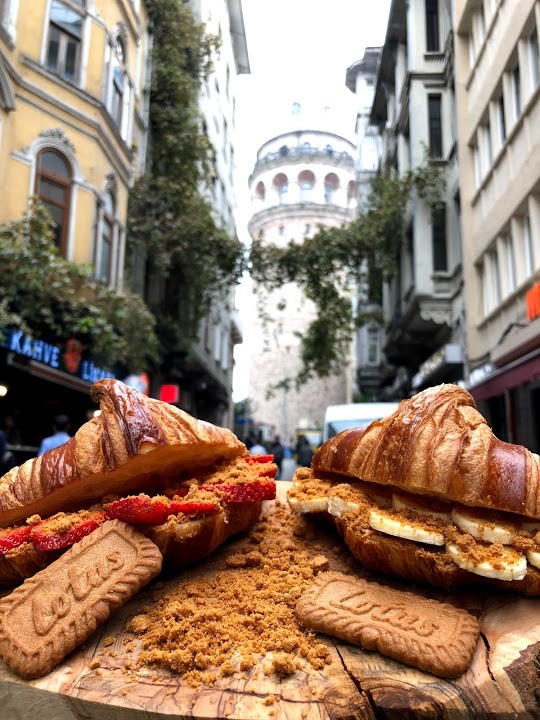 Vyana Kahvesi is the most trending coffee shop with its incredibly delicious and unusual chocolate desserts in Istanbul, right now. Every time, you will see a very long queue in front of it. This café is very near Galata Tower with a great view of it.
Address: Bereketzade, 34421 Beyoğlu
3. Parole Restaurant
Parole is one of the good quality restaurants and very close to Galata Tower. You can enjoy your dinner in an elegantly decorated place with reasonable prices. It is very clean, peaceful and the portions of the meals are good enough. You can have a range of vegetarian meals on the menu.
Address: Istiklal Caddesi, 166C
4. Guney Restaurant 1964
This spot is my favorite because of its delicious meals and location. As Lavazza Coffeeshop, Guney Restaurant also sees the Galata Tower with a 20-30 meters distance. The portions of the meals are so big that we could not finish and the prices are average. Usually, there are people in the queue who want to sit outside with the Galata Tower view, but the interior decoration of the restaurant is also good. If the weather is good and you find a table, definitely sit outside.
Address: Şahkapısı Street, 2B
What attractions are near Galata Tower?
1.Pera Museum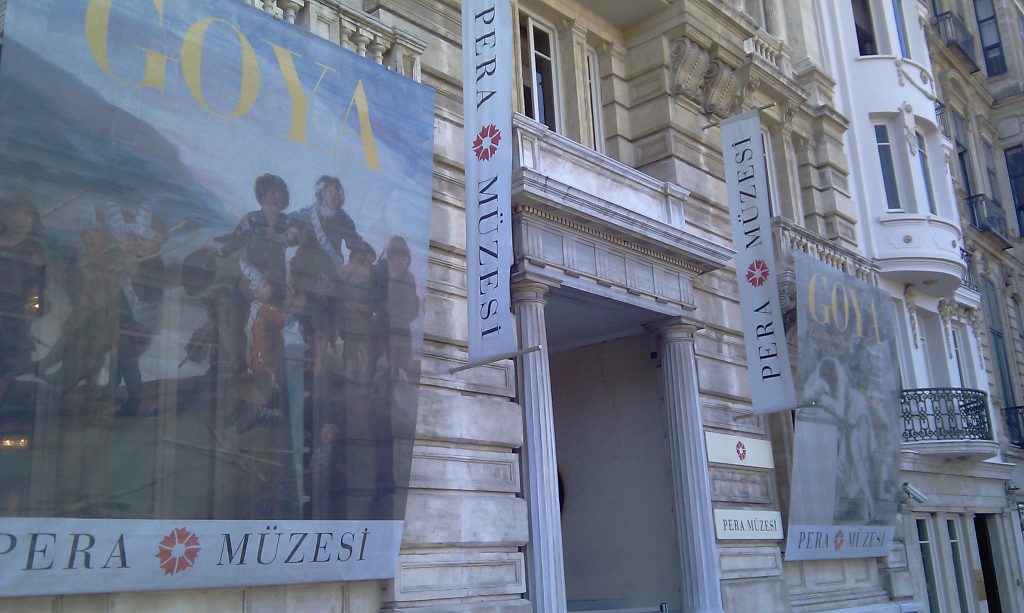 There are permanent and temporary exhibitions inside this historic building. "Intersecting Worlds", "Osman Hamdi Bey" – painting collection of a famous Ottoman painter Osman Hamdi Bey is exhibited here, "Coffee Break", "Anatolian Weights and Measures" and, "Past Collection Exhibitions" are permanent and the most interesting ones to see.
There are collections that you can see: "Orientalist Painting Collection", "Anatolian Weights and Measures Collection", "Kutahya Tiles and Ceramics Collection" and "Photography Collection".
Besides exhibitions and collections, there are events and activities for children and adults, sometimes there are concerts in Pera Café, as well.
You can follow cultural activities from their websites.
https://www.peramuseum.org/Activity
Museum Ticket is 25 TL (5$) all collections and exhibitions included. Museum Pass Card is not valid here, but there is a 25% discount to cardholders for both tickets and the prices at Pera Café.
Address: Asmalı Mescit, Meşrutiyet Cd. No:65, Beyoglu
2. Galata Mevlevihanesi Muzesi (Galata Mevlevi Lodge)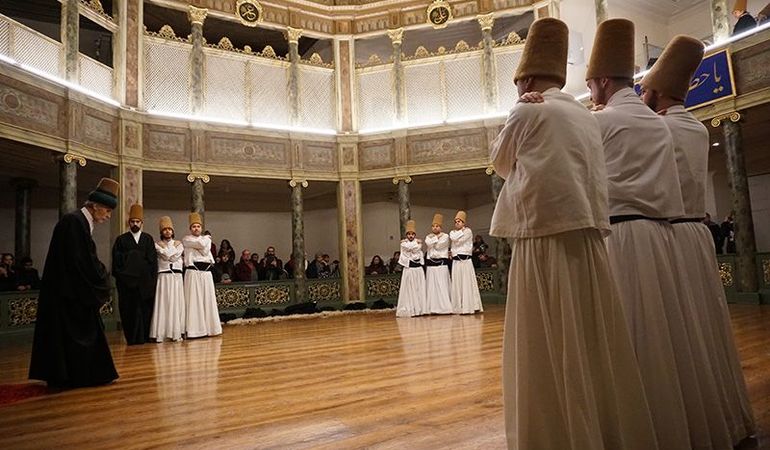 The Mevlevi religious order has played an important role in the history of Islam and the Ottoman Empire. It has spread not only in the Ottomans but all over the Islamic World with its leader Mevlana Celaleddin Rumi. One of their main symbols was whirling dervishes and had a lot of lodges in the Ottomans.
One of them is Galata Mevlevi lodge which is located at the end of Istiklal Avenue. It was established in 1491 and during the Ottoman Era, this lodge would be called 'Galip Dede Tekke' or 'Kulekapisi Mevlevi Lodge'. In it, you can see wax statues and scenes of the daily life of Mevlevi dervishes with information tables near them. I recommend to read them one by one if you are interested in sofism and sofis' daily life and education.
Whirling Dervishes Show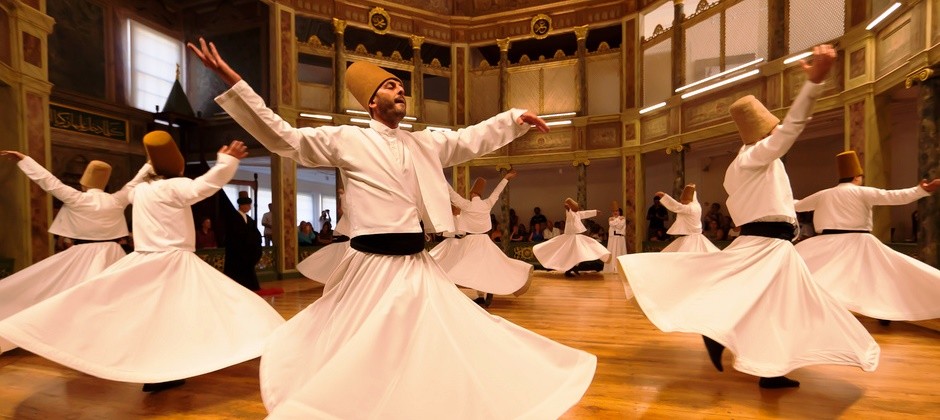 Remember, there are 'Whirling Dervishes Show' every day during summer and every Thursday, Tuesday, and Saturday in winter at 19.00. The ticket price is about 70-75 TL (20$) per person and the show lasts an hour.  
The museum is open every day from 9.00 to 19.00, except on Mondays. The entrance fee is 14 TL (3$), but if you have Museum Pass Card, you can enter for free.
Address: Şahkulu, Galip Dede Cd. No: 15
To sum up, Galata Tower has one of the finest vantage points in the city with views of Bosporus, Golden Horn, Uskudar, hills of Asia, Topkapi Palace, Hagia Sophia, and Sultan Ahmet Mosque.