Here is a list of excellent fishing season destinations in Istanbul. These places vary from elegant and exclusive to casual and affordable, but all excel in preparing delectable seafood dishes. Additionally, they offer exceptional hospitality and service. 
Best Fish Restaurants in Istanbul
1- Balıkçı Kahraman
The restaurant is named after its owner, originating from the Black Sea This cozy, family-run restaurant takes its name after its owner, who hails from the Black Sea region. They have been serving seafood since the late '90s and have become a favorite of people who go out for the great food, rather than the ambiance.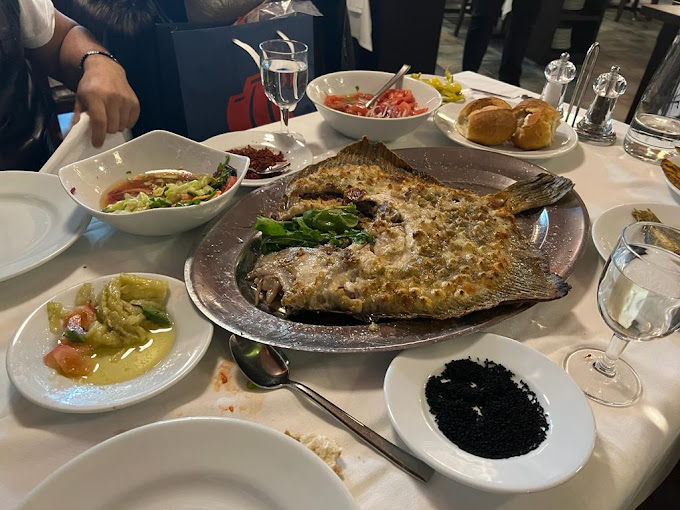 Despite the plain decor, their seafood and mezes dishes are exceptional, especially the specialty dish, grilled turbot. The restaurant attracts a diverse clientele, including local celebrities, politicians, and renowned businessmen.
Balıkçı Kahraman is distant from the city center. Consider the combination of the distance and Istanbul's infamous traffic, and allocate a substantial portion of your evening for a visit here.
Address: Rumeli Kavağı, İskele Cd. No:15, 34450 Sarıyer/Istanbul
2- Bebek Balıkçı
For a mythological atmosphere and to feel as if you are dining in an art gallery full of Renaissance paintings, visit Bebek Balıkçı. Located in an upscale neighborhood in the Bosphorus region and by the sea in Bebek, this is an excellent place to go to enjoy great fish dishes.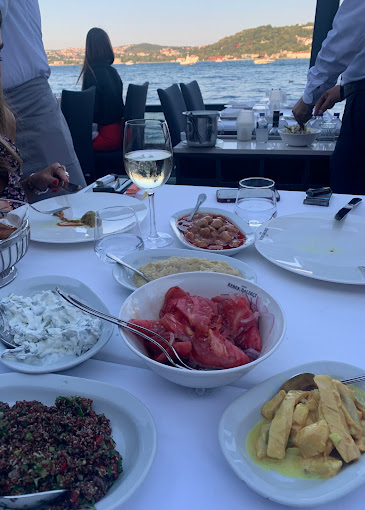 This restaurant tends to attract local and international celebrities. Oliver Stone, German Foreign Affairs Minister Fischer, Al Gore, Jean-Claude Van Damme, Catherine Deneuve, Gerard Depardieu, and the King of Bahrain have been known to dine here.
The menu choices seem endless, replete with the freshest, delicious seafood paired with rich, seasonal fruits and vegetables. Here, you can taste delicious dishes with a gorgeous presentation by famous chefs while taking in the unique view of the Bosphorus in historical Bebek Balıkçı.
Address: Bebek Mh. Cevdet Pasa Cd.26 / A, 34342 Beşiktaş / Istanbul
3- Rumelihisarı Iskele Restaurant
This restaurant is located near the fortress after which it is named and the second Bosphorus bridge. This is the place to watch the traffic on the Bosphorus (the restaurant practically sits on top of the water) while enjoying some of the best seafood Istanbul has to offer.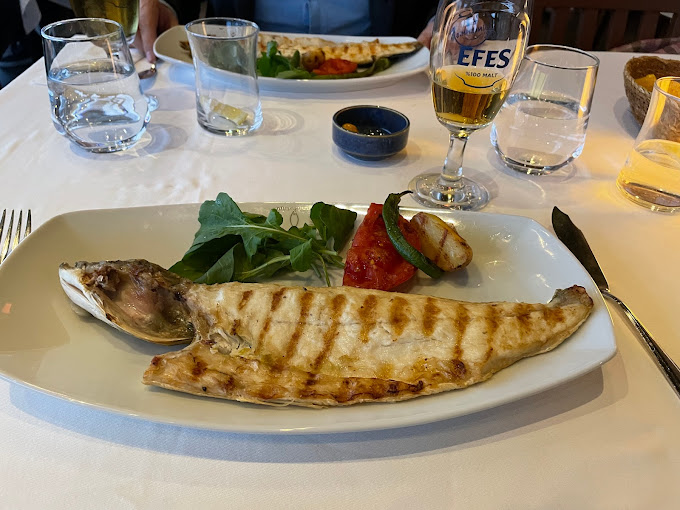 In business since 1992, the restaurant is frequented by many locals. They are popular because they offer great service, traditional tastes, and excellent local, fresh fish and seafood.
Rumelihisarı Iskele Restaurant opens at 12:00 PM and closes around midnight. You will have to make reservations, and they accept all major credit cards.
Address: Rumeli Hisarı, Yahya Kemal Cd. No:1, 34470 Sarıyer/Istanbul
4- Sur Balık Restaurant Arnavutköy
For stunning food and views to match, try Sur Balik. This restaurant is situated on the Bosphorus shore in Arnavutköy in a renovated Ottoman residence. For the best experience, try to get a table on the top floor terrace.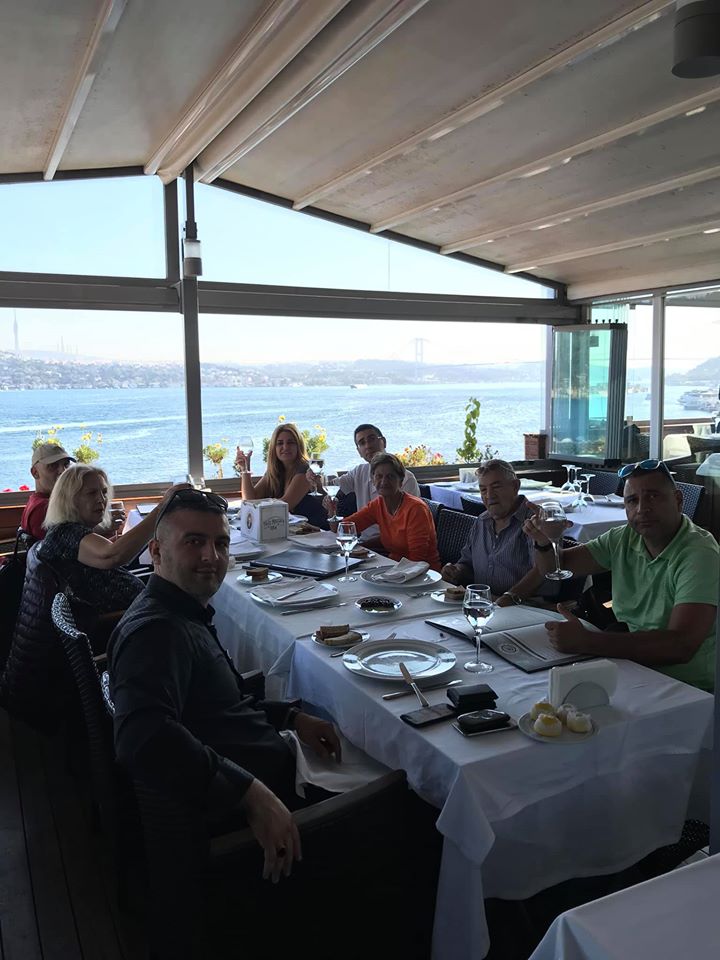 On the menu is a variety of mezes and classic and creative seafood dishes. Recommended is their Black Sea sea bass, fish wrapped in chard, fried calamari, and fish in dough. Be sure to ask the staff for recommendations as to what to order as the choice of fish is seasonal. While there, don't forget to sample something from their wine cellar, which stocks a great selection of local and international fare. 
Sur Balık Restaurant Arnavutköy is open from noon to midnight, seven days a week. Don't forget to call ahead for reservations, and all major credit cards are accepted. 
Address: Bebek, Bebek Arnavutköy Cd No:52, 34345 Beşiktaş/Istanbul
5- Balikci Sabahattin
Named after its owner–Fisherman Sabahattin from Mudanya, a town by the Sea of Marmara, Balikci Sabahattin showcases its second-generation owner and his son's love and respect for the sea and seafood.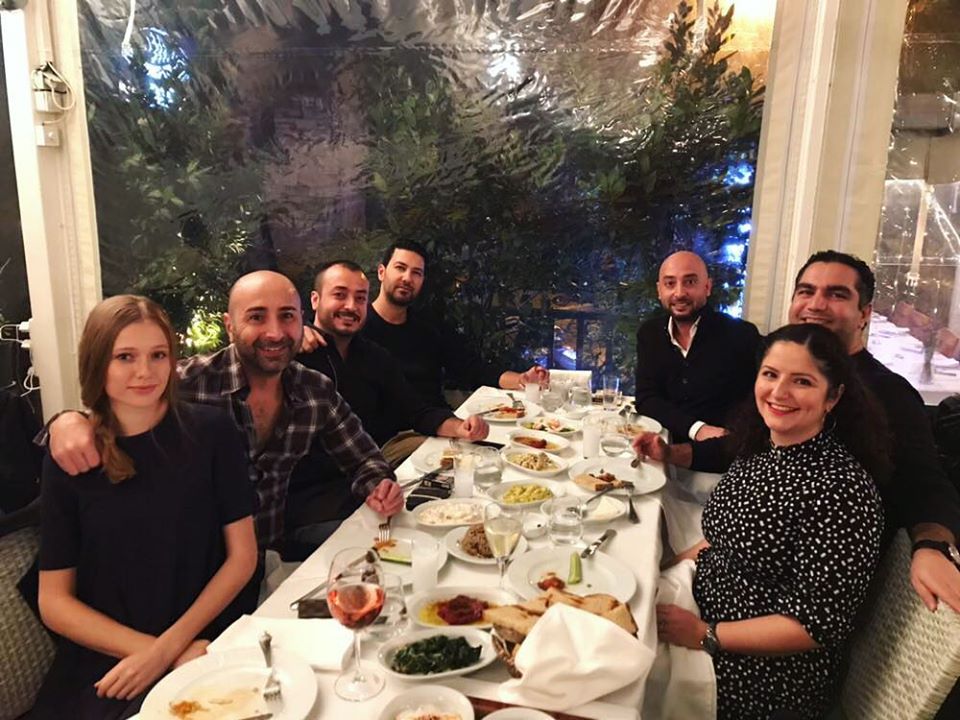 Popular with locals, this restaurant is housed inside a 1927 historic building. It's open from noon to midnight, seven days a week. Though reservations are not required (though you may have a bit of a wait without one), it is recommended that you ask for a table in the garden. All credit cards are accepted here.
Address: Cankurtaran, Seyit, Şht. Hasan Kuyu Sk. No:1, 34122 Fatih/Istanbul
6- Eleos Restaurant
With two locations in Beyoğlu and Yeşilköy, Eleos Restaurant serves food with Aegean herbs and vegetables. They also offer Greek classics and Armenian mezes, prepared in a variety of ways.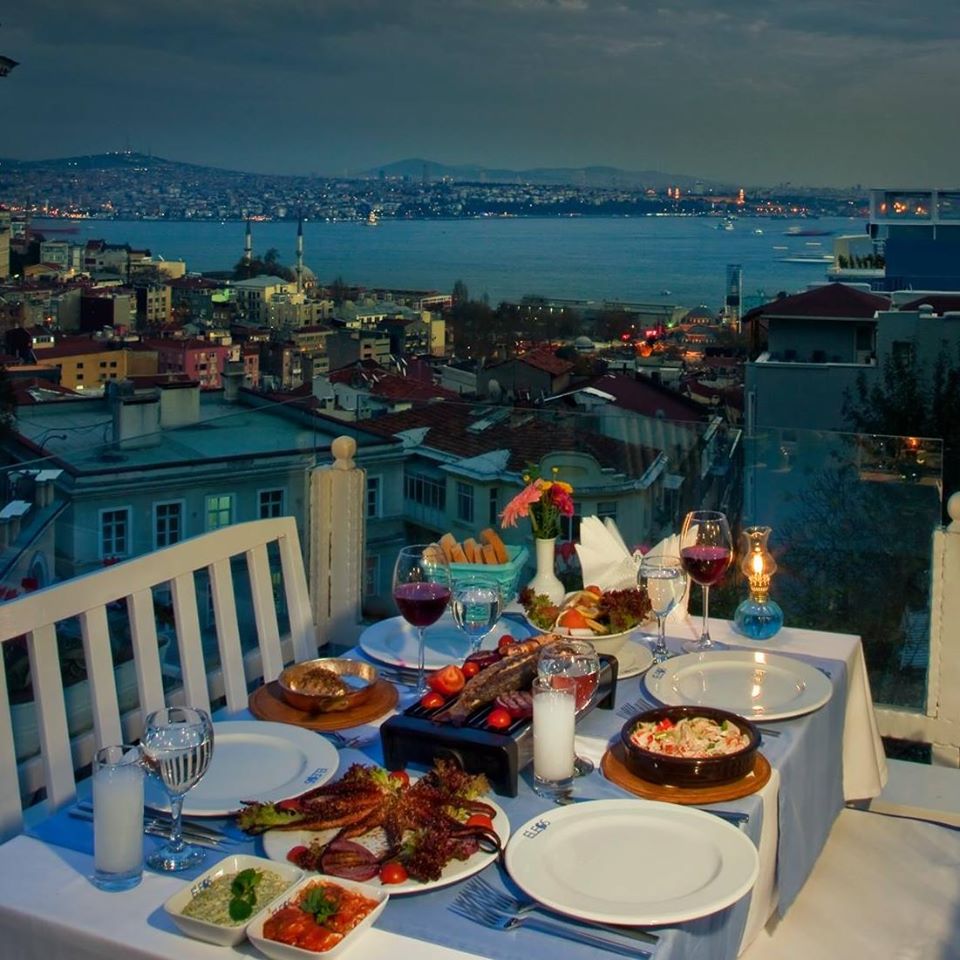 The bright, fresh atmosphere will be sure to stimulate your appetite. This is a great place to experience the "Meyhane" culture through its food and decor.
Address: Şahkulu, 2, İstiklal Cd. No:231, 34421 Beyoğlu/Istanbul
7- Kıyı Restaurant
The best of the traditional Bosphorus fish dishes and "Mezze" are to be found at Kıyı. For many years, upper-class gourmets from all over the world have been enjoying the traditional seafood cooking styles of the chefs of Kıyı. The clients enjoy both the food served at tables with white tablecloths and the fine artwork on the walls surrounding the space at the same time.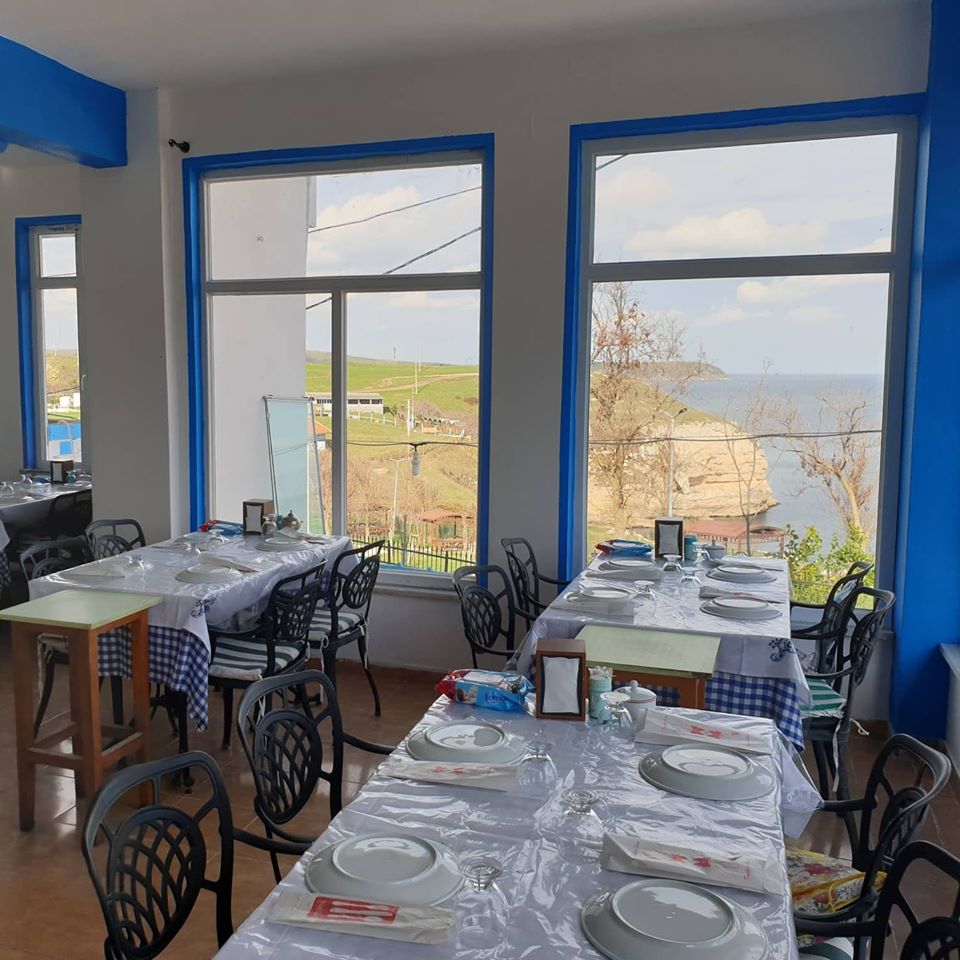 The favorite tastes include the shepherd's salad, salted and air-dried mackerel, shrimps in a hot pan, octopus salad, fried liver of lamb, pickles, and white cheese. You can taste the superior fish of the season either grilled, steamed, or fried according to your choice. Be sure all will demand your wishes.
Do not forget to ask for the dessert specialties of the day before you finish your meal. The restaurant is not located by the water, but it has a sea view. It opens its doors every day of the week starting at 12:00 p.m. Reservations are required, and please do ask for a table with a sea view.
The food here includes favorites such as shepherd's salad, salted and air-dried mackerel, shrimp in a hot pan, octopus salad, fried liver of lamb, pickles, and white cheese. They also serve seasonal fish dishes, grilled, steamed, or fried, depending on your preference. 
Kıyı Restaurant also offers a selection of dessert specialties of the day, which is the perfect way to end a perfect meal. Though it is not near the water, Kıyı Restaurant does have a great view of the sea. Its doors are open every day from 12:00 pm. It is suggested that you make a reservation and when you do, be sure to ask for a table with a view of the sea. 
Address: Tarabya, Haydar Aliyev Cd. 186/A, 34457 Sarıyer/Istanbul
8- Park Fora Restaurant
Park Fora Restaurant has been open since 1996, serving a variety of hot and cold starters from Turkish and world cuisines. Located in Kuruçeşme inside Cemil Topuzlu Park by the sea, this place has dubbed itself the best place in Turkey to enjoy fish and seafood.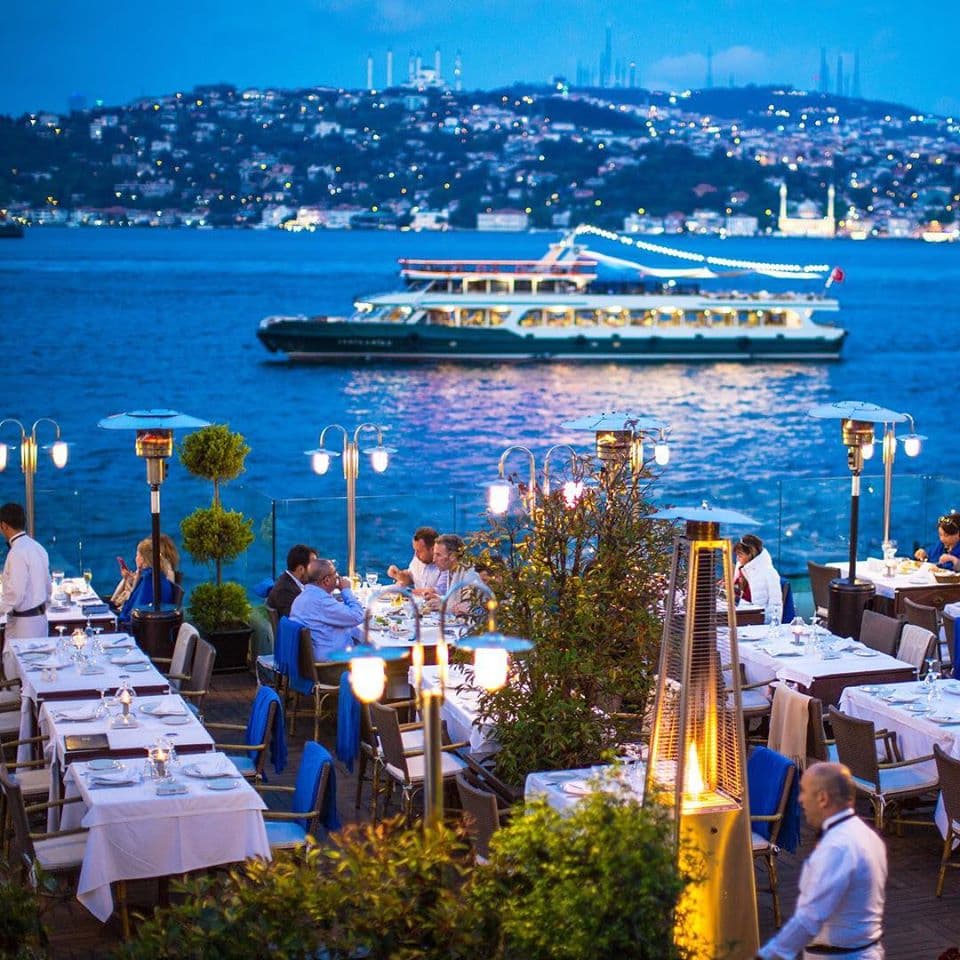 Claiming to have the "most special wine selection in the country," this restaurant serves wines like Chateau Petrus, Chateau Latour, Chateau Mouton, Chateau Margaux, Chateau Lafite, Chateau Le Pin, Chateau d'Yquem, Gaja Barolo, Sassicaia, Amarone, Opus One, Caymus, Montrachet, Chablis Premier Cru, and Grand Cru.
Park Fora is open from 12:00 pm to 2:00 am every day. Reservations are required, and all major credit cards are accepted. 
Address: Ortaköy, Muallim Naci Cd. 54/A, 34347 Beşiktaş/Istanbul
9- Tarihi Ali Baba Balık Lokantası
Modest, inexpensive, cozy, and trustworthy, Tarihi Ali Baba Balık Lokantası is the embodiment of the local experience, with its great variety of fresh fish and seafood, grilled on charcoal. You must try the turbot when it's in season, as this is their specialty.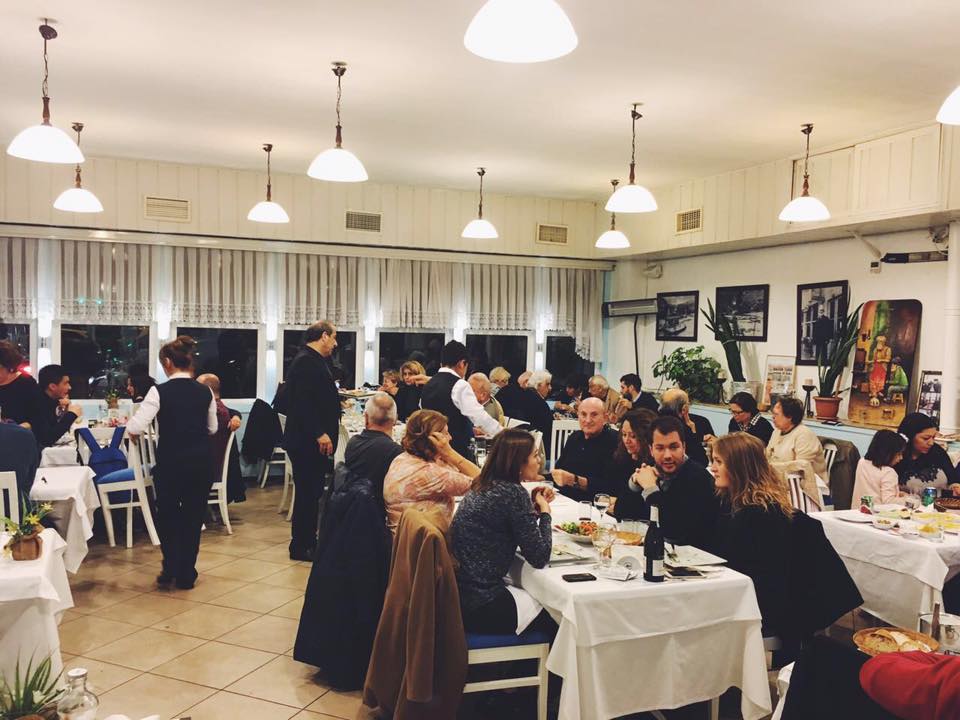 The restaurant's founder, Ali Azveren, immigrated from the Balkans and settled in Kireçburnu where he opened a barbershop. He soon began providing grills and tables to locals wanting to use his garden for cooking and eating their fish near the sea.
The restaurant has been in the same place since 1920. It's open from 12:00 pm to 2:00 am every day of the week. Reservations are recommended in the evenings on the weekend.
Address: Kireçburnu, Mısır Cd. No:2, 34457 Sarıyer/Istanbul
10- Tarihi Karaköy Balık Restaurant
Tarihi Karaköy Balık Restaurant will give you a glimpse of history at every glance, and a different flavor unique to Istanbul with every bite. Historical Karaköy Balıkçısı Grifin is a place where you can experience 100 years of Karaköy's history. Beginning with the century-old venue, the place invites you to take a journey through the tastes of the past from 2,500 years with their unique flavors.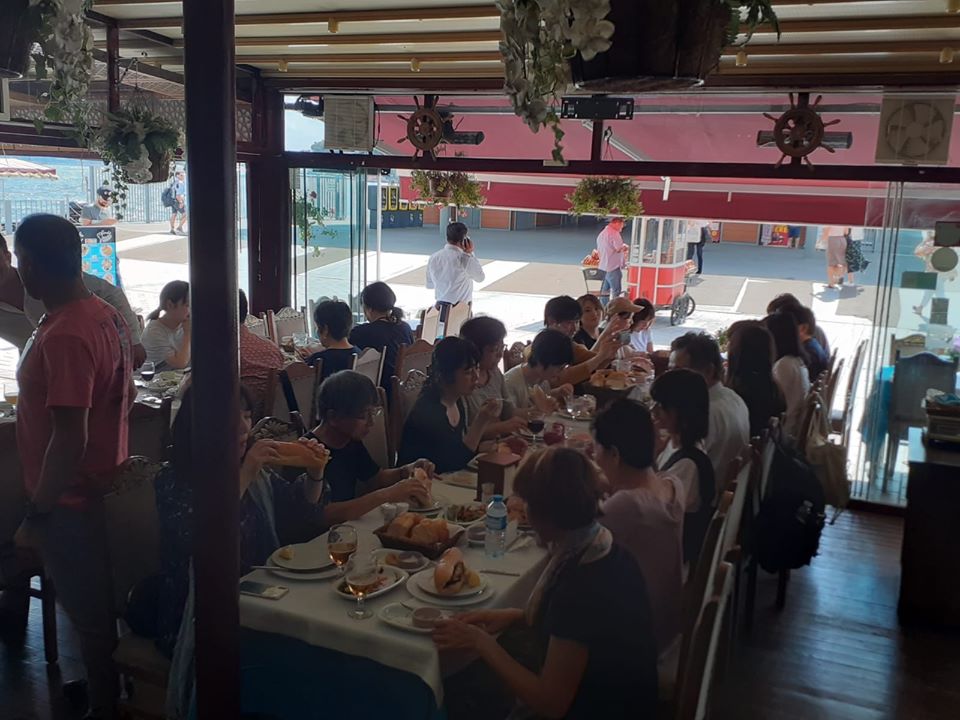 A sip of history at every glance, a different flavor unique to Istanbul in every taste. Historical Karaköy Balıkçısı Grifin is a place with 100 years of history in Karaköy. In this century-old venue, it invites you to a journey from 2500 years ago to today, accompanied by unique tastes.
Doors open at 11:30 a.m. and close around midnight daily. Reservation is not required, yet to ensure the exquisite view, you'd better.
Address: Tersane Cad, Kürekçiler Kapısı Sk. No:45, 34420 Beyoğlu/Istanbul
11- Del Mare Restaurant
A restaurant from the Bosphorus on the Asian side of town, Del Mare Restaurant pairs a great view of the city and strait with even better food. The restaurant will even send a boat to pick you up from Europe and bring you back, which makes for an exciting evening. Be sure to try the octopus carpaccio, fried shrimp and yogurt ravioli, as well as the great fish and Turkish meze dishes.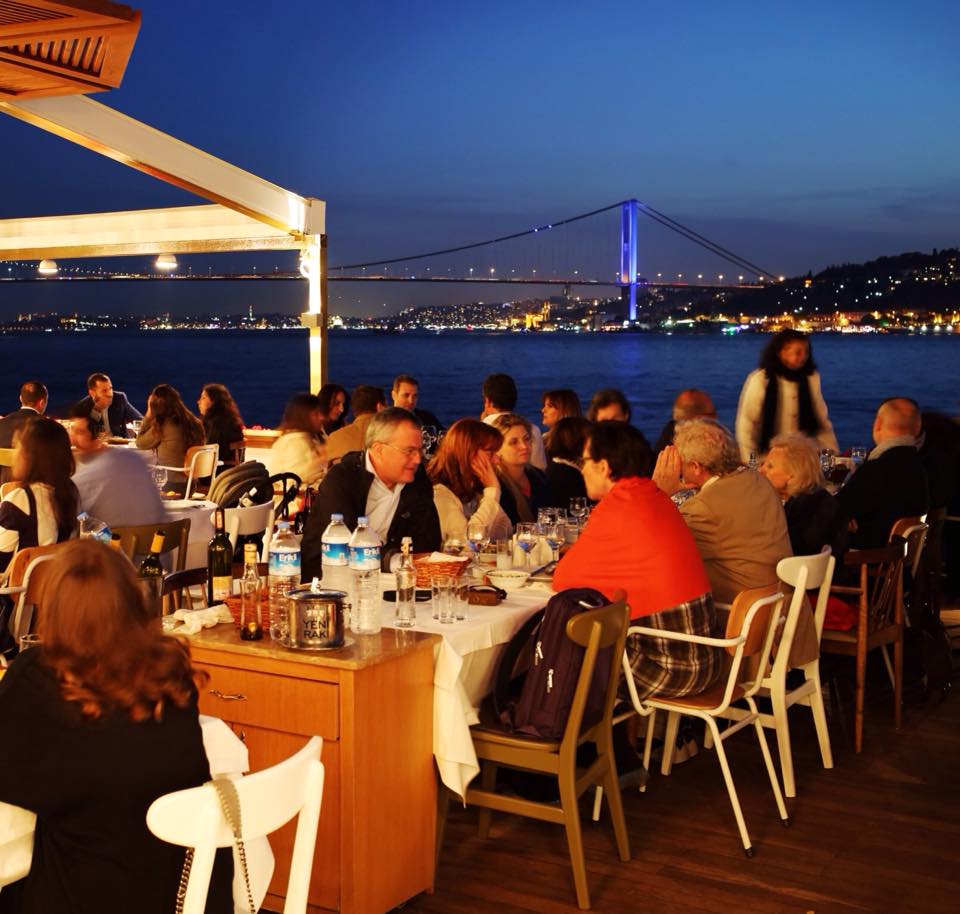 With a well-stocked wine list, raki, and perfect service, this restaurant costs a little more than average, but the quality of the meal, the passion of the place, and the setting–with its terrace, salons, decor, atmosphere, and view of the Bosphorus–totally justifies the price.
Address: Çengelköy, Kuleli Cd. 45-1, 34680 Üsküdar/Istanbul
12- Agora Meyhanesi
You will find this tavern in the old Jewish quarter of Balat. This establishment–bought two years ago by a Turkish film producer–dates back to 1890. Here, Ezel, the owner, has recreated the original atmosphere of the district. He also gives the Raki tradition particular importance.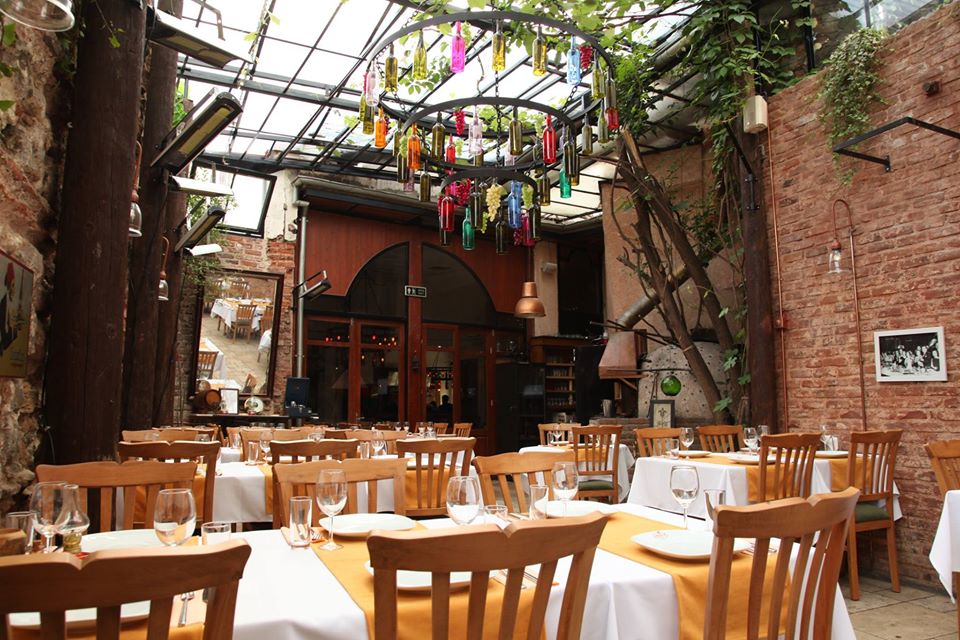 Everything here–including olive oil from olives grown in their own fields–is good, fresh, and homemade. This is one of the most interesting places in the city, hearkening back to the subdued atmosphere of the days of old. Though the area isn't busy in the evenings, you can grab a taxi and go elsewhere to extend the day's events. Don't forget to book a reservation, especially on the weekend.
Address: Balat, Mürselpaşa Cd. No:185, 34087 Fatih/Istanbul
13- Uskumru Restaurant
Situated in a mansion that seems integrated with the sea in Beykoz, this is the pearl of the Bosphorus on the Anatolian side. Here, the peace of the magnificent view of the Bosphorus is combined with their delicious menu featuring mackerel.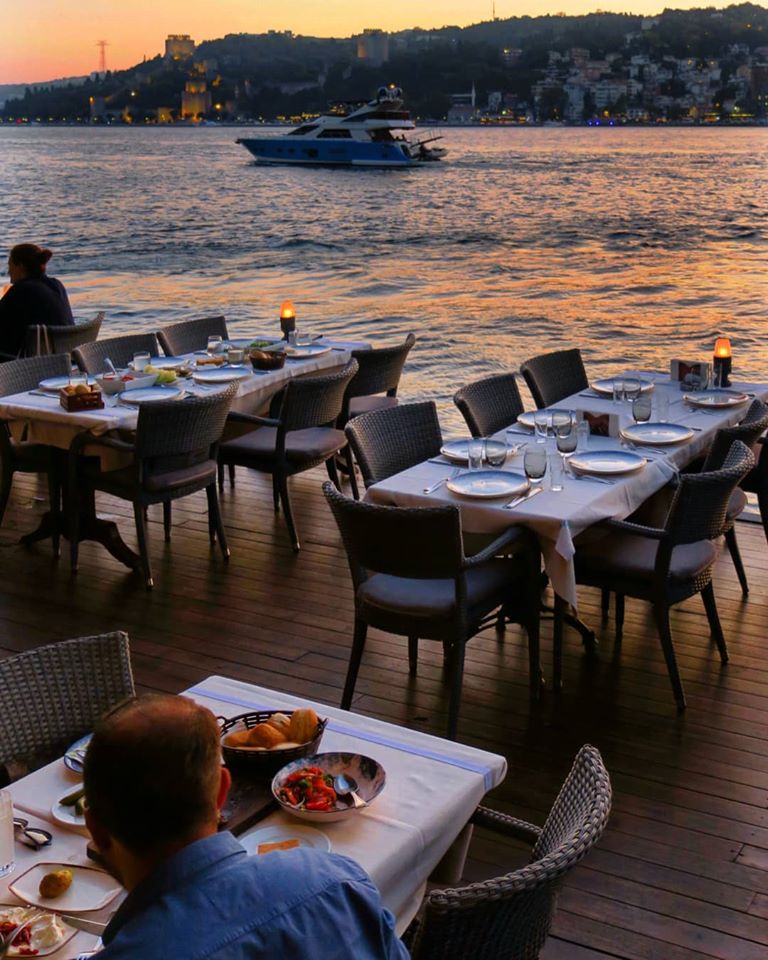 Uskumru Restaurant can only be reached by ferry. Take the boat to the shore on the other side of the Bosphorus from the platform at Rumeli Hisari. It's best to visit from April to October when you can eat with your feet touching the sea. It's an experience not to be missed. 
Plan to visit in the evening or on a sunny afternoon, and start with one (or more) of their superb appetizers, such as sea bass with basil or squid a la plancha with walnuts, among others. This place is very popular, and being seated at a nice table requires reservations. The price is higher than at other establishments, but is largely worth it, given the quality of the products they serve.
Address: Anadolu Hisarı, Körfez Cd. No:55, 34810, 34810 Beykoz/Istanbul
14- Adem Baba Restaurant
Adem Baba is a popular spot for lunch, and it's one of the best places in the area for fish dishes. The owner, Adem Baba, began by selling fish from his small boat in Bebek before moving to Arnavutköy, where his fresh catches at reasonable prices have made his restaurant a neighborhood favorite.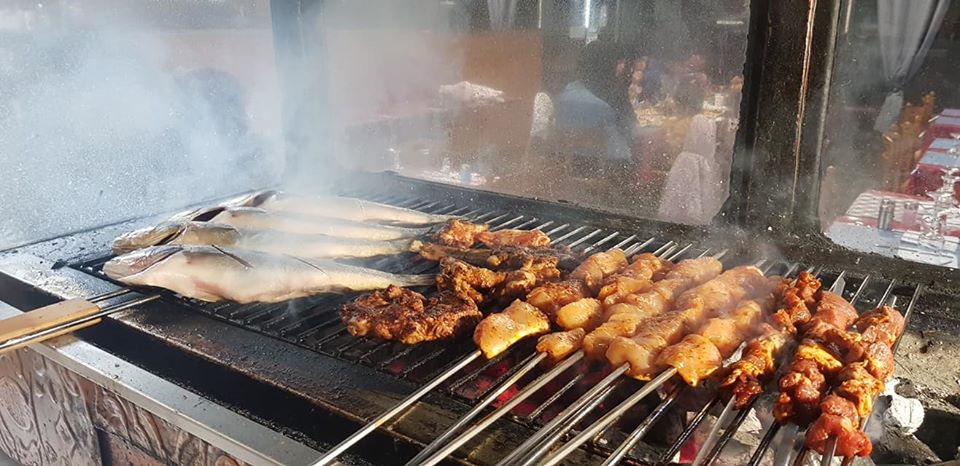 Though finding a table is difficult, and they don't serve alcohol, the quality and freshness of the fish are worth skipping your glass of raki. Here, everything is fresh, and nothing frozen ever enters the building. In addition to fish, be sure to try the fried calamari, fried mussels, fish meatballs, salted fish, and fish soup.
Address: Arnavutköy, Satış Meydanı Sk. No:2, 34345 Beşiktaş/Istanbul
15- Cibalikapı Balıkçısı Haliç Restaurant
Cibalikapı Balıkçısı is a traditional Istanbul tavern located in a historic neighborhood with other old taverns. Here, they serve the best Aegean and Mediterranean cuisine, with dishes from Byzantium,  and from Greek, Armenian, Turkish, Kurdish, Arabic, Circassian, and Balkan cuisines. Cibalikapı Balıkçısı has a nostalgic that will make you feel as if you've just stepped into an old Turkish film!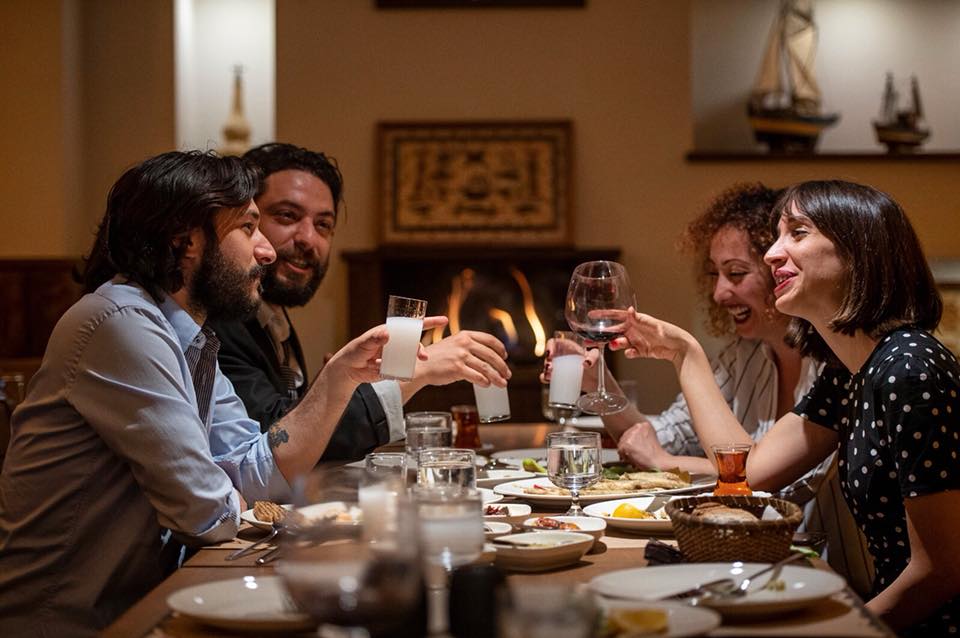 Next to historical Cibalikapı in Cibali, the restaurant is in a timber building with wooden floors, tables, and chairs, stone plaques, and old Turkish music, reminiscent of 1950s Istanbul. There is also a spectacular view, allowing you to see from Hasköy to Galata Kulesi (Tower) and Topkapı Palace.
Address: Cibali, Kadir Has Cd. No:5, 34083 Fatih/Istanbul
About Meyhane
Istanbul, located near the sea, has many seafood restaurants called Meyhane. People usually drink rakı (Turkish pastis), eat mezes as starters, and have fish. This tradition, known as "rakı-balık" or raki-fish, is a friendly meal that lasts for hours and involves discussing various topics. It is a must-experience during your stay in Istanbul.