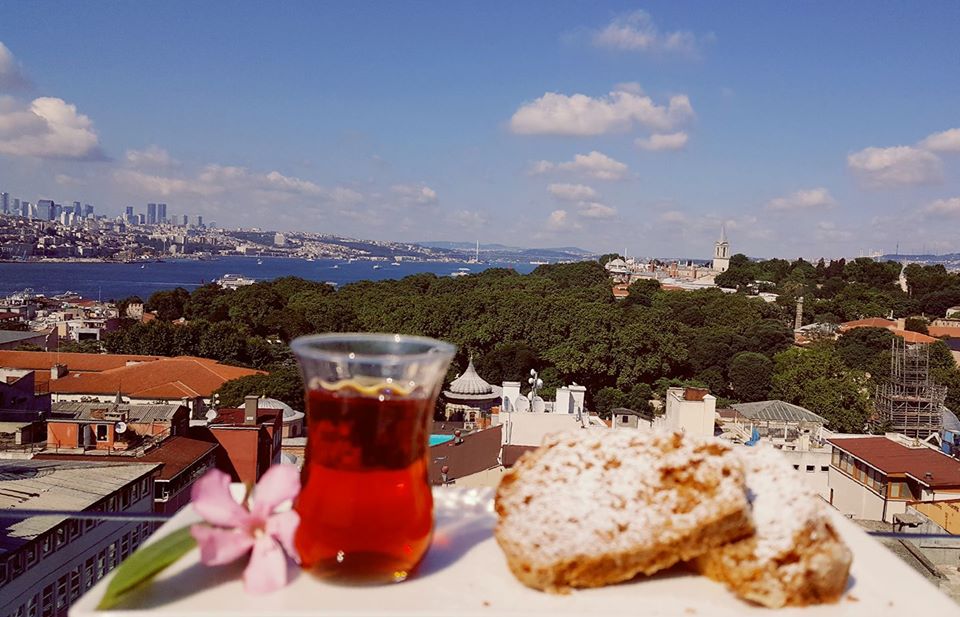 Bosphorus is a narrow, natural strait and an internationally significant waterway located in northwestern Turkey. More recently it's been called the "Istanbul Boğazı" or "Karadenız Boğazı". You can take a cruise by "Dentur" "Avrasya boat", Turyol boat, or traditional "Şehir Hatları ferry", a self-guided tour of the European shore, or to relax at a tea-houses or restaurants along its shores.
This 32 km (20-mile)-long north-south strait joins the Sea of Marmara with the Black Sea in Istanbul and separates the continental boundary between Europe and Asia. It runs right through the heart of Istanbul, past the Istanbul Modern Art Museum, several Ottoman palaces, at least two fortresses, forested hills, and shore villages with Ottoman architecture.
It holds lavish and splendidly designed restaurants, cafes, and Turkish traditional bars "Meyhane" serving authentic food and drinks, with amazing exclusive views of the "Bosphorus" sea. In this article, I'll present to you some of my favorite places to spend a day and enjoy international cuisines.
1- Sunset Grill & Bar
Located on a hilltop below "Ulus Park" in the upscale neighborhood of "Ulus", a spectacular view of the Bosphorus, the bridge and Asian shoreline. Initially specializes in "California" cuisine and also preparing the finest-grilled steaks in Istanbul and different authentic dishes from Turkish cuisine.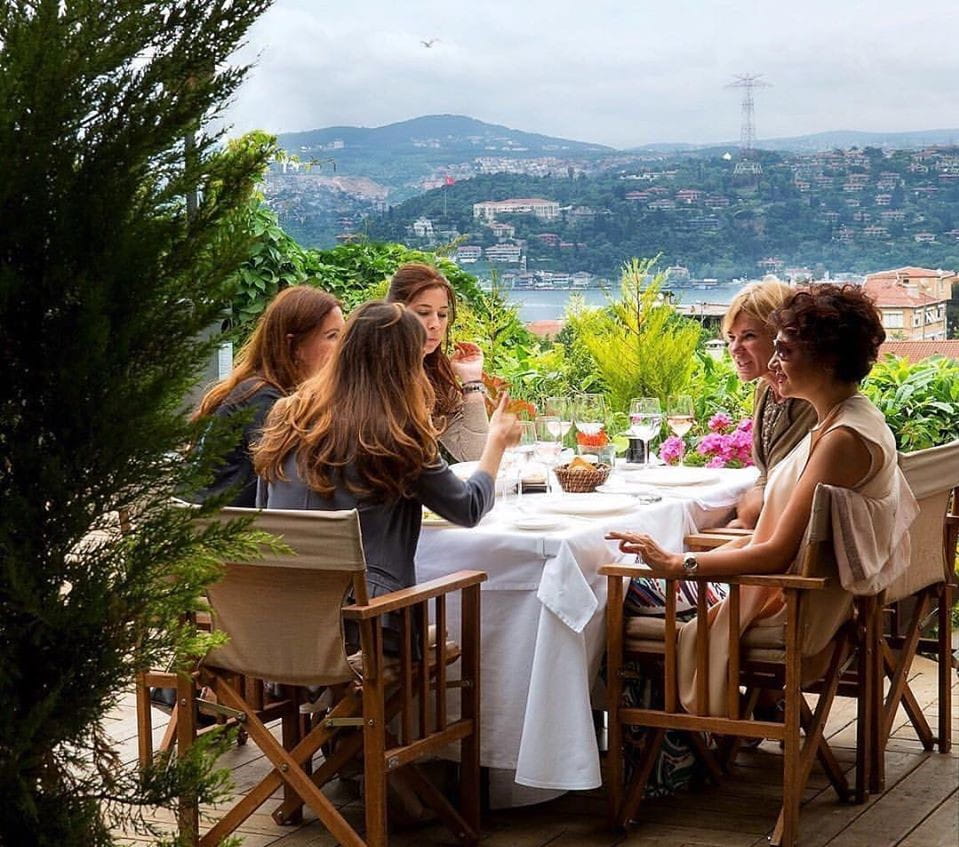 Sunset Grill & Bar has spacious indoor and outdoor dining areas with enduring decor and a separate indoor and outdoor bar where you can enjoy cocktails pre and post-lunch or dinner. It is open Monday-Saturday from noon to 3:00 pm for lunch and daily from 7:00 pm to midnight for dinner.
Starters
Bisque of the day
Golden Osetra Caviar served with lemon blinis 
Artichoke in olive oil
Platter of Mediterranean-style of olive options
Buffalo milk Burrata with tomato, arugula and pesto sauce
Beef Carpaccio scented with white truffle oil served with parmesan&red capsicum emulsion, arugula and lime salt 
Alaska King Crab Tartare with yuzu, tobiko, coriander, avocado, capers, and lime
Octopus Carpaccio with daikon, cucumber slices with ginger, celery stalk and ponzu soy sauce
Escargot in herbs garlic butter 
Pan-fried Duck Foie Gras with teriyaki miso sauce 
Sea Snail with light soy broth and shiitake mushroom
Main Courses
Grilled Free-Range Chicken Breast in homemade BBQ sauce with mashed potato and seasonal vegetables
Slow Braised Beef Cheek & Wild Mushroom Risotto
Beef Tenderloin "Sunset" with seasonal vegetables  and Asian red wine sauce
Oven-baked Duck with mushrooms and teriyaki sauce risotto, kumquat oil, lemongrass dust, and hoisin sauce
Grilled Beef Tenderloin with Yuzu mustard sauce
Peru style slow-cooked Beef Ribs with aji Amarillo
Peking style Crispy Duck, cucumber and green onion juliennes, warm pancakes, lime, coriander, and hoisin sauce
Yogurt Kebab, prepared with beef tenderloin chunks and meatballs on a bed of pita bread with yogurt sauce
Lamb Shank braised "natural" with olive oil, lemon zest, shallots, rosemary, cherry tomatoes served with smoked eggplant
It also serves side dishes, plates to share, pasta and risotto, steaks and seafood courses such as grilled lobster, grilled jumbo shrimp, grilled Norwegian salmon and plenty more of appealing dishes.
Address: Kuruçeşme Mahallesi Ulus Park, Yol Sokağı No:2, 34345 Beşiktaş/Istanbul
2- 5.Kat Restaurant & Cafe Bar
The hypnotizing adventure of the "5th Floor Restaurant" filled with art, taste, and luxurious style began in 1993, in Beyoğlu's historic "Cihangir" neighborhood. The "5th Floor" also made a name for itself with its unique parties, "Full Moon" ceremonies, the 70s themed parties, concerts, and international jazz festivals.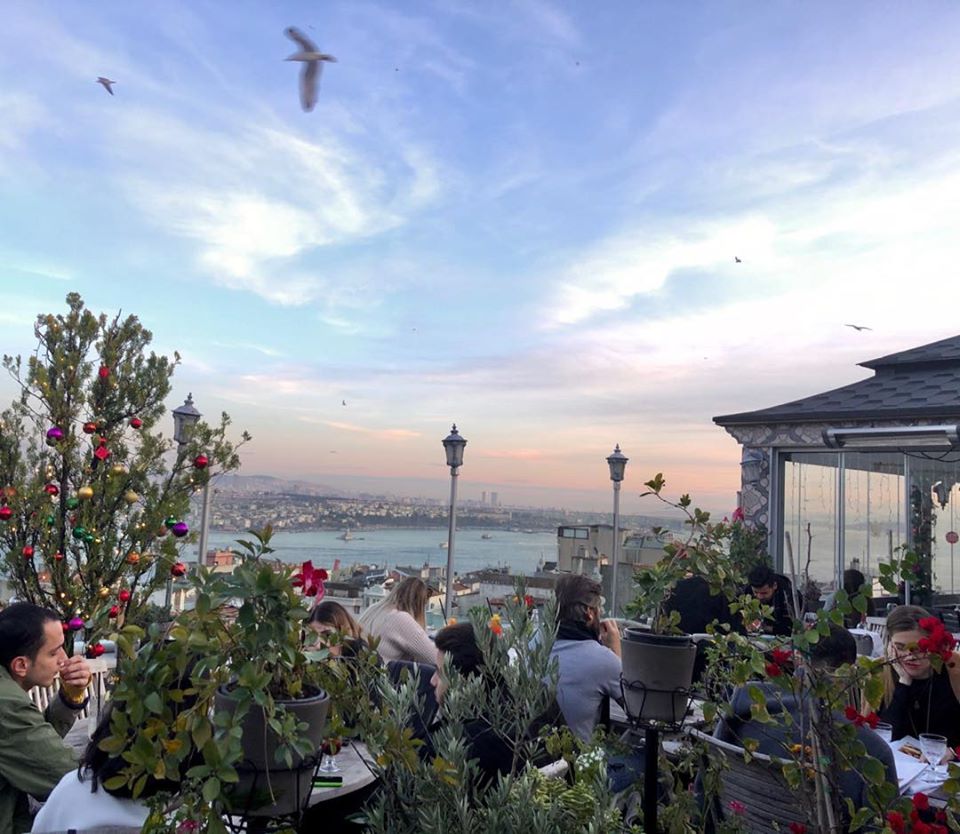 It's the favorite spot of Turkish celebrities to dine, meet fans and enjoy a selection from the world cuisines with 5th Floor touch. It's a kind, friendly and energetic service in Istanbul's oldest civilian cultural center that has hosted many cultural events, talks, and art workshops.
Main Courses
Seafood Linguine Sautéed seafood with fresh garlic and basil sauce
Baked Sea Bass Oven-baked Seabass with fresh vegetables white wine and light cream sauce, served with sautéed fresh potatoes sauteed with Leek
Cambodian Style Shrimps with Coconut Milk Shrimp in coconut milk, seasoned with Far East spices, served with julienne vegetables and basmati rice or noodles
Salmon Teriyaki Served with a teriyaki sauce with sautéed spinach served with fresh potatoes sauteed with leek
Beef Ribs Cooked in the oven for 12 hours with fresh spices served with vegetables and french fries
Lamb Shank Oven-baked Lamb shank with fresh herbs, served with mashed potatoes
Shaslik Kebab Slices of sirloin  in honey&soy sauce served with sautêed  mushrooms and vermicelli pilaf
Indian Chicken Madras (for spice lovers) Cooked with curry sauce, fresh ginger, coconut milk and served with tortilla and saffron rice
Chicken Marbella Chicken thighs marinated in wine, green olives, and dried plum sauce, served with vermicelli pilaf
Starters
Hot Starter Plate Fried halloumi cheese, quesadilla, falafel, and crispy chicken fingers served with special sauce
Sautéed Shrimp Tomato-garlic sauce, served with garlic bread
Goat Cheese with Avocado Served with rocket, tomatoes and basil sauce
5th Floor Quesadilla (homemade) Prepared with corn, cheese, basil and roasted peppers served with a special sauce
Baked Aubergine Aubergine baked with mozzarella, served with a tomato and basil sauce
Drinks
Campagnes
Beer
Wines
Coffee with alcohol
The 5th-floor cocktails
Raki (Turkish drink)
Hot drinks
Vermouth
Liqueurs and …
Address: Cihangir, Soğancı Sk. No:3, 34427, 34433 Beyoğlu/Istanbul
3- Turk Art Terrace Restaurant
You can enjoy the fascinating 360 panoramas of "Bosphorus", "Prince Islands", "Hagia Sophia", "Blue mosque", and "Marmara" sea while you are spending time and enjoying the dazzling meals and specialties of Turkish, Ottoman and seafood as well as many examples of international cuisines at the Turk Art Terrace restaurant.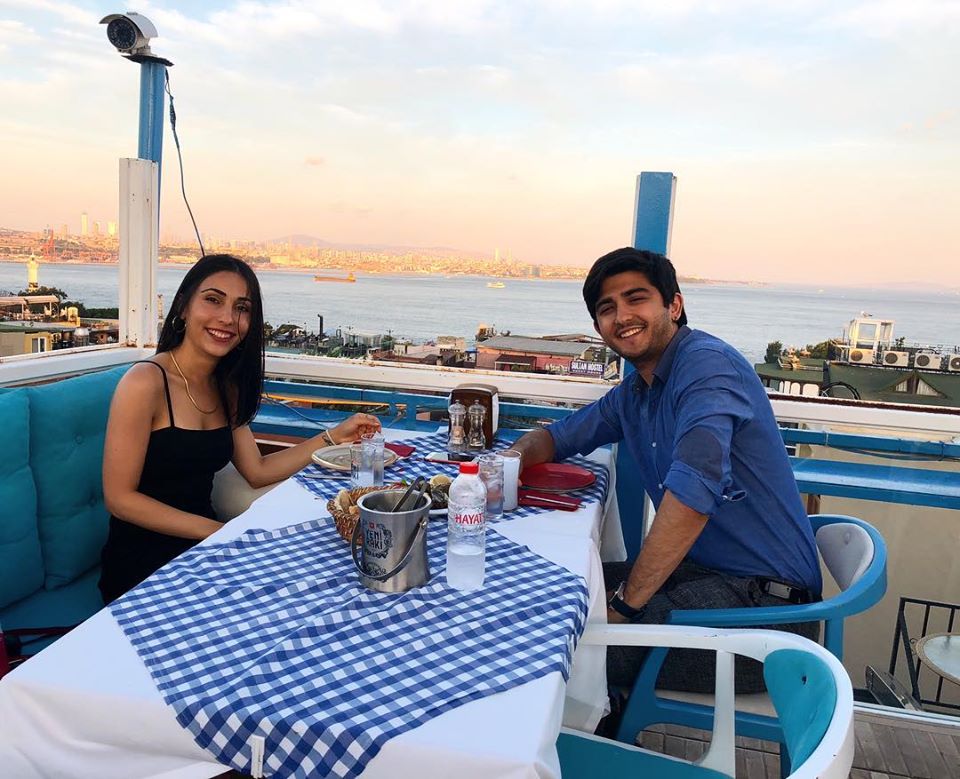 The restaurant holds a romantic and intimate ambiance with an excellent and friendly service. a wide selection of drinks and cocktails as well as seafood, Medeterian dishes, and vegetarian and vegan-friendly options plus gluten-free choices. It also provides a full bar selection.
Starters
Hummus
Spicy tomato salad
Haydari
Stuffed grape leaves
Shrimps cold cuts
Grilled red pepper
Fish soup
Octopus in butter
Fried calamari
Oyster
Cheese roll pastry
Main Courses
Adana Kebab
Lamb chops
Grilled meatballs
Lamb şiş Kebab
Chicken şiş Kebab
Filet mignon steak
Thai curry
Marble steak
Turbot fish
Natural sea bass
Red Mullet
Vegetarian Casserole
Stuffed eggplants
Moussaka (Vegetarian)
Address: Cankurtaran, Tevkifhane Sk. No:12, 34122 Fatih/Istanbul
4- My Terrace Cafe & Restaurant
A wonderful quaint place with an insatiable sea view and live Turkish music playing by nationally well-known artists. It provides European, Turkish, Middle Eastern and Mediterranean cuisines created by sophisticated international chefs as well as vegetarian and vegan-friendly, Halal, Kosher, and gluten-free options.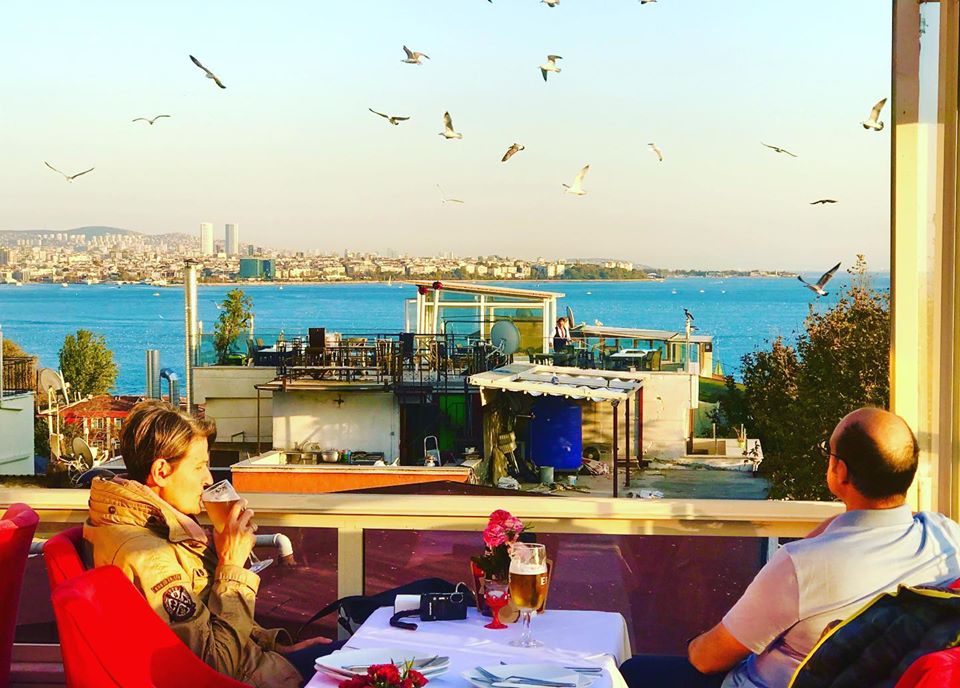 You can take an outdoor table on the terrace which is heated in the winter or a private dining lounge based on your preference. There is a full bar menu and drink choices and more importantly very hospitable and helpful staff.
Starters
Fish salad
Grilled Halloumi
Sauteed eggplant
Tomato soup
Fried vegetables
Greek salad
Main Courses
Spaghetti
Sausage Pita
Mushroom Pita
Turkish Ravioli (Manti)
Urfa Kebab
Pistachio Kebab
Eggplant Kebab
Chicken cutlet
Hamsi platter
Salmon
Shrimps
Chicken schnitzel
Lamb casserole
Vegetarian casserole
Breakfast
French toast
Cheese omelet
Muesli
Veggie omelet (Menemen)
Sausage omelet
Scrambled eggs with milk
Yogurt & honey and…
Address: No:9،Küçük Ayasofya Mh, Şht. Mehmetpaşa Ykş., 34122 Fatih/Istanbul
5- Panoramic Restaurant & Cafe
Panoramic Restaurant, located on the seventh floor of  "Adamar Hotel", offers a scenic view of the city. Sitting at your table, and savoring a meal in the purest Ottoman style, you will be able to contemplate the dome of "Hagia Sophia", the minarets of the "Blue Mosque", the "Topkapi Palace", the "Princes Islands", the "Bosphorous", and the "Marmara" sea in all its majesty and beauty.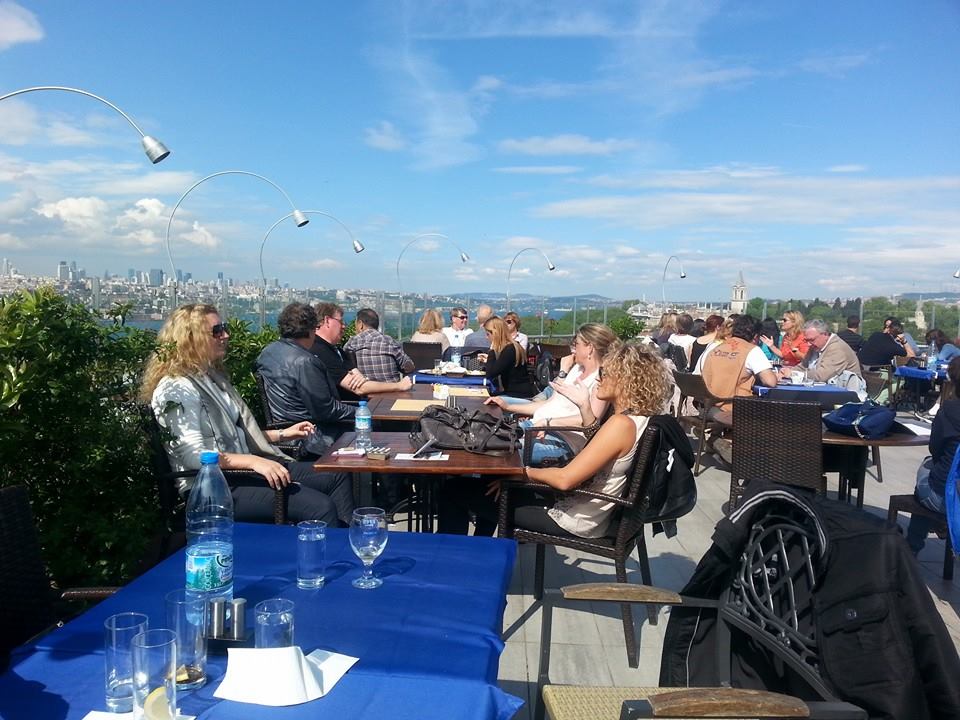 Enjoy fine Anatolian cuisine and exquisite service by highest quality ingredients according to traditional recipes freshly interpreted and served. They handpick the fresh and healthy vegetables, herbs, meat, and other ingredients at the best in the area Farmer's Market, to create special dishes.
Appetizers
Vegetables in olive oil
Smoked Salmon plate
Turkish Mezze
Crepe with spinach and walnuts
Battered squid
Chicken & mushroom crepe
Cheese puff pastry (Börek)
Main Courses
Grilled chicken with barbeque sauce
Mushroom risotto
Vienna beef pie
Roasted lamb chops
Grilled beef medallion
Grilled entrecôte
Grilled trout
Grilled sea bass
Lamb skewer on Gannuş eggplant
Mahmudiye (Chicken cooked with apple slices, dried apricots, and raisins, served with mashed potatoes flavor basils)
Sahan Köfte (Beef meatballs, tomatoes, and peppers served with rice and special sauce)
Vegetarian crepe (Stuffed with sauteed zucchini, eggplant, carrot, tomatoes and green pepper on Neopolitan sauce)
Address: Alemdar, Yerebatan Cd. No:37, 34110 Fatih/İstanbul
6- Summit Bar & Terrace
Located on the 14th floor of Conard Hotel, Summit offers impeccable aperitifs, classic cocktails, appetizing food menu, and a spectacular view of the Istanbul skyline. Every Sunday between 10:00 a.m. and 2:00 p.m.Summit Bar & Terrace offers a sumptuous Turkish breakfast that combines delicious local flavors, complemented by Turkish tea, coffee, and fresh-squeezed juice.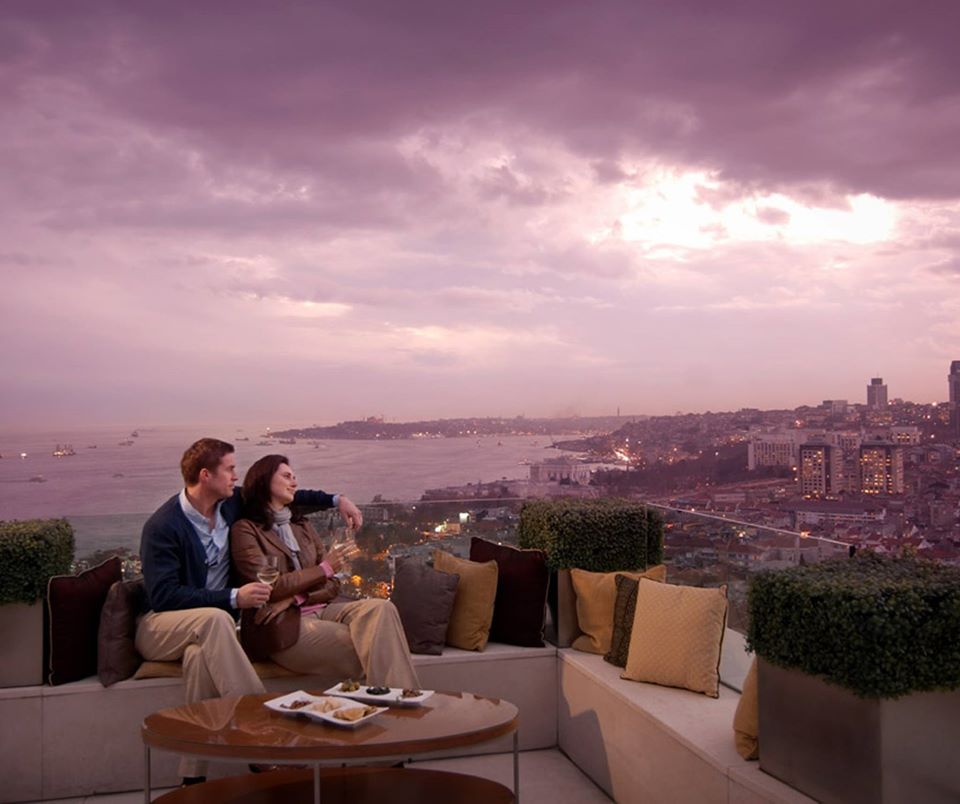 Join the expressive rhythm of Bosphorus, with live DJ performances every Friday night 9:00 p.m. – 1:30 a.m. and hit the dance floor or enjoy the buzzing weekend crowd blowing off some steam in style. Every Saturday from 9:00 p.m.-11:30 p.m. Enjoy the lively jazz tunes of Pelin Güneş Trio with the magical Bosphorus views surrounding you.
Food
Za'atar (Marinated olives and grilled halloumi cheese with garlic bread Potato wedges sour cream and sweet chili)
Deep-fried falafels (yogurt and sesame sauce)
Indian butter chicken (Curry with chicken, basmati rice, papadom, and raita)
Summit sampler (Samosas, chicken shish, mini lamb kofta, wine leaf dolmas, yogurt with mint, artichoke with hummus, vanilla smoked salmon, pita bread)
Baked pasticcio (Ground beef sauce, thyme, and parmesan bechamel)
Cuban salmon a la plancha (pineapple and chili pepper, potato purée)
Beef paillard (pita bread and tzatziki)
Drinks
Cocktails (Cactus, Spicy Strawberry, Japanese Iced Tea, Smoked & Dynamite)
Wines (Moët & Chandon Imperial, Veuve Clicquot Brut Yellow Label, Vodina, Chardonnay)
Beers
RAKI
GIN (Monkey 47, Hendrick's)
Vodka (Beluga Gold, Grey Goose)
TEQUILA (Avion Anejo)
Rum
Digestives ( Hennessy XO, Jägermeister)
Whiskey (Johnnie Walker Blue Label)
LIQUEUR
American Bourbon and…
Address: Cihannüma Mahallesi Saray Caddesi No:5, 14th Floor, 34353 Beşiktaş
7- Cihannuma 360° Panorama Restaurant
A magical gem of a restaurant! From the fast and professional service and a staff who treat you like friends, to the extraordinary food options, the exclusive view of Istanbul and the soothing jazz music playing in the background. It's only a few minute's walk from the "Blue Mosque" in the most historic neighborhood in Istanbul.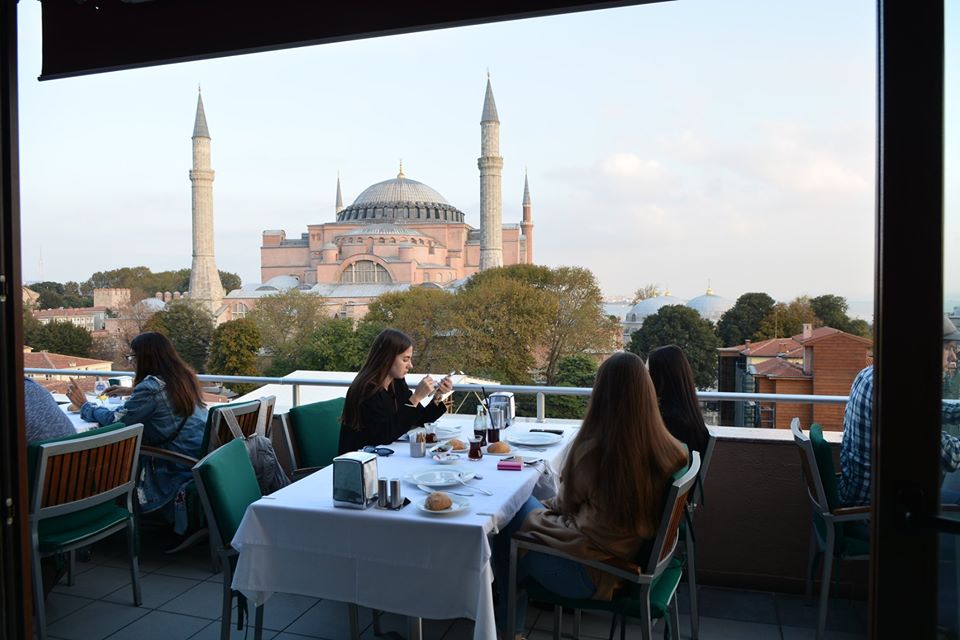 Starters
Hummus Sauteed eggplant
Stuffed vine leaves
Octopus salad
Cheese platter
Stewed shrimp
Pastrami and cheese rolls
Sailor pastry village (Cheese, carrot, honey, peas, and parsley)
Main Courses
Tandoori lamb
Islim Kebab
Lamb chops with begendi
Mürdüm Erikli Papaz Yahnisi (Stew cow meat, shallots, plum)
Chicken Fajita
Harem Kebab (Beef, lamb, and chicken, rice, nuts, dried apricot, and grapes)
Seafood (Grilled salmon, Seabass grilled with chard, Gilthead seabream grill)
Pasta & Spaghetti
Mushroom Casserole (Vegetarian)
Drinks
Soft drinks
International cocktails
Beer
Whiskey
Tequila
Gin and…
Address: Alemdar, Yerebatan Cd. No:18, 34110 Fatih/Istanbul
8- Hanzade Terrace Restaurant
A warm, welcomıng atmosphere and exquisite authentic Turkısh cuisines. Enjoy the stunning views of Istanbul and the "Bosphorus" sea with an outdoor terraced dining experience. The meals are prepared with fresh and innovative ingredients from the local farmers market. The chef is very friendly and super attentive to make sure you have the best experience!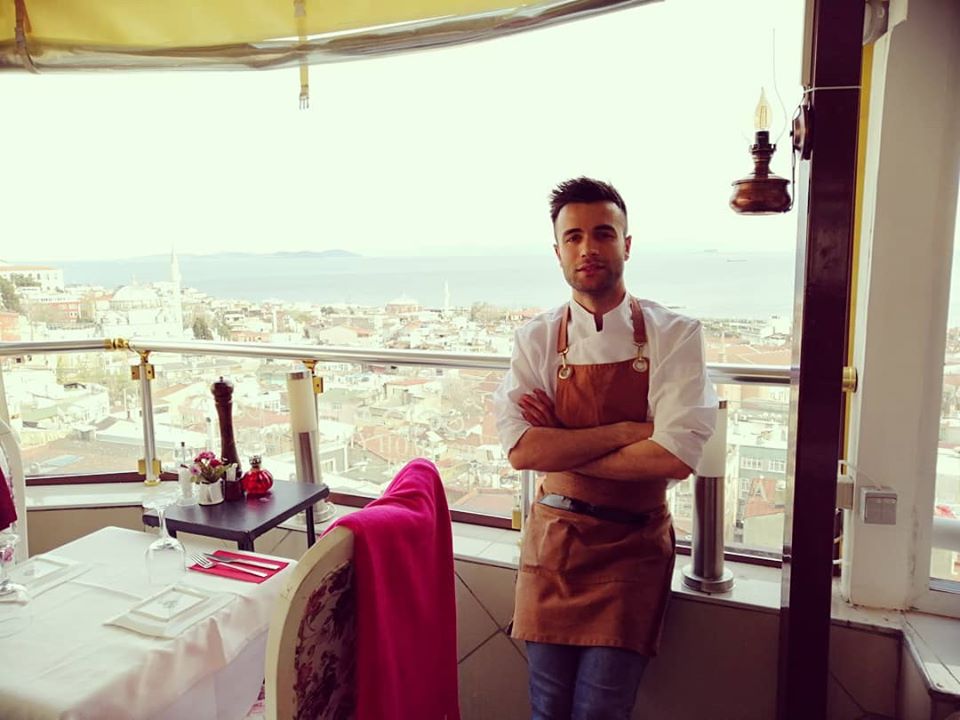 Appetizers
Carrot filled yogurt
Chili cold salad
Mushrooms with garlic and butter
Spinach pastry with cheese
Shrimps with sauce
Vegetarian Casserole
Main Courses
Vezir Kebabi (Marinated slice of meat on charcoal stuffed with Turkish lavash served with rice, potatoes, and greens)
Sadrazam Kebabi (Sliced grilled meat and vegetables)
Zibrit Kebabi (Marinated chicken breast grilled on charcoal served with rice,papatos, and greens)
Naziri fish Kebab (Daily fresh grilled fillet fish served with potato and greens)
Drinks
Turkish Rakı
Hanzade special cocktails
Whiskey
Gin
Wine
Address: Emin Sinan Mahallesi, Piyer Loti Cd. No:35, 34126 Fatih/Istanbul
9- Sultanahmet Ottoman Terrace Fish House
Beautiful cozy restaurant with a fantastic panoramic view! Tender flavorful food and excellent service with local freshly caught fish types that you can view and decide which fish you want to try. The staff are very knowledgeable and will explain all the seafood options if you need suggestions and tips.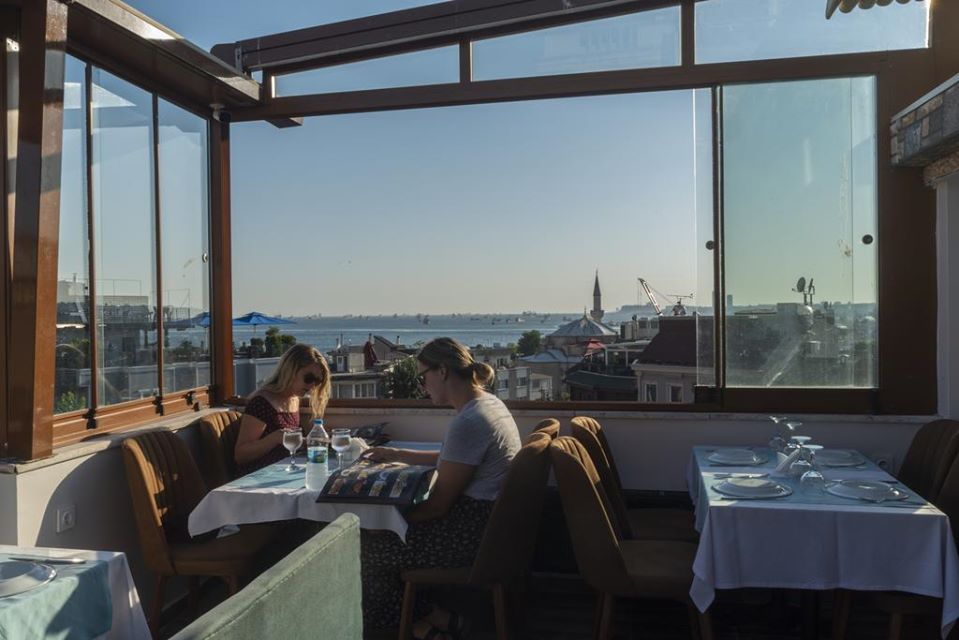 Starters
Eggplant salad
Grilled red pepper
Russian salad
Chicken soup
Cheese pastry rolls
Shrimp fried in butter
Turkish omelet (Menemen)
Main Courses
Osmanli Kebab
Tuzda Tavuk (Salted chicken)
Steamed fish
Fish on skewers
Jumbo shrimps
Mixed fish platter
Spaghetti
Chicken steaks
Gilthead bream
Address: Cankurtaran, Kutlugün Sk. No:49, 34122 Fatih/Istanbul
10- Marbella Cafe Restaurant
Located in the historic "Peninsula" of Istanbul, this culturally delightful dining experience is surrounded by the "Hagia Sofia", "Topkapi Palace" and "Bosphorus" sea view. There are simple, comfortable settings on the terrace provided by the heating system in the winter and friendly helpful staff who are mostly fluent in English.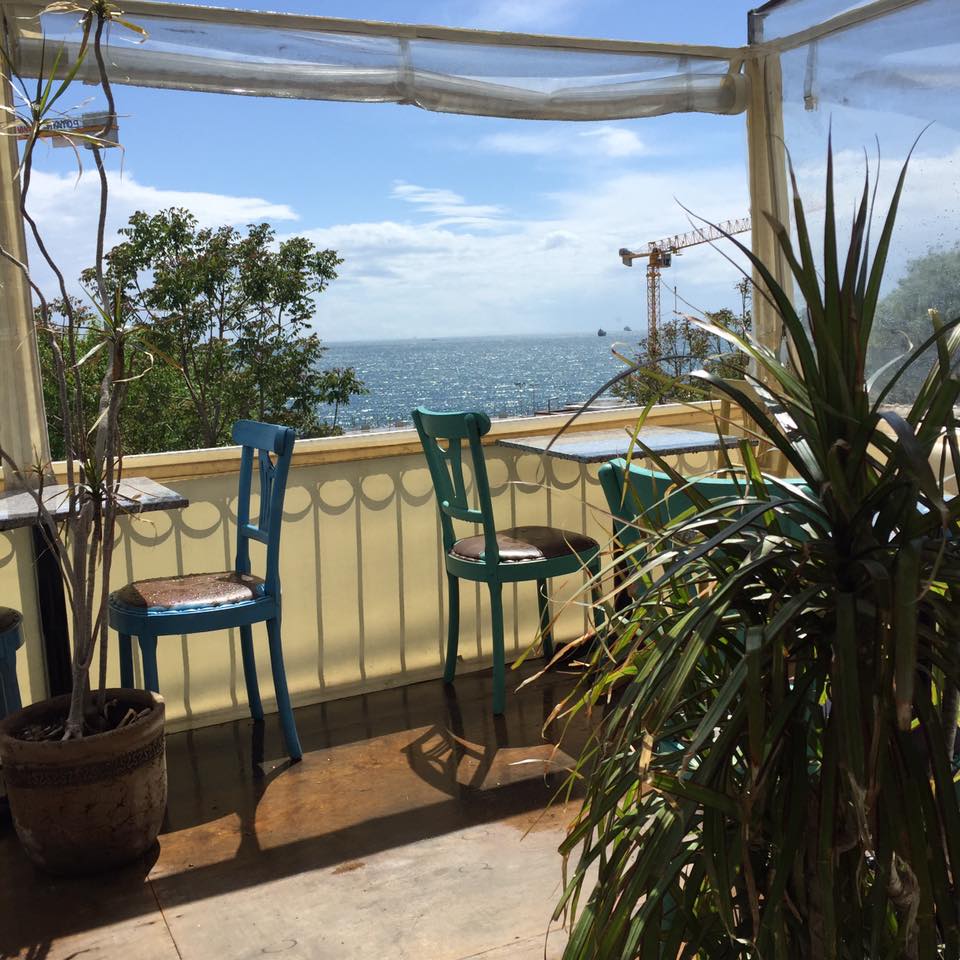 Appetizers
Anchovy
Stuffed pepper
Spicy salad
Fried rice and shrimp
Paçanga Pastry (Fried pastrami with cheddar cheese and greens
Soup of the day
Sauteed mushrooms
Main Courses
Adana Kebab
Beef Shish Kebab
Iskender Kebab
Mushroom steak
Tai curry chicken
Lamb shank
Vegetables with saffron
Grilled vegetables
Three colors tortellini
Jumbo shrimps
Mushroom casserole
Drinks
Soft drinks (Juice, lemonade,…)
Hot drinks
Cocktails
Digestives (Johnie Walker red label, Jameson, Dimple,…)
Beers
Wines
Address: Küçük Ayasofya, Çayıroğlu Sk. No:32, 34122 Fatih/Istanbul
11- Lotiz Lounge & Hookah
Lotiz Lounge would be a great choice to relax while watching the view of the "Marmara" Sea, and the "Old Town" by day or night. Enjoy the splendid view of the city while spending time on the rooftop. Lotiz Roof Lounge offers a wide range of Turkish and international cuisine with an extensive selection of hookah, beers, wines, cocktails and non-alcoholic beverages.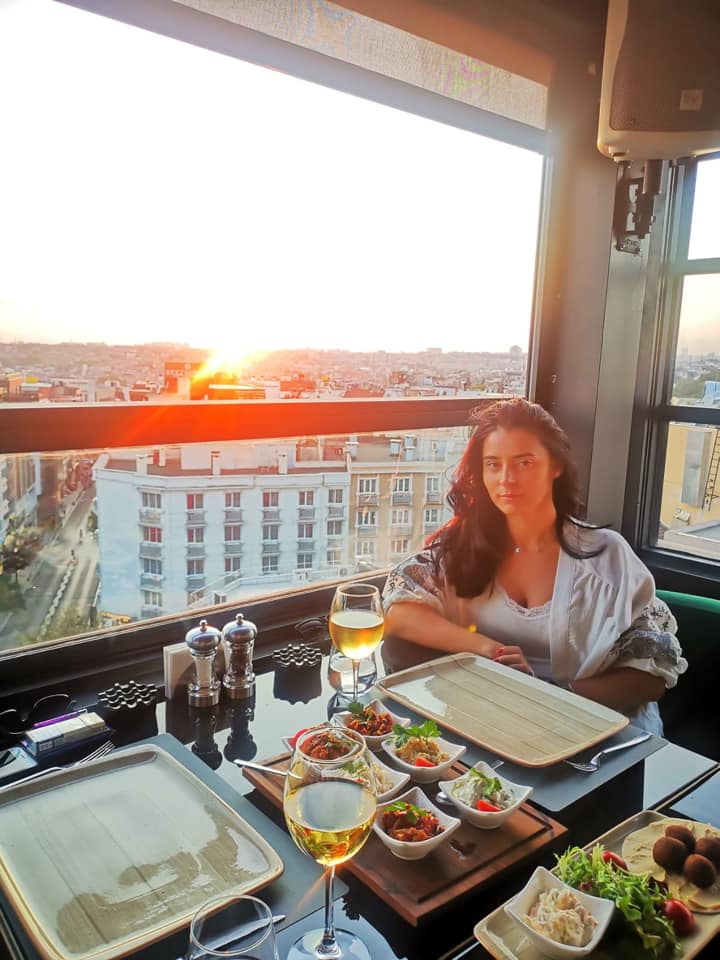 Starters
Carrot tarator
Spicy tomato dip
Potato salad
Dried tomato with olive oil
Brussel sprouts
Shrimp cocktail
Smoked beef
Octopus marine
Dry meat
Main Courses
Rib steak
Liver pan
A La Turca Forci
Eggplant with yogurt sauce
Address: Balabanağa MahallesiVidinli Tevfik Paşa Caddesi Kat:7 No:1434134 Fatih/Istanbul
12- Deluxe Golden Horn Hotel
Located on the terrace of Golden Horn Hotel where you will travel in time to the "Byzantine" and "Ottoman" era as you enter the rooftop. The magic touch of this ambiance will cast a spell on your amusement and peace with magnificent views of "Hagia Sophia", "Blue Mosque" and "Topkapı Palace".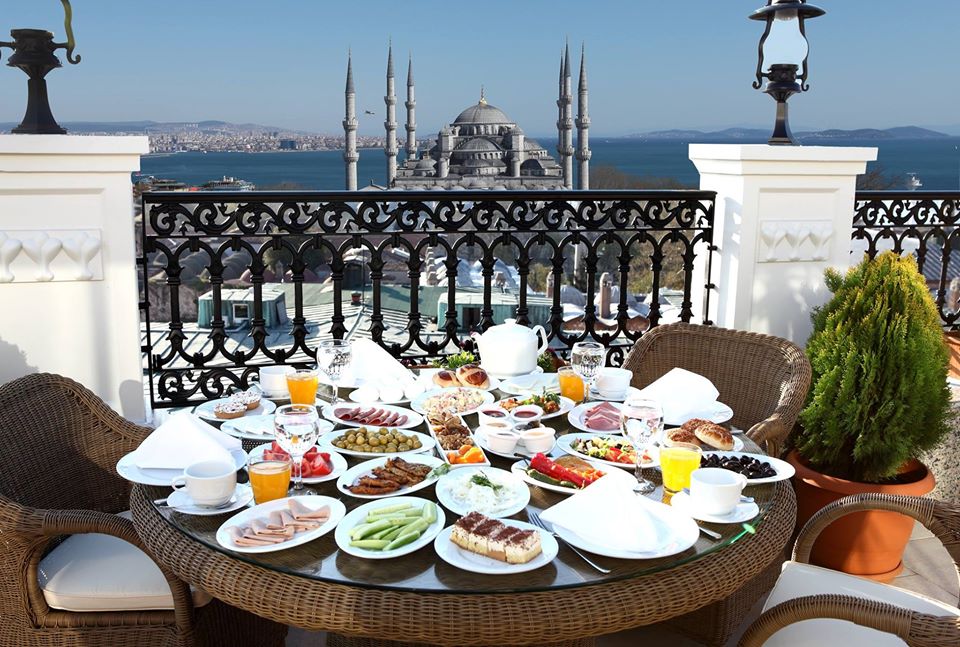 You can enjoy the view of Istanbul "Golden Horn", "Bosphorus", and the "Marmara" Sea while sipping on a cup of coffee or a glass of wine and grab a bite of delicious meals on this unique terrace.
Main Courses
Tomato Kebab
Grilled meatballs
Clay pot Kebab
Fish clay pot
Eggplant Kebab
Pistachio Kebab
Grilled steak
Curry Chicken
Pasta and Spaghetti
Lahmacun (Turkish pizza)
Grilled Salmon
Starters
Season salad
Spring rolls
Buttered mushrooms
Fresh beans with olives
Potato croquet
Cheese platter
Address: Binbirdirek, Binbirdere Meydanı Sk. No:1, 34400/Fatih/Istanbul
13- Sed Hotel Terrace Restaurant
Sed Hotel Istanbul, located in "Taksim" square, one of the most important cultural centers of Istanbul, has a distinctive atmosphere and a new, individual palate experience for travelers, with its concept based on the Mediterranean and Turkish cuisine under the management of talented chefs.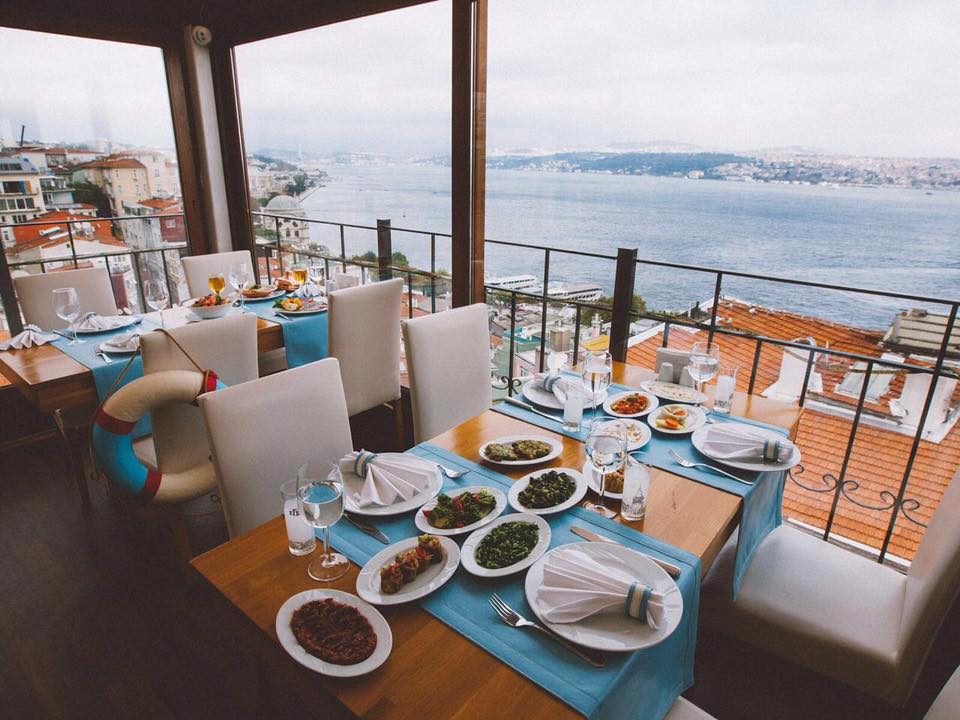 With an elite service, a delightful and bright design this place brings out a different and unusual flavor to those who want to have a pleasant meal.
Starters
Veggie rolls
Falafel
Buttered shrimps
Fried calamari
Grilled mushrooms
Mixed appetizer platter
Main Courses
Grilled chicken with mushrooms
Mexican steak
Dallas steak
Pene and spaghetti
Mushroom casserole
Vegetable crepes
Adana Kebab
Seafood
Address: Ömer Avni Mh. Muhtar Leyla Ildır Sk. No:6 Ayazpaşa 34427 Beyoğlu/ Istanbul
14- Tuğra Restaurant
Located on the first floor of the historical "Ciragan Palace" with a breathtaking view of the "Bosphorus". The restaurant has specially designed platters incorporating the elegant motifs of the historic Istanbul. Go to Tuğra Restaurant for an original and unforgettable experience.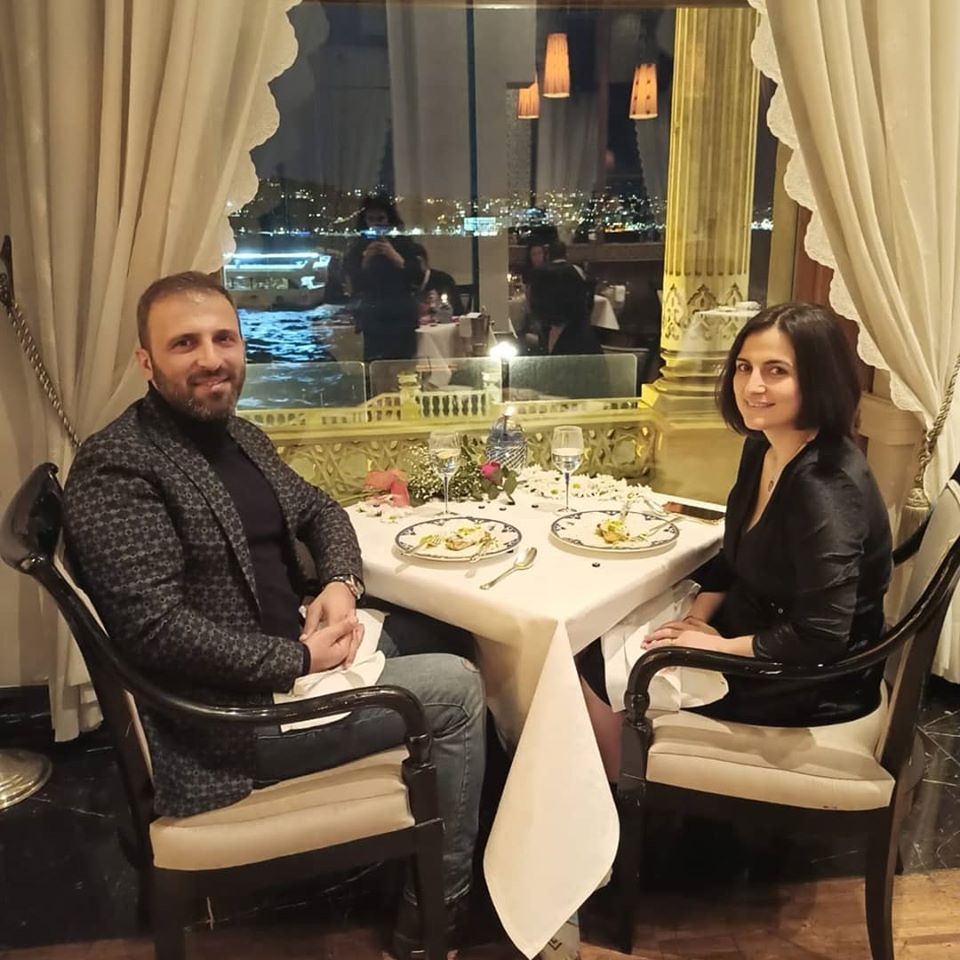 It provides Ottoman and Turkish cuisines to accompany sparkling "Bosphorus" scenery with professional and helpful staff.
Ottoman Bites
Tuğra's Signature Cold Mezze Platter
Seafood "Dolma" Platter
Stuffed "Tokat" Vine Leaves with Cherry
Sautéed "Edirne" Lamb Liver on Hummus
Main Courses
Duck Tandir ( Oven-roasted duck strips wrapped in phyllo dough with rice, roasted red pepper green pistachio, almond, raisin served with seasonal fruit & linden honey sauce
Pan-fried BlackSea Turbot Fillet
Tuğra Ottoman Grilled Kebab
Lamb Shankin Vine Leaves
Address: Ciragan Palace Kempinski Hotel, Ciragan Caddesi 32, Çiragan Cd, 34349 Besiktas/Istanbul
15- Nicole Restaurant
Contemporary Mediterranean cuisine served at a chic terrace with a magnificent view of the "Old Town", "Prince Islands" and beyond. Restaurant's wine cellar includes chateau-style local wine producers from Aegean, Thrace and Anatolia regions as well as imported varieties.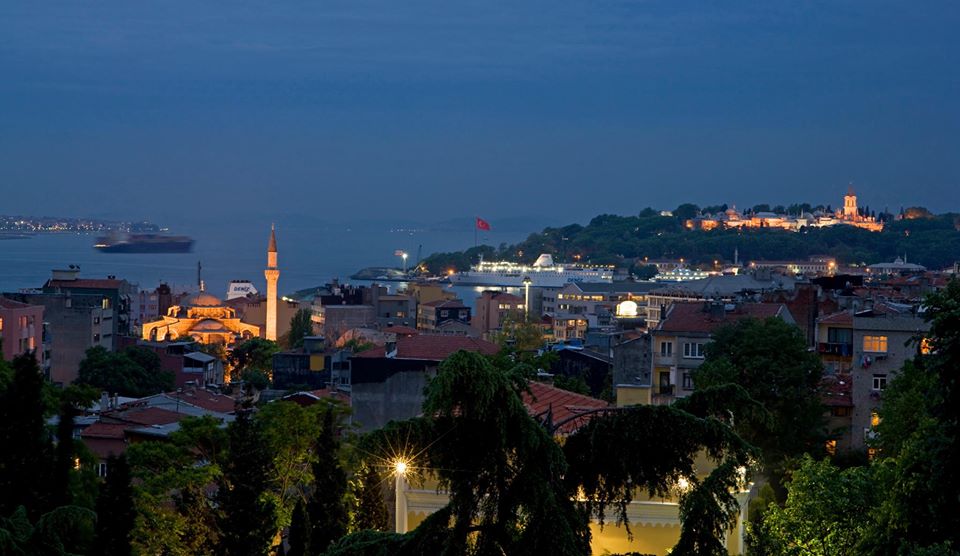 Nicol Menu
Amuse Bouches (Caramelized Onion Brioche, Homemade Sourdough Bread)
Bonito (Cavia, Green Tomatoes)
Beef tongue
Gazpacho (Apple, Ginger)
Red mullet
Lamb
Mulberry (Yogurt, fig)
Chocolate (Pear, Almond)
Address: Tomtom, Tomtom Kaptan Sk. No:18, 34433 Beyoğlu/Istanbul
There are way more restaurants in this region all of them unique in their own way, so just take a walk and explore these beautiful places on your own, grab a bite or just chill and drink, either way, this is gonna be an adventure you'll always cherish. Have fun! 🙂