Discover the epitome of culinary elegance in our guide to the top 9 fine dining restaurants in Istanbul. Renowned for their superb cuisine, exquisite ambiance, and impeccable service, these establishments epitomize the fine dining Istanbul scene.
Best Fine Dining in Istanbul
1 – Start your fine dining at the Fine Dine Istanbul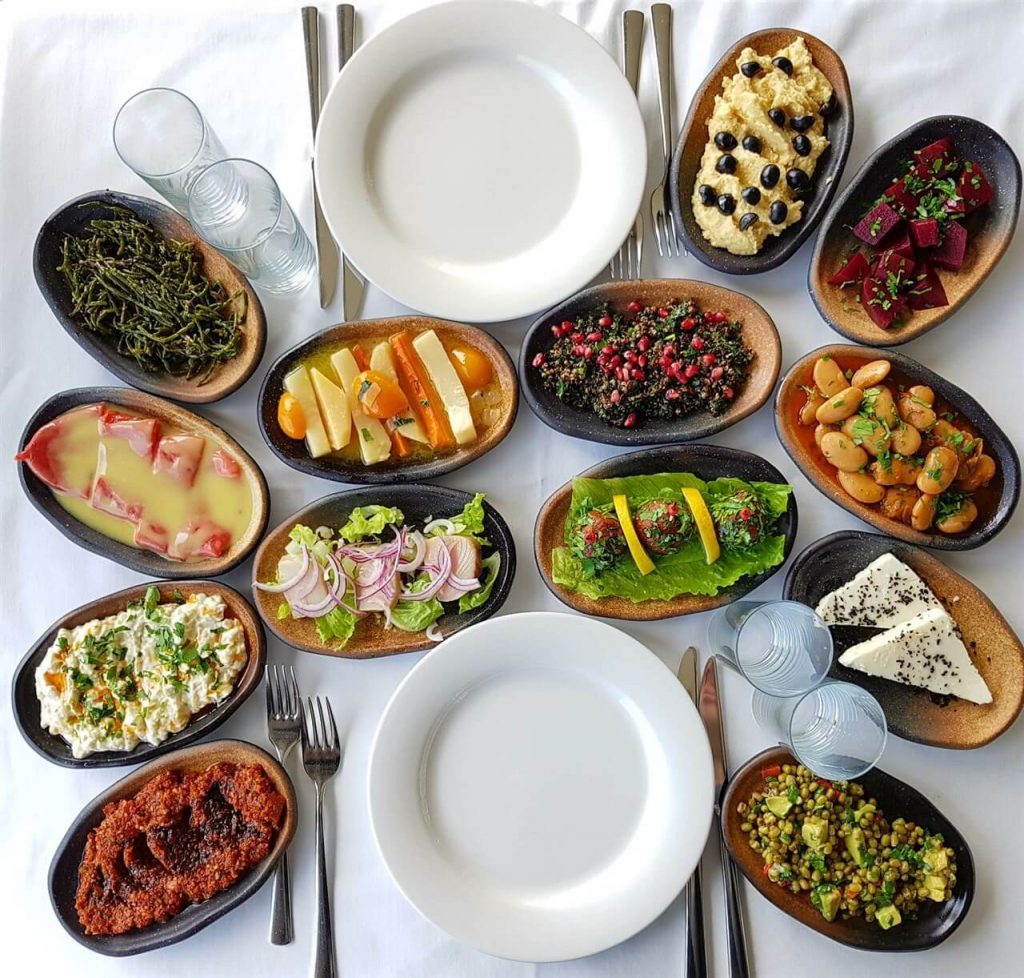 Starting from the more or less obvious in search of a good fine dining restaurant, I advise you to visit Fine Dine Istanbul, which is located at the Hotel Arcadia Blue in the Sultanahmet neighborhood. The first thing that catches your eyes and makes a unique impression is the indescribably beautiful views of Istanbul and the main attractions of the Sultanahmet area. This view is magnificent not only in the evening – during sunset – but also throughout the day when the sun is at its zenith.
The atmosphere of Fine Dine Istanbul is the most pleasant: in the evenings there is live soft music, and everything here disposes to enjoy wonderful and delicious dishes. The place has an excellent selection of wines, fast and quality service, which are quite expected from such a high-level restaurant. A pleasant addition to all the advantages of Fine Dine Istanbul is the price – from 30 USD per person, which is quite reasonable for such a restaurant.
Especially, I advise you to try Piliç Topkapı – chicken cooked according to a real recipe from the Topkapı Palace, which, according to the restaurant itself, was served to the Sultans of the Ottoman Empire. Of course, this dish might not be the same one, but the fact that it is tender and tasty is indisputable.
Address: Dr. Imran Oktem Cd., No: 4, Sultanahmet, Fatih, +90 212 516 96 96.
2 – A mix of modernity and elegance – Vogue Restaurant
The next fine dining restaurant that keeps pace with the times is the panoramic Vogue Restaurant, located in the Beşiktaş district. It is truly an ultra-trendy and modern place, whose design is following the principles of Vogue – a mix of modernity and elegance, which gives this restaurant its own unique style. Vogue Restaurant is a place that combines a beautiful view of Istanbul from its windows with modern cuisine and service.
Concerning cuisine, here you can taste European, International, and Oriental dishes, including such well-known as Spring Rolls, Sushi, Tom Yam, etc.; there are also a good selection of specialized gluten-free menu and many vegetarian options. Prices per person range from 35 – 50 USD. Besides, the serving of dishes deserves special attention: it is distinguished by simple elegance; the restaurant has a good wide choice of wines and cocktails.
For lovers of fine dining, this is a must-visit place – the beautiful modern restaurant in the city rich in historical events, in the city that connects Europe and Asia. I recommend you try their sushi and their most tender lamb shank, which is prepared according to a special recipe that allows preserving the juiciness of the meat.
Address: Akaretler, Spor Cad., No: 92, BJK Plaza, A Blok, K: 13, +90 212 227 44 04.
3 – Frankie Istanbul is a great choice for fine dining lovers in Nişantaşı
If you are a fan of fashionable places, then perhaps, Frankie Istanbul will be an excellent choice for you. This restaurant is located in the same famous and expensive area of ​​Nişantaşı, which, in addition to fashionable cafes, is famous for its bulk of shops. Moreover, the restaurant itself is located on the 8th floor and offers beautiful views of contemporary Istanbul.
Given the location of this restaurant, the prices here are not cheap either: the average bill is about 50 – 100 USD. The menu is extremely varied: you will find here International, Mediterranean, European cuisines, there is also a large selection of vegetarian appetizers and salads. It is worth noting that the products here are fresh and supplied here from the regions of Turkey, which gives the dishes a wonderful taste. I personally recommend trying their different kinds of fish, which they bring the freshest and most aromatic, straight from the fire. I will tell you the truth: it is not possible to refrain from such a mouth-watering dish.
The restaurant pays great attention to the products used, as well as to the quality of wines served to the table. The waiters here are very professional in their approach: they serve you quickly and efficiently so that you will have only good impressions of Frankie Istanbul. If you cannot decide on the choice of dishes, they will show you everything and explain it to you in the best possible way.
Address: Tesvikiye Caddesi, No: 41-41A, Nişantaşı, The Sofa Otel, 8th Floor, +90 212 230 66 66.
4 – For those who like to experiment with a taste – 360 Istanbul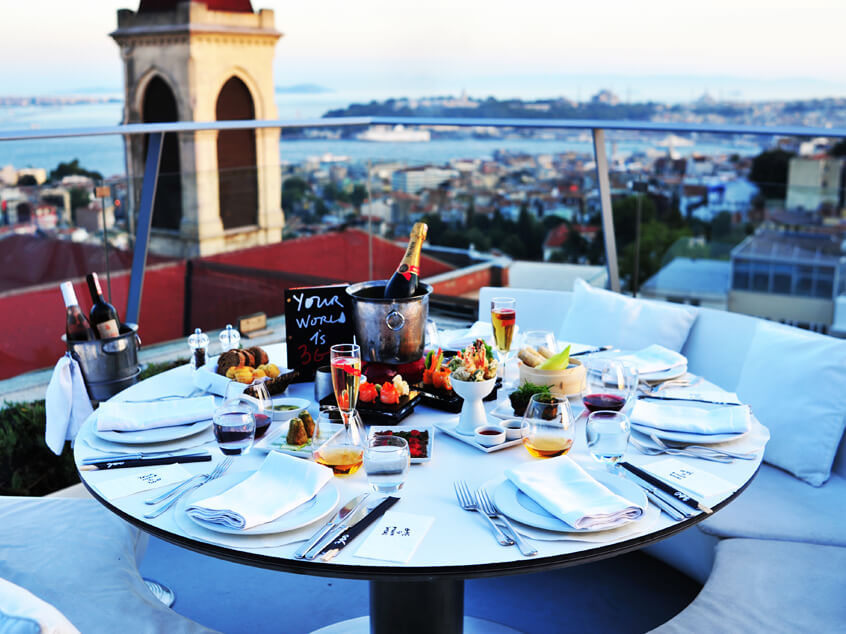 In general, Istanbul is very rich in fine dining restaurants, which are located throughout the city and attract the attention of tourists and locals; besides, many of them are restaurants that have opened relatively recently. One of these new restaurants is 360 Istanbul, although it is located in a 19th-century apartment.
The name of this restaurant is not accidental: the windows of this place offer a 360-degree view of Istanbul, so you can see local sights like Hagia Sophia, the Blue Mosque, up to the Sea of ​​Marmara. 360 Istanbul is located in the equally attractive old district of Beyoğlu, very close to the Galata Tower, which makes it even more convenient for walking after your meal.
The menu here is extremely varied, which includes International, Mediterranean, European, Turkish, Fusion cuisine, and some South-East and Japanese dishes. My attention was drawn to fusion cuisine – a word that I often hear, but still, there is usually not enough time to ask what kind of cuisine it is. So fusion is a fantasy, creative direction in culinary, in which technologies and products of geographically distant national cuisines are mixed in equal shares. So, if you are not afraid of amusing your own taste buds, then 360 Istanbul is a must.
The personnel here are simply at their best, the approach of the waiters is individual to each client; small moments, like a special decoration to the table or congratulations from the chef for your birthday, these are the things that make you come back again and again here, as you feel that you will be treated with special warmth in 360 Istanbul.
Again, I recommend this place to celebrate special events accompanied by live music or hits from a cool DJ, respectively. A full course of dishes will cost you from 25 USD per person.
Address: Istiklal Caddesi, No: 163/8, Beyoglu, Misir Apt., +90 212 251 10 42.
5 – 1924 Istanbul – classic fine dining restaurant, – the 'museum' of Russian emigration
If we talk about a real classic fine dining from the beginning of the 20th century, then we will definitely mention 1924 Istanbul, which is located near the Pera Palace Hotel, where many celebrities used to stay and consequently dined in this very restaurant.
Istanbul, which received a large wave of the first Russian emigrants, refugees from the revolution, and the Civil War in the period of 1918-1925, was famous for genuinely Russian restaurants. There were a lot of them, but only one survived from this period, and it was called Rejans at that time, but later, in more modern times, it was renamed to 1924 Istanbul.
A separate word must be said about the interior of this restaurant, which has retained the old school coloring. The beautifully stylish interior is richly decorated with Russian photographs, dishes, books, and other memories of the Russian emigration. Tables, chairs, tablecloths, lamps, a piano, a bar, and 2 balconies for orchestra transfer us to the atmosphere of Russian Art Deco with great authenticity. On the walls you can see the names of the restaurant's visitors, including Mustafa Kemal Atatürk himself, Mata Hari, Greta Garbo, Agatha Christie, the King of Spain, etc. This place can be called a kind of a 'museum' of the Russian emigration.
As for the cuisine, here you can try European, Russian, Eastern European cuisine, perhaps, not quite authentic Russian dishes, but the atmosphere provides you a truly foreign experience. Indeed, 1924 Istanbul deserves to be visited while being in Istanbul. The prices are quite reasonable for a place of this class – from 35 USD per person.
Address: Istiklal Caddesi, Olivya Gecidi, No: 7, Beyoglu, +90 530 896 03 60.
6 – Tuğra Restaurant – recipes from Sultans' palace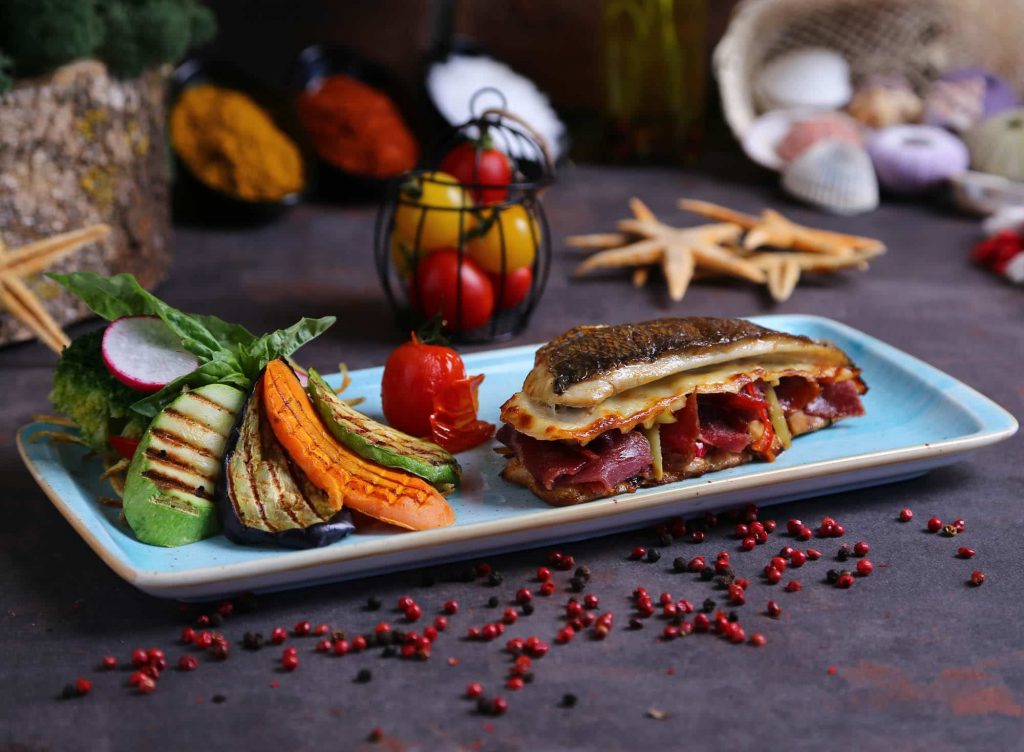 If you dream of trying dishes cooked at the court of the Sultans of the Ottoman Empire in the same ancient and impressive atmosphere, then you should take a look at Tuğra Restaurant. This restaurant is located on the top floor of the historic Çırağan Palace at the Çırağan Palace Kempinski hotel – the only hotel in Istanbul which is located in the real palace of the Sultans. The windows of the restaurant offer an incredible view of the Bosphorus, and the atmosphere of this place is truly majestic: around there are many marble columns, peculiar paintings on the walls, even the dishes in which food is served are made to order and decorated by tuğra (calligraphic signature of the Sultan on imperial heraldic paper or seal).
As for the cuisine, here is a wide selection of Turkish traditional dishes, and the highlight of the menu is Ottoman dishes prepared according to recipes from the Topkapı Palace. The chef of the Tuğra Restaurant, Sezai Erdoğan, draws inspiration for recipes from the historical archives of the Sultans.
I recommend trying their specialties, which are prepared in testi – clay pots (made from a special type of clay) that make the lamb tender and juicy while giving it a special roast flavor. The price for one person for a full course will be from 36 USD.
Address: Ciragan Cad., No: 32, Ciragan Palace Kempinski, +90 212 236 73 33.
7 – Ottoman cuisine in a modern setting at Deraliye Restaurant
Another restaurant that also offers dishes cooked according to ancient Ottoman recipes is Deraliye Restaurant, which is no coincidence, located in the Sultanahmet area.
Its difference from the previous place is the ways of serving dishes and a more modern design of the building. When entering Deraliye Restaurant, it is not immediately clear that Ottoman cuisine is served here, rather the place resembles a fashionable gourmet restaurant, but the remarkable thing is that this restaurant is rather versatile. Here, among other things, Turkish, Fusion, Middle Eastern, Central Asian cuisines are served. I advise you to try their signature dish from the chef Bodrum Kebap (beef kebab), as well as divine Kaz Kebabı (goose kebab).
The service at Deraliye Restaurant is excellent, unobtrusive, and attentive. Plus, you can sign up for a Turkish cooking master class to take a piece of Istanbul with you and remember the city every time you cook a traditional Turkish dish.
Address: Ticarethane Sokak, No: 10, Sultanahmet, +90 212 520 77 78.
8 – Sarnıç Restaurant: combines excellent cuisine and interesting atmosphere of the old city
Sarnıç Restaurant, made in the ancient 1500-year old construction of the Istanbul antique water cistern, impresses visitors with its original interior. The beautifully illuminated details inside the restaurant create a unique feeling of preserved Byzantium. Besides, the restaurant is located in the heart of the Sultanahmet district and the historical center of Istanbul – next to the Hagia Sophia.
The difference between Sarnıç Restaurant and other places, besides the amazing and unique design, is its menu. The menu is modest: you can choose 2-course options, each of which has 4 dishes. Even though the choice is limited, top quality, freshness, and unique taste of the dishes cover it all. So, the place is really for gourmets and connoisseurs of a beautiful interior. Prices in the restaurant are above average and above some fine dining restaurants' prices – from 50 USD.
But be sure that this place is worth a visit, it combines excellent cuisine and the interesting atmosphere of the old city. While visiting Sarnıç Restaurant, do not forget to visit the main attractions of the Sultanahmet area, which you can find here.
Address: Sogukcesme Sokak, Ayasofya Pansiyonlari Hotel, +90 212 912 41 14.
9 – Perfect seafood fine dining at the edge of the Bosphorus in Lacivert Restaurant
If you are craving seafood and would like to spend an evening in a fine dining restaurant, then Lacivert Restaurant, which is located right on the waterline of the Bosphorus, is a good choice for you. What I like most about this restaurant is that the tables are right next to the waters of the Bosphorus, where you can feel relaxed and calm. This place is very popular among locals and tourists, as it is located opposite the Rumeli Fortress and on the side of the Anadolu Fortress.
Basically, all seafood dishes deserve your attention; I honestly recommend all the dishes from their menu: be it shrimps in a garlic sauce, fried squid rings, or a variety of grilled fish. Chef Hüseyin Ceylan, who has been working here since the opening of the restaurant, will make sure that you are satisfied with your choice. Give a try to their white wine – it will be the perfect accompaniment to seafood. Another little advice from me: getting here by boat is much easier than across the bridge, as in the evening you might get stuck in traffic jams.
Address: Anadolu Hisarı, Körfez Cd., 57A, +90 216 413 37 53.
NOTE: Some restaurants start their working day in the evening, and most require reservations, especially on weekends. For your convenience, I advise you not to neglect this point.
Quite a lot has already been said about such fine dining and gourmet restaurants such as Ulus 29, Maiden Tower, The St. Regis Istanbul, Banyan, Rana, which you can also find on our website here. This time I decided not to repeat myself and offer you new places. I hope you enjoy my selection of fine dining restaurants in Istanbul, and you find those that will suit you.