Foodies welcome! After touring around the city, you must be famished. Lucky for you, Turkey happens to be the paradise of food – and I mean all kinds of food. Istanbul, without a doubt, knows how to fill your stomach!
As for Turkish cuisine, it is an assemblage of Ottoman, Middle Eastern, Mediterranean, Central Asian, Balkans cuisines. Safe to say, it is built upon a rich gastronomic culture in which you can find a variety of food from legumes to meat. Not to mention, it is especially vegan -friendly!
The key ingredients of Turkish cuisine are surely olive oil, yogurt, rice, meat (particularly lamb and beef), a variety of spices including black pepper, cumin, isot (an endemic very hot red pepper) saffron, and sumac. 
You can surely find something that appeals to the taste buds without trying too hard.
Without further ado, let's jump to our options, shall we?
1 – Lunch at a Popular Restaurant – Cookshop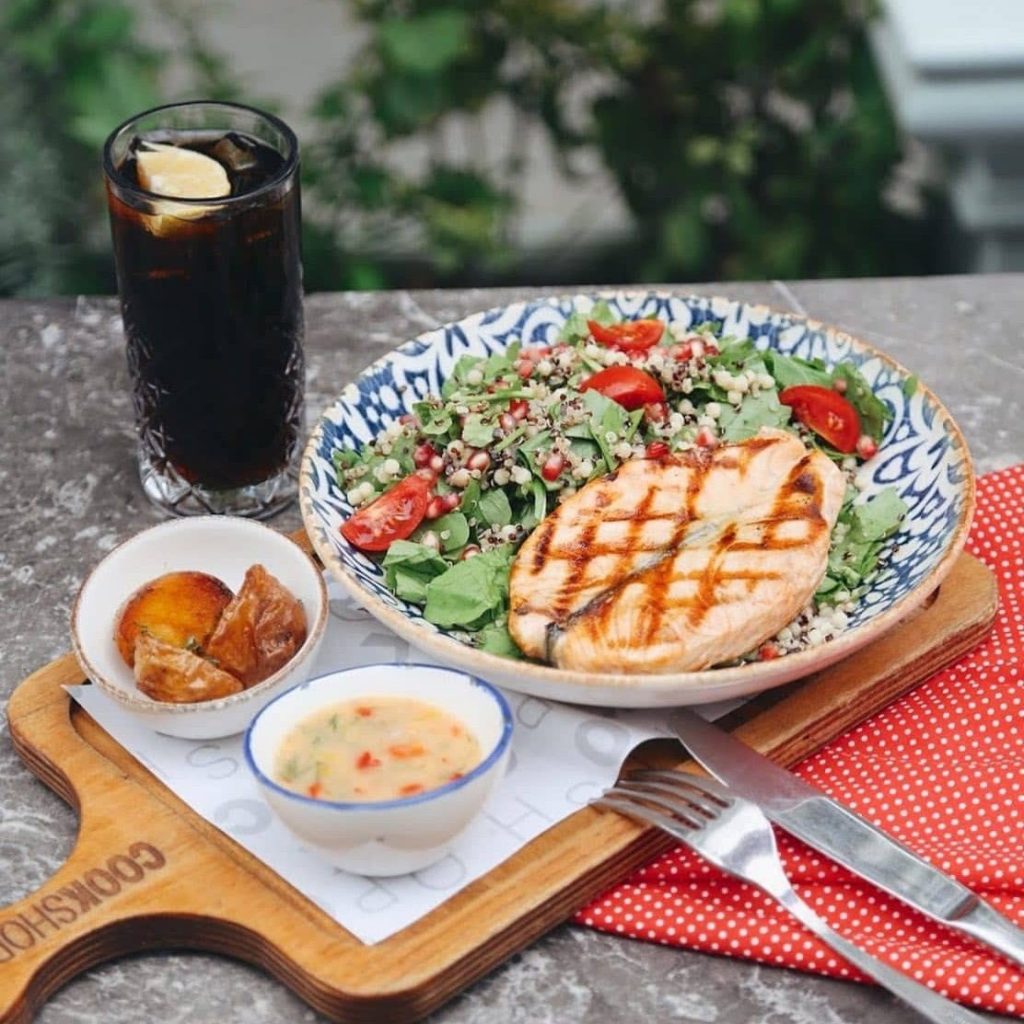 Cookshop is a chain restaurant that has a good deal of branches across the whole country. It is the perfect choice for those of you who are either picky eaters or hesitant to try new things.
If you don't wish to go traditional, here you can have a good taste of international foods such as pizza, steak or pasta. The menu is voluminous, giving you way too many options to choose which might be a problem for those of you who have trouble picking stuff (I am with you on that). 
The common design of the restaurant resembles Italian pizzerias with a red and white checkered tablecloth on generally petite tables.
Honestly, this is my go-to restaurant because it is always a solid choice. My favorite dishes, on the other hand, include caesar salad, slider burger, or Mexicano.
I'd like to add that this is a restaurant in which you get to have a free appetizer – a mixture of oil and vinegar served with different types of bread.
The restaurant also provides alcoholic beverages if you wish to relax a little bit and enjoy your meal. The average price (excluding alcohol) for 2 is merely 35-40 dollars!
Rest assured everything you choose will satisfy you as all are of good quality and very tasty!
Special tip: I recommend you eat lightly so that you can have a dessert with a cup of Turkish tea. Their magnolia is very famous indeed! You also have a couple of options for that: banana, strawberry, oreo, Nutella and chocolate. I loooove the oreo one.
Address: Harbiye, Bostan Sk. No:10/2, 34367 Şişli/İstanbul
2 – The Locals' Favorite – Midpoint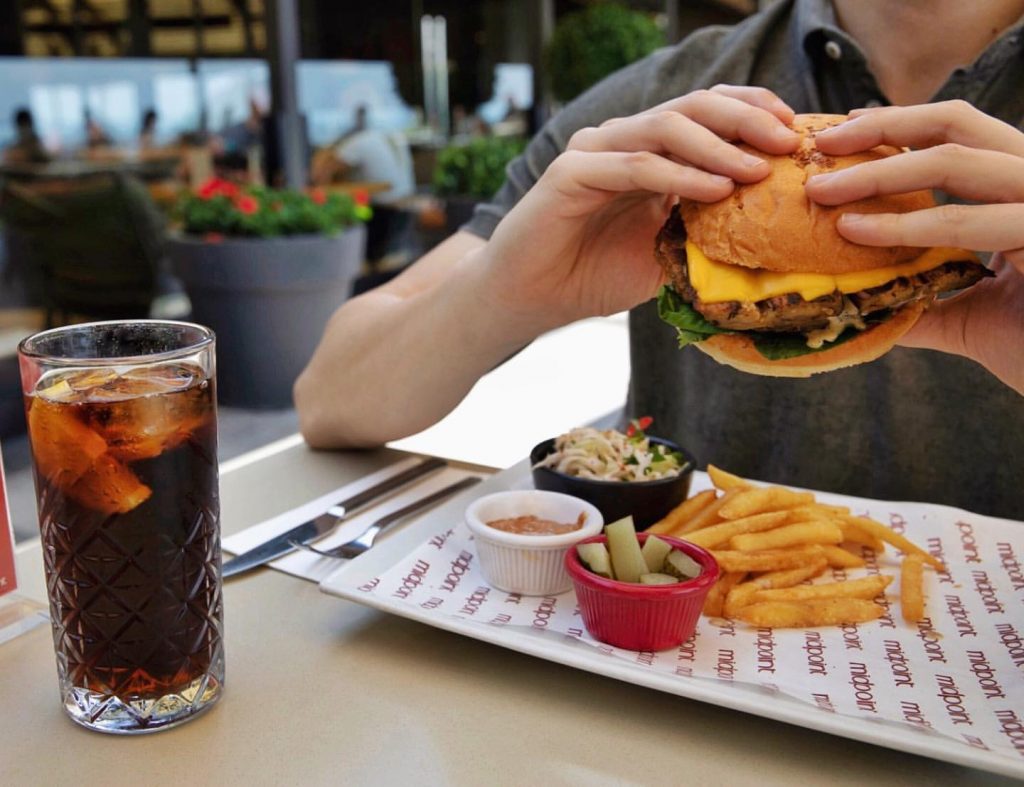 Safe choice in our list, Midpoint is the sister of Cookshop. These two restaurants belong to middle and upper-middle segments in terms of quality and price.
As the name already indicates, Midpoint argues that it is "the meeting place of everyone". Honestly, I can't argue on that since it is always packed! Like Cookshop, it is also a chain restaurant that is widely preferred. 
Their menus slightly differ but the quality of the service and the taste of the food are almost identical. If you are very hungry and can't risk getting disappointed, this is your place.
Generally speaking, the restaurant has a distinct industrial design with very modern vibes to it. It also features vine bottles hung on the wall that creates a sophisticated atmosphere which makes it a good option for business meetings as well.
This is yet another restaurant featuring international cuisine. I generally go for chicken and veggie noodle, parmesan chicken wrap, café de Paris (steak), or sweet chili chicken.
For beverages, you have your alcoholics and non-alcoholics as well. 
The price ranges between 12 dollars and 32 dollars for 2.
Midpoint has also a subsidiary called "Welldone by Midpoint" which has several branches in Istanbul too. You can check it out as well if you are nearby. 
Special tip: If it is a sunny day and you feel a little bit dehydrated, please try their ice-cold sangria. Believe me, it tastes divine!
Address: Harbiye, Abdi İpekçi Cd. No: 59, 34367 Şişli/İstanbul
3 – Happy Stomach Happy Mind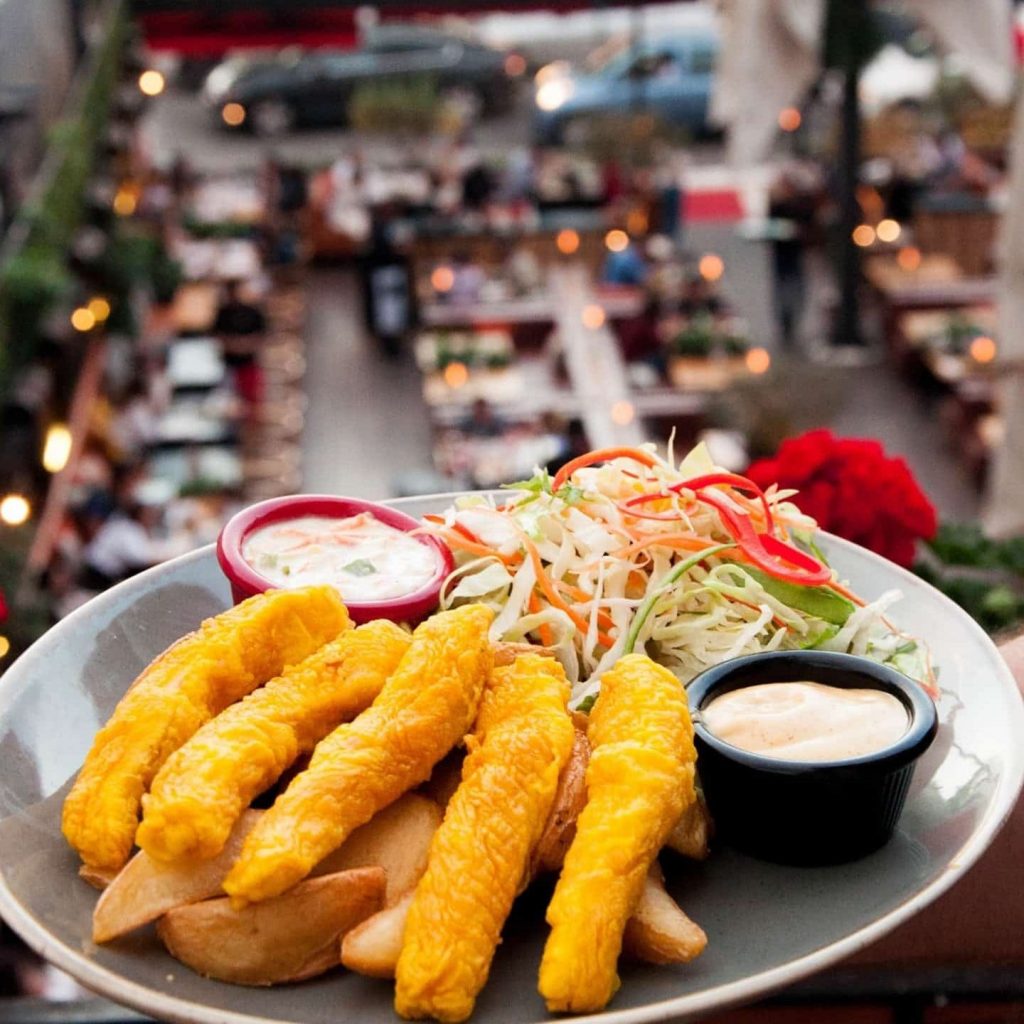 The chain restaurant in the international cuisine category on our list, Happy Moon's is the ultimate place to have lunch in terms of cost-efficiency. Not only it is rather cheap but also the portions are literally huge!
The place is always vivid with the utilization of several bright colors and thus has that 80s retro vibe that makes you even hungrier than before.
Every time I go there, I always try to order something I haven't tasted before because they never disappoint. They have an elaborate list of foods which makes it especially difficult to choose.
Their main meals are so good! You can choose creamy mushroom chicken, cajun finger (best choice unless you are starving), tender steak, or grilled salmon. All of the main plates are filled with tasty side dishes like risotto, sautéed vegetables, and French fries. 
The average price for 2 changes between 11 dollars and 27 dollars, depending on whether you consume alcohol or not with the dish.
Special tip: If you wish to end your meal with a dessert please try fried ice cream. Beware though it can cause an addiction! Also, if you decide to give it a try, do not go for a full course before as it is giant! In fact, it is better to share it with someone.
Address: Bahariye Cad, Nazmi Bey Sk. No:5/C D:No:5/C, 34710 Kadıköy
4 – Kumpir by the Sea – Beltas Rest Café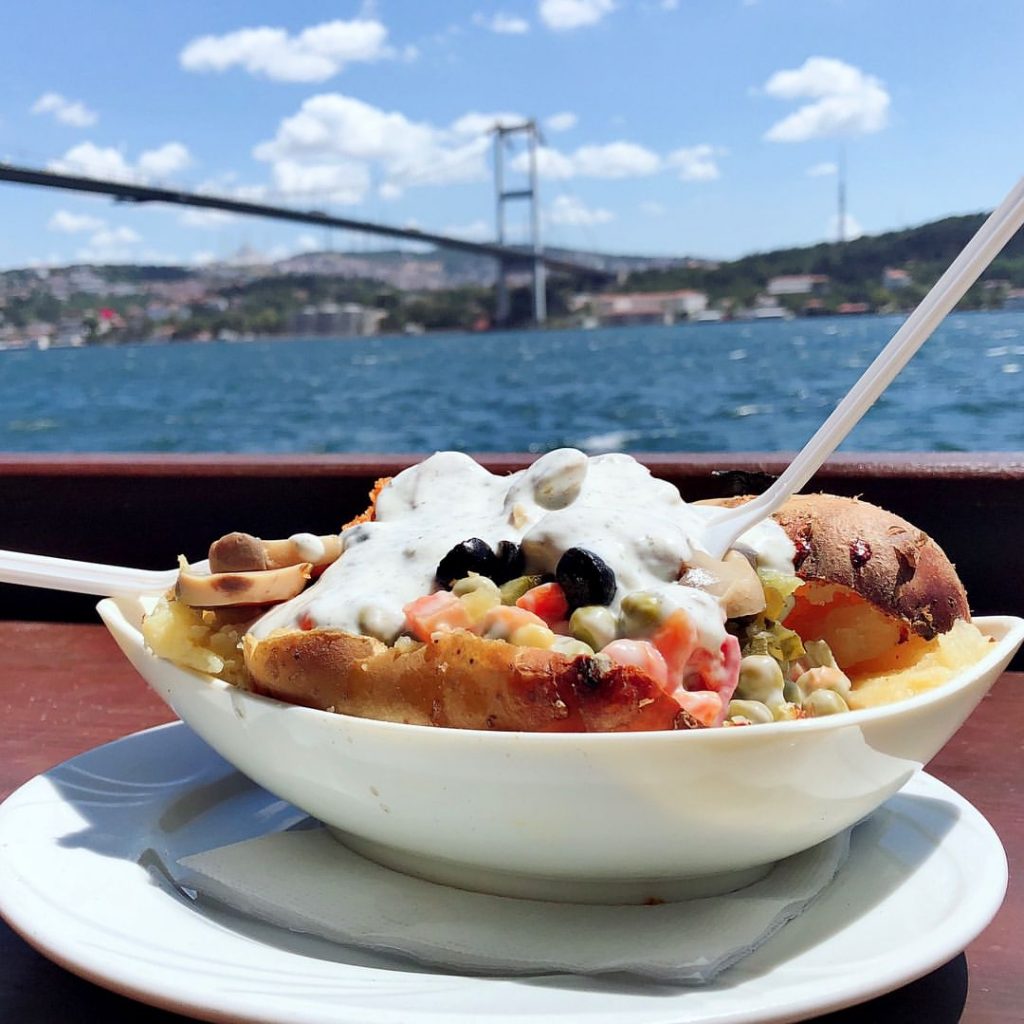 For those of you who are eager to try some Turkish food, I've heard your prayers! You can all go to the aforementioned 3 restaurants, that's totally fine. However, I must say, if you return without tasting delicious street food, well, that's a shame.
Kumpir is a must-try for every foodie. And I guarantee there is not a chance that you won't like it. It is actually food you have control over by choosing its ingredients in the first place. Sounds confusing? I will enlighten you in a moment, patience, please!
When kumpir is mentioned, only one place comes to mind of the local: Ortaköy. It is a district on Beşiktaş coastline where you can have a quality walk. This area is famous for its kumpir sellers. You can sit at a café nearby or you can buy your kumpir from a seller and go for a search for a bank facing the sea. 
I highly recommend you eat at Beltas Rest Café since it is adjacent to the sea. Not only you will be eating one of the best foods in the world, but you will also be gazing at one-of-a-kind scenery! 
I mean finding a vacant bank is an impossible mission anyway…
But what is kumpir?
Basically, it consists of a baked potato blended nicely with butter and cheese. Then you have various options to put on top of your potato base. 
You can choose the following topics: kısır (a bulgur based salad which has a sour taste), haydari (a sort of a yogurt dish), red cabbage, green and black olives, sausage, American salad, Italian salad, sweet corn, pickles, olive paste, mushrooms, jalapenos, roasted pepper, roasted eggplant, ketchup, and mayonnaise. 
Believe it or not, you can choose each and every ingredient at once. I know it sounds a bit nauseating, the combination turns just fine. Not to mention, these ingredients are just the basics, some sellers even top these options!
Plus, it only costs 4 dollars! Rest assured, you are not likely to get hungry for the next 8 hours or so…
Address: Ortaköy, Mecidiye Köprüsü Sk. No:1, 34347 Beşiktaş/İstanbul
5 – A Revolution in Fast-Food: Steamed Burger – Kızılkayalar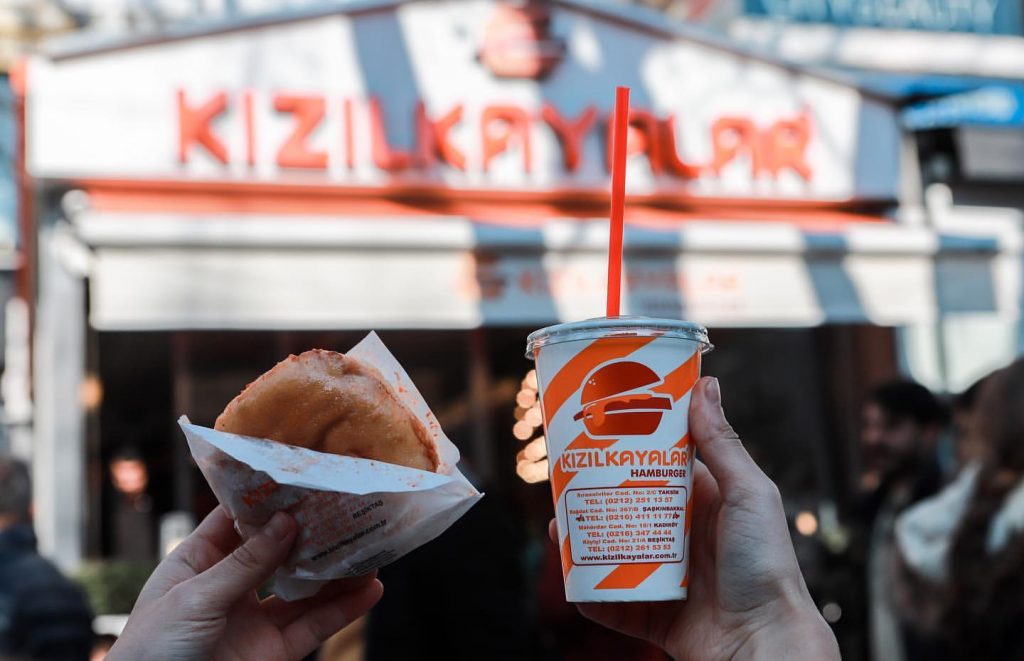 Established in 1972 Kızılkayalar is a renowned fast-food chain in Turkey. It is actually more of a snack bar than a restaurant. Nonetheless, a good place to quench your hunger!
I recommend you try their steamed burger. Steamed burger in Turkey is different than the ones in the United States. The steamed hamburger here consists of only meat and tomato sauce, there is no cheese and other ingredients in the American version.
What makes it appealing as a lunch choice is this simple combination: the hamburger bread is so puffy; the meat is so juicy, and the tomato sauce makes it all the better!
If you like to taste traditional fast food, simply go for it. I must add that one hamburger is never enough, order at least 2 will ya? If you wish to make it a full experience, order ayran (yogurt drink) to accompany your hamburger. So yummy!
The price for 1 hamburger is * drum rolls* only 75 cents! You can thank me later for this budget-friendly and heavenly option…
Address:
Address: Sinanpaşa, Mumcu Bakkal Sokağı No: 21/A, 34353 Beşiktaş/İstanbul
6 – Lunch from the East – Borsam Tasfirin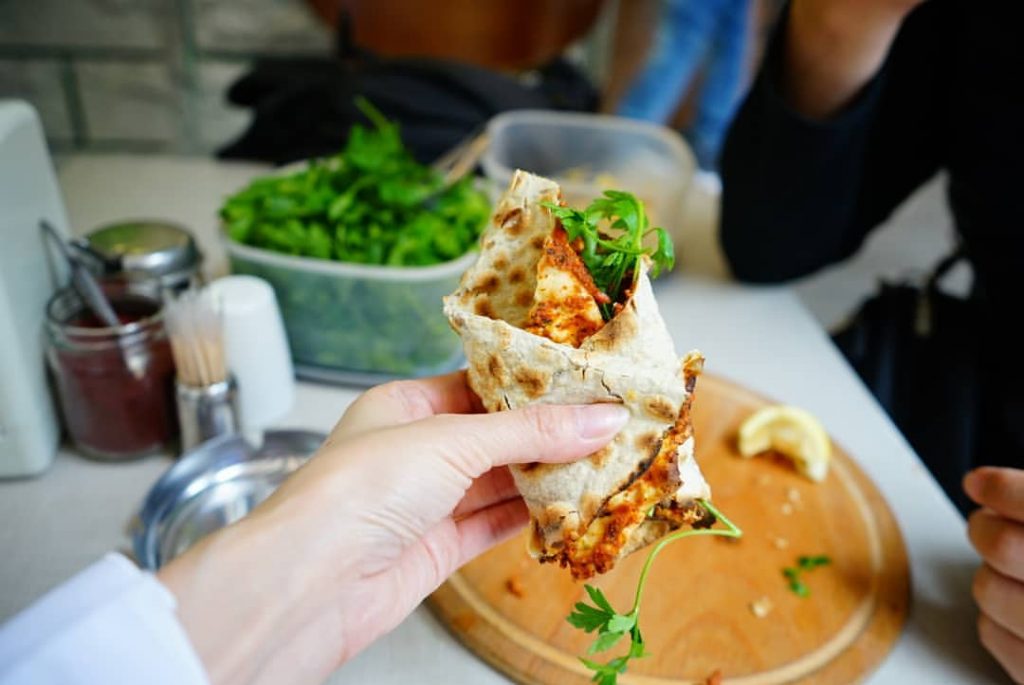 Biased opinion alert: One of my favorite food is lahmacun and I will certainly force you to try it. You MUST eat it guys.
Established in 1968 Borsam Tasfirin is a widely preferred bakery that has 3 branches in Kadikoy (the Anatolian side). The owners of the bakery assert that their lahmacun is distinguished from the rest in that they make it from special meat and a special spice (isot from Urfa which is produced by them)
Now, you have every right to ask what is lahmacun.
Well, in the simplest terms, it is a pita with minced meat and minced vegetables (pepper, tomato, parsley, onion) on it. It is not consumed alone but with a salad (you have to fill it with the salad and wrap it around the edges). But before filling it up, squeeze some lemon on it!
The best beverage to accompany it is again ayran – our national drink. But in the Eastern provinces – the region where lahmacun was originated – people generally prefer to drink turnip juice with it.
Lahmacun can also differ in style based on the region. The most known forms of it include Gaziantep, Antakya, and Urfa. The degree of hotness also changes with the region, so ask before you order if you can't tolerate hot.
Also, kunefe (a dessert made out of cheese and shredded wheat in syrup) goes really well after lahmacun. Keep that in mind as well.
If lahmacun does not appeal to you, you have many other options in terms of local food. This place is truly a gem, to be honest.
The price for 1 lahmacun, on the other hand, is 2 dollar. Cheap and filling, what more could you ask for?
Address: Caferaga, Gunesli Bahce Sk. No:22, 34710 Kadikoy/İstanbul
7 – Delicious Home Cooking to Fill Your Belly – Ulubey Manti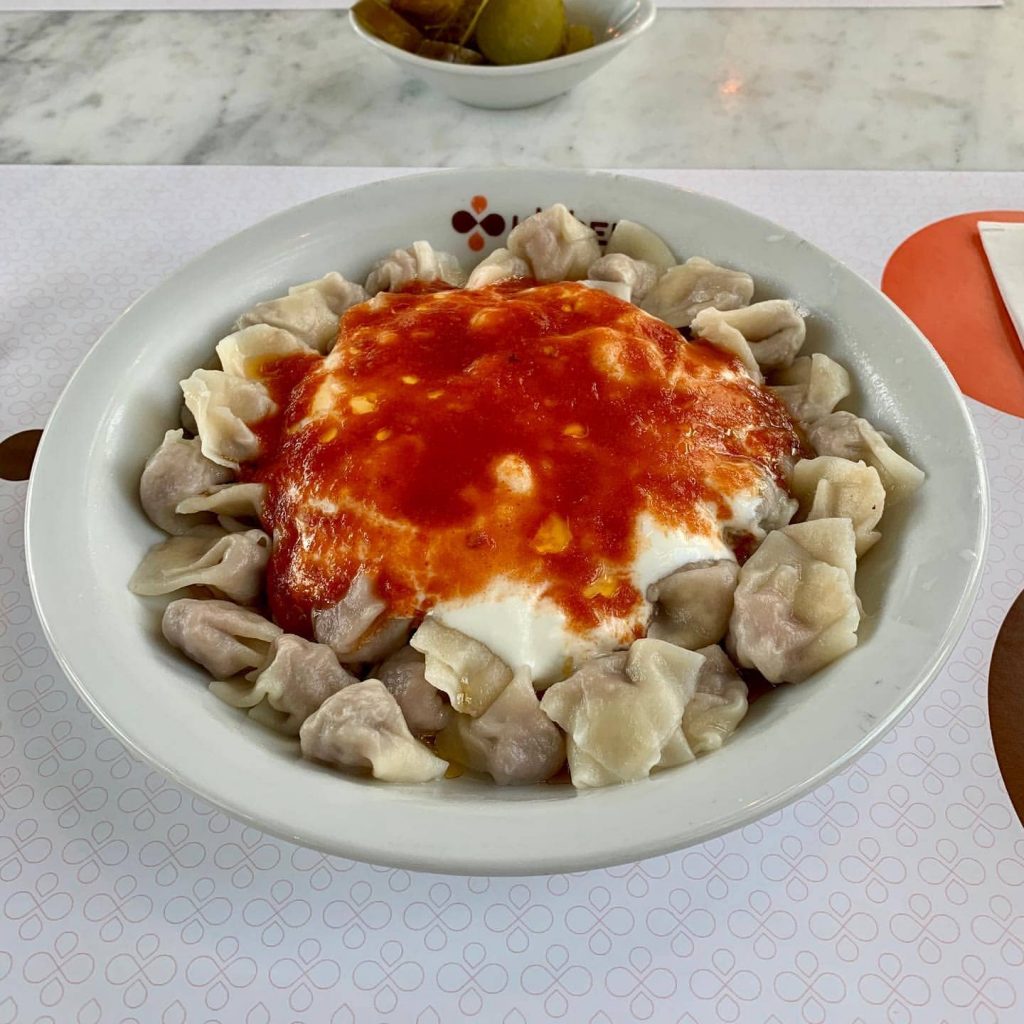 I have another jewel from Turkish cuisine to introduce to you: Manti.
Let me just spread the word here: Mantı is neither a dumpling nor a ravioli. It is basically a distinguished form of pastry filled with minced meat. This tasty food is served with a sauce of tomato paste, yogurt, and dried mint leaves. 
Yogurt on the sauce can be garlicky, so you should indicate your preference before your order.
Ulubey Manti is, without a doubt, one of the best places to try mantı. It is actually a restaurant that chiefly provides home cooking and traditional Turkish food. I especially recommend kıtır (crunchy) manti and sarma (a dish made out of vine leaves filled with seasoned rice).
The average price for 2 is roughly 14 dollars.
Address: Etiler, 120 A, Nispetiye Cd, 34337 Besiktas/Istanbul
8 – The Vegan Paradise – Zencefil
As mentioned before, Turkish cuisine is extremely vegan-friendly. I am here to introduce to you a well-known vegetarian restaurant with a lot of vegan food options as well for those of you who are interested.
Zencefil, a hot-spot in Taksim, is a restaurant that serves particularly vegetarian food. In fact, it can be the number 1 vegetarian restaurant in the whole city.
The place has a nice ambiance with indoor and outdoor dining area options. The garden is especially nice to dine in peace on summer days.
The food is amazing (especially their quiches), so are the desserts. If you ask me, I would say don't come back without eating their vegan brownie. They sold out quickly though!
The average price for 2 is rougly 22 dollars including alcohol.
Address: Sehit Muhtar, Kurabiye Sk. No:8 D:10, 34435 Beyoglu/Istanbul
9 – Food Hall – City's Nisantasi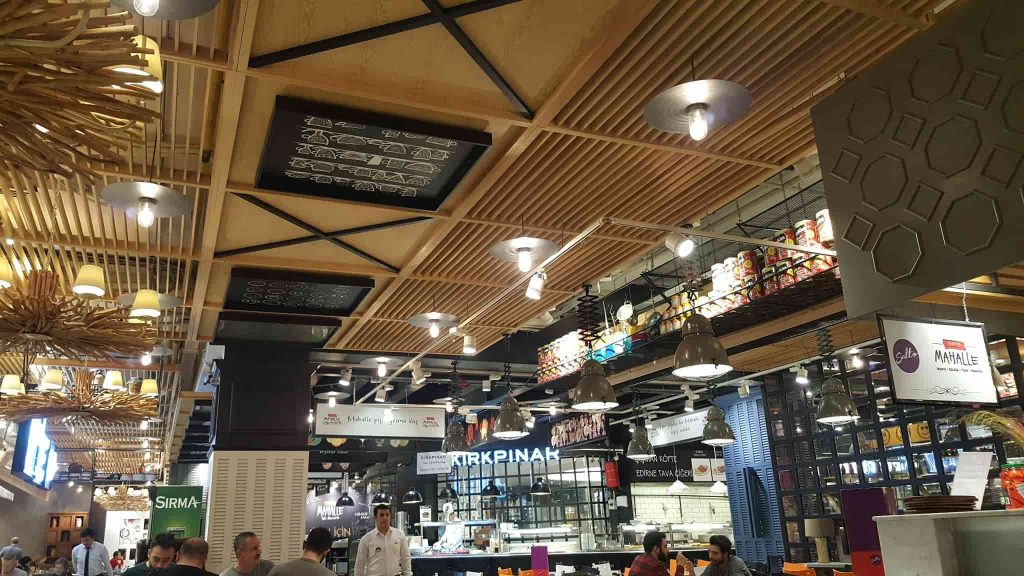 Forget everything you've just read because this option is insanely comprehensive, in fact it is more than enough. You wish for something to eat and you find it right on the spot.
Mahalle City's( mahalle means literally neighborhood in Turkish and the design of the place borrows from a neighborhood plan) is an assemblage of widely-preferred cafés and restaurants located on the top floor of shopping mall City's. 
City's is in Nisantasi, a must-visit place for everyone who visits Istanbul. Since you are likely to go there anyway, make a quick stop to have your lunch because you have a wide range of options to choose between. 
If you are craving a burger go to House of B, if you wish to have a healthy meal choose Sosa instead. You can even opt for Japanese cuisine in Wagamama. The list goes on and everything there promises satisfaction.
Depending on your choice of the restaurant the price you pay changes. Yet nothing is overpriced.
Address: Tesvikiye, Tesvikiye Cd. No:12, 34365 Sisli/Istanbul
Rest assured every choice on this list will leave you satisfied, yet, I really do recommend you try local street food rather than international cuisine. This is a gastronomic spree after all, isn't it? If you ask me, I would say go with kumpir though.