Whenever in Istanbul, but need a break from the noise and crowds of the metropolis, you only need a short ferry trip to get to the Princes' Islands, a delightful car-free archipelago in the Sea of Marmara, just a few miles off Istanbul's Asian shore.
Starting as a place of exile for dethroned Byzantine royalty, a tradition that gave the archipelago its name, at the end of the 19th century, the islands became a luxurious getaway for Istanbul's upper class, and are known for their notable residents.
Whether you decide to explore the serene island trails by foot, riding on a rented bicycle among the lush pine trees and magnolias, or prefer to mount a horse-drawn carriage through the streets lined up with historical buildings, ancient religious temples reflecting the islands multicultural heritage, and Victorian-style houses.
This oasis of tranquility will evoke in you the feeling of making your way a century back, in an Istanbul that is now gone.
Today, I will try to give you some recommendations on where to stop by to have a break after a day of sightseeing and enjoy some delicious cuisine and good service.
1 – Secret Garden Restaurant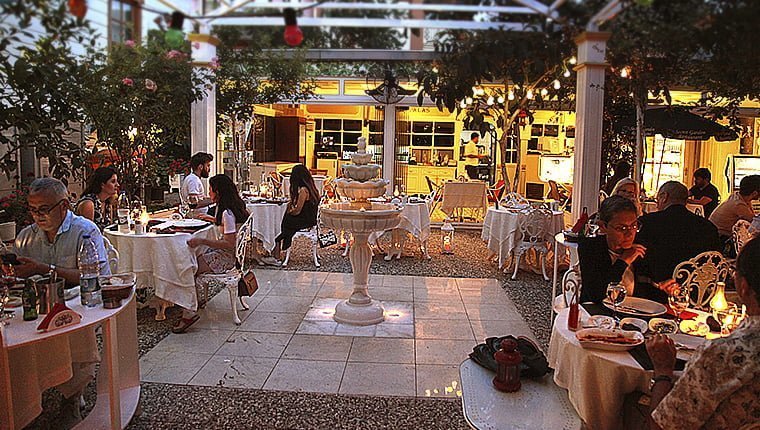 With its fresh seafood, splendorous interior, and extremely friendly staff, this restaurant, located in Büyükada, holds a special place in the hearts of many visitors, being the right choice for casual lunch, or a special night out.
The cuisine is mostly Mediterranean, along with Turkish cold appetizers, hot starters, and desserts, with lots of vegetarian-friendly, vegan and gluten-free options, and a good assortment of alcoholic beverages, domestic and imported, with prices ranging between 9-35$, a bit more expensive than other places, but definitely worthwhile.
From a personal experience, I may say that their grilled sea bass is out of this world, and all the dessert lovers may not want to skip the baklava with ice cream, a little sweet slice of paradise.
 Address: Cicekliyali Sokak No:24 Büyükada     +90 216 382 14 44
2 – Palya Restaurant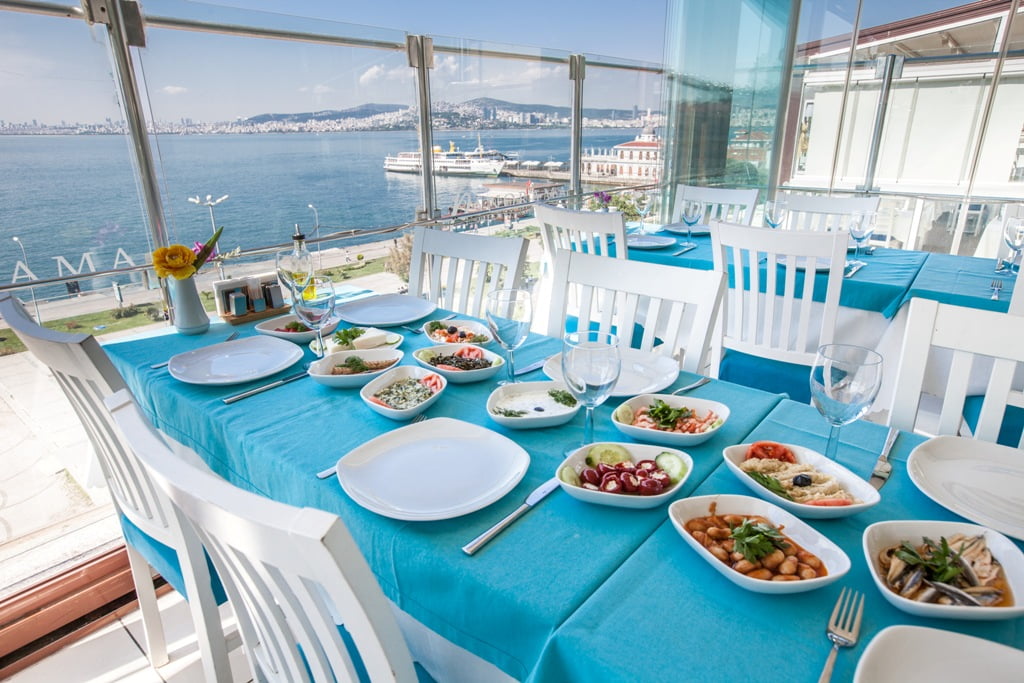 If you want to have an inexpensive enjoyable experience of delicious traditional Turkish cuisine, not far from the port, then the Palya Restaurant is the right place for you!
Situated just a hundred meters from the port, this sea overlooking restaurant offers you a gorgeous view of the sea and the shore from its terrace.
The Turkish dishes are prepared and served in a traditional way, and their appetizers are both gastronomical and aesthetical masterpiece, as the very sight promises you joy for your taste buds once you see them presented on your table. The prices are highly approachable, with most dishes being around 10$!
I personally recommend Palya Restaurant as a very family-friendly place, where the staff, as well as the owner, will treat you and your kids with a lot of care and attention.
On top of that, the end of the meal is often followed by a complementary Turkish tea or coffee, sometimes even a free dessert. In case you're around during the evening, you will be entertained by live music.
Address: 23 Nisan Caddesi, No:28 Büyükada    +90 532 633 66 34
3 – Eskibağ Teras Restaurant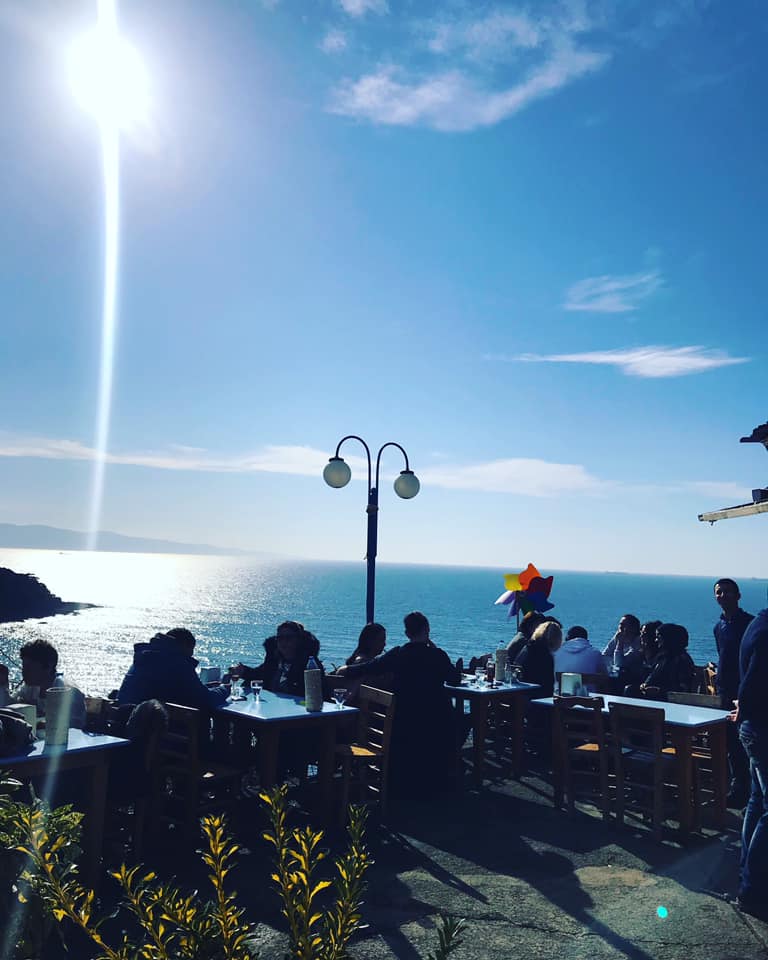 Located atop of a hill in the southwest of Büyükada island, you may need a horse carriage to take you there, as it is away from the central area, but I promise, you won't regret it!
The breathtaking panorama lying in front of you will make for a complete experience, once you've chosen from the wide variety of seafood, Mediterranean or Turkish cuisine, or from the plethora of appetizers that are displayed right behind the window, that can give you an idea for a delicious breakfast, and you can choose any of them for a reasonable price: 7-15$ for a single person.
You really wouldn't like to miss out on their grilled octopus and shrimp salad, or if you're a vegetarian, try the Turkish pancakes "Gözleme", prepared in the old way by skilled local women.
Reservation is a must in this place, especially if you're coming during the afternoon or evening rush, and in case you stayed up late, enjoying the cuisine and watching the sunset from the best view on the island, you will need a horse carriage to return you to the port, and the staff will happily arrange for one.
Address: Nizam Mah. Buyuktur Yolu No:5, Büyükada   +90 216 382 38 20
4 – Köfte and Piyaz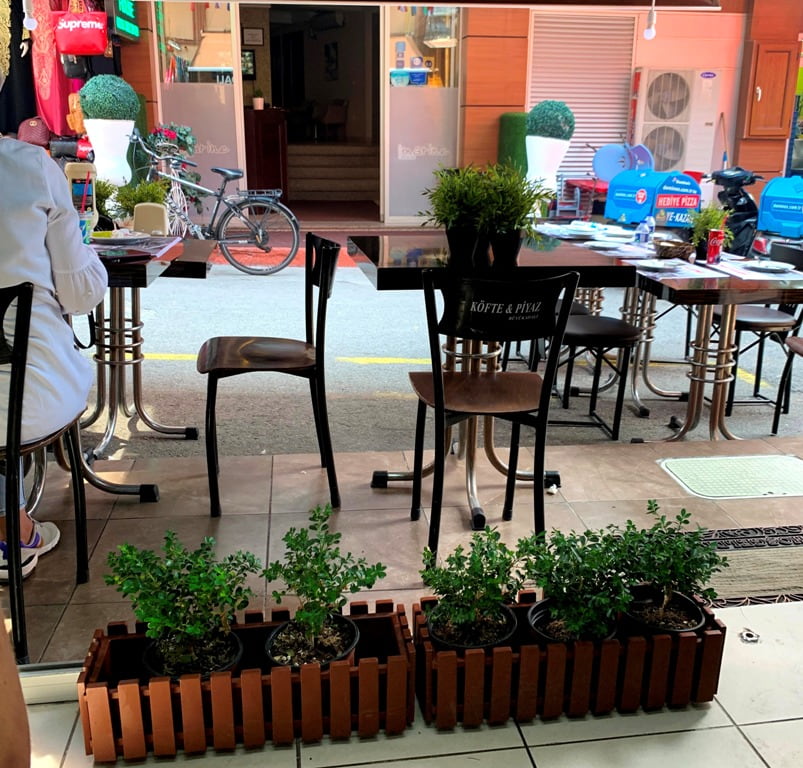 In case you want to spend more time sightseeing on the island, and simply want to have a quick, yet delicious lunch, then you might want to check out the Köfte and Piyaz Restaurant.
As the name implies, they serve pretty much only the Turkish meatballs known as "köfte" with "piyaz", a salad made of dried beans with parsley, onion, and sumac, at a very moderate price.
The place is run by two very friendly elderly gentlemen who are famed for making the juiciest and yummiest köfte on the island, which they will serve before you at a lightning speed before you are ready to continue with your tour of the island.
The restaurant itself is unimposing, situated on the side of one of the town's street, so you simply will have to look for the name, and the two friendly faces welcoming you into their restaurant with a smile.
Address: Sehit Recep Koc Cad. No: 4/B Büyüukada   382718
5 – Balikci Suleyman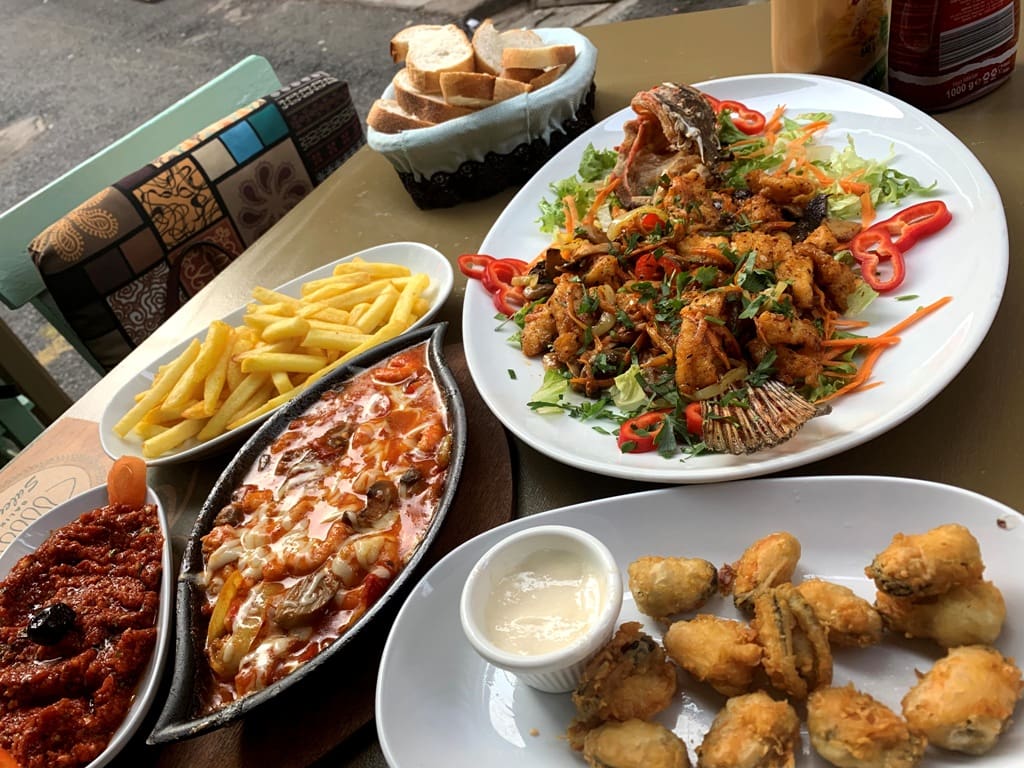 This is one more great recommendation for your favorite meal while on Büyükada, offering fresh grilled fish alongside lots of Mediterranean and Turkish dishes, with an array of vegetarian-friendly, veggie, and gluten-free options to choose from.
The fish soup and the fish meatballs are fantastic. The fried mussels in a tarator sauce, the eggplant salad, or the lettuce salad are a good point for a startup while waiting for your main course.
But why limit your gourmand pleasure to seafood only? Their rich menu includes steak, bonfile, grilled Turkish meatballs, and a variety of Turkish kebabs, like Adana or Urfa kebab, for the lovers of good barbecue.
Address: Sehit Recep Koc Cd. No:30/A Büyükada    +90 216 382 46 31
6 – Buyukada Bistro Candy Garden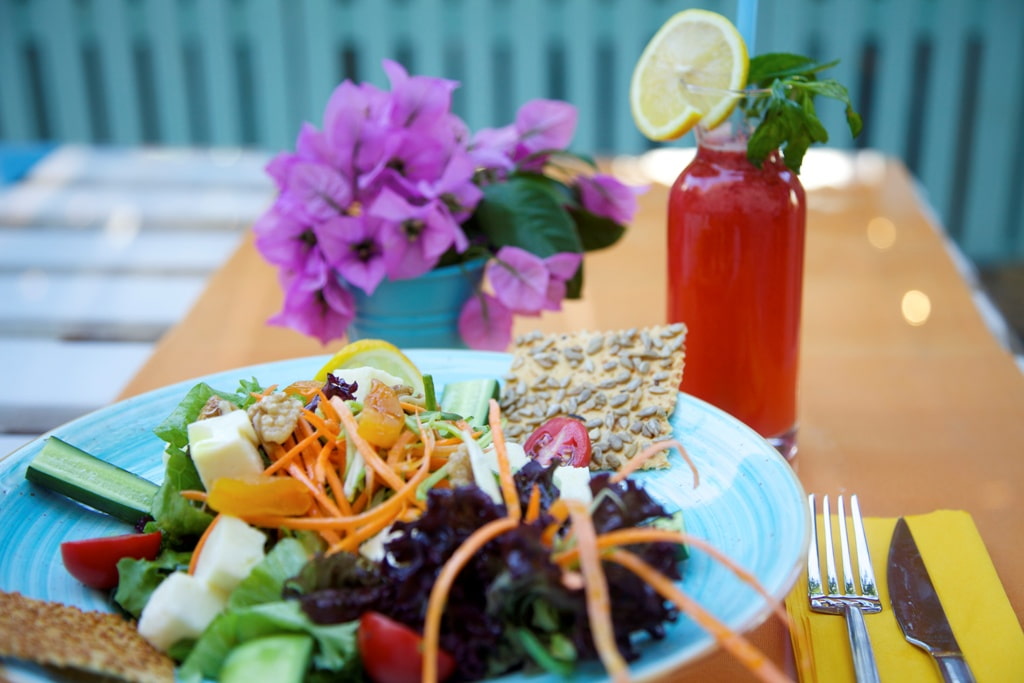 A very cozy place with a garden, this restaurant offers you a delightful experience, whether you decide to have lunch, or simply have a break over a coffee and a dessert.
The colorful and vibrant ambient of the place is felt best in summer, so if you find yourself on Büyükada at that time of the year, I suggest you visit them.
They don't serve alcohol here, but I think you will find their impeccably prepared and garnished fruit smoothies to be the tastiest ones you've ever tried.
You will love the many breakfast and appetizer plates, giving you an option regardless of your taste and preference, ingeniously prepared by a chef from Boston, USA, and swiftly served by a very attentive staff. 
A major plus is that this experience will definitely not overburden your vacation budget, as the drinks are around 1$, and some of the main dishes cost less than 5!
Address: Maden Mahallesi Oltaci Sokak No: 7 Büyükada    +90 535 646 46 86
7 – Sahil Restaurant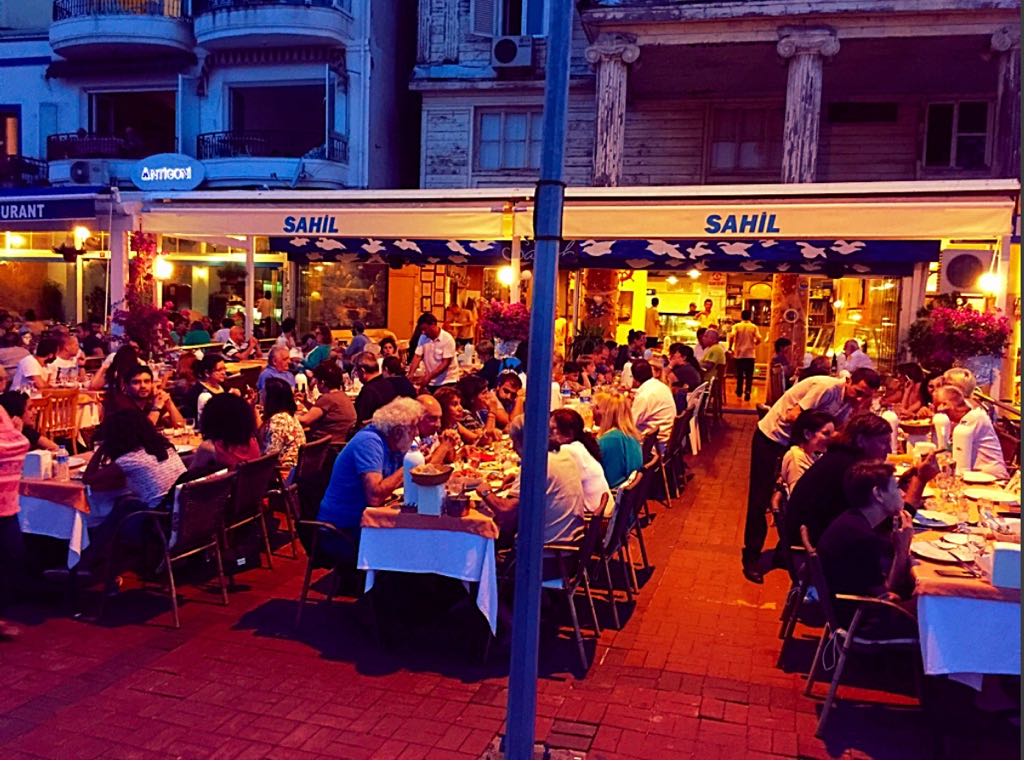 Situated in a house with classical architecture on the island of Burgazada, this is the place you don't want to miss out while here.
This is the perfect spot for your memorable dining experience. The restaurant has a terrace giving you a unique sea view, or if you prefer, you may sit on the tables outside and enjoy watching as the island life unfolds on the streets.
The restaurant has a very expansive menu, which, besides the Seafood, includes a variety of European, Turkish and Greek cuisine, with a really good list of wines you can choose from.
 The whole experience is very reasonably priced:  7-20$, and honestly said: there is a reason why this place stands out of the many other similar looking restaurants nearby.
Address: Yali Caddesi No: 2/c, Burgazada   +90 533 692 86 68
8 – Heybeliada Mavi Restaurant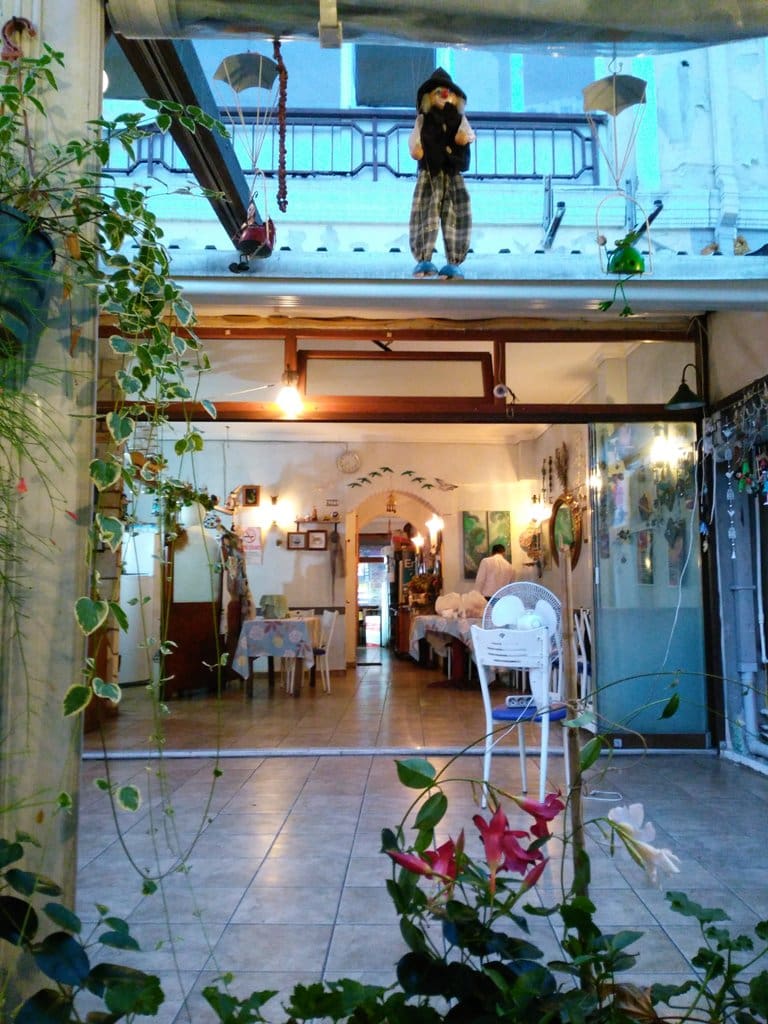 If you go to Heybeliada, the second largest island in the archipelago,  my personal suggestion is to consider this restaurant for a complete experience of this island, conveniently located just next to the ferry port.
 In this restaurant with a soft Mediterranean touch, you will find some of the best traditional taste of Turkish seafood cuisine, prepared by the owners themselves.
There are many unique mezes and fish plates. My personal favorite is their shrimp stew and the "midye sarma", stuffed mussels with spiced and herbed rice, pine nuts, and currants.
Or, if you're a veggie, then try the potato plate with artichokes. You won't be disappointed.
Address: YalI Caddesi No:29, Heybeliada    +90 216 351 01 28
9 – Cinaralti Kuyu Restaurant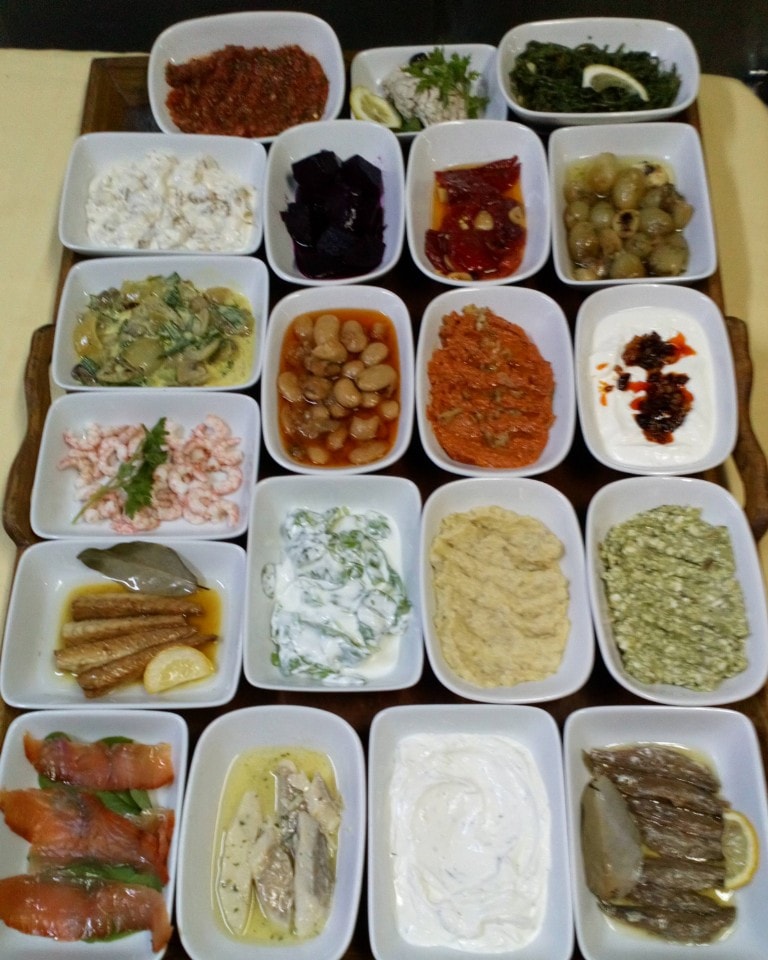 My next recommendation is on the smallest island of Kınaliada. It's not a well-known place, but, honestly, if you love some very fresh fish coupled with some authentic Turkish mezes in a relaxing atmosphere, all for a very reasonable price, then don't hesitate to go there when the road brings you to this island.
I suggest you try some of the traditional mezes with Turkish Yeni raki, for a wholesome Turkish chilling experience.
And if you're there somewhere in the morning, and trying to get an idea for a good breakfast, their Paçanga börek (rolled pastry filled with cheese, pastirma, parsley, and pepper), together with some Turkish ayran will definitely energize you for the rest of the day out!
Address:  Cinaralti Kosk Sok. No:16 Kınalıada   +90 216 381 54 07
10 – Antigoni Restaurant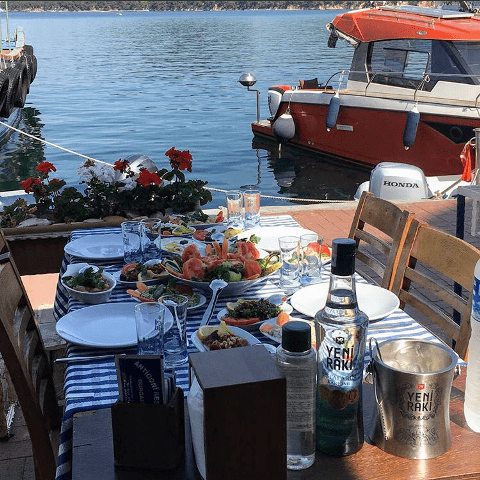 This would be the last on my list of recommendations for your possible choices for a good place to eat and have fun on the Princes' Islands, and it's on Burgazada.
Just next to the dock, it gives you the option of outdoor seating or enjoying a pleasant view on their terrace overlooking the port. Their menu, similar to other island restaurants, reflects both the Turkish and the Greek cultural heritage of the islands.
They have a fine list of good wines to go along with the delicious seafood dishes, or you may want to try it with Turkish Yeni raki with fried mussels and calamari.
Same as in other places, the fish is very fresh, and you can also order takeout.
Address: Yalı Caddesi No:4, Burgazada   +90 216 381 28 47
NOTE: I have created this list of 10 restaurants above, based on my personal experience, and reviews by my friends and family that have been there, and a number of other good places are not included, such as: By Sukru Balik, Cat Fe', Anastasia Garden&Café Restaurant, Jash Istanbul Kinaliada, and others.
 Keep in mind that some of them require reservations.
I do hope you find this list helpful so you can make your best choice when visiting the Princes' Islands.