For the ultimate carnivorous indulgence, Istanbul's top 12 steak houses are a must-visit. These beloved locales offer a mouth-watering selection of perfectly cooked steaks, providing a culinary journey that blends traditional Turkish flavours with global gastronomy. Each one is cherished for its unique dining experience, making Istanbul's steak scene unforgettable for meat lovers.
Best Steakhouse in Istanbul
1 – A Chain of Steak Houses Nusr-Et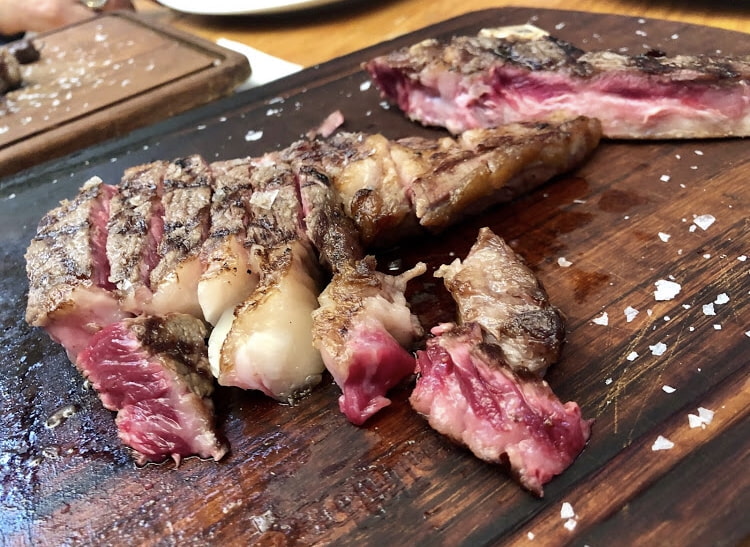 TripAdvisor rating: 4,0
Price range: $7 – $134
Not to be Captain Obvious, but I should say that if you are in Istanbul, it is good to start with Nusr-Et steak houses. Well, because their steaks are worth giving a chance, and because they are very popular in Turkey, as well as throughout the world. I think it is not only in my bucket list but in the bucket lists of many other tourists coming to Istanbul. Someone even might be lucky enough to catch the owner of the Nusr-Et restaurants – Salt Bae – and take a photo with him, which happens quite often.
Coming back to the steaks, once trying them at Nusr-Et, you will understand, why these restaurants are so popular among foreigners and local people. Excellent service and large size portions are what keep the popularity of this place. But I should also warn you about the prices, which are above average for Istanbul.
For first-time visitors, I would clarify that there are several Nusr-Et restaurants throughout the city, and I recommend visiting Nusr-Et in the İstinyepark shopping mall, as most of the other branches are located in rather touristy places and usually are overcrowded.
Address:
Nusr-Et Steakhouse Etiler – Nispetiye Caddesi, No: 87, +90 212 358 30 22;
Nusr-Et Burger Bebek – Bebek Mah., Cevdet Paşa Cad., No: 69/A – No:69/B, +90 212 265 36 36;
Nusr-Et Burger Nişantaşi – Harbiye Mah., Abdi İpekçi Caddesi, No: 57/A, +90 212 231 24 70;
Nusr-Et Burger Kanyon – Kanyon AVM, Esentepe Mah., +90 212 353 55 15 / 18;
Nusr-Et Steakhouse İstanbul İstinyepark – Pınar Mah., İstinye Park AVM, +90 212 345 58 87 / 88 / 89.
2 – Virginia Angus Burger & Steakhouse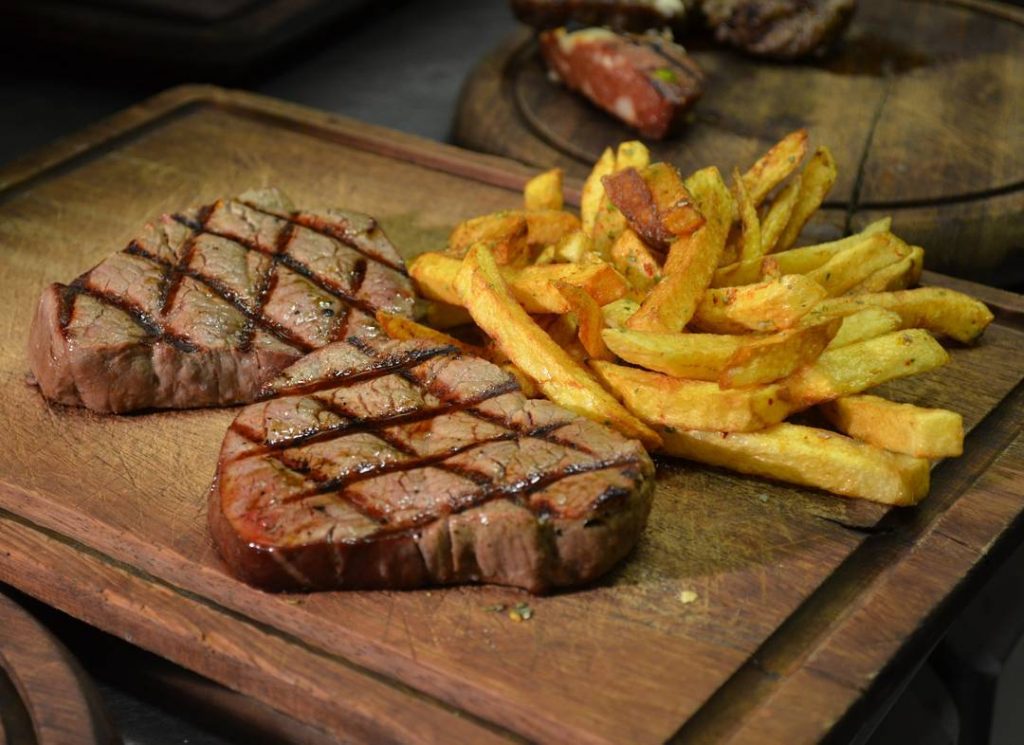 TripAdvisor rating: 4,0
Price range: $5 – $65
If recently Nusr-Et seemed to be the number one steak house in Istanbul, now it is pushed aside by other no less attractive places; and one of them is the Virginia Angus steak house chain. There you can taste a decent American steak in a cozy atmosphere, if you wish, not far from Süleymaniye Mosque, Spice Bazaar, and Eminönü Station. In total, this restaurant has three branches in Nişantaşi, Ataşehir, and Mercan (Eminönü).
Virginia Angus Mercan branch is very popular among the local population, and there is usually a queue. The steak house itself is small, so I would advise, if there is an opportunity, to choose a place inside, so that you are not disturbed by passing visitors and waiters. Although the price is small, the quality of the meat is high-grade since they use their own specially grown Angus meat for the dishes.
Address:
Mercan – Uzunçarşı cad., No: 136, +90 212 528 38 08;
Nişantaşi – Halaskargazi Mh., Valikonağı Cad., Kuyumcu İrfan Sk., No: 8, +90 212 234 15 25;
Ataşehir – Barbaros Mahallesi, Ataşehir Blv., No: 216, +90 216 688 82 88.
3 – Divella Bistro Restaurant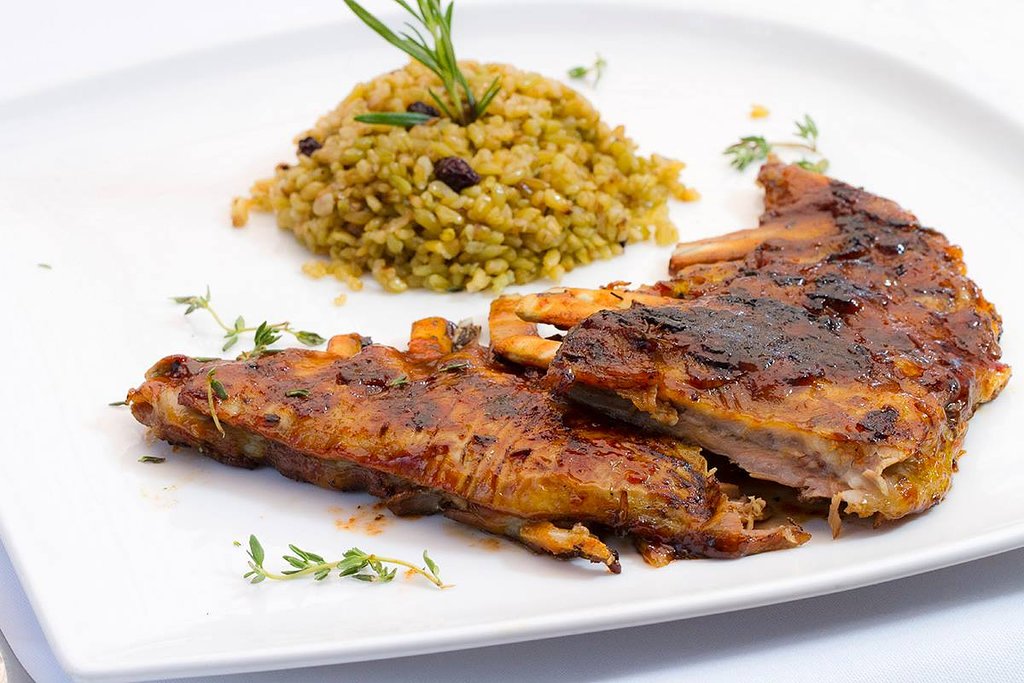 TripAdvisor rating: 5,0
Price range: $9 – $52
For those who come to Istanbul for a short time and seek to get acquainted with the historical sights first and, at the same time, enjoy a good steak in a cozy atmospheric restaurant, I strongly advise visiting Divella Bistro Restaurant. The restaurant is located close to all the excursion places of Istanbul – Blue Mosque, Hagia Sophia, Basilica Cistern, Gülhane Park, and Topkapı Palace. Besides, Divella Bistro Restaurant has a real high rating among other restaurants in Istanbul (TripAdvisor).
I should remind you that usually in tourist places the prices are much higher than in other less crowded ones, and Divella Bistro Restaurant is not an exception. However, for this price, you get amazing steaks cooked according to traditional recipes in a spacious place and save your valuable time.
Address:
Cankurtaran Mah., Akbıyık Cad., Adliye sok. No: 11/A, +90 531 985 66 21.
4 – Beso Restaurant Bistro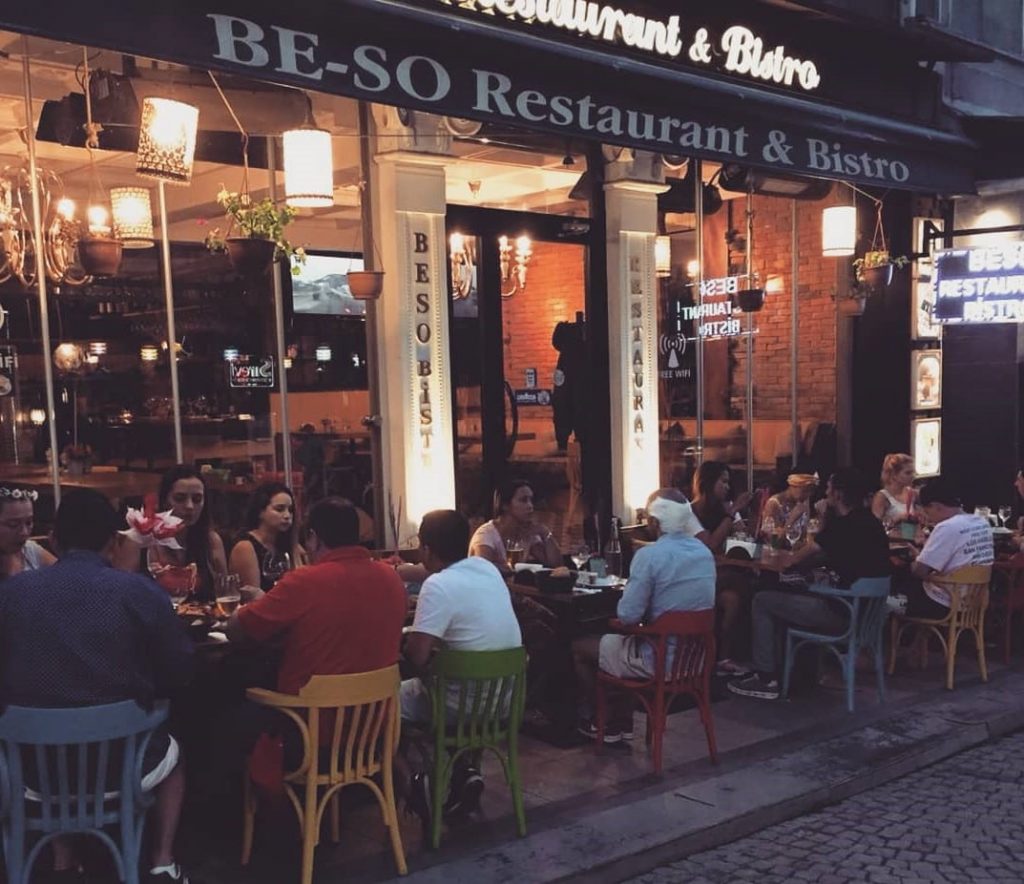 TripAdvisor rating: 5,0
Price range: $4 – $55
I would recommend Beso Restaurant Bistro in case you look for a place where you can eat a tasty steak for a reasonable moderate price and find a typical Instagram location for making colorful photos. Beso Restaurant Bistro is an extraordinary place with a unique eclectic design – a mixture of loft and traditional style elements.
And again, if you are coming to Istanbul for a few days and want to stroll around the Sultanahmet district, then this place is ideal for you as it locates within walking distance from Hagia Sophia and the Blue Mosque. All in all, I would advise this place to young/student tourists as free in spirit as the design of this restaurant.
Address:
Alemdar Mah., Catal Cesme Sokak No: 5, +90 212 526 46 46.
5 – Günaydın Kasap Steak House
TripAdvisor rating: 4,5
Price range: $25 – $135
The next steak house that you should visit if you are in search of a delicious and aromatic high-quality steak is Günaydın Kasap Steak House. And despite the name, which in Turkish means "good morning", you are welcome to visit it in the evening making a reservation.
In general, Günaydın Kasap Steak House is a chain of old elite restaurants throughout Istanbul, having its branches in Ankara, Antalya, and Dubai. I recommend you try any of their meat dishes without a doubt. Just to remind you that prices in these restaurants are high enough: but you know that you are paying for a slice of excellent first-class meat grown on special private farms in Southeast Anatolia. Besides, their recipes and traditions of cooking have not changed since 1965.
Address:
Suadiye Mah., Bağdat Cad., No: 399 – 1B Kadiköy, +90 216 519 99 15;
Nispetiye Cad., Seheryıldızı Sk., No: 15/A Etiler, +90 212 265 52 52;
Şenlikköy Mah., Halkalı Akvaryum Avm Zemin, Florya Bakırköy, +90 212 663 01 03;
İstinyepark AVM, Pınar Mah., İstinye Bayırı Caddesi P 016, +90 212 345 57 81;
Fenerbahçe Mah., Münir Nurettin Selçuk Caddesi., No: 40/1, +90 216 348 23 36;
Swissotel The Bosphorus, Bayıldım Cad., No: 2, Maçka Beşiktaş, +90 212 258 12 03;
Zorlu Center AVM, Meydan Katı No: 2, +90 212 353 62 50.
6 – Butcha Steakhouse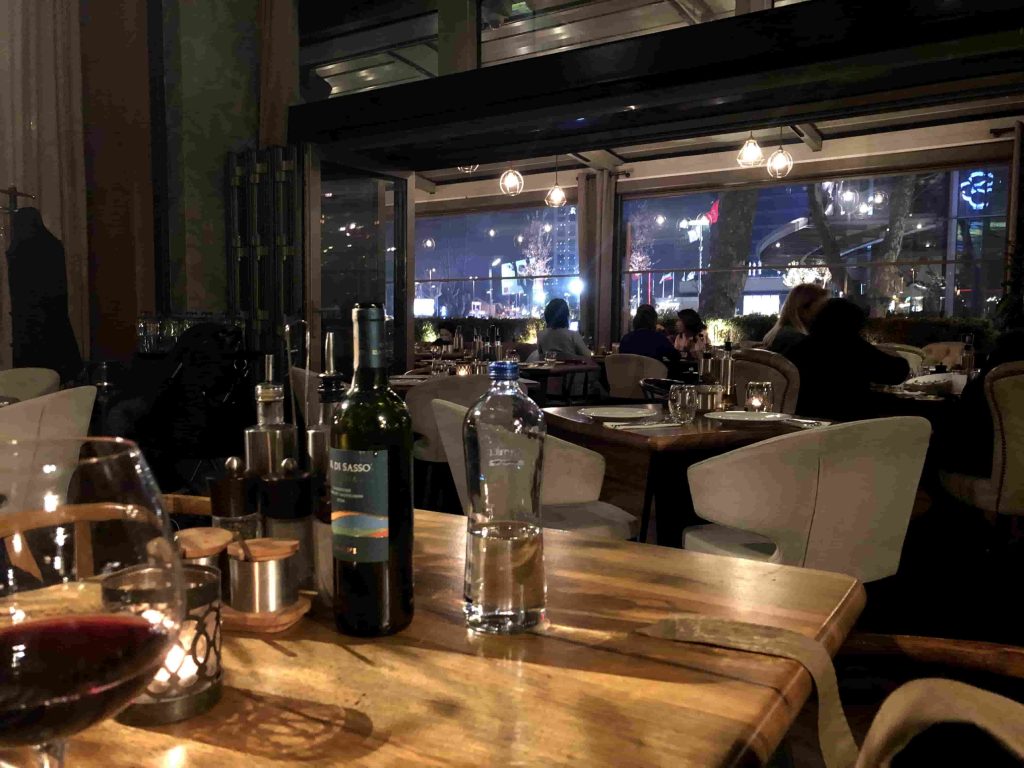 TripAdvisor rating: 4,5
Price range: $8 – $120
I advise visiting Butcha Steakhouse to people, who prefer the atmosphere of the modern city, as it is located in the business area of Levent metro station, near the Özdilek, Metrocity, and Kanyon shopping malls. It is also not far from the Ortaköy area where you can enjoy stunning evening views on the Ortaköy Mosque and 15 July Martyrs Bridge, known as the Bosphorus Bridge.
The price for steaks, as well as for other meat dishes, is reasonable and acceptable for Istanbul. Personally, along with the cuisine, I am attracted by the location of the Butcha Steakhouse as it appears convenient for shopping as well. Besides, the restaurant won the Travelers' Choice Award 2020, according to TripAdvisor. I recommend trying their filet mignon and ribeye medium-well, which is, definitely, worth the money spent.
Address:
Eski Buyukdere Cd., No: 187, Sisli, Park Dedeman Levent Hotel, + 90 212 939 01 91.
7 – Taksim Steakhouse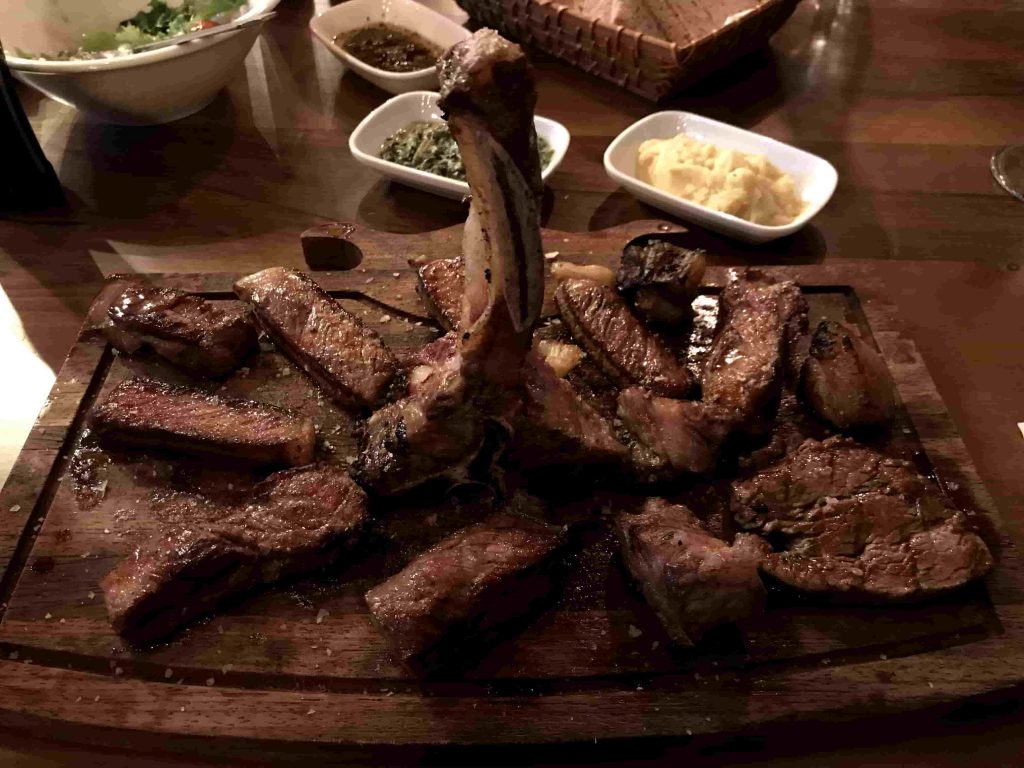 TripAdvisor rating: 4,5
Price range: $3 – $43
Another steak house that I recommend visiting in Istanbul is the Taksim Steakhouse, which is so conveniently located near the well-known Taksim square. Together with Istiklal Street, it is one of the most frequently visited places in the city.
I heartily recommend trying the tenderloin steak, which is cooked perfectly. Besides, while waiting for your order, you can see how they are being prepared. Serving is also quite sophisticated: when serving, the chef and waiters prepare a whole fire show for you.
In addition, Taksim Steakhouse has a very cozy and spacious design, with a beautiful view from the windows.
Address:
Siraselviler Caddesi, No: 10, Taksim, Beyoglu, BVS Lush Hotel, No: 13, + 90 212 245 12 12.
8 – Boğa Kasap Steakhouse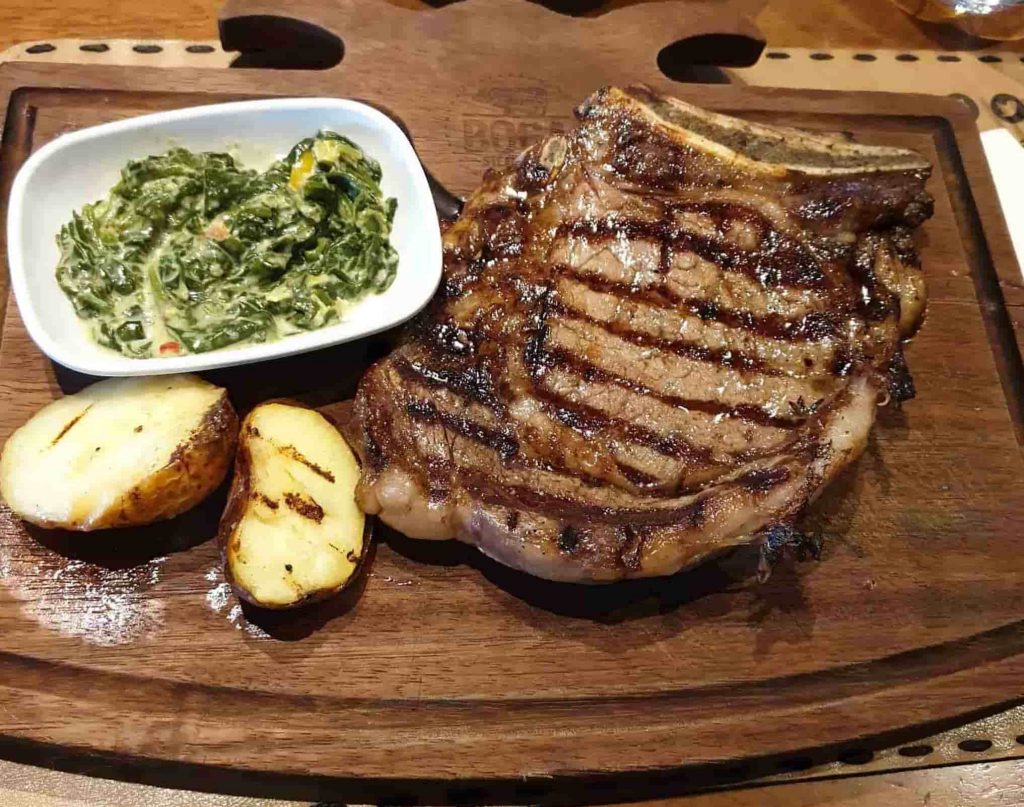 TripAdvisor rating: 4,5
Price range: $4 – $95
Boğa Kasap Steakhouse is a restaurant where you can find high-quality meat and try unforgettably delicious steaks. Like most other steak houses in Turkey, Boğa Kasap Steakhouse has a butcher shop, so you may not only enjoy your perfectly cooked steak but also get the freshest meat to go.
This steak house is not as famous as the previous ones, but I recommended it for its good cuisine and reasonable prices. If you suddenly decide to visit the Miniaturk Museum, be sure to have a look at Boğa Kasap Steakhouse (to reach the steak house you need to take a bus).
Address:
Gursel Mah., Imrahor Caddesi No: 19, Kagithane, +90 212 295 11 50.
9 – Elbet Steakhouse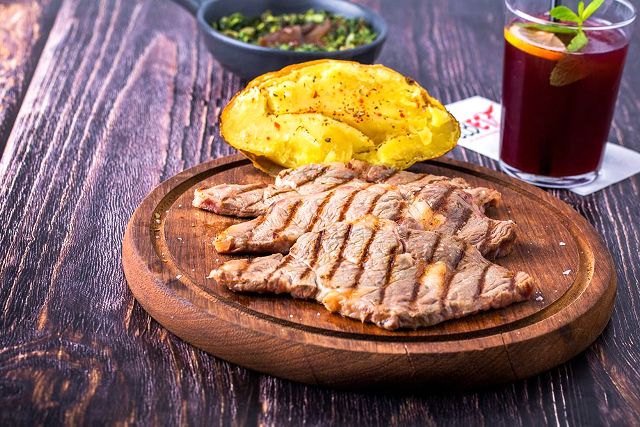 TripAdvisor rating: 4,0
Price range: $40 – $150
Another restaurant that I would recommend not only to guests of Istanbul but also to permanent residents is the Elbet Steakhouse. It is located near the business area of Istanbul, in Akatlar, Beşiktaş. This place is hidden from most tourists, but I should say it is worth a visit. I advise this place to more advanced travelers, passing it on the way from the Rumelihisarı to other sights of Istanbul, for example, to Ortaköy.
Although Elbet Steakhouse is more popular among local people, the restaurant won TripAdvisor's Travelers' Choice Award 2020. On a personal note, I would suggest you try the perfect Dallas steak served in a rather large portion with a side of French fries.
Address:
Akatlar Mah., Zeytinoğlu Caddesi, Yaren Sokak, No: 6/21 Beşiktaş, +90 212 351 03 44.
10 – Byzantion Bistro & Restaurant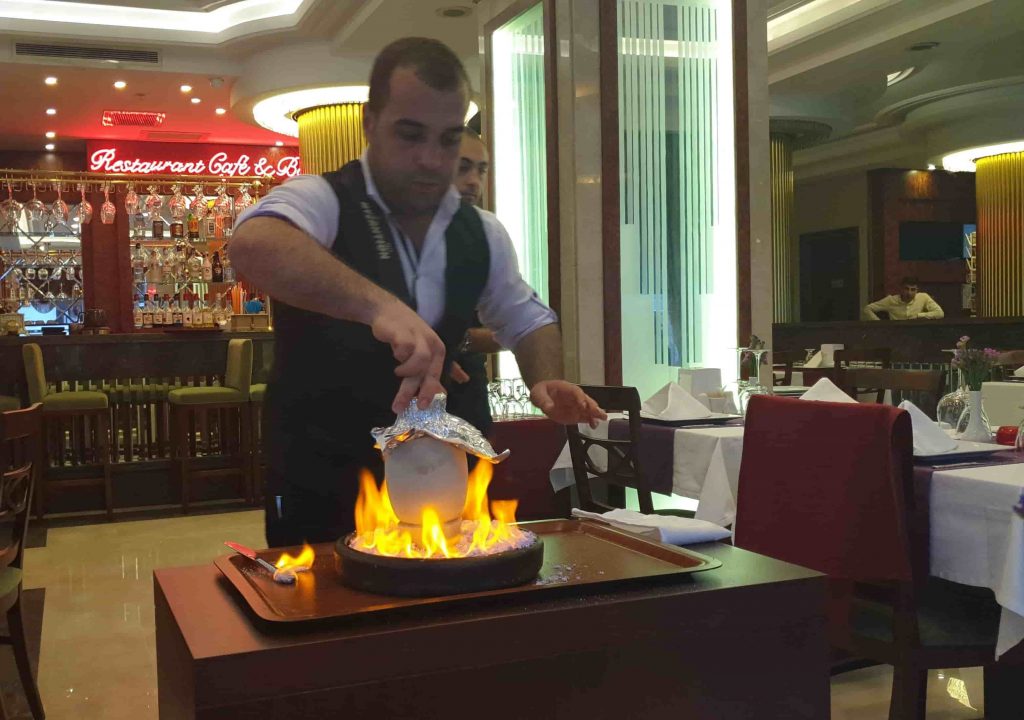 TripAdvisor rating: 5,0
Price range: $7 – $60
Another restaurant on the territory of a hotel that I recommend considering as an option for your next stay in Istanbul is Byzantion Bistro & Restaurant. It is located in the tourist shopping area of ​​Laleli near the historical center of the city – Sultanahmet district.
The cuisine of the Byzantion Bistro & Restaurant has a good variety of meat, but I advise you to pay more attention to the steaks. Steaks here are cooked using fresh selected meat, which, overall, complements the excellent service of the restaurant and medieval atmosphere. The prices here are quite reasonable, taking into account the location of this place.
Address:
Ordu Caddesi, Yesil Tulumba Sok., No. 9/1 Laleli, +90 212 522 74 96.
11 – Kasabım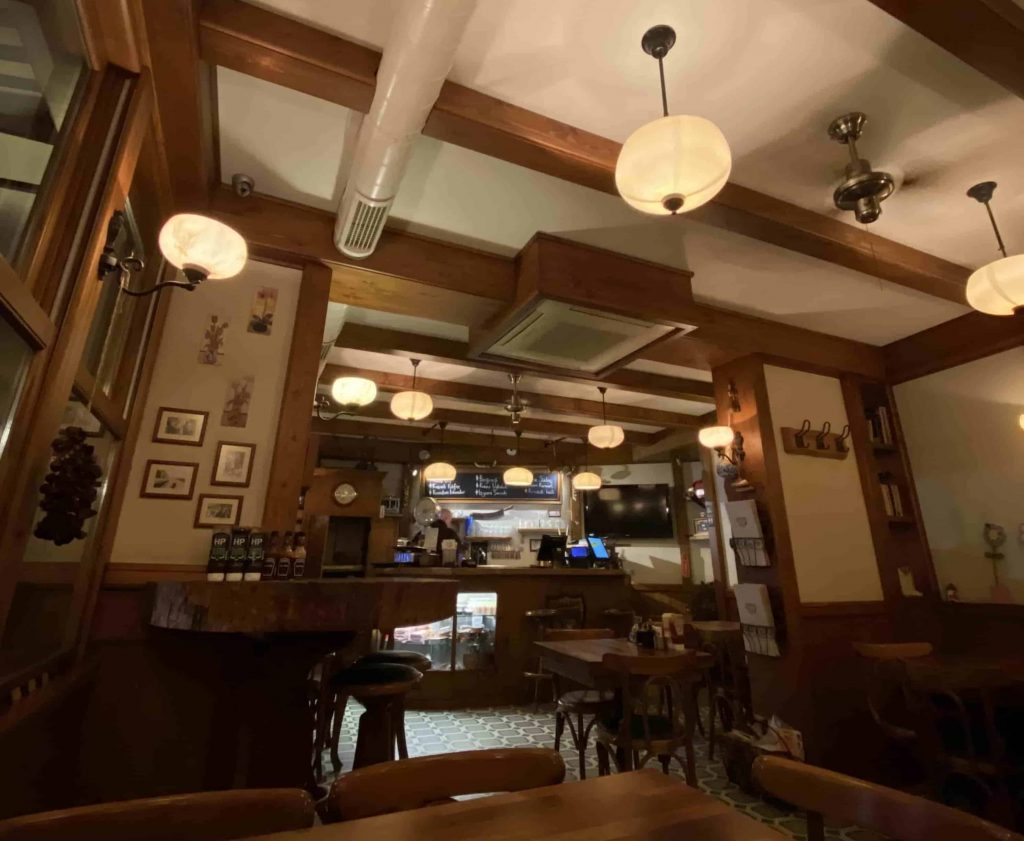 TripAdvisor rating: 4,0
Price range: $3 – $65
Kasabım is located in the very center of the European side of the city, close to the Galata Tower. But, at the same time, this place is very cozy and is hidden from the crowds of tourists of the Karaköy district. This steak house and a butcher is a homely corner from the hustle and bustle of a busy area.
I recommend Kasabım, first of all, because of its excellent steaks and, secondly, its decent quick service. This restaurant is suitable for tourists who are tired of the noise and who need to relax without waiting and wasting their time.
Besides, the design of this place is just right for lovers of plain old architecture and elegance. Dishes there are prepared from the best variety of meat and following the old recipes. Moreover, the selection of steaks at Kasabım is abundant and original; there are a lot of other meat choices as well. Prices are not expensive, and the location is convenient for tourists.
Address:
Simsirci Sokak, No: 4, Beyoglu, +90 212 251 25 75.
12 – BySteak Steakhouse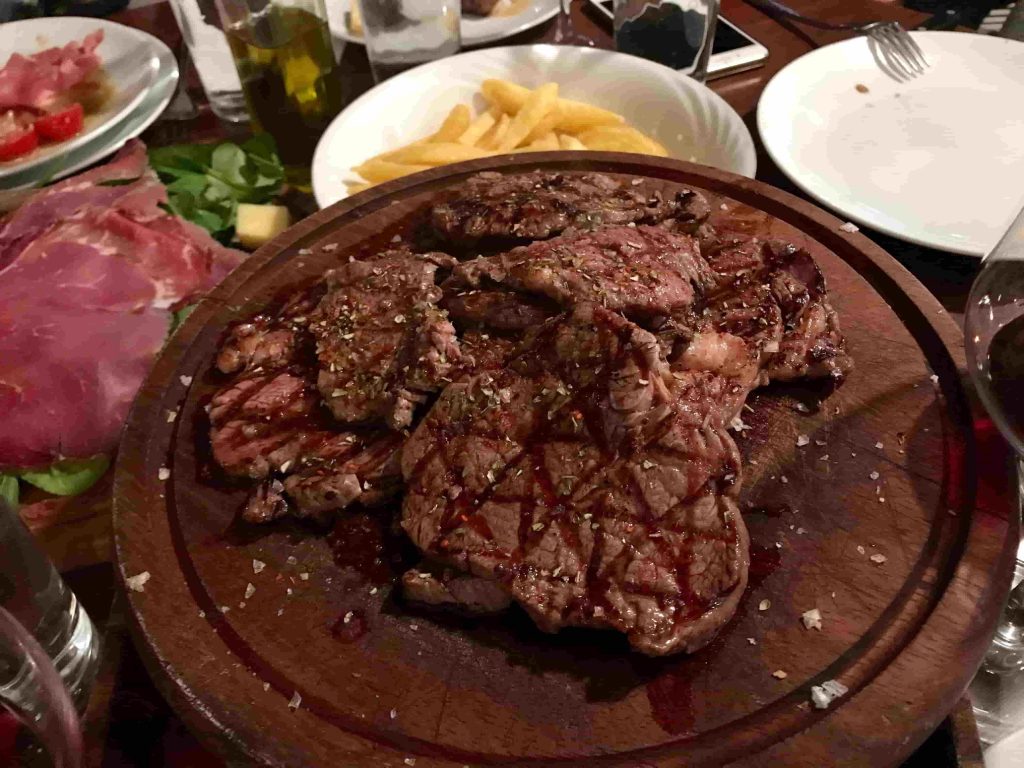 TripAdvisor rating: 4,5
Price range: $5 – $57
Another steak house, which is the last on the list but not the least, considering the quality of meat and taste of steaks served, is BySteak Steakhouse. It is rather well-known among the local population, but I would also recommend this restaurant to advanced tourists and those travelers, who know that in April, in Istanbul, begins the tulip season. If you ask me about the best place, where you can enjoy the beauty of blossoming tulips, I would say that it is Emirgan Park. Fortunately enough, you can find BySteak Steakhouse there as well.
Within walking distance from BySteak Steakhouse, there is a Museum of Art named after Sakip Sabancı, a famous Turkish philanthropist, Japanese Garden, and Emirgan seaside, where you can enjoy the beautiful views of the European coast of the Bosphorus.
I sincerely advise you to visit this "hidden gem", to take a chance and, after all, not to regret it. Prices at BySteak Steakhouse are reasonable for Istanbul, and their steaks are worth tasting.
Address:
Resitpasa Mah., Doganevler Caddesi, No: 68, +90 212 323 59 14.
Enjoy your time in Istanbul, a beautiful city with a good selection of steak houses.