Since Istanbul is a megapolis with about 20 million population, you can find any kind of food and restaurants of different cuisines, such as Arabic, Japanese, Chinese, Italian, French, and others.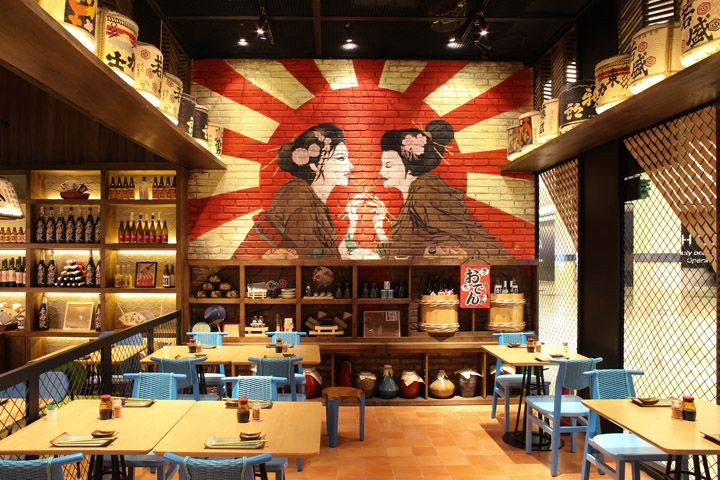 Sushi restaurants are one of those that draw the attention of both locals and foreigners. However, it is important to find out a good, fresh, clean, and delicious place to eat in. In this post, we will try to collect the best and the most recommended sushi restaurants for you in Istanbul.
1. Sushi Palace of Istanbul – Zuma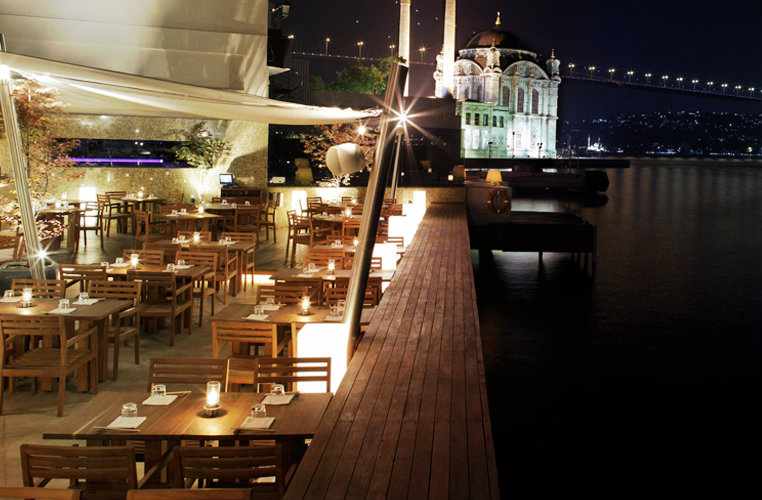 Zuma is a Japanese restaurant with an elegant atmosphere, luxurious ambiance, and delicious Japanese dishes and Sushi. Alongside with the Open Kitchen, Sushi Bar and the Robata Grill are in separate places. You will taste the best of Japanese food culture in this exotic restaurant with nice music and decoration.
At the weekends, it can get more crowded, therefore you can make a reservation before going. Alongside Sushi, cocktails, desserts, and whiskey are also recommended to taste. Spicy beef tenderloin, salmon teriyaki, nigiri sushi, and maki rolls are also delicious.
The staff is very friendly, well-groomed and trained. Do not forget to reserve in advance if you want a place with a view. Enjoy your time and food with your family and friends with one of the best Istanbul and Bosphorus views.
Address: Istinye Park, N461, Istanbul.
Phone: +90 212 236 22 96
2. The atmosphere of Japan – Itsumi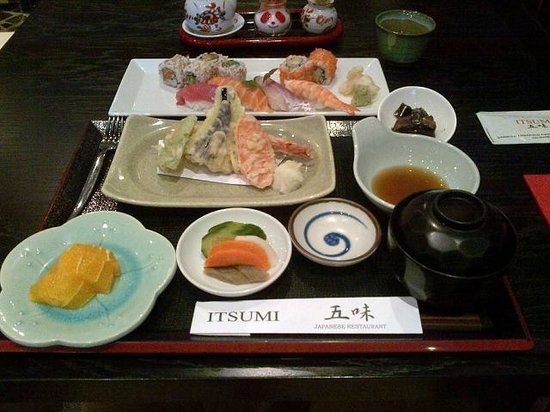 Itsumi is one of the most recommended restaurants as it is more budget-friendly with quality and delicious food. It is located on the ground floor of one of the highest skyscrapers of Istanbul, Iş Kuleleri. With many types of Sushi, other Asian food such as Tempura, Sashimi, Oishi, miso soup, and Japanese beer to drink.
The service is good and you can prefer to eat your dinner at Itsumi before visiting the concert at Is Sanat. A concert hall is also located on the ground floor. It has an exotic and mysterious atmosphere where you will enjoy your dinner.
Address: 4.Levent, Is Kuleleri 2, N43, Levent, Beşiktaş, İstanbul

3. The Address of Mussel Maki – Ioki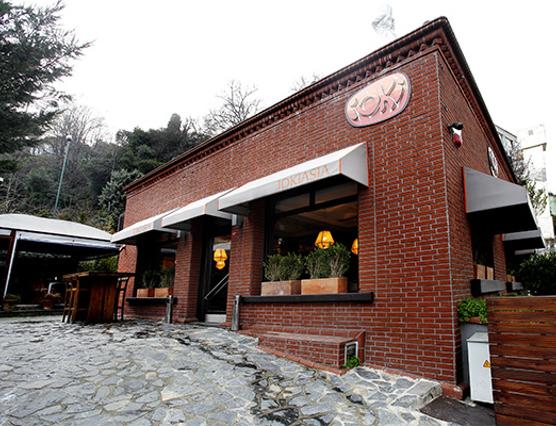 Ioki Restaurant located in Uskudar has got a great ambiance with tasty food. Service is in high standards. You must try this restaurant if you are a fan of authentic Asian food. El sashimi and Mussel Maki are among the most recommended with different types of sushi.
The restaurant has also got the second floor with a great view. You can enjoy your food upstairs with Kandilli/Uskudar view. As for the sushi, you can taste California roll, Philadelphia roll, Tiger roll, Dragon roll, Lava roll, and Gyoza which are fantastic in this restaurant.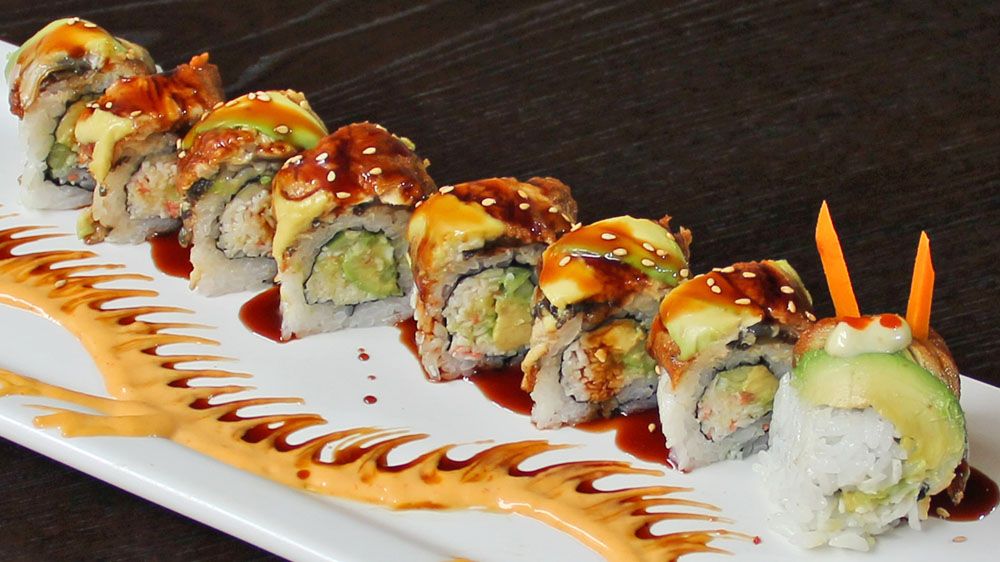 This place is rated as the best Asian restaurant on the Asian side of Istanbul. You can also have birthday dinners and celebrate your special days in an exotic atmosphere.
Address: Kandilli District, Kandilli Street 11/A, Uskudar, Istanbul, Turkey
Phone: +90 216 202 20 22
4. The Best Istanbul View – Cloud 34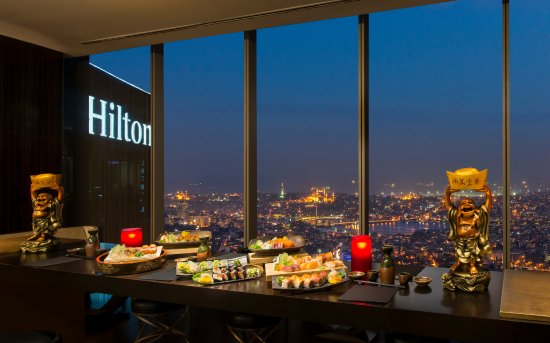 Cloud 34 has a great Istanbul view and Bosphorus from its big window. There is live music in the evenings where you can enjoy your dinner. Cloud 34 is also recommended to spend the New Year and other special days.
Cocktails, bar, food, and service are five stars in this restaurant, although it is a little pricy. Lobster truffle roll is recommended to taste. The menu is limited with some sorts of sushi, you might not find your favorite rolls species. However, it is worth to feel the perfect ambiance and Istanbul view.
It is also located in a comfortable place to find. They have a good collection of drinks that you can enjoy with your sushi.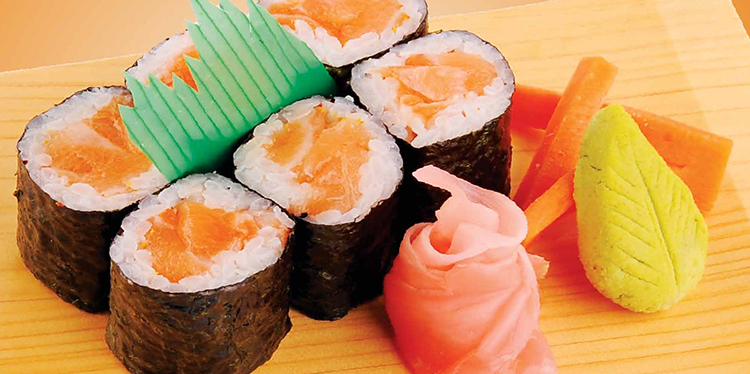 Address: Silahshor Avenue 42, Bomonti, Shishli, Bomonti Hotel, Istanbul
Phone: +90 212 375 30 00
5. The Address of Hot Rolls – Inari Omakase
It has a great sea view with attentive staff, good service, and relatively high prices. You can taste corn tempura, fried popcorns, shrimps, and the prawns with black garlic. The restaurant is generally full and you might need a reservation before visiting. Hot rolls are also among the most recommended sushi types.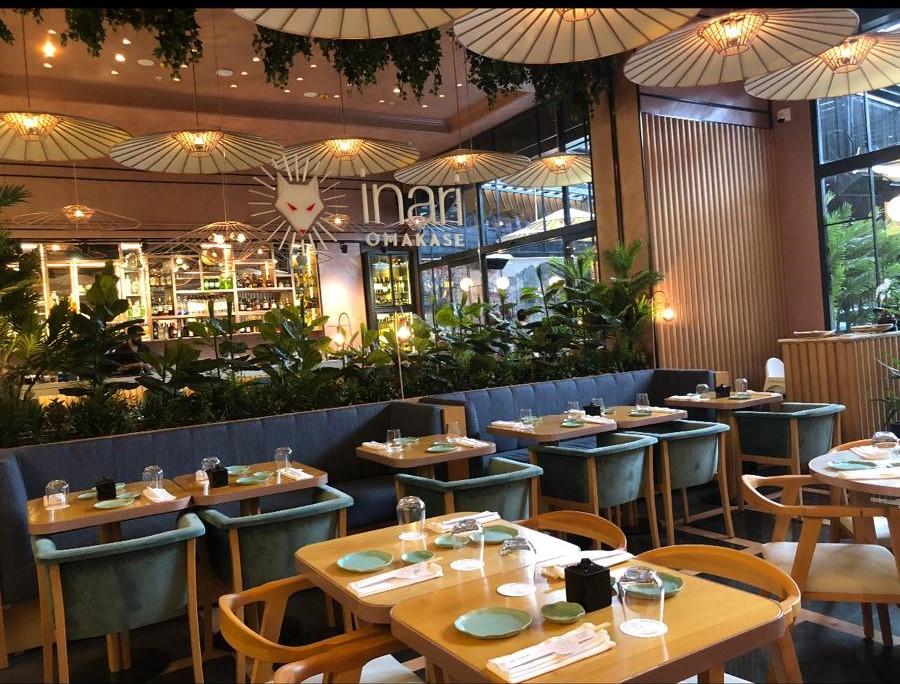 Fish is always fresh here, you can prove it by ordering salmon sashimi. During lunch and dinner time, it can get more crowded. Still, the atmosphere and interior design are relaxing.
As for the sushi types, try spicy salmon rolls and truffle salmon maki are the most recommended and delicious ones. The tables are small in many sushi restaurants, but they will be compensated with delicious food.
Address: Kurucheshme Avenue 11, Istanbul, Turkey
Phone: +90 212 265 96 01
6. Enjoy the Bosphorus view – Kiss the Frog
It is a mixed restaurant which serves both Italian and Japanese food. You can even find kebaps and Mediterranean food. The restaurant is open from 12 pm to 2 am at night. They also have a great sea view of the Bosphorus and the second bridge.
The restaurant menu is limited to some sushi types and fresh fish in terms of Asian food, still, they are one of the best in the city. Service is good, food is always fresh and high quality. You can prefer sitting outside in warmer weather conditions where you will enjoy a calmer atmosphere.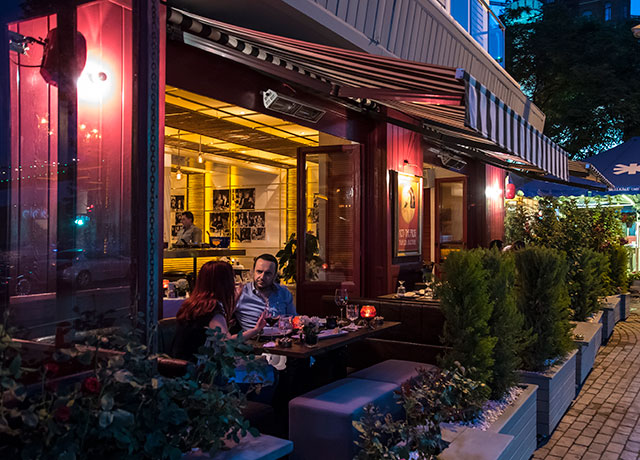 You can prefer this restaurant to celebrate birthdays and your special days with your family and friends. Oyster, Lobster, sushi rolls, and Mediterranean food is highly recommended.
Address: Rumeli Hisari, Yahya Kemal Avenue 4, Sariyer, Istanbul
Phone: +90 212 287 73 20
7. The Address of Tuna Rolls – Udonya Restaurant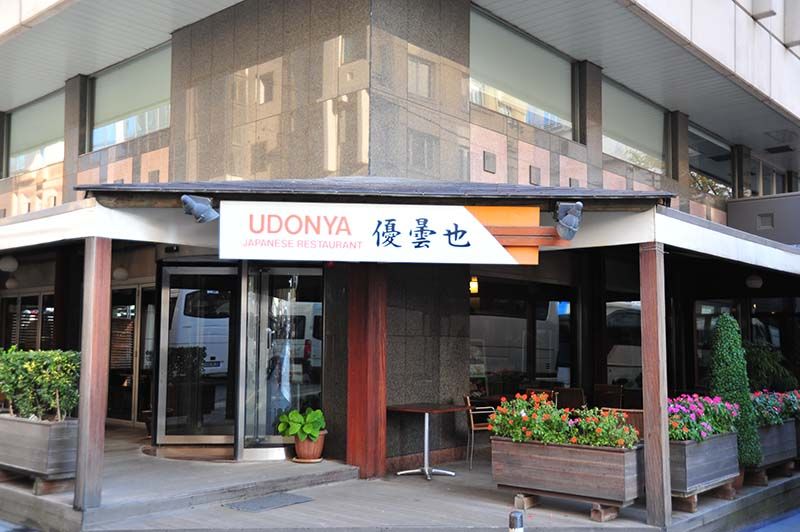 Udonya Restaurant is located near Taksim square very close to Airport Bus Terminal. Prices are reasonable and the place is in a quiet area as it is located inside the hotel. You can also enjoy the sea view from the restaurant.
Tuna rolls are the most recommended among other sushi types. Miso ramen, Saba, Udon broth, octopus (Takoyaki), gyoza, chicken katsudon, and Kinnpira are delicious dishes, as well. Their menu is not that rich but includes the basics of Japanese cuisine with high quality. The portions are big enough.
The staff is very friendly, helpful and the service is adequate. Udonya Restaurants is also a favorite place of vegetarian sushi lovers since they have several types of rolls for them.
As it is located inside a hotel, it has limited working hours. Therefore you can call and reserve before visiting.
Address: Kocatepe District, Topcu Street 2, Beyoglu, Point Hotel, Istanbul
Phone: +90 212 256 93 18
8. Taste Maki and Sashimi at Maromi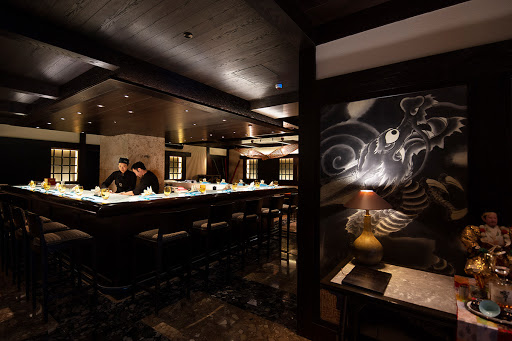 Maromi is located in the lobby of the Divan Hotel in Taksim with its Japanese chefs. All sushi types, maki, and sashimi that they offer are delicious and high quality. You will also enjoy an old, classic, chic, and small hotel where the restaurant is located.
There is sushi nights once a week where you can enjoy limitless sushi. You can ask and reserve before visiting. Nigiri tempura, shrimps, and cocktails are also recommended. The restaurant is always clean with friendly staff and a relaxing atmosphere.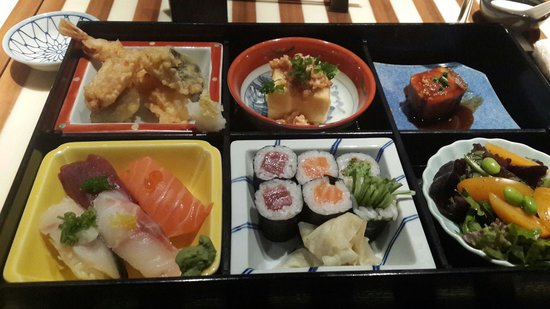 Address: Elmadag Avenue, Taksim, Divan Hotel, Istanbul
Phone: +90 212 315 56 18
9. Delicious Tempura at Miyabi Sushi
It is located in a hidden small street of a residential area in Etiler, still it is regarded as one of the best sushi restaurants in Istanbul. The rainbow salad, black tiger shrimp, teppanyaki, and tempura are one of the most recommended.
It can get crowded at the weekends, as it is very popular among local residents. You can see people celebrating their birthdays and special days. The ingredients are fresh and prime quality. Staff is friendly.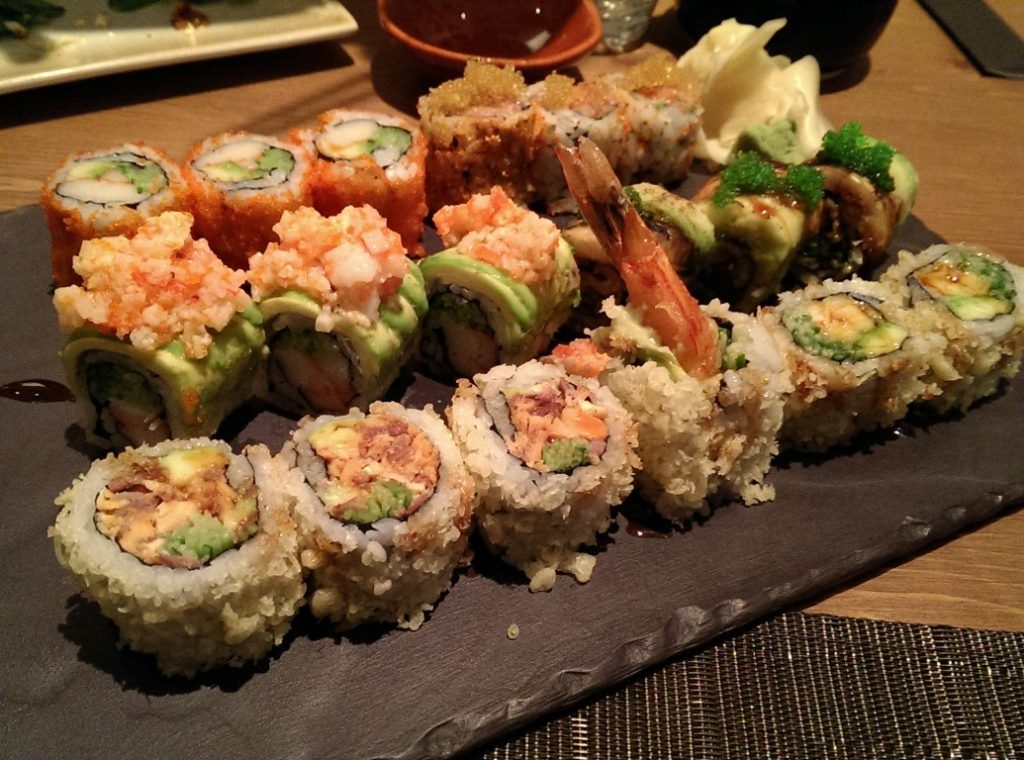 They also have parking valet that they will park your car. When you visit, the atmosphere is so relaxing and cozy that you will want to sit down for hours without disturbing.
Edamame, Yaki Gyoza, Suzuki Carpaccio, Maguro and Sake tartar are also recommended. They are delicious and the prices are not so expensive in comparison with others.
Address: Zeytinoglu Avenue, Yaren Street 6, Akatlar, Istanbul
Phone: +90 212 352 02 22
10. Hidden place of Sushi – Yada Sushi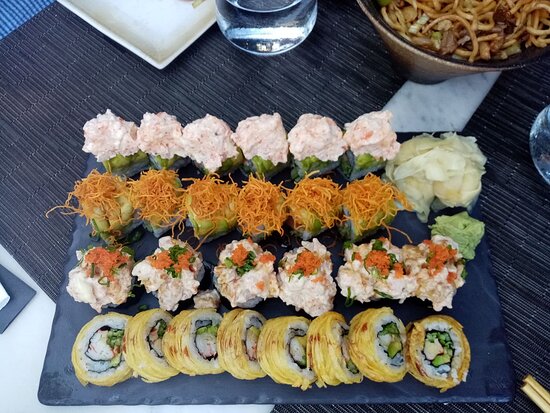 It is a wonderful place with a lovely terrace where you will love to dine. The chefs are from Central Asia, and you can watch them while they are making your sushi. They have amazing sushi and sashimi. The atmosphere is relaxing and exotic.
Sushi types are fresh and smooth with rich taste. The menu is generous and you can always find fresh fish such as salmon, tuna, and grouper. Taste fried rolls, a jumbo prawn wrapped in crispy filaments, and wanton prawns if you visit.
Address: Istinye, Koru Avenue N5, Istanbul
Phone: +90 212 323 57 03
11. The Place of Rapsody Roll – Sushi Lab Akaretler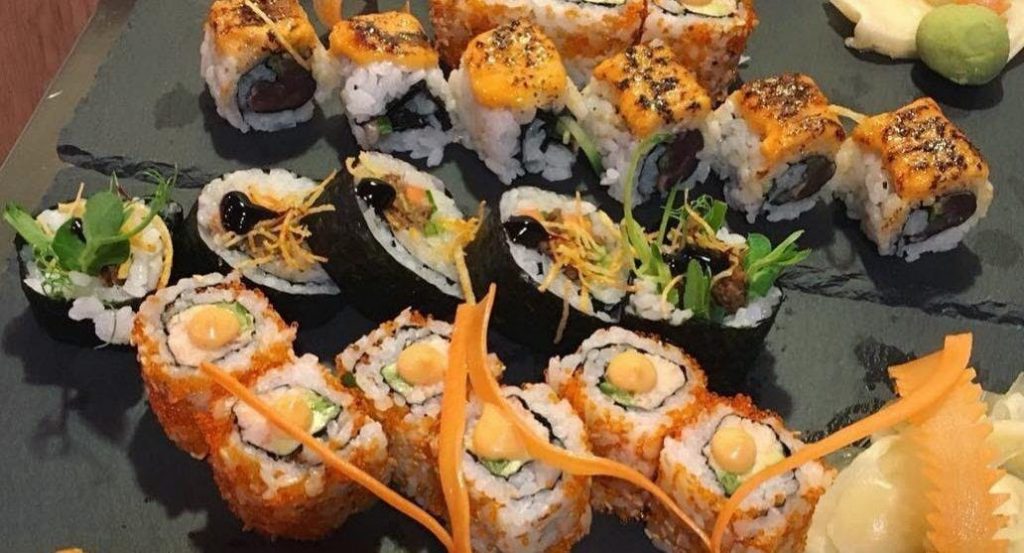 The menu is very rich with many types of sushi and sashimi and almost all of the staff speak English. Although the location is in the center, prices are moderate. If you want to have fresh ingredients, then it is a place for you.
It is also very close to the best neighborhoods, sightseeing, and Nişantaşı shopping street in Istanbul. There is a great variety of delicious Japanese food. You can taste salmon tartar, rhapsody roll, and white roll.
Enjoy cute atmosphere with friendly staff, excellent service, and delicious sushi. There is a night club next to it.
Address: Suleyman Seba Avenue N42, Akaretler, Beshiktash, Istanbul
Phone:+90 212 227 22 77
12. Taste Duck Wrap at Isokyo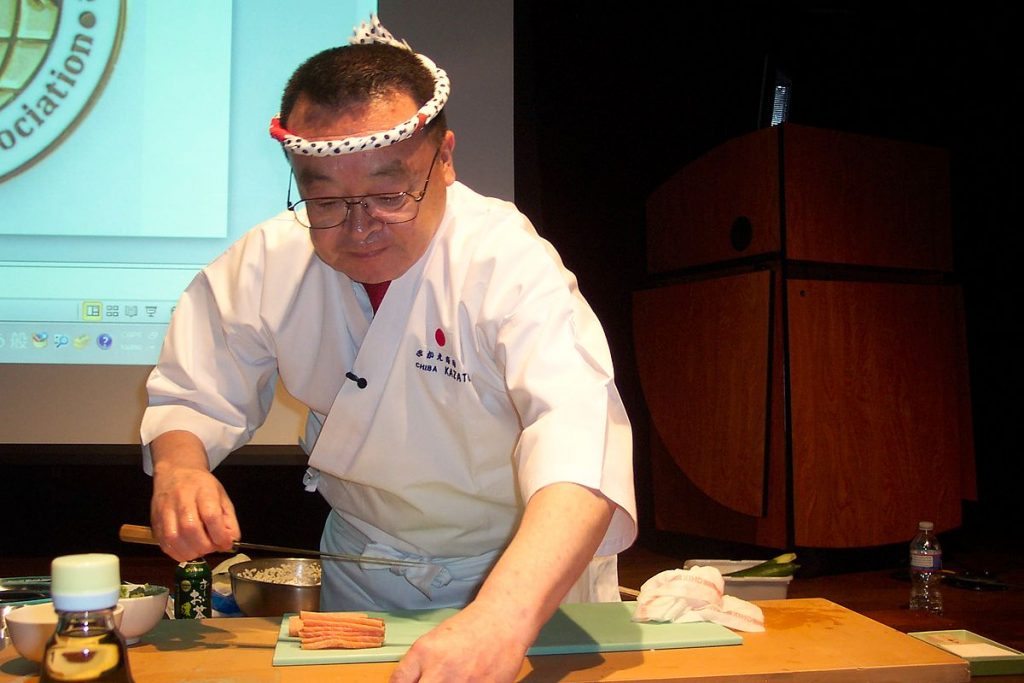 They have a first-class Pan-Asian food and caters where service and atmosphere are amazing. Soup, dumplings, duck wrap, sushi, duck tacos, and black cod are recommended to taste.
You can prefer this place for your birthday celebrations and special days. Their wine and alcoholic and non-alcoholic cocktails are also worth to taste for dinner. Customary service, cleanliness, and taste of the food are luxury. You can find fresh fish in every season.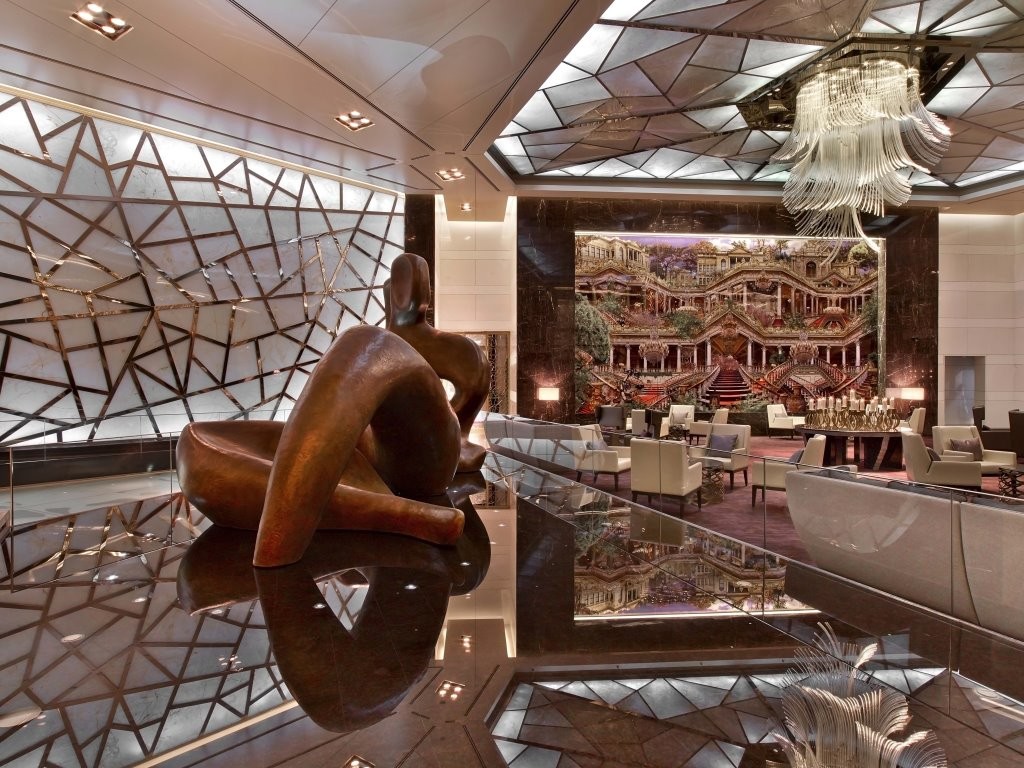 Address: Koru Street, Beshiktash, Zorlu Center, Raffles Istanbul Hotel
Phone: +90 212 924 02 44
13. Feel The Elegance at Ruby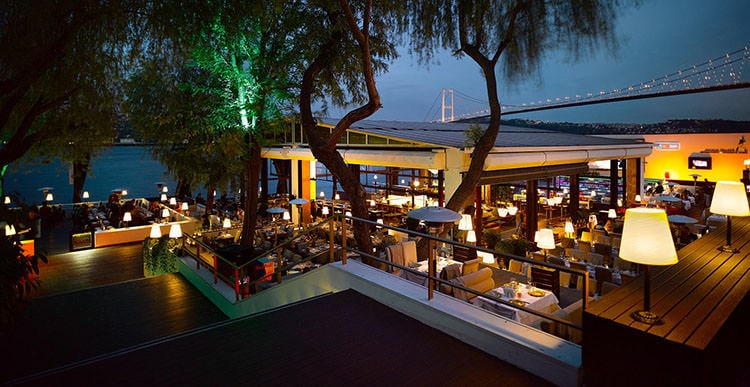 It is located at the seaside with a great view, a terraced bar, and good music. If you want to sit outside, you must make a reservation before visiting. The food is a little bit pricy in comparison with other sushi spots, but you can also prefer this place for its bar and night view.
You need to make a reservation before visiting because it can get crowded in the evenings. It is a very elegant place with elegant people around. Tuna Tartar, duck crispy salad, shrimps, avocado artichokes, and sushi types are recommended to taste.
Address: Yildiz Quarter, Ortakoy Salhanesi Street N5, Beshiktash, Istanbul
Phone: +90 212 327 28 44
14. Kaen Sushi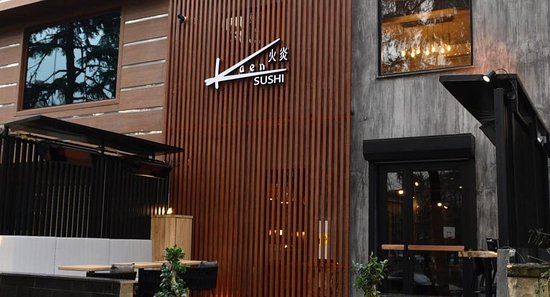 Kaen Sushi is mostly preferred for business lunches with its delicious sushi menu. It has a relaxing and clean environment and friendly staff. The price range is reasonable in comparison with other luxury Asian food restaurants.
It also has a garden with live music. If you cannot decide what sushi order, you can ask for a recommendation from the staff. Usually what they recommend is tasty. The location is also in the central neighborhood.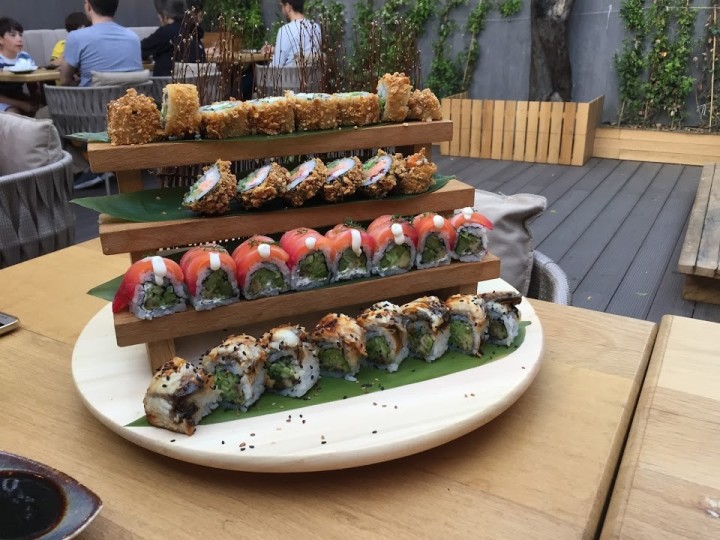 Address: Asmadali street N6, Kosuyolu District, Istanbul
Phone: +90 216 339 91 91

15. The Paradise of Vegans – Naomi Sushi Bar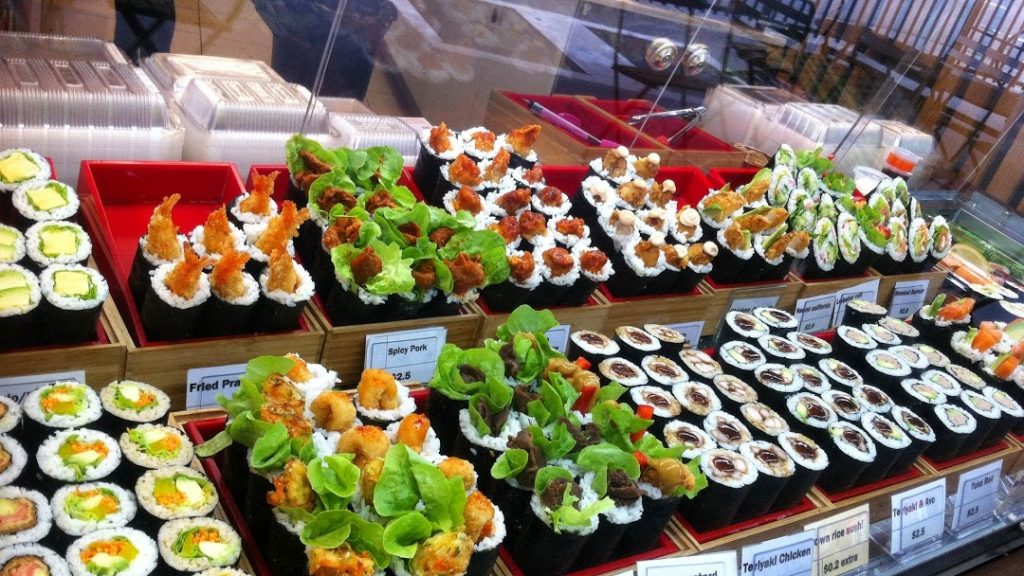 Well located , pleasant service , delicious food and a very accommodating manager who would be very helpful during your visit. The service is friendly and swift. They also have good Japanese beer and cocktails.
The environment is nice, but you might find the tables very tiny. You do not need to make a reservation before going. This place is a paradise for vegetarians since there tens of vegan choices. You can taste Tom yum soup, vegan roll, sake rolls, crab bomb, gyoza, edamame, double tuna roll, nish roll, and vegetable tempura.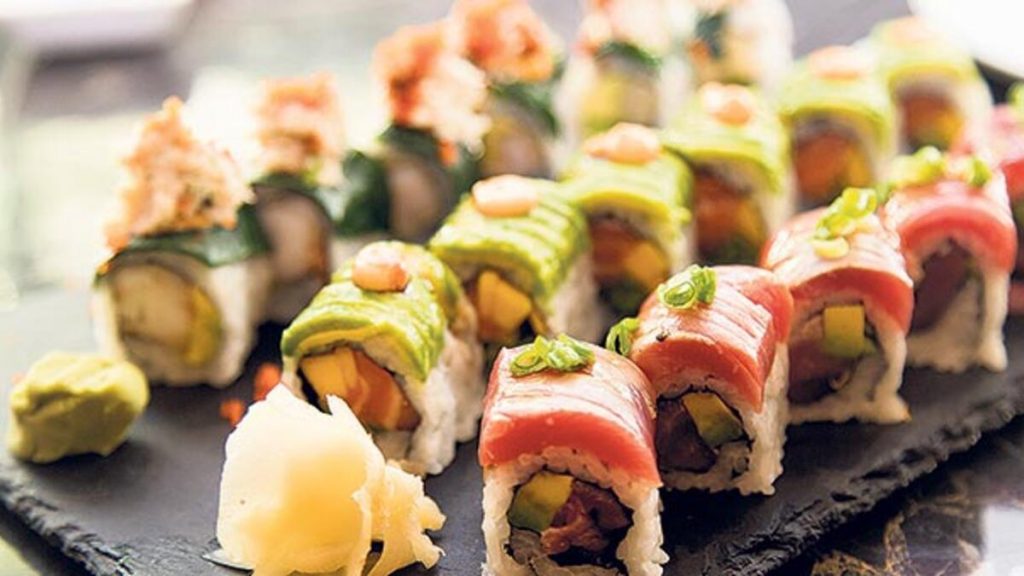 Address: Harbiye District, Mim Kemal Oke Street 1C, Sisli, Nisantasi, Istanbul
Phone: +90 212 234 34 44
In this post, we tried to collect the most recommended sushi restaurants for you and in doing so, we paid special attention to its price range, location, staff, taste, quality, cleanliness, and environment. We hope it will be useful in your choices and lifestyle.