Hello traveler! Whether you are a gastronomy enthusiast or not, if you are planning a trip to İstanbul you should not miss the opportunity to taste the mezes of this lovely historical city. Meze is an Eastern Mediterranean and Turkish dish which has numerous variations. Stambouliotte meze culture is a mixture of Greek, Armenian and Turkish meze traditions of hundreds of years!
Basically, mezes are served cold and they mostly include but are not limited to olive oil, lemon, herbs, garlic, and salt. Some include yogurt, some include tahini, and there are even mezes made with butter. There are vegan and vegetarian mezes as well. So, whatever you like I am hundred percent sure that you can find a good meze for your palate! Also, most mezes include vegetables. Although they are not light as diet food, when compared to other Turkish food such as kebab mezes are quite healthy and comparatively light. 
The most popular mezes are muhammara including roasted red peppers and tahini, babagannush which is made with eggplant and tahini, haydari with garlic and yoghurt, havuç tarator including yoghurt and carrot. If you ask my favorite I would definitely say deniz börülcesi (samphire meze) with olive oil, lemon and garlic! 
Note, you will be seeing meyhanes in this list, because they are the Turkish style taverns where people can eat the most delicious mezes and drink as they wish throughout the history. We still love these meyhanes in Turkey and we go there often to spend time with friends or alone.
Here is the best places you can go in İstanbul to eat the best meze while enjoying the city culture. 
1. Turkey's First Women-Owned Tavern: Madam Despina'nın Meyhanesi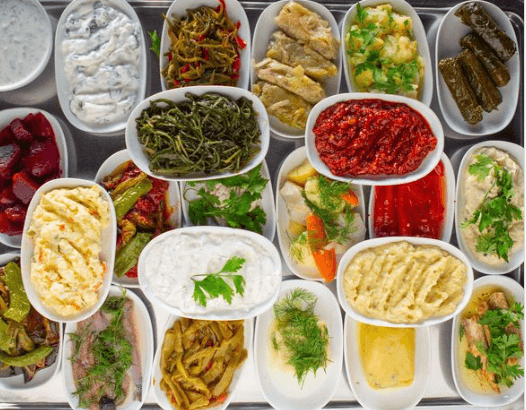 Madam Despina'nın Meyhanesi is one of the oldest taverns in İstanbul. Madam Despina is the first woman tavern owner and manager in Turkish history. She has prepared the best recipes that will be transferred from generation to generation and now in the 21st century, we are able to eat the most delicious mezes. 
As Madam Despina'nın Meyhanesi is not a simple restaurant but it is a tavern, you can drink rakı and ouzo whereas enjoying the Turkish live music performed by talented and passionate musicians. 
In terms of mezes, Madam Despina'nın Meyhanesi serves more than 30 different varieties of mezes. You can order by picking from the menu. 
Madam Despina'nın Meyhanesi takes place in Kurtuluş, near to Taksim. You may take a cap for a 5-minute ride from Taksim or Şişli or you can take the bus from Taksim to Kurtuluş. Don't forget to visit the Greek Church near Despina, it is also breathtaking! 
Address: Feriköy, Açık Yol Sk. No:22, 34377 Şişli/İstanbul
2. Enjoying the City From An Historical Italian Building: Mesai Karaköy

Mesai Karaköy is a contemporary restaurant taking place in a historic Italian building taking place in Karaköy. While enjoying the historical peninsula from Karaköy, you can order the most delicious mezes in İstanbul in Mesai Karaköy. 
As a meze restaurant, Mesai Karaköy offers not only the traditional mezes but also their signature mezes which are quite creative! You may taste extraordinary signature mezes such as Levrek pickles with avocado cream or Beetroot with yogurt, hazelnut, and Turkish coffee oil only here!
In Mesai Karaköy, all the drinks are served. I recommend you to make a reservation before going there because especially on the weekends it may be full. You can book a table from the restaurant's website or through Whatsapp. It is open from 07.00 am to 02.00 am every day. 
Address: AZAPKAPI, BANKALAR CD. NO:21, 34421 BEYOĞLU İSTANBUL
3. Greek Tavern on the Bosphorus: O Maestros 
O Maestros is a greek fisher tavern. They claim that a good fisher tavern should serve good meze as well. Most mezes served in this tavern are Greek mezes made by the local products. You may choose ordering vegetables-based mezes with the seafood as a main course or you can choose the seafood-based mezes.
O Maestros lays beside the Bosphorus. The atmosphere of the tavern is a humble one. They do not offer pompous services or Instagram backgrounds. Instead, they offer the sincerity of the deep conversations while watching the beautiful Bosphorus calmly. 
If you are interested in the Aegean cuisine developed in İstanbul, don't miss O Maestros! You should make a reservation before going if you'd like to sit by the Bosphorus view -because not all the windows can see it! 
Address: Arnavutköy Mahallesi, Bebek Arnavutköy cad no:73,
Beşiktaş / İstanbul
4. Unique Experience in Historical Tavern: Agora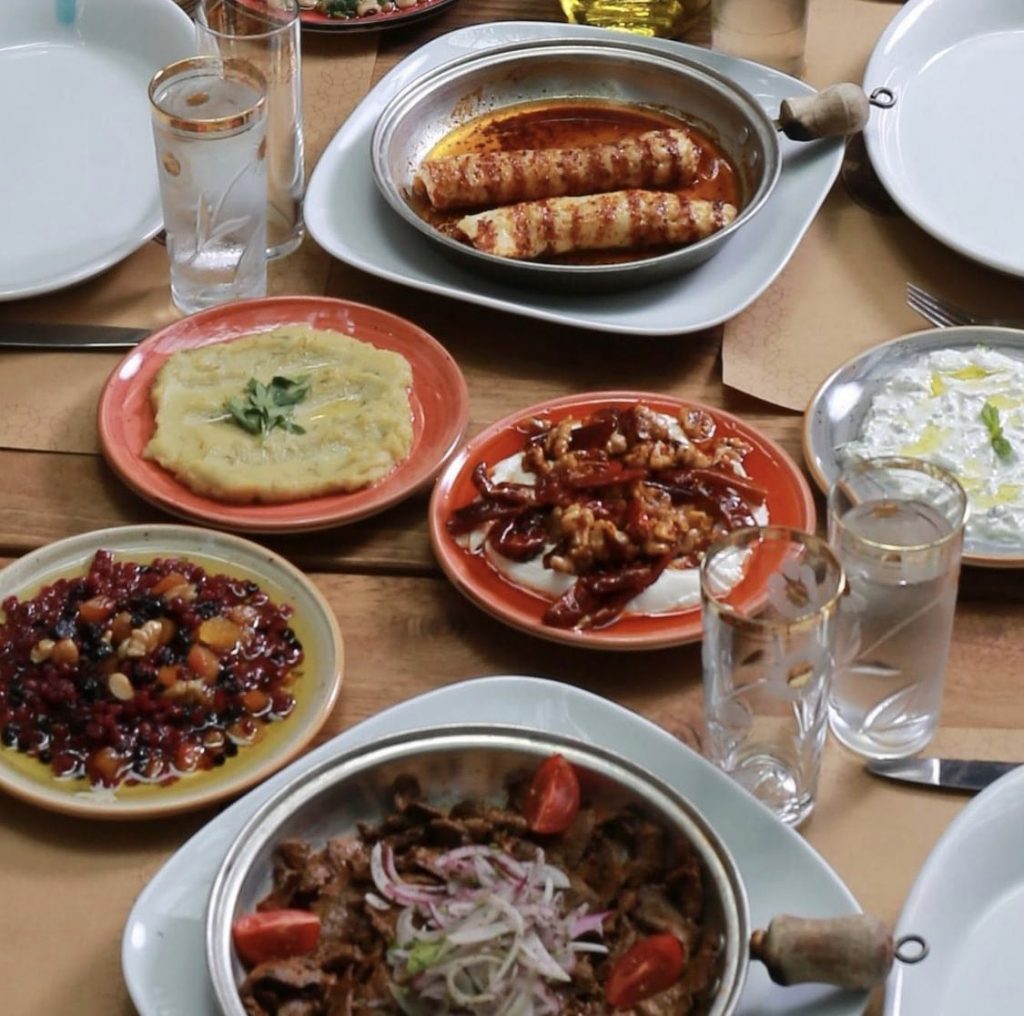 Agora Meyhanesi is serving various mezes, main courses, and drinks since 1890 -yes, it is even older than the Turkey! The Agora Meyhanesi which has always been the center of attention has been a camera shooting location for more than 280 movies. Maybe it is the most popular tavern in İstanbul, who knows? 
The historicity of Agora Meyhanesi is even more interesting. It takes place on the ancient city walls of Istanbul. So, if you are going to choose Agora Meyhanesi for eating meze, having a chit-chat with friends, and drinking something, you will be sitting next to 1500 years old walls.
Agora chefs prepare the most tasteful mezes with the freshest products. They use the original recipes of Greek cuisine. Agora Meyhanesi claims to be more than a tavern, indeed they are right! It is a cultural heritage. 
You can make a reservation from the website of the tavern. While in Balat, Fatih where the restaurant takes place, you should see the Balat neighborhood full of historical Istanbul houses. 
Address: Balat, Mürselpaşa Cd. No:185, Fatih, İstanbul 
5. For A Calm Evening at Prince Islands: Burgazada Barba Yani Restaurant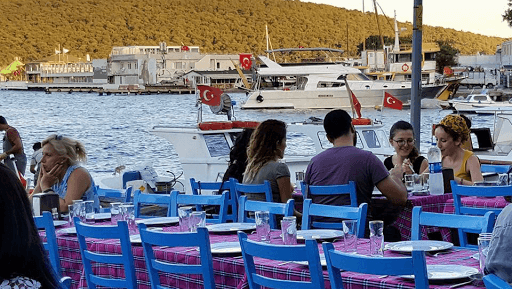 Barba Yani Restaurant, located in Burgazada, gives Stambouliottes the chance to enjoy their evenings by the sea, with all the calmness of the Prince Islands. As a classical Greek restaurant, Barba Yani serves the best mezes made with seafood and fresh products and ouzo while playing Greek songs. 
If you'd like to feel the Aegean and Mediterranean culture without getting interrupted by the metropolitan chaos, you should definitely choose Barba Yani! With the blue chairs and the sincere atmosphere it definitely reflects the Aegean culture! While breathing the clean air of the Burgazada, every meze you taste will increase your joy! 
Of course, all mezes are worth trying, yet you should not miss topik meze which is a special meze of Stambouliotte Armenians and made with chickpea if you visit Barba Yani in winter! You may make a reservation from the website or by calling. 
Address:  Yalı Caddesi No:16 Burgazada – Adalar – İSTANBUL
6. Entertainment or Meze? You Don't Have To Choose Anymore: Nişantaşı Meyhanesi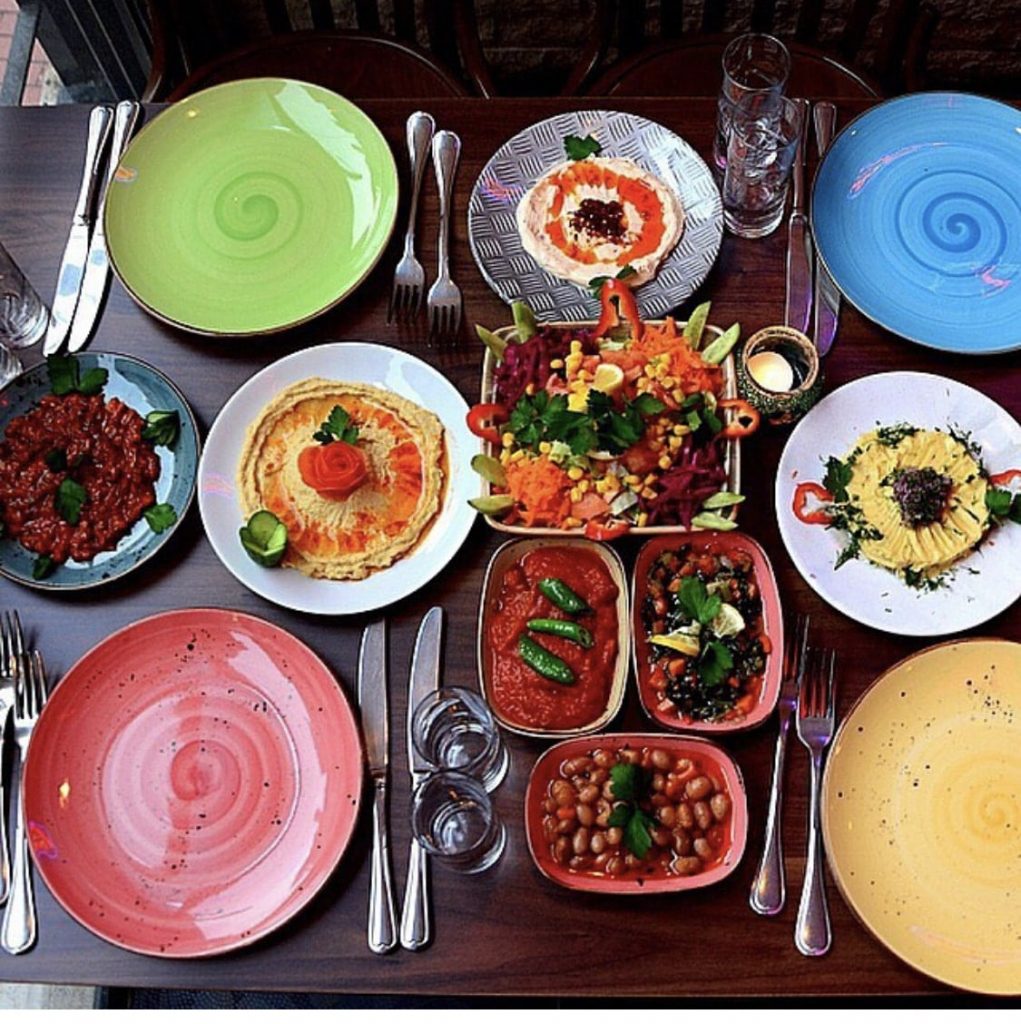 Nişantaşı Meyhanesi which is located in the middle of Nişantaşı, the shopping and entertainment center of İstanbul, offers its customers to have a tavern experience with a little bit of spice; music and dance! 
In Nişantaşı Meyhanesi, you may taste the numerous varieties of mezes in their most tasteful form while listening and enjoying the fasil music and famous musicians, and watching belly dance. 
Claiming to be a modern tavern, Nişantaşı Meyhanesi serves the full package of fun in one night! You may choose the fix menu to not to miss anything from the menu. While you are eating the most delicious food, the live performances will attract you and make you live an unforgettable night! 
Do not forget to make reservation before going. 
Address: VALİ KONAĞI CAD. SÜLEYMAN NAZİF SOK. NO: 3/B   NİŞANTAŞI – İSTANBUL
7. Cute and Small Place Where You Can Feel At Home: Madame Feronya Meyhanesi
Madame Feronia Meyhanesi or Haco Hanım'ın Meyhanesi is a small, cute tavern located in Nişantaşı. Its atmosphere is to make you feel at home. All mezes are homemade. The decoration of the restaurant is mainly pink, yellow and orange just to make you feel more peacefully energetic! 
The mezes are quite tasteful. They have many vegan options as well. If you are a vegan traveling İstanbul, you should definitely spend some time in this grandmotherly tavern! 
On Saturday evenings there is live music in Madame Feronia Meyhanesi. So, don't miss the opportunity to enjoy the great music performances while eating breathtaking mezes and sipping your drink.
You may would like to make a reservation before going from the website. 
Address: Teşvikiye, Hacı Emin Efendi Sk. 44/A, 34365 Şişli/İstanbul
8. 20th Century Turkey Atmosphere: Latife Hanım Meyhanesi
Latife Hanım meyhanesi reflects the 1920s decoration to the guests and offers the experience of early 20th century Turkey. In this tavern, you can eat all different types of mezes while listening to Turkish classical music in peace. 
The menu is composed of Turkish and Cypriot cuisines and traditional food. There are more than 60 different types of mezes listed in the menu as well as many options for the main courses and desserts. 
If you are interested in the early republican Turkish era, you should not miss this tavernas the atmosphere will make you feel like you are living in the 1920s and 1930s İstanbul. 
Latife Hanım Meyhanesi is located on İstiklal Street, so after a long day of walking through the street looking at the historical buildings, Latife Hanım Meyhanesi's menu is going to be a real feast! 
Address: İstiklal Caddesi, Bekar Sokağı, No: 22/A, Beyoğlu, İstanbul
9. Duble Meze Bar for the Bar Lovers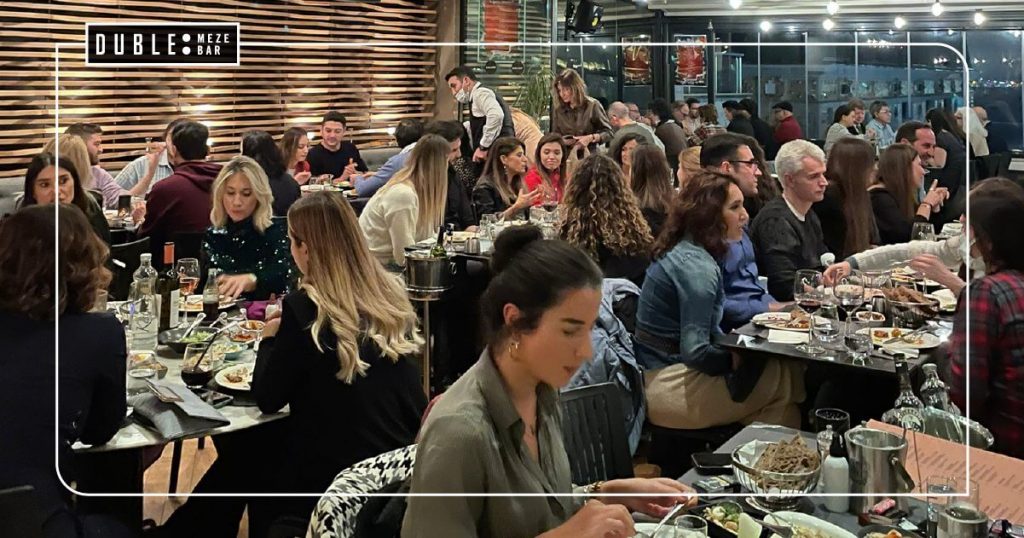 As you have realized so far, the meze culture is shaped by the taverns in İstanbul. Duble Meze Bar changes this tradition and serves the best mezes in the bar atmosphere. In this way, you can enjoy the nightlife in İstanbul while eating different mezes. Especially if you are not a rakı person, you should definitely go to Duble Meze Bar for the really good cocktails! 
Let me note that they serve more than 40 different meze influenced by Anatolian, Balkan, and Middle Eastern cuisines. 
Duble Meze Bar is not limited by being a bar serving meze, but it has a breathtaking view as well! On a terrace located in a historical hotel building is a really nice place to have a fun night with friends. 
As this bar is one of a kind, you should definitely make a reservation before going.
Address: Asmalı mescit mh, meşrutiyet cd. No:85 Palazzo Donizetti Hotel Üstü İstanbul
10. Meze and Nightlife: Hay Hay İstanbul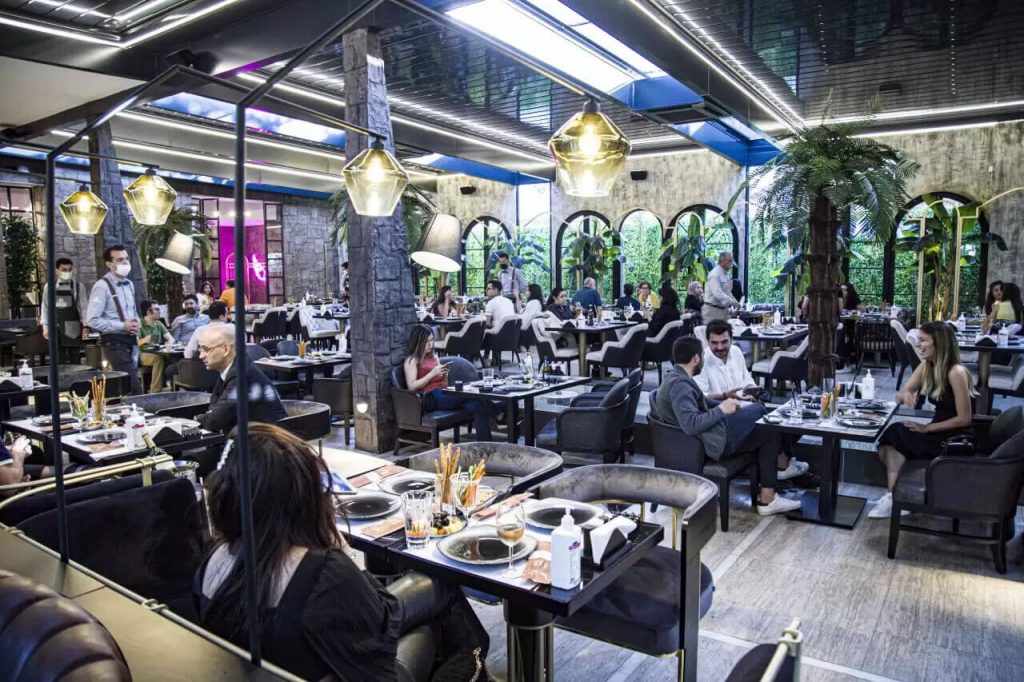 Not all taverns play Turkish or Greek classical music. Hay Hay İstanbul as a new generation meyhane, offers the full nightlife according to today's trends! As one of the newest taverns in İstanbul, Hay Hay promises fun to the guests! 
You can choose the fixed menu including the mezes that were carefully prepared by the leading chefs in Turkey or you can see the menu. Whatever you choose, I assure you that, you will not regret it! 
While enjoying the fresh mezes, you will be listening to the popular and most loved Turkish and English songs, and even dance. It is a great place for special days celebrated with friends. 
Another plus of Hay Hay İstanbul is the atmosphere. The decoration is quite contemporary and unlike the classical taverns, there are wider spaces between the tables. So, you may also choose this place to have a more isolated fun time with friends! 
Address: Levent, Çalıkuşu Sk. No:1, 34330 Beşiktaş/İstanbul
11. Greek Meze in Kadıköy: Todori Fenerbahçe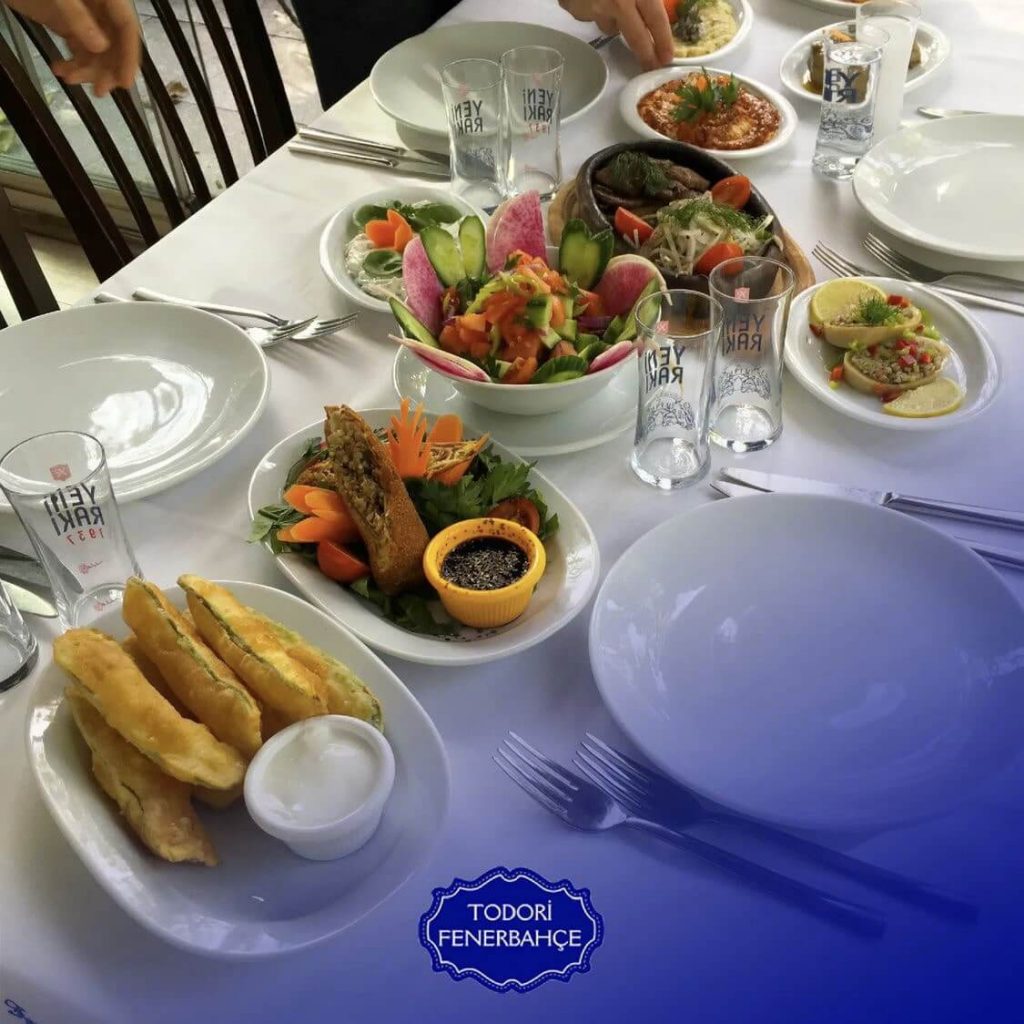 Not the only good meze restaurants are on the European side! Kadıköy hosts great places to go as well just like Todori Fenerbahçe! 
Todori Fenerbahçe is 70 years old Greek tavern in Kadıköy. Its name comes from the founder, Todori who knows all the guests' appetites and choices. Now, after 70 years, Todori keeps serving with this principle, just to make you enjoy.
The mezes that are prepared under the influence of Greek cuisine are the best. Vegan and vegetarian options are highlighted on the menu, so if you prefer these options, Todori is a preferable place. Also, the huge garden Todori Meyhanesi provides is the best place to enjoy mezes during the spring and summer while the nice summer zephyr touches your shoulders. 
Address: Fener Kalamış Cad. No:46 Fenerbahçe Kadıköy, İstanbul
12. Traditional İstanbul Meyhane: İnciraltı Meyhanesi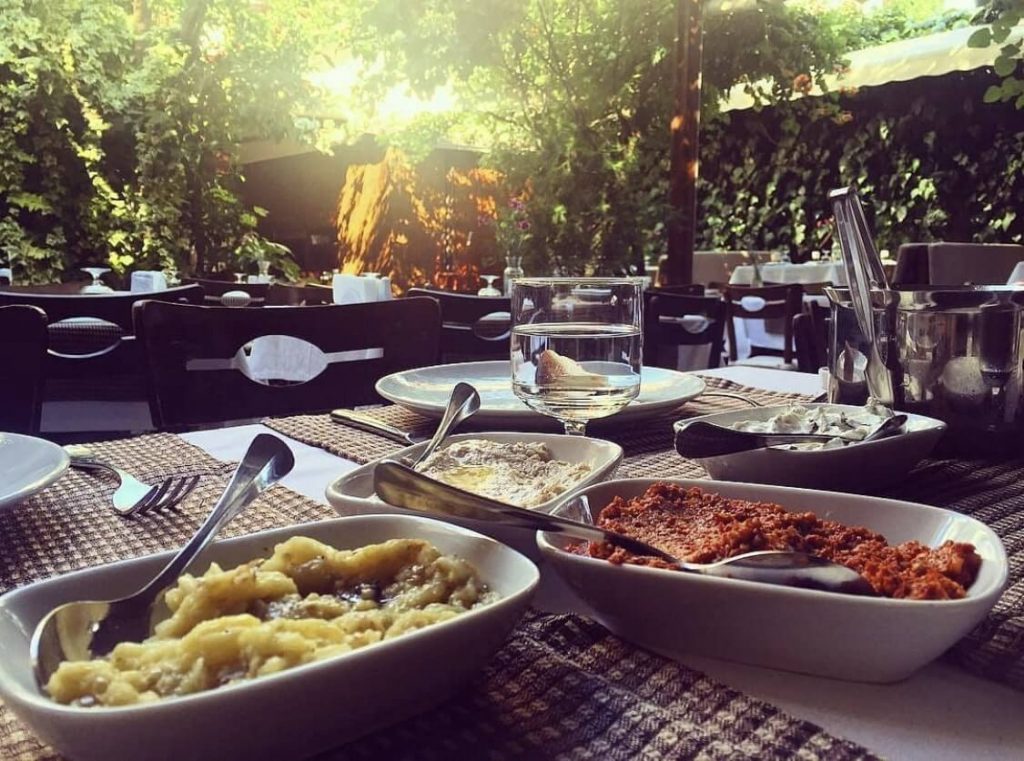 The owners of İnciraltı Meyhanesi unite the Greek, Armenian, Turkish, Kurdish, Persian, Assyrian, Sephardic, and Arabic cuisines to reflect the cosmopolitan history and life in İstanbul. They also open a space for forgotten recipes as well. Therefore, the menu includes numerous mezes for you to taste and enjoy. 
The atmosphere of İnciraltı Meyhanesi is humble and simple because they would like to put stress on sincerity and simplicity. Both the garden and the indoors make guests feel peaceful. 
If you are close to Üsküdar you should definitely give this place a chance! Do not forget to make a reservation from the website before going. 
Address: Arabacılar Sok. No: 4 Beylerbeyi / İstanbul
So, dear traveler, doesn't matter which restaurant you choose I am sure that you are going to find a meze for your palate. I hope this list helps you!