Italian food has been a famous Mediterranean cuisine for people worldwide, specifically Turkish citizens. Due to the similarities in tastes and ingredients that both culture use in local foods, Italian restaurants have become one of the most crowded and successful restaurants in Istanbul. Here in this article, I want to introduce to you the famous Italian restaurants where you can taste true Italy.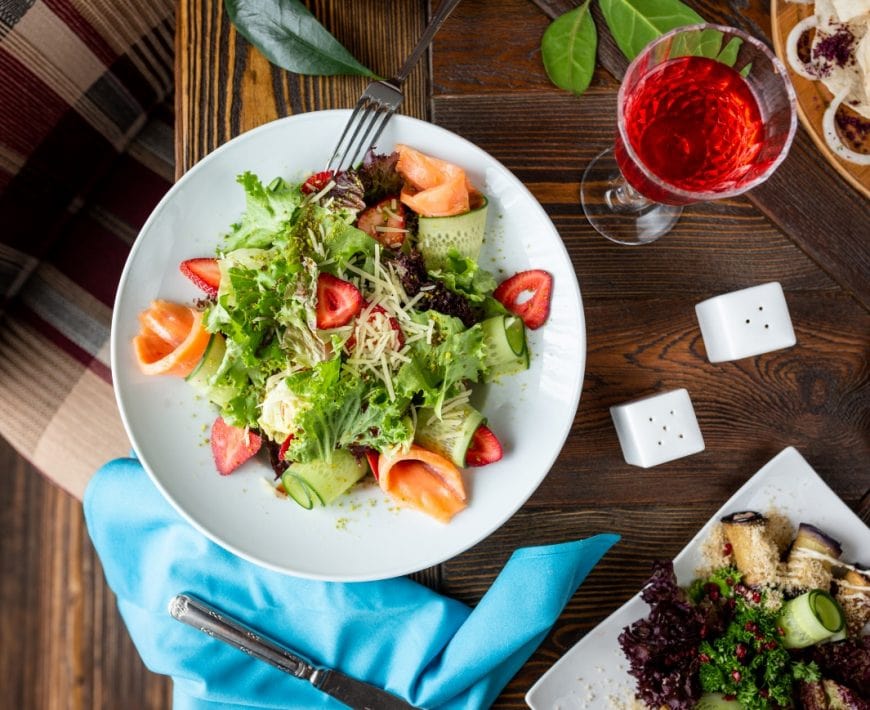 1. Da Mario
A simple Italian bar and restaurant, with the genuine spirit of Sicilia. When you enter into this cozy restaurant, you feel like you step into a rural restaurant in suburban Genova. The food, the Italian cuisine, which is served here since 1993, is loyal to the Italian tradition. The handmade pasta, Italian pizza, baked in the wooden oven, and Italian wines imported from the motherland. Perhaps you would expect a higher range of prices here compared to Turkish restaurants, which is totally correct. Italian restaurants barely offer anything cheap.
With a first glance at the feedback, you would see the high applause for foods, especially Pizza. Not to forget to mention that the view outside of the windows are beautiful. Green and full of life.
Location: Etiler, Dilhayat Sk. No:7, 34337 Beşiktaş/İstanbul
2. Antica Locanda
A brilliant restaurant in the heart of Istanbul, with a celebrity leading its kitchen. Chef Gian Carlo Talerico, an Italian-born chef, a boy from Milan, grew up in a conventional big Italian family, where he started being inspired and loved by his mama and grandmother cooking in the kitchen. That inspiration, later on, led him to work in various food businesses across Italy. From catering services to Cruise ships. The love of traveling the world made him test his fate to see where to settle, and Istanbul anchored him with love.
The restaurant itself has space for up to 60 guests, with the floor area and the mezzanine floor. It also has an intimate point for a business meeting, anniversary, or celebration, in a cozy atmosphere for a maximum of 15 guests.
As the quality of foods is impeccable, the flavors are mostly, not always, imported from the different parts of Italy, from the mountain herbs to the shoreside. Apart from the usual Italian foods, you can expect masterpiece dishes with excellence in design and distinction in taste. It offers you a great window to the backyard Orthodox church behind the restaurant, and I bet the spirit of the area enlightens your experience even shinier.
Location: Arnavutköy, Satış Meydanı Sk. No. 12, 34345 Beşiktaş/İstanbul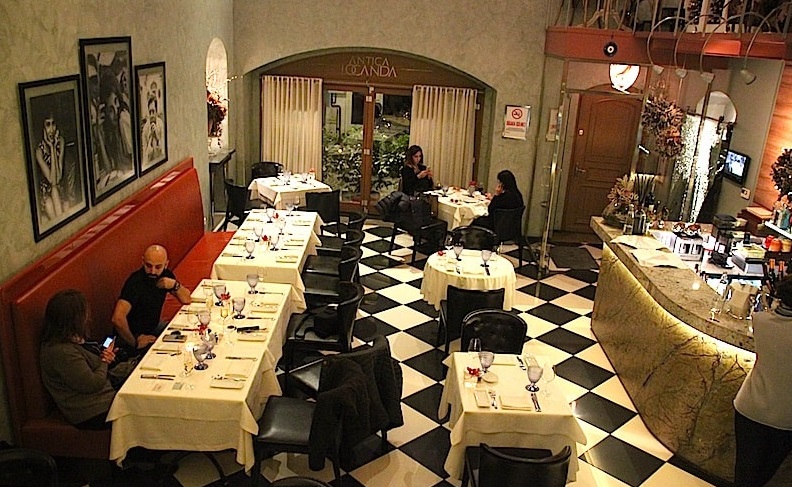 3. IL Padrino Restaurant
Opened in 1990 and was proclaimed the first Italian restaurant in turkey that won the Real Italian Restaurant Awards from the union of Italian Chambers of Industry and Commerce (Unioncamere) in 2013. The IL Padrino Restaurant has a long history of maintaining a family business, from the founder of the restaurant who was encouraged by his father to follow civil engineering, to this current restaurant that for him, is more a tribute to the family tradition.
The restaurant has a more classical interior design, a mixture of Italian and Turkish, with a concentration on wood, and pictures of Casablanca and Gone with the wind, the iconic classic movies. The foods, in an utter meaning, are a celebration for the guest's mouth and somehow, are less expensive than other Italian restaurants. The restaurant is slightly more spacious than others in Turkey.
The IL Padrino received 4.3 stars out of 1300 reviews, and in agist, the customers who had their meal here, consent that their expectation was lower than what they received and tastes.
Location: Caddebostan, Caddebostan İskele Sk. No:8 D:C, 34728 Kadıköy/İstanbul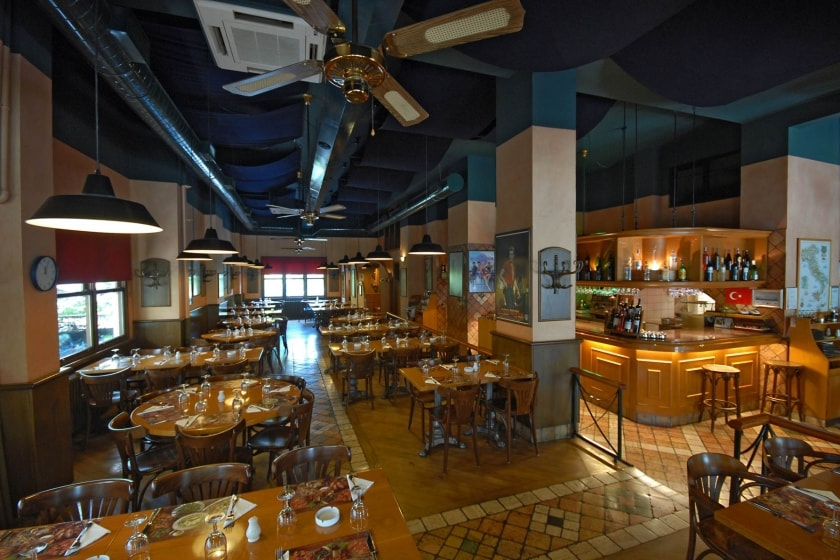 4. Serafina
This is an international Italian restaurant with branches all over the world, from the Middle east, to the far east, to the western countries. The establishment of Serafina has a dramatic history behind it. Vittorio Assaf and Fabio Granato, two founders of the Serafina lost in the sea while the only surviving boat was sinking. The fear and near-death experience extracted their inner wish, and both in those moments, promised each other that if they survived, a high-class Italian restaurant like no other in the world be established under their management. The miracle occurred, and both stepped on the shore, celebrated their second birth, and establish a brand that serves one of the best Italian pizzas and pasta in the whole world.
Serafina opened in Istanbul in 2011, after dozens of other branches around the world, and they dedicated their mission to bringing the most house-like meals that the guests could expect.
The restaurant is a state of art in itself. With plants covering the wall, wooden pillars, classical Italian style windows, and flowers all stands to make harmony for you to feel what is an actual Italy.
It has two branches in Istanbul, one in Büyükdere and another one in Beşiktaş. I, personally suggest the latter one.
Location: Nisbetiye, Nispetiye Cd, 34337 Beşiktaş/İstanbul
4. Eataly
This is not just an Italian restaurant; this is an international institution in Italian food. Eataly that whose motto is 'Eat, Shop, learn' consists of caring for its customers to eat exceptional Italian food in their restaurant, shop the Italian foods and ingredients to cook by themselves, and learn how to cook the best Italian cuisines. There is no other restaurant around the world that can offer you something similar.
Their basis is establishing the highest possible experience that someone can have from food. For the management, food is beyond just satisfying your stomach, it's a ritual that must be maintained and held in respect.
With more than 20 branches around the world, from Turkey to the United States, Eataly has always been a great restaurant as well as a fantastic educational center. Besides all the professionalism, their informal communication with Italian food lovers is what spices things up for you as a customer.
The restaurant and shop in Istanbul have a balcony that let you enjoy the green area outside and eat your food. They offer delivery and you can buy almost every authentic substance that you just had in your food. The quality is great, not the best, but the high grade and satisfying. There are some negative points on the staff, which due to the vast number of tables, somehow you can ignore it. For sure, it's not like an intimate restaurant.
Location: Levazım, Koru Sokağı No:2, 34340 Beşiktaş/İstanbul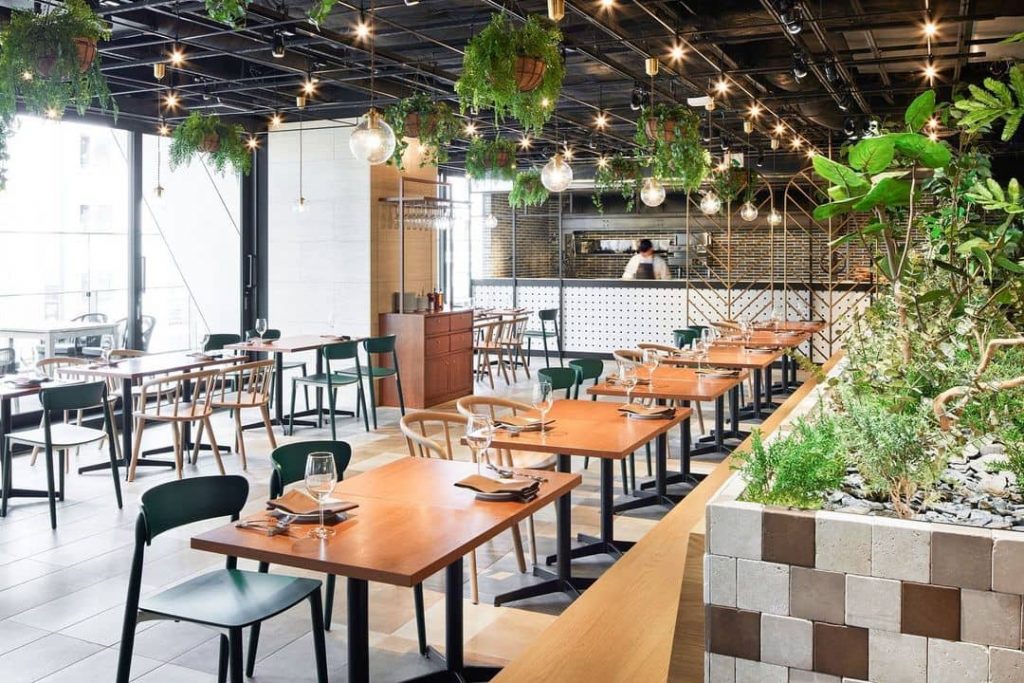 5. Gina
I am sure you watched the Mafia movie, Good Fellas. A masterpiece from Martin Scorsese with a story of gangs with their club and restaurant meetings. Gina is a resemblance to the restaurants that they hang out in. With the leather bar couches, the bartender with a mustache, the shouting of crowded each ordering a cocktail, and the glorious nights on each table, with mysteries that happening in each of them.
The restaurant has a really simple and somehow naïve website, where you can only see the menu in a PDF file. But the people who choose Gina for their dining, have no time for the website, and they don't care, they want the Italian service, and Italian food, with an Italian atmosphere. I have no doubt that they can get it.
It got 4 stars out of 5 from the 150 reviews, and the ironic thing is that the customers somehow felt surprised by the waiters. Yes, they are Italian, and they are different, so deal with it. Personally, I come here to have Ravioli, not because it's expensive, or the taste is great, I come because of Italy.
Location: Levent, Büyükdere Cd. No:164/A, 34394 Şişli/İstanbul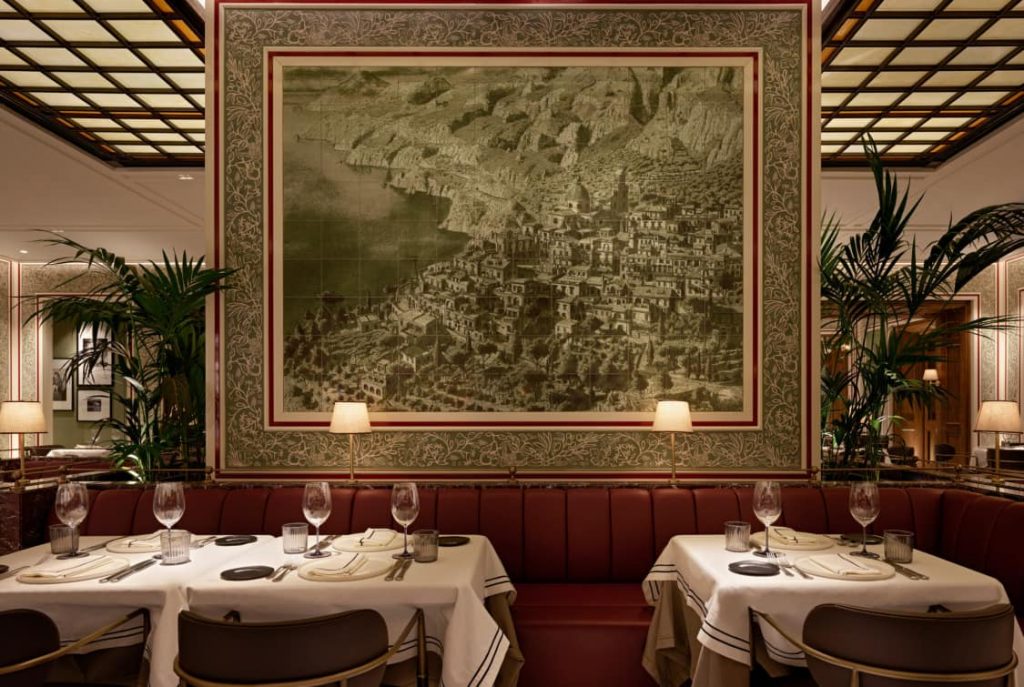 6. Mezzaluna
Aldo Bozzi and Roberto Magris, from Milan and Florence, initiated the idea of opening their restaurant in Turkey, with the idea of creating a groundbreaking interior design, more like an exhibition center. The restaurant is pure colorful, and each table and chair are unique in color. There is a long wall stretching from the door to the middle of the dining space, that is covered with stained glass, and painted with different creatures, and each represents a meaning.
It has five branches in Turkey, and two are in Istanbul, Acarkent, and İstinye Park. Mezzaluna proud itself of the unique experiences that it provides in services, the high-quality foods that all ingredients imported from Italy, and cooked the same as an Italian restaurant.
The restaurant received 4.2 stars out of 5 and the customers admit its Pizza and pasta are the best in the whole of Istanbul. The prices, even though Italian restaurants are generally expensive, are much lower and more affordable. It seems a logical place for you if the craving for Italian food is raising.
Location: İstinye, Pınar Mah. Katar Cad, İstinye Park AVM No:11 Kat:1 D:aire:433, 34460 Sarıyer/İstanbul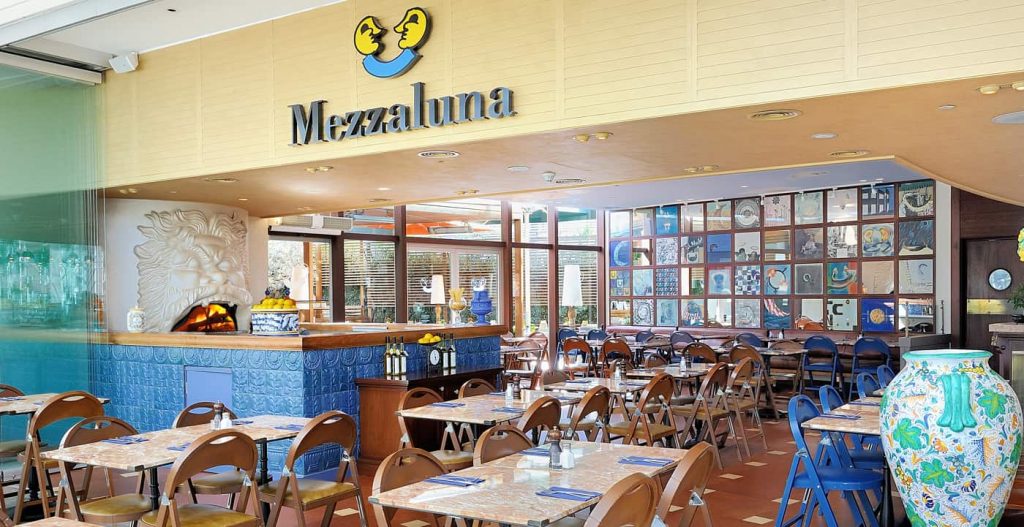 7. Le Cuistot Bistro
This is a simple, and inexpensive Italian restaurant, for those who want to be on a budget but still want to experience genuine Italian food in Istanbul. Frankly speaking, Le Cuistot Bistro works well to satisfy your need, and even though it is much cheaper than other Italian restaurants, it serves you well.
It's located in Beyoğlu, where all the fun and joy is happening in Istanbul, so after drinking a couple of beers or cocktails, and dancing a bit, Le Cuistot Bistro welcomes you to fill up your starvation needs.
It received 4.6 out of 5 stars from 600 reviews so far. It reveals that this restaurant never degrades its quality. By having a Belgium chef who knows how to make you happy, and a friendly staff that serves you well. Le Cuistot Bistro is the best option for a portion of good Italian food to energize and continue your chilling moments.

Location: Asmalı Mescit, General Yazgan Sk. No:13, 34420 Beyoğlu/İstanbul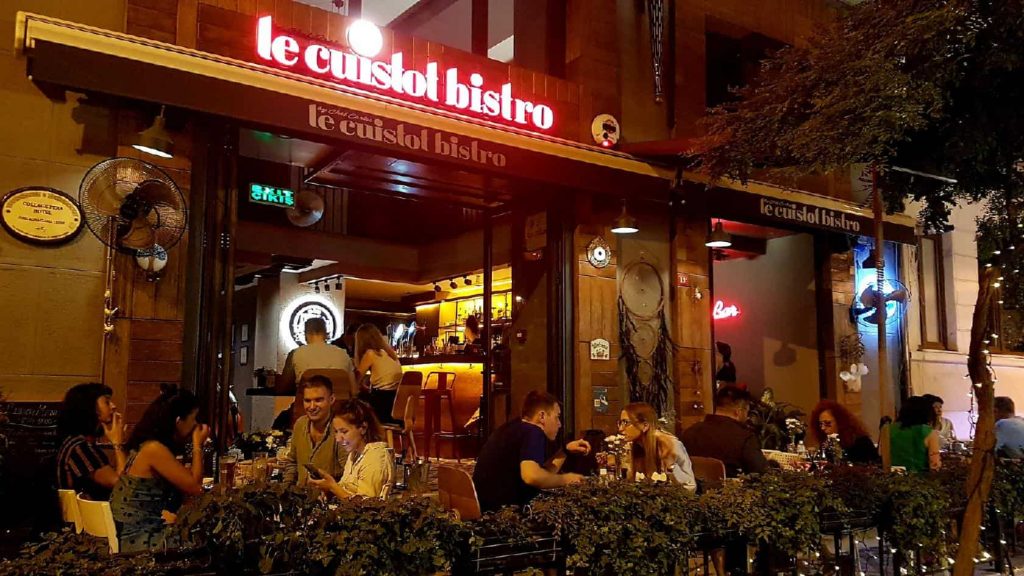 8. Fauna Restaurant
Initially opened in 2003, with a tiny place and only 5 tables, now Fauna proud itself to be an Italian restaurant in Istanbul, with a spacious environment for the guests and genuine materials used for cooking.
This restaurant was established with the idea of cooking the finest Italian meals using only organic ingredients, from floors to eggs, from meats to poultry, everything here is natural. They do not use floors or any thickness substances, such as artificial ingredients. Their soup is totally made from seasonal ingredients, and I think the founder raised against GM foods really seriously!
The interior design is pretty minimal. The dominant color is white, and the chairs are simple, like those you can find everywhere. Nothing spectacular, except the foods that by the reviews of many, taste excellent and natural. I think this is a signature that helps the restaurant to be this successful.
Fauna Restaurant received 4.4 out of 5 stars from 250 reviews and the quality of material and changing the menu based on the season and ingredients (all natural) that can be found in the market. This is quite a pricy restaurant, but you pay for the organic foods, at their best.
Location: Küçükbakkalköy, Işıklar Cd. No:9 D:B, 34750 Ataşehir/İstanbul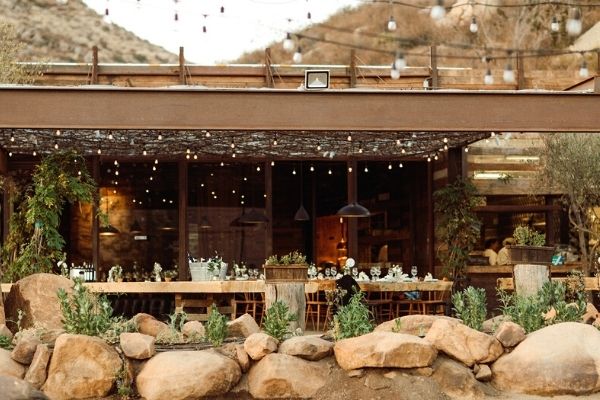 9. Paper Moon
When you enter the restaurant, the first thing that you probably say is wow! The design, the placing of furniture, the bookshelf, the wine shelf, and the picture of Italian actors and celebrities are all in black and white, and the walls are covered in paper wall plats in bright color, in sync with the rest of the items.
Everything here is at best, and this is not free to have a fabulous experience dining in a 5-star Michelin Italian restaurant where everything is spotless. The waiters and waitresses are all perfect in their duty, serving you well. The chef is not cooking, in fact, he is creating art and waiters bring that art to your table.
This a highly pricy restaurant and not suitable for everyone. Experiencing it's like spending the night in a 5-star hotel. Your expense skyrocket, as well as your joy.
However, as an international restaurant, somehow the experience is different, and feedbacks come to as low as one star. When a restaurant charges you this much, the expectation is to have something great. The Paper Moon received 4.4 out of 5 stars from 1000 reviews. It seems that they increased in quality lately, and this is absolutely unacceptable for such a high-grade brand.
Location: Etiler, Ahmet Adnan Saygun Cd., 34340 Beşiktaş/İstanbul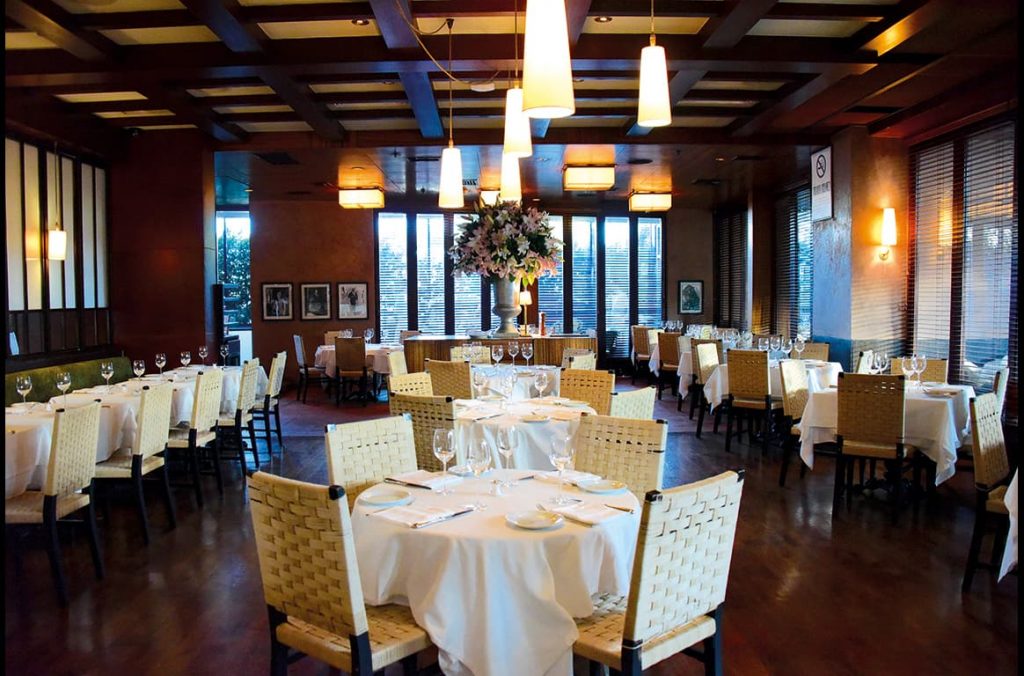 10. Trattoria La Scarpetta
A very modern Italian restaurant 9n town, with a postmodernist interior design, with hidden lights and excessive use of woods in it. The bar tables are carved out of wood and the glasses are tempered. Here is where you can expect the best out of the best. Nothing is exaggerated as this is the consent of the customers. 4.5 stars out of 5 from 460 reviews proving the real claim that the restaurant is doing great.
The funny impression of the restaurant name is that the La Scarpetta, meaning 'shoe', means in colloquial Italian the "last bite used to scrape the juice of the food left on the dish.
I believe it's one of the Italian restaurants that you can enjoy going there day and night. The reason behind my statement is its sunny roof that let you have a full view from outside, which makes the lunch really amazing.
Unlike many other Italian restaurants, you can enjoy Turkish foods, as well as Italians, and do a comparison. Personally love both but imagining drinking tea after a wooden baked Italian pizza is a unique experience.
Location: Etiler, Dilhayat Sk. No: 16, 34337 Beşiktaş/İstanbul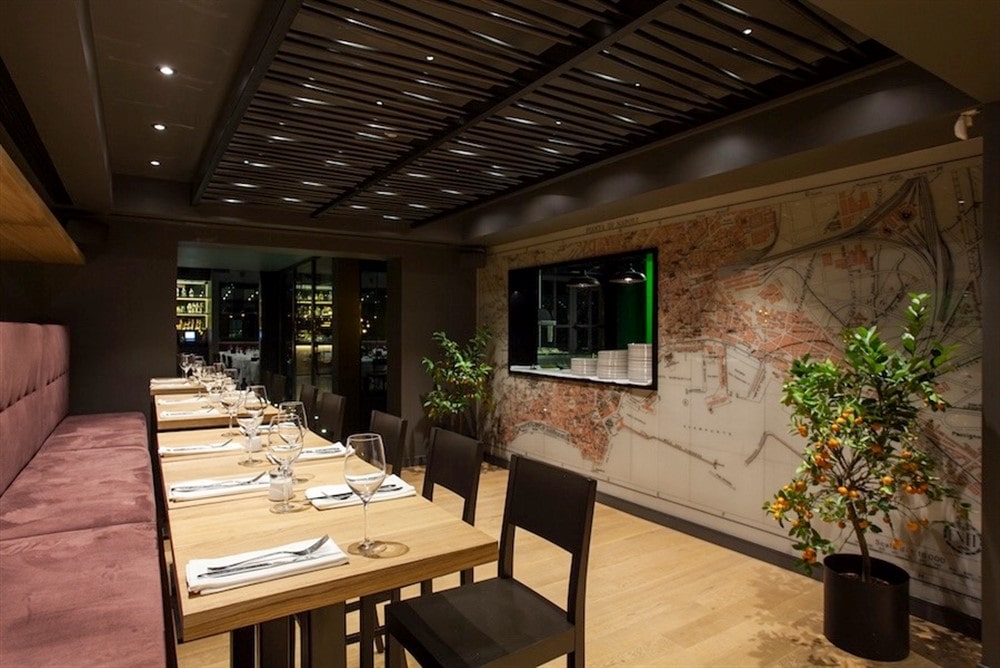 11. Nostra Casa Cafe & Restaurant
A rare Italian restaurant in Istanbul, with rooftop tables which is amazing. Imagine having your pasta and enjoying your time looking at the Hagia Sophia, and other historical buildings around. I believe eating here has much more worthwhile than in other restaurants, mostly because of the views, the reasonable prices, and the quality of the food.
The menu is really rich, from access to Turkish coffee to French wine, and in the main course, from roast beef to Macaroni. You can find everything here and it's superb to know you can have starters such as Turkish dishes to Italian ones.
The restaurant received 4.3 stars out of 5 from 135 reviews and much of the feedback rolled around the high quality of food and the respectful attitude of the staff. Feeling like eating in your MAMA house is what they had in common, and it changes everything. Porcini pasta is their signature and got to admit, it truly is the explosion of flavors.
Location: Küçük Ayasofya Mahallesi, Mustafa Paşa Sk. No:42, 34122 Fatih/İstanbul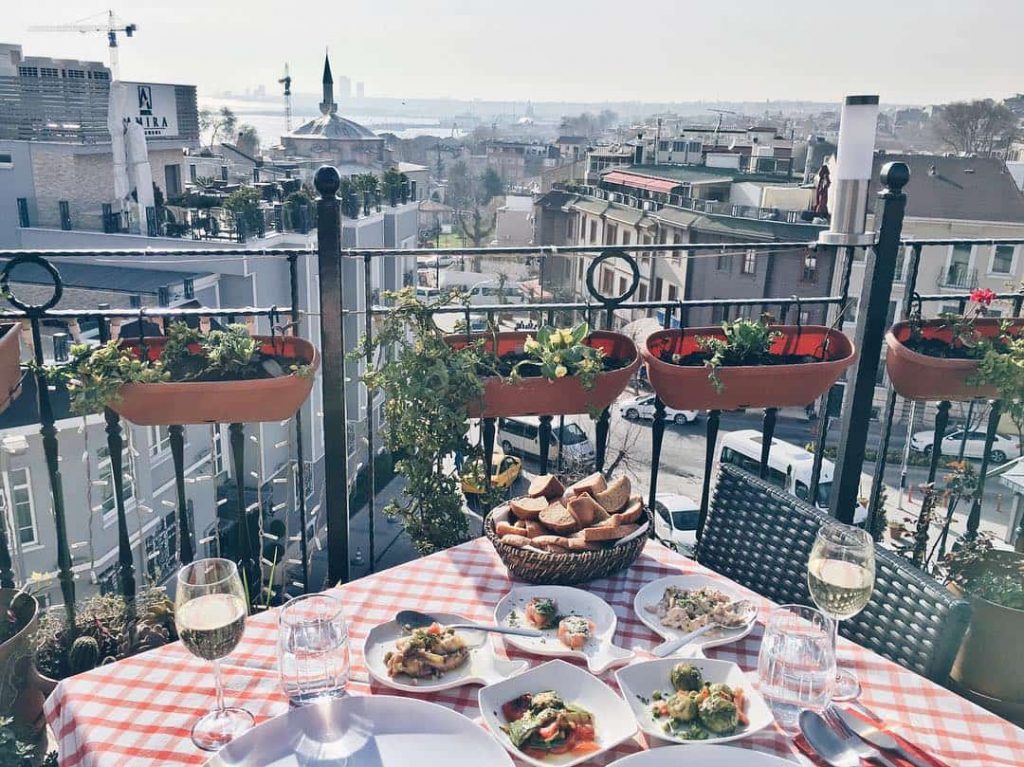 12. Cecconi's Istanbul
Are you get exhausted eating in a conventional restaurant and prefer to have something in the middle of trees? Yes, no shocking! You can eat your Pizza, a gluten-free pasta, or a meat stew here amongst the Olive trees. Cecconi is an international brand in Italian restaurants with branches in Berlin, Amsterdam, Miami, and London. They set your table with freshly made Italian foods all harvested by themselves, on their own farm. Everything they care for, from cheese to meat, from herbs to desserts is self-made.
The restaurant received 4.3 out of 5 from 500 reviews, and all had one thing in common, the food is great, as well as the view and the location. It's absolutely a fact. You sometimes forget that you are in a restaurant. buffalo salad and the risotto shrimp were my favorite. It also has vegetarian foods on its menu, and they are surprisingly delicious as well.
Location: Evliya Çelebi, Meşrutiyet Cd. No:56, 34430 Beyoğlu/İstanbul