When you decide to visit Istanbul, which is suitable for tourism all year round, obviously, you should take care of accommodation. For a pleasant and more comfortable pastime, in my opinion, it is much better to plan this thing before.
There is a category of tourists who prefer to book places on the spot, but I would advise you to read at least this article to feel at ease upon arrival in Istanbul and not rush around the city in search of urgent housing. Besides, having taken care of your future accommodation in advance, you can be sure that the place is safe and stable.
As a small help, I have selected for you the most convenient areas for tourists to live, so that you can combine comfort and walks around the city in search of interesting and memorable sights, for which Istanbul is rich enough. Fortunately, Istanbul is really a huge city; therefore, the choice of areas for safe living is pretty good.
Choose your budget: a guide for every category of tourists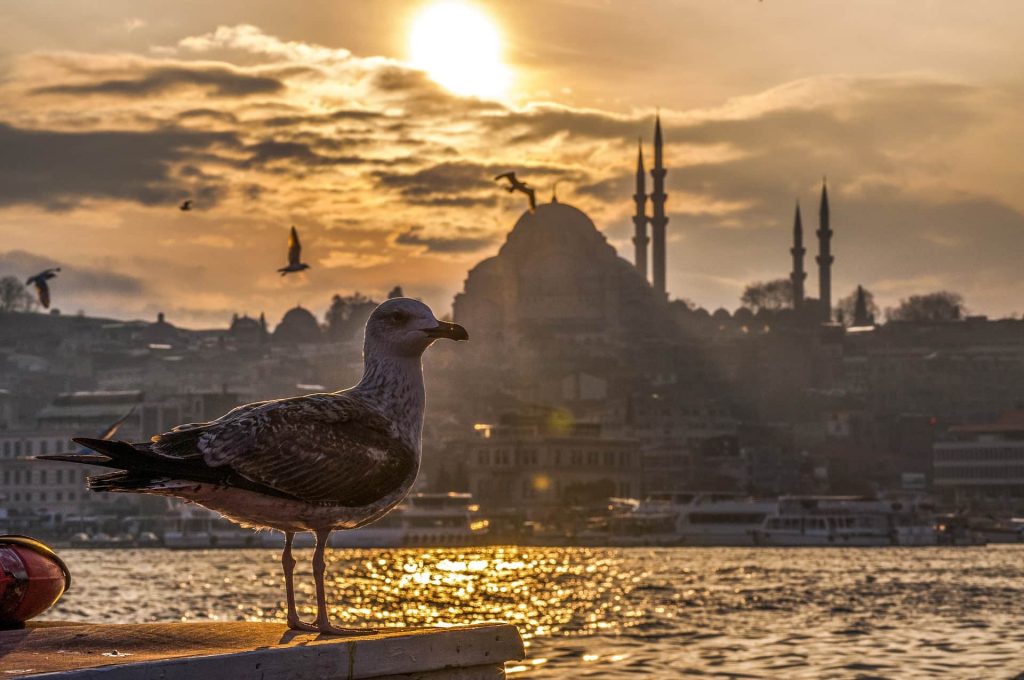 Moreover, for your convenience, I decided to single out several categories of travelers: economy class – up to 50 USD, middle class – 50 – 300 USD, luxury – from 300 USD per night, so that it would be easier for you to navigate the price availability of accommodation.
The first category – the economy – includes single travelers or groups of people, usually called backpackers. Since Istanbul is a hospitable destination for all categories of travelers, there is plenty of places to stay in the city for backpackers. Basically, these are young people looking for adventure who travel with minimal amenities and minimal costs.
They usually use public transport, try to get the most out of inexpensive places, and spend the night not only in hotels but also in hostels, campgrounds, guesthouses, as well as in the local shared apartments. In this category, I will offer you options in shared rooms and shared apartments, as well as accommodation with the owners.
The middle class is commonly travelers with families and children who can afford accommodation in a higher class, and for the convenience of children, they prefer hostels or hotels, but having private rooms. This category also includes business travelers, for whom the main component for the hotel is comfort, cleanliness, and good location. Here, I have chosen predominantly hotels, not luxury ones, but in a reasonable price category.
And finally, the luxury category includes travelers who come mainly for impressions of Istanbul and who have heard a lot about the great Turkish high-class customer service. In this part, I will offer you the most luxurious apartments that can be found in Istanbul at high prices. However, do not forget that the service in Istanbul and actually in the whole of Turkey is what many travelers come for.
1 – Do not waste time thinking about routes and transportation: settle in the heart of the old city – in Sultanahmet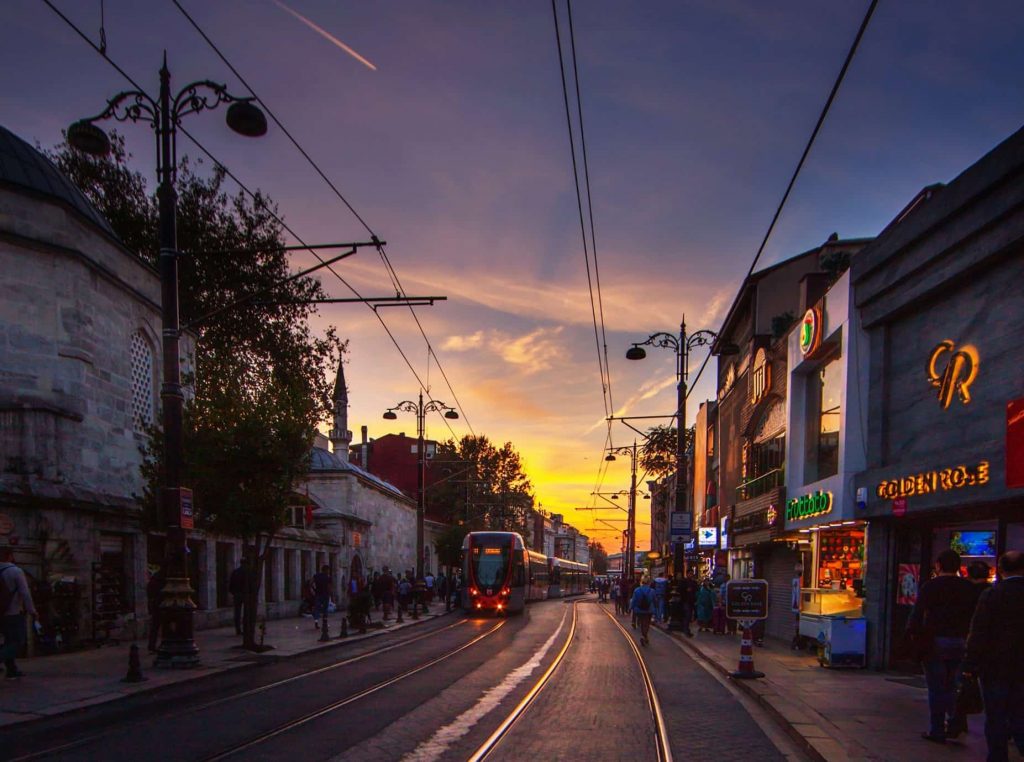 Let us start with the most well-known place in the Fatih area, the Sultanahmet neighborhood, which one can advise you once you ask about proper accommodation in Istanbul for the first time. The answer is logical, since within walking distance here you can find many of the main tourist attractions of Istanbul. All of them are on the bucket list: Blue Mosque, Hagia Sophia, Basilica Cistern, Topkapı Palace, Gülhane Park, about which you can find out more on our website using the links provided above.
And also be sure to read the article on the main attractions of the Sultanahmet area here, which will give you a general idea of ​​what you can visit in a short time.
This neighborhood is really convenient for tourists and safe: here you will be helped to find your way to the desired place; you can find all the necessary shops, restaurants and cafes, where you might also be served in English. However, you should also take into account the fact that prices here are slightly higher than in other less touristy areas.
Returning to the question of accommodation, Sultanahmet's choice is really good: from friendly hostels, where you can meet new international acquaintances, to luxury apartments, overlooking the Golden Horn and the Bosphorus.
Up to 50 USD
So, let us start with the cheapest places, where you can stay and have a good time in the Sultanahmet neighborhood, might be, in the company of backpack travelers, like you. Prices for a shared room in a decent 9+ stars hostels (rated on Google and other hotel search websites) in the Sultanahmet area start at 6 USD per night without breakfast. For a reasonable fee, usually 5 – 20 USD, you can order a good Mediterranean Turkish breakfast at such hostels.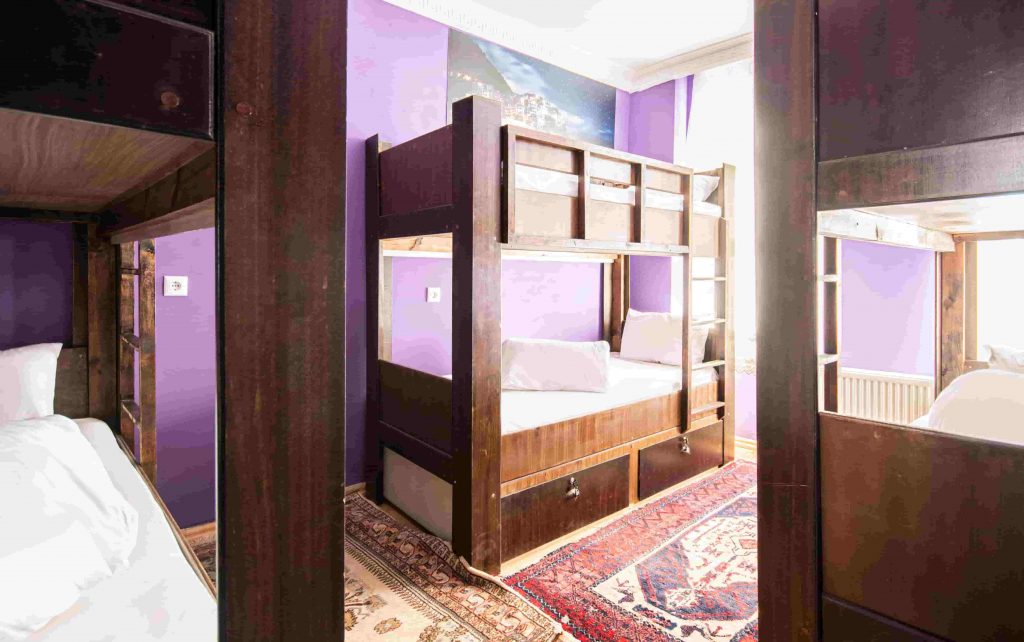 One of the hostels, which is popular with travelers and which is located within walking distance (400 meters) from Hagia Sophia, is the Cozy Garden Hostel that has shared rooms for men, women, and mixed rooms (6 – 7 USD per night without breakfast). There are also private single and double rooms for 20 – 25 USD, but again without breakfast.
Here you can also check out the Old City Apartments, which is also conveniently located, and actually, prices are almost the same – 7 USD per night in a shared room. However, breakfast here will cost you 23 USD, which is quite expensive, therefore, I advise you to check out another breakfast cafe here, at affordable prices, and possibly with the finest views of the Blue Mosque and Hagia Sophia.
What is convenient here is that Old City Apartments has family rooms for 17 USD, and the whole apartment will cost you from 30 USD for 5 people, which is quite profitable if you are traveling with friends.
If you want to save money on breakfast, then, of course, it is better to choose good hostels and hotels of the B&B type (bed and breakfast) like Stanpoli Hostel, Agora Guesthouse – 9 – 10 USD per bed, and Galaxy Hotel Sultanahmet, Tulip Guesthouse, Big Apple Hotel, The Local – 14 – 20 USD for a single room; besides, all of these hotels and hotels are highly rated by travelers.
As for Airbnb for backpackers in the Sultanahmet area, the choice is quite small, since most of the rooms offered here are at the so-called boutique hotels and apart-hotels – from 12 USD per night. The advantage of Airbnb is that if you rent an apartment or part of it for a long period, for example, for 2 weeks, then you might be given discounts, which appear to be more profitable than staying in a hotel. It is also beneficial for groups of travelers who can rent an apartment and divide the cost for all residents (from 30 USD per night).
From 50 to 300 USD
For family travelers and vacationers, willing to spend more for the convenience and comfort of privacy, private hotel rooms in the Sultanahmet area are available at fairly affordable prices, from both private hotel chains and less-traditional more modest boutique hotels.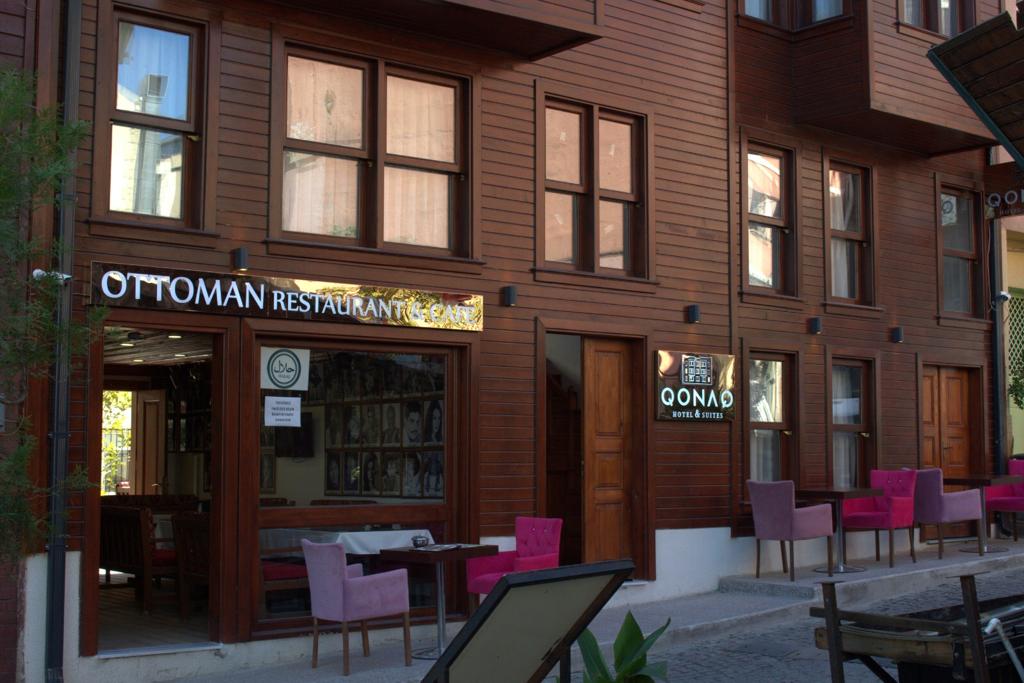 Three and four-star hotels in Sultanahmet will cost you about 60 USD for a night in a standard economy room, and 100 USD – for a superior room. Check out Dosso Dossi Hotels Old City, Best Western Empire Palace Hotel & Spa (breakfast included), Eastanbul Suites, Antusa Design Hotel & Spa, Grand Sirkeci Hotel, Tan Hotel – Special Category (no breakfast).
Special attention should be paid to the inexpensive but atmospheric Qonaq Hotel & Suites (50 – 80 USD) that is located in a wooden house with classic Ottoman architecture, which you can find a lot in Istanbul.
If you choose from the world-famous hotel chains, then you can stay in the four-star Best Point Suites Old City – Best Group Hotels, Hagia Sofia Mansions Istanbul, Curio Collection by Hilton; at Istanbul Irini Seaview House you can even rent a whole 2-bedroom house with stunning bay views for 175 USD per night.
There is a small selection of five-star hotels: Seven Hills Palace & Spa and Vogue Hotel Supreme Istanbul with their own restaurants offering beautiful views of the Blue Mosque and Hagia Sophia – 110 – 200 USD per night.
If you want to rent a whole apartment for a family through Airbnb, again, it will be beneficial for you to live for a long period of time. A loft apartment in an old house but renovated, in the Sultanahmet area, within walking distance from the main attractions, will cost an average of 500 USD, with a discount for the duration of stay of about 300 USD. It all depends on the novelty and amenities in the apartment provided by the owners.
From 300 USD
For lovers of luxury accommodation, in the Sultanahmet area, I can recommend the Center Hill Hotel, which offers a penthouse with a sea view for 340 – 380 USD per night. These rooms have everything you need for a comfortable stay, plus a private sauna in the rooms and a gorgeous view of the Bosphorus. The design of the rooms is rather modest, with no frills.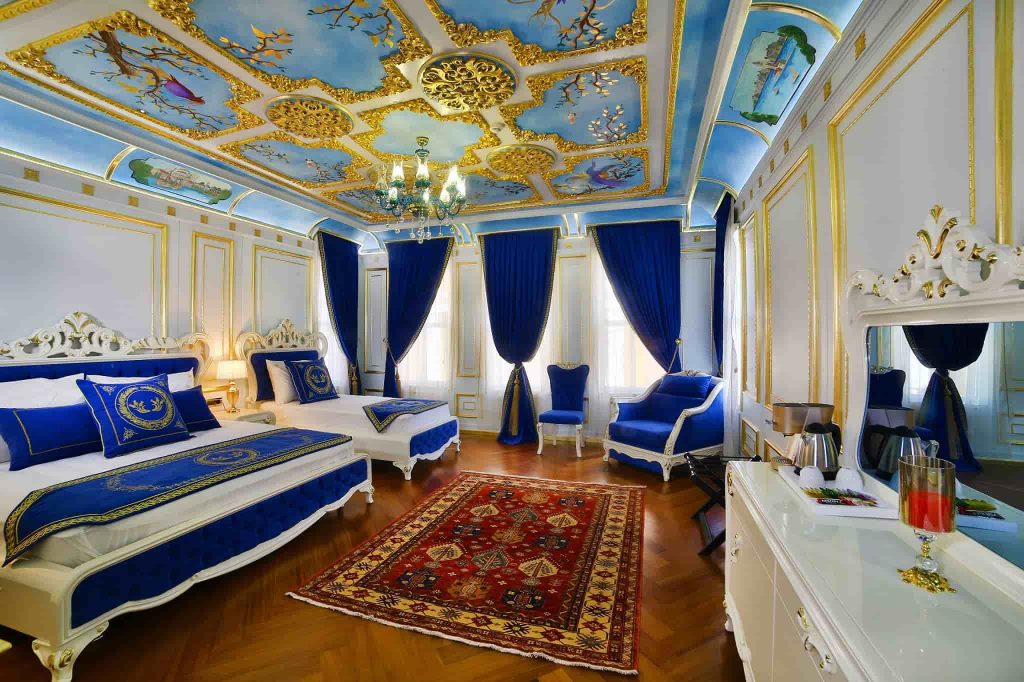 Check out the family suite at the Golden Royal Hotel (313 USD), the suite with a king-size bed, and private in-room jacuzzi at the Levni Hotel & SPA – Special Category (550 USD), or the elegant family suite at the Mercure Istanbul Sirkeci (320 USD).
Rooms at Hagia Sofia Mansions Istanbul, Curio Collection by Hilton, which are housed in a typical Ottoman wooden house, stand out for their interesting design. There are Topkapı Suites, Hagia Sophia Suites, and Ottoman Suites, each with unique décor to match their names in honor of Istanbul attractions, which will cost you 250 – 400 USD per night.
The already mentioned five-star Seven Hills Palace & Spa with an open restaurant, from the terrace of which tourists love to take pictures, also has luxury rooms, the so-called mansion rooms with a really gorgeous and slightly pretentious design, which are rented from 450 USD per night. You can stay here to feel like in an expensively decorated palace with gold stucco moldings and exquisite furniture.
2 – Want to feel the very lively and noisy atmosphere of Istanbul – choose Taksim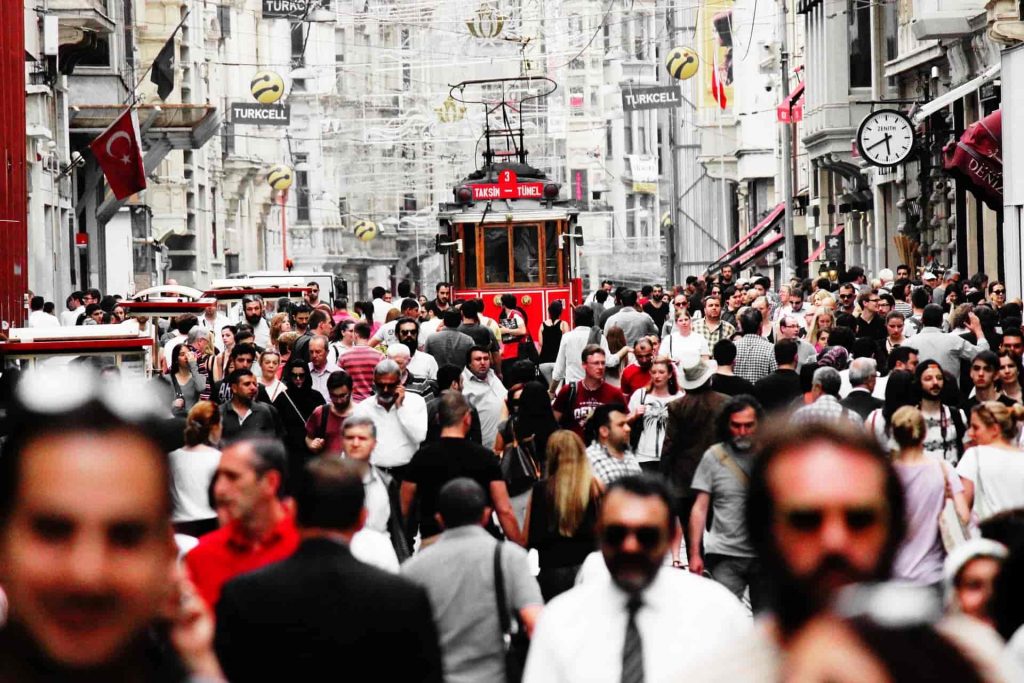 The Taksim area is suitable more for young people and individual travelers, as it is rather a noisy area where you can easily find bars, pubs, clubs, cafes, and restaurants, with street food and everything that makes for a more youthful holiday.
However, here I will rather describe not the Taksim square itself, but rather the Beyoğlu district, which includes not only Taksim but Galatasaray and Karaköy districts, also the Galata Tower's neighborhood, İstiklal Street, and a rather solid and expensive Pera district with antique boutique hotels. In other words, you can find here hotel categories for every taste and color, as well as pocket.
In general, for living, I advise everyone to live away from Istiklal Street, as there will be less crowded, less noisy, and safer. Nevertheless, most tourists prefer the Taksim area, even though it is full of people.
What is the secret of such attractiveness? Well, because it is a convenient place for transport, and the whole life of the city seems to take place on İstiklal Street, along which, according to rumors, up to a couple of million people pass every day.
Taksim has access to the metro, night buses, which is quite convenient for people who came to Istanbul to hang out. The metro is open 24 hours on weekends, and on other days you can use the night buses.
Besides, there are a lot of shops on İstiklal Street with a huge selection of everything your heart desires, from souvenirs and clothing to food and desserts. In the summertime, you can eat traditional goat milk ice cream, and on cooler days grab some local street food. Thanks to such liveliness, this place is so popular among tourists, and not to go far, they prefer to live here.
NOTE: Here, I will suggest to you the accommodation options that are rated 8+ and 9+.
Up to 50 USD
Hostel prices in Taksim start at 3 USD per shared room, breakfast included. So, you can see very budget hostels with good reviews as Nostalji Hostel, Sanat Hostel & Caravan Taksim, Bella Vista Hostel, Taksim City Hostel, Rodin Hostel, Taksim Wooden House Hostel – they are all up to 10 USD per night. You can also find here options for separate accommodation from 10 USD per night, depending on additional conditions.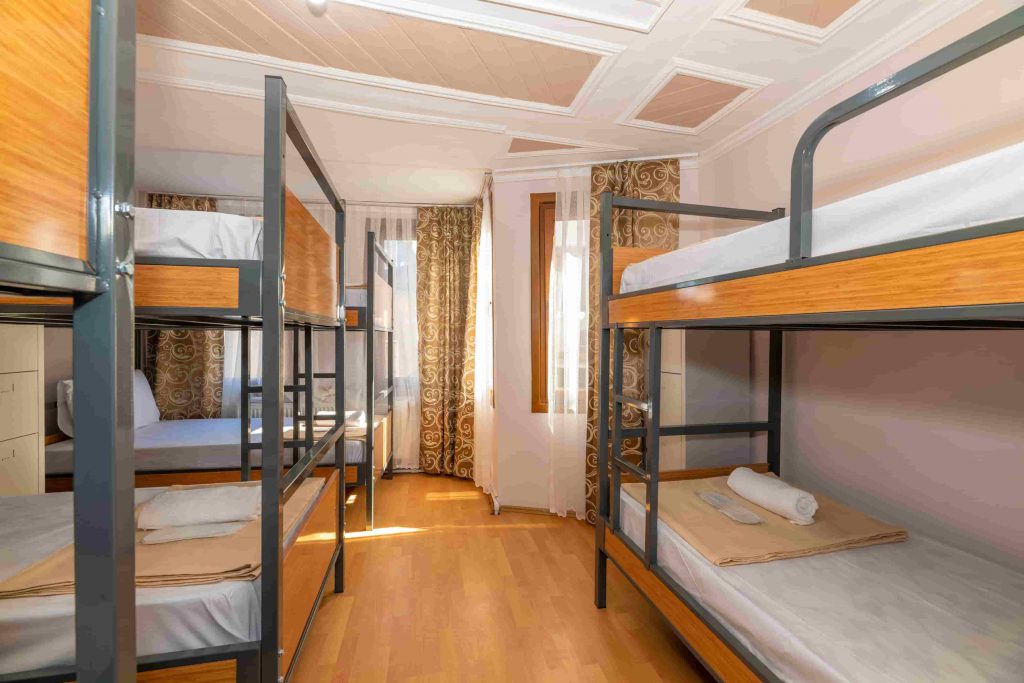 If you suddenly wanted to feel the bohemian atmosphere while living in a hostel, then you can go straight to the Chambers of the Boheme, which has a unique design, and even the furniture in the rooms is made in its own interesting style (approximately 9 USD per person).
If you are traveling with a group, then it will be more profitable for you to rent an apartment on Airbnb, since prices per night in a good, clean apartment with a central location start from 18 USD for a double room. At the same time, I advise you to pay attention to the suites that are located exactly near the Galata Tower, since many of them are based in old restored houses with interesting interiors and views of the narrow atmospheric streets of Beyoğlu.
There are many good options in the Cihangir area, which is considered a safe area, and commonly foreigners prefer to rent apartments there, despite slightly higher prices. Here you can definitely find rooms up to 50 USD a night.
Around the Galata Tower, you can also find inexpensive loft hotels, for example, Galata Door Hotel (34 USD), House MOLA Galata (35 USD), Historic Galata (34 USD), etc. It is also convenient to stay here as there are the Şişhane metro station and one of the oldest in the world underground funicular, connecting Taksim with Karaköy.
From 50 to 300 USD
In the Beyoğlu area, there is a very good choice for different categories of hotels; it seems that the categories that I have identified may not be enough.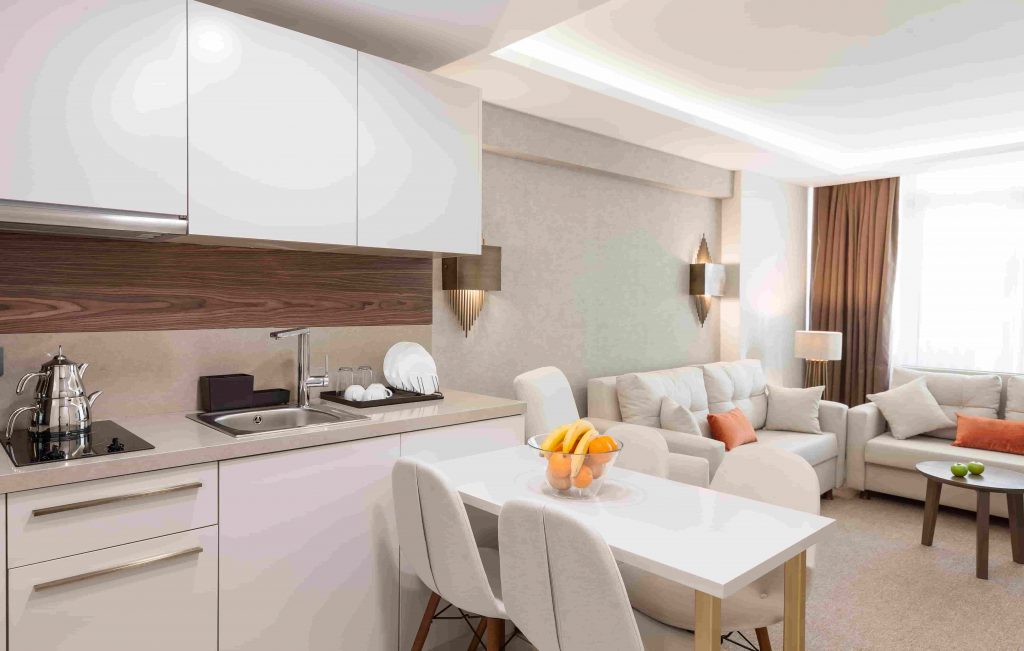 For example, from 50 to 100 USD you can rent a private room with all the amenities in hotels such as Sherry Suites Karaköy, MySuite Istanbul Cihangir Square, Villa Pera Suite Hotel, Taksim Residence, The Westist Hotel & Spa, etc. Besides, rooms will be even improved, which means they might be larger in size and would have additional rooms; and if this is an apartment, then there definitely would be a place for a kitchen.
For example, Sam Diamond Residence offers luxury sea view apartments from 73 USD per night, depending on the number of people staying. And apartments with 4 bedrooms, a kitchen, and a living room, 300 meters from Taksim Square, and 400 meters from Istiklal Street in the Great Historical Luxury Flat For Families will cost you from 76 USD per night.
For lovers of proven hotels, branches of well-known world hotels will be suitable, such as Sofitel Istanbul Taksim, JW Marriott Istanbul Bosphorus, Swissotel The Bosphorus Istanbul (from 170 USD).
From 300 USD
If you think about luxury hotels, it is better to start with the well-known American hotel chain JW Marriott Istanbul Bosphorus, which was already mentioned earlier. The Executive Premier Terrace Galata View room will cost you 416 USD, and the Executive Premier Terrace Galata View – a huge luxury suite with separate living and dining areas for 1099 USD per night.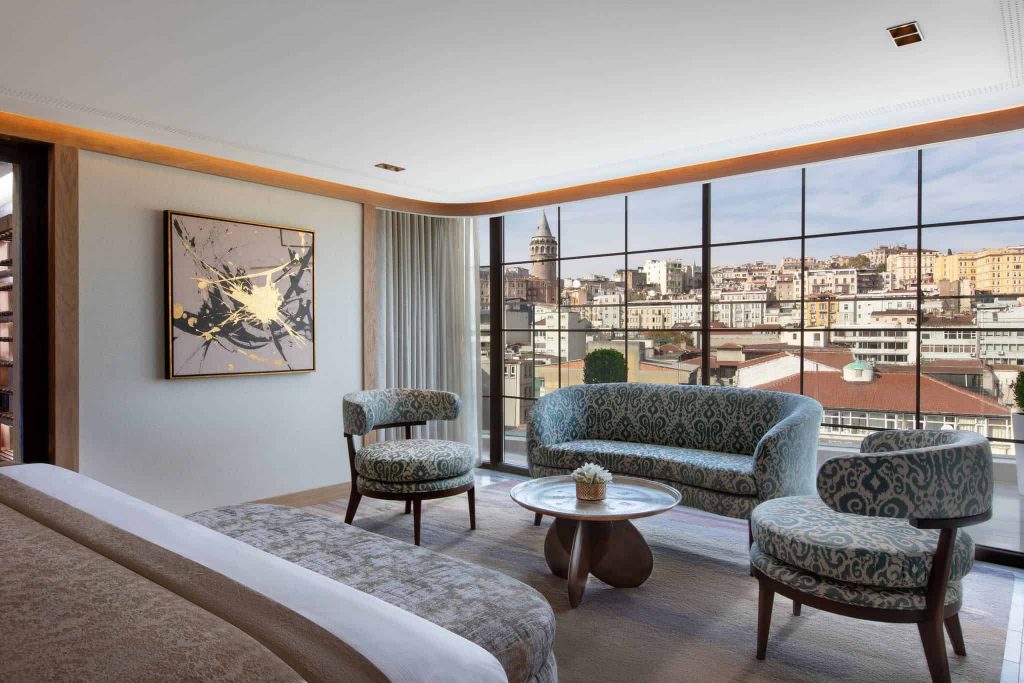 Another luxury hotel called Soho House Istanbul is distinguished by the fact that it occupies three original buildings: the administration building, annex – a new glass building, – and the 19th century Palazzo Corpi. An elegant and slightly ethnic style room in this hotel – a medium-sized duplex mezzanine – will cost you about 570 USD.
Pera Port Hotel by Ferman is also located in a historic building from the early 20th century, close to the Galata Bridge, and its rooms offer stunning views of the Golden Horn. Rooms in such a hotel are quite expensive, but given the novelty of this hotel and all the amenities provided, for example, renting a car, it seems reasonable (from 1100 USD per night).
And special attention deserves a five-star hotel, which has long become itself one of the attractions of Istanbul – the Pera Palace Hotel. Here stayed the celebrities of the past centuries, like Greta Garbo, Ernest Hemingway, Agatha Christie, Pierre Loti, Alfred Hitchcock, and Jacqueline Kennedy. The hotel, which opened its doors in 1895, has experienced a storm of historical events through which Istanbul, and with it, the whole of Turkey, passed in the twentieth century.
One of the most famous guests of the hotel, as it is often called here, was the 'father of the nation', Mustafa Kemal Atatürk. He is assigned a room-museum for life, where personal belongings to the first president of the Turkish Republic are exhibited.
So, the Presidential Suite dedicated to King Edward VIII of Britain and the Emperor of Austria-Hungary Franz Joseph will cost you from 1000 USD, and the adjacent family suite from 630 USD.
3 – For a full nightlife experience and shopping, you would better to choose Kadıköy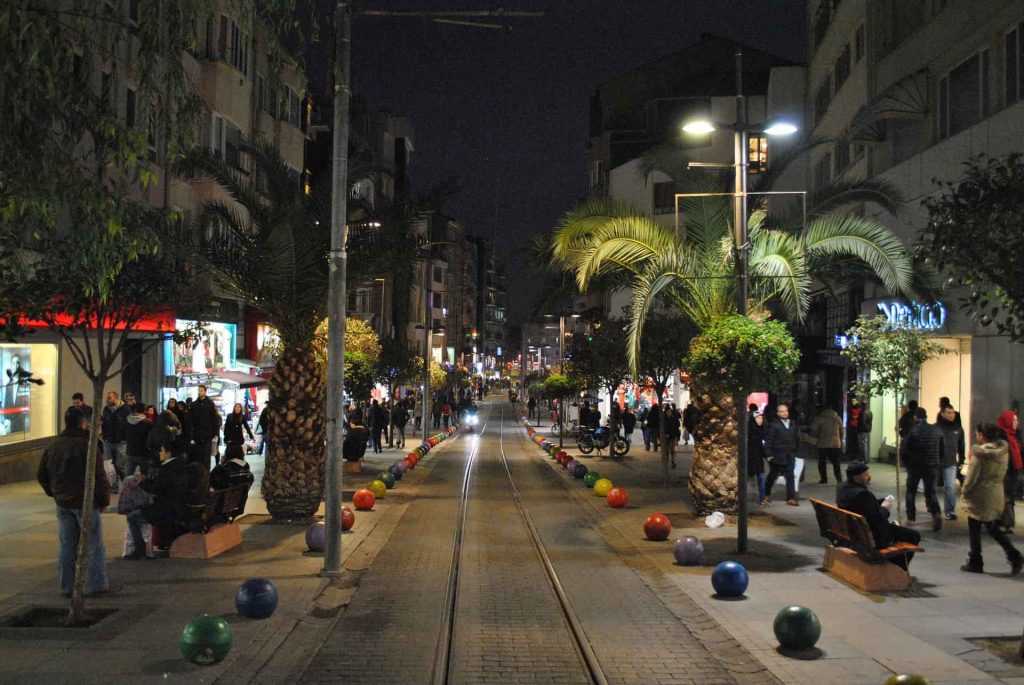 Another tourist-friendly neighborhood, which is located in the Asian part of Istanbul, is Kadıköy. This area is well suited for young tourists as it is considered the center of Istanbul's nightlife, where, unlike Taksim, mostly local youth hang out. If you are an adventurer and a lover of partying in a light atmosphere, then I advise you to choose Kadıköy.
However, this neighborhood is also suitable for those who prefer to settle close to shopping centers, including families with children. Here in Kadıköy, you can check the Moda neighborhood, which is chosen by local ex-pats and is considered a fashionable area with a bunch of European-style cafes and restaurants.
There is also Bağdat Avenue, where you can walk along a street on all sides surrounded by shops, from luxury to local production. Here you can also walk along the Moda embankment, which is the most convenient to observe the waters of the Bosphorus.
Life is in full swing near the Kadıköy pier: the quarters are not much different from the quarters of the European regions. There are shops, pharmacies, many cafes with low prices, and a large market. Nearby there is a park buried in flowers and greenery, which is important for travelers with children.
I can say with confidence that these are safe areas that are easy to reach by metro, metrobüs (local fast buses), bus, and even by ferry leaving from Kadıköy pier to Üsküdar, Eminönü, and Beşiktaş. Here, in Kadıköy itself, a tram runs with a circular route.
The only thing is that I do not advise families to settle in the very center of the nightlife, because of noise until late night coming from the streets. So, in my opinion, these central places are not suitable for children and business travelers.
Up to 50 USD
As I said, Kadıköy is a very suitable place for backpackers, as the atmosphere here is very youthful, and housing prices are designed for such single travelers. There are a lot of inexpensive hostels in Kadıköy, and one of them is the Moda Drei, which provides a bed in dorms for women or men, and in mixed dorms for 12 USD, This hostel is located near the Kilise tram station, which is really convenient. I can also recommend Yolo Hostel quite in the same price range.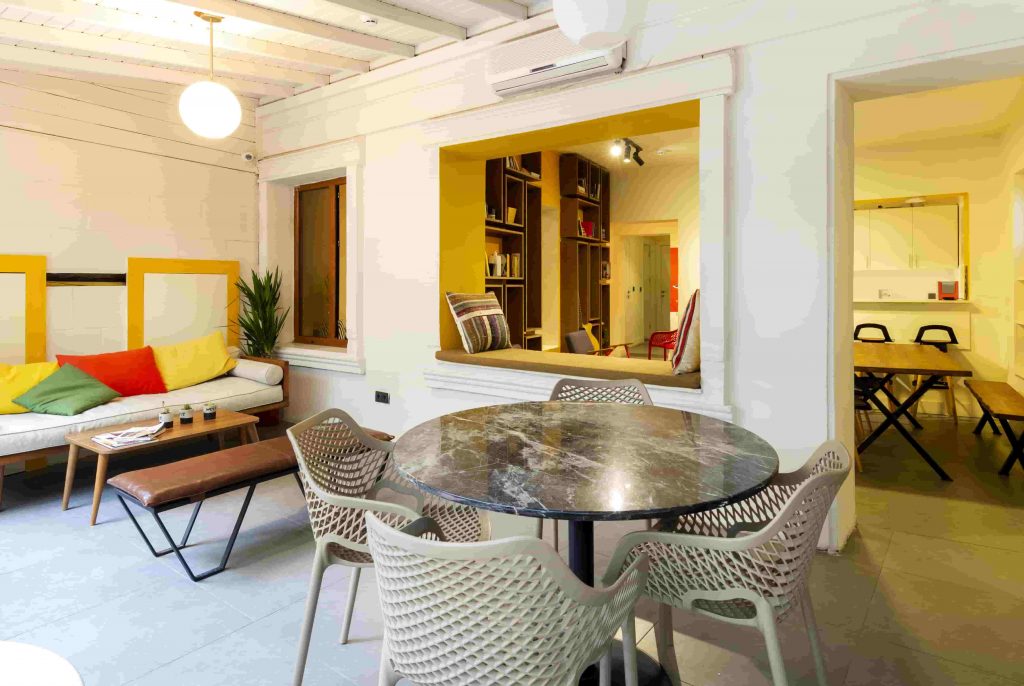 Khalkedon Hotel Istanbul, Loka Suites offer breakfast and single or double rooms up to 50 USD per person, while Hostel Bahane offers a single room without breakfast, but with a nice view of the city and marina from 20 USD per person.
On Airbnb, you can find a lot of accommodation options with the owners or separately in a room at a house with other residents in very convenient places in Kadıköy (from 25 USD), practically in the Bahariye neighborhood, as well as in the very heart of Kadıköy – near the famous Bull statue. By the way, Bahariye Caddesi is a charming pedestrian street and popular shopping area, sort of the local equivalent of Istanbul's most famous pedestrian street, İstiklal.
You can also check Kadife Sokak, often referred to as 'Bar Street' (Barlar Sokağı), which is the center of Kadıköy nightlife. It is lined with many bars from where you can hear music for every taste starting from rock to jazz. On Airbnb, there is an offer to rent a cool atmospheric studio apartment on this very Kadife Sokak for 27 USD per night.
From 50 to 300 USD
For travelers with children, I would advise choosing an area a little further from the Kadife Sokak, where it is quieter and where you can sleep in relative silence. For example, Yolo Hostel offers a 6-person family room for 60 USD per night, which is quite a bargain. And the location of this hostel is also suitable for sightseeing hunters, as it is located closer to the Üsküdar district, which is famous for its Maiden Tower, and many beautiful cozy cafes and fish restaurants.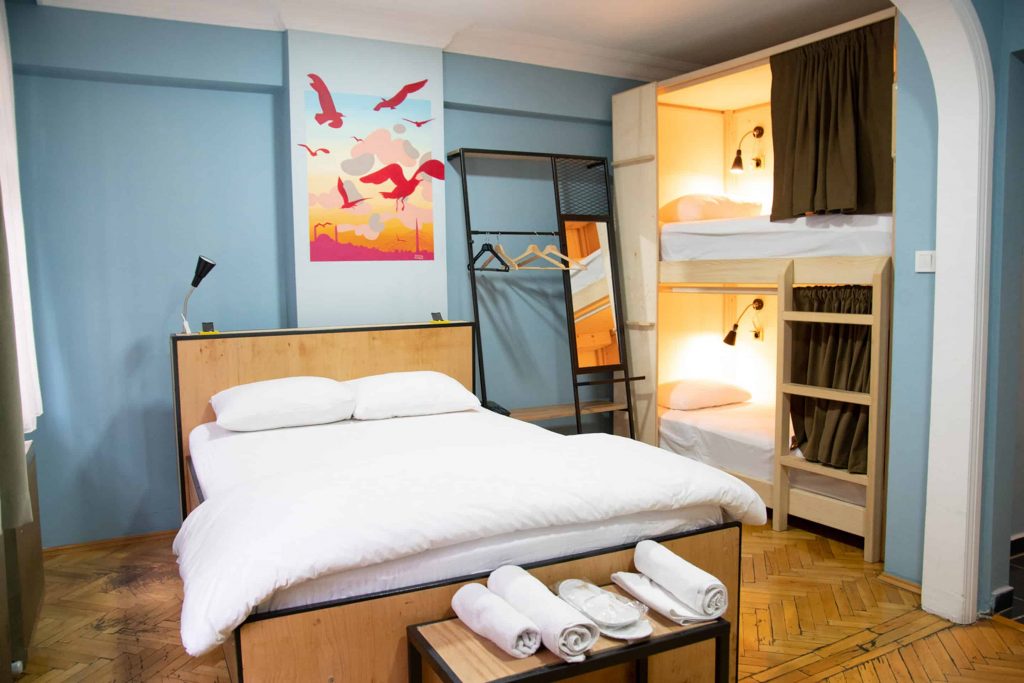 Along Bağdat Avenue, you can choose from several decent hotels under 300 USD – One Istanbul Hotel Suadiye (standard suite for 80 USD), Broyt Suites (standard room for 77 USD), and Wyndham Grand Istanbul Kalamış Marina Hotel (deluxe room for 121 USD) – a part of the world-famous Wyndham Hotel Group hotel chain.
The most profitable option for this price category, in my opinion, is the three-star My Dora Hotel – 52 USD per night with breakfast, which is located on the coastal street Rıhtım, and from the rooms of which there are beautiful views of the Bosphorus and Haydarpaşa railway station, which is interesting in its architecture.
From 300 USD
For a deluxe service, you can stay at the DoubleTree By Hilton Istanbul – Moda in an elegant spacious suite with luxurious amenities and breathtaking panoramic views for 4 people, for 517 USD per night. There will also be separate areas for rest and work at your disposal, and a wonderful breakfast included in the price will be a pleasant bonus.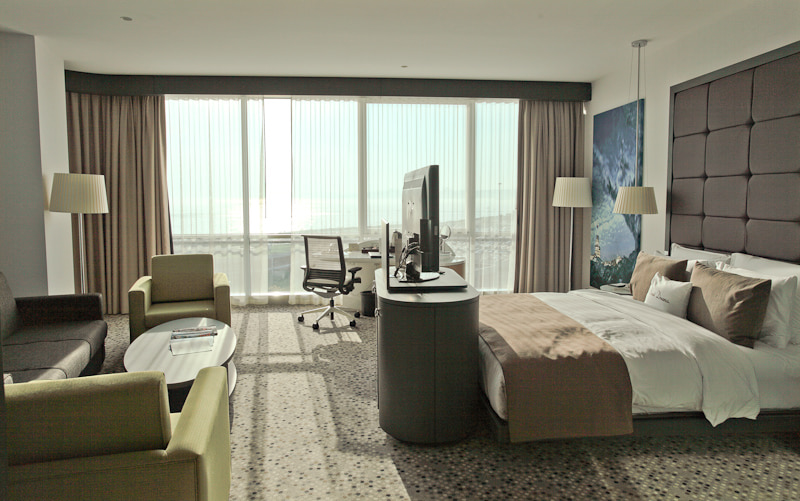 In Wyndham Grand Istanbul Kalamış Marina Hotel, a similar family suite with no view will set you back 328 USD with breakfast; however, this suite is one large room with a king-size bed as opposed to the DoubleTree By Hilton Istanbul – Moda.
Another Hilton in Kadıköy, now in the vicinity of Közyatağı district, is Hilton Istanbul Kozyatagi, closer to the metrobüs line, offers a family room with a city view for 382 USD for 4 people and 412 USD for five people, with a maximum capacity of 6 people for 442 USD per night. For sea views, be prepared to pay a little more.
Once you open the map of Istanbul, you can find a lot of districts, to be precise, 39 neighborhoods. Besides, the city is unusually large and densely populated. It is very difficult for a tourist who has never been to Istanbul to navigate this issue.
Therefore, for such cases, this article is written, which, I hope, can help you in finding accommodation in Istanbul. Choose where to stay based on your purpose of visit, your budget, and what style of travel you prefer. And if you want to find out more about what to visit in Istanbul, feel free to check our website.