Kumpir, a traditional food, served mainly by food stalls in Istanbul, is an energetic snack, and somehow it can be called a whole food because it has many beneficial ingredients. Kumpir is made from a big potato, baked and opened in half, and stuffed with toppings such as sweet corn, sausages, olives, or Bulgarian salad.
It is said that Kumpir originated from the Balkan region, and it's common to eat it in Croatia, Siberia, and Ukraine. Some say that it initially served in the Ottoman Empire, and since then, it has become great food for everyone, especially working-class citizens. However, right now it's served in restaurants across Istanbul. The best place to eat it is on the Bosphorus shore, in the Ortakoy district and it's fantastic to eat it while enjoying a great observation of the Bosphorus strait.
Here in this blog post, I intend to introduce and explain the places, such as restaurants or districts where you can eat Kumpir.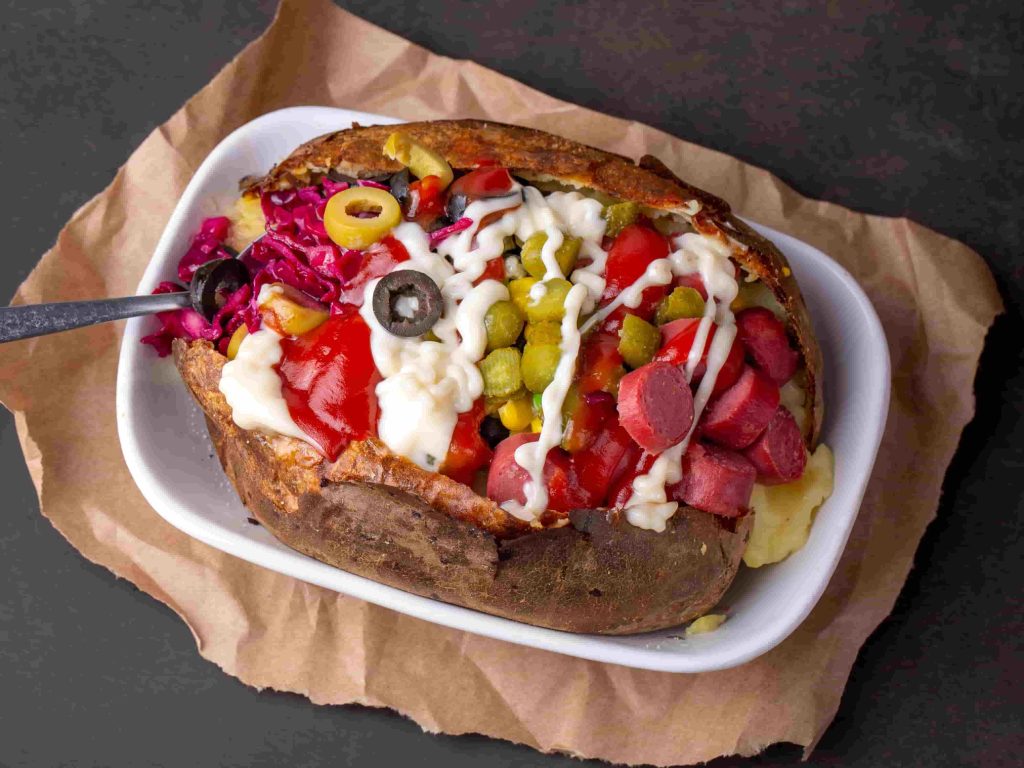 Patatos: biggest portion available
This restaurant serves the biggest Kumpir available in Istanbul, or maybe in the whole world. You can expect a huge potato mashed and topped with various ingredients from Bulgarian salad to Tuna fish, olives, sweet corn, to pickles, and maybe more.
It's a quite hygienic restaurant and it is located in the Istanbul New Town, in İstiklal street, the beating heart of tourist attractions in Istanbul. When you are there, perhaps you have walked too much and this Kumpir works like an energy pill for your body giving you instant energy to continue enjoying the observation.
Location: Tomtom, İstiklal Cd., 34433 Beyoğlu/İstanbul
1991 Tarihi ortaköy kumpircisi avcılar: experience topped in potato
A restaurant with experience in baking Kumpir in Avcilar, Istanbul. They never compromise with the stuff they are putting into the potato, the more, the better. The Potato taste is good and fresh, but somehow, some customers gave negative reviews to the restaurant because of the Kumpir taste. I personally enjoyed eating it there. Their price might be a bit higher than another Kumpir restaurant in Istanbul.
Location: Merkez, Çiğdem Cd. 61/A, 34782 Avcılar/İstanbul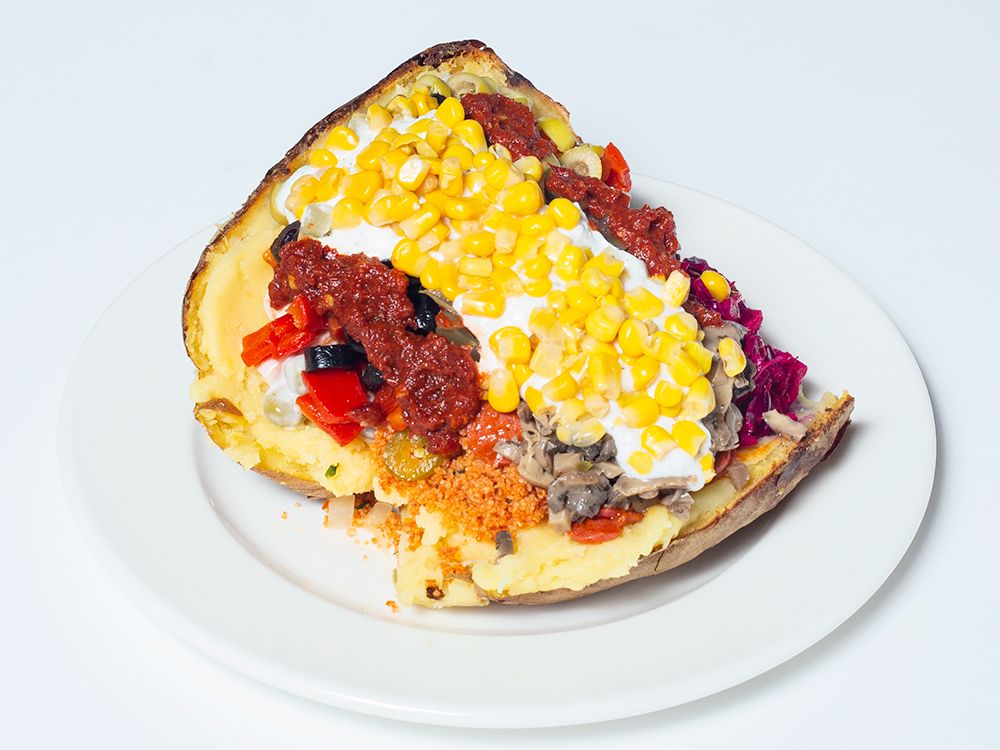 Allpato Kumpir: budget-friendly
A Kumpir restaurant in the Anatolian side of Istanbul. It's located in Kadikoy, the tourist district of the Asian side. The sideway is full of restaurants, but the Allpato Kumpir is known as one of the most interesting ones among the local citizens there.
The price of Kumpir is relatively cheaper than the European side, but the quality and the freshness of the topping and potato are competitive.
Location: Caferağa, Muvakkıthane Cd. 15/B, 34710 Kadıköy/İstanbul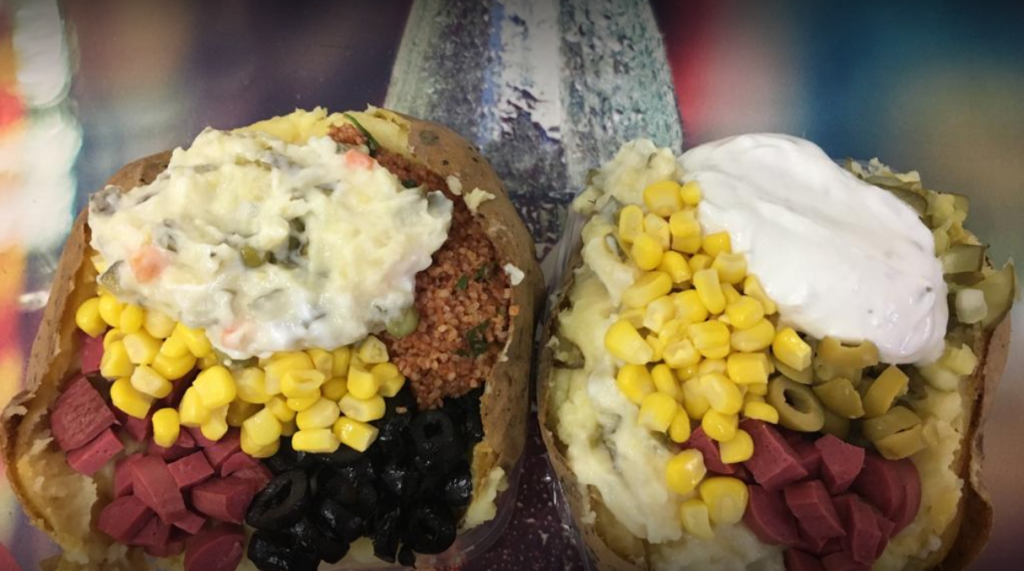 Limon Kumpir
One of the least-known Kumpir restaurants in Istanbul is in the Fatih area. They clai9m to have a good Kumpir with stuffed topping all fresh, varies from tuna to handmade sausages. On Google, you see fewer reviews compared to other restaurants in Istanbul, however, after trying its Kumpir personally, I have got to admit it's a good one, and its price is low based on the location.
The restaurant was clean, and the staff was friendly. They served me the Kumpir with cheese and extra chili peppers. It tasted great, and it felt great. The location might be a bit hard to find, but for me, it did not take that long to locate it.
Location: Dervişali, Fevzi Paşa Cd. No.144, 34087 Fatih/İstanbul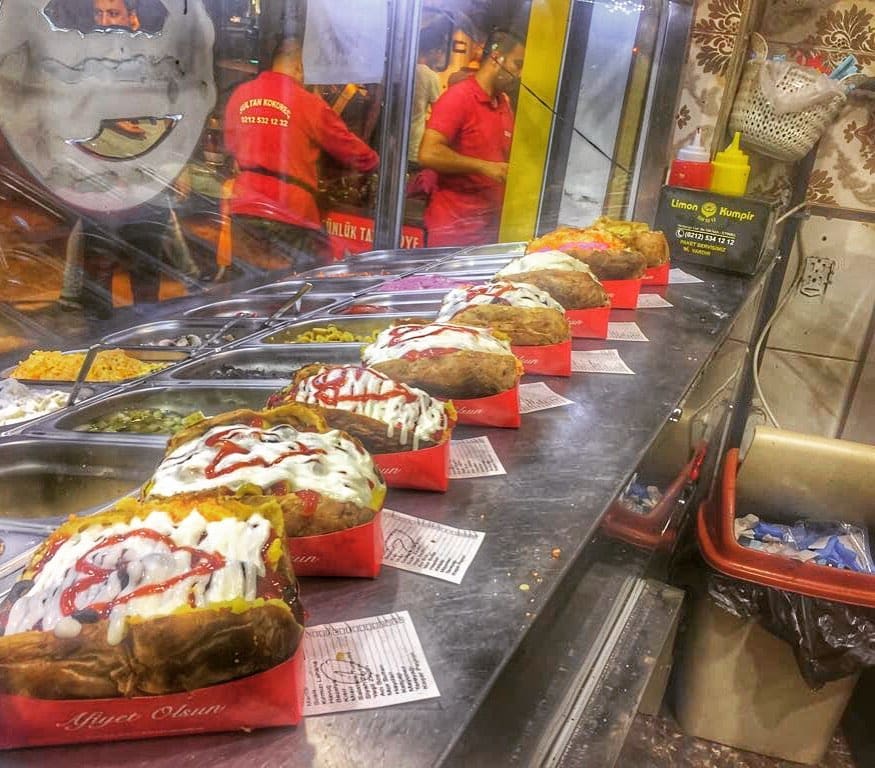 Bambi Café Sirkeci: the history of Istanbul
The very first fast-food restaurant in Istanbul, the Bambi Café was the idea of Mustafa Güner, the fast-food specialist, with the dream to become a dominant fast-food restaurant in Istanbul that offers 24/7 delivery services. The idea came to reality and the Bambi Café, with more than 10 branches in Istanbul, from Osmanbey to Kadikoy, serves the fast food lovers the best quality possible in town.
The restaurant is known for its high-quality services, and Kumpir does not accept that. They serve two styles of Kumpir, mixed and plain.
The restaurant got good reviews from the customer, and many of them were apprised of the reasonable price of fast foods, and Kumpir for sure, without deducting or decreasing the quality of the topping.
Location: Hobyar, Hamidiye Cd. 20/A, 34112 Fatih/İstanbul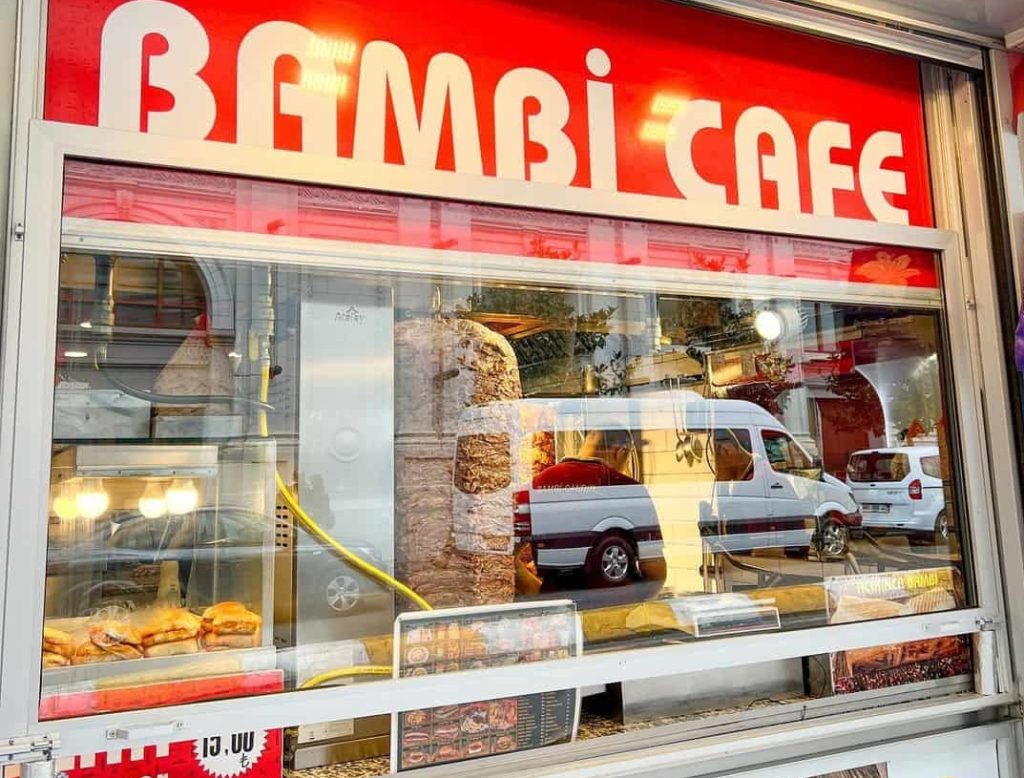 Patsosis: Average in every aspect, but delicious
An average restaurant in quality of Kumpir, or other fast foods that you might eat there, with average hygiene and average responsibility of staff. That is all you read and hear. But the question is why you should stand in queue for getting a Kumpir when all the feedback is stating this restaurant has average-quality of Kumpir?
The answer is great marketing, the best possible location, and the trust that the foreign and local customers have for Patsosis. The restaurant proved itself to be a good choice for eating Kumpir.
Location: Tomtom, İstiklal Cd. No:161 D:161, 34433 Beyoğlu/İstanbul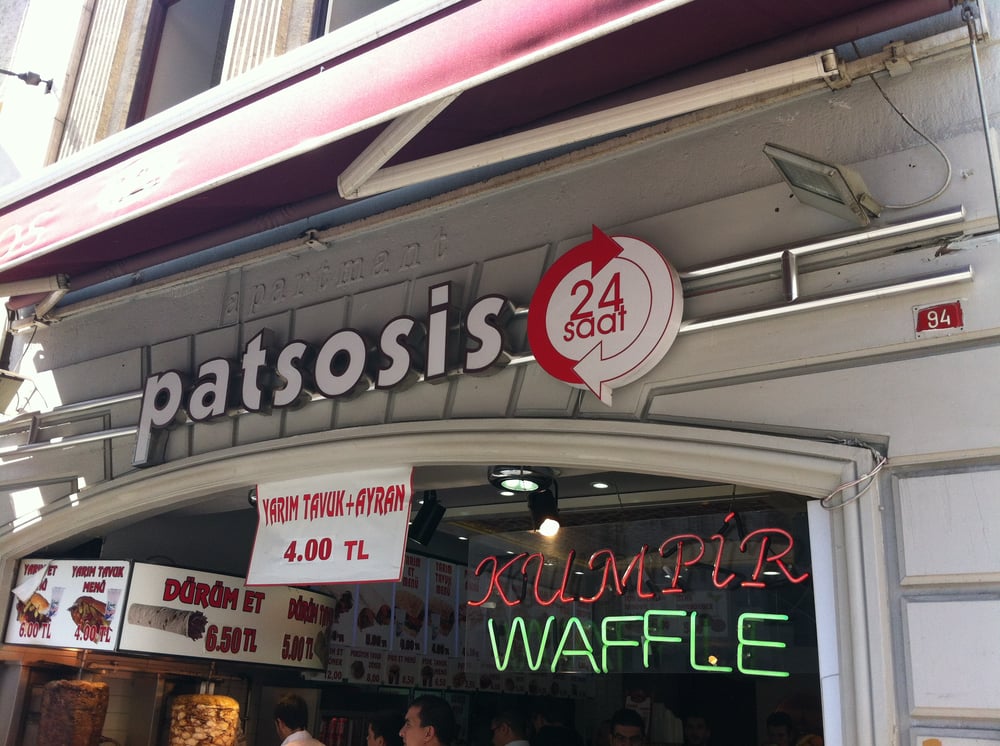 Evren Döner
It is located on İstiklal Street, a 24/7 crowded street for having joy and dance. Despite being in such a great place, I still do not understand what the management of this restaurant is thinking. According to the reviews, I have read, once they understand that you are not Turkish, they try to rip you off. Their menu has no price on it and the quality of Kumpir is not that excellent when they are located in such a great place.
Their food is normal, not extraordinary, the topping and the potato itself are not so fresh and I have no reason to suggest you taste the Kumpir here. No doubt that there are plenty of better options around.
Location: Evren, İstiklal Cd., 34200 Bağcılar/İstanbul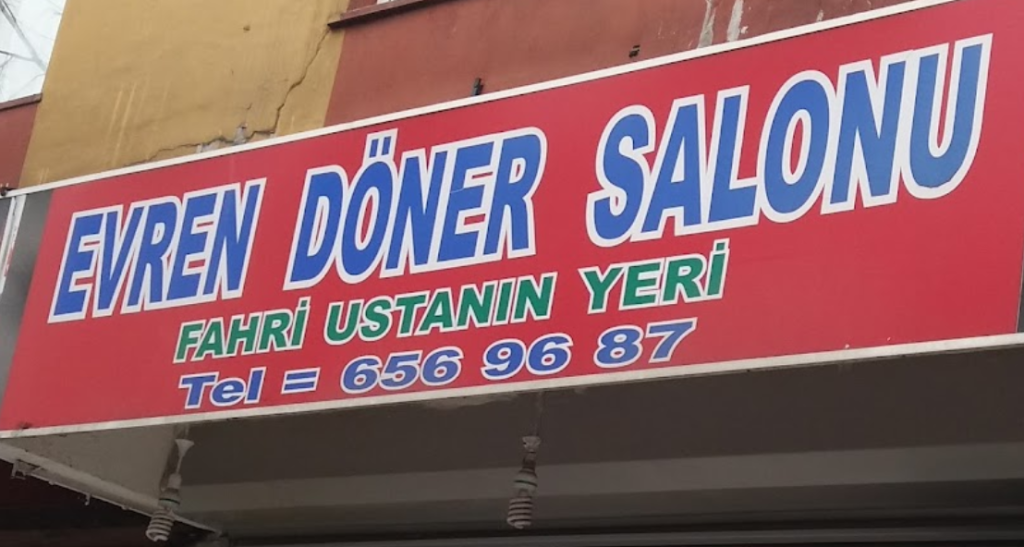 Mr.Kumpir Merkez: a Kumpir express
This is a full fast-food restaurant with all the things that you might expect, the hamburger, the soft drinks, the Shawarma, Turkish kebab, and of course, the Kumpir. This fast-food restaurant has a variety of Kumpirs, from Vegetarian, light, and Mexican Kumpir, which their toppings are different, to chicken and spicy.
Based on the reviews on Google, and my personal experience, I can admit their Kumpir is fantastic. I ate Mexican Kumpir and it was spicy, cheesy, and fully stuffed with mushroom and chicken breasts. They did not get stingy on the topping. I really could not finish it all, so I took it away the other half home.
Here you can have Turkish sweets, snacks, cheese sandwiches, and main dishes with Kumpir, with salami, and pasta on the side. I think it's for two to three people, but each person has a different stomach size I assume. This is a safe choice with guaranteed quality.
Location: Küçük Piyale, Kasımpaşa Zincirlikuyu Cd. No:26, 34440 Beyoğlu/İstanbul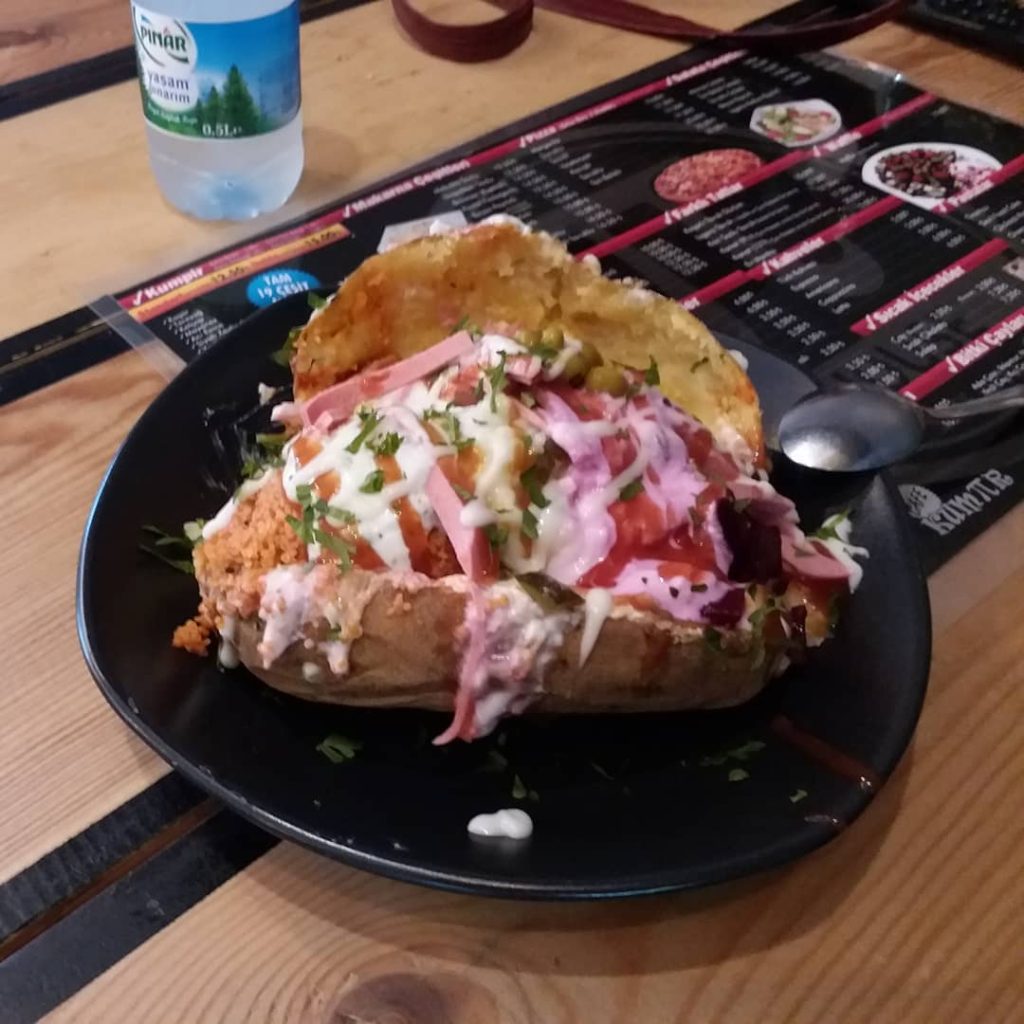 M&D kumpir waffle: big potatos found here
If course people's taste is different and a restaurant that is fantastic for someone, might not be that existing for someone else. That is not working for M&D kumpir waffle at all. I have not read even a single review and I personally have not received any negative feelings when I ate Kumpir here.
The potato is bigger than the rest of Kumpir restaurants, in my view though, their price is relatively cheaper, their toppings are a diversity of vegetarian and meat stuff, the ingredients are fresh, and its all the time full of customers.
Recently I tried the vegetarian Kumpir because I have exhausted from eating red meat, it was delicious. They added eggplants, cheese, and pepper. Nice one!
Location: Gümüşsuyu, Kazancı Ykş. 19/A, 34443 Beyoğlu/İstanbul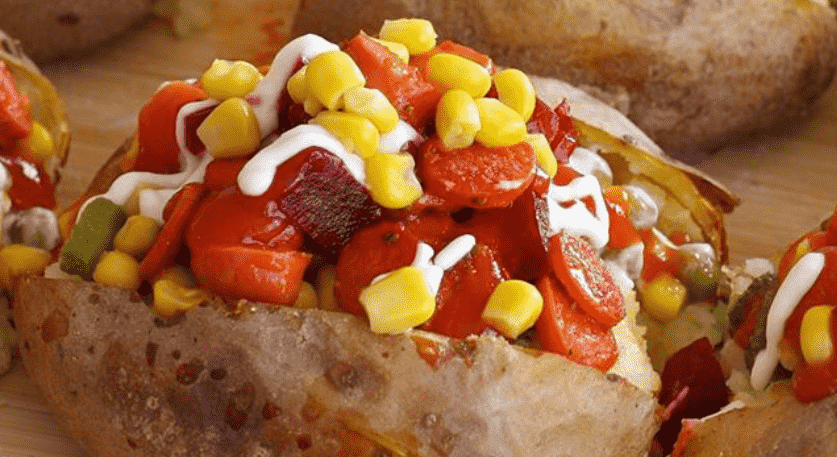 Kumpir Box: A big name for Kumpir
A highly reputable fast-food brand with more than 30 branches across Turkey, with delivery on daylight. The Kumpir Box started its journey in 2008 and took the advantage of maneuvering a traditional food, the Kumpir, in their orientation. Soon they absorbed much support from the local and foreign inhabitants in Turkey, and right now, Kumpir Box offers one of the best Kumpirs that you can eat in Istanbul and other cities in Turkey.
One of the areas they are best in is to use fresh chicken and beef, and vegetables all harvested locally, imported to the kitchen, prepared, and cooked. The output is magnificent, and personally, you barely notice that your Kumpir is made in a franchise.
Based on their menu, they serve you four different Kumpir, and I chose the Karisik one. Great taste, and is cheesy, with lots of chilies in, and butter.
Location: Üniversite, Selvi Sk. No:25, 34320 Avcılar/İstanbul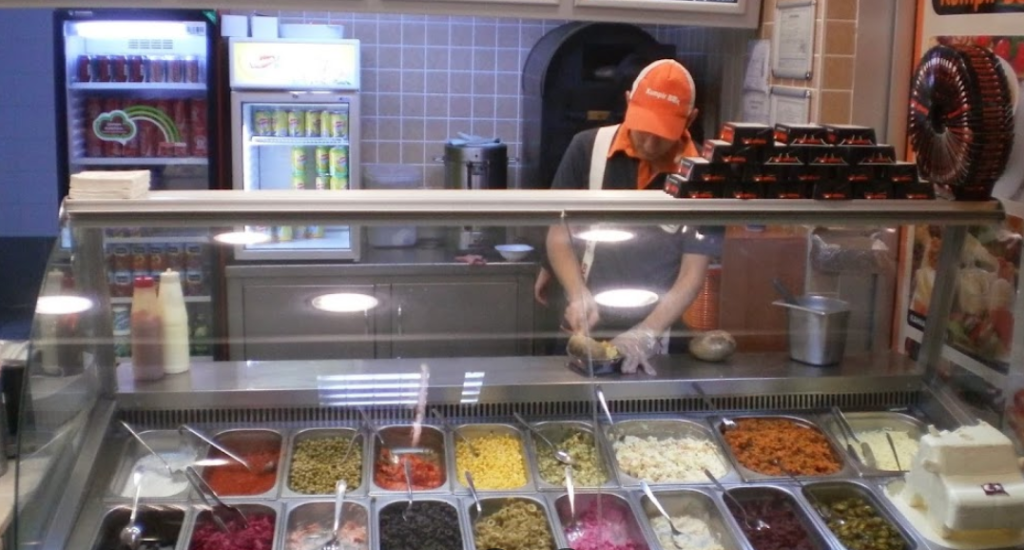 1ORTAKÖY KUMPİR BEYLİKDÜZÜ: the little Kumpir star
Beylikdüzü is quite far from the city center, and it's a good district in the western side of Istanbul. Here if you seek to find a good Kumpir restaurant, I offer you the 1ORTAKÖY KUMPİR. They have a great sense of hospitality, and their Kumpir is fresh, their potato is baked in the oven, and their topping is all freshly made, each cooked and served in the day.
It received 4.7 stars out of 5 stars and its customers always appreciate their friendliness and the taste of Kumpir. I have had Kumpir here twice, and both times, it was delicious. That made me not go that far to the city center for eating kumpir.
Location: Kavaklı, Havadar Sk. NO:34, 34570 Beylikdüzü/İstanbul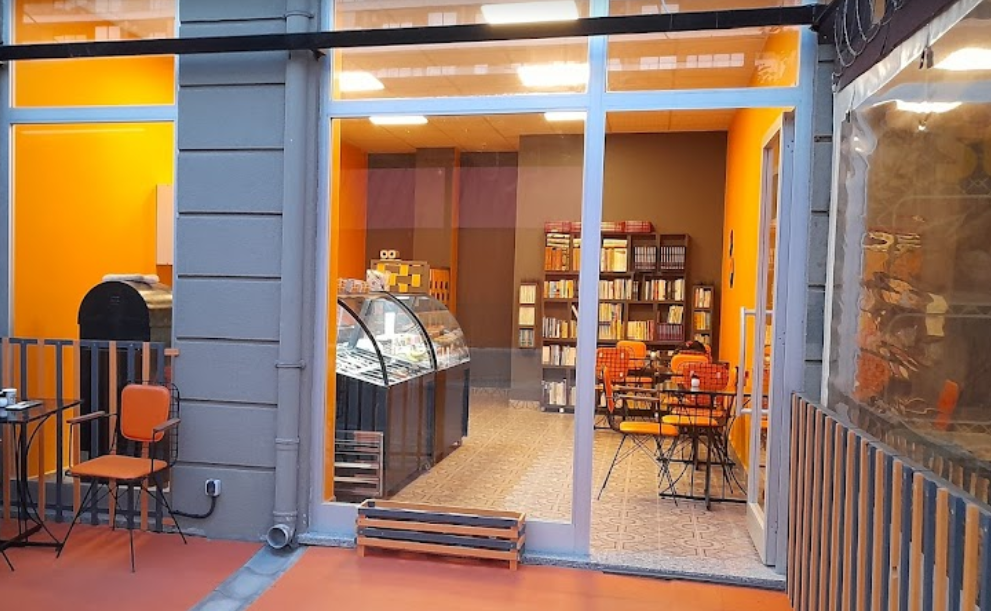 Kumpir Time Büfe: Kumpir on budget
An ordinary Kumpir for people and tourists who are on a budget. The price for a Kumpir here is almost half of the rest of the Kumpir restaurants around the city, but this doesn't mean its quality is lower or its tasteless. I have not checked here yet, but the reviews are proving that the cook is doing the job quite well.
Location: Adnan Kahveci, Atakent Cd. No:32, 34528 Beylikdüzü Osb/Beylikdüzü/İstanbul