For pizza lovers visiting Istanbul, this guide will introduce you to the top 10 pizza restaurants in the city. From traditional Italian to innovative takes on this beloved dish, each location offers a unique dining experience. With our recommendations, you'll discover the vibrant pizza scene of Istanbul and the spots locals swear by.
Best Pizza Restaurants in Istanbul
1 – Pizzeria Pera for experimenting with different toppings
The first place that comes to my mind when I think of a decent real Italian pizza in Istanbul is Pizzeria Pera. This restaurant is within walking distance of the Istanbul Museum of Modern Art, and in general, it locates in a rather well-known tourist area of ​​Beyoğlu (former Pera), where you can visit many other sights. Besides, the Italian Embassy is also located in this area, which is quite an interesting coincidence.
Pizzeria Pera is also known for its experimenting with different toppings, so that the finished dish is in harmony with the crispy dough base, making it not very thick but not thin either. Such experiments suit the taste of the local people, nevertheless, leaving pizza as an original Italian dish.
The prices in the Pizzeria Pera are very attractive and inviting (8 – 17 USD), and the menu is suitable for vegetarians and people who prefer gluten-free food. There is also a wide selection of Italian dishes in case pizza is not enough for you. A big plus of this restaurant is its elegant and, at the same time, cozy design to match the Pera area.
Address: Asmalı Mescit Mahallesi, Gönül Sokak, No: 6/A, Beyoğlu, +90 212 243 86 43.
2 – Bohemian 49 Çukurcuma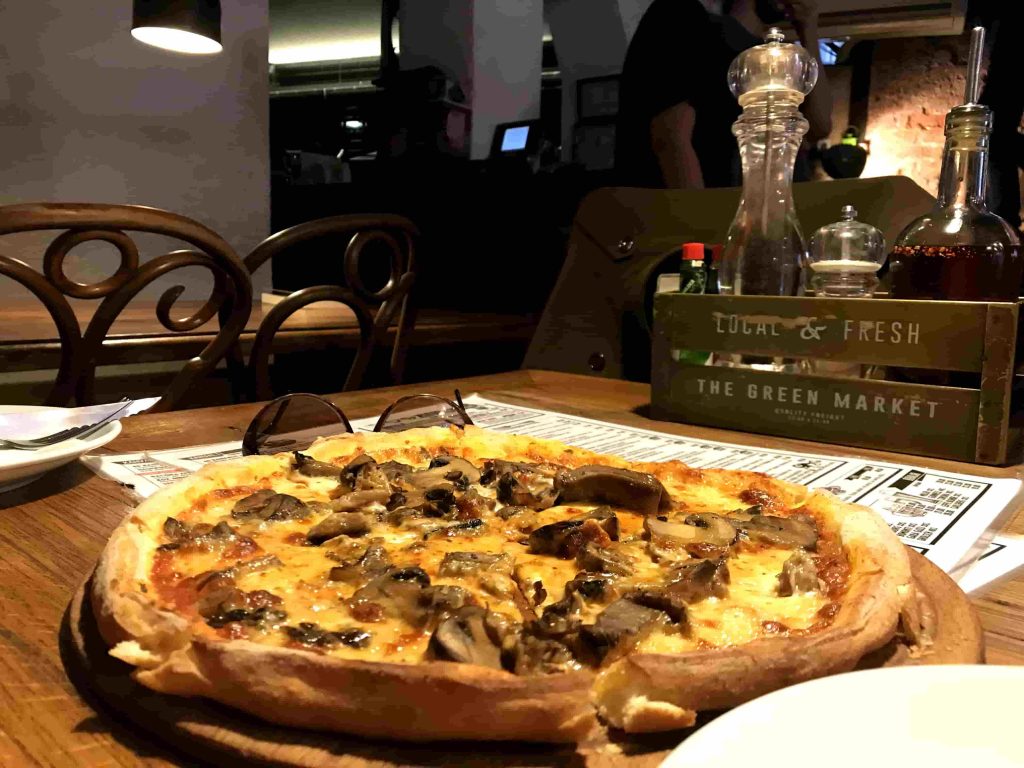 The next pizzeria worth visiting, in my humble opinion, is Çukurcuma 49. You can also find it in the well-known area of ​​Beyoğlu, but closer to the more touristy place of Taksim Square, or rather a seven-minute walk from it. Although this is the case, Çukurcuma 49 takes place in a very interesting ambiance. The pizzeria itself is quiet and fenced off from the bustle of the main street.
Moreover, the restaurant's style can even be called bohemian. But the fact that it is thought out and made in a special way different from other pizzerias is for sure. It seems that the materials used in the interior are natural and a little rough, but it leaves place for a bit of sophistication and elegance.
Moreover, much more important, at Çukurcuma 49 you will find a perfect pizza to your liking, be it meat pizza, veggie pizza, or a mix of different ingredients. There you can also try seafood pizza, which is not always available but is listed on the menu. What all these pizzas have in common is that they are all prepared from fresh products and all, without exception, are mouth-watering and delicious. Prices there are slightly higher than in other pizzerias and vary in between 4 – 9 USD.
Address: Kuloğlu, Turnacıbaşı Cd., No: 49, Beyoğlu, +90 212 249 00 48.
3 – 400°C Pizza for ideally cooked pizza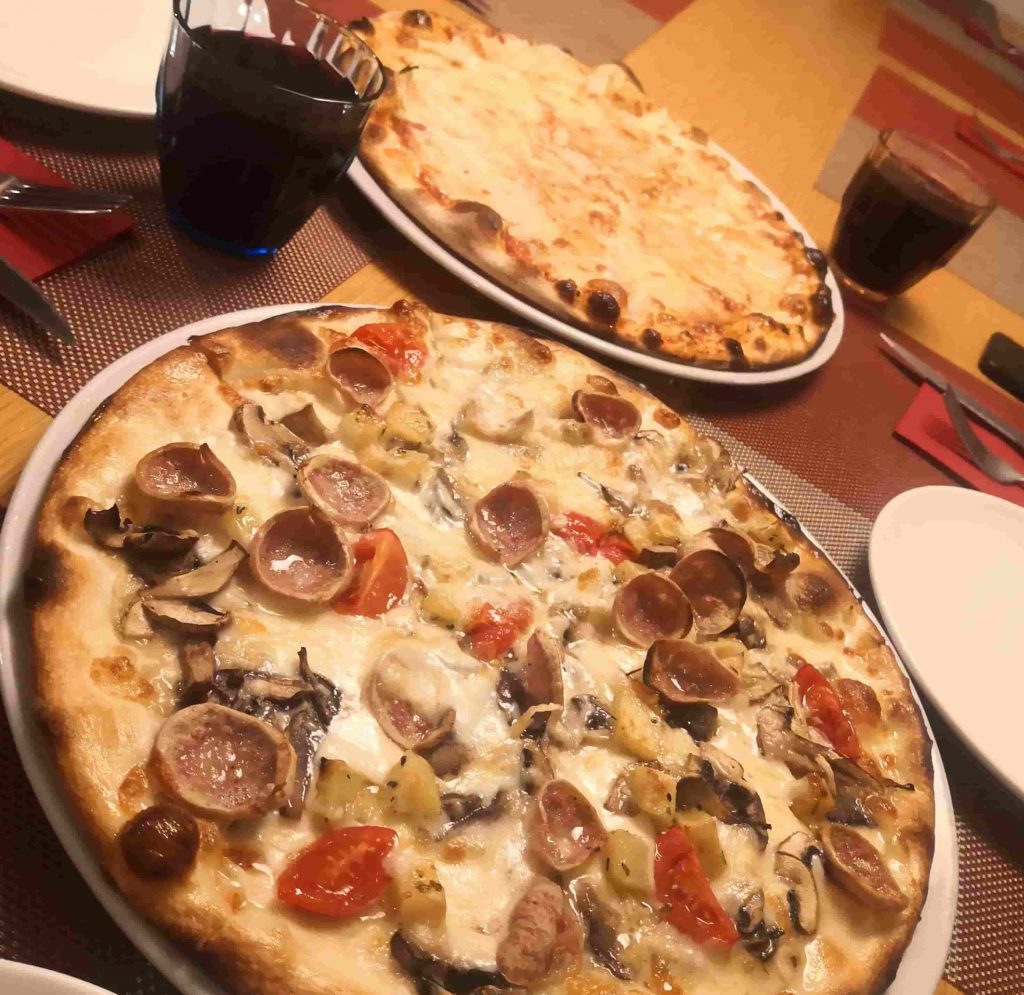 The next pizzeria with an original name that I recommend for more experienced travelers is 400°C Pizza. "Why more experienced," you ask – because it is located in the prestigious Şişli district of Istanbul, near Beşiktaş, and not far from one interesting tourist destination, which is not known to all tourists arriving in Istanbul. This place – a pearl of Ottoman architecture – mostly visited by tourists in April, during the magnolia blossom season, is called Ihlamur Palace (rather a park complex around a small palace). The pizzeria is located, literally, within walking distance of Ihlamur Palace, and, while paying a visit there, you can try the most delicious pizza at 400°C Pizza.
400°C Pizza has such an original name for a reason: 400°C is the ideal temperature for preparing crispy and, at the same time, tender pizza. At this restaurant, pizza is cooked in just 2 – 3 minutes to give it a special unique taste – when the smack of all ingredients is preserved.
The pizzeria itself is small and nice with a modest, I would say, cozy Italian design. The friendly staff will meet and help you in a family-like manner. Besides, if we talk about prices, different types of a pizza vary from 2 to 7 USD.
Address: Teşvikiye, Av. Süreyya, Ağaoğlu Sk., No: 13/A, Şişli, +90 212 511 21 09.
4 – Pizzeria Il Pellicano: pizza from Napolitano Chef Salvatore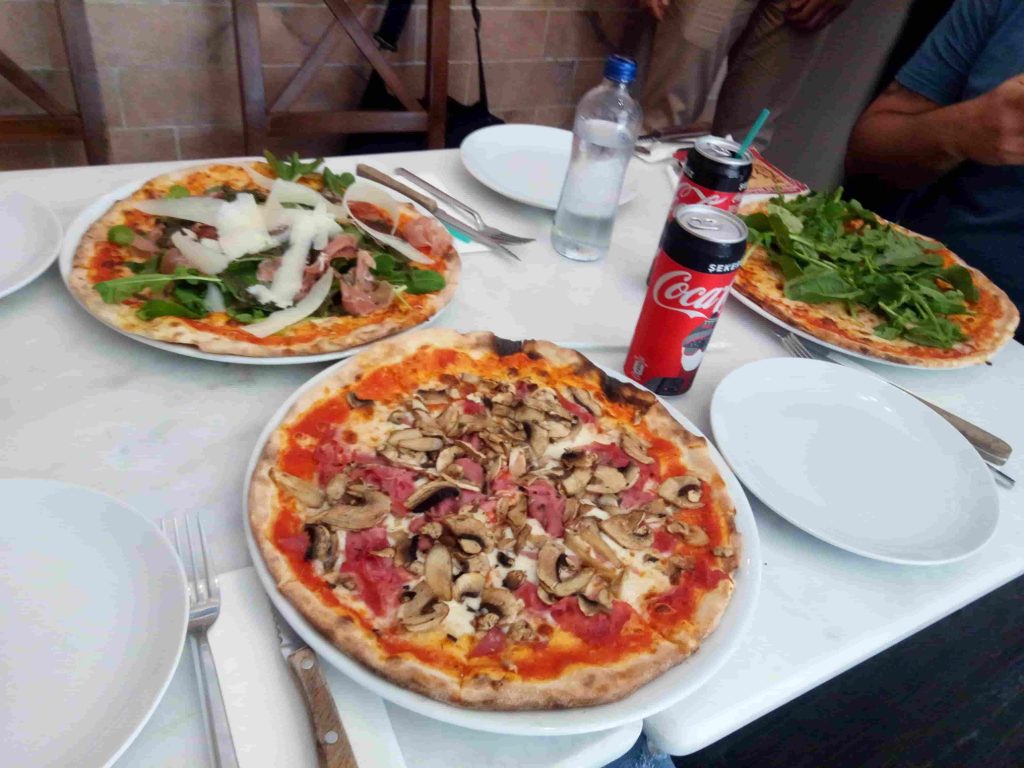 Need a place to eat that is crowd-pleasing, good for groups, just-as-great for couples, and excellent value-for-money? I consider Pizzeria Il Pellicano the best choice to taste the real Italian pizza in town, perfectly carved by the great Napolitano Chef Salvatore. He is the 4th generation Pizza Chef in the family with great hospitality and talent. If you find yourself in the neighborhoods of Kadıköy and ravenous for Neapolitan pizza, there is only one place you should consider heading to.
Pizzeria Il Pellicano has an ample mix of highly delicious pizza dishes, all with great dough, perfect filling, and cheezy. Ingredients are rich and authentic, and pizzas comes with generous distinctive flavors (that you be mopping up with leftover crust, afterward). A perfectly thin and crispy base makes these pizzas ideal, and one you will be coming back for over and over again.
Furthermore, the friendly staff and a lovely dining room make this a trustworthy place to eat some tasty Italian pizza. On top of it, the prices are extremely reasonable too: in a big restaurant, for such delicious pizzas, you would pay at least two times more.
Their wide and sweet menu boasts a range of affordable meaty and veggie pizza options: Margherita, Buffalino, Calzone, Fantasia, Funghi, Napoli, Pellicano, Parmigiana, Vegetariana, and the list goes on. If you are fonder of pizzas and want to satisfy your pizza cravings, Pizzeria Il Pellicano has a special option of fusion pizzas with instant flavors for you.
Overall, it is a perfect little place with indoor and outdoor seating, where the oven is heated by real wood sheets, which gives the pizza a deliciously chewy flavor.
Address: Caferaga Mahallesi, Keresteci Aziz Sokak, No: 36B, Moda, +90 216 338 23 28.
5 – Gem of Italian restaurants in Istanbul – Ozi Pizza and Pasta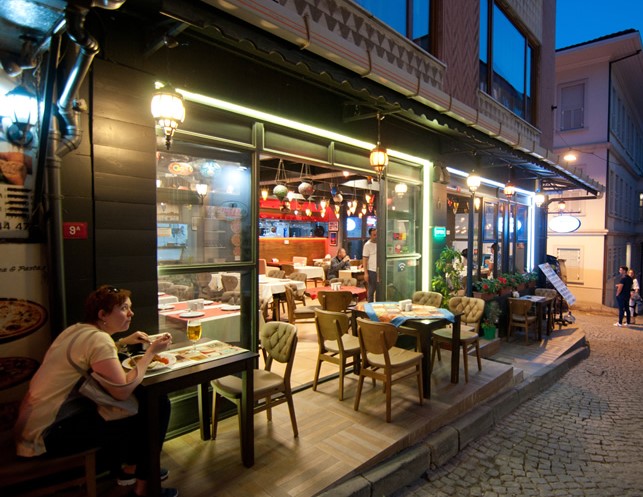 Tired of traditional Turkish kebabs circulating all across the streets of Sultanahmet, and looking for something distinct and tasty, pay Ozi Pizza and Pasta a visit and get your mitts on a crowd-pleasing Margherita. It is, indeed, a gem of Italian restaurants in Istanbul located just a few minutes away from all the top sights like the Blue Mosque and Hagia Sophia.
Ozi Pizza and Pasta is really a go-to pizzeria for situations when money is tight, and time is of the essence. Their pizzas are as luxurious as the restaurant's famously flamboyant surroundings: there are few tables outside, steps leading down to a club-like atmosphere with 'leather' type lounge seats, and the background music, which provides an incredibly cozy atmosphere.
The menu consists of a selection of Italian starters, mozzarellas, and a variety of adventurous pizzas. You will find an array of kinds of pasta, appetizing desserts, salads, and meat dishes too, but pizza is, definitely, the focus there. Make sure you ask for their super awesome pistachio dessert and Ravioli, which is oozing with flavor. Besides, a refreshing apple tea served for free is a lovely bonus there. Ozi Pizza and Pasta is a fantastic place with moderate pricing, owned by a true gentleman named Firat, whose main priority is customers' satisfaction and outstanding service.

Address: Binbirdirek Mah., Su Terazisi Sok., No: 9, Fatih, +90 212 516 44 47.
6 – Forno Balat: "Forno is a home for everyone who loves good things"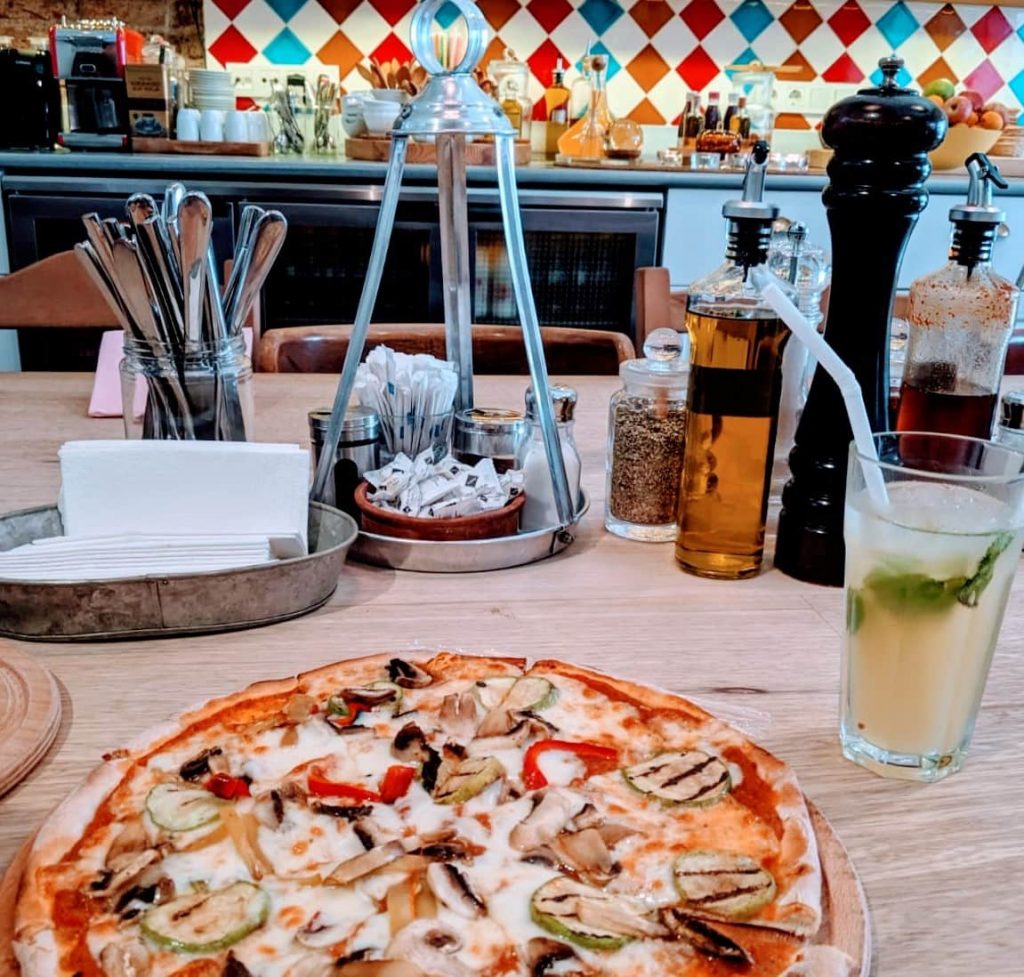 If you happen to be lucky enough to be in one of the most picturesque and historical districts of Balat, famous for the fact that one of the popular Turkish TV series "Çukur" was filmed there, then I certainly advise you to look into the local Forno Balat pizzeria. "Forno is a home for everyone who loves good things" is said on their website, and indeed it is. This place is cute and modest: when you enter, you find yourself in a warm corner with a rather homely atmosphere. This is really a very bright and cozy place, and the pizza there is always fresh and tasty.
The owner of this restaurant is very careful about the quality of the products used to prepare their pizza. She takes meat from a trusted family butcher and fresh vegetables from a neighboring store, where everything is natural and grown with special care. If you are looking for something like handmade and home-cooking, then you should definitely visit Forno Balat.
Interestingly, even Italian customers visit this pizzeria in search of authentic Italian pizza, which says a lot about the quality of their pizza. However, I advise you to come here for a leisurely meal, as this place is quite small and usually very crowded, so you will have to wait for your turn, that is not very suitable for hurrying tourists. Besides, prices at Forno Balat are reasonable, and pizzas are from 3 to 7 USD.
Address: Balat Mh., Fener Kirechane Sok., No: 13, Fener, +90 212 521 29 00.
7 – Pizza Locale – a modest pizzeria in a fashionable center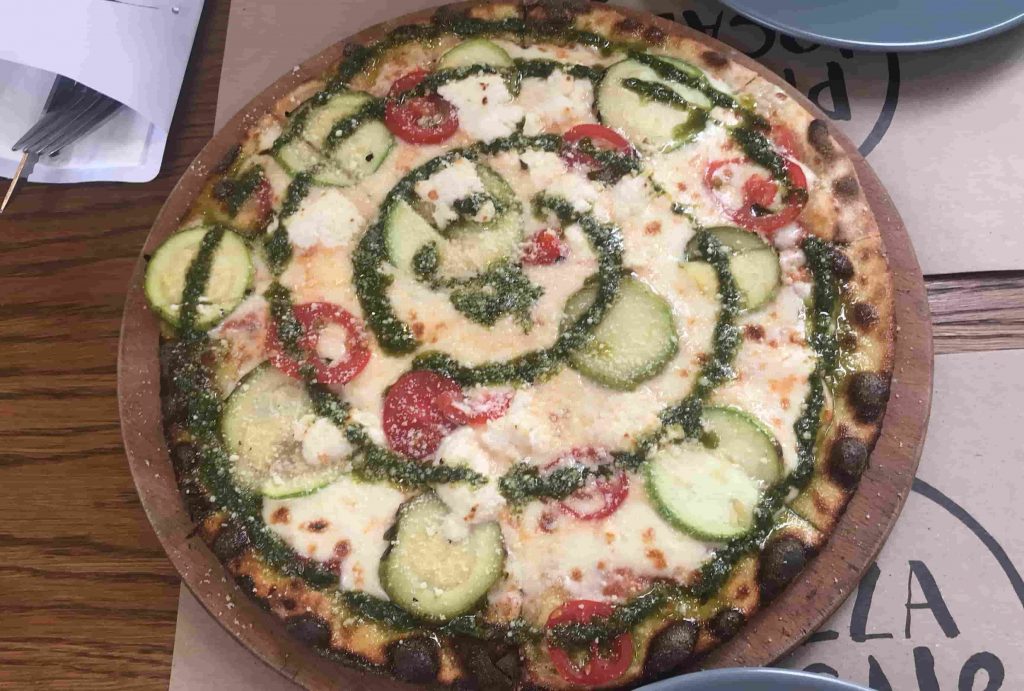 In Istanbul, you can find a rather famous Bağdat Avenue, which is rightfully called the fashionable center of Istanbul. There are elite restaurants and expensive boutiques of well-known western brands, which also attracts many tourists not only for shopping but also by getting a lucky chance to take pictures with the stars of Turkish TV shows, whom you may meet there. So, while walking along this street in search of an interesting spot for a photoshoot, do not forget to look for delicious pizza in a place called Pizza Locale.
The pizza there is served in a small, medium, and large sizes, which is very convenient as you can order several pizza options with different toppings. Besides, Pizza Locale is a rather cozy place with an uncomplicated interior. I advise this place for families with children or a group of friends with different taste preferences.
Even though the area where Pizza Locale is located is quite luxurious, the prices at the pizzeria are really inexpensive (3 – 8 USD). Thus, if you are tired of shopping, this pizzeria is the very place where you can quickly and inexpensively eat a decent Italian pizza.
Address: Caddebostan Mah., Bagdat Caddesi, Kosk Sok., No: 4/3, +90 216 350 50 51.
8 – Large delicious pizza at Pizano Pizzeria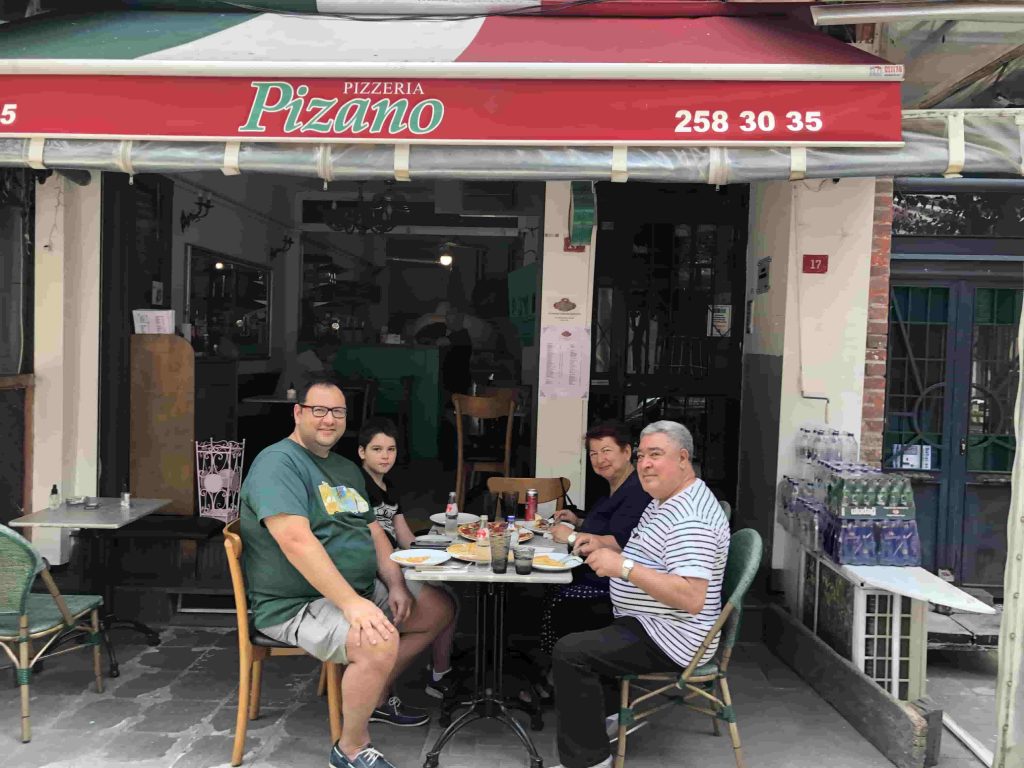 The next pizzeria that I recommend visiting guests of Istanbul is Pizano Pizzeria. This restaurant is located in the Ortaköy area, which is also popular with tourists for its picturesque views of the Bosphorus waters. Few of those who have visited Istanbul can boast of impressive photos in front of the Ortaköy Mosque and the Bosphorus Bridge (15 July Martyrs Bridge). Pizano Pizzeria is not on the very shore, but you need to go a little deeper into the area to find this diamond hidden from people's eyes.
So, if you find yourself in this wonderful area, I advise you to visit this pizzeria for a little rest from your walks in the tourist places of Istanbul. Moreover, the pizza there is always fresh and delicious, with different toppings for every taste. For convenience, Pizano Pizzeria serves two sizes of pizza, large and small. My personal advice is to order a large pizza since a small pizza is not much cheaper than the bigger – only 1,3 USD, but the difference in size is quite noticeable.
The menu is quite varied; there is even a pizza called Primavera, which does not contain cheese for the extraordinary pizza lovers or for those who are lactose intolerant. This place is also friendly for vegetarians, and, in general, I recommend it to everyone, as everyone will find something to their liking.
Address: Mecidiye Mahallesi, Eskibahçe Sokak, No: 17/A, Ortaköy, Beşiktaş, +90 212 258 30 35.
9 – Beppe Pizzeria: Italian culinary customs in Istanbul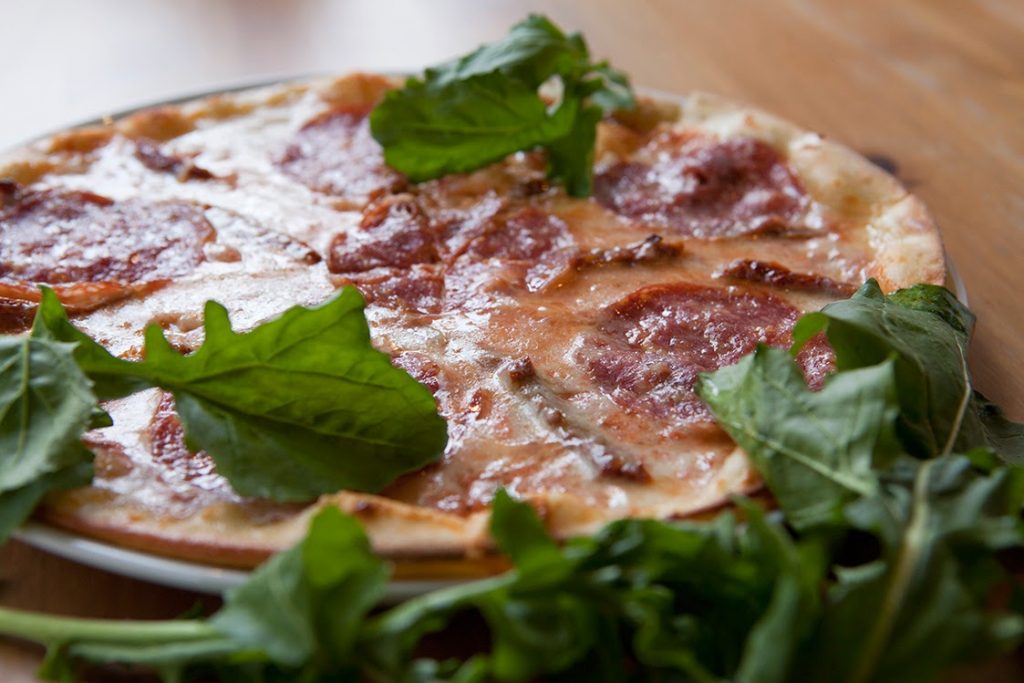 If you are looking for a truly authentic pizza prepared by a skilled chef, then Beppe Pizzeria is the exact place for you. There you can find a large selection of pizza with various toppings and excellent taste. Beppe Pizzeria is a fairly young restaurant that opened its doors in 2008 in the Moda district. As they say themselves, Beppe Pizzeria pays great attention to the food, 'creating unique food combinations in a re-interpretation of culinary customs'. Same in cooking pizza: they not only follow traditional Italian recipes but also come up with their own to please the ever-changing tastes of people.
Moda is quite a prestigious and expensive area that also affects the prices in restaurants, and Beppe Pizzeria is no exception. Prices here are slightly higher than in pizzerias of other areas – 5 – 20 USD. But I should note that the prices there appear reasonable as the ingredients used to prepare the pizza are of the highest quality. The vegetables are fresh and carefully selected, and the seasonings are the most Italian.
Although the place has an Italian name (Beppe is an abbreviated name from Giuseppe), the hosts are, actually, the Kuzuoğlu family. The owners thoroughly follow the traditions in the preparation of authentic Italian pizza, which causes great admiration. Everything in this restaurant, from the taste of pizza to the design of the pizzeria, is filled with care. And it can be seen that these people treat the restaurant and their visitors with concern and love.
Address: Caferaga Mahallesi, Moda Caddesi, Ferit Tek Sokak, No: 60/B, Kadikoy, +90 216 550 22 00.
10 – Miss Pizza for perfectly filled Italian style pizza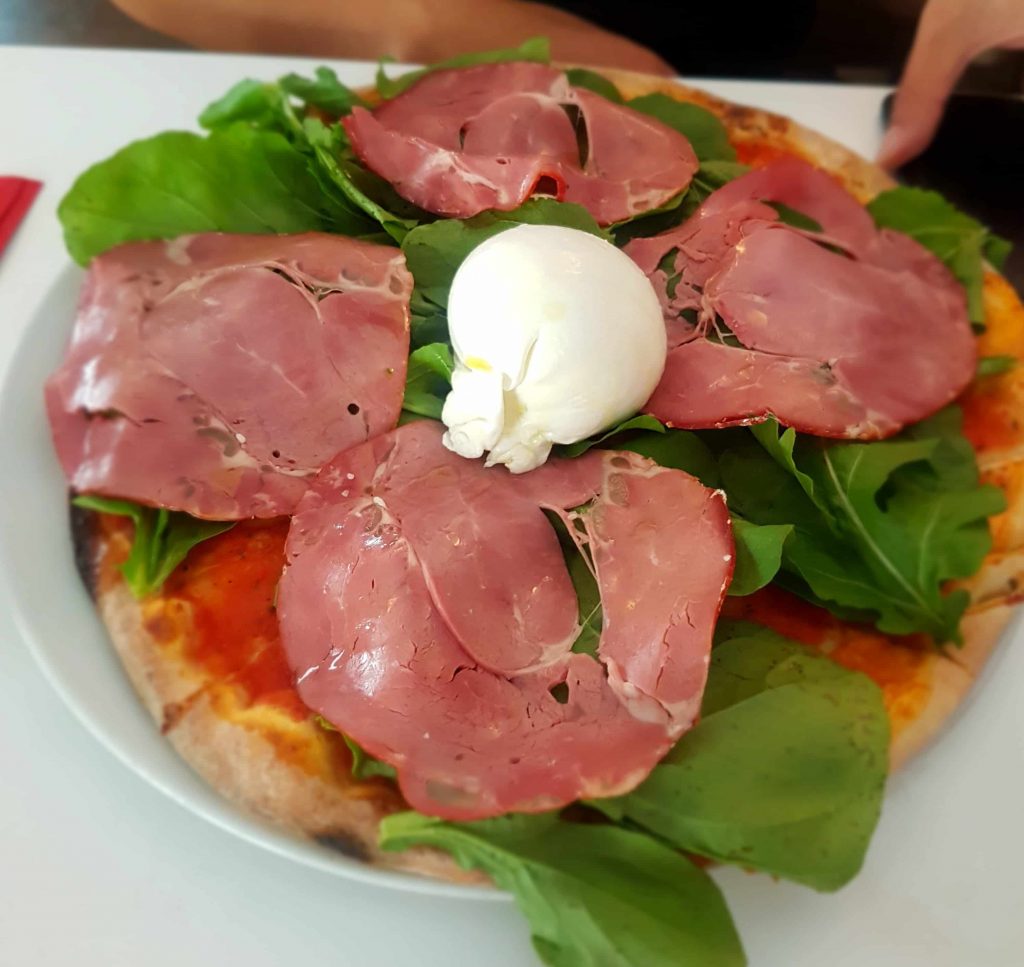 With three joints operating in Istanbul, Miss Pizza serves delicious, thin based, perfectly filled Italian style pizza. The ingredients used are highly authentic, and the pizzas are a definitive blend of both fresh and aged cheeses, olives, sausages, fresh cherry tomatoes, pesto sauce, veal pepperoni, mozzarella, marinated zucchini, artichoke puree, truffle oil, green peppers, and whatnot. I always visualize a pie in my head whenever I think of going to Miss Pizza, and believe me I always get a deeply satisfying experience. The puffier ends, the sturdier bottom, and cheezy fillings so refined in taste that you can love a slice of pizza just as much as you ate in childhood days.
Wondering what is on the menu? To your surprise, Miss Pizza covers Italian, Mediterranean, vegan, and even special Turkish pizzas. Worth mentioning that some include Pizza Marinara, Mushroom Pizza, Pizza Funghi, Pizza Broccoli & Gorgonzola, Pizza Fiorentina, Pizza Pomodoro, Smoked Meat Beef Pizza, Pizza Napolitana, and plenty of others. And above all, fish lovers are also well addressed with legendary Pizza Tonno, Pizza Selena, and Solomon Pizza. The staff is super friendly and attentive, and incredible service adds to its uniqueness and signature style.
This small pizzeria, with both indoor and outdoor seating, dim lighting, and a tranquil setting, is a perfect place for dinner dates. Despite its tiny footprints, Miss Pizza offers takeout, delivery, as well as reservations, and you are guaranteed to be served by one of the best pizza makers in the town.
Address:
Cihangir – Kılıçali Paşa, Havyar Sk., No: 5A, Beyoğlu, +90 212 251 32 78;
Şişhane – Evliya Çelebi, Meşrutiyet Cd., No: 86A, Beyoğlu, +90 212 251 32 34.
Above, I have listed 10 best restaurants, which, in my opinion, serve the most delicious pizza in Istanbul. I hope you will enjoy the food, service, and decor of the places presented and find something that will suit your taste.