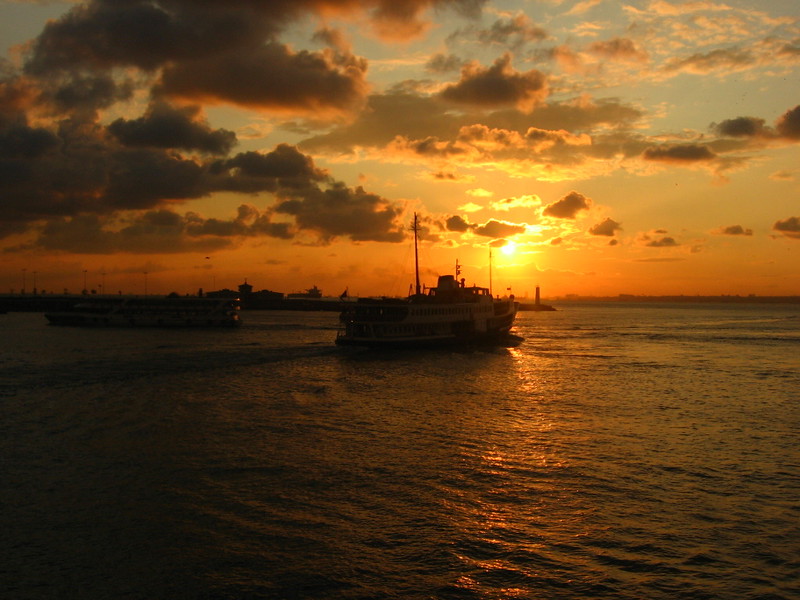 For most of the tourists visiting Istanbul, the term "Asian Side" might paint a mysterious picture, like a sacred place ready to be discovered. But the truth is Kadikoy is super modern and woke despite its ancient history.
A lot is going on there, a dynamic lifestyle full of stories and culture combined with little quirks that makes Kadikoy the exceptional sought of Istanbul. Wealthy artists, authors, and politicians started moving there and making communities hundreds of years ago, that's why there is a wide divers residency in this region.
Being an exhilarating and flaunting area there are a lot of activities you can have to experience this modern and classical mixture even better than the locals do! Now! It's time I share with you the ways around this magical place.
To meet new people, try new foods, find exotic cafes, go for antique shopping, enjoy a day out at the waterfront park, go dancing or just to explore and breath it in all and try not to fall in love with "Kadikoy".
How To Get There
From Istanbul Airport To Kadikoy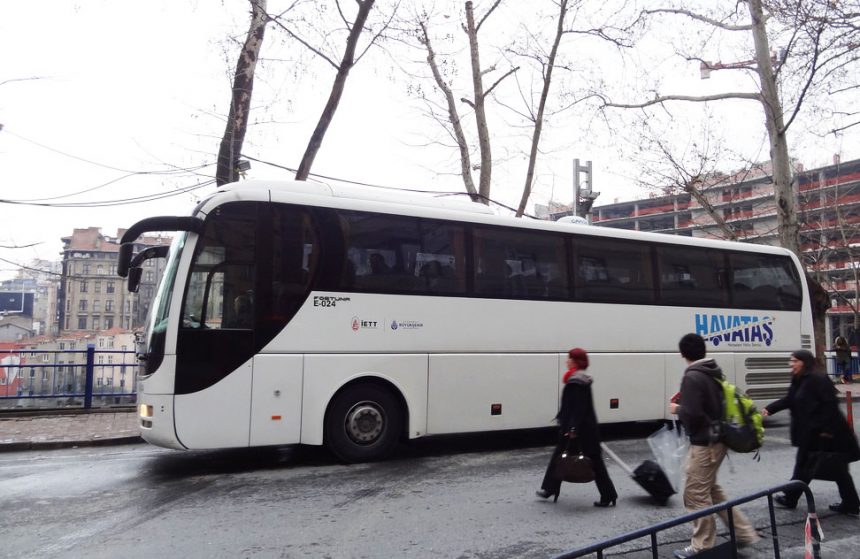 The new Istanbul airport is far in the north of the city and a lot of tourists would worry about the long-distance and high fees for taxi transportation. But there is a much easier way from the airport straight to the center of Kadikoy.
As soon as you exit the building there are huge buses lining in front of you, airport shuttles or as they are called here "Havabus" or "Havataş". Each line has only one destination so you just ask for Kadikoy bus, first they register your baggage then get on the bus.
It's possible to pay in cash but remember they only accept Turkish currency "Lira" (₺) so make sure you exchange some money beforehand. After an hour more or less depending on the traffic you are at your destination. Price: 19 TL ($ 3-4)
From Sabiha Gokcen Airport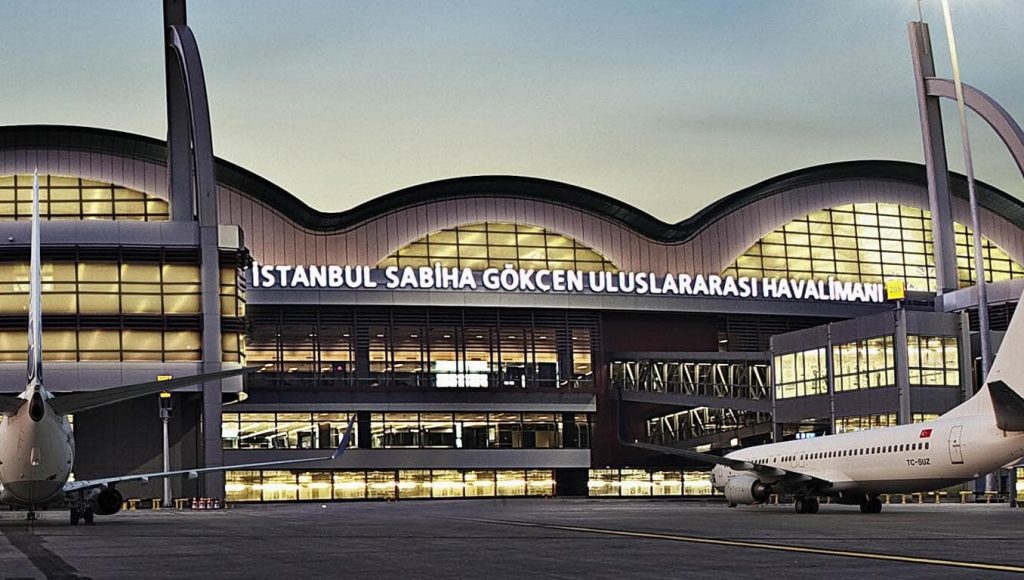 This airport is much closer to Kadikoy since it's located on the Asian side of Istanbul in a neighborhood called "Pendik". Unlike the other airport, this one is very close to the subway and other public transportation.
You still can take the shuttles as said before, or you can try the subway which could be a little complicated for the first-timers to remember the intersections or terminals. One more option is taking a taxi because this is a much shorter way and would not be as expensive as the last airport ride could be.
Remember if you do not speak any Turkish, you can just approach the first airport staff you see or the bus drivers themselves and just ask "Kadikoy Havabuslar Nerede" which means"where are the shuttle buses to Kadikoy". Or just simply say "Kadikoy" and they will get your point.
From Taksim to Kadikoy
No matter what time of day is there is always at least one way to get to Kadikoy from Taksim. If it's your first time I'd suggest the most direct option until you get a little more familiar with the ways around town.
Dolmuş
They are yellow minivans called "Dolmuş" parked or waiting at the north part of Taksim square, through the rush hour you might see people standing in line waiting for them.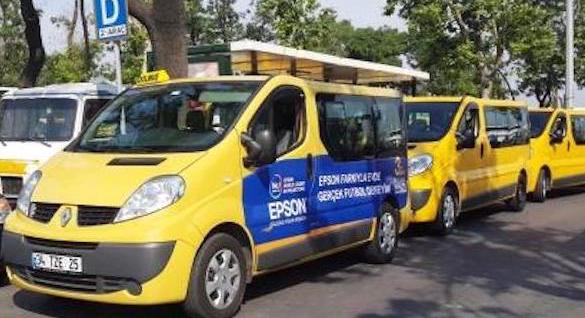 You just join them but usually, there is no big line and when you get in the van drivers wait up till it's full then they hit the road. They drop you off in the center of Kadikoy as their last destination.
Remember people sitting in the middle of the van would help the passengers in the back seats to pass their cash to the driver and give their changes back to them. Price: 8 TL ($1-2)
One other way to Kadikoy is a scenic ferry over the "Marmara" sea.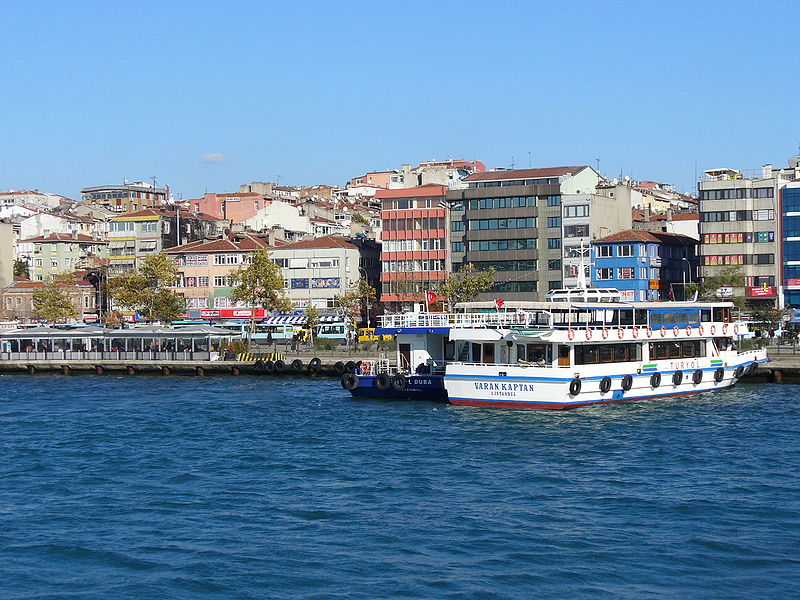 Ferry
The first thing you need is a ticket and to get that you just get into the first subway station you find, probably the one in the Taksim square and ask for one "Istanbul Kart". One is enough because you recharge them and multiple people can use them.
Price is about 20 TL ($3-4) and you can ask them to charge it for you or just use the machines available at every subway and ferry stations and do it yourself.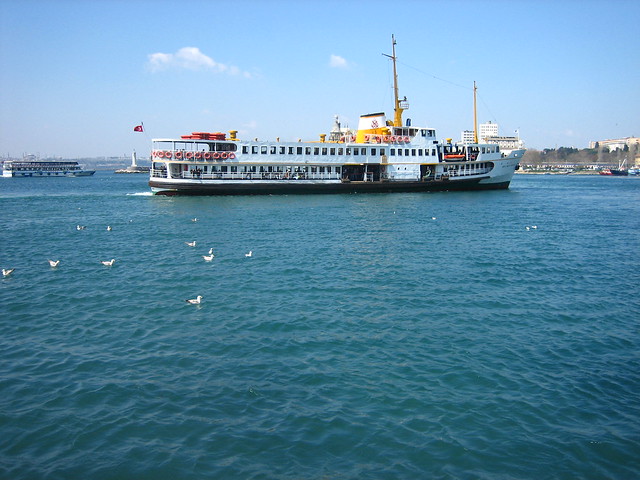 Now! I told you about the yellow vans "Dolmuş" already. They are available on the right side of the Taksim square and take you to a neighborhood called "Beşiktaş". Which is about fifteen minutes away, from there walk for three minutes and you arrive at the ferry stations or as they are called "vapur".
There are two different ferry stations working, one private and one public, their only important difference is the time table so there is no need to be confused. Check the time table and the name of your destination on the board then get in using your "Istanbul Kart".
After a twenty-minute ride over the sea filled with a magnificent view of Bosphorus Bridge and passing the connection point of Asia and Europe, you will be in Kadikoy. Price overall: 10-12 TL ($1-2)
Subway
Your next option is the subway. Once again using your "Istanbul Kart" you enter the train station located in the middle of the Taksim Square.
From there take the train toward "Yenikapı" station the green line called "M2" after four stops you get off at "Yenikapı" stop, switch to the line called "Marmaray" with light blue color, take the train towards "Goztepe".
Get off at "Ayrılık Çeşmesi" stop and switch to the other line called "M4" with the pink color, from there you ride one stop and you get off at Kadikoy station. Price: overall 15 TL ($2-3)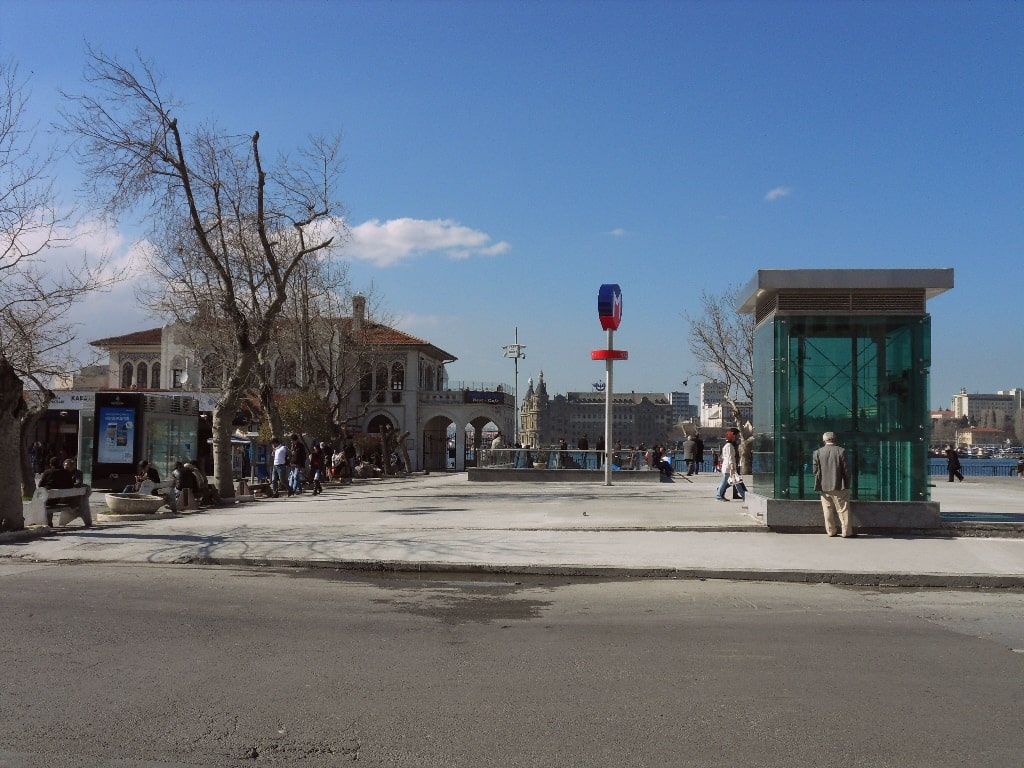 From Sultanahmet To Kadikoy
If you are staying around the Sultanahmet area one easy way is the subway. There is a twelve-minute walk from the "Blue Mosque" to the train station called "Marmaray Sirkeci Istasyonu" take the one towards "Söğütlüçeşme".
Ride for two stops then get off at "Ayrılık Çeşmesi", walk for a minute then take the train towards "Tavsantepe" (the pink line called" M4") your next stop is Kadikoy. Price: 10 TL ($1-2)
What To Eat And Drink
Over the past few years, hundreds of restaurants, bars, and cafes have opened on the Asian side of Istanbul. For which Kadikoy features a more relaxed vibe than the European part.
There are multiple choices from elegant cuisines, Brasseries, and Bistros, to casual dining and ethnic food. Everything is right at the corner.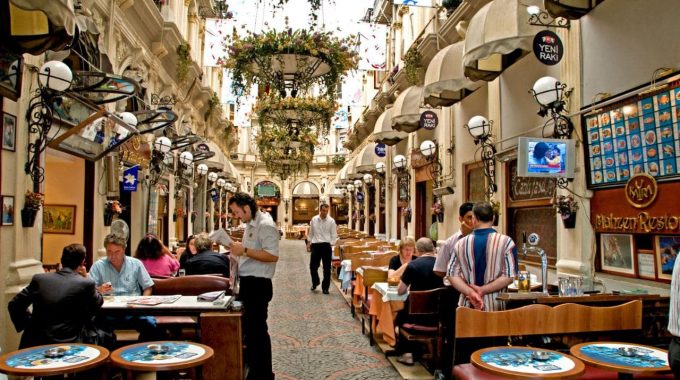 Breakfast Feast
Since the dawn of time, breakfast has been one big part of Turkish culture and in Kadikoy breakfast is just the next level. Especially on Saturday and Sunday mornings, you would be lucky to find a table that's empty for more than two minutes.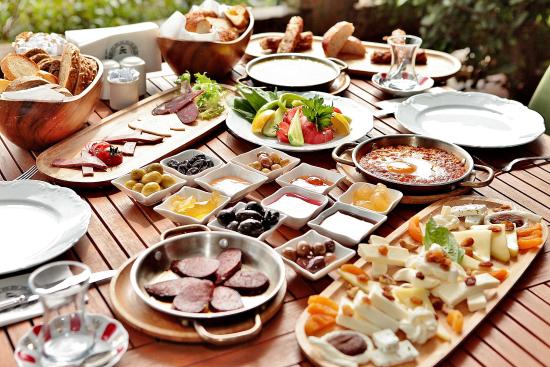 But do not worry there is plenty of places serving breakfast even through the afternoon. You can just walk around and pick the place that you'd find interesting and I'm going to give you some of my favorite breakfast spots.
Yer Café
A cozy and hip place with a relaxing vibe, It also offers vegetarian food options, both outdoor and indoor seating and a full bar is available. Prices are average comparing to the neighborhood range, It's usually full so might have to wait for a couple of minutes but it's gonna be worth it!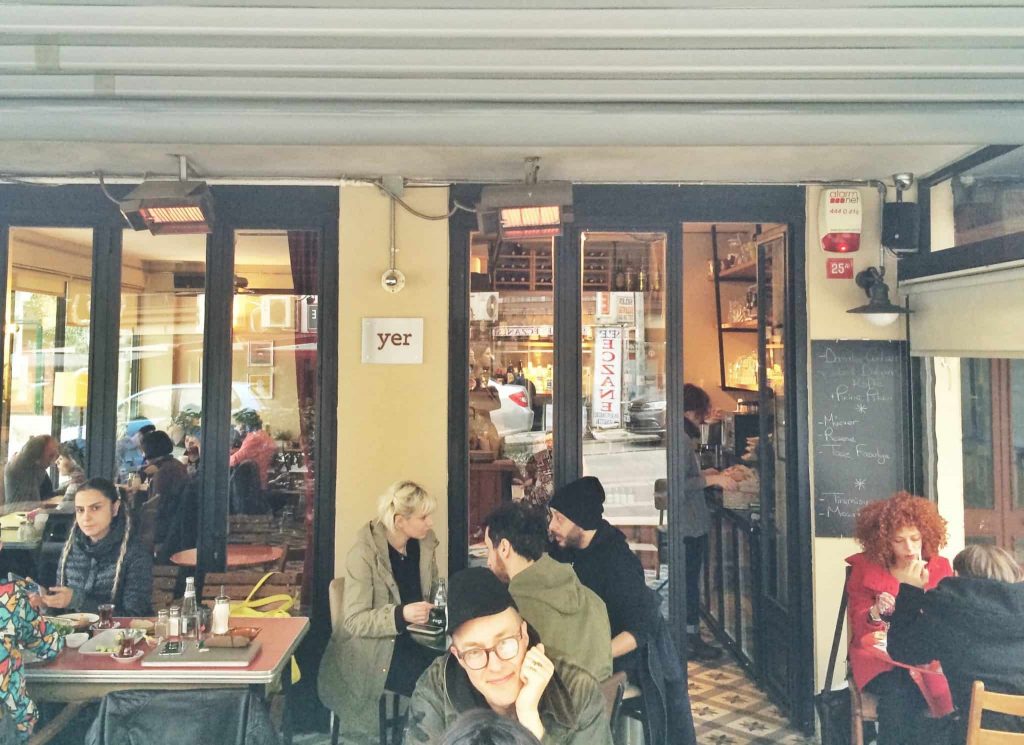 Address: Caferağa, Ferit Tek Sokagi 25/A, 34710 Kadıköy/İstanbul
Küff Cafe
Friendly staff and fluent in English and they have good knowledge of the area. It has a stylish interior and offers vegan food options, large portions, and fair prices. Don't forget to try the "Omelet" as a breakfast dish. It also has late-night food options.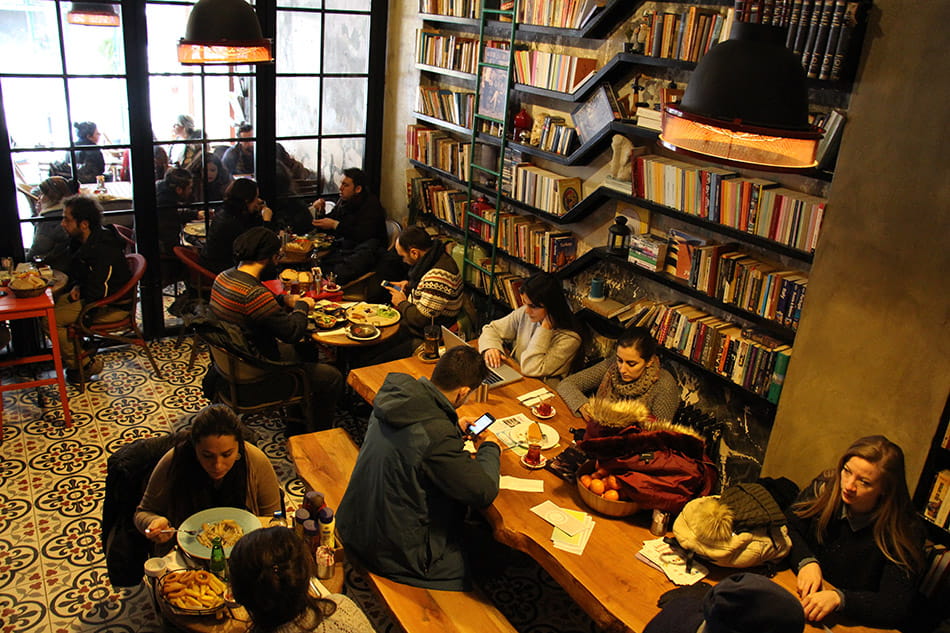 Address: Osmanağa, Ali Suavi Sk. No:9/B, 34714 Kadıköy/İstanbul
Sista Cafe
Friendly atmosphere and amazing vegetarian breakfast dish with organic spreads. It's especially famous for its homemade "Spinach Cake" and the veggie burger, or if you like spicy food try the "Red Pepper Pesto".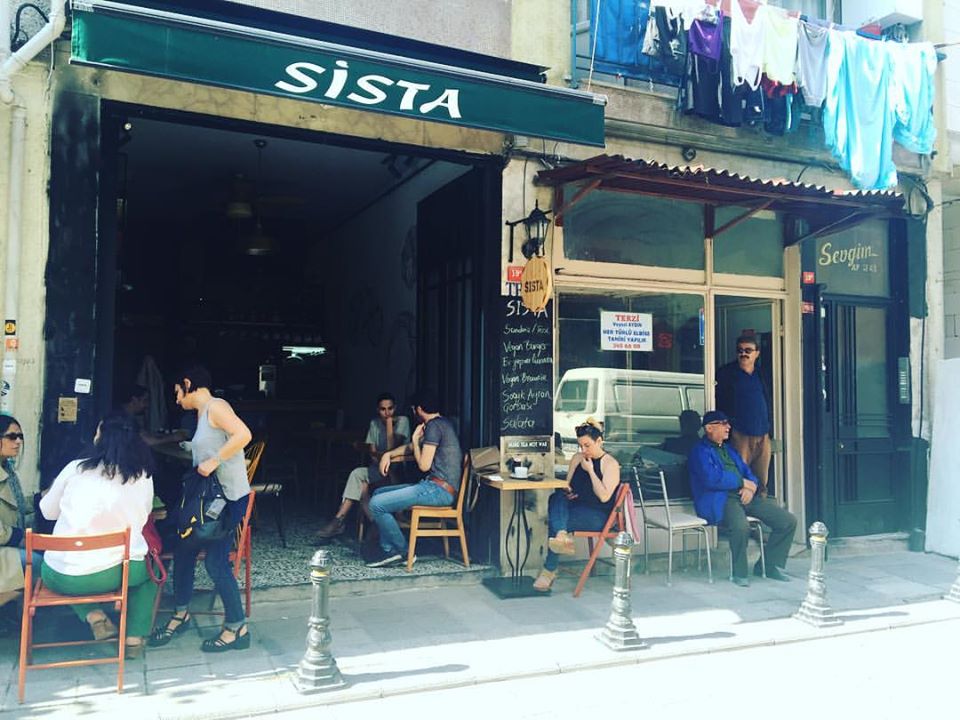 Address: Rasimpaşa, Karakolhane Cd, Duatepe Sk. 19/1, 34716 Kadıköy/İstanbul
Mosquito
Offers outdoor and indoor seating, great service plus an extensive menu, the place has a bohemian design with colorful lightings, a full bar is available, it's mostly famous for its breakfast and burger and in the winter try the hot chocolate for sure.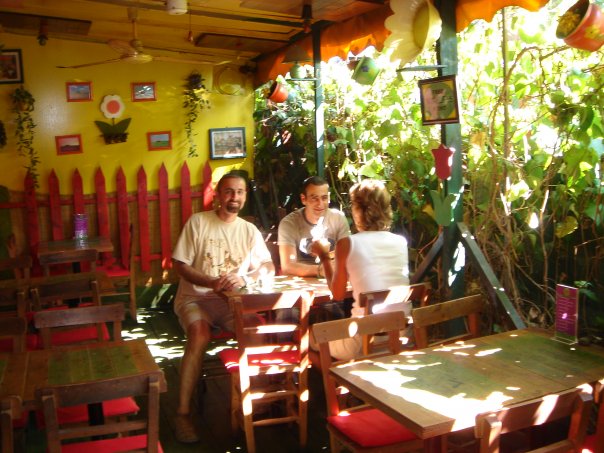 Address: Caferağa, D:2 4, Arayıcıbaşı Sk., 34710 Kadıköy/İstanbul
Parachute Cafe
Very homey and great lighting during the day with fresh veggie breakfast dishes, it's located in one of the oldest neighborhoods in the area and you can sit at tables outside and enjoy the view among other cafes in the street.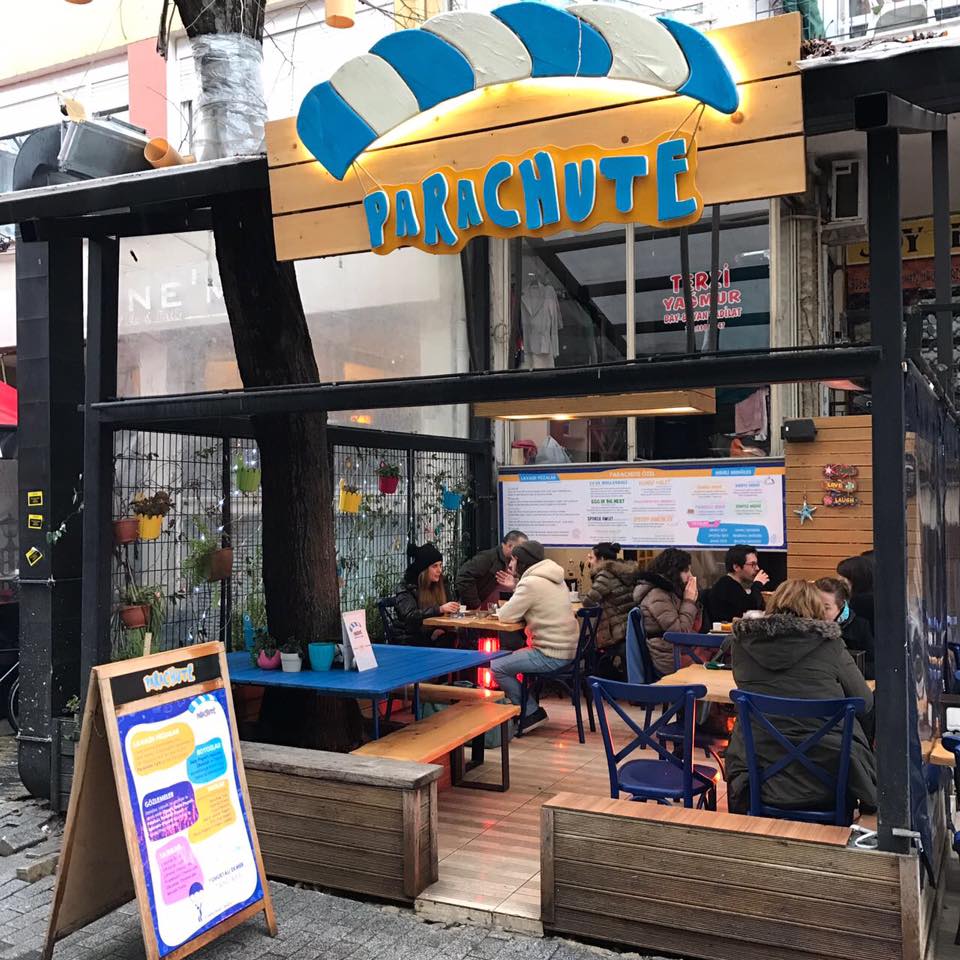 Address: Caferağa, Hacı Şükrü Sk. 5/A, 34710 Kadıköy/İstanbul
Esmer Chef
Huge location and lots of seatings indoor and outdoor, located at the corner of a local Bazaar, it's so lively and busy. Very friendly staff welcome you at the entrance and they have amazing breakfast dishes filled with multiple types of veggies and spreads.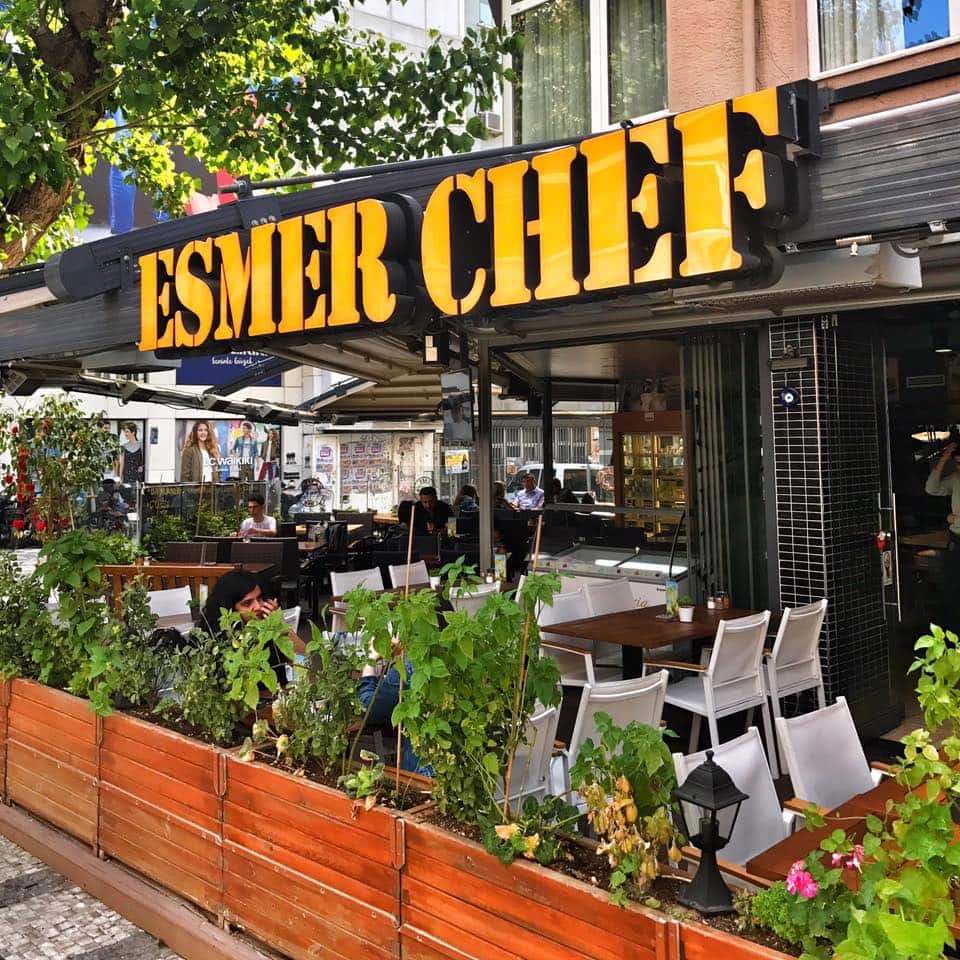 Address: Rasimpaşa, Çam Apt, Halitağa Cd. D:25, 34716 Kadıköy/İstanbul
Dün Cafe
Cheerful little spot with a creative menu, a relaxing vibe and lots of options on the menu, it also offers vegan and vegetarian meals and light European cuisines. Remember to try the Avocado+Grapefruit salad.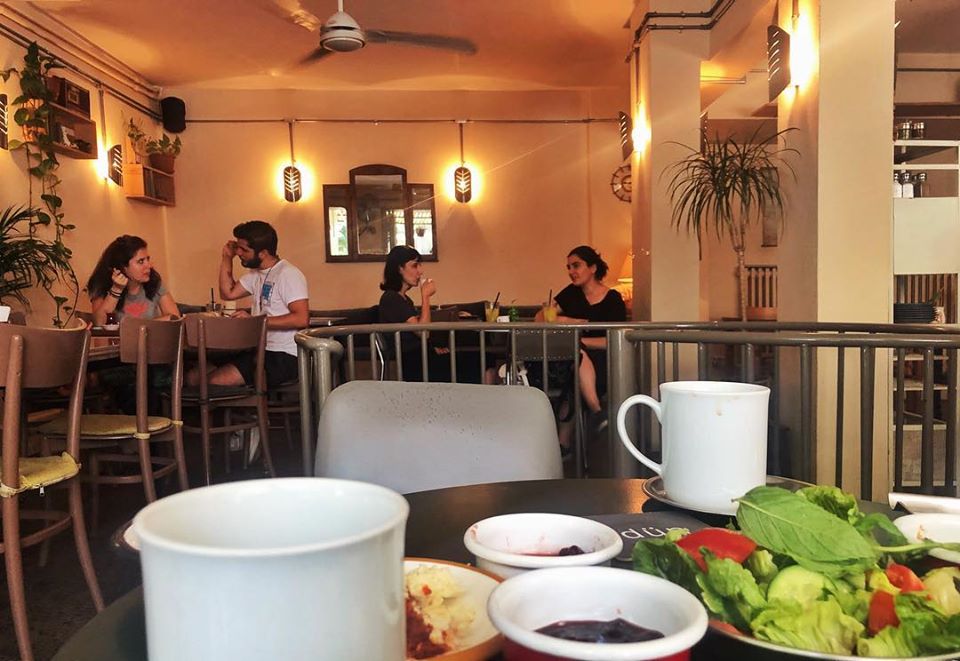 Address: Caferağa, Lütfü Bey Sk. 42/6, 34710 Kadıköy/İstanbul
Coffee Shops
Lots and lots of vibrant cafes with eye-catching designs and colors that you can not resist. Most of these cafes have also tables outside on the sidewalk, even in the freezing winter you can still sit outside and enjoy the view and watch people walking.
There are heaters and blankets available to keep you warm. Or you can take your coffee to go, menus are easy and staff usually know enough English to help you out if needed. Here are some of the most popular places you can try
Cafe Manifesto
Incredible small roastery and coffee place with a collection of the best beans, they serve all kinds of hip coffees, they chill music mostly and the staff is very helpful and warm.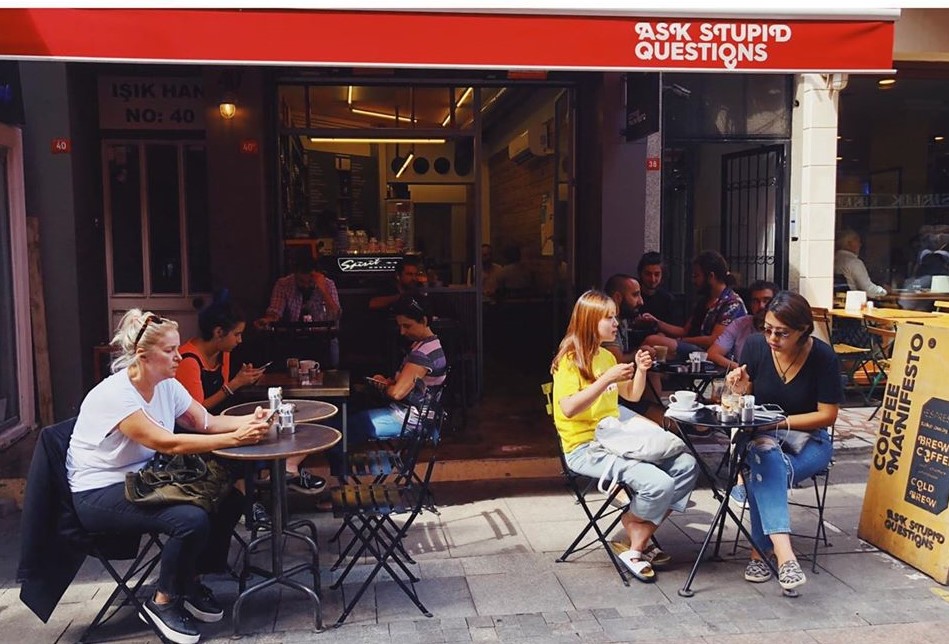 Address: Caferağa, Moda Cd. 22B, 34710 Kadıköy/İstanbul
Walter's Coffee Roastery
A cool concept coffee place with a creative menu, hot and cold beverages in "Breaking Bad" themes and you get to see the roastery process. staff is friendly and some of them fluent in English.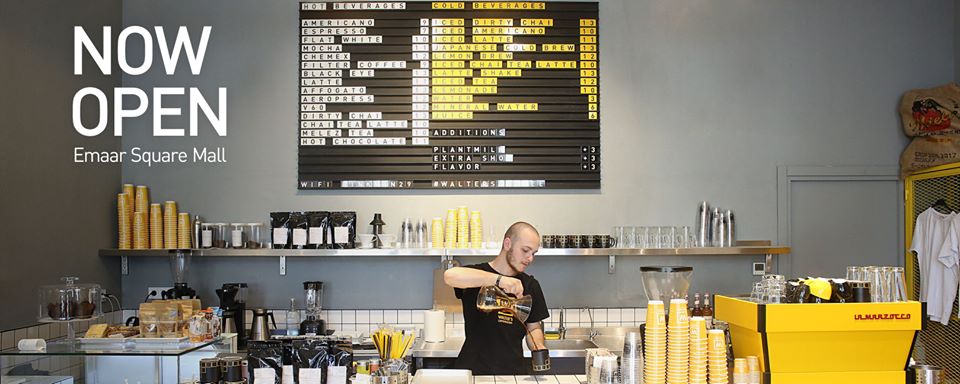 Address: Caferağa, Bademaltı Sk. No:21, 34710 Kadıköy/İstanbul
Cafe Mu
Chill and charming place, beverage options are vast and in fine quality. Great selection of pastries and snacks with vegan and gluten-free choices. A good place to hang out and talk with people or just relax and enjoy a book.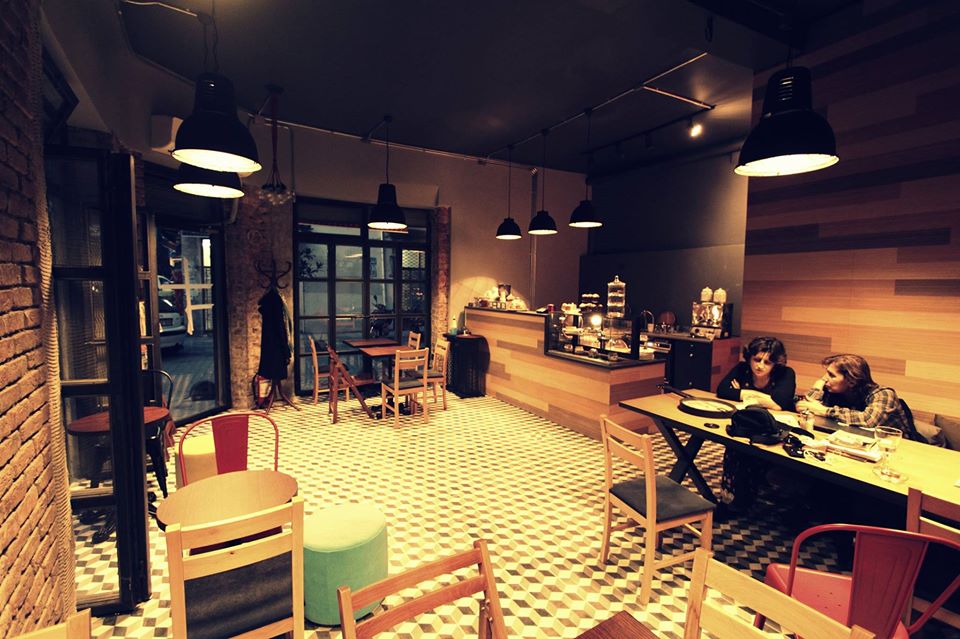 Address: Rasimpaşa, Karakolhane Cd. 46/A, 34716 Kadıköy/İstanbul
Montag Coffee Roastery
A peaceful ambiance and a great location in the neighborhood, surrounded by small shops and cafes, you can enjoy your fresh coffee and watch people walk by.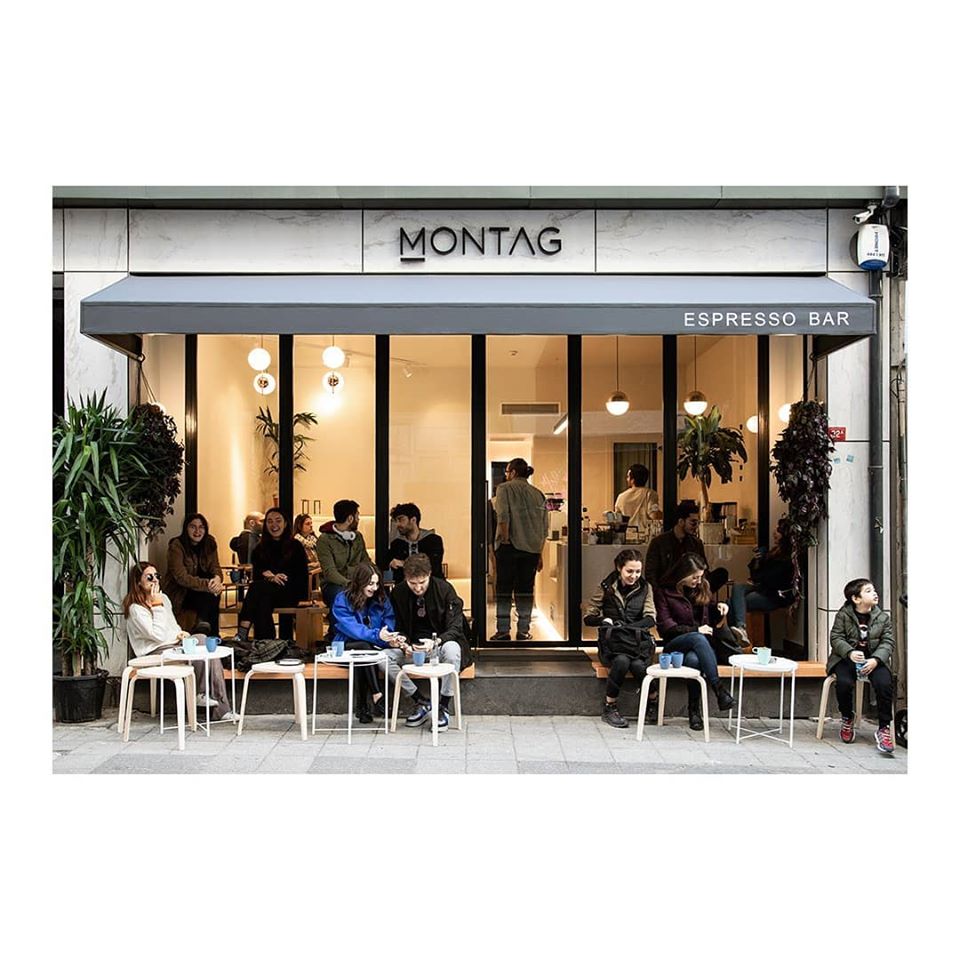 Address: Caferağa Mah. Muvakkıthane Caddesi No:16/A D:Kat:1, 34710 Kadıköy/İstanbul
Rafine Espresso Bar
It is a small place with a couple of tables only, but very calm and welcoming. Professional baristas and nicely brewed coffee, a great place for small hangouts and the best "San Sebastian Cheesecake".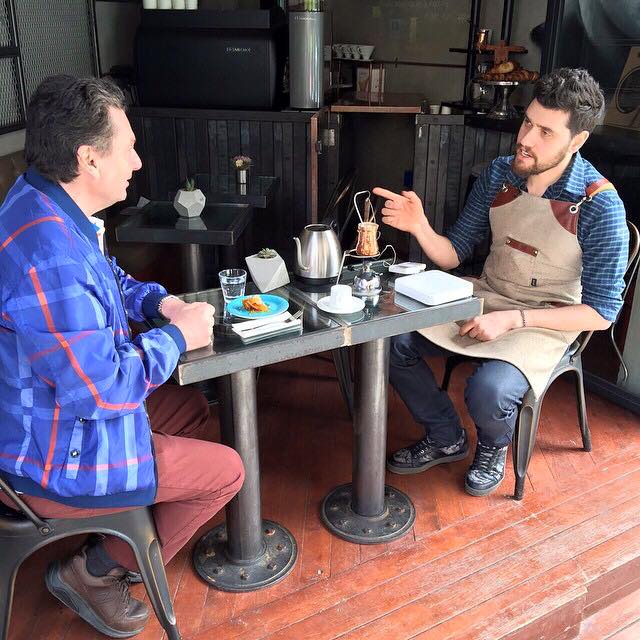 Address: Caferağa, Sarraf Ali Sk. No:15, 34710 Kadıköy/İstanbul
180 Coffee Bakery
An incredibly alternative place with a fine selection of tea and coffee, service is very tasteful and the menu has both Turkish and international items. Remember this place offers bacon on the menu so if you are ordering food, there might be bacon on it.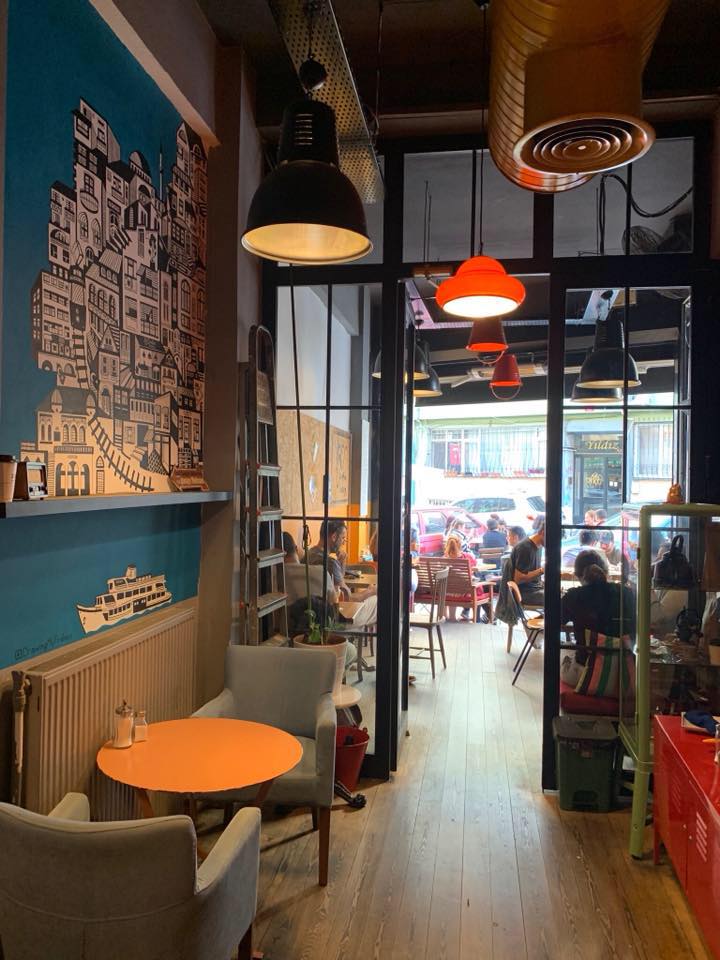 Address: Caferağa, Dr. Esat Işık Cd. Erdal Apt. 36/a, 34710 Kadıköy/İstanbul
Dinner is Served!
The sun is going down and lively, colorful lightings start shining, tons of restaurants start filling up with people sitting inside, on the terrace or sidewalks, from a takeaway popular fast food to exotic traditional Turkish dining.
Here are some of the best restaurants in Kadikoy
Çiya Sofrasi
One of the most popular restaurants in Istanbul with a very wide menu, famous Turkish kebab, traditional dishes, lots of seafood options and vegan dishes. It's located in the local bazaar and always filled with families, tourists, and locals in seatings on the sidewalk. Staff is very helpful and will guide you since there are a lot of items on the menu.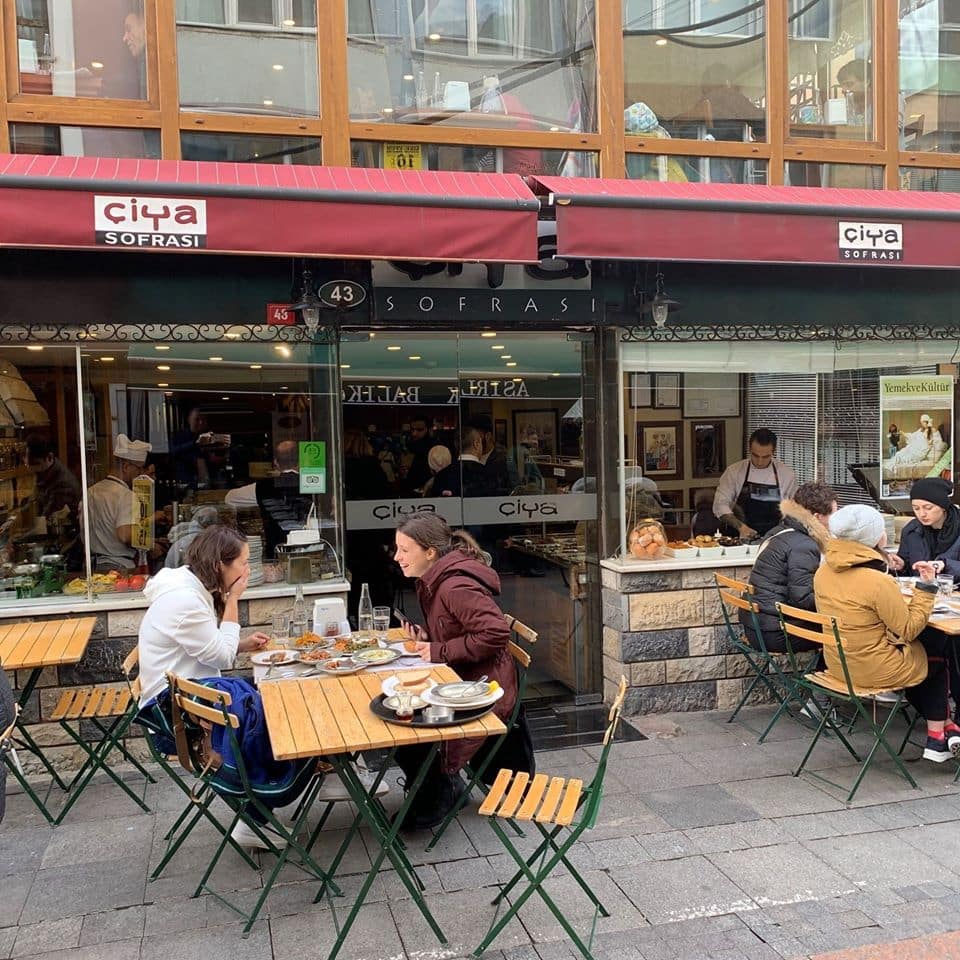 Address: Caferağa, 32, Güneşli Bahçe Sk., 34710 Kadıköy/İstanbul
Basta Street Food
A very delicious local with delicate touches and different tastes. Simple sandwiches, pita reps and a couple of desserts, try the lamb burger served on a burnt eggplant and reps are done by your choice of protein and vegetables.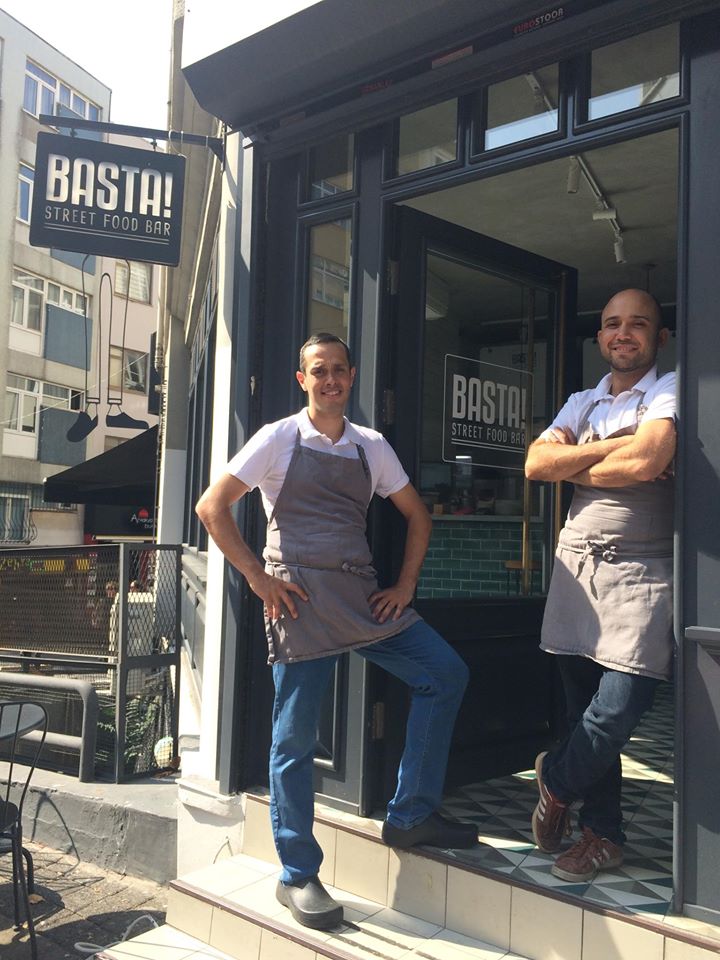 Address: Caferağa, Sakız Sk. No:1, 34710 Kadıköy/İstanbul
Victor Levi Şarap Evi
Elegant and fancy open-air with a huge back garden filled with plants and old tall trees, always buzzing with people, it has a unique wine bar and electrical heaters on the ceiling for winter. International cuisines available and very welcoming staff.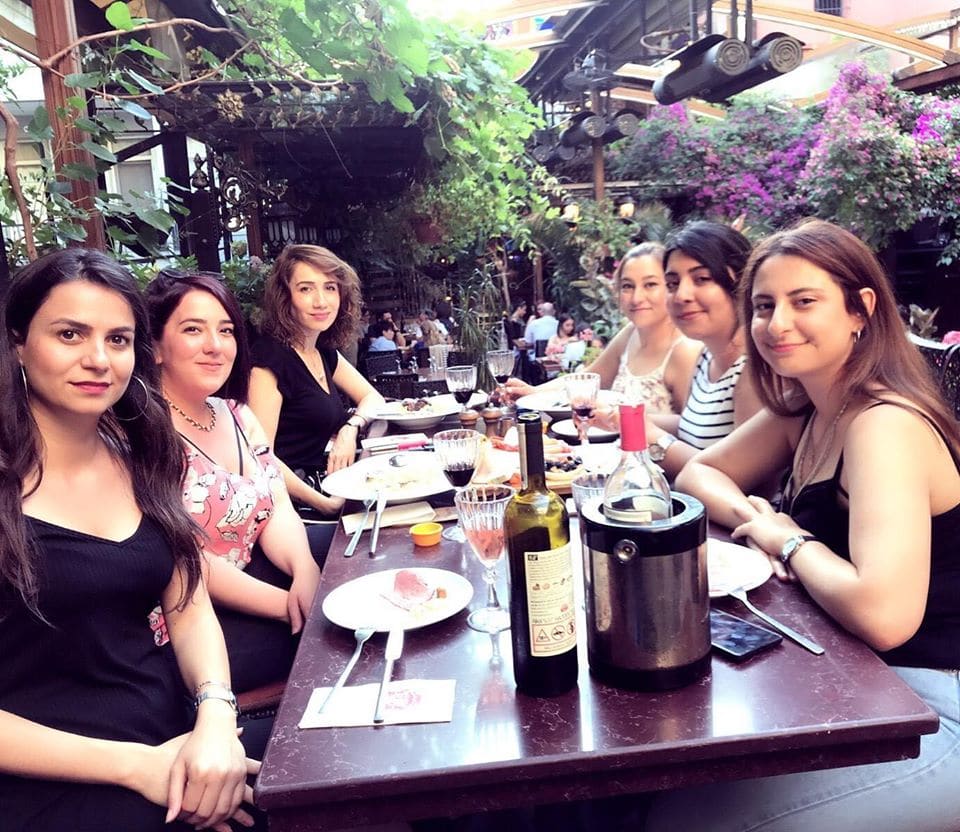 Address: Caferağa Mh Moda Cd. &, Damacı Sk. No:4, 34710 Kadıköy
Nine Dining
A cute hip dining place, always with good ambient music and very outgoing staff. If you visit remember to try their burger.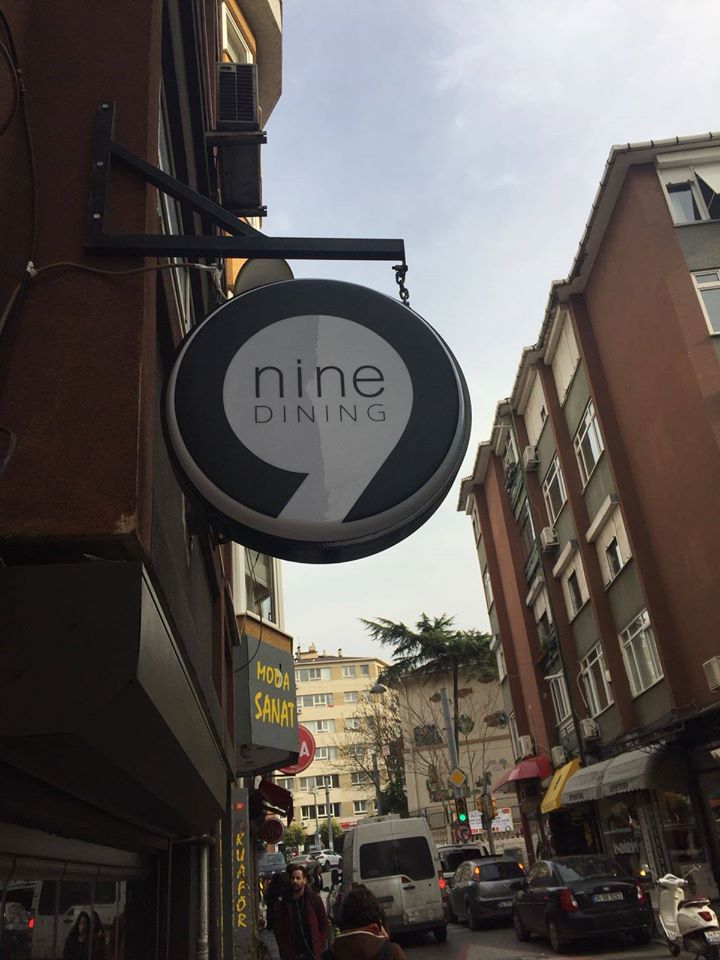 Address: Caferağa, Bademaltı Sk. 33-a, 34710 Kadıköy/İstanbul
Borsam Taşfirin
This particular place is basically for "Pide" and "Lahmacun" that are known as "Turkish Pizza. It's always full and the service is very fast, menus are easy to read plus very cheap price.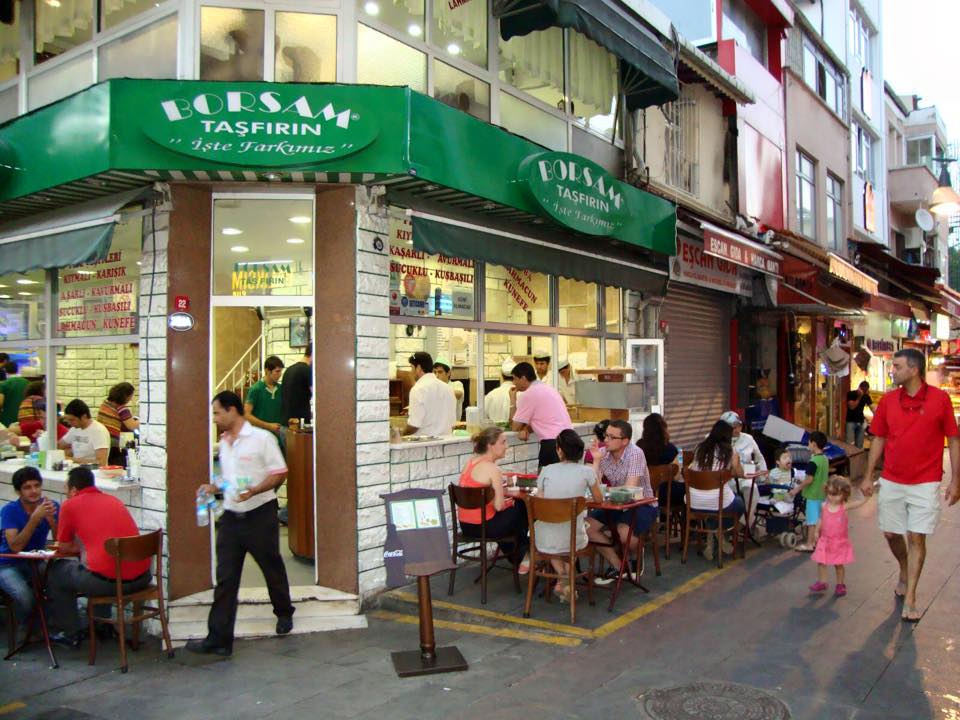 Address: Osmanağa, Serasker Cd. No:78, 34714 Kadıköy/İstanbul
Ahmet Usta Islama Kofte
An authentic restaurant with more than forty years of history. It's very laid back and local and their specialty is only one type of Turkish food called "Islama Kofte" it's a special Turkish kebab with fried bread. It's a meal you have never had before.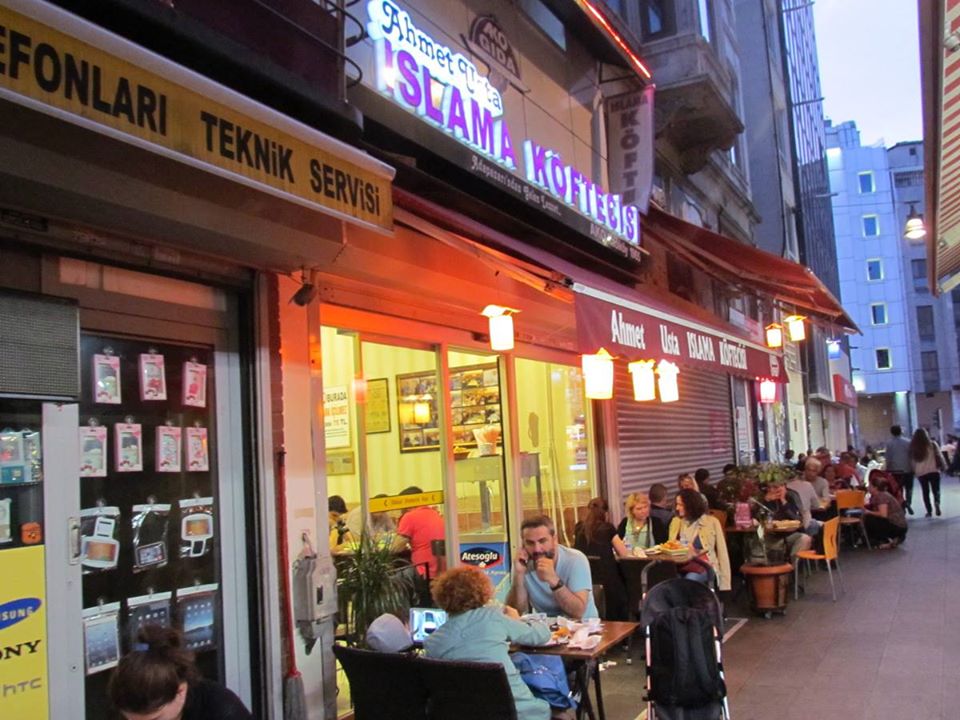 Address: Caferağa, Kadife Sk., 34710 Kadıköy/İstanbul
Yanyali Fehmi Lokantasi
An original Turkish place with all Turkish meals only, it's located at the corner of the local bazaar with four huge dining halls, all the food, and dessert are displayed on shelves behind the glass where you can see them all and choose or ask for some information and help from the staff.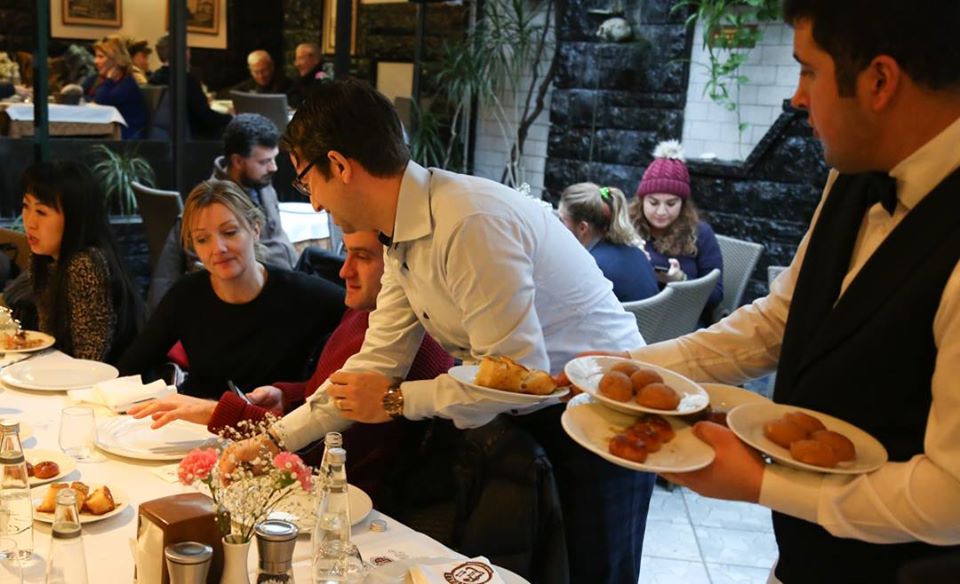 Address: Osmanağa, Güneşli Bahçe Sk. No:1, 34714 Kadıköy/İstanbul
Brasserie Noir
Sophisticated and stylish, located in "Bağdat cad" with a beautiful view over the historic street. Chic interior and a real European cuisine, their Bruschetta is very popular along with the Risottos and beef ribs, they also offer an excellent wine selection.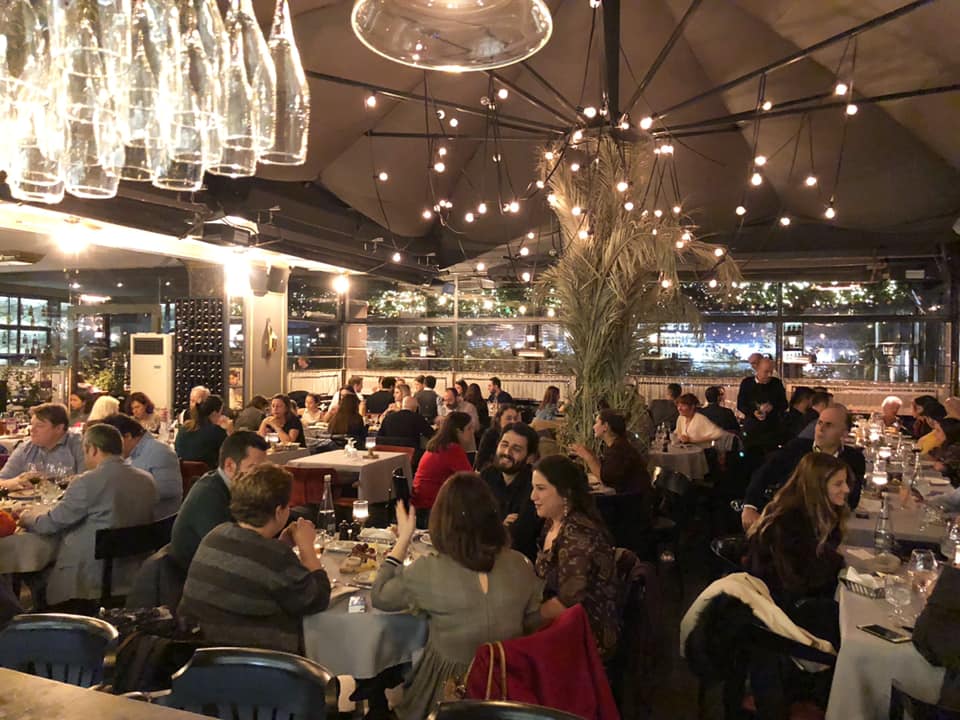 Address: Suadiye, Bağdat cad. 455 1/B, 34740 Kadıköy/İstanbul
What to Do/What to See
Kadikoy people take pride in how much they have accomplished culturally and artistically during years. From the local alternative galleries, historically magnificent landmarks, theaters, live music venues, artistic communities, to their magnificent architectures. Here are some ideas to keep this journey going
Time For Bazaar
Or as it's called here "Pazar" is exactly how you imagine an eastern bazaar would be.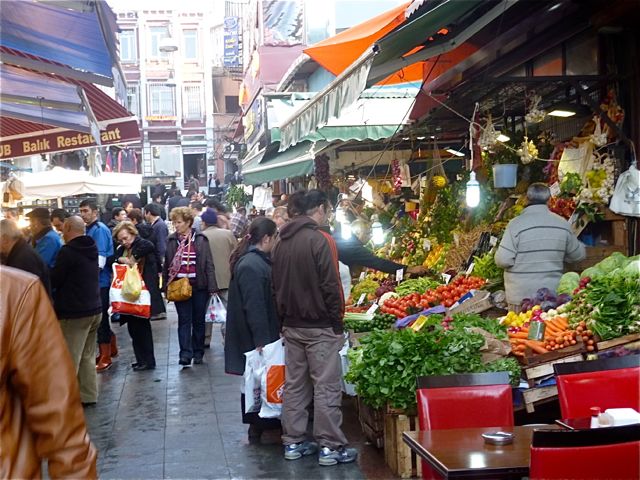 There is a five-minute walking distance from the center of then Kadikoy to get there, as soon as you enter you are hooked, starting with fresh from the boat seafood and fish in multiple names and types.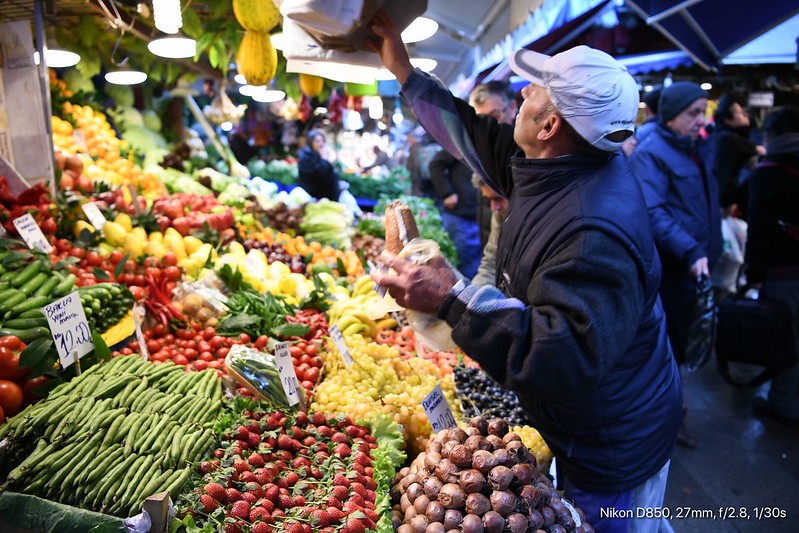 The shop owners will loudly invite you in to shop and they assist you all the way. After that, there are fresh vegetables and fruits you have never heard of before.
Ahead of you are shops with Turkish pastries to energize you while shopping and stores with natural, organic, eco-friendly herbs, seasonings and bath products.
Checkout places selling Turkish traditional board games, don't forget to buy some natural orange tea "Portakal Çay" or the famous apple tea "Elma Çay" to take home with you. Colorful dried peppers hanging from the stalls.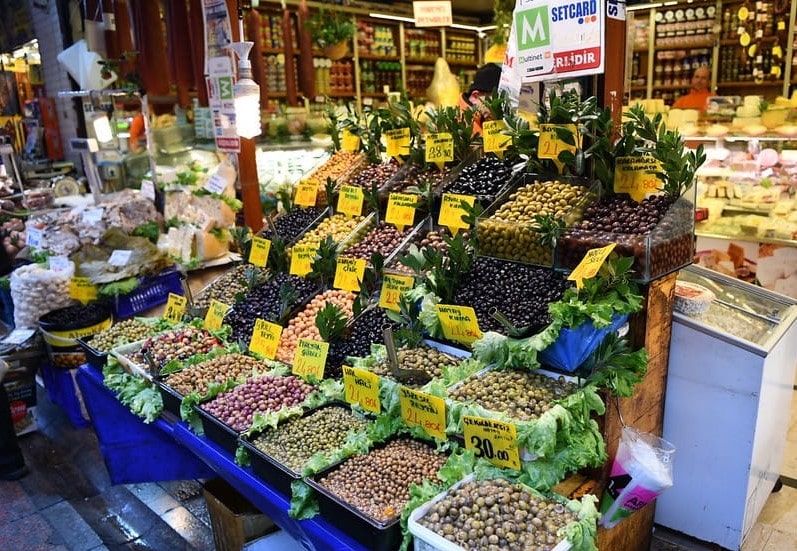 Have a taste of olives displaying on the shelves. Try the pure fresh-off-the-comb honey and just get in the spirit of colors and scents among the big crowd that does not stop all day long.
Heart Of Art
Yeldeğirmeni neighborhood in the middle of Kadikoy it's the home to contemporary artists, studio cafes, book cafes, and galleries.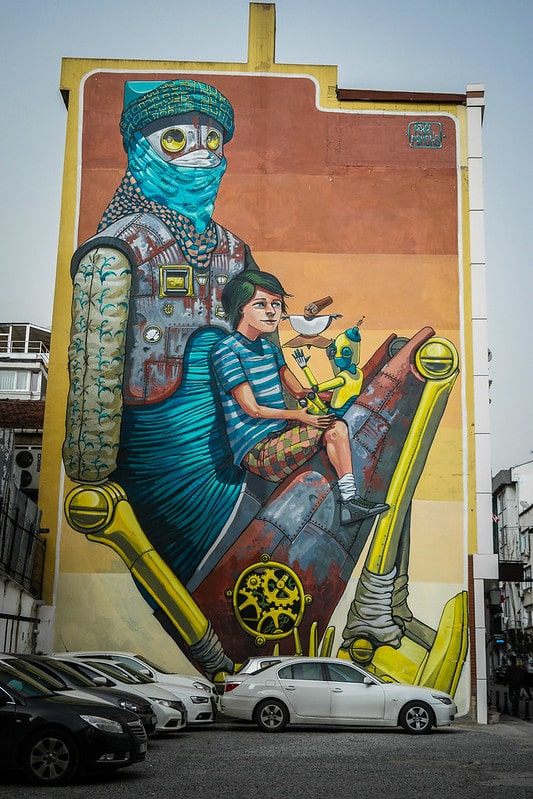 Murals and graffitis on the buildings painted by local artists. You can set foot in any of the studios, check out the works and meet the artists or talk to people.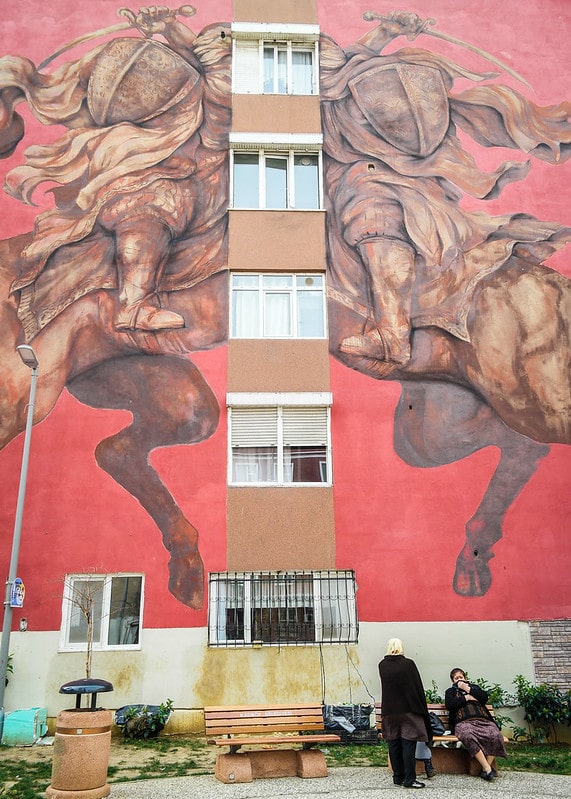 There is a studio cafe called "Art Here". Founded by a photographer from Syria, it's not just a regular cafe, serving as a gallery, studio and a community center that gives a platform to Syrian artists to work and blend with Turkish artists.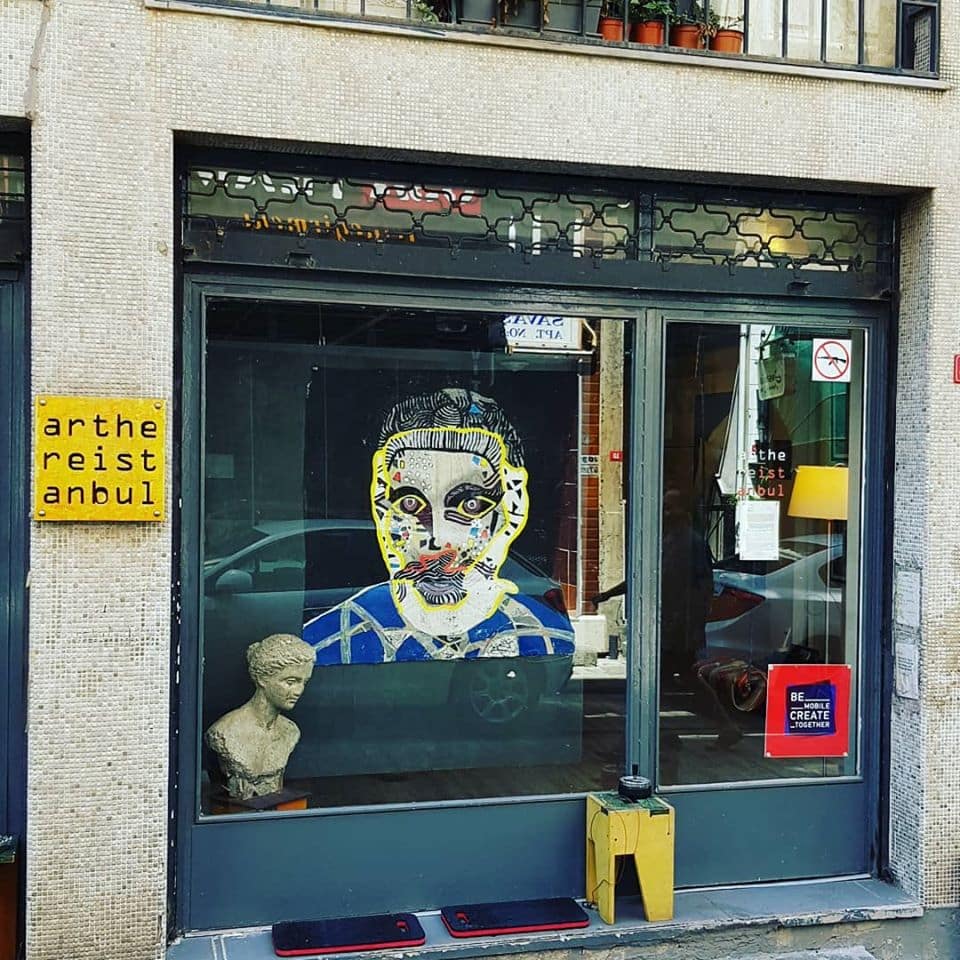 There also other activities like movie nights and music performances happening at least once a month.
Address: Rasimpaşa, Beydağı Sk 3 A, 34716 Kadıköy/İstanbul
Haydarpaşa Train Station
This symbolic building was built by two German architects and started working in 1908 and it's going strong still.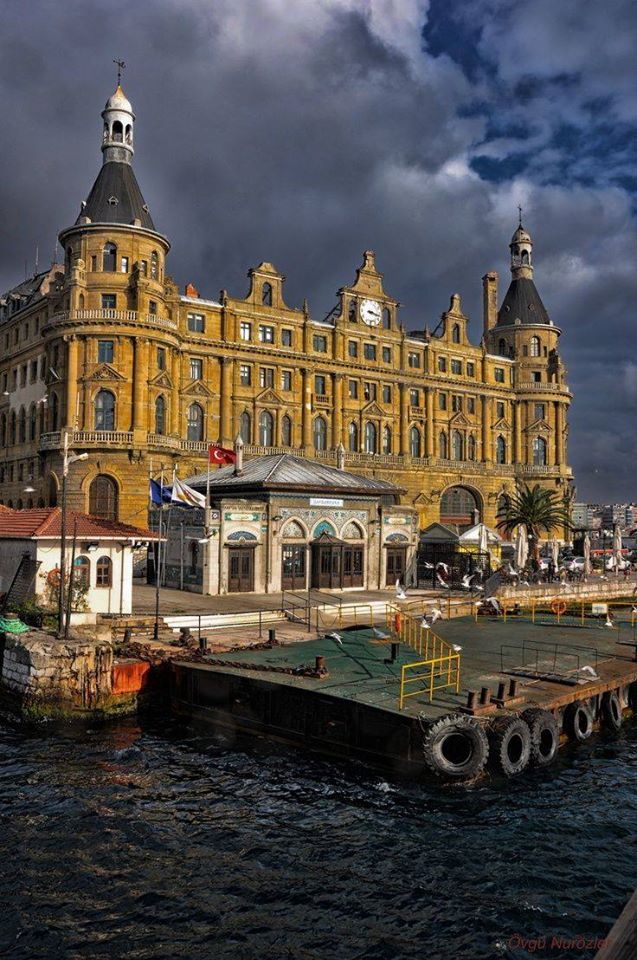 A birds-eye view of the building which is a classic German design. This place holds a special in Turkish people's hearts. You can just walk by it and admire the details, or sit at the tables available around the building drink some tea next to the"Marmara Sea" and appreciate the view of hundreds of years old.
Address: Rasimpaşa, 34716 Kadıköy/İstanbul
By The Water
One of the best waterfront parks in the East.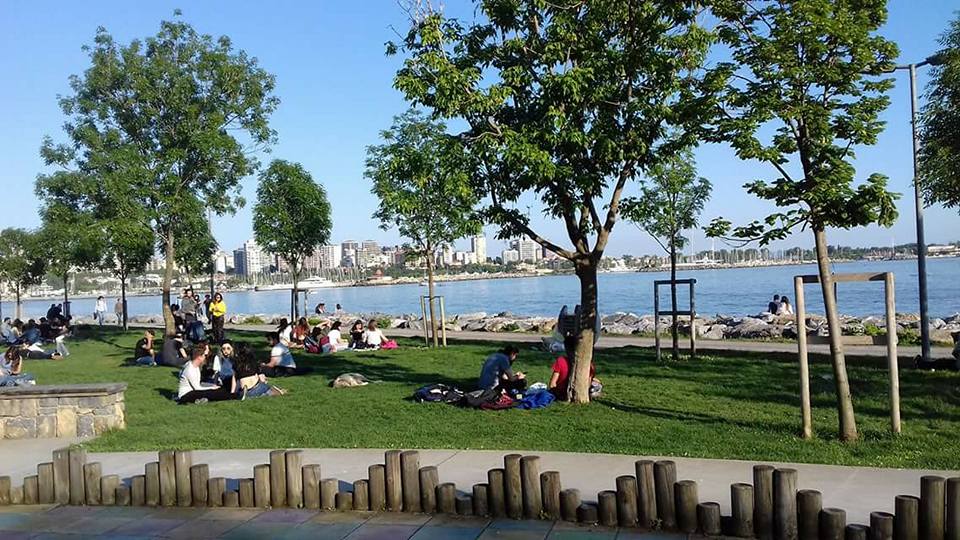 Located at the end of Moda Street surrounded by water, tall primeval trees with an infinity view of the sea.
Always filled with people riding bikes around, groups sitting in the grass drinking and hanging out, sometimes musicians gathering and play for the public. It's a perfect way to end the day and gaze at the beautiful sunset.
A Legend called "Bariş Manço"
The late rock star from the 1960s and 1970s was a huge impact on the Turkish traditional and psychedelic music genre.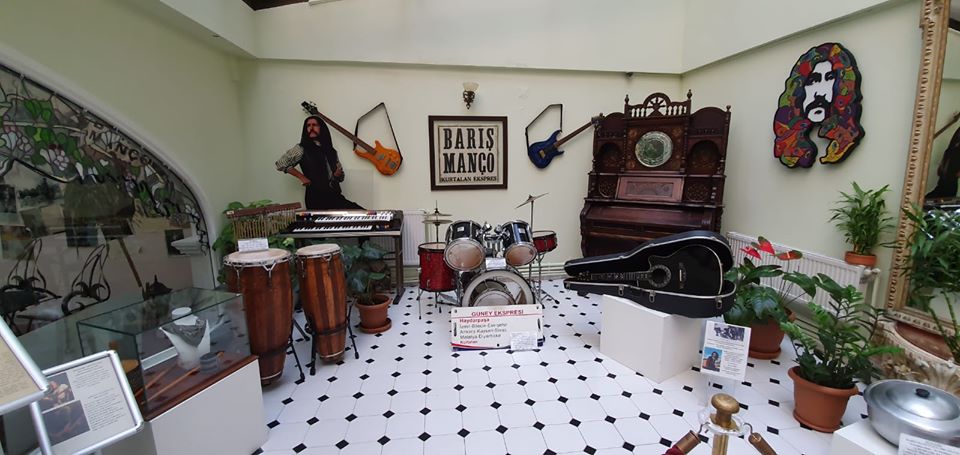 He is very beloved in Turkey and his home located in Moda street is now a museum open to the public. Filled with old records, instruments, personal items, and original photographs.
Gallery Geeks
You might be interested in catching up on the latest artwork in Istanbul or meet international artists in action, or if you are an artist traveling why not make some connections?!
Some of the galleries to check out
Asfalt Art Gallery
Asfalt was founded in 2011 to be the place of aesthetics, philosophical discussions, and exchange of ideas, not just exhibitions.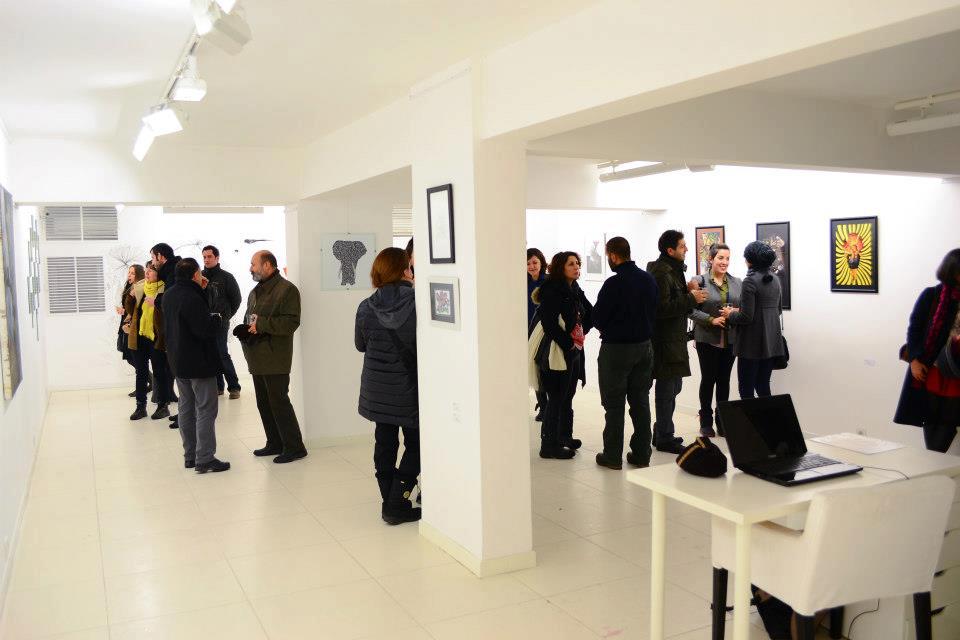 Address: Caferağa, Bahariye Cad./canan Sok. Azeri Apt. No:51, 34714 Kadıköy/Istanbul
Galeri Mavist
A hip and friendly gallery that has a remarkable intellectual and artistic collection also aims to contribute to the new art fields required in"Kadıköy "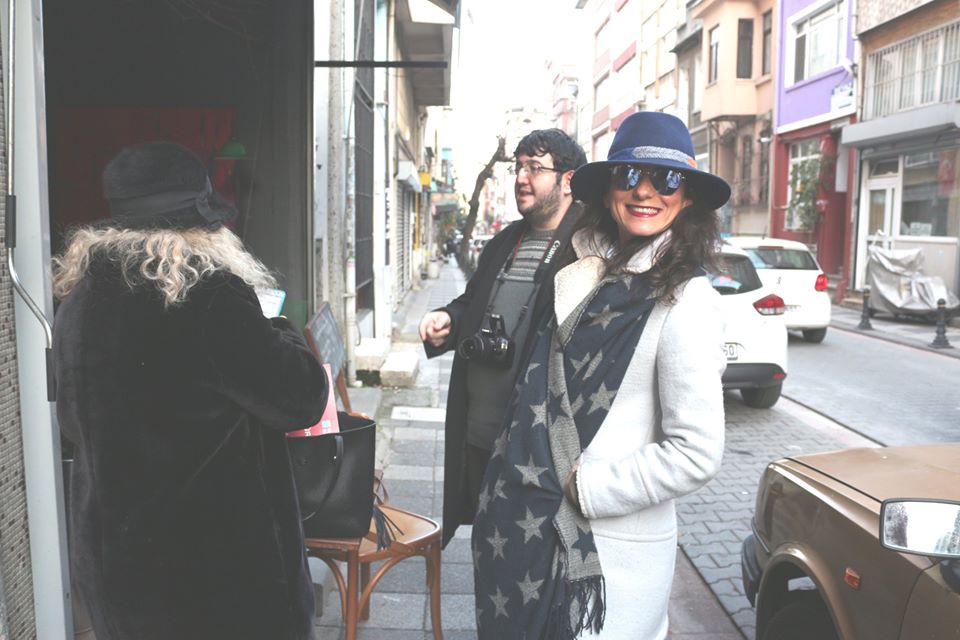 Address: Rasimpaşa, Uzun Hafız Sk. No:73, 34716 Kadıköy/İstanbul
Bahariye Sanat Istanbul
Founded in 1998, this gallery desires to create a gratifying meeting point for artists and art lovers. It also offers conferences and seminars at a given time.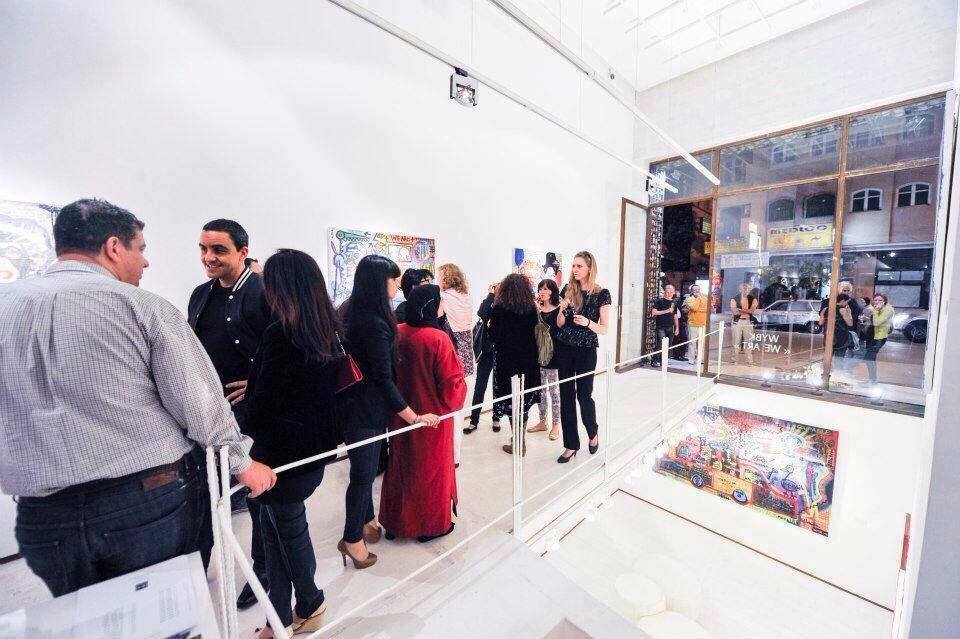 Address: Caferağa, Kadife Sok. Kızıltunç Apt. No:11, 34710 Kadıköy/İstanbul
Mia Atelier & Studio
A local gallery running by young artists also serves as a ceramic workshop and students put their final work for exhibitions, It's also a yoga studio taking place in different rooms every other day of the week.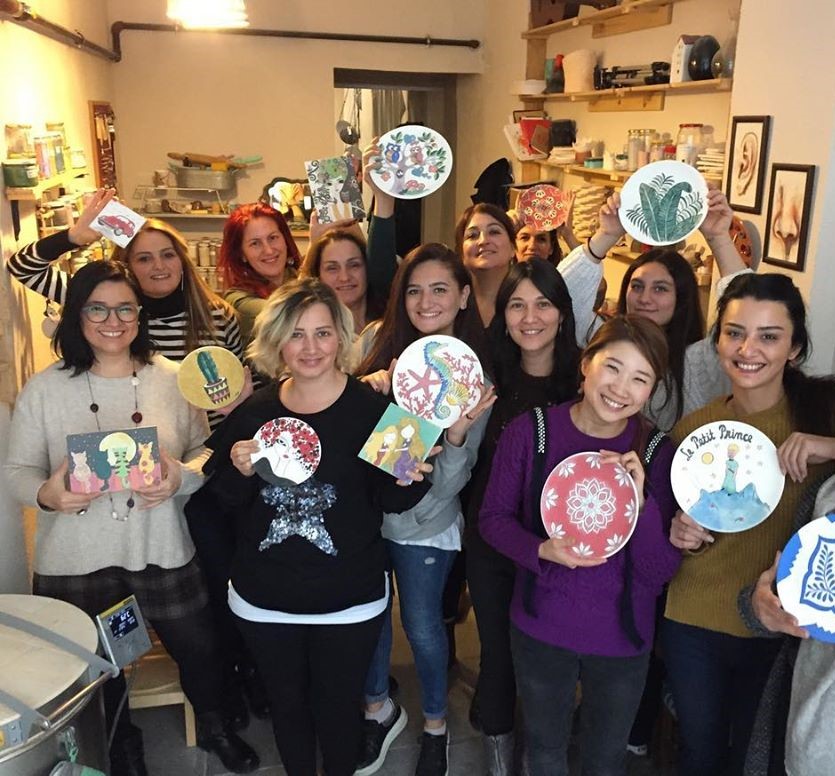 Address: Rasimpaşa, Recaizade Sk. 53/A, 34716 Kadıköy/İstanbul
Life After Dark
When it comes to nightlife, Kadikoy is not subtle at all. Long-standing local favorites, music theme places, Irish pubs, modern bars to traditional Turkish drinking places called "Meyhane" that serve a special Turkish drink called "Raki"
Let's take a look at the hottest spots in town
Lâl Bar
A comfy and laid back bar with fast food options, reasonable price, located in the middle of the "Bar Streets" or "Barlar Sokak".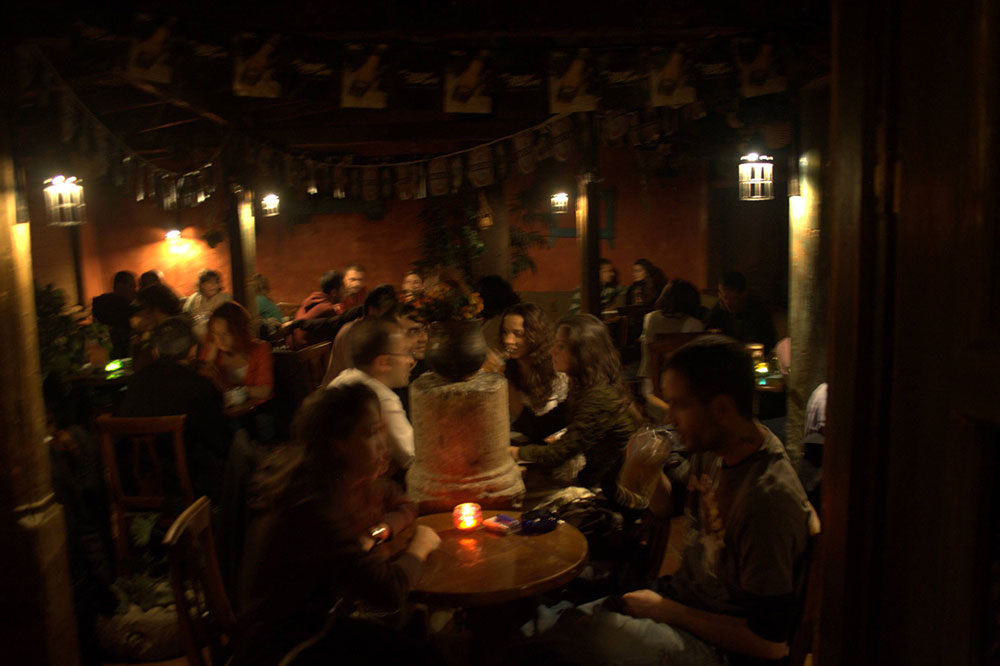 Address: Caferağa, Kadife Sk. No:19, 34710 Kadıköy/İstanbul
Zeplin Pub
Zeplin is one of the most intimate bars in the street. It has a great view and surrounded by gardens of other pubs around and seats outside.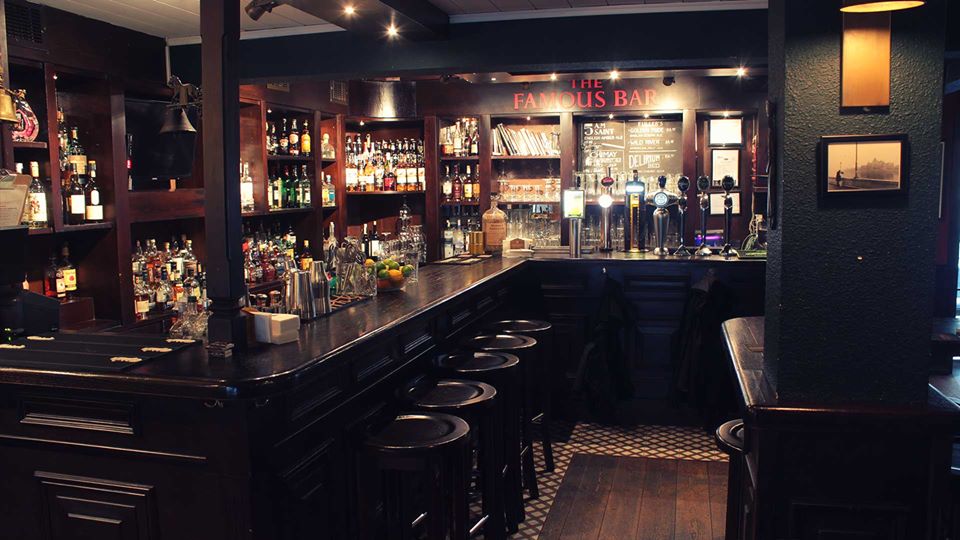 Address: Bağdat Cad. Tevfikbey Apt. No:204b Çiftehavuzlar, 34728 Kadıköy/İstanbul
Karga Bar
After it was opened in 1996, with its decor and music soon it became an alternative place for entertainment, a new music playlist every night, DJ performers and concerts on weekend.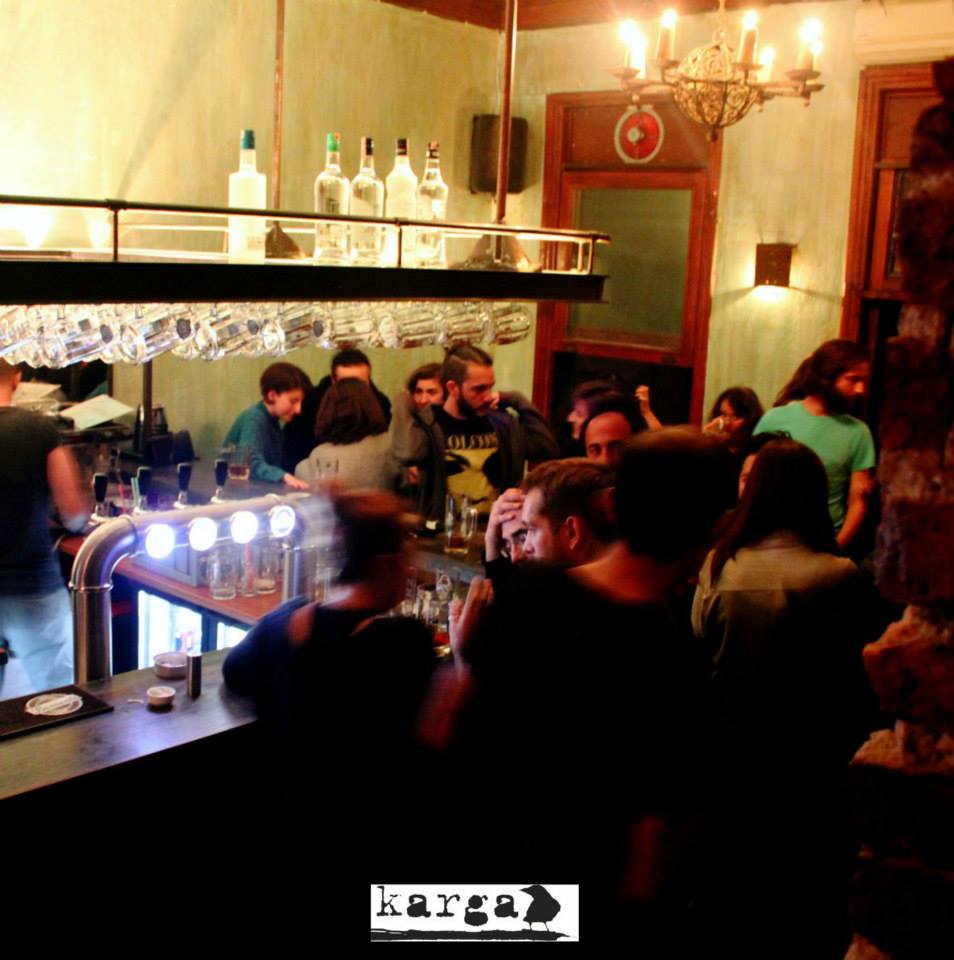 Address: Caferağa, Kadife Sk. No:16, 34710 Kadıköy/İstanbul
Dunia Bar
Located in the "Barlar Sokak", live music, outdoor seating, and a wide bar menu, it gets really busy on weekends.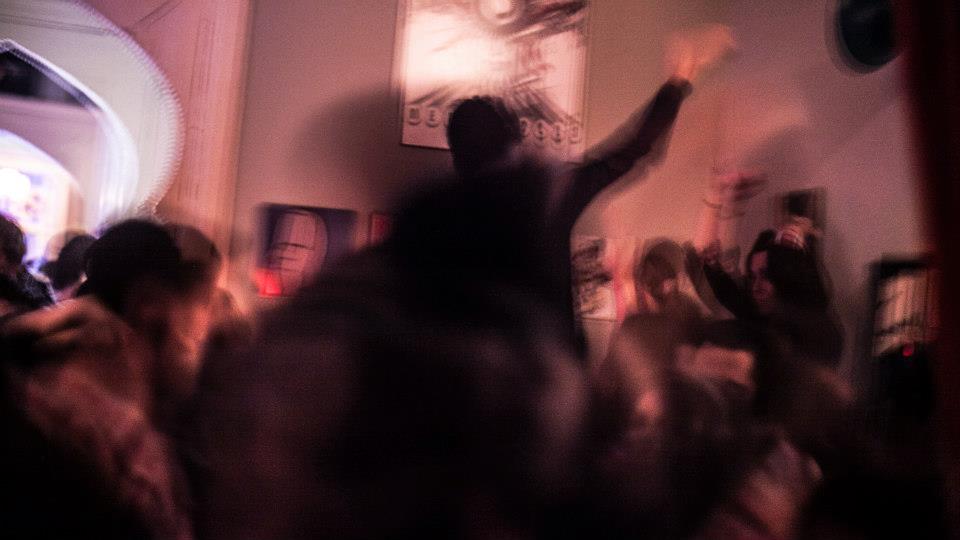 Address: Caferağa, Kadife Sk. No:19, 34710 Kadıköy/İstanbul
Kasaba Drink And Pizza Bar
Both indoor and outdoor seating is available, serves bar food and pizza and prices are reasonable.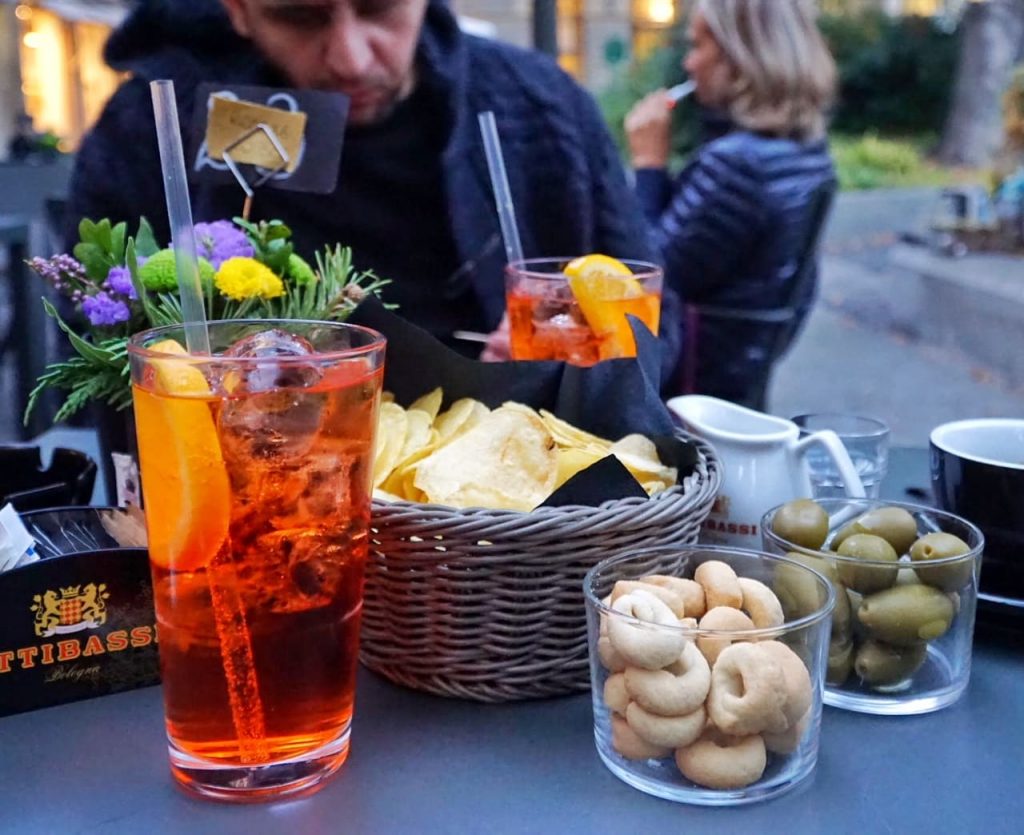 Address: Caferağa, Moda Cd. NO 54, 34734 Kadıköy/İstanbul
Arka Oda Bar
Stablished in 1999 and since then it became one of the hottest spots in town, it has one ground and one garden floor. Every week there are live performances, themed events, and concerts.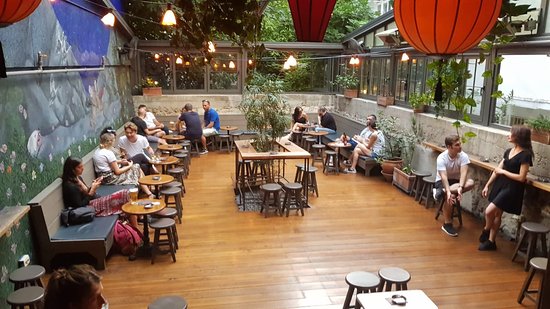 Address: Caferağa, Kadife Sok. No:18 D:1, 34710 Kadıköy/Istanbul
Kadikoy çapa Meyhane (Traditional Turkish Bar)
Of course, there is a big bar menu available if you want regular drinks, but the specialty of a "Meyhane" is "Rakı" a traditional drink, mixed with water and is served with unique food and vegetables that are prepared for this feast only.
Address: Caferağa, Güneşli Bahçe Sk. 49/B, 34710 Kadıköy/İstanbul
Tonight We Dance!
After a day filled with, culture, arts, and food now it's time to blow some steam. Night clubs with DJ performance, Jazz bars with live music, Salsa dance nights, Progressive dance events with international dancers and performers and…
Kadikoy is up all night and so are we! These are the ultimate dance floors in town. Some of them might have an entrance fee which can't be more than twenty or thirty TL ($5-6)
Bina Bar
It's in a great location with a garden seating area, almost always packed with people, offers bar food menu and their cocktails are really popular.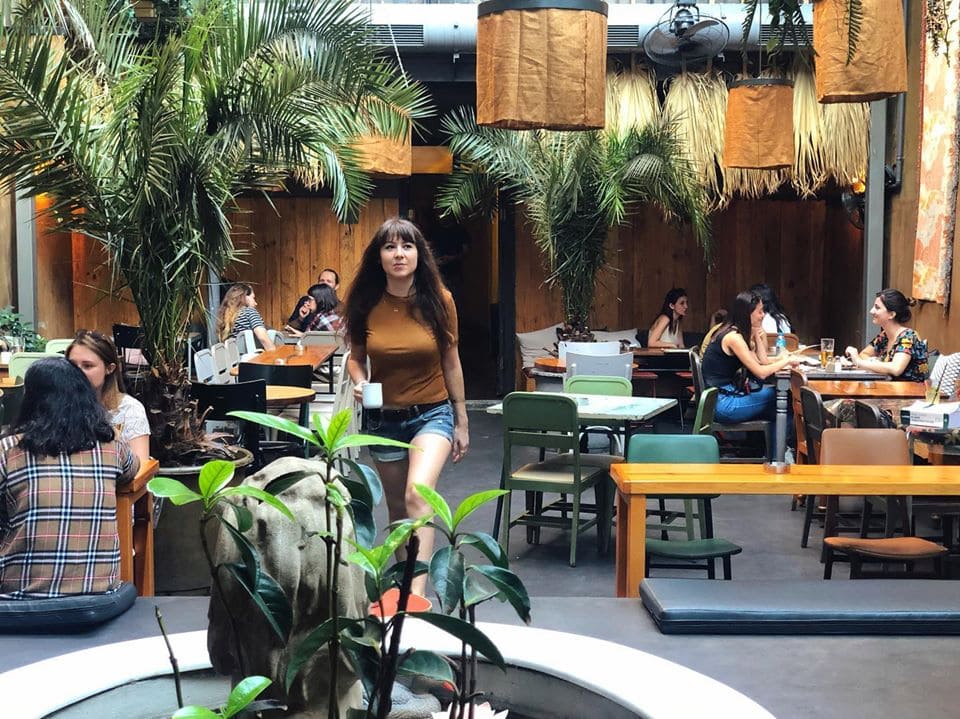 Address: Caferağa, Kadife Sk. No:26, 34710 Kadıköy/İstanbul
Zor Bar
Cool and hip with a great crowd, curated music with local and international DJs and crazy parties.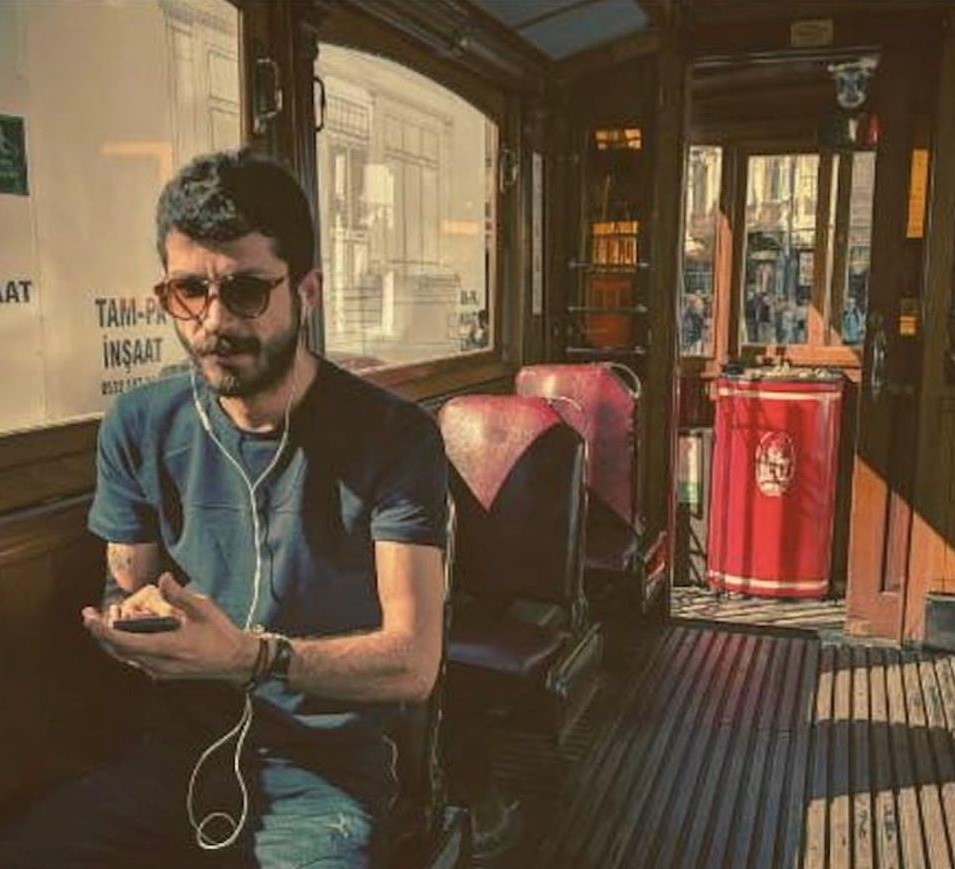 Address: Caferağa, Moda Cd. No:120, 34710 Kadıköy/İstanbul
Nayah Kadikoy
It's an underground place and on weekends it's a party all night long with reggae music and live performances.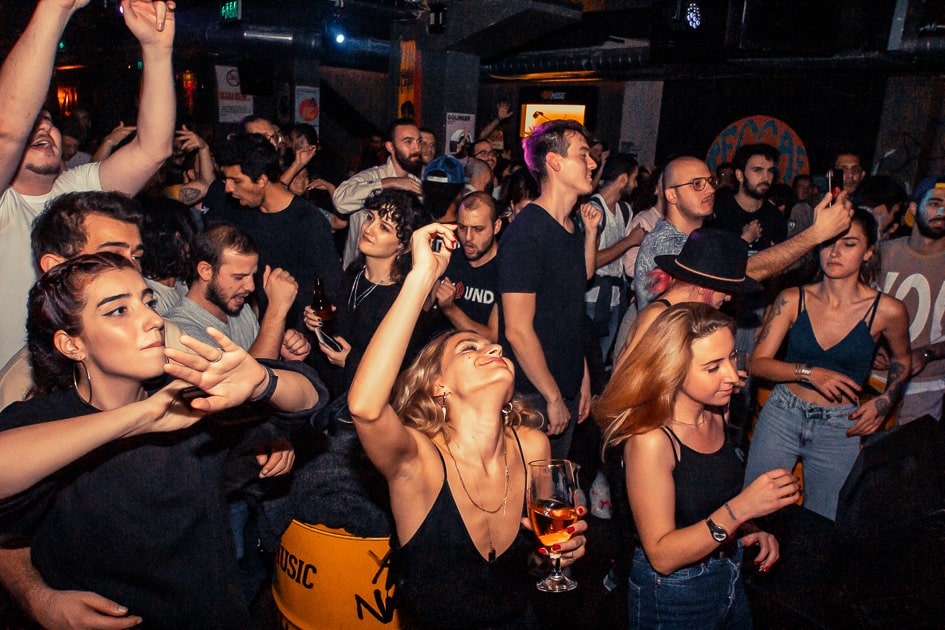 Address: Osmanağa, Kırtasiyeci Sk. No:20, 34714 Kadıköy/İstanbul
Meçra Bar
Up and coming place with progressive events and parties, it's a very creative venue with performers and dancers from the LGBTQ community, mostly techno music playing and popular burgers.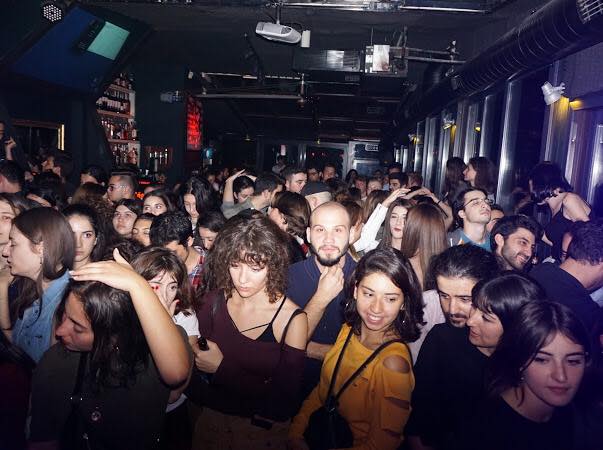 Address: Caferağa, 5, Dumlupınar Sk., 34710 Kadıköy/İstanbul
Ağaç Ev Kadıköy
One of the hottest places in the city for rock and blues playlist and international musicians. Serves high-quality craft beer and bar food options are available.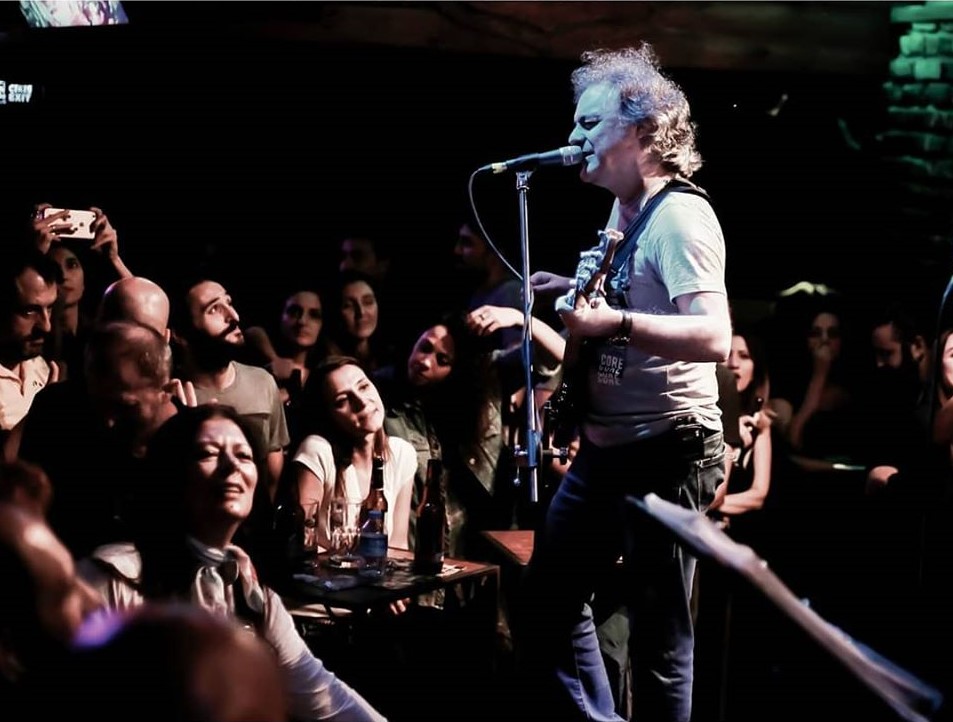 Address: Osmanağa, Osmancık Sk. 13B, 34714 Kadıköy/İstanbul
Where to Stay
Whether you're backpacking and you are on a tight budget or money is no issue to you there are hostels, hotels, and apartments available in Kadikoy in a wide price range.
Hostels with private rooms or dormitories usually, breakfast included, common kitchens available so you'd be able to cook and hang out with the young crowd visiting from countries all around the world.
I love the hostels in Kadikoy. All of them with bohemian colorful designs and unique views ready to be "Instagrammed" J There are also apartments and flats you can rent from the local people, could be a little more expensive but if you are not a hotel person they are the best alternatives.
Here are some suggestions you might find helpful
Hotels And Hostels
Khalkedon Hotel
All rooms are decorated with modern comforts while the true architecture has remained true. All centrally heated and air-conditioned plus a minibar and TV, breakfast buffet available on the rooftop and terrace with an amazing view of the "Marmara" sea. The reception is 24 hours open and the staff is really friendly and informative about the area.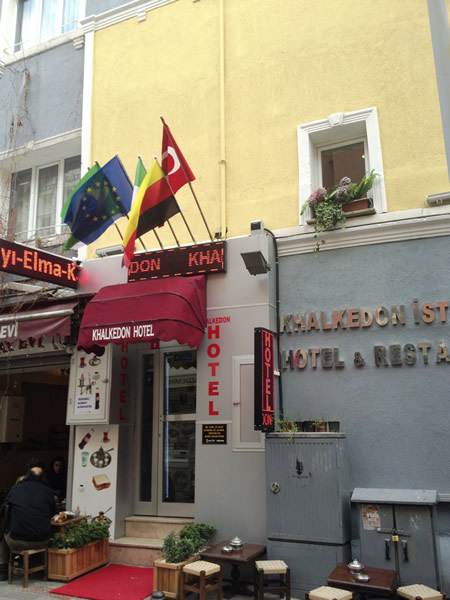 Address: ÇaferAğa Mahallesi Moda Caddesi Tellaizade Sokak No: 02 Kadikoy, İstanbul, 34710, 34710
Moda Drei-Concept Hostel
Provides both private rooms and shared dormitories, two separate chill-out areas, a common kitchen, laundry room, and patio. You can cook, watch TV, play games and hang out with others. It's a very friendly community and staff.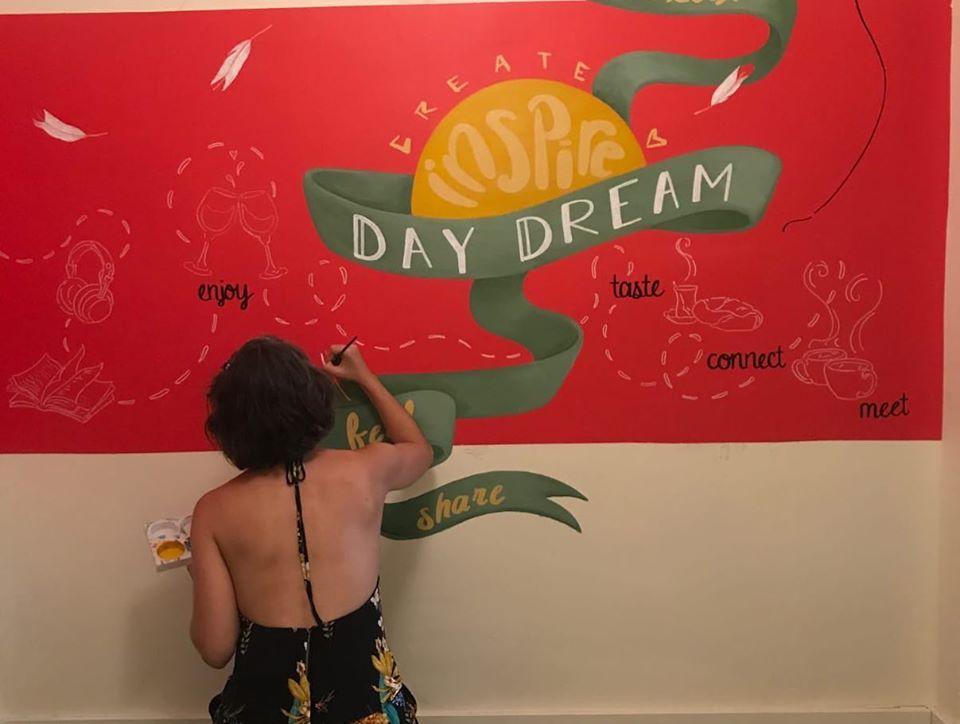 Address: Caferağa, After Sk. No:3, 34710 Kadıköy/İstanbul
Hush Hostel Lounge
It's located in a very trendy neighborhood with cafes and galleries, close to public transportation, provides private rooms and dormitories, a cozy lounge for hanging out and a garden plus a terrace with lounge chair sand an authentic view.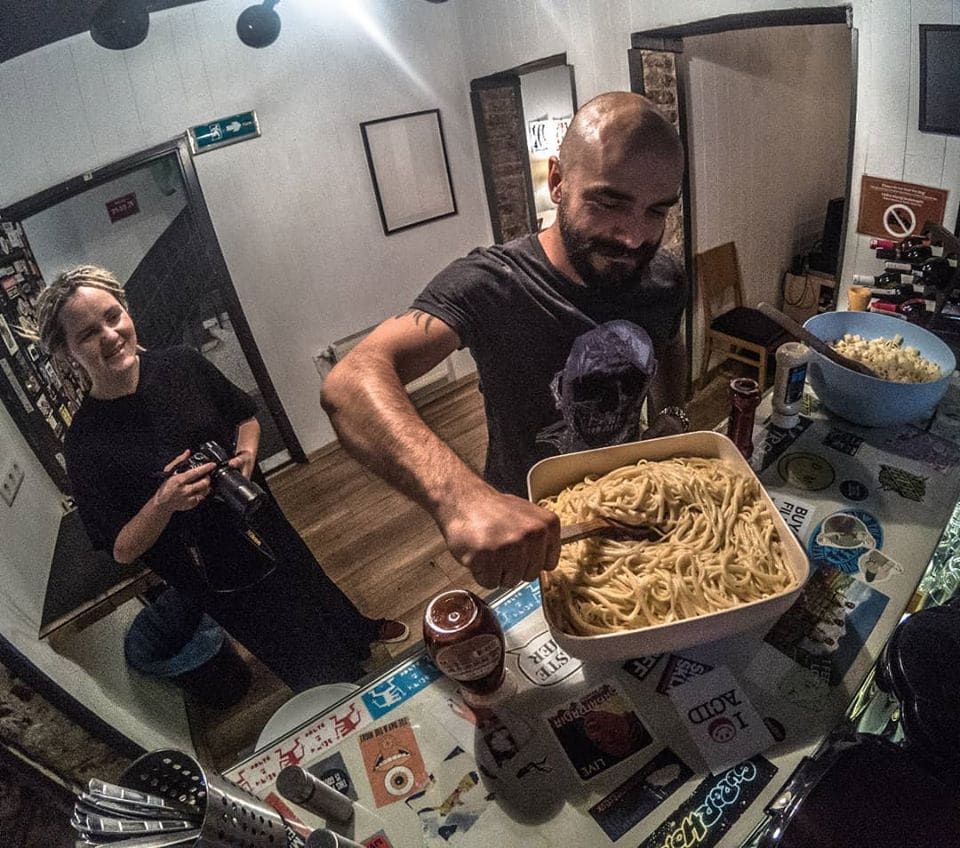 Address: Rasimpaşa Mh., İskele Sk. No:46, 34716 Kadıköy/İstanbul
Bristol Hostel
Located in the center of "Kadıköy", near the local bazaar, and it has an open bar, private and shared rooms are available, rooms are provided by heaters and air conditions, price is reasonable compared to others around.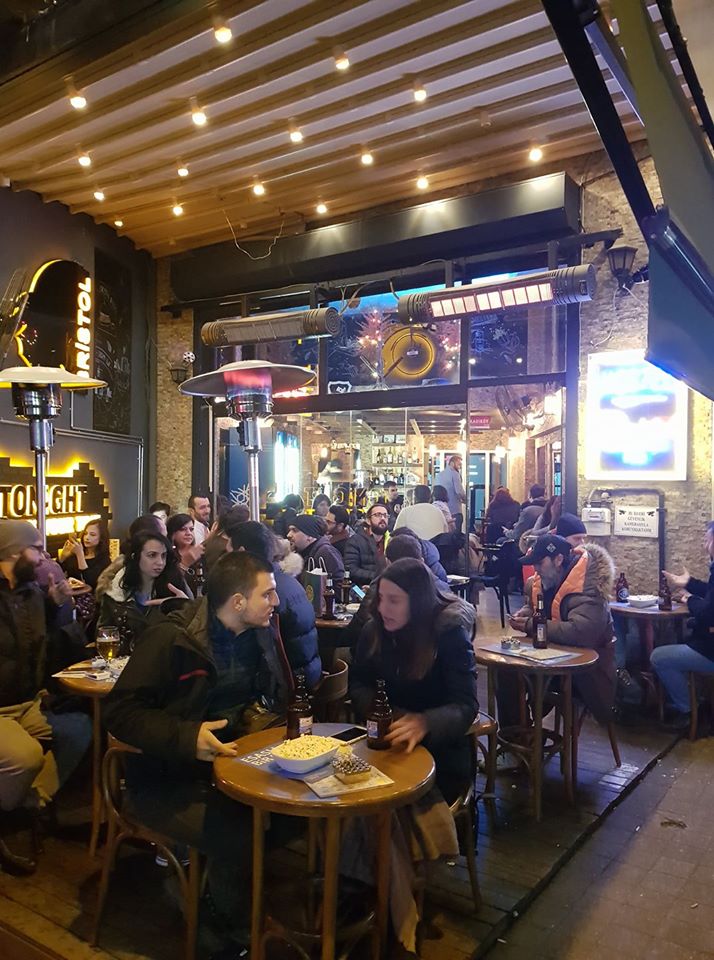 Address: Caferağa, Sarraf Ali Sk. No:24, 34710 Kadıköy/İstanbul
Moda Hostel
Accommodated with bright and modern rooms, each of them has a small kitchen and a private bathroom inside. Dormitories with 4 or 6 beds and every bed has a night light, storage, and curtain.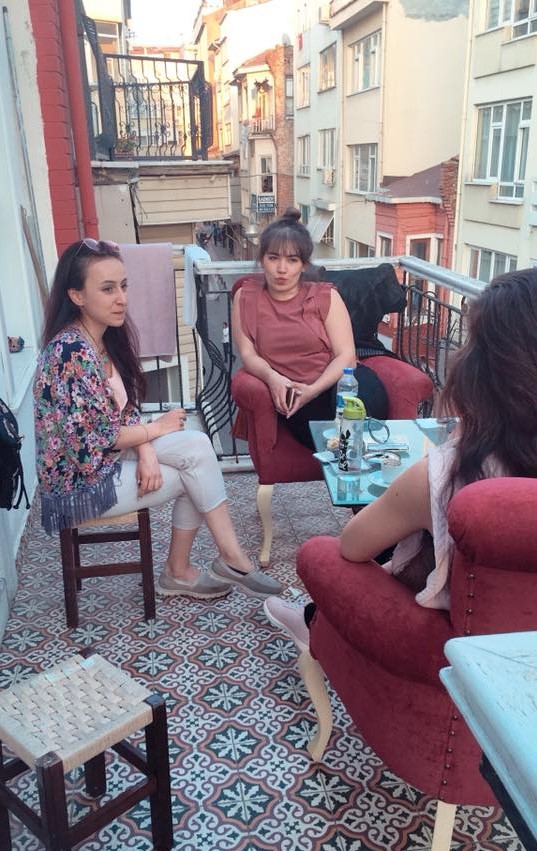 Address: Caferağa, Tellalzade Sk. 15/A, 34710 Kadıköy/İstanbul
Juliet Rooms & Kitchen (Low Key Hotel)
Offers a new method of hospitality with designed hostel rooms and tasteful hotel rooms combined. It's very comfortable yet contemporary furniture and settings and it's only two minutes away from public transportation.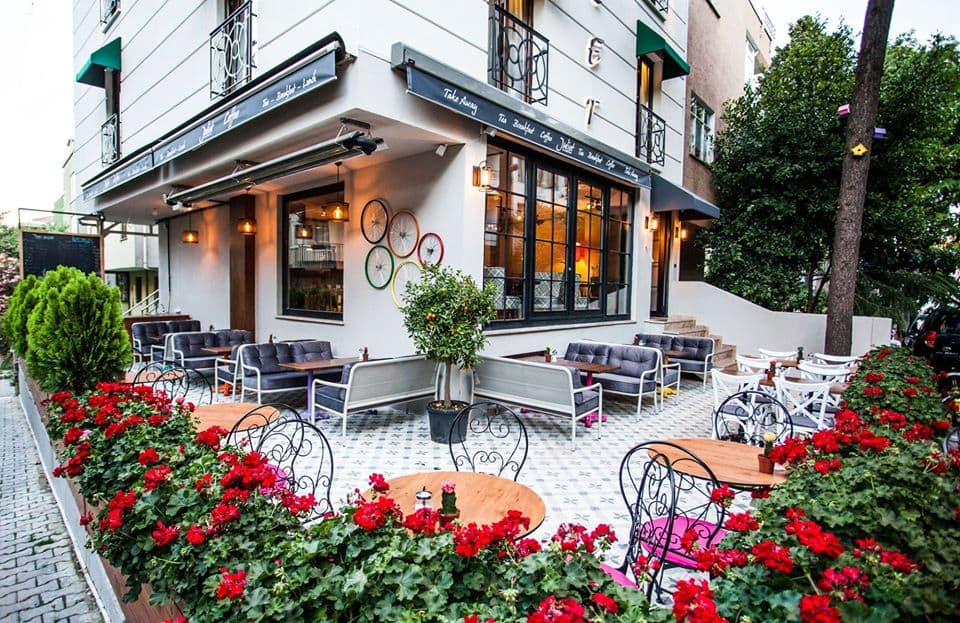 Address: Caferağa, Şifa Sk No:31, 34710 Kadıköy/İstanbul
Sarnic Suits And Kitchen
This Greek house is located in the middle of Bazaar, it's a whole complex of hotel suit rooms, a restaurant, and a Turkish traditional "Meyhane". with more than 140 years of history is still very original and the old structure of place has remained still.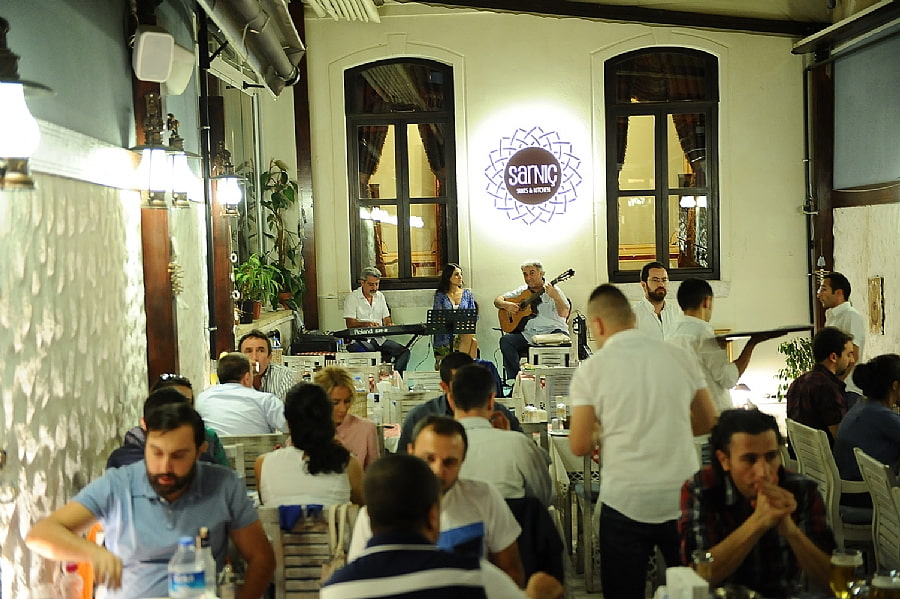 Address: Caferağa, Dumlupınar Sk. No:12, 34710 Kadıköy/İstanbul
Double Tree By Hilton Hotel
Convenience and elegance, first five-star hotel on the "Asian side" will give you a warm welcome with chocolate cookies at the lobby, restaurants with both Turkish and Western food menu, pool with a view of "Bosphorus" Strait and rooms on the top floors with a full view of the "Old Town".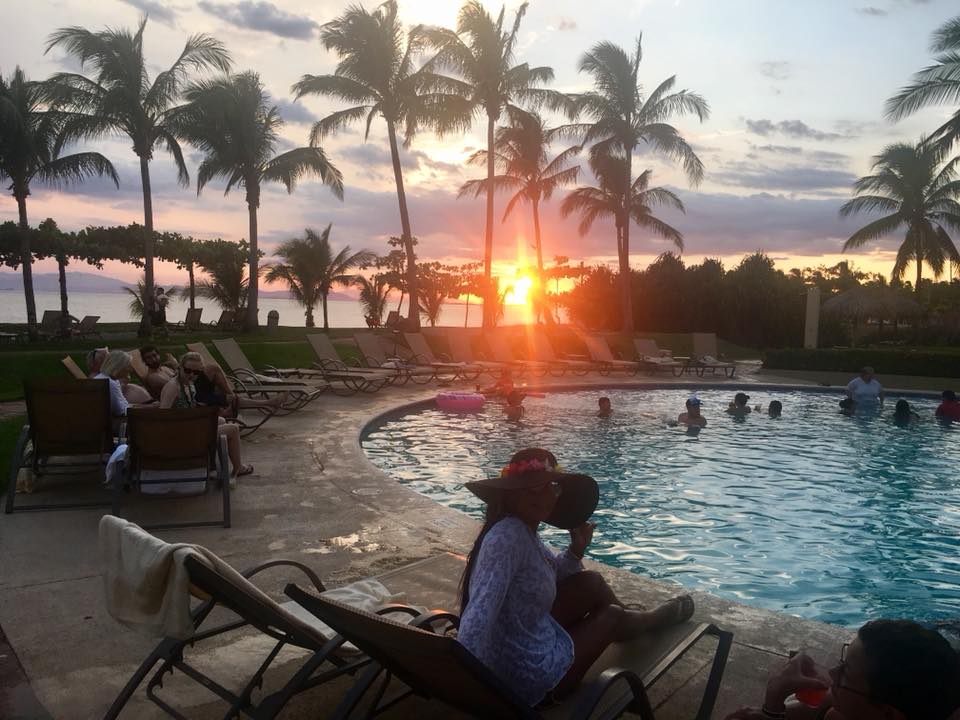 Address: Caferağa, Albay Faik Sözdener Cd. No:31, 34710 Kadıköy/İstanbul
Where To Next
Although we are never truly done with Kadikoy, our journey here is coming to an end. There are other areas you have to visit before leaving Istanbul. Here are some suggestions and how to get there
To Taksim Square
Taksim square which leads in to "Istiklal" street it's exactly as gorgeous as its postcards, fancy restaurants, street food carts, museums, and famous brands stores.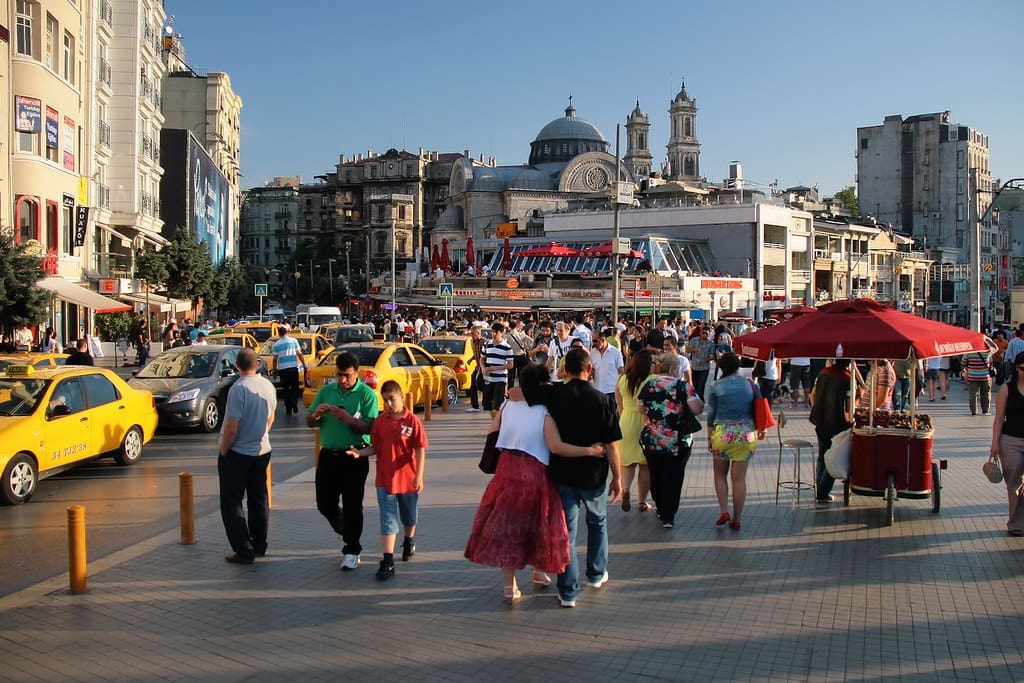 So to get there walk to the Kadikoy pier, should not be more than ten minutes away from the center of "Kadikoy çarsi", check the time table there is one leaving every forty-five-minute.
Use your "Istanbul kart" to get in, take the next ride to "Besiktas" when you get there walk about five minutes to the main street, pass the traffic light to the other side, right in front of you, there are yellow vans "Dolmuş" waiting to fill up for "Taksim". It's a fifteen-minute ride and Remember ferries shut down at 10 p.m. Price overall: 10-12 TL ($1-2)
This route is one direct way, so if you have luggage or you plan on leaving on a different time like after 10 pm, it might be easier for you to just walk to the "Dolmuş" station, yellow vans lining in their slots. You hear the drivers yelling the destinations so just go the sound and get in the van to "Taksim". About forty-five to one hour ride. Price: 8 TL ($1-2)
One of the easiest, fastest and most expensive way is simply getting a taxi and just say the word Taksim if you do not know any Turkish.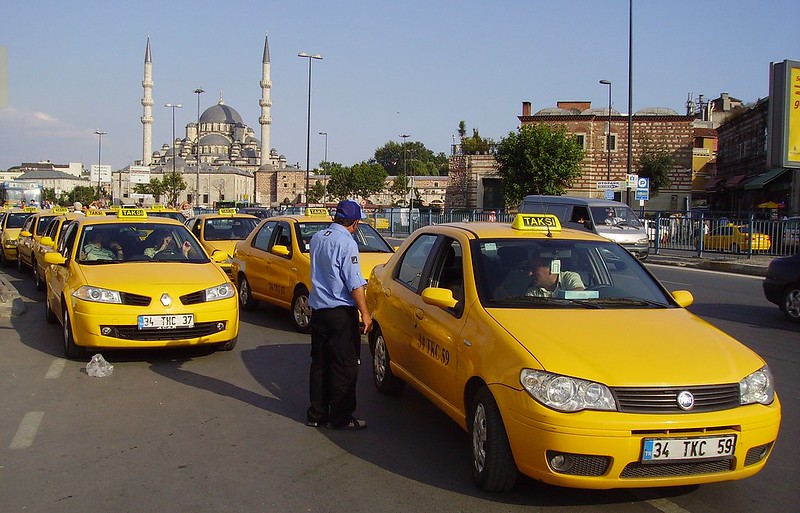 To Karakoy/Eminonu
One of the oldest districts in Istanbul located right in front of the"Old Town". Close to "Galata Bridge" and a few minutes away from the famous "Galata Tower" there is so much to see there so why wait?!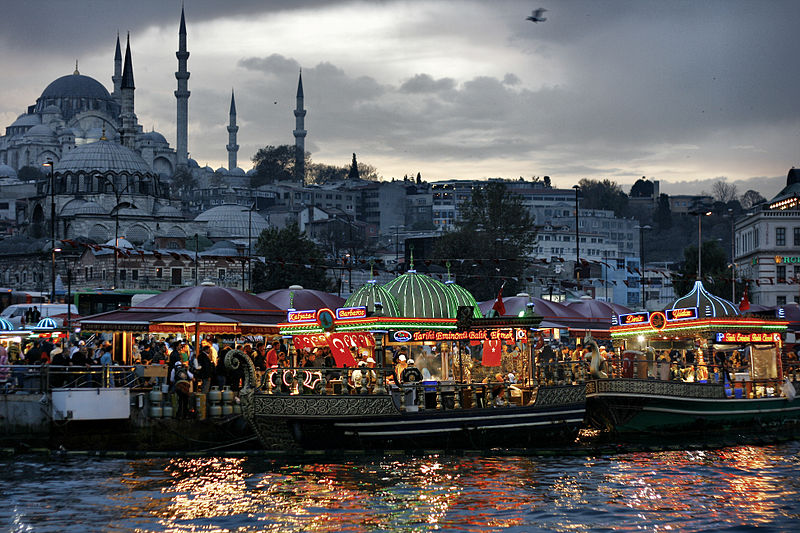 Walk to the Kadikoy pier called "Kadıköy Çayırbaşı" 2 (Turyol) get on the next ferry towards "Eminonu" after about a twenty-five-minute ride you are at your destination. If you are leaving too early in the morning or after 10:00 .p.m. It's easier to take a taxi since a lot of public transportation is not working. Price: 6 TL ($1-2)
To Beşiktaş
Laidback bars, simple restaurants, a waterpark front surrounded by fish markets. The national palaces and museums, the list goes on.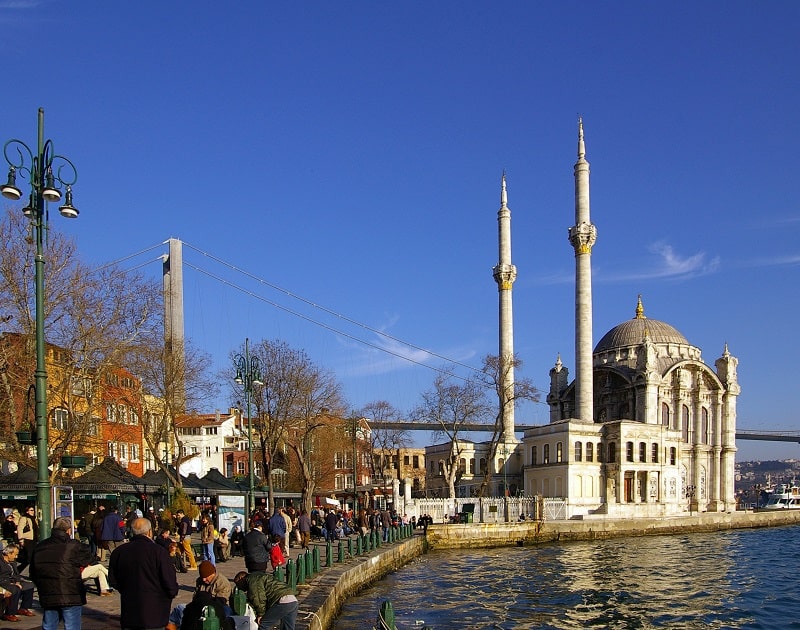 You have to visit "Beşiktaş" and here is how: walk to the Kadikoy pier, there is a ferry leaving for "Beşiktaş" every half an hour, take the next one and in twenty minutes you will arrive. Price: 5-6 TL ($1-2)
Walk to the "Kadikoy Dolmuş" station, get on the vans calling for "Taksim" and while paying just let the driver know you get off at "Beşiktaş Meydani" and they will drop you off. Remember if you need to get off any vehicle just tell the driver "Musait Bir Yerde" it means "at a convenient spot". Price: 8 TL ($1-2)
To be honest I could keep talking about "Kadikoy" way longer than this J but let's leave somethings for you to discover on your own! I hope this information would be helpful to you, have a great time in our lovely "Kadikoy"