Known for its rich dessert culture, Istanbul is a paradise for sweet enthusiasts. This city boasts an array of Turkish delicacies that reflect its vibrant history. From traditional baklava to unique turkey-infused treats, the best dessert places in Istanbul offer an unforgettable gastronomic adventure.
Best Dessert Places in Istanbul
Recommended Reading: Best Baklava Places in Istanbul
1- Şekerci Cafer Erol
Established in 1807, this is the place to go for tasty candies made by sugar masters who combine their creativity, talent, and passion when making desserts. Here you'll find colorful rock candies, Turkish Delight, chocolates, special marzipans, crushed candy, pastries, milk desserts, and jams.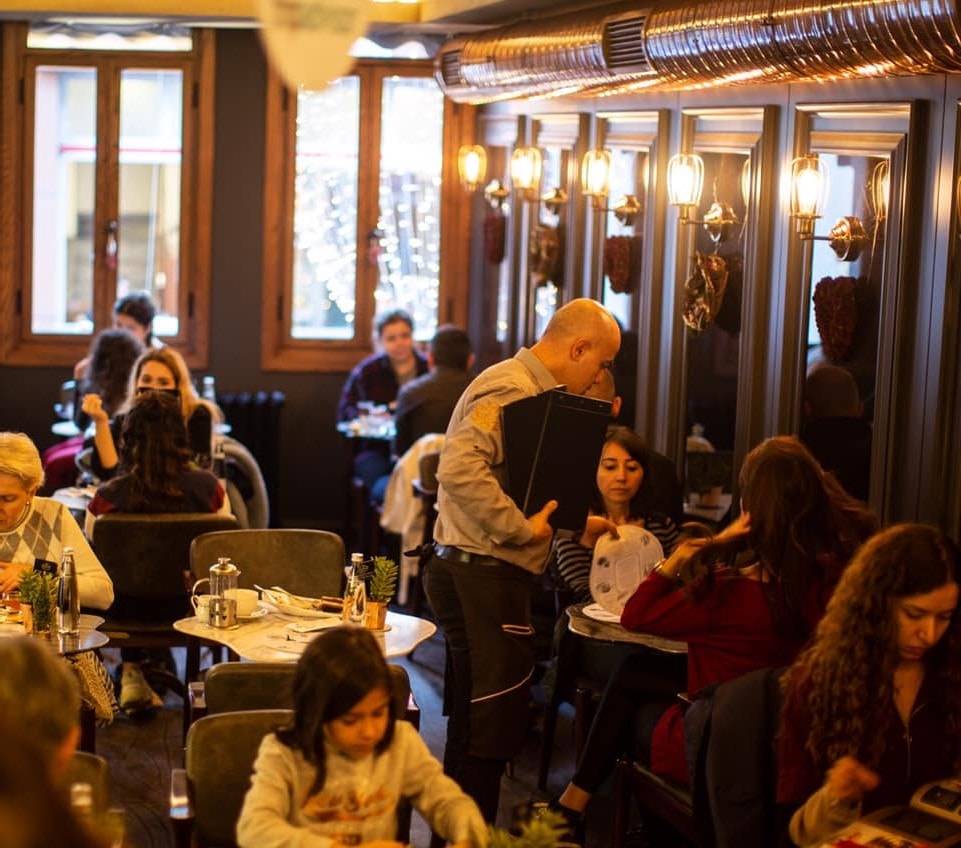 They do special orders for celebrations like anniversaries and birthdays. Şekerci Cafer Erol manufactures their candies right in their small shop in Kadıköy Bazaar, which is a sight to see. For light desserts with just the right amount of sweetness, stop at Şekerci Cafer Erol in Kadıköy Bazaar, and don't forget to try the chestnut cup while you're there.   
Desserts
Turkish Delight
Turkish Lokum
Sugar Candies
Dragees
Chocolate
Pistachio and Chocolate Lokum
Address: Osmanağa, Yasa Cd. No:19, 34714 Kadıköy/Istanbul
2- J'adore Chocolatier
When you hear "J'adore," two things come to mind: "Oh la la, Beatrice" and "chestnut coup." The sweet smell of chocolate is first to greet you upon entering this shop. Though the shop is small, it is a place frequented by many locals.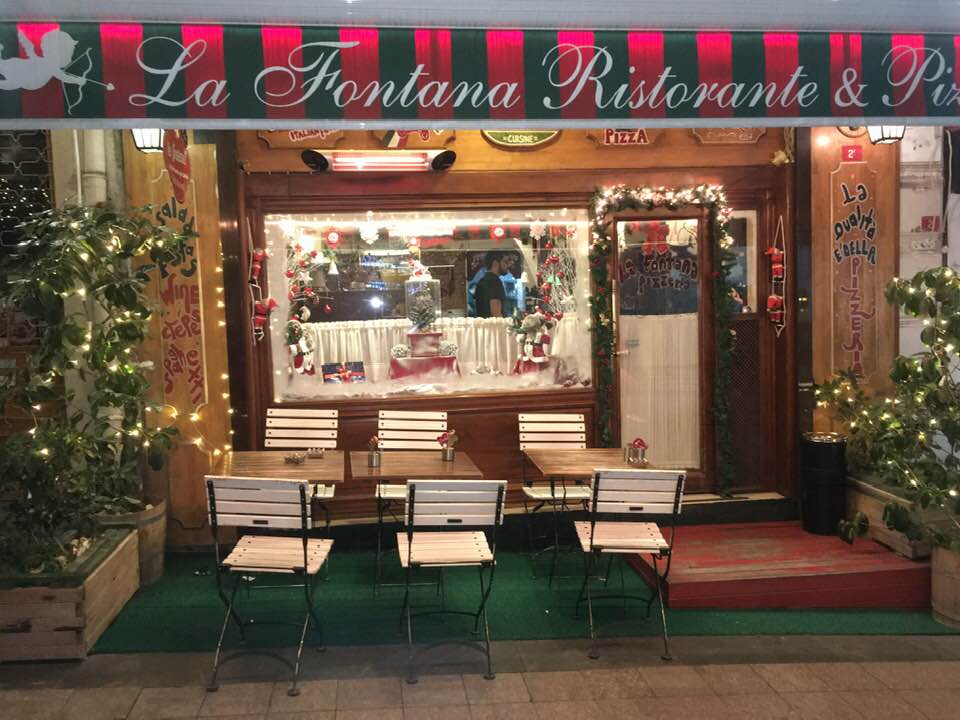 Here, you can drink hot chocolate while embraced the rhythm of French music. The store is next to the 150-year-old Panagia Greek Orthodox Church. If you have some difficulty finding the place, look for the longest queue on the street, and you'll find J'adore.
Desserts
Cheesecake (Classic/Chocolate/Strawberry/)
Apple Pie
Tiramisu
Oh la la Beatrice
Chestnut Coup
Strawberry Coup
Banana Coup
Drinks
Hot Chocolate (Caramel/Strawberry/Orange/Pistachio/Orange/Mint/Hazelnut/Chili Pepper)
Cold Chocolate (Classic/Strawberry/Banana)
Iced Tea
Fruit Juice
Turkish Coffee
Espresso
Black Tea
Italian Gelatos
Coup La'mour
Coup Felicita
Coup Ti Amo
Coup Frans Fills
Coup La Fontana
Address: Asmalı Mescit, Emir Nevruz Sk. 22/F, 34421Beyoğlu/Istanbul
3- Karakoy Gulluoglu
There are Güllüoğlu signs in most districts in Istanbul, but Karakoy Gulluoglu is the most famous of all baklava shops in Istanbul among locals and visitors, serving up the best baklava in Istanbul. You can even order more online from home!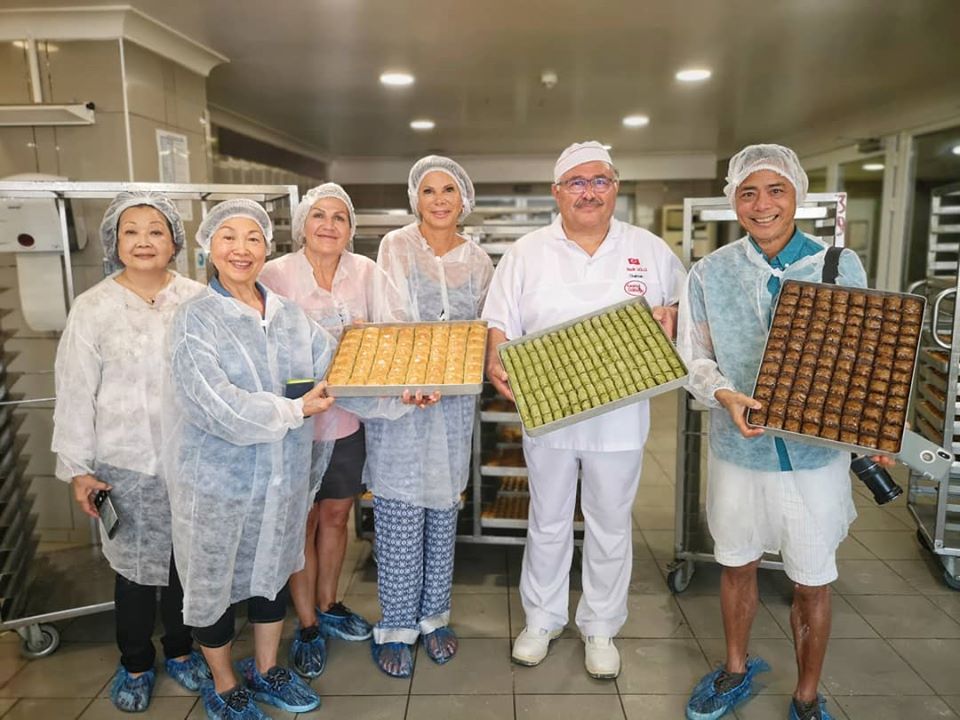 Karakoy, the center of commerce of Istanbul, has also been the center of baklava since 1949. Karakoy Gulluoglu represents somewhat of a different flavor and color in this bustling business center, but it's also a part of the community. Karakoy Gulluoglu is not only famous for its classic baklava, but for its fried fruit as well.
Desserts
Baklava (Almond, Walnut/Chocolate/Pistachio/Orange)
Bundles (Walnut/Pistachio/Cherry)
Pastries (Spinach Pie/Minced meat Pie/Cheesecake/Vegetable Roll)
Rolls (Almond wrap/Walnut wrap/Sour cherry wrap/Apple)
Turkish Delights (Hazelnut/Almond/Chocolate/Pistachio)
Chocolate
Kadayif
Dil Cheese Pie
Gouda Cheese Pastry
Address: Kemankeş Cad. Katlı Otopark Altı No: 3-4, 34425 Beyoğlu/Istanbul
4- Hafız Mustafa
Hafiz Mustafa still makes rock candy with the same, traditional recipe used in 1864. One taste is enough to make you fall in love with them. Hafız Mustafa has branches in Sirkeci, Eminönü, Sultanahmet, and Taksim, serving traditional desserts, such as baklava, şöbiyet, and kadaif.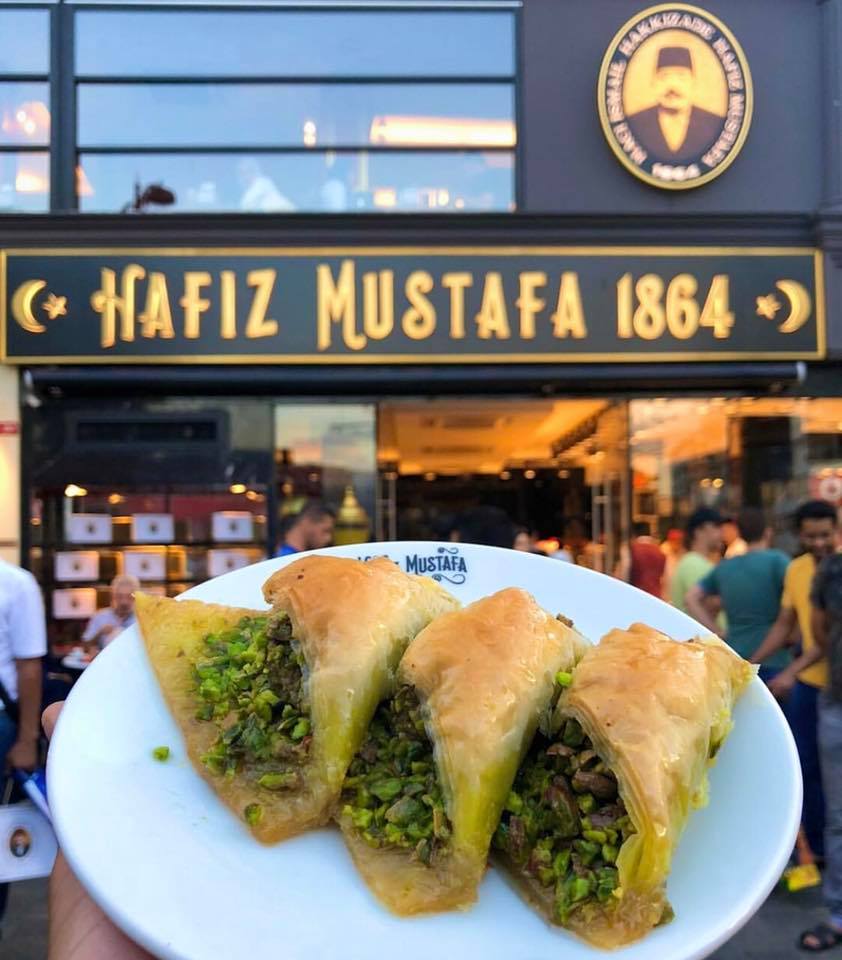 Milky desserts like custard are lighter than the usual fare and especially popular in the evening. Your biggest decision here will be which flavor to choose! Hafiz Mustafa is also known as the first to make salty pastry. There are close to 50 varieties of Turkish Delight, colorful fresh flavors, sold in small "bliss packs." Turkish Delight is also a popular souvenir to take home for family and friends.
Desserts
Baklava (Pistachio/Almond/Walnut/Chocolate/
Muhallebiler (Chocolate/Pistachio/Almond/Caramel)
Lokum (Mint/Pommegrante/Orange/Rose/Lemon/Kiwi/Apple/Strawberry)
Sugared Candies (Fig/Tangerine/Eggplant/Apricot)
Künefe
Drinks
Turkish Coffee
Fruit Tea (Mixed)
Cinnamon Tea
Apple Tea
Orange Tea
Lemon and Ginger Tea
Latte
Espresso
Filter Coffee
Mint Tea
Address: Binbirdirek, Divan Yolu Cd. No:14, 34110 Fatih/Istanbul
5- Mado
At Mado, you'll find out just how delicious ice cream can be. Here, delectable ice creams made from goat's milk are flavored by ice cream masters with an artisanal spirit. Desserts such as kadaif, semolina, and halva are also served with a side of ice cream.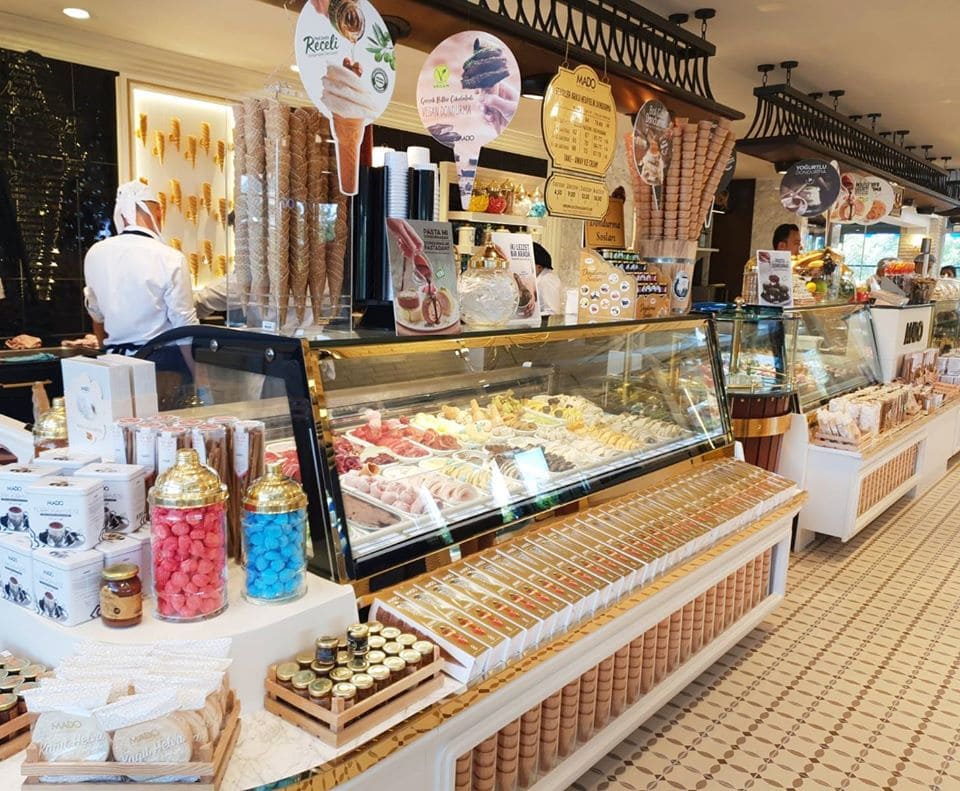 Mado also serves breakfast. After you eat breakfast, why not order a scoop of ice cream to go with your Turkish coffee? If the weather is cooler, try the salep with ice cream. Mado also has a number of ice creams made with fruit extracts and honey if you'd prefer your dessert to be sugar-free. This cafe and restaurant has over 365 branches world-wide!
Desserts
Kdayif (Cheese/Cream)
Baklava (Pistachio/Hazelnut/Walnut)
Balborek (Pastry with honey)
Pistachio Wraps
Creme Brulee with Pumpkin sauce
Fig Pudding
Rice Pudding
Triple Mini Cake Plate
Tiramisu in jar
Strawberry Cake
Beverages
Mado Hot Chocolate
Cafe Mocha
Turkish Coffee
Turkish Tea
Cappuccino
Traditional Natural Salep
Hot Chocolate Natural Salep
Cafe Chiara
Frappe
Mado Chocolate
Milkshakes
Homemade Lemonades
Sugar-Free Ice cream
Vegan Ice cream
Address: Asmalı Mescit Mah İstiklal Cad, Gönül Sk. No:1, 34430 Beyoğlu/Istanbul
6- Baylan
Almost every resident of Istanbul has a fond memory of Baylan Patisserie. Open since 1923, Baylan Patisserie is a great place to go if you want to have a relaxed chat with some friends to the sound of live jazz (every Sunday and Wednesday evening). Baylan has two branches, located in Bebek and Kadıköy. It's a great place to wind down at the end of a tiring day and eat dessert served on Limoges porcelain plates. We recommend the Kup Griye in the hot summer months and Montebianco in the winter.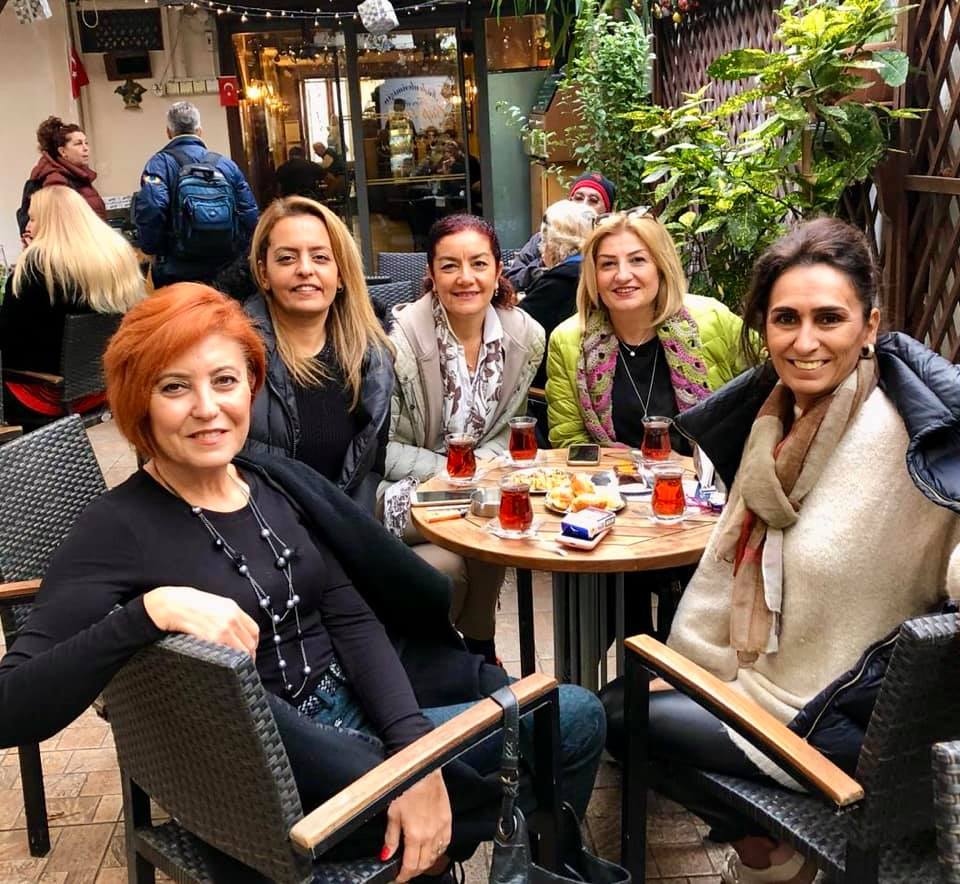 Desserts
Orange Tian (Chantilly whipped cream/Caramel sauce/Orange sauce/Vanilla biscuit)
Pain Perdu (Hazelnut/Croquant/Ice cream)
Lemon Cheesecake
Raphael Cake (Chocolate/Vanilla/Croquant)
Peche Melba (Vanilla Ice cream/Almond Croquant/Poached peach/Rasberry sauce
Kup Dame Blanche (Ice cream/Warm chocolate/Chantilly cream)
Chocolate & Orange Cake
Monte Blanco (Chestnut puree and fresh cream)
Truffle Cake (Bitter chocolate)
Parfait (Strawberry or chocolate)
Foret Noire (Chocolate and sour cherry cake)
Pie (Apple or pear)
Address: Bebek, Cevdet Paşa Cd. 52-54, 34766 Beşiktaş/Istanbul
7- Çikolata Dükkanı-Moda
If you smell chocolate in Kadıköy, Moda, you're probably close to Çikolata Dükkanı. The shop's intimate atmosphere only intensifies the pleasure that chocolate, friendship, and sincerity can bring.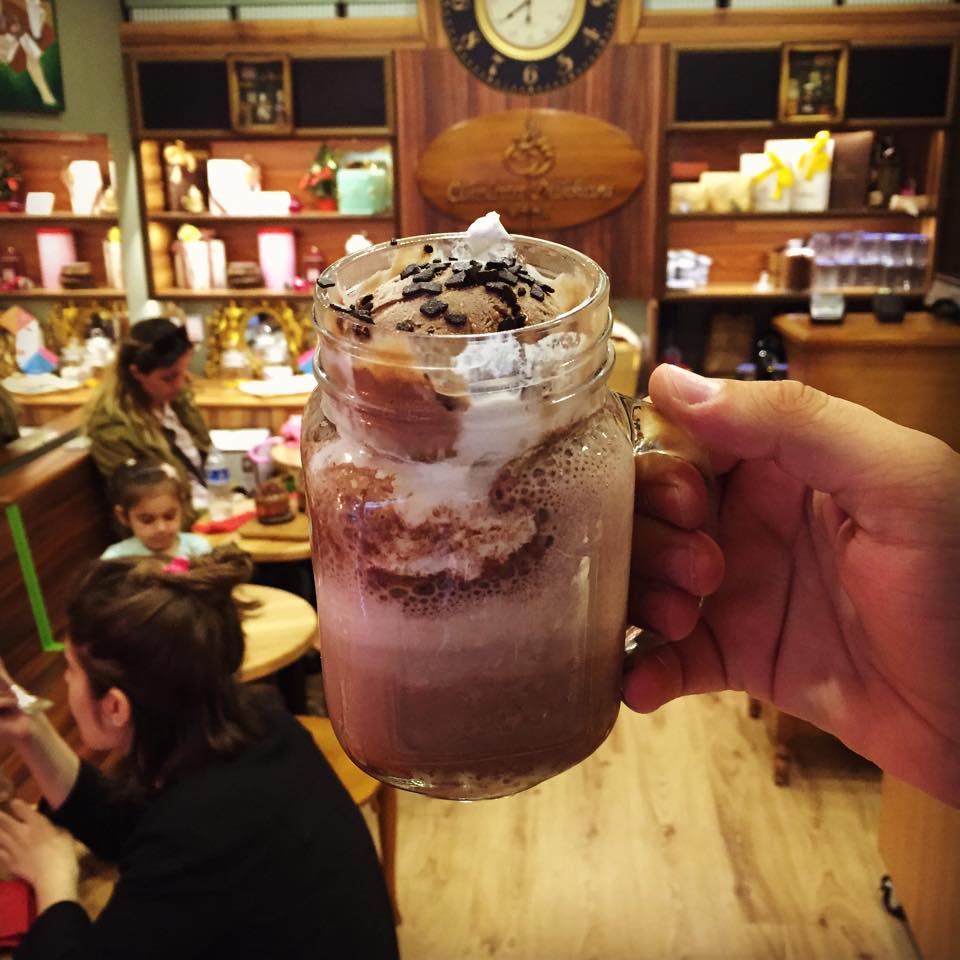 Here, you'll see delights such as Asuman, Neriman, and Mualla on the menu, as the chocolates are named after traditional Turkish female names. The shop is almost always crowded, so it's not well-suited for sitting and chatting. You can sit on the patio when the weather is nice, so take a seat, order an Asuman, and enjoy!
Desserts
Ferhunde (Chocolate Ice cream/Walnut/Cream)
Süreyya (Bisquit/Ice cream/Strawberry/Chocolate sauce)
Asuman (Chocolate/Cream/Strawberry in a jar)
Mualla (Waffle/Cream/Baklava/Banana/Chocolate sauce)
Drinks
Turkish Tea
Turkish Coffee
Homemade Lemonade
Address: Caferağa, Moda Cd. No:232،, 34710 Kadıköy/Istanbul
8- Ladurée
One cannot discuss the history of Parisian tea rooms without mentioning the Ladurée family. The history dates back to 1862 when Frenchman Louis Ernest Ladurée opened his bakery at 16 rue Royale. Since then, the Ladurée tea room brand has expanded to include a number of branches in Istanbul, among other places.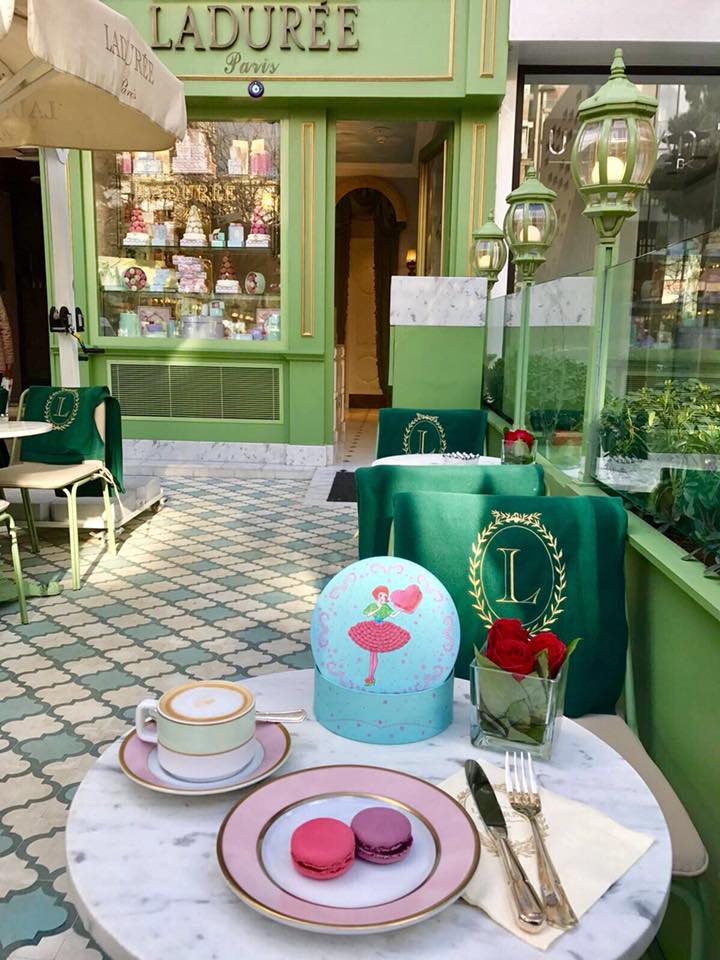 There are many Ladurée branches out there, including those in Nisantasi, Bagdat Street, Aqua Florya, Besiktas Zorlu Center, and Istinyepark, as well as inside shopping malls. When you find a branch, why not order a magnificent macaron? I also recommend that you try their wonderful ice cream, particularly the vanilla ice cream, or macaroni with rose jam.
Pastries
Ispahan (Rose/Raspberries/Lychees)
Macaron Gormand Passion (Pineapple/Mango/Passion fruit)
Vanilla Millefeuellet
Plasire Sucre
Chocolate E'clare
Vanilla Flan
Fleur Noire
Lemon Cake
Delicatessen
Soft Caramel
Fruit Jam
Organic Jam
Garden Tea
Sables Nantais (Almond/Coconut shortbread biscuit)
Sables Viennos (Sweet shortbread biscuits)
Chocolate
Address: Suadiye, Bağdat Cd. No:460, 34744 Kadıköy/Istanbul
9- Asi Künefeleri Kadıköy
This is an authentic dessert shop located in the middle of Kadikoy's local bazaar. With plenty of seating available inside (and some tables outside), Asi Künefeleri-Kadıköy brings more than 40 years of experience to the table, serving the best traditional Turkish desserts in the city.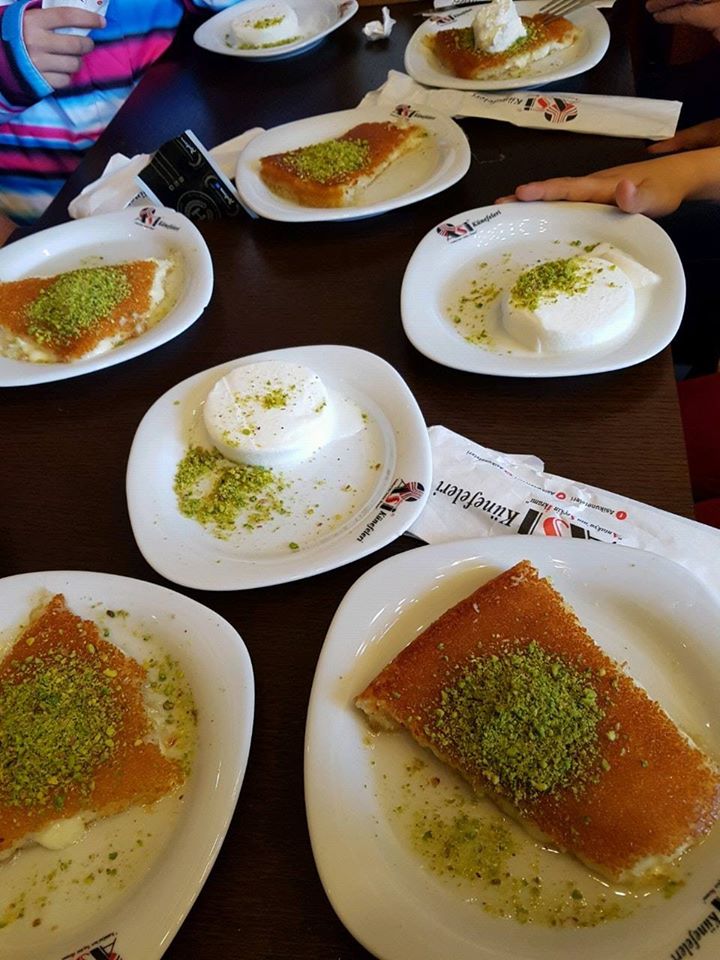 There are a lot of options from which you can choose, including fresh baklava and the classic Künefe, served hot. You can even buy gift boxes as souvenirs and take some home!
Desserts
Hatay Künefe
Sweet Pumpkin
Kattama
Souffle
Kayadif with Pistachio
Gurme Kunefe
Drinks
Turkish Tea
Turkish Coffee
Address: Caferağa, O-1, Yasa Cd. No:38, 34710 Kadıköy/Istanbul
10- Bolulu Hasan Usta
One of the more famous dessert shops in Turkey, Bolulu Hasan Usta has many locations serving up delights such as sütlaç(rice pudding), muhallebi (custard), and kazandibi (pudding with a caramel face).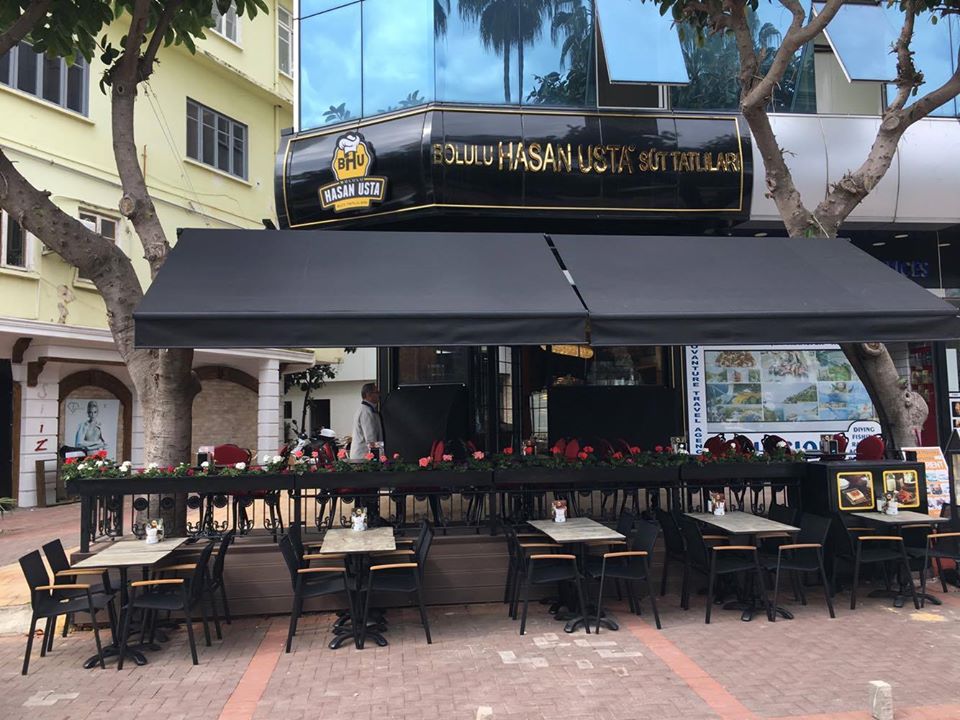 One of the less expensive places to experience dessert in the Old City, their pricing is quite moderate where flavor is concerned. Here, they serve milk desserts with a side of ice cream. Be sure to try the kazandibi while visiting.
Desserts
Kunefe
Baklava (Pistachio/Almond)
Cheesecake
Kayadif
Cheese Roll
Drinks
Turkish Tea
Turkish Coffee
Espresso
Americano
Latte
Fruit juice
Address: Hobyar, Ankara Cd. No:73/A, 34112 Fatih/Istanbul
11- Baklavaci Ali Usta
Baklavaci Ali Usta is the place to go if you like traditional Turkish desserts. Here, you can get kadaif (sweet and crispy phyllo dough), an alternative to baklava. Milk kadaif is the perfect dish to celebrate the summer months. Rolled kadaif with walnuts is a decadent treat if you're not counting calories.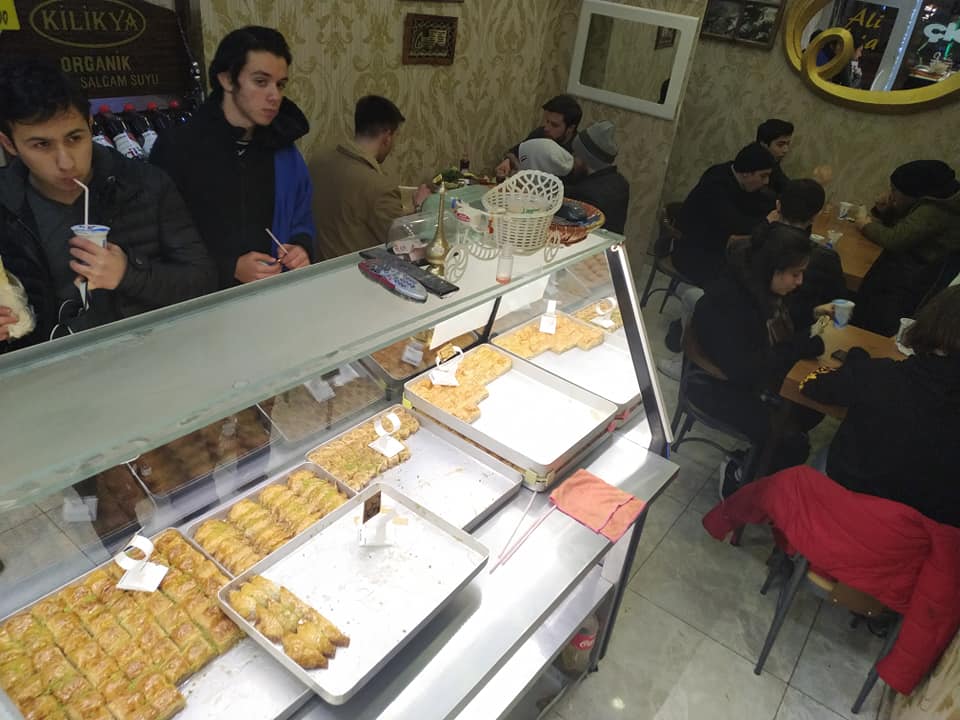 This is the place to go for desserts made with quality ingredients produced by expert craftsmen who use sugar beets to sweeten their desserts, a recipe that has been passed down from grandfather to grandson. Baklavaci Ali Usta remains loyal to traditional recipes that have survived for generations!
Desserts
Burma Kadayıf with Walnut
Aleppo Eyelet
Pistachio Aleppo
Flat Kadayıf
Milky Pistachio Burma Kadayıf
Künefe
Pistachio Finger Kadayıf
Pistachio Baklava
Baklava with Walnut
Peanut Burma
Mussel Baklava
Şöbiyet
Amulet Baklava
Nesquik Milk Cream Hazelnut Filling
Pomegranate Pistachio Cutting
Address: Hoca Paşa, Muradiye Cad. Saf Han 25/A D:1, 34112 Fatih/Istanbul
12- Cigdem Patisserie
Located in the Sultanahmet area, Cigdem Patisserie is known for its traditional Turkish desserts and cakes, you won't be disappointed by the service or the quality of the desserts here.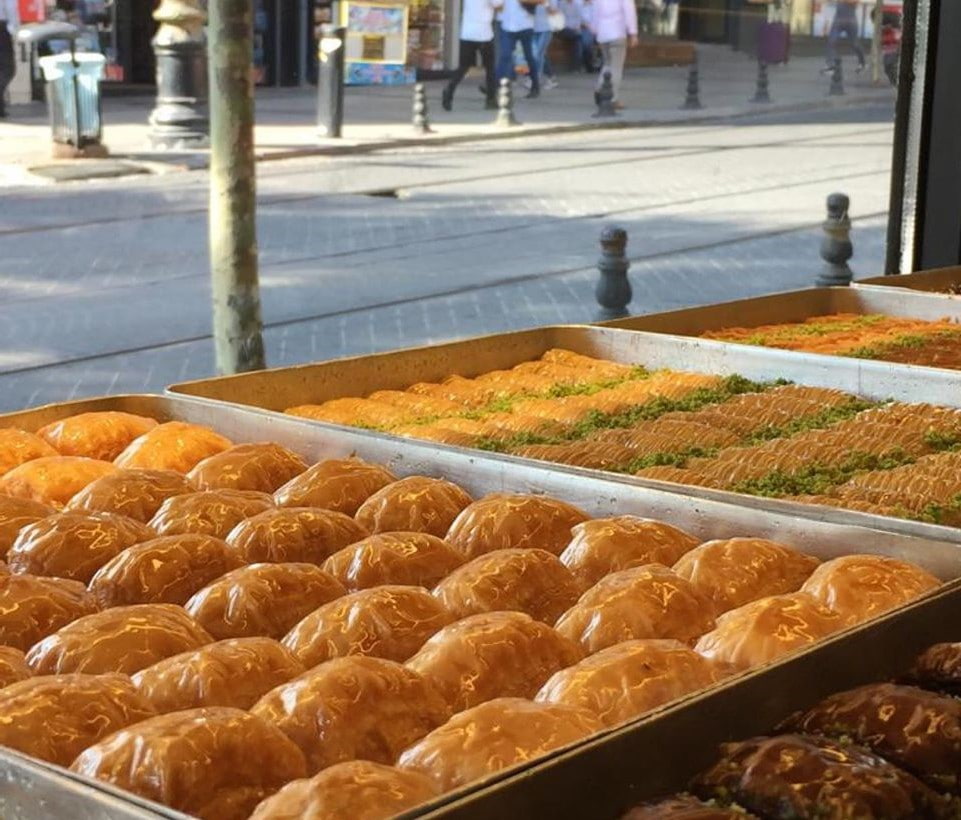 When visiting Cigdem Patisserie, be sure to try some pistachio baklava, pudding, or cake. The price of these delectable treats is inexpensive, given the quality of their product.
In business since 1961, in the heart of Sultanahmet, Cigdem Patisserie will hold you captive with its fresh, wonderful flavors and rich menu.
After spending the day wandering around Sultanahmet's historical monuments, head over to Cigdem Patisserie and end your "cultural meal" with a sweet dessert.
Desserts
Madalyon (Hazelnut/Almond/Apple and Strawberry Marmalade)
Aci Badem Macaron (Almond)
Emily Tart (Fresh apple/Walnut/Cinnamon)
Tartalet (Hazelnut/Almond/Pistachio)
Vişne Tart (Cherry Pie)
Uludag (Chocolate/Fruit/Hazelnut/Pistachio)
Parfe Cake (Banana/Strawberry)
Malaga Cake (Banana/Hazelnut/Chocolate)
Chocolate Tinton
Cheesecake (Chocolate/Classic/Banana)
Fruit Cake
Muffin (Chocolate/Strawberry)
Drinks
Turkish Tea
Turkish Coffee
Filter Coffee
Cold Brew
Espresso
Mocha
Address: Alemdar, Divan Yolu Cd. No:62, 34110 Fatih/Istanbul
13- Murat Muhallebicisi
This dessert chain is well-known for its milk desserts, including desserts such as sütlaç, kazandibi, and white pudding served with a side order of ice cream or nuts.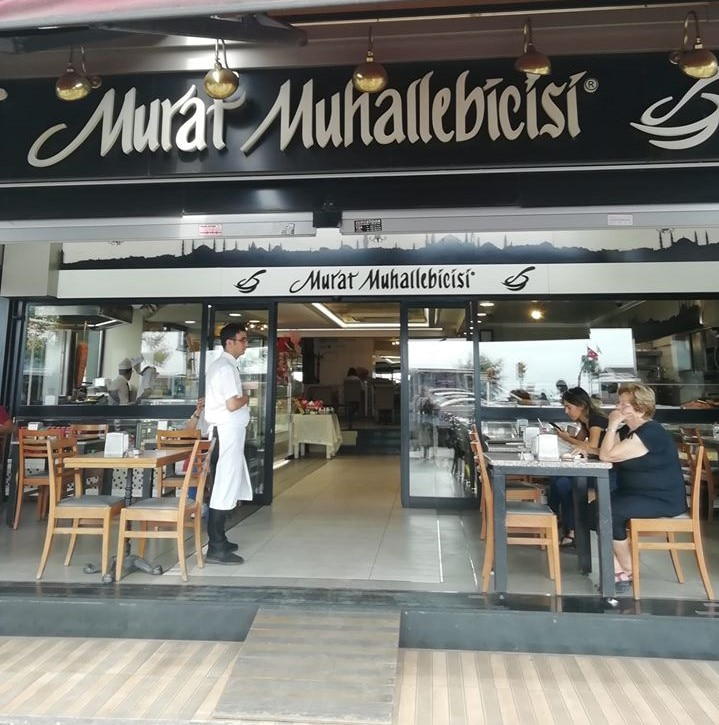 One would be remiss to discuss Murat Muhallebicisi without mentioning their delicious pastries and cakes. Be sure to try their quince dessert with cream or order up some "wet cake."
The menu is rich, but the prices are low. When vising Karakoy, Istanbul's "rising star," take a break and stop at Murat Muhallebicisi. You won't regret it. 
Desserts
Pistachio Wrap
Kayadif
Şöbiyet
Künefe
Pistachio Baklava
Chocolate Baklava
Walnut Baklava
Aşure
Banana Cake
Fruit Lokum
Almond Lokum
Lux Pistachio Lokum
Address: Karamustafapaşa Mah., Halilpaşa Sok. Aksu İşhani 14/C, 34440 Beyoglu/Beyoğlu/Istanbul
14- Inci Pastanesi
Recently relocated from its previous location Inci Pastanesi is one of the oldest dessert shops in Istanbul, established in the 1950s. Don't fret–it brought the quality and great desserts with it when relocating!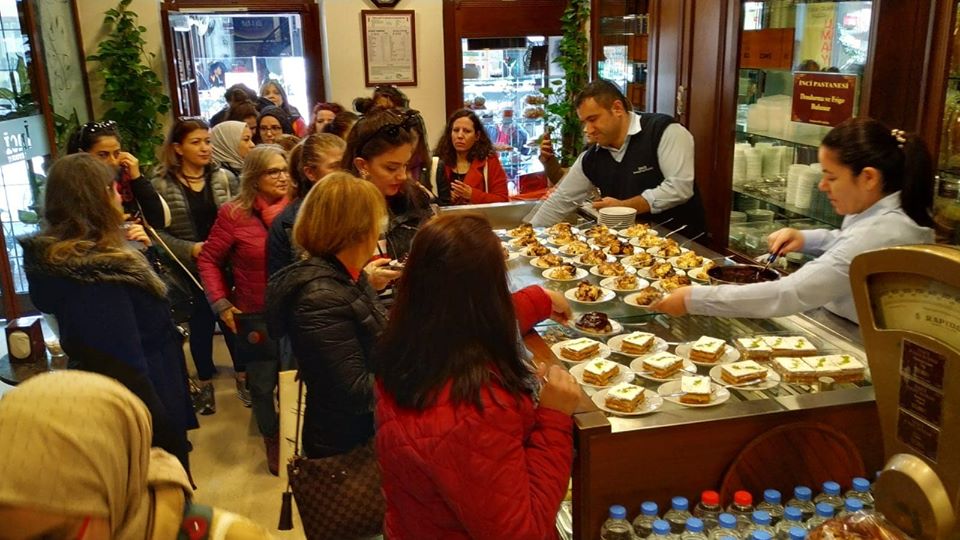 You won't find a better profiterole anywhere, and their éclairs are excellent, too. Located on Istiklal Avenue, I highly recommend you try İnci Pastanesi.
Desserts
Turta Pasta (Rikwato Cake)
Baton Pasta (Portugues Chocolate Salami)
Kestane şekeri (Sugared Chestnut)
Monte Karlo
Profiterole (Cream Puff/Eclair)
Milföy (Puffed Pastry)
Address: Şehit Muhtar, Mis Sk. 18/A, 34435 Beyoğlu/Istanbul
15- Asuman
Located in Moda, Asuman is known for its unique desserts. The restaurant's namesake is the famous dessert, so you know it has to be good!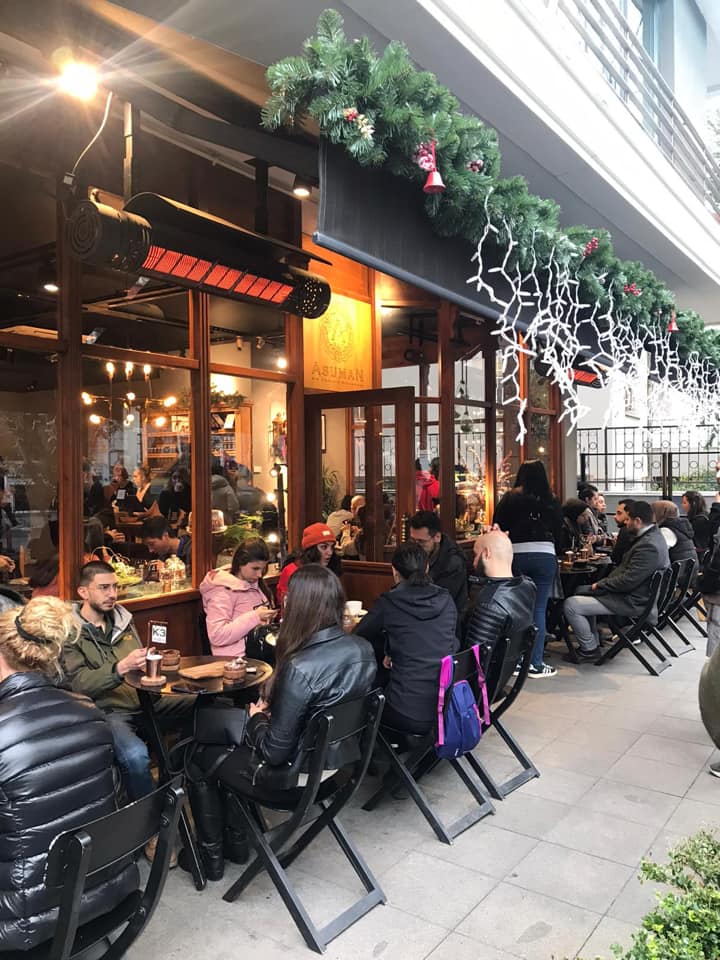 Asuman is so busy, it's not unusual to find customers lining up almost every day, so its best to visit in the early hours of the day, but don't let this deter you from visiting it for its delicious desserts.
Having to wait in line isn't necessarily a bad thing–they tend to serve samples of their sweet treats to customers waiting in line, especially in the winter months. Asuman is definitely a unique place, not only for its desserts but also for the sincerity of the staff.
Desserts
Bitter Chocolate Orange Bar
Milky Rosh Chocolate Box
Hazelnut Chocolate Bars
Pistachio and Milk Chocolate
Chocolate Tubular Box
white Chocolate Pistachio Malakof
Almond Chocolate Malakof
Milky Wafer
Bitter Wafer
Almond Paste
Asuman
Address: Caferağa Mah, Şair Nefi Sk. No:9/a, 34710 Kadıköy/Istanbul
Popular Desserts
Since there is such a variety of Turkish desserts, I have compiled a comprehensive list to guide you through some of the best desserts this country has to offer, so you won't confuse one sweet for another.  
Baklava
Make from flaky, thin, layered, phyllo dough, sandwiched between layers of butter and sugar syrup, baklava is usually cut into rectangles or circles, and it comes in many varieties, each with a different flavor palette. With roots dating back to the Byzantine empire, the traditional version of the dish had nuts like pistachios, hazelnuts, or almonds stuffed between layered yufka leaves.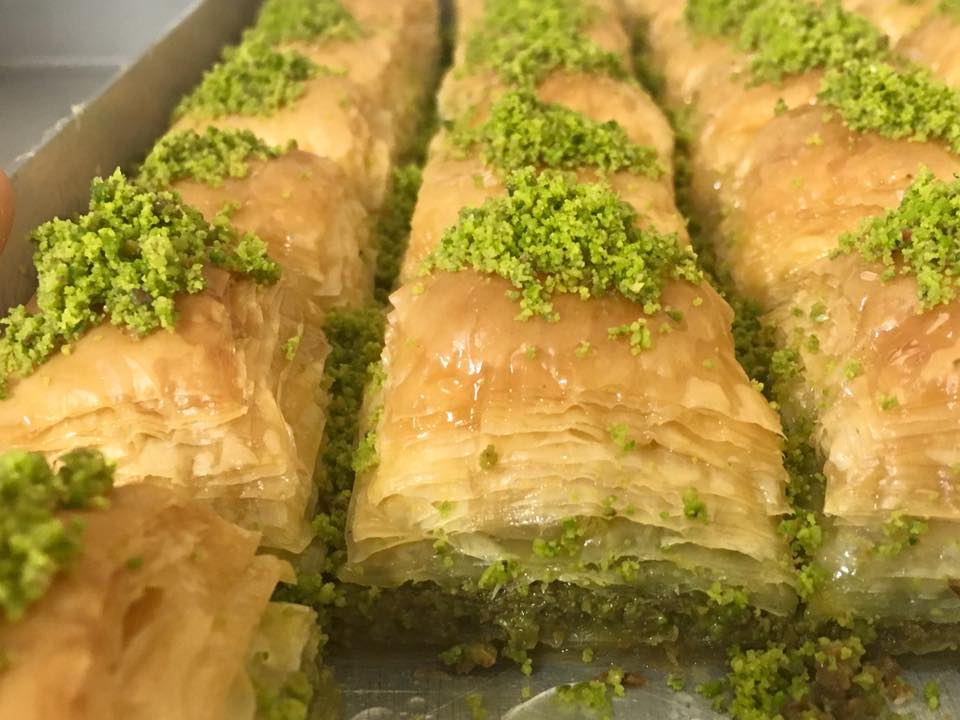 Künefe
Made from cheese soaked in sweet syrup, Kunefe is served hot and is best enjoyed alongside a cup of tea. Popular in southern Turkey, the exterior is crisp, and the unsalted cheese interior remains soft and gooey. The dish is usually served alongside cream or ice cream.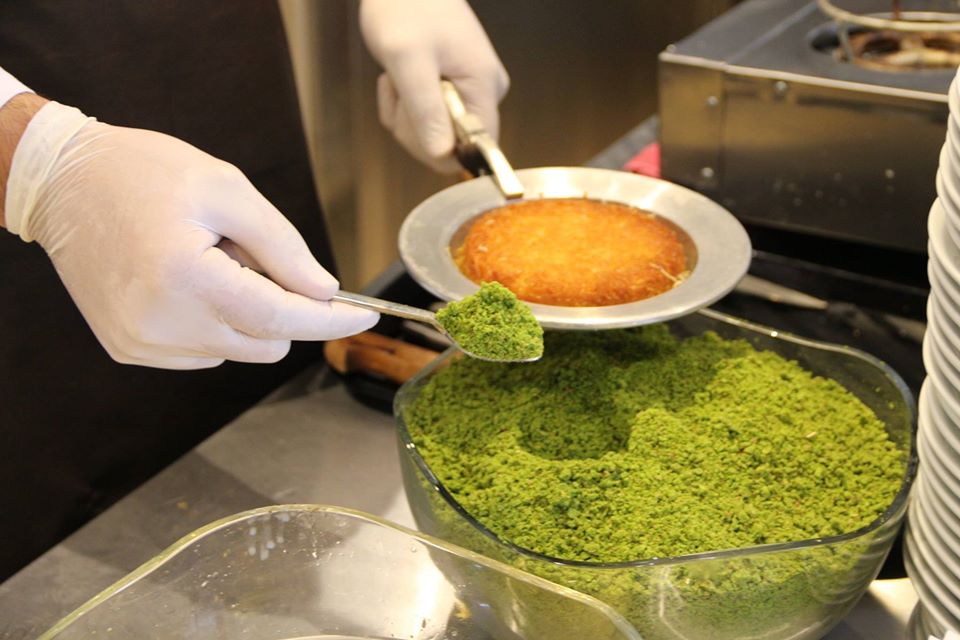 Lokum
Popularized by a European traveler centuries ago, Lokum is probably the best-known Turkish candy in the world. It comes in three colors, representing its three distinct flavors: red is rosewater, green is bitter orange, and yellow is lemon. Other flavors have evolved over the years, including pistachio, hazelnut, almond, and other nuts, cinnamon, cream, coconut, mint, ginger, clove, and coffee, and even fruity flavors like strawberry, sour cherry, and apricot. Lokum is usually enjoyed with a cup of hot Turkish coffee.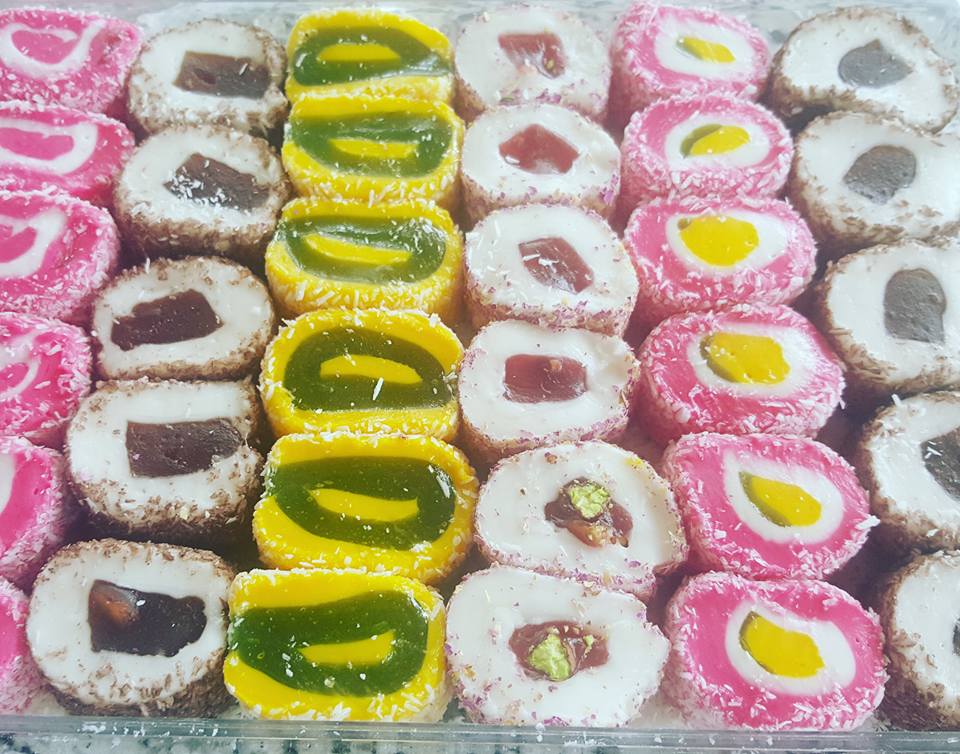 Aşure
The traditional dish of aşure–similar to Indian Kheer–is said to be one of the oldest puddings in the world. It is made from sugar, grains (wheat), and haricot beans and garnished with hazelnuts and walnuts, but there are a number of varieties out there.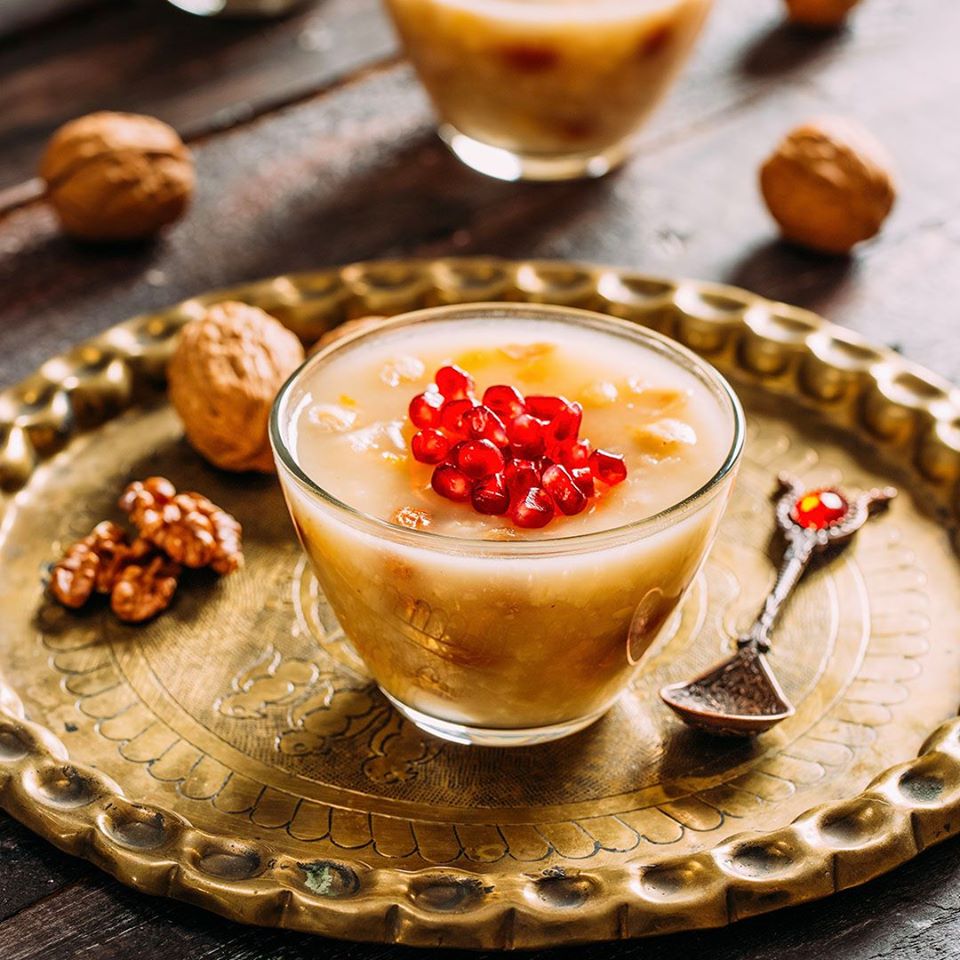 Also called "Noah's Pudding," the first aşureis reputed to have been made by Noah with whatever he could find after surviving the floor. This is why it is served during the first month on the Islamic calendar.
Helva
Helva can be served as dessert, a snack, or as a meal in and of itself. It's primary ingredient is tahini (sesame paste), and it can be found across Turkey (and the world). Though some versions are made with semolina or wheat flour, the texture is rich, dense, and crumbly, and the recipe uses plenty of nuts, butter, and sugar.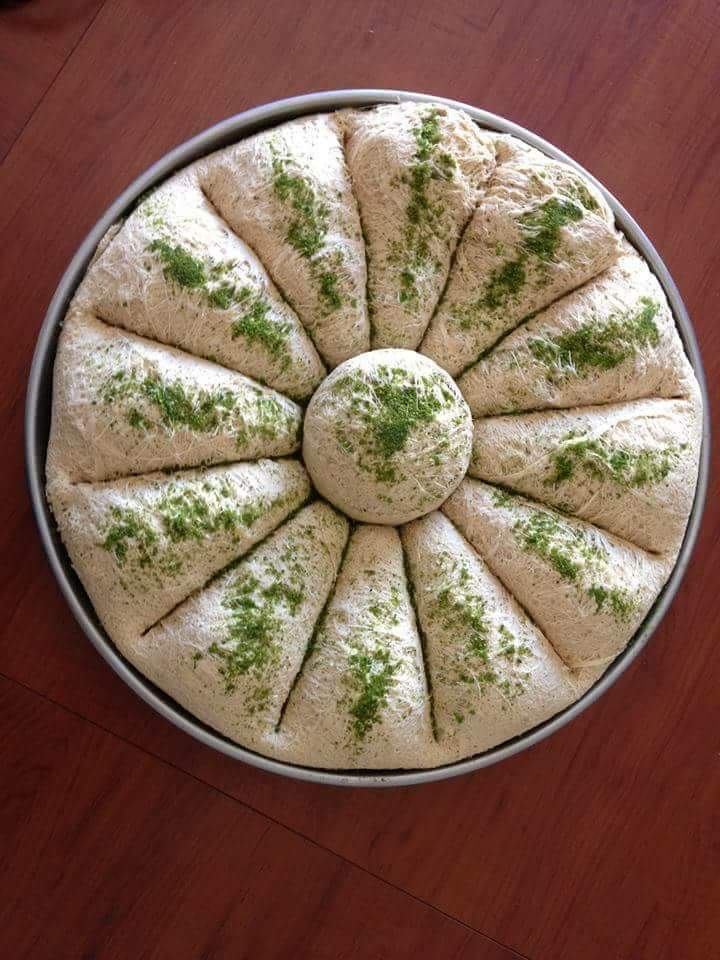 Lokma
Served as a traditional street dessert, Lokma (meaning "bite" in Turkish) comes in portions the size of a chestnut. These are small pieces of dough, fried in oil, and flavored with honey, sugar, or cinnamon, and sometimes dipped in lemon syrup. With a crispy outside and soft interior, Lokma is reminiscent of mini doughnuts but richer and chewier than bread or cake.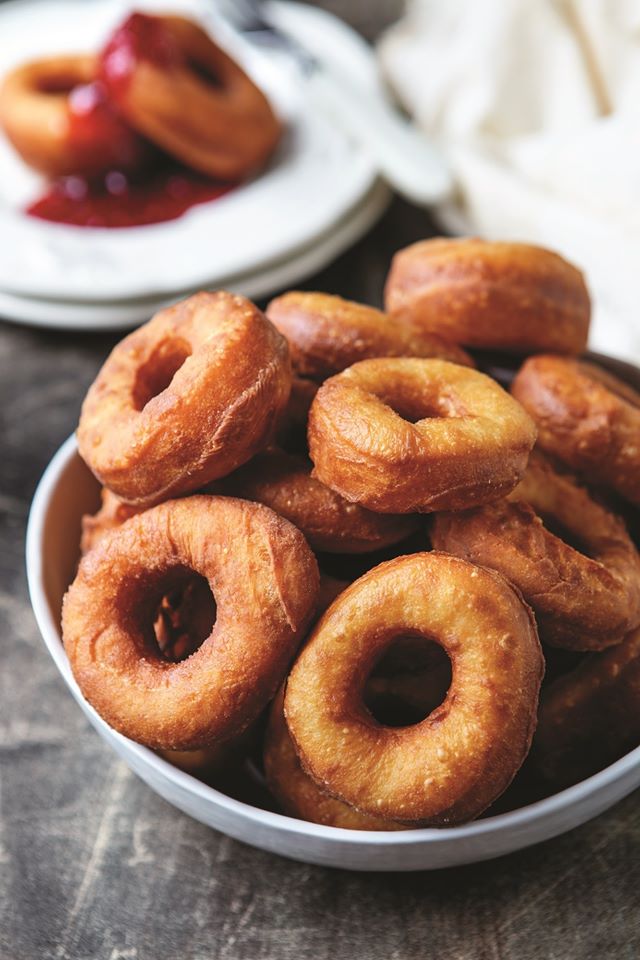 Trileçe
This soft cake is similar to tiramisu, but made from a variety of milk-types (cow's milk, sheep's milk, or buffalo milk) and topped with a layer of caramel. Though its origins can be traced back to Spain, Trileçe is similar to European tres leches desserts. Trileçe is relatively new to Turkey, but it has been steadily gaining popularity among locals and tourists alike.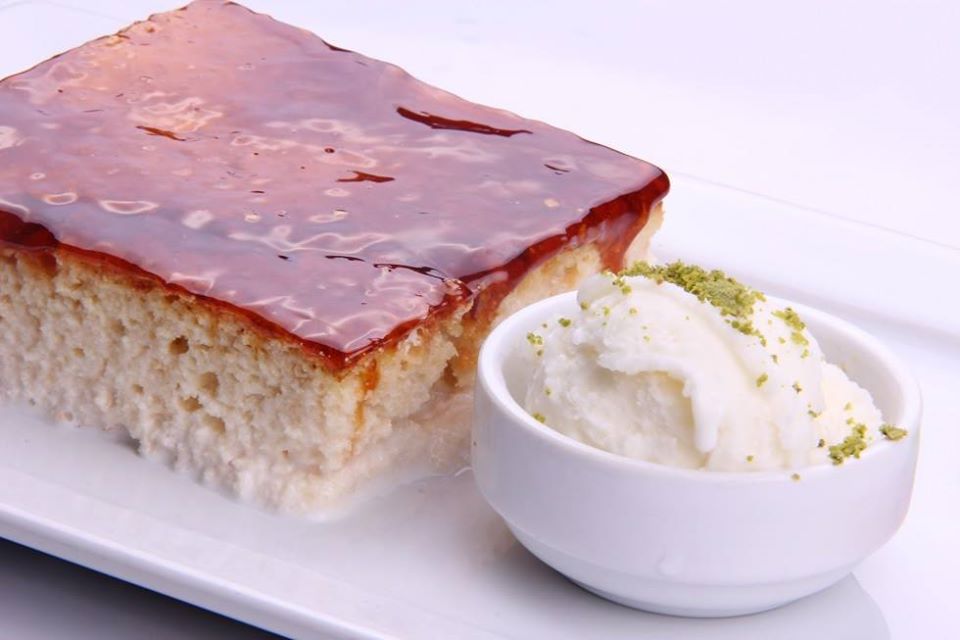 Revani
Revani is a dense sponge cake with a granular texture because it is made from semolina. Greek Revani is made with ground almonds and honey or orange-flower syrup, but Turkish Revani only uses semolina flour (and sometimes yogurt), which is soaked in sugar syrup and topped with crushed pistachios. Semolina flour, usually used to make pasta, is found in other Turkish desserts, like helva.