Istanbul is an ancient city that's hosted many civilizations over the years, so the food culture is very rich. As the most crowded and diverse city in Turkey, it has the best food options. Street food is the perfect reflection of Turkey and İstanbul's magnificent tastes.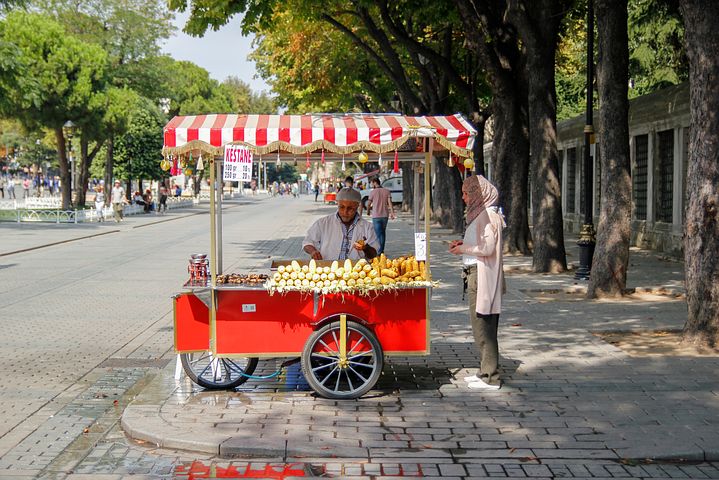 It's also cheap, which will help manage your budget. I suggest you don't spend a lot of time in luxury restaurants, especially if you have limited time. Instead, why not go out to discover some delicious street food and try some unique and amazing flavors.
The best thing about street food in Istanbul, one of the best things about street food is that it's accessible 24/7, so it's never hard to find something to eat.

Here are my top 20 picks for street food in İstanbul, as well as where to eat is.
Afiyet Olsun (Enjoy Your Meal)!
1. Kokoreç

The main ingredient in kokoreç is grilled offal. It's sliced, chopped, and mixed with tomato, other vegetables, and spices and served inside bread.
There are terms like quarter-kokoreç, half-Kokoreç, etc., which defines the size of the bread. This food may not be a good choice for lunch, but it's perfect at night, especially after drinking some beer.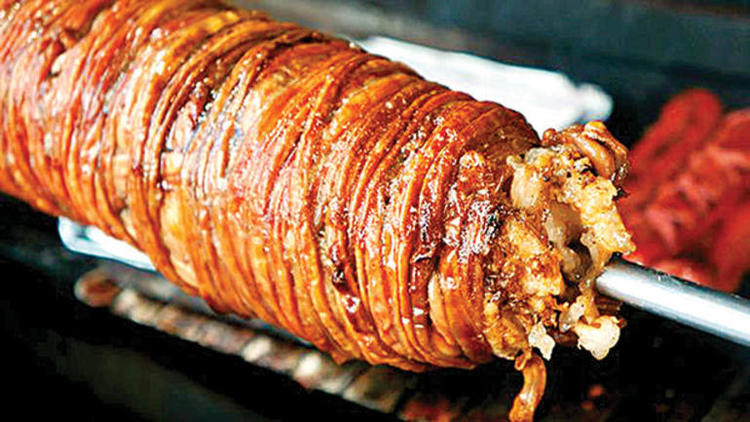 One of the best places to eat kokoreç is Şampiyon Kokoreç. I usually go with the half-bread size, which is more than enough. The price of it is 15TL (around $2.80).
The best drink to go with kokoreç is ayran (yogurt mixed with water), but some people order a can of Coke.
2. Midye Dolma (Stuffed Mussels)

This is a famous late-night snack. There are two options for midye dolma: you can order as much as you want to go, but that's not the traditional way to eat them.
People usually just stand in front of the vendor, eat as much as they want, and let the vendor know when they've had enough. The vendor then counts the empty shells and tallies the bill.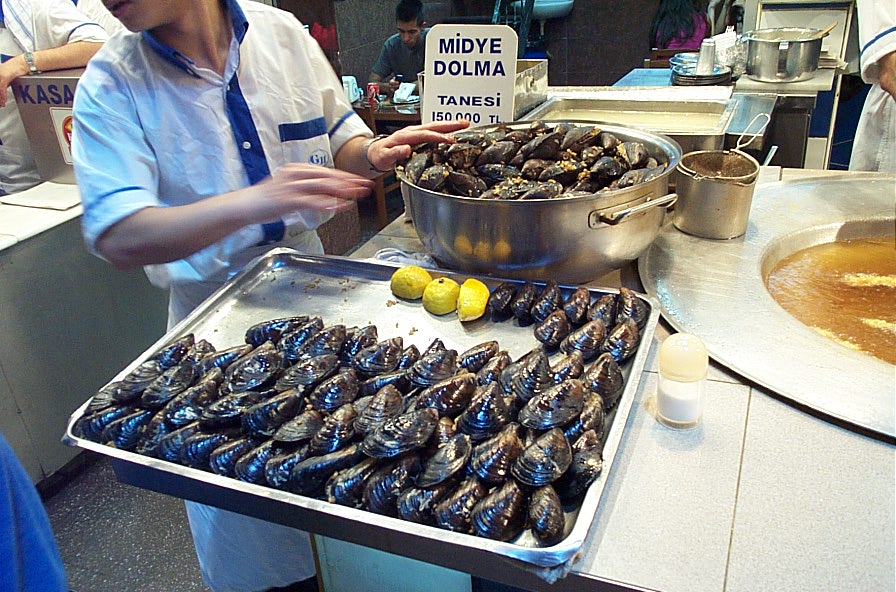 Stuffed Mussels can be found in many places in the city, but you'll always find some in Taksim Region. I suggest trying the vendor in front of Bahçeşehir University in Beşiktaş–it was really delicious. The price of a mussel is around 1TL (around $0.20USD), but the price is variable depending on size.
3. Simit

Simit is a crusted bread covered with sesame seeds, similar to a German bagel, but Turkish simit is better. You can eat it alone or with cheese and tomato. A cup of coffee or tea is a great match alongside your simit.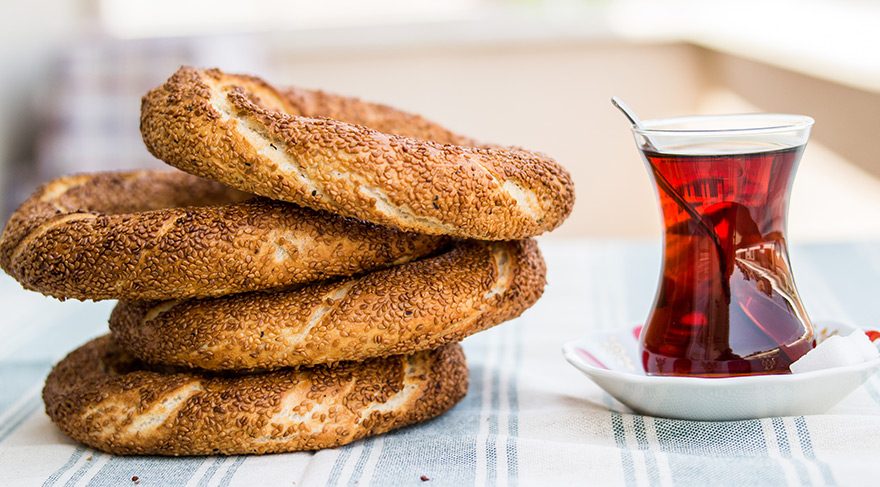 For me, simit is best for breakfast, but you can eat it as a snack all day long. The most famous cafe chain for simit is Simit Sarayı, but there are many sellers around. Just be sure the simit is fresh. The price is around 1.5TL. ($0.30USD)
Don't forget your Turkish tea with it!
4. Islak Hamburger (Wet Burger)

This is one of the most famous street food. I ate many of them on my first visits to İstanbul. It has a unique taste that I really like. This pairs well with ayran.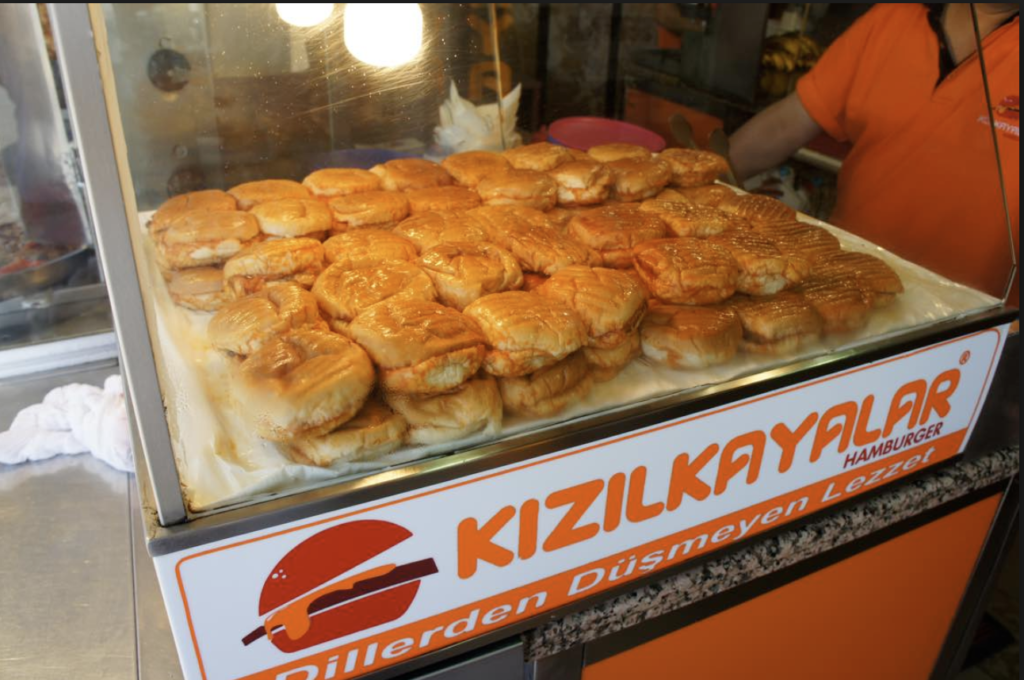 Just writing about islak Hamburgers makes me hungry! The tomato and onion sauce on the burger is so delicious. They are sold 24 hours a day, especially in Taksim.

The best-known place for islak hamburger is Kızılkayalar in Taksim. The price is around 5TL. (around $1.00USD)

5. Halka Tatlısı and Lokma

These two have a similar, doughnut base and are served with a special syrup. They're really both delicious, and you have to try them. The tradition surrounding lokma is that Turkish people hand the out after important occasions like birth and death.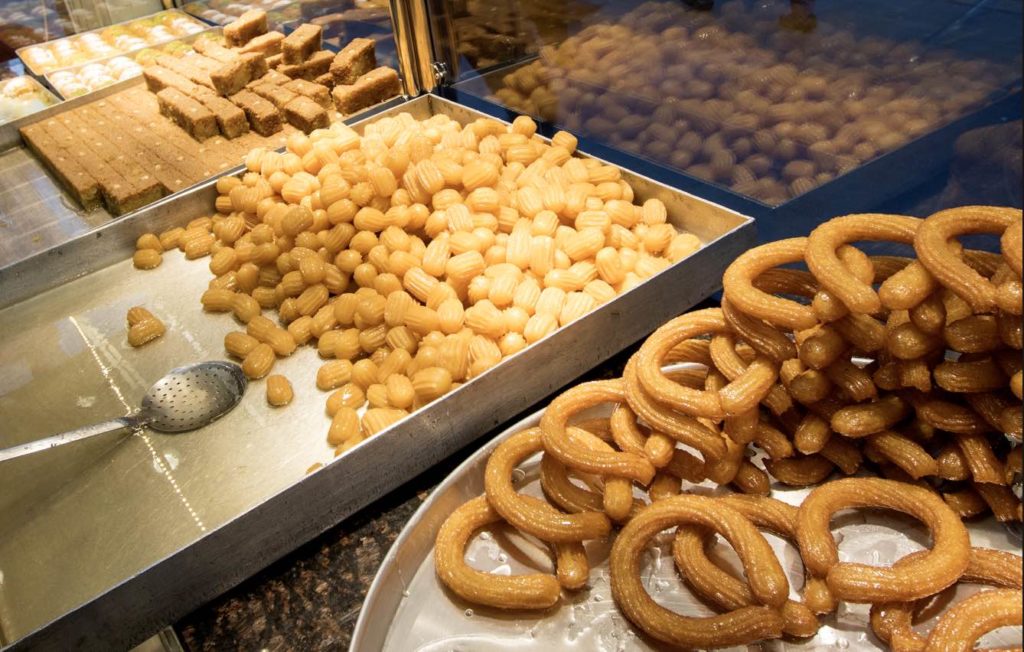 According to locals, the best place to get them Tatlıcı Safa Eminönü; however, you can always try them from one of the mobile sellers. The price of 1 halka tatlısı is around 1TL (around $0.20USD), and for lokma, it depends how much you can eat.
6. Mısır (Corn)

Corn is probably the children's most favorite street food, and it's also mine. There are two types: grilled or boiled. Put some salt on it and enjoy!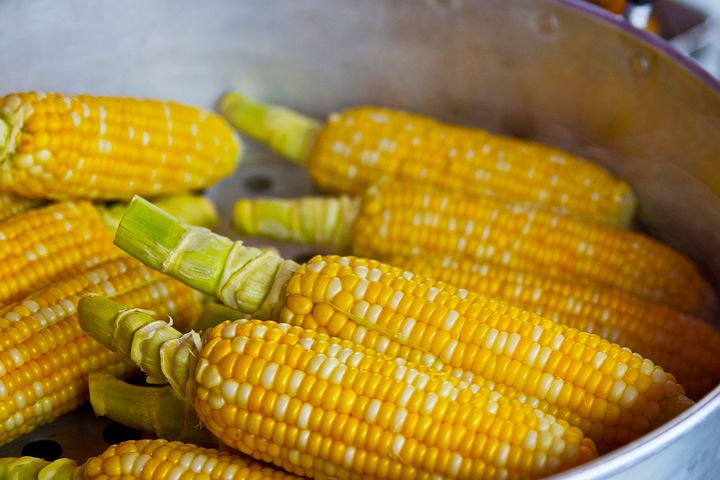 I can't suggest a place for corn–I've never tried a bad one. Be sure to buy one whenever you see them being sold. The price differs, but it's between 3-5TL (around $0.60- $1.00USD).
7. Kestane (Chestnuts)

While walking on the streets of İstanbul on cold winter days, the smell of chestnuts roasting over charcoal will beckon you, for sure. Just follow the smell and enjoy your hot chestnuts.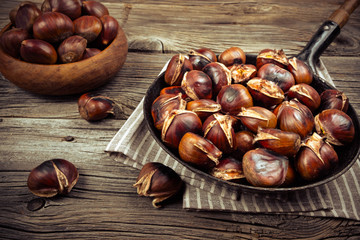 The price differs according to size, but to give you an idea, a 150 gram package is around 10TL (around $2.00USD).
8. Pilav (Rice)

It is traditional Turkish cuisine, and its a filling option if you're hungry. There are many hawkers selling rice with chickpeas or chicken on İstanbul streets.  I personally suggest having some chicken with your rice.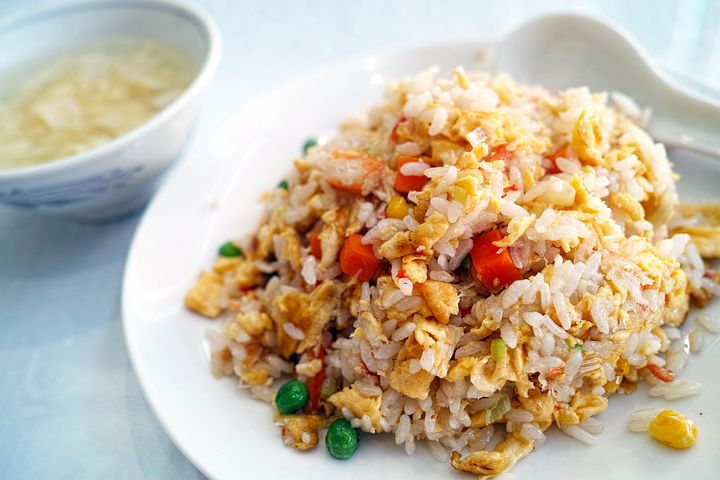 Unkapanı Pilavcısı is very famous for their dishes, and there can sometimes be a long line in front of this place. A portion of rice with chicken is 10TL (around $2.00USD).
9. Döner (Kebab)

Chicken or another meat–what's your pleasure? Döners are popular, not only in Istanbul, but other European countries as well. Many Turkish people open döner shops in foreign countries, making them famous the world over. It's served as a wrap on the streets.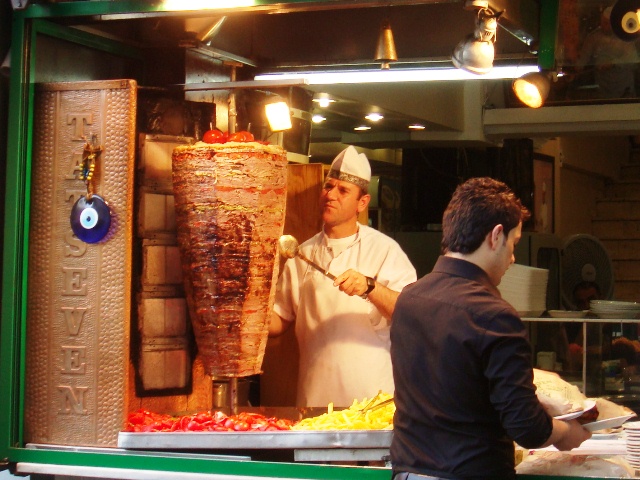 There are millions of döner places in İstanbul, but Bambi in Taksim has a special place in my heart, and their meat dürüm with cheese is excellent. The price is 16TL (around $3.00USD).

10. Kumpir

Kumpir is made with baked potatoes. After baking, ingredients–like sausage, chicken, peas, corn, olives, and sauces–are added to the potato.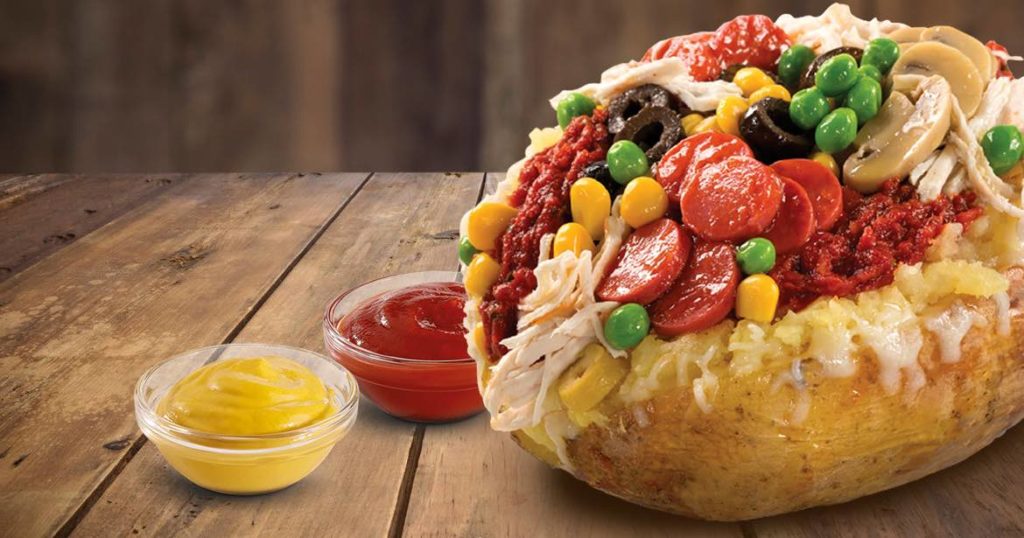 Ortaköy Region is famous for kumpir stores. There are a couple of places side by side, next to the Ortaköy Mosque. So be sure to go to Ortaköy on your tour of the area. The approximate price of a regular kumpir is 20TL (around $3.80USD).
11. İçli Köfte

İçli köfte is a crispy bulgur shell stuffed with minced meat, parsley, and nuts. It's made by hand and tastes like nothing you'll find easily in other countries. Honestly, I'm not a fan of it, but you should try it and decide for yourself.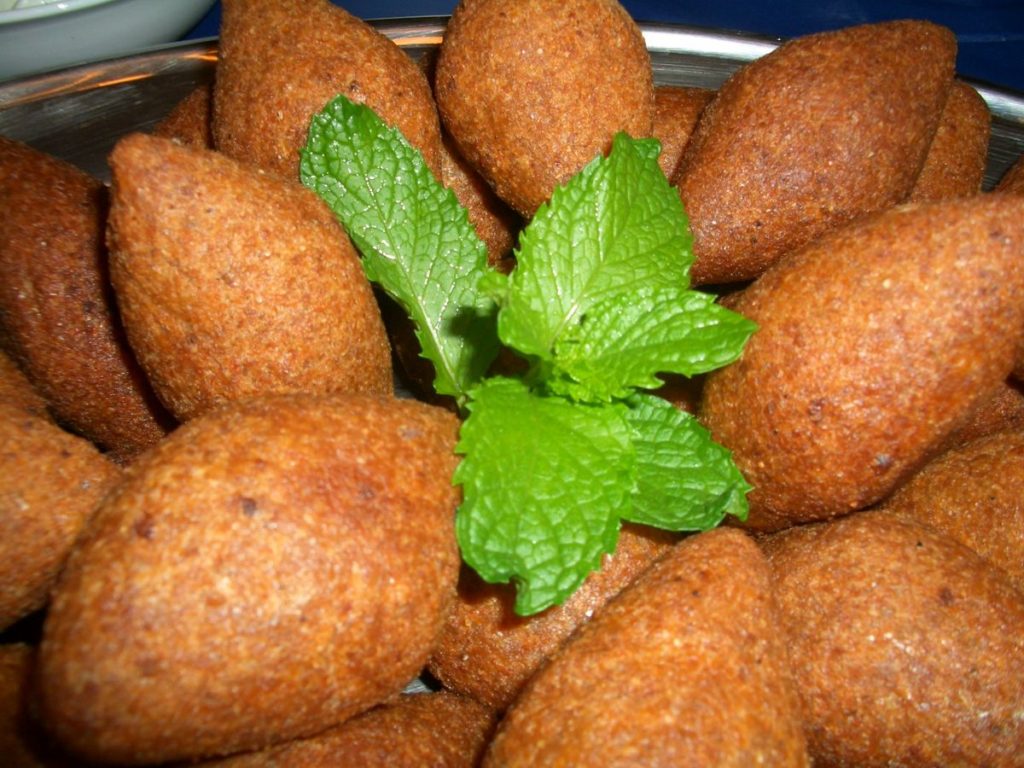 The best place to eat içli köfte is Sabırtaşı in Taksim. In many restaurants, the price is around 8-10TL for one serving (around $2.00USD).

12. Balık Ekmek (Fish Sandwich)

If you want to eat fish but don't want to spend a lot of money in a fancy fish restaurant, balık ekmek is a cheap, authentic option. There are many places you can enjoy your meal on a small boat, which is a nice experience.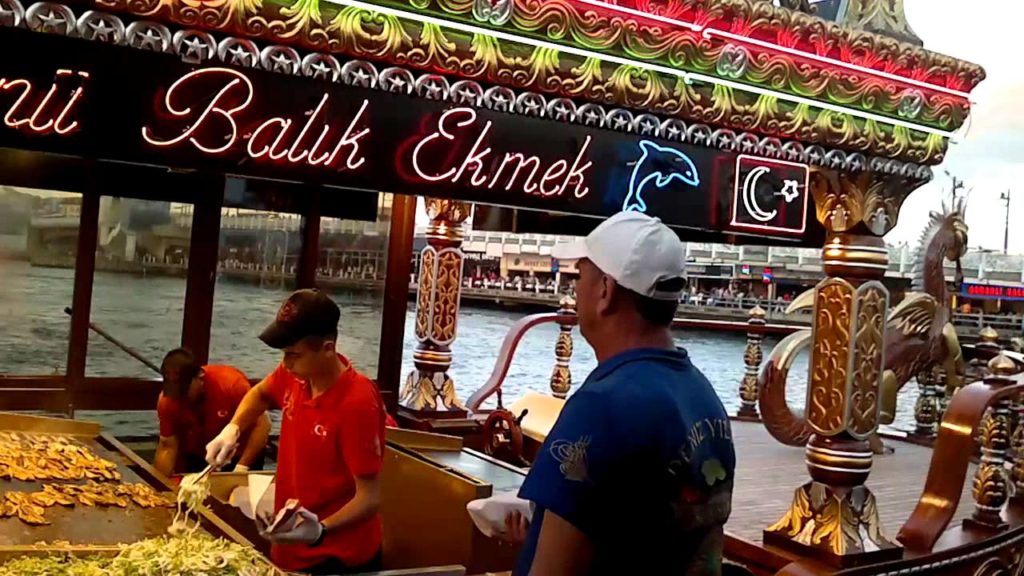 You'll find small fishing boats in the Eminönü Region serving balık ekmek. I tried this in Beykoz and it was a lovely experience. The price for one is 12TL (around $2.30USD).
13. Çiğ Köfte

Çiğ köfte is wonderful finger food. The best way to eat this is to put it in a lettuce leaf and squeeze some lemon on it. There's also a wrap version if you'd prefer. It's one of the cheapest options if you're hungry. If you like a spicy hot meal, ciğ köfte is perfect for you.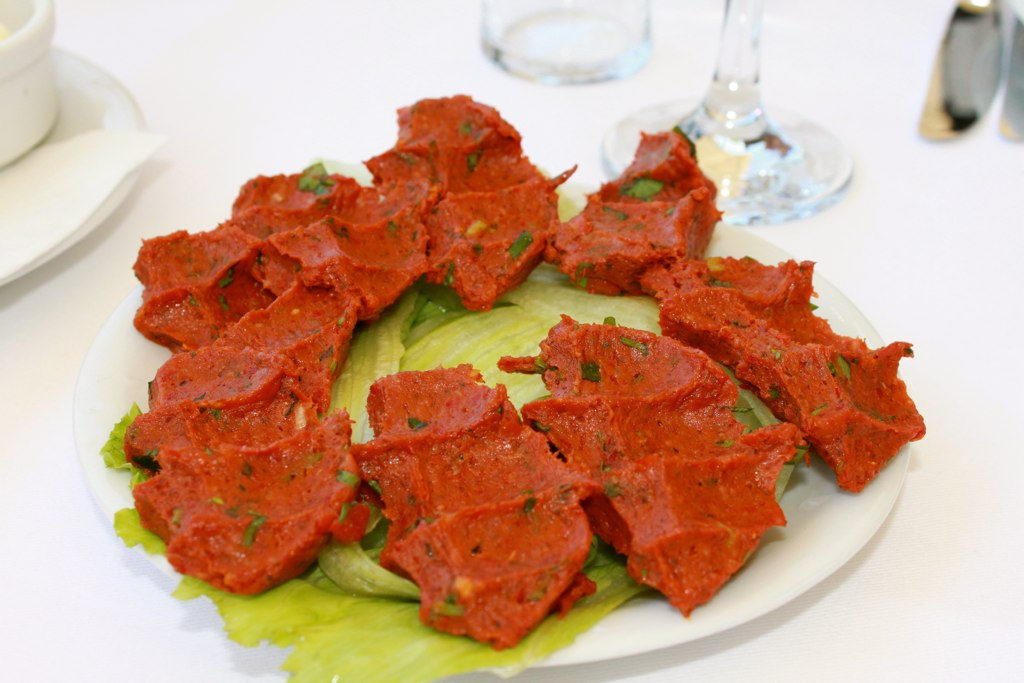 My favorite brand is sold at Oses Çiğ Köfte for around 10TL ($2.00USD).

14. Kağıt Helva (Paper Candy)

This is another street food popular with children, composed of many layers with sweetmeat. It's usually light yellow in color, but it can be in other colors as well. If you're traveling with your children on the streets of İstanbul, why not pick up an order of kağıt helva?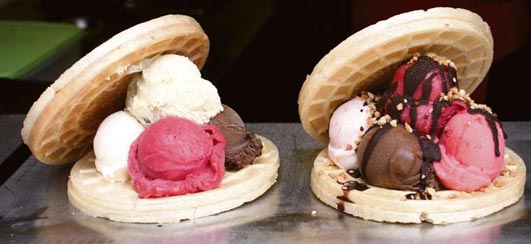 You can this at a local shop whenever you see that they carry kağıt helva, especially in tourist areas. The price for one is around 2TL (around $0.40USD).
15. Gözleme

This is one of my favorites. The main base of gözleme is handmade flatbread, and there are a lot of options for toppings. The most common one is cheese, but there are places that do gözlemes with vegetables, meat, or other ingredients.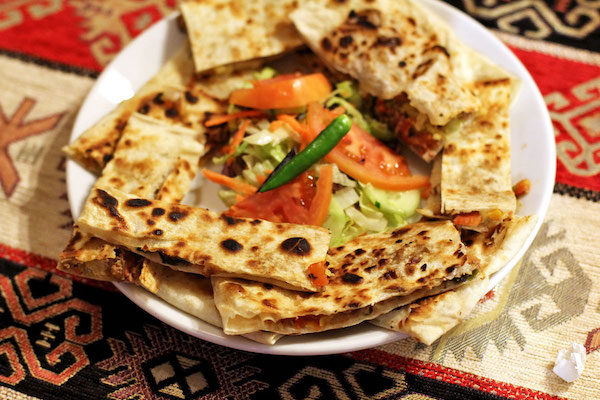 I won't recommend a place for Gözleme, but try to find a local making gözlemes in front of you, so you can witness the preparation of this traditional street food. The price differs according to ingredients, but it usually costs between 5 to 10TL (around $1.00-$2.00USD).

16. Pamuk Şeker (Cotton Candy)

The best way to explain this is a big sugar ball that looks like a wad of cotton. To be honest, it's not healthy, but I saw them a lot on my trips to İstanbul, especially pink ones. The price is something around 3-4TL (around $0.70USD).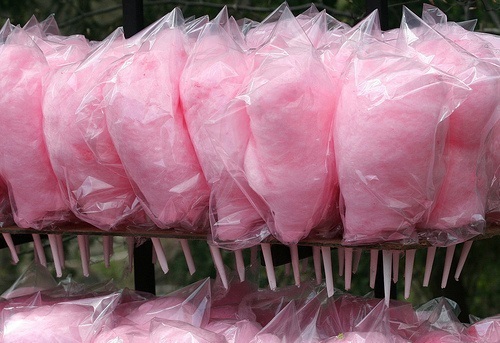 17. Boza

You might hear someone shouting "boooozaaa" in the streets, especially on winter days. It was a bit strange when I first heard it, but then I got used to it. This is the strategy vendors use to sell boza.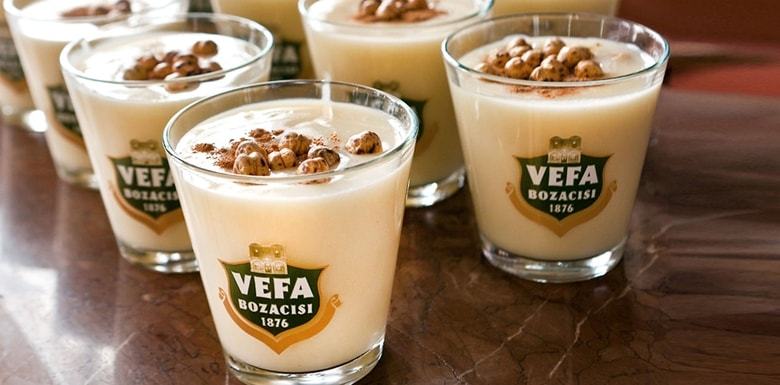 Boza is a drink made from millet, popular in Ottoman times. The price is around 5TL ($1.00USD).
The best boza in Istanbul (if not Turkey) is sold at Vefa Bozacisi, which is close to old town.
18. Turşu (Pickles)

Turkish people preserve fruits and vegetables for approximately a year before producing the desired, delicious pickles. There are shops at which you can take your pickles away with you or consume them on the spot. It is better to try some in a small glass, and you can buy more when you're done if you'd like.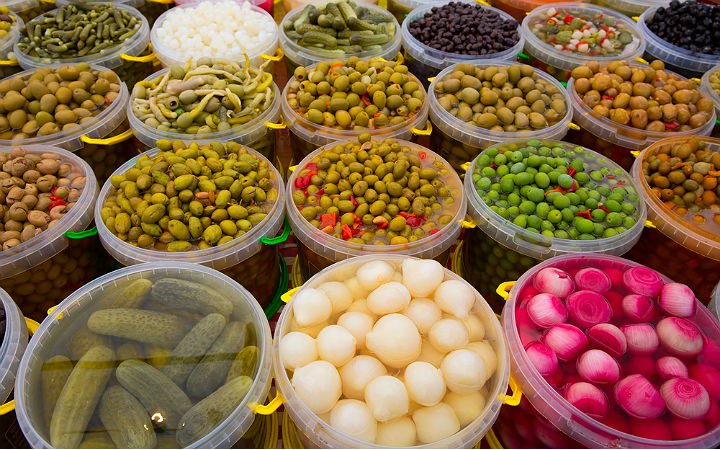 The best regions to find pickles are Fatih and Unkapanı. It's hard to give information about prices because there are so many types, so it's best if you go to one of the shops to discover yourself.
19. Street Kofte (Street Meatball)

This is basically Turkish meatballs. The best places to eat these meatballs are in Sultanahmet. The sellers come out when it's late. The price is around 15TL (around $3.00TL).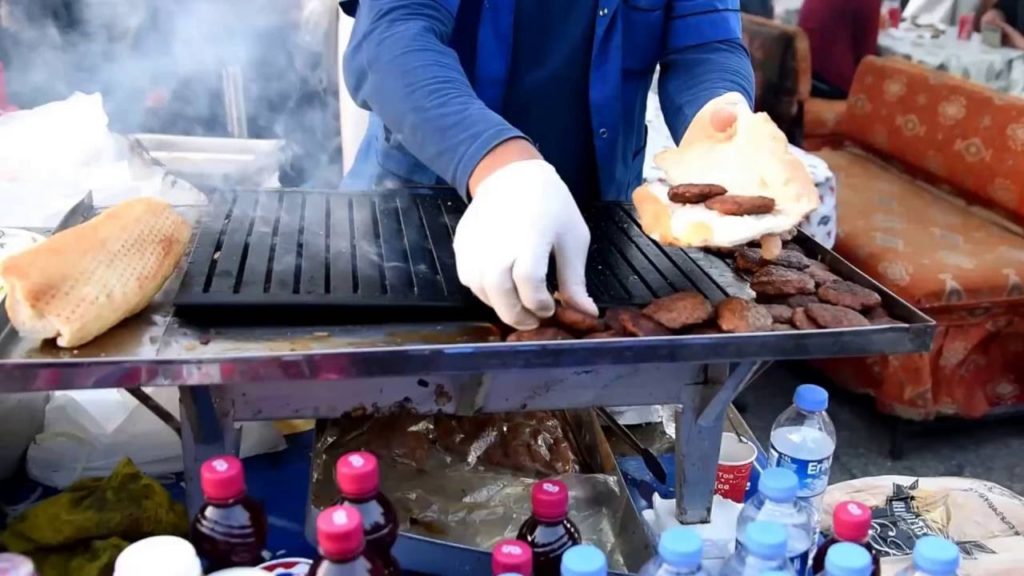 20. Sucuk Ekmek

Turkish-style fermented sausage served in bread is a street food that everyone needs to try. You can have it alone, with tomato and cheese or with sauce.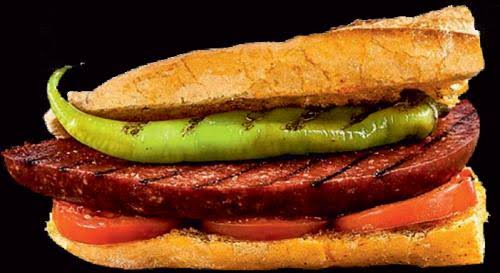 I tried this with just ketchup, and I think it was enough. A note for the time you try this: don't put salt on it–it's salty enough.

In Beşiktaş Region, you'll find sucuk ekmek on the street. Grab a beer at the market to enjoy with your meal, along with the wonderful view of Bosphorus! The price is around 10TL (around $2.00USD).
Summary
To sum it all up, there are many options for delicious street food in İstanbul, especially in touristy regions like Beşiktaş, Ortaköy, Taksim, Eminönü, and Sultanahmet. They're even open late at night, so you can indulge 24/7.

İstanbul has a nice cultural mix, and it has a rich cuisine. I've listed some of the more popular, delicious ones here. I've also suggested specific places, but this isn't an exhaustive list. I'm sure you'll discover your own unique and delicious places to enjoy traditional street foods in İstanbul.
Good luck, and afiyet olsun!