Has anyone told you before how beautiful this city is at night? Let me say for once and all that she is a sight to see. Why don't you take advantage of it if you have someone special by your side of course?
One of the most admired characteristics of Istanbul is the fact that she never sleeps; she gets even livelier at night. Imagine witnessing that with your beloved by your side, ain't it magical?
If you agree, keep reading on to inform yourself about the best restaurants to have the ultimate date-night in Istanbul.
Here's my list of must-go restaurants for you on a romantic dinner spree. Let's just jump straight to our options, shall we? 1, 2, 3, Ready, Set, Go!
1 – The Finest Dining – Mikla Restaurant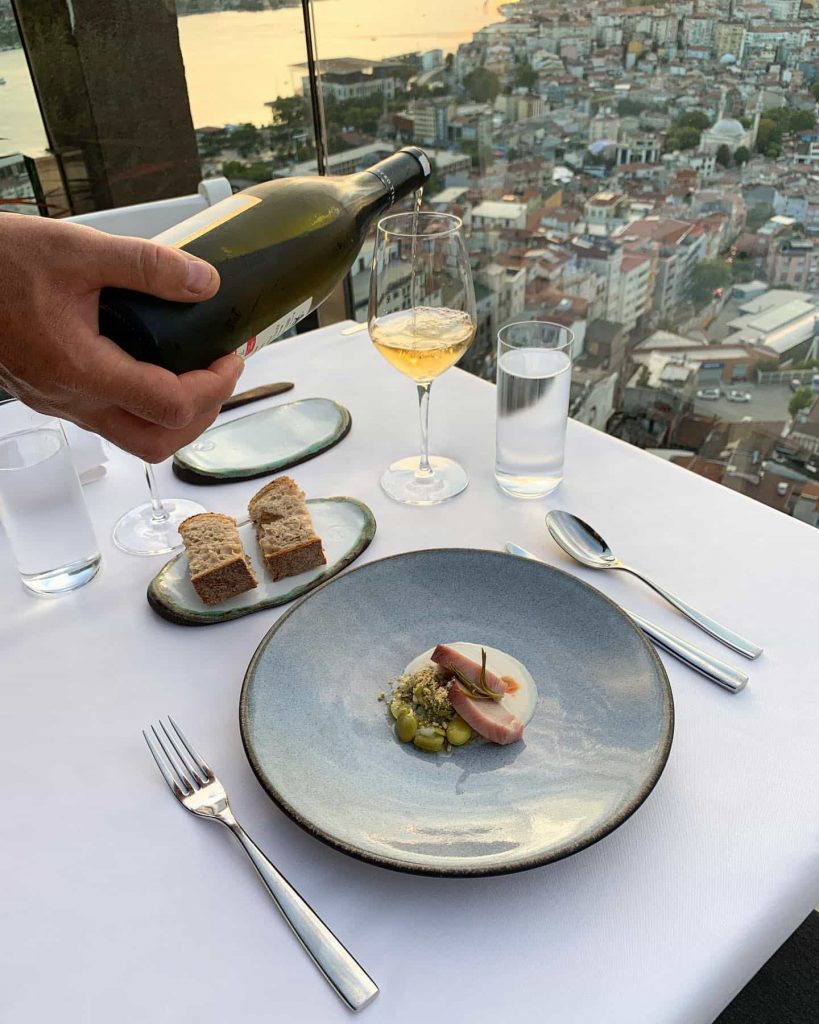 Excuse me for starting rather bougie, but Mikla Restaurant is the ultimate place for those of you looking for a good fine-dining option. "Forward thinking but deeply rooted and above all delicious," writes The New York Times.
The restaurant is actually situated on the roof of The Marmara Pera Hotel, which is in Asmalımescit, Taksim. It has one of the most breathtaking views of the city. Not only the food is good, but you also get to gaze at the city from a panoramic view.
Not to mention, you are definitely in good hands as the restaurant is owned by a celebrated Turkish chef Mehmet Gürs. You will find there, a good service, friendly staff, and a fusion kitchen seasoned with both Turkish and International elements.
Mikla Restaurant is generally preferred for special days such as birthdays and anniversaries. If you like to spend a night in Istanbul with your beloved under dim lights, rest assured you are going to love it here.
Their Grilled Lamb is especially recommended. If you consume alcohol, I also suggest you take a look at their long wine list. And if you also feel like trying something local, go for Sarafin Merlot.
Since this is a famous fine dining restaurant the price is a bit fancy as well. The average price (including alcohol) for 2 is roughly 100 dollars.
P.S. Don't forget to make a reservation!
Address: Asmalı Mescit, The Marmara Pera, Meşrutiyet Cd. No:15, 34430 Beyoğlu/İstanbul
2 – Tavern Night – Agora Meyhanesi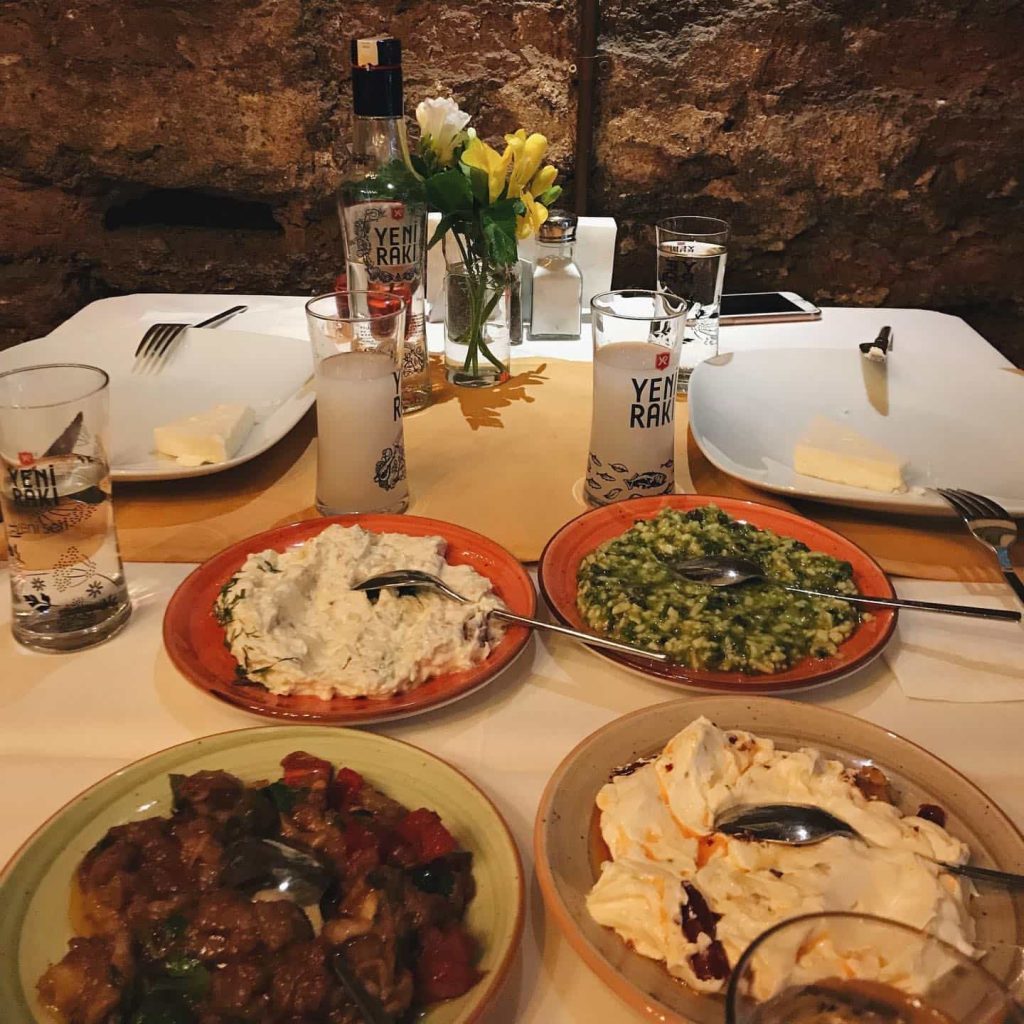 Greco-Turkish culture is famous for its tavern tradition which you should definitely experience. Generally, the best place for this experience is the south of Turkey along the Mediterranean coast.
However, luckily for us all, Istanbul provides very authentic options as well. Agora Meyhanesi 1890 is, without a doubt, one of the most preferred ones. 
This tavern was actually opened in 1890 by a captain of Greek origin – Asteri Dulidis was his name. Agora in Greek means square by the way. This place is located in Balat, a very historic district along Halic (Golden Horn) coastline.
I think what makes Agora Meyhanesi especially appealing is its nostalgic design that takes you back to a hundred years ago. The walls are made out of bricks, the lights are very dim with the utilization of gas lamps, windows are baroque style. And there are barrels everywhere!
If you haven't already you should order raki (a Turkish alcoholic beverage) with a seasonal fish. I might warn you though, aniseed is really strong in the drink. It is better to order a glass of raki rather than a bottle if you are unfamiliar with the taste.
It is also wiser to order as many appetizers as possible rather than choosing the main dish. Actually, they have a deal on it too. You can choose a fixed menu in which there are both warm and cold appetizers, salad, dessert, tea/coffee, and raki.
Not over-priced like our first option (with an average price of 60 dollars for 2 including alcohol) it is certainly one of the best deals you could ask for!
Address: Balat, Vodina Cd. No:128, 34087 Fatih/İstanbul
3 – A Russian Bliss – 1924 Istanbul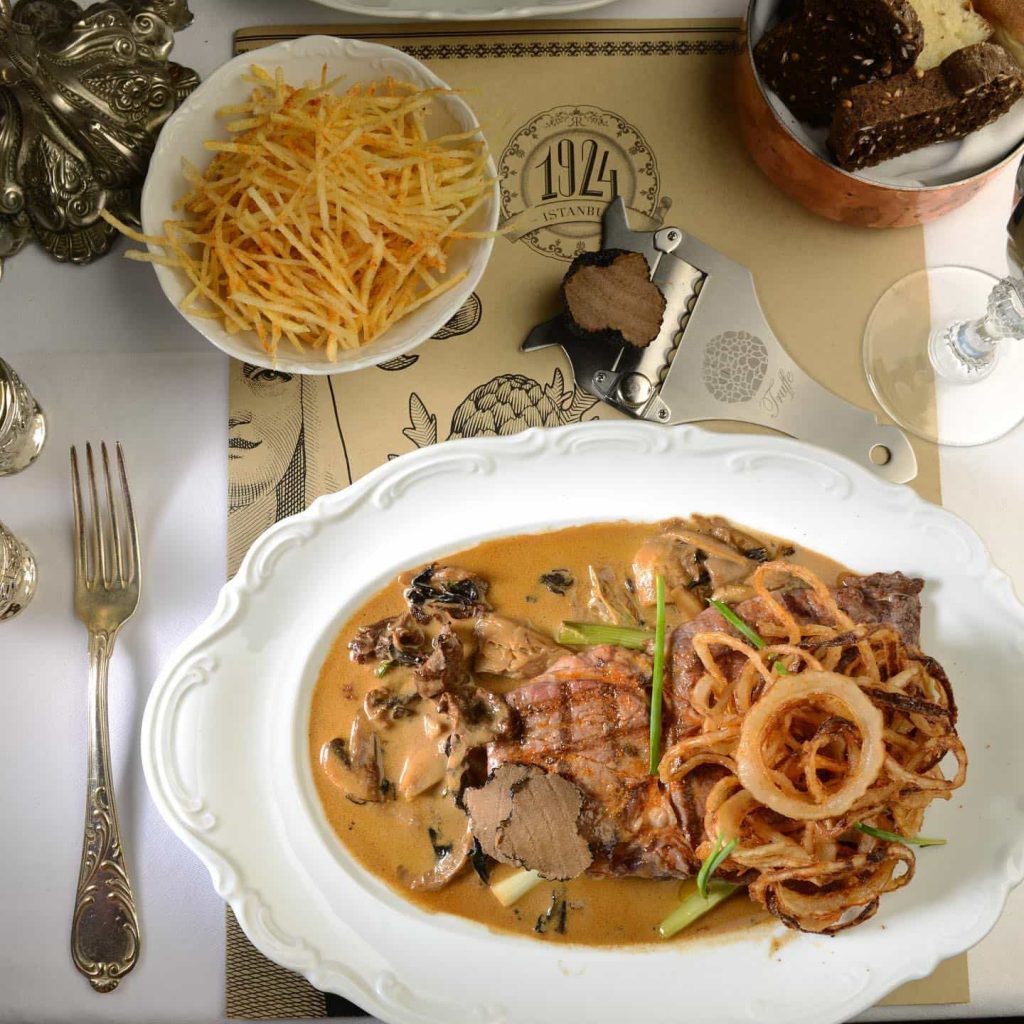 Biased opinion alert: This one is my favorite!
Established 80 years ago by Russians escaping from the Bolshevik revolution, 1924 Istanbul has hosted prominent names from Atatürk to Agatha Christie. In fact, the restaurant has a table reserved for Atatürk forever as he was a regular of the place.
If your understanding of a romantic dinner involves a refined atmosphere, some good classical music, Russian delicacies, lavishness found in simplicity, and a feeling of nostalgia, this is your place. Get ready for time travel!
This restaurant is located in Taksim, in a corner hidden from the over-crowded Istiklal Street. The staff is really kind and helpful. 
The service is a bit slow and I get that it is due to the elaborate preparation of sophisticated Russian food. Honestly, it doesn't even bother when you order some wine beforehand.
Or you can just go for some good Russian vodka if you like. Indeed, there are quite many options for that with infused vodkas and cocktails.
I recommend you taste their yummy Chicken Kievsky which consists of herb butter (the taste stays with you for a full day), potato pancake, and asparagus. You should definitely try Circassian Chicken as well. 
Let me just add that every time I went there, I found an international atmosphere with people coming from all over the world. 1924 Istanbul is truly a gem, no hesitations or second thoughts, just go there!
The average price for 2 is 60 dollars including alcohol. 
Address: Asmalı Mescit, Olivya Gç. 7-A, 34435 Beyoğlu/İstanbul
4 – Where History Meets Gastronomy – Lokanta 1741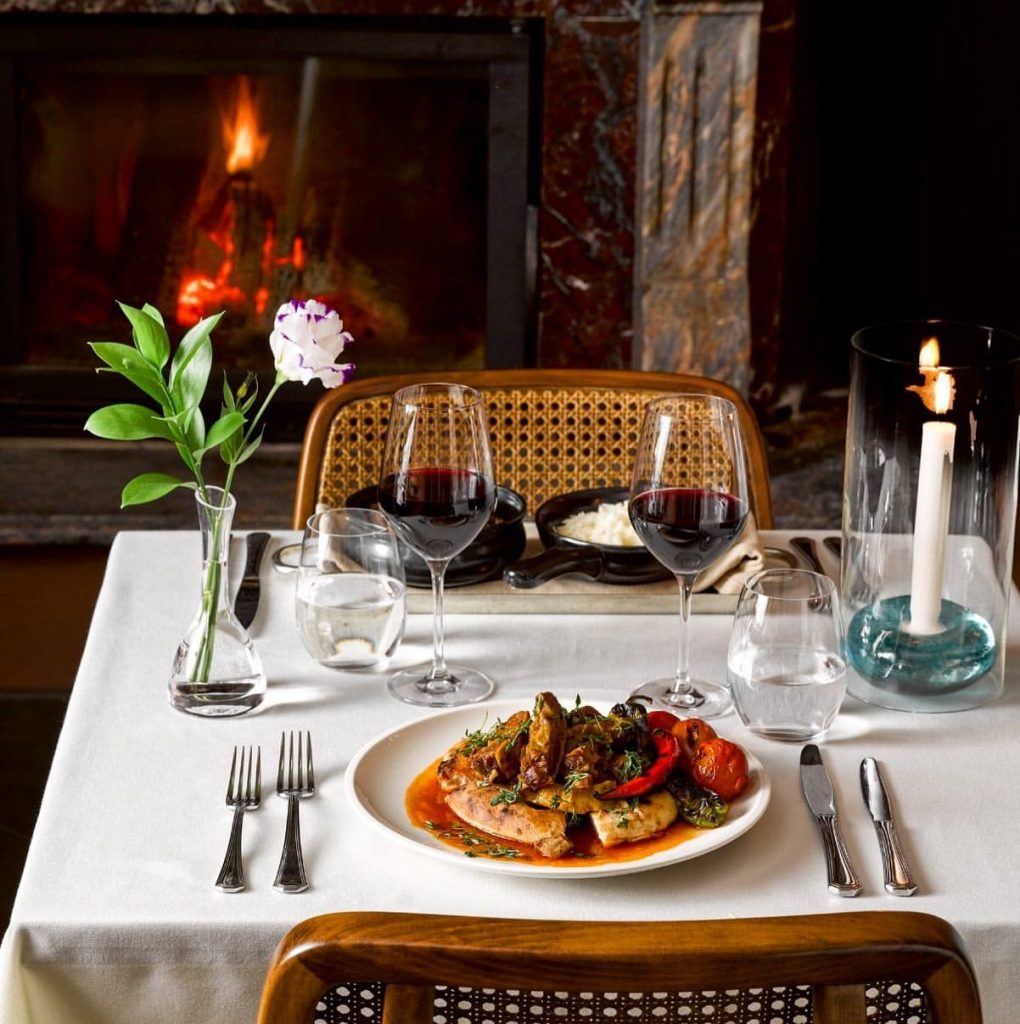 Lokanta 1741 is actually a 300-year-old Cağaloğlu Turkish Bath. Juxtaposition of Ottoman tradition with again Ottoman cuisine is surely a one-of-a-kind experience. 
If you are looking for a place in which you can have a taste of the city's historicity, culture, and local food in a romantic setting this place is the one for you. The whole place surely has an interesting and captivating historical ambiance as it was transformed from a historical entity. 
The restaurant has both indoors and outdoors dining area options. The latter is especially delightful in that it has a magnificent view over the old town.
What is especially remarkable about this paradise of gastronomy is that the famous chefs of the restaurants like to modernize traditional recipes with a modern touch. Their Tirit Kebab is highly recommended as well as traditional baked rice pudding modernized by the touch of lavender scent.
Also, Turkish Coffee is said to be very extra-ordinary at the hands of their chefs.
If you are still not convinced, let me throw a fact here: Lokanta 1741 won the Best New Restaurant Award in the 19th TimeOut Food and Drinks Award.
Address: Alemdar, Prof. Kazım İsmail Gürkan Cd. No:34, 34110 Fatih/İstanbul
5 – One of Those Anatolian Nights – Sarnic Restaurant
Imagine you have time traveled and come all the way down to eat in a basilica. The lights are dim, you feel like you are underground, but the ceiling is so high that you don't feel claustrophobic. You just feel festive, you feel like you are a part of the nobility.
Yes, it is exactly how Sarnic (means literally basilica in Turkish) Restaurant will make you feel with its 1500-year-old entity – Water Basilica. This is yet another restaurant that exalts the old Istanbul.
Located at the center of Sultanahmet, this place has an agenda of representing the rich historicity and the culture of Istanbul. The place is pretty impressive, the staff is hospitable and kind, the food taste so delicious. 
Still, on the axis between traditional and modern, this place offers you an exotic experience through delicious "modern Anatolian cuisine". Ottoman cuisine is combined with modern Turkish cuisine that appeals to every taste bud.
Lamb Shank – slow-cooked lamb shank served with baked beans, potato puree, and mushroom – is a highly recommended plate for those of you who prefer filling main courses. 
As for dessert, I would say go either for Carrot Shape Baklava served with ice-cream of your choice or Simit Katmer which is also a dessert served with ice-cream.
It is a bit pricy – roughly 90 dollars for 2 including alcohol – but it worths the money you pay. Treat yourself, will ya?
Address: Cankurtaran, Soğuk Çeşme Sk. No:26, 34122 Fatih/İstanbul
6 – A Mythical Night – The Maiden's Tower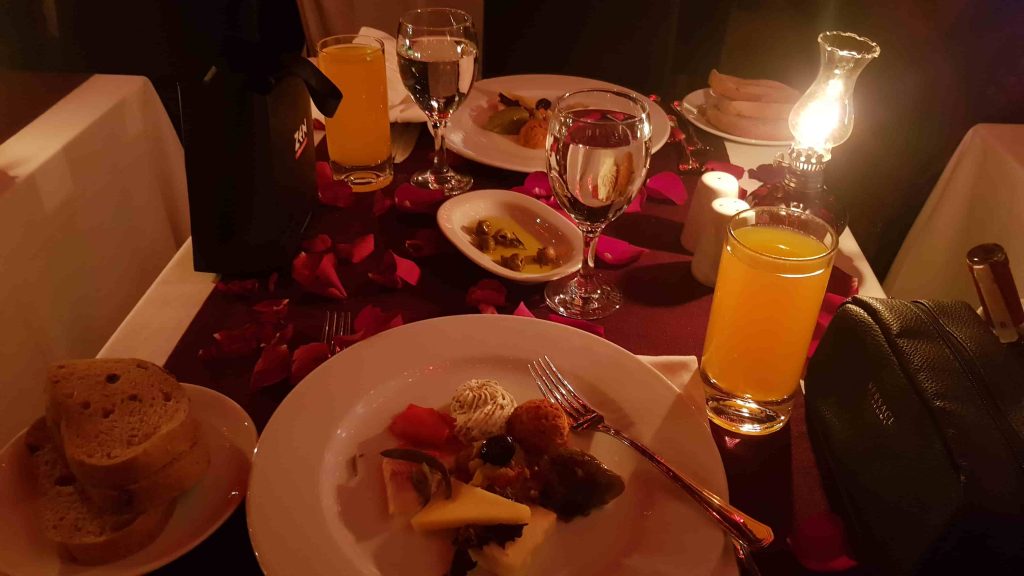 Is there any more romantic dinner than a dinner in the middle of Bosporus? I think not. If you agree with me, then you will surely enjoy dinner at The Maiden's Tower.
For those of you who do not know about the history of the Maiden's Tower let me recap real quick:
According to a legend, one of the Byzantines emperors hears from an oracle that his beloved daughter is to die from a snake bite at the age of 18. So, he orders to build a tower on the Bosphorus separated from the land and put his daughter there. In the end, destiny wins though. She dies because of a snake that comes from the city hidden in a fruit basket.
The story is sad enough, yet the place is gor-geo-us! The Maiden's Tower Restaurant does justice to this story with its sophisticated and mystical ambiance and exquisite food choices from international cuisine.
Here, you also get to listen to some live local and international romantic classic music to go with your dinner. Even though the story is quite sad, the place is surely a lovers' dream, promising you an unforgettable night against the world-famous sea.
The food is quite tasty yet don't expect fine dining, luxurious options. Also, I must mention, if you want a window seat you have to pay 4 dollars extra which is, I know a bummer.
Overall, this place is special, and the ambiance is certainly unequaled. The price for 2 also ranges between 25 dollars and 65 dollars, depending on whether you consume alcohol or not. Still, cheaper than our other options, isn't it?
Beware that you need to use a boat service from Kabataş to arrive at the tower though.
Address: Salacak, Üsküdar Salacak Mevkii, 34668 Üsküdar/İstanbul
7 – Ultimate Wine Night I – Tarihi Viktor Levi Sarap Evi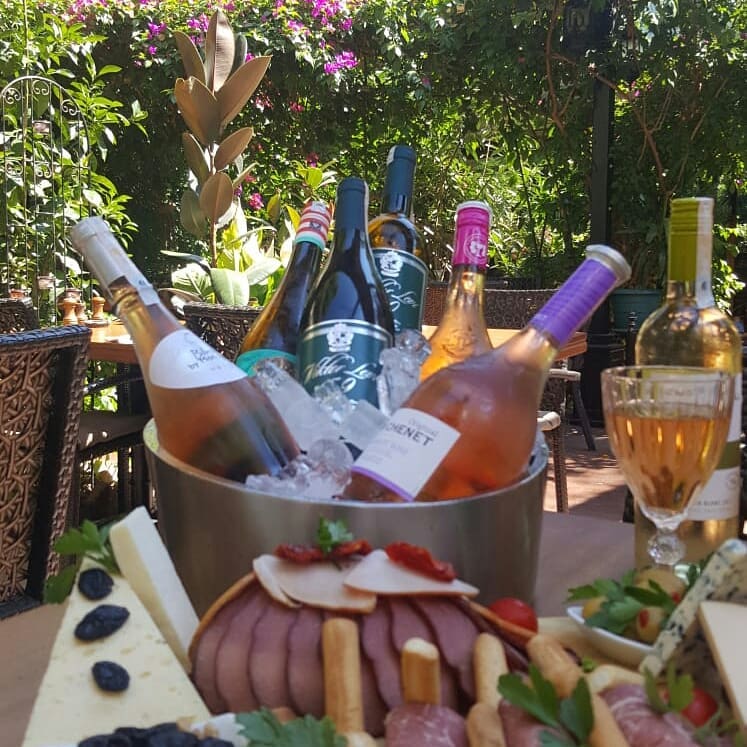 Anyone fancying a glass of good and organic wine while breathing fresh air on a garden? Well, you might as well check this one out.
Located in a widely celebrated neighborhood in Kadıköy (on the Anatolian side), Tarihi Viktor Levi Sarap Evi is the perfect budget-friendly and peaceful date night option. 
This winery was founded by Victor Levi as a sort of retaliation for the other wineries in Istanbul at the time that wanted to sell Viktor Levi's wine at a price determined by themselves rather than him.
People often mark that upon going there for the first time you become a regular without realizing it. The place is clean, spacious, lively (especially at night) as well as the staff is kind and hospitable. 
As for food, nothing fancy is found here, yet all tastes extremely good. My recommendation is either get the main dish like Café de Paris Steak (so yummy!) or order various appetizers such as Cheese and Pastrami Rolls, Wine Plate, Stuffed Grape Leaves, and Fried Calamari. 
If you like finishing your meal with a dessert, unfortunately, you don't have many options for that. But as I've heard they have the best Chocolate Soufflé to share with your partner.
For a delightful and romantic light, please make your reservation hastily!
Address: Caferağa Mh Moda Cd. &, Damacı Sk. No:4, 34710 Kadıköy
8 – Ultimate Wine Night II – Tarihi Pano Sarap Evi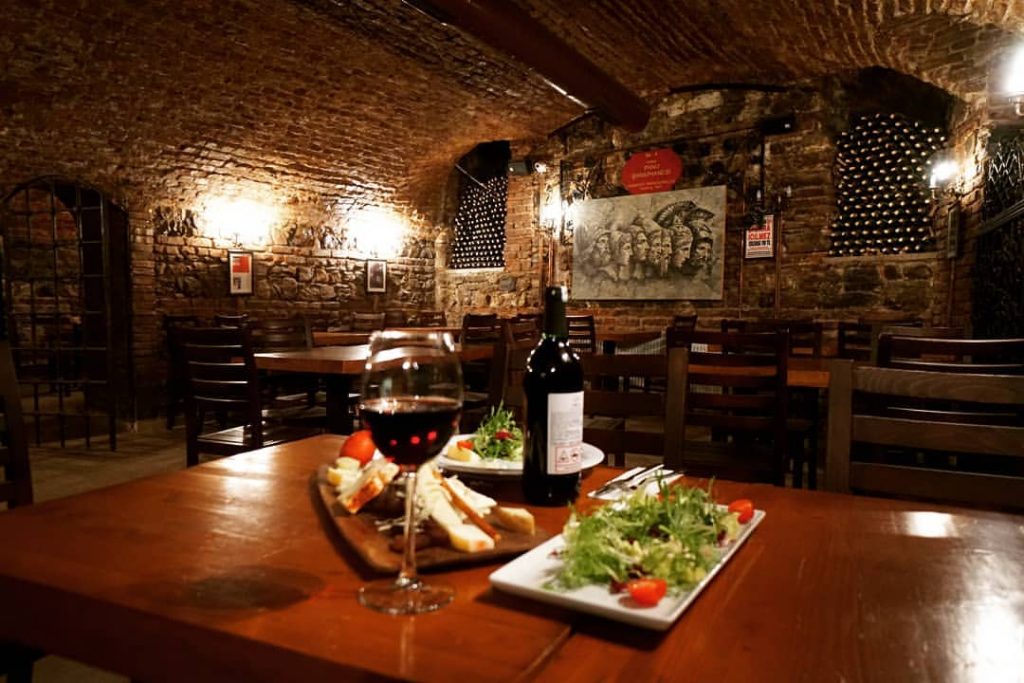 Remember our angry guy Viktor Levi at other wineries trying to rip him off? Well, this option happens to be the other side of the coin. Choose your side carefully, I say.
Established in 1898 by Panayot Papadulos – a Greek descendant, Tarihi Pano Sarap Evi is one of the oldest wineries in Istanbul. Located in Taksim, Pano Şarap Evi promises you an extra-ordinary night with its authentic architecture.
With its high artsy ceiling, brick walls, wine cellar, pleasant paintings, you will feel like at a date in 19th-century Beyoğlu with its cross-cultural Ottoman citizens. Very authentic indeed!
Pano offers you a wide range of options concerning the finest wine from Bozcaada. I have heard that their rosé wine is especially remarkable. As for food, it is all international food. You can safely choose between steak, pasta, or numerous appetizers. 
If I would dare to say, go for a plate of fish if you like since Pano is close to the fish bazaar, and thus seafood there is always fresh and delicious.
Address: Hüseyinağa, Hamalbaşı Cd. No:12, 34435 Beyoğlu/İstanbul
9 – A Cabin in the Woods? – Chalet – Swissotel The Bosporus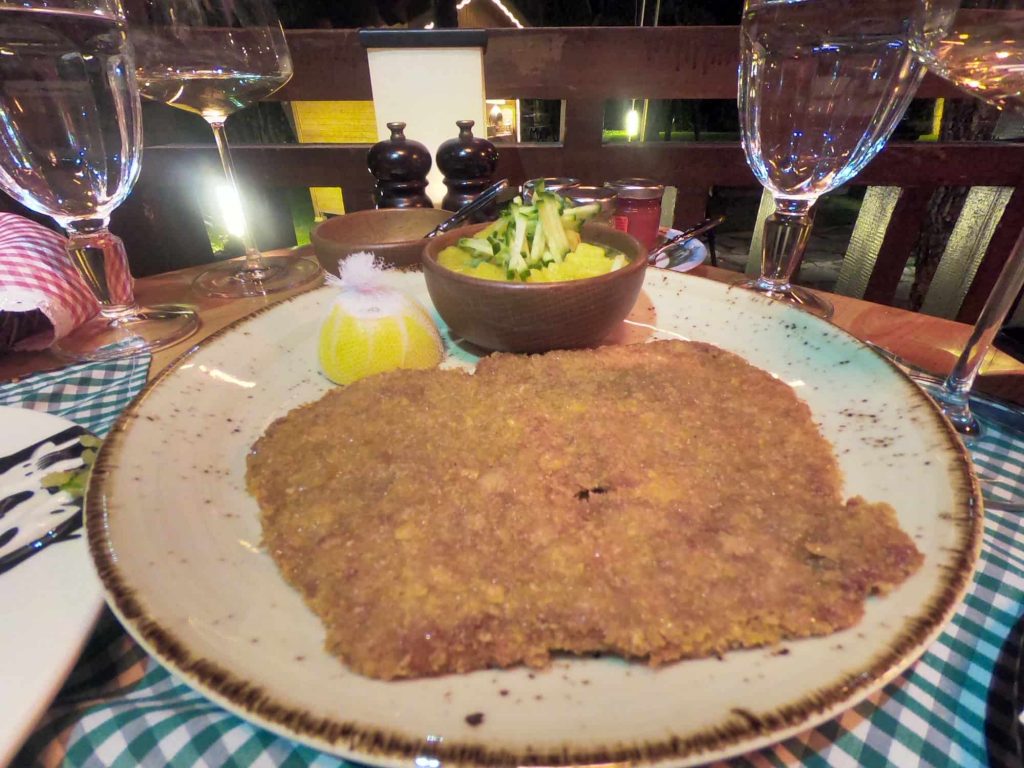 I admit, the title feels a bit spooky. No worries guys. You just imagine it is around Christmas time, you are in a cozy cabin in the woods with all your family. That's the feeling you should get.
In fact, Chalet – Swissotel The Bosporus is a concept of a cottage used as a dining hall. Wooden tables, a fireplace, servers in traditional dresses, and voila Alpine vibes you get! You can't help but feel like you're in Switzerland.
The place serves European cuisine mainly those of France and Switzerland. It is – of course – famous for its fondue. The place can be booked for special occasions such as baby showers and birthday organizations as well.
If you are up for a change, travel in a travel sort of experience, do not hesitate. Their Raclette is highly recommended as well as Beef Civet. Fondue is a must-eat. As for a dessert, people speak so highly of their Mont Blanc.
The capacity of the place is 80 people and the average price for 2 is 75-80 dollars.
Due to its unique decorations around the time, it is especially nice to go during winter. Allez-y!
Plus, good music guys, very good music that completes the whole atmosphere!
Address: Visnezade Mah, Acısu Sokaği NO 19, 34357 Beşiktaş/İstanbul
10 – A Compromise Between Elegance and Affordability – Brasserie Noir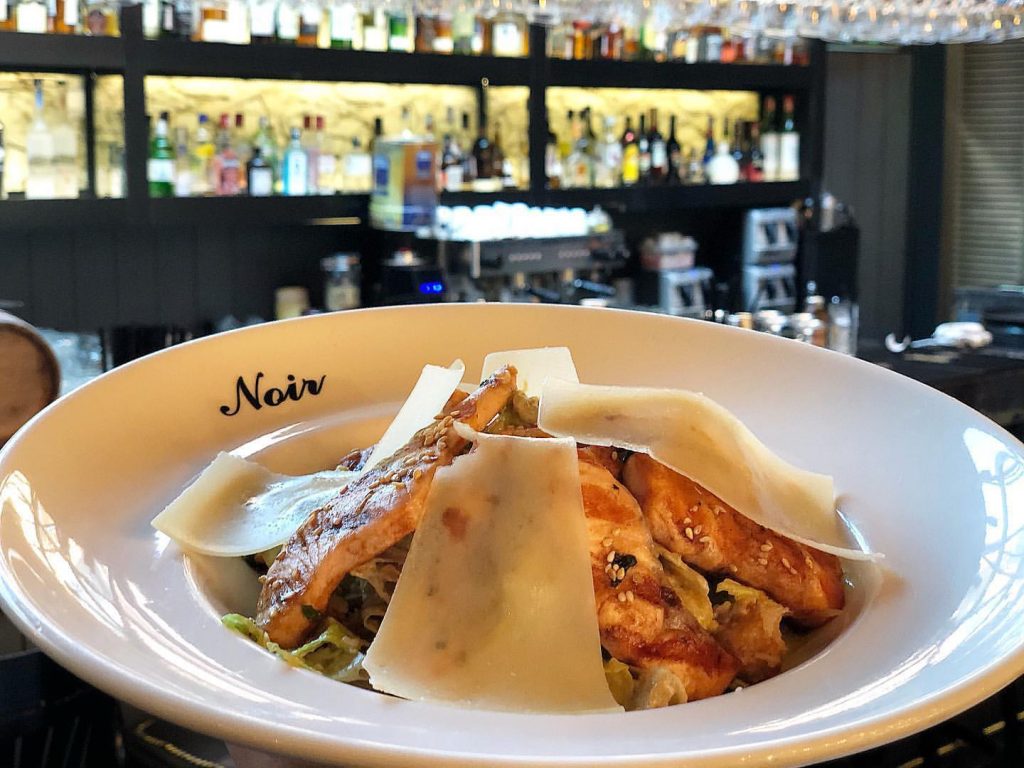 Among fine dining restaurants, Brasserie Noir, is definitely among the cheapest ones, proving to us that not everything of quality equals over-pricing. 
It is in Suadiye/Kadıköy, one of the finest neighborhoods in the whole city. The place is, without a doubt, chic yet not very ornamented and extravagant. This balance makes it especially preferable to its regulars.
The staff, seating arrangement, the lighting of the place, modern decorations are the things praised. People especially love that the appetizer they first serve (from the house) with freshly baked bread and baked garlic in olive oil. 
Their garden is quite enjoyable as well. According to the weather, you can choose between indoor and outdoor dining areas.
There you can find delicious food from French cuisine.
Their Rib Steak, for instance, is highly recommended. But most importantly, you must try some of their hot and cold starters such as Burrata, Spicy Boneless Chicken, and Baked Camembert with Hot "Cantık" Garlic Bread.
Not to mention, there are quite many options for world-famous French desserts including Crème Brulee, Profiteroles, Mille-Feuille Strawberry / Mille-Feuille Banana (this is giant, perfect for sharing), and Rococo (this is everyone's favorite, to be honest).
In the evenings, they have live music as well, contributing to your romantic dinner.
Addresse: Suadiye, Bağdat Cd. 455 1 D:B, 34740 Kadıköy/İstanbul
You know how the saying goes: To be happy, one needs to dine fine! Istanbul offers limitless options for lovers but you try to stick with this list in order not to get disappointed, will ya?