Turkey is a very diverse country that is hospitable to people of different backgrounds, regardless of nationality, religion, income level, and so forth. Besides, every tourist here can find something to his or her liking; there are places for budget and luxury tourism, as well as amazing natural sights and entertainment institutions. I can say that the same rules apply to foods.
People in Turkey respect religion so does the residents of Istanbul; this old and beautiful city has many good halal restaurants. Halal in Arabic means 'to be permitted'; hence, everything that is permitted and permissible in Islam. Accordingly, halal restaurants are those restaurants that comply with Islamic food preparation requirements.
Nowadays, halal food is increasingly attracting attention as it is distinguished by special conditions for its production and quality. Here you can find a list of halal restaurants in Istanbul that I recommend visiting not only for adherents of Islam, but also for people who are neutral to the religion, but who prefer healthy food and refuse junk and fast food.
1 – Bitlisli restaurant on the route of a well-known Orient Express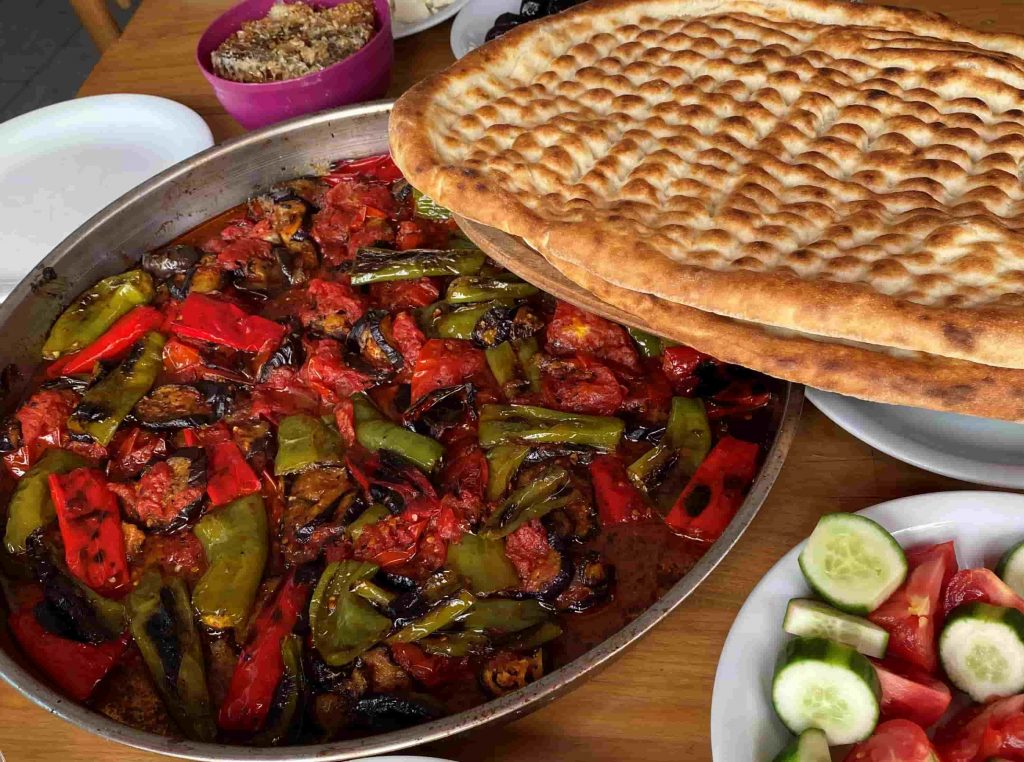 The Bitlisli restaurant is located in a historical area called Sırkeci, which is famous for the Sırkeci railway station. A well-known Orient Express's route passed through this terminal when traveling from Paris and Constantinople (Istanbul) in the 19th century. The Sırkeci area is indeed a very atmospheric and picturesque place; you can enjoy a stroll there by walking from Topkapı Palace or Gülhane Park to Bitlisli Restaurant.
The restaurant is named after Bitlis, an ancient small town with a rich history located in southeastern Turkey. Perhaps, the recipes came to us from this very region. Bitlisli has a very good selection of meat dishes, BBQ, Turkish, Middle Eastern foods, salads, snacks, and typical Turkish bread dishes. I assure you that everything there is halal.
Prices in the restaurant, for example, for meat dishes vary from 4 to 8 US dollars, while you are served free snacks and a good selection of seasoning. I would say that this, actually, is a good value for the money for Istanbul and such a tourist area. Besides, I recommend trying the restaurant's signature – eggplant kebap – served in large portions. Other visitors of Bitlisli also note that service is perfect; friendly and welcoming staff treat everyone as dear guests.
Address: Hocapasa Mah., Hocapasa Camii Sok., No: 2/B, Sirkeci – Fatih, +90 212 513 77 63.
2 – Cozy family restaurant Tomtom Kebap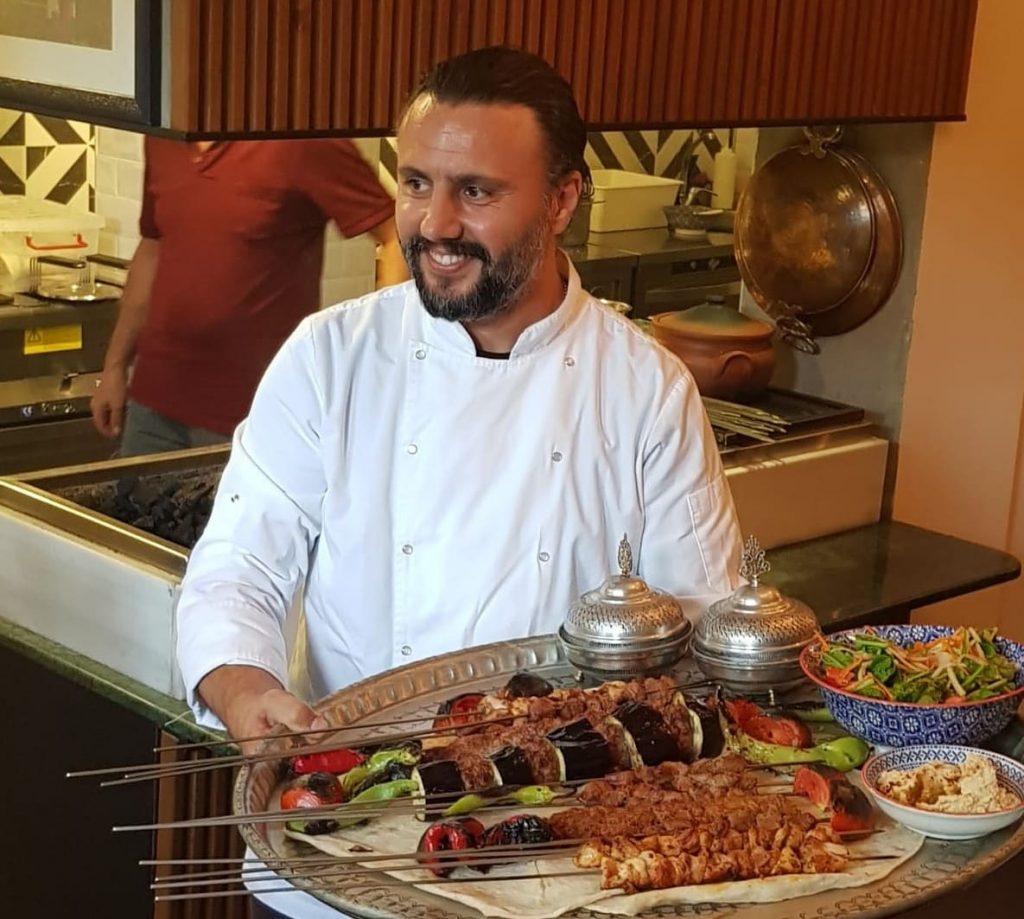 Another halal restaurant that I recommend visiting is a small and modest but no less tasty cafe ye ve kalk type ('eat and go') – Tomtom Kebap. It is a small family restaurant, where the owners themselves serve the customers. From the first minute this place disposes to itself, the owners are smiling, friendly people who not only serve you quickly and efficiently but also are ready to explain to you the peculiarities of eating traditional Turkish dishes, like kebap with eggplant and lavash.
Tomtom Kebap is also interesting because food is cooked on the grill right in the hall so that you can observe all the details. The portions are really impressive, and I advise you to take a bowl of salad for two persons. While you wait for your meals, you might be complemented by lavash snacks and sauces. Besides, the selection of kebap dishes is very good; they are delicious and affordable.
Moreover, Tomtom Kebap is located in the Beyoğlu district, which is quite popular among tourists. After a delicious meal, you can climb onto the nearby Galata Tower, walk along İstiklal Street or visit museums – the Pera Museum or the Museum of Contemporary Art.
Address: Yeni Çarşı Cd., 39 A, Firuzağa, Beyoglu, +90 541 615 35 35.
3 – Zeferan Restaurant for special halal events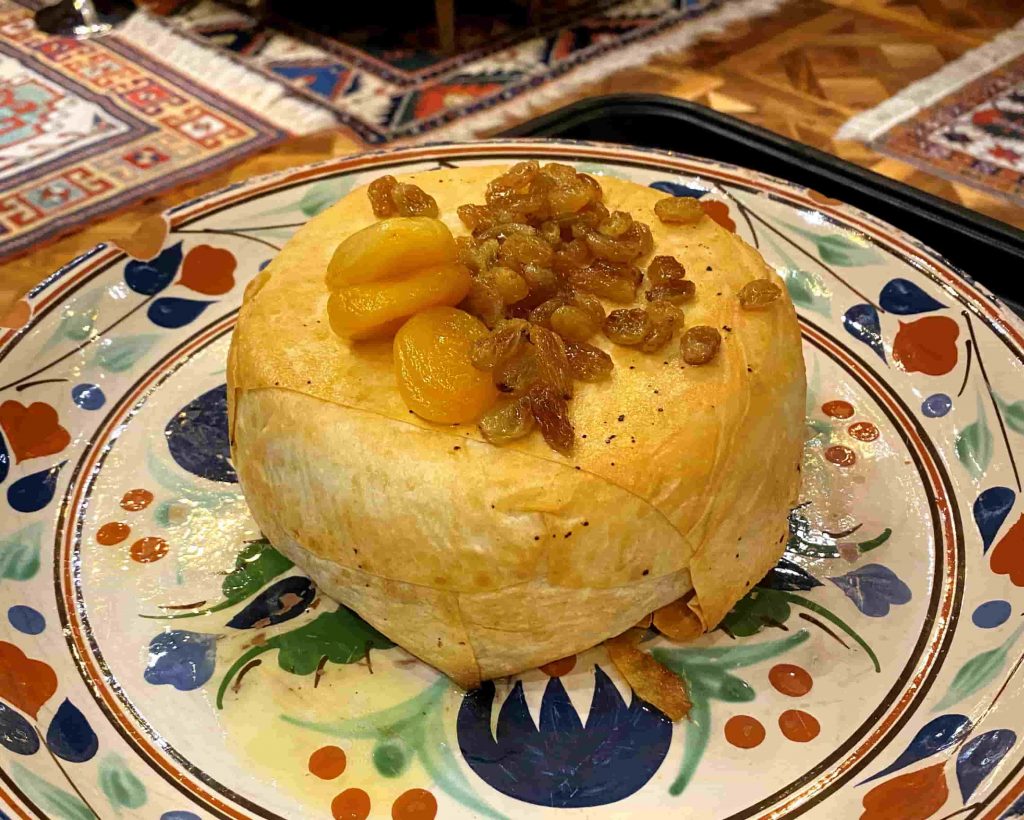 Whereas previous restaurants are notable for their affordable prices, Zeferan Restaurant is quite an expensive place that can be an excellent option for special halal events. The restaurant is suitable for the celebration of significant events, as well as for romantic evenings; Zeferan Restaurant is located on the rooftop and offers a beautiful view of Istanbul. Plus, this place has a distinguished and elegant style.
Besides, the choice of dishes there is, indeed, diverse; you can taste Azerbaijani cuisine along with any international dishes. The menu of the Zeferan Restaurant is also suitable for vegetarians, and it also provides gluten-free options. The cost of such dishes ranges from 21 to 47 US dollars.
Service at Zeferan Restaurant corresponds to the status of this place; the level of service is high; the staff is attentive and caring. On my behalf, I advise you to try Şah plov – traditional Azerbaijani pilaf, which is served in baked lavash: when serving, the top surface of the bread is cut off, and the pilaf is stirred inside, which gives the dish juiciness and incredible aroma.
Address: Piyer Loti Cad., No: 30, Ajwa Hotel Sultanahmet, Roof Top, Sultanahmet, +90 212 638 22 12.
4 – Authentic and delicious kebap at Mesopotamian Terrace Restaurant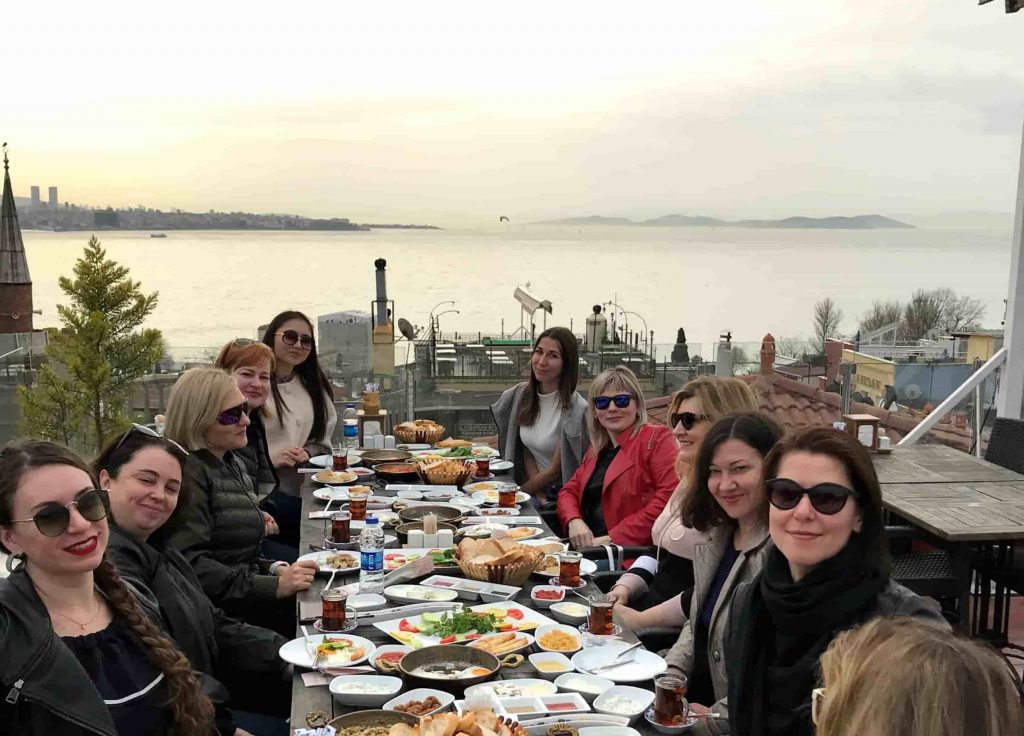 What is a trip to Istanbul without trying some of the deliciously famous Mediterranean and Turkish cuisines? Mesopotamian Terrace Restaurant (Şehrivan Mesopotamian Restaurant) is a staple on Istanbul's fish, meat, and perfectly cooked turkey scenario. Besides, the place is one of the best famous for its authentic and delicious kebap and Mediterranean breakfast.
Of course, you can enjoy one of the best Turkish delights called baklava and gratifying cordial at this place. Everything is being carefully and lovingly prepared and served with a welcoming smile. If the food is not enough to make you engrossed by this place, the antique decor and panoramic rooftop view just might. The restaurant is situated at the heart of Istanbul in the Sultanahmet district, and its extraordinary rooftop facility lets you enjoy the wonderful view of the Marmara Sea and the Bosporus on one side and the Blue Mosque and Hagia Sophia on the other side.
Another main facet of this place is its courteous staff, nice atmosphere, and fabulous service. Many visitors point out that the dishes are offered for affordable prices. Apart from its midday meals and delicious dinners, Mesopotamian Terrace Restaurant is quite famous for having a rich breakfast adorned with amazing views. Do not forget to take pictures from the rooftop with an eye-catching Blue Mosque and Hagia Sophia as a background.
Address: Akbiyik Cd., Kutlugun Sk., No. 23, Sultanahmet, +90 212 517 81 12.
5 – Ottoman classics at Ziya Şark Sofrası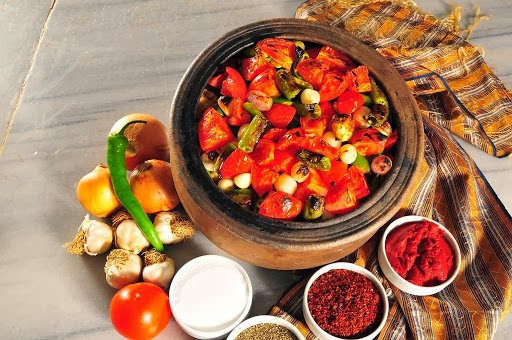 Ziya Şark Sofrası is a chain of restaurants operating across Istanbul city, all of which are perfectly built, decorated in detail with plants and Ottoman handcrafts. The restaurant has a spacious environment well suited for friends and family gatherings.
Two of its main branches are located in the main touristic zones Fatih and Sırkeci, which truly depict Ottoman classics with their relic handmade cups, pans, wooden shelves, and halls covered with Turkish rugs. One look at these places and you will probably be drawn in the elite classical decoration around. The service is excellent; the staff members are friendly, and, overall, the place is extremely hygienic.
And just like the decor, the food is well up to par. Serving a variety of delicious kebap dishes, lamb tandoori, beef delight, grilled meatballs, Adana wraps, Urfa wraps, etc., you would literally find the whole Turkish cuisines ensembled at one place. Besides the main course, Ziya Şark Sofrası is much renowned for its distinctive breakfast and some of the well-known Turkish sweets like künefe, kadayıf, katmer desserts, and simit katmer, all in an affordable range.
The most amazing hallmark of Ziya Şark Sofrası that will astonish you is their authentic kebap variety, which is selected carefully by the Chef, prepared in front of your eyes, and cooked near a wood fire in a baking kiln or on a charcoal grill. All this with great service and a lovely ambiance perfect for halal lovers.
Address:
Fatih – Fevzipaşa Caddesi, No: 61, Fatih, +90 212 531 30 03;
Sirkeci – Hocapaşa Mah., Hocapaşa camii Sok., No: 15/A, Sirkeci – Fatih, +90 212 512 11 50/51.
6 – Sultan's corner – Sultan Köşesi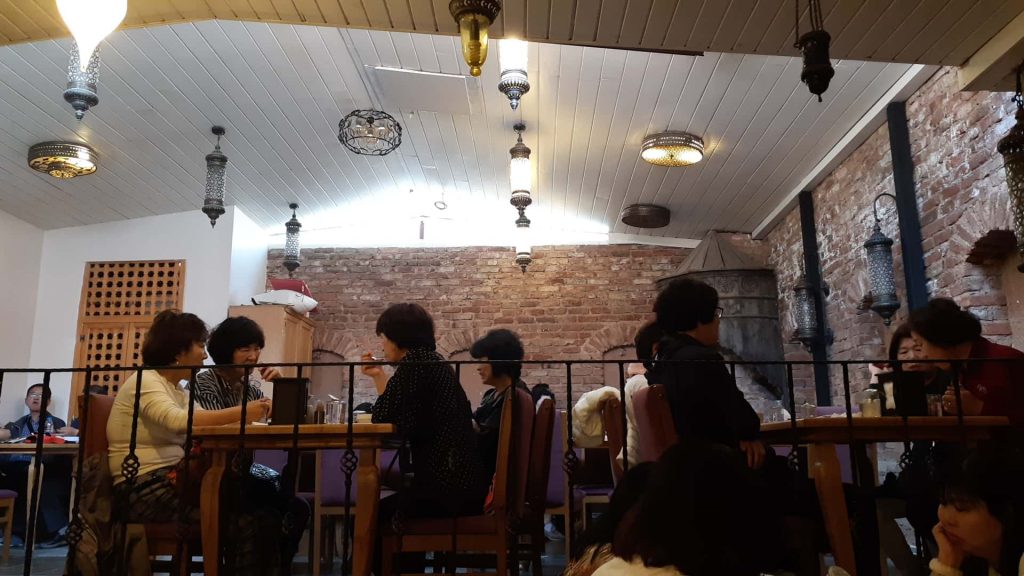 Sultan Köşesi, or the so-called Sultan's corner, is another halal restaurant that I recommend visiting in Istanbul. The restaurant is located a five-minute walk from the Blue Mosque right next to the historic Sultanahmet market square. Sultan Köşesi is named so for a reason: it appears to be an attractive name for tourists, who seek for old authentic Turkish atmosphere, and who, probably, will find it in this restaurant. I would say that design of the restaurant is oriental and very colorful, besides, it corresponds to Ottoman times. That is why Sultan Köşesi is a great place for spontaneous photoshoots as well.
The restaurant serves Mediterranean, Turkish, Middle Eastern cuisines and has a large selection of salads and appetizers, desserts, and freshly squeezed juices. I personally recommend trying pomegranate juice after your meal, as it is very beneficial for digestion and boosts immunity.
As for the prices, they are generally more or less for the tourist area and range between 17 – 32 US dollars, but actually that is quite expensive when compared with other restaurants located farther from the Sultanahmet area. I think Sultan Köşesi is more suitable for tourists who are looking for traditional Turkish cuisine and the corresponding orient environment, and those who, while walking in the tourist area of ​​Sultanahmet, want to eat decent food for bearable prices.
Address: Kucukayasofya Caddesi, No: 6, Sultanahmet, +90 212 516 66 06.
7 – Hayvore for halal homemade foods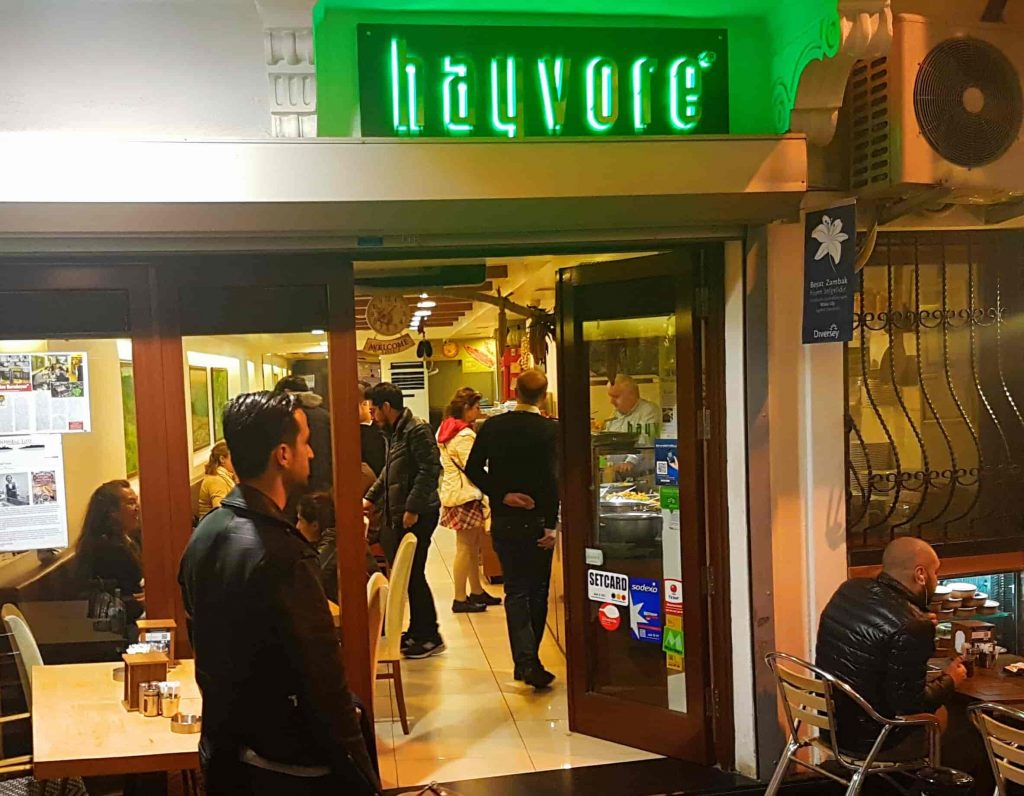 Hayvore is another place for lovers of halal, healthy, and homemade foods. Although the restaurant is located in a rather popular and crowded area – İstiklal street, Hayvore is a rather modest place reminiscent of a buffet. The food there is already prepared and displayed, so you can choose the dish you like. You pay per portion, and usually, the course comes out quite inexpensively. For example, a soup, main course, and a salad can be bought for 4 – 6 US dollars.
Also, Hayvore has helpful staff who will explain everything and help you, as many of them speak English. Plus, the place is full of local people who know the best inexpensive places with delicious foods in Istanbul.
So if you are not looking for a beautiful interior or an atmosphere of antiquity, then Hayvore is very definitely a good option for you. It is a rather homely country-style place that offers very tasty Turkish food; besides, tea in these types of buffets is usually served free.
Address: Istiklal Cad., Turnacibasi Sok., No: 4, Beyoglu, +90 212 245 75 01.
8 – Best for falafel lovers – Falafel House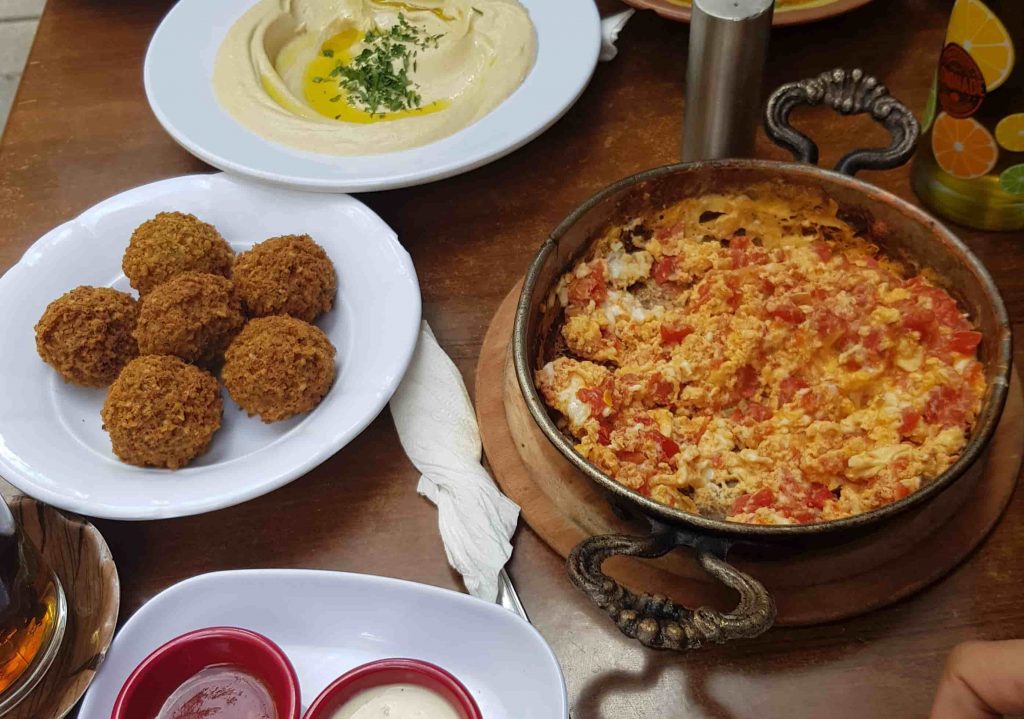 Falafel House is another place I recommend for people who prefer halal food. The restaurant serves Middle Eastern, Mediterranean cuisines, and, in particular, quite a famous dish called falafel. Falafel is deep-fried balls of crushed legumes, seasoned with spices and usually served with hummus. Falafel, actually, is a common type of home and street food of many Eastern countries; it is also quite popular in Istanbul and Turkey as well.
Falafel House is a small place full of local people with a modest and plain interior. Despite that falafel itself is a pretty hearty meal, the portions are also quite generous that might be even suitable for two people. The prices in the restaurant are pleasing to the eye, on average, about 4 – 5 US dollars per person; moreover, it is convenient that you can have foods to take away.
Besides falafel, you can find lentil soups, a good variety of salads, and a small selection of meat dishes on the menu. The location of Falafel House is also suitable for guests of Istanbul – near to Taksim Square, which is very popular among tourists.
Address: Kocatepe Mahallesi, Sehit Muhtar Caddesi, No: 19/A, Beyoglu, +90 212 253 77 30.
9 – Juicy and appetizing döner kebap at Bayramoğlu Döner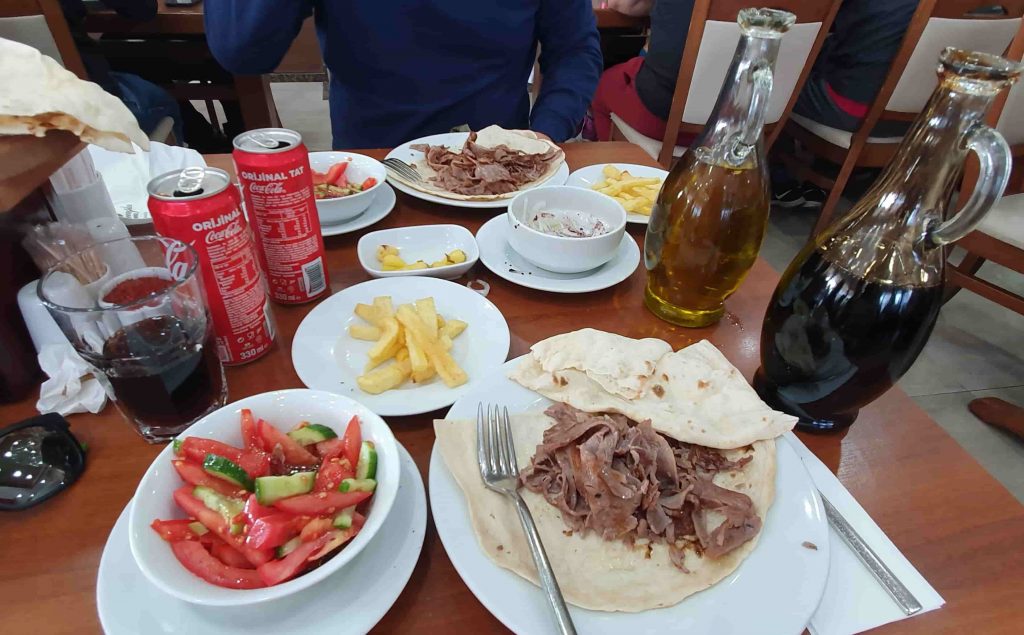 When people start thinking about Turkish traditional cuisines, the first thing that clings their minds is döner, literally meaning 'rotating kebap'. Made from mutton, beef, and chicken, this delish food is roasted slowly on a vertical spit, sliced off thinly, and, finally, served on a plate with salad and rice, in bread as a sandwich or in a wrap locally known as dürüm (shawarma). So, it is the right time to enter the realm of juicy and appetizing döner kebap with none but its pioneer – Bayramoğlu Döner.
Bayramoğlu Döner has been keeping its unforgettable and unchangeable taste on the palates of both domestic and foreign guests for more than 30 years. Demonstrating its meticulousness in taste, as well as in service, making of döner here in Bayramoğlu starts with the careful selection of meat, then, the master's hands process and carve it with full consistency to achieve the fine delicacy. Finally, the special Turkish cracker bread (lavash) meets döner, and its taste rises to a crescendo. Do not forget the warm baklava to be served at the end.
Furthermore, the serving is fast, the staff is friendly, the whole area is clean, and most importantly, the place best suits for fulfilling döner and meat desires without burning a hole in your pocket. Have I mentioned that everything here is halal? Big yes for all döner lovers out there.
Address: Ruzgarlibahce G-69 Sk., No: 2, Kavacik, Beykoz, +90 216 413 00 45.
10 – Best flavors of Gaziantep cuisine at Lezzet-i Şark Antep Sofrası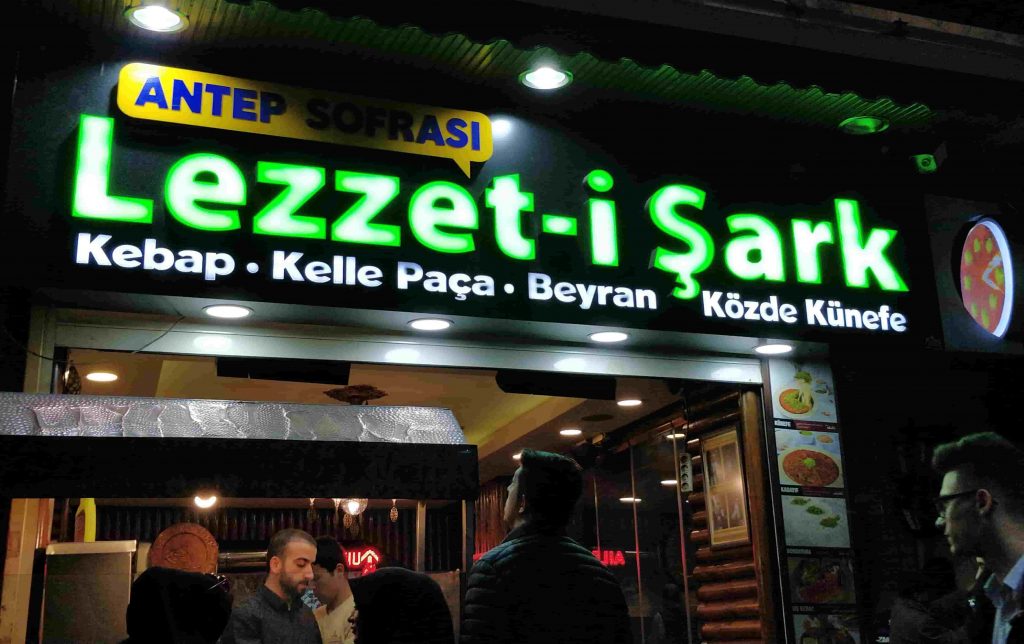 Located in the busy neighborhood of Eminönu and tucked away right next to the Spice Market, Lezzet-i Şark Antep Sofrası is one of the fine eateries of Istanbul. Here you can find the best flavors of Gaziantep cuisine in the form of beyran soup, amazingly succulent Adana kebap, lamb soup, barbeques, and the famous künefe desert. All of them will definitely tickle your taste buds and leave you craving for more. This may be one of the few places that still prepare künefe over charcoal and serve them in copper dishware.
The restaurant is comfy, not too fancy, and if you happen to be around the Spice Market, give it a try for an amazing lunch and authentic exotic Turkish foods. I reckon you will not regret having eaten at this small hidden eatery. Lezzet-i Şark Antep Sofrası is also a great place to dine for families and friends, as you can opt for larger portions to share at a great price. However, I would recommend you sit on the first floor, which is more ventilated and peaceful. There is something for everyone here, and bonus points as all the meat is certified halal.
Service is super fast, prices are much affordable, and the place remains mostly busy with people, but thanks to the excellent staff who always maintain the crowd.

Address: Hasircilar Caddesi, No 52, Eminonu, +90 212 514 27 63.
In my opinion, these halal restaurants are really worth visiting. Hope you will enjoy the food and your stay in Istanbul.