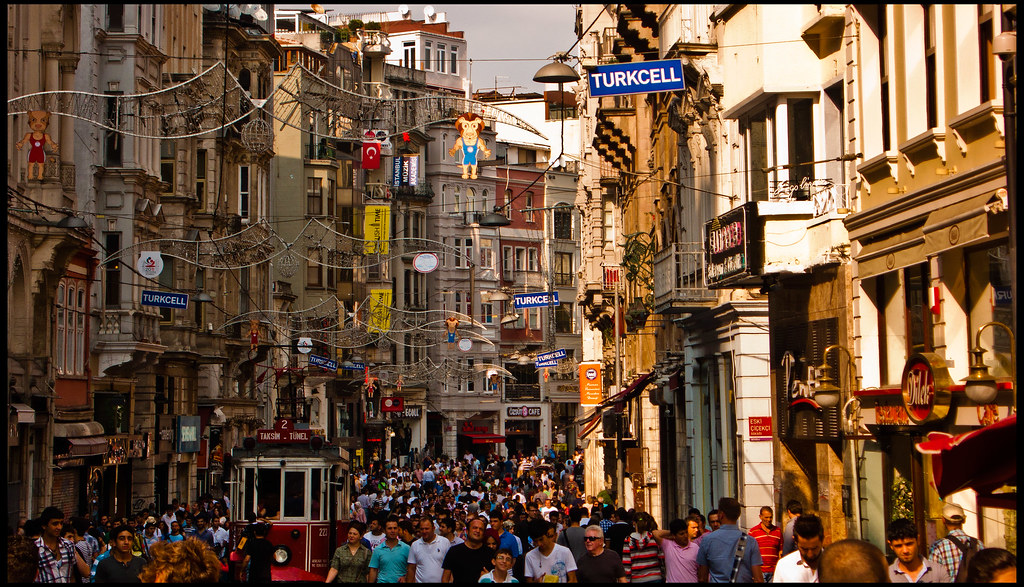 Istiklal Avenue (aka Istiklal Street) with its old name 'Pera' is the most crowded shopping street in Istanbul with daily 3 million shoppers and tourists.
In this straight and long street, starting from Taksim metro station, towards Galata Tower and Şişhane metro, there are hundreds of shops, cafes, restaurants, churches, mosques, synagogues, embassies, culture centers, museums, exhibitions, libraries, bookshops, street musicians, and historical places that you will need at least a day to see everything, to visit the historical places, to do some shopping and eat in the best restaurants and finish the street.
It is very dynamic and stunning, too crowded every day and there are too many visuals that at first sight, you get lost and do not know what to see and what to do. Therefore, you will need a guide before visiting.
I tried to classify 'the most important places to visit and the most interesting things to do' for you to make your visit smooth, memorable, and well-organized as much as possible.
Table of Contents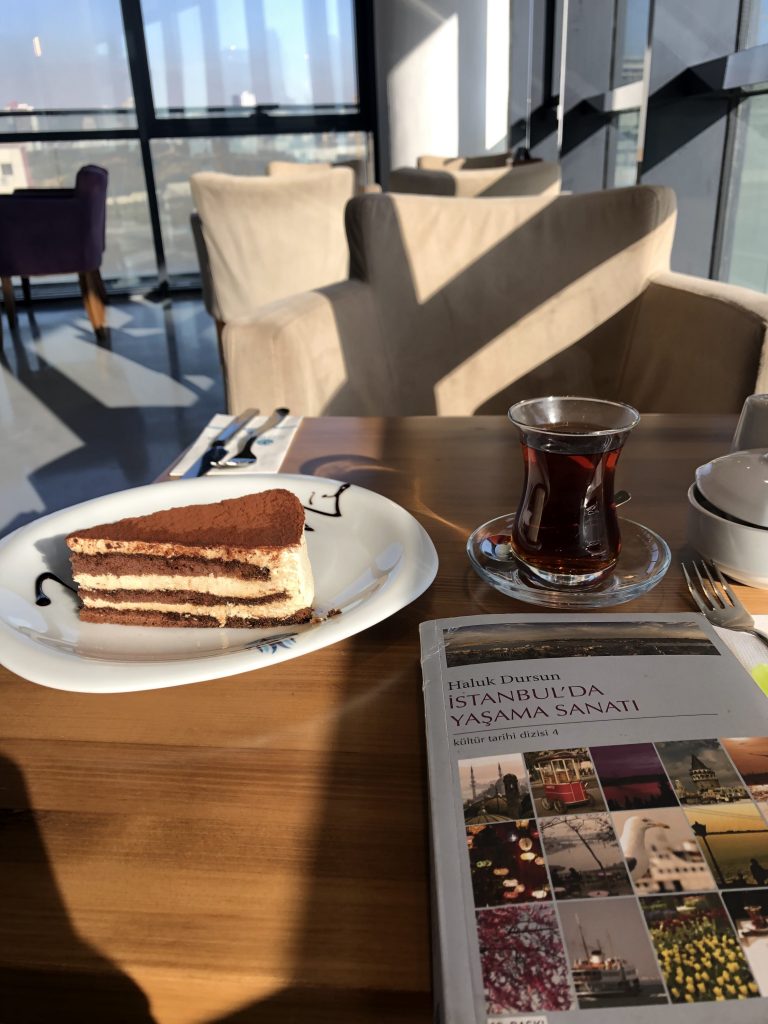 Starting from the Taksim Square toward Istiklal Avenue until Galata Tower, there are hundreds of cafes, brasseries, restaurants, fast food restaurants, casual dining and cuisines of different countries. I will classify the best places for breakfast and dinner separately and will group coffee shops where you can enjoy your coffee.
Some restaurants have gained popularity with their best breakfast that you cannot even find a place in the mornings. Especially, on Saturdays and Sundays, I would recommend reserving a table a day before. Similarly, some restaurants are famous for their lunch and dinner menu. So let's discover the best places for each.
Coffee Shops
1. Coffeeshop Company Pera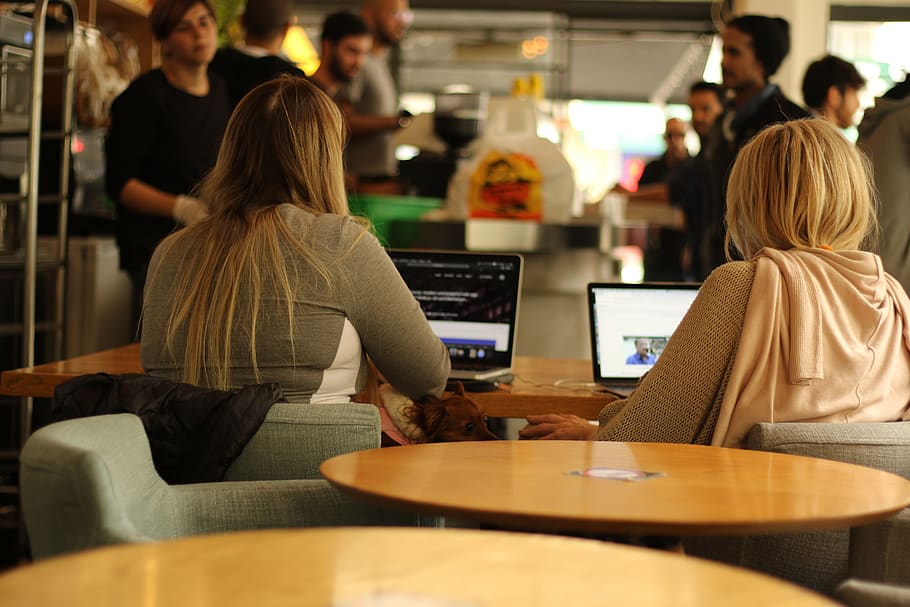 If you wish to taste a little bit Viana coffee culture, then you are at the spot. With its 400 branches in 30 countries, Coffeeshop Company has got one of the most advanced coffee machines and professional staff and its location is a little bit in the middle of Istiklal Avenue so if you want to have a break, it is a perfect café.
Address: Hüseyinağa Mahallesi İstiklal Caddesi Grandpera Avm
2. EspressoLab Taksim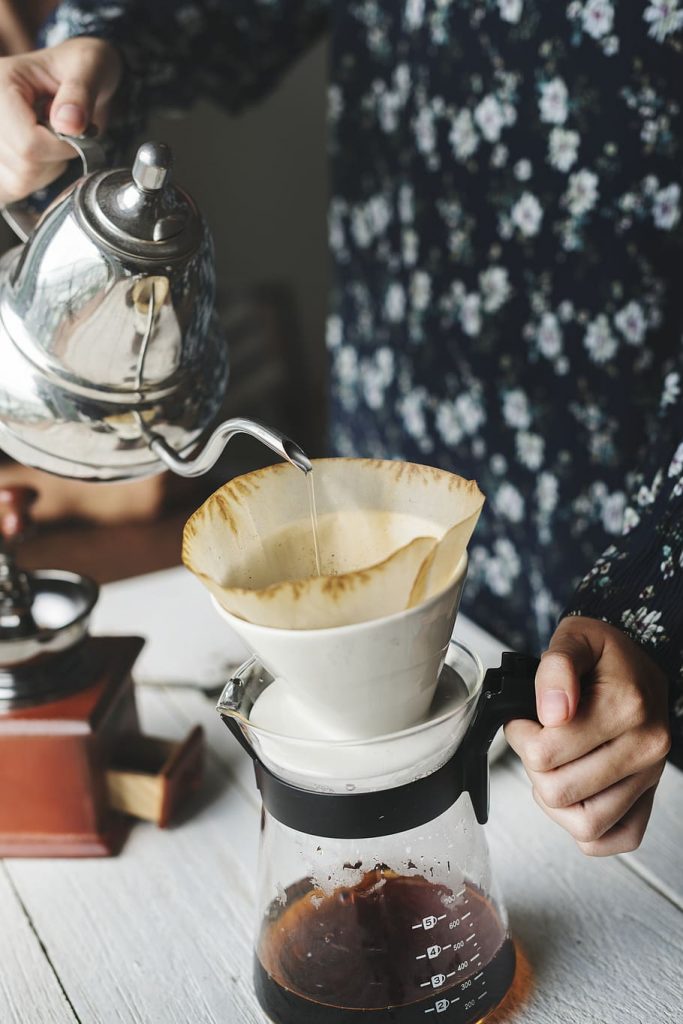 With its interesting trend 'Last Generation Coffee' EspressoLab that aims the existence of qualified coffee, EspressoLab serves good quality of the coffee. As a company, it takes the steps for sustainable and continuing coffee production for the next generations. For its quality and mission and vision, I think EspressoLab deserves a visit in its Istiklal branch.

Address: Katip Çelebi Mah, İstiklal Cd. No:15
3. Caribou Coffee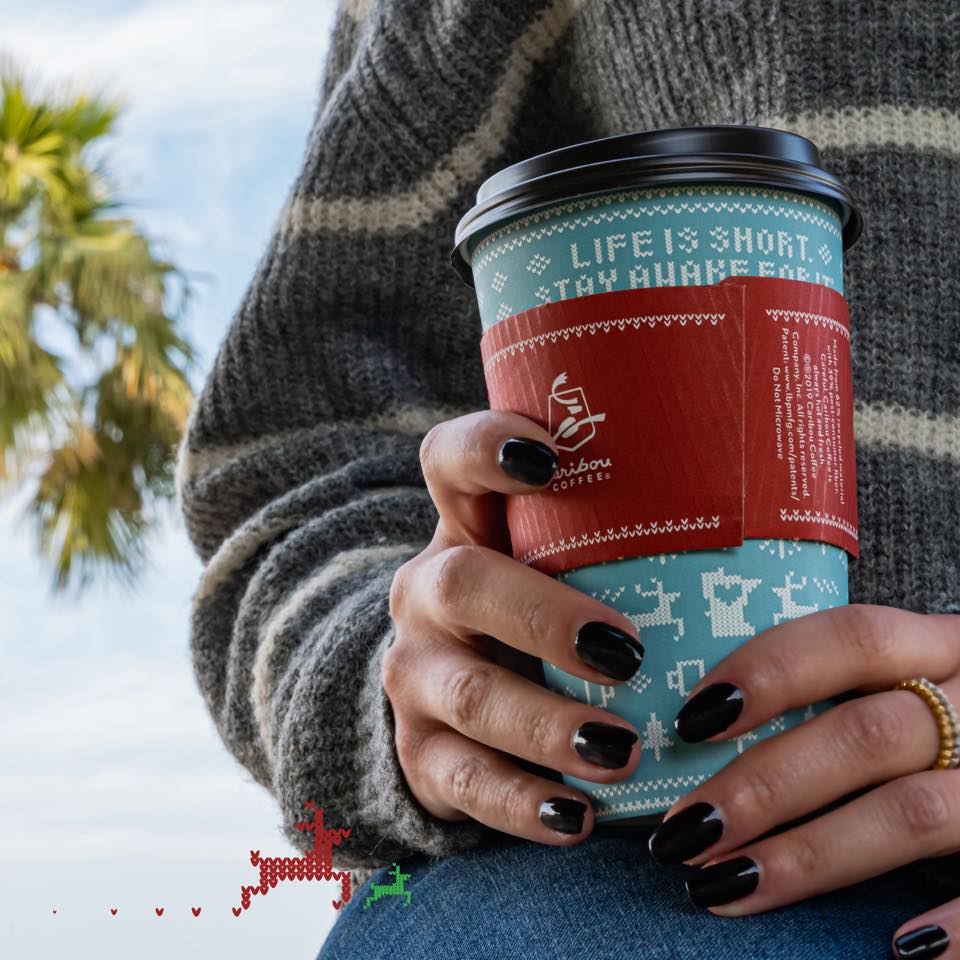 Caribou Coffee is the second largest coffee shop chain in the USA, and in Istanbul, you can find a branch inside Demiroren AVM with a sweet corner to have a break. It also serves delicious sweets and desserts, and I like its accessories and thermoses for gifts.

Address: Hüseyinağa, Demirören AVM, İstiklal Caddesi
4. Lavazza Best Coffee Shop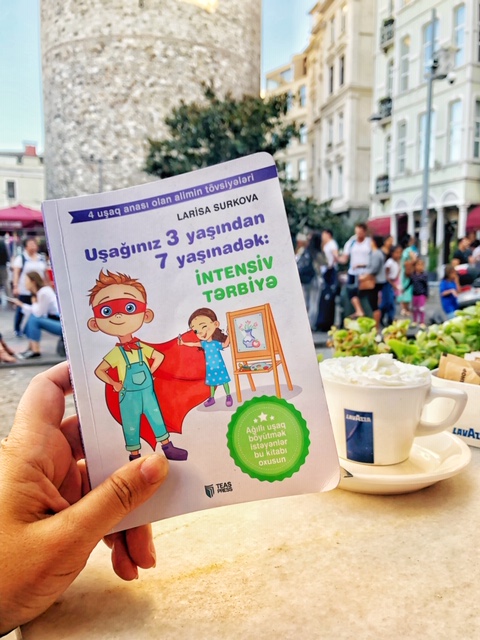 After a long walking from Taksim Square to Galata Tower, you will definitely need coffee and the best one with an amazing Galata Tower view just in front of it is Lavazza Coffee Shop. Its balcony and windows see Galata Tower, and its coffee quality is not debatable.

Address: Şahkulu, Büyük Hendek Cd. 2/A
5. Viyana Kahvesi (Viana Coffee)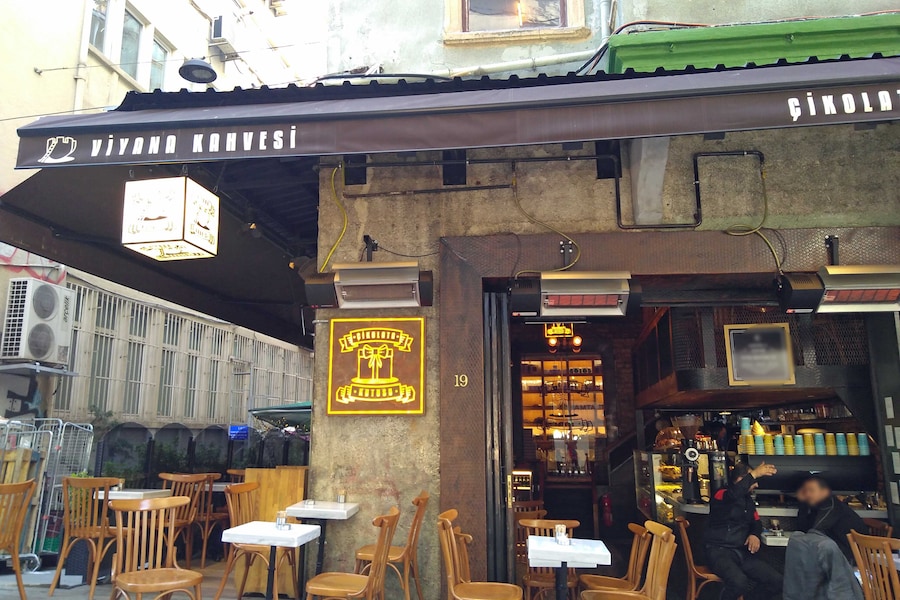 Viyana Kahvesi is the most trending coffee shop with its incredibly delicious and unusual chocolate desserts in Istanbul, right now. Every time, you will see a very long queue in front of it. I have seen two branches of it, one is in Istiklal Avenue and the other near Galata Tower.

The one in Istiklal is located inside Narmanli Inn (Han), which I mentioned above that there is a Starbucks branch as well. They are neighbors in the Han with a great fountain between them. It can be difficult to make a selection between them, but I would say if you want some dessert with your coffee, definitely you should choose Viyana Kahvesi.

Address: İstiklal Caddesi, 180A

The second one is very near Galata Tower with a great view of it. Usually, there is a long queue, if you want to avoid it, I suggest to go to the other branch in Narmanli Han, because many people have not discovered that branch yet.

Address: Bereketzade, 34421 Beyoğlu
6. Türk Alman Kitabevi Kafe- Turkish German Bookshop Coffee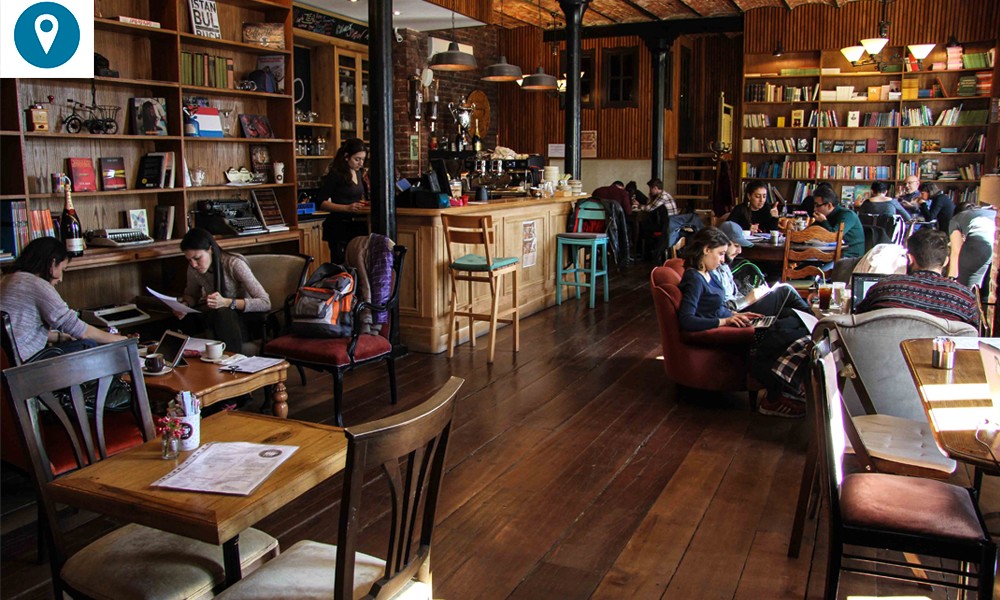 It is a relatively calmer and peaceful coffee shop than other crowded spots. You can bring your computer and work here, and have some alcohol, as well.

Address: Şahkulu Mahallesi İstiklal Caddesi No:237
7. Hafiz Mustafa 1864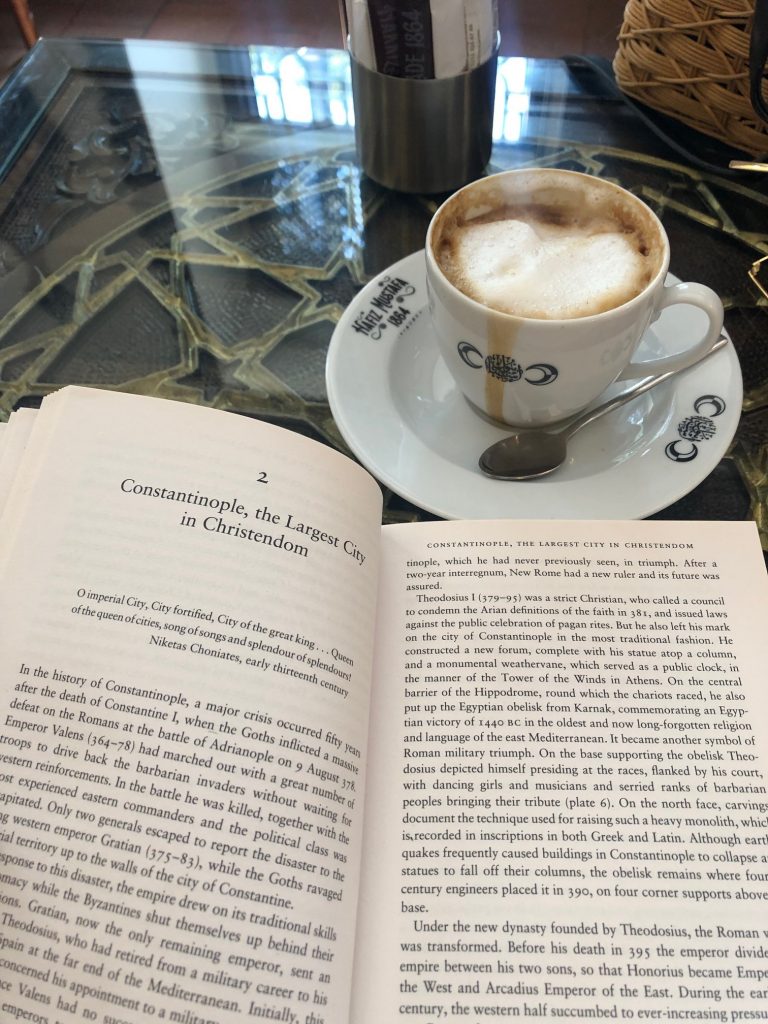 It is mostly famous for its delicious desserts. I would recommend to choose one of the desserts and try them with Turkish tea, not coffee. You can also buy some desserts such as baklava or lokum to take your home country. It is considered to be one of the best local café brands and is usually full of tourists.
The second branch is located in Sultanahmet, in a historical Cevri Kalfa Primary School building which is today Literature Foundation. There is a small book shop on the foundation, where you can pick up a book and sit in this café with a Sultanahmet view.

Address: Istiklal Caddesi 4-6
8.Starbucks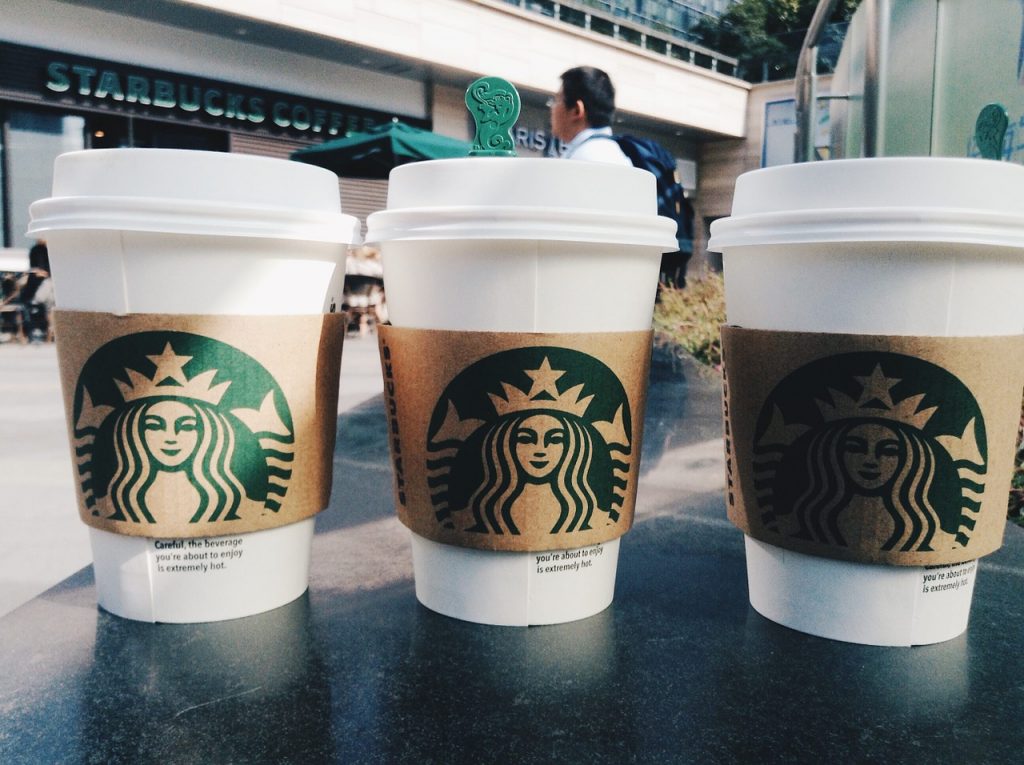 When you get out from Taksim Metro, just in front of Taksim Square, you will see Starbucks on the opposite road. You can get your take away coffee from there and start your tour. Starbucks has a new mobile application in Turkey with some attractive campaigns. If you download the app, your first coffee will be free.
Address: Gümüşsuyu Mahallesi, Taki Zafer Caddesi 3, Taksim Meydan

The next Starbucks destination is inside Istiklal Avenue where you can have a stop and take a breath. It is in:
Address: Istiklal Caddesi, 18

Third and the most exquisite Starbucks branch is in a historical Narmanli Inn which is almost 200 years old. Many famous writers and artists such as Aliye Berger, Osman Hamdi Tanpinar and Bedri Rahmi Eyuboglu have lived there and after a recent renovation, Starbucks opened its branch inside it. There are still some objections from the public about it. Narmanli Han is in 50-60 meters from Şişhane metro station in İstiklal.
Address: İstiklal Caddesi, 180A
Restaurants in Istiklal Street
Choosing the best restaurants in Taksim is a challenging task due to the abundance of options. Taksim alone boasts 620 restaurants, while in its vicinity there are over 30,000 restaurants and cafes. Nevertheless, I will endeavor to select the finest establishments catering to various preferences.
1. Kitchenette Restaurant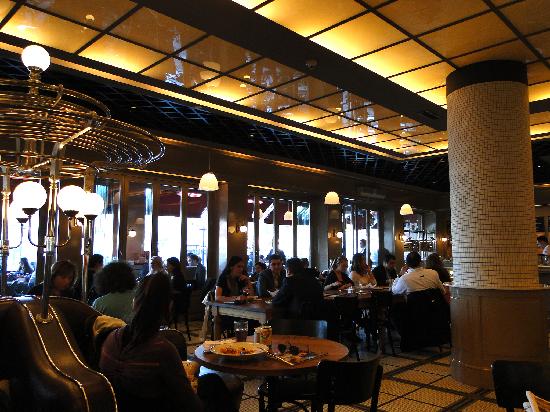 Kitchenette has a good menu for lunch and coffee. It is just next to Starbucks and you can enjoy your coffee and lunch at the tables outside with a view to Taksim Monument. You can check the menu and prices from their website below.

Address: Gümüşsuyu, Tak-ı Zafer Caddesi 3, Taksim Meydan
2. Ficcin Restaurant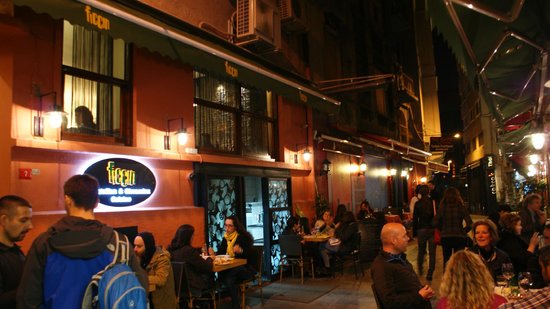 It is famous for Circassian dishes on its menu, but you can find a range of other Turkish meals, as well. This restaurant is better for dinner if you want to taste some Turkish raki or wine or beer. Manti and all kinds of starters are fresh and the most recommended ones in the menu.

Address: Istiklal Caddesi, Kallavi St, 13/1
3. Patatos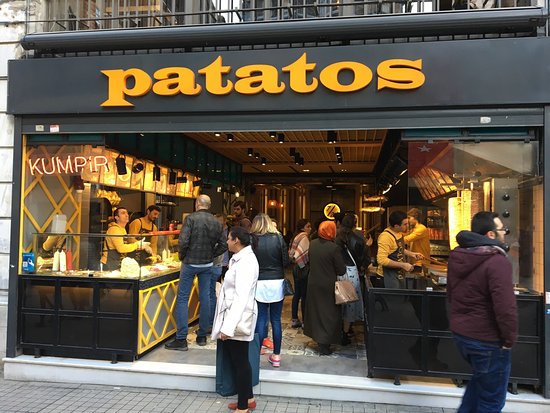 It is famous with kumpir. I recommend to taste it at least once during your stay. Kumpir is more a casual food type or fast food type, so you can think of it as your lunch. It is very easy to find just in the main walking district.

Address: Istiklal Caddesi, 185A
4. Parole Restaurant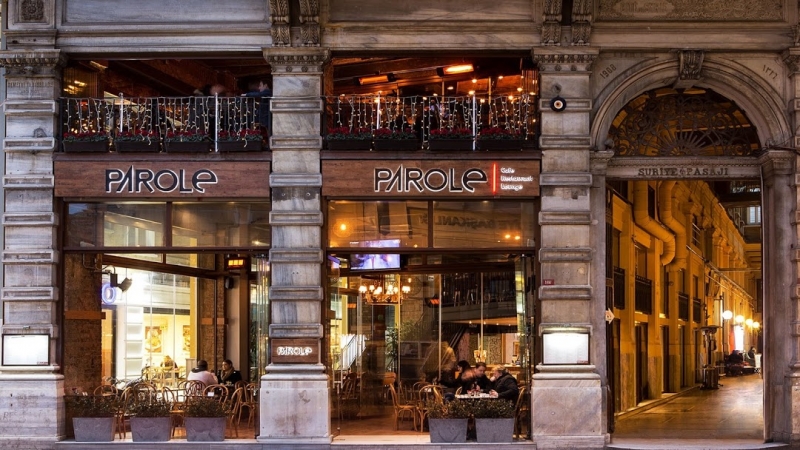 Parole is one of the good quality restaurants and very close to Galata Tower. You can enjoy your dinner in an elegantly decorated place with reasonable prices. It is very clean, peaceful and the portions of the meals are good enough. You can have a range of vegetarian meals on the menu.

Address: Istiklal Caddesi, 166C
5. Guney Restaurant 1964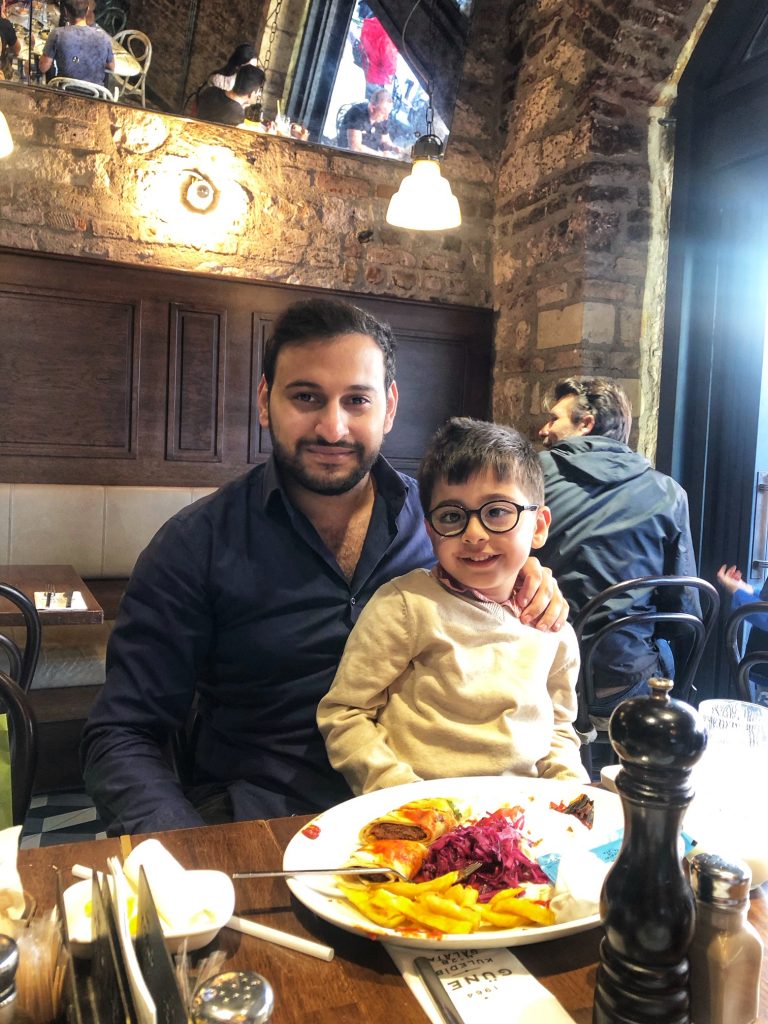 This spot is my favorite because of its delicious meals and location. As Lavazza Coffeeshop, Guney Restaurant also sees Galata Tower with a 20-30 meters distance. The portions of the meals are so big that we could not finish and the prices are average. Usually, there are people in the queue who want to sit outside with Galata Tower view, but the interior decoration of the restaurant is also good. If the weather is good and you find a table, definitely sit outside.

Address: Şahkapısı Street, 2B
6. Dilek Café and Restaurants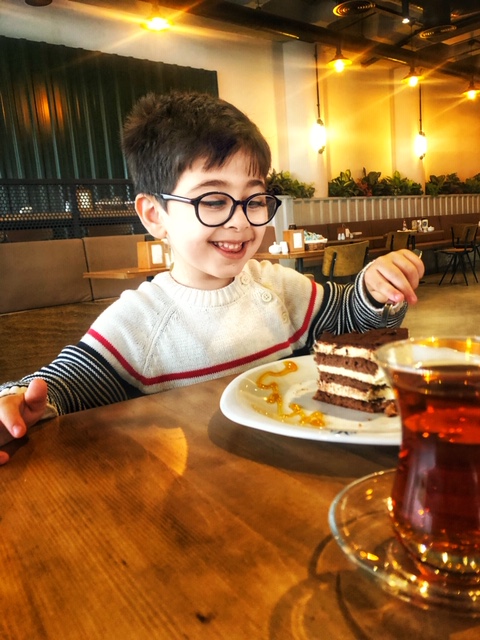 Dilek is famous as a cake house with a large selection of desserts and cakes, but I would recommend trying its food, as well. I have eaten some chicken meals, pizzas, and salads. They are all tasty and the prices are reasonable. It is located in the main walking district, very easy to find just next to Saint Antoine Church.

Address: İstiklal Caddesi, 179
7. Ada Istiklal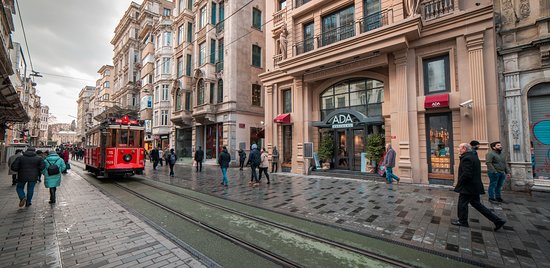 It is like an 'island' inside Istiklal. The interior of it is very quiet and peaceful. The menu is very rich that you can have both lunch or dinner, or coffee with delicious deserts. Half of the restaurant is full of books – antique and modern which gives the restaurant a different air. Their pizzas, burgers, salads, and desserts are most recommended. You should definitely visit it even if you want just some refreshments.

Address: İstiklal Caddesi, 158
8. Otantik Anadolu Yemekleri (Authentic Anatolian Food)
You can visit this place for Turkish style crepes, manti (dough with meat) and some starters. Ali Nazik traditional meal of Anatolia is strongly recommended. The restaurant is clean and relatively cheaper. It is very central to Istiklal Avenue.

Address: Istiklal Caddesi 80A
9. 360 Istanbul Restaurant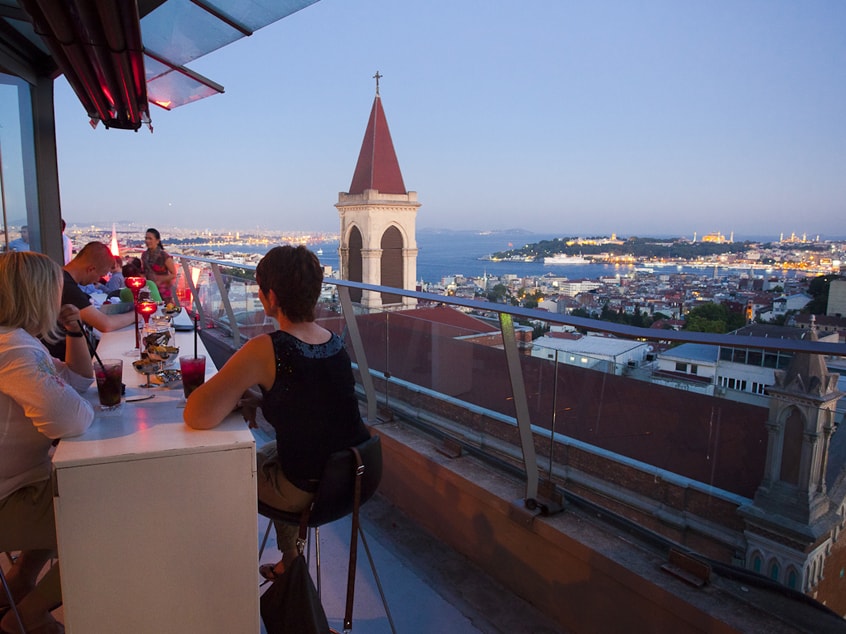 This restaurant is very famous for its terrace view of the Bosporus. Their meals and wine are also good quality, especially, dumplings, dolma, and kebab. You can enjoy Italian and Turkish wine, as well.

Address: Istiklal Caddesi 163A
10. Divan Brasserie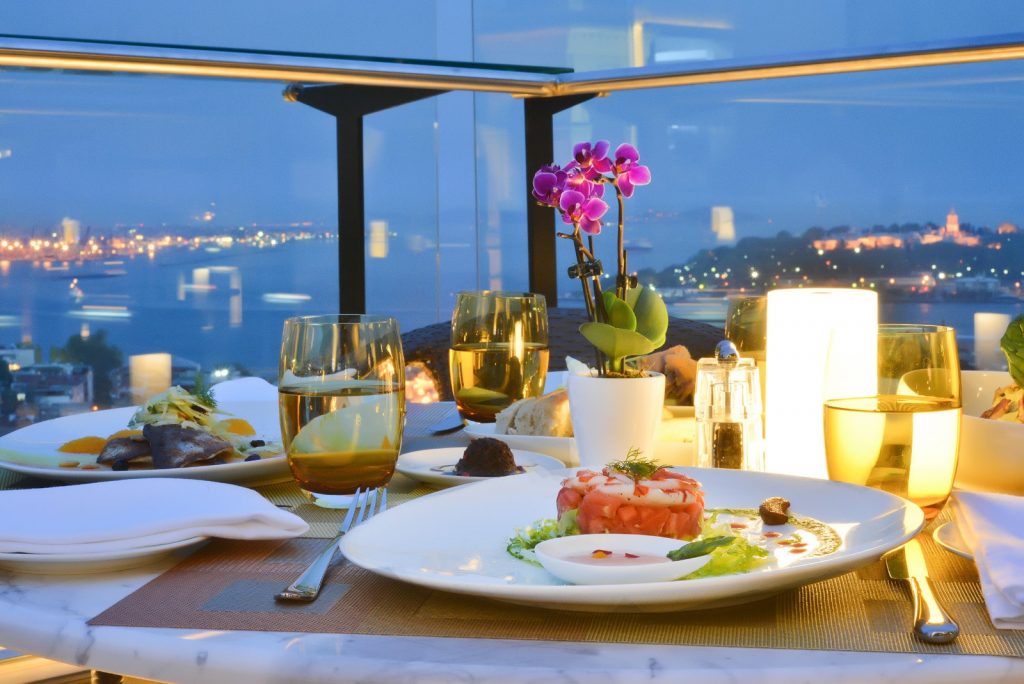 With a large group of restaurants, cafes, and hotels, Divan Brasserie is a famous Turkish Brand. Their branch in Istiklal is located on the top of Merkezhan with a great panoramic view, in which Koc University's ANAMED (Anatolian Studies Research Center) is also housing there. They usually have interesting exhibitions on their first floor for free. You can have a walk in the exhibition and later on the upstairs enjoy your dinner and night view of Beyoglu.

Address: Istiklal Caddesi 181K
The Best Places for Breakfast
Turkish breakfast is like a special occasion for Turkish people, and this culture is reflected in many restaurants. It has become a feast and one of the most beautiful traditions. I would say, don't leave Istanbul without having one of those famous Turkish breakfasts in a nice restaurant.
1. Van Kahvaltı Evi (Van Breakfast House)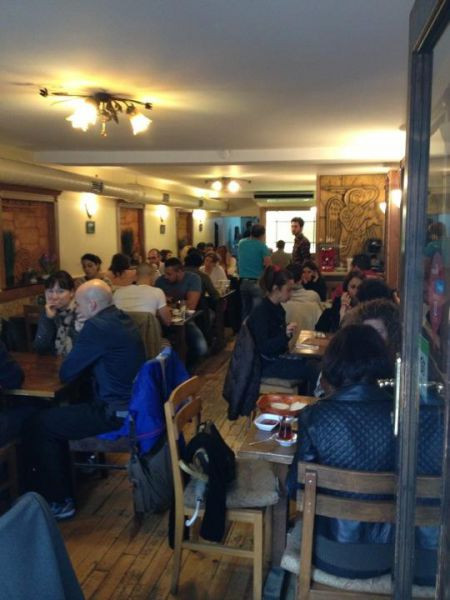 This café is famous for serving one of the best breakfasts in Beyoglu/Taksim. Their menemen (tomato and egg) and honey and cream are very delicious.

Address: Kılıçali Paşa, Defterdar Ykş. 52/A
2. Yigit Sofram Gözleme ve Kahvaltı (Turkish Crepe and Breakfast House)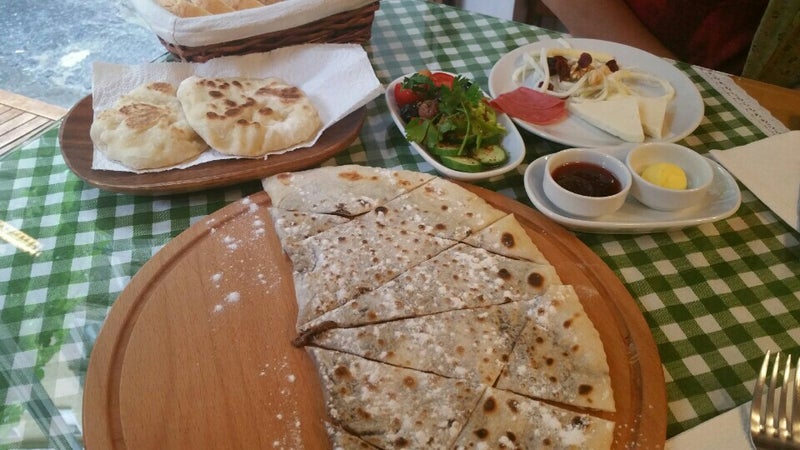 As it is clear from its name, their Turkish style crepes and breakfast is delicious. You can especially taste egg with sausage, menemen and breakfast packages. There are some sweet souvenirs that you can buy as a memory.

Address: Turnacibasi Caddesi 44B, Istiklal
3. Saray Muhallebisici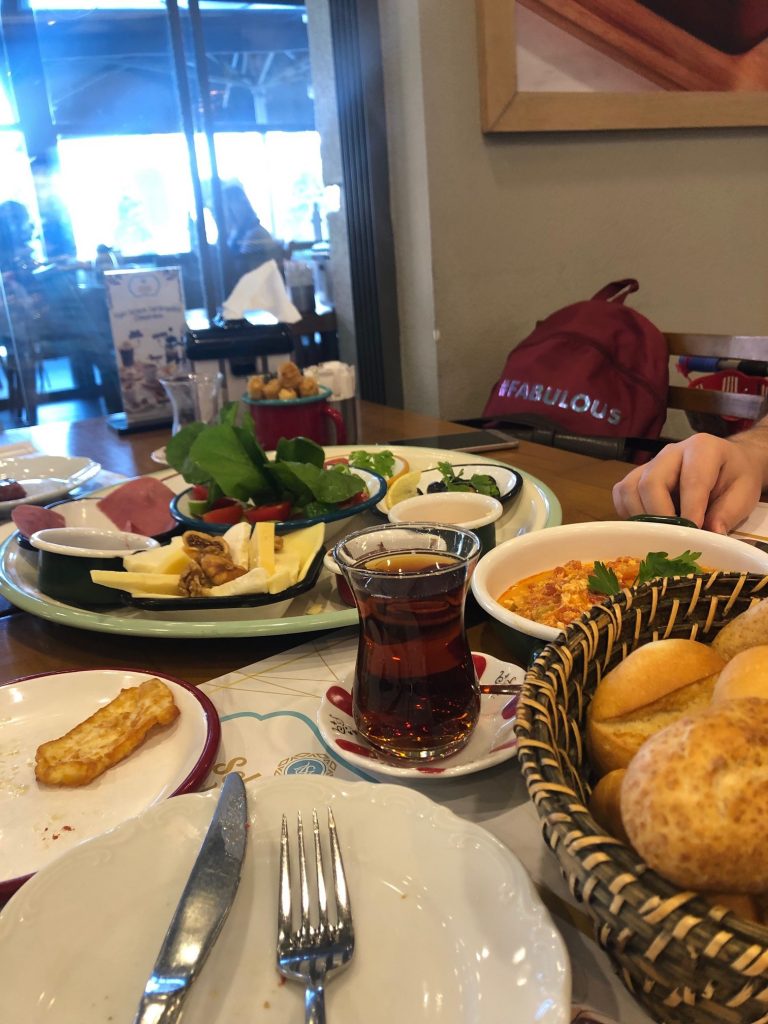 Saray Muhallebicisi is a Turkish brand with lots of branches in Turkey and offers a lot of special desserts, meals and of course best breakfast in Istiklal. If you have not tasted 'Mihlama', I would particularly recommend to taste it along with 'kol böreği' and 'su böreği'.

For dessert, their muhallebis and baklavas are delicious and freshly baked every day.

Address: Istiklal Caddesi, 107
4. Mado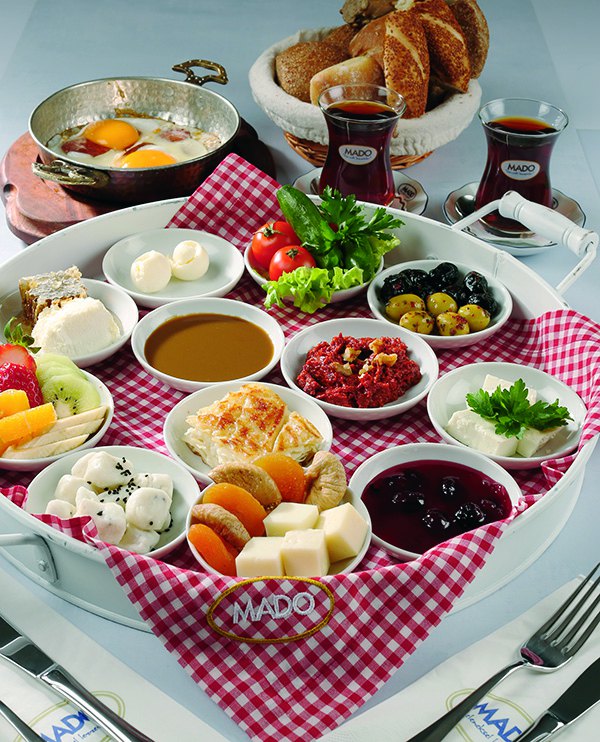 Mado is also a Turkish brand with a range of branches all over Turkey and abroad. It is usually famous for Maraş ice cream, but its breakfast is also rich, delicious and satisfying at a reasonable price. In the Istiklal branch, if the weather allows, I recommend to have your breakfast in the terrace and taste their böreks.

Address: Istiklal Caddesi, 38
5. Canteen Breakfast & Bistro
With its kind and professional staff, a good range of breakfast variety and offering breakfast all day long make this café an amazing experience to have breakfast at any time of the day. Some restaurants offer breakfast from 9.00 to 12.00 -13.00, but here you can order your breakfast at any time. It is worth to try.

Address: Başağa çeşmesi 1A, İstiklal Caddesi
Night Life in Istiklal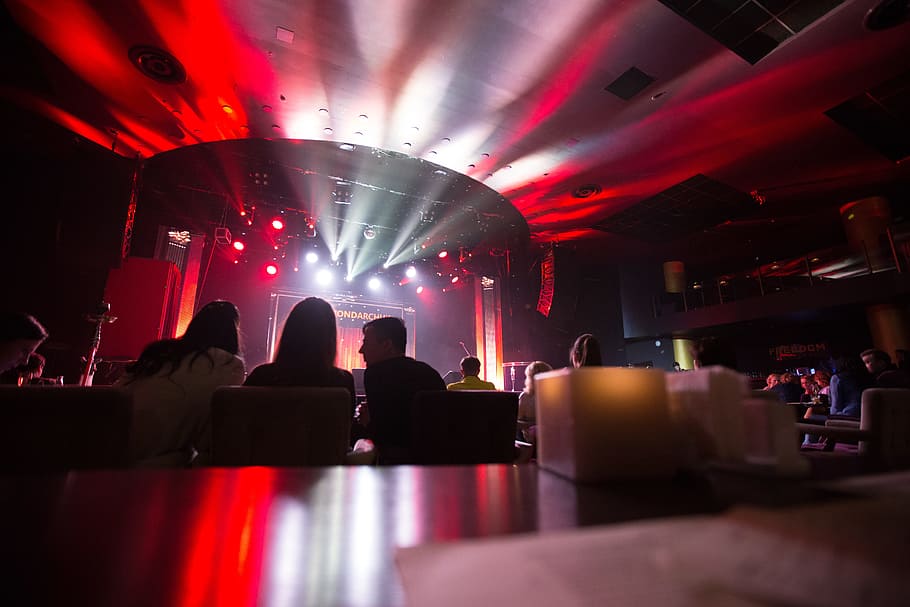 1. Club Lupe
Club Lupe is one of the most popular places in Istiklal for nightlife. Its cocktails are delicious and DJs perform until 4 a.m.

Address: Şehit Muhtar 65, İstiklal Caddesi
2. Beat Club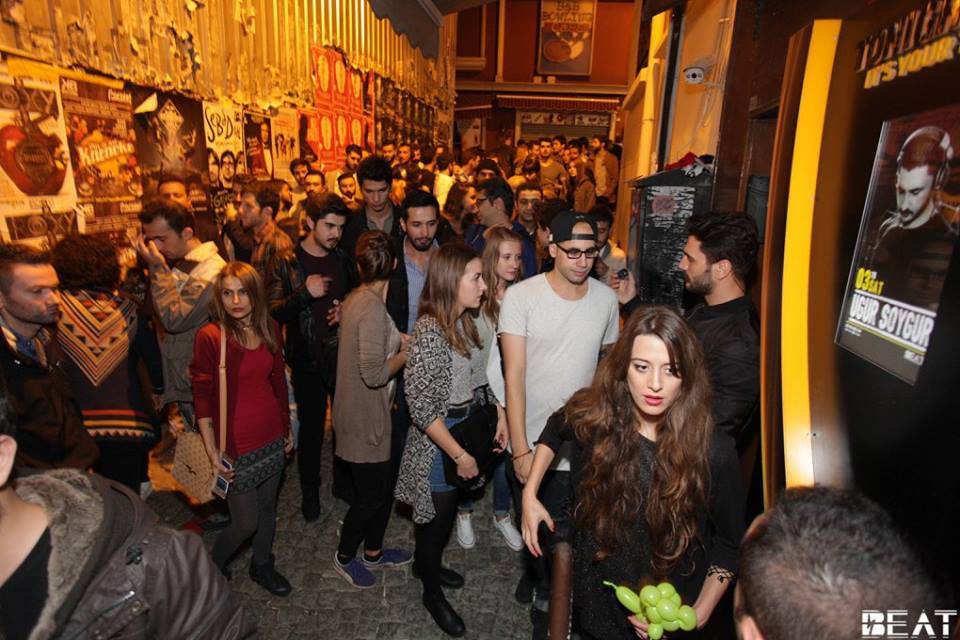 The entrance fee at weekends is 30TL (5$) and is free during the weekdays. They have a special area for smoking, wi-fi, good music, and drinks. They are open from 22.00 to 06.00.

Address: Yesilcam Street 9A, Istiklal Caddesi
3. Club IQ Taksim
If you want to hear some good music, then it is the club to go to. They are opening the club at 21.00 and open until 05.00 in the morning. Prices are average.

Address: Bahçeli Hamam Street, 3, Beyoğlu
4. Vernon Club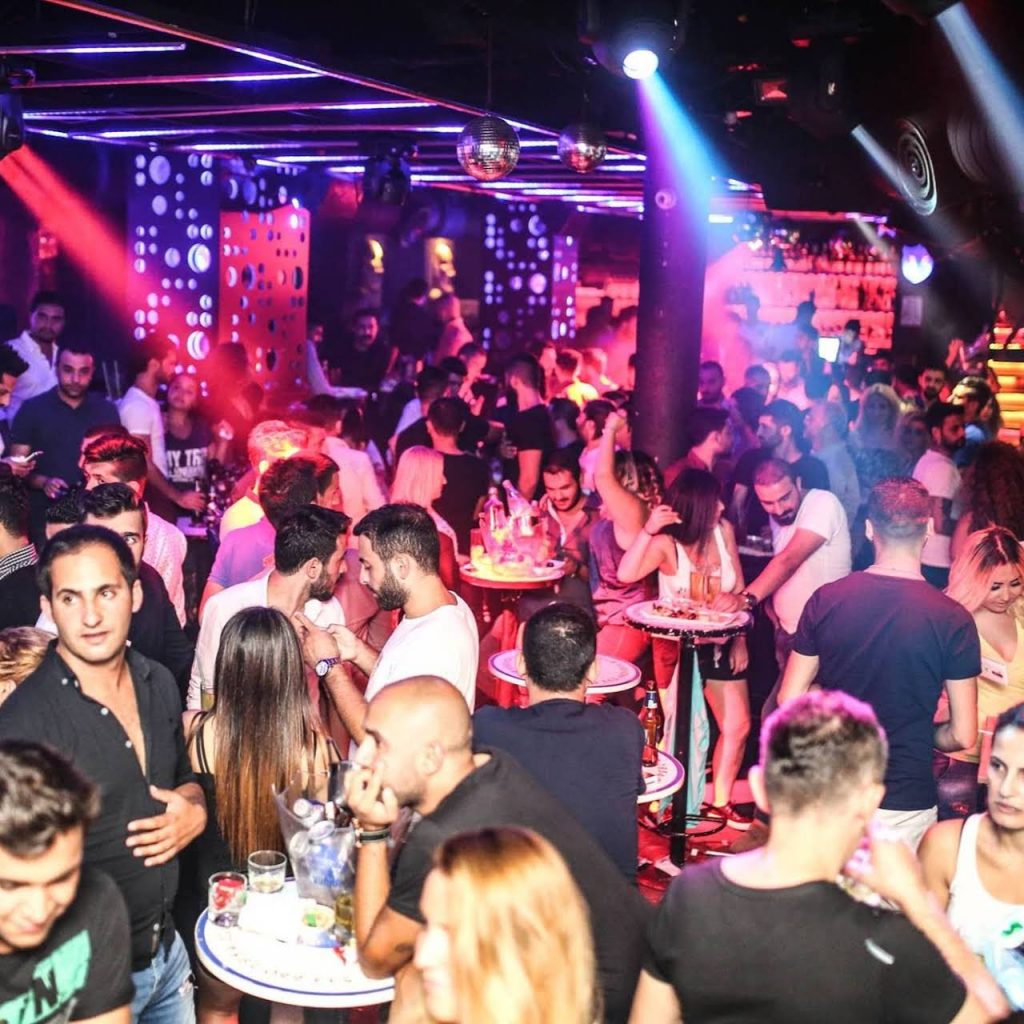 Good quality of music, dance, DJ, drinks, and entertainment until 8.00 am. İt is a safe place to go with your friends.

Address: İstiklal Caddesi Büyükparmakkapı Street No:22/A
5. Ritim Club
They have Latin, Arabic, and Turkish rhytmic dances and open-air dances. İt is a little bit small place, therefore it can seem too crowded but their surprise treats and drinks are worth to spend some time. This club is also famous for its parties. It is open from 10.00 p.m. until 5 a.m.

Address: Hüseyinağa, Sahne Street. No:20, 34435 Beyoğlu
Things to See in Taksim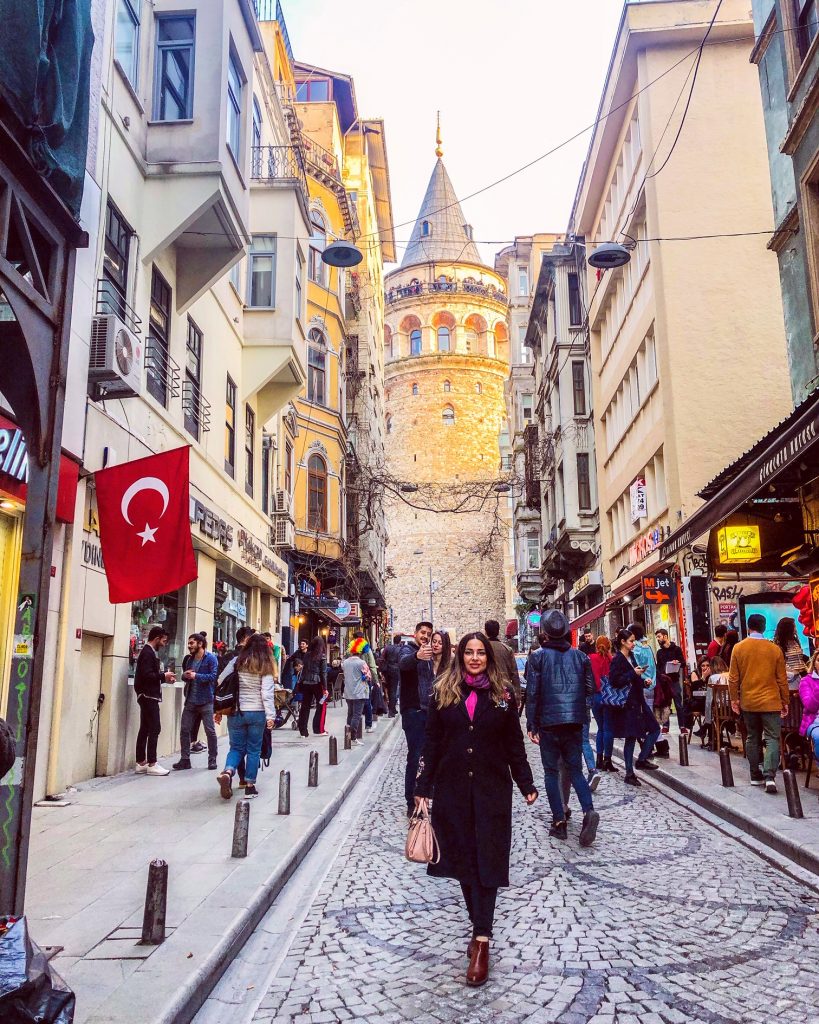 1.Galata Tower
Galata Tower – the eye of Istanbul is located at the end of Istiklal Avenue near Şişhane metro station. It is not exactly known when it has been built but is guessed to be in 500 BC. It is about 69 meters high and you can have the best Istanbul panoramic view from the top balcony. There is an elevator inside, but you will have to wait a little bit or you can walk up the stairs inside.
Romans, Venetians, Genevans and Ottoman Turks have used the tower for different purposes. Until the conquer of Istanbul by Fatih Sultan Mehmet, there was a big cross on top of the tower, after 1453 it has been taken down. During the period of Sultan Suleyman (1520-1566), the tower became a prison. In the late 1500s, an observatory was established to observe the stars. In 1700, it was used as a fire tower but ironically, the tower itself burnt down by the fire.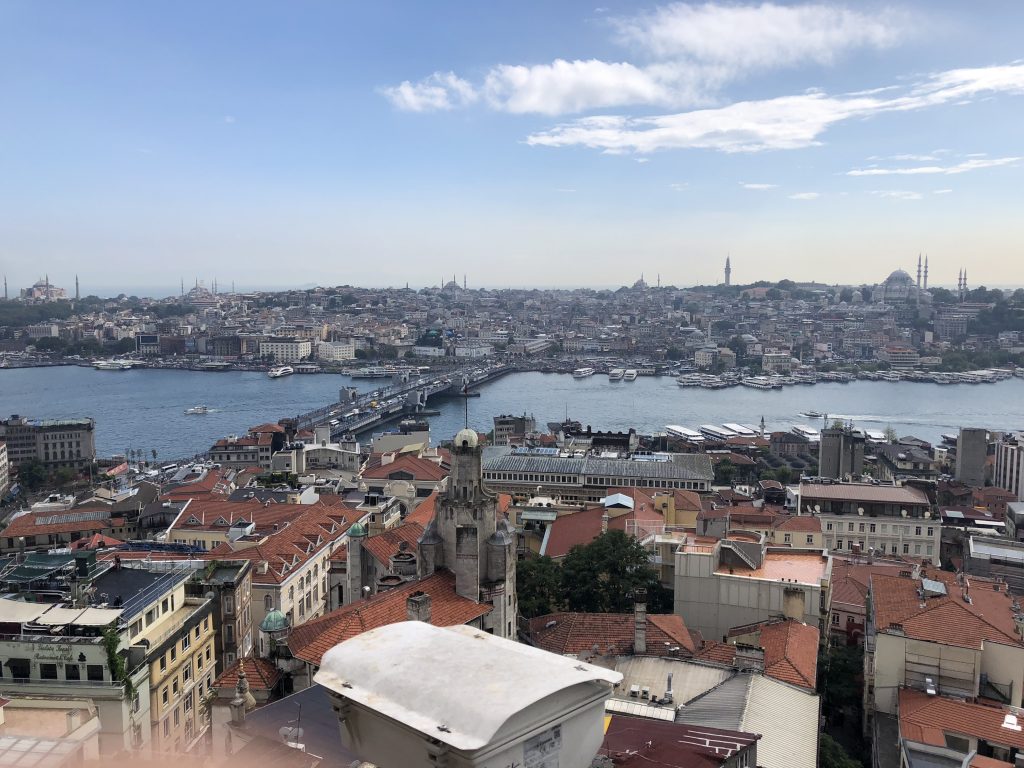 In the early Republic Era, the tower was renovated for the last time and today it is a museum. The ticket price is 35TL (7$) and there is usually a long queue in front of it. Museum Pass Card is not valid here.
2. Historical Tramway
The nostalgic red tramway has been opened in 1871 and attracts a lot of tourists today. It rides from Taksim Square to Galata Tower – the end of Istiklal Avenue. You can get on the tram at the stops every 20 minutes and can use your Istanbul Transport Card which costs less than 1$. But be careful from pickpockets, as the tram is small and full of people.
I usually walk the Istiklal from Taksim Square and usually is tired of walking at the end of the street. So I take the tram to come back to the square. You can do the same way.
Museums and Culture Centers
1. Madame Tussauds Museum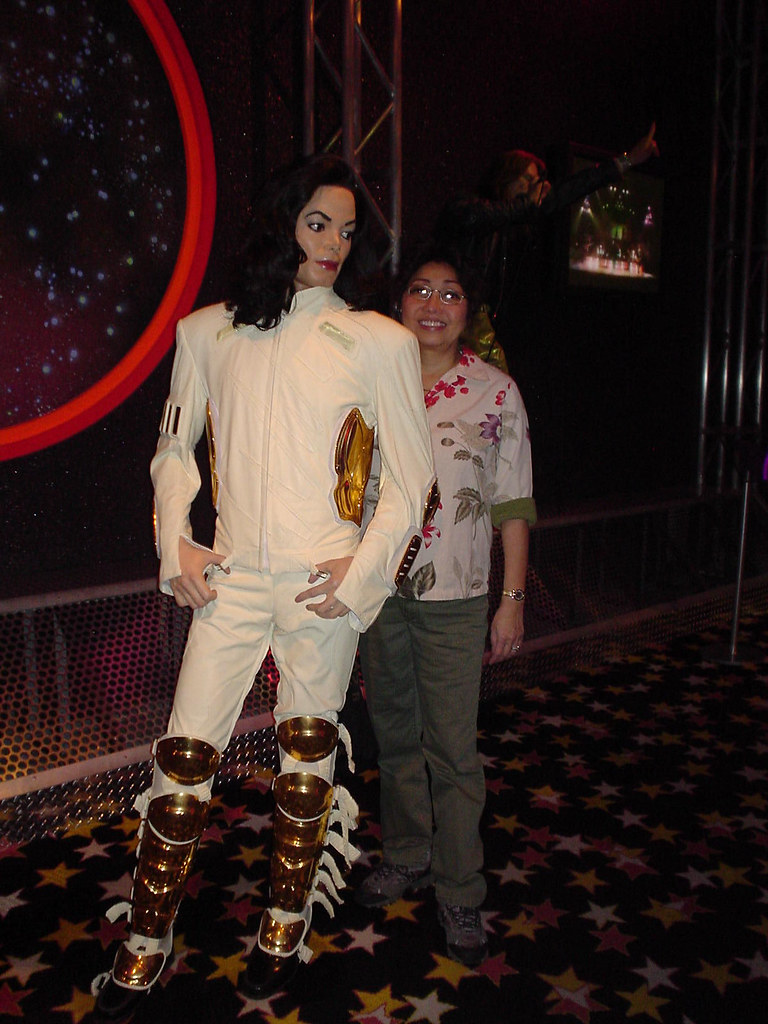 Today there are 21 Madame Tussauds museums in major cities worldwide, including Beijing, Tokyo, Sydney, Amsterdam, London, and Istanbul. The first Madame Tussauds opened in 1835 and has maintained its popularity ever since. Marie Tussauds, an art tutor from France, created wax models of famous authors, philosophers, and the Royal family. In 1802, she opened her first exhibition in London, which catapulted her to fame.
At Istanbul's Madame Tussauds Museum, you will experience the vibrant Turkish history through its esteemed leaders, architects, and politicians. The museum features statues of Mustafa Kemal Ataturk, Mimar Sinan, Tansu Ciller, and Fatih Sultan Mehmet. Additionally, a separate section showcases renowned Hollywood stars like Johnny Depp, Julia Roberts, Brad Pitt, alongside celebrated Turkish film stars.
https://www.madametussauds.com/istanbul/en/tickets/
Address: Hüseyinağa, Grand Pera, İstiklal Cd. no: 56/58
2. Pera Museum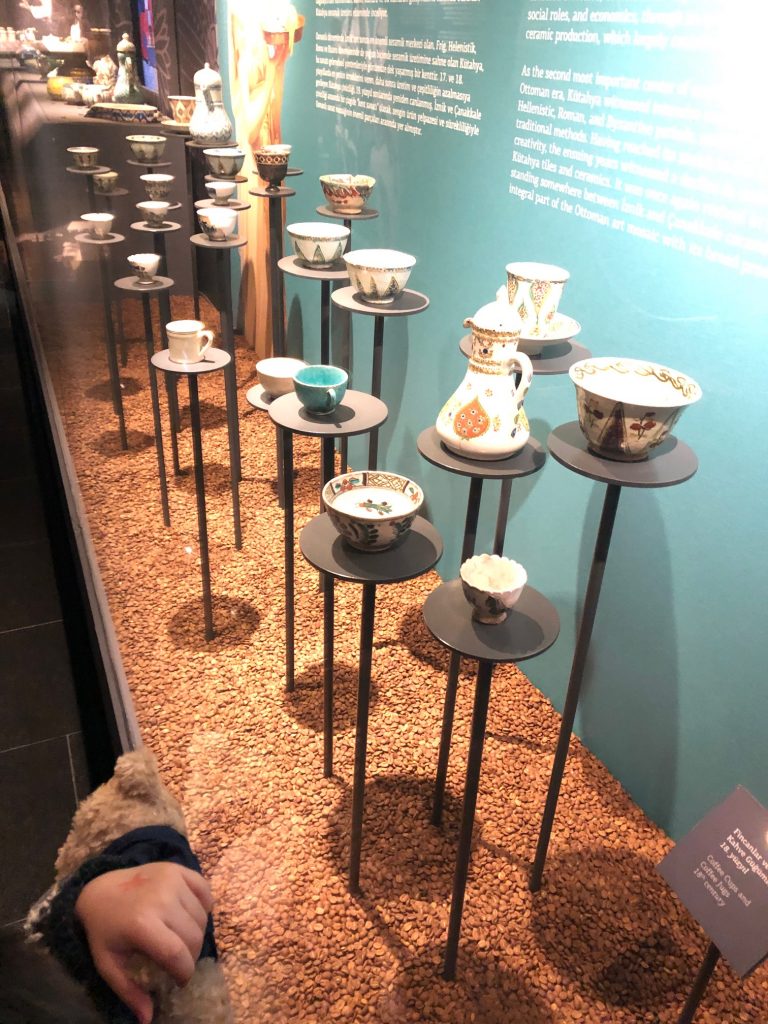 Inside this historic building, you will find both permanent and temporary exhibitions. These include "Intersecting Worlds," which showcases the renowned Ottoman painter Osman Hamdi Bey's painting collection. "Coffee Break" allows you to explore the history of coffee culture in the Ottomans, as well as in the East and the rest of the world. Additionally, "Anatolian Weights and Measures" displays an exquisite collection of ancient to modern scales, weights, and measures. The permanent exhibitions, known as "Past Collection Exhibitions," are particularly fascinating.
There are collections that you can see: "Orientalist Painting Collection", "Anatolian Weights and Measures Collection", "Kutahya Tiles and Ceramics Collection" and "Photography Collection".
In addition to exhibitions and collections, the museum also offers events and activities for both children and adults. Occasionally, concerts are held in Pera Café. This café provides a cozy atmosphere where you can enjoy affordable meals, dinner, or coffee after your museum visit. For updates on cultural activities, you can visit their website at https://www.peramuseum.org/Activity.

Address: Asmalı Mescit, Meşrutiyet Cd. No:65, Beyoglu
3. Museum of Illusions Istanbul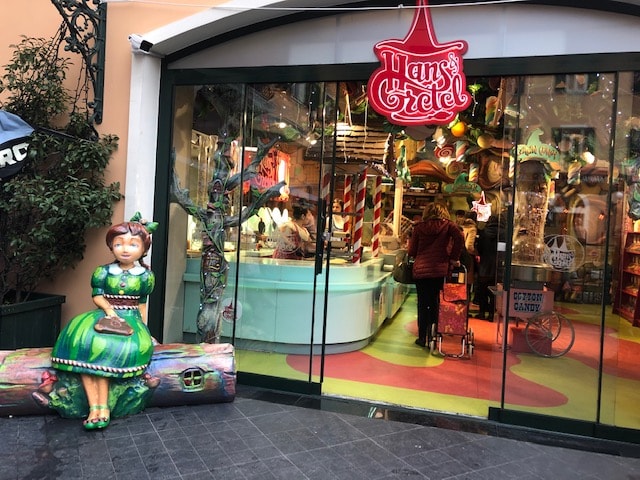 I mentioned above about Narmanli Inn (Han) in Istiklal Avenue in which you can find Starbucks and Vyana Kahvesi branches. In the same building, one part of it is the Museum of Illusions. When you enter the courtyard of the Inn, you will see it on your left side. On your right side, there is a food court.
The museum is a unique experience for all age groups, both for children and adults. There is "Smart Play Room" for children where your kids can discover many new things, Rotated Room, The Vortex Tunnel, Infinity Room, Ames Room, Tricky Stick, Clone Table, Stereogram and many other illusion exhibitions will be one of the best memories you will have in Istanbul. Taking photos will be a side fun of this adventure.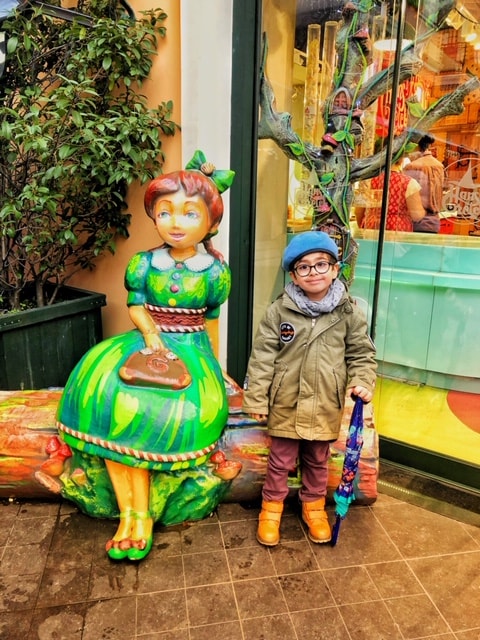 Do not forget to visit the fairytale Hansel Gretel sweet shop which is next to the museum.
Tickets are 32TL (6$) for adults, 22TL (5$) for children (5-18 years old) and 22TL (5$) for students. The museum is open every day of the week from 10.00 to 22.00.
There are events and activities during the month at different times. You can follow them on their website and to avoid the queue, you can purchase your ticket online.

Address: Narmanlı, İstiklal Cd. No:180, 34421 Han/İstanbul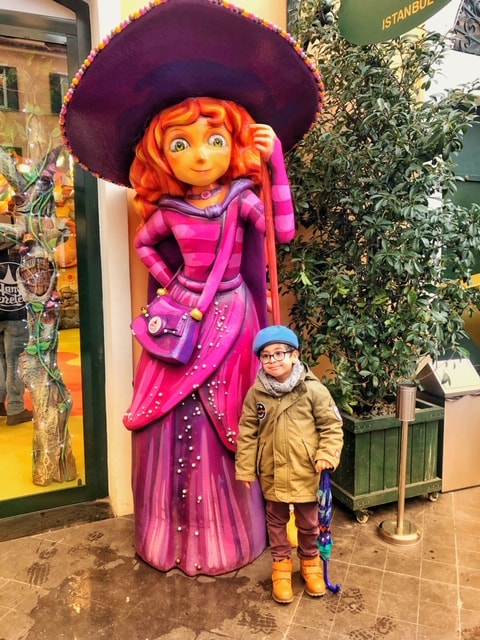 4. SALT Beyoglu
SALT with its several branches in Istanbul and Ankara holds many important exhibitions, organizations, workshops, lectures, publications, seminars and researches. It is one of my favorite spots in Istanbul with its interior peaceful decoration for researchers, intellectuals, students and artists. I gave information about its bookshop 'Robinson Crusoe' inside SALT.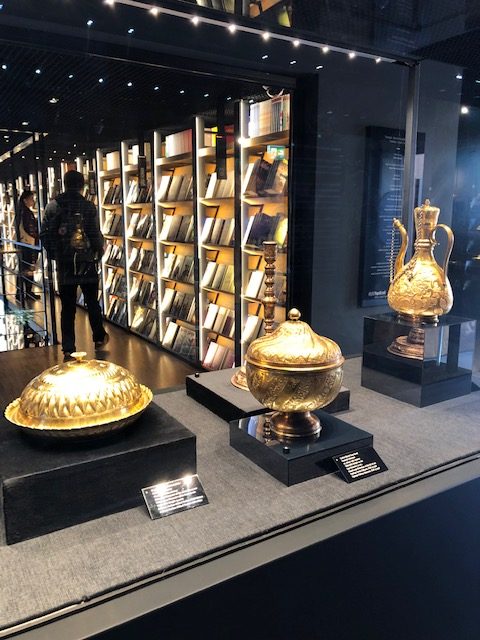 The entrance is free, you can visit the exhibitions whenever you want. But for special events such as seminars, lectures, or some workshops, you better follow their websites. There are three branches in Istanbul, that you can follow the events of the other two if they are closer to you.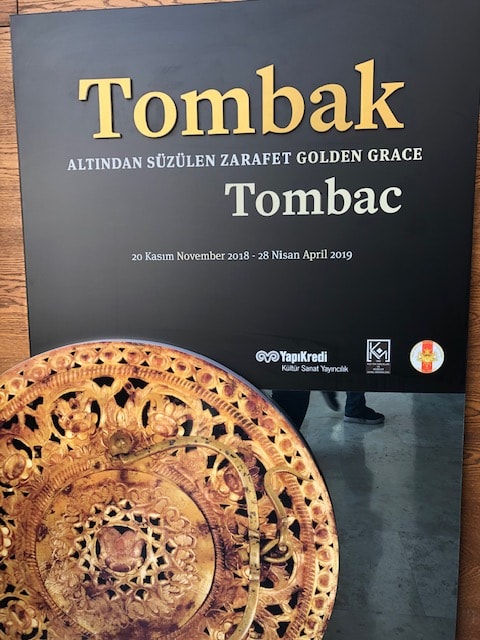 If you are going to stay in Istanbul for a long time, I recommend subscribing to their calendar that the weekly events will be sent to your email. So you do not have to check the website every week.

https://saltonline.org/en/agenda

Address: Asmalı Mescit, İstiklal Cd. No:136
5. Galata Mevlevihanesi Muzesi (Galata Mevlevi Lodge)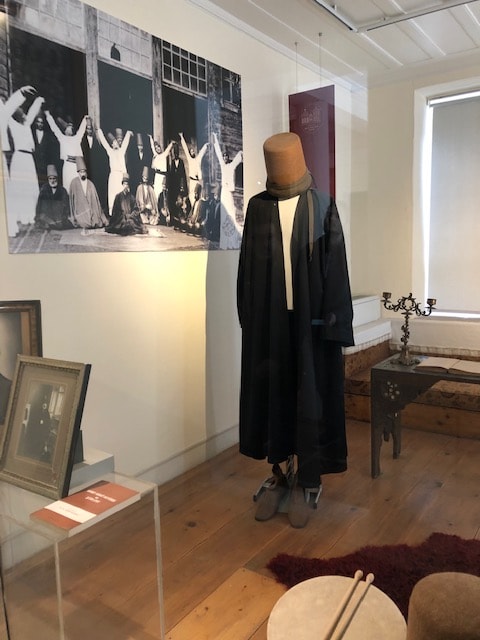 Mevlevi religious order has played an important role in the history of Islam and the Ottoman Empire. It has spread not only in the Ottomans but all over the Islamic World with its leader Mevlana Celaleddin Rumi. One of their main symbols was whirling dervishes and had a lot of lodges in the Ottomans.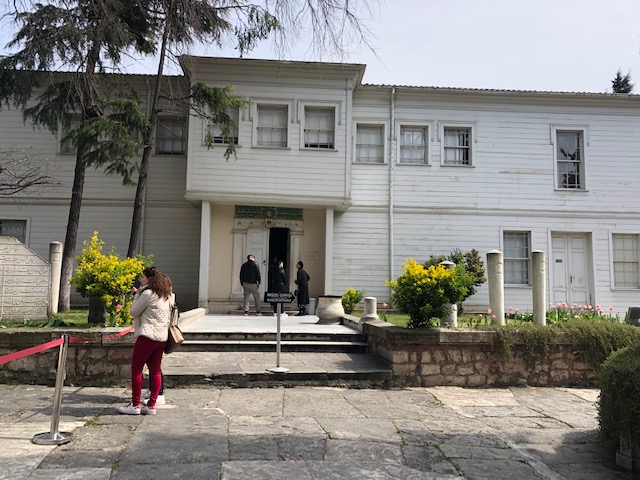 One of them is Galata Mevlevi lodge which is located at the end of Istiklal Avenue. It was established in 1491 and during the Ottoman Era, this lodge would be called 'Galip Dede Tekke' or 'Kulekapisi Mevlevi Lodge'. In it, you can see wax statues and scenes of the daily life of Mevlevi dervishes with information tables near them. I recommend to read them one by one if you are interested in sofism and sofis' daily life and education.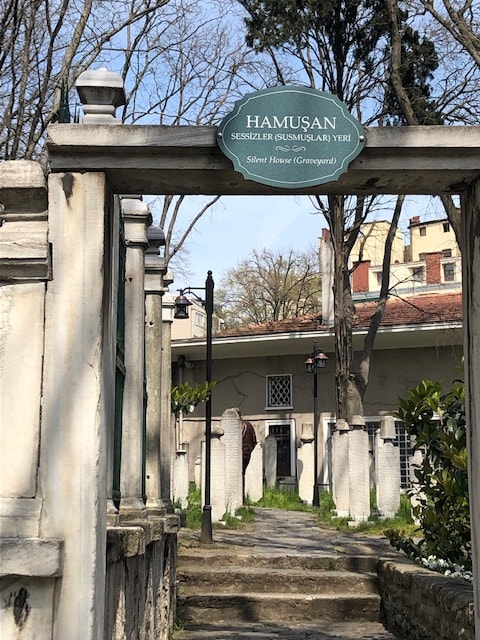 On the ground floor, you will see Sema area where dervishes would perform their 'sema' (whirling). You can also go upstairs and see the rooms one by one. All of them show different exhibitions such as Marbling Exhibition, the Calligraphy Exhibition, the Hilye-i Sherif Sheets Exhibition, the Royal Lodge and the Ottoman Army Band and Musical Instruments Exhibition. There are 6 tombs of the lodge's main sheiks outside which you can visit as well.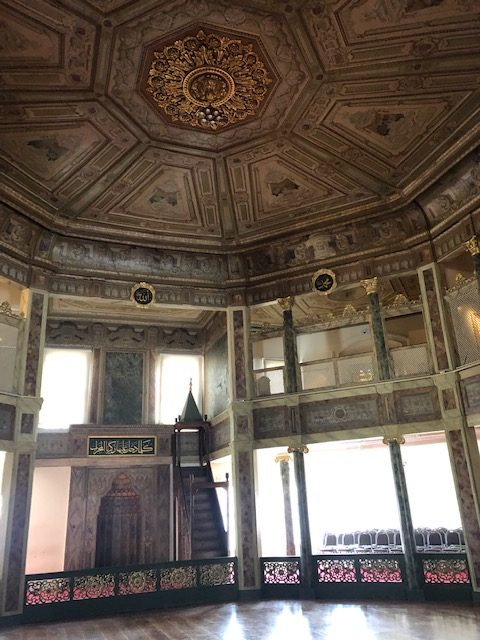 6. Whirling Dervishes Show
Remember, there are 'Whirling Dervishes Show' every day during summer and every Thursday, Tuesday, and Saturday in winter at 19.00. The ticket price is about 70-75 TL (20$) per person and the show lasts an hour.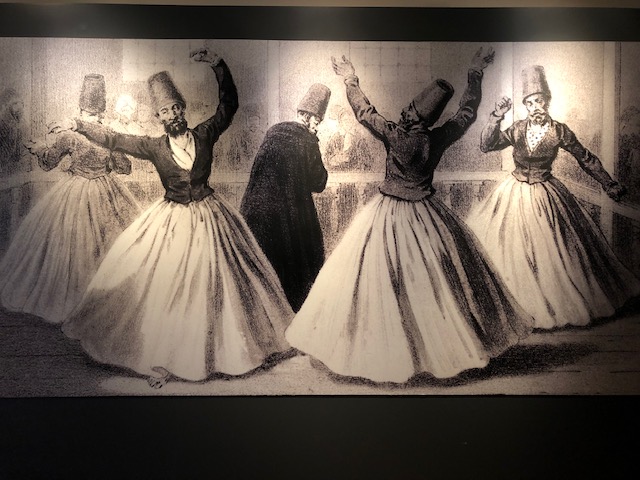 The museum is open every day from 9.00 to 19.00, except on Mondays. The entrance fee is 14 TL (3$), but if you have Museum Pass Card, you can enter for free.
Address: Şahkulu, Galip Dede Cd. No: 15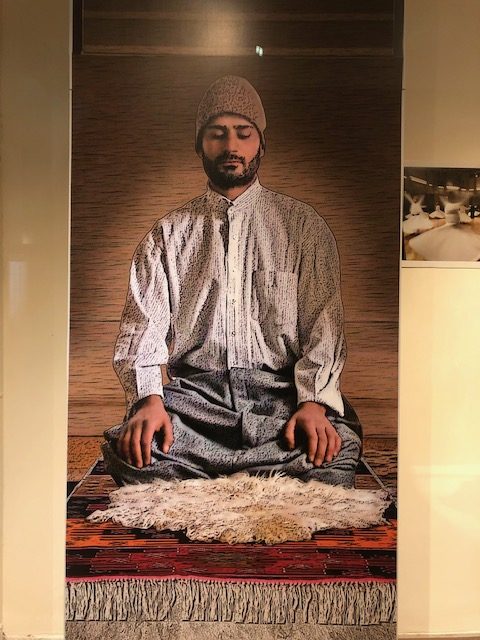 7. Masumiyet Muzesi (Museum of Innocence)
The Museum of Innocence is located in one of the back streets of Istiklal Avenue, about 5-7 minutes walking distance. It has been opened by Nobel-prized author Orhan Pamuk after writing his famous novel "Museum of Innocence". The novel was published in 2008 and the museum was opened in 2012.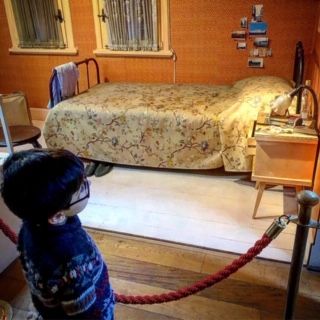 I strongly recommend reading the novel even before you arrive in Istanbul, get some idea about city life between the periods of 1950-2000, and then when you come, visit the museum. If you visit the museum without reading the book, you will not understand much from the museum.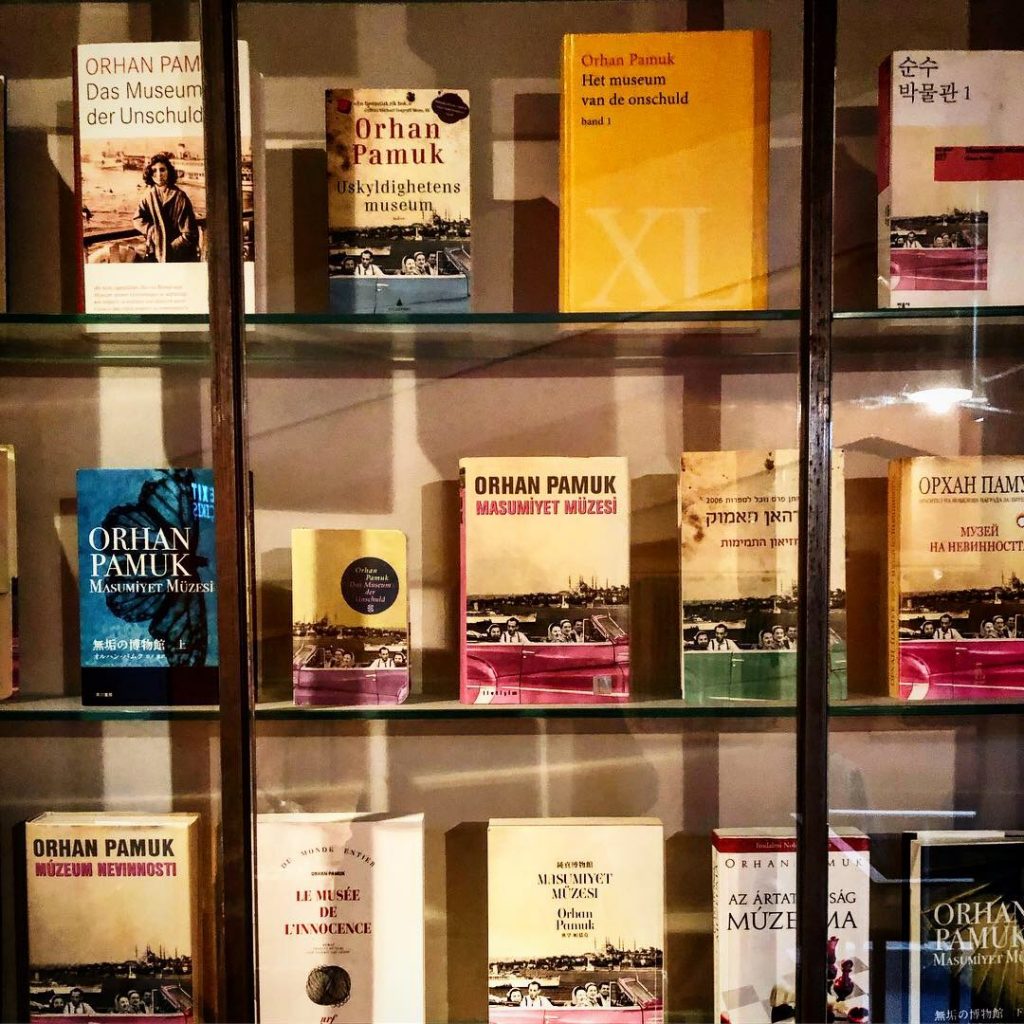 The novel is about a love story of Kemal and Fusun, and Kemal is so obsessed about Fusun that he collects every small thing that Fusun touches such as her spoons, forks, souvenirs, accessories, clothes, shoes, toothbrush, and many smallest things. On the first floor, you will see a large collection of cigarette logs that Kemal puts them in his pocket when Fusun finishes her cigarette.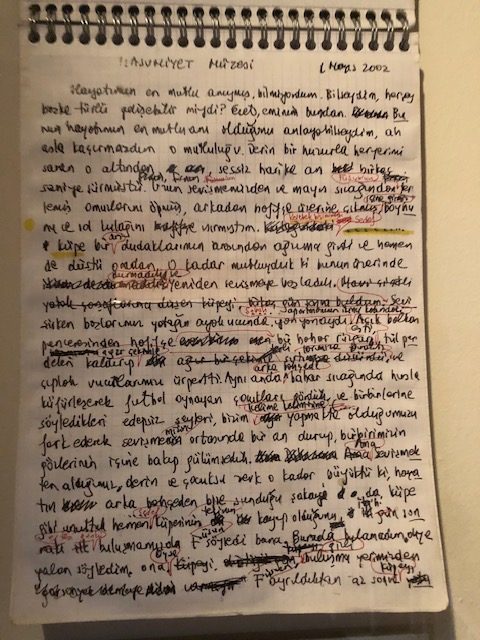 Of course, all of these are author Orhan Pamuk's creativity. They have not existed in reality but the mind of the author. When I was there after reading the book, my mind just objected to believe that they did not exist. I insisted to believe they were living in that house and using all those things. In the exit part, there is a small bookshop of Orhan Pamuk's other books in English and Turkish that you can purchase.
The museum is open every day except Monday from 10.00 to 18.00. On Thursdays, it is open until 21.00.
The ticket price is 25TL (5$) for adults and 15TL (3$) for students.

Address: Çukurcuma Caddesi, Dalgıç Çk. No:2
Where to Stay
1. Villa Pera Suite Hotel
The hotel is situated in a renovated historical building, only 500 meters from Istiklal Avenue, and offers budget-friendly accommodations. Like many hotels, it provides amenities such as free wi-fi, TV, central heating system, and room service, among others.
2. Innpera Hotel
Innpera is conveniently situated 100 meters away from Taksim Square and Istiklal Avenue. Although the rooms may have a slightly antiquated feel, they are well-maintained and the staff is attentive. This hotel is an ideal choice for those seeking a central location, with Istiklal Avenue just a minute away.
3. Taksim Residence
Located 300 meters from Taksim Square, this accommodation offers a stunning sea view. Wi-fi and breakfast are provided for free, along with the assistance of highly skilled staff.
4. Green House Hostel
This budget hotel is typically preferred by young solo travelers. It offers dorm rooms for six people, as well as family rooms. Despite its small size, the hostel has a welcoming atmosphere. Guests can enjoy breakfast in the communal kitchen and have the opportunity to meet people from various countries. Amenities include WiFi, air conditioning, heating, and shared bathrooms.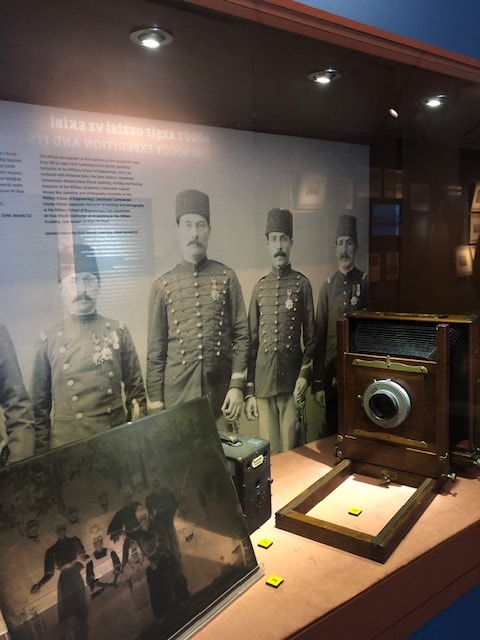 Istiklal Avenue encompasses two identities: Pera and Istiklal. Pera was predominantly home to Christians and Jews until the early 20th century. Even in the Ottoman Era, Galata and Pera didn't seem like an essential part of Istanbul but more like a separate city within the metropolis. Pera should be explored for its churches, synagogues, and Galata Tower, while Istiklal Avenue showcases mosques, a Mevlevi lodge, and an enthralling whirling dervish performance.