Exploring a city that is full of history and culture might be very challenging but also quite funny, especially the mentioned city is İstanbul! Whether you are a backpacker, business traveler, or a visitor with very little time, there are so many things to do in 24 hours in this magical city.
Being a capital city of three different empires for six hundred years; Istanbul had two faces, historical and contemporary. Both faces are exciting for travelers. Today, İstanbul is the most crowded city in Turkey and the center of business, culture, and tourism.
Some say that even human life wouldn't be enough to get to know İstanbul, but for traveling, I think, 24 hours is quite enough. According to ancient Greek mythology, Goddess Hera had created the Bosphorus just in few seconds, so why wouldn't you travel in a few hours? The history, the culture, the cuisine, and the people; these are the four things a good trip in İstanbul should include.
Before starting your day, make sure you have an İstanbulkart for public transportation, especially to be able to take the ferry, and iTaksi application in your mobile phone to call a taxi when needed to get a safe drive.
Note: You will be very tired at the end of the day, but with a bunch of unforgettable memories and experiences. So, let's get started.
1- Start Your Day with Turkish Breakfast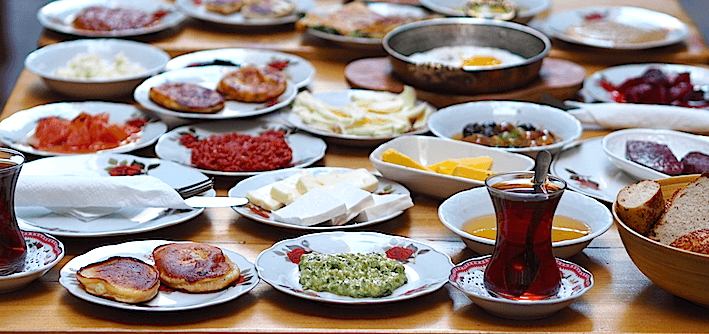 You probably heard about how delicious and pleasing Turkish breakfast is. Also, it is the best way to start a day and give off positive vibes. Perfect breakfast supports you to enjoy the city, and you know, there is a relation between breakfast and happiness.
In breakfast, Turkish people drink too much black tea. I mean, really too much! It may taste a little bitter at first, so if you intend to give it a chance, you might prefer adding some sugar. Indeed, the joy of stirring tea should be experienced at least once.
A good breakfast table includes varieties of cheese, eggs, sometimes meat, fruits, vegetables, salads, jams, olives, and so on… In fact, it totally depends on where the chef is from! Moreover, Turkish breakfast never disappoints vegans! Most of the breakfast restaurants offer vegan options on their menus.
There are different options to have an unforgettable breakfast experience in İstanbul. If you'd like to see the Bosphorus view, you may choose MarmarionTeras. The breakfast cafes in Beşiktaş are also ideal for breakfast. In CaféFaruk or Çakmak Breakfast, you may order by picking up from the menu instead of ordering mixed breakfast. Keep in mind, they might be very crowded, especially at weekends!
Attention; I know the longer is the better when it's breakfast time but try not to spend all morning sitting at the table! One and a half hours would be enough for breakfast. There is a lot to do!
2- Here is What Breakfast is for: Drink Turkish Coffee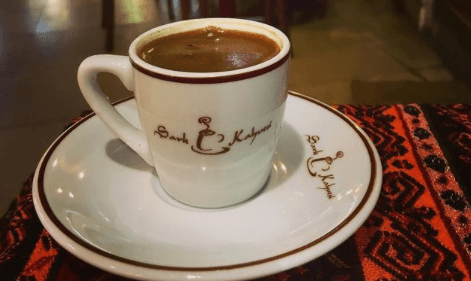 There is something probably you don't know. Kahvaltı means breakfast in Turkish, which is literally translated as "under coffee." So, don't forget to drink a cup of Turkish coffee after breakfast. Turkish people make coffee much different than you have ever seen. Rather than filtering or pressing the roasted-milled coffee, they boil it in their own way!
I hear you saying where to find it. Everywhere! But if you want to drink well-prepared Turkish coffee, you should go to Şark Kahvesiin Grand Bazaar so that you enjoy the fascinating atmosphere of the 550 years old ancient bazaar while savoring a cup of Turkish coffee. The orientalist atmosphere of the Grand Bazaar surely will enchant you but try not to lose so much time here. There is a lot to do in the Historical Peninsula!
Keep in mind: Turkish coffee is not simply with or without sugar. If you prefer with sugar, you need to decide how much sugar you want to add; little, medium, or well.
If you're interested, you can tell your own fortune by looking at your own coffee cup. You can find instructions about Turkish coffee reading, or simply ask a Turkish friend who's interested.
Turkish coffee is processed with a specific grinding method. Kurukahveci Mehmet Efendi Mahdumları in Eminönü sells freshly grounded Turkish coffee and it's a perfect souvenir for you and your coffee-lover friends!
3- Spend Some Time in the Historical Peninsula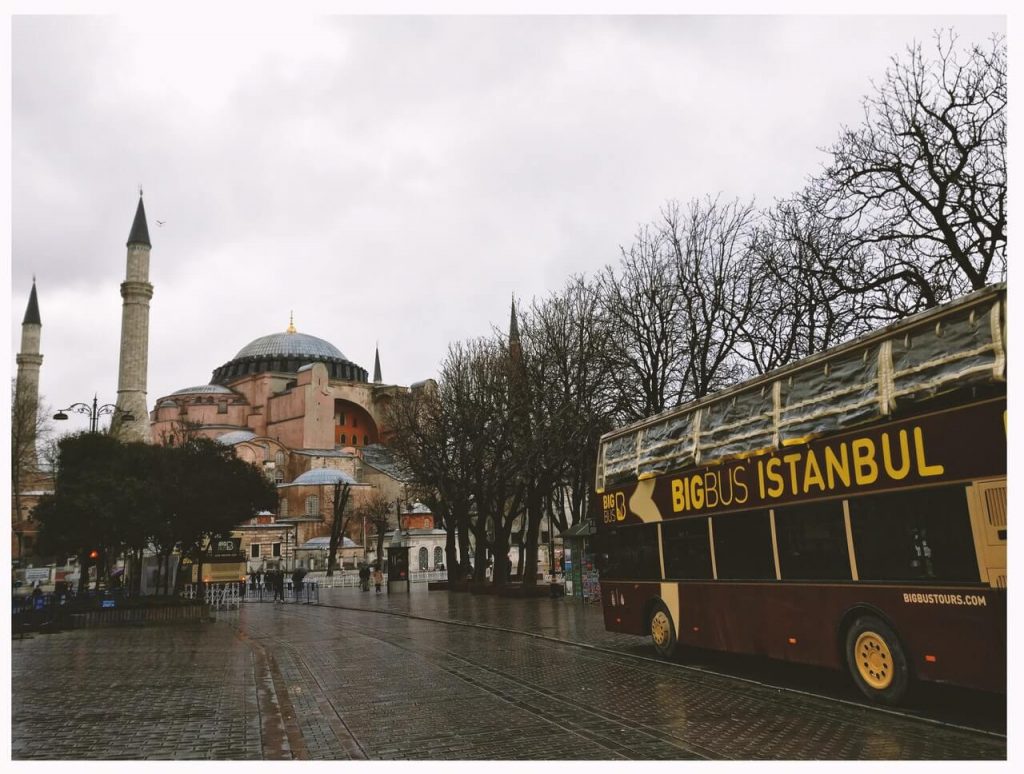 Here's the history! The Historical Peninsula covers Hagia Sophia Mosque, Sultanahmet Mosque, Basilica Cistern, Topkapı Palace, Khora Mosque, Istanbul Archaeological Museums…
If you start your day early, you surely will have time to visit all as they are close to each other. But don't forget, you have to buy a museum card or tickets for entering the Basilica Cistern, Istanbul Archaeological Museums, and Topkapı Palace. If you be aware of your time and allocate furthest one hour for each museum and mosque, you may be able to see all as most of them are open until 5 pm.
In the Istanbul Archaeological Museums' collection, you can see the Sappho Bust, Alexander Sarcophagus, and many other archaeological remains from ancient cities all around Turkey, the Middle East, and Eastern Europe.
The area called the Historical Peninsula was once the heart of the empires. Sultanahmet Square, therefore; is full of Roman, Byzantine, and Ottoman buildings and monuments. After a short walk from Sultanahmet Square, you can arrive at Gülhane Park, Archaeological Museums, Museum of the History of Science and Technology in Islam, and Topkapı Palace.
Please note that, if you'd like to visit Hagia Sophia, the frescoes and mosaics are visible except during prayer hours.
For the ones who don't interested in historical places or have already visited them; the contemporary art exhibition halls all across the Beyoğlu and Karaköy are waiting for the visitors. In Arter, Istanbul Modern, and Gallery Zilberman you can visit museum collections and current/temporary exhibitions.
For the literature enthusiasts, The Museum of Innocence which has been set up by Orhan Pamuk, is located in İstiklal Street.
4- It's Time to Take a Passage between Continents: The Vapur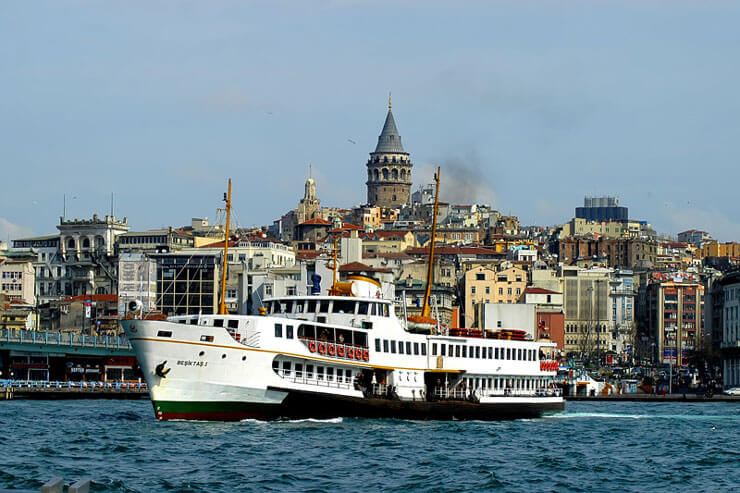 What about departing from one continent to arrive at the other in 25 minutes? Is it possible? In İstanbul, yes! Some Stambouliotes take this passage every day. This is your turn.
Vapur is the Turkish word for ferries in İstanbul. They give you a unique experience, moving either from the European side to the Asian, or vice versa.
Vapurs move from several locations; Sarıyer, Beşiktaş, Karaköy, and Eminönü to Kadıköy and Üsküdar. The closest pier to Historical Peninsula is at Eminönü, where vapurs move in every 20 minutes. If you stayed in the Beyoğlu district instead of going to the Historical Peninsula, you have to depart from Karaköy.
It takes almost half an hour to arrive at Kadıköy or Üsküdar from Eminönü. If the weather is not freezing, I strongly recommend you sit outside and feel the waterdrops spurted out of the sea.
In Istanbul, there are simit sellers in every corner, especially in front of the piers. Do you know why? Because Stambouliotes love eating simit -and of course drinking tea- in vapur and throwing simit to seagulls. If you see seagulls following the vapur, don't be surprised how they got used to it, and don't hesitate to share your simit.
By the way, don't forget to glance at the pier buildings. They are mostly historical monuments from Ottoman times. If you decide to go to Kadıköy, while approaching the pier, you'll see Haydarpaşa Train Station on the left, a monumental building of İstanbul.
5- Close Your Eyes and Listen to the City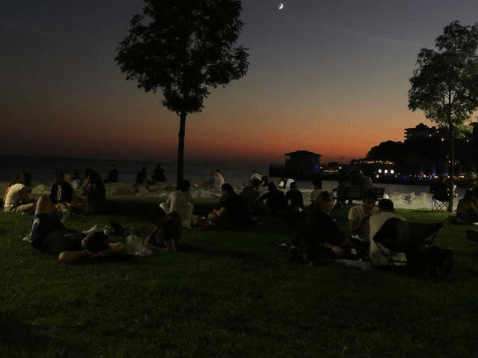 Kadıköy is the entertainment center of İstanbul. If you like graffiti and indie culture, Moda streets are where you belong to. You may listen to Turkish indie bands while walking, like Yüzyüzeyken Konuşuruz, Adamlar, No Land, or Geeva Flava.
If you'd like to grab a beer or a take-away coffee and drink while watching the view, you should walk to the Historical Moda Pier and follow the way people go, sit on the grass, and enjoy the moment.
Kadıköy shelters dozens of third-wave coffee shops. If you're a coffee addict like me, you definitely love baristas' brewing techniques like Chemex or v60. If the weather is cold, or you just need to chill in a bohemian café, you should go to Polka or Naboo. Alternatively, you may prefer spending your time sitting in Moda Tea Garden and watching the Prince Islands.
If your choice was Üsküdar, I advise you to take a walk at the seaside and sit at the café facing the Maiden's Tower. There are no various options on the menu, but I guarantee they serve good tea.
I advise you to redeem this time by closing your eyes and listening to the city, just like the poet Orhan Veli once said.
6- It's Dinner Time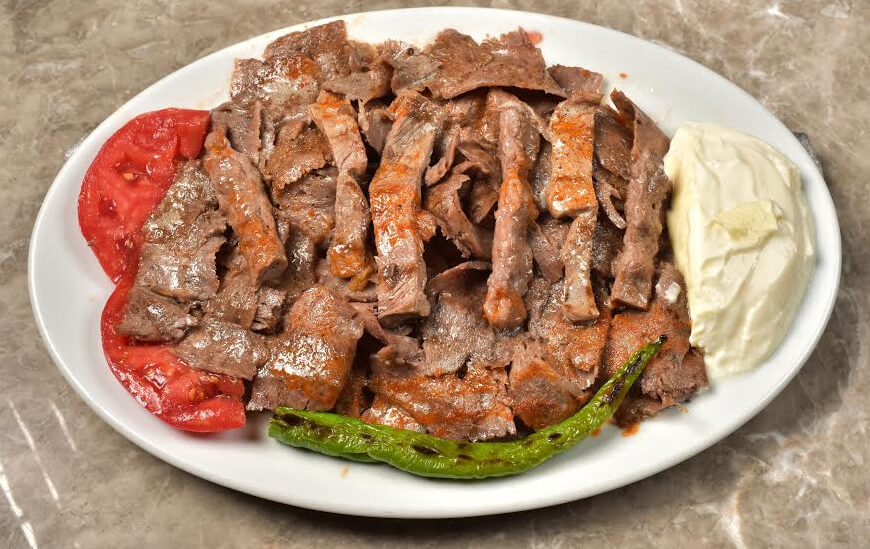 Istanbul has a mixed culture in terms of cuisine. You can find whatever you desire to eat.
If you've eaten enough kebab or would like to try other dishes, I strongly recommend you give a chance to traditional Turkish cuisine. To taste everyday flavors of Turkish cuisine, you can go to Kadı Lokantası in Kadıköy or Özbolu Lokantası in Üsküdar. Moreover, olive oil added dishes are generally vegan/vegetarian and very healthy!
If you're craving for kebab, the best place to go is Kebapçı İskender. Seafood culture is also very improved in İstanbul, so you want to eat dinner at a fish restaurant like Balıkçı Lokantası. Those who'd rather eat Mediterranean dishes may go to Aida Vino E Cucina.
İstanbul also has several fine dining restaurants, Rana by Topaz offers a menu which connects local tastes to the contemporary ones. Sarnıç Restaurant, on the other hand, serves traditional foods in a cistern, a fabulous atmosphere!
Those are not all options, of course. Tahin in Kadıköy serves the most delicious falafels in the city. Also, there are many Chinese and Indian Restaurants all over the city.
7- Nightlife? Sure! Istanbul has the Best of It!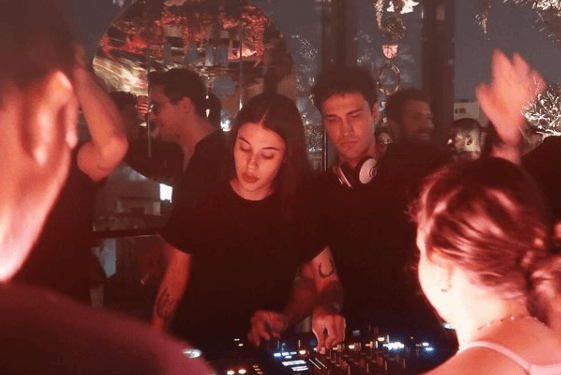 After a long day of traveling around, we all agree that it's time to have some real fun. The best bars and night clubs of İstanbul are in Kadıköy, Beyoğlu, and Beşiktaş. I will give you two options, having fun in a familiar way or in a Turkish way.
The former is quite affordable and accessible. There are hundreds of different bars where you can sit, listen to the music in a dim-lit place, talk to your friends, and order your beer or shots or cocktails. By the way, if you'd like to taste local craft beers, Craft Beer Lab is cut out for you.
If you like sitting down on balconies and smoking like the author movies' characters, you may go to Kadife Street in Kadıköy and choose a bar. Remind that almost every building in that street has a rooftop bar with a limited view.
If you like roof bars and clubs and also the view, Klein Garten and Anton Peran offer beautiful Bosphorus panorama in the historical buildings of Beyoğlu.
Here's the latter, the experience of orientalist nightlife. Have you ever heard of meyhane? A meyhane is simply a Turkish pub but is a little different than normal pubs. In meyhanes, people generally drink rakı, -a Turkish version of Greek ouzo-, eat delicious appetizers called meze and listen to Turkish classical music. You may sit in a random meyhane at Çiçek Pasajı, at the İstiklal Street.
I know, that's a fact; people get hungry after a long, adventurous day. So, what about street foods? Wherever you choose, you'll see stuffed mussel sellers in every street at night. Yes, that's right, when the sun goes down, simit sellers go, and mussel sellers appear! Don't hesitate to taste some stuffed mussels in Midyeci Ahmet or Şampiyon Kokoreç but buying from a random seller is not recommended.
Steamed burger is another famous street food. Bambi in Kadıköy, and Kızılkayalar in Beyoğlu are the most popular steamed burger sellers. Probably one will not be enough because they are so delicious.
Well, surely there are still so many things to experience in our lovely city, but I guess it would be better if you sleep for some time as arriving at the airport -doesn't matter which one, both of them are very far away from the center-, would require some energy.
If you prefer a taxi to get to the airport, make sure that you use safe taxi-calling apps, if you're going to take a bus, I advise you to consider the traffic.