When you think about Istanbul, you probably think about Byzantium relics – and basically, every renown historical site –, an overwhelming crowd of people (we are now more than 15 million people guys!), a synthesis of Western and Eastern culture, and *wait for it* the Bosporus.
Yet, absolutely no one thinks about the ridiculous amount of shopping malls. I sincerely hope the following information blows your mind.
Shopping malls actually constitute a large portion of the city's modern culture. In fact, Istanbul has 125 shopping malls while the total number of shopping malls in Turkey is 436, meaning that malls in Istanbul cover more than one-third of the whole country.
Crazy, right? I thought so. To make it easier for you to choose between numerous amount of options, today I am here to introduce to you the best shopping malls at your service in the city. Let's begin, shall we?
1 – Istinye Park: The Million Dollar Baby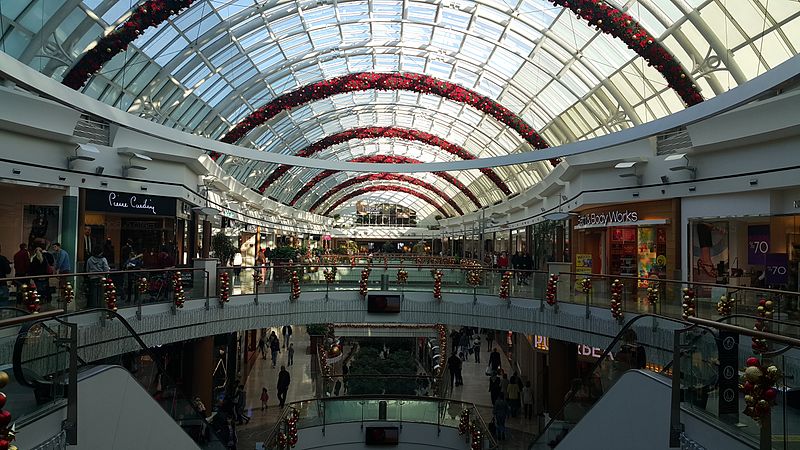 If you are into haute-couture, luxury, and designer items, this is your place. Located in Maslak (the European side of the city), it is both easy to access and hard to leave because this place is really huge.
Top qualities include both indoor and outdoor spaces, a wide range of shops and restaurants. The downside is, you guessed right, it tires you out easily due to the amount of space you have to roam. So, my advice to you is to be very selective about the shops you visit.
While you encounter very familiar brands and shops such as Chanel and Louis Vuitton, restaurants remain of good quality as well. My personal favorite is La Petite Maison.
If you truly enjoy and cherish food and not really care about the price you pay, I would suggest you grab a chair and stuff your face, especially with desserts.
Pain Perdu Façon "Cyprus" –a puffy patisserie served with spiced ice cream – is my love at first sight. Strongly recommended especially if you like French cuisine! 
How to go? = Find the nearest metro station, take the M2 Yenikapı-Hacıosman metro line. Get off at İTÜ Ayazağa station. You can walk from there or you can easily transfer to a bus or a minibus.  
Address: Pınar, Katar Cd No:73, 34460 Sarıyer/İstanbul
Website: https://istinyepark.com.tr
2 – Kanyon: Favorite After Work Meeting Point
In short, the plaza people love it there. For longer a story, please keep reading. Kanyon is located at the heart of the European side of the city – Levent, in the same area as Maslak.
It is the number one district where white-collar workers live and work. Therefore, you see frequently formally dressed businessmen either having lunch or having meetings there.
Personally, I find its aura a bit depressing for that reason. However, it really is a good place to dine.
Although it offers a variety of shops – both high-end brands and fast fashion– I am under the impression that most people prefer Kanyon for a good diner. Indeed, it has many exquisite restaurants such as Le Pain Quotidien and Nusr-Et Burger (yes, the Salt Bae).
It does not host as many luxury brands as Istinye Park does, yet it still has good stores. For instance, I really like the bookshop called Remzi Kitabevi (it has various branches across the country).
Remzi Kitabevi not only sells books in Turkish but it also sells books in different languages. If you like shopping for books abroad, you should really check it out.
 Last but not least, Kanyon is also very easy to reach from almost any point in Istanbul because it is situated exactly on the M2 metro line (Levent station). So, finding the nearest metro station is your one and only task to get there which is not hard at all because transportation in Istanbul is highly advanced.
Address: Levent, Büyükdere Cd. No:185, 34394 Şişli/İstanbul
Website: https://www.kanyon.com.tr/en/home
3 – Emaar Square Mall: The Young Hit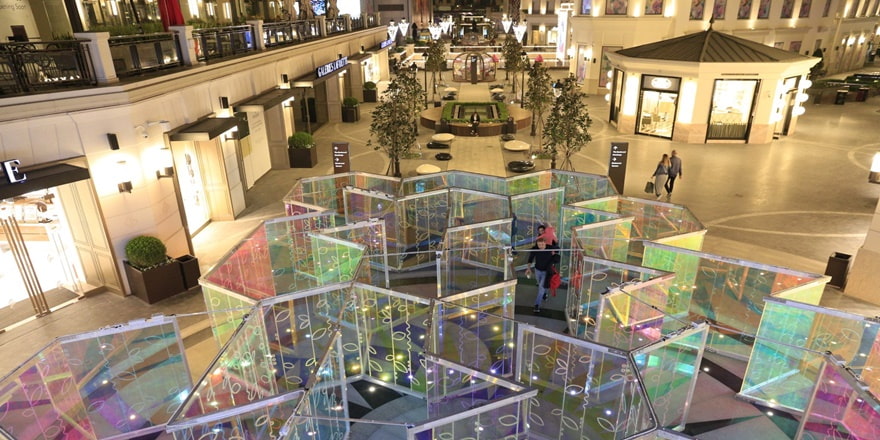 Located in the Anatolian side of the city, Emaar Square, a 3-year-old mall, offers a wide range of options to its visitors. Just like Istinye Park, you can benefit from both indoor and outdoor spaces.
Distinct from the beforementioned malls, Emaar provides various entertainment activities as well. These include an aquarium and an undersea zoo, a VR room, a giant slide called "Kaydırax", a jump playground called "The Jump" which is the first in Turkey, and a bowling alley.
 Shopping and dining options are as diverse as possible. You can shop for luxury items, or you can shop on a budget. Likewise, you can have a fine-dining experience, or you can just choose fast food instead. I
n that sense, Emaar is really versatile and thus can make sure that you are having a great time with whatever you choose. Not to mention, it was actually a big project when it was under construction, and when it opened it grew popular real fast.
How to go? Bear in mind that, if you are on the European side of the city, the journey will take a lot longer as you have to cross the bridge.
You are most likely to use different modes of transportation as one way won't be enough.
The options vary but the most basic one is again via metro. Take the M2 Yenikapı-Hacıosman metro and get off at the last station which is Yenikapı. Then transfer to Marmaray metro (Gebze direction), get off at Ayrılık Çeşmesi station and lastly transfer to Kadıköy metro line and get off at Göztepe station.
If you are already on the Anatolian side, it is so much easier. Depending on wherever you are you can take the metro, bus, metrobus or, even minibus. My advice is once again using the metro.
Address: Ünalan, Libadiye Cd No:88, 34700 Üsküdar/İstanbul
Website: https://www.emaarsquaremall.com/en
4 – Forum Istanbul: The Record Breaker
If you don't prefer spending too much money on clothes, gifts and such yet still want to buy something for yourself and your loved ones, this is your paradise!
Forum Istanbul is actually the largest shopping mall in Turkey which means that there are more shops, more options, more spaces – you get the gist. It is located in Bayrampaşa, not exactly the heart of the city to be frank yet still easy to access.
No designer items, no luxury brands, this place is not only big in space but big at heart as well. Every, I mean every person can find something that does not go over their budget yet of good quality at the same time.
Plus, it is also a place for those who prefer having a good time. Like Emaar Square, Forum İstanbul provides many entertainment activities.
For example, it has an entertainment hall called FunLab, a place where you can watch VR videos, play ice hockey, and try desperately to get some gift from the vending machine while spending all your coins plus a bowling alley, karaoke room, and poolroom.
Moreover, it also offers very good eating options from global fast-food chains (McDonald's, KFC, etc.) to good yet cheap (sort of) restaurants like Cookshop and Midpoint.
My favorite place to eat is Happy Moon's because it has a wide range of food options and the portion of every dish is larger than average.
If you decide to give it a try, I would recommend you order "Fit Chicken Plate" as it is both healthy and a square meal. In the end, you get yourself a very good bargain indeed!
If you think, I am done by now, you are very wrong. Forum Istanbul also has Turkey's largest aquarium called Sea Life. If you decide to look at the fish, I suggest you buy the tickets beforehand online since it is much cheaper that way.
Plus – yes, the perks still continue – Ikea and Decathlon are in the same vicinity as Forum Istanbul. You can cross to them directly inside the mall. If you are still not convinced to go there, I honestly don't know what would make you interested.
How to go? The wisest choice is always to use the metro line. Istanbul has very good transportation opportunities, to be honest, if you have the chance, always take the metro.
For this specific destination, you might have to transfer lines, but your goal is to be on the M4 metro line. Once you are there, get off at Kocatepe station. 
Address: Kocatepe, Paşa Cd, 34045 Bayrampaşa/İstanbul
Website: https://www.forumistanbul.com.tr/en
5 – Capacity: The Regular Mall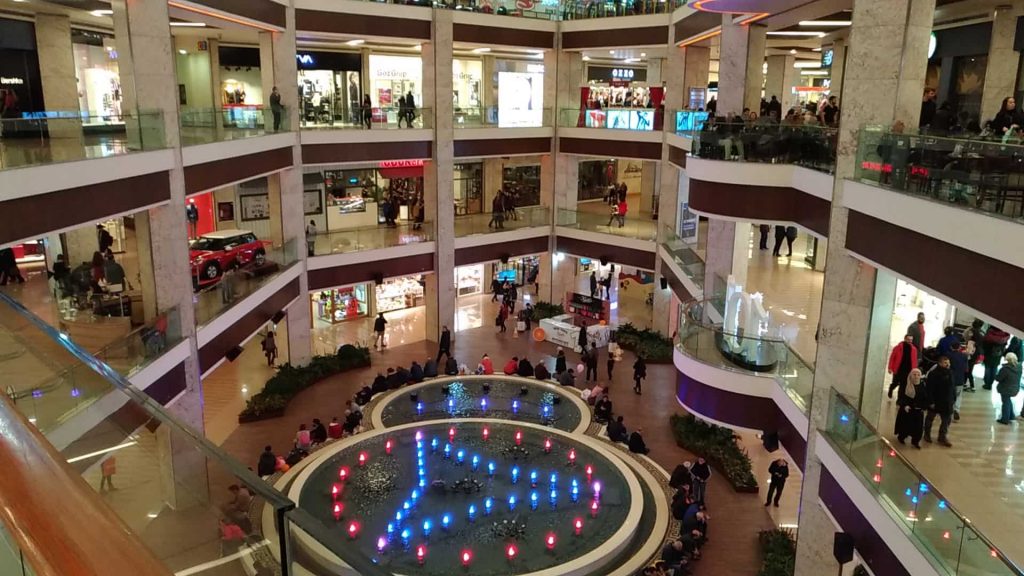 If you are more like "I know what I like, and I certainly don't need limitless options to spend my time kind of a person" this is your place. Capacity is the type of mall where you can find exactly what you need and nothing more.
It has popular shops minus the luxury brands. Therefore, borrowing from "the less is more concept" it is a place to drench your appetite for shopping without tiring yourself out both physically and mentally.
 It has a nice and easy architecture to find the place you are looking for – a quality which your feet will appreciate. Its restaurant range is close to that of Forum Istanbul with similar places to eat.
As for its location, this is yet another shopping mall on the European side, in Bakırköy to be specific. It is not necessarily hard to reach there yet you have to be aware of the fact that you will probably use more than one transportation depending on your location.
How to go? It really depends on where you are, yet I think using the metro is always the most logical one as metro lines are interconnected and lead you to your destination without traffic.
So, again, I advise you to go to the nearest metro and make sure that either you are on or you will be connected to the M2A Yenikapı-Hacıosman metro line.
Get off at the last station which is Yenikapı. Then transfer to Marmaray (Halkalı direction). Get off at Bakırköy station and exit from the 3rd exit. It is only 5 minutes away. 
Address: Ataköy 1., Fişekhane Cd. No:7, 34158 Bakırköy/İstanbul
Website: https://www.capacity.com.tr/
6 – Zorlu Center: The Superstar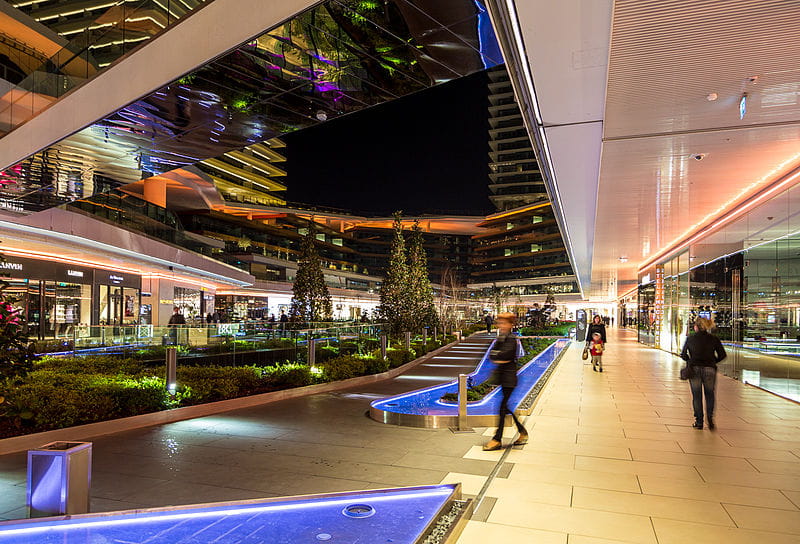 Not to be biased or anything but Zorlu Center is one of my favorite malls in the whole city due to the cultural events that take place there. Its most prominent feature is Zorlu PSM- the Performing Arts Center in the mall.
You can have a real good night there, participating in events like stand-up shows, musicals, theatre, concerts, parties, and the list goes on. Seriously though, the whole place smells like sophistication.
Of course, you have to keep in mind that tickets are oftentimes limited and are sold out very quickly. So, you really have to keep an eye on them.
As for a shopping mall, Zorlu Center is a mélange of luxury brands and standard shops, but I must admit it, it weighs heavier on the luxury side.It also has an outdoor space where you can sit peacefully by yourself or at a restaurant that has a garden-like space.
Restaurants in the mall, according to my opinion, exceeds other sorts of shops. My favorite place is Eately, an Italian restaurant where you can both eat and shop for delicious Italian food. Might I add, their Prosecco is one of a kind!
How to go? Very very simple.
Follow the M2 Yenikapı-Hacıosman metro line to Zincirlikuyu station. Or, if you want to spice things up, take the metrobus and get off again at Zincirlikuyu station. You didn't hear this from me but metrobus itself is a full Istanbul experience for you guys. 
Address: Levazım Mahallesi Zorlu Center, Koru Sokağı No:2, 34340 Beşiktaş
Website: http://www.zorlucenter.com.tr/en/
Depending on your location, the season, your mood, and preferences, you can choose either one of them to shop and taste some delicious food.
Do not freak out about the distance, like I already mentioned, Istanbul has diverse transportation modes which makes it so much easier.
Also, let me throw it out here in case you don't already know that all of the malls in Turkey (as far as I know) include a cinema. Keep that in mind as well, will ya?