If we talk about delicious food in Istanbul, then it is not always the restaurants of such luxury districts, like Nişantaşı and Bebek, or modern business districts, like Levent and Ataşehir. The city is full of other excellent cafes and restaurants that everyone can afford. You can find many places and food choices in the price range suitable for each group of people.
Moreover, I advise you not to be guided by the cost: that is, if the prices in a restaurant are above average, this does not necessarily mean that you can eat delicious food there. In most cases, you pay more for the service and location of the place, and maybe for a specific brand or even for interior design.
Here I will try to help you navigate among the most delicious and budget places in Istanbul, which are in no way inferior to luxury places in their atmosphere. Here I offer you a list of 10 best budget restaurants in Istanbul.
1 – A well known Galata Kitchen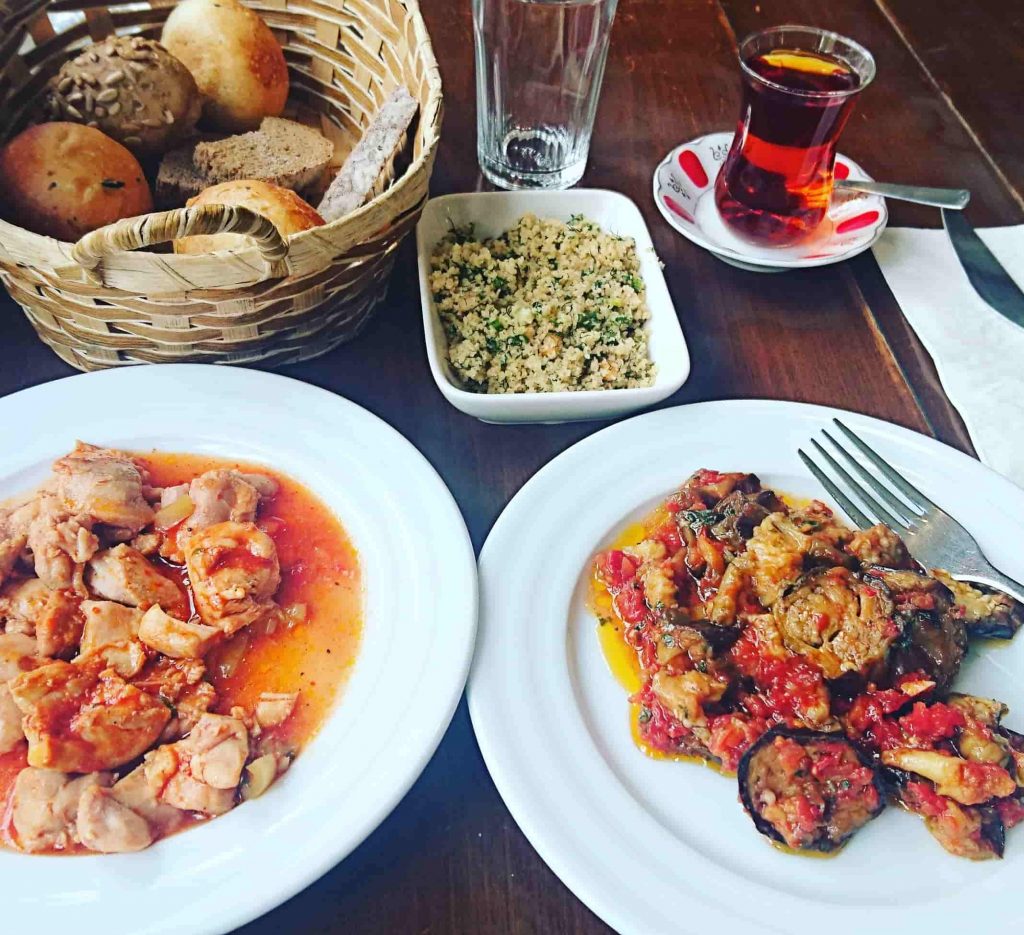 To begin with, I would recommend visiting one of the most famous places in Istanbul – the Galata Kitchen. As you can understand from its name, the restaurant is a 5-minute walk from Galata Tower. This place is popular among locals and tourists as well; besides, it has won the Travelers' Choice Award 2020 from TripAdvisor. The atmosphere of the Galata Kitchen is inviting and quiet despite the bustling touristic area.
The choice of dishes there is very good. You can try Turkish, Mediterranean cuisine; nevertheless, the menu may satisfy the taste of vegetarians as well, as there are many vegetable snacks with different sauces, the so-called meze in Turkish. Moreover, the Galata Kitchen is designed so that you can see all the dishes when ordering, and the staff will be happy to help you make the right choice.
The food there is delicious and fresh; the restaurant has a fast-convenient service and helpful friendly staff. I recommend you try their meat dishes, as well as their large selection of meze, which will please any gourmet, and where everyone can find something for themselves. You can also have a nice bonus from Galata Kitchen – free Turkish tea at the end of your meal.
Address: Tatarbeyi Street, No: 9/B, Beyoğlu, +90 212 252 20 22.
2 – Unique historical site – Tarihi Sultanahmet Köftecisi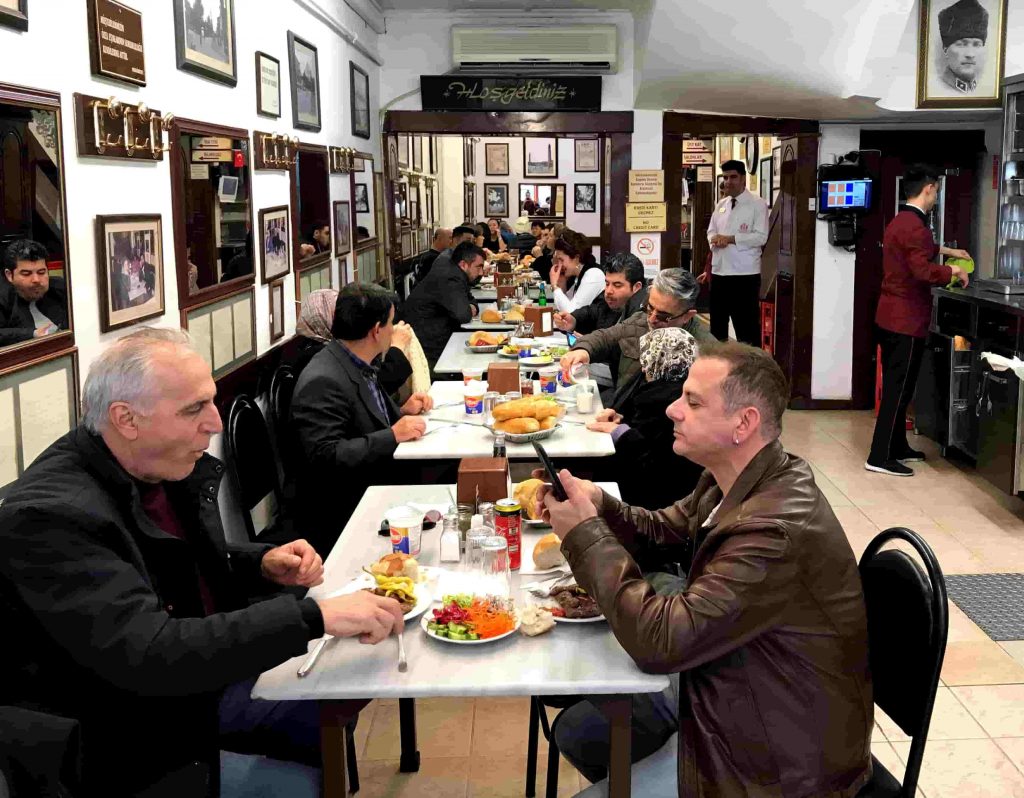 Tarihi Sultanahmet Köftecisi is a rather famous and old place with its unique history of cooking a traditional Turkish dish – köfte (fried beef meatballs). The website of the restaurant describes that the history of the place began about 100 years ago with the arrival of its founder Mr. Mehmet Seracettin to Istanbul. Already four generations have worked at Tarihi Sultanahmet Köftecisi, passing on the recipe of the unique köfte for many years through generations. Now the fifth generation of Mr. Mehmet Seracettin's descendants is working in the restaurant.
Tarihi Sultanahmet Köftecisi can be already considered a classic public restaurant that does not change its traditions in cooking. However, you should be careful, as there are many similar restaurants in Istanbul, which can be accidentally confused with the real one. Therefore, I advise you to follow the address of the place, which I will provide below.
This restaurant can be visited for feeling this atmosphere of antiquity and adherence to traditions. But the main reason to check this place is to try a delicious köfte for a reasonable price. Visitors also praise Tarihi Sultanahmet Köftecisi for its excellent fast service.
Address: Alemdar Mh., Divan Yolu Caddesi, No: 12, Sultanahmet, +90 212 520 05 66; +90 212 513 64 68.
3 – Traditional Turkish food in Istanbul Kebab Cafe & Restaurant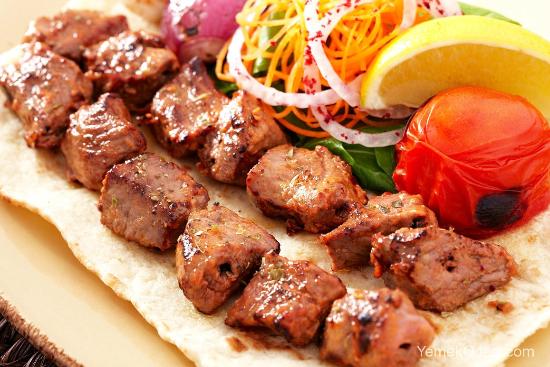 The next restaurant that is also considered to be traditional is the Istanbul Kebab Cafe & Restaurant, which has been operating since 1998. Although the restaurant is located in the Sultanahmet district, not far from the most frequently visited places of Istanbul like the Blue Mosque, Hagia Sophia, Basilica Cistern, it remains a quiet place to relax and to have a rest from the bustle of the city and crowds of people.
The Istanbul Kebab Cafe & Restaurant serves Turkish, Mediterranean, Middle East cuisines, seafood, and BBQ. Each client there will find something to their liking. On my behalf, I will add that their portions are very big, and the serving is excellent, with a large variety of seasoning; besides, there is a good selection of salads and meat barbecue.
I sincerely advise you to try their Iskander Kebap, which Istanbul Kebab Cafe & Restaurant cooks as a piece of art: thin layers of lamb, baked over a fire, lying on a flat cake pide, seasoned with tomato sauce and hot melted butter. Most of all, I like the smell of melted butter, which is filled within the restaurant, and that makes you wait for your order with a great impatience.
Address: Divanyolu Caddesi, Bickiyurdu sk., Divan center, No: 5, Sultanahmet, +90 537 982 73 95.
4 – Dishes from all over Turkey in Çiya Sofrasi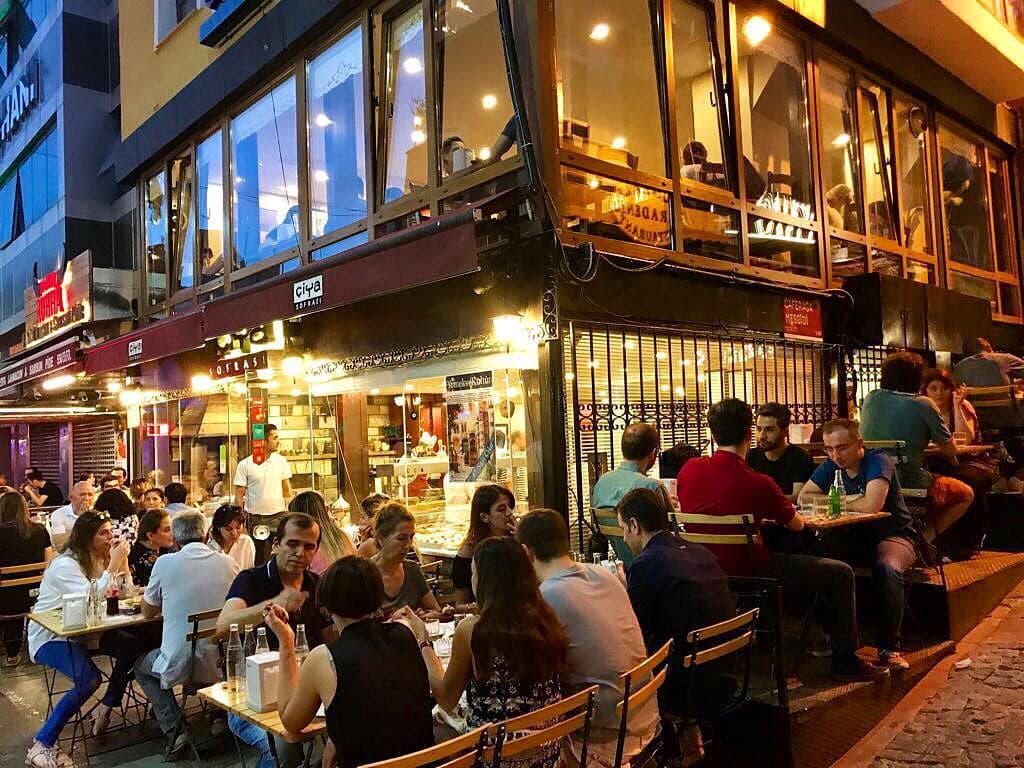 Çiya Sofrası is one of the most haunted places in Istanbul, with about 1000 dishes on average served there a year. The mission of the restaurant, according to its website, is to introduce locals and guests of Istanbul to Turkish cuisine, more precisely, to all kinds of dishes from various regions of Turkey.
The most interesting thing is that you cannot find the dishes presented there anywhere else. The owner Mr. Musa Dağdeviren collected and stored these recipes for many years, and some of those dishes are no longer cooked in the regions.
However, I advise you to be careful while choosing some dishes, as the recipes are not always what you are used to eating in Istanbul. But if you are open to new, and you are not afraid of experiments, then Çiya Sofrası is the exact place for you. Here you can taste the historical Anatolian cuisine, that is why the restaurant is worth visiting, at least once. Besides, they have low prices and big portions.
It is also worth mentioning that Çiya Sofrası is located in the nice youth area of ​​Kadıköy, where later you can stroll along the promenade and experience the nightlife of Istanbul.
Address: Caferaga Mahallesi, Gunesli Bahçe Sk., No: 43, Kadıköy, +90 216 330 31 90.
5 – Hanzade Terrace Restaurant in the heart of the historic city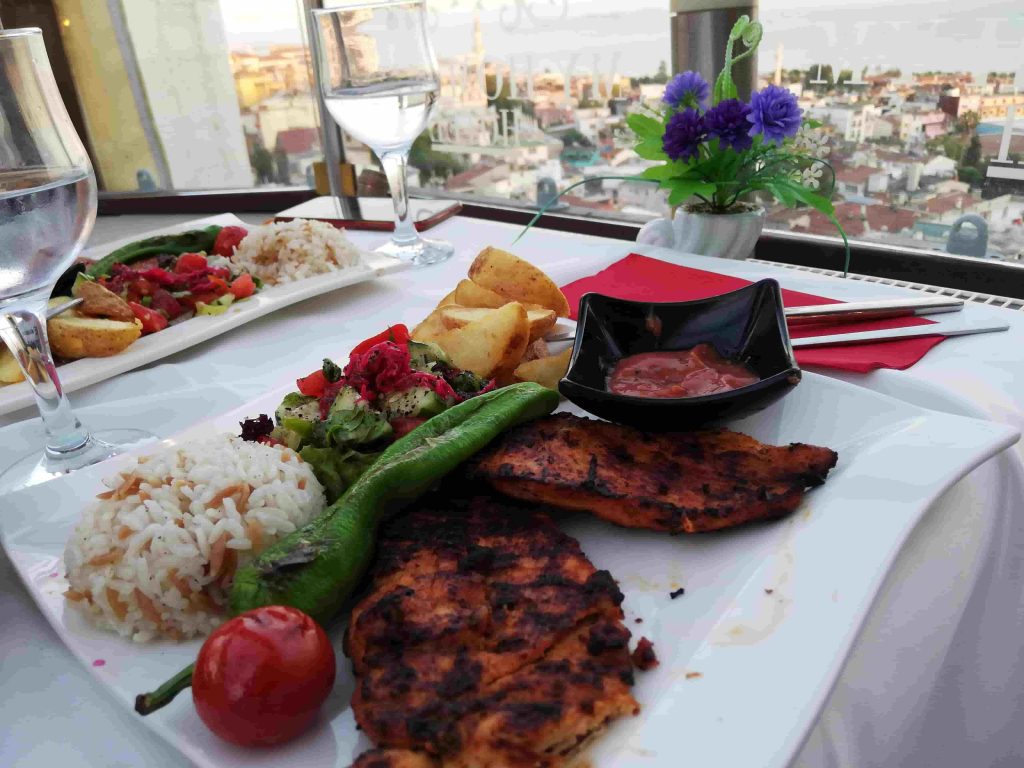 The next restaurant I advise you to visit is Hanzade Terrace Restaurant, which is located in the heart of the historic city, the Sultanahmet District. Within walking distance, you can find all the most frequently visited sights of the city.
The restaurant itself, as the name implies, is a restaurant with a beautiful terrace with a view to the old medieval city; you can also see a part of the territory of Topkapı Palace, the residence of Sultans, – the rulers of the Ottoman Empire. On the other side of the terrace, you can enjoy a pictorial view of Bosphorus's waters.
At Hanzade Terrace Restaurant you can taste local Turkish, Middle Eastern cuisines, seafood, and barbecue; plus, they have a good selection of vegetable dishes, making it a vegetarian-friendly place.
I advise you to try their kebap (fried meat dishes), different variations of it, and one of the most popular Turkish dishes called sarma. Sarma came from the Turkish word sarmak, meaning to wrap, which is explained by its recipe: it is cooked from minced meat with spices wrapped in grape leaves. In Hanzade Terrace Restaurant, sarma is prepared according to a classic Turkish recipe, and I recommend trying it there, as well as other meat and vegetable dishes and snacks.
Address: Emin Sinan Mah., Piyer Loti Cad., No: 35, Sultanahmet, +90 212 518 80 81.
6 – One of the best lahmacun in Tatbak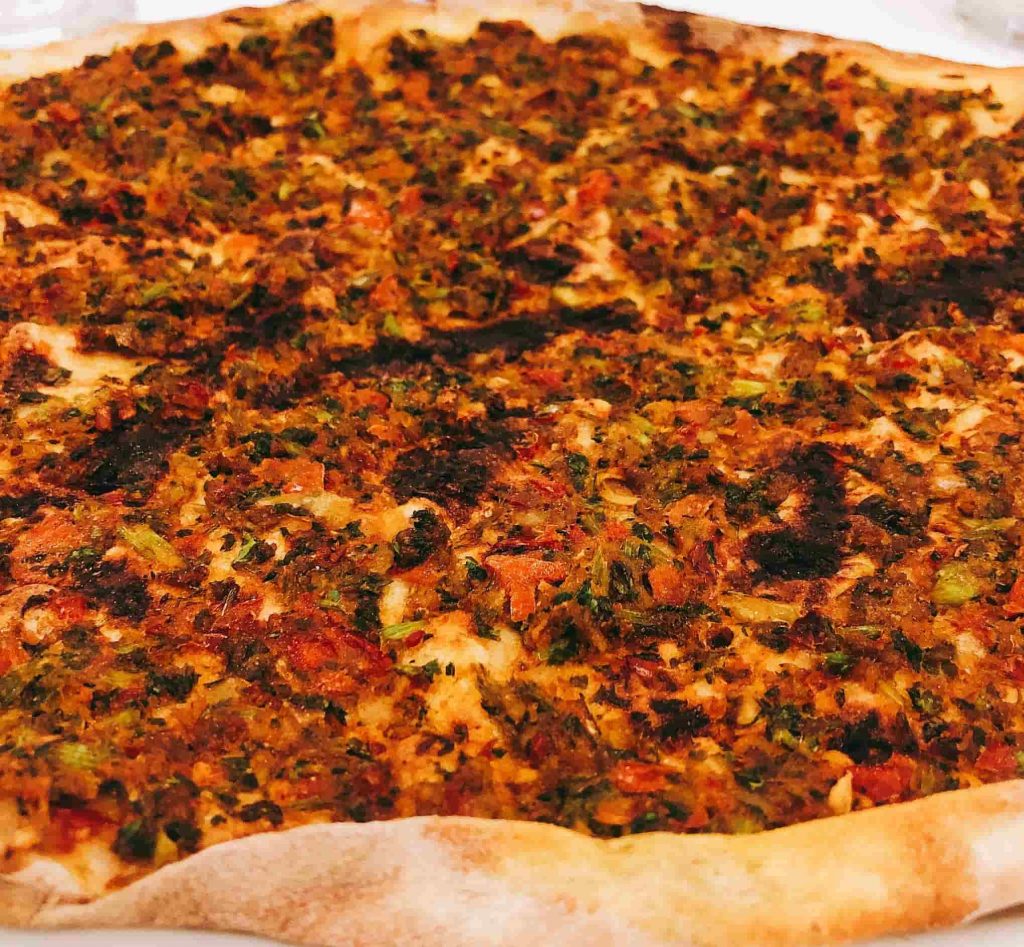 Tatbak is another inexpensive restaurant that I would recommend visiting to try delicious traditional Turkish food. This restaurant is a small exception to the rule I mentioned above. Although it is located in the Nişantaşı area, the prices in Tatbak are very reasonable, and the place is attractive for tourists and visitors.
Local people say that Tatbak serves the most delicious traditional lahmacun in the whole of Istanbul. So, believing the rumors, once I decided to visit this restaurant to try it, and, frankly speaking, I was not disappointed at all.
Lahmacun in Tatbak is made of a thin crunchy bread cake, then covered by minced meat, tomatoes, bell peppers, onions, garlic, herbs, black pepper, and oregano or parsley. All it is served hot, you just need to pour a little lemon juice on it and, preferably, accompany it with Turkish ayran (fermented milk drink). I agree that the lahmacun in Tatbak is exactly one of the best in Istanbul.
Moreover, Tatbak has been operating since 1960 and has a long history. According to the website of the restaurant, it has no other branches, so there is only one restaurant, the address of which I will indicate below. Be careful and not confuse the real Tatbak with other restaurants with the same name that have already opened all over Istanbul.
Address: Vali Konagi Cad., Ak Kavak Sok., No: 38/A, Tesvikiye, Sisli, +90 212 248 04 25.
7 – Ortaklar Kebap Lahmacun with a modest design but excellent cuisine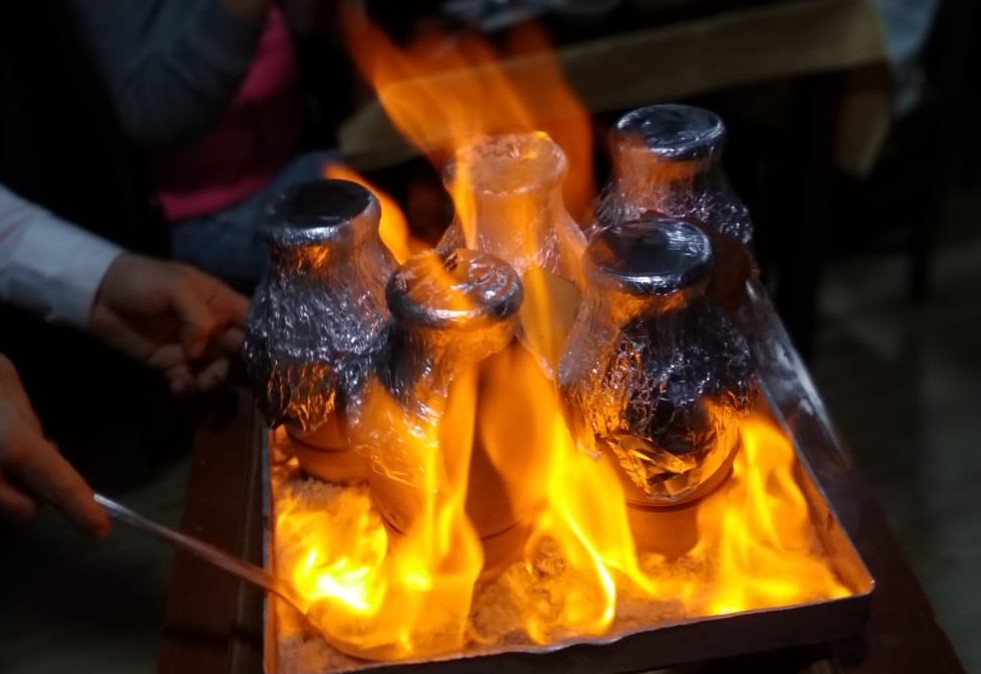 Ortaklar Kebap Lahmacun in Fatih is quite difficult to spot from the street full of other restaurants with attractive designs. The facade of Ortaklar Kebap Lahmacun is rather inconspicuous, but the dishes served there are worth spending time there. You can find a varied menu there: besides kebap and lahmacun, there are many traditional soups, pide, a variety of meat/fish dishes and side dishes for every taste. For dessert, you can choose Turkish sweets and tea with fruity aromas, and, of course, traditional Turkish tea.
Prices at the restaurant are inexpensive; nice staff serves you quick and friendly. Ortaklar Kebap Lahmacun has a small, modest terrace where you can enjoy a pleasant view and a cup of Turkish coffee.
At Ortaklar Kebap Lahmacun, I would recommend trying the soup of the day, might be Ezo Gelin or Mercimek Çorbası (lentil soups), served with a lemon, and any meat dish of your choice from their kebap dishes.
Address: Peykhane Cad., No: 27, Fatih, Sultanahmet, +90 212 517 61 99.
8 – Family cafe Yabaci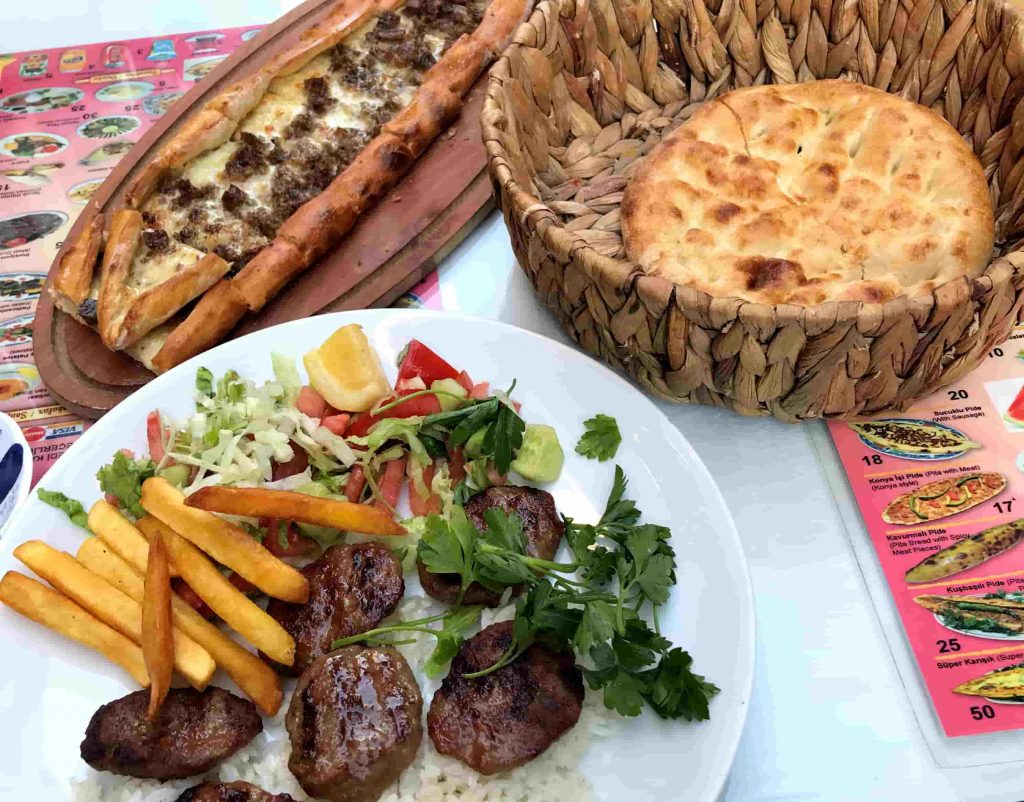 The next place, which is also located in the tourist region of Sultanahmet and is often visited by both tourists and locals, is Yabaci. For such a touristic area, this place is a godsend for people who want to eat on a budget; the prices at Yabaci are, indeed, very low.
As I mentioned before, here you will not pay for the view from the terrace or for any intricate design, as this place is quite simple and unassuming. If you were passing by, you would hardly decide to look there without many reviews this place have. Yabaci is a modest cafe, like a family restaurant, where all the dishes are practically prepared in front of your eyes.
However, to try the taste of homemade food, this place appears to be perfect. There you will find a large selection of Turkish food, from soups to meat dishes, including the typical ones, such as pide, lahmacun, and others. The hosts are a very friendly and hospitable couple, who will cheer you up and complement you with a cup of Turkish tea before you leave.
Address: Peykhane Sk., Servet Han, No: 41, Cemberlitas.
9 – Balkan Lokantası for home-cooking foods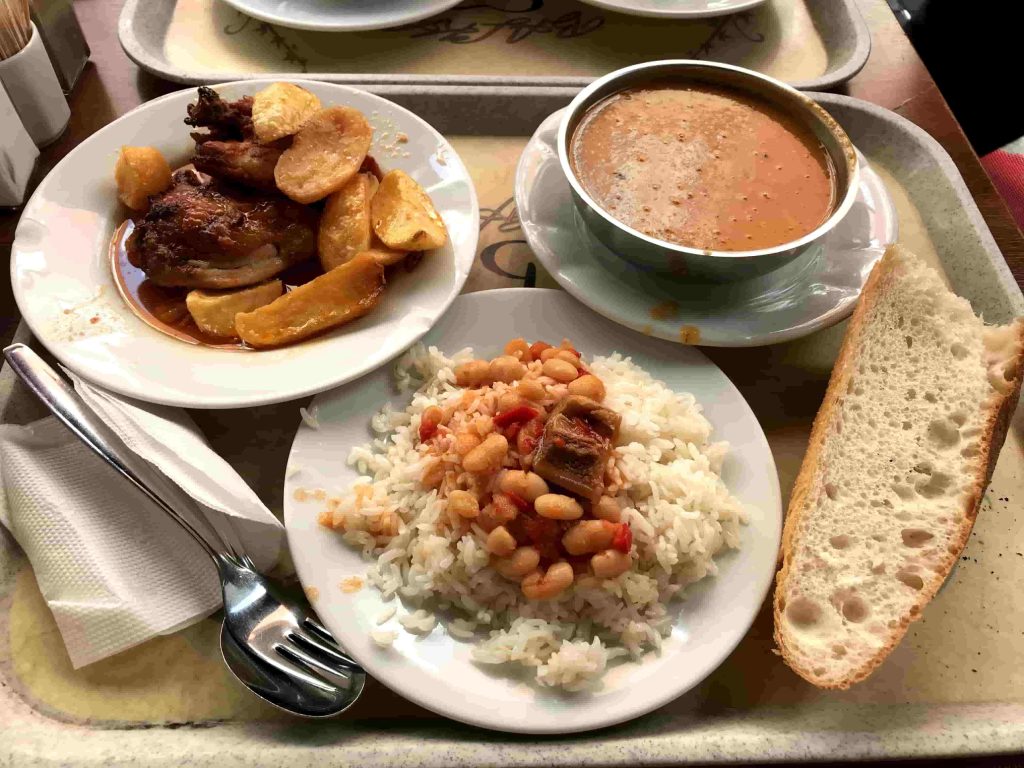 Balkan Lokantası is one of the first places that comes in mind in Istanbul when someone is looking for home-cooking foods. Tasty traditional Turkish foods and soups, saccharine desserts, a variety of options to choose from, and, overall, a friendly staff, make it an outstanding option for money-to-value criteria.
Balkan Lokantası is a chain of restaurants that is running across the whole of Istanbul and is famous for its good service at most affordable prices. The food in this restaurant is displayed in fine layout within glass windows, and you can just lift a food tray, point towards the desired dishes, and pay at the counter afterward. The place is usually very busy, filled mostly with locals.
Apart from traditional main courses, you can also experience a good variety of Turkish home soups, exclusive olive oil foods, and rich salads. These olive oil foods are worth to taste.
Address: Hocapasa Mah., Hoca Pasa Sok., No: 12, Sultanahmet, +90 212 514 34 94.
10 – Exquisite restaurant – Tarihi Çeşme Restaurant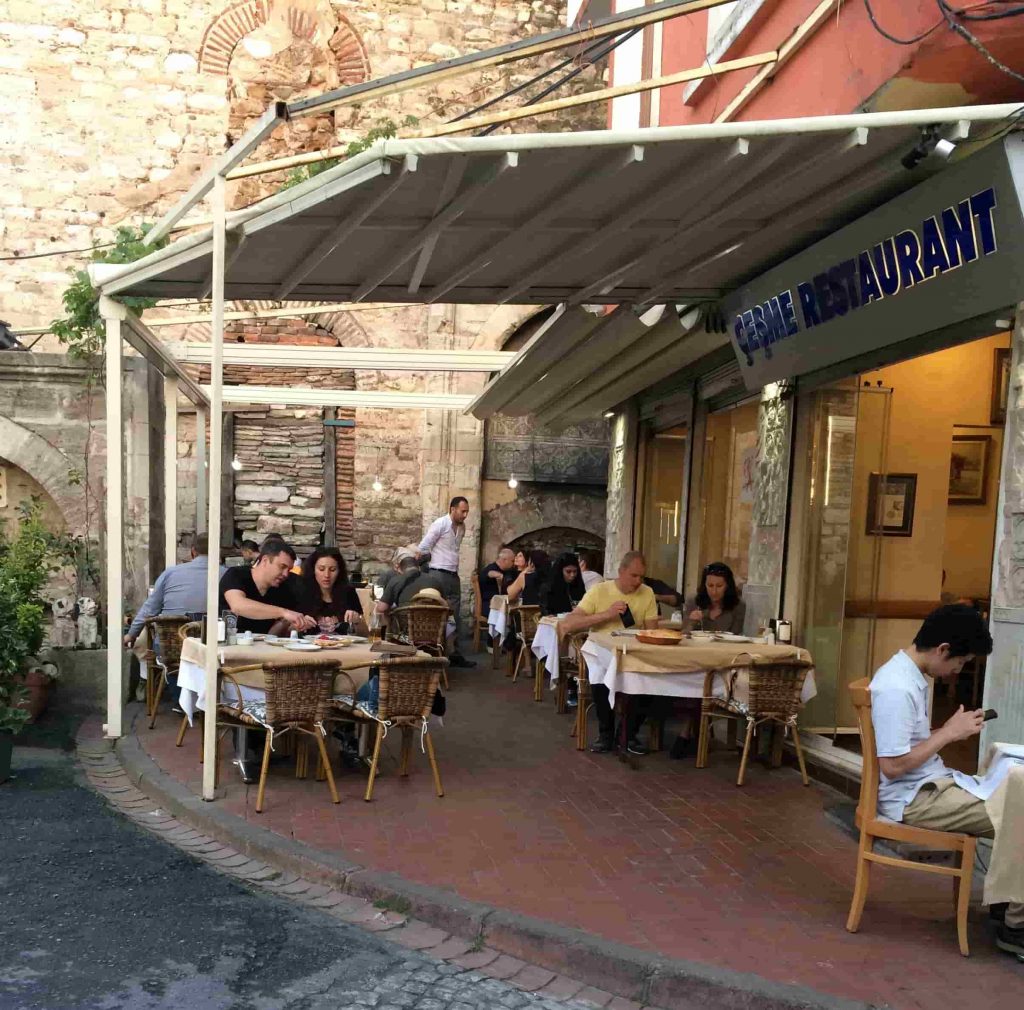 In the residential neighborhood of Little Hagia Sophia Mosque, this exquisite restaurant – named in honor of the Ottoman fountain next to its streetside terrace – serves a blend of Mediterranean, Turkish, and Middle Eastern cuisines in a nominal price, including appetizing kebap, mixed grills, the chicken on skewers, Adana kebap and güveç (meat and vegetable stew).
The restaurant also considers vegetarians and offers a variety of vegan dishes such as tempting mushroom and vegetable casseroles in a reasonable price range. The restaurant is one of the famous places for pide.
The location is pretty nice, with a classic feel surrounded by traditional baths, Hotel Basileus, and the old Islamic fountain. The owner and other staff members are very attentive, friendly, and also help in choosing the foods.  I recommend you stay on the first floor, which is very calm, highly decorated with dim lights, antique furnishing, and a wooden fireplace. You can stroll around the block to see traditional and contemporary arts and check out the Little Hagia Sophia Mosque.
The place best suits having a pleasurable dinner after a long day or visiting historical sites in its neighborhood.  The atmosphere is simple but nice with typical Turkish lamps hanging in the garden; besides, it is tucked away off the street.
Address: Kadirga Liman Cadessi, Sultanahmet, +90 212 516 35 80.
I hope this article can help you in choosing a restaurant for your next trip to Istanbul. I have selected those places at reasonable prices that would suit the taste of any tourist.