Kusadasi is a beloved summer tourist destination known for its stunning beaches and diverse culinary scene. Offering respite from crowded locations, it appeals to many with its seaside charm. As for dining, the best Kusadasi restaurants feature a variety of cuisines, making it a vibrant gastronomic hotspot for travelers.
Best Kusadasi Restaurants
1- Have a Traditional Turkish Breakfast in Kirazli Koy Sofrasi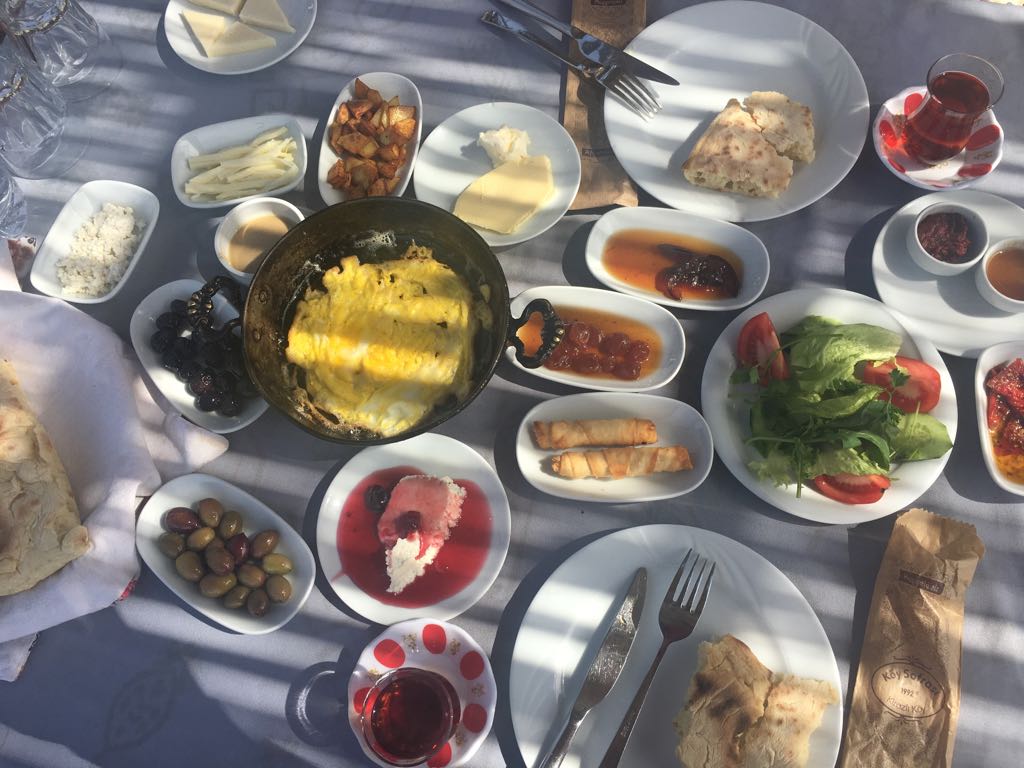 First, let's have a breakfast. Long-lasting breakfasts are extremely popular in Turkey. Especially on Sundays. I think it is kind of a method to overcome Monday syndrome.
This long-lasting breakfasts have a common name here in Turkey. We call it "mixed breakfast". You have everything on the table. Pastries, eggs, greens, olives, jams and lots of cheese. This breakfast is mostly served with tea but some of you may prefer coffee too.
Kirazli Koy Sofrasi is one of the most known places for its mixed breakfast. They have everything you could ask for breakfast. It is like heaven! The place is also very cozy and has a calm nature which will accompany you during your meal.
Kirazli Koy Sofrasi also has food for lunch and dinner but in my opinion they are way better in breakfast. Eating along the nature with tea would definitely bring you joy!
The prices vary between what you choose to eat. But it has an average price of 8$ per person. In case you want to try this place, I will share their location, opening hours and phone number.
Address; Kirazli, Kirazli Camlik Yolu Uzeri, Kusadasi/Turkey
Opening hours; 9 AM to 10 PM except Mondays
Phone number; +90 256 667 10 03
2- This is not the Sauce one: Ketchup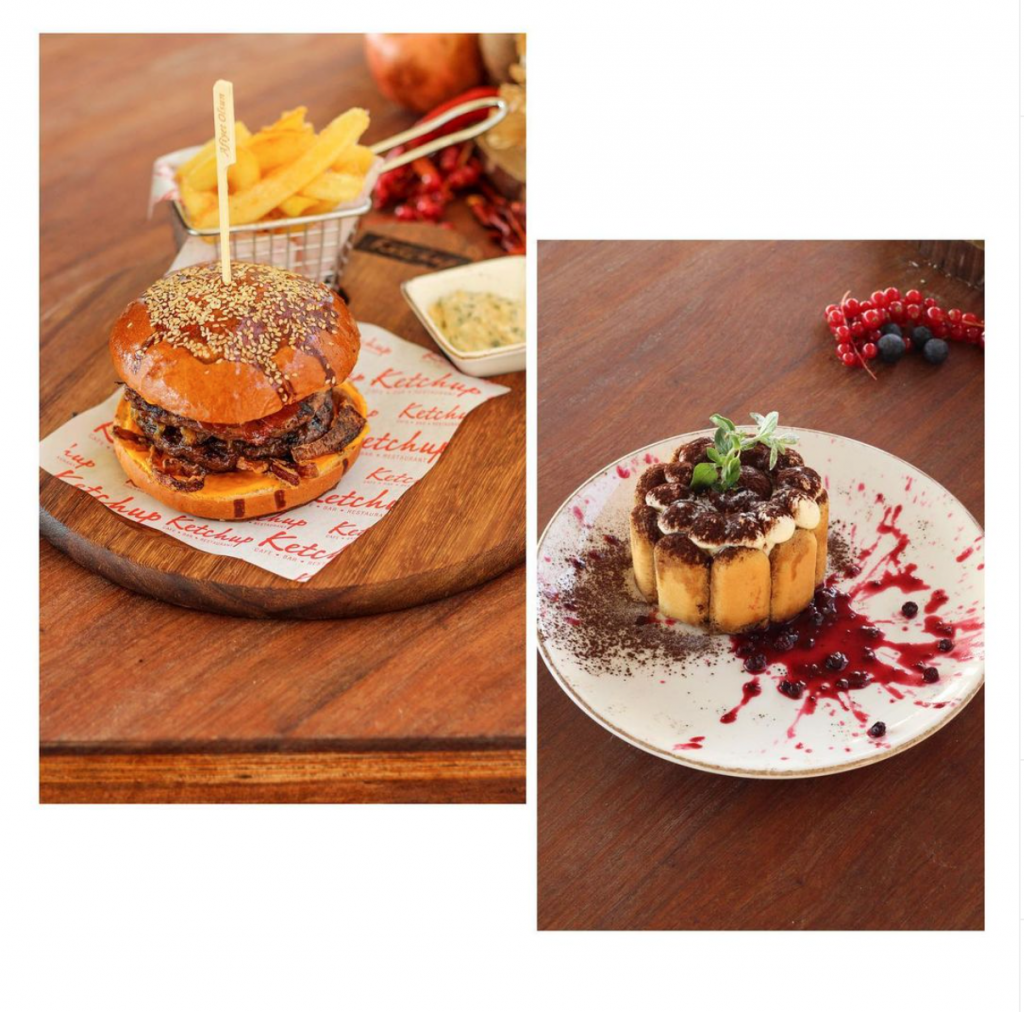 Photo Credit: Ketchup official Instagram account
Yes, this place is called "Ketchup". Just like the sauce one. I don't know if the owners of the place were inspired by the sauce, but the name sounds cute. Especially when we think that the concept is European cuisine.
The place even has gluten-free and vegetarian options. Ketchup is appealing to all tastes. You can eat salad, pasta, meat, chicken, pizza, hamburger or dessert in this place where there is a wide variety of food and you can choose drinks such as coffee, cocktails, and alcohol.
When I look at the comments, the most praised dishes are salads, pasta, and pizza. Just saying! After all, these dishes are at the top of many of our favorite dishes list.
The place has this "all day, all night" concept, literally. It is open every day from 8 AM to 4 AM.
Address; Setur Marina AVM, Kusadasi/Turkey
Phone number; +90 256 618 35 15
3- Experience Yucca's Atmosphere and Live Music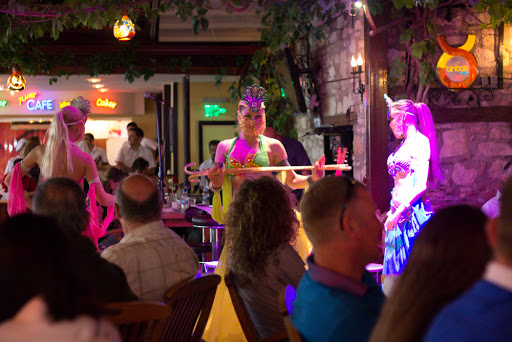 Image Credit: Yucca official website
Yucca is a plant species. Yucca plant belongs to the family of shrubs. It is also one of the highly preferred plants in homes. Since Yucca Restaurant has a very original name, I wanted to tell the meaning of its name before talking about it.
First of all, Yucca's slogan "Good food, good times" has summarized what we should expect from the restaurant. The place has a very pleasant atmosphere and the food is delicious.
Another important difference between Yucca Restaurant from other places I would recommend is that there is live music here. Live music lovers gather here!
Another favorite feature of this restaurant is that it has Chinese, Indian, and Turkish cuisine. So it's not classic European cuisine like my other suggestions. I think it is a great opportunity to discover new flavors.
Yucca is open every day from 10 AM to 3 AM. You can go there during day time or at the night to experience their live music. It is up to you!
Address; Sağlık Cd No: 65, Kusadasi/Turkey
Phone number; +90 256 612 07 69
4- Eat Some Fish With a View in Damla Restaurant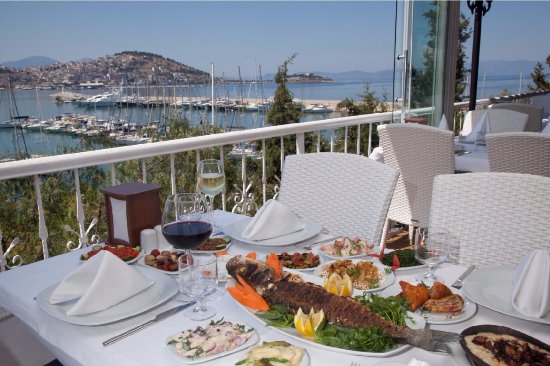 Eating seafood against the sea view? Along with the raki… That's what I call the perfect couple. Here, Damla Restaurant offers you this amazing duo.
Some of you may know or have heard that we Turks have rakı and fish culture. We usually prefer appetizers with raki. Especially the sea restaurants with more appetizers and fish varieties are our favorite.
Damla Restaurant is a place that meets all our expectations. Both the variety of seafood, the taste of the meals, and the expectation of pleasure against the sea. Whatever you are looking for!
This place is open every day from 10 am to 12 pm. Cheers!
Address; Balik Hali Meydani, Kusadasi/Turkey
Phone number; +90 256 612 64 64
5- Try Some Different Sandwiches in Tuki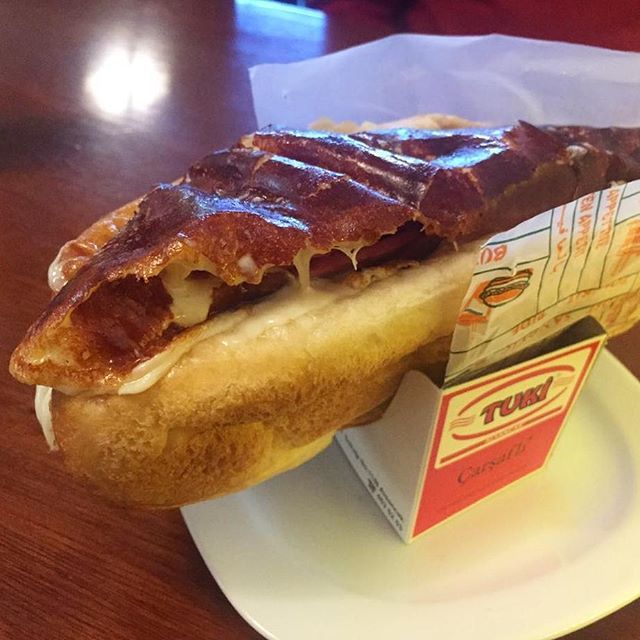 Hello, my sandwich-lover friends! A delicious place suggestion comes to you. Tuki is the number one place in Kusadasi's sandwich area.
You ask why? Because there are also different sandwiches here than you see everywhere. For example, there is a sandwich called Carsafli. Carsafli Sandwich has sausage, french fries, fried cheddar cheese, tomatoes, pickles, and ketchup-mayonnaise.
Apart from the original version, there are also different varieties for those who do not like sausages. The same ingredient has sausage instead of sausage, a mixed sausage-salami, sausage-salami-egg, and roasted meat.
Tuki does not only have Carsafli, but the most popular food of this place is itself. If you don't want to try it, there are alternatives like toast, french fries, and hamburgers.
Tuki serves from 8 am to 1 am every day.
Address; Kemal Arıkan Cad, Çağlayan Sok, No: 2, Kusadasi/Turkey
Phone number; +90 256 612 34 44
6- Try Open Buffet in Palm Wings Restaurant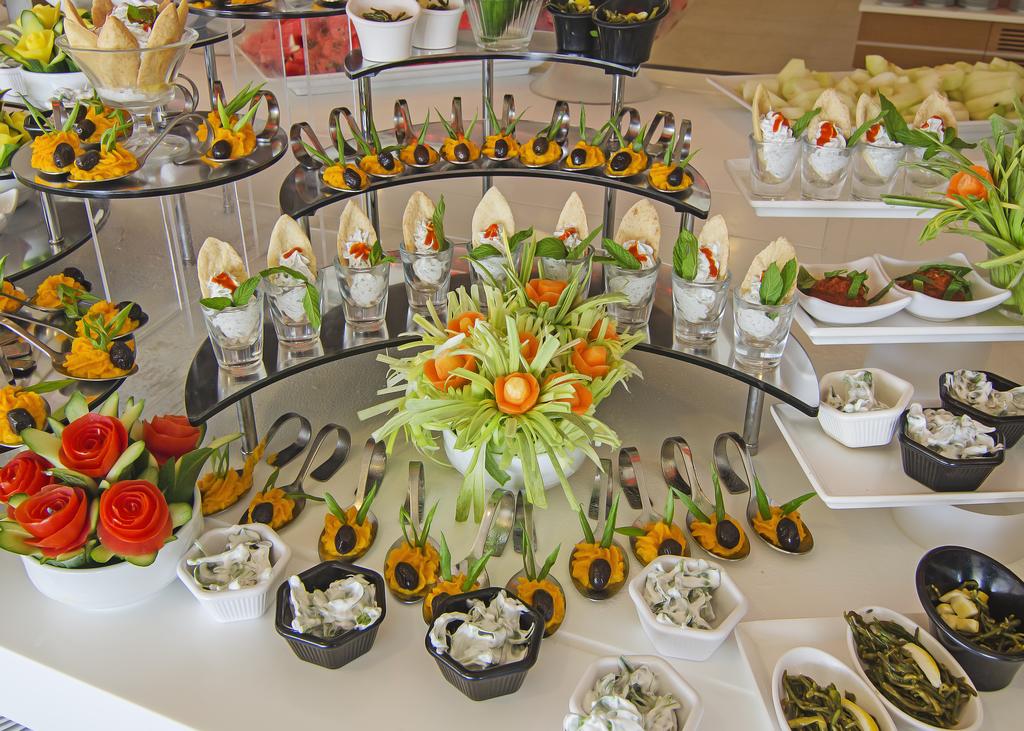 Image Credit: Palm Wings official website
Palm Wings is a hotel whose name is quite reminiscent of America. The restaurant in this hotel is also at number 6 on our list.
Unlimited open buffet breakfast, lunch, and dinner are provided to those staying at the hotel during their stay. Besides, local alcoholic drinks and non-alcoholic beverages are also free. Guests staying for seven days or more could also have a free of charge a-la-carte restaurant for a day.
Let's come to the part that we will praise here, there is no open buffet in this hotel! Also, all their food is very tasty. The sad part is that only those staying at the hotel can benefit from them.
The hotel has a sea, pool, spa & wellness section, and animation shows for children. It is one of the best choices in Kusadasi for those who like to have a hotel holiday.
Address; Davutlar Mah, Adnan Kahveci Cad, 09430, Kusadasi/Turkey
Phone number; +90 (256) 612 70 20
7- Satisfying Portions on a Reasonable Price in Kutes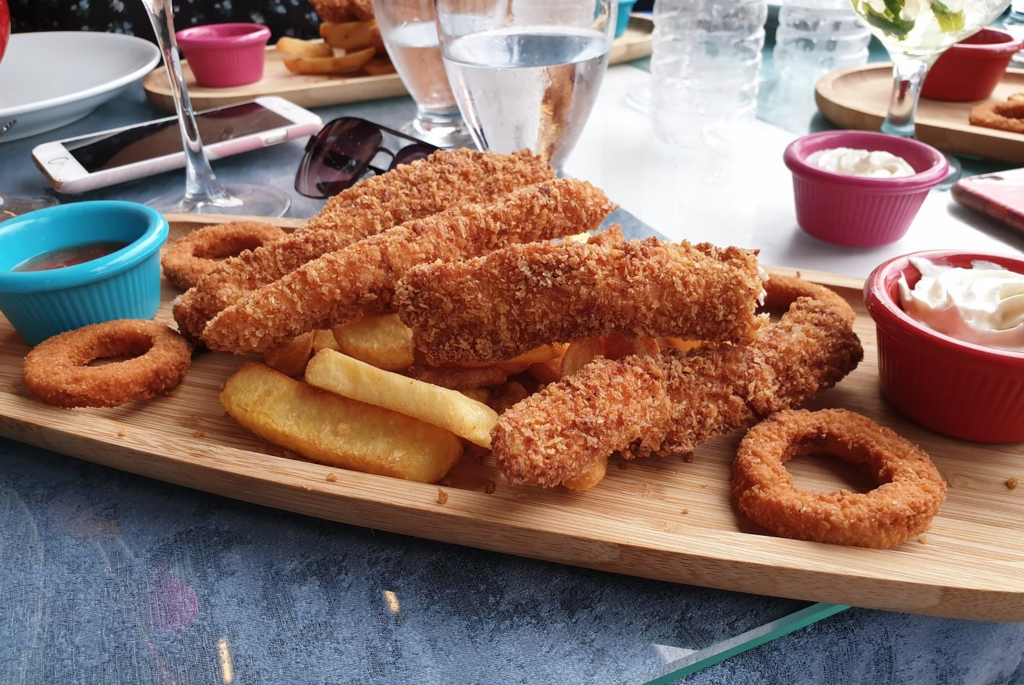 Photo Credit: Tripadvisor
Kutes is a very cute cafe by the sea. Customers prefer this place, especially for its location and view. But of course, their food is also very tasty.
It is located on Liman Caddesi, a popular location in Kuşadası. The menu of the place is quite varied, you can find anything from fast food to fish. There is also an alcohol service, so it is a nice place to enjoy a beer against the sea
Although the portions are very satisfying, I can say that the prices are very reasonable.
Address; Camikebir Mah, Ataturk Blv, Liman Cad, Kusadasi/Turkey
Phone number; +90 256 614 36 66
8- You can Feel in Miami with Coconut Beach, Cafe & Bar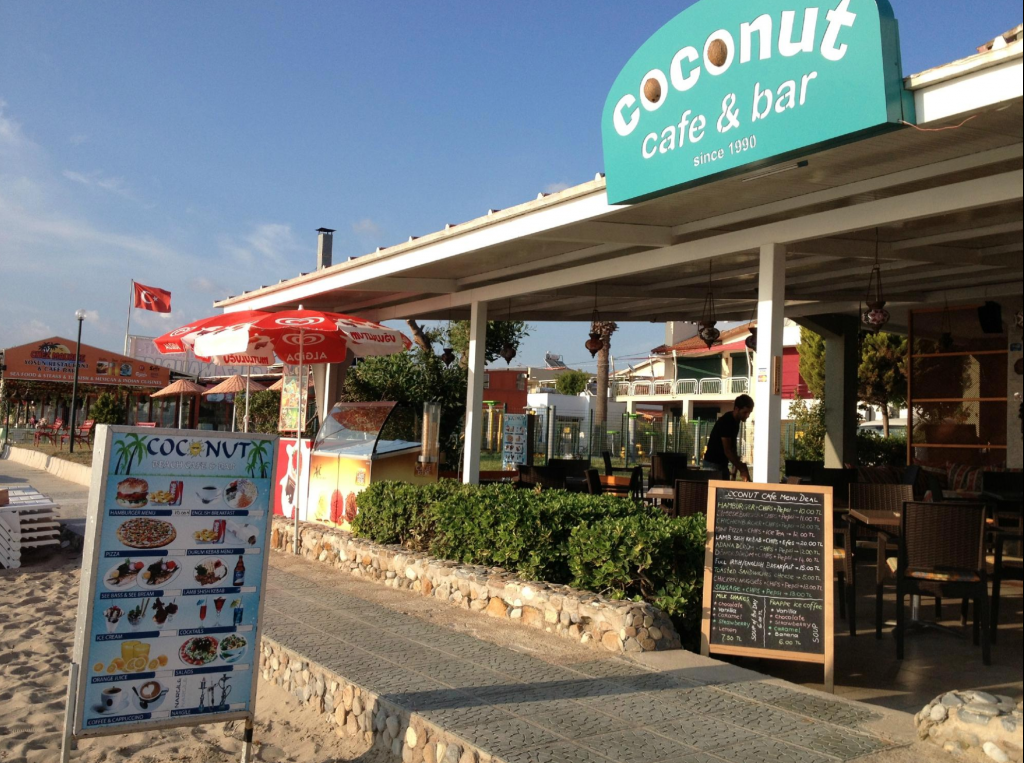 Photo Credit: Tripadvisor
Coconut Beach, Cafe & Bar are also located on the coastline just like Kutes. But this is closer to Tortuga Pirate Island Aqua Park.
This cafe, which also has a beautiful sea, can make you feel like you are in Miami or Hawaii. In the comments I came across in my research, there were many people, both local and foreign, who said this.
However, the menu of this place includes Italian cuisine, fast food, and seafood. In other words, some products are very satisfying in terms of variety and can meet everyone's wishes.
If you go to this cafe, which has a very friendly atmosphere, do not forget to swim!
Address; Papatya sokak No.2 Sahil Siteleri, Kusadasi/Turkey
Phone number; +90 532 335 51 41
9- A Place Where You'll Feel Like You are in Heaven: Mezgit Restaurant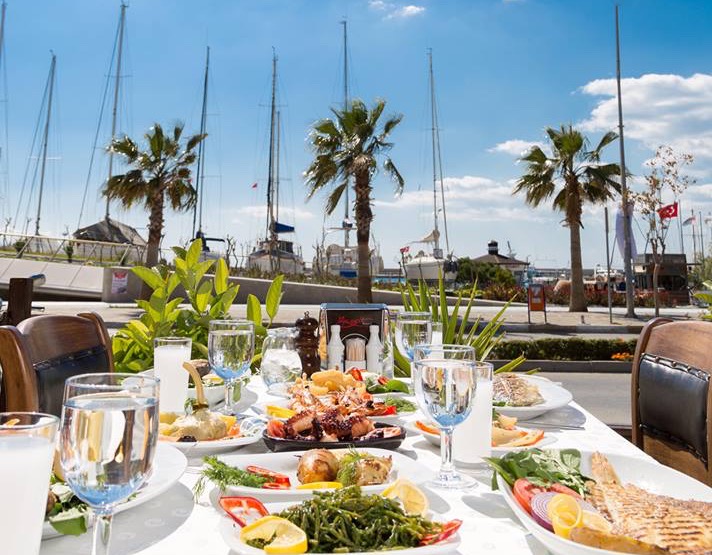 Even this table and landscape may be defining paradise for some of us. If you are looking for a pleasant place to eat fish against the marina, Mezgit is just for you.
It is a place that meets all expectations of service, taste, and presentation, which has increased as a result of the reflection of the transformation speed in the modern age on the food culture and manages to not lose its "essence" while complying with the requirements of the age.
In addition to the traditional cuisine in Aegean flavors and seafood, it offers these dishes at modern world cuisine standards. Haddock Restaurant, young, old, local, and foreign; appeals to all audiences, people of all ages, and all palates.
Although it is a fish restaurant, there are also vegan and vegetarian options.
During the COVID-19 process, the restaurant changed its working hours. It is currently open from 11.30 am to 12 am.
Address; Turkmen mah. Ataturk Blv. No:104, Kusadasi/Turkey (Accross Setur Marina)
Phone number; +90 256 618 28 08
10- An Italian Food in Mare Restaurant and Bistro Would Never Hurt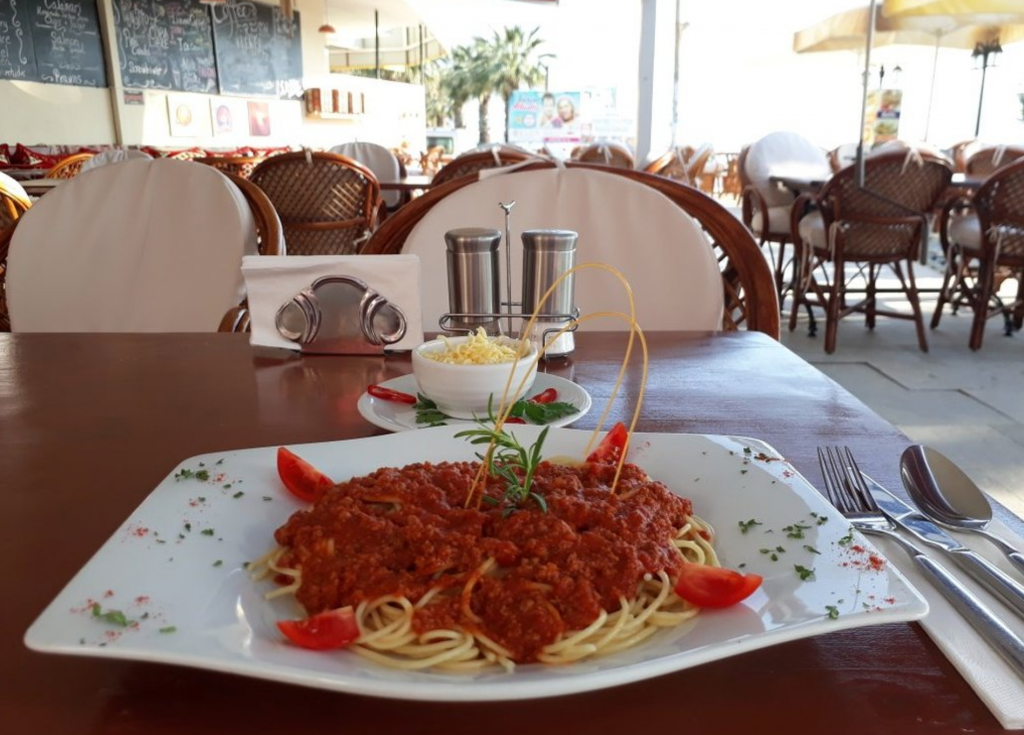 Photo Credit: Tripadvisor
Mare Restaurant is a cozy place with its authentic and peaceful environment. The operators Ali and Els have been running this place since 1992.
As the name suggests, there is seafood here. But not like other seafood restaurants. There are also steaks and barbecue dishes here.
"The Best Restaurant" was chosen both in the steak restaurant category and among all the restaurants in Kuşadası, I am not kidding, they are really in the first place.
Winning the hearts of local and foreign guests, this duo fascinates everyone with their sincerity and warm environment.
Mare Restaurant is open every day from 9.30 AM until 12 AM. However, prices range from $ 2.5 to $ 16. Of course, it depends on what you eat and drink.
Address; Orhangazi Cad, Number 9, Yavansu Mahallesi, Long Beach, Kusadasi/Turkey
Phone number; +90 533 542 56 41
11- Why Don't We Sit and Enjoy the Seaside in Kiwi Restaurant
Photo Credit: Tripadvisor
Kiwi is another place where you can enjoy your meal and drink against the sea. It attracts attention to being the 2nd best restaurant in the "Seafood" category in Kuşadası.
It has a very pleasant atmosphere with its view overlooking the Ladies Beach.
Besides, not only seafood but also many types of food such as meat, desserts, and pizza are very tasty here. So don't just focus on it because it ranks second in seafood. Tell them about your meat or eat your dessert afterward. Oh, and the breakfast is also very enjoyable.
Kiwi is open daily from 8.30 am to 2.00 am. Even though the pricing is slightly above average, I think this view and taste is worth it, you will not regret it.
Address; Kadinlar Denizi Cad.No:31/2, Kusadasi/Turkey
Phone number; +90 536 345 47 53
12- Try Some Where Else for Ireland Food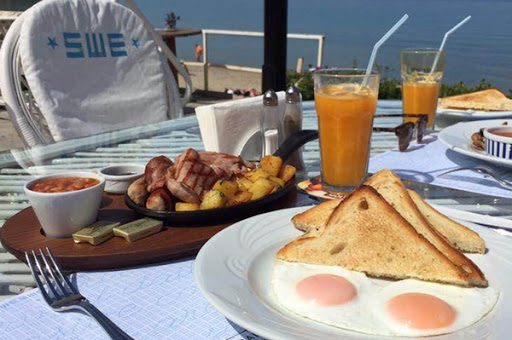 If you are looking for Irish cuisine in Kusadasi, Some Where Else is the place you should go. If you are not looking, I suggest you go. Because you will experience a different taste with different dishes.
This place is known as a pub, but there are many kinds of food for every meal, from breakfast to dinner. It has a wide range from fried marshmallows to English Breakfast and more.
Some Where Else is also located around Ladies Beach. It has a very pleasant atmosphere.
In addition to being a pub, I think you should definitely go to have at least a beer because beers are famous in Ireland.
Some Where Else is open daily from 7 AM to 2 AM.
Address; Ladies Beach, Kusadasi/Turkey
Phone number; +90 256 612 76 14
13- Good Food, Good Mood in Bottarga Restaurant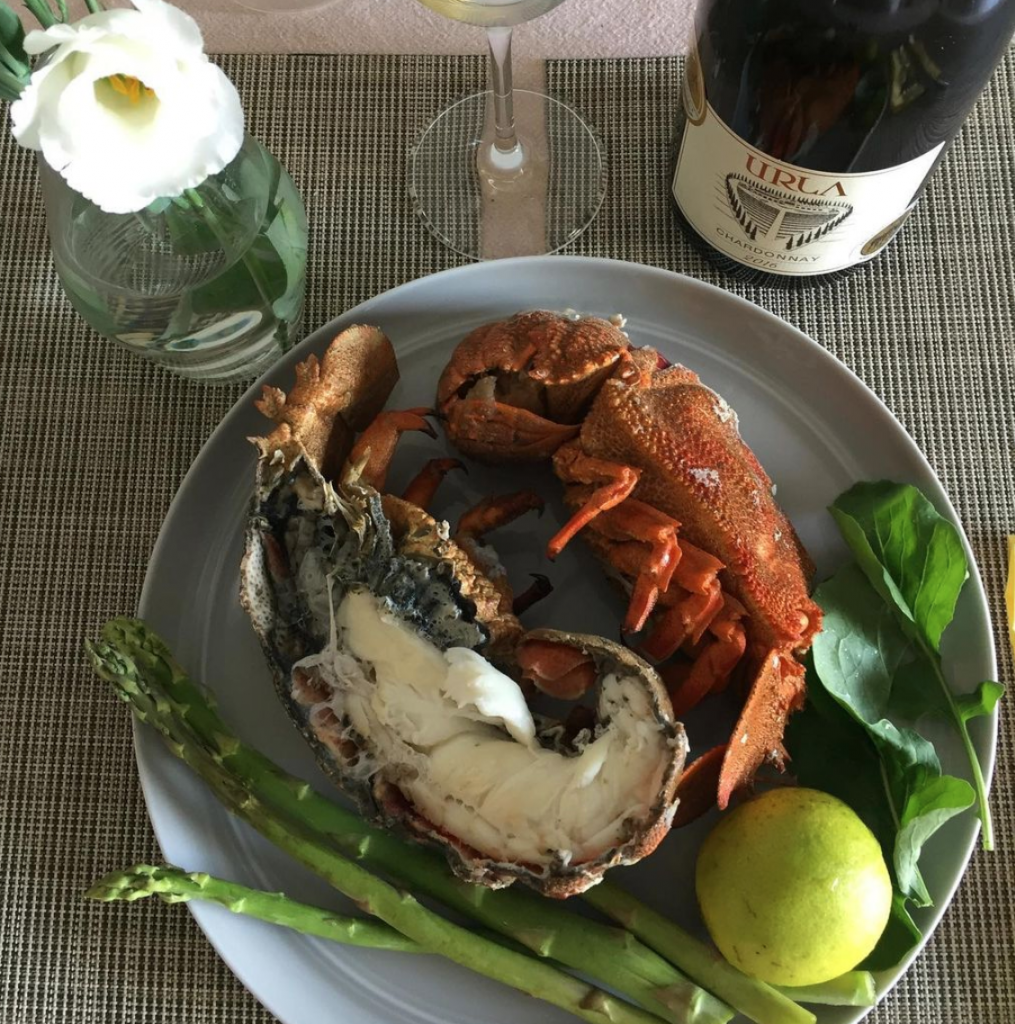 Photo Credit: Bottarga official Instagram
Bottarga is the best place to go to have a great Italian night out. It is not only Italian, but there is also sushi here. But Bottarga is known as the best Italian restaurant in Kusadasi.
I was hungry while looking at the visuals of the food, they make such beautiful presentations that it is impossible not to water the mouth. Italian cuisine, seafood, and sushi, as well as a drink… A place with an elegant and classy atmosphere.
I don't think I should say too much about the food, you taste it. But my advice to you is to keep this restaurant on the list of places to go.
Bottarga is open every day from 12 PM to 12 AM.
Address; Turkmen Mah. Ataturk Bulv. Sekerbank Yani, Kusadasi/Turkey
Phone number; +90 532 325 57 99
14- Delicious Appetizers in Liman Balık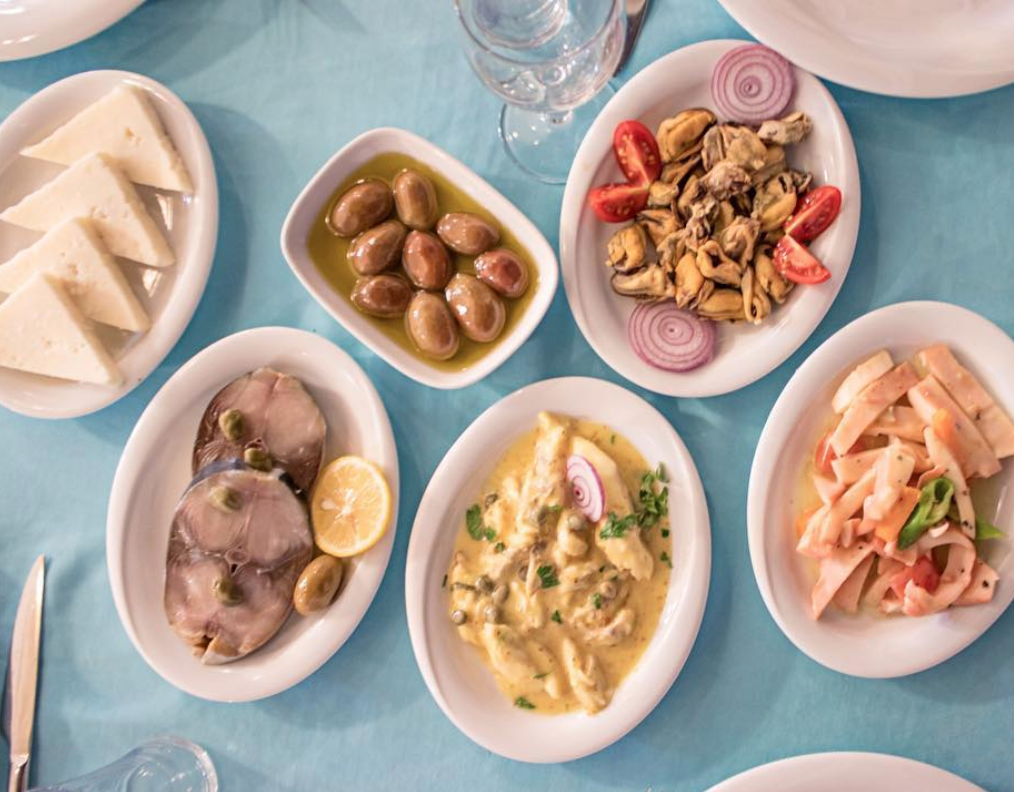 Photo Credit: Liman Balık official Instagram
As Kusadasi is a place located on the coastline, there are many fish restaurants here. In addition to my previous fishing suggestions, I wanted to add Liman Fish to this list.
Liman Fish will give you a great feast with its variety of appetizers, especially olive oil appetizers. The Aegean Region is famous for its olive oil dishes. Since Kuşadası is also located in this region, I think you should not leave without eating olive oil.
Of course, like other fish restaurants, there is a magnificent view, delicious appetizers, fresh fish, and raki. There are also beer or wine varieties for those who do not like raki.
Liman Balık serves every day from 11 AM to 12 AM.
Address; Tümen Sk. No: 10 Türkmen Mahallesi, Kusadasi/Turkey
Phone number; +90 256 618 44 06
15- This is the Steak Paradise: Etchi Steakhouse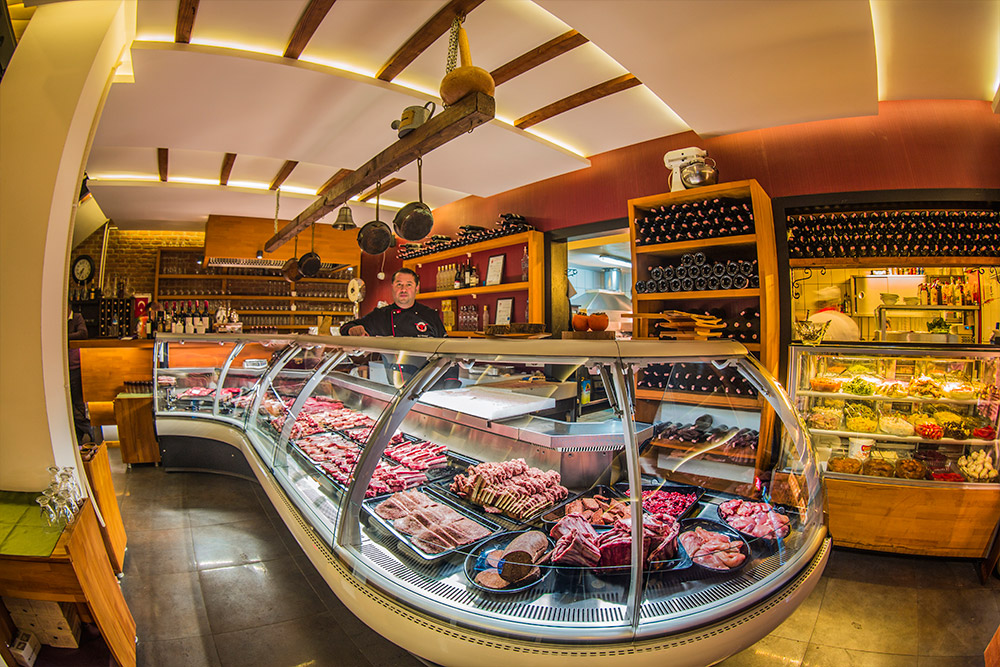 Image Credit: Etchi official website
Etchi Steakhouse is another must-see meat restaurant in Kusadasi. They offer a feast to meat lovers with a variety of meat you know or maybe not.
Just like other meat restaurants, they cook the meat to the extent you want and offer it to you. They usually serve meat with boiled vegetables and potato wedges.
If you want meat, I suggest you keep this place in mind to spend a pleasant evening. Etchi Steakhouse serves every day from 9 AM to 12 AM.
Address; Akyar Mevkii Opposite Kismet Hotel, Kusadasi/Turkey
Phone number; +90 256 612 32 33
16- An Amazing Food Presentation in Mood Bistro and Restaurant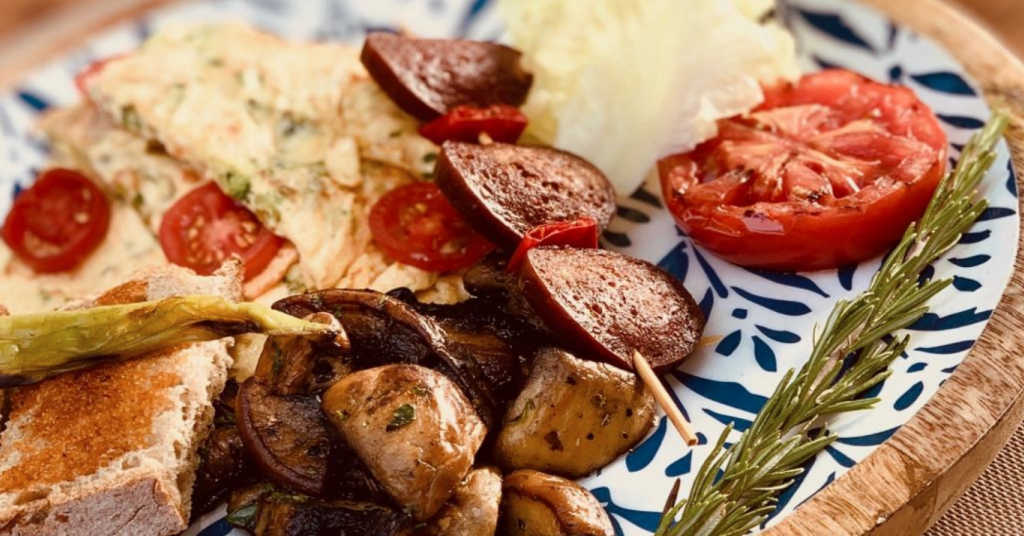 Image Credit: Mood Bistro official website
Mood Restaurant is a place that raises our mood with its colorful atmosphere and the presentation of its food.
Mood, where you can find all kinds of food, is located in a hotel in the center of Kuşadası. This is a restaurant highly preferred by tourists.
A place to cheer up your three meals and even your snacks with international, Mediterranean, Turkish, European cuisines, and barbecue varieties. Besides, I have to say that the place is vegetarian friendly.
Mood serves every day from 8 AM to 11.45 PM. You can stop by for a meal or a drink.
Address; Aslanlar Sok. No: 1 Camiatik Mah., Kusadasi/Turkey
Phone number; +90 544 382 46 06
17- First Steakhouse in Town: Tranche Steakhouse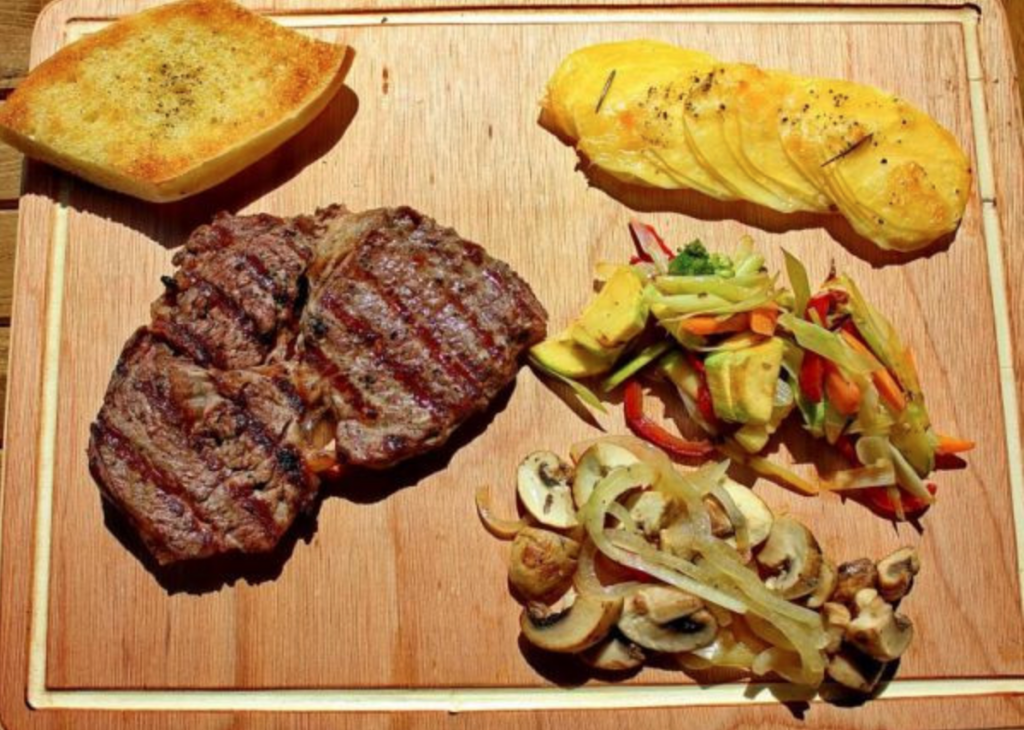 Tranche is the first steak house concept restaurant in Kuşadası. Also, this place has a very large wine cellar. In Tranche, which has both a restaurant and a cafe concept, guests pamper themselves with wine tasting recommendations accompanied by a wine expert.
Tranche Restaurant is located in Setur Marina. It was opened in the summer of 2012, with the completion of the restorations in the marina.
I recommend that those who love the meat and wine duo go. Because this is the 4th best steak restaurant in Kuşadası.
Even the presentation of the food satisfies our eyes. In addition to these dishes that are presented in a very aesthetic and delicious way, I think you should drink some wine when there are some experts for you to recommend the best wine.
Address; Ataturk Bulvari, Setur Marina, Kusadasi/Turkey
Phone number; +90 256 618 28 29
18- The City's Main Meeting Point: Marvista Restaurant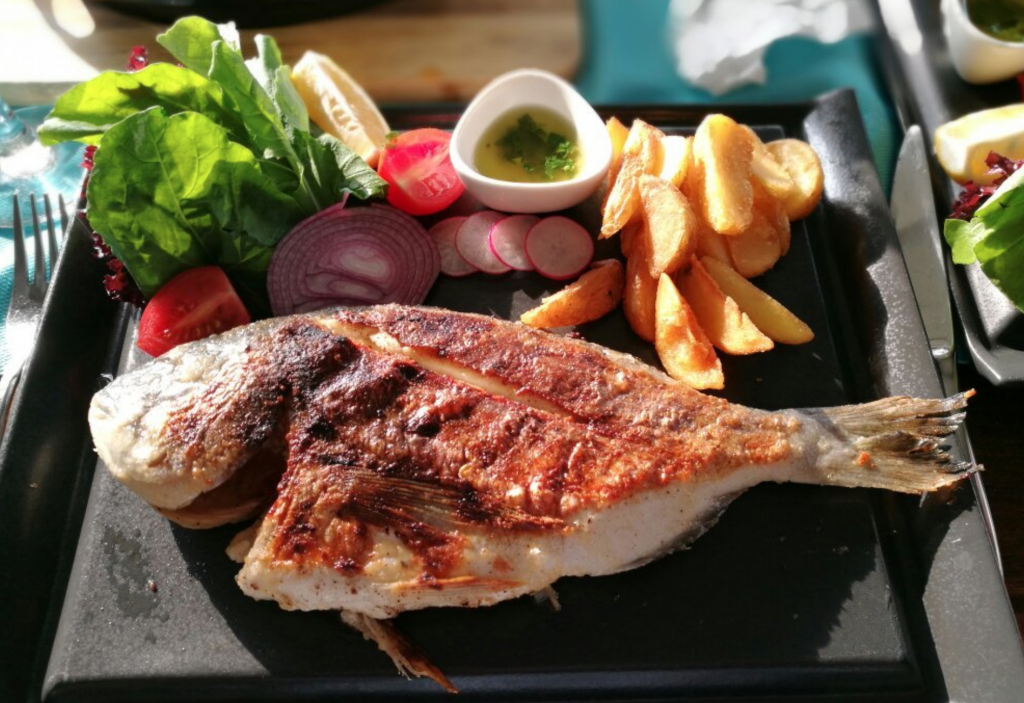 Photo Credit: Tripadvisor
As its location is on the beach, Marvista Restaurant is an indispensable stop for both breakfast and other delicious meals. Their mixed breakfast and grilled meats are delicious. Marvista is the place where many meetings take place in Kuşadası.
Marvista's main cuisines are European and International cuisines. The place was ranked as the 11th best restaurant in Kuşadası.
Marvista Restaurant is one of the people's favorite restaurants at reasonable prices. Especially, it is the best place to watch the sunset. The locals of Kuşadası will also know that it is very crowded, especially at this time of the day.
Address; Turkmen Mah. Ataturk Bulv. No. 46 Hotel Ilayda, Kusadasi/Turkey
Phone number; +90 256 614 38 07
19- A Warm Happy-Hour in Casablanca Restaurant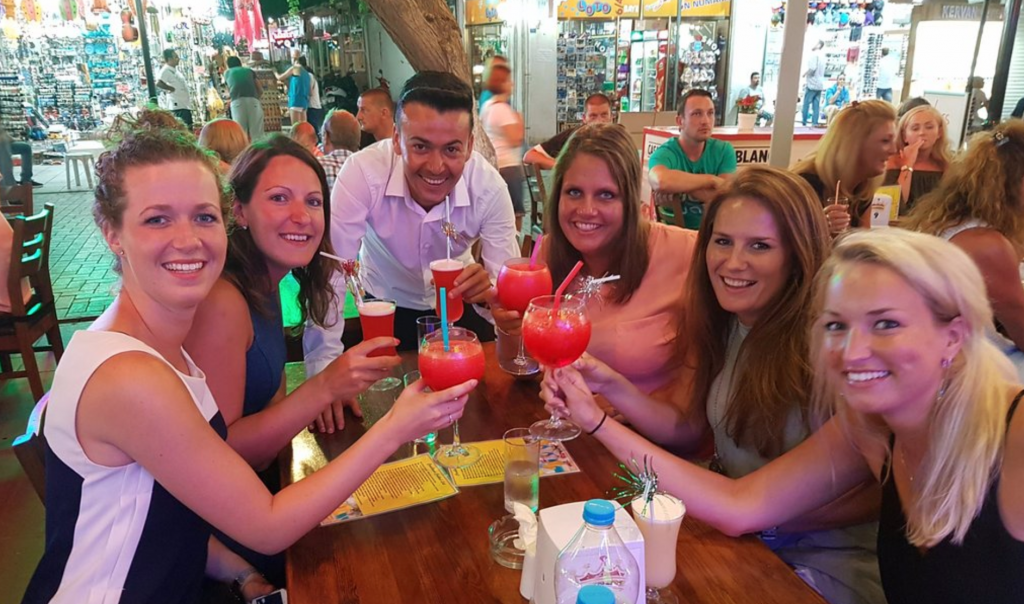 Photo Credit: Tripadvisor
I left the most fun place at the end of the list. Casablanca is a place full of enthusiasm in the heart of Kuşadası with its live music, staff, and cocktails!
I thought it would be a good choice for Happy Hour. Because this is a place that can give you a very enjoyable evening with its cocktails and lively structure. Another advantage is of course its location in the very center of Kuşadası.
It is a place where you cannot decide from Turkish kebab to fast food options due to its excessive choice and delicious food.
Within the scope of COVID-19 measures, they only took customers who made reservations.
Address; Adnan Menderes Bulv. Yeni Belediye Binasi Yani No:13, Kusadasi/Turkey
Phone number; +90 532 695 31 26
These 19 places were my favorites in Kuşadası. As Kuşadası is not big as Bodrum or Çeşme, there are fewer restaurants compared to them. That's why, I tried to include every cuisine that Kuşadası provides us. Hope you enjoyed!