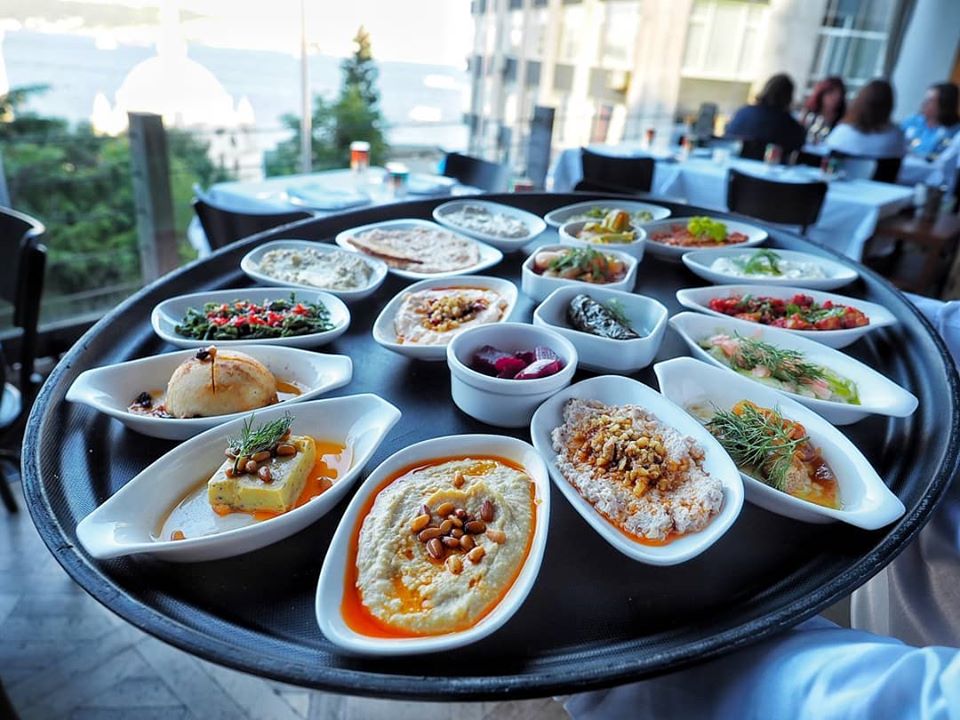 The dictionary definition of "gourmet" is a connoisseur of food, someone who has a discerning palate, particularly where great food is concerned. Gourmets are also known as "foodies." When applied to food, the word gourmet indicates a sophisticated variety of food and drink in high demand and only available at a small number of high-end locations. Gourmet chefs tend to use a number of exotic ingredients that are unique in flavor or texture and hard to find or exported in small amounts from their places of origin.
Istanbul is home to many nations (particularly in the past) , ethnicities, and cultures that can only be compared to a select few in the world. Its unique history is reflected in the city's gastronomical fare with a variety of options, ranging the gamut from vintage street carts to astonishing rooftop terraces, from traditional strong cups of Turkish coffee to unpredictable Turkish wines, from a simple pretzel to extraordinary meatball dishes. One thing is for sure, Istanbul's cuisine is flavorful, vivid, cool, and subtle.
Here are my picks for the best restaurants serving the best food in Istanbul.
1- Rana Meyhane
Formerly known as Topaz, Rana Meyhane serves the best Mediterranean- and Ottoman-style food. Located in Râna, overlooking the Bosphorus, the great food is accompanied by a peaceful atmosphere and complemented by its modern decor. The only thing better is its menus–there are two–and its modern and traditional dishes.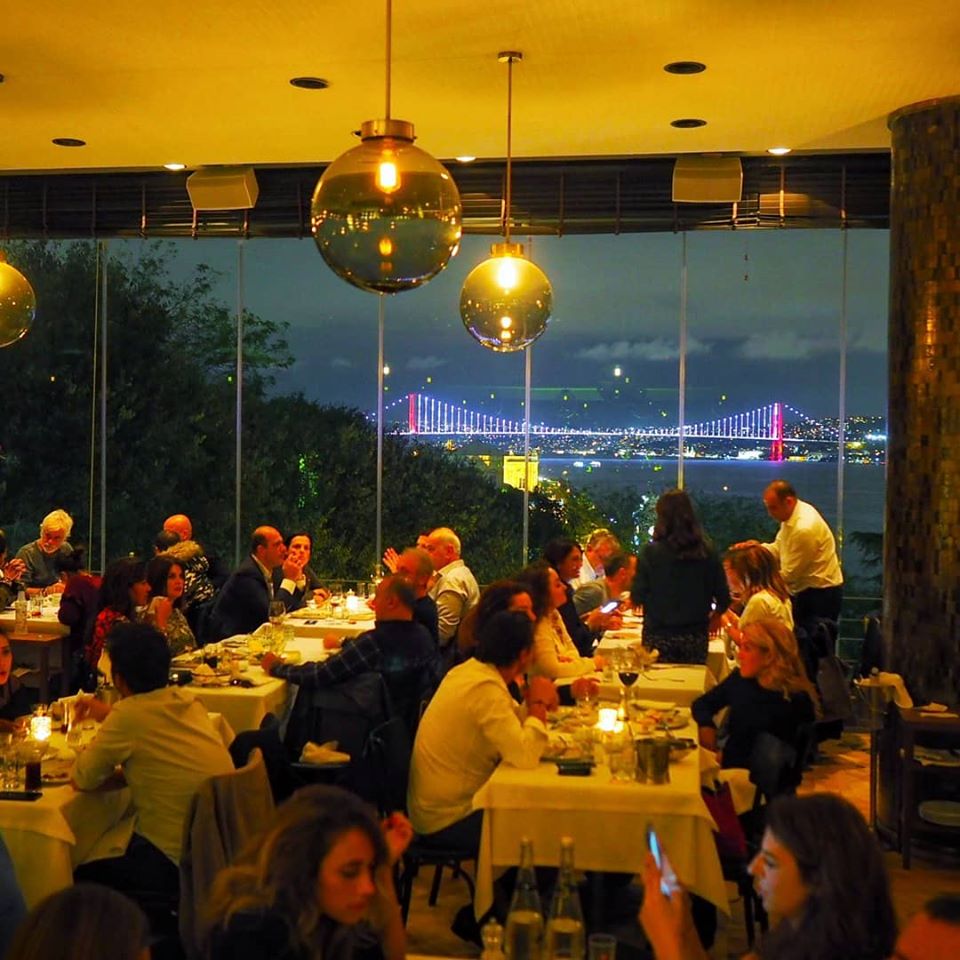 Râna combines Turkish cuisine along with drinking, socializing, music, and entertainment culture in its exquisite appetizers and dishes served in an elegant, modern atmosphere. It also has intimate lounges in which you can chalk up some delicious moments.
Hors D'oeuvre
Tzatziki (Diced cucumber, garlic, and mint in yogurt)
Topik (Crushed chickpeas, currant, cumin, and tahini, roots of spinach in olive oil
Fava (Mashed broad beans)
Aubergine in Sauce
Circassian Chicken (Shredded chicken breast, walnuts, garlic)
Atom (Chili paprika, yogurt, garlic, and olive oil)
Pacha' Deli (Paprika paste, with cheese, walnuts, cumin, garlic)
Stuffed Cabbage Leaves
Tarama and Crisp Bread (Mashed fish roe with bread crumbs)
Mackerel and Onion Sauce
Dried Malatya Apricots, Damson, Cheese, Walnuts
Mutabbal (Charcoal roasted aubergine, tahini, and garlic)
Tacikli (Tahini, onion, cinnamon, orange juice)
Main Courses
Seasonal Catches of Fish
Rana Meatballs
Grilled Meatballs
Grilled Chicken Chops
Rib Steak
Starters
Pan-Fried Lamb's Liver and Onions
Crete Zucchini Patty
Phyllo Pastry with Herbs and Cheese
Pan-Fried Shrimps in Butter
Roasted Octopus and Herbs
Seafood Orzo
Address: Ömer Avni, İnönü Cd. No:50, 34427 Beyoğlu/Istanbul
2- Ulus 29
Ulus 29's restaurant and terrace are great places to see the Bosphorus and Istanbul's bridges in the summer since 1993. Centering on gourmet food using traditional cooking methods, Ulus 29 serves up regional cuisine made with seasonally fresh ingredients. This is the place to go for an authentic Turkish experience featuring dry-aged meats, ice cream, and pasta.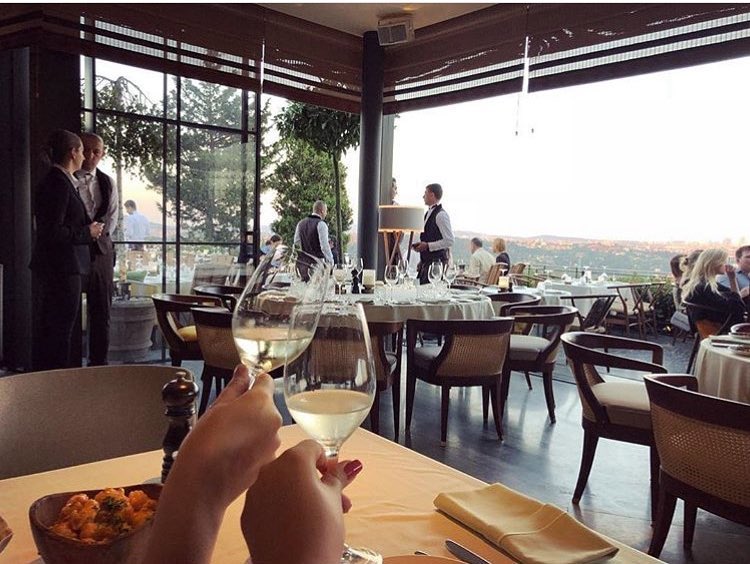 For a gastronomical experience, classic Turkish fare, and even sushi, enjoy Ulus 29's wine list (featuring about 4,500 bottles) or cocktails (served at the Terrace Bar), accompanied by music played by international DJs on weekends at Ulus Club 29. 
Starters
Zeytinyağlı ve Meze tabağı (Turkish mixed platter of roasted nuts, stuffed vine leaves, spicy vegetables, pasta filled with cheese and parsley, stuffed eggplants, spring rolls)
Seabream Tartare with avocado puree
Grilled eggplant with walnuts and eggplant chips dip
Popcorn shrimps with sweet and spicy sauce
Guacamole
Artichoke with fava beans
Main Courses
Bütün Ördek (Whole duck marinated in soy, served with cheese, onions and special sauce)
Kuzu Küşleme (Lamb fillet, green wheat risotto, and sauteed spinach)
Dana Bonfile (Beef tenderloin, cauliflower puree, French beans, and sauce)
Yoğurtlu Kebap (Kebab tenderloin or meatballs grilled with yogurt on Pita bread and grilled eggplant, brown butter, and tomato sauce)
Izgara Kuzu Pirzola (Grilled rack of lamb, wheat, and smoked yogurt)
Ali Nazik Kuzu Şiş (Grilled lamb skewer on yogurt with grilled eggplant)
Izgara Dana Pirzola (Grilled bone-in rib steak, spinach puree, panned potatoes, and mushrooms)
Dana Ilik (Bone marrow, red onion, parsley)
Ördekli Çıtır Börek (Crispy duck spring roll, Hoisin, and spicy ginger sauce)
Address: Ulus, A. Adnan Saygun Caddesi, Ulus Parkı İçi No:71/1, 34340/Istanbul
3- Aman Da Bravo Bistronomique
Hidden on a quiet street in northern Istanbul, you'll find Aman Da Bravo Bistronomiquqe far away fro the city center, serving up a unique ambiance along with the food. The menu boasts seasonal changes, the chefs and owners are attentive to their patrons, meaning that the food and service are always top-notch.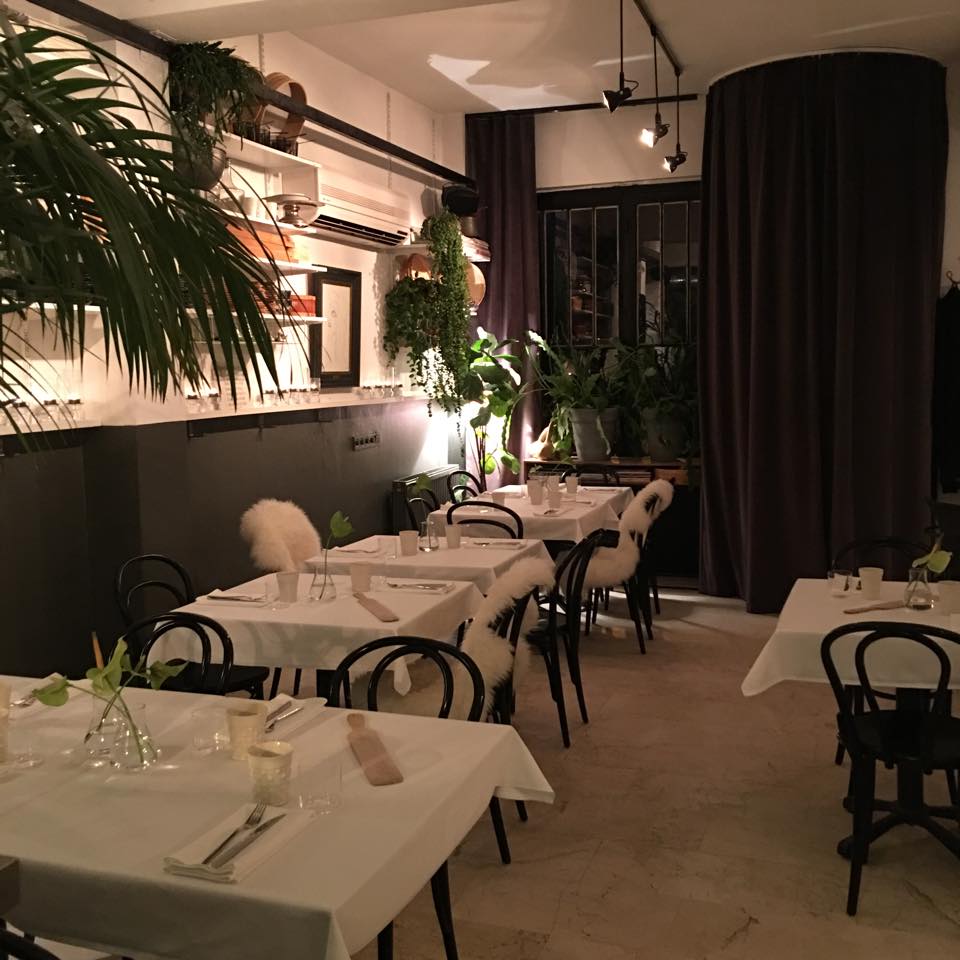 Here, they serve simple but exquisite dishes, including Celery root and quince braised in olive oil, roasted neck, and cabbage, smoked bonito with a side of fennel salad, and mashed green apple.
4- Milano Gourmet
Milano Gourmet serves Italian cuisine with an outstanding level of service and quality in Nişantaşı, the heart of the city's shopping, art, and fashion world, ideal for a fun day out or business-oriented lunch or dinner.Experienced mixologists concoct expertly prepared cocktails at the bar in the evenings.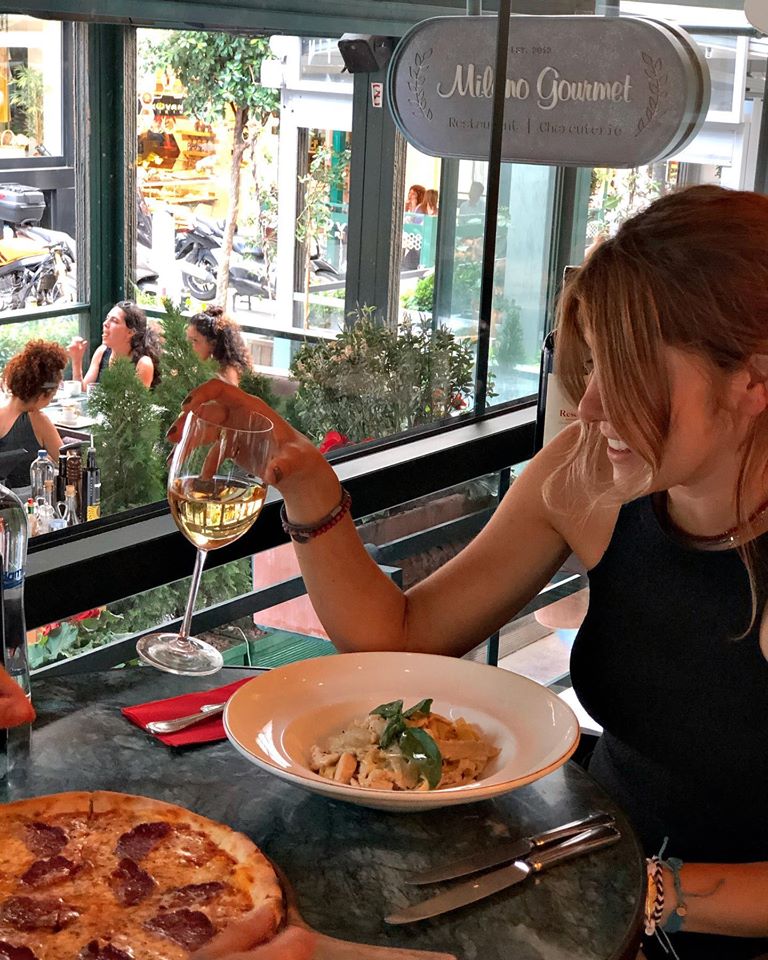 Here, you can spend hours at the bar, accompanied by DJ music beginning at five in the evening. Milano Gourmet combines high-quality, specialized products from European countries–especially Italy–such as gravies, smoked cheese, chocolate, and cookies.
Pizza
Burrata (Tomato sauce, mozzarella, fresh basil)
Bianca Del Milano (White sauce, mozzarella, spinach, zucchini, caramelized onion, goat cheese)
Quatro Formaggi (Fontal cheese, gorgonzola cheese, mozzarella fior de latte, truffle oil, Parmigiano Reggiano, rucola)
Prosciutto Crudo (Tomato sauce, mozzarella fior de latte, Parmigiano Reggiano, rucola)
Funghi (Tomato sauce, mozzarella fior de latte, cultivated mushrooms, oyster mushroom, rucola)
Main Dishes
Izgara Lokum Bonfile (Grilled wrapped fillet)
Gourmet Burger
Ballı Limon Soslu Izgara Salmon (Marinated in lemon and honey grilled salmon)
Burrata Bruschetta
Avocado Salmon Bruschetta
Pesto Sauce Penne
Drinks
Wines
Beers
Milano Frozen Cocktails
Gin
Vodka
Soft Drinks
Tea
Coffee
Milano Smoothies
Yogurt Drinks
Address: Teşvikiye, Şakayıklı Sokak Çınar Apartmanı No:54 D:1-A, 34365 Şişli/Istanbul
5- Banyan Restaurant
Banyan Restaurant's style is a mix of East and West is Banyan Restaurant. Their motto, "Food for the Soul," describes the Asian fusion meals they serve.
Located on the top floor of a historical building, this place offers healthy cuisine with Asian roots, as well as an incredible view of the city and the Bosphorus.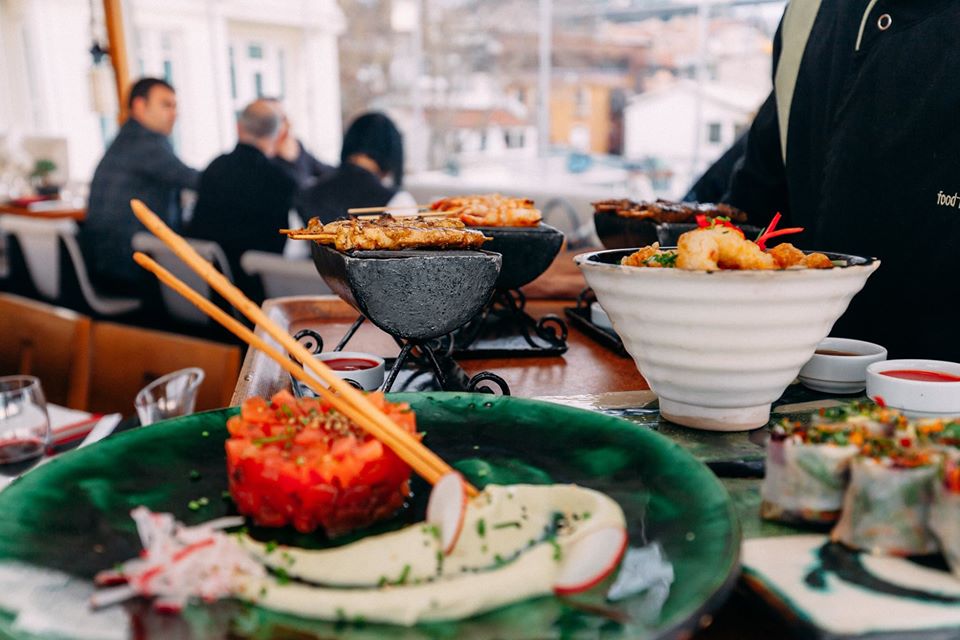 Serving dishes such as Sichuan pepper steak, duck satay, and dim sum, to name a few, the meals are perfectly paired with tea, fresh juice, or a cocktail. Whether dining indoors or outdoors, the dazzling lights of nearby Istanbul are only one of the things that makes this place a local favorite.
Appetizers
Malezya kuzu kaburga (Maley spicy lamb)
Tuna Carpaccio (Ruby grapefruit, avocado, chili, ginger sauce)
Somon Tartar (Salmon tartar, artichoke, vegetables)
Tempura Platter (Crispy vegetables, seafood dipped in oil and special sauce)
Samoosa
Main Courses
Steak Tatar Roll with the red wine reduction
Spider Surimi Roll with flying fish row
Crazy Salmon Roll
Botanic Uramaki with lime aioli
Dynamite Roll with kimchi sauce
Wakasu Tuna Roll
Rainbow Maki Roll
Izgara Norveç Somon (Grilled Norwegian salmon, mashed potatoes, and Teryaki mushrooms)
Drinks
Cognacs
Wines
Banyan Cocktails
Vodka
Address: Yıldız, Muallim Naci Caddesi & Salhane Sokak No:3, 34347 Beşiktaş/Istanbul
6- St. Regis Brasserie
For the best French cuisine in Istanbul, go to the St. Regis Brasserie. Located in the luxurious St. Regis Istanbul Hotel, this intimate restaurant combines indoor and outdoor dining areas with the graceful notes of oak, brass, and onyx. The dishes are seasonal, and they feature contemporary, French-inspired dishes with a Turkish touch.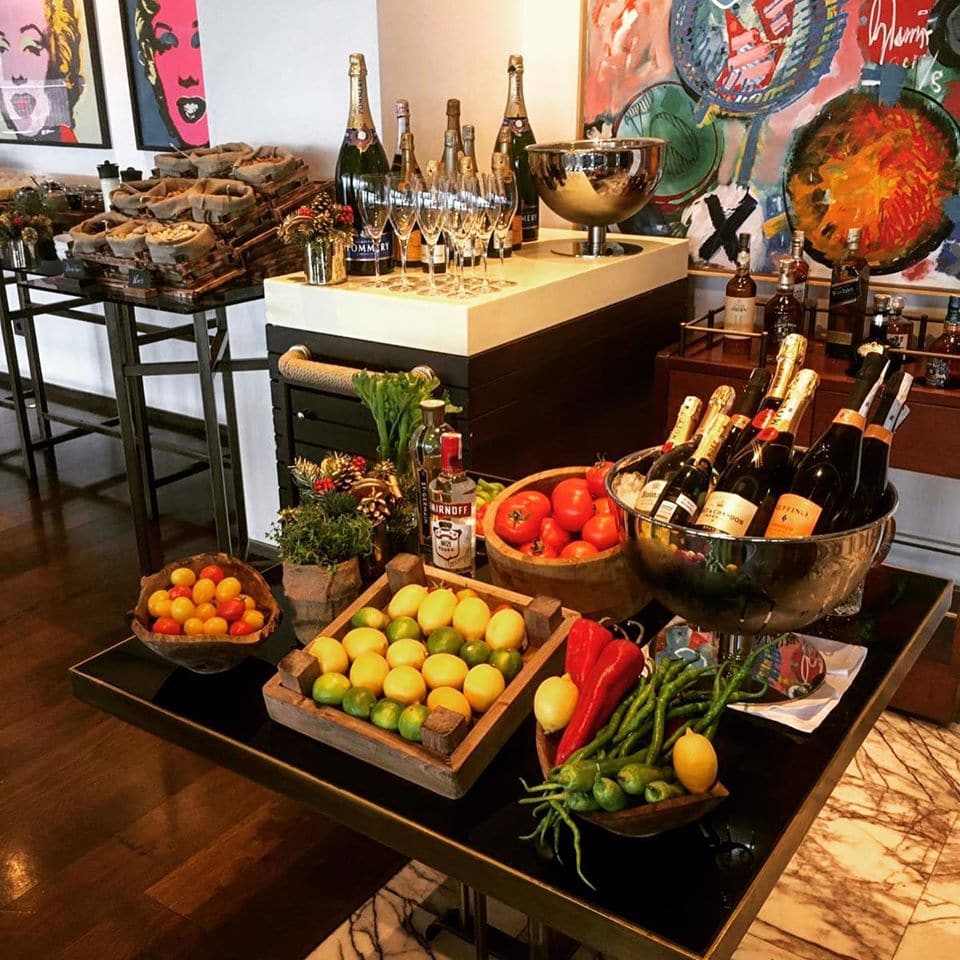 The menu here is extensive and includes a number of salads, handcrafted pasta dishes, and sandwiches along with their appetizers and main courses. Be sure to order the St. Regis Brasserie meatballs or pan-fried black bream with their signature Bloody Mary from the cocktail menu. Don't forget to leave room for dessert–you con't miss St. Regis's raspberry cake, rice pudding, tiramisu, or mascarpone cheesecake.
Main Courses
Free-Range Chicken (Mustard Herb Dust, Tarragon Flavored Potato Cream, Shallot, and Creamy Morel Sauce)
Rock Seabass (Sugar Snaps, Purple Potato, Baby Carrot, Fresh Garlic, Asparagus, Lemon Thyme, Fish Fummet, and Ginger Saffron Veloute)
Salmon Steak (Artichoke Purée, Sautéed Purslane, Sumac, and Grapes, Micro Cress Salad)
Lamb Chops (Dukkah Spiced, Herb Crust, Rosemary, Harissa Sauce, and Plain Rice)
Brasserie Meatball (Char Smoked Eggplant with Yoghurt, Kidney Bean, Arugula, and Garlic Pesto Crouton)
Steak ''Bazlama'' Bun (Grilled Beef Tenderloin, Caramelized Onion, Cheddar, Arugula, and Truffle Flavored Piquillo Pepper)
Side Dishes
Sautéed Seasonal Vegetables
Smoked Eggplant-Romesco
Butter Spatzle-Cheddar
Parmesan-Truffle Fries
Baked Bean-Beef Bacon
Warm Purslane-Yogurt
Gazpacho Rosso (Tomato and Strawberry Gazpacho, shaved Asparagus, and Purple Basil)
Address: Harbiye, Mim Kemal Öke Cd. No:35, 34365 Şişli/Istanbul
7- Nar Lokanta
Nar Lokanta serves up traditional Turkish cuisine in an authentic atmosphere. Both the decor and the menu are traditionally Turkish. The decor has delightful traditional Turkish accents while the menu puts a spin on Ottoman recipes, dating back a millennium. You can choose to eat in the indoor dining room or outside on one of the three rooftop terraces in the warmer months. The terraces are also available for private parties.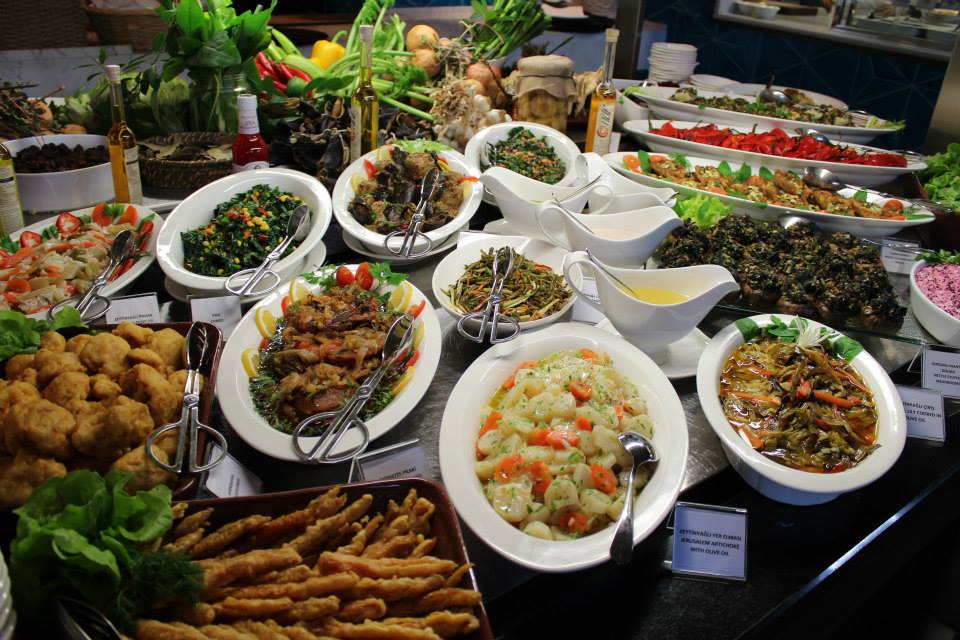 Dishes made with fresh, original, seasonal products are always on the menu. The traditional Turkish menu offers entrees such as lamb (shoulder of lamb, braised lamb shank, stew with lamb), and seafood (filet of sea bass, prawn casserole).
Address: Mollafenari, Ç. Nuruosmaniye Cd. No:65, 34120 Fatih/Istanbul
8- Maiden's Tower
A staple of Istanbul is the Maiden's Tower, located on the Bosphorus at the intersection of Asia and Europe. The tower sports a wealth of legends with a history dating back 2,500 years. The restaurant is situated inside this legendary tower, which attracts guests from across the planet. This is the place to go for a romantic meal, small social gathering, party, and even a wedding!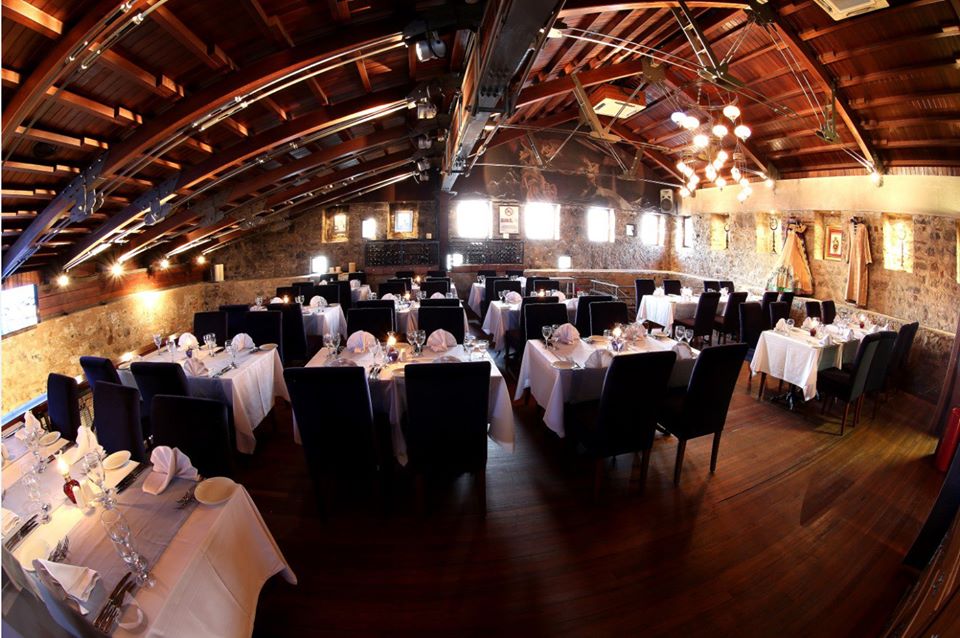 Serving international dishes on their menu, Maiden's Tower is open for breakfast, lunch, and dinner. Your meal is accompanied by live music and a view of the Bosphorus, whether indoors or outdoors. Be sure to ask for the exclusive dining options and enjoy a meal at Maiden's Tower in style.
Main Courses
Levrek Izgara (Grilled Seabass with Buttered Broccoli, and Seasonal Fresh Greens)
Izgara Köfte (Grilled Meatballs, Rice, Grilled Tomatoes and Pepper)
Istiridye Mantarli XL Bonfile (Tenderloin with Oyster Mushroom)
Tavuk Fajitas (Chicken Fajitas, Grilled Chicken, Onion, Colorful Peppers, Sour Cream with Salsa, and Barbecue Sauce)
Fettuccini Alfredo
Peynirli Quesadilla (Cheese Quesadilla, Cheese and Sour Cream inside Tortilla Bread with Salsa Sauce)
Piliç Izgara (Grilled Chicken, Rice, Grilled Tomatoes and Pepper)
Somon Izgara (Grilled Salmon with Teriyaki Sauce and Asparagus)
Sebzeli Noodle (Veggie Noodle)
Hors D'oeuvres Platter
Avokado ve Karides Kokteyl (Avocado and Shrimp Cocktail with Blackfish Eggs)
Ördek Gyoza (Duck Gyoza with Orange Espuma and Sweet Chilli Sauce)
Süt Danası Bonfile Dilimleri (Veal Fillet Slices Aubergine with Capers and Cream Beet)
Maiden's Tower Breakfast
Sahanda Peynirli Yumurta (Fried Egg with Feta Cheese)
Serpme Kahvaltı / Spreading Breakfast (White Cheese, Kasseri Cheese, Tulum Cheese, Strip Cheese, Black Olive, Green Olives, Salami, Tomato, Cucumber, Butter, Buffalo Cream, Honey, Strawberry Jam, Apricot Jam, ChocolateHazelnut Spread, Turkish Bagels, Sultan Pastry with Spinach, Flat Bread on Griddle, Melted Cheese with Roasted Dough, Roasted Meat with Eggs, Grilled Sausage Shish, Sultan's Scrambled Eggs)
Kaşar Peyniri Omelet (Omelet with Kaşar Cheese)
Menemen (Fresh Scrambled Eggs with Feta Cheese, Green Pepper Slices, and Fresh Tomatoes)
Drinks
White Wines (DLC Narince, DLC Moskado, etc.)
Red Wines (Antik, Shiraz, Cabernet Sauvignon, Öküzgözü, etc.)
Raki (Turkish Drink)
Vodka and Gin
Whiskeys
Address: Salacak, Üsküdar Salacak Mevkii, 34668 Üsküdar/Istanbul
9- Asitane Restaurant
Asitane overlooks the Golden horn and is located in the foothills of Istanbul's historical Edirnekapi area, near Chora Church, which is famous for its mosaics and buildings dating back to the Byzantine era. Asitane has been here since 1991, serving dishes that are at home in this eclectic Turco-Ottoman neighborhood.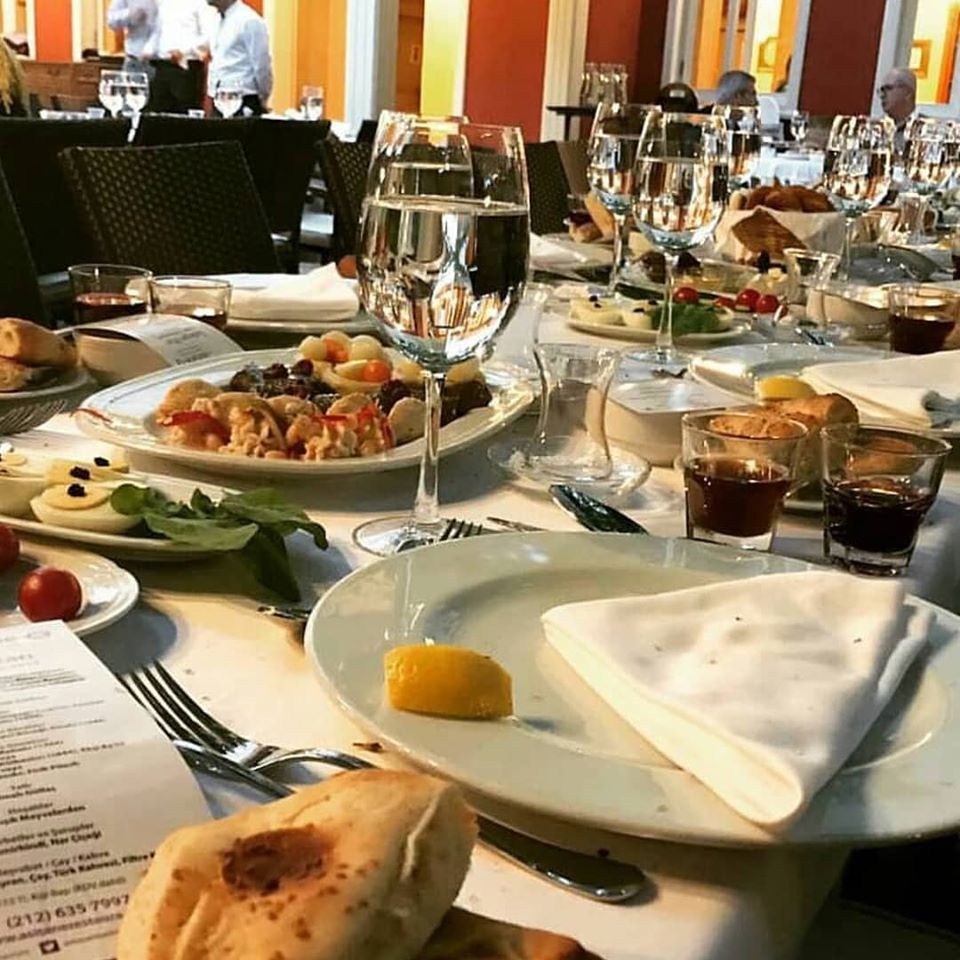 Asitane takes its name from something Istanbul was called during the Ottoman Empire, and its menu reflects the tastes of that historical era. Having been in business for 20 years, their menu archives are impressive, containing over 450 previously forgotten dishes (both sweet and savory), prepared the same way they were 500 years ago.
Starters
Ottoman Humus (Crushed chickpeas lightly pureed with currants, pine nuts, and cinnamon)
Lor Cheese Blend (Fresh cottage cheese mixed with scallions, parsley, green peppers, tomatoes and seasoned with rosemary and paprika)
Fava (Creamed broad beans, seasoned with dill and served with a drizzle of olive oil)
Stuffed Calamari with Shrimps (Oven-baked whole calamari, stuffed with a blend of rice, pine nuts and currants flavored with cinnamon and fresh mint)
Mastave (Boiled chard leaves in garlic yogurt)
Grilled "Circassian" Cheese with Oyster Mushrooms
Hassa Bourek (Traditional Turkish "Yufka" pastry layered and rolled with "Tulum" cheese and a blend of green olives, walnuts, yogurt, spring onions, and tarragon)
Stuffed Spleen (Lamb spleen stuffed with dill, pine nuts, spring onions, and rice; braised and deep-fried)
Main Courses
Lamb "Külbastı" (Grilled lamb fillets seasoned with tarragon, bay leaves, and black pepper)
Mahmudiyye (Cinnamon and clove flavored chicken stew cooked with apricots, Rezaki raisins, and almonds)
Mutanjene (Lamb stew cooked with apricots, Rezaki raisins, almonds, and dried figs)
Stuffed Melon (Cored melon stuffed with a blend of minced meat, rice, herbs, almonds, currants; and baked in the oven)
Tuffahiye Stuffed Apple (Baked apple stuffed with a blend of cracked wheat, celery and onions. Served with shallots cooked in gingery apple sauce)
Biryan (Roasted whole sea bass stuffed with walnuts and spices, served with a saffron and rosewater dressing)
Braised Lamb with Chestnuts (Lamb cubes braised with chestnuts and shallots)
Address: DervişaliKariye Cami Sokak No:634240 Fatih/Istanbul
10- Feriye Lokantasi
Feriye, is right on Bosphorus shoreline, a short walk from Istanbul's trendy hotels, restaurants, shopping areas, financial district, and the Istanbul Convention and Exhibition Center. The building, once an Ottoman police station, remains one of the few examples of 19th-century classical Ottoman architecture still standing.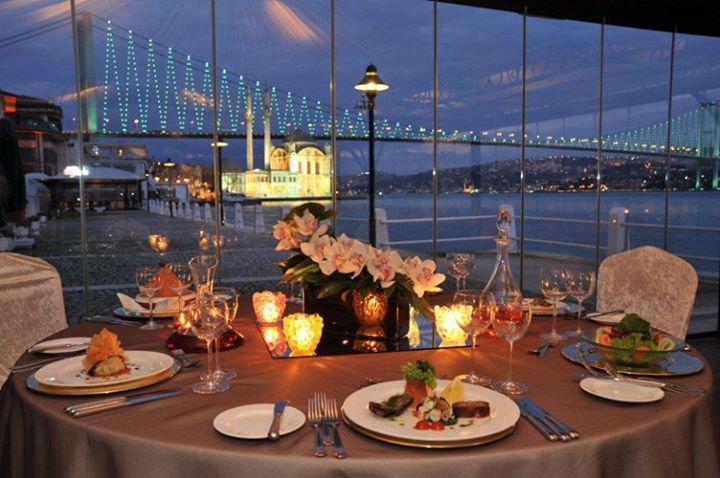 Showcasing Turkish gastronomy, this place has been host to parties and food conventions. They feature Ottomon cooking techniques from the 12th-19th centuries, including delicacies such as spicy cured beef and vegetarian dishes. Besides the wide range of events they cater, Feriye has an à la carte restaurant for cocktail parties and sit-down dinners. There is even a huge terrace with a great view that is open in the summer months.
Main Courses
Cold Fish Platter (Fish Roe spread, Cured Seabass, Mackerel fish pickle, fish pate, cured Bonito, paleo bread)
Mezze Platter (Fava bean puree, baba ghannouj, muhammara, stuffed zucchini flower, stuffed vine leaves with cherry, Tulum cheese pate, kalamata olives)
Grilled Seabass with rocket salad fennel
Grouper, fresh samphire, potatoes with tomatoes
Pasta with octopus and mussels
Beef ribs, mashed potatoes with mustard
Grilled lamb loin skewers, eggplant bechamel, spoon salad
Tenderloin with caramelized onions, sauteed chards, and french fries)
Wild mushroom pasta
Calamari stew with mussels and chickpeas
Starters
Fried summer vegetables with tomato and yogurt sauce
Sauteed shrimps, white bean mash
Baked cauliflower slices, tahini sauce with pomegranate
Mini meatballs with pistachio, homemade potato chips
Shrimp in butter, hot spinach sauce
Anchovies in cornflour, celery puree with green apple and greens
Cabbage Dolma, yogurt sauce
Address: Yıldız, Çırağan Cd. No:44 D:No:44, 34347 Beşiktaş/Istanbul
11- 16 Roof Swissotel
Located on the Swissôtel rooftop, 16 Roof restaurant provides outstanding views of the Bosphorus Sea along with a sensational menu. The interior is decorated in soft shades of blue to mimic the sea! 16 Roof's chefs prepare contemporary international dishes as well as unique desserts. There are also a number of sharing platters on the menu.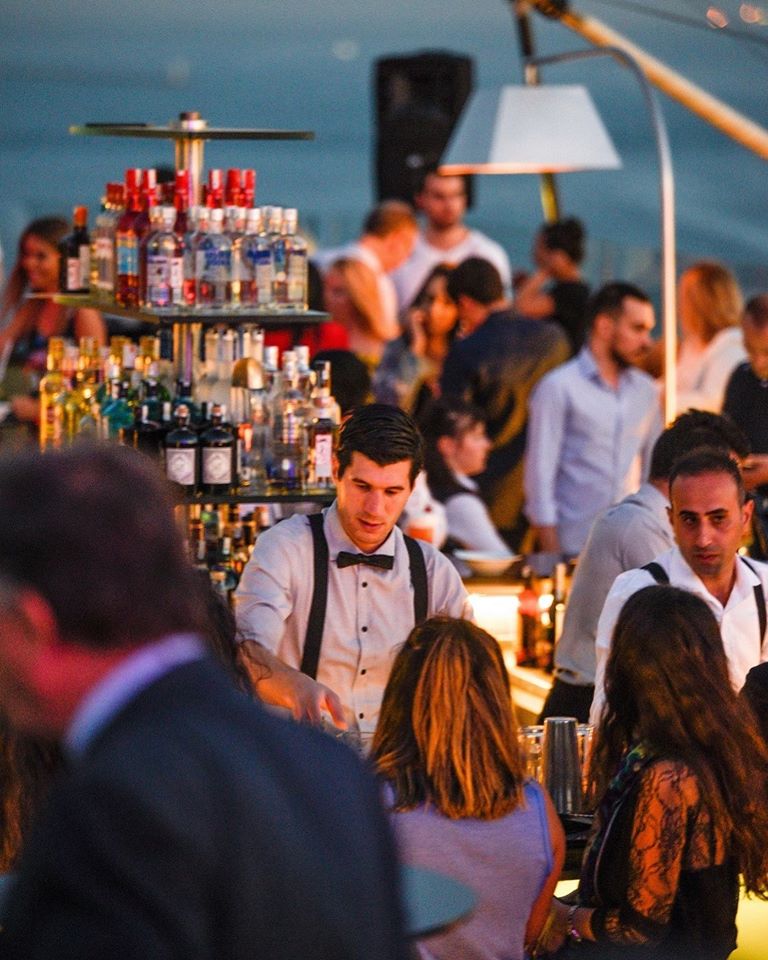 Here, a live DJ adds to the vibrant atmosphere as you enjoy the finest the culinary arts have to offer against the beauty of the night and the backdrop of the Bosphorus.
Relax with "shisha" and a cup of Turkish coffee or glass of Turkish wine while you enjoy samples from the tasting menu. If you would prefer a more private venue, you can book the private section that can hold up to 12 guests.
Main Dishes
Port Mussels (Poached mussels, corn, tomato onions, and chili)
Tuna, Mango and Passion Fruit Ceviche (Onions, chili, coriander, and tiger's milk)
Callao's Ceviche (Fish and octopus ceviche, red pepper, tiger's milk, and crispy calamari)
Kyoto (Tofu, takuwan, spring onions, Goma wakame with sesame)
Otoro Maki (Tuna loin, avocado)
Sea Bass and Beef Carpaccio (Truffle, ponzu)
Jalea Mixta (Peruvian style fried mix seafood, creole tartar sauce, and chili relish)
Lobster Tiradito (Lobster tail, coconut tiger's milk, pomegranate seeds)
Quinotto (With grilled vegetables, zucchini flower, and fresh white cottage cheese)
Appetizers
Cheese and Shrimp Empanadas
Tortilla Soup
Halloumi Cheese
Sauteed Shrimps
Pan-Seared Foie Gras (Sweet corn puree, cookies crumbs with coriander, almonds, and reduced jus)
Shrimps Tempura (Chili dip)
Address: Visnezade Mah, Acısu Sokaği NO 19, 34357 Beşiktaş/Istanbul
12- Mikla Restaurant
On the rooftop of the glamorous Marmara Pera Hotel is Mikla, an urban, shiny, and vogue restaurant with a funky retro '70s decor and stunning wooden rail sleepers' bar from the '50s. The magical city view goes as far as Hagia Sophia and Topkapi Palace. The experience is enough to make you feel as if you have traveled back to the heart of Old Istanbul.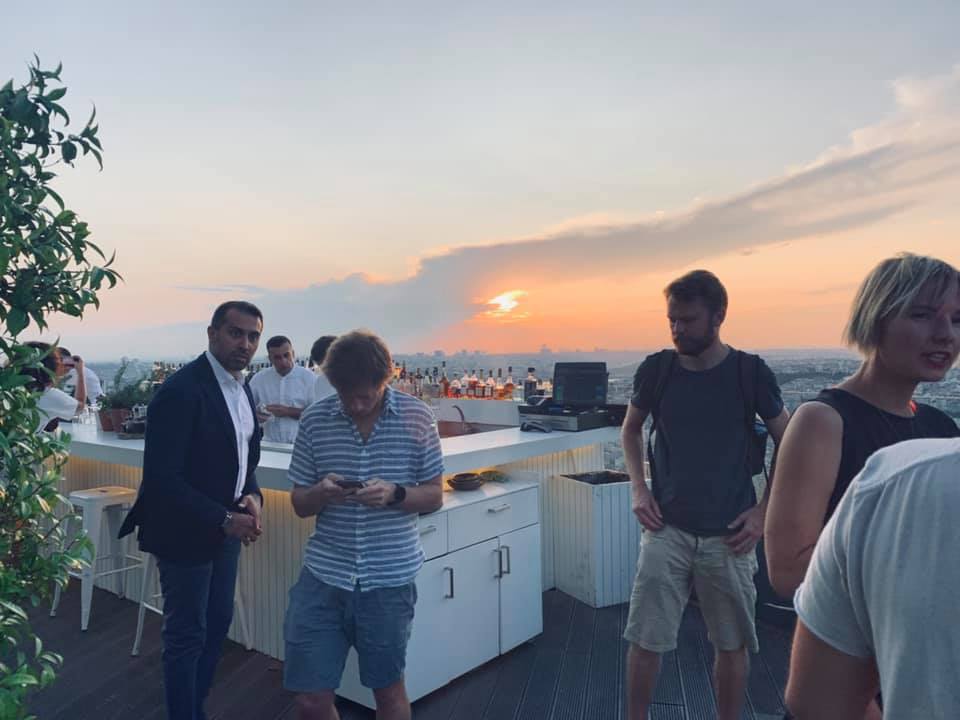 Main Courses
Octopus (Pickled Apple, Sea Bean, Cress, and Apple Vinegar)
Beef Rib Steak (Chard, Mushroom, Sakız Artichoke, and Reduced "Çalkarası" Wine)
Grilled Lamb (Charsmoked Eggplant, Kars Gruyère, İsot Chili)
Celeriac and Pumpkin (Bayramiç Potato)
Duck (Mushroom, Halhali Olive, Damson, Sour Pomegranate, and Bayramiç Potato)
Red Mullet (Fish Roe, Artichoke Stem, Purslane, Cucumber, Fennel, and Cress)
Tastings
Zeytinyağlı (Olive Oil Braised Sakız Artichoke, Sorrel)
Bonito (Almond, Sunchoke, Leek)
Monkfish (Karnıkırmızı Bean, Fig Vinegar)
Cheese and Honey (Anatolian Raw Milk Cheeses, and Honey)
Braised Lamb (Walnut Paste, Firik Bulghur, Salted Yoghurt, Cumin)
Desserts
Chocolate (Hardaliye and Deveci Pear, Cornelian Cherry Sorbet, Poppy Seeds)
Sütlaç (Rice Pudding With Mastic, Roasted Hazelnut, Arapkızı Apple Sorbet)
Aşure (Cereals, Pulses and Dried Fruit, Pomegranate Flower Sorbet)
Pumpkin (Saffron Ice Cream, "Sürtme" Sesame, Roasted Walnut)
Address: Asmalı Mescit, The Marmara Pera, Meşrutiyet Cd. No:15, 34430 Beyoğlu/Istanbul
13- Sunset Grill and Bar
High up on a hilltop in Ulus Park and offering breathtaking views of the Bosphorus Bridge and the Asian shoreline is Sunset Grill and Bar, Istanbul's best romantic restaurant. Here, you'll find a wide range of Turkish and international delights with a strong Japanese influence.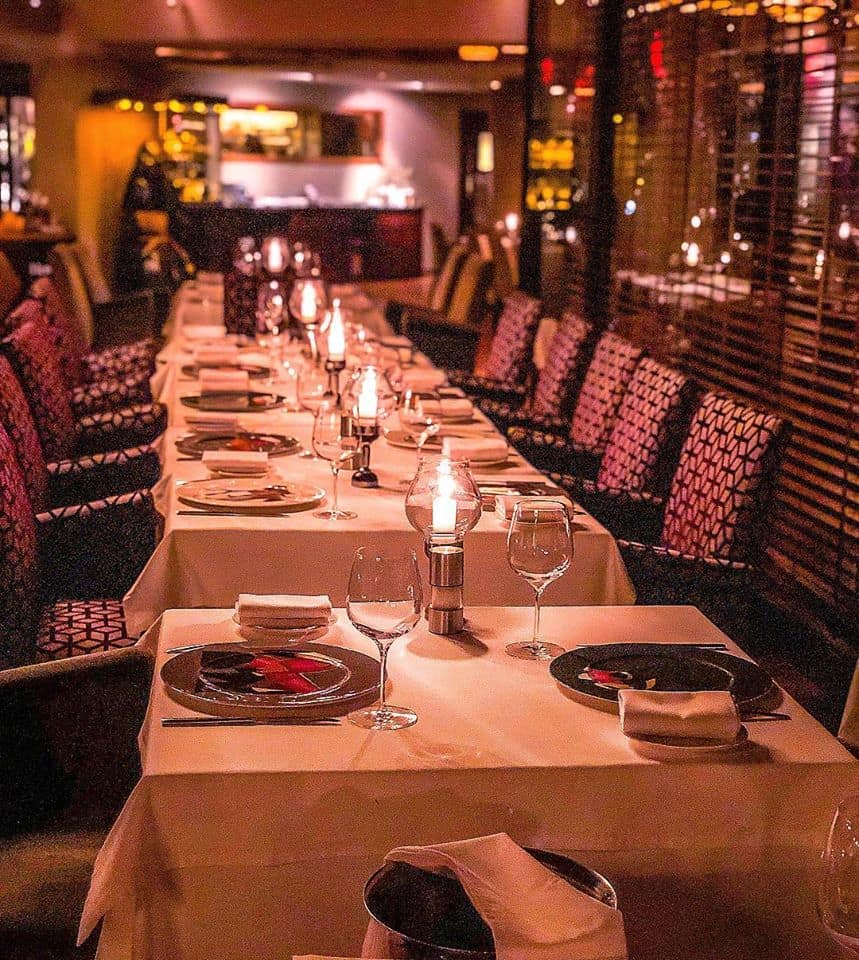 This sushi bar has been around since 2000. Japanese master check, Hiroki Takemura has been employed since 2006. Since then, the restaurant offers a selection of Japanese dishes. Director of Culinary Innovation Chef Fabrice Canelle joined the team after that, and some fantastic Mediterranean dishes were added to the menu.
Sunset Grill's wine cellar houses fine wines from all over the world, including Petrus, La Tache, Château Latour, Sassicaia, Opus One, and Château d'Yquem, to name a few.
Starters
Bisque of the day
Golden Osetra Caviar served with lemon blinis
Baby Artichoke in olive oil
Buffalo milk Burrata with tomato, arugula and pesto sauce
Alaska King Crab Tartare with yuzu, tobiko, coriander, avocado, capers, lime, and aji panca sauce
Main Courses
Grilled Free-Range Chicken Breast in homemade BBQ sauce with mashed potato and seasonal vegetables
Slow Braised Beef Cheek and Wild Mushroom Risotto
Oven-baked Duck with mushrooms and teriyaki sauce risotto, kumquat oil, lemongrass dust, and hoisin sauce
Peru style slow-cooked Beef Ribs with aji Amarillo and aji panca risotto and coriander
Peking style Crispy Duck, cucumber and green onion juliennes, warm pancakes, lime, coriander, and hoisin sauce
Yogurt Kebab, prepared with beef tenderloin chunks and meatballs on a bed of pita bread with yogurt sauce
Lamb Shank braised "natural" with olive oil, lemon zest, shallots, rosemary, cherry tomatoes served with smoked eggplant
Octopus Risotto with capers, tomatoes, basil, lemon and arugula
Linguini with Lobster and Sea Scallops, baby spinach and chardonnay wine sauce
Address: Kuruçeşme Mahallesi Ulus Park, Yol Sokağı No:2, 34345 Beşiktaş/Istanbul
Note: Most of these places do not allow children under ten years old in the evening hours. Be sure to dress accordingly: gentlemen in flip flops and shorts are not allowed in after the sun sets.