One could say that everything in Turkey starts with a cup of Turkish tea. This is a symbol of oriental hospitality, a wish for good health, a sign of sincere affection and respect. Those who have visited Turkey and who have tried authentic Turkish tea at least once in their lives will never forget its rich tart taste and alluring aroma.
Many tourists, knowing about peculiar Turkish tea and its high quality, bring it home in the hope of taking a piece of Istanbul with them. However, such tea appears to be different from genuine Turkish tea since its brewing is different, and the special proportions of tea leaves and water might not be observed. The real properly brewed tea is served only in Turkey. So, I advise you to visit Turkish cafes in search of this valuable traditional drink. Moreover, in most of the restaurants, you can get tea as a completion of the meal as a gift.
Likewise, distinguished by its hospitality Istanbul has many so-called tea gardens or tea houses where you can enjoy the taste of this old drink under the shade of centuries-old trees and feel the relaxing atmosphere of the city. Here you will find a list of several tea cafes in Istanbul that are worth visiting in my opinion.
1 – Dem Moda – for real connoisseurs of tea and amateurs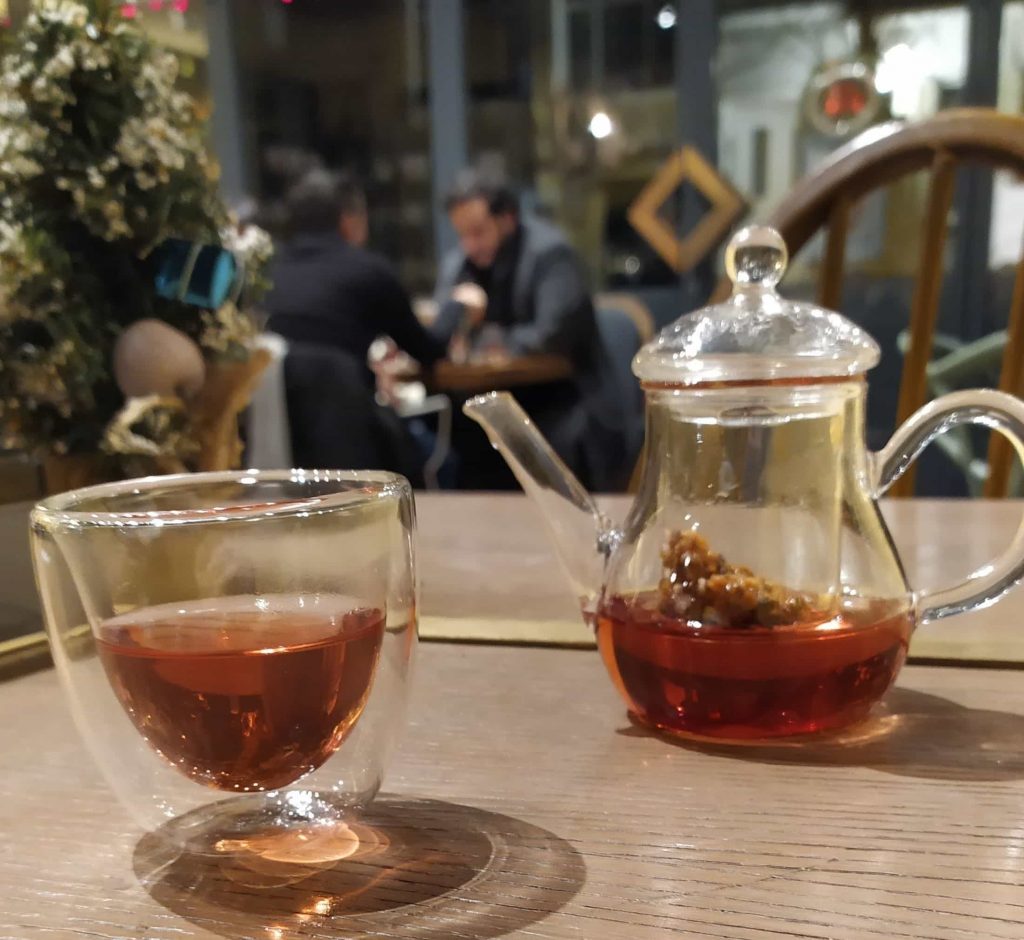 If you, like me, have not heard before that Turkish tea has its own varieties, then you should definitely visit Dem Moda. This cafe is located in the vibrant and youthful district of Moda, where you can meet many tourists, local ex-pats, and Istanbul's young people. So, for entertainment and pleasant company you are most likely to come here.
I advise visiting this place for real connoisseurs of tea and those who are versed in different varieties of it. Dem Moda serves Ronnefeldt tea, which is considered to be one of the best brands in the world. Ronnefeldt is a renowned tea house offering teas from the world's finest plantations. Usually, this tea is presented in the best hotels, restaurants, and gastronomic boutiques in Europe, Asia, America, and Russia, and of course, in Istanbul – in Dem Moda. I assure you that both amateur tea lovers and more experienced ones will be satisfied with the choice.
A big plus of this place is that Dem Moda serves delicious and delicate desserts, which attract so many visitors. I advise you to try their cheesecake – literally, the best cheesecake that I have ever tried in Istanbul. Although the prices are slightly overpriced, you will not find such rare sorts and brands of tea anywhere else in Istanbul.
Address: Caferaga Mah., Sair Nefi Sok., No: 9/A, Kadikoy, +90 216 550 62 30.
2 – Minimalistic but stylish Kaffa Çay Kahve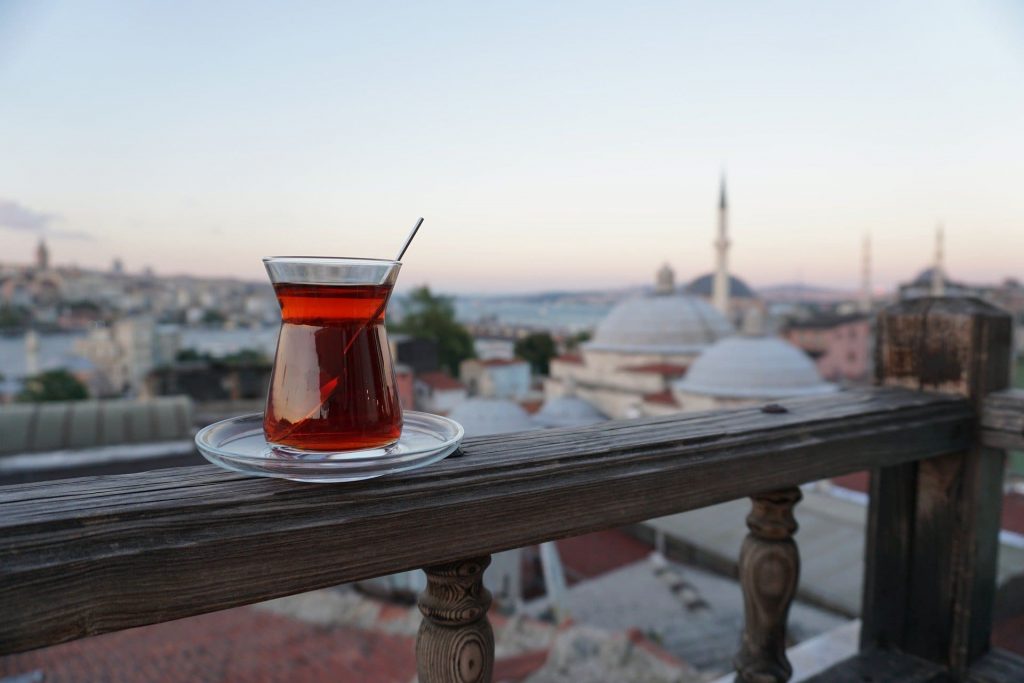 If you are in Üsküdar, I advise you not to go far and look into Kaffa Çay Kahve with a rather minimalistic but stylish design. You can sit both outside and inside and have a cup of aromatic and warming Turkish tea. I also recommend trying the local Sütlaç dessert, which is highly praised by visitors and me as I was also pleased with the choice. Sütlaç is a traditional sweet dessert made from milk and rice, a kind of rice pudding. At Kaffa Çay Kahve, this dessert is homemade and should be a must-try on your bucket list.
What is more pleasing to the eye and also to your wallet is that this cafe is really inexpensive and that you need about 5 USD for the dessert and a cup of Turkish tea. So, after a walk, be sure to take a look here; besides, the location is convenient – close to the Üsküdar metro station.
Address: Aziz Mahmut Hüdayi, Gülfem Sk., No: 12/b, Üsküdar, +90 537 324 09 03.
3 – Famous for romantic TV scenes – Çengelköy Çinaraltı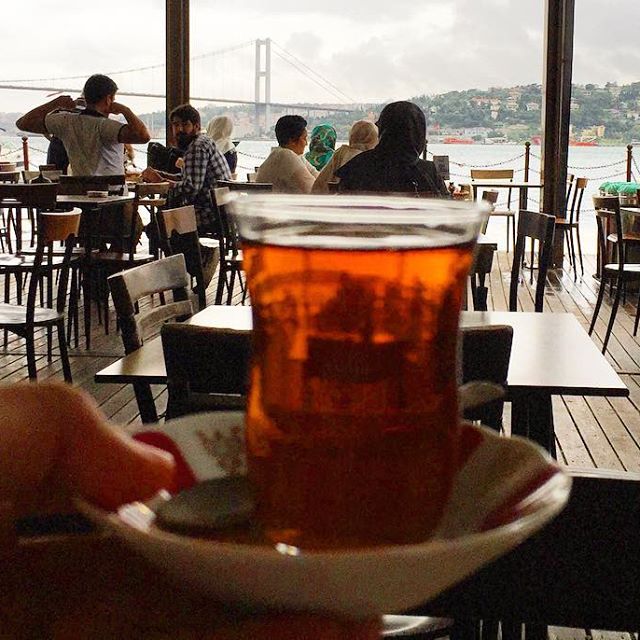 The next quite famous cafe that is worth visiting in search of solitude and real Turkish tea is Çengelköy Çinaraltı. Moreover, it is located right on the shore of the Bosphorus. Sitting at the very edge of the water, you can not only take a break from the hustle and bustle of the city but also enjoy the impressive views of the Bosphorus and the sailing yachts of local people and tourists tour boats.
This place is also familiar to many people because several romantic scenes in Turkish TV series were filmed here, so for fans of soap operas, it is also a must-see cafe in Istanbul. For me, Çengelköy Çinaraltı is attractive since you can bring your own snacks and order tea, which has its own special taste, and overlook the Bosphorus.
Address: Cengelkoy Mh., Cinarli Cami Sok., No: 4A, Çengelköy, +90 216 422 10 36.
4 – Beta Yeni Han – a quiet oasis in the heart of the bazaar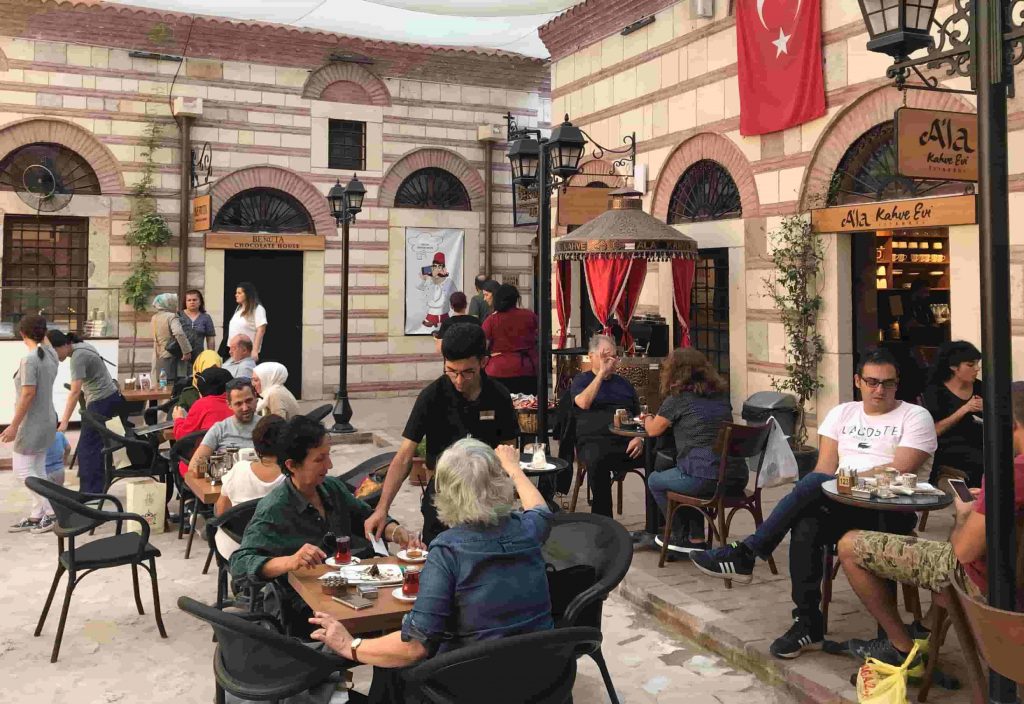 Beta Yeni Han or the so-called Beta Tea House is a cozy and quiet place, despite the fact that it is located near the Spice Bazaar. This tea house is said to be a silent oasis in the heart of the bazaar having a pleasant and even somewhat refreshing atmosphere. The menu contains more than 30 types of tea from China, Japan, India, Africa, including white, black, green, and all kinds of herbal teas, and, of course, Turkish classic black tea crowns this collection.
In addition, here you will find a good selection of desserts like Trileçe cake, Latte cake, varieties of Cheesecake, Mosaic cake, Profiterole cake, and so on. Besides, the average bill will be about 8 – 10 USD.
Moreover, at Beta Yeni Han you can also buy the tea you tried. If you are intimidated by such a variety of teas as me, ask for help from friendly workers who will definitely help you with the choice.
Address: Hasircilar Cad., No: 23, Tahtakale Mahallesi, + 90 322 363 53 43.
5 – Pierre Loti Cafe with stunning views on the Golden Horn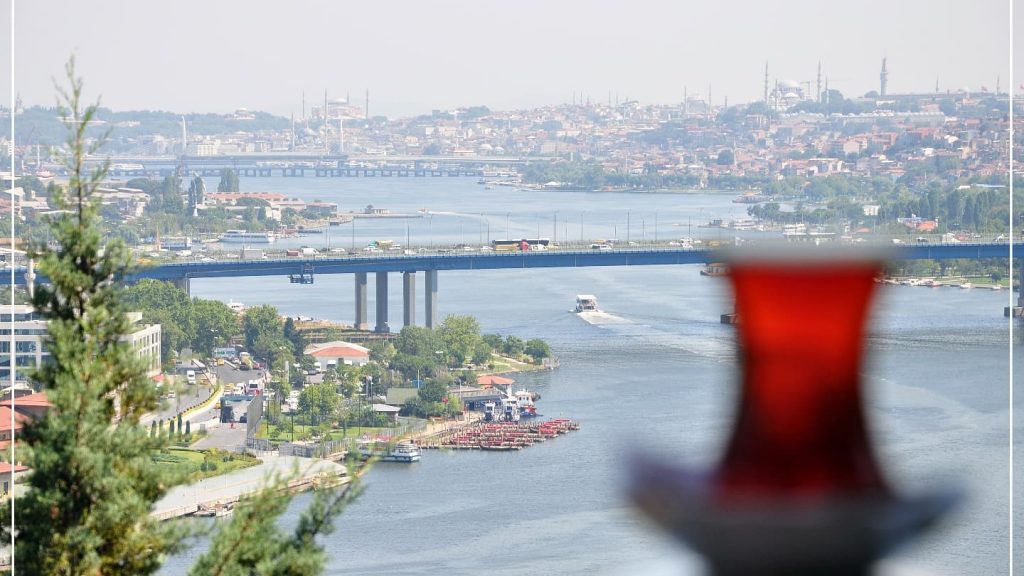 Another equally well-known cafe for a pleasant pastime while drinking Turkish tea is the Pierre Loti Cafe. It is named so in honor of Pierre Loti – the literary pseudonym of the French officer and writer Louis Marie-Julien Viaud – who loved to sit in this cafe and smoke his pipe.
The cafe is located on the top of a hill and it can be difficult to get here by road, so I advise you to use a teleferik – a cable car.
In fine weather, tables are served on the outdoor terrace, and it offers enchanting views of the entire central part around the Golden Horn. The only thing is that the prices here are, of course, slightly higher than in more popular places. As you have already understood, this place is quite crowded with tourists coming here not only to admire the views but also to drink decent Turkish tea. Besides, they have teas with fruit flavors, which are worth trying as well.
Address: Gumussuyu Balmumcu Sk., No: 1, Eyüp, + 90 212 497 13 13.
6 – For refreshing tea on a summer day – Moda Çay Bahçesi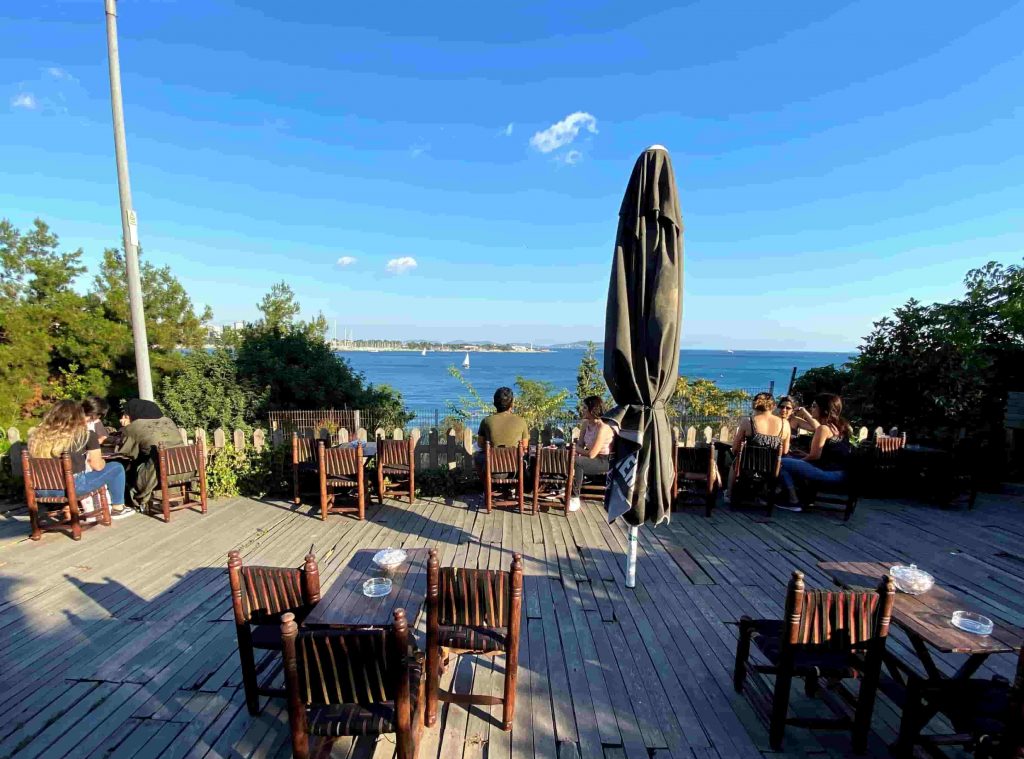 If you are fond of sitting on the terrace with beautiful views of the Bosphorus and drinking Turkish refreshing tea on a summer day, then you should definitely visit Moda Çay Bahçesi, located right on the waterline. The area where this tea house is located – Moda – is also very popular with young people and tourists and is considered one of the fashionable areas. This place has been famous for its Turkish tea since old times; local tea lovers often drop in here remembering their childhood memories. Walking along the promenade and sitting in this cafe on a hot summer day is a kind of tradition.
I advise you to visit Moda Çay Bahçesi at least once while visiting Istanbul, as it is very picturesque. The only drawback may be the crowdedness of this place with tourists and the rather high prices for Istanbul – from 15 USD. Besides, this place is strictly outdoor, so if you prefer to go inside, you can look for other cafes that are abundant in this area.
Address: Caferaga Mahallesi, Moda Caddesi, Ferit Tek Sokak, No: 13, + 90 216 337 99 86.
7 – Truly historical Emirgan Tarihi Çınaraltı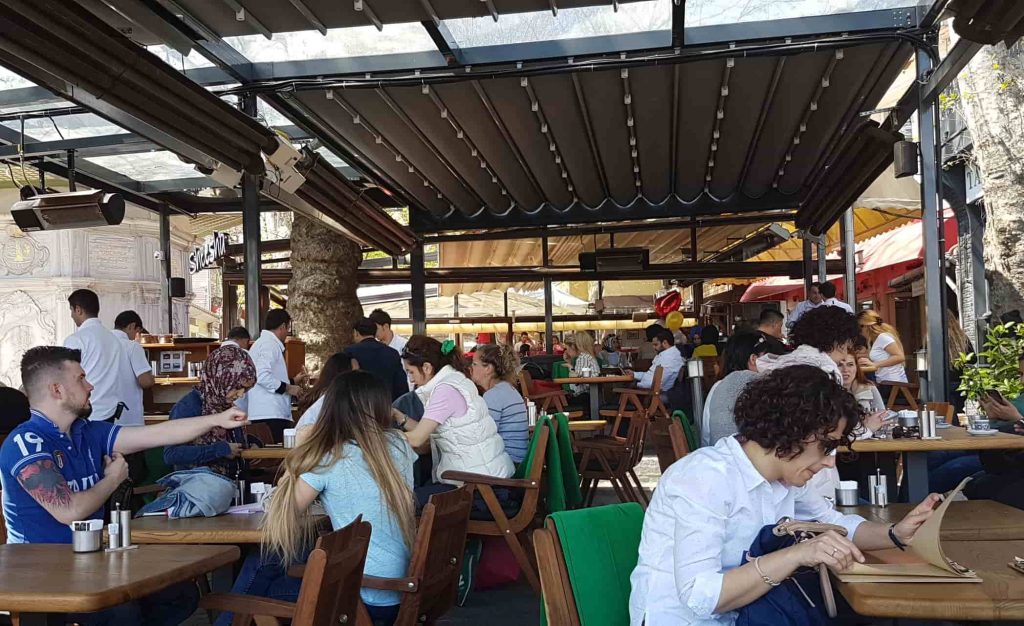 For those who like to visit places with a great interesting history, then you should definitely look into Emirgan Tarihi Çınaraltı. As the name implies, this place is truly historical: even old oaks located on the territory of this cafe are worth seeing. You can plunge into the atmosphere of real Istanbul under the centuries-old trees at Emirgan Tarihi Çınaraltı. Besides, this cafe has been operating since 1948 and during this time many famous personalities have visited it, to which you can also join. The prices here are reasonable despite the location of the cafe.
So, it is located not far from the Emirgan Park, where local newlyweds love to arrange colorful photo sessions. I also advise you to walk along the embankment and look into the Japanese Garden, where you can even see cherry blossoms during spring. Moreover, I advise visiting Emirgan Tarihi Çınaraltı not only in search of Turkish tea and romantic atmosphere but also for trying different mouth-watering desserts.
Address: Emirgan Mahallesi, Dogru Muvakkithane Caddesi, No: 4, Sariyer, + 90 212 277 44 40.
8 – Sarayburnu Aile Çay Bahçesi for beautiful views and a relaxing atmosphere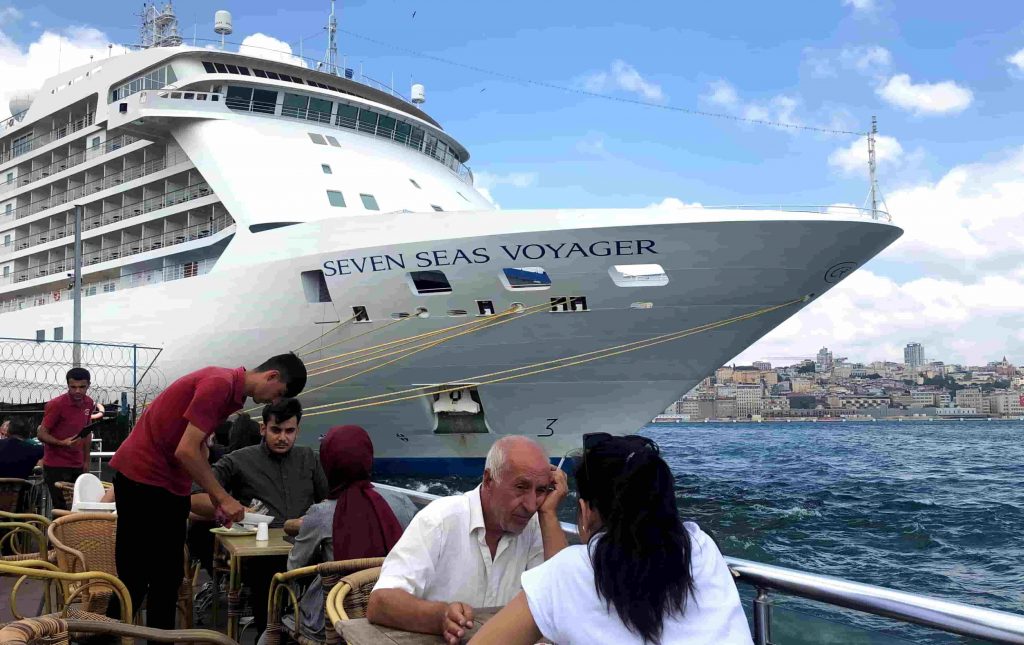 Sarayburnu Aile Çay Bahçesi is one of those places where you should come not for food but relaxation with a cup of traditional Turkish tea. Local views are simply striking in their beauty, especially at sunset. Sitting here with good friends is just a great idea. After seeing all the sights of Sultanahmet district and the historic peninsula of Istanbul, such as Gülhane Park, Hagia Sophia, the Blue Mosque, which you can learn more about at https://turkeythings.com/istanbul-historic-peninsula/, this is the very place where you can sit and listen to the sound of the waves of the Bosphorus and the Golden Horn. What is interesting here is that this cafe is located at the junction of these two bays and you can see where the Golden Horn intersects with the waters of the Bosphorus.
A distinctive feature of Sarayburnu Aile Çay Bahçesi is that it operates 24 hours a day, which is quite convenient for tourists who have forgotten the time during their wanderings. In general, for beautiful views and a relaxing atmosphere, this is the place for you.
Address: Hoca Pasa Mahallesi, Kennedy Cad., No: 8, Fatih, +90 212 522 13 97.
9 – Chado Tea: try a cup of tea as a piece of art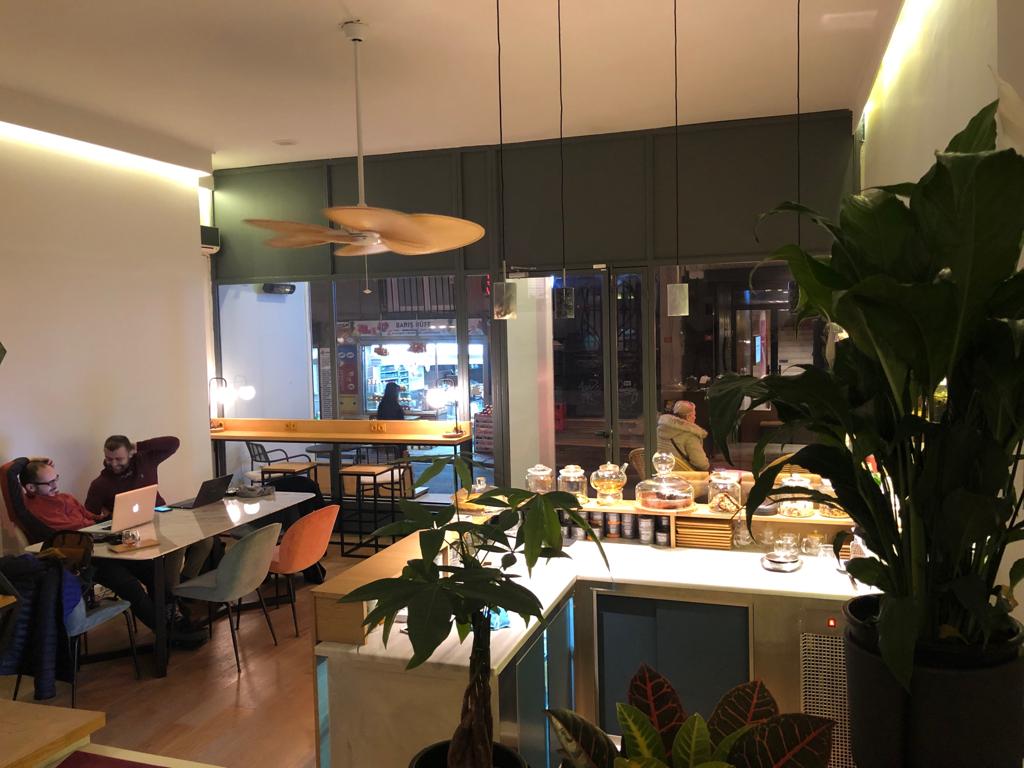 If one day you find yourself in Istanbul and want to start your day pleasantly, namely with a cup of Turkish tea in a cozy home-like place, then you should definitely drop by Chado Tea, located in the famous and atmospheric Beyoğlu district. Although this neighborhood is an overcrowded place, the Chado Tea surroundings are rather quiet and hidden from the passing crowds of tourists.
If you are looking for the highest quality of tea and like to try them, as well as to take a part of this place with you, then this cafe is an ideal choice for you, as it is also a tea shop. Chado Tea is a tea house whose name in Japanese means 'the way of tea' as a kind of art. Once choosing this path, be prepared for different varieties of tea from all over the world and everyone's favorite traditional Turkish tea.
In general, Chado Tea has several branches, but I recommend exactly this one in Beyoğlu, as it presents itself as a cozy corner reminiscent of a home setting, where you can relax between walks in the wonderful and noisy city.
Address: Kuloglu Mahallesi, Aga Hamami Sokak, No: 13/A, Beyoğlu, +90 507 785 51 85.
10 – To feel the ethnic atmosphere – Tünel Çay Evi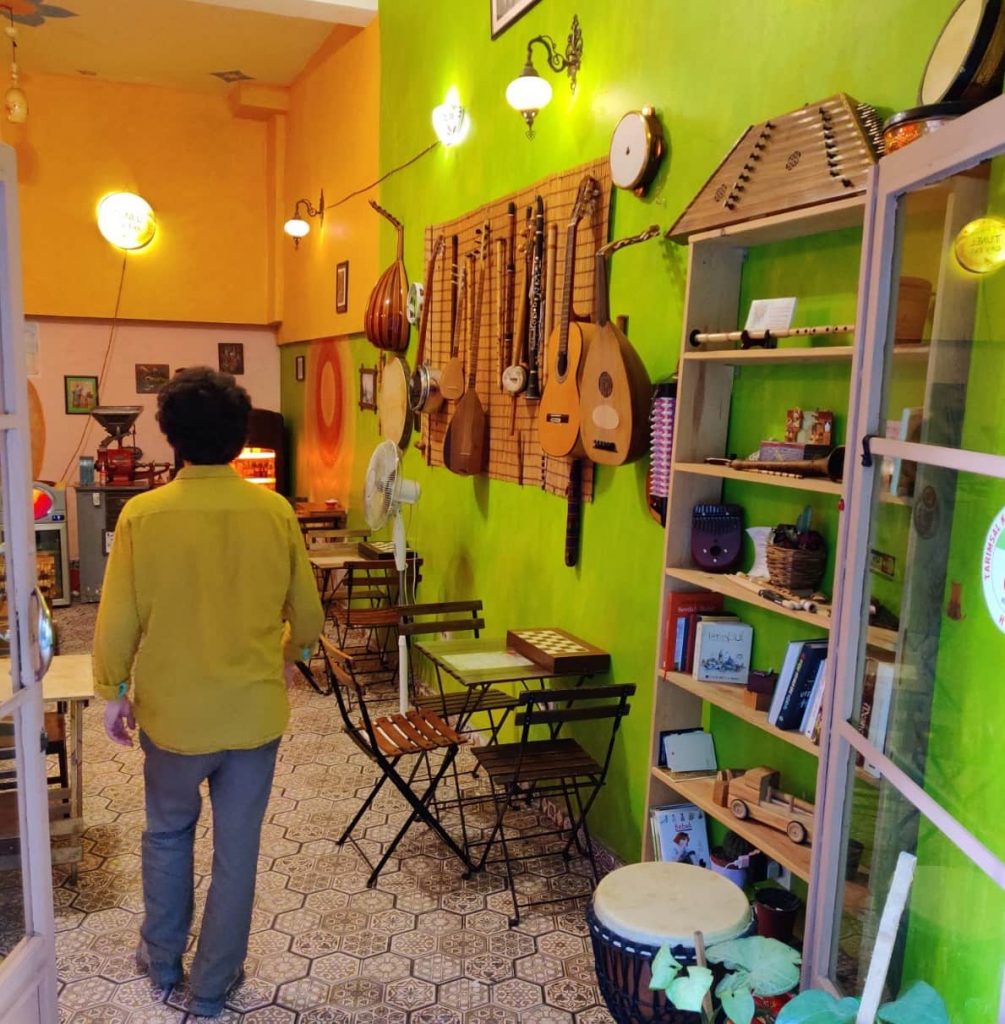 Tünel Çay Evi is a rather modest place, which is also hidden from the eyes of many tourists strolling around, although it is located in such a tourist area of ​​Beyoğlu. However, locals love to come here in search of solitude and silence from the outside bustle. Translated from Turkish, Tünel Çay Evi means a 'tea house at the tunnel', which reflects the interesting location of the cafe. Indeed, it is located near the historic tunnel funicular railway – one the oldest subterranean urban railway stations in the world, – which runs between Karaköy and Beyoğlu.
Besides, this cafe is very atmospheric and interesting due to its ethnic style design with colored walls and various antiques laid out here on the shelves of no less interesting wooden cabinets. Particular attention should be paid to the wall hung with traditional Turkish musical instruments, which create a special atmosphere of this place.
Moreover, Tünel Çay Evi usually has its own interesting unique music, or if you are lucky enough, you can catch and enjoy an evening of live instrumental music from the owner of the cafe. What I can say for sure is that this place definitely has its own flavor. The tables have backgammon and chess boxes which you can learn to play from the locals.
Prices for snacks are inexpensive: there is a selection of toasts and, of course, an abundance of fragrant and tart Turkish tea, for the sake of which the locals come here.
Address: Asmalımescit Mahallesi, General Yazgan Sokak, No: 1/C, Beyoğlu.
In general, as you probably already guessed, traditional Turkish tea can be tasted practically in all cafes or restaurants in Istanbul. I tried to describe to you the places that please us, and where you will not only rest but also enjoy the beautiful views or feel the very atmosphere of Istanbul, which is so beloved by us. I hope you will like the places that I have suggested.