No matter how many times I visit Antalya, I'm never done with it, and I don't think I'll ever be.
I find new things to do every time I go to Antalya. The city is adventurous and peaceful at the same time.
If this is your first time in Antalya or you want to go there with more information about the city beforehand, you may find this travel guide helpful.
This guide consists of information about transportation and accommodations with a few fun activities thrown in.
Pack your hat, camera, swimsuit and don't forget to bring your energy with you! I hope you enjoy this guide and your time in Antalya!
How to Apply for an E-visa for Turkey
Turkey makes it easy for people coming from outside Turkey to get tourist visas. Please go to www.evisa.gov.tr and follow the process outlined there.
If everything is correct, you should receive your e-visa instantly. When you fill out the form, be sure to observe the requirements. Pay the fee according to your nationality, and after that, your e-visa will be ready to download.
Good luck with it!
Antalya at a Glance
Antalya is a beautiful, special city, known as the 5th most crowded city in Turkey.
It's also a bustling metropolis, home to many different kinds of people, from locals to tourists.
You'll discover that it's full of culture and a number of fun options. What makes it so special is that it's been a human settlement for millennia, and there are traces of this historical reality everywhere.
Antalya also has a splendid natural setting. The waterfalls, canyons, and natural beaches will make you forget your problems and live in the moment.
Antalya in History
One of the things that makes Antalya special is that its home to the earliest fossil remnants in Anatolia. Found in Antalya's Karain Cave, the remains and artifacts have been dated by archaeologists to Paleolithic Age; more on that later in this article.
After the Paleolithic Age, Antalya became a part of the ancient regions known as Pamphilia (southeast) and Lykia (east). Later, Antalya was home to people in Roman, Byzantine, Seljuk, and Ottoman times.
When's the Best Time to Visit?
Antalya is great and full of many attractions, so you can feel free to enjoy the experience here any time you choose, though your priorities may change based on the season in which you go. For example, if you're a sea-lover, you should definitely plan to go there when it's warm out.
Here's a bit more information about that.
May-September
This is when you'll be able to enjoy the sun the most. Antalya is the best place for a summer holiday, especially from June to August.
Don't worry about exploring–the beautiful blue water and clear sky is all you'll need.
It can still be a bit chilly at night in May, but I assure you that there'll still be enough sun to enjoy. Keep in mind that it can get really hot in July and August–too hot some days.
October-November and April
If you don't enjoy crowds, then October, November, and April are the months for you to visit. You can still enjoy the sea, even in October.
December-March
Antalya's still nice in the winter. Why not enjoy the history of the city or ski at this time of year?
Antalya has a heavy rainy season that changes from year to year, so don't forget to check out the weather out before you go.
How to Travel to Antalya
International flights arrive at Fraport TAV Antalya Airport, 13 km from the city's center, which is very close. You can organize a transfer from Antalya Airport to your destination point.
There are also two public buses–number 600 (runs every 30 minutes) and 800 (runs every 2 hours–leaving the airport and going to Antalya's Bus Terminal. You can catch a number of minibusses from the terminal to various points in Antalya.
Depending on where you're going in Antalya, you can also go to YDA Dalaman Airport in Muğla Region, which is closer to Kalkan and Kaş.
There are shuttles to and from Dalaman Airport. Call 444 0 487 to make a reservation.
If you plan to stay in Kaş or Kalkan, going directly to Antalya Airport would be a better option, saving you almost 5 hours on the way from Dalaman to Antalya.
How to Get Around Antalya
Antalya is a big city, but there are plenty of vehicles with which to get around. You may go there with your own car or rent a car from one of the rental companies with offices at Antalya Airport.
To find their offices on the terminal map, go to https://www.antalya-airport.aero/passengers-visitors/services/useful-applications/floor-plans
Public transportation is another option. If your accommodations are close to the city's center, go to the bus terminal to find buses or minibusses to every part of Antalya.
Other options for traveling from the airport to your hotel or traveling around Antalya include taxis. You'll see the yellow cabs–labeled TAKSİ–almost anywhere in the city. It costs around 10USD from the airport, but you can always bargain with the drivers for long-distance trips.
Instead of a taxi, you can arrange for a private transfer with your flight company or hotel. If they don't have this service, look up transfer companies on the Internet to make reservations.
The transfer companies are really professional and reliable. They speak English and help you carry your luggage. Most companies have drivers who wait for you at the exit, holding a placard with your name on it.
Where to Exchange Currency
The currency in Turkey is the Turkish Lira (TL).
I recommend not exchanging a large amount at the airport. Exchange only the amount you need for the road and snacks. You'll find better places regarding exchange rates later.
A better idea is to an ATM to withdraw Turkish Liras, as the rates will be better, and it's more practical for travelers.
If you have any difficulties, you can still use your foreign currency–the city is known for catering to tourists, and everyone is familiar with USD and Euros. It's even used in some cases, but you can't expect it.  
Where to Stay
There are a lot of options for accommodations in Antalya, including luxurious hotels, cozy hostels, camping areas, and wooden houses–there's a place for everyone in Antalya.
First, decide upon the district you want as a home base, like Kaş, Kalkan, Alanya, or Olympos. Next, start looking for options. (If you're staying in Alanya, check out My Complete Alanya Guide)
Here are some of the options available according to place.
Olympos
My first recommendation would be Olympos. It's very beautiful, and the environment is dynamic with a lot of young people about. It's right next to the sea, located in an ancient valley.
There are plenty of hostels and campgrounds on the road to the sea. You can stay in private or shared houses–Olympos is most famous for its wooden house tradition.
You can spend your mornings reading on comfortable chairs and join the groups of people gathering in the place's garden in the evenings.
There are also cafes and gözlemes. You'll enjoy spending the afternoon under the shade of a pavilion, reading a book.
Olympos is 70 km from Antalya. Take a minibus from Antalya. Don't forget to tell the driver you're going to Olympos, so he'll know to drop you on the way. Be ready for 1-hour drive.
Kaleiçi
Though you could spend your entire vacation in Olympos, staying in Kaleiçi will make you more mobile. (Here's my full guide to Kaleici – Oldtown Antalya)
If it's your first time in Antalya or you like to explore, you should choose Kaleiçi! Staying here will satisfy your love of culture.
Here, there are more than 100 boutique hotels, so you can choose one that appeals to you. You'll also be close to Antalya's many beaches.
Lara
If you want to find comfort in the complete service of a luxury hotel, then you should go to Lara.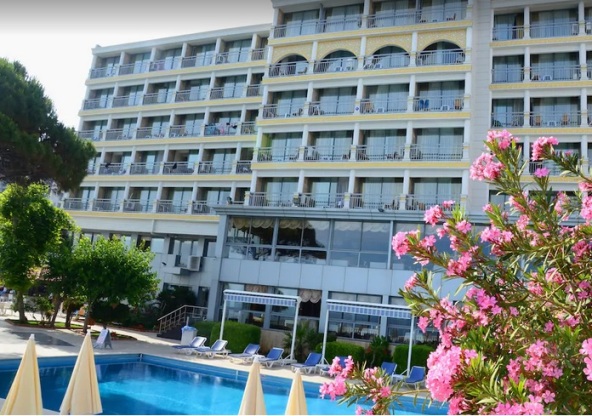 Most of Antalya's 5-star hotels are in Lara. The magnificent sea in the area will also make you so happy and content!
Alanya
Alanya might be a bit far from the center of the city, but the advantages there will make you happy with your decision to go there.
It's 130 km to Antalya, which takes around 1.5 hours to get there. You can take a bus or minibus from Anlayna's city center.
There are both luxurious hotels and affordable hostels in the area.
Kaş
This hidden haven in Antalya is usually chosen by SCUBA divers, but it can be one of your destinations during your holiday.
There are mostly hostels here, but you can find some nice hotel options in the Küçükçakıl area, too. Çukurbağ Peninsula also has a number of hotels.
Here, you'll be right in front of the Greek island of Meis and a number of bays and small islands.
Other Options for Stays
The above can help you choose accommodations, or you can find another place from the countless other options, like Kemer, Belek, Kalkan, and Konyaaltı, among others.
What to do in Antalya?
There are countless options when it comes to things to do in Antalya.
Make Your Day at the Beaches
If it's summer in Antalya, then the beach is the first thing that should come to mind. Here's my full guide to Antalya's beaches, including maps. 
Sometimes, I think Antalya's sole purpose is its beaches. I really adore them, and I'm sure you will, too. There are many options, ranging from natural bays to enjoyable private beaches.
If you and those in your party want to be on your own, then Konyaaltı's the best place to be. If you're a fan of private beaches who likes colorful cocktails and great music all day long, then you should take a walk on Lara Beach.
If you are in Olympos, you're already at the beachside. On your way to the beach, you'll come across the ruins of an ancient city alongside a stream.
If you're at Kaş, the Büyükçakıl and Küçükçakıl Beaches are there. Kaputaş Beach is close by, and it's worth the effort to hit the road and embrace its famous blue waters.
Other swimming destinations include Cleopatra Beach, Phaselis, Adrasan, Patara, Karpuz Kaldıran, İncekum, Finike, Ulaş, or Mermerli.
Walk Around in Old Town
The center of Antalya, Kaleiçi, is very rich in culture and art. It's home to many important historical places to visit, like museums and fun places like zoos. To take a look at the historical places, here's a guide.
Hadrian's Gate: Also known as Üçkapılar (The Three Gates) and Mermer Kapı (The Marble Gate), the gate was built in 130 A.D. as a sign of respect to Roman Emperor Hadrian, who visited the city that year.  
It was constructed in the Corinthian style, with 3 arches and 2 colonnaded facades. It's seen as the most beautiful gate in Pamphylia, and I think it definitely deserves its reputation.
Clock Tower: Another beautiful, interesting building is Antalya's Clock Tower, located in Kale Kapısı.
The Clock Tower was built by Grand Vizier Küçük Sait Pasha in 1901. It was named after Abdulhamit II, is square in shape, and made of stone. There are clocks on all four sides.
The clocks you see aren't the originals–they've been changed to keep up with the times.
Yivli Minaret Mosque: Also known as Alaaddin Mosque and Ulu Mosque, YivliMinare Mosque (Fluted Minaret) is an interesting, must-see in Antalya, Kaleiçi.
One of the first Islamic constructions in Antalya, it was built by Seljuk Sultan AlaaddinKeykubad I, and its minaret is decorated with turquoise tiles. 
Külliye: Yivli Minaret Mosque is a part of the külliye created by Seljuks. Besides this, there are several other historical buildings around for you to visit. They include Madrasah of Gıyaseddin Keyhüsrev, Seljuk Lodge, Mevlevi Lodge, Dervish lodge, Türbe of Zincirkıran, and Türbe of Nigar Hatun.
Try Scuba Diving
If you're a diver, you may already know the beauty of Antalya's diving spots.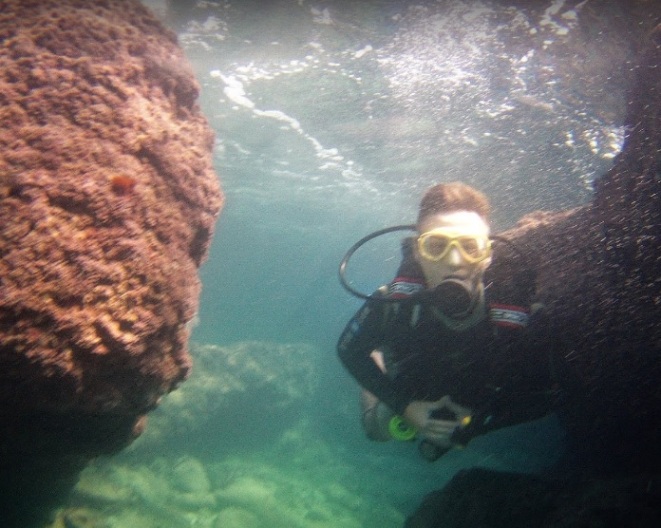 If you're not a certified diver, there are also options for you to try, called try-diving (or discovery diving). Even if you don't plan to go for a dive, you should definitely try it once to experience the beauty underwater firsthand.
You can dive in districts in Antalya like Kaş, Kalkan, Kemer, and many other places.
Go Rafting
Rafting can be a good option for adventure-lovers. You can talk to a tourism company to arrange for a day to take one of their tours. You'll find many good companies that deliver secure fun.
Köprülü Canyon is a good option for rafting. It's best in the warm seasons, but it's available from April to November. Don't worry about your level of experience because tour companies will arrange for a group suitable for your level of experience.
Köprülü Canyon is 400 m deep at its maximum and 14 km long. It's a part of Köprü River, which begins in the Sütçüler District of Isparta and flows into the sea in Antalya.
Go Skiing (Yes, Skiing!)
You might be surprised to learn that Antalya has some great skiing spots. Saklıkent is 50 km from Antalya's city center. It's located in the Toros and Beydağları hills, on Antalya's west side.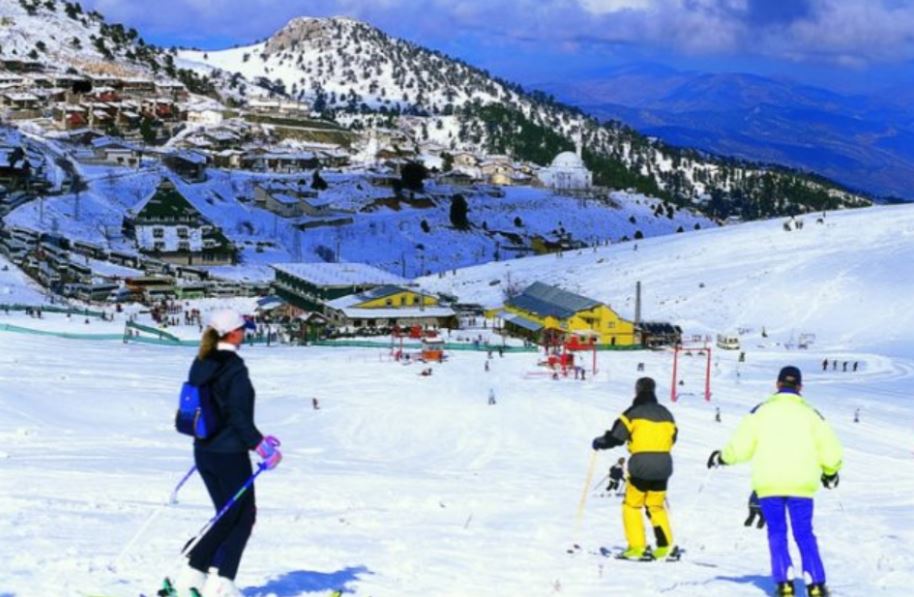 A one-day trip to Saklıkent can make you feel kind of dizzy because you'll experience two different seasons in one day–a warm spring-like weather and a cold, winter day covered in snow.
Skiing season in Saklıkent is between December and April. If this is a priority for you, be sure to check to see if the snow's arrived before you go.
Try going with an organized tour and spend a nice day in the brisk mountain air.
Take a Tour to the Waterfalls
Antalya is a region rich with waterfalls. Below is a short guide to several of Antalya's waterfalls.
Manavgat Waterfall
Manavgat Waterfall is fascinating in that the water runs year-round. You can go there with friends, family or by yourself. It's enjoyable and peaceful all the time.
Located in Manavgat–Antalya's second-largest district–the name's also derived from the district. It's easy to reach, being 4 km from Manavgat's center and 72 km from Antalya. Don't miss the chance to see the Manavgat Waterfall if you're going to be in Antalya.
Manavgat Waterfall is created by the fall of water over a cliff 3 to 4 meters high in the course of the Manavgat River. The river is an important one, also called Til and Melas in historical texts.
Rafting, Jeep safaris, trekking, boat tours, or taking a nature walk are some of the options you can do here.
Düden Waterfalls
There are two separate Waterfalls at Düden, namely, the Upper and Lower Düden Waterfalls.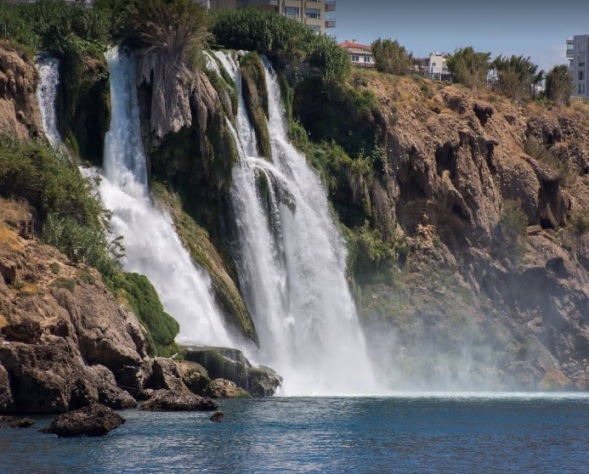 They are 8 km from the center of Lara district, where the water falls over cliffs 40 meters high. It's a marvelous experience.
The Lower Düden Waterfall–also known as Karpuzkaldıran (Watermelon-Lifter) Waterfall–is a haven for those wanting to escape the heat of summer in Antalya.
The Upper Düden Waterfall is also known as Iskender (Alexander) Waterfall since Alexander the Great spent some time there letting his horses drink on his voyage to Pamphylia. That wasn't, of course, a holiday trip, but rather, a military expedition to Pamphylia.
You can enjoy the waterfall area by taking a walk or while drinking tea in the tea gardens. You'll find picnic areas and restaurants in this natural park. Go there to take in the cool air, listen to the sound of burbling water, and enjoy the greenery around you.
Kurşunlu Waterfall
With its multiple little lakes and waterfalls, the Kurşunlu Waterfall area promises an enjoyable and peaceful day or a weekend. Here are some accommodation options you might want to check out.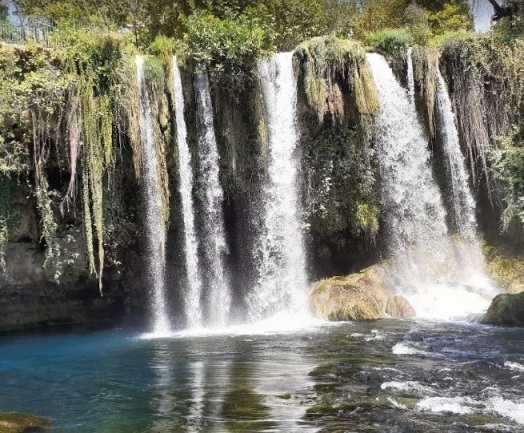 The main waterfall goes over a cliff 18 meters high. There are also several minor waterfalls. Seven small lakes connect within this setting.
The forest flora in the park is very rich, replete with red pines, eastern sycamores, bay, carob, wild olive, gum, willow, and fig trees. You'll also find myrtle hawthorn, oleander, blackberry, wild rose, euphorbia, tamarisk, spruce, kermes oak, thyme, wild mint, record, fern, and vines. You'll also see aquatic plants such as buckthorn, water mint, water reed, water chandeliers, green algae, and waterlilies.
On a walk in the park, you're sure to meet plenty of wild animals, like foxes, rabbits, squirrels, wild boars, turtles, carp, water turtles, dogs, snakes, and lizards walking, jumping or swimming. Bats, hoopoes, and woodpeckers are in the trees or flying around you, so be alert!
Kurşunlu Waterfall is located 22 km from Antalya's center. You'll find it on the Antalya-Isparta main road, or you can take a minibus from the city's center.
The Sapadere, Değirmendere, Uçansu, and Gömbe Uçarsu Waterfalls are among other options.
Points of Interest for History Lovers (With Map)
As you may already know, Antalya is a region consisting of a number of different areas. Every one of them is home to another point of interest.
In the map above, you'll see Antalya's ancient cities. I suggest you to Olympos where you'll find ancient baths and beautiful graves.
Xantos and Patara are two must-see places, since they were central cities thousands of years ago. Here's you'll find giant, well-preserved structures.
Myra is not only the best archaeology-wise, but its also the best, aesthetically. Here, you'll see some of the most beautiful graves in Turkey.
There are more ancient sites than depicted on the map. My favorites are Aspendos and Side.
Visit the Ancient City of Aspendos
Aspendos was on the Pamphilian side of the map, known as ΕΣΤϜΕΔΥΣ in Pamphilian. This ancient Greko-Roman city is located in Belkis Village in Serik District, 45 km to Antalya, which is easy to reach.
The city was constructed by Achaeans in 10th century B.C., but the characteristics earning this site its popularity was gained by Roman construction in the 2nd century A.D.
The most important part of the site is the amphitheater, which is very well-preserved, and provides seating for 12,000 people. The architect behind this wonder was Zenon of Aspendos.
I also find it very interesting that it's still used as a theater. During the Aspendos International Opera and Ballet Festival, many productions are put on in the theater in the spring and early summer.
Other structures that you'll see here are a basilica, an agora, a nymphaeum, a Roman aqueduct, and the Roman Eurymedon Bridge.
See the Ancient City of Side
Side is the most important port city in Pamphylia Region. Side means "grenade" in Luwian. The site was used as a settlement from 8th century B.C. onward.
Side was within Lydian borders in the first half of 6th century B.C. and was dominated by Persians–who contributed much to the city–in the second half. Alexander the Great conquered Side in 334 B.C.
After that, the adventure continued as the people of Side accepted domination from one empire to the next, but the important city has never diminished. Side is in Manavgat District, 78 km from Antalya. Why not take a tour to see Manavgat Waterfall and the ancient city of Side together?
There are ruins and remnants of many structures here. Side's main street is lined with the ruins of houses and shops. There's also a hospital dating to the  6th century, and an ancient Roman theater within the walled remains.
Other structures include 3 temples, an aqueduct, and a nymphaeum. Evidence from ancient times isn't well-preserved, prompting visitors to use their imagination while there.
Read my Antalya Tours Guide for more information.
Where to Eat?
There are plenty of options for food in Antalya, from seafood to traditional Turkish kebab houses, cafes serving dessert, and vegan/vegetarian restaurants. All of these are waiting here for you to try!
For more on this, see my Complete Guide to Food and Restaurants in Antalya.
Zaika Meyhane
Zaika has gained popularity very quickly over the past few years. In this village tea garden, colorful garden lamps hang just above you, and the music really makes the atmosphere.
Zaika derives its name from the concept of "zaika," meaning the sense of taste. The food they cook is delicious and appeals to your sense of taste.
They have a number of ways to serve red meat here. Also, the mezes will make your day (or should that be night?). Since it's a meyhane you might want to have a couple of drinks along with your dinner. Before you go, don't forget to have their pumpkin dessert–it's nothing short of delicious! 
Oburus Momus
This is another restaurant in Kaş, but this is the only one serving vegetarian/vegan food. You should certainly try this place if you like experimental foods.
There are some great options on their menu with a good portion size. You will certainly be full when leaving here.
I recommend their colorful bowls, containing a number of different foods. It is satisfying for the stomach, eyes, and taste buds. I think these bowls are the best option here. There are two of them, called "Oburus Bowl" and "Momus Bowl." A variety of vegan/vegetarian food in a bowl? Delicious!
Handmade ice tea and lemonade will help to make your day if you're dropping in between swims.
Ramiz Grill House
Ramiz Grill House is for special nights out. Maybe it's your birthday or your anniversary–be sure to choose this place for dinner.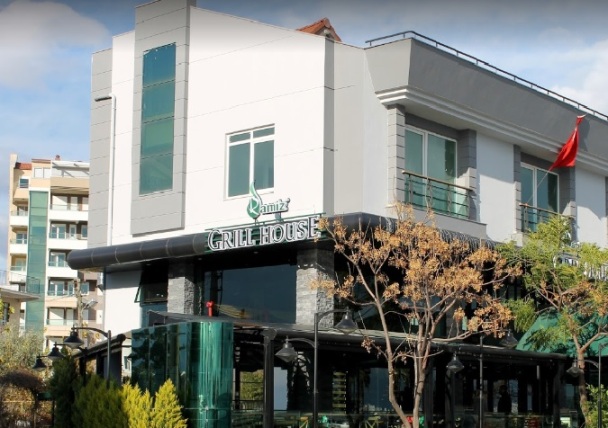 If you're lucky, you'll find a table in front of the sea. If not,  you're sure to enjoy the atmosphere inside.
There are a lot of delicious options on their menu, like steak with butter or a Dallas burger. Their professionally cooked steaks are sure to make your night!
Burnt Ice Cream for Dessert
In Antalya Region, they serve a new flavor of cream, called burnt ice cream (yanık dondurma). The predominant flavor is vanilla, but the milk is burned during the manufacturing process, which is what gives the ice cream its unique taste.  
When you try it, you'll realize you're experiencing something special. I warn you: it can be addictive. You can find this delicacy everywhere in the region, including patisseries.
One of the most popular places for this special treat is Zamora in Konyaaltı.
Finike Orange
Antalya is famous for is Finike oranges. Imported to the region at the end of the 1960s, they're yummy. Think about adding oranges to your fruit menu.
Budget/ Summary of Expenses
If you're looking for an affordable place to stay, there are many nice hostels in the area. These aren't luxurious, nor are they camping areas. If you chose these accommodations, a 5-day stay in Antalya could cost around 200-250USD.
Included in this trip' budget are accommodations, a Museum Pass the Mediterranean (7 days–see below for more information), transportation, and meals.
Accommodations
If you stay in a camping area, you'll pay around 10USD per night. If you stay in a 5-star hotel then you can pay up to 80USD. For a moderate choice–a stay at a nice hostel–you can expect to pay 12-24USD per night. Note that this might also include breakfast.  
Meals
It's possible to limit your meal budget to 12-15USD per person per day, but if you'd rather have dinner at fancier restaurants, it's likely to cost 20-30USD per person.
I usually spend a couple of nights fine-dining and take my other meals at a more casual place.
On average, 20USD per day for food will probably be sufficient.
Transportation
If you have your own car, your gasoline budget will likely increase the cost of transportation. If you rent a car, expect to pay around 20USD per day plus gasoline expenses.
If you use public transportation and travel from district to district, it will cost about 10-12USD per day.
Tour and/or Museum Fees
If you will spend a couple of days is Antalya visiting museums and archaeological sites, you should definitely opt for a museum pass. Called Museum Pass the Mediterranean and valid for 7 days, it costs 37USD, but it's worth it.
Total
Since I've given you a range of options, it's hard to come up with an exact total. It's best to calculate it based on your preference. For a traveler like me, it's around 50USD per day, which includes good meals and flexible choices.
Summary
I hope you've found this travel guide useful, and I hope you enjoy your vacation in Antalya.
I'm only a traveler and by no means an expert, but I hope my advice and experiences will work for you, too.
Don't forget to extend your research to find the best plan for your adventure.
Keep in mind that I could not include everything in a single post. To be truly prepared for a trip, one should read a lot and travel, too. That way, we can all have a better appreciation for the city of Antalya.
Related Posts