There is one thing certain as far as I'm concerned: my holiday starts when I see sparkles on the surface of the sea, hear the voice of the waves, and wiggle my feet in the bright sand. All of this says: "You are on holiday!" If you're a sea addict like me, then enjoy this guide to Antalya's beaches.
1) Kaputaş Beach
On the road to Kaş, you'll find a surprise, waiting for you within the steep slopes of the road. At the bottom of one of those slopes, the first shades of blue catch your attention before you see the splendid landscape of a cove. 
Give Yourself Over to the Blue Waves
The water at Kaputaş Beach is usually wavy, making it a lot of fun to swim here and play in the waves. When you dive into the beautiful, turquoise water, it surrounds you.
What's that–a canyon?   
When you're ready to walk around to make some discoveries, turn your back to the sea and walk straight ahead to find your next surprise waiting there for you: a canyon inside the high hills. You should definitely spend some time there, exploring the area.
Let's have a drink
Kaputaş Beach–virgin area until a couple of years ago–now has a number of amenities, meaning you won't have to bring food with you if you don't want to. The café is nice, inexpensive, and with a variety of options.
How to get there
If you're heading to Kaş by car, save set time aside to stop by. The beach is 20 km from Kaş and 4 km from Kalkan. You can also take a minibus from Kaş or Kalkan. Don't forget–there are many stairs to climb afterward.
2) Patara Beach
This beach has a lot of outstanding features. If you like beautiful sands, look no further. If you're a history lover, you're at the right place. If you like sea animals, you'll be happy there.
Patara has the longest Turkish beach with its 12 km of sand, giving you a great view of the immense togetherness of the sea, the sand, and the sky. The sea is wavy, so be careful!
Take a walk in the ancient city
An important center for the Lycians, archaeological evidence shows that Patara was also a Hittite settlement in the 8th century B.C. Ruins of the ancient city are close to the seaside, so I recommend you don't miss this chance to feel the Lycian air!
Have a nice journey, little carettas!
Every year between May and September, mother Caretta carettas go to Patara to leave their eggs in a safe place on the beach, making this beach more special than ever. During these months, the beach closes after 7 p.m. to leave the mother and baby Caretta carettas to their business.
What to Eat?
When it comes to eating I don't recommend you trust the facilities on Patara Beach, as there aren't many good options. Coming prepared will insure your day is easier and more enjoyable. A picnic on the beach is sure to make your great day even better.
How to Get There
Patara is located on the frontier of the Seydikemer District of Muğla and Gelemiş Village in Antalya. It's 17 km to Kalkan, 43 km to Kaş, 73 km to Fethiye, and 184 km to Antalya. If you have a car, you'll easily find the turn to Patara from the Kaş-Fethiye Highway. 
Prices?
Patara Beach can be reached through the ruins of Patara, and to get to the beach, you'll have to pay for a visit to the archaeological site. It's 20 TL for a personal vehicle or 5 TL per person, but if you have a museum card, just show your card, and you won't have to pay anything.
3) Konyaaltı Beach
Konyaaltı is the first beach that comes to my mind when I want to swim in the center of Antalya. It's easy to reach and beautiful as the Bey Mountains are just next to you. This is a great place for me to visit, especially the view of the cliffs, and I'm sure you'll enjoy it, too.
History
The inhabitants of Termessos, who lived at an altitude of 1,000 meters in the Taurus Mountains, used this coast as a harbor. Evidence of their existence in the area dates back to the 4th century B.C.
To pay or not to pay
I think the best part of Konyaaltı Beach is the relaxing feeling it gives. It's the same with how you choose to spend time there. It's 7 km long, and you can choose free or paid facilities when you enter.
If you decide to go to this public space, bring umbrellas and chairs with you and maybe a cooler and some snacks. You may also choose to patronize the little buffets if you want to travel lightly.
How to Get There
This is one thing you don't have to worry about. Just go to the center and ask someone where Konyaaltı Beach is. It's within walking distance, and anyone can show you the way!
4) Lara Beach
Lara Beach is also close to the center, and its where the locals choose to go. It's 2 km long and hosts many private beaches for hotels in the area. It's in Antalya's Muratpaşa District, and you'll easily find bus lines that stop at Lara Beach.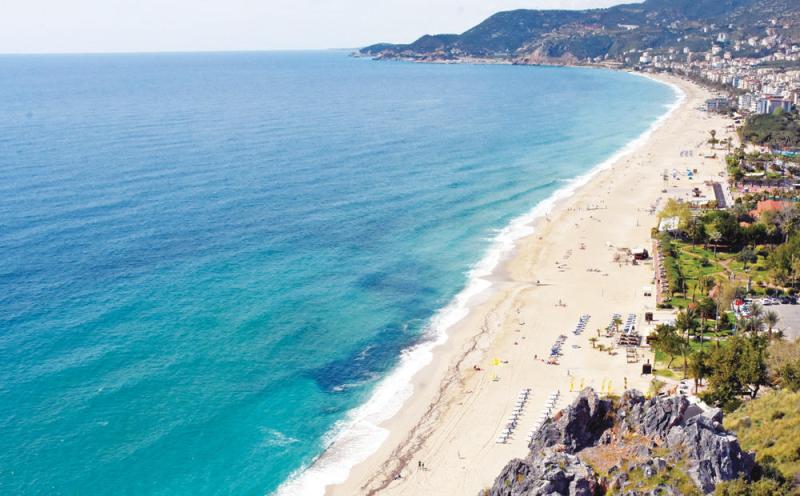 Let's learn the etymology of the name. "Lara" means "sand" in the Luwian language, which makes a lot of sense for a beach with such nice orange sand. It's also said that the small-particle sand on Lara Beach is good for your health, especially for the skin and the joints, so don't miss the chance to enjoy the nice "Lara" of Lara Beach.
5) Phaselis
This is a little piece of hidden heaven. Phaselis is really peaceful, with its wonderful nature and impressive sense of history. If you take your mask and snorkel with you, there's the possibility of finding the remnants of the ancient city underwater.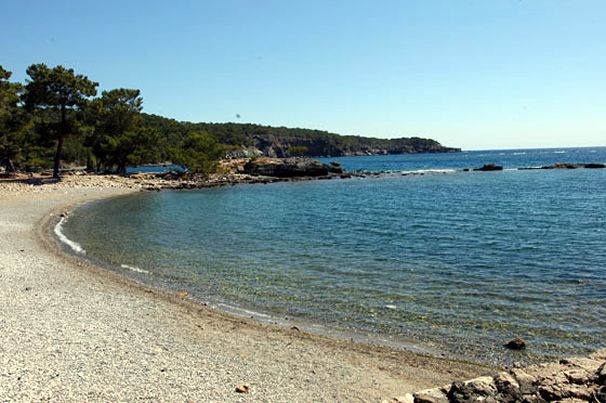 The water is nice and clear, surrounded by a little forest of pine and cedar trees. In addition, the remnants of the ancient city are waiting for you to explore them!
Time for a history lesson
It's good to know who's been there before you. Patara was first settled by the Rhodians in 700 B.C. It was the most important Lycian harbor for centuries, and still has the ruins of four harbors, aqueducts, an ancient road, theater, bath, and agoras.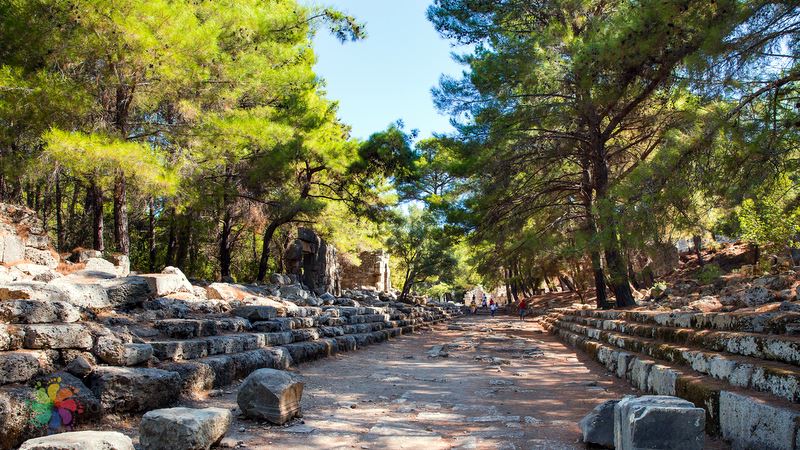 How to get there
Phaselis Beach is close to Tekirova Village, inside Olympos Beydağları Coastal National Park. It's 16 km to Kemer. If you drive on the Antalya-Kumluca Highway, turn south at 57 km, and you'll reach the ancient city of Phaselis after about 1 km.
If you don't own a car, you can take a minibus from Antalya, Kemer, or Tekirova.
Spending time and money
Just like the other archaeological sites, an entrance fee needs to be paid, but it's free if you have a museum card, as it is for seniors and children. Otherwise, the fee is 20 TL per person. Visiting hours are from 8:00 a.m. to 7:00 p.m. during the summer season.
Come prepared for a nice picnic under the splendid cedar trees you'll see in the area. Don't worry if you forget to bring salt with you–you can always ask your neighbor for some.
6) Cleopatra Beach and Damlataş Cave
If it's named after Cleopatra, I'd go there blindfolded. Why not? She was a person who got what she wanted all the time. Surely, there's something magical about that.
Marvelous as the sea with a comfortable mixture of sand and pebbles, the landscape and rocks evoke the mood of the myth surrounding Cleopatra. It's 2 km long, so you can choose the best spot to suit your needs for an enjoyable and mystical day.
By the way, be careful while swimming–the sea is both wavy and gets suddenly deep, but if you exert some caution, there's nothing to be worried about.
What about the myth?
As you might have guessed, the myth of Cleopatra is a love story. According to legend, Egyptian Queen Cleopatra and Roman Emperor Antonius used to meet there to swim together. They must have also been fascinated by the color of the sea.
Now it's time to go to Damlataş Cave
These two spots are close to each other, so you can visit both. The stalactites and stalagmites in Damlataş Cave were formed over 15,000 years, but the most interesting part of the cave is the way it was discovered. It was found accidentally by miners working in the area in 1948. 
There is a widespread belief that the air inside the cave cures asthma. The percentage of carbon dioxide and high humidity might be the reason behind this idea. If you're looking to cure your respiratory problems, it's open between 6:00 a.m. to 10:00 a.m.
How to get there and what you'll pay
This site is located 3 km from Alanya, located west of its historical peninsula. Driving or taking a minibus from Alanya or Antalya are the usual options for transportation.
Entry is free, but you'll have to pay to rent sunbeds and umbrellas. There are also a lot of options for eating and various adventurous activities. 
7) Çıralı Beach
"Is it time to visit somewhere popular?" I asked myself before moving to Çıralı Beach. Olimpos and Yanartaş are both a part of Çıralı, so you'll have many options. I went to Çıralı for 2 or 3 day holiday, and there were many accommodation options.
First things first–the sea and the beach. The water is clear blue, almost perfect, but the beach is a bit pebbly, so you might have some discomfort, but that's the joy of nature.
Olympos? Yes, of course.
The idea of spending several days next to the sea, reading books, and listening to soothing music is a big temptation, and new areas ten to hide new surprises, so I always spare a day to go to Olympos to walk through the ancient ruins there.
Olympos Beach is beautiful, and the environment is dynamic, with a lot of young people around. After a dive in the water, you can walk to the inner part of Olympos by following the stream to the ruins of the ancient city.
There, you'll come across plenty of hostels and camping sites. There are also cafes and gözlemes. You'll enjoy spending the afternoon under the shade of a pavilion, reading a book.
How to get there and where to stay
Çıralı is 70 km from Antalya. You can take a minibus from Antalya. Don't forget to tell the driver that you're going to Çıralı, so he'll know to show you the way.
There are many accommodation options there. You can choose to stay in a hostel or go to a camping site. Either way, you'll be warmly welcomed and be able to enjoy the area in the best way.
8) İncekum Beach
İncekum is another beach in the Alanya District of Antalya. It's located in the town of Avsallar. The sand on this beach is special: very fine and nicely colored, which makes you feel as if you're on your dream vacation. The name of this beach is also derived from the "fine sand" on the beach.
It's great for people who don't know how to swim or for those who enjoy being in the shallow waters because the water floor doesn't drop suddenly like some other beaches in Antalya. It's a good place for children and families, too.
Accommodation, transportation, and prices
İncekum Forest Camp is a good choice for those who love to camp. You have to pay to enter.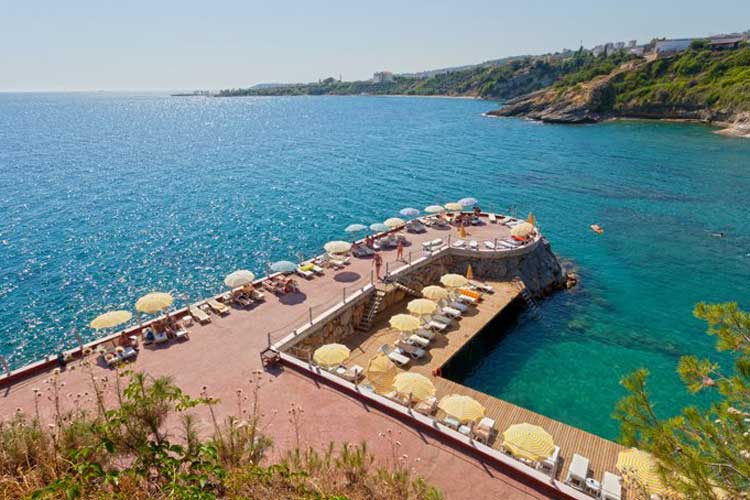 It's easy to reach it since it's close to the Antalya-Alanya Highway (at 26 km). Also, you can get there by public transportation from Antalya and Alanya.
9) Papaz Bay
Papaz Bay is another of Antalya's hidden havens, situated in Kumluca District. Kumluca's very name makes me feel like I'm at the seaside even though I'm in the crowds of the city. It's very calm and peaceful.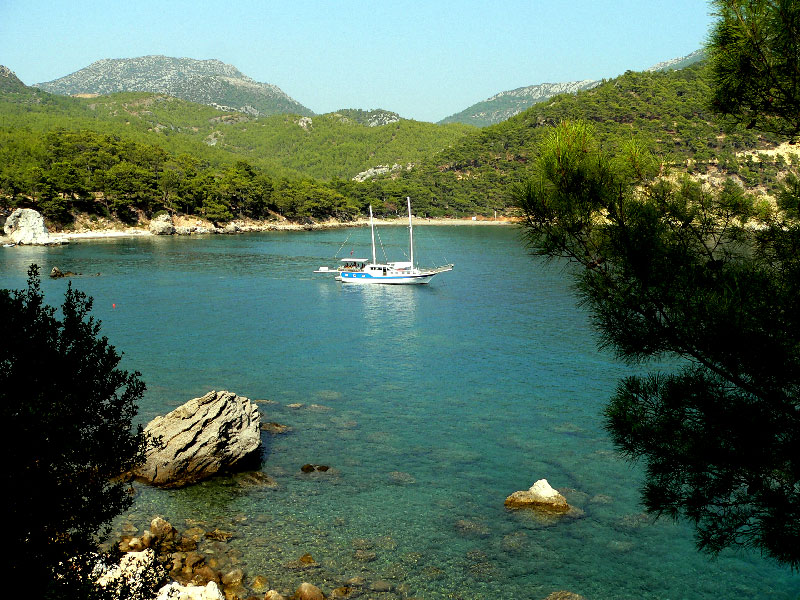 Papaz Bay has a nice forest and water with interesting rock formations. I enjoy the unity of blue and green while I'm there. The sea is usually calm but may get wavy toward the afternoon.
Walking on the walking paths is a good option if you like to wander around like me. You'll also see picnic areas and tables. Going there prepared will help to make your whole day more enjoyable.
Let's find a flat surface for the tent
Again, it's possible to camp there. I haven't yet, but it's on my mind for future trips. It's free, and what's more, you can use the public toilets and showers during your stay! Don't forget to go shopping before you pitch your tent. That's important when visiting this area because you won't find any shops there.
How to get there
Papaz Bay is in the Mavikent neighborhood. It's also very close to Adrasan. You can use the shuttles from Kumluca or you can take a minibus from Antalya.
10) Korsan Bay
Here's a real haven. I fell in love with Korsan Bay even from the pictures of it, and I wasn't at all disappointed when I saw this gorgeous bay. It's covered with pine trees and nature there is different than anywhere else.
"Korsan" means "pirate" in Turkish. According to legend, pirates used the bay to trap commercial ships, but if you don't want to be demoralized by the negative, we can call it "Karaöz Bay" like Piri Reis in 1521.
Korsan Bay is a stop on the Lycian Road, so the best way to enjoy it is to camp and walk around the area. If you do, you really must see the Gelidonya Lighthouse, Olympos, and Adrasan, too.
How to get there
It's not easy to reach Korsan Bay, which is a good thing to preserve the nature of the bay, but you'll be able to find it if you really want to.
If you choose to take the highway, then you should follow the route from Adrasan to Karaöz and turn down the Gelidonya Lighthouse Road. Another option is to take a boat tour. That way, you'll have the chance to check out other bays in the area.
Summary
As you can see, there are many options for a beach holiday in Antalya. Whether you're looking for a non-luxurious, wild beach or one that's more "civilized" with different facilities, at the end of the day, I'm sure you'll be satisfied.
Oh, by the way…here's the map I promised:
Related Posts