I spend most of my time in Old Town Antalya, aka Kaleici. I love this area for its ancient ambiance and the great selection of restaurants, bars, and shops. To experience the ancient world in modern-day Antalya, just follow the city walls, find Hadrian's Gate, and enter the old town. Here, you'll find many historical relics and tourist attractions like the Yivli and Kesik Minarets among the remnants left by the Greeks, Seljuks, and Ottomans on the narrow streets. Locals refer to this area as Kaleiçi, meaning "inside the city's walls." 
I've written this guide for things to do in Antalya Old Town. Hope you enjoy it!
Things to do in Old Town Antalya
Getting to Old Town
There are plenty of airline companies with direct flights to Antalya Airport. When you arrive at the airport, take a taxi, arrange for a private transfer, or rent a car to get to Kaleiçi.
Expect a 30-minute to 1-hour drive to get to your hotel in Kaleiçi. Though the airport isn't far from Kaleiçi, due to traffic in Antalya–and especially the traffic around Kaleiçi–expect your trip to take some time. The taxi will cost around 10 USD.
You can arrange for a transfer prior to your flight through your airline or hotel. Alternatively, you can reserve a transfer or rent a car online. In either case, you pay online or with cash. The transfer will cost around 25 USD.
You can take a Havaş bus in front of the airport. It's less comfortable than a private transfer, but more luxurious than any public bus. It costs approximately 3 USD.
If you prefer public transport, you can take the Antray train from the airport to reach the city. The Ismetpaşa Station is where you need to disembark in order to reach Kaleiçi. The cost of the trip is less than 1 USD and you should anticipate a 15-minute walk.
Visit the Ancient World of Kaleiçi
Antalya's small old town has witnessed numerous significant events, individuals, and civilizations throughout history. Remarkably, you can personally observe this well-preserved history.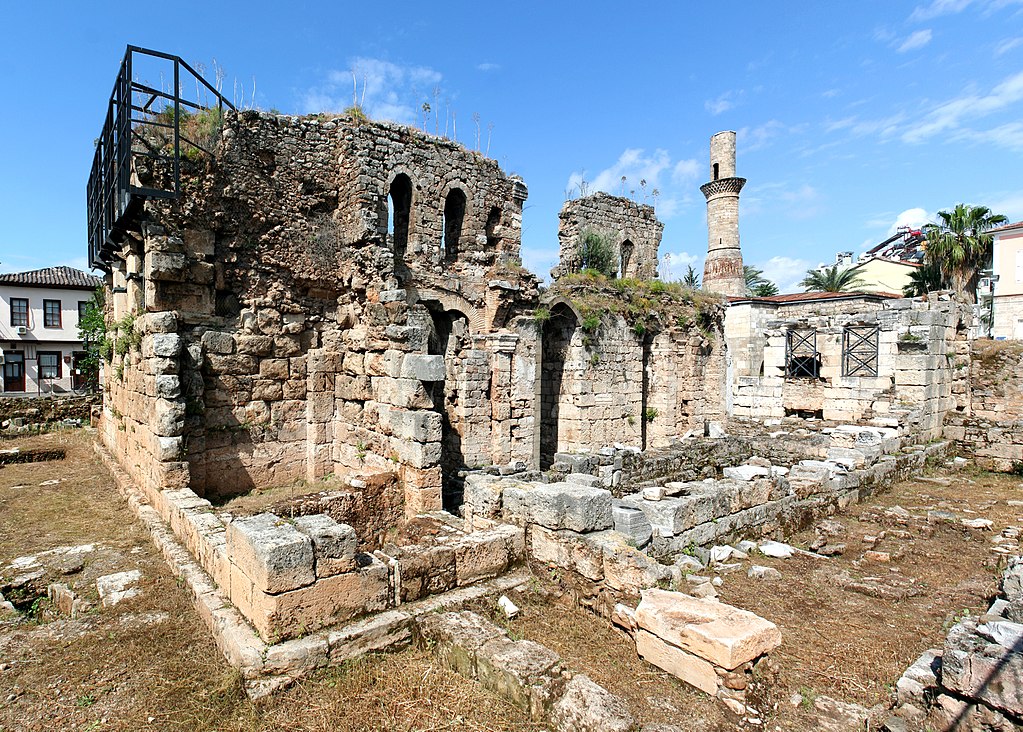 Due to its location next to the sea and having a natural harbor, it developed as an important city through time. The first settlement in Kaleiçi dates back to the 4th century B.C. It's located in Pamphylia Region and was a small settlement in the early Hellenistic period.
After the domination of the King of Bergama–one of the most powerful kings of the 2nd century B.C.–the city became an important place. The King built the fortification walls and harbor and named the city Attaleia.
This port city gained even more importance when it became a center for trade in the East Mediterranean Region. When it was turned into a Roman state in the 1st century, some of its great structures–like the roads, buildings, towers, and gates–were built.
Hadrian's Gate, fortification walls, and Hıdırlık Tower are some great examples from this period.
You'll also recognize buildings related to Christianity, like Panagia Church (Broken Minaret), because when the city was under East Roman (Byzantine) rule, Christianity was accepted as the official religion in the 4th century.
At the end of the 11th century, the city couldn't resist the Arab and Persian raids, and it was taken over by Seljuks. After that point in time, Kaleiçi witnessed a great construction and restructuring.
Churches from previous periods were converted to mosques, and some newly-constructed mosques appeared. Yivli Minaret Mosque is one of the most important. They also built madrasahs (schools) and towers.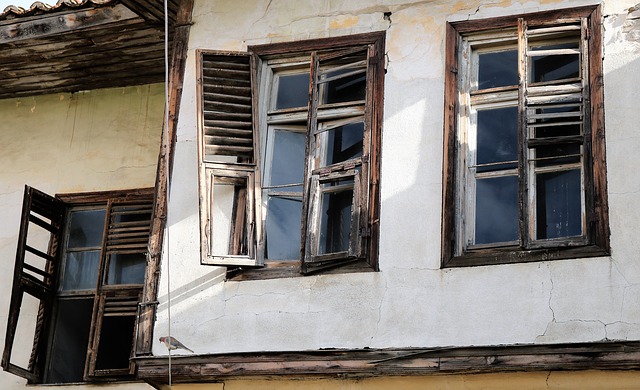 After the 16th century, its importance as a trade center and harbor decreased. Meanwhile, the population increased, the settlement spread beyond the city's walls, and the new, modern neighborhoods outside of the walls became more attractive.
Through the Ottoman period, the city kept losing its attraction. In the 20th century, the remaining population–who were mostly Greek–were forced to leave the city.
The last residents of Kaleiçi moved into other neighborhoods in Antalya or to the big cities, leaving Kaleiçi as more of a tourist attraction with restaurants, hotels, shops, and bars.
If you're worried you might get lost on Kaleiçi's streets or its complicated history, relax and read on.
Wandering in Kaleiçi
As I said before, the old town is really a small place, and walking isn't a problem. If you'd like to visit the harbor, you'll need to take the stairs there. This can be tiring for some people, but you can also stop to rest on one of the steps to admire the scenery.
Most of the streets in the old town are closed to traffic. You can get to Kaleiçi with a car or taxi, but you can only drive on some of the town's narrow main streets, which are usually crowded with tourists.
Sometimes the streets are so crowded, they can be hard to walk on. My only suggestion would be to choose to travel on the small side streets instead. Regardless, all of the streets in Kaleiçi are great, and you don't necessarily have to follow the crowd to see the best Kaleiçi has to offer.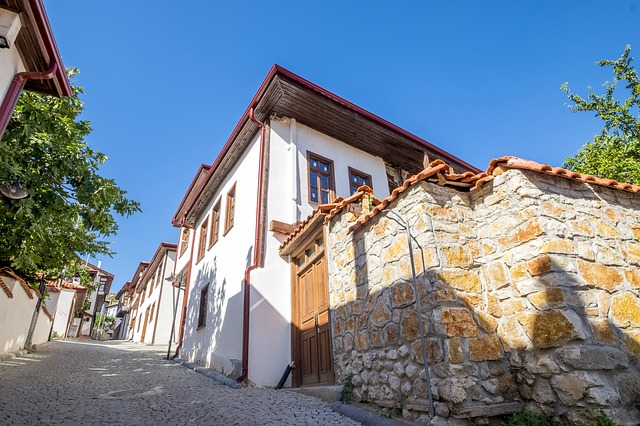 Be sure to take a map of the area with you. You'll find them in any hotel or tourist agency and in some restaurants inside Kaleiçi. The map will prevent you from walking in circles while looking for your destination.
Since Kaleiçi is laid out like a small labyrinth, you might not be able to find places like the Yivli Minaret, Hadrian's Gate, or the harbor on your own. There is signage in the area, but they're not always visible.
Things to See
As I mentioned before, Kaleiçi was home to many different civilizations, and each of them left traces of themselves behind. Now they have become popular tourist attractions.
Hadrian's Gate
This gate is the only remaining entrance to the old city and the harbor, built in the fortification walls surrounding the city to commemorate Emperor Hadrianus's visit to Antalya in 130 A.D.
It rises up on four gorgeous pedestals, made by the best artisans of the era, and it looks like most of the Roman triumphal arches you'll see in other places in the world.
Previously, there were statues of the Emperor and his family on top of the arch. Though they've been removed, you might still see some of the pieces in some of Europe's museums.
Yivli Minaret Mosque
This structure is a well-known symbol of Antalya and Kaleiçi. It's one of the best examples of Seljuk art and architecture you'll find in the region. Built by Seljuk Sultan Kequbad in the 13th century, it may be the earliest Turkish-Islamic artifact in the city.
Yivli means grooved, describing the mosque's minaret, which has six domes that you can check out from the inside.
What I found super interesting was the cooling and heating system they built at the time, composed of tunnels inside the building, so water can flow inside to warm it up in the winter and cool it down in the summer.
Kesik Minaret
Also known as Ulu Mosque (Ulu Camii), most tourists will know it as Kesik (truncated or broken) Minaret, built as a basilica in the 5th century.
It's gone through a lot of changes in the Byzantine period and was repaired and renovated again during the Ottoman period. The structure was previously the Panagia Church, but it was converted to a mosque in the Ottoman period.
A part of it is also used as a Whirling Dervish (Rumi or Sema Dance) hall, named Antalya Mevlevihanesi. Both structures are open to the public.
The Harbor
The harbor was one of the factors leading this ancient city to become an important center for trade and living.
Boat trips are available at the harbor, which is the best way to explore historical sites adjacent to or inside the sea. A boat trip can also provide a great opportunity for a swim near one of the natural beaches.
There are many boat companies at the harbor, and each of them uses different routes. Most of them go to Kaş, Kalkan, or Phaselis and can take 5 or 6 hours.
You can also swim in the harbor. There is a small beach club there where you won't find any sand, but you will find a small port at which you can enter the sea. 
For this, you'll need to pay the 2-3USD entrance fee. In addition to this, you can also rent a sunbed or umbrella. There are also food and drinks available at the restaurant next to the beach.
The harbor is one of the best spots for watching the sunset. Be sure to buy a famous Roman ice cream from one of the small vendors at the harbor and enjoy it as the sun goes down.
Shopping
Kaleiçi is a paradise for those who prefer real craftsman shops rather than shopping malls.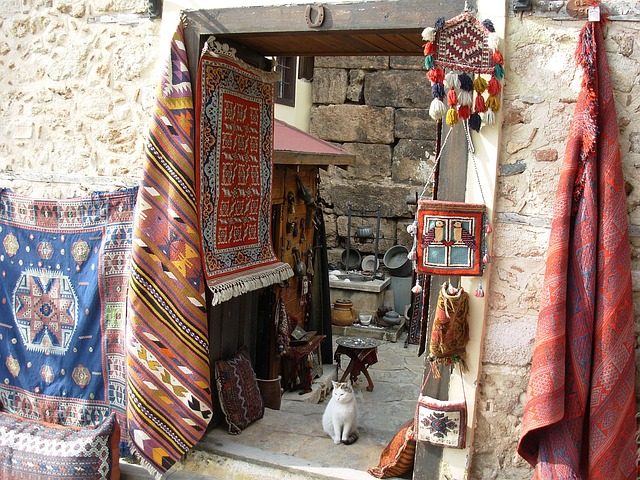 Most of the shops in Kaleiçi are in old Ottoman-style houses made of wood and stone. The buildings have courtyards, which is where you'll see the carpets being displayed.
The shop owners are educated about their merchandise. These are not tourist traps; to the contrary, they sell high-quality products here. When a vendor praises his products, he's not lying.
In the shops and craft stalls, you'll find unique carpets, traditional textiles, fabrics, and embroidery. If you'd like to buy a present or souvenir, you might want to purchase some jewelry direct from the designers. Be sure to check out the antique shops if you're a collector.
Old Town Food and Restaurant Guide
You'll find world-class restaurants in Kaleiçi. My favorites are Kebab ones or those that sell appetizers–called meze–and drink a traditional Turkish drink called rakı. These kinds of restaurants are called meyhane.
Mermerli Restaurant is one of my favorites due to its great location and panoramic view of the harbor and beach. It overlooks Mermerli Beach, so you can have your lunch in the restaurant and go for a swim or have dinner afterward.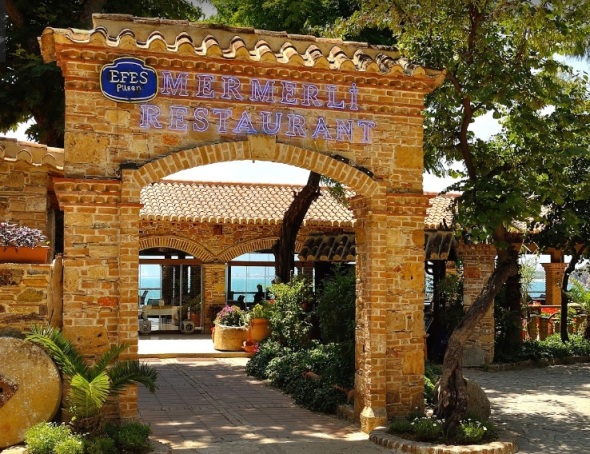 Their kebabs and fish dishes are delicious and cooked to perfection. The waiters are really knowledgeable about the menu. There are so many options on the menu you might get lost in it.
I really like their börek, a Turkish pastry filled with things from cheese to meat. If you order fish or an expensive meat with salad, börek, and some meze with alcoholic drinks, you'll pay 50 USD at most.
Ayar Meyhanesi is one of my favorite meyhanes in Antalya. It is a fine-dining restaurant, and every cent you'll pay is worth it. It's located in the heart of Kaleiçi, where you'll feel like you're having dinner in the Ottoman era.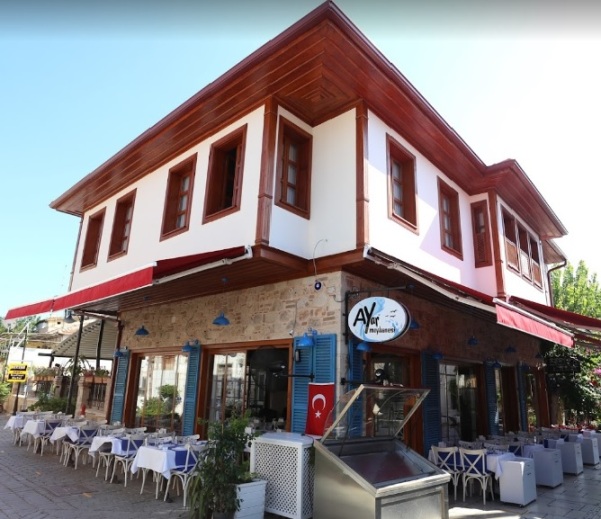 The local fish–like sea bass or sea bream–is delicious and served with a great sauce. They have an unbelievable variety of mezes. Try not to be overwhelmed by the portion size, which is really big.
I suggest making a reservation before you go because it's a famous destination and it's not a big place. If you order fish with calamari, 4 mezes, salad, and rakı, it'll cost around 60USD.
Bars
Kaleiçi is full of pubs and bars which are open in the mornings as cafes. They serve breakfast, tea, and coffee while playing nice music. At night, they play really good music, making it an exciting place to spend your evening.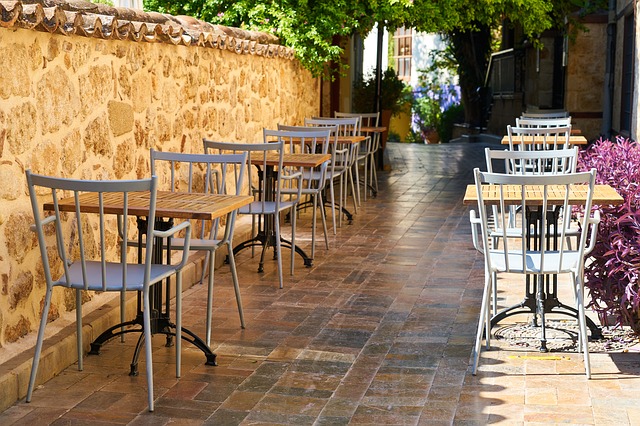 The Raven Pub is one of the best places to go if you're a music fan. Great local music groups play jazz, funk, country, and rock covers here.
The garden is what makes this place special. You can drink a cold beer in the fresh environment of the garden on summer nights. Look for Paşa Cami Street, number 29!
The Up Shot Bar is a place where people go to parties. The best DJs in Antalya play good quality, world-standard electronic music at this place.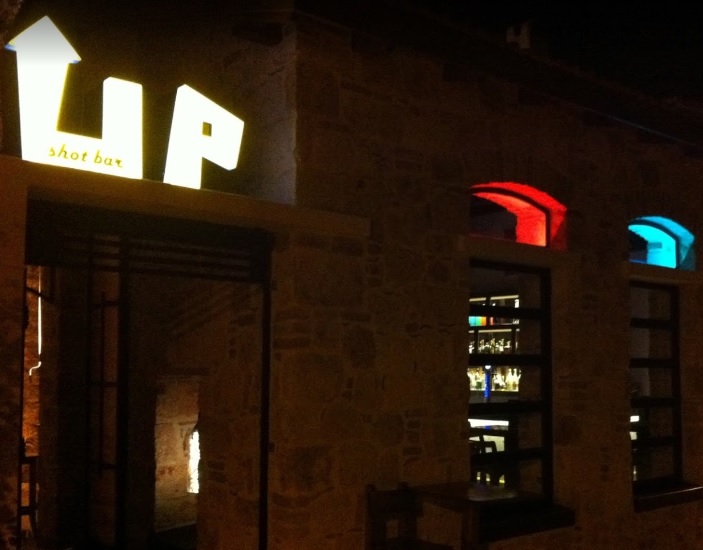 They have many drink options available. The place is open late, until almost morning, so you can drink, dance, and have fun, no matter the time of day (or night).
Summary
Even though it's a small place, you can still lose yourself in Kaleiçi for days. You should certainly try the restaurants and bars I've suggested and see all of the historical sites. Walk around on the streets and go into all of the small shops you see because you'll realize there's a different, amazing world inside.