In Antalya, a few of the best things you'll definitely want to do include soaking up the sun at the stunning Kaputaş Beach, stepping back in time at the ancient city of Aspendos, daring to go white-water rafting, and tantalizing your taste buds with delicious Turkish cuisine at renowned spots like Zaika Meyhane and Oburus Momus.

Join me as we navigate through this lively city, offering something unforgettable for everyone.
Table of Contents
1) Let's Start with the Antalya Beaches
As you might have guessed, there are plenty of them. Antalya is one of the greatest spots for beaches, not only in Turkey but in the world. You'll have no problem finding a nice beach with facilities, or you could find a calm bay to make your day!
Out of all of the beaches in the Antalya and the surrounding region, I have chosen the ones below. For more about beaches, see my 10 Favorite Antalya Beaches article. I've also supplied some maps for your convenience!
Kaputaş Beach
There's surprise waiting for you in the steep slopes on the road to Kaş. The first thing you'll see at the bottom of one of those slopes is a gorgeous shade of blue, and then you'll see the splendid cove landscape.
The water is usually wavy at Kaputaş Beach, making it a lot of fun to swim and play in the waves. When you dive into the water, you'll be surrounded by the turquoise waters.
When you're ready to explore, turn your back to the sea and walk straight to find the next surprise waiting for you: a canyon inside the high hills. You should definitely spend some time exploring the area.
Kaputaş Beach is 20 km from Kaş and 4 km from Kalkan. You can take a minibus from the Antalya's center or from Kaş or Kalkan.
Konyaaltı Beach
Konyaaltı is the first beach that comes to mind when I want to swim in Antalya. It's easy to reach and has the beautiful Bey Mountains right next to it. It's convenient and satisfying for me, given the view of the cliffs. I'm sure you'll enjoy it, too.
The inhabitants of Termessos–who lived an altitude of 1,000 meters up in the Taurus Mountains–used this coast as a harbor. Evidence of their existence in the area dates back to the 4th century B.C.
Konyaaltı Beach is in Antalya's center, so you won't have to worry about getting there–it's really easy to find.
Lara Beach
Lara Beach is also close to Antalya's center, and it's frequented by the locals. It's 2 km long and hosts many hotels' private beaches. The beach is in Antalya's Muratpaşa District, and you'll easily find a bus line that stops at Lara Beach.
"Lara" means "sand" in Luwian, which makes a lot of sense for a beach with nice, orange sand. It's also said that the fine sand on the beach is good for your health, especially for the skin and joints, so don't miss the chance to enjoy the "lara" of Lara Beach.
There are many other beaches in Antalya, such as Patara (both the beach and the ancient city), Phaselis (the same as Patara), Cleopatra Beach, Çıralı Beach, İncekum Beach, Papaz Bay, Korsan Bay, Örnekköy Beach, Küçük Çakıl Beach, Kargicak Beach, BLM Beach, Topcam, Beldibi, Marmara Beach, and Mermerli Beach are just a few.
2) Time for Archaeology Lovers
As it was once home to Lycians and Pamphilians, Antalya has several ancient sites to visit.
There are too many of them to mention, but I want to shed some light on the ones that are special to me.
Aspendos Ancient City
Aspendos is a must-see–you really can't miss it!
Aspendos was on the Pamphilian side of the map. It was called ΕΣΤϜΕΔΥΣ in Pamphilian and was an ancient Greko-Roman city. Today, it's in Belkis Village in the Serik District. It's 45 km from Antalya, and it's easy to reach.
The city was first constructed by Achaeans in 10th century BC., but what makes this site popular are the buildings built by Romans in 2nd century A.D.
The most important part of it is the amphitheater, which is very well-preserved, and provides seating for 12,000 people. The architect of the site was Zenon of Aspendos.
I find it interesting that it's still used as a theater, and many productions at the Aspendos International Opera and Ballet Festival can be seen there in the spring and early summer.
Other structures there are a basilica, agora, nymphaeum, Roman aqueduct, and the Roman Eurymedon Bridge.
The Ancient City of Side
The Side is the most important port city in the Pamphylia Region. Side means "grenade" in Luwian, and it was used as a settlement from the 8th century B.C. on.
Side was on the Lydian border in the first half of the 6th century B.C. In the second half, it was dominated by the Persians who contributed much to the city's development. In 334 B.C., Alexander the Great conquered Side.
After that, the adventure continued, accepting domination by one empire or another, but the importance of the city has never diminished. Side is in Manavgat District, 78 km from Antalya. Here's a tip: you can get a tour to see Manavgat Waterfall and the Ancient City of Side together.
There are ruins and remnants of many structures to see there. Side's main street has the ruins of houses and shops. There's also a hospital building from the 6th century. There are also the walls of an ancient Roman theater.
Other structures include three temples, an aqueduct, and a nymphaeum. The ruins here are not well-preserved, but you can feel the majesty by using your imagination.
3) Give Enough Time for Kaleiçi
Antalya's center, Kaleiçi is a place that many often miss due to sea-sand-sun holidays. This is understandable, since vacations like that are quite enjoyable. I guarantee you'll enjoy the city's historic streets, too.
If you can spare a few days to explore Antalya's urban side, here we go!
I always start with a walk on Kaleiçi's streets, lined with palm trees and historical houses. The locals will make you feel as if you've become a part of the place.
Some of the houses are restored according to the original floor plans, while and others are protected just as they were. Both are beautiful. If you're a fan of bay windows, you'll be glad you took the time for the walk.
Let's talk about some of the important structures there.
Yivli Minaret Mosque
Yivli means "fluted" in Turkish, named for this Seljuk mosque's fluted minaret, as you'll see in the photo below. It's also known as Alaaddin's Mosque and Ulu Mosque.
Built by Seljuk Sultan Alaaddin Keykubat I in the 13th century, it's one of the külliye structures, along with several other Islamic buildings, including Madrasah of Gıyaseddin Keyhüsrev, Seljuk Lodge, Mevlevi Lodge Dervish Lodge, Türbes of Zincirkıran, and Nigar Hatun.
You can spend the day walking fro one building to the next, which is strongly recommended!
Hadrian's Gate
Also known as Üçkapılar (Three Gates, since there are three gates there) and Mermer Kapı (The Marble Gate, since it's made from marble), this gorgeous structure was built in 130 A.D. as a sign of respect to Roman Emperor Hadrian, who visited the city in that year.
He must have deserved it!
What's the Time? Clock Tower Time!
This charming building has four clocks, one on each side of its interesting rectangular shape. You can see what time it is, no matter which side you're on.
It was built in 1901 by Grand Vizier Küçük Sait Pasha, so be sure to go there to check out the time on this interesting structure from some time ago.
4) Watch the Great Waterfalls
One of the best parts of Antalya is the waterfalls. I really adore all of them. Here's a note on some.
Manavgat Waterfall
This one is impressive, so it's also well-known. Located in Manavgat, 4 km from Antalya, its name is derived from the district.
It's created by water falling over a cliff 3 to 4 meters high in the course of the Manavgat River, referred to as Til and Melas in historical texts.
There are a lot of things to do here. I recommend you enjoy the landscape first, followed by a rafting trip on the river, a trek, jeep safari, or boat tour.
Düden Waterfalls
Another popular waterfall is Düden Waterfall–waterfalls, actually, since there are two of them.
Their source is the Kepez Hydroelectric Power Plant, which divides it into two sections through the Düden River before flowing into the Mediterranean Sea.
The Lower Düden Waterfall is also known as the Karpuzkaldıran (Watermelon-Lifter) Waterfall. The environment is like a haven for those who want to escape Antalya's summer heat.
Only 8 km from the center of Lara District, the water falls over cliffs 40 meters high, and it's marvelous. You'll be glad you went.
The Upper Düden Waterfall is also known as the Iskender (Alexander) Waterfall, since Alexander the Great spent some time there, letting his horses drink on his voyage to Pamphylia. He wasn't on holiday at the time, of course, but on a military expedition to Pamphylia.
You can enjoy the environment of the waterfalls taking short walks or drinking tea in the tea gardens. You'll also find picnic areas and restaurants there. Be sure to take in the cool air, listen to the sound of the fervent water, and enjoy the white and green around you.
Kurşunlu Waterfall
This is a magnificent must-see when it comes to waterfalls–you should definitely go there.
With its small lakes and waterfalls, Kurşunlu Waterfall promises an enjoyable and peaceful day or weekend. There are also some accommodation options you might want to check out.
The main waterfall falls over a cliff 18 meters high. There are also several smaller waterfalls. Seven lake connect here!
Kurşunlu Waterfall is located within Antalya's center, only 22 km away. You can find it on the Antalya-Isparta Main Road or by taking a minibus from the city center.
The area was turned into a natural park in 1986 by the authorities. Since then, visitors have enjoyed the place with safety and comfort. The flora of the park's forest is rich, including Red Pines, eastern sycamores, bays, carobs, wild olives, gum trees, willows, and fig trees.
There's also, myrtle hawthorn, oleander, blackberry, wild rose, euphorbia, tamarisk, spruce, kermes oak, thyme, wild mint, record, fern, vines, and aquatic plants such as buckthorn, water mint, water reed, water chandeliers, green algae, and waterlilies, waiting for you to discover.
If you take a walk in the park, you might also see a lot of wild animals, like foxes, rabbits, squirrels, wild boars, turtles, carps, water turtles, dogs, snakes, and lizards walking, jumping or swimming; bats, hoopoes, and woodpeckers in the trees or flying around, so stay alert!
Other waterfalls you might want to see on your trip to Antalya include the Sapadere, Değirmendere, Uçansu, and Gömbe Uçarsu Waterfalls.
5) Go Inside Damlataş Cave
Stalactites and stalagmites in Damlataş Cave were formed 15,000 years. The most interesting part is the way it was discovered, accidentally discovered by miners working in the area in 1948.
There is a widespread belief that the air inside the cave cures asthma. The percentage of carbon dioxide and high humidity might be the reason behind this. If you're looking for the cure to your respiratory problems, it's open between 6 and 10 a.m.
Damlataş Cave is impressive. I strongly recommend that you visit it. Since it's located close to Cleopatra Beach, you can plan to visit both in a single day.
6) Say Hello to other Camping Lovers
There are many opportunities for camping in Antalya. You might even want to wander around the area and camp at the sites you like best. That's my plan for this summer.
Olympos
I recommend you go to Olympos whether you camp there or not. Its beautiful sea, unique elements of nature, and historical past make me really feel alive.
If you'd like to camp there, you'll find a variety of offers, depending on the camping areas. You can bring your own tent or rent one there. When you go, don't forget to take a tour of Chimaera.
Kabak
Kabak is the rising star of the area.
Located in a bay, you can practically feel the promise of a peaceful holiday. There are also many places to camp, which means there'll be others enjoying along with you.
Papaz Bay, Sundance Camp in Tekirova, Kaş Camping, Elmalı Lake, İncekum Forest Camping, and Manavgat Köprülü Canyon are some other options you might want to consider when camping.
7) Let's go SCUBA Diving
Antalya is a haven for SCUBA Divers. Kaş, Kalkan, Kemer, and many other areas are waiting for you to discover the underwater world.
Not only are there animals and plants, but the rock formations are mesmerizing.
If you're a certified PADI or CMAS diver, you already know that you can charter a diving boat and dive according to their instructions.
Even you're not a certified diver, there are options that allow you to try diving–called try-dive (or discovery diving) Even if you don't plan on diving, you should definitely try it once to get a glimpse of the beauty underwater.
Kaş is the Best Option
Kaş is a great option for divers, both experienced and beginners. There are also many diving boats in the region, so you can take a walk to the harbor and decide what you're going to do from one of the tours there.
I recommend Dragoman Diving and Outdoors. Their office is located in Uzun Çarşı (Long Bazaar), and they are open for service year-round. You'll also find some nice shops, souvenirs, and second-hand bookstores in Uzun Çarşı.
There are 21 diving points, including an underwater canyon and many wrecks. You'll also see different kinds of fish–like grouper, stingrays, flutes, barracudas, and moray eels, depending on the season. Don't forget Caretta carettas!
Kalkan
Kalkan is another important place for divers. There are about 15 diving point sites here, including reefs, islands, and walls. Kalkan has excellent visibility due to the clear water.
Here, you'll see many fish, plants, and ancient ruins. Do be careful with the living beings underwater. Don't forget that it's their natural environment, so try not to disturb them in their native settings.
Kemer
The beautiful turquoise water in Kemer is enjoyable for swimmers and divers alike.
There are 7 diving points in Kemer, the most impressive of which are the bays that can only be reached by boat. You can choose wrecks or islands as your destination. The wrecks are the best diving points, for they are home to many underwater creatures.
Remember not to feed the animals you'll see. It's important not to interfere with anything in an environment with which you are not familiar.
8) Rafting? Splashy!
Rafting can be a good option for adventure lovers. You can talk to a tour company to arrange for a day on one of their tours. There are plenty of good companies promising security and fun.
Köprülü Canyon is a good option for rafting, especially in the warm seasons, but it's available from April to November. Don't worry about your experience level because tour companies are happy to accommodate you, no matter your experience.
Köprülü Canyon is 400 meters-deep at its maximum and 14 km long. It's a part of the Köprü River, which starts in Sütçüler District in Isparta and flows into the sea in Antalya.
9) Have a Relaxing Day, Wandering Around
Antalya has many things to see other than Kaleiçi and archaeological sites. Two of these are Alanya Castle and Karain Cave. Let's start with Alanya Castle.
Alanya Castle is a familiar symbol in Alanya. It's located on a peninsula at a height of 250 km, is surrounded by a wall 6.5 km (4.0 mi) long, and has 140 towers.
First, there's the fortification made by the Byzantines and Romans. Then, in the 13th century, it was rebuilt into its latest form by Alaeddin Keykubad I.
It consists of 3 parts, and you should plan to see every one of them. Try to schedule your visit during the sunset if you want the best view in the area of the setting sun.
Walk down from the castle to enjoy the surrounding landscape.
Another feature of Antalya is Karain Cave, one of the largest natural caves in Turkey. It's located approximately 400-450 meters above sea level in the Yağca neighborhood, 30 km from Antalya.
The most important aspect of Karain Cave is its historical background. Excavations have shown that it was used 500,000 years ago, making the cave an important center of Palaeolithic life in Anatolia and the Near East.
A Neanderthal cranium, Palaeolithic and Neolithic flint blades, scrapers, arrowheads, lithic figurines, and bone sculptures have been discovered here.
10) Ski on a Winter Vacation
Some will be surprised to learn that skiing is an option in Antalya, meaning they've missed the reality that Antalya is surrounded by the high Taurus Mountains.
Saklıkent is the place to go if you want to learn or practice skiing. It's 50 km from Antalya's city center, located at the hills of Toros, Beydağları, on Antalya's west side.
Skiing season at Saklıkent is between December and April. If skiing's a priority for you, check if there's snow before you go.
A one-day trip to Saklıkent is enough to make you dizzy because you might experience two seasons in one day: a warm summer and cold winter day, covered in snow.
I'm you're more of a landscape person, go there for a tour and spend a nice day in the exciting mountain atmosphere.
11) Sea-Kayaking in Kekova
If you want to see the ancient city of Kekova and have fun while playing sports, go there! Sea-kayaking is one of my favorite activities. When it's in such a stunning place like Kekova, it's even more entertaining.
Popular in both summer and winter, its located 170 km fro Antalya and 35 km from Kaş. If you want to arrange for sea-kayaking, this is the place to go.
Dragoman Diving and Outdoors is a good choice if you're looking for professionalism and security. You'll have to wake up early in the morning to join your tour in Kekova.
With a number of sea-kayaking tours, you'll have the chance to sight-see. Some places to go are Theimussa, Simena, Islands of Kekova, Aperlai, and the Andrakos River. You can even join a tour lasting 2 or 3 days.
12) Join the Runatolia Antalya
Joining the Runatolia Marathon can be an interesting experience.
Running has become quite popular of late as more and more people are becoming interested in the sport.
This organization started in 2006 as the Runantalya International Antalya Marathon. From 2015 onward, it's been organized by Turset Project Management under the Runatolia name.
You don't have to be a pro to join this organization as the marathon welcomes both beginners and professionals.
It's in March, but the registration process begins much earlier. Since it's a 3-day-long event, why not arrange to take your holidays at that time. That way, you can have fun, enjoy Antalya, and get some exercise.
13) See the World-Famous Antalya Film Festival
Actors and actresses you like are bound to attend the Antalya Film Festival. Feel the excitement of the competition as you screen movies that no one has yet to see.
Previously known as the Antalya Golden Orange Film Festival, it's taken place in Antalya since 1963. It's the most important film festival taking place in Turkey, organized by the Antalya Culture and ArtsFoundation.
14) Eat Delicious Food
There are plenty of food options in Antalya, from seafood to traditional Turkish kebab houses, from cafes serving dessert to vegan/vegetarian restaurants.
Zaika Meyhane
Zaika has gained quick popularity over the past few years. Think of it like a tea garden in a village, with colorful garden lamps hanging above you and happy music.
Zaika derives its name from the concept of "zaika," meaning the sense of taste. The food they cook is delectable, addressing your sense of taste.
Here, they use a number of ways to cook red meat. Also, the meze will make your day. Since it's a meyhane, you may want to have a couple of drinks with your dinner. Lastly, don't forget to try their pumpkin dessert–it's nothing short of delicious!
Oburus Momus
This restaurant's also in Kaş, but it's for vegetarians/vegans. You don't have to be one to go there, as long as you like experimental foods.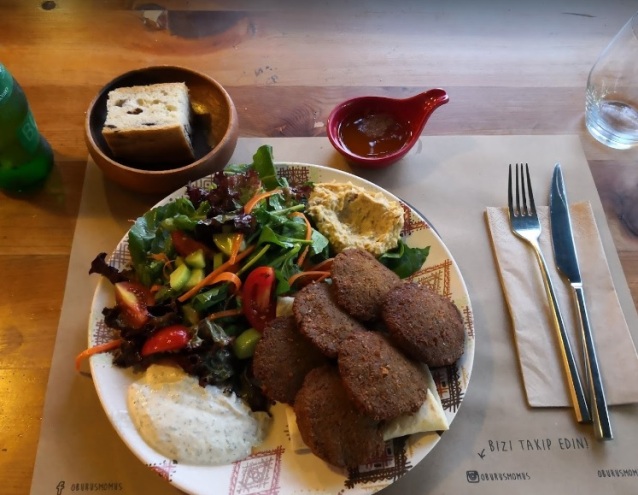 They have some great options on their menu, all of them with a healthy serving size, ensuring you feel full when you leave.
I recommend their colorful bowls, sure to satisfy your stomach, eyes, and tongue.
Handmade ice tea and lemonade will help to make your day if you drop in between the swimming periods.
Ramiz Grill House
Ramiz Grill House is for special nights out, like birthdays or anniversaries.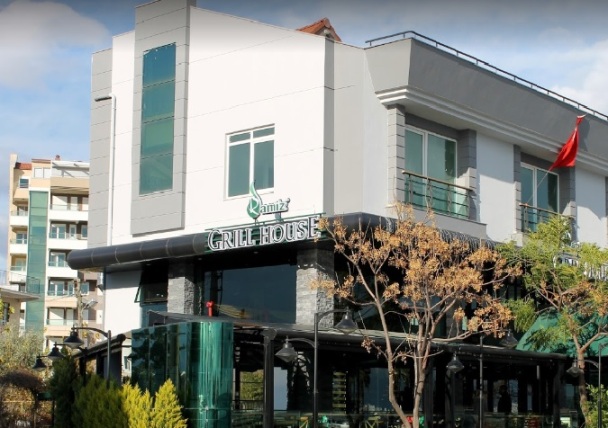 If you're lucky, you might find a seafront table. If you don't, you'll be sure to enjoy the sea or the great atmosphere inside.
They have a lot of options on their menu, like steak with butter and Dallas Burgers. The perfectly-cooked steaks are sure to make your night!
Burnt Ice Cream as Dessert
Ice cream…the summer love of everyone.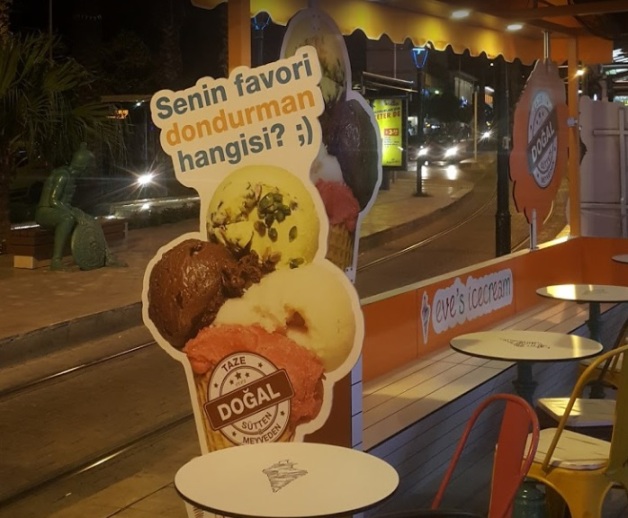 In the Antalya region, you'll find a new kind of ice cream called burnt ice cream (yanık dondurma). It's like vanilla ice cream, but the burn the milk in the process, which is what gives the ice cream its unique taste.
You'll find burnt ice cream everywhere, even in patisseries.
One of the most popular places to find this special treat is Zamora, located in Konyaaltı.
15) Time for Shopping
Going shopping when on vacation is a must, whether buying souvenirs for friends and family or small items as keepsakes.
For a special shopping experience, go to the local bazaars to enjoy yourself on Kaleiçi 's historic streets. Here, you'll find authentic souvenirs, antique materials, carpets, and pieces of jewelry.
The best shopping neighborhoods in Kaleiçi are Cumhuriyet, Güllük, Atatürk, and Işıklar.
Antalya Bazaar is another location for a day of shopping. Here, you'll find handmade products, jewelry, and souvenirs. Like at an ordinary bazaar, you'll also find local food products. Tailors and shoemakers have also set up shop there.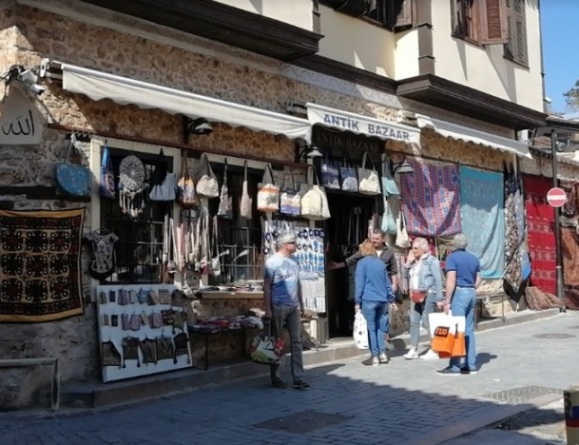 Antalya Turban Marina is a shopping center next to the sea where you'll find many Turkish and foreign brands. After a satisfying day of shopping, you can relax in the cafes, bars, and restaurants at the Marina.

There are also many shopping malls in Antalya, like Laura, Agora, Alanyum, Antalya Migros, Deepo, Erasta, the Mall of Antalya, MarkAntalya, Novamall, Özdilek Park, Shemall, Terra City, and the Land of Legendsou.
As a Summary
As you can see, there is plenty to do in Antalya. Once you get there, you'll realize that there are thousands more.
Antalya is a place of exploration. You can feel like a pirate, go sailing, and explore its hidden gems.